After a jam-packed morning, the only good thing to look forward to next is your daily afternoon tea! What better way to unwind than to sit back, relax, and sip some good tea, right? And the only way to really enjoy a relaxing tea afternoon is to find the perfect place that serves some great tea, a calm ambiance, plus tasty bites!
Below we've compiled the 6 best high tea spots in Victoria for you to enjoy with your girlfriends or lover:
1. The Oaks Restaurant and Tea Room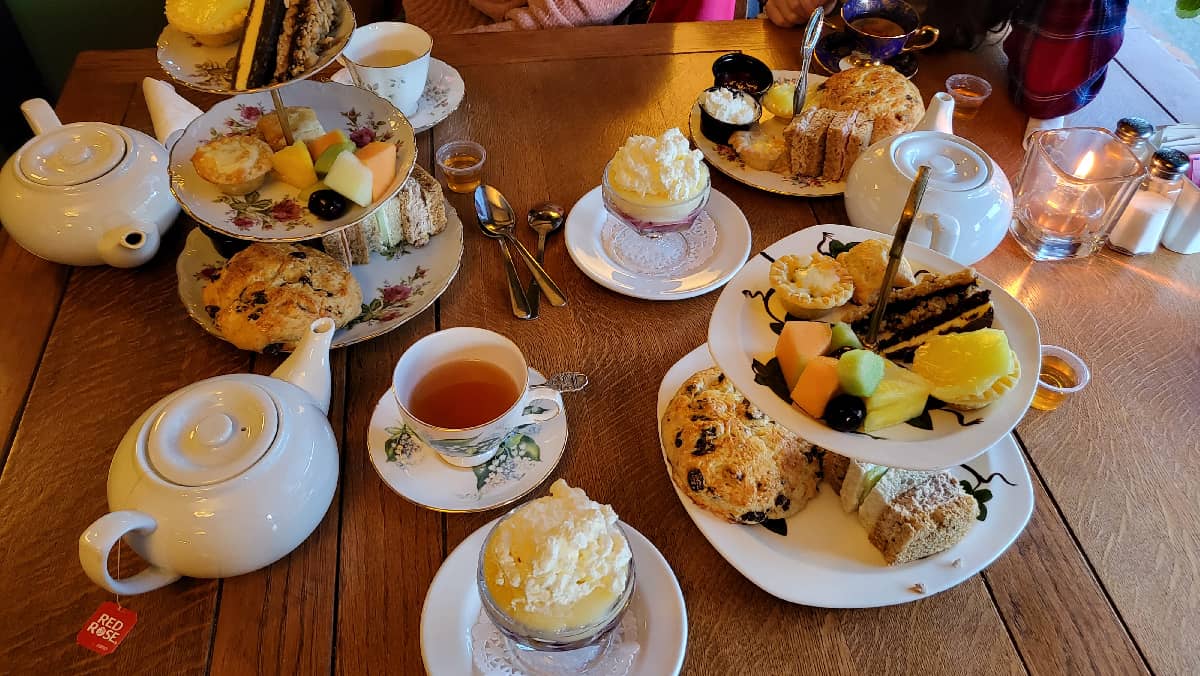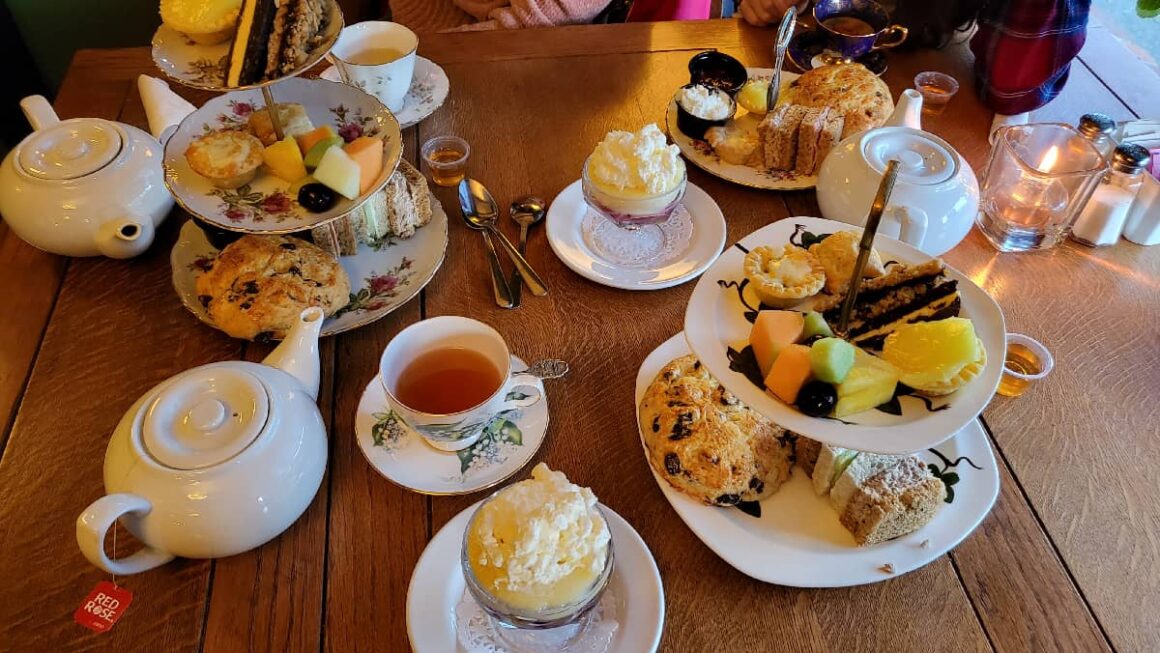 A place to chill out with some relaxing tea is what the Oaks Restaurant and Tea is known for. It is located in Oak Bay's oldest building and it serves breakfast and of course, afternoon tea! Inside you'll find a wooden interior with warm lighting and classic-looking place, which make for a cozy and relaxing ambiance. You can see chinaware displayed on walls, which adds more homey feel.
The Oaks Restaurant is known for having one of the best full English tea in Victoria. We recommend giving their Full Tea sets a try. It serves some scone, jam, whipped cream, three-finger sandwiches, and more.
For something light, you can try out their Light Tea set. It's just like the full tea set but with minimal fix-ins. Their scones are large in size and excellent to taste. Served with rich cream and housemade preserves, it has a delectable buttery taste plus a tinge of sweetness!
What to order: Veggie Benedict, Classic Eggs Benedict, Full Tea, and Light Tea.
Address: 2250 Oak Bay Ave, Victoria, BC
2. Adrienne's Restaurant & Tea Garden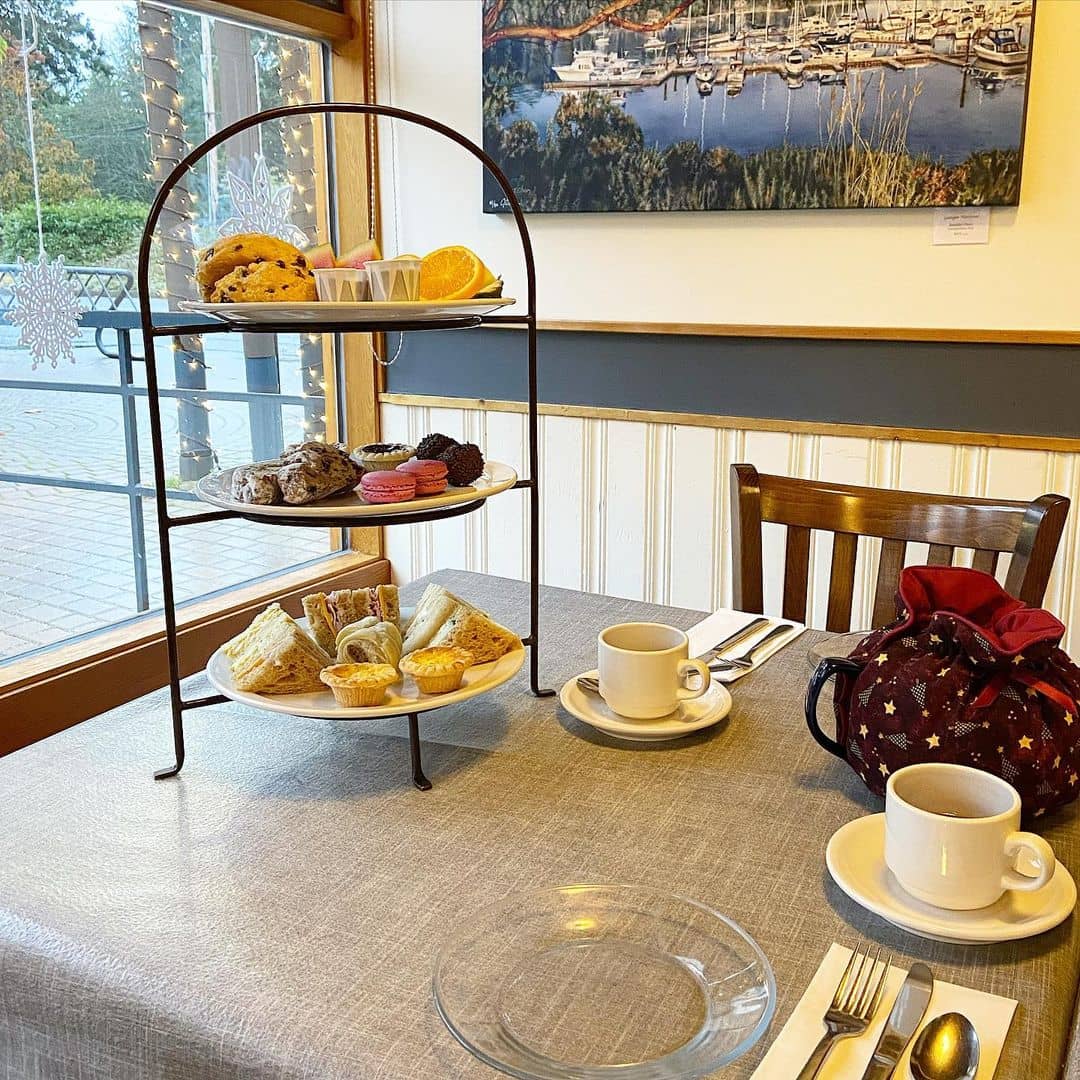 Nothing is better than a sip of tea right after a scrumptious meal. In Adrienne's Restaurant & Tea Garden, if this is exactly what you want, it's exactly what you'll get!
Their interior is mostly wooden and is teeming with simplicity yet homey vibes. The atmosphere is cozy and you can definitely feel the breeze of nature right through the slightly big windows of the restaurant.
They have a wide tea selection that you will absolutely love. Try out their Organic Assam and Organic Alpine Berry Tea. Their premium taste is fascinating and has a one-of-a-kind flavor you won't see anywhere else.
For a great high tea experience, they offer different tea plates for different preferences. We recommend trying out the High Tea tea plate which serves tea sandwiches, savory items, assorted pastries, fresh seasonal fruit, a house-made warm raisin scone, and your preferred tea. We assure you that their raisin scone is going to be your favourite! It has a tasty and sweet taste plus the scone is crunchy making it easy to eat.
What to order: Smoked Salmon Eggs Benedict, Organic Assam, Organic Alpine Berry Tea, High Tea plate
Address: 5325 Cordova Bay Rd, Victoria, BC
Website | Instagram | Facebook
3. Tea at The Empress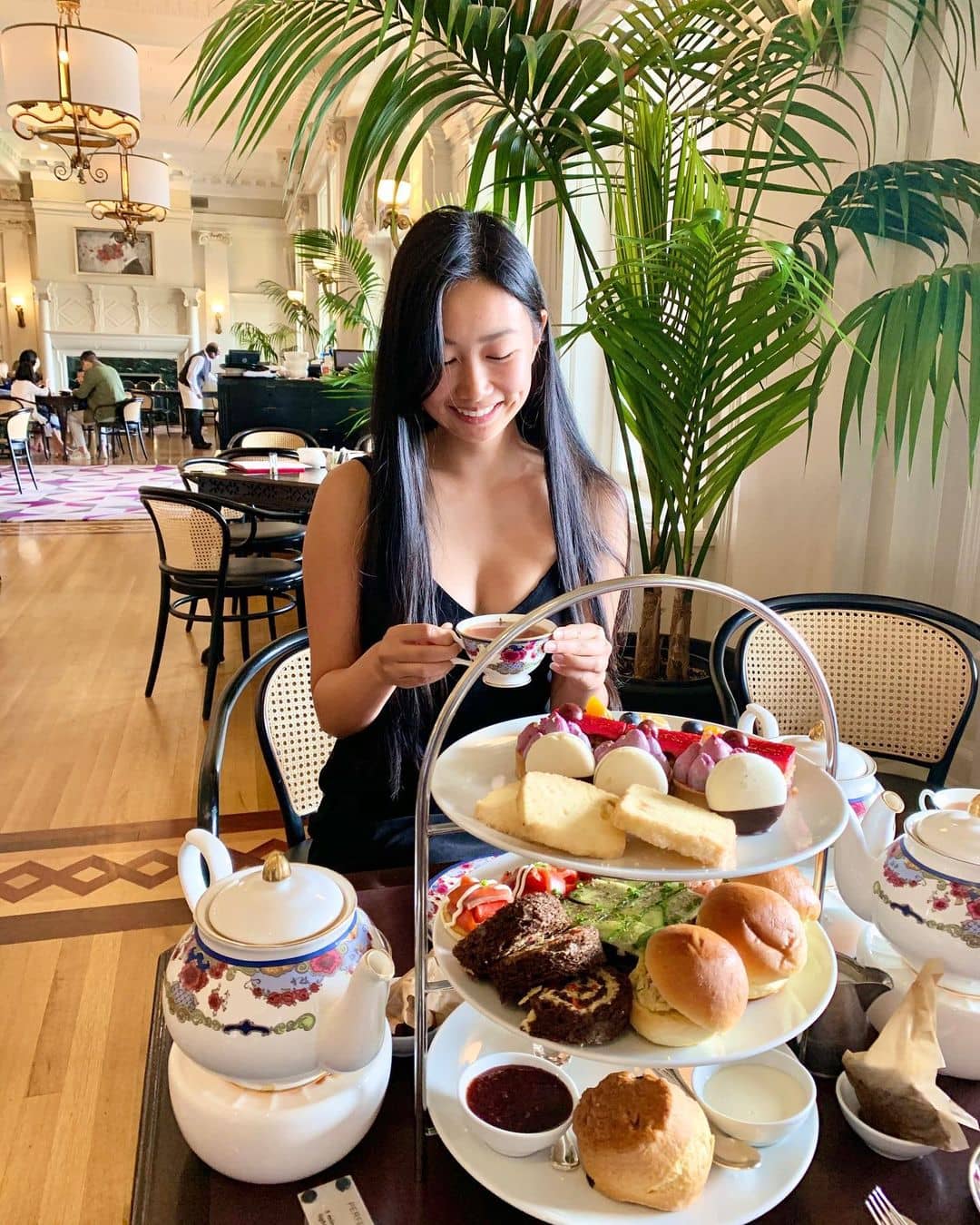 Tea at The Empress is your sophisticated lounge ready to serve good tea, food, and a calm and relaxing time. With tall pillars inside the area, you will feel the elegance of the place right away. It gives off vibes of royalty, especially with its luxurious and detailed interior design. Let's not forget the soothing music of a pianist playing. Indeed, it is a traditional world-famous tea experience not to miss!
Let's get straight to the teas! If you're looking for a tea with a touch of blueberry goodness, you have to try out their Blue Suede Shoes Tea. It has been a favorite of many and the hype is definitely there for a reason! Because of the blueberry touch, it has a wild and tasty flavour yet it's slightly sweet with an amazing aroma. Next up, you should get their Rose Congou Emperor Tea. A black tea flavor with a hint of ethereal and delicate rose flavors. It's bound to get you hooked!
For some quick bites, grab a bite of their Freshly Baked Empress Raisin Scones. It has house-made clotted cream & strawberry-vanilla preserve which is bursting with deliciousness. Don't miss out on their Sun Wing Farms English Cucumber Sandwich, from its cream cheese and dark rye, everything is fresh and tasty.
To cap off your experience, some Empress Honey and Lavander Short Bread is the perfect way to end your stay! The honey and the Lavander Short Bread complement each other very well. The sweetness of honey and the bread's mildly floral flavor is just an astounding combo plus it both melts in your mouth graciously!
What to order: Blue Suede Shoes Tea, Rose Congou Emperor Tea, Freshly Baked Empress Raisin Scones, and Sun Wing Farms English Cucumber Sandwich.
Address: 721 Government St, Victoria, BC
4. Pendray Inn and Tea House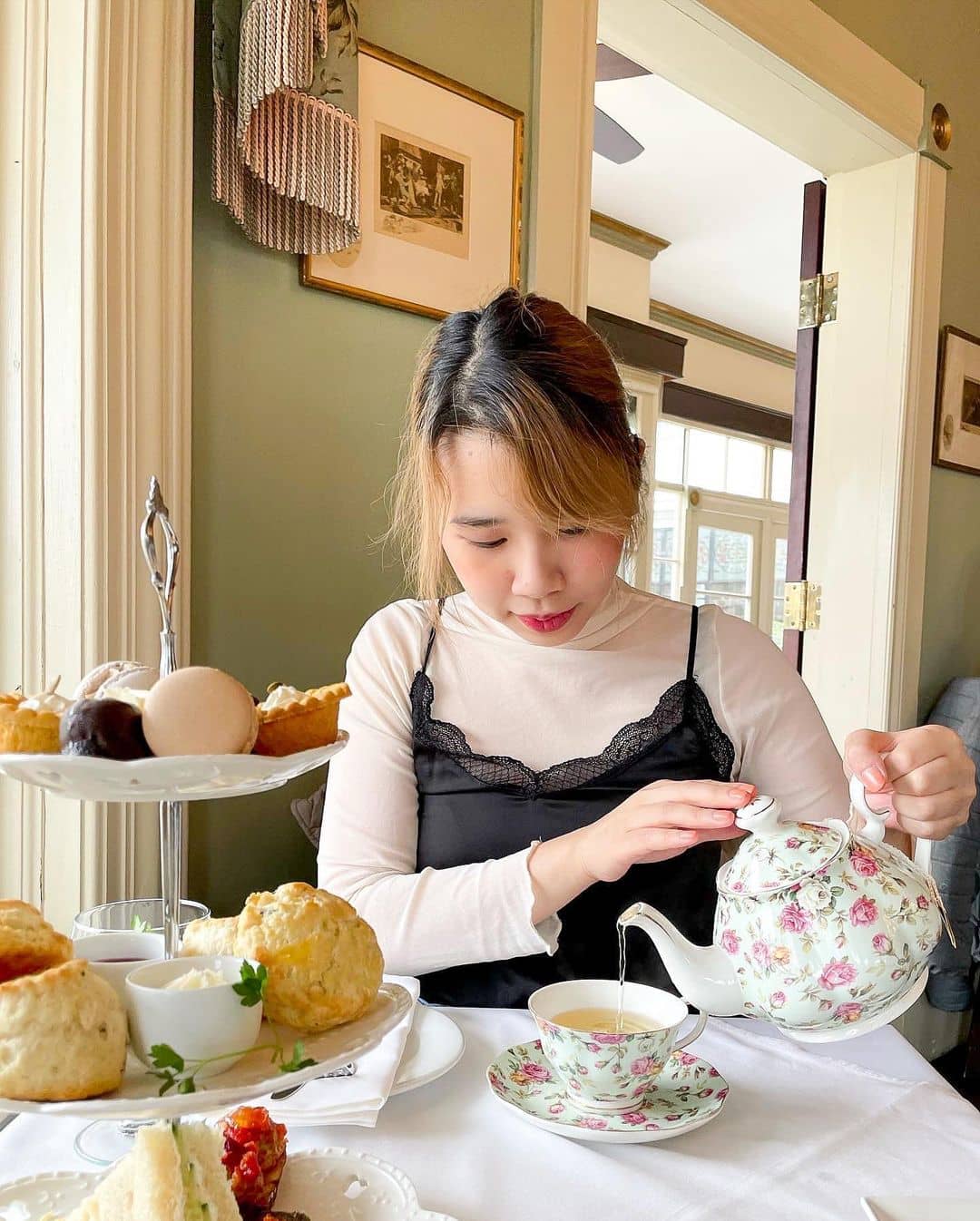 Looking for a tea house that will bring you back in time? You can count on Pendray Inn and Tea House to do the job! It is formerly known as the Great Gatsby Mansion built in the late 19th century. It is the home of William and Amelia Pendray and their four sons. As you step right in, you'll see the beautiful Victorian-inspired interiors. From wooden and floral carpeted stairs to glass mural windows, it looks straight out of a Bridgerton episode!
As magnificent as the interior of the place, this also rings the same for their food! Try out their Earl Grey Scones with Two White Chocolate, and Lavender Scones. The white chocolate tastes subtle yet tasty. The scones have a slight crunch plus a buttery taste. You can pair it with some Black Tea. Topped with rose petals, you can expect a fragrant aroma every sip.
Lastly, if you want something slightly heavy, you'll never go wrong with their Butternut Squash Soup. It has just the perfect consistency and a well-balanced flavor. In Pendray Inn and Tea House, you can assure yourself the most classic yet elegant sip of tea just like the olden times!
What to order: Earl Grey Scones, Lavender Scones, Black Tea, and Butternut Squash Soup
Address: 309 Belleville Street Victoria, BC
Website | Instagram | Facebook
5. The Teahouse at Abkhazi Garden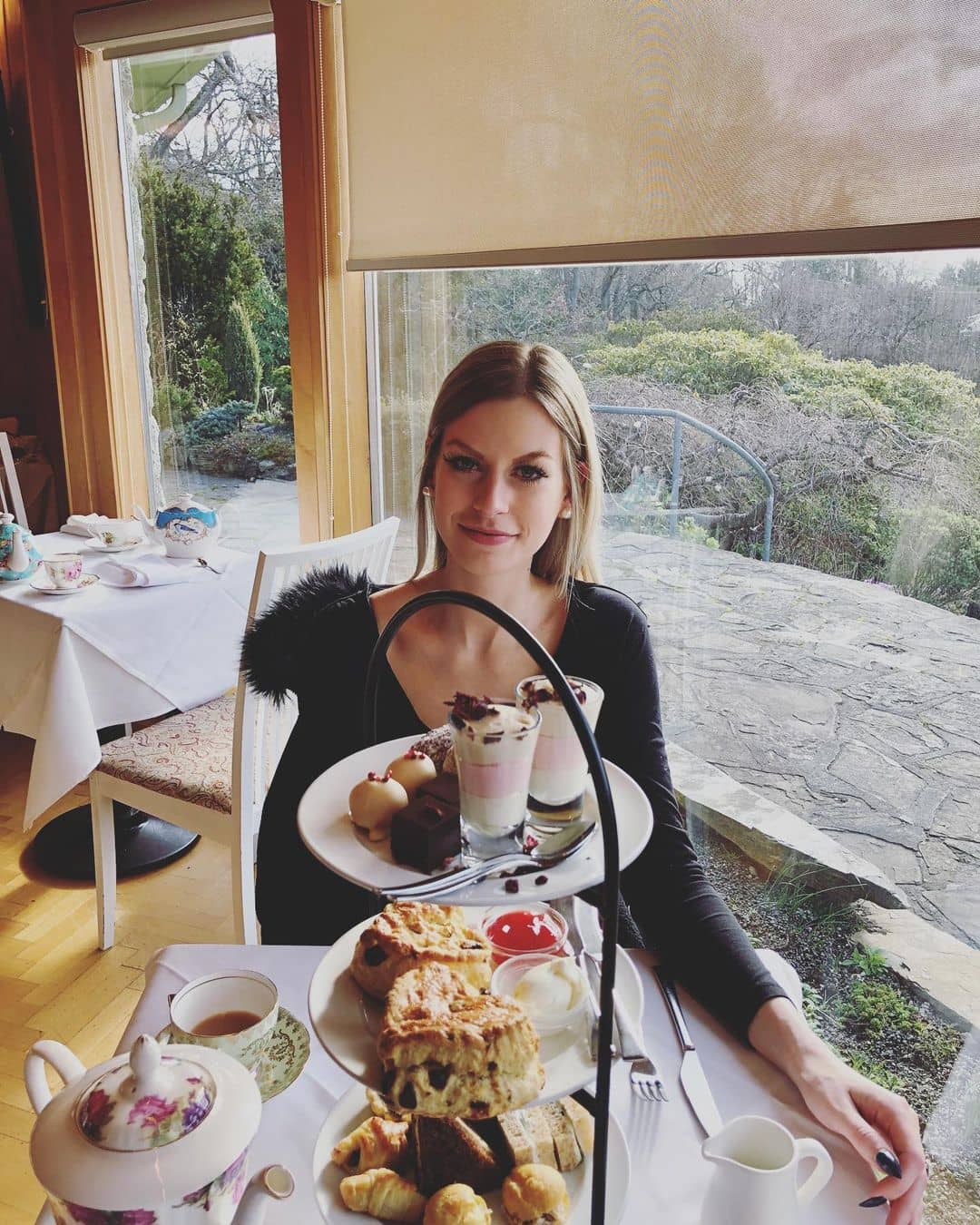 Known for tranquility & intimacy, the Teahouse at Abzkhazi Garden gives exceptional service with even more exceptional food. Situated in a beautiful, nature-filled, floral setting, you're sure to enjoy every sip and bite for hours. The interior of the place is mostly wooden with warm lights, much like a classic and sophisticated home. Outside is where you will be astounded by the beautiful and vibrant colors of flowers everywhere. It definitely makes up a pleasing and relaxing energy every time you come around!
Their scones are the first thing you should try out! Made up of citrus and currant peel plus some jam or clotted cream, it's full of goodness! It is served in ample proportions, with a crispy bottom, and perfectly cooked dough. We recommend you also try out their Silk Road Loose Leaf Tea. With its exceptional chestnut flavor and a hint of astringency, it's sure to wow you.
If you truly want to grasp a whole grade A experience, order their Royal Abkhazi High Tea. It serves Smoked Salmon Blini with Crème Fraiche, Chocolate Mousse Tulip Cup, Silk Road Tea, and numerous more to mention! You get to taste most of their desserts and pastries.
Not in the mood for tasting everything all at once? Their Elevenses is the order for you! Served on a small plate, they offer freshly baked savory cheddar scones, two tea sandwiches, a lovely selection of fresh baked goods, and Silk Road Royal Abkhazi Blend tea or Your choice of Silk Road loose leaf tea. It may not be a lot but it still assures you that you will be filled and satisfied!
What to order: Scones, Silk Road Loose Leaf Tea, Royal Abkhazi High Tea, and Elevenses.
Address: 1964 Fairfield Rd, Victoria, BC
Website | Instagram | Facebook
6. White Heather Tea Room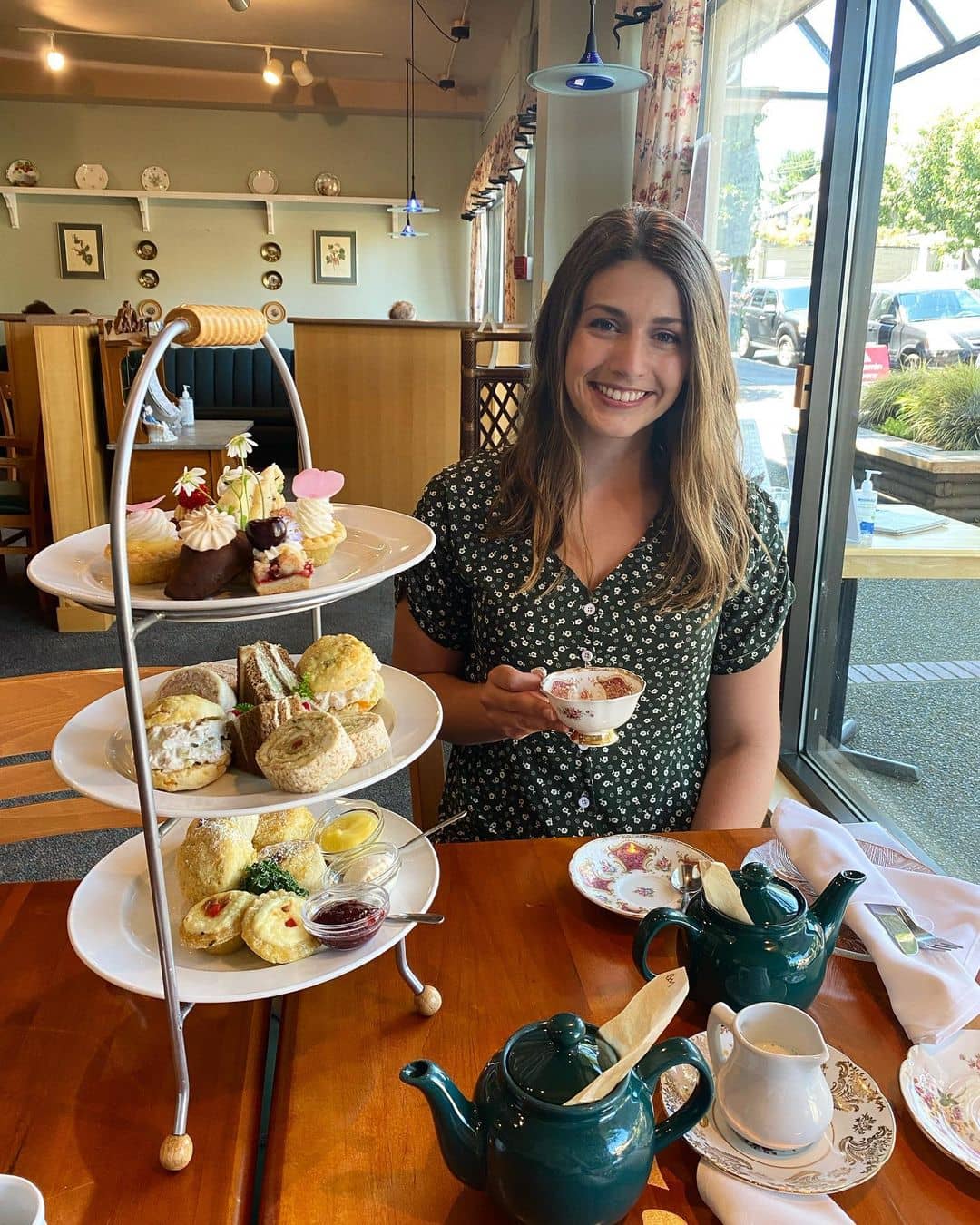 The White Heather Tea Room is a charming and cute high tea house in Victoria that offers not only great tea but delectable sweets too! As you walk right in, you'll sense a classy and homey vibe. Painted with pastel walls plus some hanging floral drapes, it's a place that surely gives a sweet-looking impression.
We recommend you try out their signature afternoon tea sets. Specifically, try the Not-So-Wee-Tea Set. It serves a lovely presentation of rich and delectable freshly baked scones, a savory mini quiche, sandwiches of your choice, a mini sconewich with yummy filling, your own selection of dessert bars, fresh tarts, confections, and of course, some tea or coffee. Because their scones are to die for, we recommend you try out their Cranberry Scones. It is topped with raspberry preserves that are absolutely delightful.
Their sandwiches are also top-notch with their diverse selection! Don't miss their Smoked Salmon, Cucumber & Herbed Cream Cheese Sandwich, and Egg Salad & Pimento Olives Sandwich. Artistically plated and savory until its very last bite, we promise you, this one is for the books!
What to order: Not-So-Wee-Tea Set, Cranberry Scones, Smoked Salmon, Cucumber & Herbed Cream Cheese Sandwich, and Egg Salad & Pimento Olives Sandwich
Address: 1885 Oak Bay Ave, Victoria, BC,
Website | Instagram | Facebook
That ends our well-curated list of the best high tea restaurants in Victoria. If you're still looking for the best places to eat around, we've got everything you're looking for! Check out our list of the 15 best restaurants in Victoria to dine at!