Looking for the best Korean restaurants in Vancouver? Well, you've come to the right place!
For Vancouverites, there are an abundance of Korean eateries dotting the city, and sometimes it can be challenging to find the best one, or simply the kind that serves exactly what you're looking for in a traditional Korean meal.
To help you out, we've curated a list of the 12 best Korean Restaurants in Vancouver below!
1. Kook Korean BBQ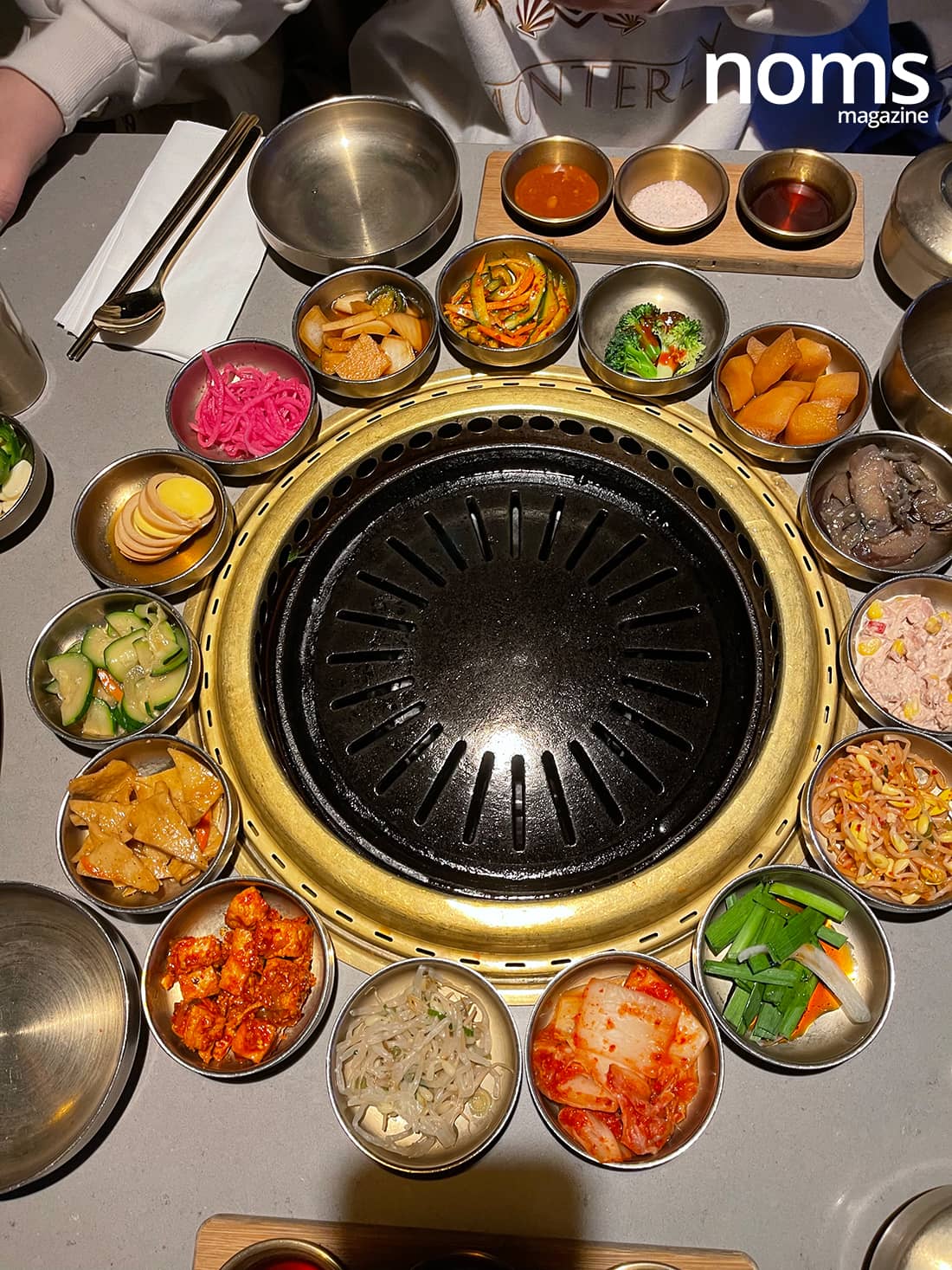 When it comes to Korean food, everyone knows K-BBQ is one of its most tempting features that has hordes of Vancouverites scrambling for a taste.
There's really nothing quite like it, especially when it's done well, and the folks over at Kook on First Avenue do Korean BBQ so well, the place is always buzzing.
There's so much to sample at this fun and modernistic spot, so enjoy browsing through their menu. If you can't decide what to order, we have a few recommendations.
The abundant amount of banchans (side dishes) is like no other in the city. With 15 side dishes to enjoy, you'll surely find one or three to keep asking for refills!
At Kook, they have various combos that are perfect for groups of 2 and 6. Each come with various meats like Pork Galbi, Beef Bulgogi, Chicken Bulgogi and some side items like salad or JapChae.
Because the banchans are refillable, the combos make for an easy option to go for and filling enough.
Pro-tip: Reservations are only available for groups 6 and larger. So go early if you're in a group of 2 or 4 as this spot gets really really busy!
What to order: BBQ Combinations A or B
Address: 2800 E 1st Ave, Vancouver, BC
Website | Instagram | Facebook
2. SURA Korean Cuisine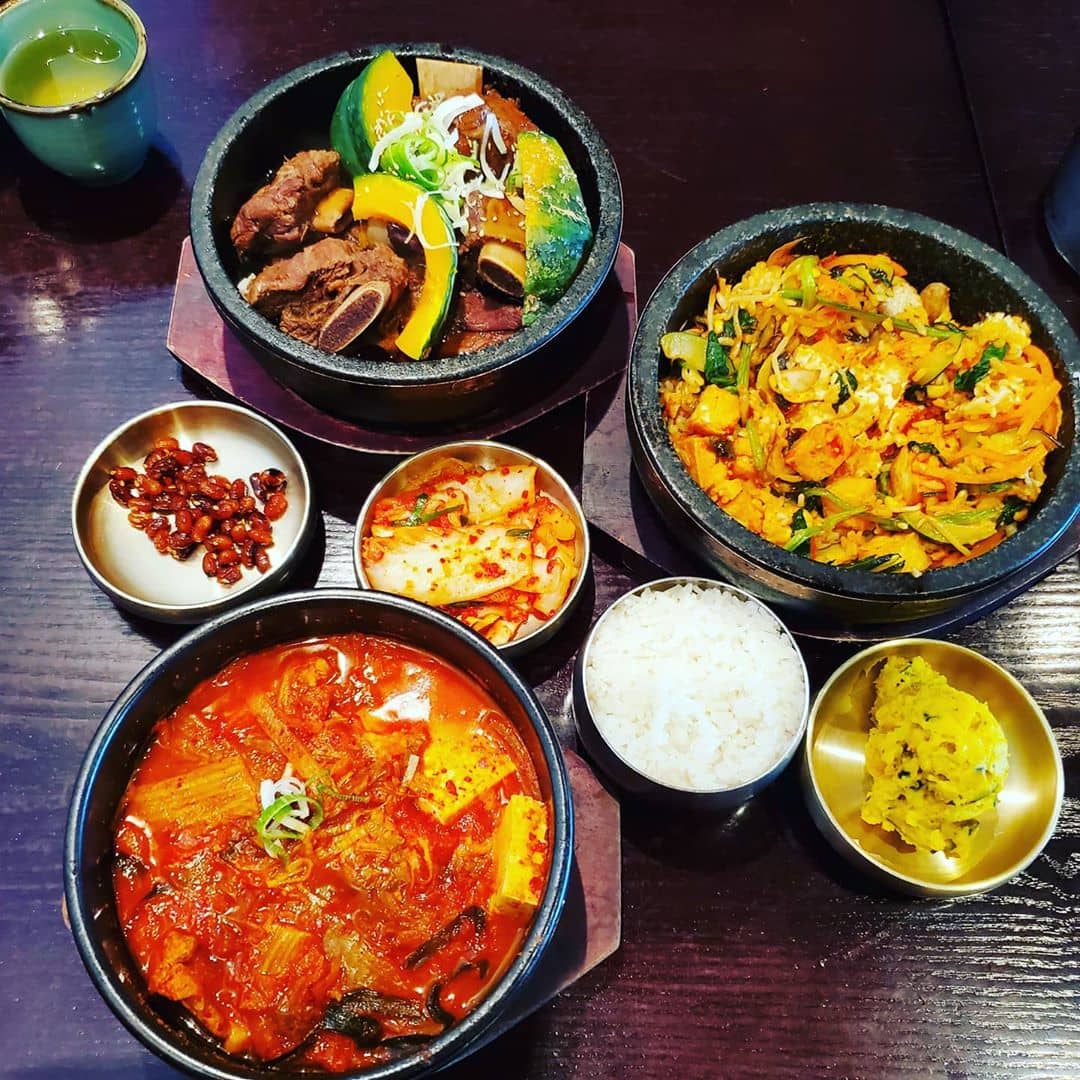 Right in the heart of downtown Vancouver West End is the award-winning Korean Royal Cuisine gem, Sura.
Renowned for its stylish and elegant ambiance, amazing service, and wide array of mouth-watering dishes, this is one of the city's favored hotspots among locals and visitors for authentic Korean fare.
The menu at Sura is a beautifully balanced mix of crisp salads, hearty soups & stews, noodles, barbecue and more.
Try their famous Daeji Galbi with its super flavourful house sauce, a steaming bowl of Kimchi Jjigae, or a heaping plate of Japchae. Pair off your meal with a glass of Korean Rice Wine, or a delicious soju cocktail.
And if you're looking for great Korean food in Richmond, you'll find Sura at Aberdeen Centre as well. That location also has Korean BBQ on their menu!
What to order: Daeji Galbi, Kimchi Jjigae, Japchae, Korean Rice Wine
Address:
-1518 Robson Street, Vancouver, BC V6G 1C3
-4151 Hazelbridge Way, Aberdeen Centre, Richmond, BC V6X 4J7
Order Online: DoorDash | Uber Eats | SkipTheDishes
Website | Instagram | Facebook
3. So Hyang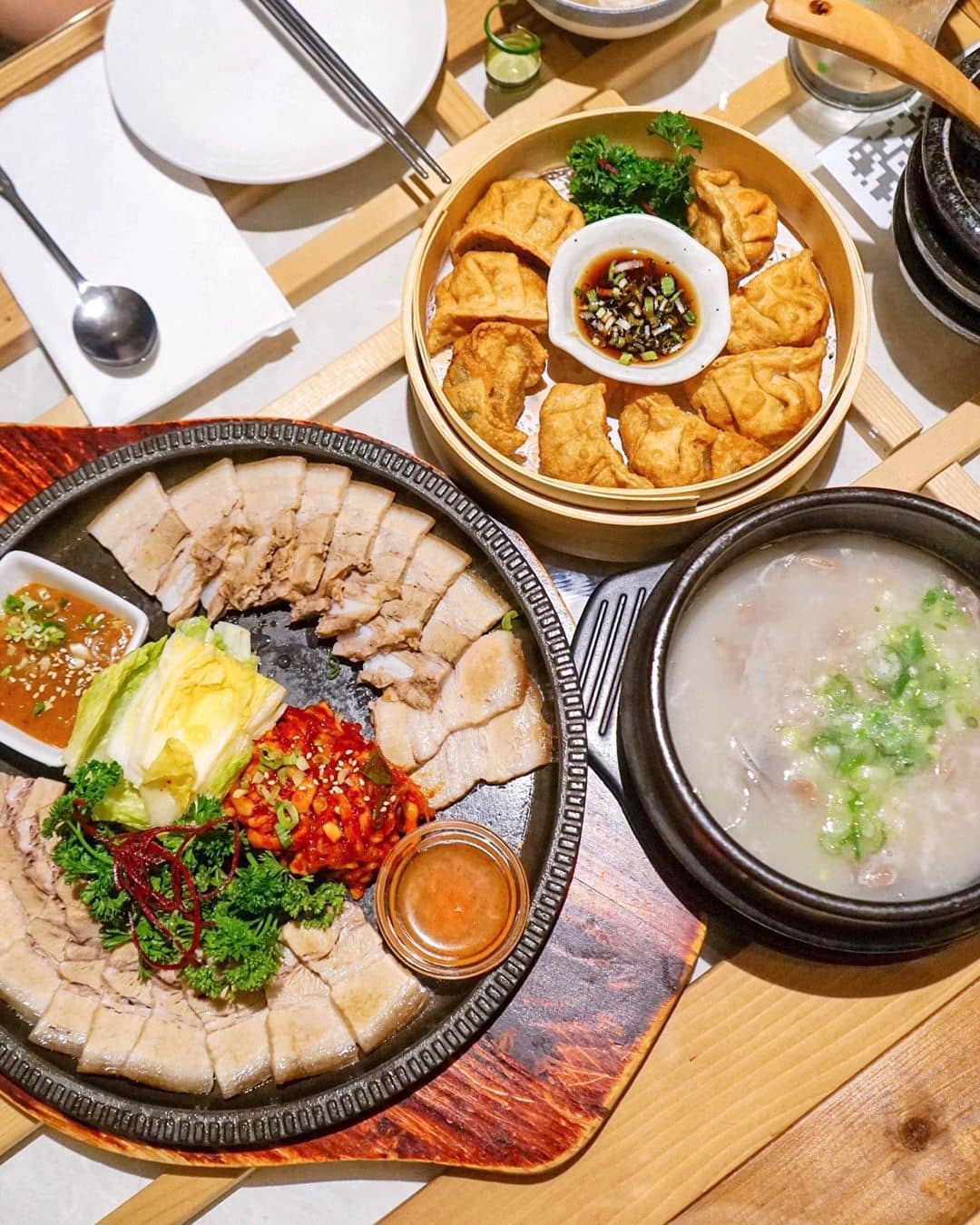 If you're looking for a restaurant that gives off that warm, cozy feeling of home, with all your favorite Korean dishes on the menu, and served by super-friendly attendants, then So Hyang is the place to visit.
Located on Vancouver's charming and quaint Fraser Street, this is a great place for a relaxing evening out with friends, and of course some amazing Korean cuisine.
Start off with a spicy Kimchi Jun to get your taste buds rolling, then sample their signature barbecue Squid Bulgogi, or share a scrumptious Hot Pot.
Their Khan Pung Gi (deep fried chicken in sweet and spicy sauce) is just divine and a must try too.
Fun Fact: The restaurant offers unlimited sides, so grab some and indulge to your heart's content!
What to order: Kimchi Jun, Squid Bulgogi, Hot Pot, Khan Pung Gi
Address: 6345 Fraser St, Vancouver, BC
Website | Instagram | Facebook
4. Sooda Korean BBQ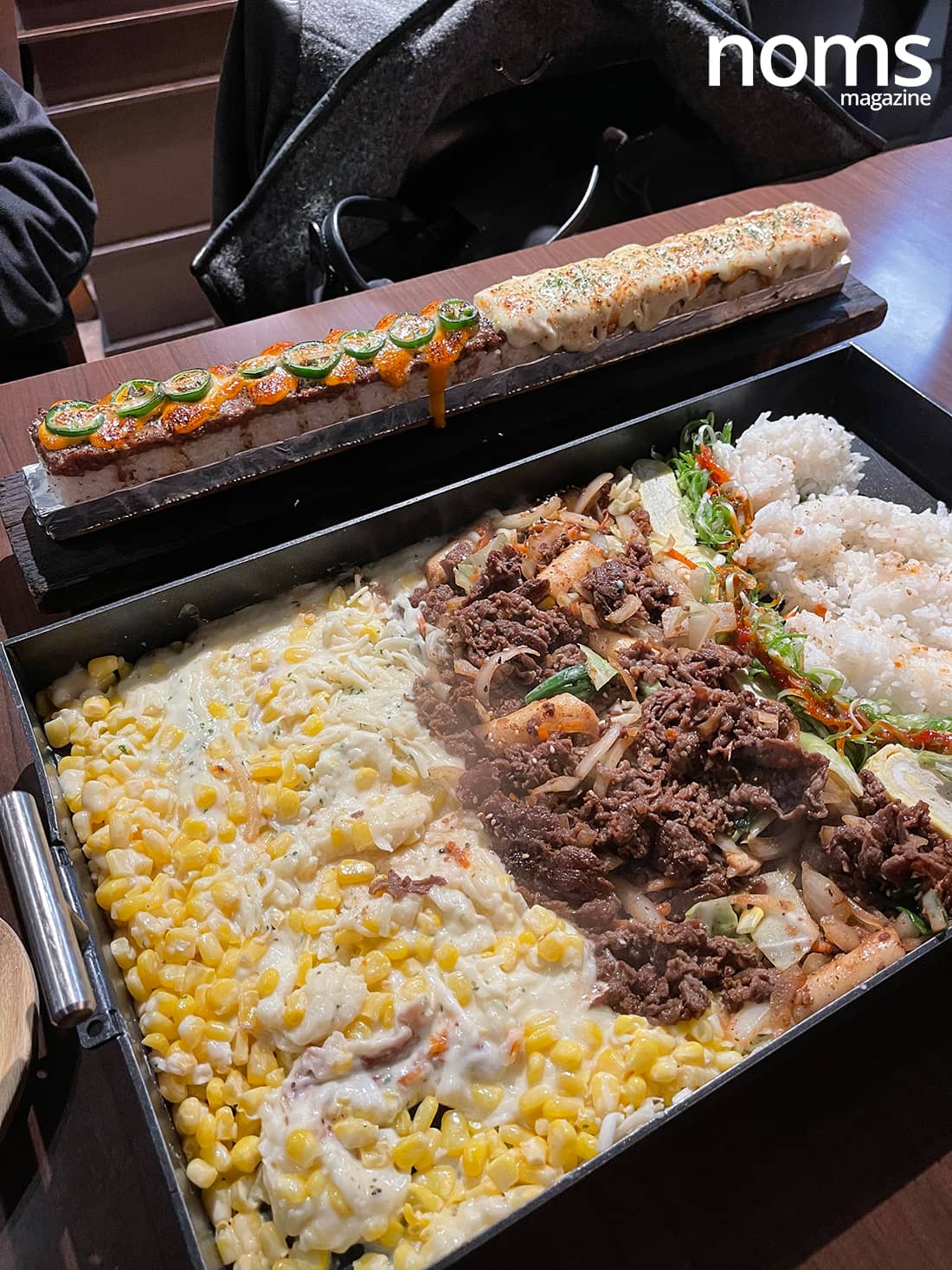 Sooda has been serving an authentic Korean taste in a modern and chic ambiance since 2017, and is always packed with people who know good food!
The most impressive thing about Sooda must be the fun decoration, the hip music welcoming you when you enter, and the creative menu.
The Sooda Special Platter will be one of the restaurant's signature menu items, featuring corn, cheese, and a selection of meat options. This plate is great to share and will no doubt fill you up!
Other noteworthy dishes include a spicy and cheesy Dakgalbi, Seafood Pancake, and Kimchi Fried Rice, to name a few
For drinks, don't leave without trying their soju-based cocktails and a selection of high-end spirits. They can pair perfectly with the Korean menu.
What to order: Sooda Special Platter, Seafood Pancake, Kimchi Fried Rice, Bulgogi
Address:
-60 W Cordova St, Vancouver, BC V6B 1C9
-4455 Lougheed Hwy, Burnaby, BC
Website | Instagram | Facebook
5. Tabom
Tabom is a unique Korean restaurant with a delicate fusion of Western & East-Asian style, modern interior with exposed brick walls.
Especially, with a mix of dining tables and booth seating, Tabom is quite flexible if you want an open-space friends gathering or more private date.
They are most famous for their stunning hot plates, so make sure not to miss them!
You can first try their Tabom Signature Hot Plate that comes up with cheese, corn, baby squid, pork belly, and tobbokki, which taste so much flavorful altogether without being overwhelmed.
Tabom Signature Hot Pot is also one of the most popular dish (if you still can handle another huge portion), or you can keep your day going with Spicy Cheese Samgyeopsal – grilled porked belly marinated with secret sauce.
What to order: Dak-Galbi, Jukkumi-samgyeopsal, Spicy Cheese Samgyeopsal, Tabom Signature Hot Pot, Hot Plate Tteok-bokki.
Address: 1536 Robson St, Vancouver, BC V6G 1C2
Website | Instagram | Facebook
6. Zoomak Korean Tavern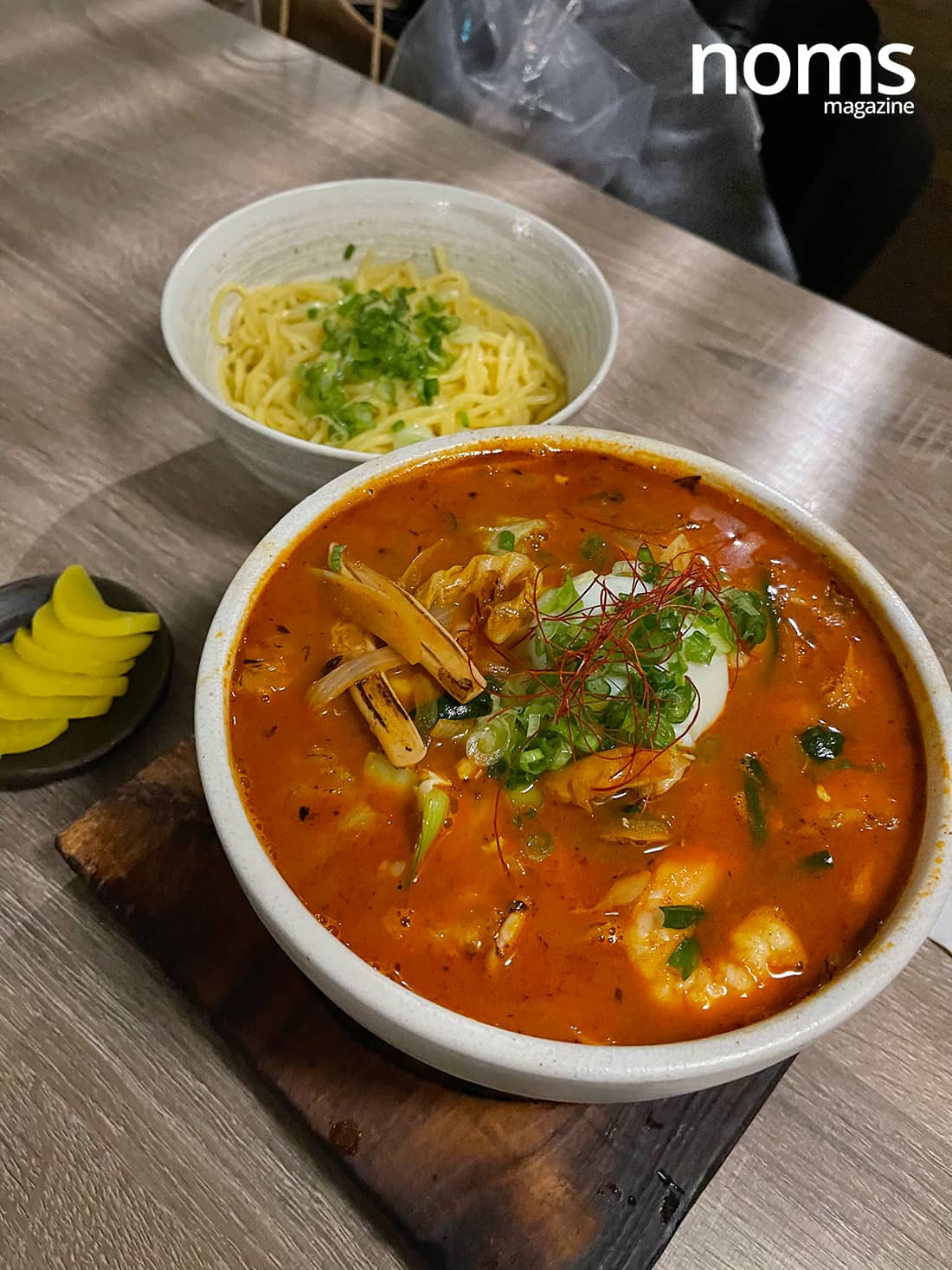 Gastown's Zoomak Korean Tavern has long been the locals' go-to spot for authentic Korean food for good reasons.
From their traditional dishes to their more modern takes, there is something that will satisfy every craving on their menu. Especially if you're looking for a lunch spot, this place is definitely a must-try!
The Han Sang Lunch Special is the most popular dish here, featuring a stunning 12-plate tasting tray. You'll find short ribs, kimchi pancakes, scallop, eggplant, and such to pair with white rice.
Don't miss a chance to try out their Jang Trio Rice Bowl featuring soy-cured abalone, prawn, scallop, fennel muchim, and bokchoy muchim.
Or the famous Jjampong with noodles served in a spicy seafood broth. The flavors can not be beaten!
What to order: Han Sung Lunch Special, Jang Trio Rice Bowl, Jjampong, Jap-Chae
Address: 52 Alexander St, Vancouver, BC V6A 1B4
Website | Instagram | Facebook
7. Kosoo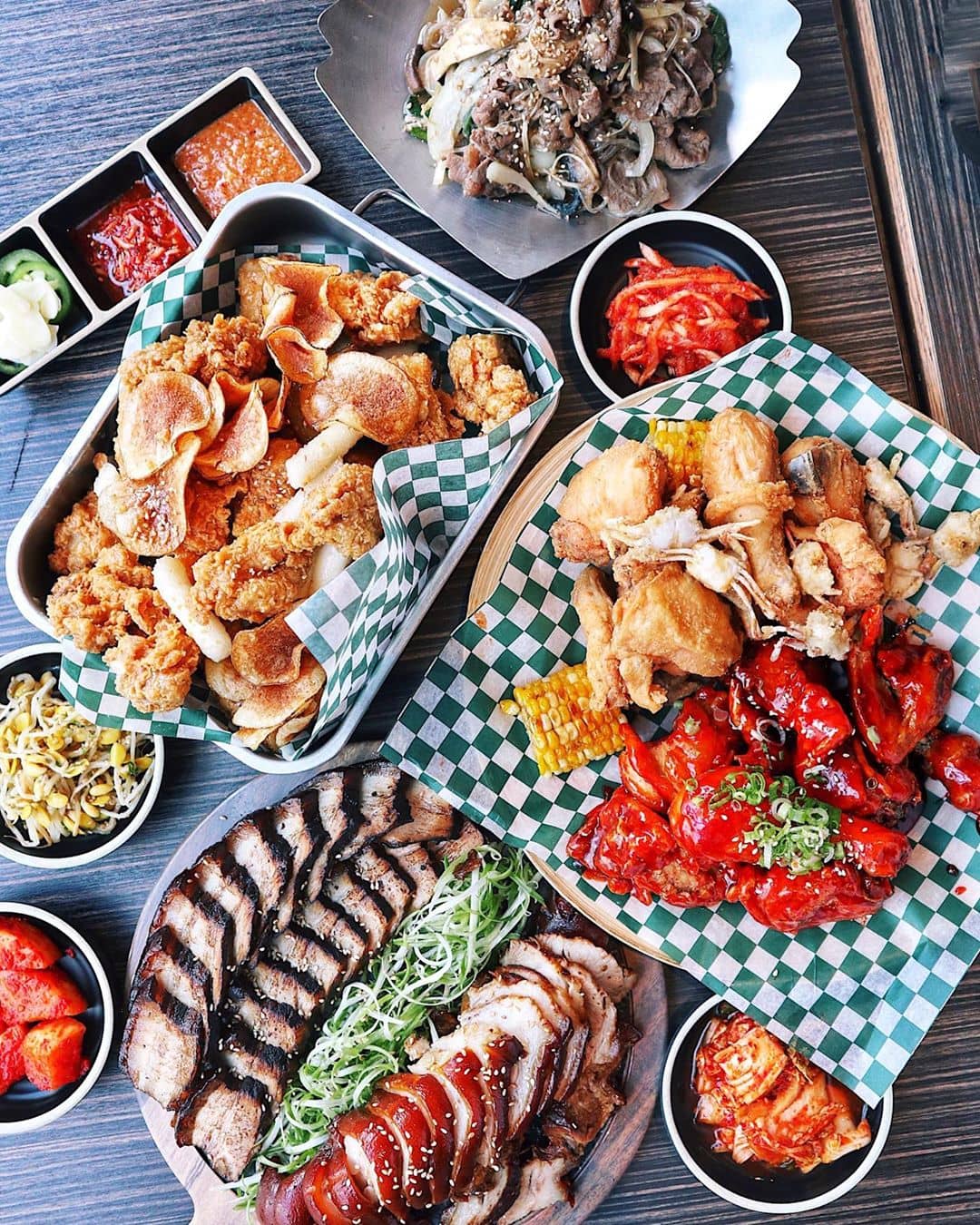 Kosoo has a philosophy to deliver the highest quality & innovative Korean food, while upholding the traditional flavours that have been around for centuries.
There is a unique modern flair to their way of cooking, that is based on Seoul's food style. Both their restaurants are upscale in appearance, with a cozy ambience and warm welcoming staff.
Try out their Royal Cuisine Geongol, which is a Korean style hot pot with beef or seafood, along with vegetables and mushrooms.
One of the more popular Korean dishes served here is a combination of Jokbal and Bossam (pork belly and feet) which is a must try.
They also do a variety of soul food amongst which the Kimchi Jjigae and Doenjang Jjigae are extremely popular.
What to order: Royal Cuisine Geongol, Jokbal and Bossam, Kimchi Jjigae and Doenjang Jjigae, Chunga, Makgeolli
Address:
-Kosoo Cardero – 832 Cardero St, Vancouver, BC V6G 2G5
-Kosoo Robson – 1128 Robson St, Vancouver, BC V6E 1B2
Order Online: DoorDash | Uber Eats | SkipTheDishes
Website | Instagram | Facebook
8. Nene Chicken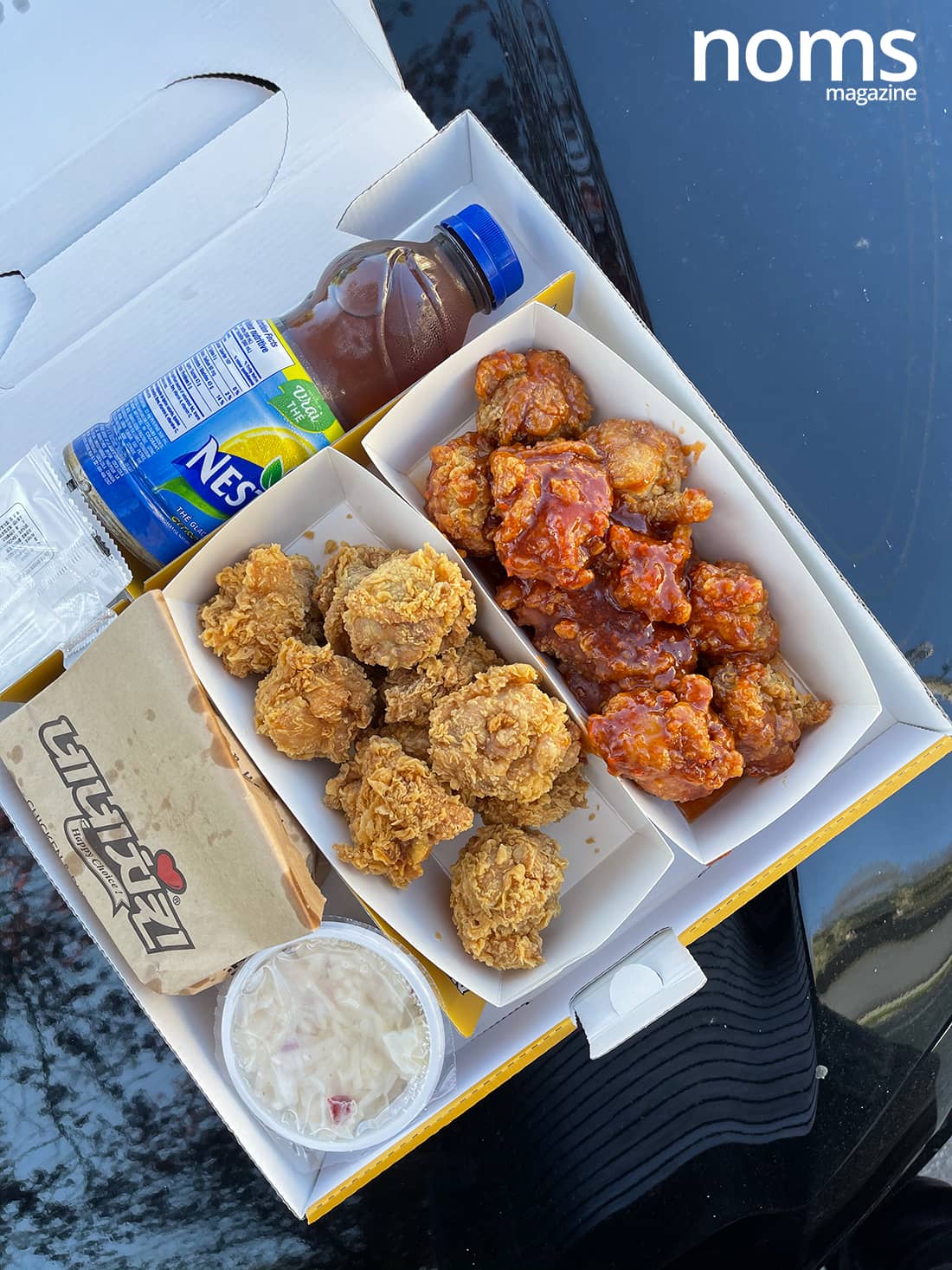 Where can you get the most stunning Korean-style burger and Korean fried chicken in Vancouver?
It's Nene Chicken with no hesitation!
Welcomes you with a warm ambiance, modern interior, and finger-licking good food, this is always an ideal place for a weekend gathering, mid-day snack, a casual date, or simply a quick meal.
Since fried chicken and burgers are the main dishes, you might want to try some of the most outstanding ones, including Hawaiian Burger and "Yes" Burger.
Trust us, they taste nothing the same as any burgers you have tried before!
And their fried chicken, they are all too good to be missed out! In case you need some suggestions, try the 2 best-sellers: Snowing Chilly Chicken and Soy Garlic Chicken.
What to order: Snowing Chilly Chicken, Soy Garlic Chicken, Green Onion Burger, Hawaiian-Terri Burger, Twin Cheese Burger, "Yes" Burger
Address:
-1070 Kingsway Vancouver, BC V5V 1N9
-1231 Davie St. Vancouver, BC V6E 1N4
Website | Instagram | Facebook
9. Mapo Pancake House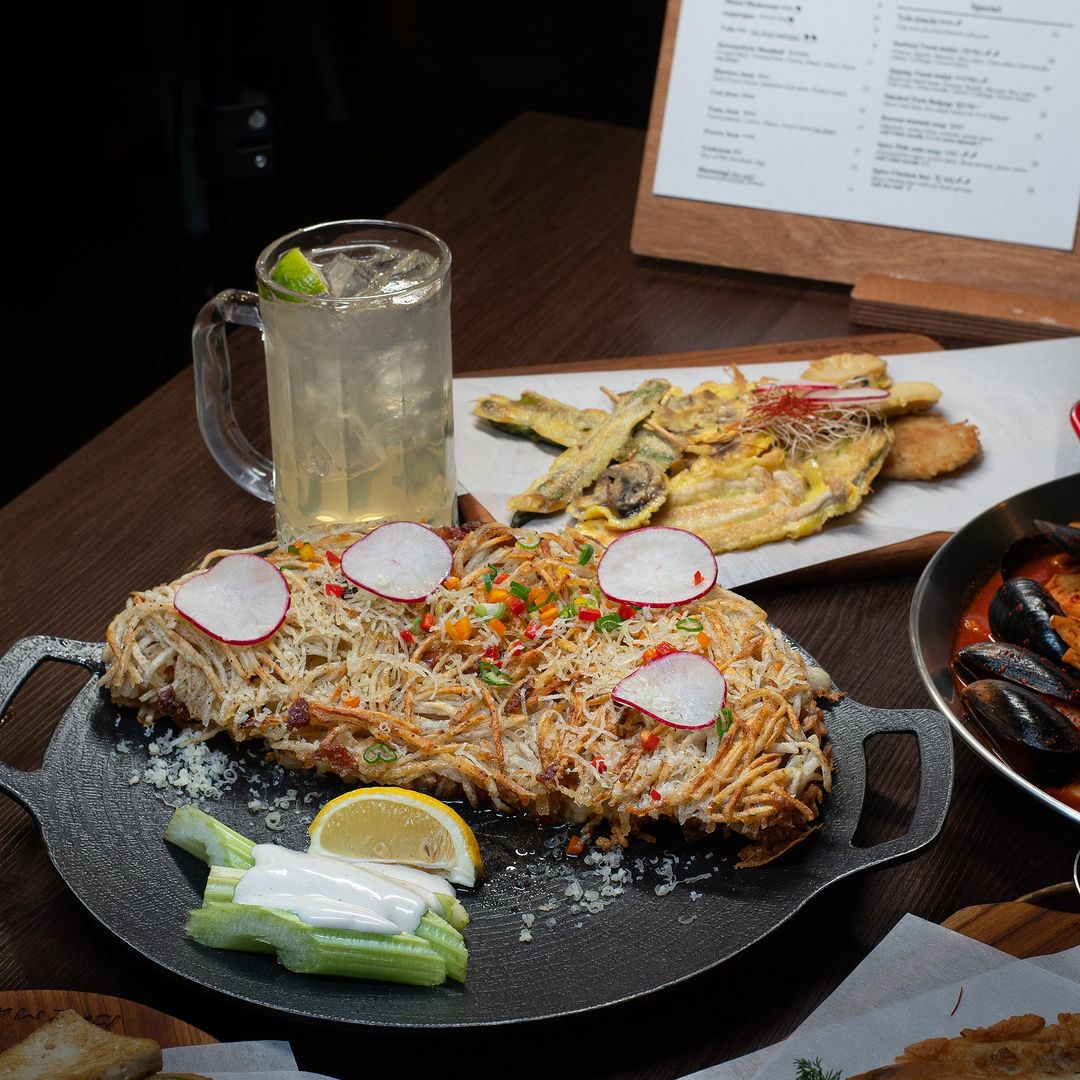 Whenever you think of enjoying authentic Korean pancakes, think of Mapo Pancake House!
At this lovely cozy Yaletown spot, you'll be feasting on your palate and tummy with a wide variety of pancakes and Korean rice wine.
Feels like dining in Korea by all means!
To share, get the Large Seafood Green Onion Pancake, which is super flavourful and packed with texture.
It comes with prawns, squid, mussels, imitation crab, green onion, and a special sauce for dipping. People are going crazy for this badass, and so are you!
In case you still have room for some more, get the Bulgogi Cheese Pancake, which is rich, cheesy, and topped with various cheeses, carrots, onion, and bulgogi beef. O
And ofcourse, enjoy your Korean pancakes with some soju!
What to order: Potato & Cheese, Seafood Green Onion Pancake, Bulgogi Cheese Pancake, Cold Kimchi Soup
Address: 1130 Mainland St, Vancouver, BC V6B 2T9
10. BBQ Chicken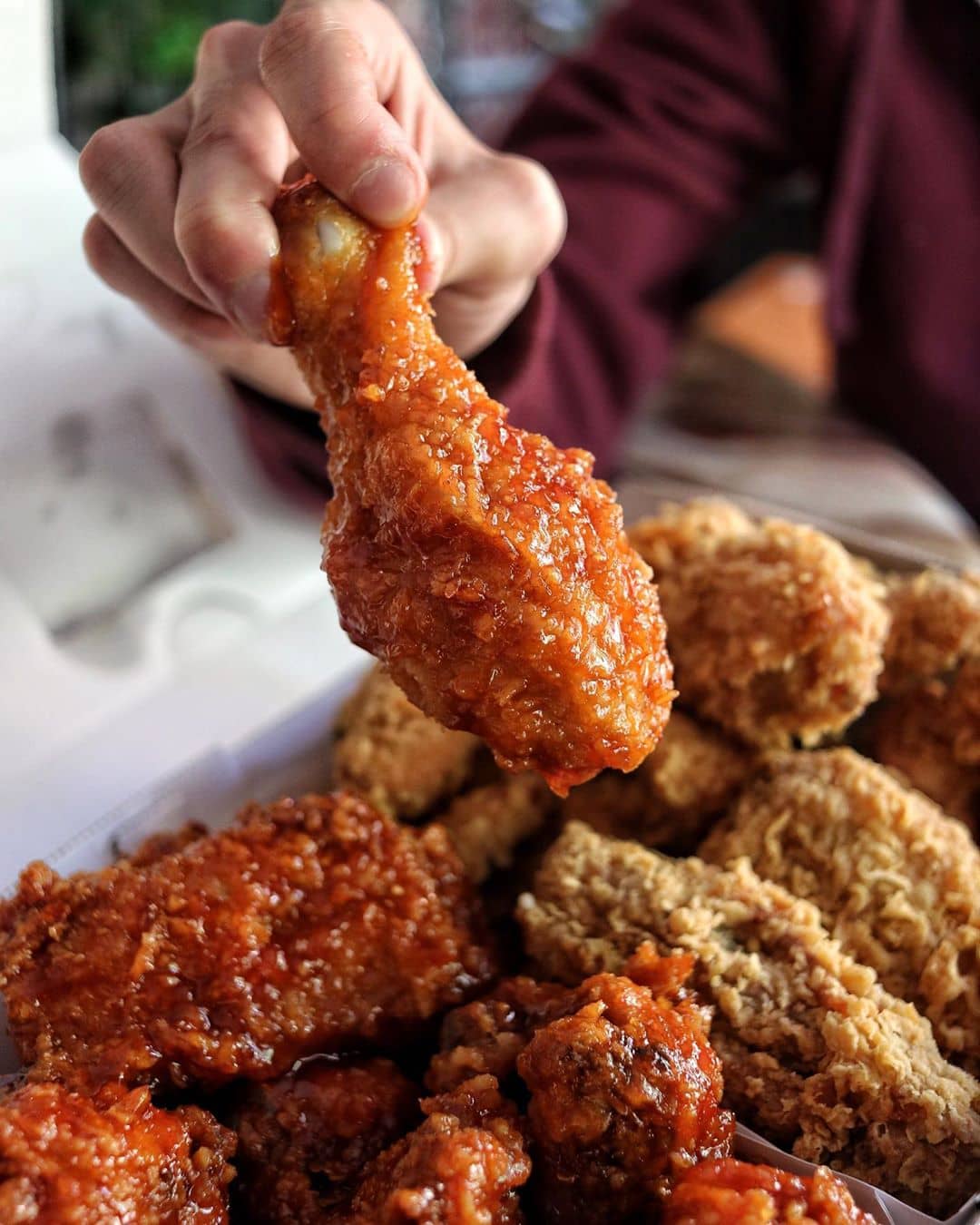 If you are into popular Korean dramas (and who isn't?) then you should already be familiar with BBQ Chicken.
This fast growing chain serves a variety of fried and barbecued chicken with various toppings and sauces, from cheese to soy garlic, and the spicy yet sweet yangnyeom sauce.
An exciting introduction is the Mala cuisine inspired fried chicken with hot and spicy sauce.
Start off with some tempting appetizers like the Spicy Dukk Bokki (Traditional Korean spicy sauce with rice cake, vegetables, and egg) or the delicately made Rice cake balls stuffed with Cream cheese and then deep fried.
The Secret Sauce Chicken and the Golden Fried Chicken are big favorites, but you can also order their Sandwich Combos or Over Rice options for a filling and balanced meal.
What to order: Spicy Dukk Bokki, Jamaican Wings, Secret Sauce Chicken, Golden Fried Chicken, Sandwich Combos, Over Rice
Address:
-329 North Rd #640, Coquitlam, BC V3K 3V8
-1780 – 4151 Hazelbridge Way, Richmond, BC V6X 4J7
-2 – 2755 Lougheed Hwy, Port Coquitlam, BC, V3B 5Y9
-5557 Dunbar St, Vancouver, BC V6N 1W5
Order Online: Uber Eats
Website | Instagram | Facebook
11. Ma Dang Goul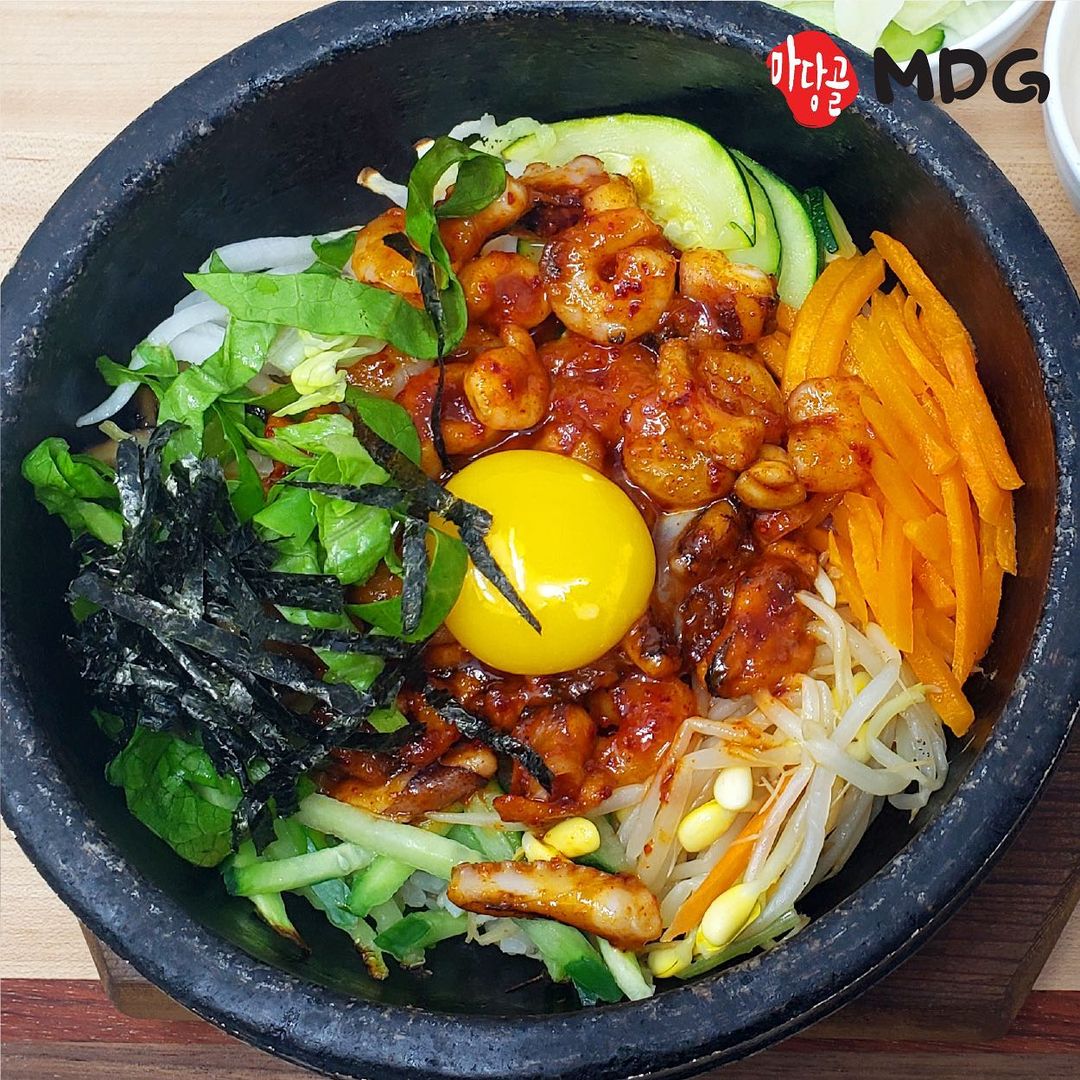 There are many Korean restaurants in the West End, but Ma Dang Goul has been a longtime go-to spot for Korean homestyle comfort food.
Here, you'll be enjoying authentic Korean cuisine with side dishes such as mung bean jelly cake, potatoes, bean sprouts, salad, and kimchi.
Make yourself at home at Ma Dang Goul, this is how it's supposed to be!
Highlights of the menu include Mulmandu, Bulgogi Kimchi Combo, Daeji Galbi, Mandu Kalguksu, and Gamja Tang. You just can't go wrong with this goodness!
The Mulmandu has a soft-chewy texture with an umami taste, the Daeji Galbi is sweet and savory, with a kick of spiciness, and the sizzling hot soup Gamja Tang is super hearty and savory!
If you're coming in a group, get the Bulgogi Kimchi Combo as the portion is huge! The beef is well-marinated, and each tender caramelized beef bulgogi just tastes so amazing!
To share, the Mandu Kalguksu is also a nice choice, which is served in a savory, meaty soup.
What to order: Mulmandu, Bulgogi Kimchi Combo, Daeji Galbi, Mandu Kalguksu, Gamja Tang
Address: 847 Denman St, Vancouver, BC V6G 2L7
12. Passion8 Dessert Cafe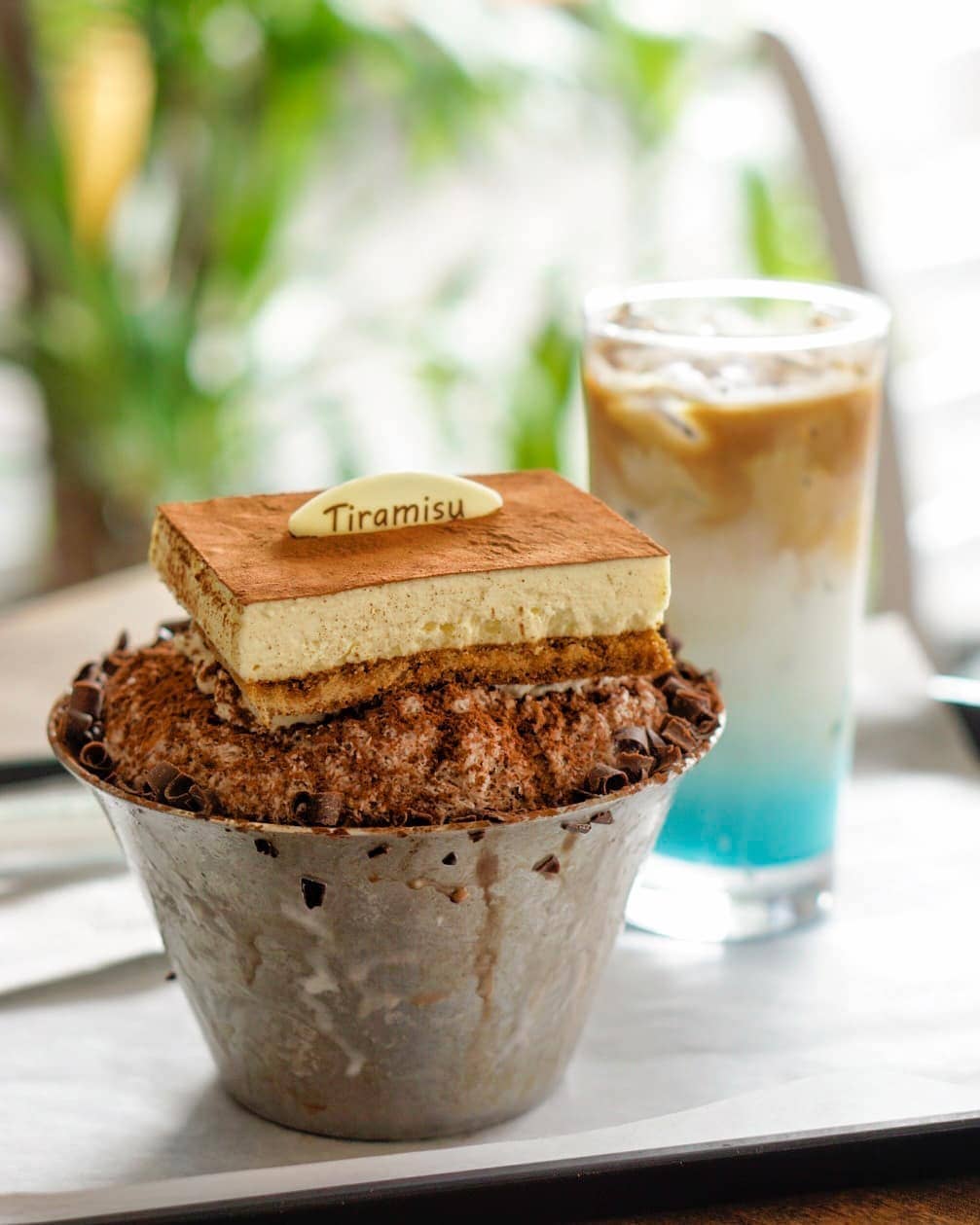 Passion8 Dessert Cafe should be on everyone's bucket list when it comes to the tempting goodness of Bingsoo.
Known for their beautifully presented desserts consisting of shavings of sweet iced milk topped with rich and exotic flavours, Passion8 is also quite popular among Vancouverites for their rich and decadent cakes, as well as sandwiches and salads.
One of the more popular bingsoo here is the Mango Bongo that has freshly sliced mangos with homemade cheesecake and ice cream on snow shaved ice. Doesn't that sound divine?
Also recommended is the Real Tiramisu Snow Mountain and the Mr. Choco Brown which is loaded with homemade brownies and chocolate flakes, with chocolate flavoured ice cream all served on a milky snow mountain.
Protip: The servings at Passion8 are extremely generous, so order with care.
What to order: Mango Bongo, Real Tiramisu Snow Mountain, Mr. Choco Brown
Address:
-3010 Cambie St. Vancouver BC. Canada
-403 North Rd, Coquitlam, BC V3K 3V9
Order Online: DoorDash | Uber Eats | SkipTheDishes
Website | Instagram | Facebook
That wraps up our 10 Best Korean food spots in the city, and we hope you make it to all of them and enjoy great tradition, gorgeous food, and memorable moments.
Still looking for more food spots? Well try our picks of the best restaurants in Vancouver!
How We Create Our "Best" Lists
All Noms Magazine's "best" lists are created using multiple factors and signals to help readers find the best restaurants, things to do, and places to stay at. Some of these factors and signs include personal experiences, correspondence with locals, and compiling experiences from review sites.
Each list is also created to be balanced (in terms of price, cuisine type, ambiance, and more) as possible. This means that the lists are not specifically created in ranking order. You should be comfortable picking from any of the spots on the list and generally have a good time. But of course, YMMV (your mileage may vary) and everyone may have different experiences/palates.