When it comes to sweet treats, the boxes of cute and colourful macarons are hard to miss. Made with finely ground almond flour, sugar, and egg whites, macarons are mini-sized meringue treats that melt in your mouth!
These fancy biscuits are loved by the French and you can see them displayed in stores lined up on most cobblestone streets of Paris. But, the real question is: where can you find them in Vancouver?
If you're looking for small, sweet, elegant macarons that taste phenomenal in Vancouver, we've got you covered! In this list, we compiled 10 of the best macarons in Vancouver for you to check out!
1. Bon Macaron Patisserie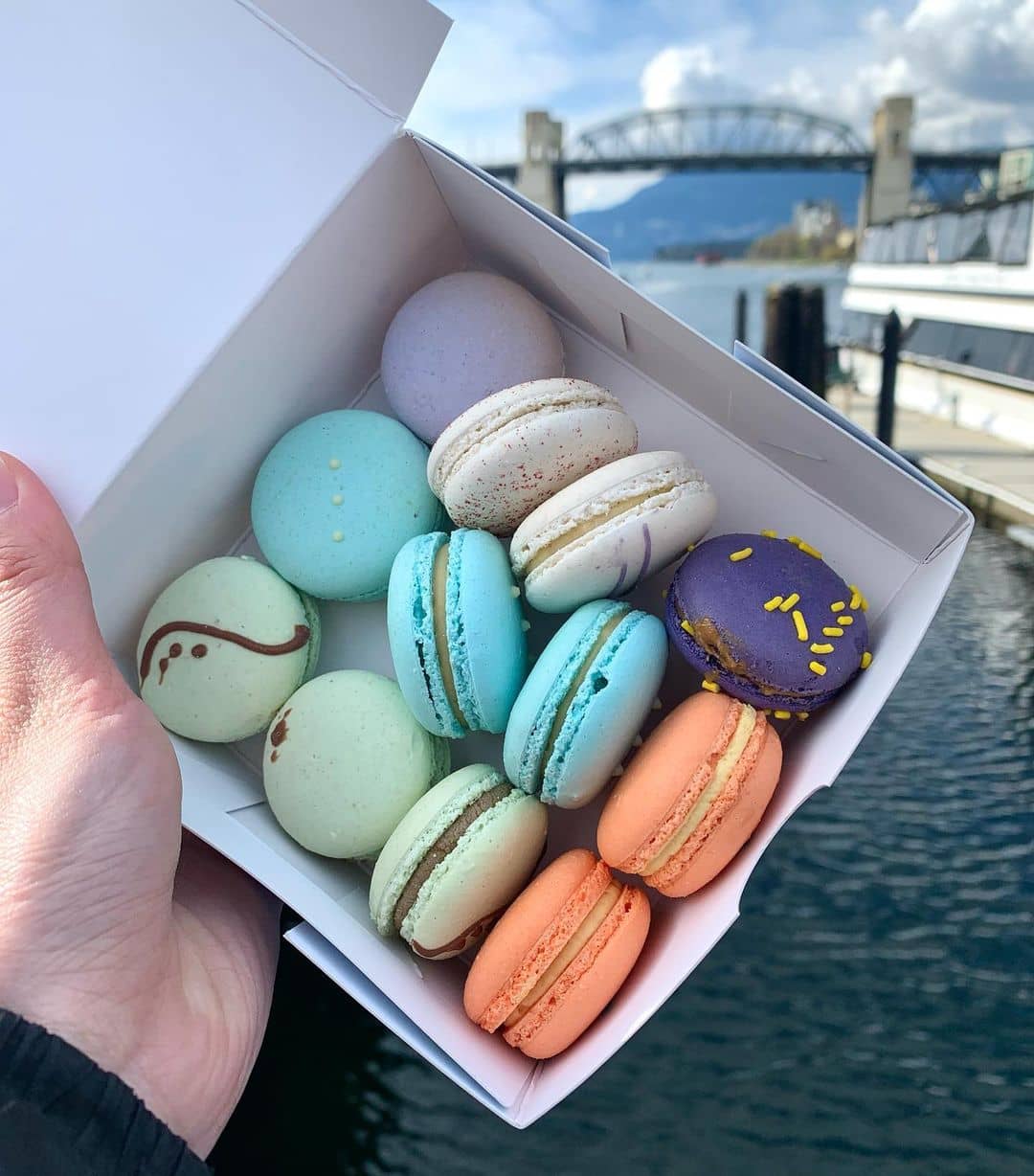 Tucked away from the hustle and bustle of The Granville Public Market, Bon Macaron Patisserie not only sells one of the best macarons you'll ever have in your life, but they also offer workshop classes so you can make it on your own! Available in an assortment of 40 different flavours, get ready to be overwhelmed in a good way.
The Jackfruit flavoured macaron is absolutely divine and even has real bits of jackfruit filling inside!
If you want a fresher and mildly sweet taste, the Pistachio is something you should try! Not too sweet, with the perfect texture, and incredible flavors, Bon Macaron Patisserie definitely knows what they're doing.
What to order: Pistachio Macaron, Jackfruit Macaron
Address: 1244 Cartwright St Unit 4, Vancouver, BC V6H 3R8
Website | Instagram | Facebook
2. Thierry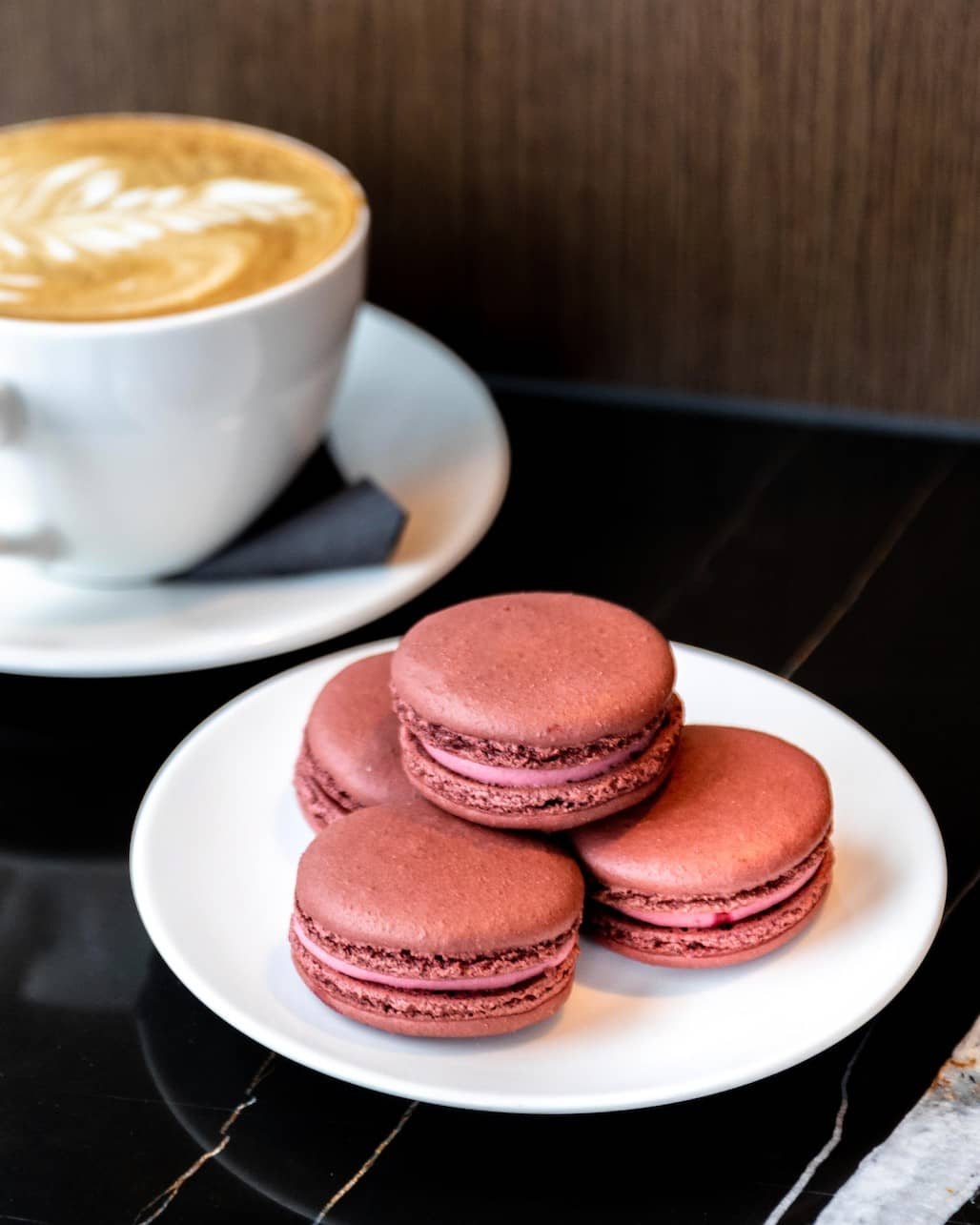 A lovely setting close to major hotels in the quiet streets of Alberni, Thierry is one of the best bakery and dessert places in Vancouver! Chief Thierry Busses is a master in his craft and the crowds waiting in line to get inside are proof enough. In Thierry, macarons are a crowd favorite! Prepared fresh daily in a seasonal rotating list, you are sure to find a flavour you love!
When it's available, cop the Salted Caramel which tastes exactly like what salted caramel would taste like in macaron form! You can instantly taste the delicious fusion of saltiness and sweetness of caramel in the first bite. Pair it with their famous Hot Chocolate and you have the perfect union of flavours in your mouth.
The Filipino lime, Calamansi, is also a must-try if you want a unique flavour. Sweet and tangy, this is climbing up to everyone's list of favourites and it'd be sad to see it go upon rotation. Be sure to grab one when it is available.
What to order: Salted Caramel Macaron, Calamansi Macaron, Hot Chocolate
Address: 1059 Alberni St, Vancouver, BC V6E 1A1
Website | Instagram | Facebook
3. Chez Christophe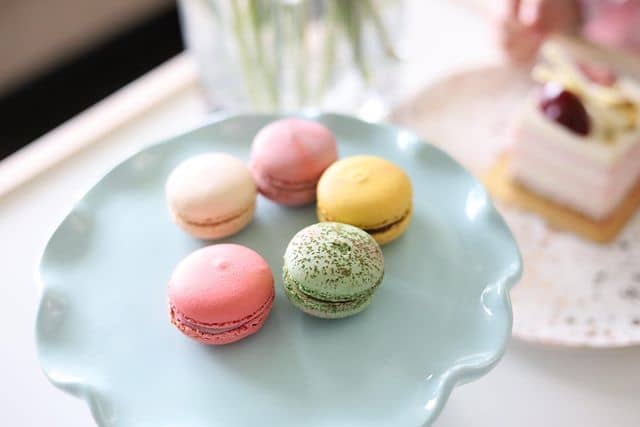 If you're a dessert connoisseur, Chez Christophe is one of the best places to be in Metro Vancouver! Not only do they serve delectable croissants and chocolates, but they also have the most delicious macarons in town. With the vast selection of flavours to choose from, you'd be thrilled to come back next time to try them all.
Destined to be your next guilty pleasure, the Passionfruit Macaron are beautiful gold sweet treats that are to die for. Made with milk chocolate ganache and passion fruit puree, you have all the sweet and tart goodness!
If you want a burst of tangy flavour, the Blood Orange Macaron will take you for a ride to orange city! Thoughtfully made with an orange marmalade center and blood orange chocolate ganache, you'll be greeted by a pop of citrus the moment you take a bite.
What to order: Passionfruit Macaron, Blood Orange Macaron
Address: 4717 Hastings St, Burnaby, BC V5C 2K8
Website | Instagram | Facebook
4 Take Urban Cafe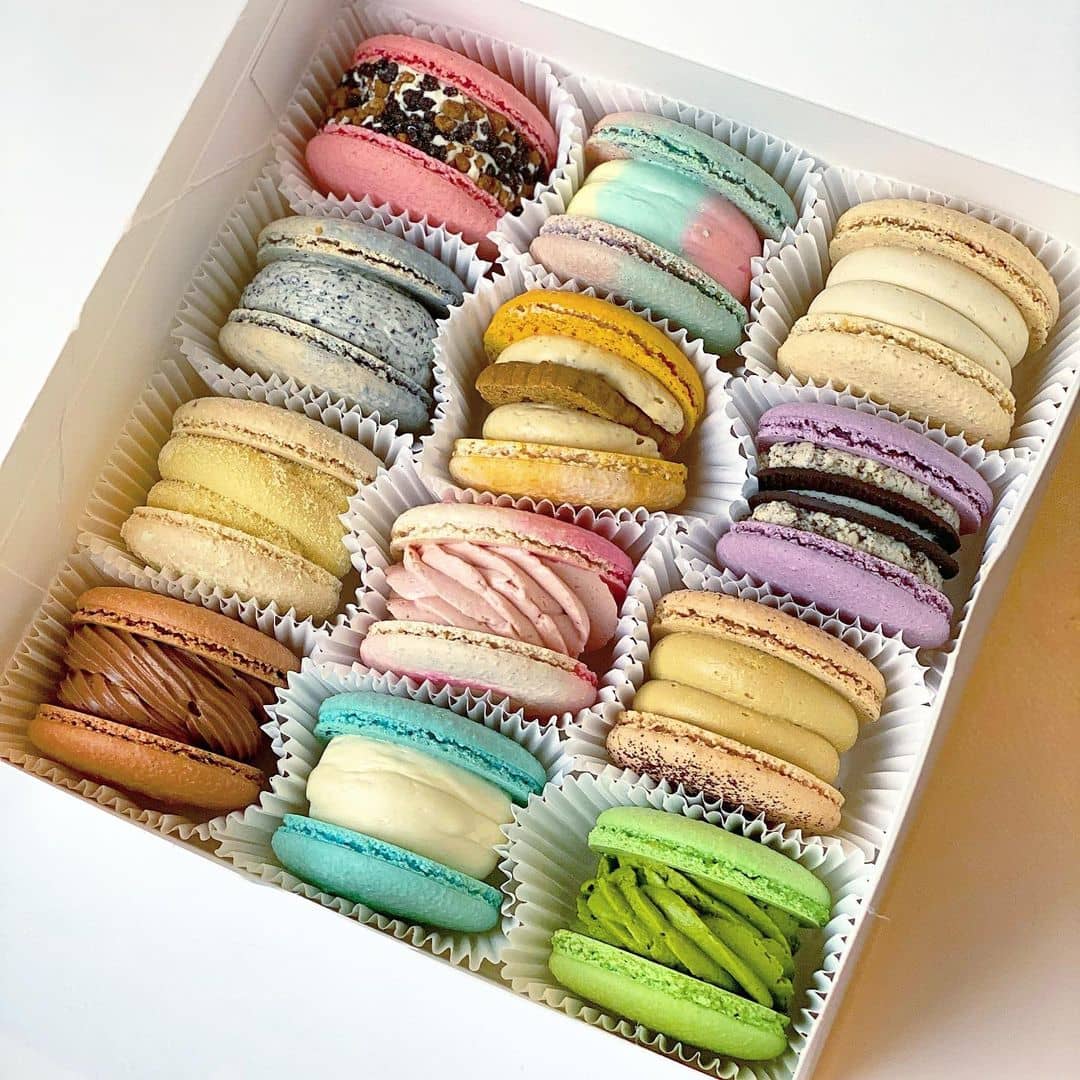 Have you ever heard of ddungcarons a.k.a Korean-style macarons? Take Urban Cafe specializes in making them! These thick macarons are unlike any other macaron you can find in Vancouver. Double or triple the size of a regular macaron, you can enjoy your sweet treat a little bit longer!
Chewy and flavourful, all macarons in Take Urban Cafe have distinct tastes that are amazingly good! The Honey Yuzu has bits of real yuzu mixed in the buttercream, allowing a refreshing flavour.
Even the Real Oreo has a "real oreo" between the buttercream, adding a slight bit of crunchiness to the soft texture of the macaron!
What to order: Honey Yuzu Macaron, Real Oreo Macaron
Address: 1019 Main St, Vancouver, BC V6A 4L
Website | Instagram | Facebook
5. Laduree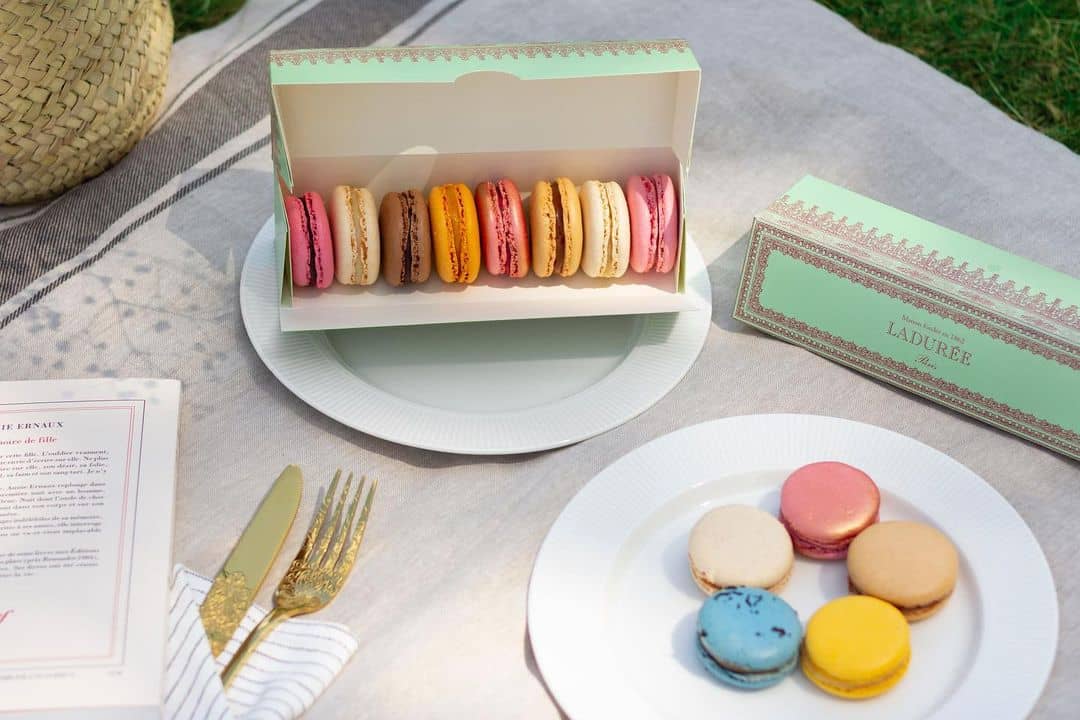 An oasis of elegance and sweet desserts, Laduree is both a bakery and a restaurant in the heart of Downtown Vancouver. Heading inside the famous green doors, you'll instantly be greeted with rows of beautifully presented macarons that will make your mouth water. With lovely decor and delicious pastries, this spot is French in every way!
A cloud of cotton candy in bite-sized biscuit form, the Marie-Antoinette Macaron is their best-selling flavour on the menu. This tea-infused biscuit has a rich and creamy taste that has the perfect consistency and the right crunch.
Another crowd-favorite is the Rose Macaron. This one has a sweet, fluffy, and crunchy taste with a touch of floral. Taking a bite will transport you back to the champs-élysées in the city of love.
What to order: Marie-Antoinette Macaron, Rose Macaron
Address: 1141 Robson St, Vancouver, BC V6E 1B5
Website | Instagram | Facebook
6. Faubourg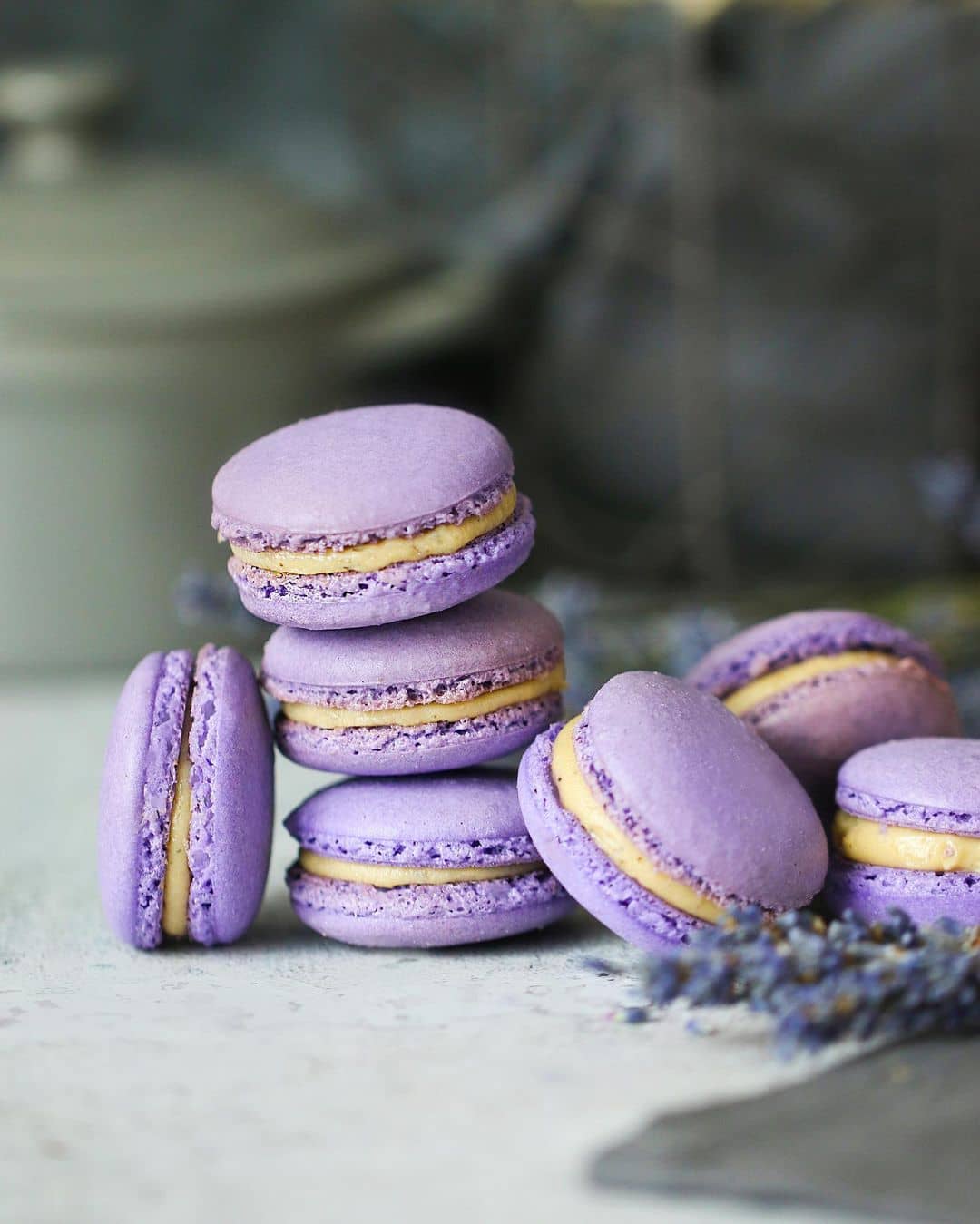 Offering a unique and authentic Parisian experience, Faubourg is the best place to enjoy afternoon tea time with a box of delicious macarons in Vancouver. Having established a reputation in artisanal French pastries for over 11 years, you'll know you're in very good hands in Faubourg. All macarons are made fresh and hand-picked from their daily production!
Faubourg's signature macaron, the Passion Fruit Macaron sells out quickly because of how good it is! The fruitiness of passion fruit goes so well with the buttercream, creating a fantastic combination of flavours!
The Tahitian Vanilla Macaron is a classic vanilla-flavoured macaron but something in their secret recipe makes it irresistibly yummy! Pair it with tea from their wide selection and you have the ultimate Paris tea time experience.
What to order: Signature Passion Fruit Macaron, Tahitian Vanilla Macaron
Address:
-769 Hornby St, Vancouver, BC V6Z 1S2
-2156 W 41st Ave, Vancouver, BC V6M 1Z1
Website | Instagram | Facebook
7. Thomas Haas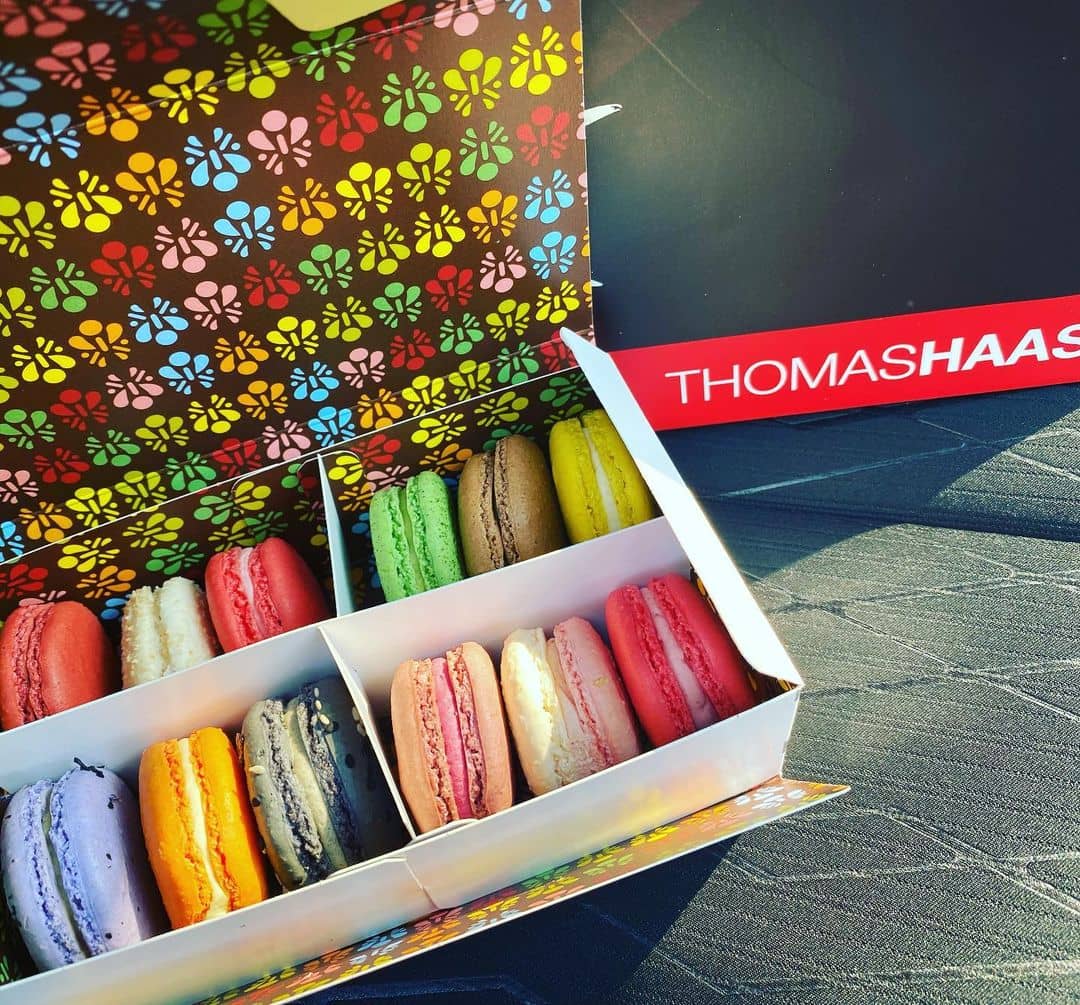 A cute little shop filled with luscious pastries and chocolate goods, Thomas Haas is a go-to for macaron lovers. The mix of classic and creative flavours is simply mesmerizing! You can tell everything is made with precision and attention to detail. Consistently packed, we highly recommend going early or pre-ordering to avoid long lines.
A taste of Europe in just one bite, the Earl Grey Macaron is one of the best you'll have in Vancouver. Filled with creamy, rich flavour and a fragrant aroma, this one is going to be your favourite even if you don't like Earl Grey! Once you get a taste, Macarons wouldn't be the same if they were not Earl Grey Macarons from Thomas Haas!
If you like coffee and macarons, the Mocha Macaron is your best choice. With a mocha ganache filling, this one tastes like a fancy cup of mocha with an added sweetness.
What to order: Earl Grey Macaron, Mocha Macaron
Address: 2539 W Broadway, Vancouver, BC V6K 2E9
Website | Instagram | Facebook
8. Gateau de Henry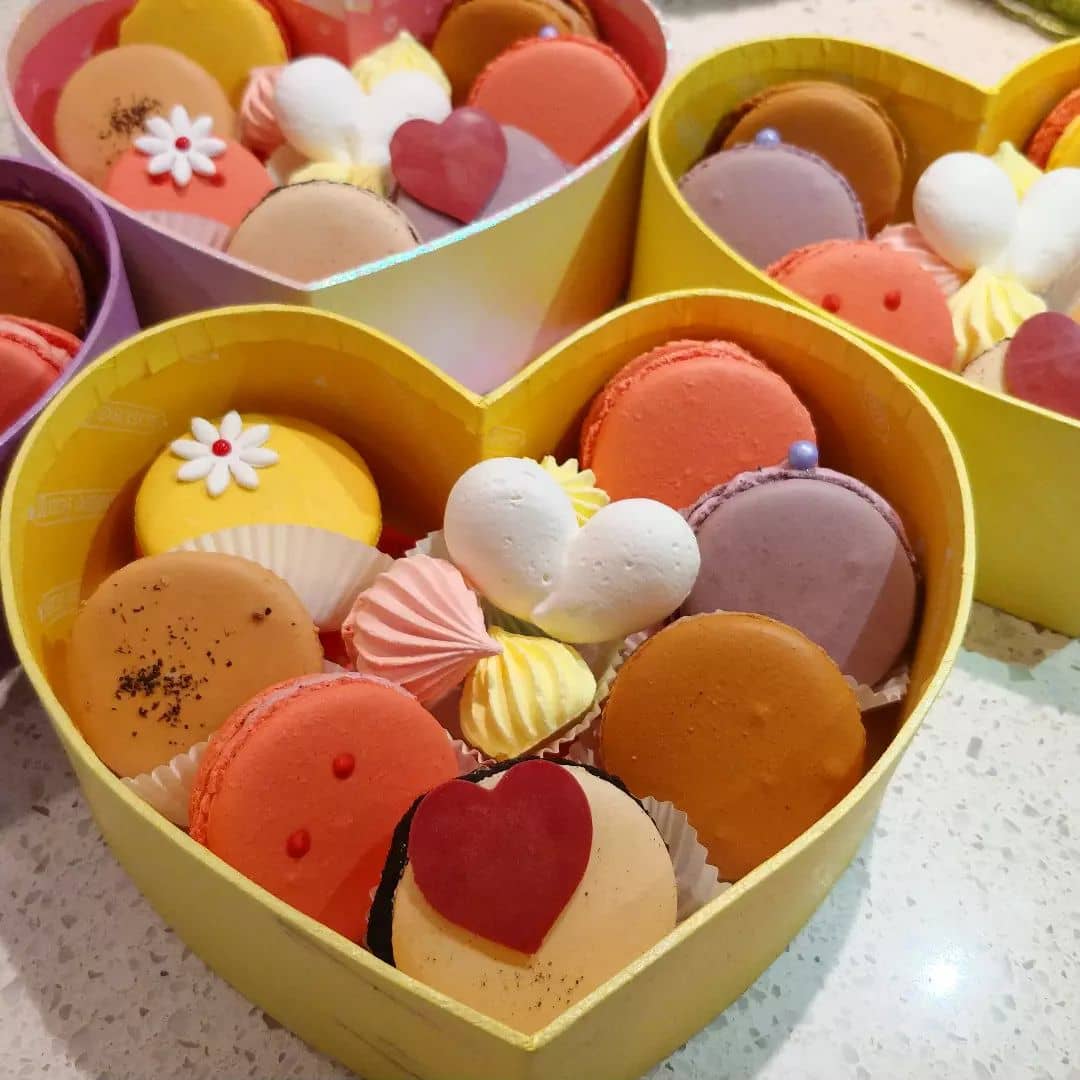 A best-kept secret in Burrard St, Gateau de Henry feels like you traveled a decade back in some remote Europe area and you're falling in love all over again with gorgeous pastel-coloured macarons.
Making delicious sweets with love and great care, Henry Shin brings Korean Cuisine into quality French pastries and desserts!
Not too sweet or heavy, macarons in Gateau de Henry are one of the best in Vancouver and they offer them in two sizes— mini or supersized!
The Triple Berry Macaron is especially yummy with all that berry goodness. If you want a different flavour from the classics, the Injeolmi or Soy Macaron has a great nutty and subtle sweetness.
What to order: Triple Berry Macaron, Injeolmi Macaron
Address: 2255 Burrard St, Vancouver, BC V6J 3H9
Website | Instagram | Facebook
9. Crackle Creme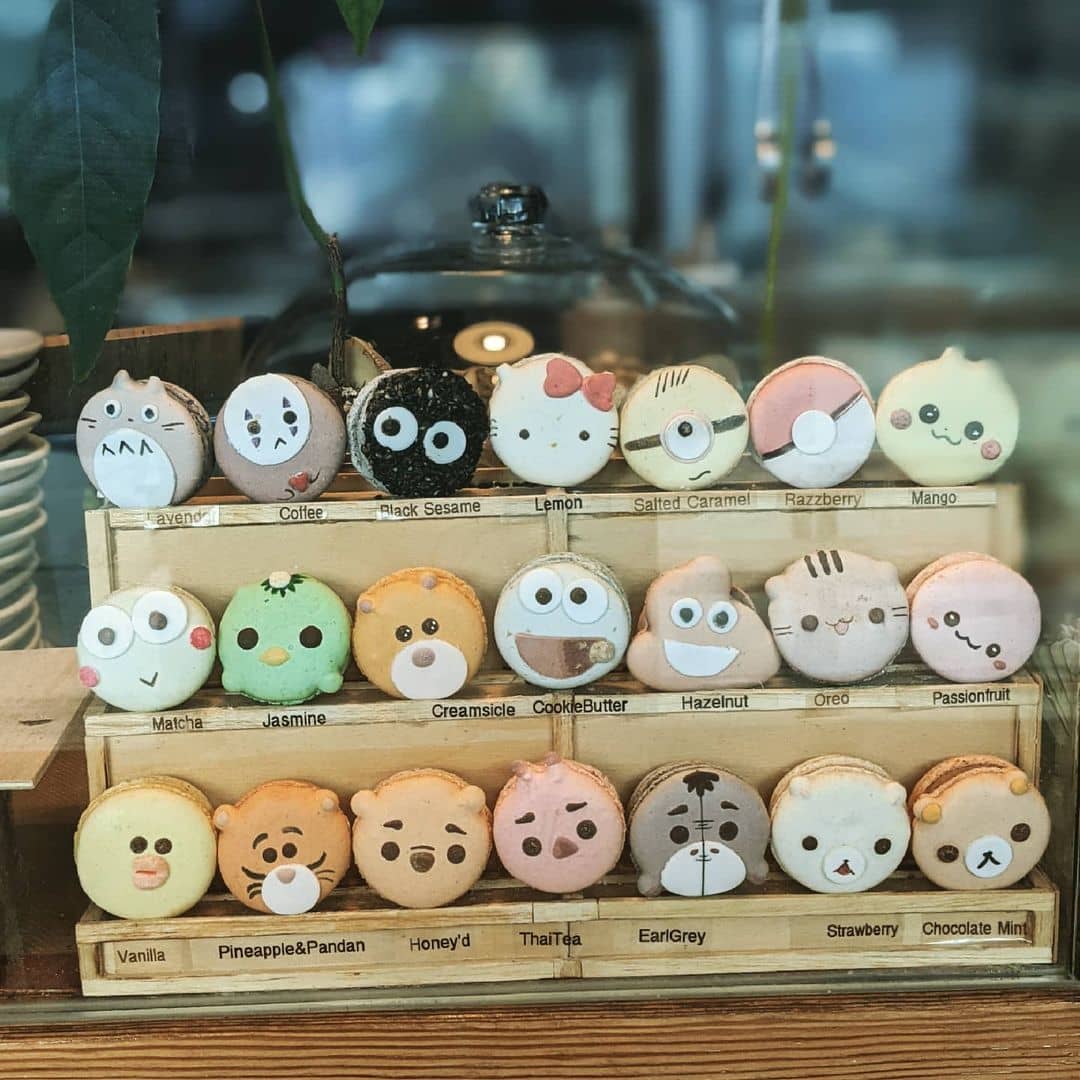 A small, rustic-chic spot on the edge of Chinatown serving up creme brulees, liege waffles, and macarons, Crackle Creme is a great place for dessert after a meal. With a limited seating area, the place is cozy backed up with soft lighting and the friendliest staff.
But, the best part is the cutest looking macarons with famous character designs are found here!
The Lavender Totoro Macaron is an absolute star with its unique flavour! This elegant-looking biscuit tastes like heaven wrapped in two bites and they smell really good, too.
If Pikachu is your favourite character and mango is your favourite flavour, then the Mango Pikachu Macaron is perfect for you! With the distinctively sweet flavour of mango paired with the best buttercream, you'll regret not buying more,
What to order: Lavender Totoro Macaron, Mango Pikachu Macaron
Address: 245 Union St, Vancouver, BC V6A 2B2
Website | Instagram | Facebook
10. Forêt Noire Pâtisserie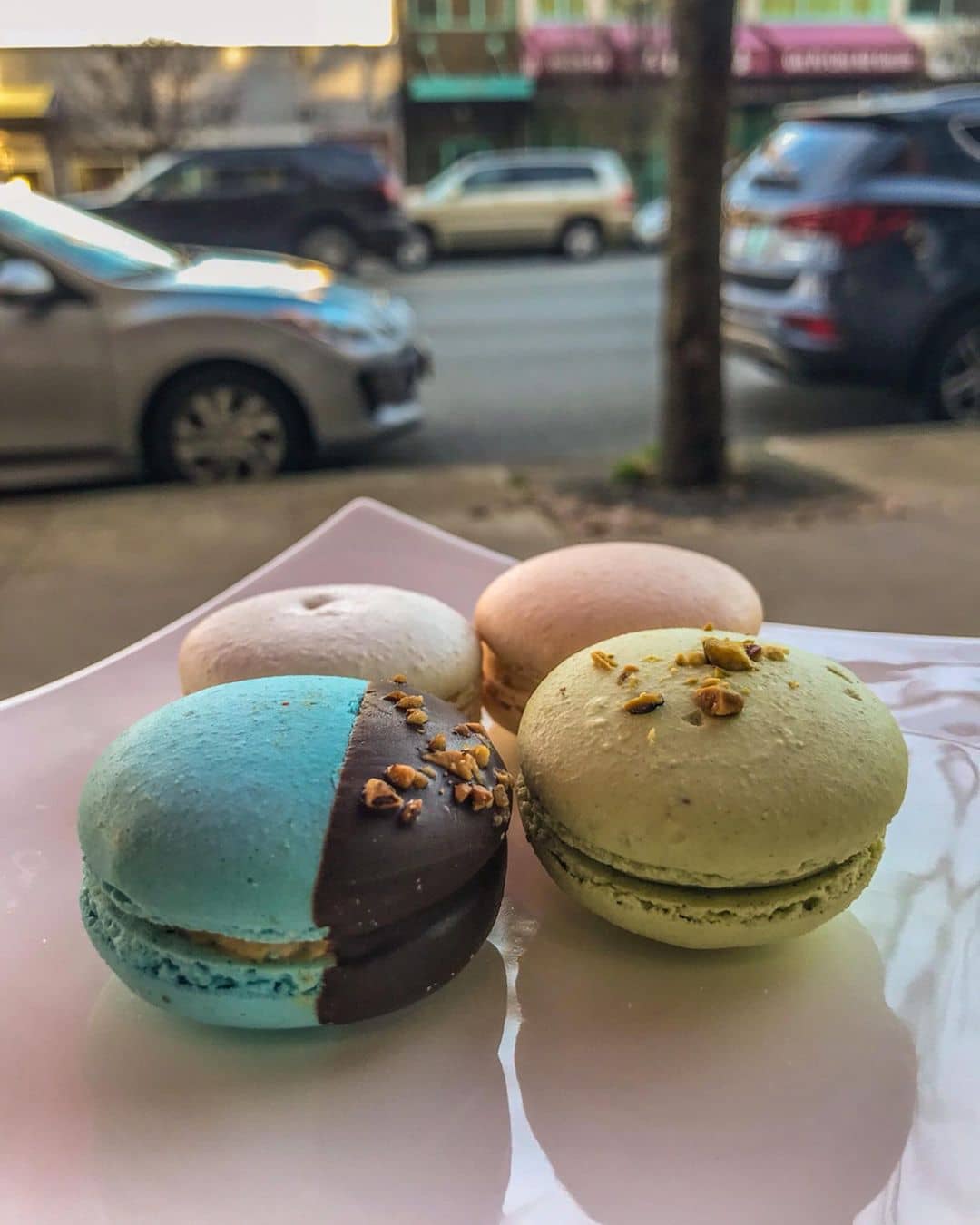 A modern and trendy dessert shop that serves one of the best French pastries, Foret Noire Patisserie is conveniently located just a couple blocks away from the Broadway city hall train station.
With their wide selection of goodies, you'd wish you'd pass by the area every day to get a bite of one or more sweets, especially their macarons.
The Hazelnut Macaron has a soft, fudgy, and nutty texture that tastes incredibly delicious. Filled with chocolate ganache and hazelnut filling, this is a dream for chocolate and hazelnut lovers.
If you want a classic flavour, the Strawberry Macaron is filled with real strawberries in the shell and filling. The perfect choice for a romantic gift, this chewy macaron is not only stunning but also tastes phenomenal.
What to order: Hazelnut Macaron, Strawberry Macaron
Address: 236 W Broadway, Vancouver, BC V5Y 1P6
Website | Instagram | Facebook
Macarons are hard to resist especially when they're made in such beautiful colors and their remarkable taste! These lovely biscuits are best enjoyed when they're bought because they're so difficult and costly to make. Fortunately, a lot of places offer them in Vancouver!
If you're still undecided about dessert and want more options, we also have a list of the best bakeries in Vancouver you may want to check out.
The following two tabs change content below.
Noms Magazine
Noms Magazine is a food lifestyle publication based in Vancouver. Our goal is to help you easily find the best food and things to do in the city!
Latest posts by Noms Magazine (see all)