When going to restaurants, aside from the ambiance and service, we look forward to the number one thing–the food! The food always has to wow us from its presentation, aroma, and of course, its taste. But this doesn't mean that we should neglect ambiance and service when looking for good-tasting restaurants.
Everyone loves a restaurant that has it all! Lucky for you, we have just the list to make the search for great restaurants easy-peasy. If you're in the False Creek area, look no further, because here are the 10 best Olympic Village restaurants near you that will serve you excellence after excellence!
1. Ophelia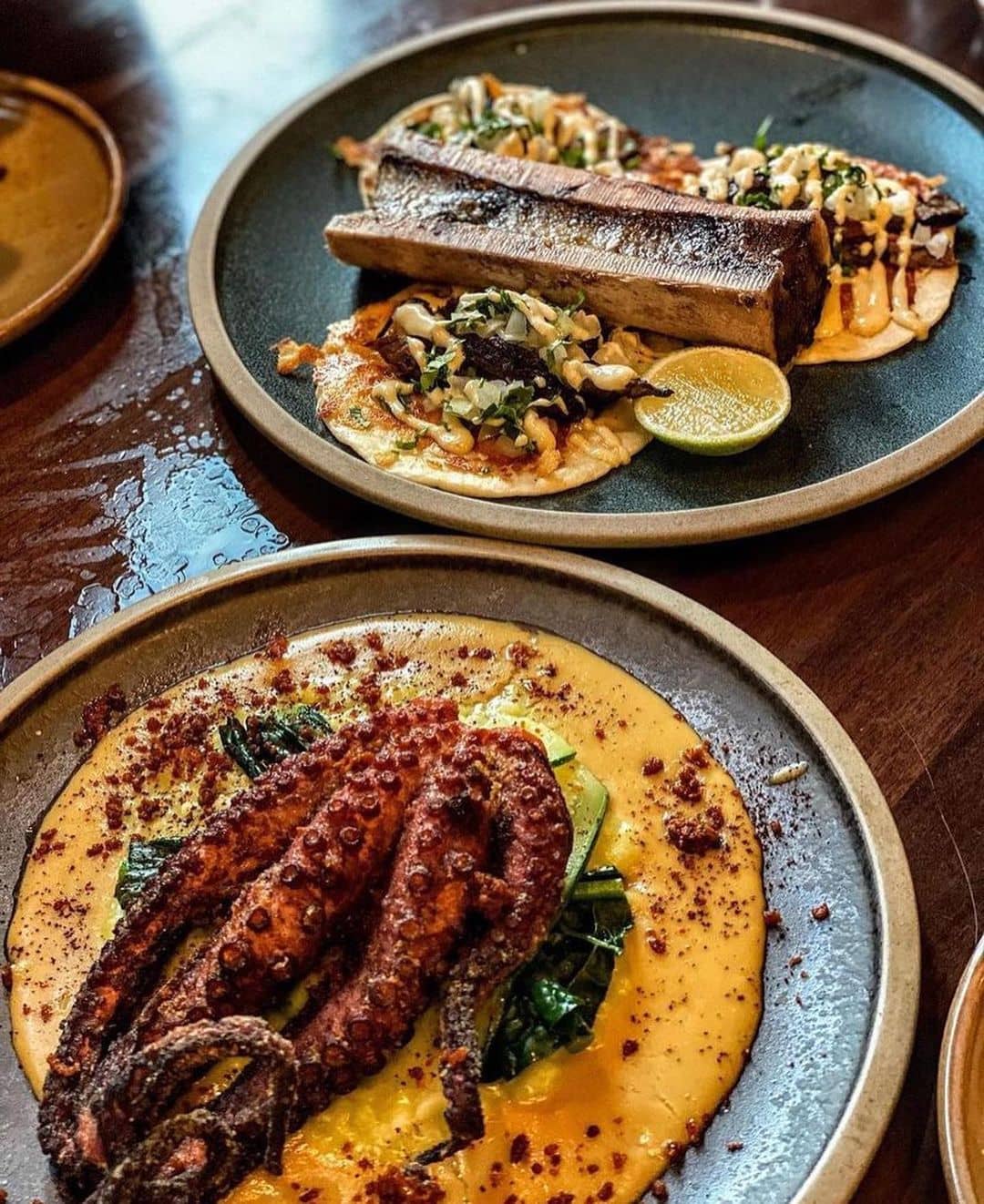 Ophelia is your go-to place to indulge yourself in excellent Mexican cuisine in Olympic Village! They specialize in Mexican food with a more refined and elevated approach. Named after the main chef's mother, Ophelia, their strong connection to Mexican cuisine is manifested in the establishment of this vibrant restaurant.
Ophelia is probably one of the most lively restaurants you'll ever encounter. Your eyes will be flooded with colourful patterns as you step into their restaurant. It is filled with different and bright-coloured Alebrijes, which are Mexican folk art sculptures of various creatures. You get a cool vibe, perfect for a night of tequila and tacos with your peers.
What makes them known in the hearts and minds of many locals is their astounding attention to detail. Each food is served and cooked to perfection, from its presentation to texture and consistency, down to the bursting flavors of each dish. We recommend you try out the Pulpo En Blanco, which is a corn-crusted octopus with rice and other sides. It has the perfect amount of spice and a tinge of sweetness. Each bite of this dish will make you wish the last bite never comes!
Their Tacos De Arracherra Y Bone Marrow is also a must-try dish. It is a grilled skirt steak with bone marrow that's rich with goodness. It is served as an appetizer but with its richness in taste, you can even make it your main dish! Their Molcajete De Arrachera Y Camaron is another dish we recommend. It is a marinated skirt steak that comes with corn tortillas, Jumbo Tiger Prawns, and more.
Lastly, make sure to go during their happy hour every Sunday to Saturday from 3:00 PM to 5:30 PM. Get drinks and food for half their price, don't miss it!
What to order: Pulpo En Blanco, Tacos De Arracherra Y Bone Marrow, olcajete De Arrachera Y Camaron
Address: 165 W 2nd Ave, Vancouver, BC
Website | Instagram | Facebook
2. Nook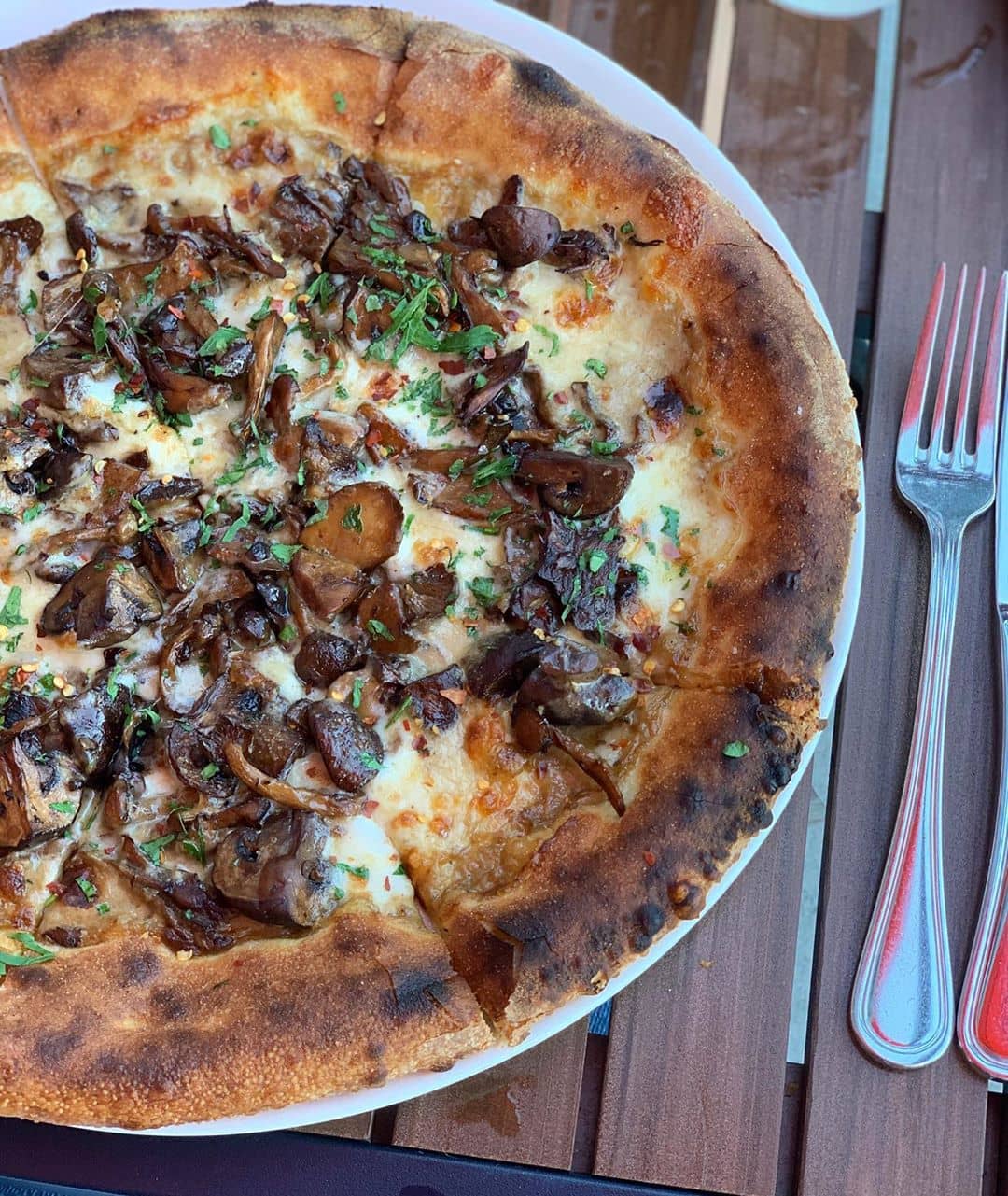 Nook is serves some of the best pizza and pasta in Vancouver! Nook offers only the freshest homemade pizzas, pasta, sauces, olives, and more. The Olympic Village location is bumping with loud music, packed tables and good vibes.
For the food, we recommend their bestsellers which is first their Rigatoni Boscaiola. This dish is absolutely life-changing. The pasta in this dish is always cooked perfectly and has the best texture. The mushroom sauce plus the sundried tomatoes amazingly complement the whole dish, giving it an extra touch of deliciousness.
Another bestseller is their Mushroom Pizza. This pizza is thinner in size but if you love thin pizzas, you will definitely go back just for this. It has a tasty flavour and you can really taste the mushroom. If you want some extra spice, we recommend adding some chili flakes, and voila! It's the perfect mix of spicy and meaty!
The Homemade Sausage Pizza is another dish not to miss. This one is for spicy lovers, it has three types of chili incorporated into the pizza. You can pair your Sausage Pizza with Aperol Spritz which washes the spiciness down excellently. You should also try out the Whipped Ricotta Crostini. Its flavours are well-balanced. Its crunch and sweetness go well together, add that to the yummy ricotta plus black pepper, and you've got a meal that tastes like heaven.
What to order: Rigatoni Boscaiola, Homemade Sausage Pizza, Aperol Spritz, Whipped Ricotta Crostini,
Address: 195 W 2nd Ave, Vancouver, BC,
Website | Instagram | Facebook
3. CRAFT Beer Market False Creek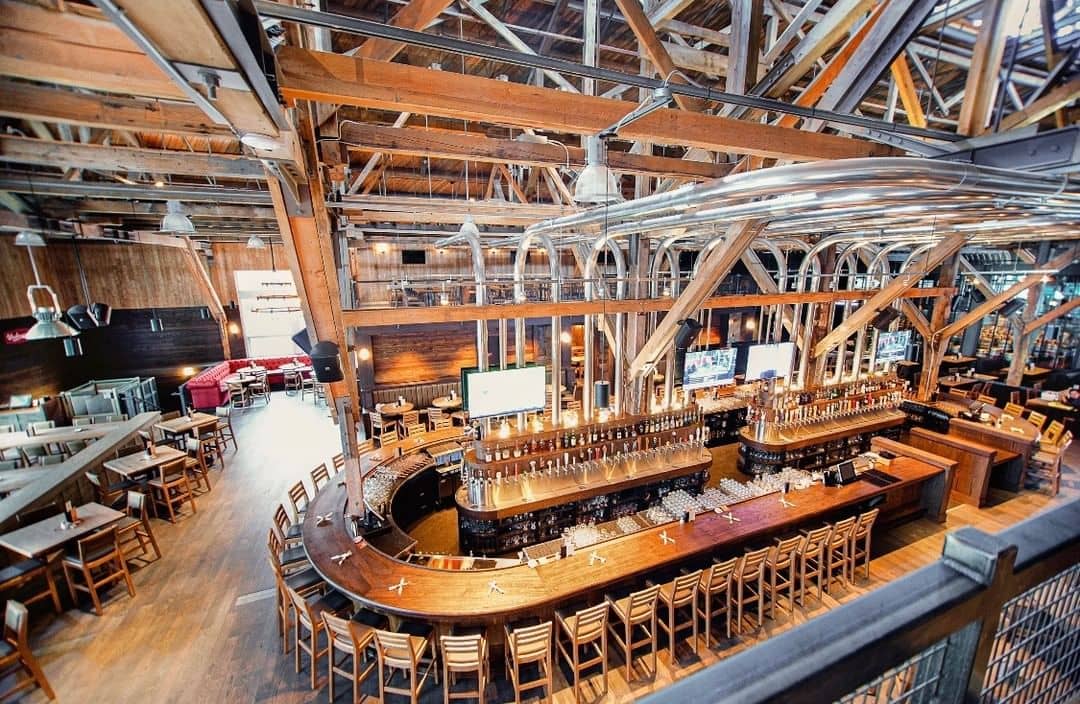 CRAFT Beer Market False Creek is a gigantic restaurant and bar all in one! The interior of this restaurant also isn't neglected, it is astounding as the inside looks unique, somehow looking like the underneath of the Eiffel Tower! Because of this, the atmosphere gives off a busy and fun ambiance, which is ideal for a drink with your best pals!
Since this is a bar, let's dive right into drinks! Try out their Six Pack Sampler, where you can choose between the drinks, Keep It Local and World Tour. If you prefer a sour beer, Moody Ales & Co. Lavender Sour is the right bet. It has the type of sourness you are looking for. If you want something smooth, their Red Sangria hits different BUT in a good way!
For the food, you will never go wrong with their Nacho Barrel. It's nothing but large servings, and exceptional taste, it's worth every penny! It is cheesy and topped with jalapeños, tomato, poblano peppers, etc. Its cheesiness just melts in your mouth flawlessly.
Their Fried Pickles is also top-notch. Fried pickles probably aren't something that you see every day. Let us tell you, here in CRAFT Beer Market False Creek, it's insanely good. It's perfect to share with the whole group and is perfect to pair with beer.
What to order: Keep It Local, World Tour, Ales & Co. Lavender Sour, Red Sangria, Nacho Barrel, Fried Pickles.
Address: 85 W 1st Ave, Vancouver, BC
4. Gusto A Taste of Italy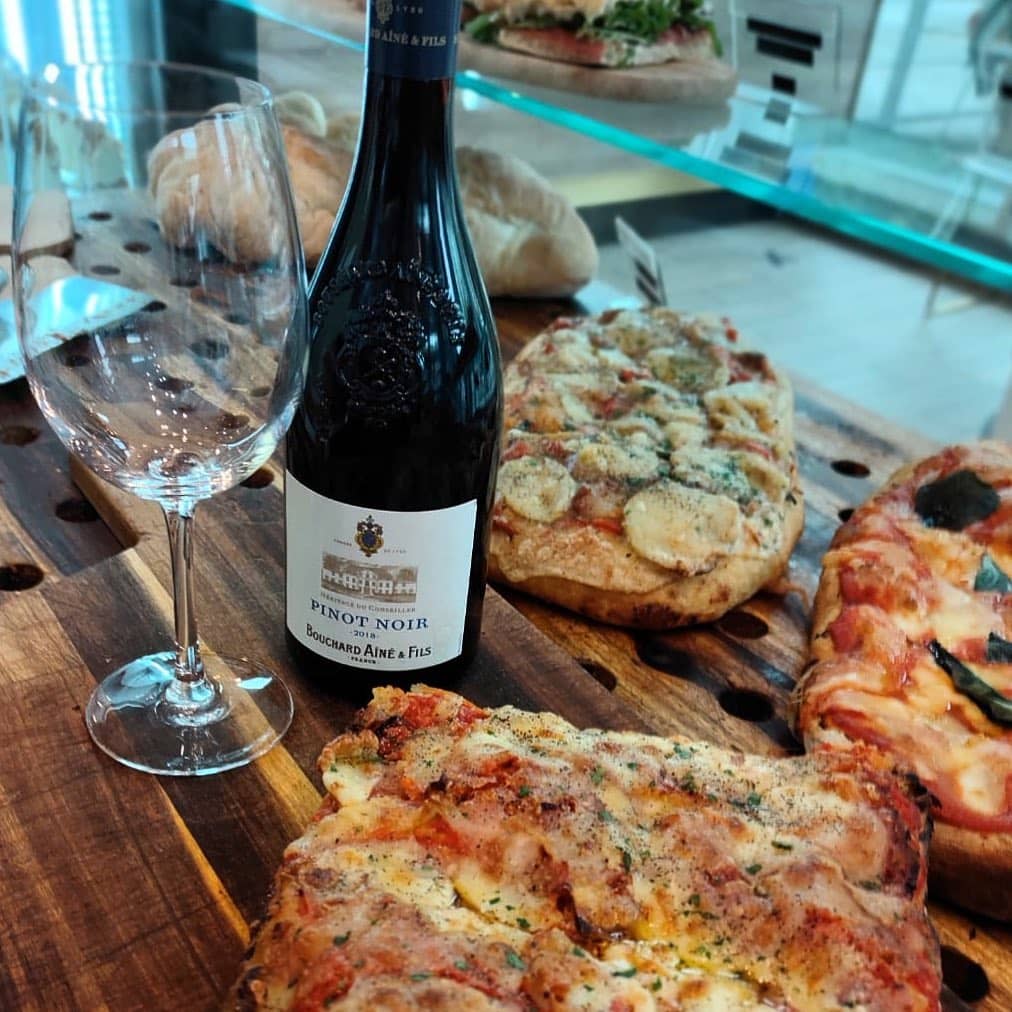 Just the classic taste of Italy here in Olympics Village, that's what Gusto is all about. Bringing to Canadians classic recipes of Italians even if you're thousands of miles away! The vibe of this Italian restaurant gives off a classy cafe-looking vibe where pastries are very much visible. The interiors are mostly glass which contributes to its sophistication.
Just like the whole atmosphere of the cafe, you best believe that their pastries are just as elegant. Try out their Cannoli, specifically the pistachio flavour. You can taste the nuttiness of the pistachio with every bite. The Cannoli shell even adds to its deliciousness.
Next up, you should try out is their Gelato. Gusto A Taste of Italy is home to the freshest Gelatos in the city. If you're thinking of the flavor to choose, it's best to go with Nocciola, it is flavored hazelnut and is a dream! For a safer option, you can always go with Vanilla or Cioccolato Fondente, which is a Dark Chocolate flavour.
The Meatball Panino is one of the yummiest paninis you will ever taste in this city! The bread is absolutely tasty and with the cheese plus the meatballs, its savory taste is exceptional. The best part is that the fillings are always to a great amount which makes the stomach full.
What to order: Pistachio Cannoli, Nocciola Gelato, Vanilla Gelato, Cioccolato Fondente, Meatball Panino.
Address: 1610 Salt St, Vancouver, BC
Website | Instagram | Facebook
5. Flying Pig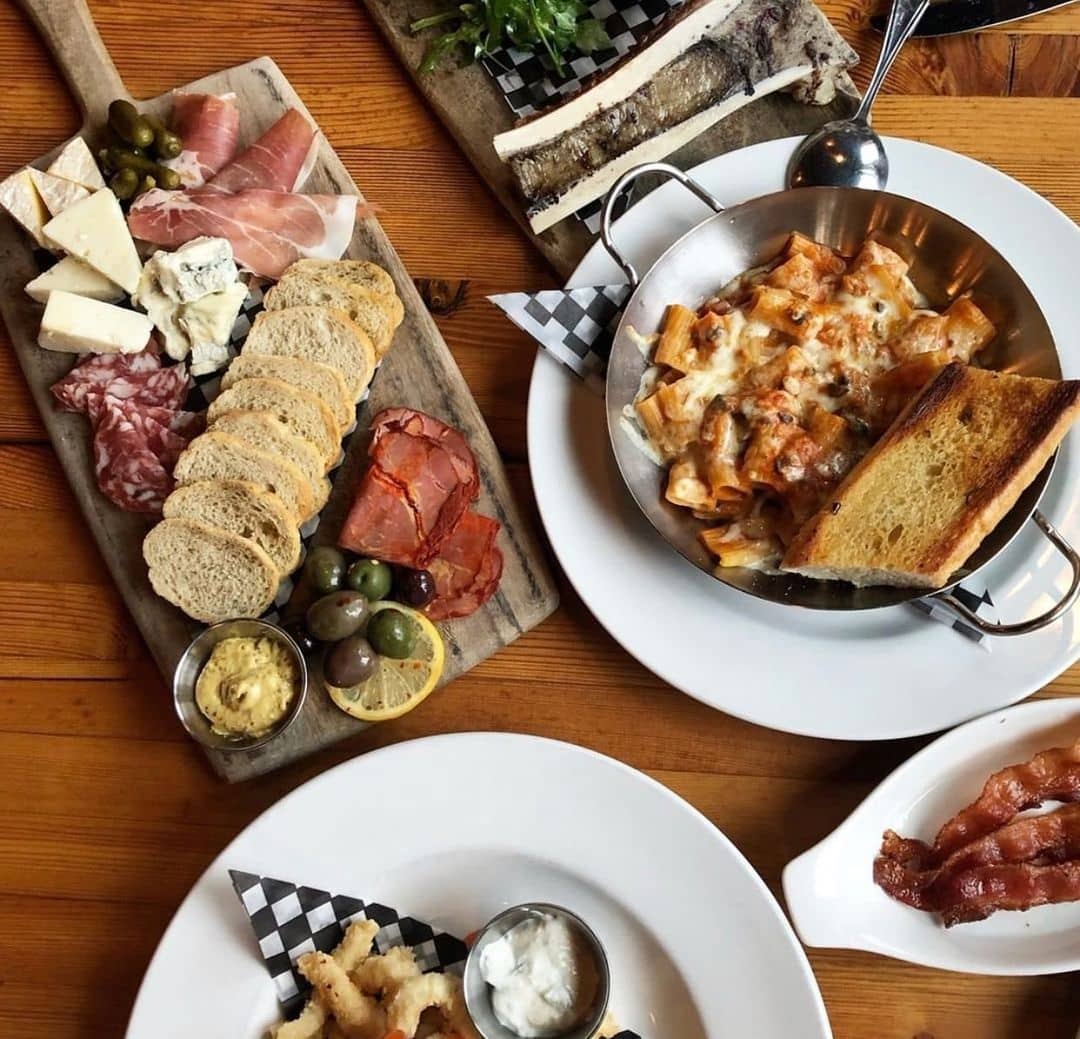 Flying Pig is a restaurant that is rooted in different culinary experiences that draw inspiration from fresh ingredients locally available. Keeping in mind the tradition of happy and humble family feasts, they aim to make your experience with them feel like home.
The Flying Pig is a great ambiance for a casual brunch out and its food is also perfectly aligned with an ideal brunch date. For your side dish, the Crispy Brussel Sprouts surely won't disappoint you. It's slightly spicy so you should keep that in mind. If you're not into spicy, you can request non-spicy Crispy Brussel Sprouts. The saltiness is also something you will taste but it is not too overpowering. Pair it with a beer! Note that it goes well with Glitterbomb Hazy Pale Ale.
The Bone Marrow Cheezy Bread is another side dish that is to die for. It may sound weird to pair bone marrow with bread filled with cheese but trust us, it's a side dish you will never forget. The bone marrow is tasty and savory paired with the cheesy bread's garlicky taste, it's a great combo!
For your main dish, the first thing to order is the Red Wine Braised Short Rib. The moment you see it, you can tell it's juicy. The tenderness of the ribs is also one to mention, you don't have to use a knife and can just pull it apart.
What to order: Crispy Brussel Sprouts, Glitterbomb Hazy Pale Ale, Bone Marrow Cheezy Bread, Red Wine Braised Short Rib.
Address: 127 W 2nd Ave, Vancouver, BC
Website | Instagram | Facebook
6. Tractor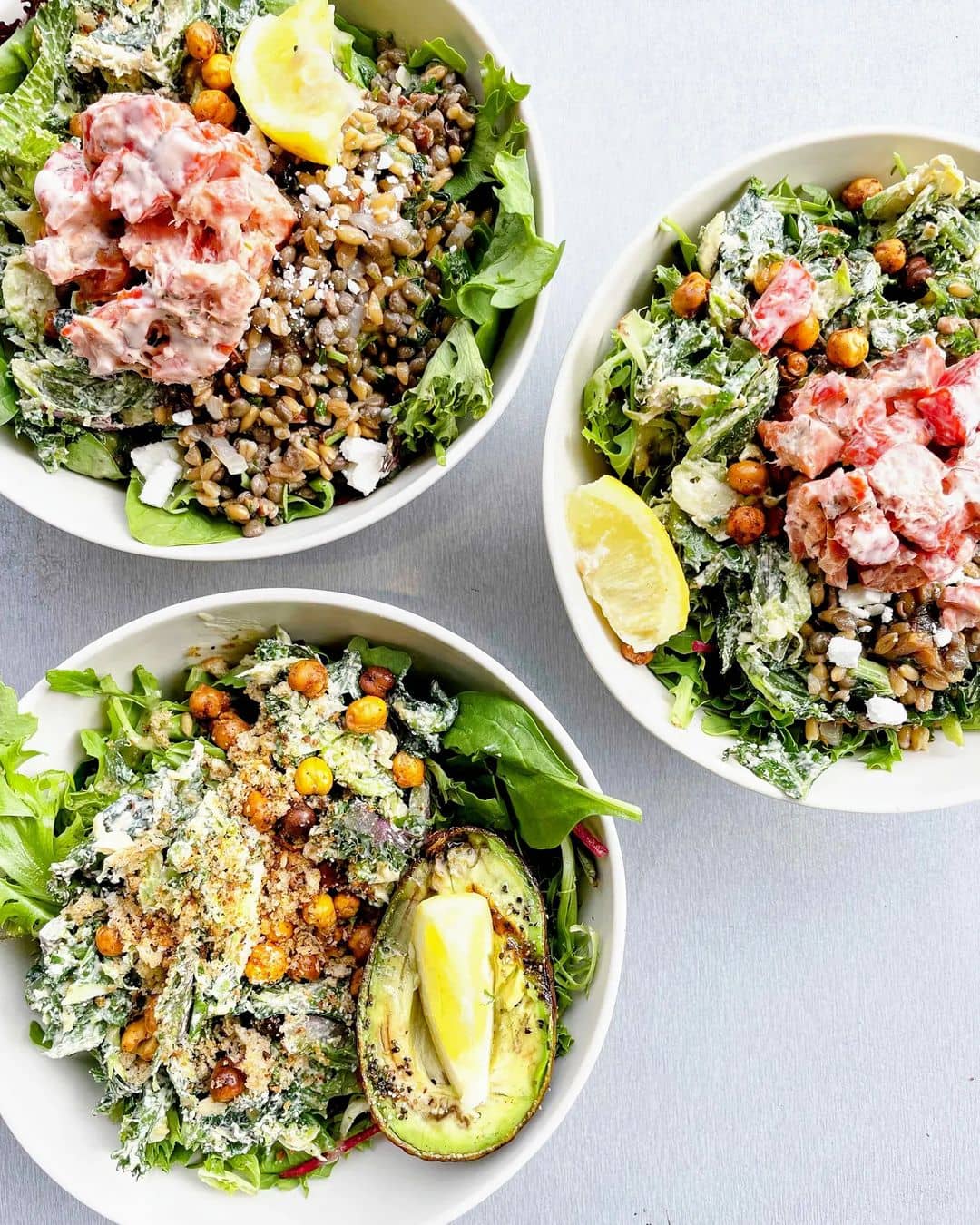 Three words to describe Tractor: healthy, unique, and fresh. From the appearance of the resto and the whole atmosphere, you'll know right away that they're not your typical restaurant. Looking like an elegant cafeteria-style diner, you'll notice the convenience served for every customer in a snap. However, this doesn't take away the class of the place. It's neat and painted with white walls plus brightened by warm lights.
Tractor is known for its high-quality healthy food and its wide range of vegan options. This is the staple restaurant for those who are watching their diet or those who just want to keep their health in check. If this person sounds like you then the first thing you should order is their Thai Peanut Salad. The mix of all the veggies plus the Thai peanut dressing is addicting! You can notice that all the ingredients, especially the veggies are fresh.
The Kale Caesar Salad is also a masterpiece dish. For this salad, its cashew caesar dressing is what makes it extra special. Don't forget to try out the Grilled Avocado Bowl too, it has brown rice if you want some healthy carbs and of course, half grilled avocados. The half-grilled avocados surely make a difference to the whole, it has a slightly different flavor because it is grilled making the taste of the bowl interesting.
Craving for a sandwich? Make it extra healthier! Their Chicken Sandwich isn't only grilled chicken underneath lettuce. It is filled with arugula, pear, onions, and more! The greens just keep on coming. The taste? Still phenomenal! If you don't mind the overpowering taste of veggies in a sandwich, you'll love this one for sure.
What to order: Thai Peanut Salad, Kale Caesar Salad, Grilled Avocado Bowl, Chicken Sandwich
Address: 127 W 2nd Ave, Vancouver, BC
Website | Instagram | Facebook
7. Brewhall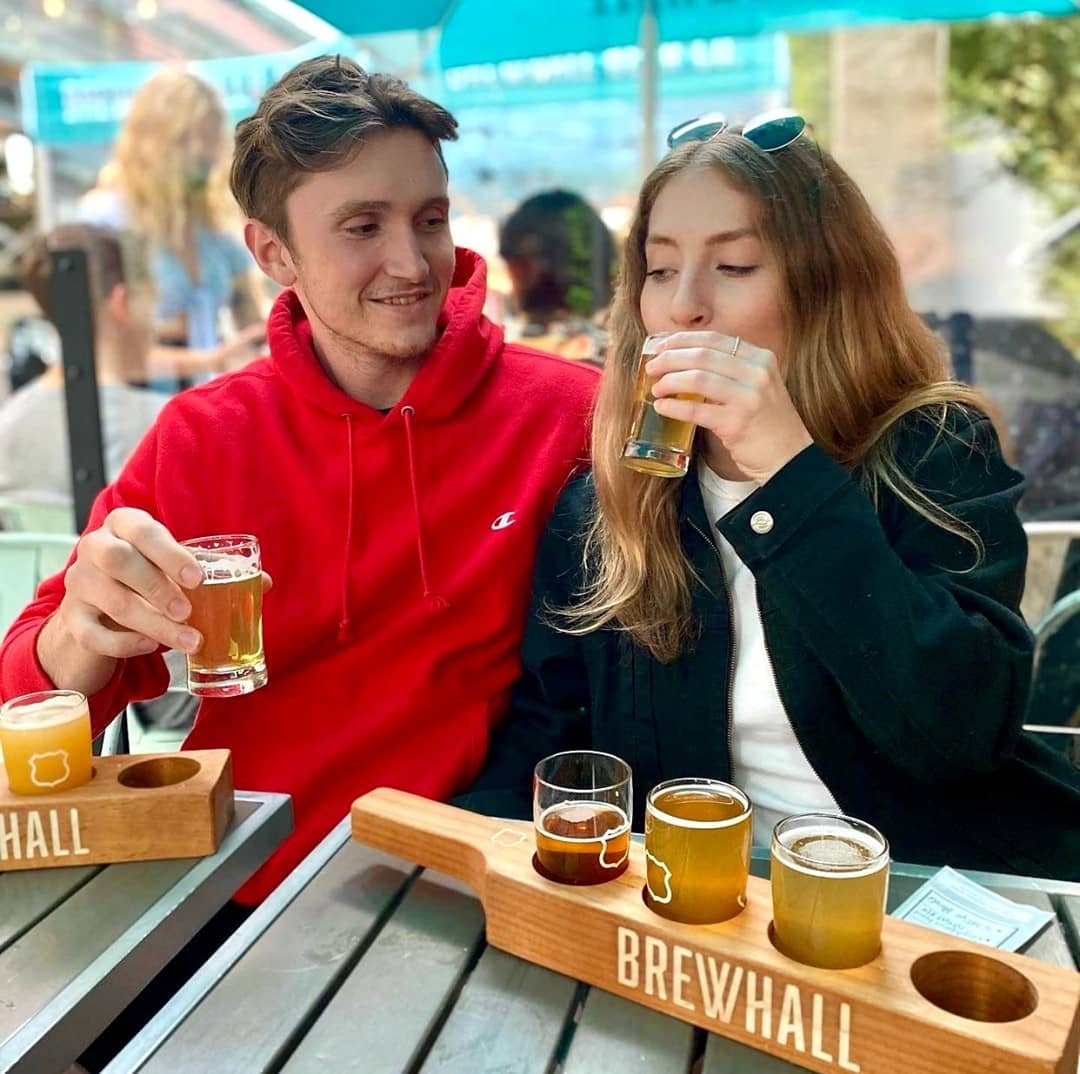 Fresh beer directly from tank to tap, that is what Brewhall promises its customers. Nothing compares to downing stellar crafted beer with some of the best company! It offers a spacious barn-like area with high ceilings. It is definitely more than just a place to grab a beer and go, its aesthetically pleasing interior makes it a place to create new memories you'll come back to time and time again.
If you like beer with a high percentage of alcohol, you should definitely go for the Triple Neon which has 9% alcohol. The smoothness of the alcohol hits the throat perfectly. You should also try out their Jelly Poppers which have interesting and delectable flavors. We recommend the Blue Hawaiian and Champagne Gummy Bear jelly poppers, sweet yet just right for a jello shot. Their Street Corn Fritters are the best to munch on while you have a drink with your pals. The Jalapeno mayo plus smoked paprika gives it an addicting savory flavor.
Want another option that's just as good? the Yukon Gold Crinkle Cut Fries is delicious and also addicting. The texture and the flavor of the fries are out of this world! It reminds customers of fries back in the 90's! Now with its yummy cheese sauce, the crinkle cut fries known by everyone has a new twist of tastiness!
What to order: Triple Neon Beer, Blue Hawaiian, Champagne Gummy Bear Jelly Poppers, Street Corn Fritters, Yukon Gold Crinkle Cut Fries.
Address: 97 E 2nd Ave, Vancouver, BC
Website | Instagram | Facebook
8. Manna Sushi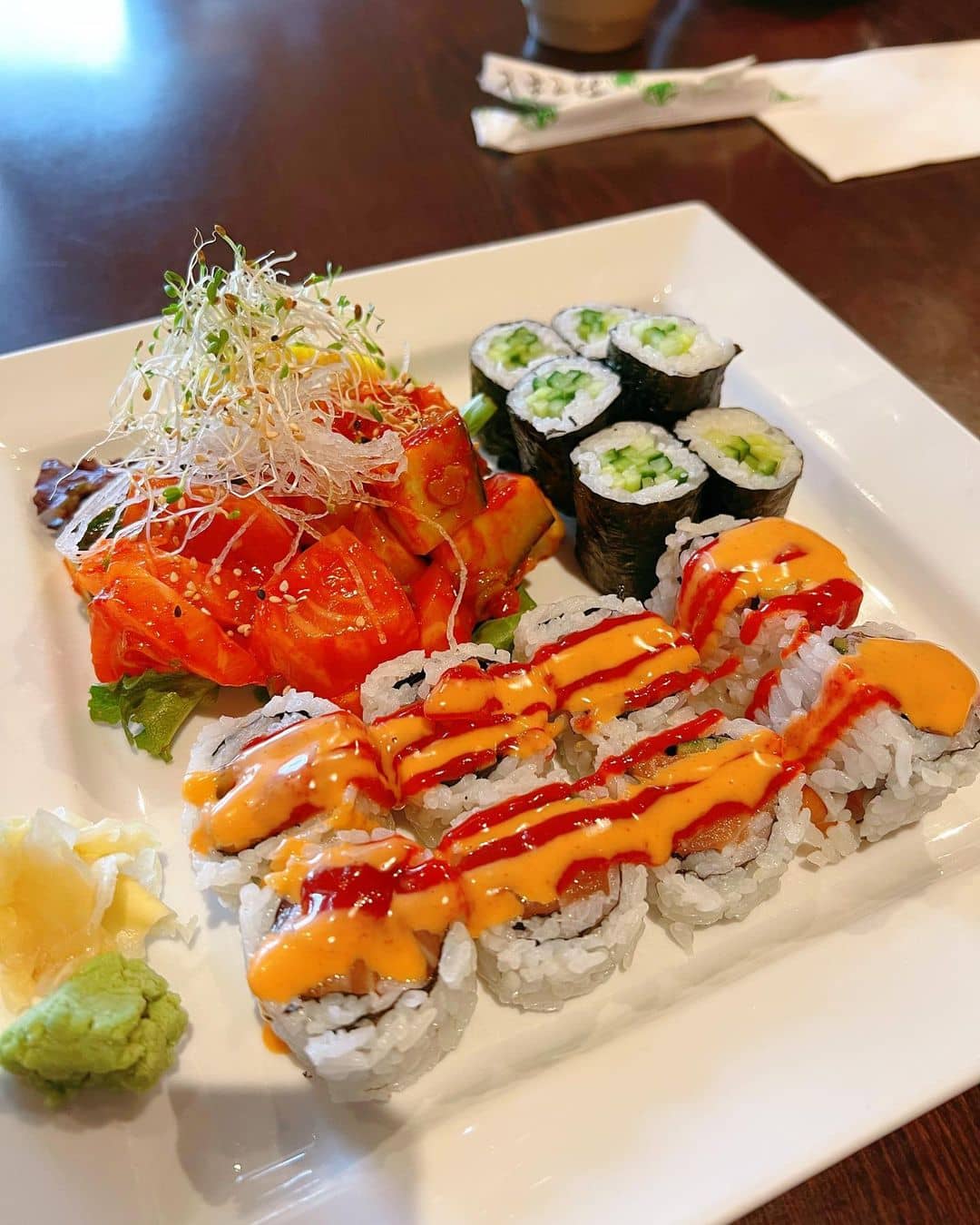 Manna Sushi is your ideal bonding spot if you're craving some yummy Japanese food. They serve quality Japanese food made with fresh and seasonal ingredients. It has a simple interior providing bright lights everywhere that adds to the appetizing look of the food. They also have a patio where you can enjoy your Japanese food in the heat of the sun.
Go for the bento boxes as they never disappoint. We recommend you try out the Chicken Teriyaki Bento Box, it's served with savory roasted veggies, rice, and a well-balanced flavor of miso soup. It has an exceptional amount of savoriness and will keep you coming back.
The Spicy Tuna is another recommendation for those who love spicy with everything! It sure doesn't mess around with the spiciness. If Good thing, they come with brown rice to help ease the spicy flavour. The taste of the brown rice plus the spicy tuna is just complementary with one another, you are sure to be satisfied!
What to order: California Rolls, Chicken Teriyaki Bento Box, Spicy Tuna
Address: 6 E 2nd Ave, Vancouver, BC
9. Mangia Cucina & Bar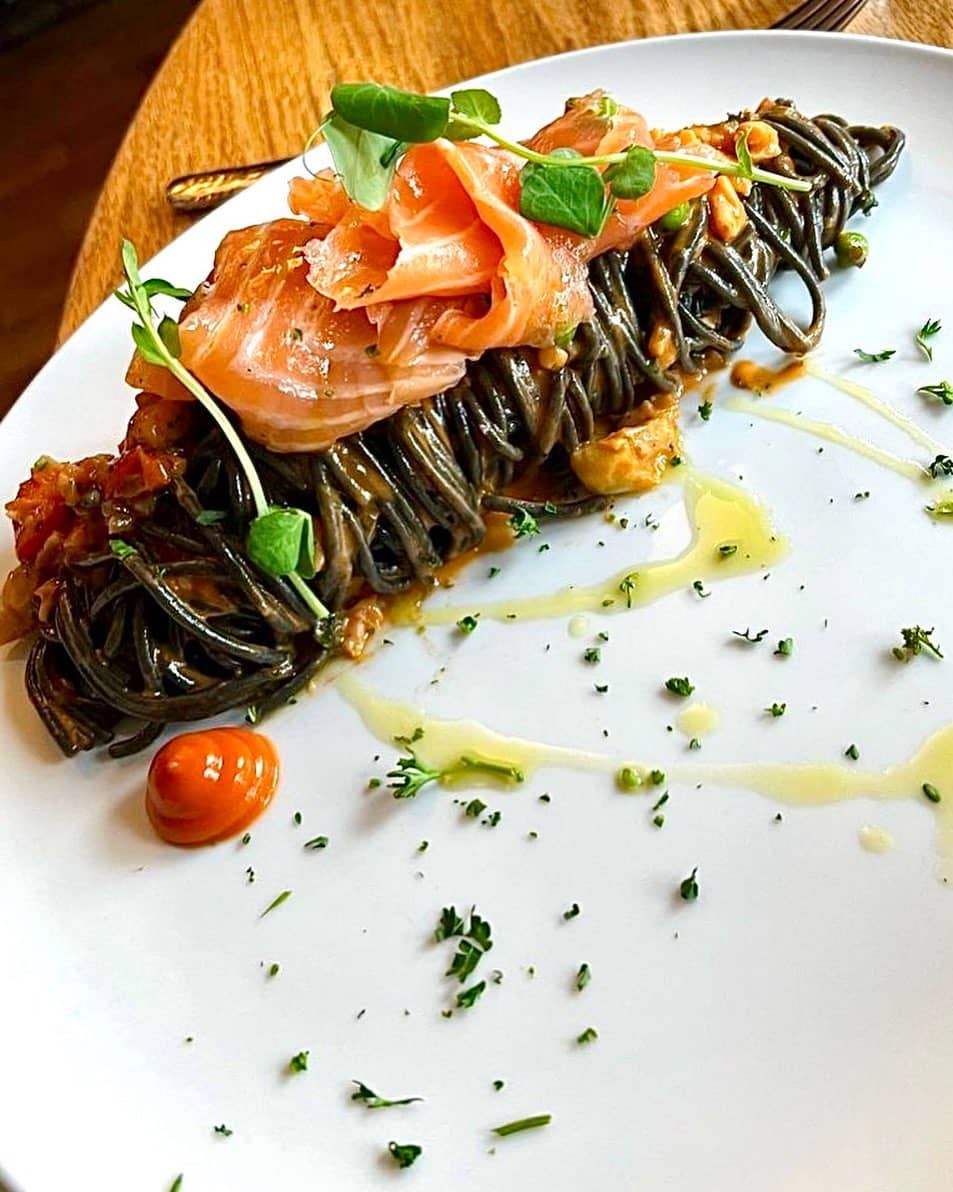 Mangia Cucina & Bar is another Italian restaurant that offers comfort and extravagance whether it's through food, service, and ambiance. It takes inspiration from the oldest and most loved cuisines in Europe. Chef Alessandro Riccobono takes pride in his craft of pastas and other Italian food as the love for Europe is deeply embedded in his heart. The interior gives you a homey vibe, much like a home in Europe. Tables and chairs look exactly like the dining table and chair at home. Through this, you can sense a cozy feeling as you enter.
Try out their Sicilian Cannolo, it is cooked exactly how it is in the island of Sicily. Showing traces of the culture in Sicily, it gives a flavourful and rich filling. The authenticity is proved by the way it looks, smells, and taste. The Arancini Ball is another dish you shouldn't forget to order. It is crispy on the outside and on the inside, it's filled with well-seasoned rice that you will absolutely love!
Get The Saffron Risotto Balls if you are in love with cheese! It's stuffed with mozzarella cheese. It's oozing cheese and a dip with a side of tomato sauce makes it a hundred times yummier!
One of their most picturesque food on the menu is their Lobster Ravioli. It is artfully presented and its flavors are just as beautiful as its appearance. The lobster is prepared and cooked well, you can tell by its texture, each bite gives you a trip of pure satisfaction. The sauce is what makes it *chef's kiss.*
What to order: Sicilian Cannolo, Arancini Balls, Saffron Risotto Balls, Lobster Ravioli
Address: 2211 Manitoba St, Vancouver, BC
10. Tap & Barrel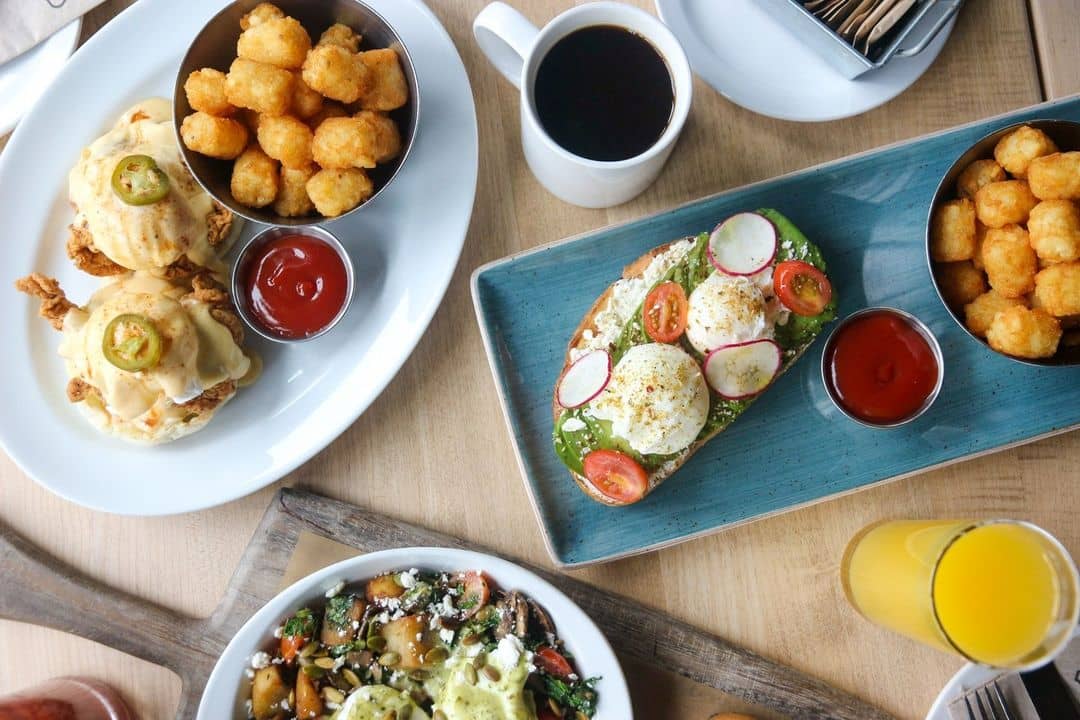 Tab & Barrel is chain that makes for a decent option to go gather some friends and enjoy some top-notch drinks, tasty food, and Instagrammable beautiful view! Here in Tap & Barrel, sipping beer the conversations become longer and the smiles become wider. Who can blame them? The views of the skyline truly captivate your heart, you wouldn't want to leave. Inside, it is a pretty busy pub where the TV presents sports shows. The chitter-chatter is everywhere and with the flashing bright lights, it's a whole lot of fun.
Their PB&J Burger is a burger that may sound slightly odd but trust us when we tell you that ordering it is the best decision you will ever make! First of all, PB&J is already good in itself but added on a burger? It's phenomenal! Tap & Barrel's PB&J burger isn't only just PB&J but it also has a flavor of Chipotle plus bacon jam. The sweetness of the jam and peanut butter plus the salty flavour of Chipotle and bacon jam surprisingly creates an astounding combo!
Their Fried Pickles also deserves a mention, it's cooked perfectly, not greasy, is very crunchy, and is coated in just the right amount of breading.
What to order: PB&J Burger, Fried Pickles, and Poke Bowl
Address: 75 Athletes Way, Vancouver, BC
Website | Instagram | Facebook
That's about it for the top 10 best restaurants in Olympic Village, make sure to keep this list bookmarked as this list will be your best friend when you're looking for a good time with some good food!
Don't worry whether you're here or there, we have the perfect list for your needs. If you're in Vancouver, head on to our 20 best downtown restaurants in Vancouver list to make your foodie life easier!
The following two tabs change content below.
Latest posts by Noms Magazine (see all)