Which park in Burnaby is your favorite treatment for a day off from your usual routine? Even for the locals, discovering all parks in Burnaby feels like an epic saga. The moment you pick one from the pocket, another pops up, keeping you wondering which one you should go today.
Burnaby parks are all unique in their own way and it's such a tricky task to take just one from many for the recommendation. If you're traveling to Burnaby in a few days' time and seeking a prime park to fill in the blank of your bucket list, we've got your back! This ultimate roundup contains nine of the best parks in Burnaby, from the largest and most popular to small, lesser-known destinations. 
1. Best Riverside Park: Burnaby Fraser Foreshore Park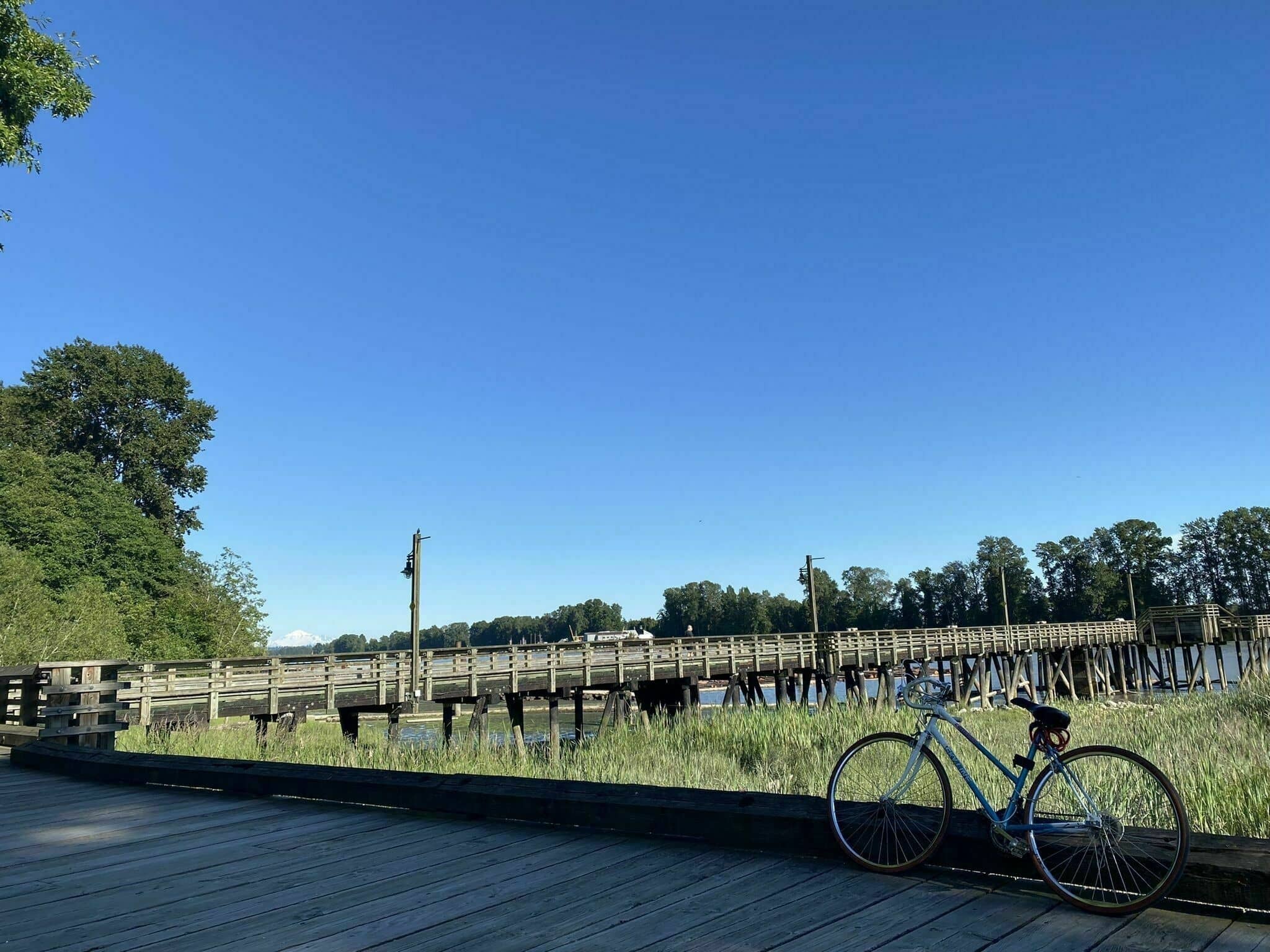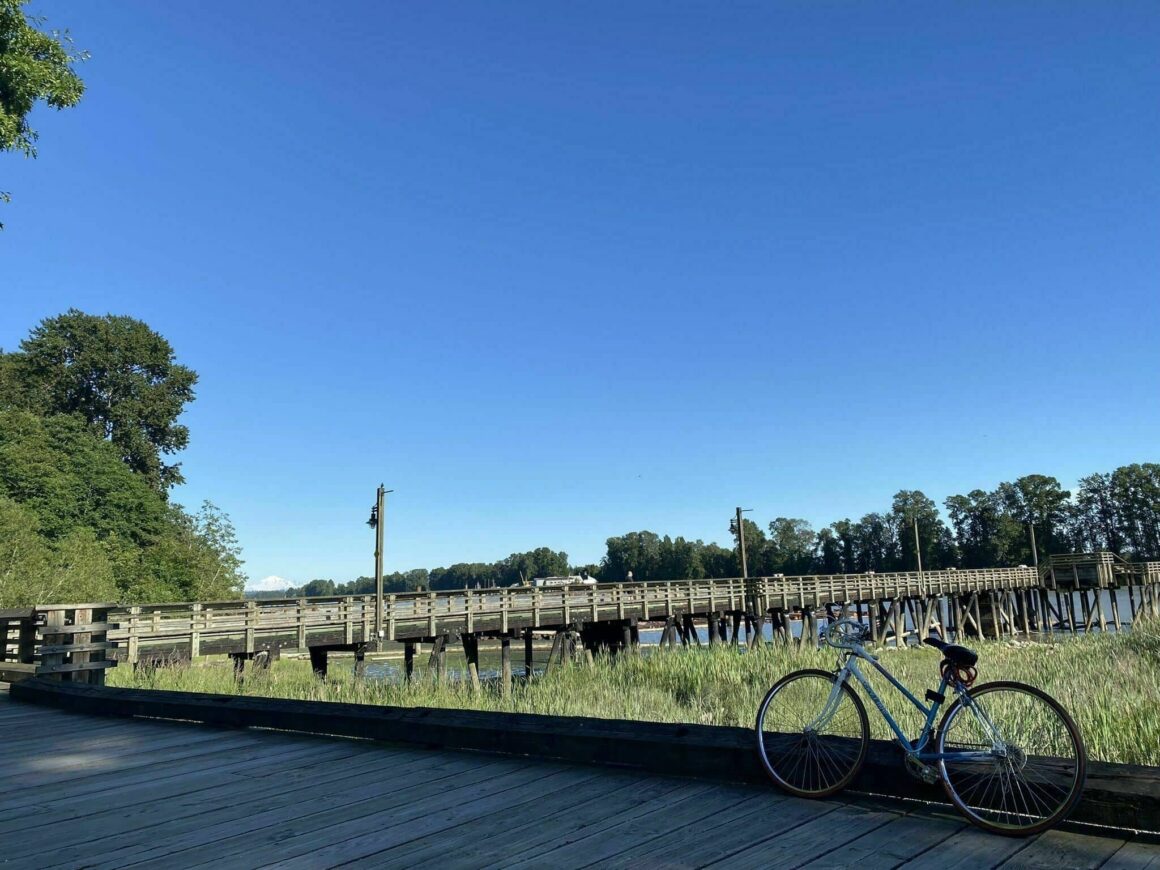 Burnaby has no shortage of riverfront green oases but nothing can beat Fraser Foreshore Park. The poetic prospect opening out to the north arm of Fraser River is kissed by the stunning greenery. Its tricky location at the south foot of Byrne Road keeps public transit access at bay, but you won't have a hard time entering it on foot or motorbike.
Once you're inside the park, keep a close eye on the blacktop cycling trail separate from the walking path. The good thing is that both ways run along the shoreline. Once you go beyond the park's strict boundary, you will see an earthen biking path juts out from the east side of the park as an appendix attached with New Westminster.
The biking trails receive a richer shade from the canopies – a luxury on the walking trail. Those familiar with the old shaded path on the west side should make friends with the new asphalt pathway. As this part of the trail has been re-dyked, shades and tall trees become a rare find that makes the heat quite unbearable for a walk.
If you come early in the morning or near sundown, the vista is irresistible. Tugboats pulling log booms and loggers strolling up and down the shoreline give it a bustling scene to enjoy. Fraser Foreshore doesn't miss out on children's playgrounds, picnic areas, BBQ facilities, and outdoor workout fields.
Address: 7751 Fraser Park Dr, Burnaby, BC V5J 5L8.
2. Best for Hiking and Outdoor Activities: Robert Burnaby Park
Lying off the Trans Canada Highway, Robert Burnaby Park is a great draw for scenic hike enthusiasts. The winding trails snaking through the creek ravine are completely soaked under the tall trees.
Somewhere around the roots, sculptures of mythical animals turn their heads around with a constantly evil stare and a loathsome mouth. Rest your worries! Apparently, there are no actual ancient animals living in the woods. These are artistic creatures sculpted by local artisans using materials from the forest floors.
The most incredible animal of them all is Emerald, a mother dragon nesting her babies underneath. The arts springing up from the ground provoke a sense of curiosity and photo-op.
Aside from the quiet trails, the moss-filled Robert Burnaby Park attracts local families and outdoor enthusiasts every weekend. The soothing sound of the steep ravine flow beneath these towering conifer canopy promotes a meditating zone to enter your blue mind.
Address: 8155 Wedgewood St, Burnaby, BC V3N 3S5.
3. Best Historical Park with Sporting Events and Concerts: Burnaby Central Park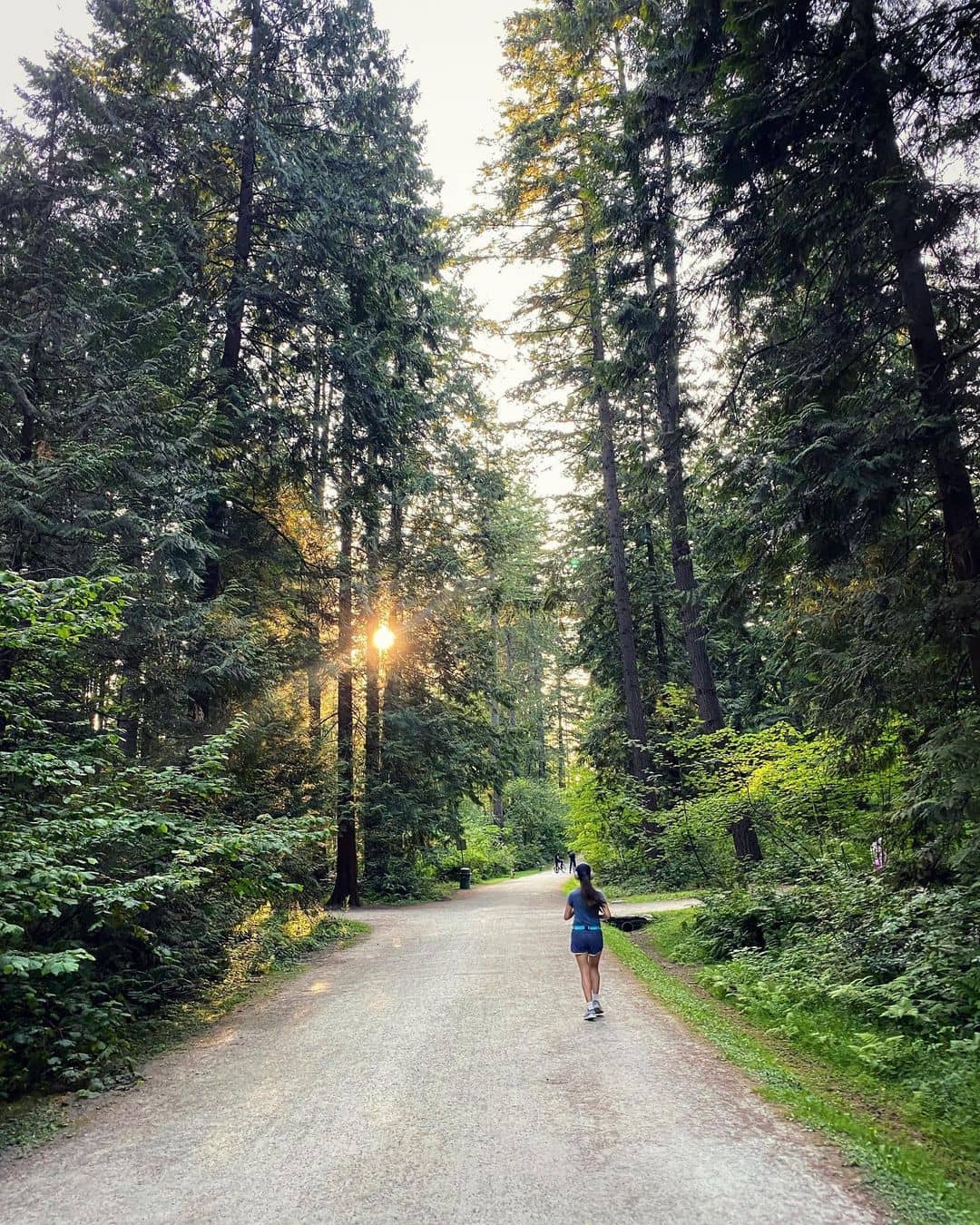 If Burnaby Central Park is not the most talked-about green space in town, we don't know what is!
Boasting over eight kilometers of scenic trails and a large canvas of landscapes, Central Park looks as if it steps out of a fairy tale. Encompassing 90 hectares of Burnaby footprint, Central Park is a perfectly rectangular green space cuddled by two big thoroughfares – Kingsway and Boundary Road.
Thanks to its prime location right on the border between Burnaby and Vancouver, Central Park receives easy access from public transportation and becomes one of the highly visited parks in the city.
Central Park promotes a plethora of outdoor possibilities. Walking trails become the limelight of the park supported by numerous recreational facilities. Tennis courts, pitch and putt course, a swimming pool and a huge children's playground turn Central Park into a paradise for outdoor enthusiasts.
Central Park shines bright on the remarkable history itself. It was launched by Prince Charles and Princess Diana of Wales in 1986 and once served as a naval reserve supplying masts and spars for the Royal Navy.
Head northbound to the corner of the park and you'll end up at the Swangard Station. This shall not be an odd bird for sports lovers in town since it often hosts running races and other sports events.
Address: Burnaby, BC V5S 3R2.
4. Best for Scenic View: Capitol Hill Reservoir Park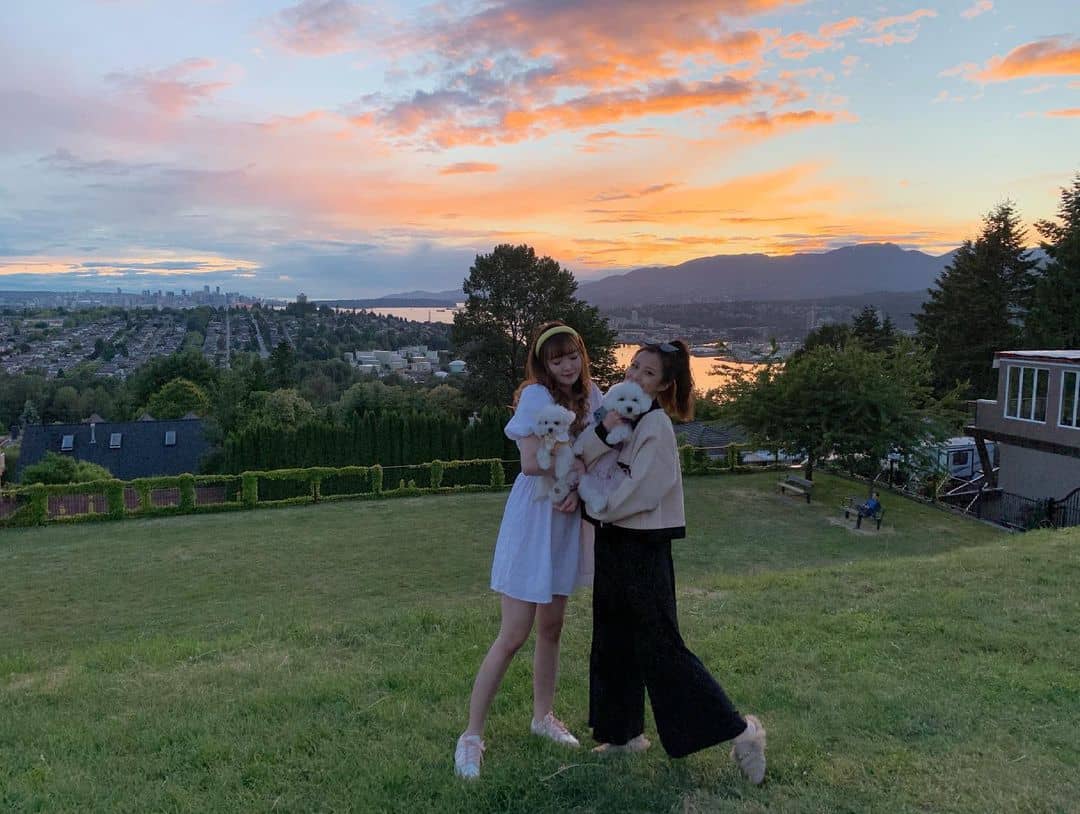 Sitting on the summit of Capitol Hill, the park has an astounding elevation of 203 meters. This remarkable height gives parkgoers, scenic view seekers, and photographers a stunning vista.
No matter what time it is, you always see hordes of visitors pulling together in groups gazing at the distant Vancouver harbor surrounding the Burnaby suburbs. When the sun beams down, the park opens out to a romantic sunset casting its glitters on the concrete jungles of downtown Vancouver.
The biggest draw of Capitol Hill Reservoir Park concentrates on the brilliant view it offers and an extensive trail veining through the woods. This walking trail embodies part of the Trans Canada Highway, hugging the northern thigh of Capitol Hill. The steep hill slopes down on the grape fern pathway, making it a great choice to work your core out of the sun.
Take a note that Capitol Hill Reservoir Park is inclining towards adult-centered outdoor possibilities. The sheer hummocks are blanketed with thick vegetation, leaving very few spaces for benches and children's playground. Choose other parks from this list if you need a space for the kids to run around and put aside Capitol Hill unless you hang out with friends.
If you wish to dodge the crowds, consider heading out to this park before sundown since nighttime starts to get busy with young adults playing music.
Address: 229 N Hythe Ave, Burnaby, BC V5B 1G6.
5. Best Nature Reserve for Wildlife Spotting and Water Sports: Burnaby Lake Regional Park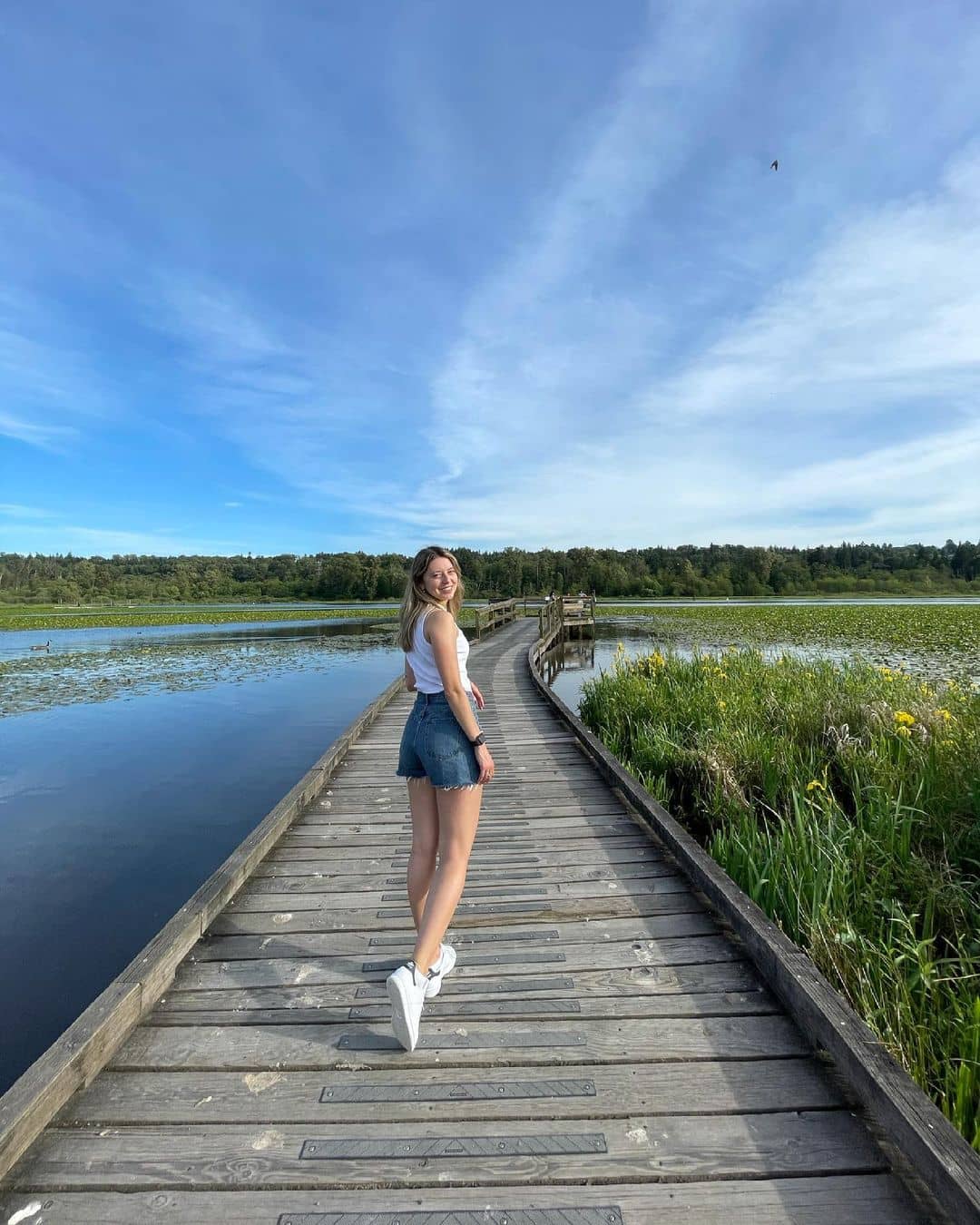 The main happenings of this park assemble around the waterfront area. Compared to other green spaces in Burnaby, this park takes the crown as the best place to spot wildlife and explore eco-biodiversity.
A two-hour walk along the waters gives you a chance to engage with many blue herons, bald eagles, belted kingfishers, and many other rare birds.
Burnaby Lake Regional Park is not the right place to make a splash in the swim. There is no beach to beat the heat other than a scenic body of water surrounded by marshland.
Swimming is not a possibility but there is surely no lack of water sports. Once you reach the lake, you can launch the boat at the dock for a leisure sail in the afternoon. Kayaking, canoeing, and rowing training courses are also available.
Off the water, parkgoers can engage in an easy trail if they don't want to deal with many steep hills in a day. These trails have minimal grade changes with semi-firm surfaces and loose gravels at some points.
They wind through the forests, with some certain parts of it kissing the waters. Note that these trails are only for hikers and walkers. No cyclists are allowed on the paths unless you detour around Cariboo Road and Winston Avenue.
Address: 4519 Piper Ave, Burnaby, BC V5A 3B5.
6. Best Park with Natural Trails Connecting Cultural Hubs: Deer Lake Park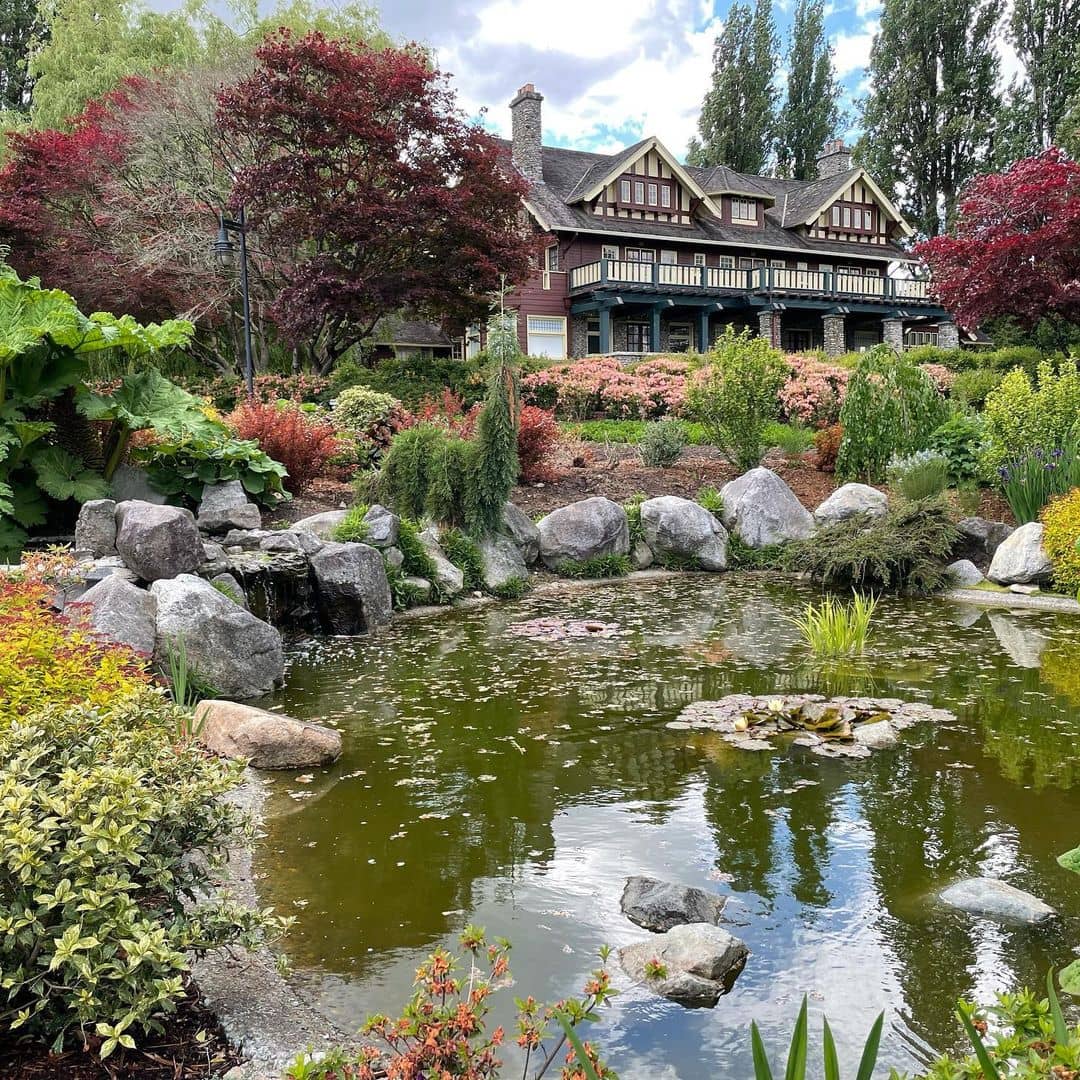 Burnaby's Deer Lake Park becomes the spotlight for heritage attraction seekers with artistic facilities.
Deer Lake plays host to some of the easiest, popular walking trails in Burnaby and it also receives a round of applause from local art lovers and history buffs. The winding walking trails go by Shadbolt Center for the arts, and you can also enjoy the Century Gardens and a village museum.
Tucked between north and south Burnaby, Deer Lake Park attracts many locals going out to enjoy the summer months. Thanks to such a prime location and easy access, Deer Lake Park inherits a great scenery enclosing the lake that reflects a mesmerizing cityscape of Vancouver's concrete jungles.
You can walk your pet along the boardwalks surrounding most of the shoreline. These boardwalks cut back to the path that leads into the woods. Folded somewhere behind the woods is a little ravine. Its soothing sound blends in the air, totally canceling the noise from the big thoroughfares.
Summer is a hub of events with lots of parkgoers hitting Deer Lake every now and then to enjoy live concerts. Rental canoes are also available if you're looking for a new way to enjoy the waters rather than simply gazing at them and taking pictures.
Address: 5435 Sperling Ave, Burnaby, BC V5E 2L8.
7. Best Park for City View, Roses, and Sculptures: Burnaby Mountain Park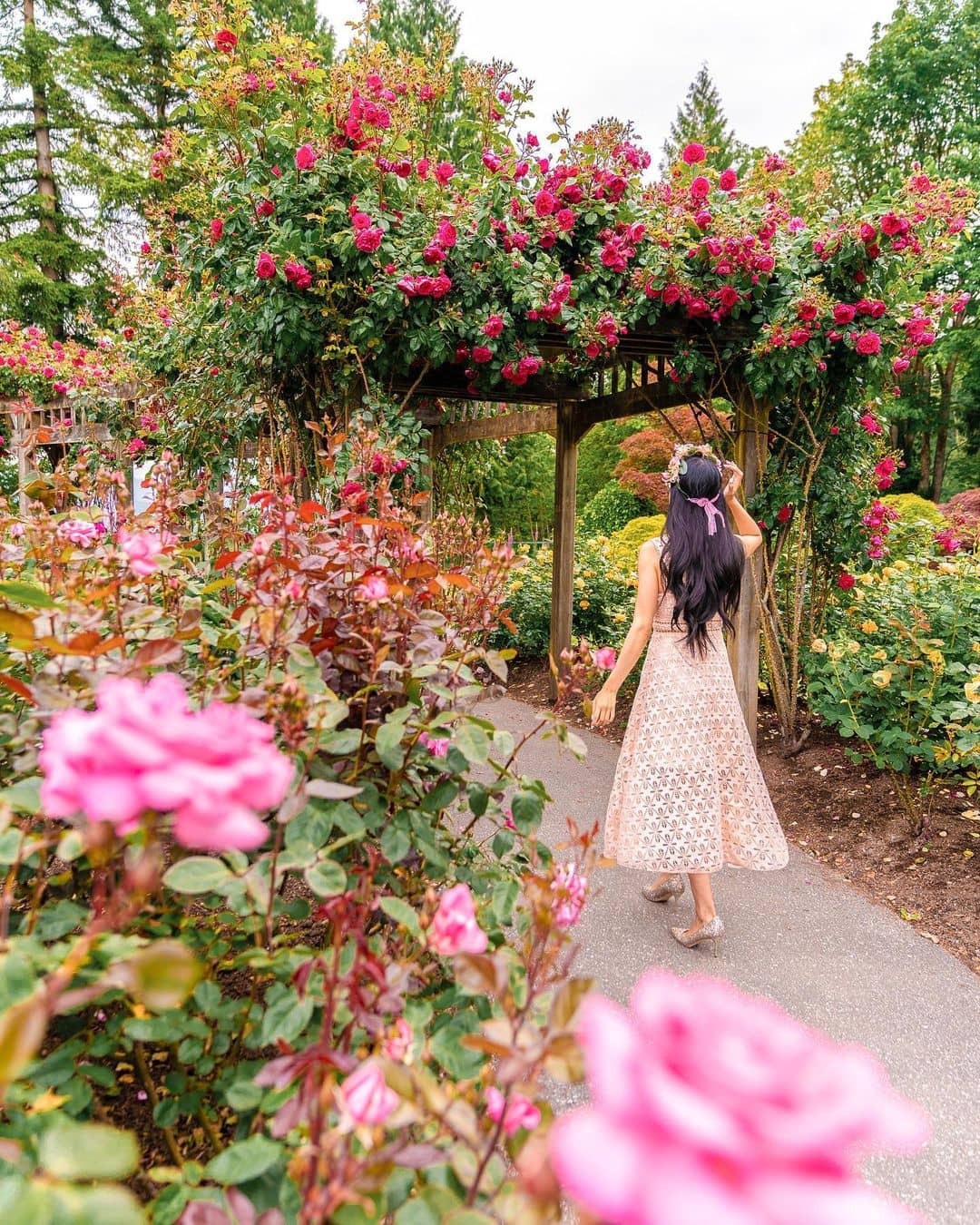 Other green spaces in Burnaby compliment the spontaneous, random creation of a natural endowment. However, things go in a different way at Burnaby Mountain Park. It has the torch on the meticulous, manicured rose gardens and well-groomed tree slots.
Nestled on the northeast side of Simon Fraser University. Burnaby Mountain Park is one of the best places to take in sunset casting over North Vancouver, Port Moody, and Coquitlam. The brilliant sunset scene shines through the towering carved wooden poles on the Playground of the Gods, creating a dramatic backdrop of your pictures.
The beautiful view lingers from sundown until the night is sprinkled with stars. You can even bring your own chairs to rest the body. Burnaby Mountain Park is a household name for local hikers with an extensive range of beginner and intermediate trails. Some trails snake through the woods while others run along the waters with a sweeping view of the inlet.
Address: 100 Centennial Way, Burnaby, BC V5A 2X9.
8. Best for Hiking in the Woods: Byrne Creek Ravine Park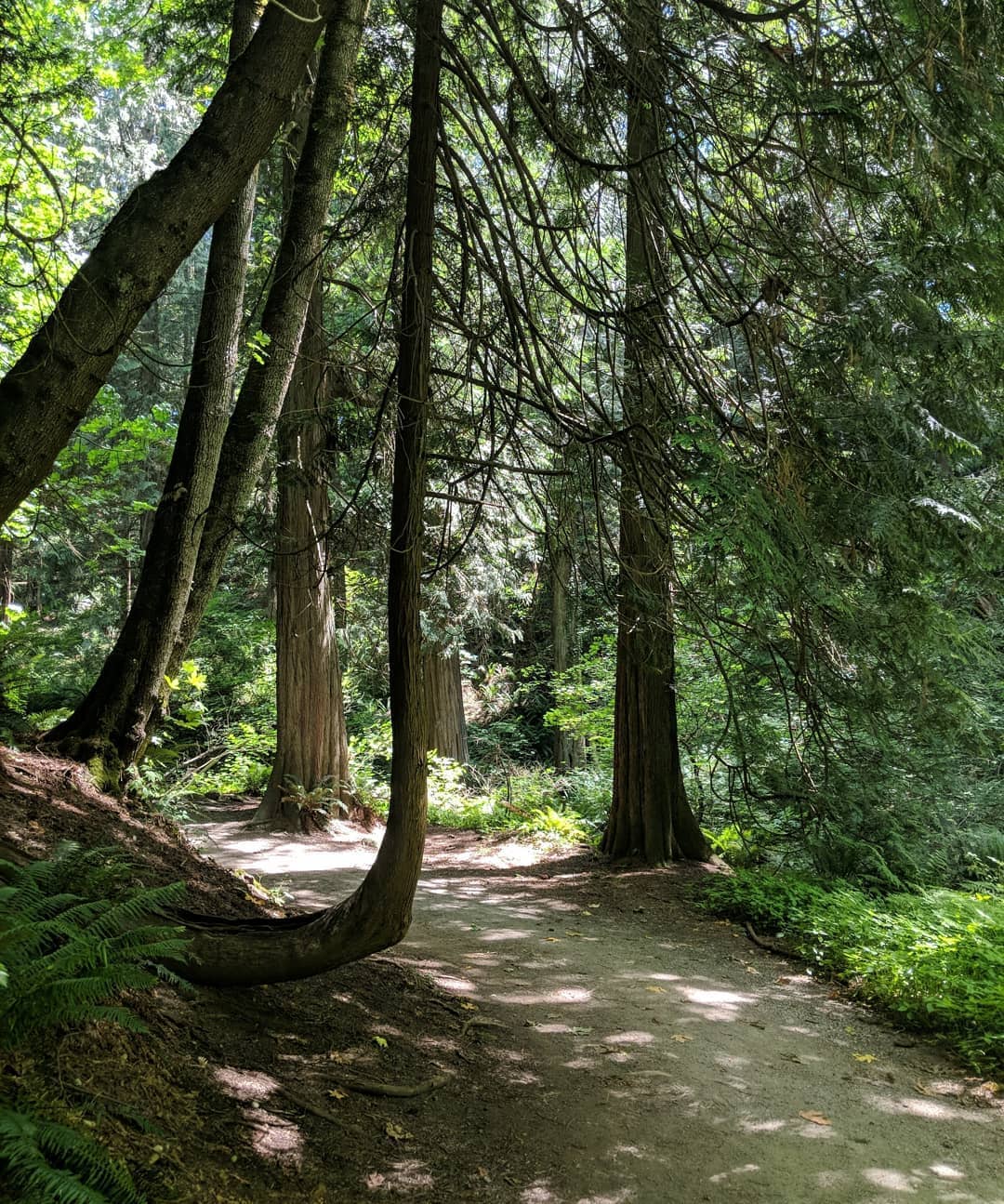 Brimming a swollen rocky creek, Byrne Creek Ravine Park is nourished by a thick blanket of vegetation.
The rough and tricky surface becomes a strong hook for intermediate and professional hikers who are familiar with its three-kilometer-long loop trail. The steep and slippery trail is covered with gravels rolling under your feet, so make sure to watch your steps on the wet days. 
The loop comprises three different trails that leverage based on difficulty level. Professional hikers can opt for the challenging trail that has a long set of stairs to engage your core. These paved and well-lit trails are favored by adults seeking a great circle hike on a hot sunny day, and definitely not a wheelchair-friendly option or family-friendly destination.
If you're looking for a less-hassle thing to do in the park, avoid the east and head westbound where the path ends at Ron McLean Park. You will find a children's playground with picnic tables and washroom facilities by a parking lot. Byrne Creek Ravine Park is an off-the-radar green oasis in Burnaby, making it a perfect getaway to escape from the hustle and bustle.
Address: 6555 Byrnepark Dr, Burnaby, BC V5E 4L4.
9. Best Small Waterfront Park for a Getaway: Barnet Marine Park
Barnet Marine Park concludes our list as a family-friendly and scenic park that has a beautiful shoreline for ardent rowers. The park lingers from the tail of Burnaby Mountain Park and that's why it inherits such an unobstructed view during sundown.
The shore becomes one of the locals' favourites to take their dogs out for a splash on the beach, which is completely separate from the rest of the park. 
Swimming may not be a top call but you can treat it as a scenic picnic area with friends and family. The water is always so calm with a little dyke enclosing a smooth, grassy knoll. The roughly sandy coastline opens out to the North Shore. This peaceful vantage point becomes extremely crowded with people taking up prime spots on a sunny day in spring and summer.
Address: 8181 Barnet Rd, Burnaby, BC V5A 3G8.
For many visitors, their favorite thing to do at Burnaby parks is hiking. Some cling to the scenic view along the hike, while some wish to disappear in the woods and clear their minds. We've got everything you ask for in this list of the ten best trails in Burnaby. We categorized them in easy and moderate trails so you won't hesitate.