Dubbed as the Northern Capital of British Columbia, Prince George is home to all things beautiful, picturesque—and tasty! The restaurants and food spots here feature tasty crafted dishes, homey service, and an atmosphere that makes every visit swell, completing the city's culinary scene.
Let's take a trip down its food strip! Here are your best Prince George restaurants to go to for all kinds of scrumptious meals.
12. Mr. Sushi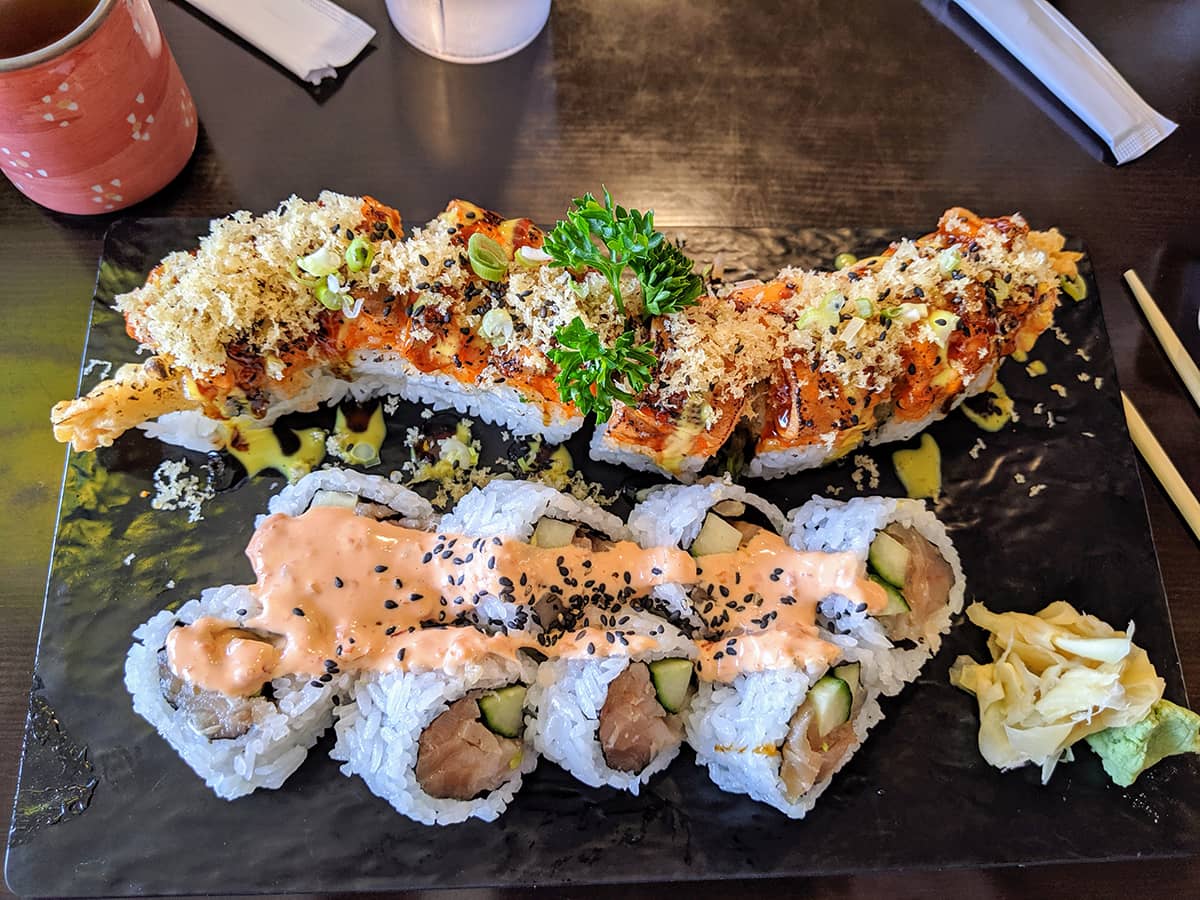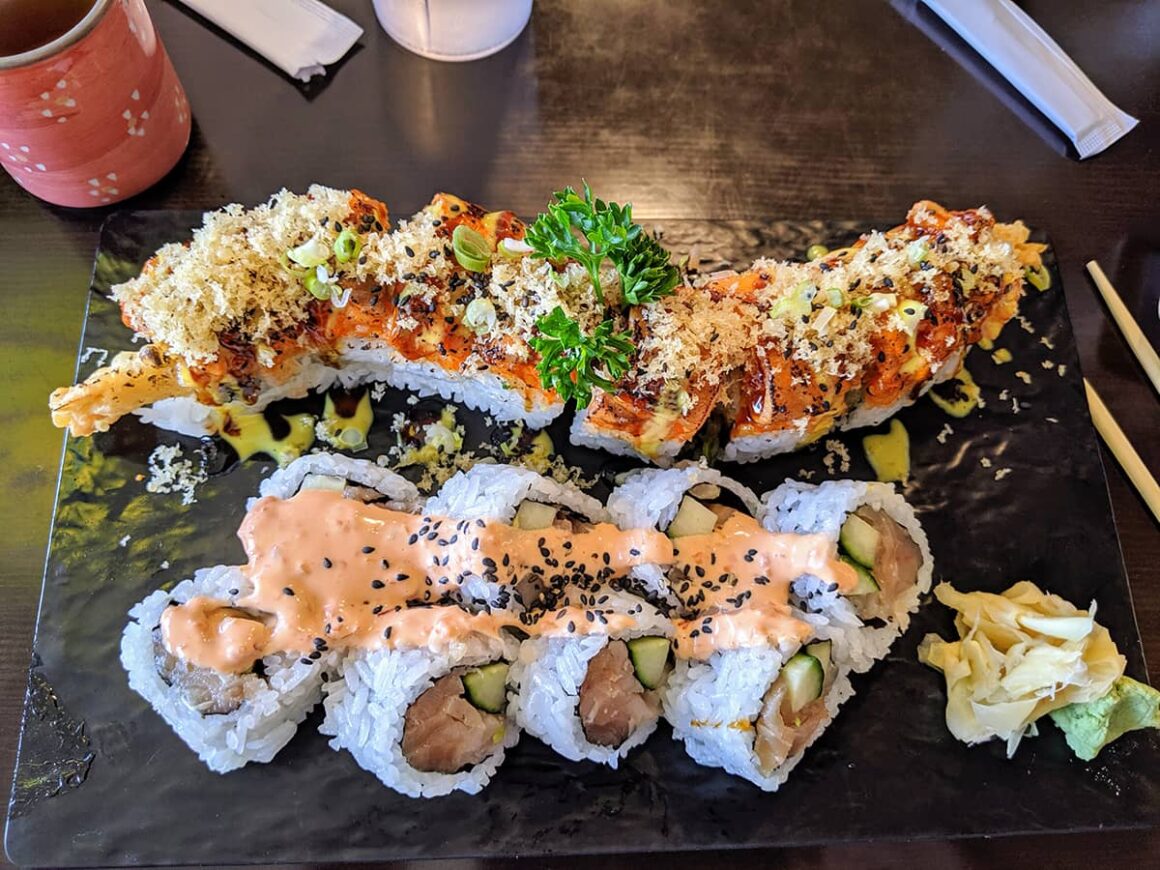 Craving for sashimi, sushi, or anything Japanese? Mr. Sushi got you covered! Tucked away is a crown jewel when it comes to serving traditional sashimi, rolls, and sushi infused with local twists.
Order Mr. Sushi's red dragon roll and flying fish roe with a taste not so punchy and overwhelming; they're the ultimate key to your sushi desires!
You'll never regret giving their yakisoba a try, stir-fried noodles swimming in a sweet and savory sauce. We're genuinely sold!
What to order: Red Dragon Roll, Flying Fish Roe, Yaki Soba
Address: 6491 John Hart Hwy, Prince George, BC V2K 3A4, Canada
11. Sim's Lunchbox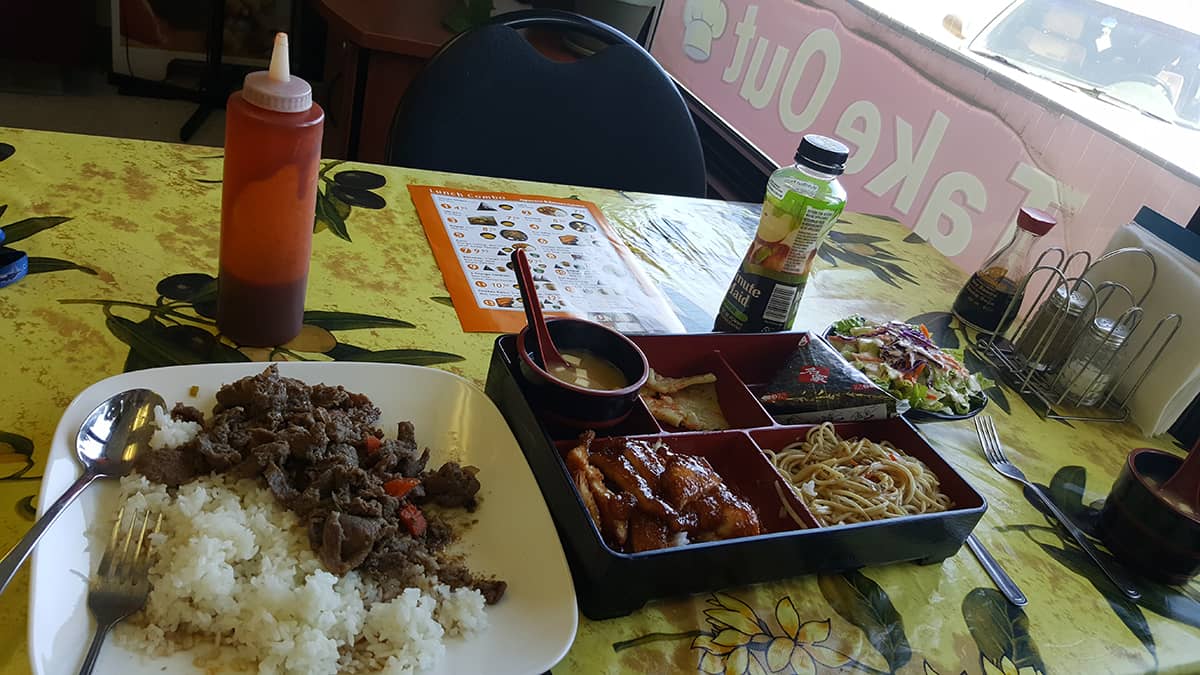 Nothing beats a Korean-owned eatery serving Korean cuisine. Sim's Lunchbox is a hidden hole-in-the-wall on Prince George's industrial corner that has been enticing all kinds of visitors who are tired of the usual burgers and pastas.
Sim's is truly a surprising find! You'll never guess that a small joint hides a stellar selection of incredibly delicious food in large proportions. What's more, they're available at reasonable prices! No frills, just fantastic.
Make no mistake and go for a bowl of their bibimbap and chicken teriyaki–two Korean dishes made piquant by Canadian infusion–thank us later!
Number 13th on their menu is chicken katsu served with triangle kimbap, miso, yakisoba, and Korean pancake. What a plentiful and satisfying box!
What to order: Number 8/Chicken Teriyaki, Number 9/Bibimbap, Number 13/Chicken Katsu
Address: 859 3rd Ave #102, Prince George, BC V2L 3E1, Canada
Looking for a place to stay in Prince George?
10. DaddyO's Pizza & Ribs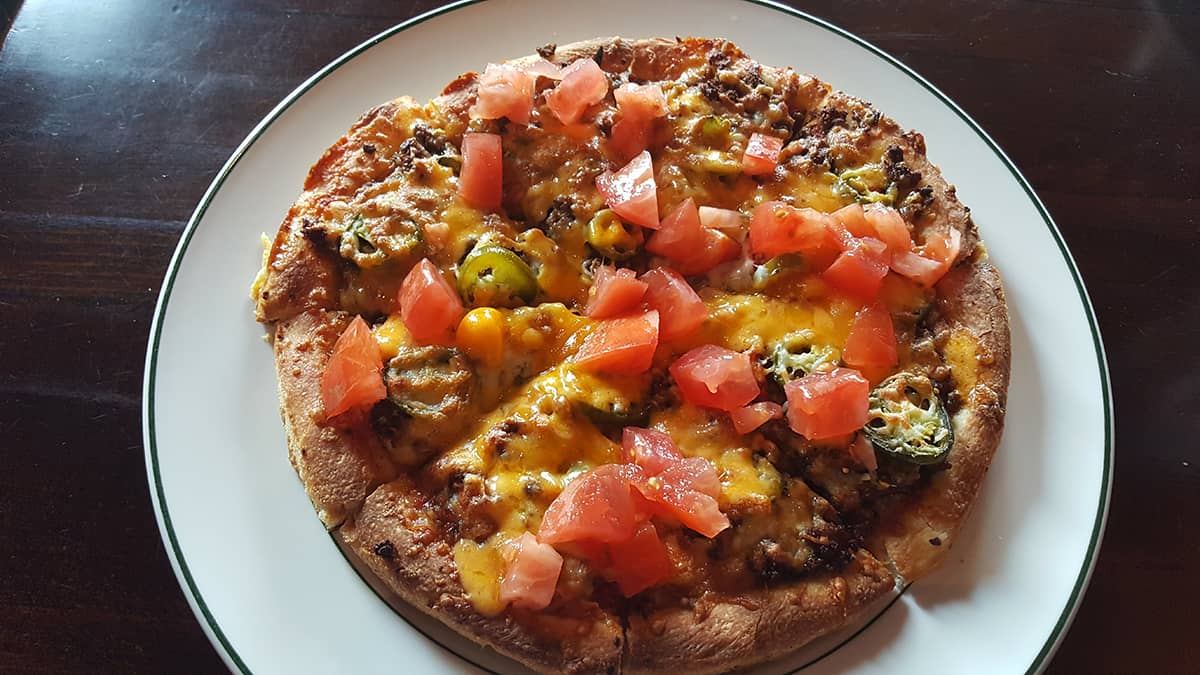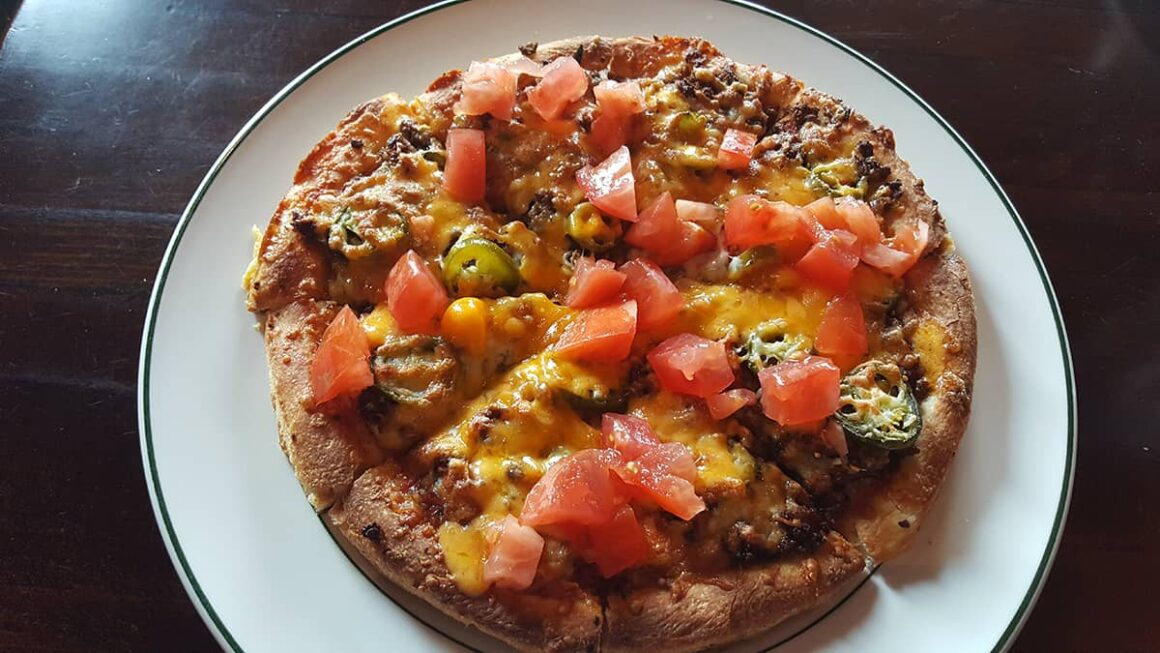 This next restaurant has already been around Prince George for over 20 years–wow! When looking at the city's restaurant scene, DaddyO's can be considered royalty, not because of their decades-long presence, but their trifecta of handmade pizza, homemade ribs, and friendly service!
Every selection from DaddyO's pizza menu is superb, but what caught our attention are DaddyO's special and feeling hot, hot, hot. The special pizza, dubbed "most-wanted," is loaded with all the amazing toppings sitting on a special crust.
Feel the heat of their Feeling Hot Hot Hot pizza, pepperoni, capicollo, and a dash of chili pepper working together for an exquisite spicy rush. Don't miss their fall-off-the-bone baby back ribs and strikingly inviting poutine.
What to order: Feeling Hot, Hot, Hot, DaddyO's Special, Baby Back Ribs, Poutine
Address: 1636 Central St E, Prince George, BC V2M 3C2, Canada
9. Zen Noodle House & Sizzler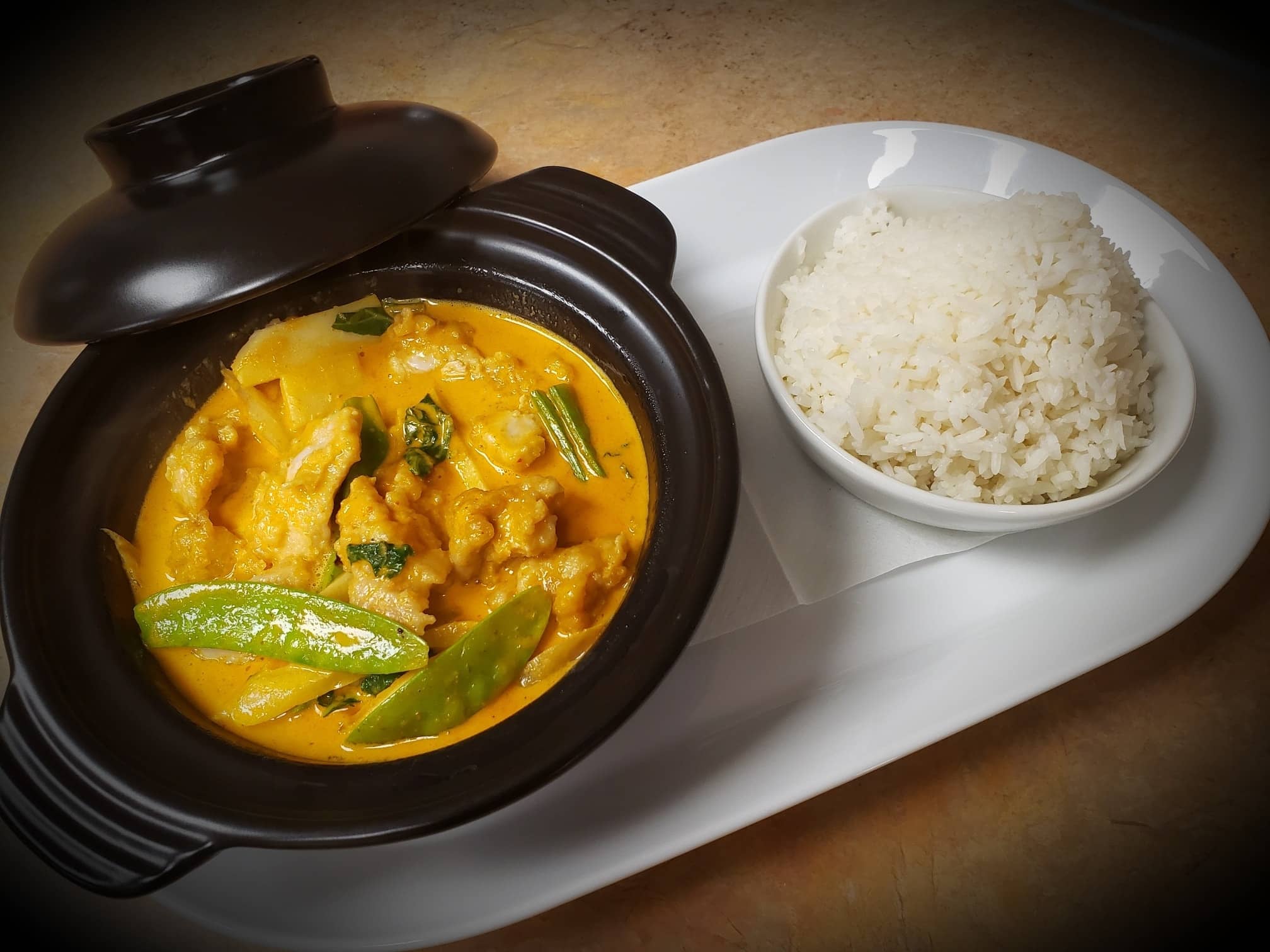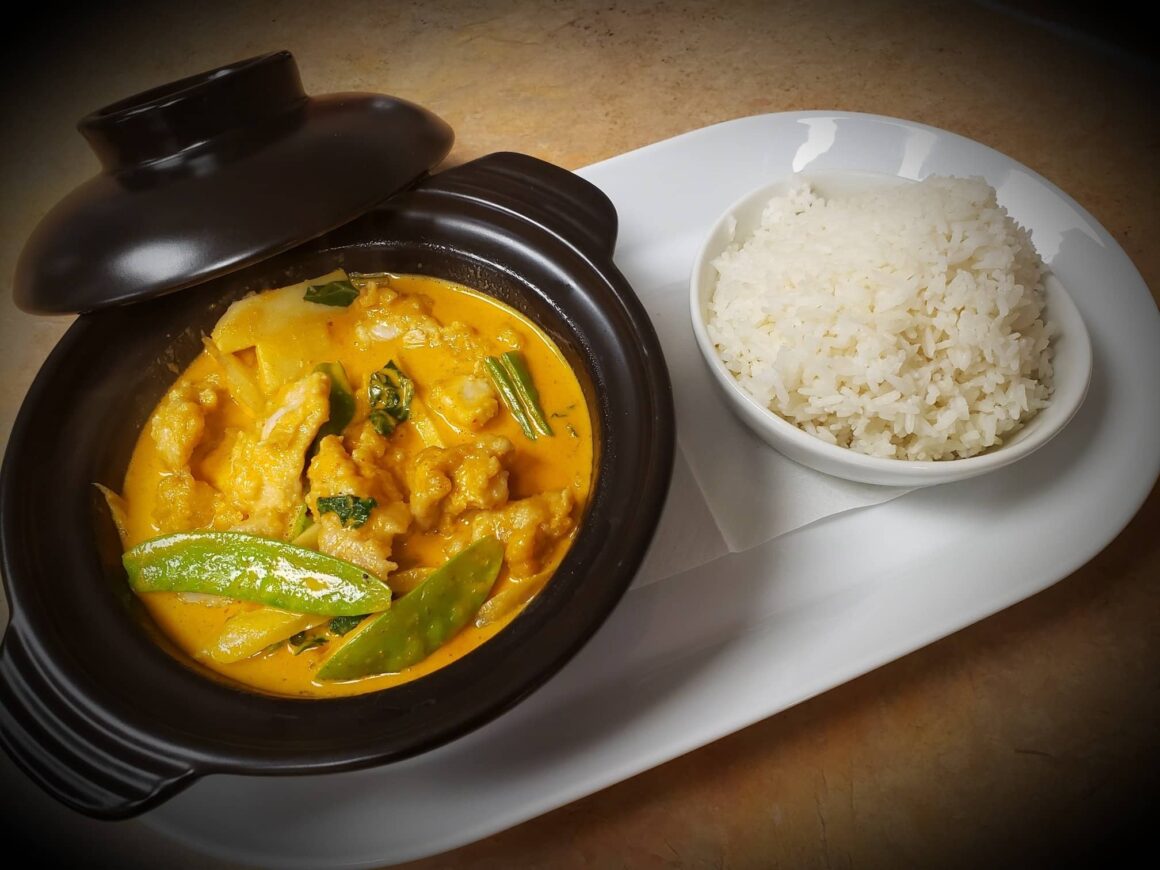 Zen Noodle House & Sizzler parades a comfortable dining experience alongside hearty food, friendly service, and a relaxing atmosphere. Their astonishing offerings of Asian cuisine range from Tibetan, Chinese, Indonesian, and more.
If you don't know what to order, their servers will gladly walk you through the menu and their options. Just tell them your preferences, and they know what to do.
We highly recommend you try their ramen noodles–Zen's version of the famous Japanese soup highlighting the combination of noodles, vegetables, nori, and more. Those who love ramen at heart are amazed by how ironically unique and familiar this item is.
Zen's chicken skewers showcase a special marinade that attracts customers with savory sauce and soft white meat. For something lighter, go for their Mongolian steak salad!
What to order: Ramen Noodles, Indonesian Street Chicken Satay, Mongolian Steak Salad
Address: 693 Brunswick St, Prince George, BC V2L 0B8, Canada
8. The Salted Cracker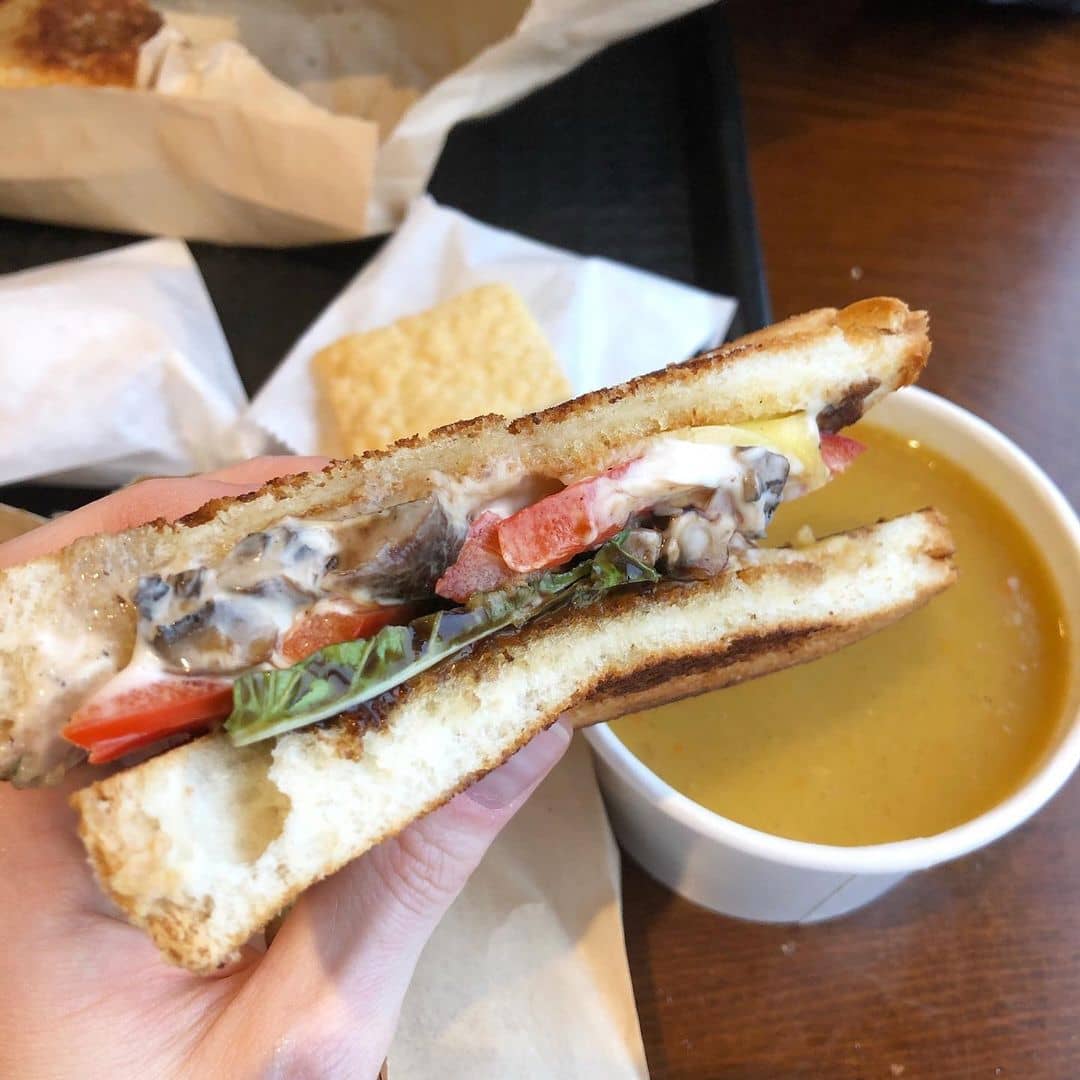 Since 2014, The Salted Cracker has been serving comforting and homemade food to Prince George locals and visitors. The restaurant is committed to only providing freshly made dishes and uses only organic and natural ingredients and unique in-house broths.
You can feel the passion and enthusiasm of the artisan team behind the success of Salted Cracker in their savory and flavorsome soup, wraps, and sandwiches. For us–and we know locals would also agree–their Jalapeno bacon sandwich, tuna melt, and clam chowder stole the spotlight!
The palatable bacon sandwich is made incredibly delicious with Jalapeno and various cheeses, while their tuna melt highlights the union of tuna, tomato, and cheddar perfectly wrapped with multigrain bread.
Salted Cracker's clam chowder is a homey twist on the traditional classic, so you better not miss that!
What to order: Jalapeno Bacon Popper, Tuna Melt, Creamy Clam Chowder
Addresses:
-College Heights – 160-5212 Domano Blvd, Prince George, BC V2N 4A1, Canada
-Spruceland – 3337 8 Ave, Prince George, BC V2M 1N1, Canada
-10th Avenue – 1485 10th Ave, Prince George, BC V2L 2L2, Canada
-Austin – 3714 Austin Rd W, Prince George, BC V2K 2H6, Canada
Website | Instagram | Facebook
7. White Goose Bistro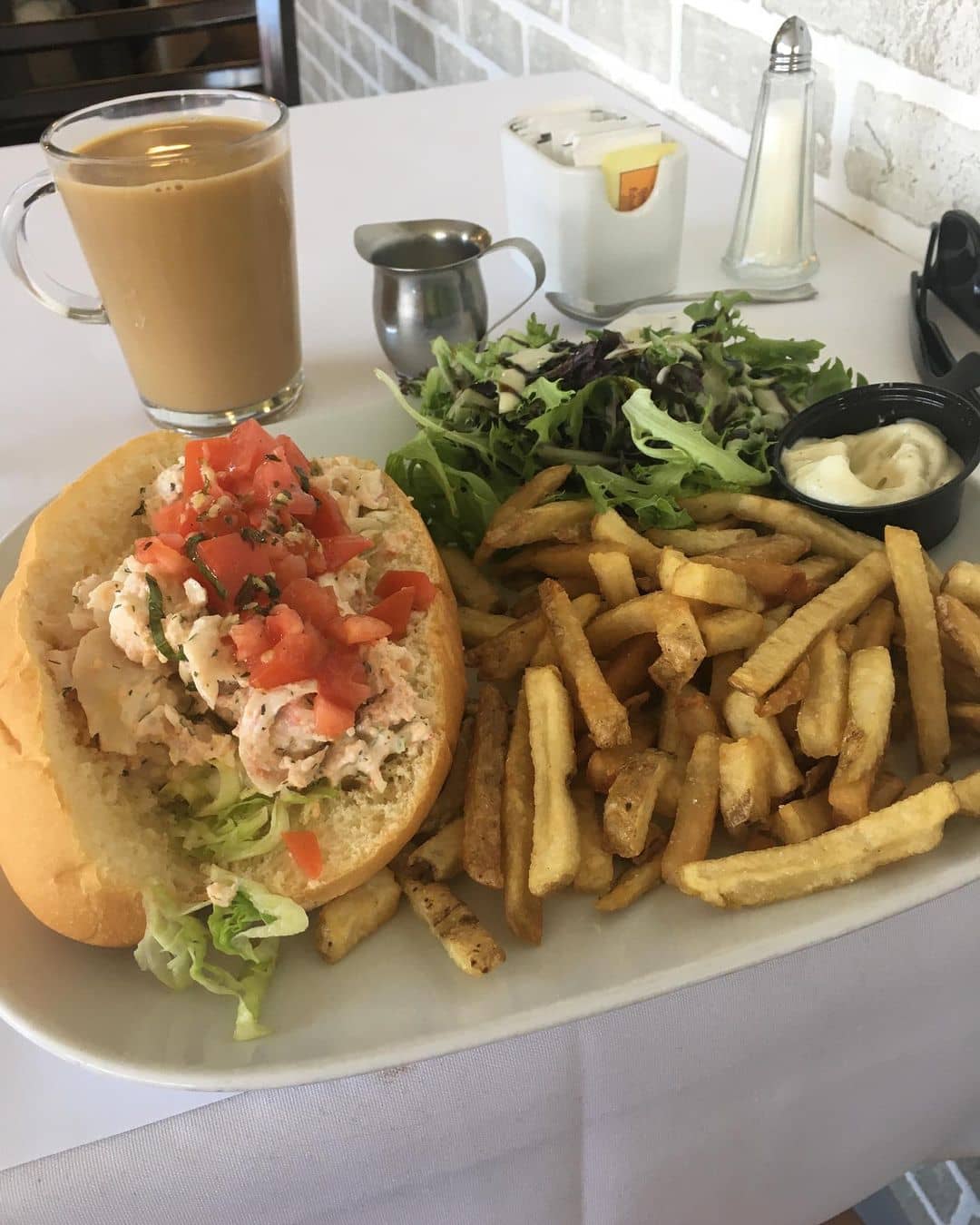 White Goose Bistro is popular for its extraordinary menu and excellent service, ideally working together to give everyone the best dining experience ever.
But what makes this restaurant phenomenal cannot be found anywhere on their menu.
Let the expert and skillful hands of Chef Cyre decide your delicious fate, and you're in for a mind-blowing surprise. He specializes in five-course meals, so he'll surely satisfy any palate!
If you want to decide for yourself, we recommend their duo of duck and rack of lambs–perfectly cooked to perfection and two of the several reasons responsible for converting first-time visitors into loyal patrons.
What to order: duo of duck, rack of lambs
Address: 1205 3rd Ave, Prince George, BC, Canada
6. Cimo Mediterranean Grill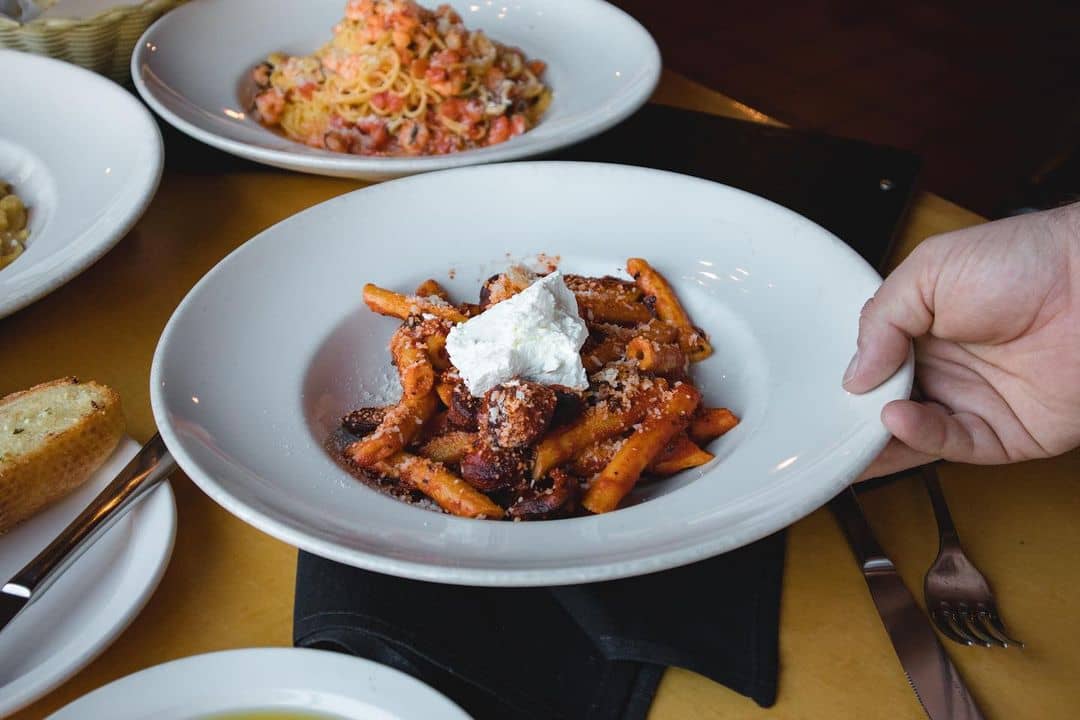 Take an instant trip to Italy without a passport with Cimo Mediterranean Grill, arguably the best Italian restaurant in Prince George. They're among the few establishments to successfully deliver a modern take on traditional dishes.
Cimo's fabulous menu showcases a wide range of homemade pasta, salads, entrees, and more. Outside the restaurant is a patio that lets you feel the city vibes on top of a cozy ambiance.
Don't miss Cimo's shrimp angel hair pasta, thin noodles dancing in an abundance of delicious shrimp. Not a fan of seafood? Their carbonara is your answer–cheese, egg yolk, and spring onion, creating a beautiful harmony of flavors.
Cimo's Pork Belly is another showstopper. Meat Lovers will indeed have their heart eyes fixed on the soft and tender meat roasted with honeyed nuts.
What to order: Baby Shrimp Angel Hair, Pork Belly, Carbonara
Address: 601 Victoria St, Prince George, BC V2L 2K3, Canada
Website | Instagram | Facebook
5. North 54 Restaurant & Bar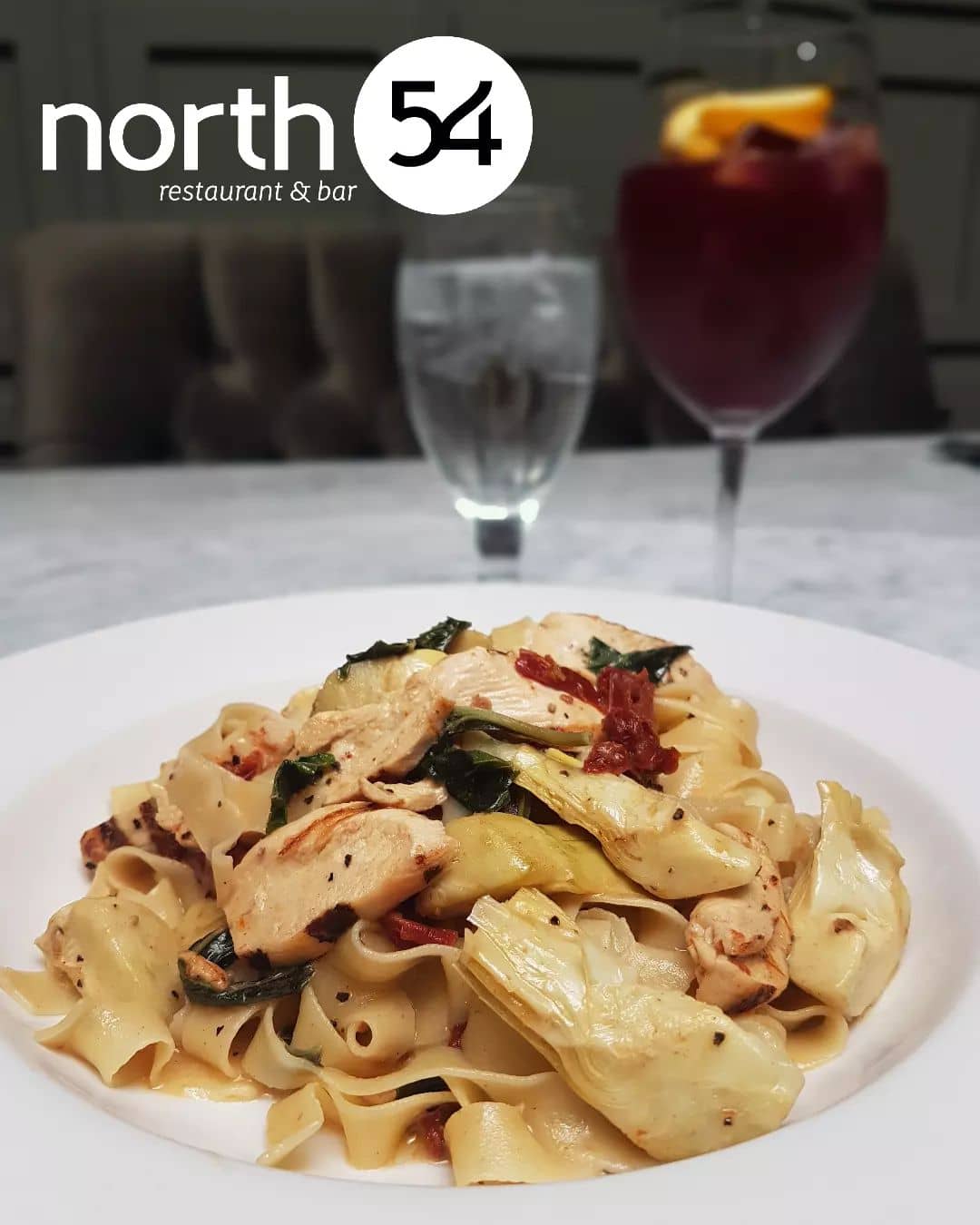 Next on the list, North 54 is a Prince George classic serving the community with gourmet meals since 2004.
One of North 54's distinguishable qualities is their keen attention to detail. From customer preferences and spotless service to warm ambiance and elegant decors, they make sure to provide the best.
They even imported their terracotta tiles straight from Italy! The restaurant sources their ingredients from local suppliers. Every item on their menu is crafted from scratch, making all dishes freshly made by a team of experts.
For starters, their Calimari is a must-have! Fall in love with crispy squid served with original tzatziki. Two highlights of their extensive menu are the chorizo pasta and NY steak.
The penne features the harmonious union of tomato, garlic, and chorizo, while their steaks are excellent-grade Canadian cuts with enhanced tenderness and flavor.
Complete your fine-dining experience with a glass (or bottle) of wine! Just ask for their cocktail menu, and you'll be amazed at their creative cocktails, martinis, coffee, and more.
What to order: Calimari, Chorizo Penne, New York Steak, Wine
Address: 1493 3rd Ave, Prince George, BC V2L 3G1, Canada
Website | Instagram | Facebook
4. Spicy Greens Restaurant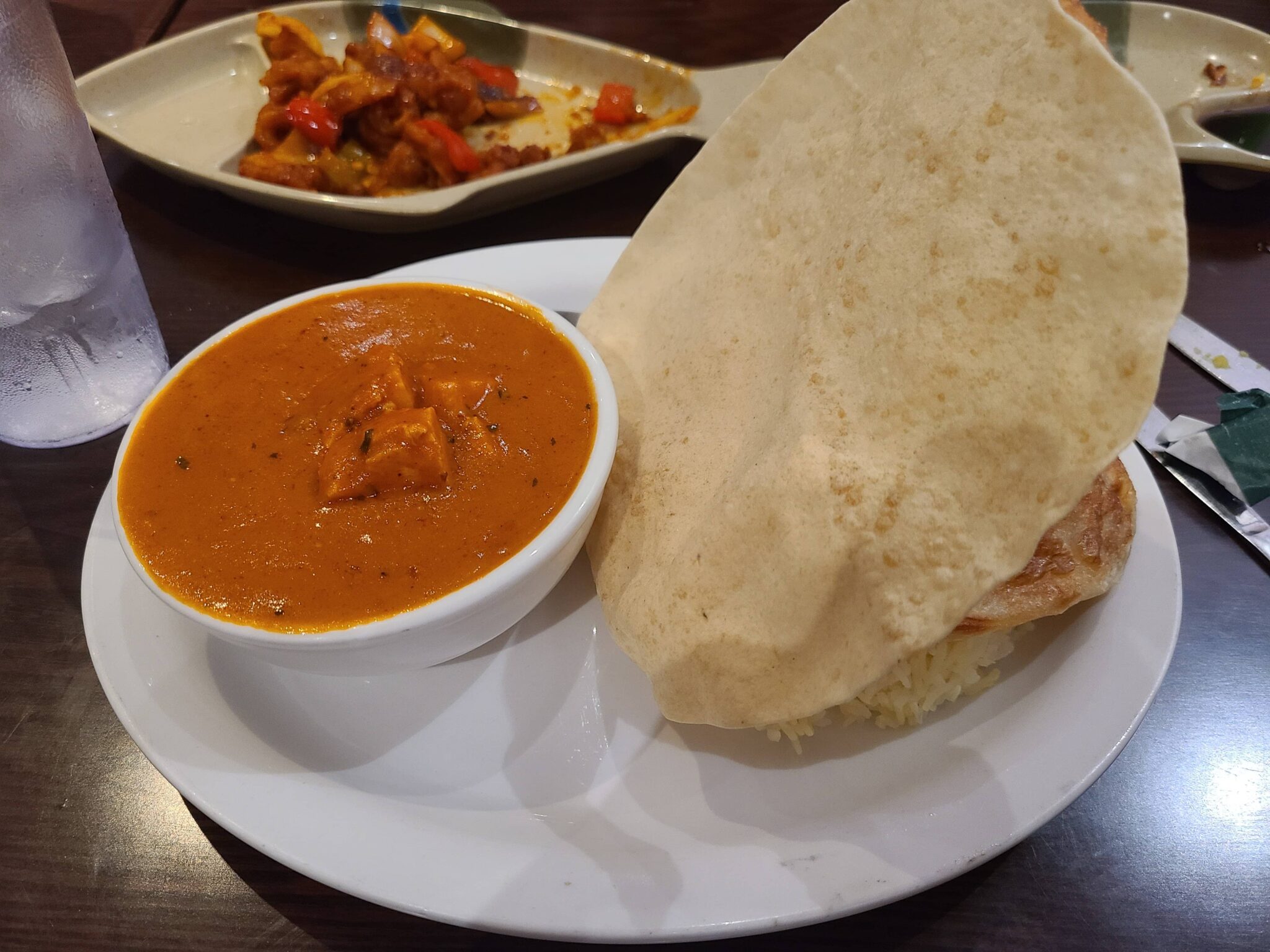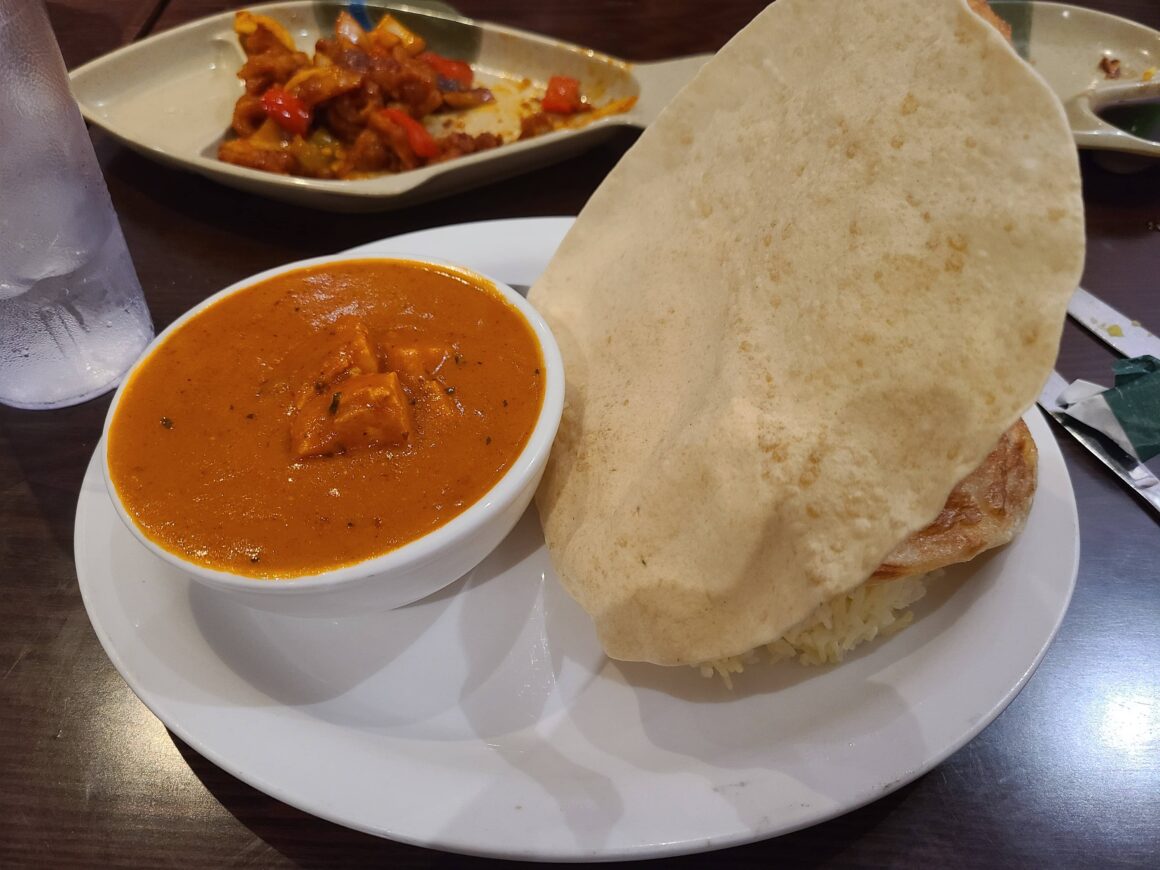 We aren't kidding when we say Prince George is home to various cuisines, and this next restaurant is proof of that. Spicy Greens offers various delicacies from South India, Singapore, Sri Lanka, and Chinese. Craving for something? Name it, and they got it for you!
This fine-dining restaurant is open for dine-in, to-go, and buffet. And the presentation, taste, and exceptional aroma of their food remain regardless of what you choose.
Start your visit at Spicy Greens' with their vegetable samosa that features savory potatoes, carrots, and more wrapped in chewy pastry. Their Indian-style beef curry is a must-try! Aromatic, spicy, and flavourful, that spells out satisfaction.
For a more localized version of the curry, try the British Columbian variant, the traditional dish finished with a touch of coconut milk and mashed spinach.
Oh, and if you're not really a fan of spicy food but still want to give this restaurant a try, Spicy Greens lets you choose your spiciness level: mild, medium, or hot.
What to order: Beef Curry, British Columbian Beef Curry, Vegetable Samosa
Address: 5087 Domano Blvd, Prince George, BC V2N 5E1, Canada
3. Shogun Japanese Steakhouse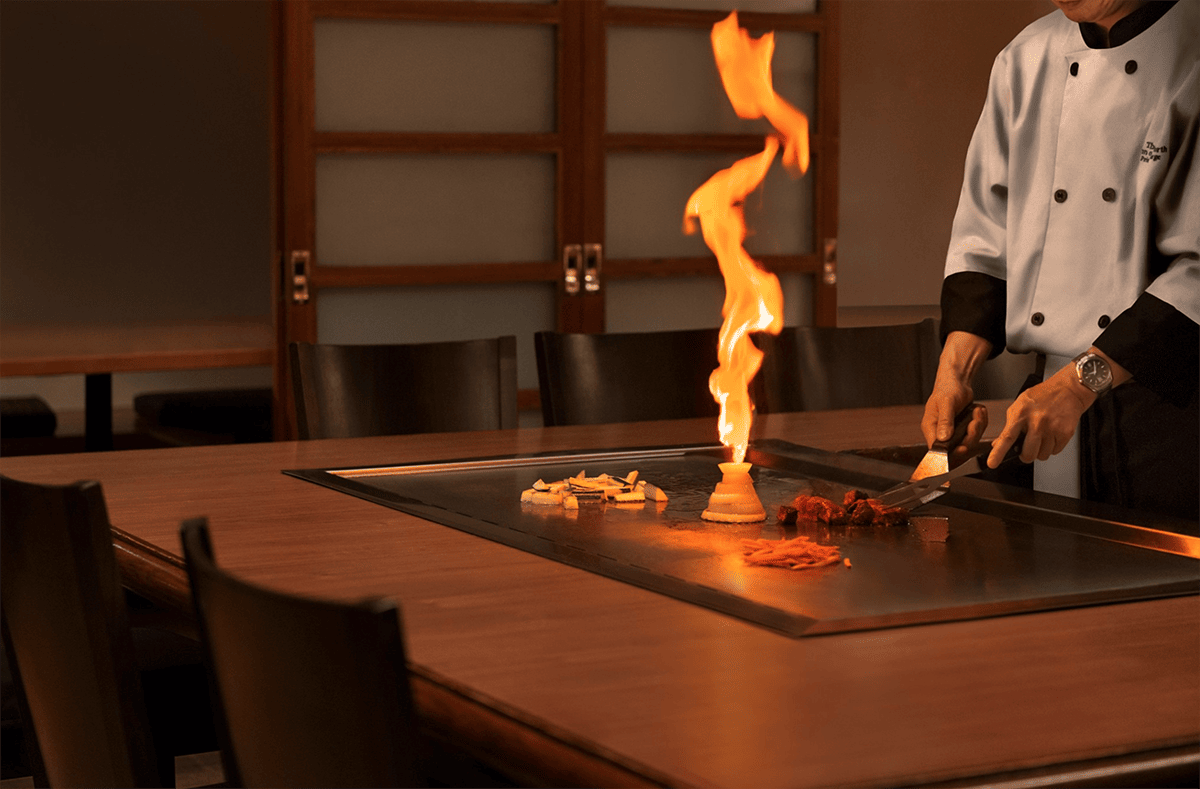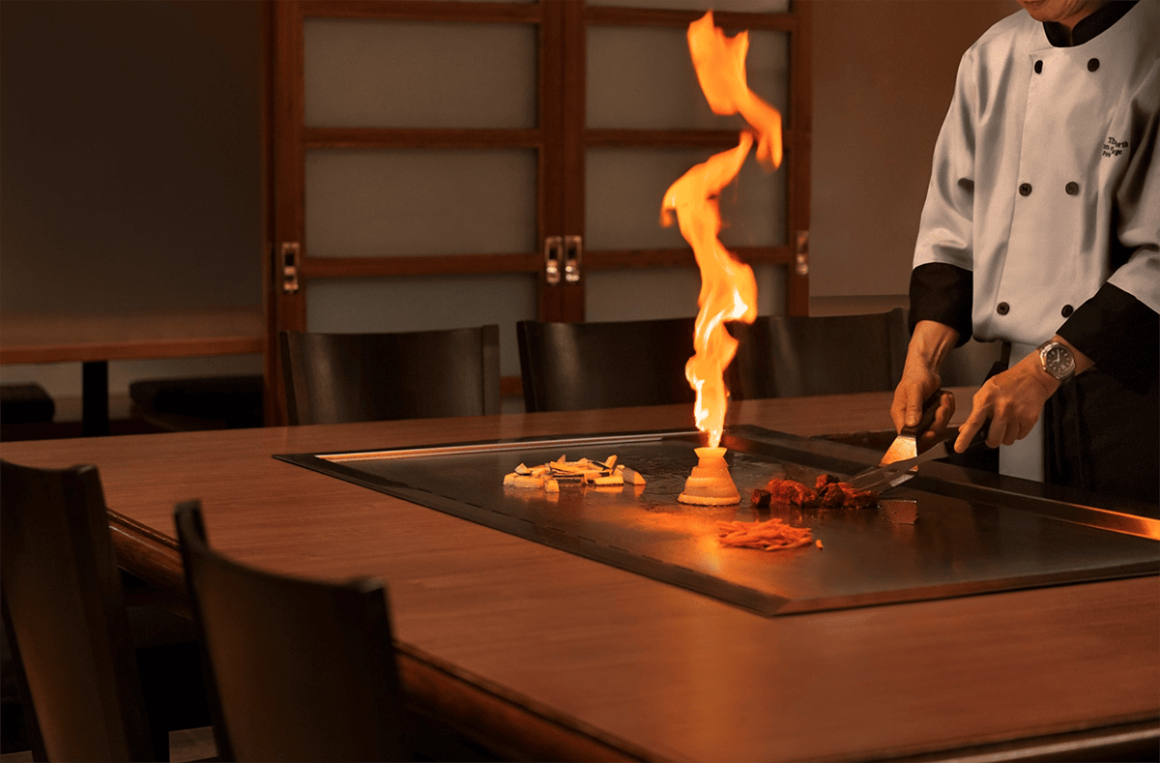 Who doesn't love Japanese cuisine? At Shogun Japanese Steakhouse, you're in for a unique version of Teppanyaki-style cooking featuring traditional Japanese bliss masked with local taste!
Gather around a Teppan grill and be prepared to be amazed at the Chef's impressive display of skills as he prepares your food in front of you. If you want a more private experience, their Shoji Rooms are always open to accommodate large groups.
Shogun has been around for more than two decades, consistently serving locals with fantastic food and impeccable service. Their bestsellers include the samurai combo, emperor fillet, and assorted tempura.
Indulge in the crispness of Shogun's assorted tempura; you'll never go wrong with deep-fried prawns, salmon, scallops, and veggies. Their shogun boat dinner, a divine combination of various rolls, is also heavenly; so be sure to try it out, too.
Their emperor fillet and samurai combo are the ultimate solutions to your steak slash teppanyaki craving–savory, decadent, and perfect tenderness. We really can't put into words how delectable these dishes are!
What to order: Emperor Fillet, Assorted Tempura Dinner, Shogun Boat Dinner, Samurai Combo
Address: 770 Brunswick St, Prince George, BC V2L 2C2, Canada
2. Nancy O's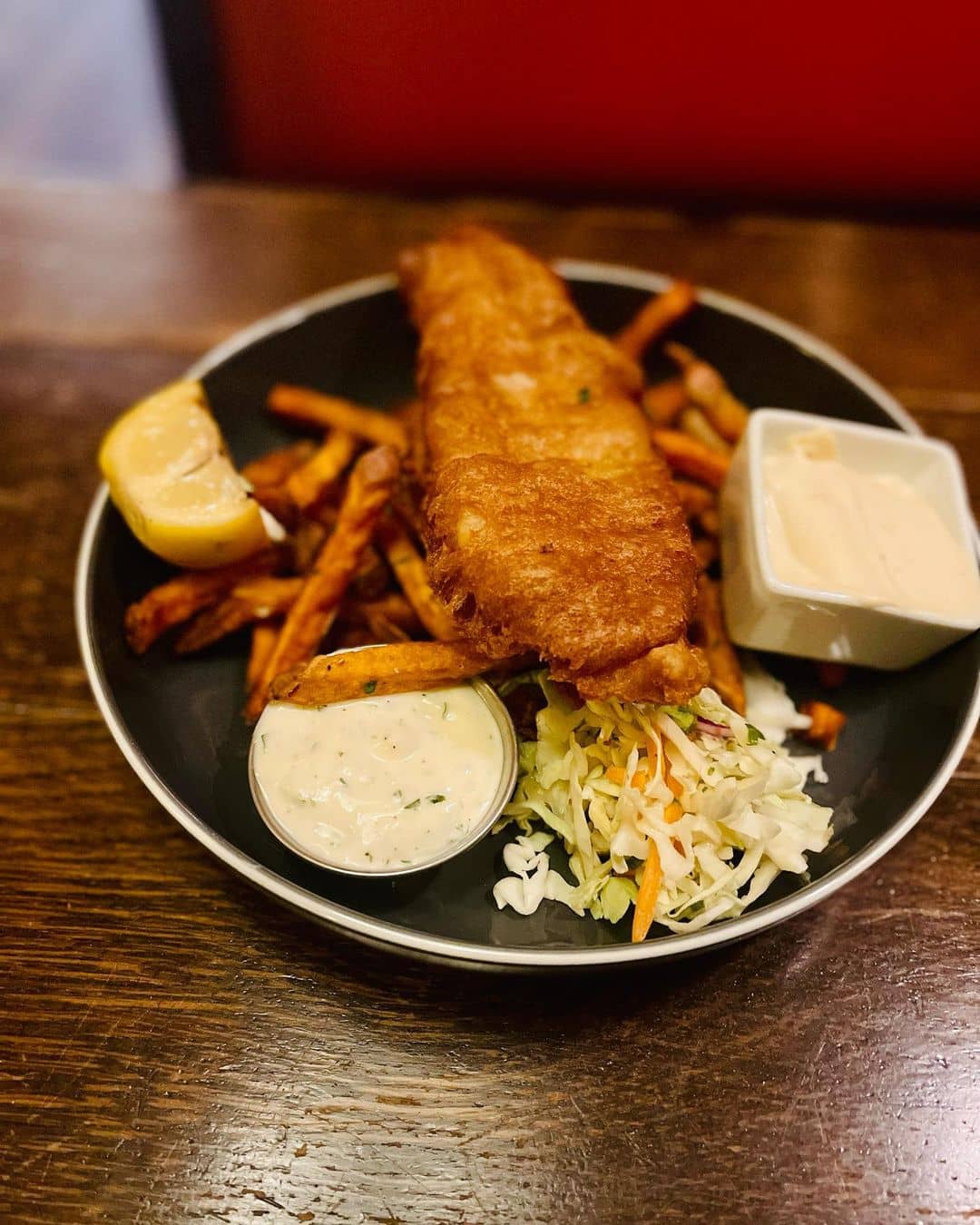 In the mood for some live music and great food? With Nancy O's, you'll have the best of both worlds. Eleven years in the business, yet Nancy O's never fails to deliver top-tier dishes and fun entertainment that will surely hook you the entire time.
"Good life." That's what the owners envisioned to provide patrons and visitors. But so far, they have given much more. In fact, Nancy O's has become one of the famous venues for eargasmic live bands, creative cocktails, and a cozy atmosphere in Prince George.
But wait, there's more! They're open for brunch, lunch, and dinner, so you can basically visit any time! However, since the place is constantly swarmed with foodie slash music enthusiasts, it's better to reserve a slot in advance.
Surrender yourself to Nancy O's pork meatballs banh mi for an amazing lunch! This delectable goodness is ginger-soy meatballs made incredibly appetizing with cilantro, jalapeno, and more.
You're in for a treat with their creamy poutine and Korean fried chicken for your dinner fix! The chicken is the restaurant's exciting take on the famous Korean dish, featuring coconut lime basmati, kimchi, and more.
What to order: Pork Meatballs Banh Mi, Korean Fried Chicken Dinner, Poutine
Address: 1261 3rd Ave, Prince George, BC V2L 3E6, Canada
Website | Instagram | Facebook
1. Betulla Burning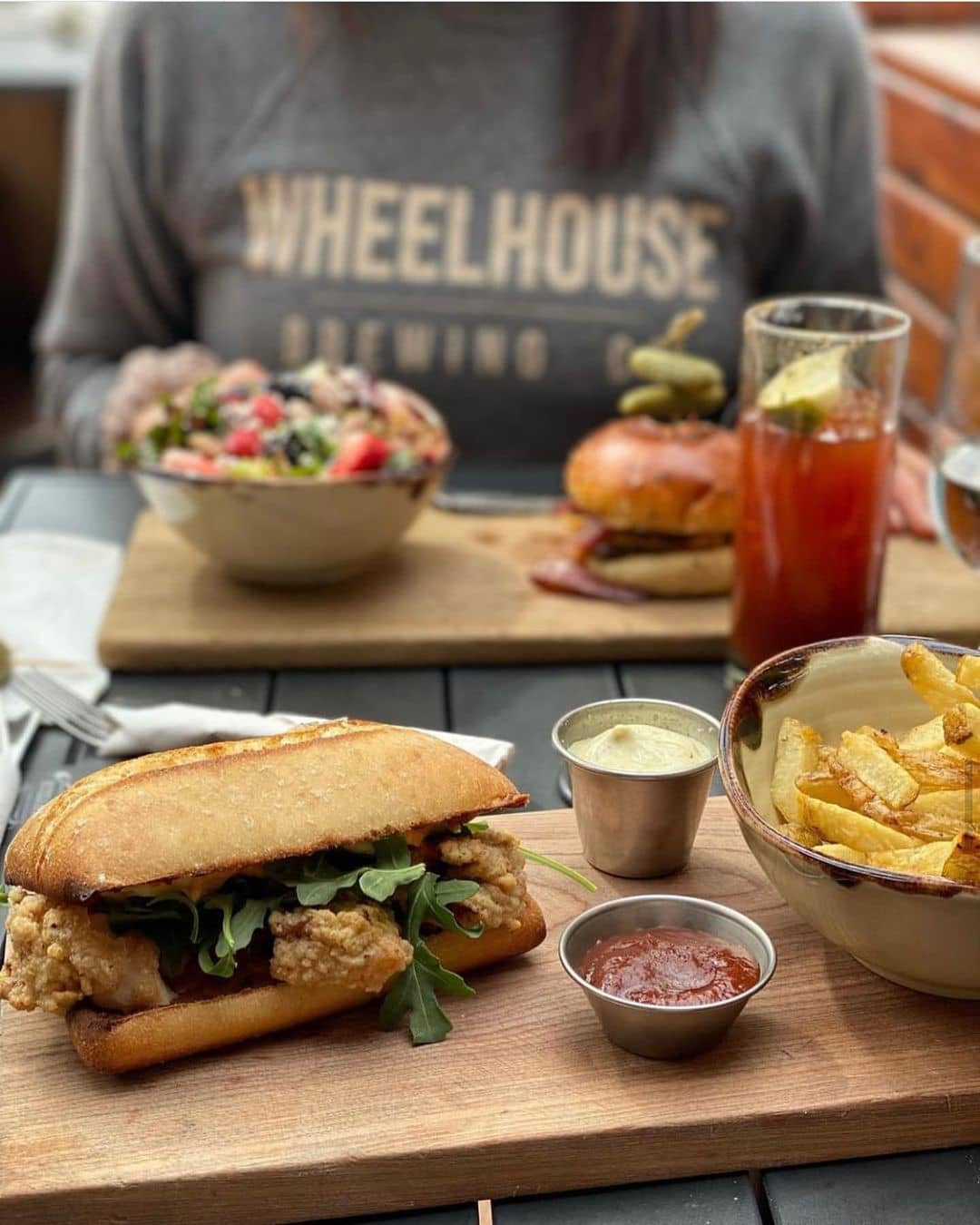 If you've been looking for Italian cuisine infused with Canadian taste, Betulla Burning in downtown Prince George is a perfect choice! Established in 2016, the restaurant has attracted thousands of visitors with their masterfully created pizza featuring original in-house sauce and mouthwatering toppings.
Betulla is the best venue for almost any event, from celebrations and birthdays to events and get-togethers. This pizza joint is always bustling with patrons and curious tourists, so be sure to place a reservation ahead.
What we absolutely love about Betulla is their wide selection of finger-licking dishes. Besides their world-class pasta, they also offer remarkable pasta, salad, and melt-in-your-mouth steak! (hint: WAGYU)
Enjoy the outburst of flavors with Betulla's Wagyu Burria Taco pizza while being mesmerized by the scenery and ambiance at their heated upstairs patio. Add a layer of excitement by ordering crust dips–we love their jalapeno aioli!
Another excellent choice is their sopresatta fig, the ideal combination of meat, cheese, and toppings bathed in balsamic, and their wagyu burger to die for.
What to order: Sous Vide Wagyu Burger, Wagyu Birria Taco Pizza, Soppresatta Fig
Address: 1253 3rd Ave, Prince George, BC V2L 3E6, Canada
Website | Instagram | Facebook
There you go! The multicultural city boasts a diverse culinary community that offers all kinds of dishes from around the world. That ends our list of best restaurants to visit when you're anywhere near Prince George.
Going somewhere else? Perhaps to Kamloops? Check out our recommendations for the best Kamloops restaurants.