During these difficult days, the choice to dine in or dine out is practically non-existent, and between all that stress, choosing between home delivery options or just cooking in your own kitchen can become tedious. If you opt for cooking at home, there's groceries to think of, meal prep to manage, and we end up hitting those boring ruts of repeating the same meals week after week.
Thankfully, our tried and trusted restaurants around the city have created some amazing restaurant quality Cook at Home Meal Kits that are easy to put together and create a delicious dinner for your family, or as simple as you just popping a ready-to-eat meal into the oven for a quick reheat and serve.
Check out our picks of the 9 best restaurant home meal kits in Vancouver that will make your life a little easier and stress-free.
9. Kitchen by Maji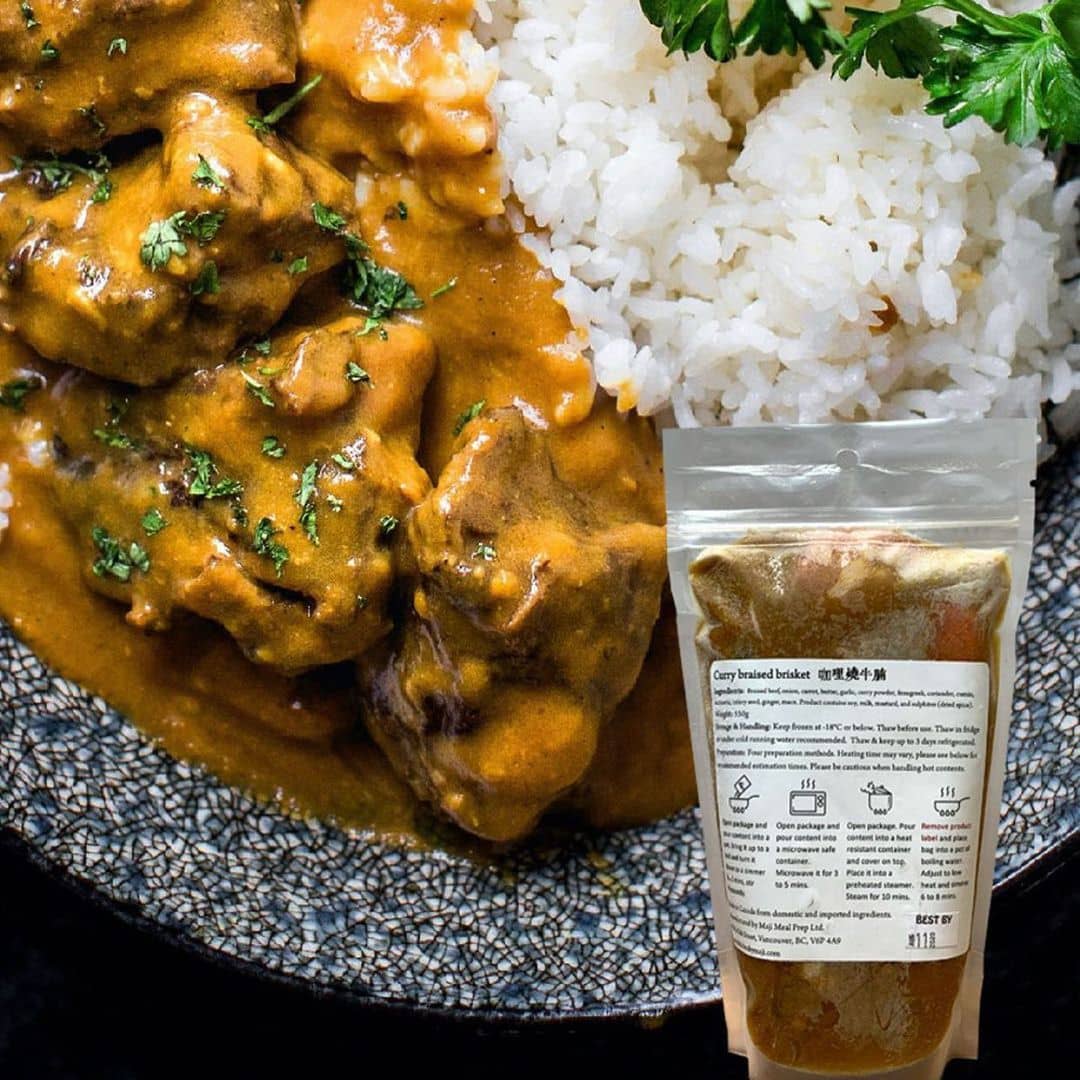 Life's pretty good when restaurants like Maji cater to all our laze craving, albeit quite justified laze craving, needs. While anything on Taiwanese menu is to die for, we love the ease that comes with pouring the contents of the Curry Braised Brisket into a pot, heating it up, and basking in the flavours of what we can only assume paradise feels like.
The best part? You can splurge a little extra and stock up on meal kits, storing them in the freezer to pull out and quickly whip up whenever you feel hungry. Add in your own little dashes of egg or vegetables to spruce up your dinner if you'd like, it'll only make it better!
What to order: Curry Braised Brisket
Address: 8335 Oak St, Vancouver, BC V6P 4A9, Canada
Website | Instagram | Facebook
8. Cafe Medina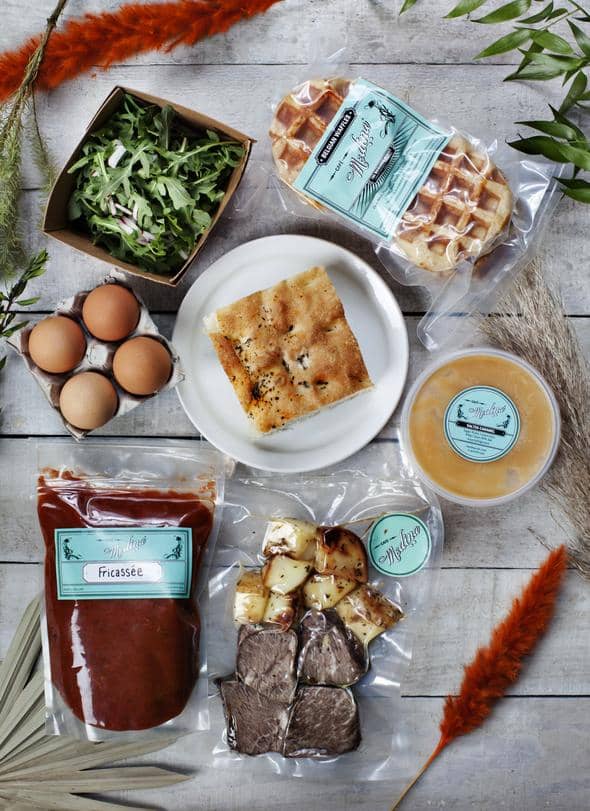 Sinking your teeth into warm waffles oozing with salted caramel is an absolute must to begin the perfect weekend. Fortunately, Cafe Medina knows just how to romanticize a good brunch whether you're in or out of the house.
Go for the Medina Experience, eggs, warm freshly baked Focaccia, waffles and a beautiful Fricassée (roasted potatoes, short ribs, smoked cheddar, caramelized onions and arugula) and have your kitchen smell amazing, as if you're inside the popular cafe.
What to order: Medina Experience, Fricassée
Address: 780 Richards St, Vancouver, BC V6B 3A4, Canada
Website | Instagram | Facebook
7. Caffe Le Tana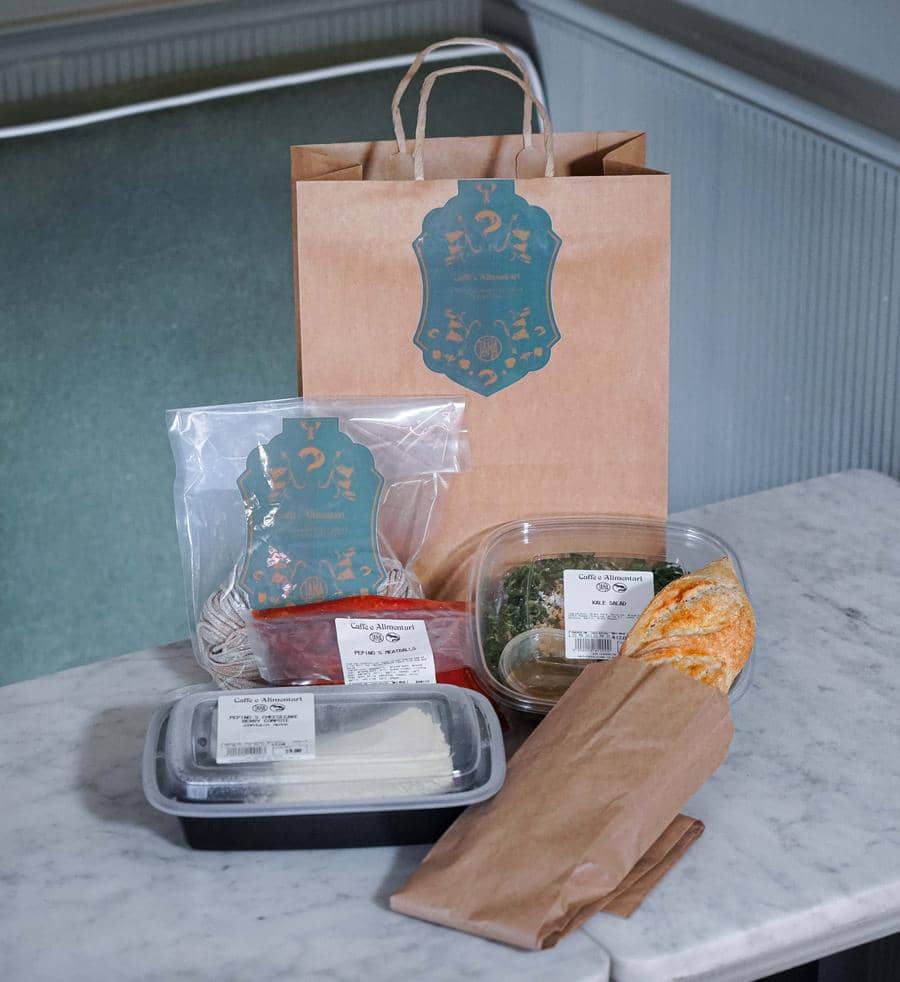 We all need to get our Italian on some time, right? So light up those candles, break out the vinyl records, pull on your best dress and let Caffe Le Tana bring Italy to you. Pizza, Calzones, Pastas, all ready to be assembled to accompany a beautiful evening.
Order up a Famiglia Fox Box- Spaghetti and Meatballs, the dreamy Butter, Anchovy and Black Pepper Kit, some Penne alla Rosa, or a divine Tripoline Bolognese. Don't forget to check out their amazing add-ons!
What to order: Famiglia Fox Box
Address: 635 Commercial Dr, Vancouver, BC V5L 3W3, Canada
Website | Instagram | Facebook
6. Torafuku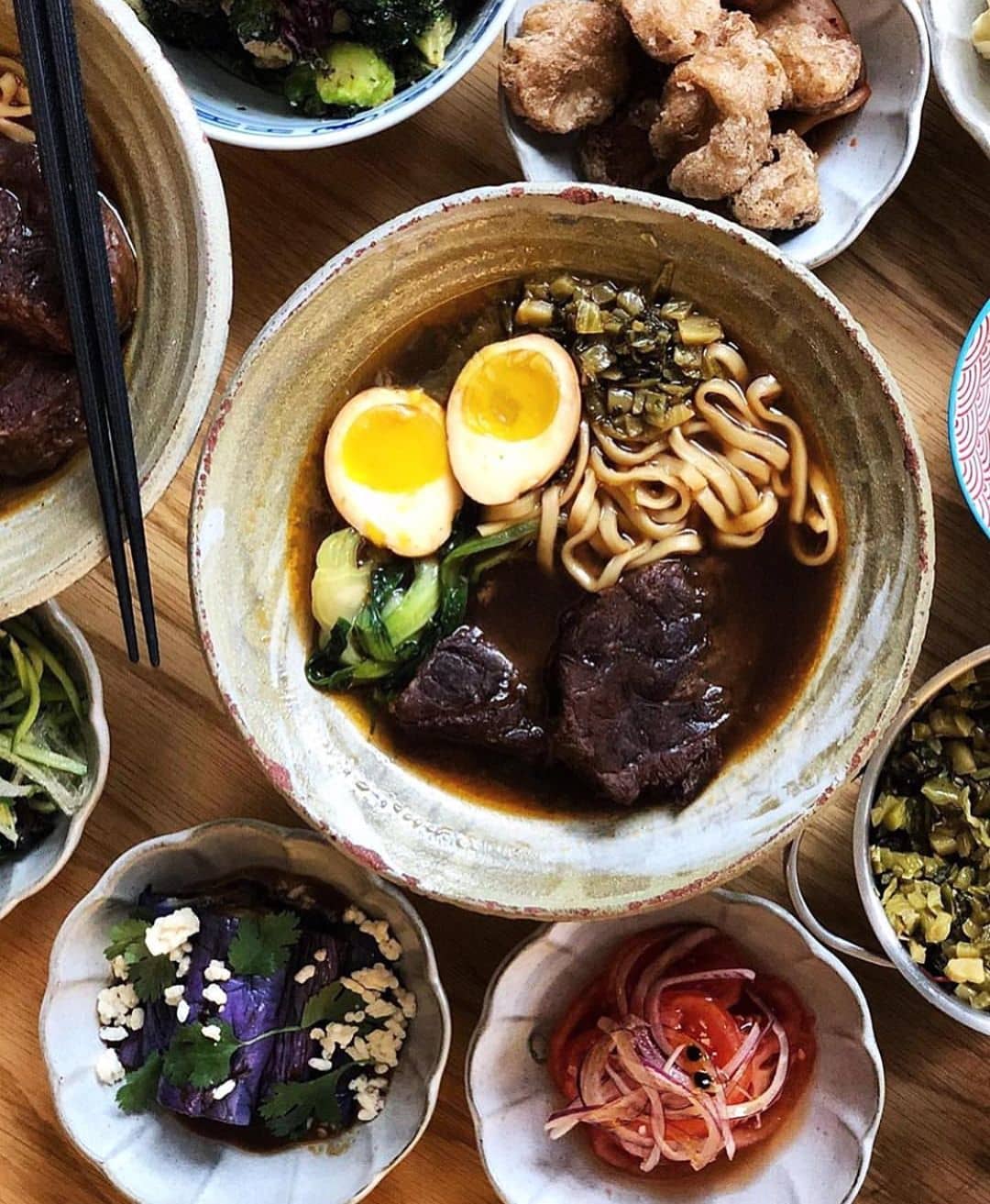 Grab your favourite pair of chopsticks and get ready to revel in the magic that comes with pan Asian flavours, a good wine and the nook in your comfy sofa. With the meal kits from the award-winning Chinatown restaurant, you'll easily whip up a fine comforting meal.
Indulge in Beef Noodle Soup and Pork Belly Bao, finish with a rich Basque Cheesecake and kick it back with a Chardonnay.
What to order: Beef Noodle Soup, Pork Belly Bao, Basque Cheesecake
Address: 958 Main St, Vancouver, BC V6A 2W1, Canada
Website | Instagram | Facebook
5. Boulevard Provisions
If you're like us and enthralled by fine dining, you're going to love Boulevard Provisions, from the award-winning seafood restaurant Boulevard Kitchen. It's almost unreal being able to have such culinary art in your own house, but boy does it make a Thursday dinner all the more enjoyable.
With their Chef-Lead Meal Kits, you can follow video instructions by Chef Alex Chan, learning all the fancy tips and tricks to master your cooking skills, all while making delicious meals like Lobster Bisque and Apple Caramel Mousse. However, if you feel like retiring the splashy apron for the night, you can indulge in their ready-to-reheat-and-serve options like their yummy Chicken Parmesans or divine Chicken Curry!
What to order: Lobster Bisque, Apple Caramel Mousse, Chicken Parmesans, Chicken Curry
Address: 845 Burrard Street, Vancouver, BC V6Z 2K6
Website | Instagram | Facebook
4. Baroness Bubble Tea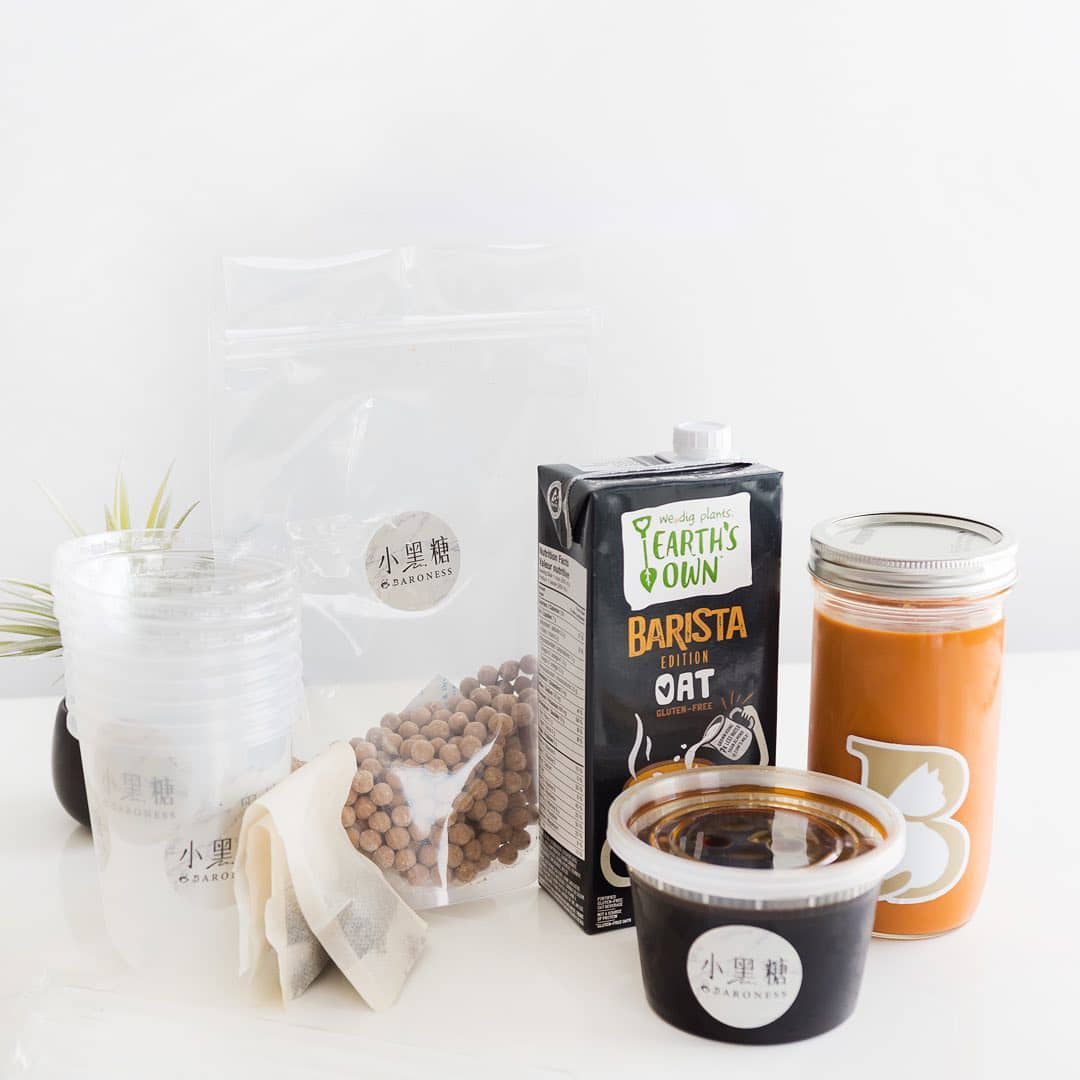 Maybe it is just us, but when you do the work and make something yourself – it taste a tad bit tastier. Maybe that's just our bias talking. Regardless, making your own bubble tea is a fun experience if you are a bubble tea lover.
And with the easy-to-make boba kits from top-rated bubble tea spot, Baroness, you'll be singing in joy throughout the whole process. They're especially famous for their Brown Sugar and Oat Milk teas which aren't only vegan-friendly but are super fun to make at home!
What to order: Brown Sugar, Oat Milk
Address: 2790 W Broadway, Vancouver, BC V6K 3Z2
Website | Instagram | Facebook
3. Burgerland Smash Up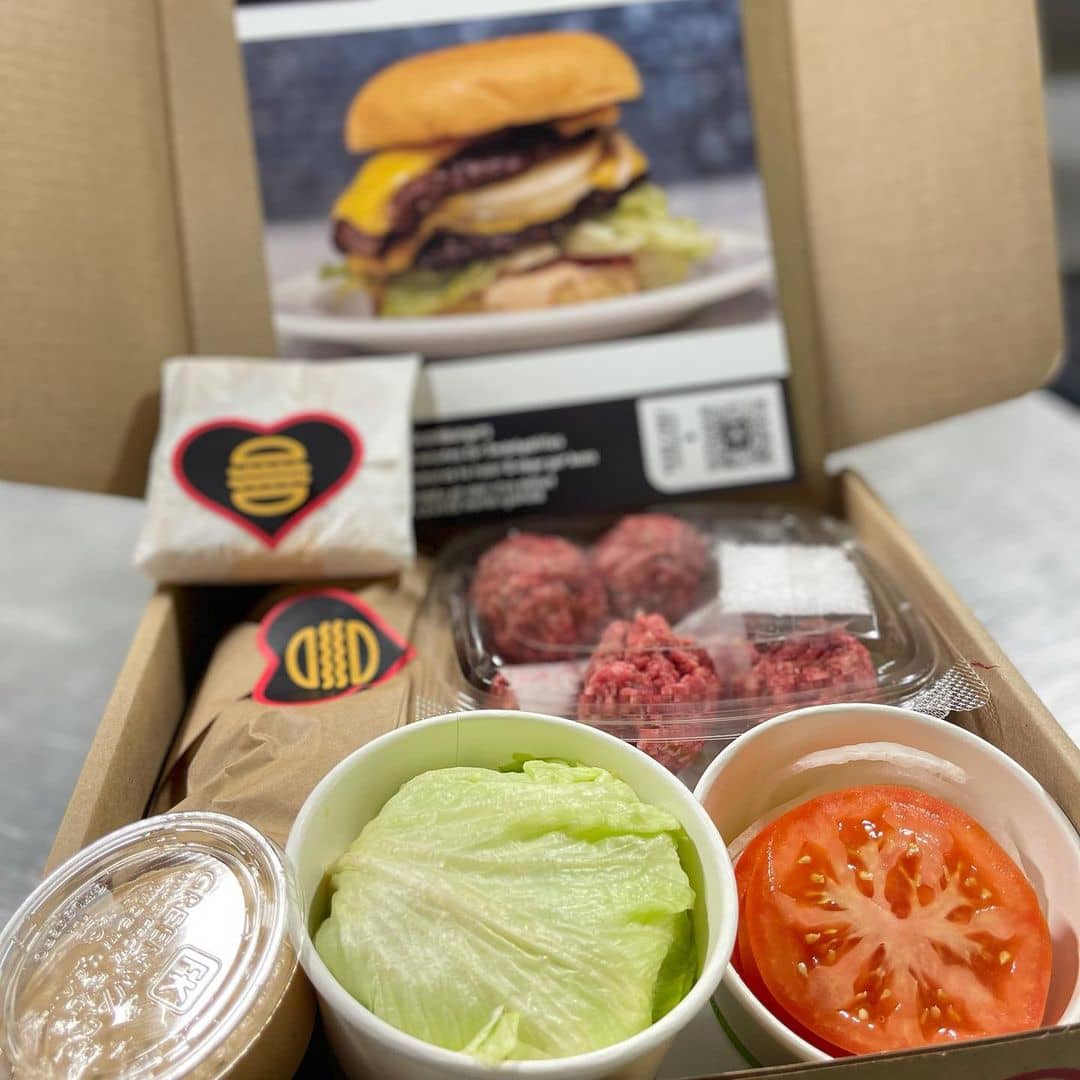 In the mood for some bomb burgers? Of course you are.
Roll up your sleeves, get out the loose track pants and ready up your patty flipping skills for Burgerland Smash Up's Smashburger meal kits.
The California Up-n-down kit is inspired after the great IN-N-OUT Double Double…meaning you'll have everything that you need to recreate the mega popular's burger in your kitchen with ease.
And if you're looking for a burger that is life-changing, opt for the Oklahoma Fried Onion & Cheese Kit. You won't regret it.
What to order: California Up-n-down, Oklahoma Fried Onion & Cheese
Address: 1380 Napier St, Vancouver, BC V5L 2P6, Canada
Website | Instagram | Facebook
2. The Rise Eatery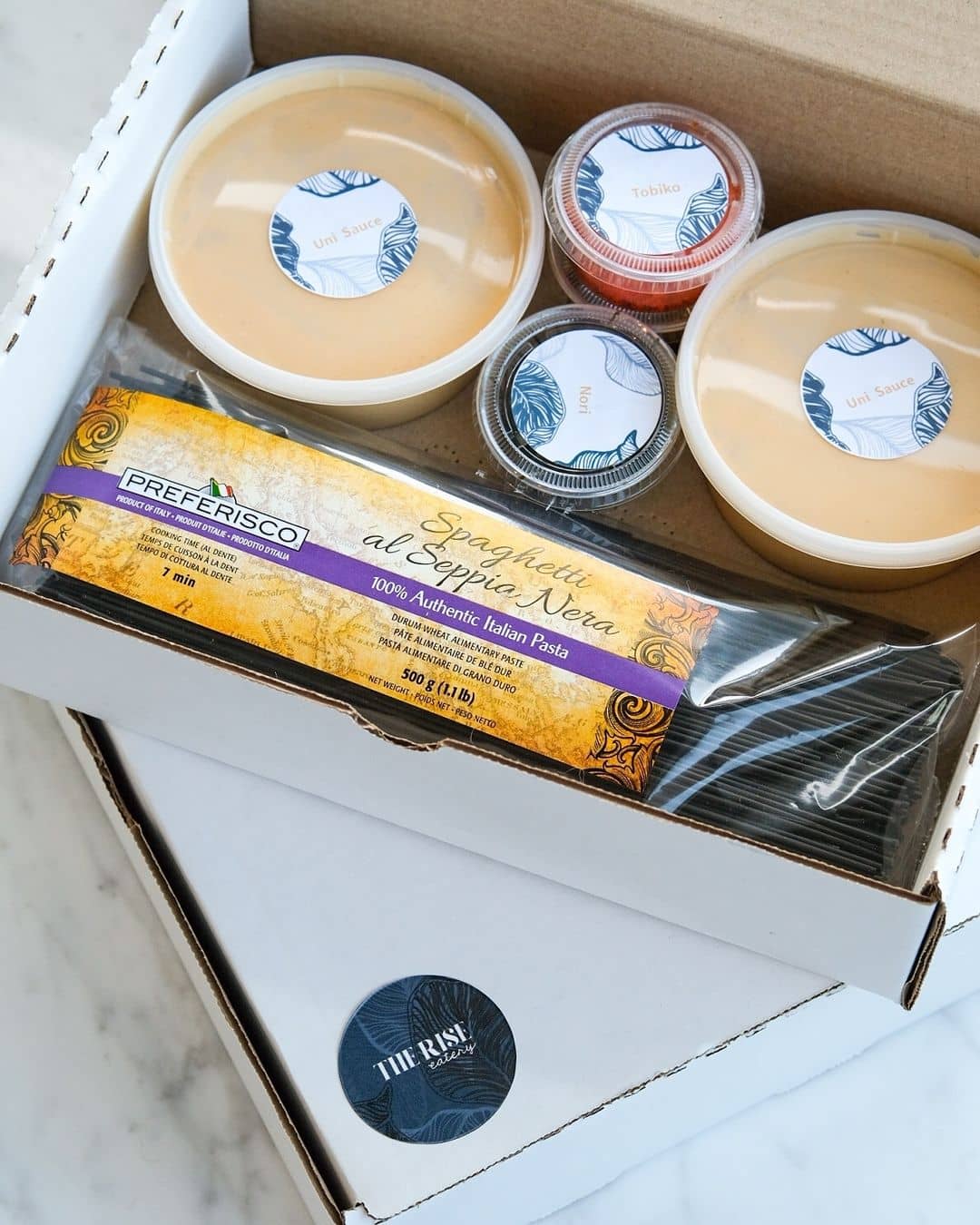 We all love ourselves a good pasta, and we love when The Rise Eatery answers our carb craving prayers.
Looking for something a little different though? We, and much of Vancouver, are guilty of being obsessed with their Uni-versal Pasta, a divine squid ink pasta with egg yolk, sea urchin cream, roasted seaweed and flying fish roe.
Luckily, they have a kit that creates enough for the whole fam to enjoy. We recommend pairing it with a Mocktail Kit and delving in a dinner that'll leave you feeling absolutely divine.
What to order: Uni-versal Pasta, Mocktail Kit
Address: 3121 Granville Street, Vancouver, BC, V6H 3K1
Website | Instagram | Facebook
1. Nightingale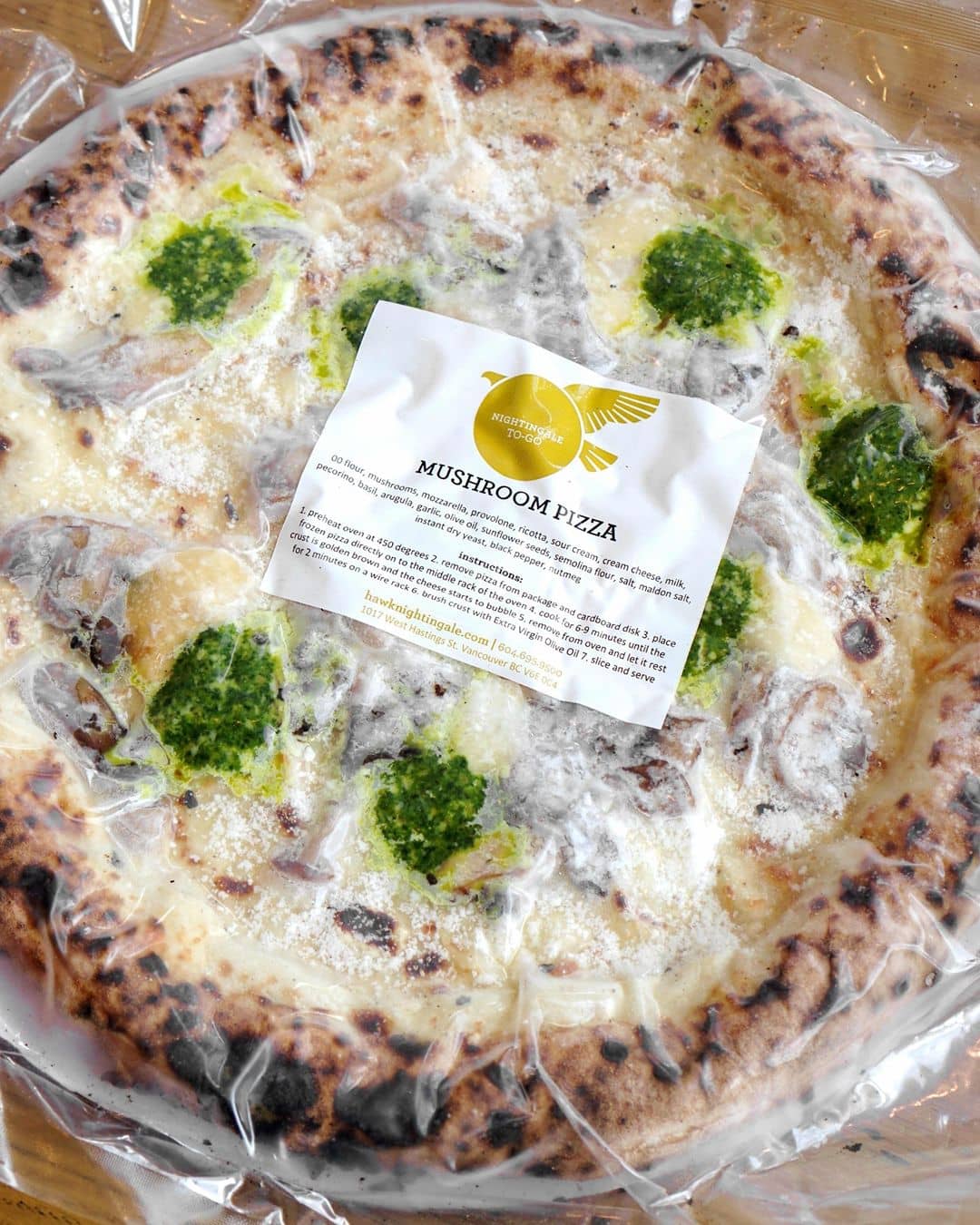 It's no surprise we and the whole world go ga-ga over a good pizza, as we all should of course. Cheese, savoury sauces, cheese, warm buttery crusts and more cheese that can be put together in your own kitchen? Say no more.
Nightingale fulfills all of our pizza lusting desires with their Heat + Serve option, delivering the little circles of heaven right to your door to fill your freezer, ready to be baked into a warm, oozing dinner in a matter of minutes- it's as easy as pie. We enjoyed their Mushroom Pizza, loaded with wild mushroom, cheese (mozzarella, pecorino and fontina) and white sauce, but when it's pizza you can never really go wrong.
Best of all, the pizza was super easy to prepare. Just needed to pop it in the oven for a short period and bam you've got a fine pizza in front of you!
Pro-tip: You can swing by Bel Café in Kitsilano and pick up your yummies from Nightingale there too!
What to order: Mushroom Pizza
Address: 
-1017 W. Hastings Street, Vancouver, BC V6E 0C4
-1780 W 3rd Ave, Vancouver, BC V6J 1K4, Canada (Bel Café)
Website | Instagram | Facebook
That wraps up our list of the best restaurant home meal kits available at some of Vancouver's best eateries. We hope you avail these stress-free options and enjoy a relaxing meal or two.
For more enjoyable meals, take a look at our list of Best Sushi Spots you simply must try!
The following two tabs change content below.
Noms Magazine
Noms Magazine is a food lifestyle publication based in Vancouver. Our goal is to help you easily find the best food and things to do in the city!
Latest posts by Noms Magazine (see all)