Not many will disagree that pizza is hands down one of the most popular foods in the world. And, how can it not be, right? Those perfect crusts and tomato-y bases, the meaty or flavorful veggie toppings, and of course cheese, cheese and more cheese.
It's pure heaven, by the slice!
Whether we're on the go, just relaxing at home, or hitting the town with friends for drinks and dinner, pizza is also one of the most convenient foods around, and almost everyone's go-to choice for that reason. It is no-fuss, and delicious too. A real all-round favorite.
Across the globe, there is almost no city or town that doesn't boast a range of pizzerias for locals and those visiting or passing through, and Vancouver is no different. Home to some of the best traditional and contemporary pizzas in the country, there is always a long list of spots to choose from for your pizza fix.
So, to simplify your life a little more, we've put together a list of the best pizza in Vancouver. These pizzerias are so amazing, we couldn't wait to show them off, and get your mouths watering enough to go give them a try.
*Noms Members are part of our exclusive paid membership. Only food spots we personally recommend are accepted as members. 
1.) Marcello Ristorante and Pizzeria
#commercialdrive #popular #recommended #datespot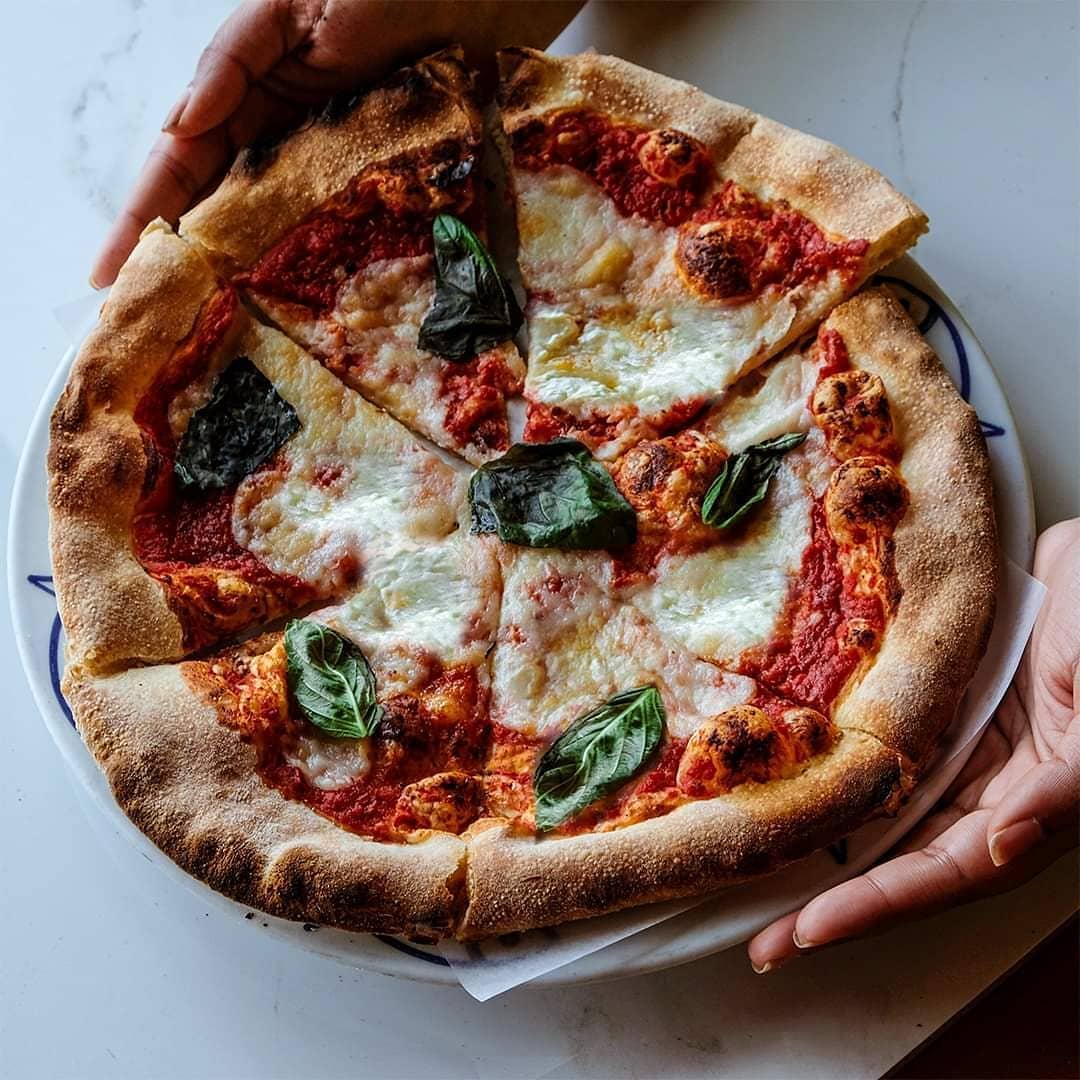 Set in the heart of Commercial Drive, Marcello Ristorante and Pizzeria is the brainchild of Chef Marcello who was born in Palermo, Italy and developed a love for cooking at an early age. When he packed up his inspiration, passion, and culinary skills and caught a plane to follow his dreams, Vancouver got lucky.
Bringing you the best of Southern Italian cooking, and incredible thin-crust pizzas baked in a traditional wood-burning oven, this spot is a must-visit for every Vancouverite and visitor looking for some amazing pizza.
Start off your meal with a simple Margherita, a light thin-crust, topped with rich tomato sauce, and mozzarella cheese. There is also a wide variety of pizzas with Canadian Age Mozzarella you should definitely try. We recommend The Con Salsiccia (with spicy Italian sausage,) or the Prosciutto (with ham,) and the Siciliana (ham, capers, black olives and onion.)
Tip: Not to be missed is the Calzone, which has the most delicious vegetarian option.
Bonus tip: Marcello's also offers Gift Cards, so go ahead and surprise a pizza-lover friend with one!
Address: 1404 Commercial Drive, Vancouver, BC
Order Online: DoorDash | SkipTheDishes
Website | Instagram | Facebook
2.) Pizzeria Farina
#chinatown #popular #recommended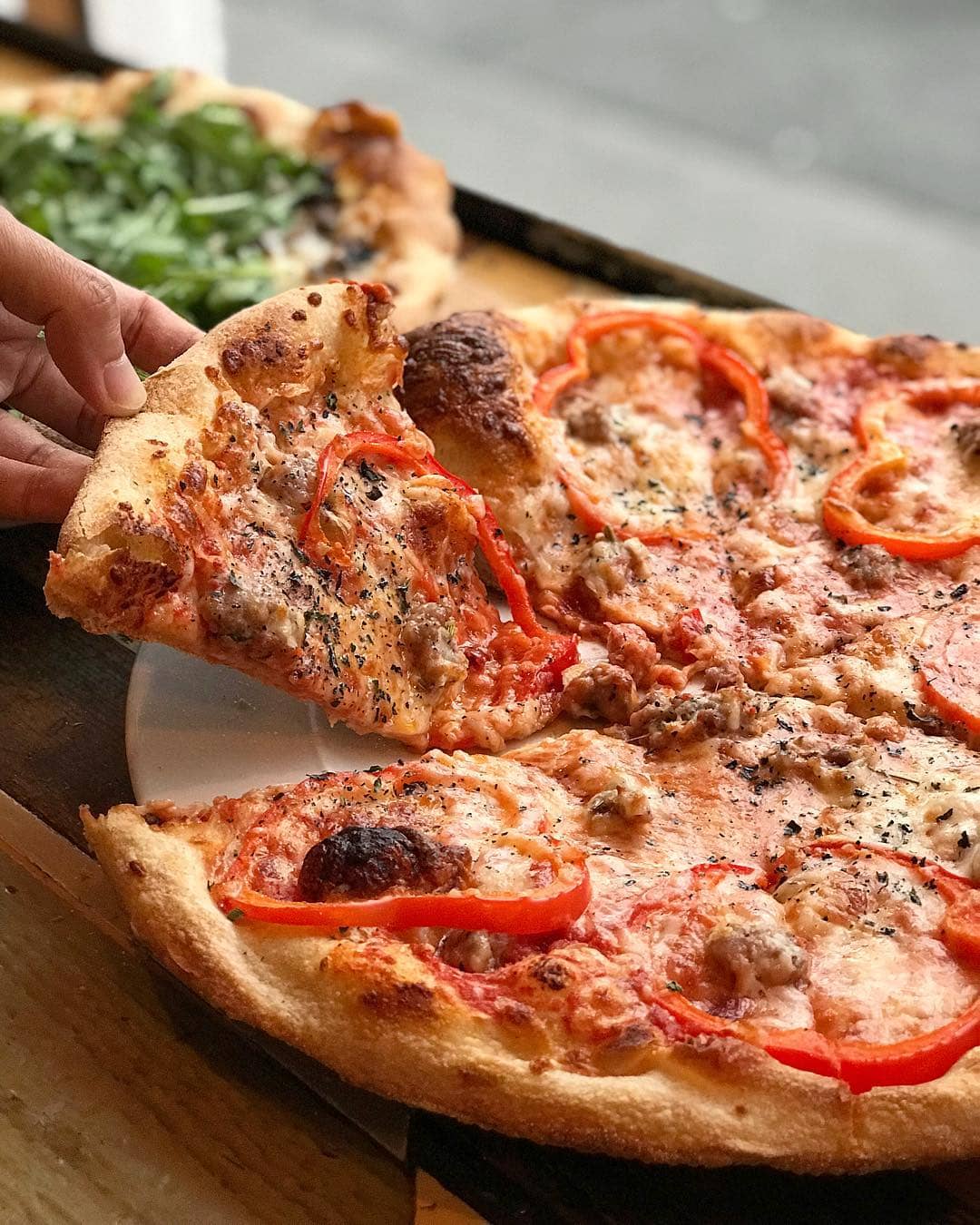 A warm, cozy, and inviting pizza place is the highlight of every neighborhood. A spot where locals love to regularly hang out, and visitors walk in tempted by the rich, welcoming aromas wafting outside. In Vancouver, Pizzeria Farina is that place. They are renowned for their super-light and crispy thin-crust pizzas, flavorful sauces, and simple yet delicious toppings.
Order the popular Calabrese, topped with soppressata, fior di latte, nicoise olives and oregano, or try their Funghi which boasts a chewy and flavored dough, earthy mushrooms, cheese and arugula. The Finocchiona is another great pizza to sample. A thin crust pie with fresh tomatoes, fennel sausages, and some sharp piave cheese. You can also order wine by the glass, or a chilled larger to accompany your piping hot pizza pies.
Tip: Pizzeria Farina serves customers till the dough runs out, so get there early to snag a table and a great meal.
Address:
-915 Main Street, Vancouver, BC
-119 2nd St E, North Vancouver, BC (Their 2nd location is under a slightly different name: Farina a Legna)
Order Online: Uber Eats
Website | Instagram | Facebook
3.) Nicli Antica Pizzeria
#gastown #popular #recommended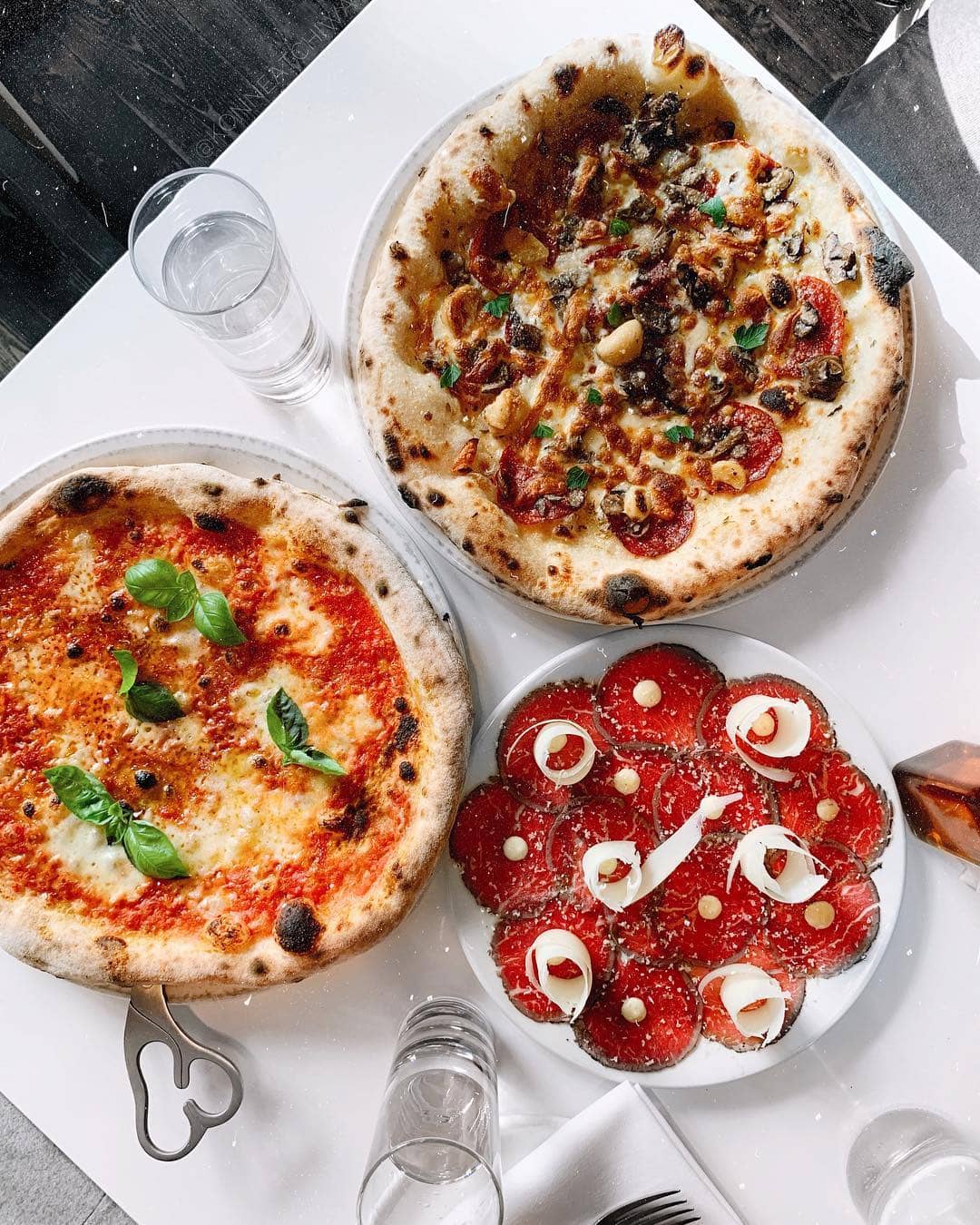 Next on our list of delightful pizza places in Vancouver, is the award-winning Nicli Antica Pizzeria. Located in trendy Gastown, and Edgemont, this famous spot is something everyone should visit (if they haven't already.)
Traditionally beautiful aesthetics in ambiance, Nicli Antica is a gorgeous place to dine in style and have fun while you do.
Start out with some Antipasti, and you will not be sorry. After that, try their famous Pesto Pizza, which is loaded with crema, grana padano, fior di latte, house-smoked bacon, grape tomatoes, nut free pesto, and basil. The Diavola is also pretty amazing, and is topped with calabrese and a super chili oil. There is a whole selection of Extras from caramelized onions and grilled peppers, to house-made Ricotta and Prosciutto. Finish off your meal with a perfect Panna Cotta, or a Flourless Chocolate, Olive Oil Torta.
Fun Fact: When you're served your pizza, you'll also be handed a pair of scissors to cut your own slice. Don't be surprised, just snip out your slice and enjoy!
Protip: A great time to visit this spot is during Happy Hour!
Address:
-Gastown – 62 East Cordova Street, Vancouver, BC
-Edgemont – 3142 Highland Blvd, North Vancouver, BC
Order Online: DoorDash | Uber Eats
Website | Instagram | Facebook
4.) Via Tevere Pizzeria Napoletana
#commercialdrive #recommended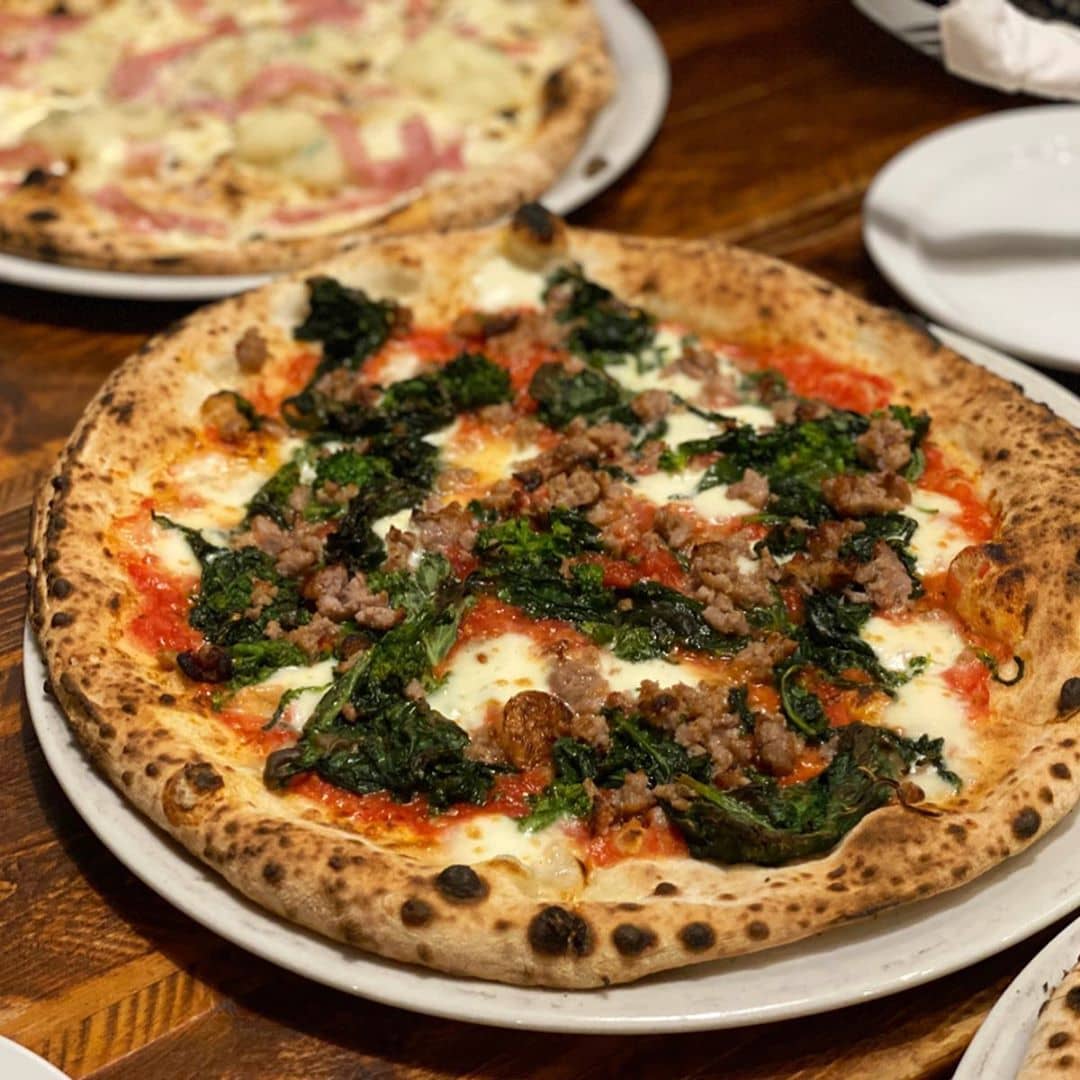 Neapolitan Pizza, otherwise known as Naples-style pizza is among the most popular and iconic savory Italian pies. It's the one pizza that has legions of fans who go in search of that perfect thin and airy crust. If you're one of those people who loves a traditional wood-fire made Pizza Napoletana, then head on over to Via Tevere Pizzeria as soon as you can.
Named for an actual town in Naples, this family owned pizzeria honors traditional cooking and ingredients, and brings you authenticity in every dish. Located on Victoria, Via Tevere Pizzeria is easy to reach, and gives off a warm and welcoming vibe in ambiance and service.
Try the Capricciosa, or their amazing Prosciutto e Rucola pizzas. The Salsiccia e Rapini is also worth a try, and of course, how could anyone miss out on sampling the Napoletana? Give that one a try for sure!
Aside from pizza, the restaurant also offers warm and hearty classics like Spaghetti and Meatballs, and Lasagne. The dessert section is another set of sweet traditional fare that you can order by the serving, or in a trio of Tiramisu, Torta Caprese, and Graffe (Neapolitan Fritters.)
Fun Fact: Via Tevere's signature dough is vegan, and they also have cashew mozzarella for you to substitute on your vegan pizza. – Check with your server.
Protip: The lines here get long, so be sure to arrive early to be seated soon.
Address: 1190 Victoria Dr. Vancouver, BC
Order Online: DoorDash | SkipTheDishes
Website | Instagram | Facebook
5.) Steveston Pizza Co.
#steveston #insane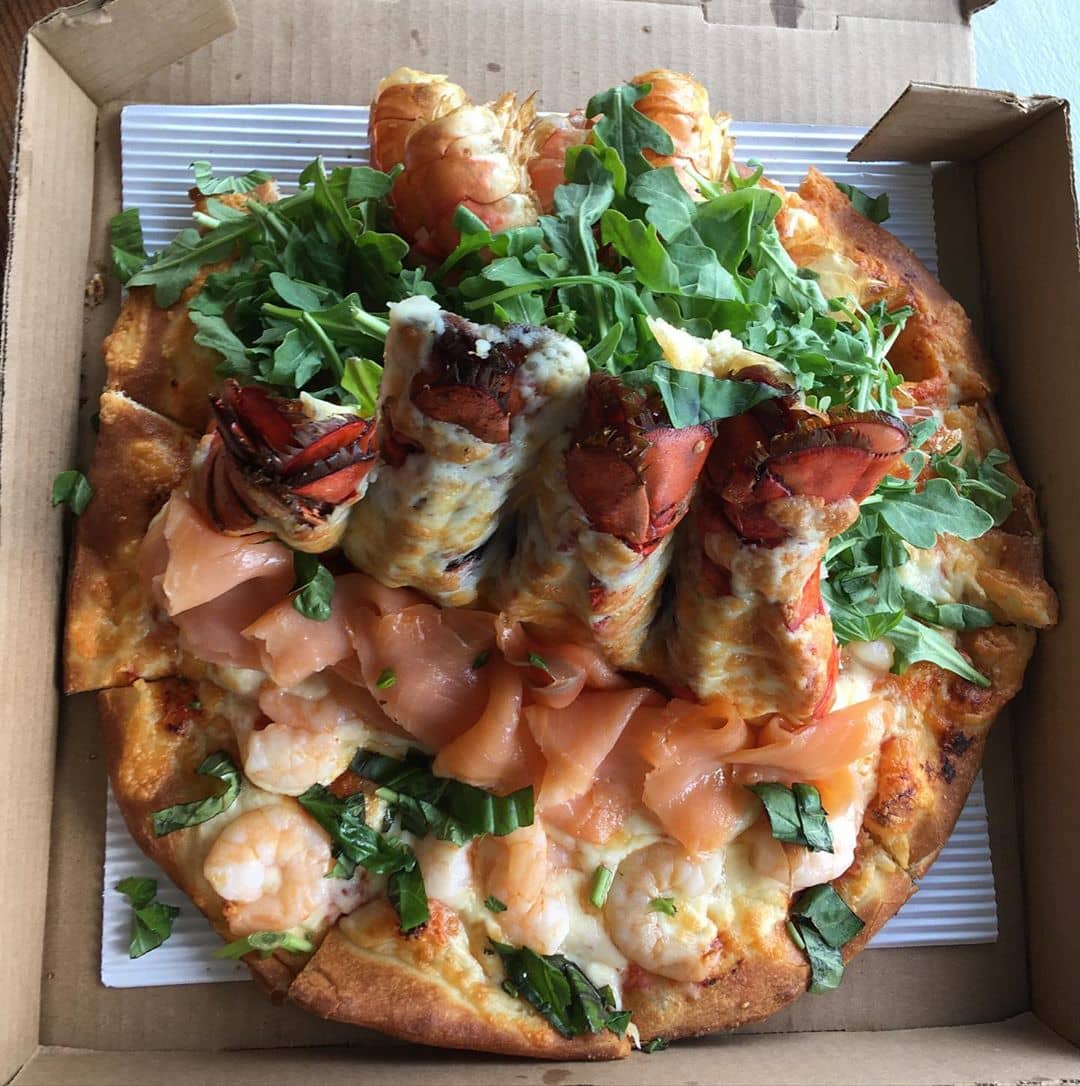 If you're looking for regular pizza, you can go anywhere. But, if what you want is a truly magnificent culinary experience in the world of pizzas, with exceptional and decadent detail, then we know a place you absolutely must make it a point to visit.
Located on Moncton Street, Steveston Pizza Co. offers quick and friendly service, as well as great-tasting pizza and toppings. The menu gives off an earthy vibe and is fun to browse through. All their pizzas come in a standard 12" size, and can be easily shared. We recommend the Italian, a perfect blend of Pepperoni, genoa salami, capicolli, olives, roasted peppers and caramelized onions.
Last, but not the least (and definitely not in price) is the final selection on the menu that will make your eyes pop, and hit your wallet hard (if you dare to indulge.) Making no apologies for the super expensive novelty portion of their menu, Steveston Pizza Co. goes all out in this section and offers guests five high-priced but decadent pizzas that will blow your mind! If you're up to spending a steep $90 for the Serpent Pizza, you'll be treated to a pie loaded with lobster tails, shrimp, prawns, and smoked salmon.
And, if that's not pricey enough for you, then check out their C6 pizza topped with a medley of tiger prawns, lobster ratatouille, smoked steelhead, Russian Osetra caviar, snowed with Italian white truffles, and coming in at a whopping $850.
Insane right?
Address: #100–3400 Moncton Street, Richmond, BC
Website | Instagram | Facebook
6.) AJ's Brooklyn Pizza
#popular #recommended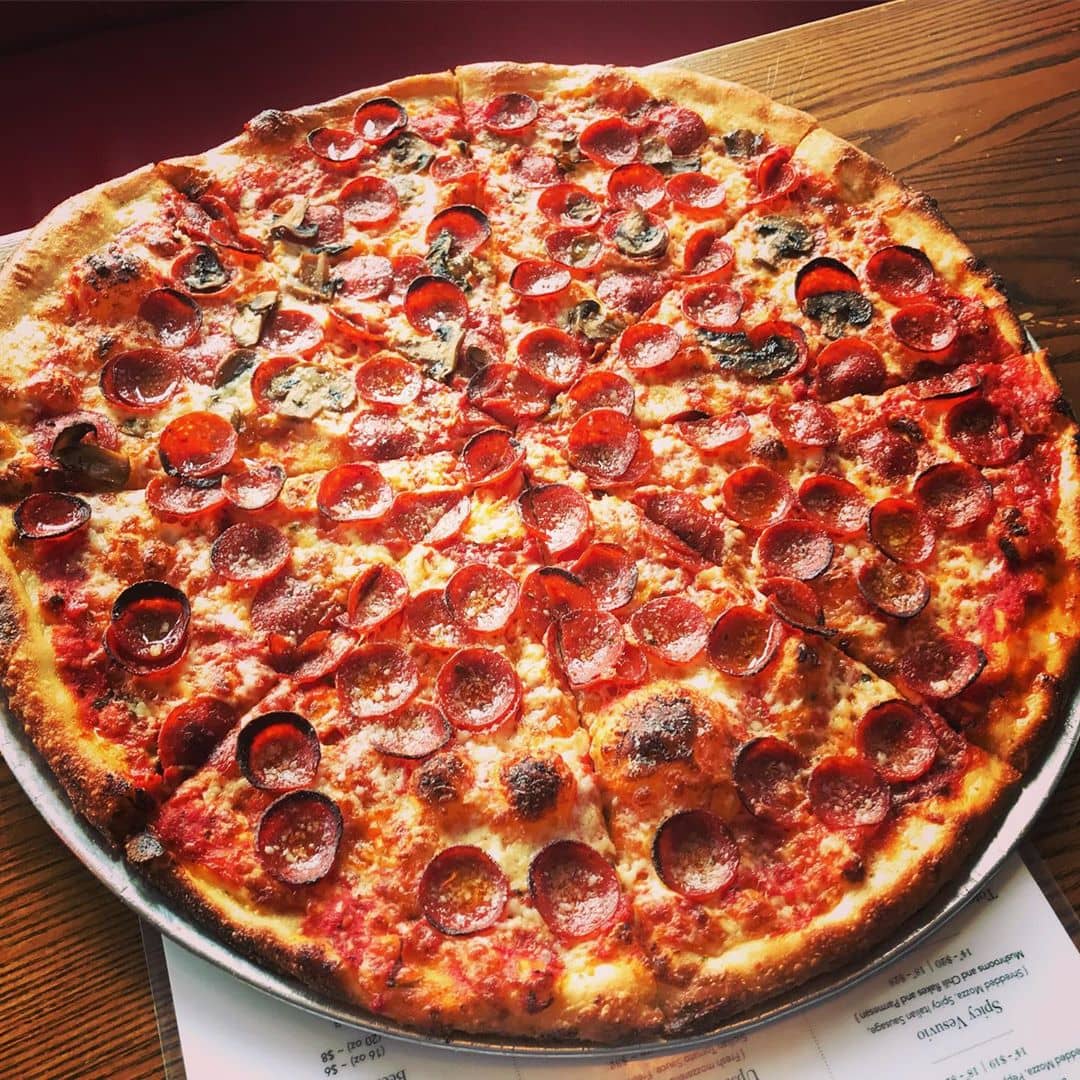 One of the great things about pizza is how versatile it is. Although originating in Italy, pizza has evolved over the years, while still keeping to its roots. There are different styles of pizza available everywhere, but one that stands out is definitely New York Style Pizza. This particular kind is mostly large, hand-tossed dough, with thick and crispy edges. The pizza itself is served in wide slices that can be folded in half. It's a distinct style and very popular among pizza enthusiasts.
AJ's Brooklyn Pizza in Vancouver is by far one of the best representations of authentic New York Style Pizza. Trust us when we say, this pizzeria is famous for converting patrons into fans with their welcoming service, and amazing food. Every slice of each pie is packed with flavor, from crust to toppings.
If you visit, be sure to sample their Meatball Pizza, Spicy Vesuvio, Di Niscorio, and for sure The Supreme New Yorker, which comes with Calabrese, spicy sausage, pepperoni topped with tomato sauce and yummy ricotta cheese.
Tip: AJ's also has a 'Build your own' option, so have fun experimenting while you're there.
Address: 325 E Broadway, Vancouver, BC
Order Online: DoorDash | SkipTheDishes
Website | Instagram | Facebook
7.) Nightingale
#popular #recommended #datespot #awardwinning #downtownvancouver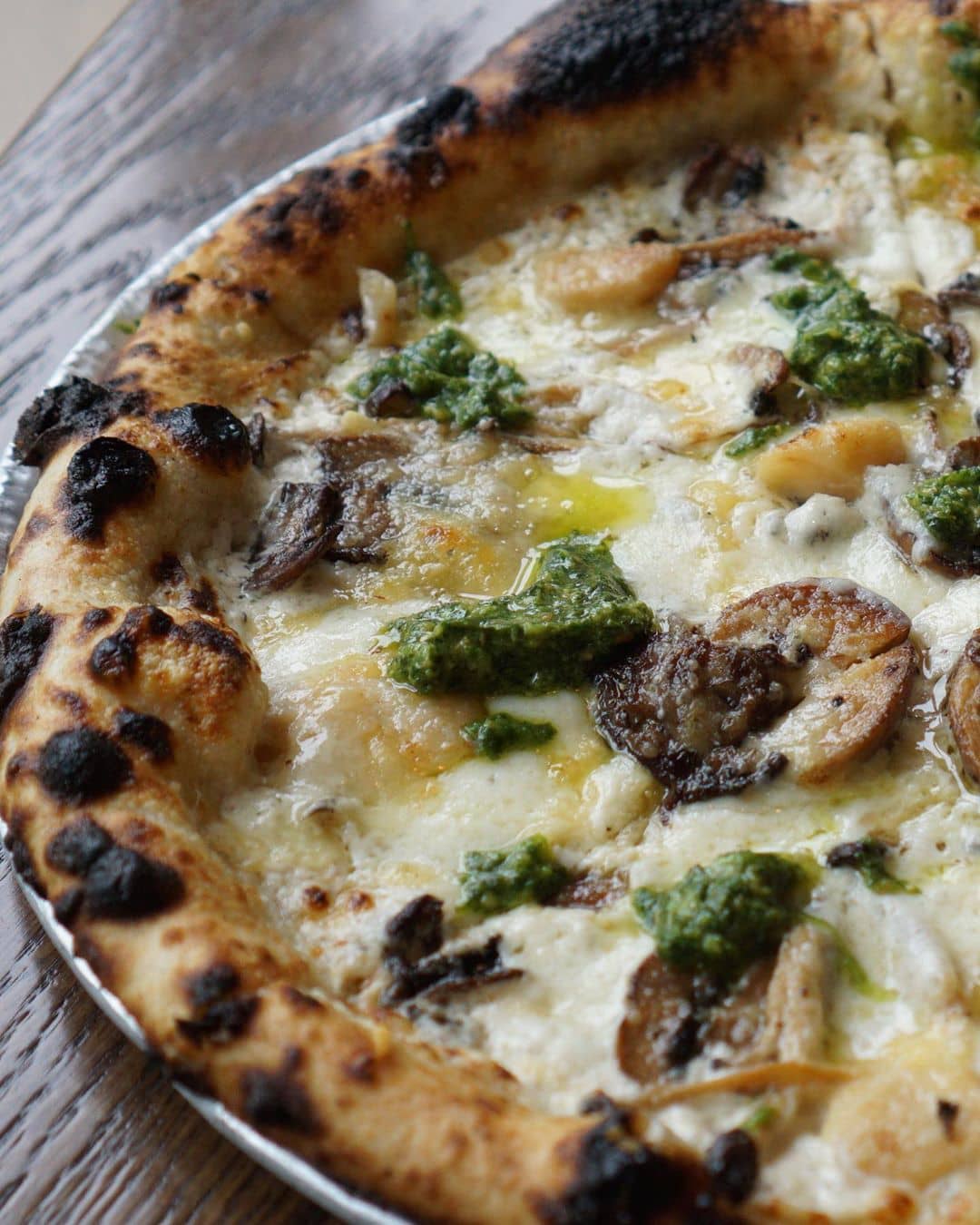 With a wood-stone pizza oven at the very heart of their kitchen, Nightingale is one spot in Vancouver, everyone needs to stop by for mouthfuls of pizza that are out of this world yummilicious. Named Canada's Best Farm to Table Restaurant, this beautiful eatery locally sources its ingredients, and turns them into amazingly creative dishes for its guests. Their signature Roman style pizzas hold seasonal toppings over super delicious crusts, and their wine list is award-winning.
Order their Spicy spianata salumi pizza with piquillo pepper, and san marzano tomato, or their House made pepperoni, with roasted mushroom, green olives, tomato, and mozzarella. The Roasted mushroom and fontina, confit garlic, and arugula pesto is also a must-try. Select from a range of wines, cocktails and draughts to accompany your pizza. Their signature Nightingale Marini, and the New york sazerac are delicious!
Protip: Nightingale hosts a daily Happy Hour from 3:30 to 5:30pm.
Address: 1017 W. Hastings Street, Vancouver, BC
Order Online: DoorDash
Website | Instagram | Facebook
8.) Virtuous Pie
#recommended #vegan #chinatown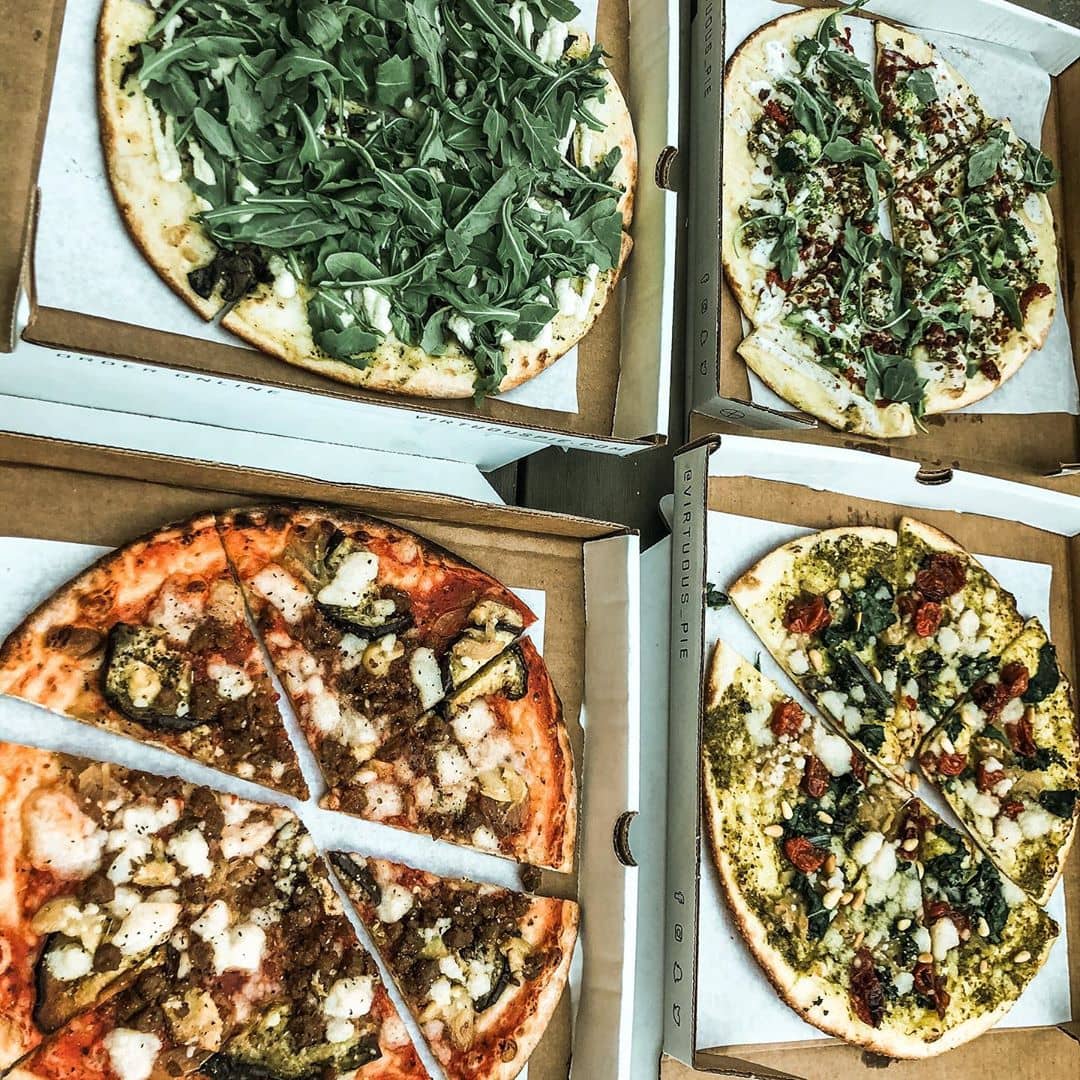 No list of eateries would be complete without an authentic Vegan option, and for pizza in Vancouver, a name that truly stands out is none other than Virtuous Pie. Founded by foodies and vegan enthusiasts, Rob Milne and his sons Ben and Alex, this super popular pizza spot boasts two seperate locations in Vancouver alone, and more across the country and beyond. They are known for their fabulous atmosphere, superb service, and health-conscious and great tasting food no matter where they are.
Dive right into a plant-based, hand stretched, three-day dough pizza with classy artisanal nut based cheese. Their SuperFunghi is a delicious blend of Herbed Potato Cream, Truffle Almond Ricotta, Wild Mushrooms, and Arugula. Stranger Wings, their signature pizza is another must-try that comes loaded with Bianca, Spicy Buffalo Cauliflower, Crisp Fried Shallots, Blue Cheese Drizzle, and Scallion.
One thing you should not do when you visit Virtuous Pie is leave without sampling some of their incredible ice-cream. 100% plant-based, the creamy delights are house-made and one of their biggest sellers.
Tip: The menu at Virtuous Pie caters to guests according to their dietary requirements, so feel free to check with your server for your preferences.
Address:
-UBC – 3339 Shrum Lane, Vancouver BC
-Chinatown – 583 Main Street, Vancouver BC
Order Online: DoorDash | Uber Eats
Website | Instagram | Facebook
9.) The Parlour
#yaletown #popular #datespot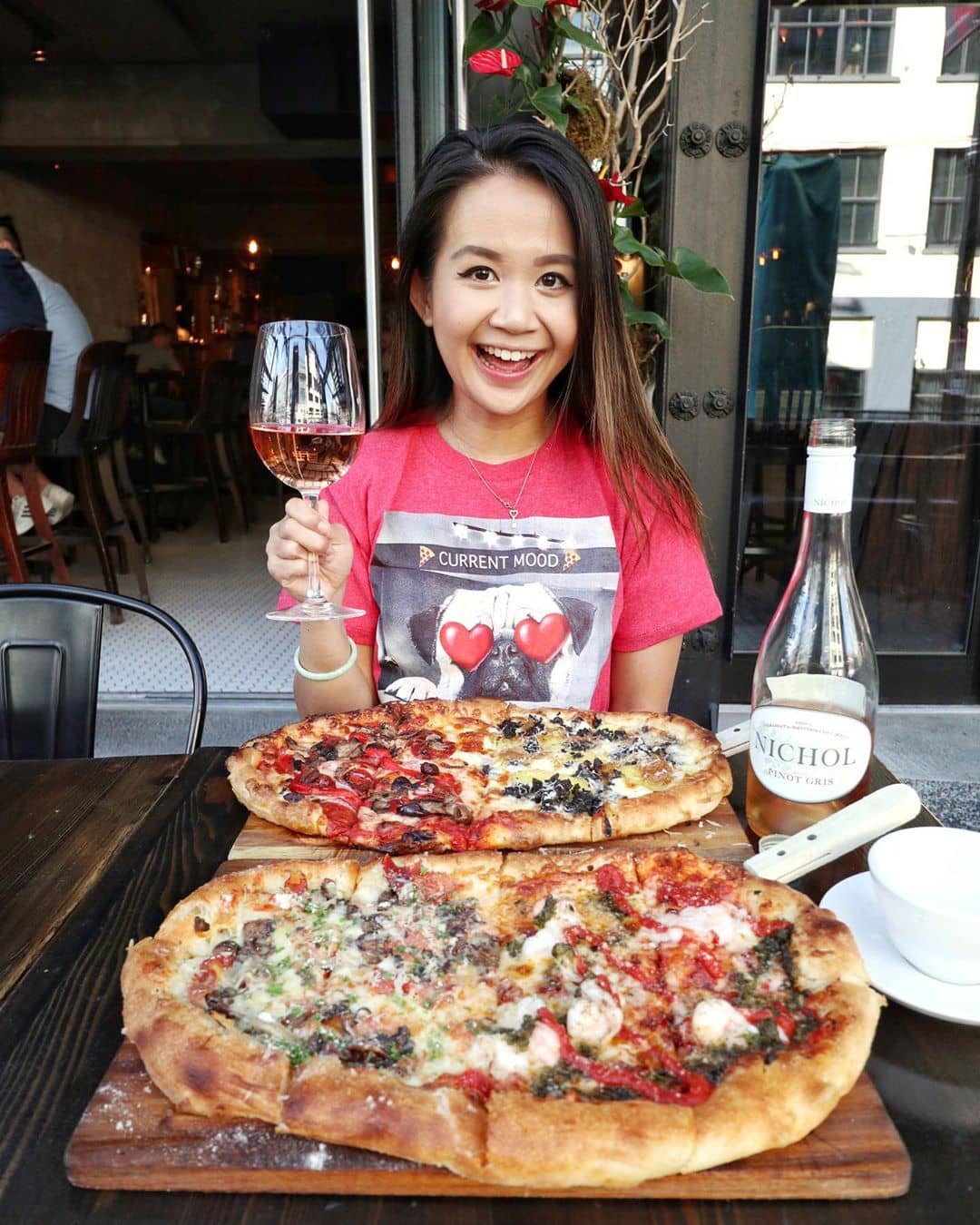 Known for their East-coast edge and West-coast hospitality, The Parlour needs no introduction in the world of great food! Popular among Vancouverites and visitors who keep returning, this restaurant continues to serve some of the finest handcrafted pizza in the city (and beyond) and leaves every guest with a memorable experience.
One of their most popular pizzas is The Dirty, topped with meatballs, Pepperoni, Banana Pepper and Mozzarella. You should also try the Zeus, which comes loaded with black olives, tomato, roasted garlic, green onion, basil, mozzarella and feta, and another great pizza is the Goldmember, which is made with caramelized onions, mushroom duxelle, yukon gold potatoes, truffle oil, and gruyere mozza. If you're a seafood lover, opt for The Big Prawn, and believe us, the name says it all.
For drinks, there are daily specials (so check with your server,) and a wide selection of cocktails, beer (on tap and off,) and wines by the glass.
Tip: The Parlour is a beautifully stylish and laid-back place to spend an evening with friends.
Address: 1011 Hamilton Street, Vancouver, BC
Order Online: DoorDash | Uber Eats | SkipTheDishes
Website | Instagram | Facebook
10.) Nook
#popular #recommended #datespot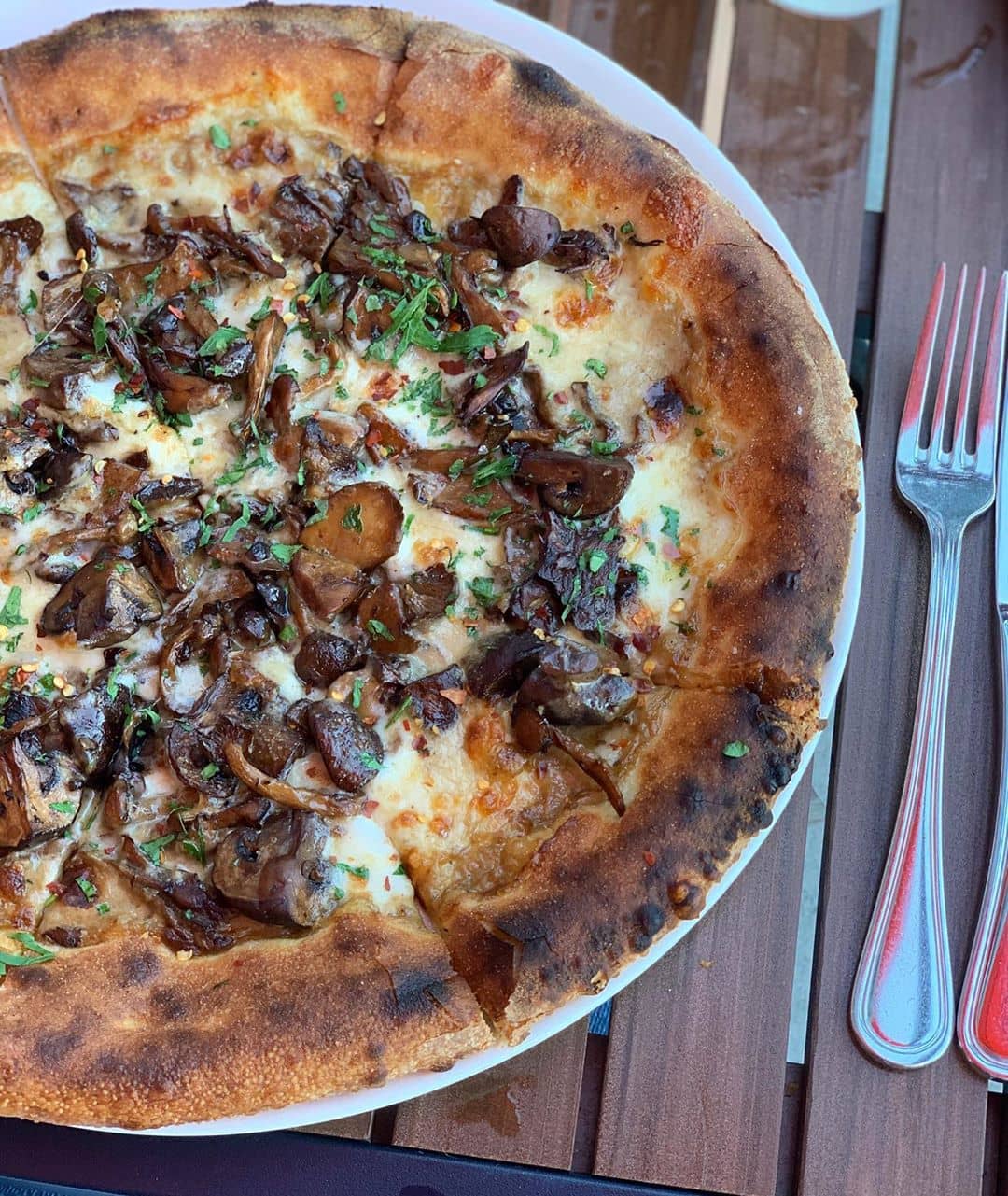 Whether you're craving pizza for brunch, or dinner, there is one place you can drop by for a truly satisfying pizza feast, and that is Nook. This super adorable Italian restaurant has the perfect atmosphere, wonderful service, serves authentic and amazingly prepared dishes, and some of the best pizza in the city. They're so popular, they have two locations in Vancouver alone!
Nook is one of those places that's just perfect to celebrate a special occasion, or an evening out with family and friends. The menu is extensive and offers everything Italian with flair. For pizza, their House-made sausage pie is always a hit, the Mushroom pizza an absolute must-try, and their Anchovy is too delicious to resist.
For every pizza, there's a generous range of add-ons, from baby meatballs and pepperoni, to prosciutto and goat-horn chilies. So, go nuts and indulge yourself!
Protip: Not to be missed is the decadent Vanilla Pannacotta, and Tiramisu for the perfect dessert to end your meal.
Address:
-1525 Yew Street, Vancouver
-195 W 2nd Ave, Olympic Village, Vancouver
-781 Denman St, Vancouver, BC V6G 2L6
Order Online: DoorDash
Website | Instagram | Facebook
We hope you enjoyed your journey through our 10 best pizza places in Vancouver, and we really hope you try them all.
Once you're done with satisfying your pizza cravings, be sure to try out some of our carefully curated spots for yummy fried chicken, and maybe even some Tacos?
The following two tabs change content below.
Latest posts by Noms Magazine (see all)