Deep in British Columbia wine country, Kelowna sits nestled against ​​Okanagan Lake's beautiful eastern shore. The laid-back vibe of this city draws visitors from far and wide, as it offers up picturesque sights, a range of outdoor activities, and a deeply rooted food & wine culture that will wow anyone.
Kelowna restaurants vary between charming street cafes and lakeside bistros, to stylish Bars & Grills and casual Pub-style eateries. The choices are plenty, and the cuisine is the perfect mix of diverse and traditional.
Here's our carefully curated list of the 10 Best Restaurants in Kelowna you must try on your next visit there.
10. Okanagan Street Food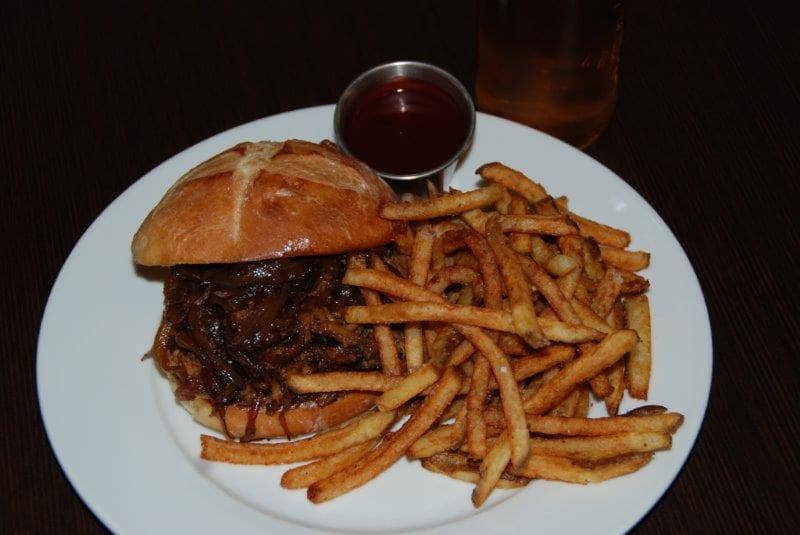 Okanagan Street Food is a cozy little spot offering diners a variety of delicious breakfast and lunch options. If you're hungry and looking for those generous portions just packed with flavour, this is where you should make a stop at.
By popular vote, their Seared Fish Tacos won Best Fish Tacos Ever Award, with a melt-in-your-mouth goodness you simply gotta try. Another top seller is their Pulled Pork Sandwich, that no one should miss out on. Order up some fries too, and douse them in their housemade blackberry ketchup. You'll be going back for more, that's for sure.
What to order: Seared Fish Tacos, Pulled Pork Sandwich
Address: 812 Crowley Ave. Kelowna, BC V1Y7G7
Website | Instagram | Facebook
9. The Jammery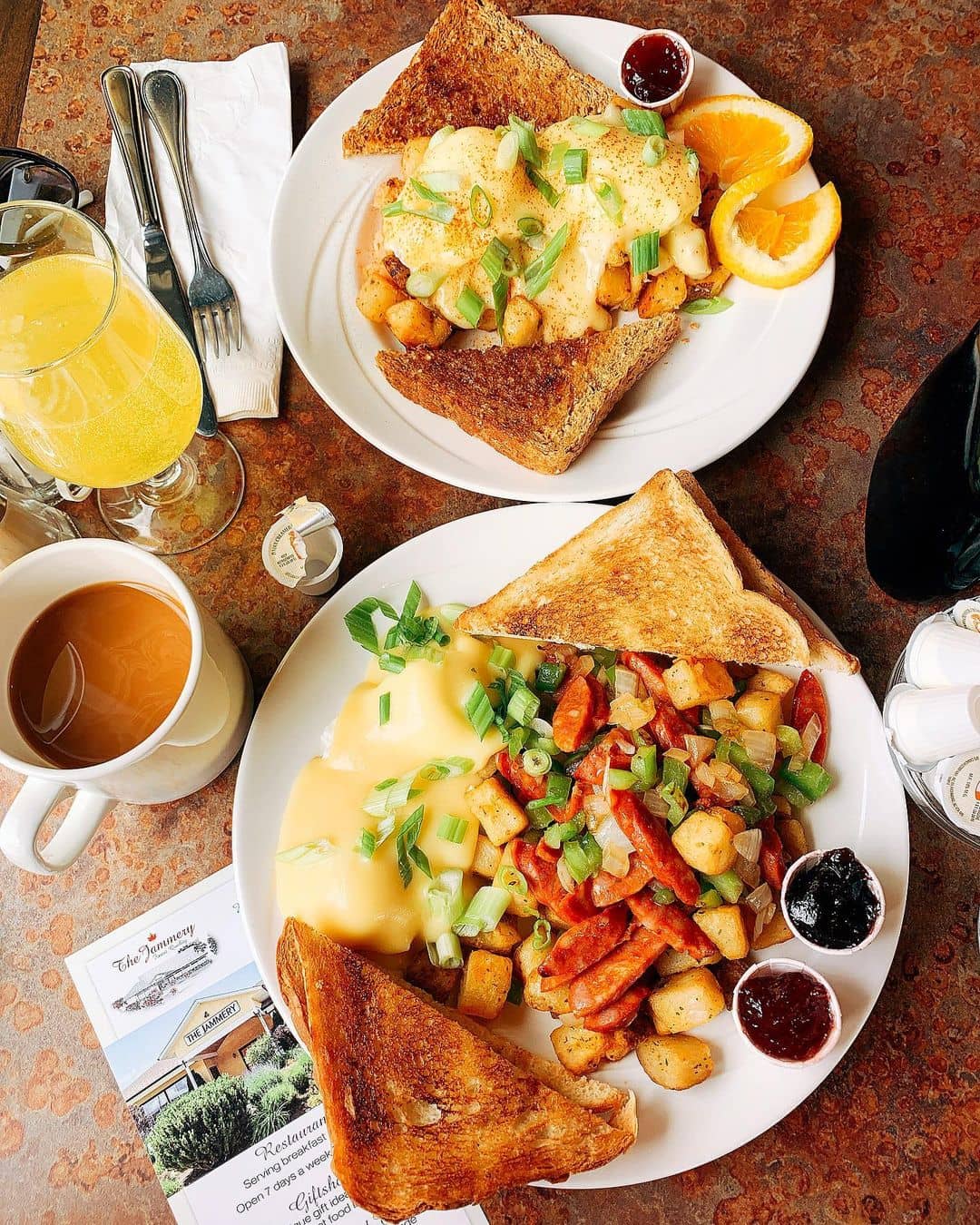 This spot is a restaurant, jam-making facility, and gift shop all rolled into one! The Jammery in Kelowna is a must-stop spot for anyone with a sweet tooth craving. Serving all-day breakfast, and lunch from 11:00 on, this is that perfect (and super cute) spot to enjoy a leisurely brunch, before you begin your day.
The food here is good, and we recommend you try the Chorizo Toss that includes chorizo sausage tossed in a pan with onions, peppers and oven roasted hash browns, and served with poached eggs & hollandaise. For lunch? A Big Boy Toasted Rueben Sandwich is a must!
Tip: The wait for a table is long, but you can spend that time browsing through the super cute gift shop. Oh, and definitely grab some jars of jams
Fun fact: The Jammery was also featured on the Food Network and You Gotta To Eat Here!
What to order: Chorizo Toss, Big Boy Toasted Rueben Sandwich
Address: 8038 Hwy 97 North, Kelowna BC
Website | Instagram | Facebook
8. Central Kitchen Kelowna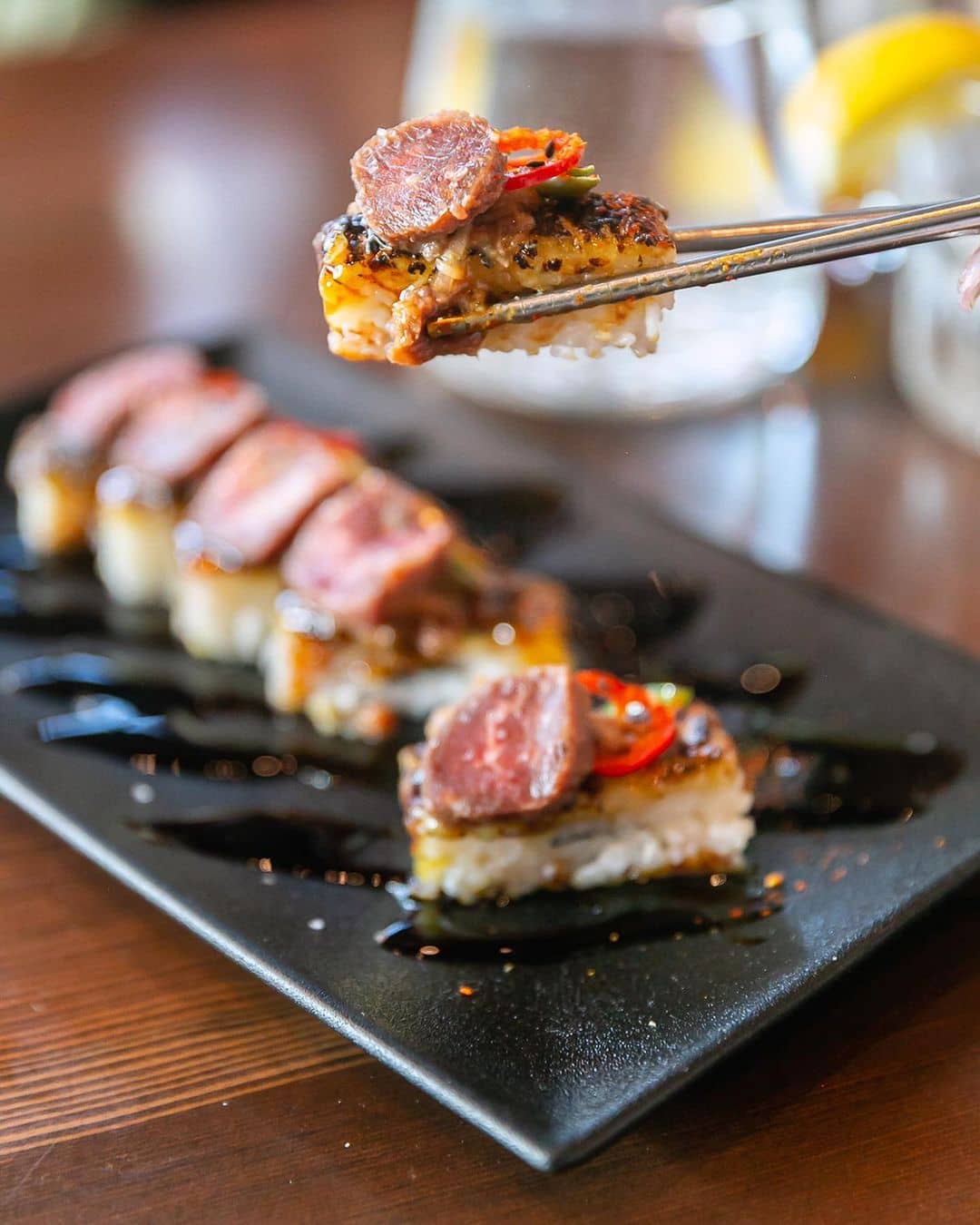 The award-winning Central Kitchen is one of Kelowna's most frequented spots among locals and visitors. With an extensive wine list, many on-tap options, cocktails, and delicious food, this spot has a lively vibe and is ideal to enjoy Happy Hour and a fun meal with friends.
Start off with some Traditional Aburi style sushi with seared Wagyu beef, or go for some Dirty Truffle Fries. The burgers here are award-winning, so you should try them. We recommend the Tuna Tataki Burger that's juicy, a little messy, and too yummy to resist. For dessert, Central's 'Stay Golden' Sundae cannot be missed.
What to order: Traditional Aburi style sushi, Dirty Truffle Fries, Tuna Tataki Burger, 'Stay Golden' Sundae
Address: 1155 Ellis Street, Kelowna, BC V1Y1Z5
Website | Instagram | Facebook
7. Bai Tong Thai Food Restaurant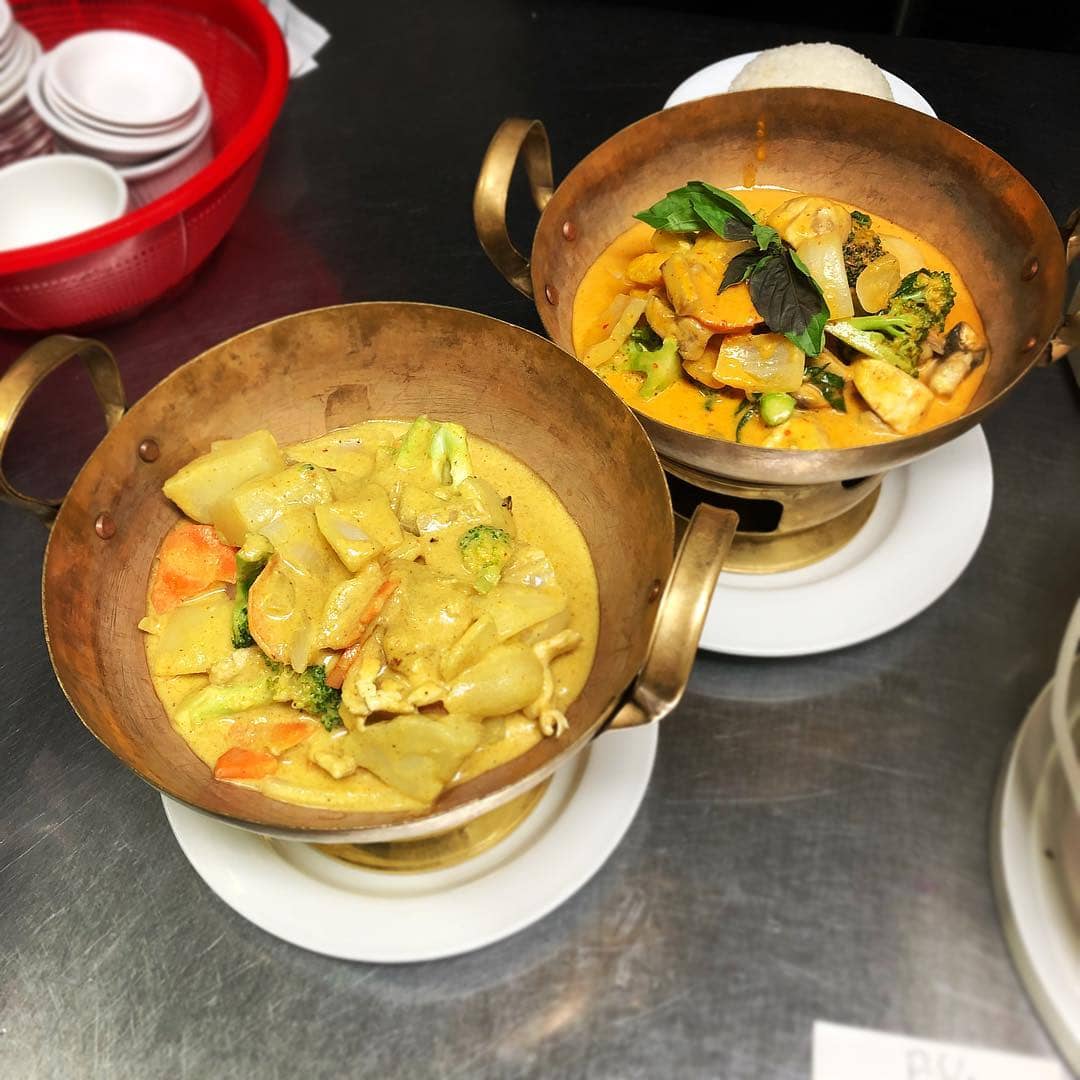 For authentic and delicious Thai Food in Kelowna, there's no better place than Bai Tong. This crowd-pulling spot offers up a variety of traditional Thai dishes, including lots of vegetarian options, amazing cocktails, and great service.
If you like some spice, go for a traditional Gang Pak Ruammit curry, or if noodles are what you crave, there's the Pad Thai with chicken, pork, beef, squid, prawns or tofu. We wouldn't say no to their Fried Chicken either, and for dessert, Mango with Sticky Rice. What else, right?
What to order: Gang Pak Ruammit curry, Pad Thai, Fried Chicken, Mango with Sticky Rice
Address: 275 Bernard Avenue Kelowna, BC V1X 6N2
Website | Instagram | Facebook
6. Antico Pizza Napoletana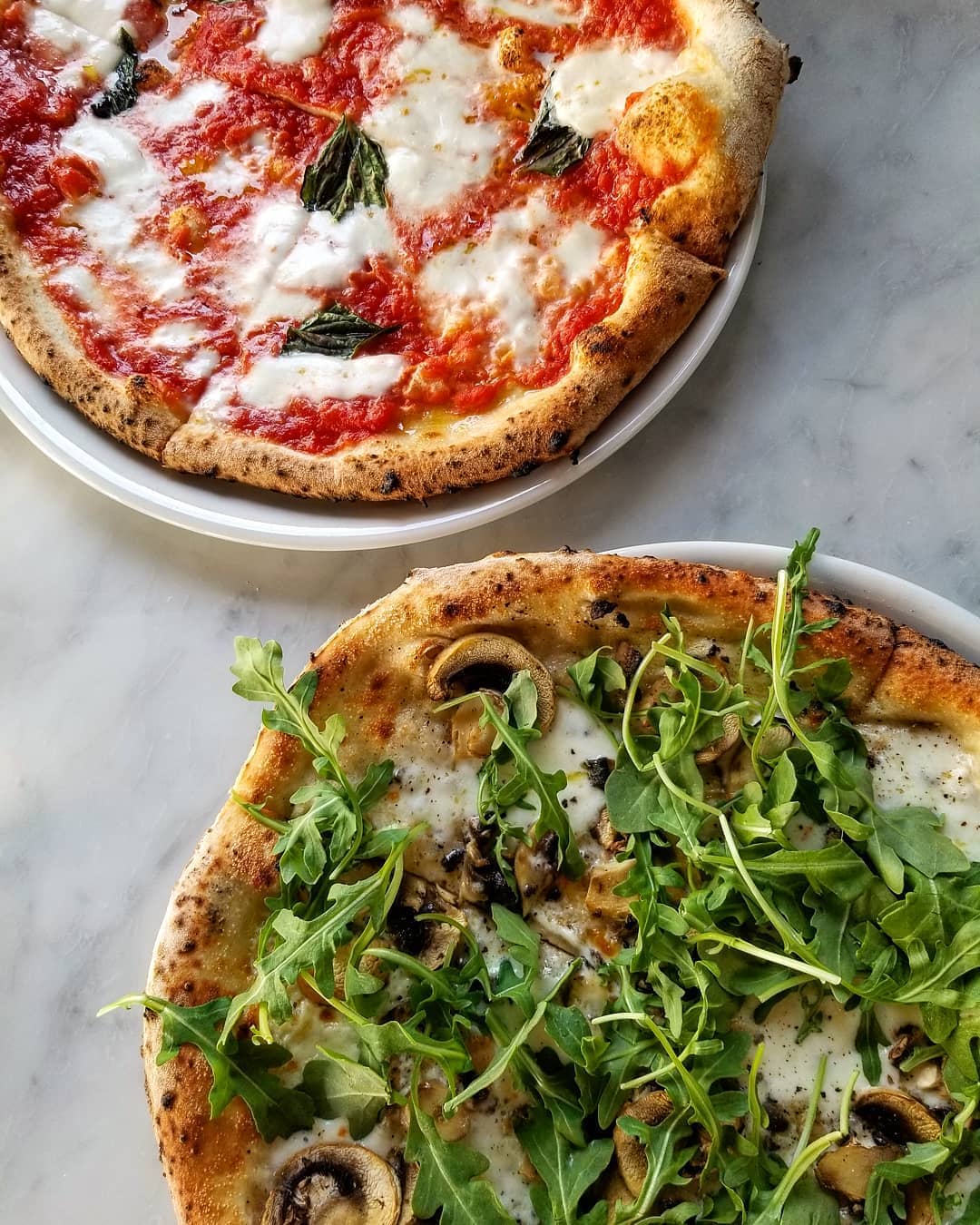 Ranked as the best pizzeria in Kelowna and BC, Antico Pizza Napoletana offers diners a beautiful setting, a local beer & wine list, and their award-winning Neapolitan Pizza baked in a wood-fire oven. This is not a spot to miss out on, and if you're a true pizza lover, you'll enjoy every last crumb of those delicious pies.
You could start with a classic Margherita, or go straight for their Primavera pizza that comes topped with Prosciutto, Arugula, Cherry Tomato & Shaved Parmesan Reggiano. The pasta section is worth a try too, and we recommend the Crema e Tartufo – Cream sauce with black summer truffle. For dessert, don't miss out on the house made Tiramisu.
What to order: Margherita, Primavera, Crema e Tartufo, Tiramisu
Address: 347 Bernard Avenue, Kelowna, BC, V1Y6N6
Website | Instagram | Facebook
5. Social 242 Lounge and Grill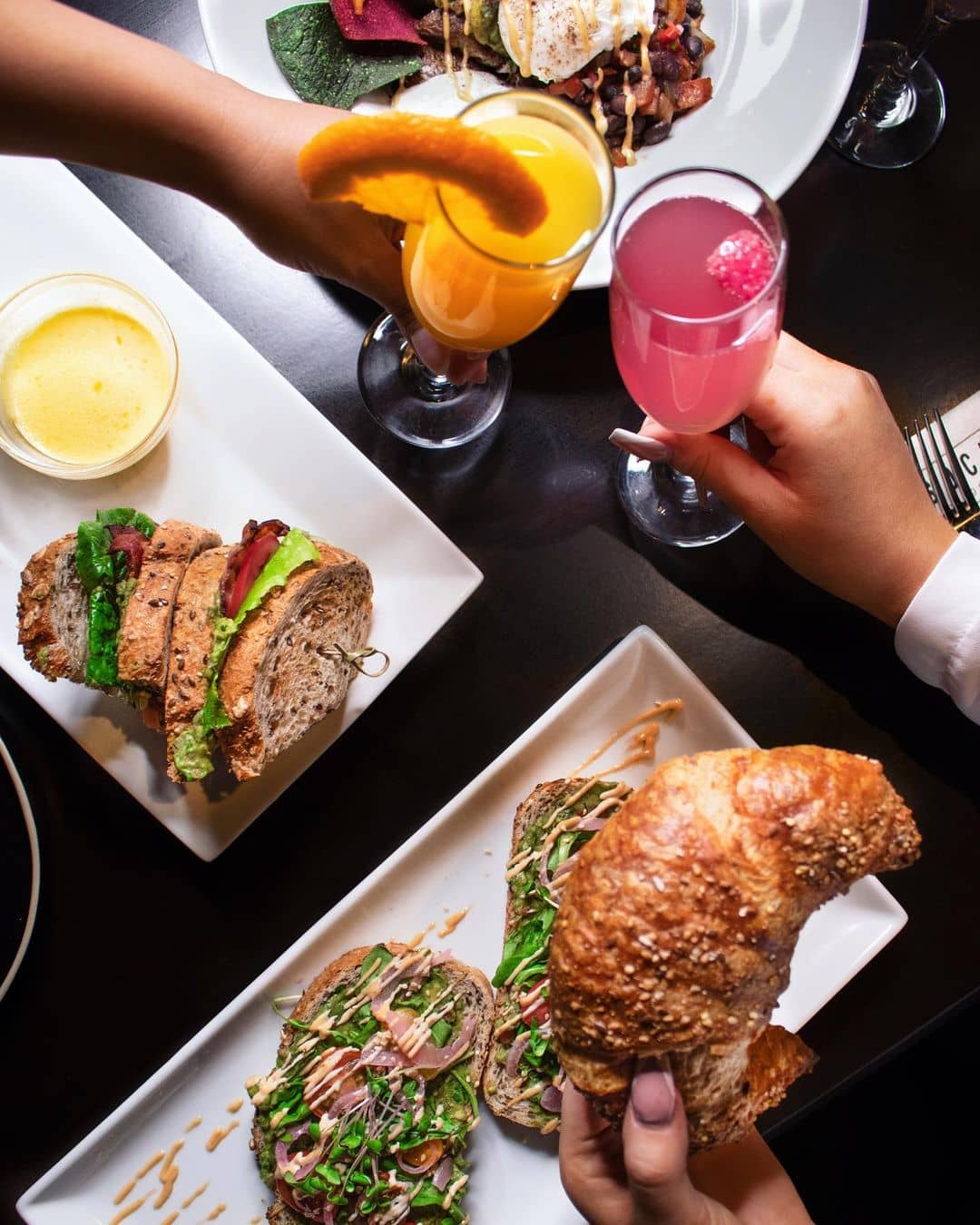 If you're looking for a club-style place to dine in Kelowna, then head over to Social 242 Lounge and Grill. It's where all the cool people go. We're not kidding. Social 242 is super popular among locals, and a must-stop for visitors. The vibe here is upbeat, the drinks are amazing, and the food is fresh and delicious.
Start off with a cocktail (we recommend the Feelin' Cuke that's a perfect mix of Prairie Cucumber vodka, Cointreau, lime, and fresh cracked pepper. The menu is extensive, with lots of share-plate options, bowls, and daily theme items. We recommend the Signature Salmon, the Seafood Fettucini, and melt-in-your mouth Southern Fried Chicken.
What to order: Feelin' Cuke cocktail, Signature Salmon, Seafood Fettucini, Southern Fried Chicken
Address: 242 Lawrence Avenue, Kelowna, BC V1Y 6L3
Website | Instagram | Facebook
4. Salt & Brick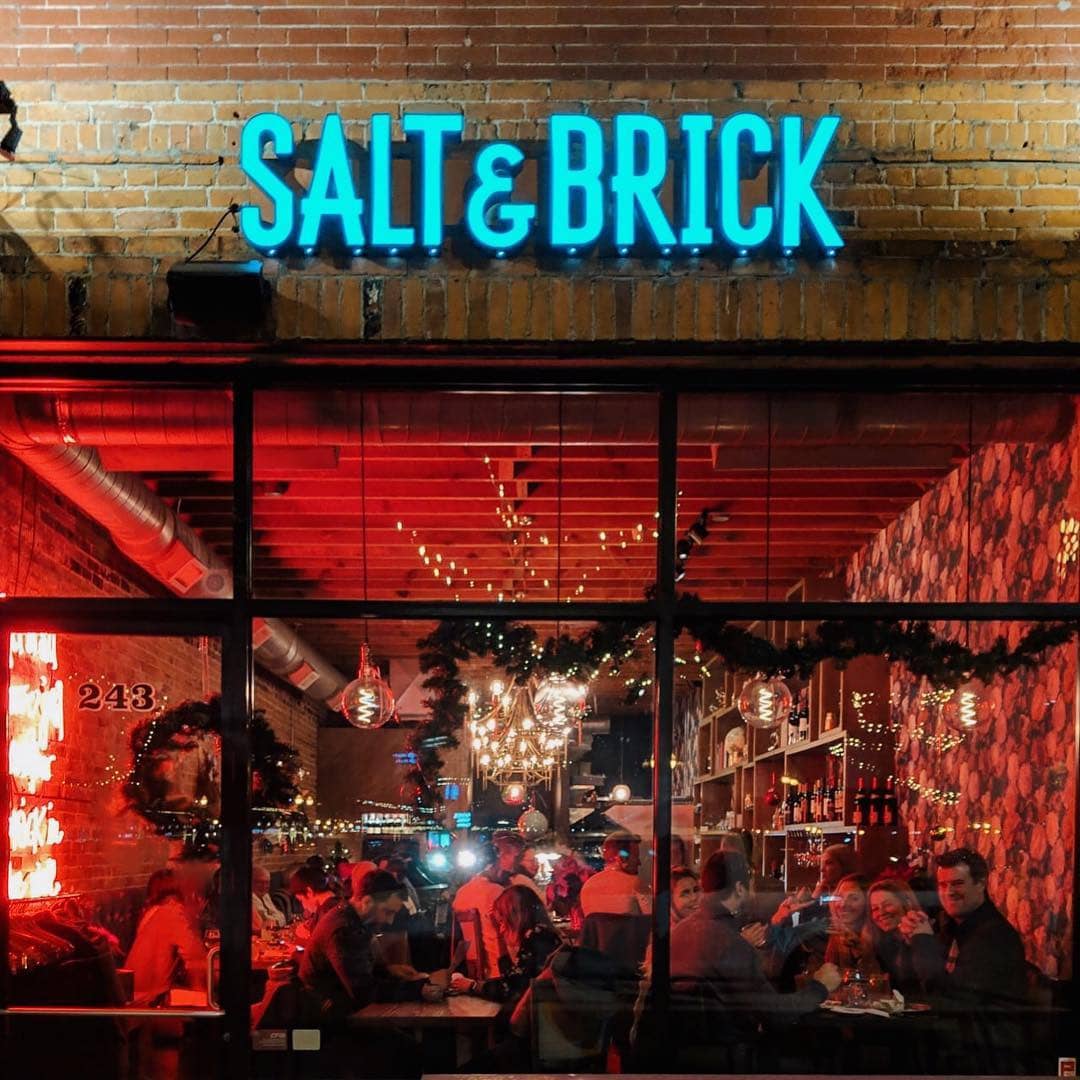 Located on the historic Bernard Avenue, the heart of downtown Kelowna, Salt & Brick, is a unique concept-driven restaurant. The servings here are meant to be shared and their menu changes daily. That's right! They create new share-plates daily and pair it with the longest local wine list we have ever seen. There are over 100 local wines on this incredible list. The open kitchen can be viewed from a cozy bar, so grab a seat if you like seeing your food being prepared.
Since the menu changes frequently, everything here is meant to be shared. A few of our favourites were the Lobster Mac & Cheese, with chunks of lobsters and Cheetos sprinkled on top. The Chicken Waffle Sandwich, Lamb with Brussel sprouts and the slow cooked brisket are divine.
Tip: Don't forget to try their staple pickled carrots, and easily the most popular starter at Salt and Brick.
Fun fact: Salt & Brick were featured on Food Networks' Big Food Bucketlist!
What to order: Lobster Mac & Cheese, Chicken Waffle Sandwich, Lamb with Brussel sprouts, low cooked brisket
Address: 243 Bernard Avenue Kelowna, BC V1Y 6N2
Website | Instagram | Facebook
3. The Fixx Pasta Bar and Cafe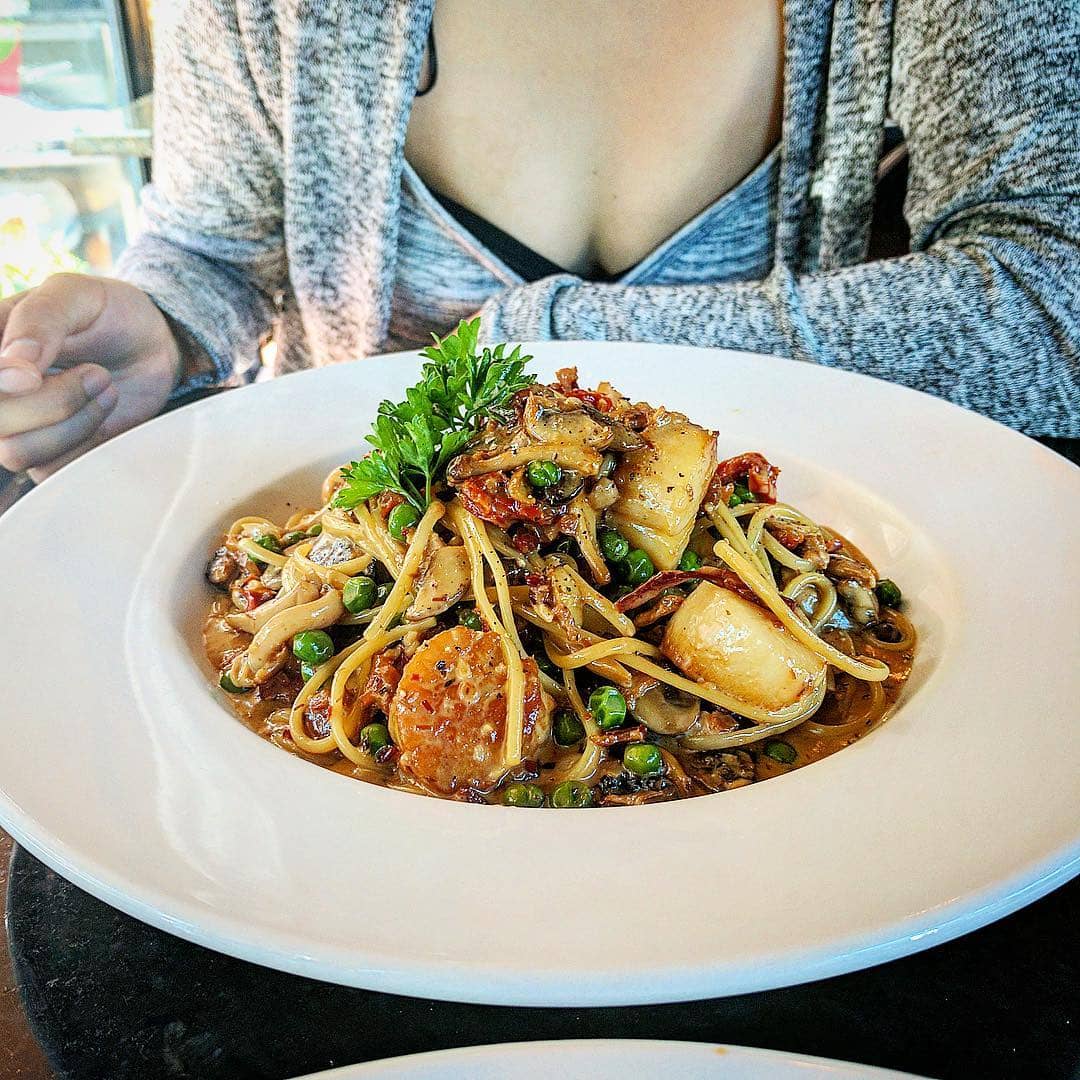 If you're in the mood for Italian cuisine at a pocket-friendly spot, try The Fixx. Outstanding food, prepared with attention to detail, beautifully presented and fresh and flavorful as one could hope for. At The Fixx, you will always find friendly and helpful staff, and great service. You'll need to book ahead, because this cafe is super popular.
Their pasta is traditionally handcrafted and made in-house. The Pasta Alfredo with an outstanding creamy sauce and garlic is the big crowd-puller, and the West Coast Scallop Linguini is too good to resist. Try out their fresh Spinach and Gold Beet Salad, and for dessert recommend the Famous Fixx Key Lime Pie.
What to order: Pasta Alfredo, West Coast Scallop Linguini, Spinach and Gold Beet Salad, Famous Fixx Key Lime Pie
Address: 3275 Lakeshore Road Kelowna, BC V1W 3S9
Website | Instagram | Facebook
2. Little Hobo Soup & Sandwich Shop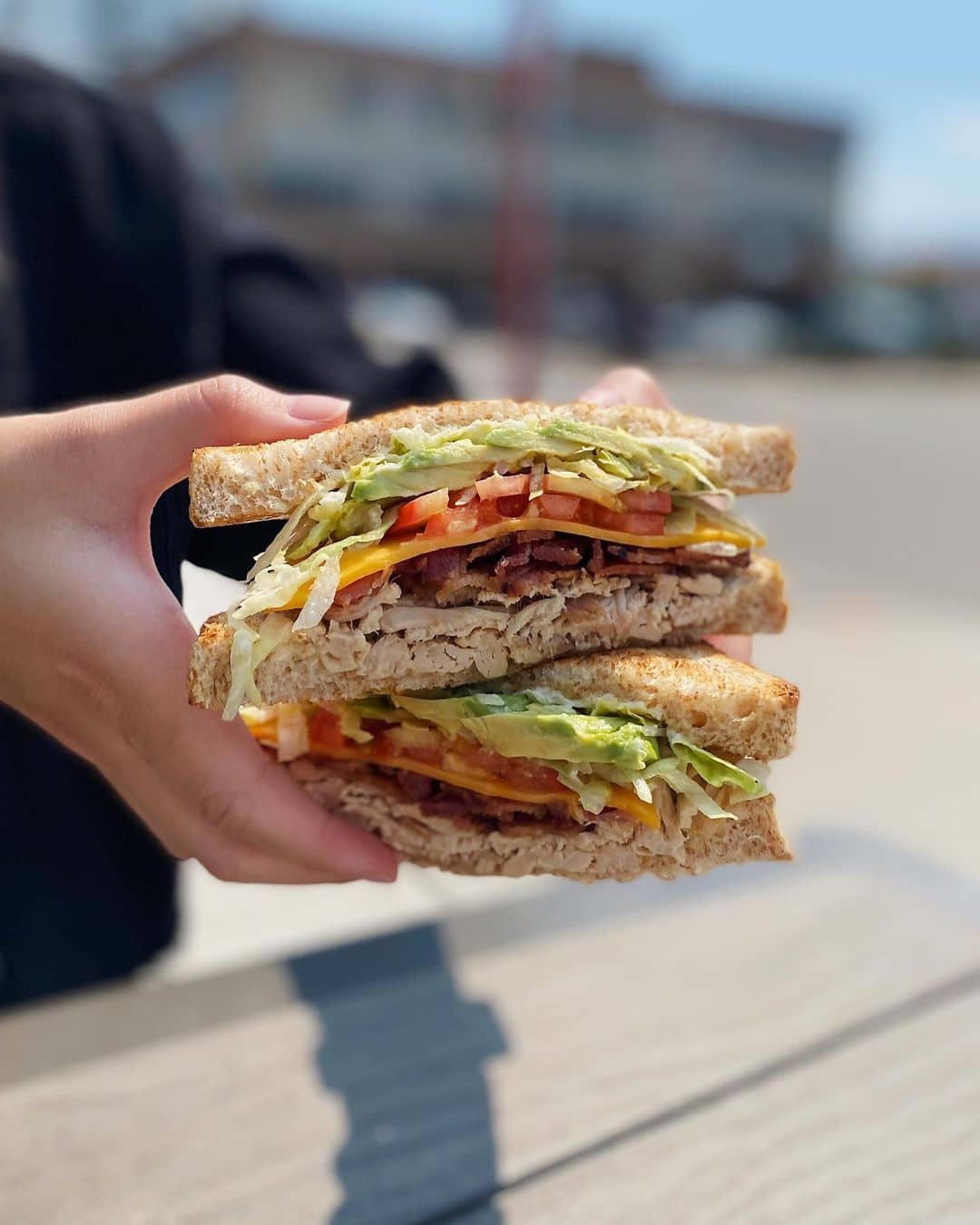 Comfort food at a comfortable price! Little Hobo is your typical Mom & Pop food stop for absolutely amazing and fresh food made right on the spot. With friendly and helpful staff and a wonderful ambience, the Little Hobo is the ideal home-away-from-home experience. Bring your friends and family, and get served with love.
Choose between over twenty different varieties of their famous hot and cold sandwiches. We highly recommend the cheese steak, the open ham, turkey and cheddar sub or their popular grilled ham and egg. All their burgers are freshly made and delicious. Our personal favourites are the juicy Bacon Cheeseburger and The Ridic.
Tip: Little Hob also has a frozen section for where you can get great food to stock your freezer.
What to order: cheese steak, open ham, turkey and cheddar sub, grilled ham and egg, Bacon Cheeseburger, The Ridic
596 Leon Avenue Kelowna, BC V1Y 6L6
1. Raudz Regional Table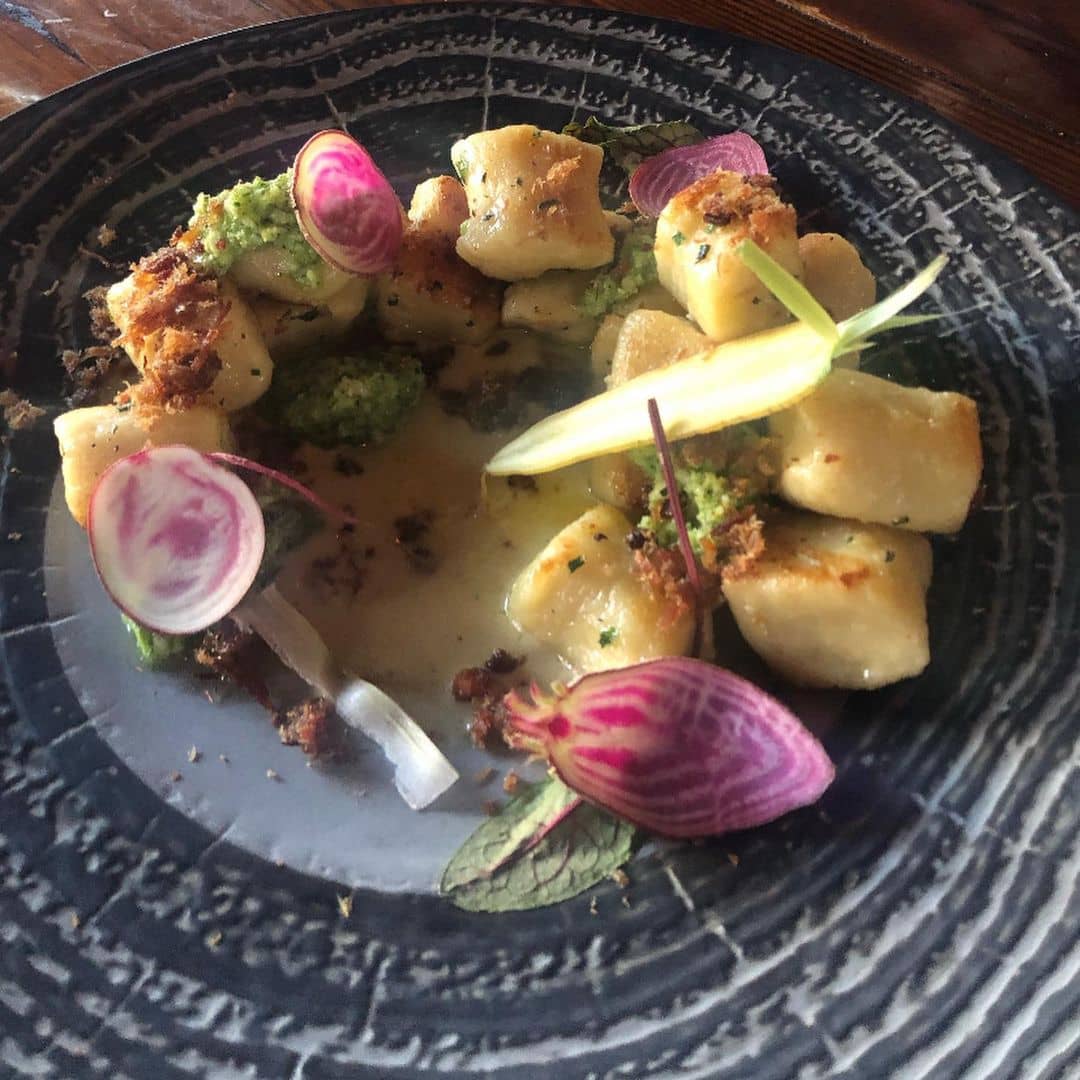 For some upscale dining in Kelowna, Raudz has more than made its mark in the culinary world. They believe in "support, buy, eat & drink local". All their ingredients are community sourced, and they boast a bar that has one of the largest selections of Canadian spirits. Perfect for celebrations or just indulging yourself.
One of their standout dishes is the Crab Cappuccino, a roasted dungaree crab soup flavored to perfection and topped with a milky froth. Their Parmesan Gnocchi is a work of art with pan fried handmade gnocchi, broccoli pesto, smoked cheddar sauce, and a charcuterie crumb. If you have a group with you, then order the Charcuterie Board. It's loaded with Okanagan hand cut & cured speck & pork liver paté, Illichmann's smoked ham, housemade terrine, smoked salmon spread, roasted garlic & chive chevre, poached prawns, pickles, maple spiced nuts, crostinis, and a baguette.
What to order: Crab Cappuccino, Parmesan Gnocchi, Charcuterie Board
Address: 1560 Water St Kelowna, BC V1Y 1J7
Website | Instagram | Facebook
We hope you try all these amazing Kelowna restaurants, and enjoy some memorable dining experiences during your visit. Here's a list of the best Kelowna hotels you can stay at while you're there. 
---
Accommodations in Kelowna
This article includes affiliate links where we may get a small commission if you use our link. No extra cost is added on and all funds will be used to support our team and content.
The following two tabs change content below.
Latest posts by Noms Magazine (see all)