Exploring the beautiful and sprawling coastal city of Richmond located in the Lower Mainland of British Columbia is a delightful experience for any visitor and local alike. There are tons of scenic spots to visit, endless and fun things to do, and plenty of great spots to enjoy a fabulous meal.
Aside from regular lunch and dinner options, brunch in Richmond is a popular way to start off your weekend morning or afternoon, before you head off to your next adventure.
If you're wondering what those places are where you can relax and have an amazing lunch, here's our list of the 10 Best Richmond Brunch Spots for you to try on your next trip to this gorgeous city.
This article includes affiliate links where we may get a small commission if you use our link. No extra cost is added to you.
10. The Apron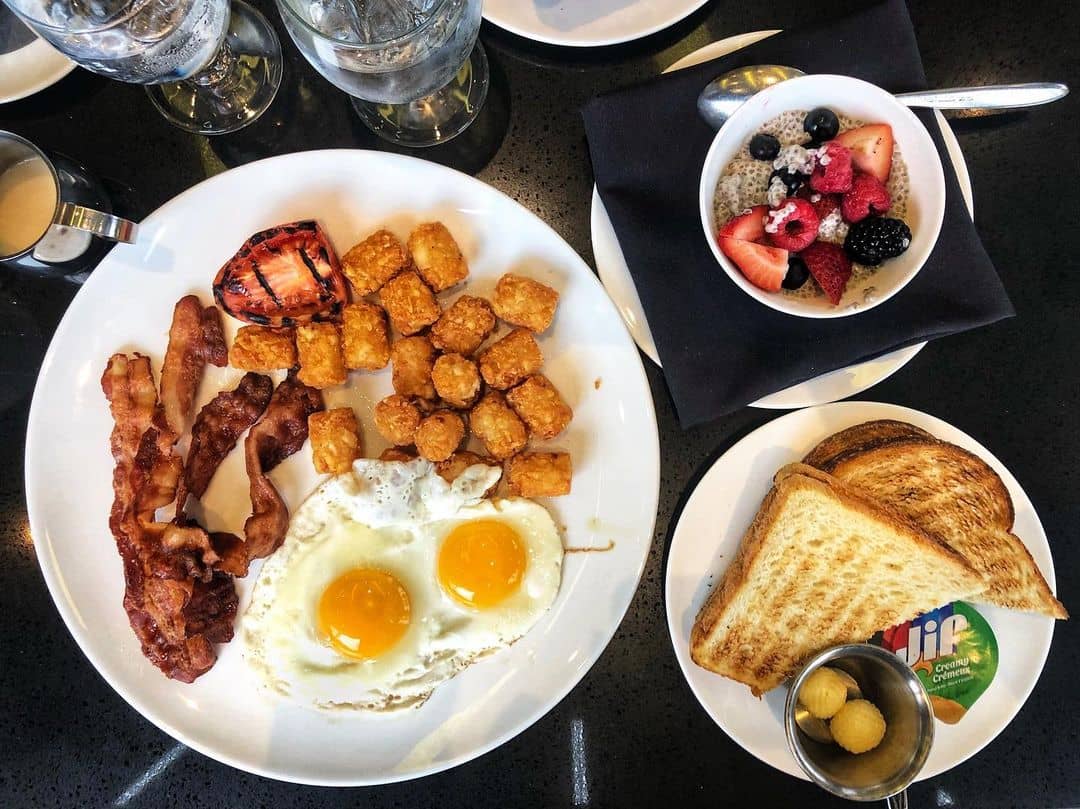 Originally opened for Westin guests and post-flight meals and cocktails, the exceptional quality of fine dining cuisine, coupled with professional staff quickly turned The Apron to a restaurant that Richmond locals frequently visit to sample contemporary West Coast Cuisine. Don't be surprised to see locals dropping in for brunch or a cocktail. The Apron serves vibrant dishes from Pacific seafood to classic French cuisine.
The seafood linguine is fabulous, and so is their halibut and pan salmon that's super fresh and cooked to perfection. The lamb shank on the bone is tender and superbly juicy.
If you're a fan of burgers, we highly recommend the Roasted Turkey Cheese Melt, which is packed with flavors from thin-sliced roasted turkey, brie, gouda, apple butter, and arugula. Stunning!
What to order: Seafood Linguine, Halibut and Pan Salmon, Lamb Shank, Coq au Vin, Roasted Turkey Cheese Melt
Address: 3099 Corvette Way, Richmond, BC V6X 3A3
9. Cannery Cafe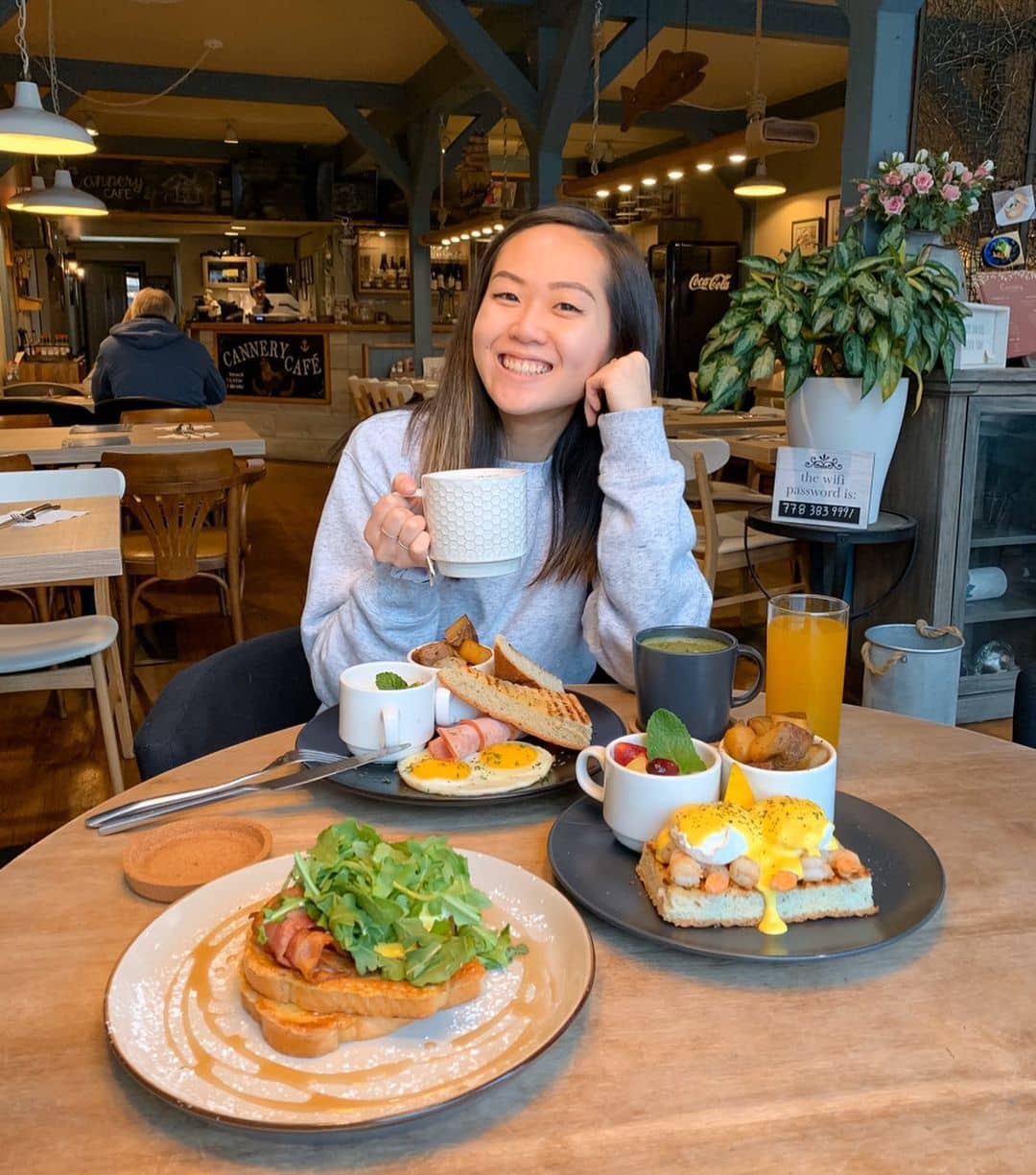 Who doesn't love a nice cozy diner with some history attached to it? Welcome to Cannery Cafe, which was filmed as Granny's Diner for the Storybrooke and Enchanted Forest locations featured on ABC's Once Upon a Time. So, if you're a OUAT fan, check out the quaint yet sophisticated cafe that does both, comfort food and Asian fusion. Throw in some of the nicest serving staff around, generous portions that are reasonably priced and you have the perfect recipe for a relaxed brunch.
Try their take on Chicken and Waffles, and we're sure you'll become a fan. With a perfect batter crust on the chicken, fluffy yet crispy waffles with their secret syrup, this is one dish that will have you coming back for more. Their Granny chowder has us all licking the bowl clean and their Shanghai Dim Sum might feel out of place, but one bite and you won't be able to stop eating them.
What to order: Chicken and Waffles, Granny chowder, Shanghai Dim Sum
Address: 3711 Moncton St, Richmond, BC V7E 3A5
Website | Instagram | Facebook
8. Hong Kong Flavour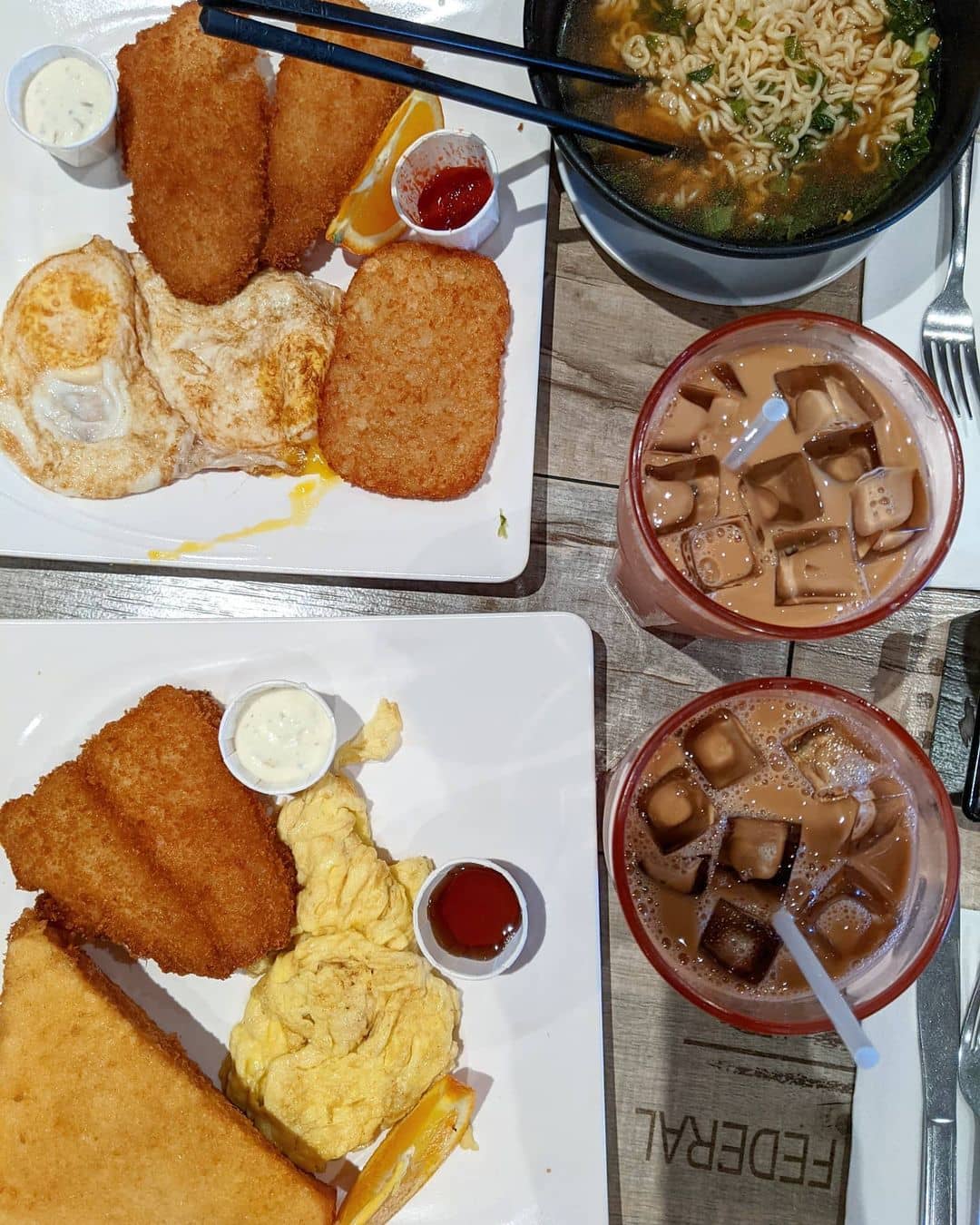 Cha chaan teng or Hong Kong style Tea restaurants are cafés known for eclectic and affordable menus, which include dishes from Hong Kong cuisine and Hong Kong-style Western cuisine. In Richmond, Hong Kong Flavour, is one such place that aims to bring the flavour of Tea restaurants to the city. With nostalgic decorations, efficient and friendly staff and reasonably priced traditional food, Hong Kong Flavour has managed to capture the essence of Hong Kongers love for tea with their food.
A big favourite here is the curry brisket with soft, tender meat and a creamy sauce. The baked pork chop rice is another crowd puller. Since their menu is pretty extensive, order whatever suits your fancy. Trust us, you'll be glad you did.
What to order: Curry Brisket, Baked Pork Chop Rice
Address 10151 No. 3 Rd #104, Richmond, BC V7A 4R6
7. Bánh Mì Très Bon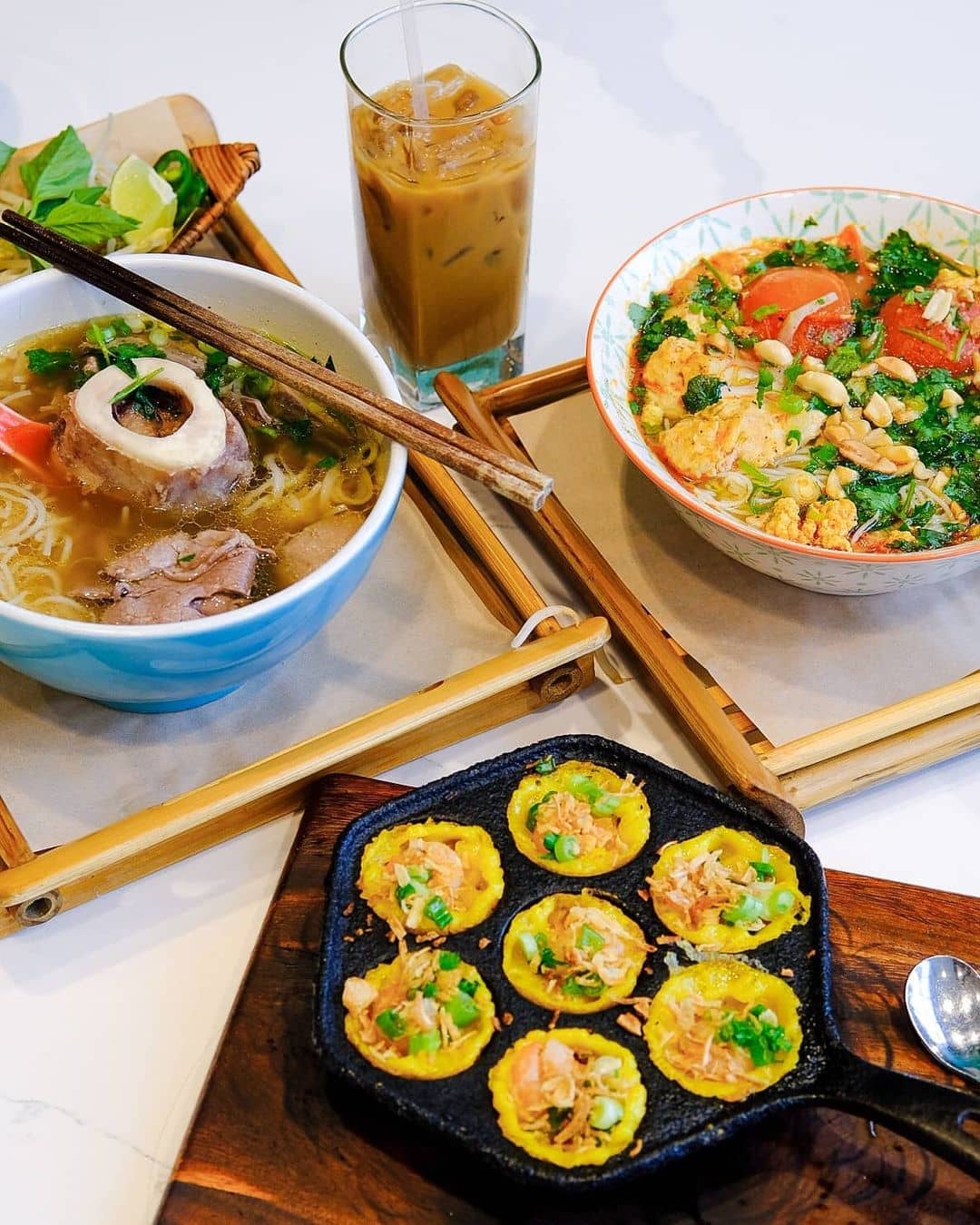 Bánh Mì Très Bon has been on our radar for some time as one of the best Vietnamese places in Richmond for brunch. They keep it simple and fresh, removing the "fusion" and "fuss" and concentrating on enhancing ingredients and allowing the dish to speak for itself. They stand apart for their presentation, which is simply exquisite, elaborate and elegant. And, yes, perfect for the 'gram! It's a great place to catch up with friends or take the family for a fancy, yet down-to-earth brunch.
Most Vietnamese restaurants in Vancouver have some pretty good Phở and Bánh Mì Très Bon can easily compete with the best of them. Try their Phở Tái Bò Viên which is a delicious blend of tenderloin, beef ball, and bone marrow soup with rice noodles. Their signature sandwiches are made with genuine Bánh Mì(Vietnamese Baguette) and stuffed with fresh fillings of your choice. Not a bad way to spend an afternoon.
What to order: Phở Tái Bò Viên, Bánh Mì
Address: 1840-4720 McClelland Road Richmond, BC V6X 0M6
Website | Instagram | Facebook
6. Lido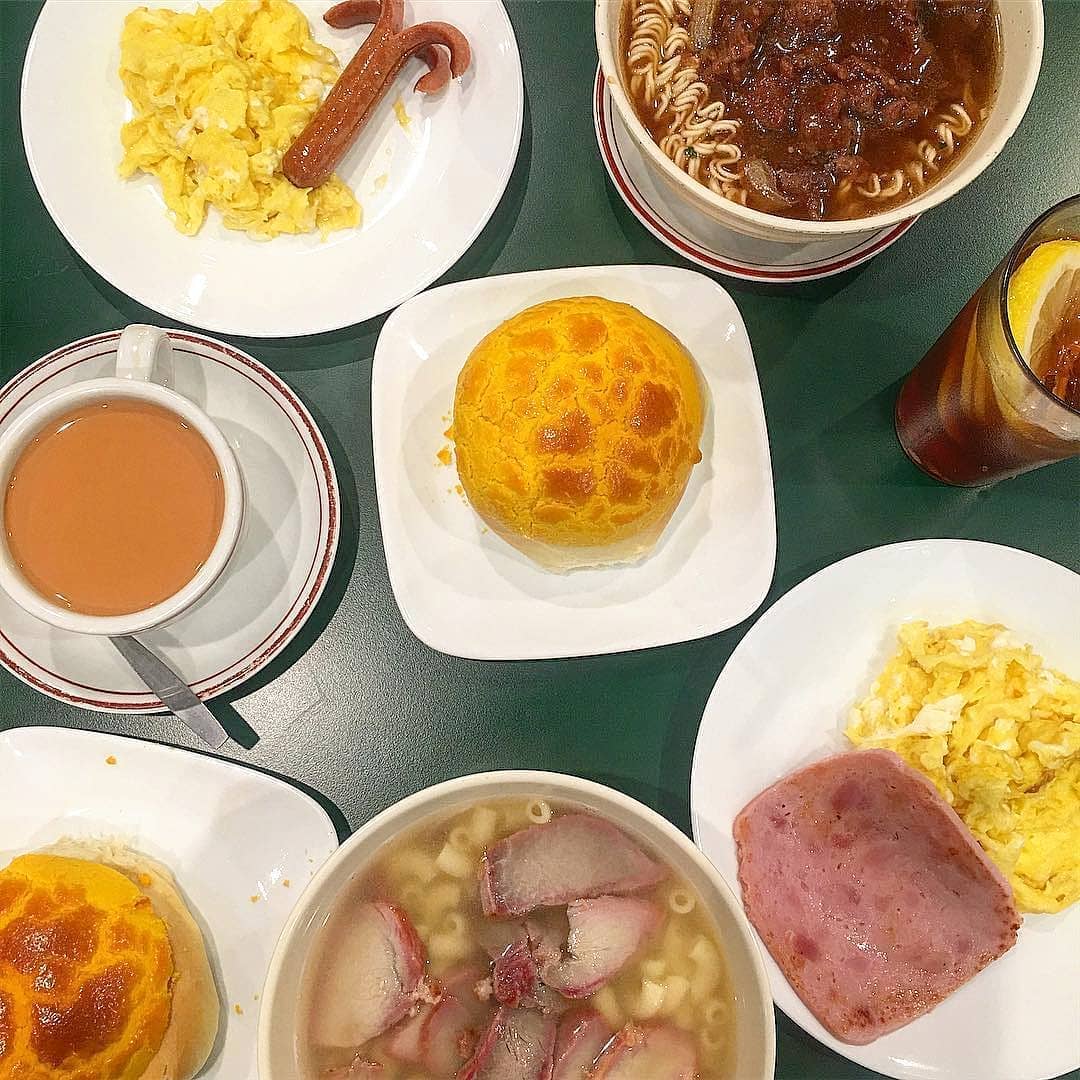 Stop by at Lido for brunch, and experience the best Richmond has to offer in genuine Cantonese cuisine. Their food is so authentic, it makes you feel like you're in Hong Kong. The packed restaurant and delicious aroma wafting outside, is an excellent indicator to how good Lido's really is when it comes to fresh and tasty food.
If you've never had a pineapple bun, then you're in for a real treat. Lido's has delicious, fresh out of the oven, soft and fluffy pineapple buns that we'd vote for as the best pineapple buns in the city. With a crispy top and a slice of cold butter in the middle, try these super buns along with Lido's scrumptious Egg tarts and hot Milk Tea. You can thank us later.
What to order: Pineapple Bun, Egg Tarts, Milk Tea
Address: 4231 Hazelbridge Way, Richmond, BC V6X 3L7
5. Chef's Playground Eatery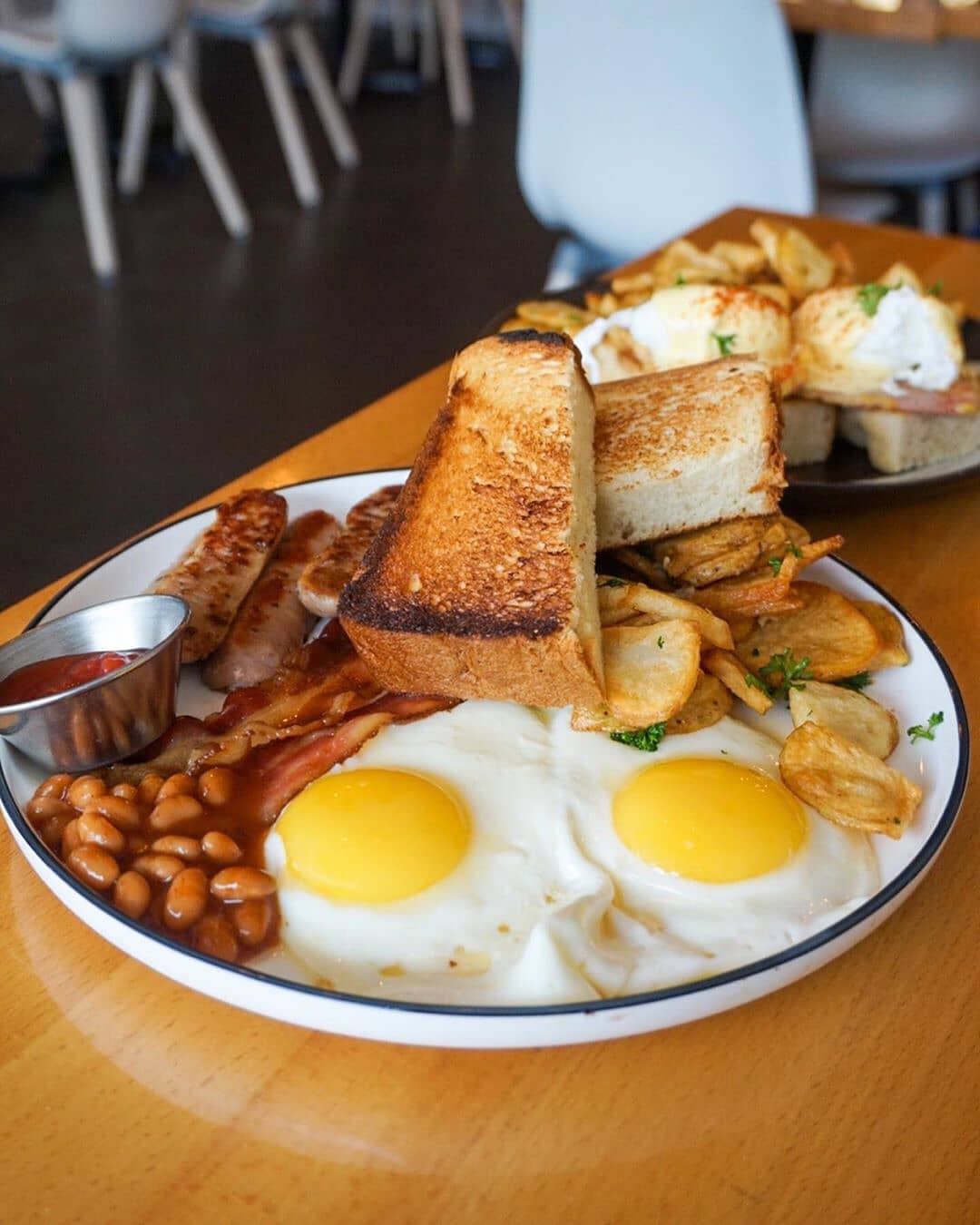 Who doesn't love good and wholesome soul and comfort food for brunch? We all do, and if you find yourself in Richmond and craving a classy, yet homemade style of brunch, then head on over to Chef's Playground Eatery. With classic food, a great ambience and top notch service, Chef's Playground is among the best brunch spots to visit in the city.
To start, grab the Truffle Mushroom Burger – one of their best-seller! Its taste is oh-so-good with loads of beef patty, Swiss cheese, cheddar cheese, caramelized onions, and veggies! In case you want something more comforting, get the Bacon Cheddar Burger, this is no less delicious!
Also, there's excellent beer on tap and some lovely crafted cocktails if a boozy brunch is your jam. They also serve some Asian-inspired drink like Hong Kong Milk Tea, don't hesitate to make a try!
What to order: Beef Brisket Braised Benny, Truffle Mushroom Burger, Bacon Cheddar Burger, Hong Kong Milk Tea
Address: 12420 No 1 Rd #170, Richmond, BC V7E 6N2
Website | Instagram | Facebook
4. Shanghai River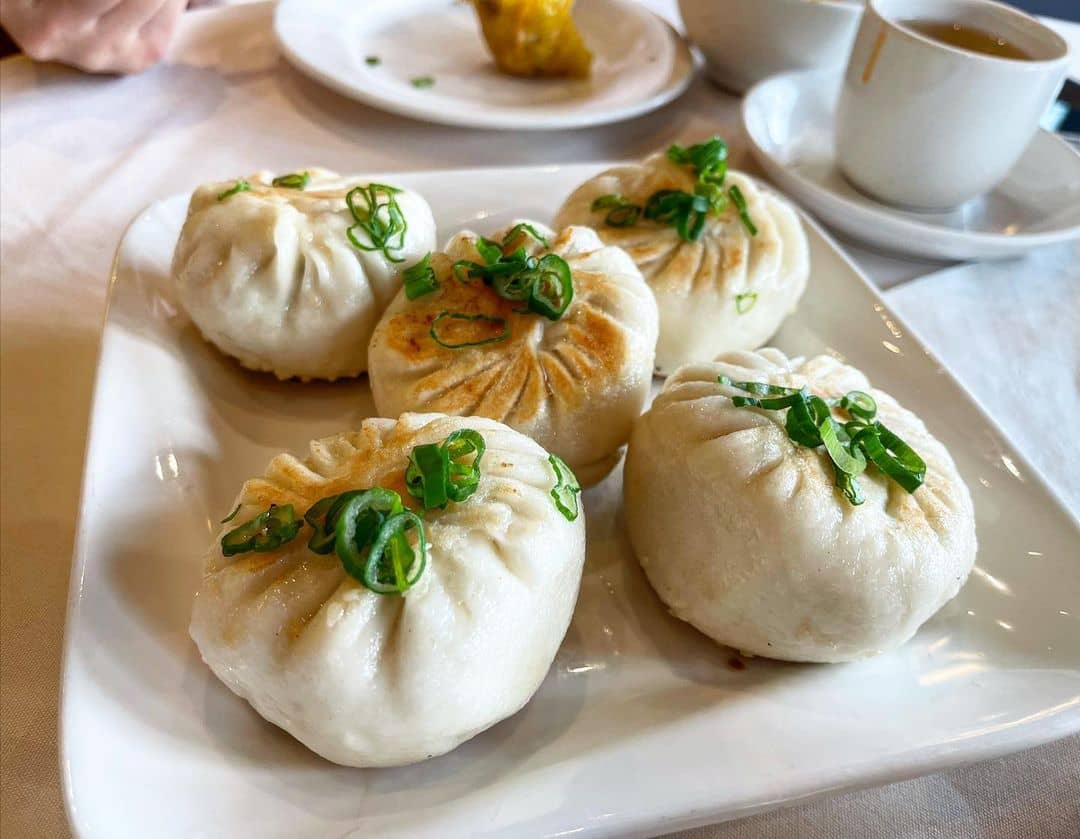 If you are ever in the mood for some authentic Szechuan and Hunan cuisine that's made to perfection, then Shanghai River is the place to drop by for brunch. With world-class chefs, friendly and attentive waiting staff, and a genuine care for serving you quality food, Shanghai River is definitely one of the best spots for a memorable brunch.
When you're there, you have to try their Xiaolongbao (steamed buns) or more commonly known as "soup dumplings. Their amazing variety of chicken, pork, beef and seafood dishes are all so good, it's impossible to go wrong no matter what you order. And, then there's their signature Shanghai Noodles that no true foodie should miss out on experiencing.
What to order: Xiaolongbao, Shanghai Noodles
Address: 7831 Westminster Hwy, Richmond, BC V6X 4J4
3. Milltown Bar & Grill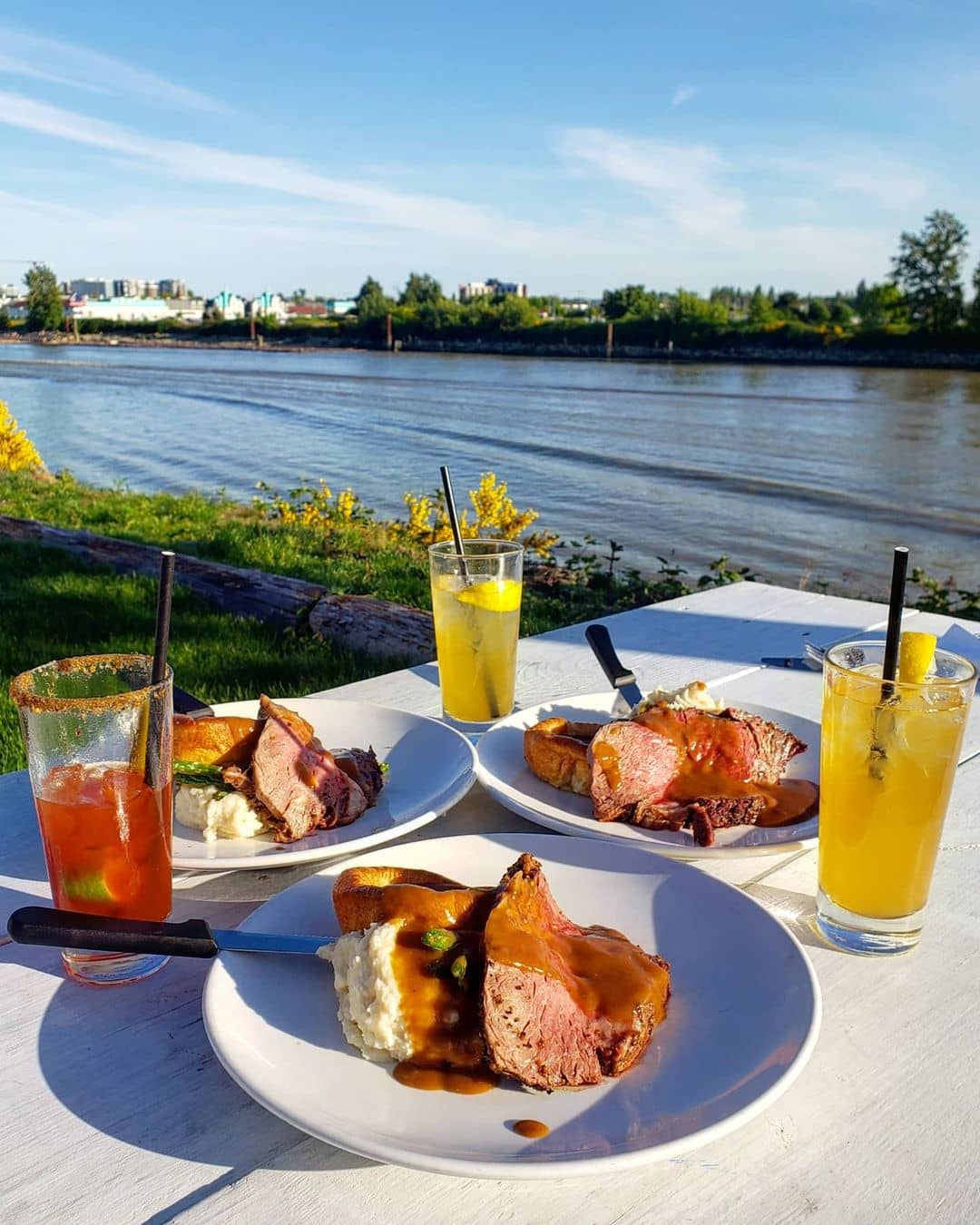 Launched in 2014 and located on Richmond Island, Milltown Bar & Grill is the only restaurant in the lower mainland that has two unique waterfront patios. One overlooks the gorgeous marina and the other, the incredible Fraser river. Combined with that, are those amazing mountain views in the background. This is the kind of spot you bring out of town guests for brunch and that wow factor. Milltown serves a variety of soups, burgers, flatbreads, pizza and other locally sourced and homemade items that are exquisitely prepared and brought to your table by the friendliest waiting staff ever.
Start off your brunch with their brussel sprouts that are unlike any other sprouts we've ever had, or go for their chicken wings which are always bursting with a variety of flavours you can choose yourself.
Move on to their locally sourced fish and chips or their mouth watering pizzas. The Lumberjack Hash is totally a hidden gem here, with Italian sausage, mixed with hash browns, onions, and peppers, topped with two over easy eggs, white cheddar cheese, and pesto hollandaise. Each bite tastes like heaven!
What to order: Brussel Sprouts, Chicken Wings, Fish and Chips, Pizzas, Lumberjack Hash
Address: 9191 Bentley St #101, Richmond, BC V6P 6G2
Website | Instagram | Facebook
2. Fisherman's Terrace Seafood Restaurant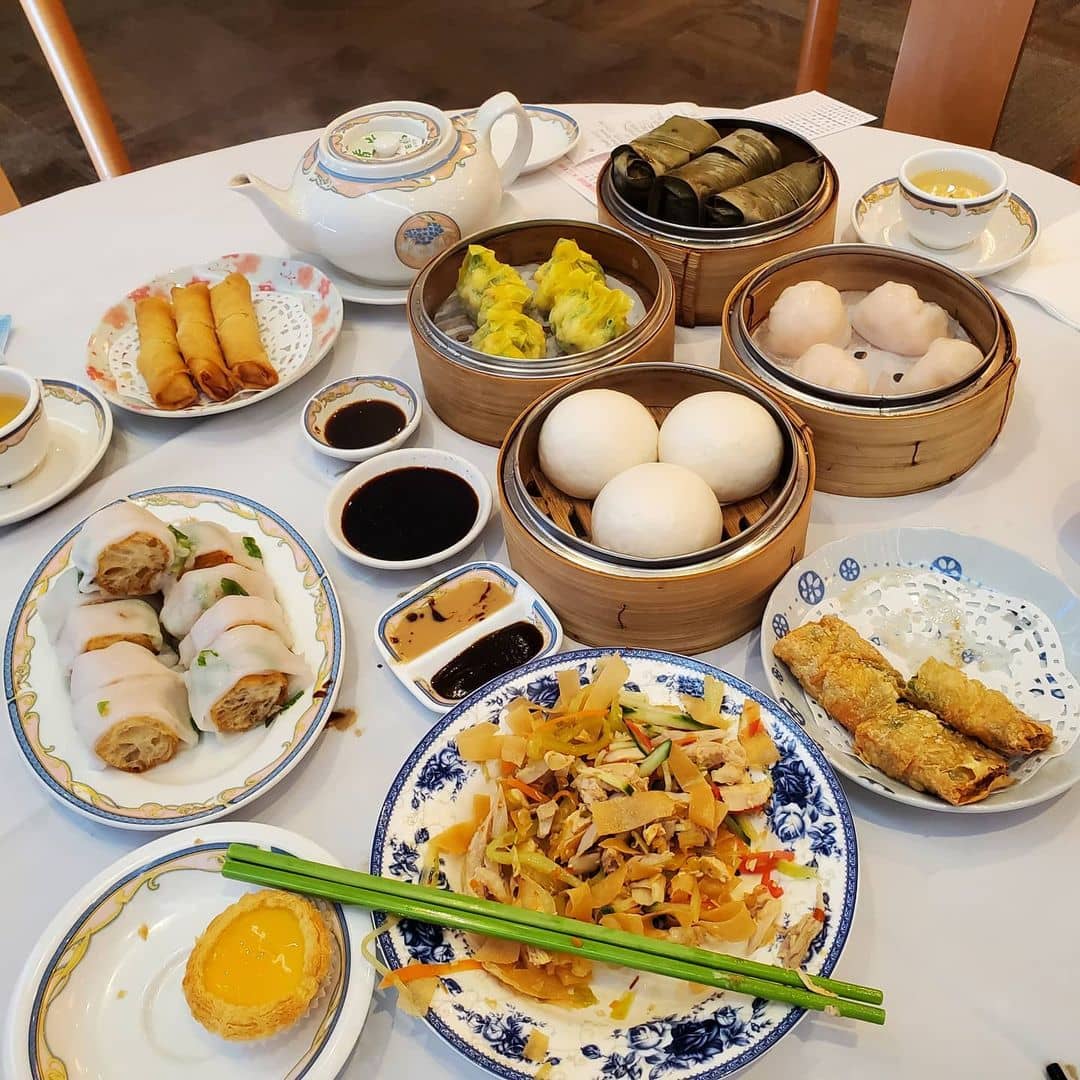 Since its establishment in 1996, and because of its fast growing popularity, Fisherman's Terrace had to expand and relocate to Aberdeen Centre located in the heart of Richmond. Authentically Cantonese to its very core, Fisherman's Terrace Seafood Restaurant is easily among one of the best dim sums in Richmond and traditional Cantonese spots around. They're so popular that you may have to wait a while for a table.
Order up any of their extensive dim sum and you won't go wrong. Their fresh shrimp dumplings, steamed BBQ pork buns and Siu Mai (Pork dumplings) topped with tobiko are our crowd pullers. You can also make a try with their signature Mini Sticky Rice wrapped and cooked in bamboo leaves, which has a light yet flavorsome taste profile!
What to order: Shrimp Dumplings, Steamed BBQ Pork Buns, Siu Mai, Mini Sticky Rice
Address: 4151 Hazelbridge Way #3F, Richmond, BC V6X 0A4
Website | Instagram | Facebook
1. The Story Cafe Eatery & Bar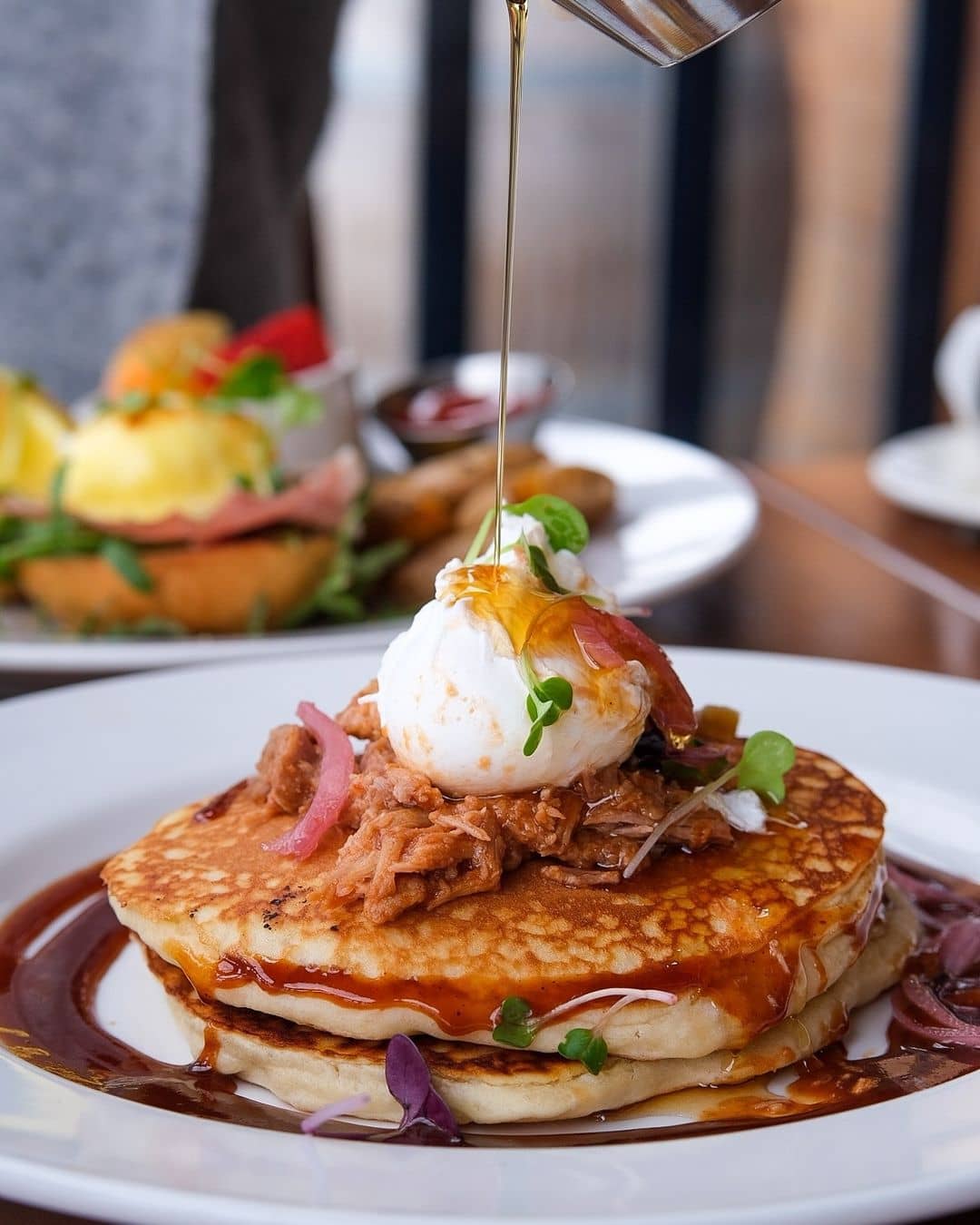 Located in the heart of the industrial area, The Story Cafe is the perfect nook to enjoy a delightful Richmond brunch. Converted from a thirty-year-old warehouse to a modern new concept restaurant, The Story Cafe brings together nostalgia, friendship and great continental food in a cozy atmosphere filled with wonderful staff.
Although their brunch menu is loaded with amazing fresh and tasty offerings, we always enjoy their Chicken Bennies, served with a toasted English muffin, arugula, fried chicken, and hollandaise, with a side of fruit. Also on the "must have" list is their scrumptious BBQ Pulled Pork Pancakes with a poached egg, and their melt-in-your-mouth homemade creamy cheesecake.
What to order: Chicken Bennies, BBQ Pulled Pork Pancakes, Cheesecake
Address: 2800 Sexsmith Rd, Richmond, BC V6X 1V5
Website | Instagram | Facebook
That rounds up our list of the 10 Best Richmond Brunch Spots, and we hope you try out a few of them during that special time between breakfast and lunch. If you're looking for more eateries to hit up during your visit, check out our list of the Best Restaurants in Richmond you'll definitely fall in love with.
How We Create Our "Best" Lists
All Noms Magazine's "best" lists are created using multiple factors and signals to help readers find the best restaurants, things to do, and places to stay at. Some of these factors and signs include personal experiences, correspondence with locals, and compiling experiences from review sites.
Each list is also created to be balanced (in terms of price, cuisine type, ambiance, and more) as possible. This means that the lists are not specifically created in ranking order. You should be comfortable picking from any of the spots on the list and generally have a good time. But of course, YMMV (your mileage may vary) and everyone may have different experiences/palates.