Looking for the best Richmond restaurants? Well, you're in the right place!
Richmond, BC is known by locals and internationally for its culinary offerings – especially Asian food.
Being a coastal city and filled with authentic restaurants, there are tons of food spots that will satisfy you.
But from the thousands of restaurants in Richmond, which are worth trying?
Well, we've done the hard work and curated below the 26 best Richmond restaurants and food spots you must try!
This article contains affiliate links where we may get a small commission if you click on the link and purchase. No extra cost is added to you.
1. Fisherman's Terrace Seafood Restaurant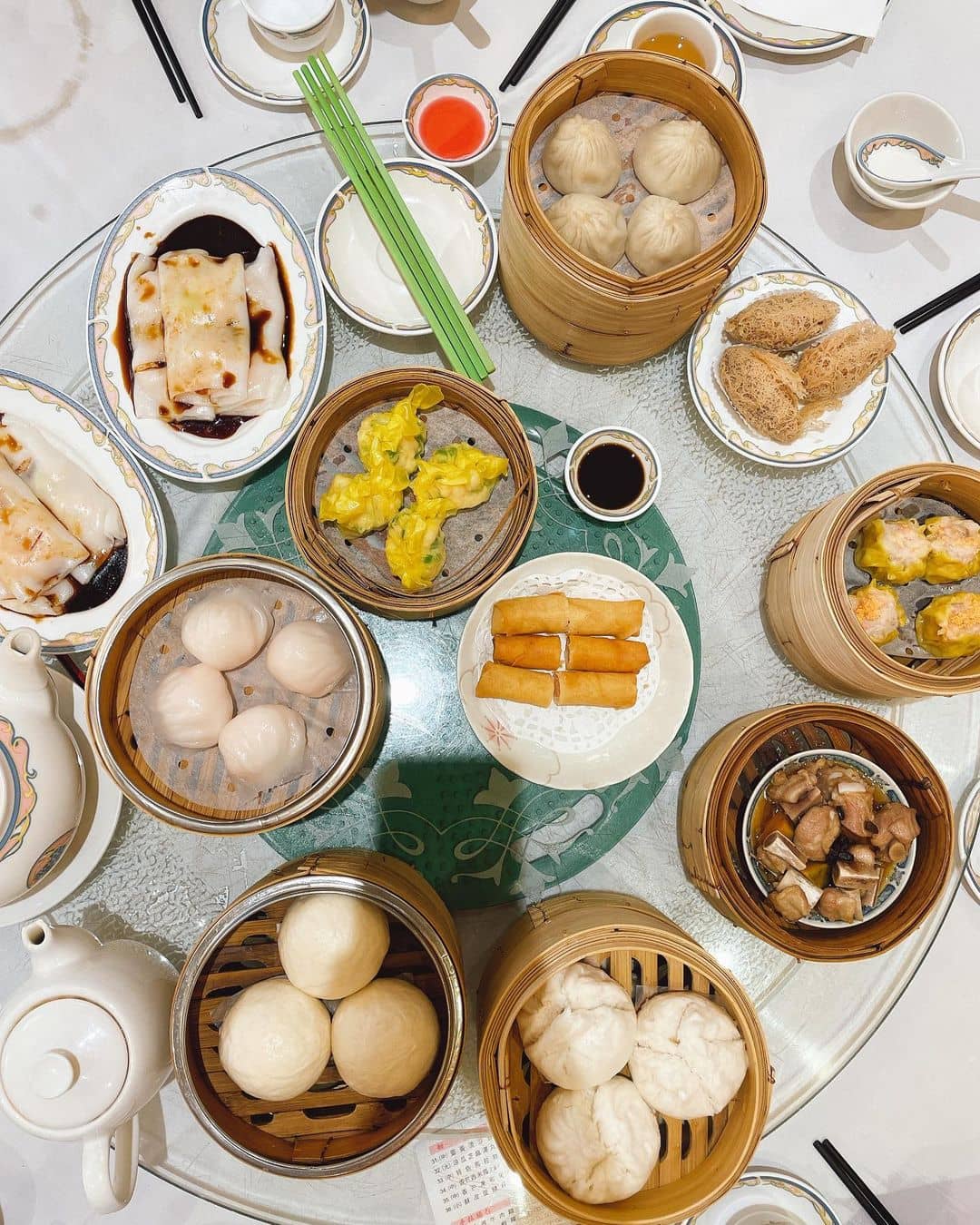 Established in 1996, Fisherman's Terrace Seafood Restaurant is one of the most popular Cantonese restaurants in Richmond and is especially known for its dim sum.
Yes, we have rated the restaurant as the no. 1 spot for dim sum in Richmond, and we stand by it!
With a relaxed and elegant ambience, combined with mouthwatering food, this will easily become your go-to place in the city.
Their award-winning dim sums are prepared fresh daily, and the one dish you absolutely cannot miss is their signature Har Gao (Fresh Shrimp Dumplings).
First of all, you'll be amazed by the size of each dumpling; secondly, the freshness of the shrimp is what makes this simple dish so enjoyable; and third, the skin is just like it should be – thin, with a little bite, but not chewy.
The Shanghai Style Steamed Pork Dumplings come with a seasoned and flavourful pork filling, again covered in a paper-thin wrapper, allowing you to enjoy every bite you take.
Not to forget, their Steamed BBQ Pork Buns, which come with a substantial amount of filling – flavorful and savory with a hint of sweetness, and the buns – perfectly steamed and soft.
What to order: Fresh Shrimp Dumplings, Shanghai Style Pork Dumplings, Steamed BBQ Pork Buns
Address: Aberdeen Centre, Suite 3580, 4151 Hazelbridge Way, Richmond, BC V6X 4J7
Website | Instagram | Facebook
2. The Story Cafe – Eatery & Bar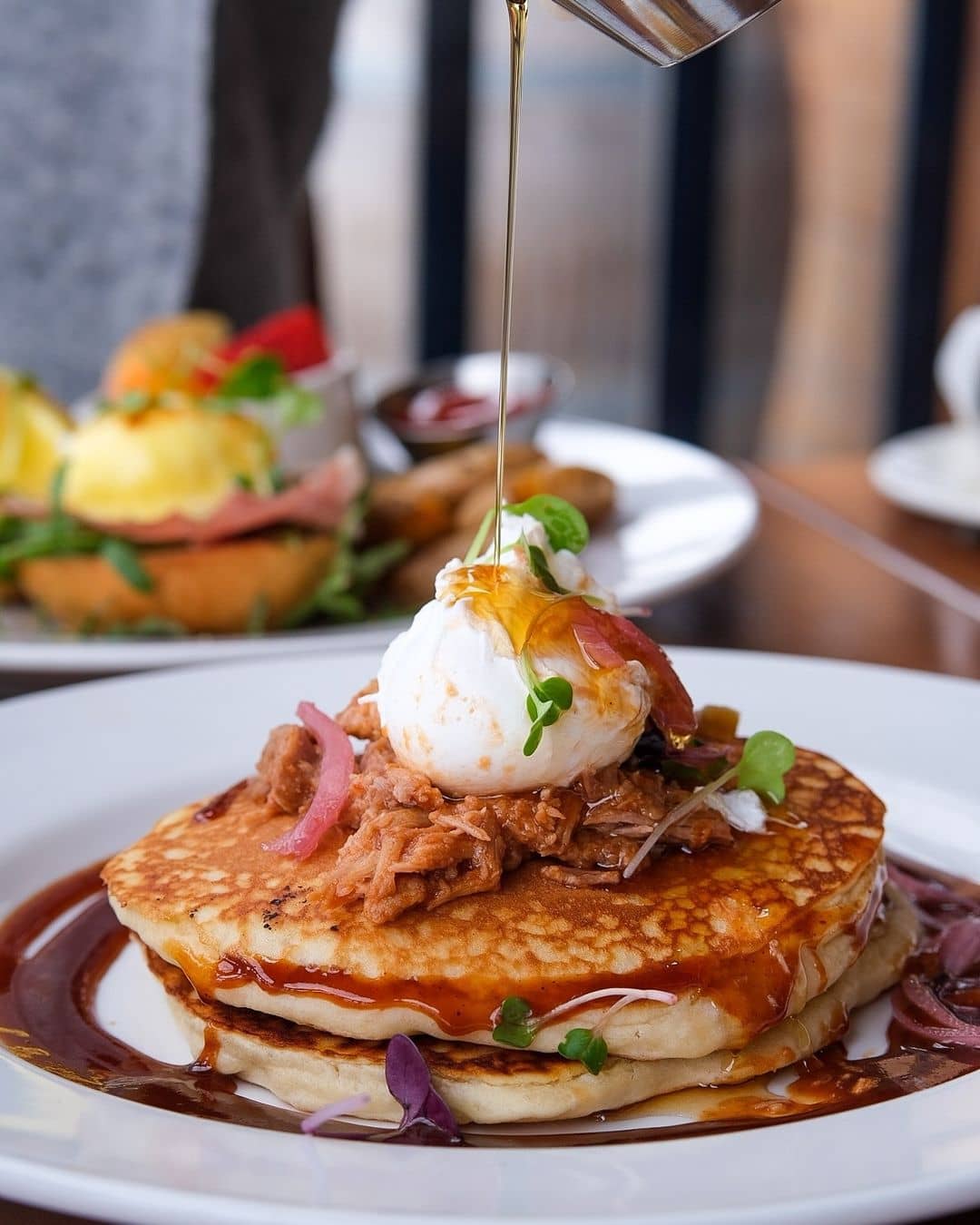 An amazing brunch spot located in the heart of Richmond's industrial area, The Story Cafe functions in a 30-year-old warehouse, giving you a historical vibe, and featuring hand-picked art and decor from all over BC.
This is the perfect spot to enjoy amazing continental food in a friendly and cozy atmosphere.
Have you heard of Fried Chicken Bennies? Crispy buttermilk fried chicken served on top of toasted English muffins – soft and fluffy, with soft poached eggs, and house-made hollandaise.
The chicken comes crispy on the outside and soft and juicy on the inside, and you get a generous amount of hollandaise to enjoy your plate.
Another must-try dish from their brunch menu is the Pulled Pork French Toast.
The coconut custard-dipped brioche French toast tastes divine on its own, the savory contrast from the BBQ pulled pork simply escalates the flavor to the next level.
If you're there for lunch, The Story Cafe's Duck Breast should be your first choice. The duck has a crispy skin, which is full of flavour, and the actual meat is amazingly tender and juicy.
The dish comes perfectly seasoned, letting you enjoy the taste of the duck. The blackberry sauce and carrot and parsnip puree make yummy accompaniments.
What to order: Fried Chicken Bennies, Pulled Pork French Toast, Duck Breast
Address: 2800 Sexsmith Road, Richmond, BC
Website | Instagram | Facebook
🍕 Foodie? Check out these top-rated Vancouver food tours!
3. Baan Lao Fine Thai Cuisine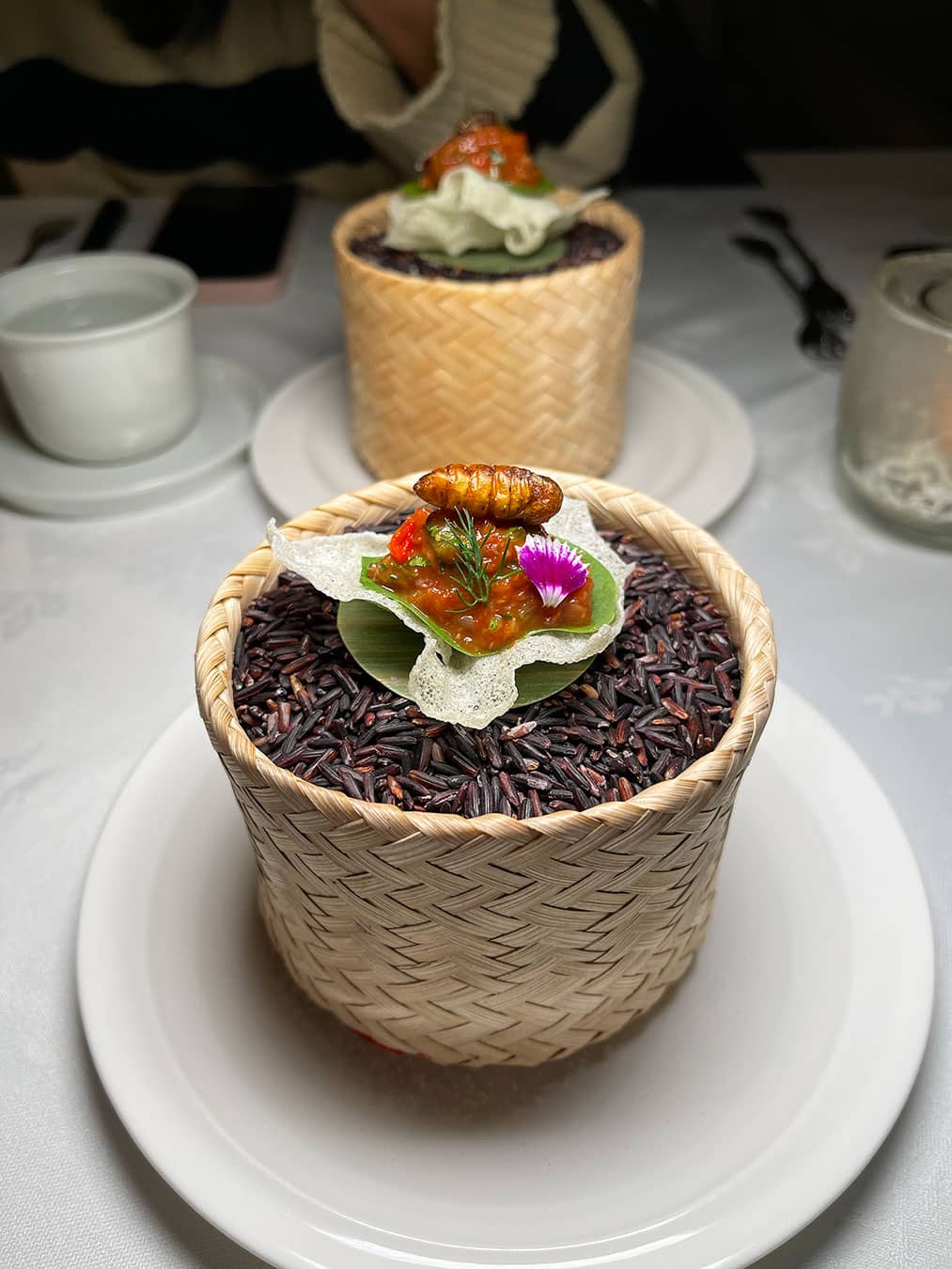 Hidden away in Steveston, lies Baan Lao, a gorgeous restaurant that celebrates organic ingredients and Royal Thai cuisine.
This hidden gem was named number 79 on the list of Canada's 100 Best Restaurants and number 14 on the list of 50 Canada's Best New Restaurants – so you know it's one spot you won't want to miss!
At Baan Lao, traditional Thai cuisine is taken to a higher level. The mastermind behind this incredible eatery is Chef Nutcha Phanthoupheng who left her career as a nurse in Thailand to pursue her passion for food.
She has trained under two culinary superstars Chumpol Jangprai, a Thai Iron Chef and Vichit Mukura, who has cooked for the Thai Royal Family.
Head Chef Nutcha Phanthoupheng is dedicated to sourcing all ingredients locally when possible, and emphasizes the use of her own Steveston garden and organic rice field in Thailand for all dishes.
The "Taste of Baan Lao" multi-course tasting menu offers a unique culinary journey through the Kingdom of Thailand featuring Royal Thai twists on some dishes that may be new to you.
You can expect to enjoy items from signature dinner experiences such as Chef's own Phat Thai and Wild Sockeye Salmon with Green Curry Sauce.
For us, we got to experience silkworm for the first time and had probably the best Phat Thai ever.
We opted for the tea pairing that gave us more understanding of how tea can be paired in a more elevated manner.
From the gorgeous glass garage doors overlooking Steveston's waters to the amazing artwork crafted by one of only two elephants in the world capable of painting, Baan Lao offers diners a unique experience like no other.
Enjoy chef-crafted dishes made with ingredients plucked straight from their garden while savouring some of the finest cocktails, wines, and teas curated by top consultants – making Baan Lao a must-visit for anyone looking for an upscale dining experience in Richmond.
What to order: Taste of Baan Lao, Tea Pairing
Address: 4100 Bayview Street, Richmond, BC
4. HK BBQ Master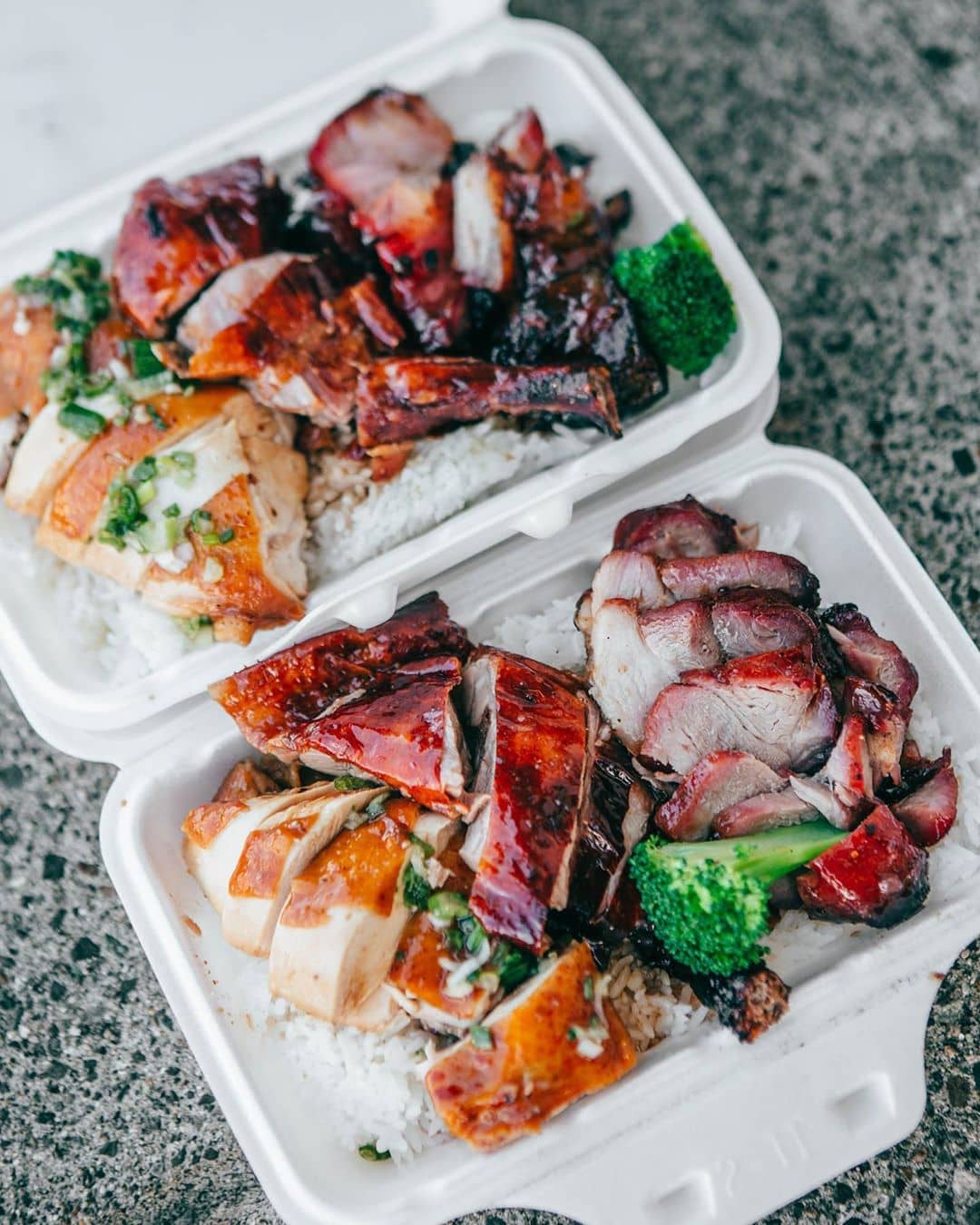 Richmond is considered to have the finest Chinese restaurants in entire North America, and we can confidently say that HK BBQ Master has a lot to do with it.
Let's just say that if you're around people talking about the food in Richmond, and you don't hear about the roast pork and roast duck at HK BBQ Master, then you're talking to the wrong people!
Tucked into the parkade of a Canadian Superstore, this Chinese BBQ shack is one of the very few Chinese places you'd want to return to again and again.
Not to boast but HK BBQ Master has also made it to our Ultimate Vancouver Food Bucket List.
When at HK BBQ Master, everybody starts with the BBQ Pork on Rice. Sounds like a simple enough dish, right?
The pork is cooked to perfection and comes out melt-in-the-mouth tender, with crunchy and flavorful skin. Even the soy sauce flavoured rice is spot-on, you'll wonder how rice could be so yummy!
Pro Tip – ask for half fat and half lean for your meat, which gives you a perfectly juicy, enjoyable texture.
If you happen to get their BBQ Duck and/or BBQ Spare Ribs, consider yourself lucky because these two dishes always sell out quickly, and you may have to reserve them ahead of time.
What to order: BBQ Pork, BBQ Duck, BBQ Spare Ribs
Address: 4751 No. 3 Road, Richmond, BC V6X 2C4
5. L.A. Chicken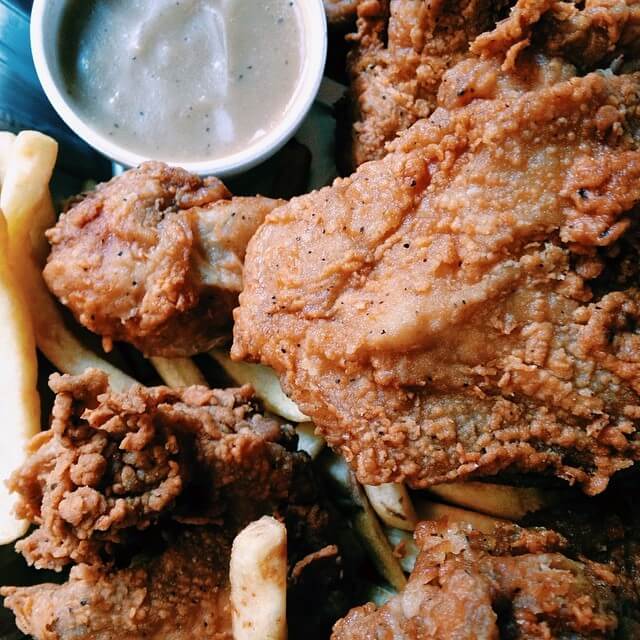 This humble little spot in Richmond has a loyal following and a constantly increasing number of new customers who never fail to make a stopover whenever they are in town.
Though there is nothing fancy about L.A. Chicken, this modest fried chicken joint scores with its comfort classics.
So, what should you order when you're at L.A. Chicken? Fried Chicken, duh!
With a delicious batter that is just the right consistency to make you enjoy its crispness while also being light, and the moist and juicy chicken that makes your mouth water, this is simply one of the best fried chicken you can taste in the whole of Vancouver.
Their fried chicken is so good that you should be ready to face really long line-ups if you plan to visit the place during the weekends.
The original is undoubtedly delicious; how about trying their spicy version as well?
L.A. Chicken's Spicy Crispy Chicken is so well marinated that you will feel the flavor dancing in your mouth every time you take a bite. The skin comes super crispy but not greasy, and the chicken is extremely juicy, like "dripping wet" juicy.
What to order: Original Fried Chicken, Spicy Crispy Chicken
Address: 11780 Thorpe Road, Richmond, BC V6X 1J5
---
Find the Cheapest Flights to Vancouver
---
6. Ichiro Japanese Restaurant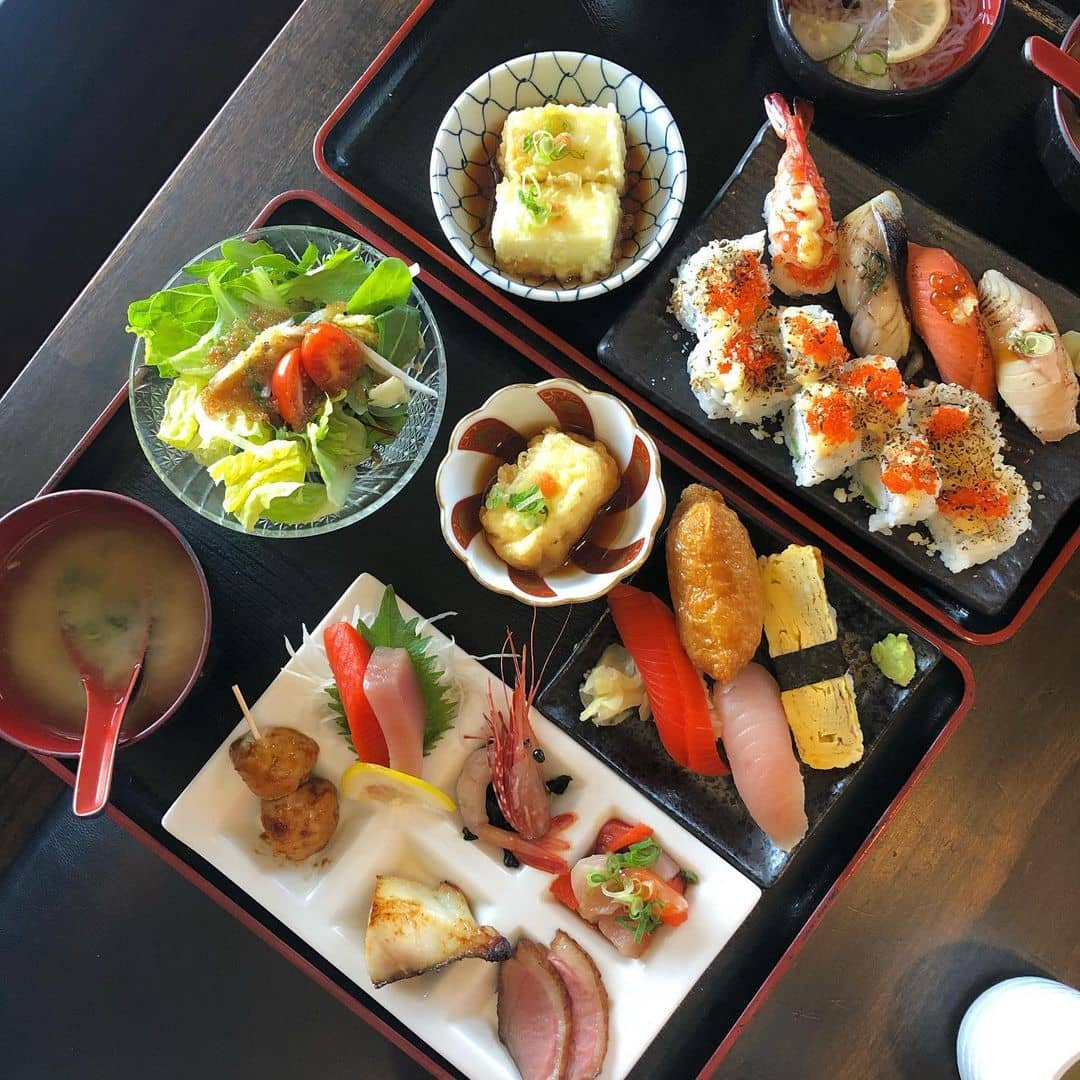 An authentic Japanese restaurant in Steveston Fisherman Village, Ichiro Japanese Restaurant serves fresh seafood in genuine Japanese flavours.
They are known to be the only sushi restaurant in Vancouver to store their sashimi in a specialty freezer at -60C.
Also, they take pride in using the freshest of ingredients, from local seafood to fresh Wagyu beef imported directly from Japan.
Having heard about their specialty equipment for storing sashimi, will it be fair to not try it?!
To try most of their sashimi offerings, you can choose between three Special Sashimi plates – Deluxe Sashimi, Steveston Sashimi, and Assorted Sashimi.
Among the three plates, the Deluxe Sashimi plate is the chef's choice special and can change seasonably. The other two plates come with many of their popular options, like tuna, sweet shrimp, scallop, hamachi, Atlantic salmon, and more.
If you're a katsu fan or would like to keep your raw fish quota to a minimum, go with Ichiro's Katsu Box D.
Choose between breaded chicken or pork, and enjoy it with some of their popular sides like Agedashi Tofu, gomaae, miso soup, and California Roll.
What to order: Deluxe Sashimi, Steveston Sashimi, Assorted Sashimi, Katsu Box D, Matcha Cheesecake
Address: #110-12011, 2nd Avenue, Richmond, BC V7E 3L6
Website | Instagram | Facebook
7. John 3:16 Malaysian Delights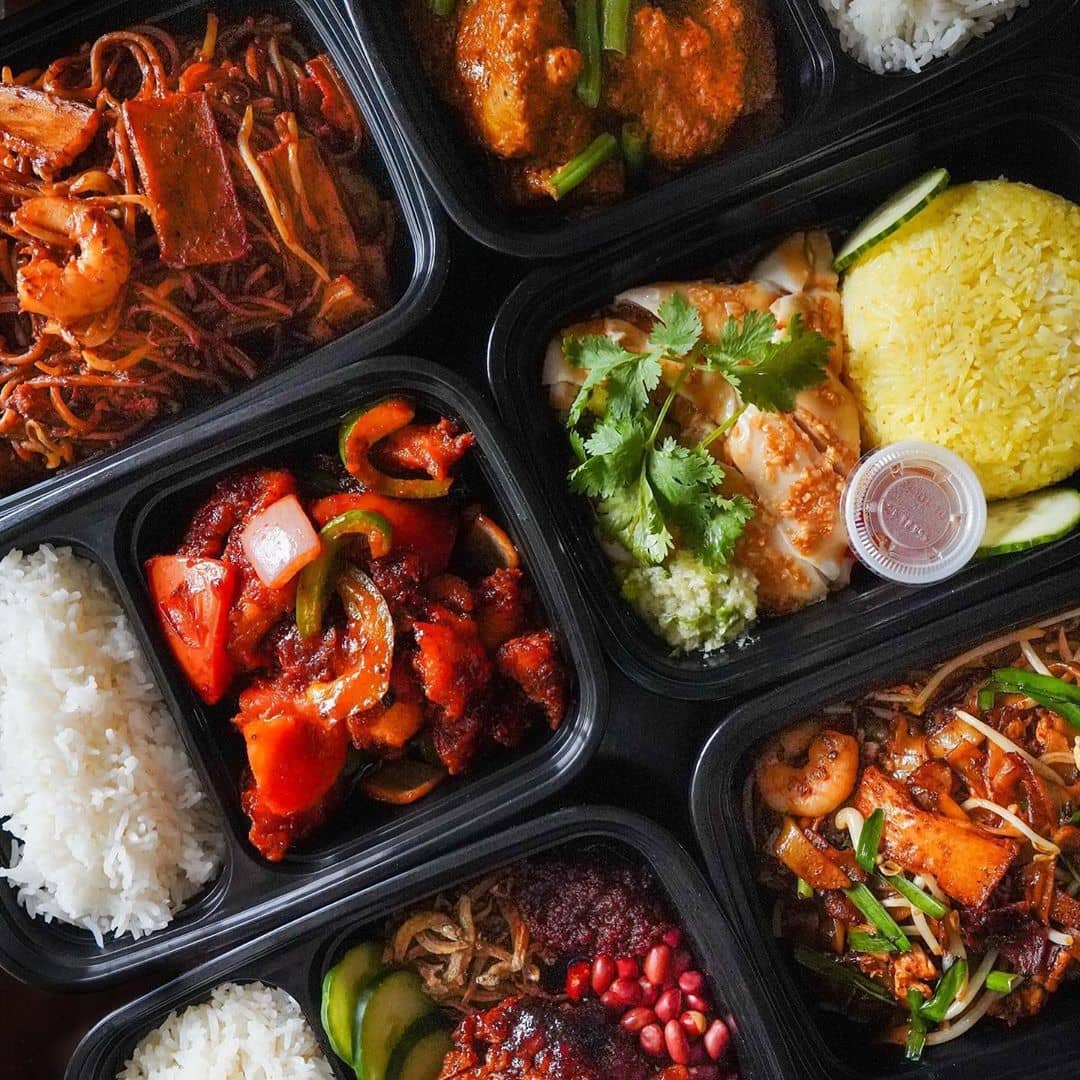 As the most popular Malaysian restaurant in Richmond, John 3:16 Malaysian Delights is aimed at providing diners with the most authentic Malaysian dining experience, serving truly authentic flavours, prepared from the finest ingredients.
Their Roti Canai is likely to be the best you've ever had! Served with curry sauce, you get two pieces of flaky, crunchy, slightly sweet, and delicious rotis.
Dip the rotis in the oh-so-delicious curry sauce, and you have a sumptuous combination.
Beef Rendang is a popular Malaysian dish, and at John 3:16 Malaysian Delights, this dish has people going crazy over it.
You can choose between Beef Rendang on Rice or pair it with their deliciously flaky Rotis; either way, you get to enjoy a thick curry with deep tropical flavors; slow-cooked in the curry, the beef is completely soft and spoon-tender.
To try something of a distinctive Malaysian taste, go for their Nasi Lemak with Chicken. Served with rice, crispy anchovies, egg, cucumber slices, papad, and spicy-sweet chicken, this dish has it all.
The rice is cooked in coconut milk and pandan leaves, which gives it a fragrant aroma, and all the components blend well together to give you a fulfilling meal.
What to order: Roti Canai, Beef Rendang, Beef Rendang on Rice, Nasi Lemak
Address: 6838 No. 3 Road, Richmond, BC V6Y 2C4
Website | Instagram | Facebook
8. G-Men Ramen Shop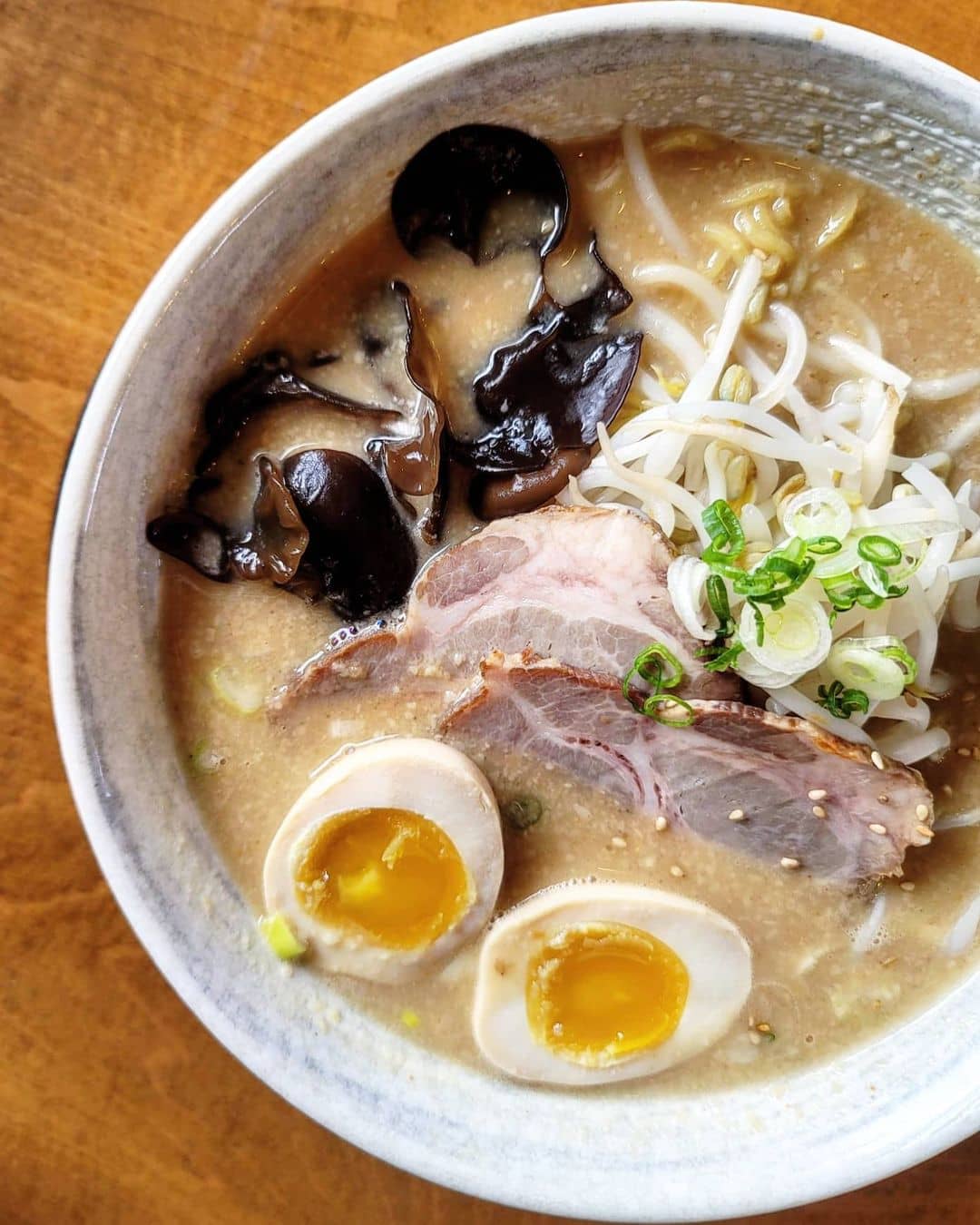 If you thought finding authentic ramen in Richmond was close to impossible, then clearly you have not visited the G-men Ramen Shop yet.
It's fair to say that this restaurant will make you reminisce about enjoying ramen in those back alley ramen joints found everywhere around Tokyo.
If you can handle the heat, you should try their Spicy Trap.
Now, before you let the name intimidate you, let us reassure you that you will love this ramen dish more than you think!
The Spicy Trap isn't like your regular ramen favorites; this is a soupless noodle dish, where the noodle is thick and has a bite, and all the flavor is from the spicy shoyu broth that it is tossed in.
The chewiness of the noodle along with the spice kick from the broth results in an enjoyably intense flavor.
The classic Tan Tan Ramen is as authentic as you can get. The chicken broth is light yet flavourful, and a bit salty, just like any authentic ramen broth will be.
The highlight, of course, is the homemade spicy sesame and peanut paste, which contributes to the unforgettable taste of this dish.
What to order: Spicy Trap, Tan Tan Ramen, Chicken Karaage
Address:
-#1160-8391, Alexandra Road, Richmond, BC, Canada
-3711 Bayview St, Richmond, BC V7E 3B6
Website | Instagram | Facebook
9. Suhang Restaurant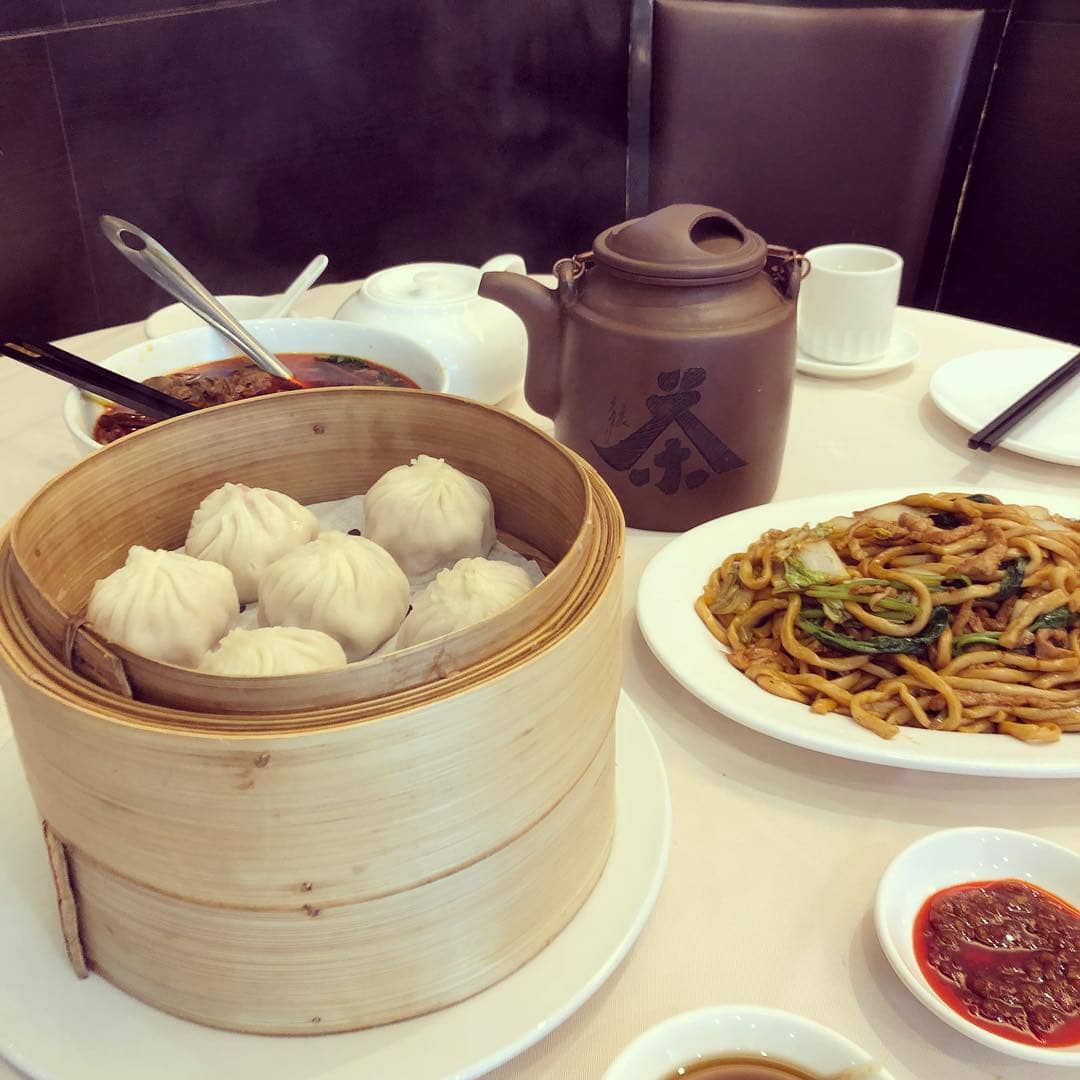 A Shanghainese restaurant in Richmond, Suhang was founded in 2007, serving authentic Suzhounese dishes.
This place is well-known for its soup dumplings and Shanghai-style dim sum, everything served in an elegant environment.
At Suhang, apart from Shanghainese dim sum served all day, you can also find many vegan-friendly and gluten-free options on the menu.
Despite a long dim sum menu, the crowd favorite here is the Xiao Long Bao or Steamed Soup Buns; for the filling, you can choose between pork and crab meat & pork. Whatever you choose, what you get is a mouthful of deliciousness.
While the soup inside the bao is tasty and soul-filling, what makes this dish a hit is the super delicate, elasticky skin of the dumplings, which enables you to enjoy the filling inside.
Do try their Pan-Fried Pork Soft Buns that keep diners coming back for more. The moist and yummy pork filling nestles inside half-soft, half-crispy skin, and each dumpling is filled with soup.
What to order: Steamed Soup Buns, Pan-Fried Pork Soft Buns
Address: 8291 Ackroyd Road Unit 100, Richmond, BC V6X 3K5
10. Bánh Mì Très Bon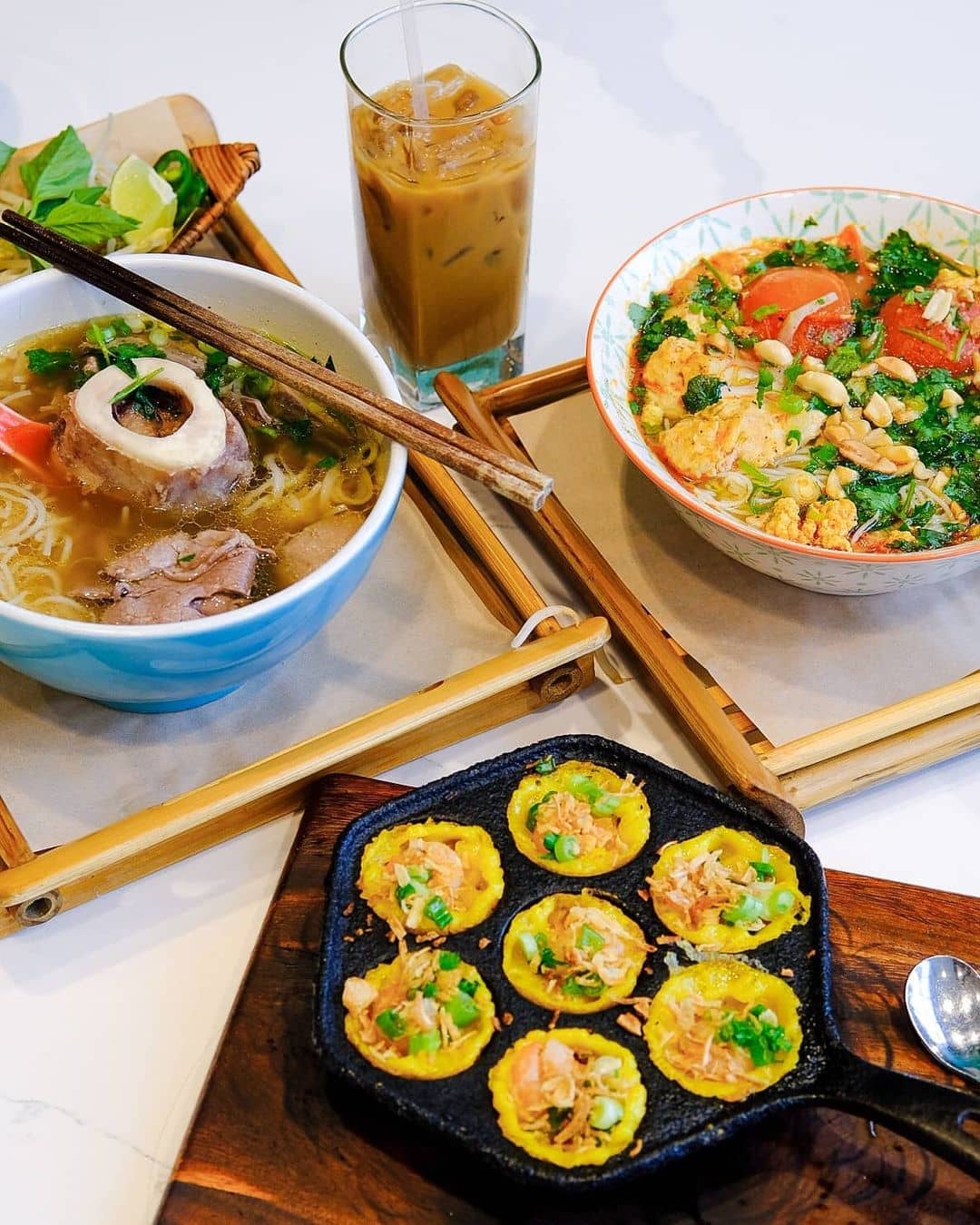 When we mentioned that Richmond is a gateway to Asian food heaven, we meant it!
Bánh Mì Très Bon is a Vietnamese establishment that uses fresh, local ingredients to reintroduce diners to Vietnamese food the same way it is enjoyed in Vietnam.
The restaurant itself has a cozy and homely feeling, and the food is just out of this world.
Start off your Vietnamese meal with Bánh Khọt, or Savoury Mini Crepes. Served on an iron pan, these rice crepes come to your table sizzling and the bottoms perfectly crispy still.
The crepes come topped with crispy shallots and sauteed green, and the best way to eat them would be to pour the fish sauce dressing on them and savor each piece in full.
Their signature is Phở Tái Bò Viên, or Beef Noodle Soup, the classic Vietnamese soup, which comes topped with green onion, bean sprouts, and more.
Since the base is a bone marrow soup, you get a big bone marrow in your bowl, but the taste is not as overwhelming as bone marrow soup generally tends to be.
The meat is tender and enjoyable and the rice noodles are perfectly cooked.
What to order: Savoury Mini Crepes (Bánh Khọt), Beef Noodle Soup (Phở Tái Bò Viên)
Address: #1840-4720, McClelland Road, Richmond, BC, V6X 0M6
Website | Instagram | Facebook
11. Chef Tony Seafood Restaurant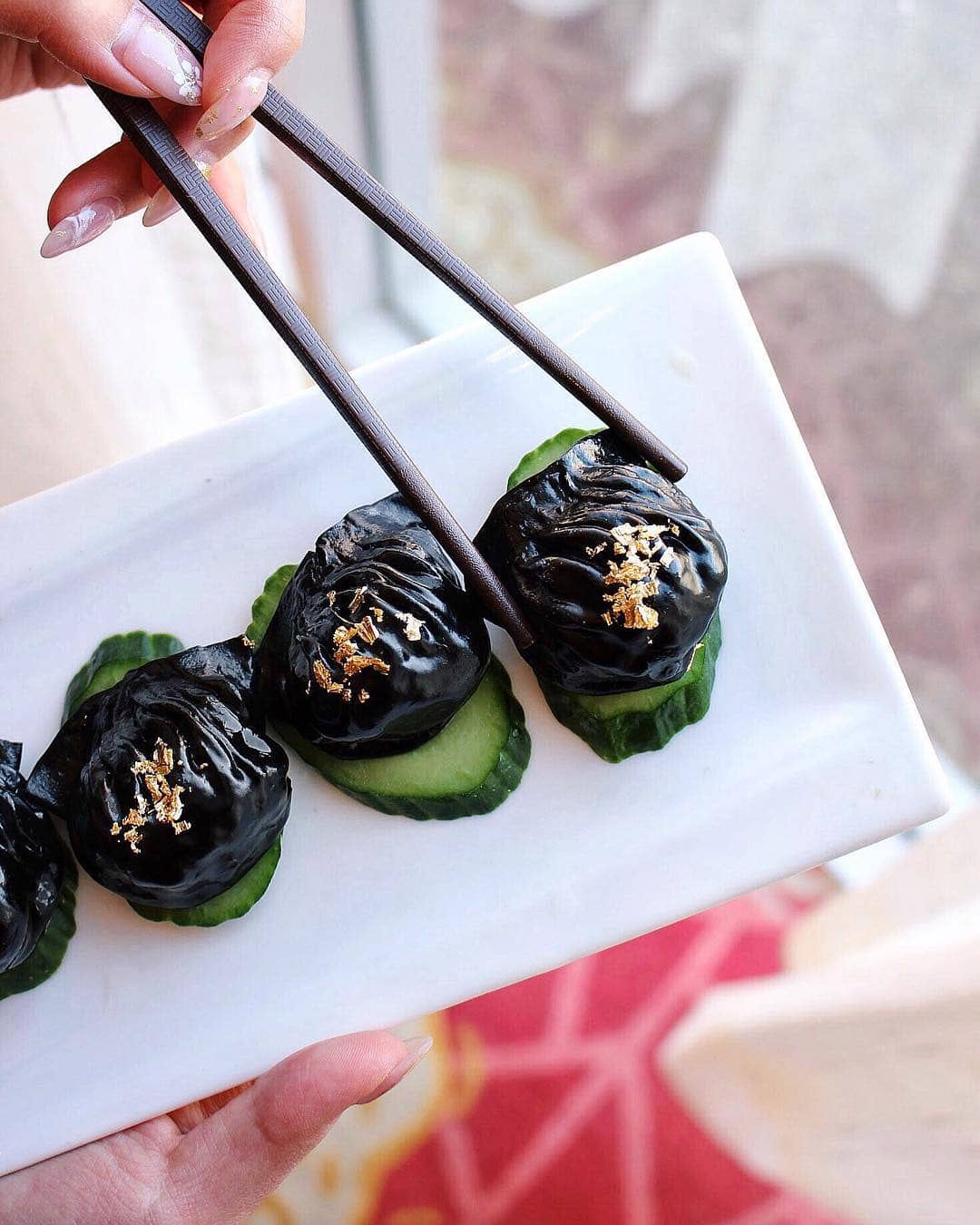 Richmond's Chef Tony restaurant is a marvel seafood restaurant, run by distinguished Chinese-Canadian chef Tony He, and where you can order some of the best dim sum bundles of joy.
Unpretentious from the outside, it's a different world once you step inside Chef Tony's.
There are crystal chandeliers hanging from the ceiling and facing the sets of rounded tables covered with white sheets, as well as other eye-popping interior assets such as a lone, blue-glowing pillar in the middle of the main dining room.
The restaurant's menu reveals a real food extravaganza, and two items are a must, the Truffle Siu Mai and Squid Ink Ha Gao.
It's safe to say these are going to be the boujie-est Siu Mai and Ha Gao in your life. The first bundle makes for small, distinctive meaty bites stirred by the genuine truffle used in it.
Matsutake mushrooms in the second one, make for an unusual choice but is done so well–it's simply mouth melting.
Pro-tip: avoid peak hours if you don't want to wait 40 mins for a seat.
Location: 101-4600 No.3 Road, Richmond, BC
12. Shanghai River Restaurant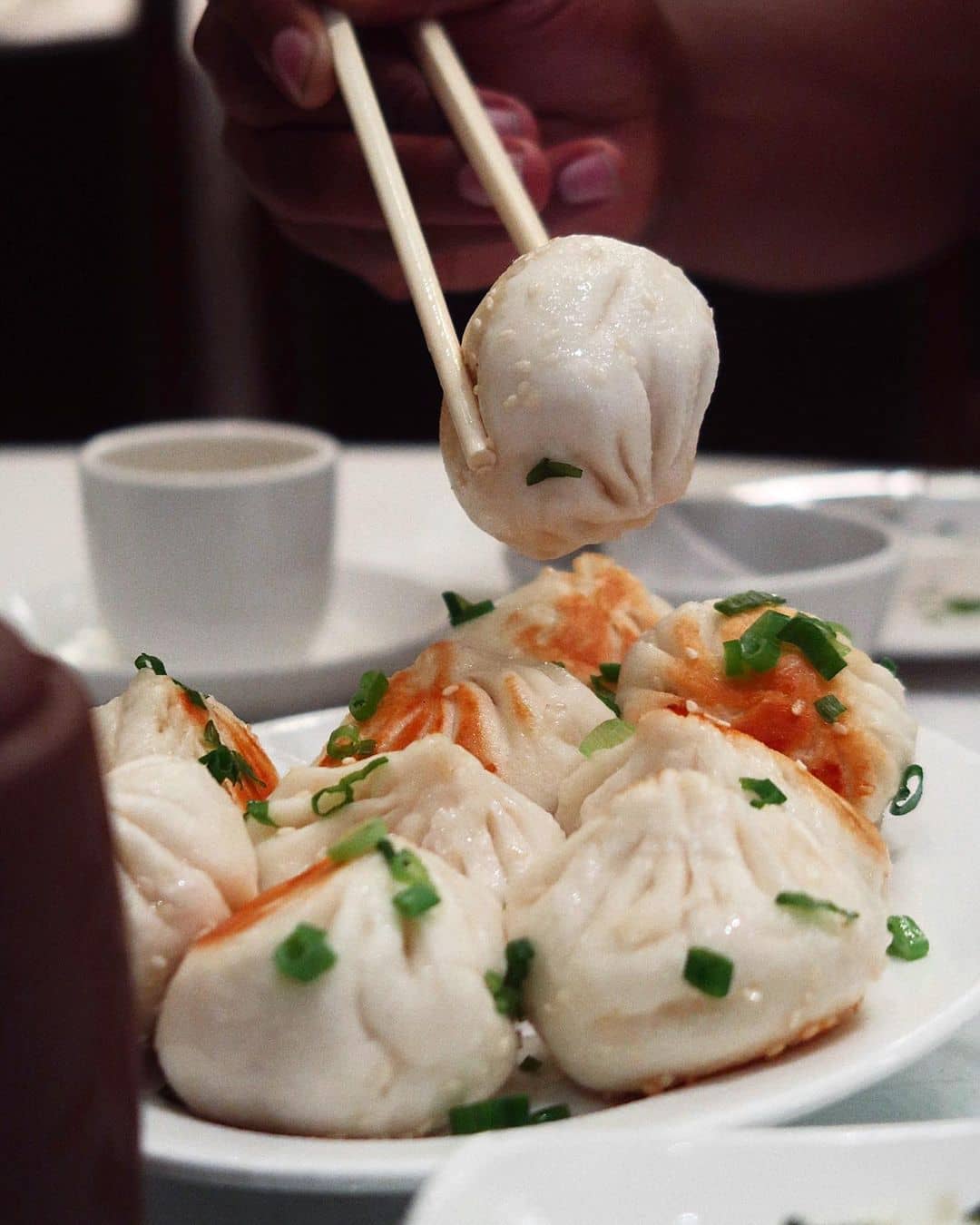 Established in 2004, Shanghai River Restaurant serves traditional dishes from Shanghai as well as southern China delicacies.
One of the most recommended dishes at the Shanghai River Restaurant is their Chicken Wonton Soup.
This humble soup comes packed with exceptional flavor, and the wontons simply melt in your mouth.
The soup, basically, sets a pretty high standard that you can expect from the rest of the dishes you order here.
For something hot and spicy in your order, choose their Spicy Beef Hot Pot.
Also available with mutton and fish, the meat is cooked to juicy perfection, and has a delightful level of spiciness to it.
Don't skip dessert because you have to try their Chinese Fried Donut. Made to order, the donut is pleasantly golden in color, crunchy on the outside, and soft on the inside.
Oh, don't eat it just yet; dip it in soy milk and imagine yourself enjoying a traditional Chinese breakfast in the bustling city of Shanghai!
What to order: Chicken Wonton Soup, Spicy Beef Hot Pot, Peking Duck, Chinese Fried Donut with Soy Milk
Address: #110-7831 Westminster Highway, Richmond, BC, V6X 4J4
13. SURA Korean BBQ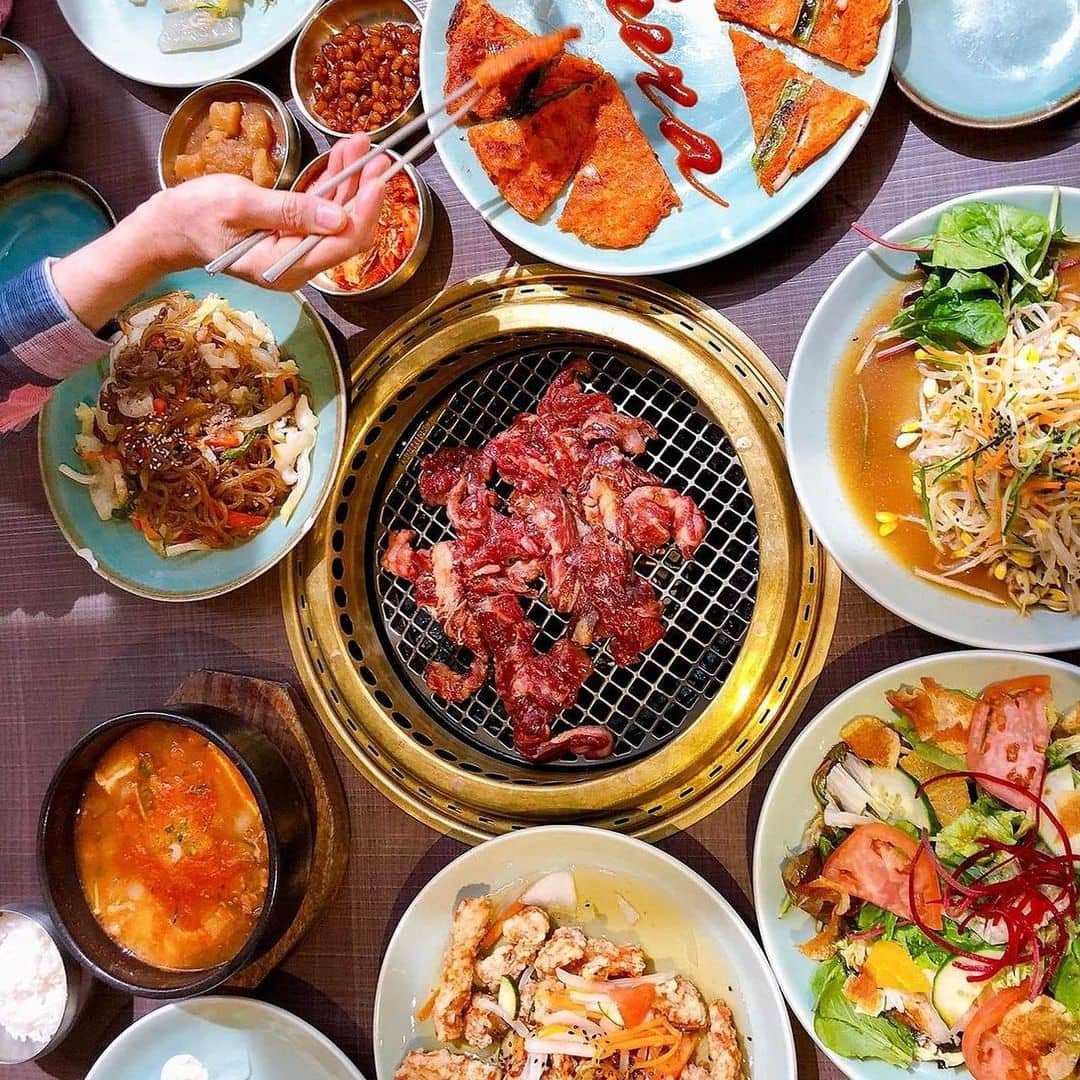 When a Korean restaurant is vouched for as one of the best establishments by the Koreans in the community, you know the food has to be exceptional.
We're talking about SURA Korean BBQ, a modern restaurant serving authentic Korean flavours using quality ingredients.
Pairing unforgettable Korean flavours with superior service, your dining experience here will remain in your memory for a long time to come.
Served in limited quantities every day, the Premium Royal Galbi, or beef short rib, will be an excellent start to your Korean BBQ at SURA.
You get thick slabs of boneless short rib seasoned with sea salt (nothing else!). You can grill the meat yourself using the grill available in the middle of your table, to your preference.
The meat is beautifully marbled, meaning it has just enough layers of fat to keep it juicy and tender. Dip your cooked meat in the sesame oil dipping sauce or relish it as it is.
If you love your noodles, SURA's Japchae is the next item to add to your Korean feast. Potato glass noodles are stir-fried in sweet sesame oil and served with beef and vegetables.
The sesame oil adds a slight nuttiness to the dish, whereas the vegetables add some crunch; paired with the tender beef, this is a balanced and filling meal.
What to order: Premium Royal Galbi BBQ, Japchae
Address: 4151 Hazelbridge Way, Aberdeen Centre, Richmond, BC V6X 4J7
Website | Instagram | Facebook
14. Lido Restaurant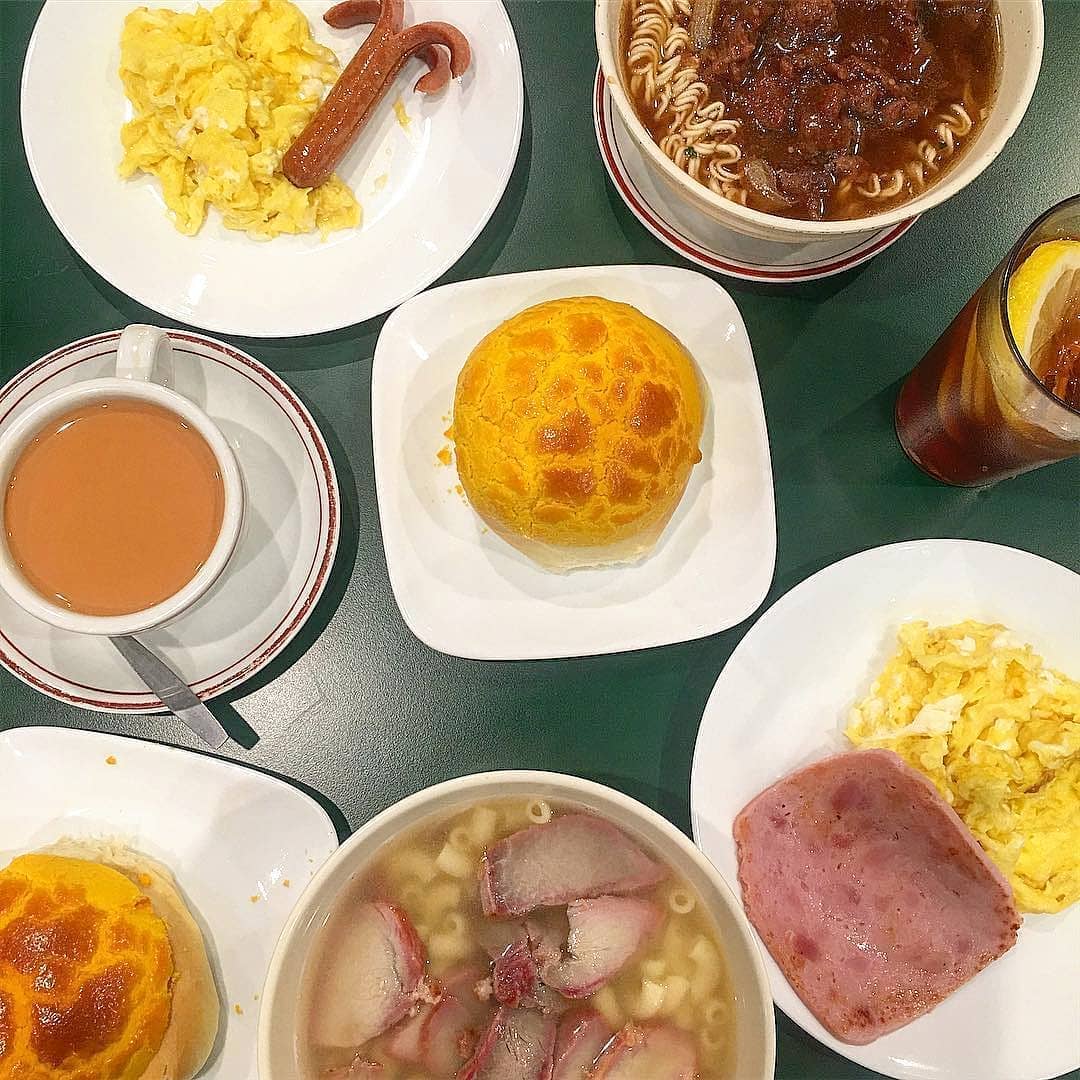 Lido Restaurant is a traditional, no-fuss Hong Kong-style cafe serving some delicious Pineapple Buns that have people coming back time and again.
This quaint little eatery is so popular among the locals that you will have to wait for a table, and some signature dishes tend to sell out early.
Lido Restaurant is popular for its Pineapple Buns, so much that you might have to fight crowds to get your hands on them!
Served with a huge slice of butter, the Pineapple Bun is fresh, warm, soft, fluffy, and not too sweet, just like how you would find it at a street cafe in Hong Kong.
The Congee here is solid. You get quite a few options to choose from but the most famous ones happen to be Lido's Shredded BBQ Duck Congee and Preserved Egg & Lean Meat Congee.
The congee is hearty and creamy, and the shredded meat is always tender.
If you choose the preserved egg option, you will notice additional hints of saltiness from the eggs, but nevertheless a hearty, savory, and comforting bowl of HK-style congee.
What to order: Pineapple Buns, Shredded BBQ Duck Congee, Preserved Egg & Lean Meat Congee
Address: 4231 Hazelbridge Way, Richmond, BC V6X 3L7
15. The Dolar Shop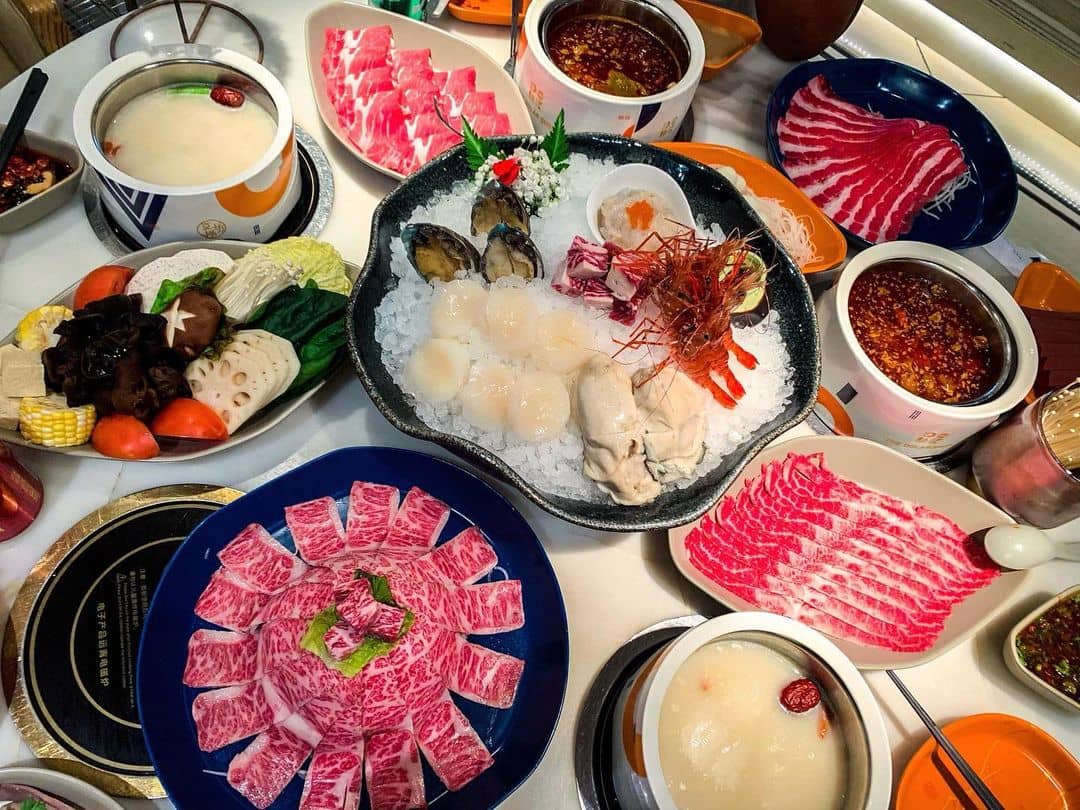 A global brand showcasing the hot pot culture of the Las Vegas of the East – Macau, The Dolar Shop welcomes guests to indulge in their delectable house-made ingredients.
Served in a fine and posh setting, this is the place where you can expect to enjoy the ultimate hot pot dining experience.
Rated among the top 10 of The Dolar Shop favourites, the Shrimp Pâté has people raving about it.
You can taste the freshness of the shrimp right away, and this hot pot ingredient will make your night if you're a seafood lover.
The A5 Miyazaki Beef makes for another amazing hot pot. This Japanese premium beef has a high degree of marbling, which yields a super tender hot pot cooked beef, which just melts in your mouth.
Want our recommendation for the hot pot soup/base? Try their Exquisite Silver Soup.
This soup has chicken as its base, which comes with a naturally rich flavour, with a mild spice level, but is high in nutrition. You can add more flavor to the soup with the chicken or pig stomach side served with it.
Remember, you'll kick yourself if you forget to ask for their signature soft-serve ice cream after your meal!
What to order: Shrimp Pâté, A5 Miyazaki Beef, Exquisite Silver Soup, Soft-Serve Ice Cream
Address: 5300 No. 3 Road, Richmond, BC V6X 2X9, Canada
Website | Instagram | Facebook
16. Richmond Public Market Food Court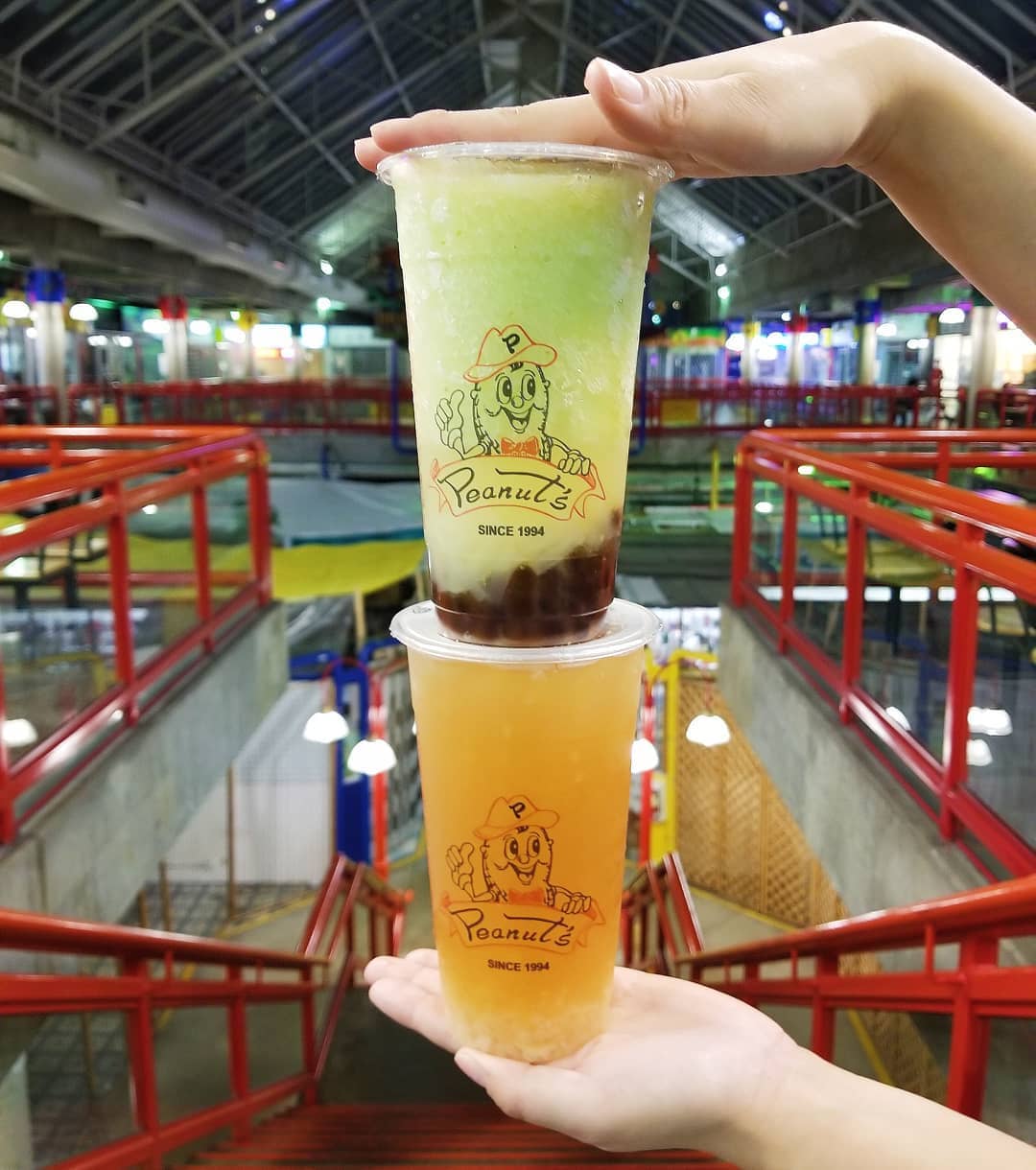 Located at the heart of Richmond, BC, Richmond Public Market houses the popular and local favourite Richmond Public Market Food Court on the second floor.
Once again, you get to see a multitude of Chinese food stands or eateries, and a whole lot more. This fancy-free place will give you a different kind of dining experience.
With so many shops to choose from, where should you start? Well, here is a quick run-through from us!
If you're craving noodles after a shopping spree around the Richmond Public Market, start your food trail at Xi'An Cuisine.
The highlight here is their hand-pulled noodles; no matter what meat you choose to put in your soup, it is the super fresh and chewy noodles that make the dish.
You need something to quench your thirst and wash down all the Asian delicacies, don't you? What better than bubble tea?
Head over to Peanut's Bubble Tea and order their Taro Bubble Tea – rich, milky, and tasty with chewy pearls.
Potelicious offers its Signature Beef Noodle Soup to satisfy your noodle craving. Delicious beef broth base, a bit of chewiness in the noodle, tender beef – the ideal combination for a hit noodle bowl.
They also have a spicy version of this dish.
How about some beef noodle competition?!
Chef Liu Kitchen gives some serious competition with its famous Taiwanese Beef Noodle. This spot is also famous for their Deep Fried Chicken Filet or Nuggets served with noodles.
Hei Hei Rice Roll features some delectable rice rolls for you to try. Choose from a variety of filling combinations, or go with single meat.
Whether you choose their Beef, Pork, or Shrimp Rice Roll, you get silky smooth rice noodles with generous fillings.
What to order: Hand-Pulled Noodles from Xi'an Cuisine, Taro Bubble Tea from Peanut's Bubble Tea, Signature Beef Noodle Soup from Potelicious, Taiwanese Beef Noodle and Deep Fried Chicken from Chef Liu Kitchen, Shrimp Rice Roll from Hei Hei Rice Roll
Address: 8260 Westminster Highway, Richmond, BC V6X 1A7
17. Gee! Taste Good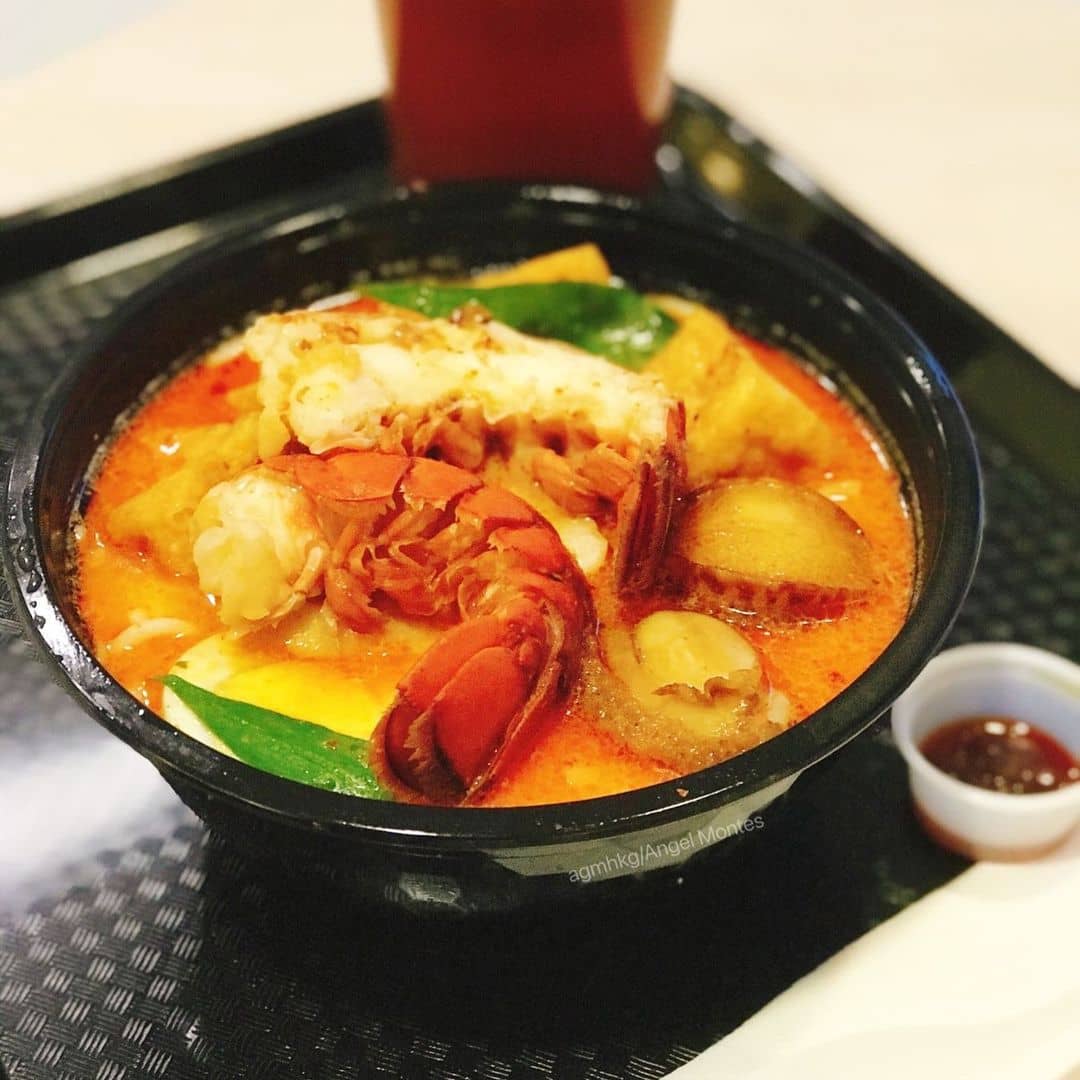 Gee! Taste Good was established in 2000 and is a Southeast Asian specialty cafe.
Located in Richmond's Pacific Plaza's food court, this little cafe specializes in Laksa noodle soup, curry chicken, and dessert cakes, and has a major fan following.
When a restaurant claims that they specialize in a particular dish, it automatically becomes a must-try. At Gee! Taste Good, that dish would be their Traditional Laksa Noodle.
Available in prawn, chicken, beef flank, fish ball, and more protein options, the laksa soup is not heavy on coconut milk, unlike in most places; it is enjoyably thinner and has a little bit of spiciness to it.
If you thought you cannot expect anything authentic from a hidden spot like this one, think again!
Their Beef Rendang could possibly be the most authentic version of the dish you've tried anywhere in Vancouver. It has the perfect balance of savouriness and richness of the spices along with quality tender meat.
Their Chicken or Pork Satay will be a great finger snack as you walk around the Pacific Plaza. Slathered generously with their delicious peanut sauce, the meat is juicy and tastes extraordinary with the sauce.
What to order: Traditional Laksa Noodle, Beef Rendang, Chicken or Pork Satay
Address: 8888 Odlin Crescent #2200, Richmond, BC V6X 3Z8
18. Kun's Omakase Bar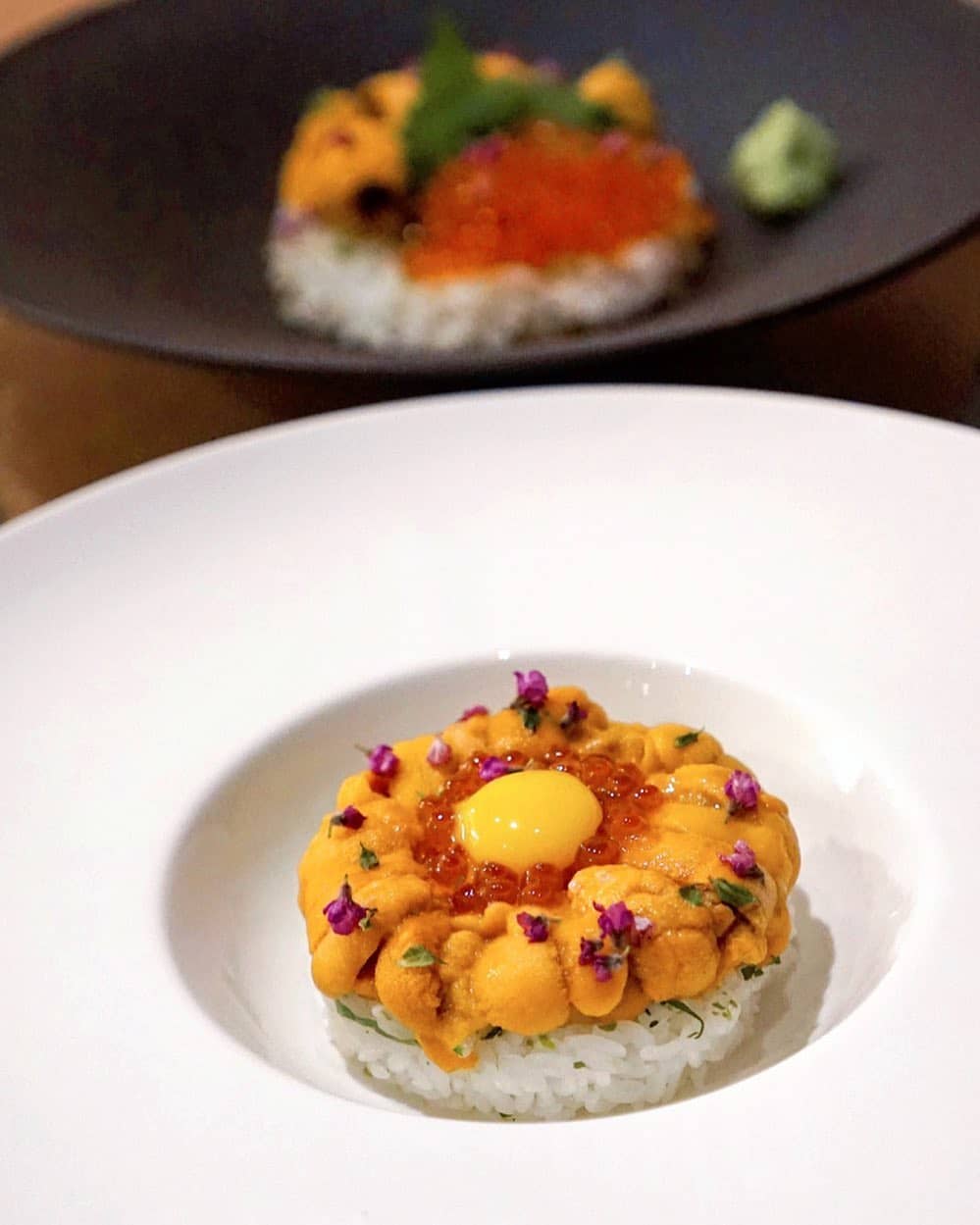 Rated among the top Japanese restaurants in Richmond, Kun's Omakase Bar offers an exciting dining experience, with their specialty in private omakase courses created with inspiration from the flavours of Japan.
They also have a regular dine-in menu where you can order a variety of Japanese delicacies.
A modern-looking and extremely appetizing dish from their menu is the Aburi Chirashi Tart. It is a tower of rice, spicy maguro, avocado, and salmon, flame-seared, and topped with aburi seafood.
Take a single bite of all the elements together and you'll start wondering how you missed this all this time! This is a kind of dish that will have you dreaming about it.
If you are a sushi connoisseur, you'd appreciate the quality of their Salmon Oshi. The thin-cut salmon is soft and buttery, and the jalapeno on top adds a nice kick to the sushi.
Their Soba Peperoncino is a unique combination of noodles and salad. It is a sweet and sour soba salad topped with tomatoes, greens, and a generous amount of scallops, mussels, and prawns – what's not to love?
What to order: Aburi Chirashi Tart, Salmon Oshi, Soba Peperoncino
Address: #150 3500 Moncton Street, Richmond, BC
19. Aberdeen Food Court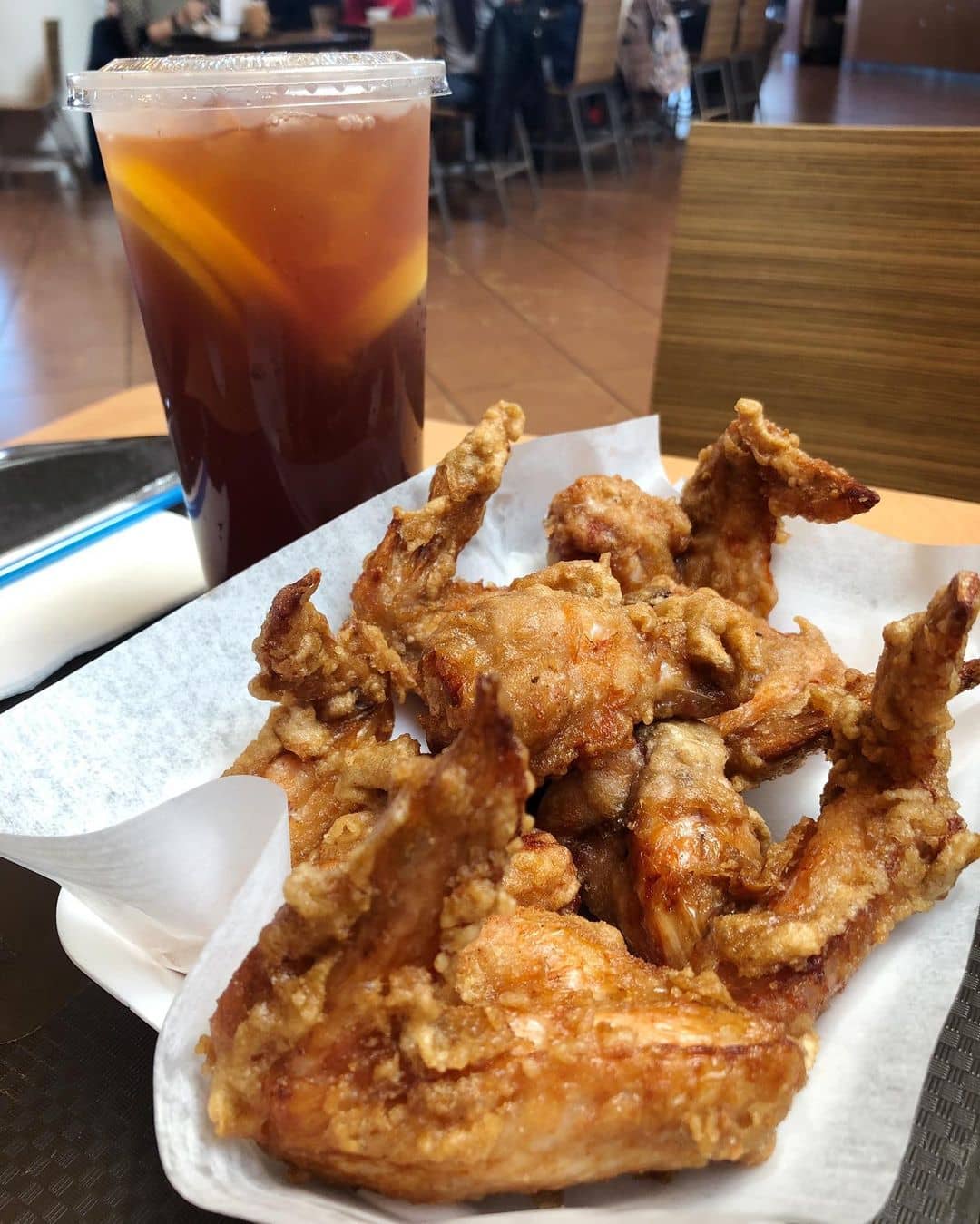 Aberdeen Centre is one of the oldest and large shopping malls in Richmond, full of swanky stores, and several eateries. From burgers to authentic HK-style noodles, the Aberdeen Food Court has everything to fulfill your craving for the day.
When you come across Wu Fung Dessert at the Aberdeen Food Court, do not mistake it for a dessert place. They are popular for their Fried Chicken Wings.
A comfort classic, their chicken wings are cooked to be perfectly juicy, crispy, hot, fresh, and addicting.
Do try the made-to-order Pan Fried Pork Buns from Shanghai Morning. These are basically soup dumplings, huge in size, and with a generous amount of filling to make your tummy full.
What to order: Fried Chicken Wings from Wu Fung Dessert, Pan Fried Pork Buns from Shanghai Morning
Address: 4151 Hazelbridge Way, Richmond, BC V6X 4J7
Website | Instagram | Facebook
20. Mr. Bro Korean Bistro & Izakaya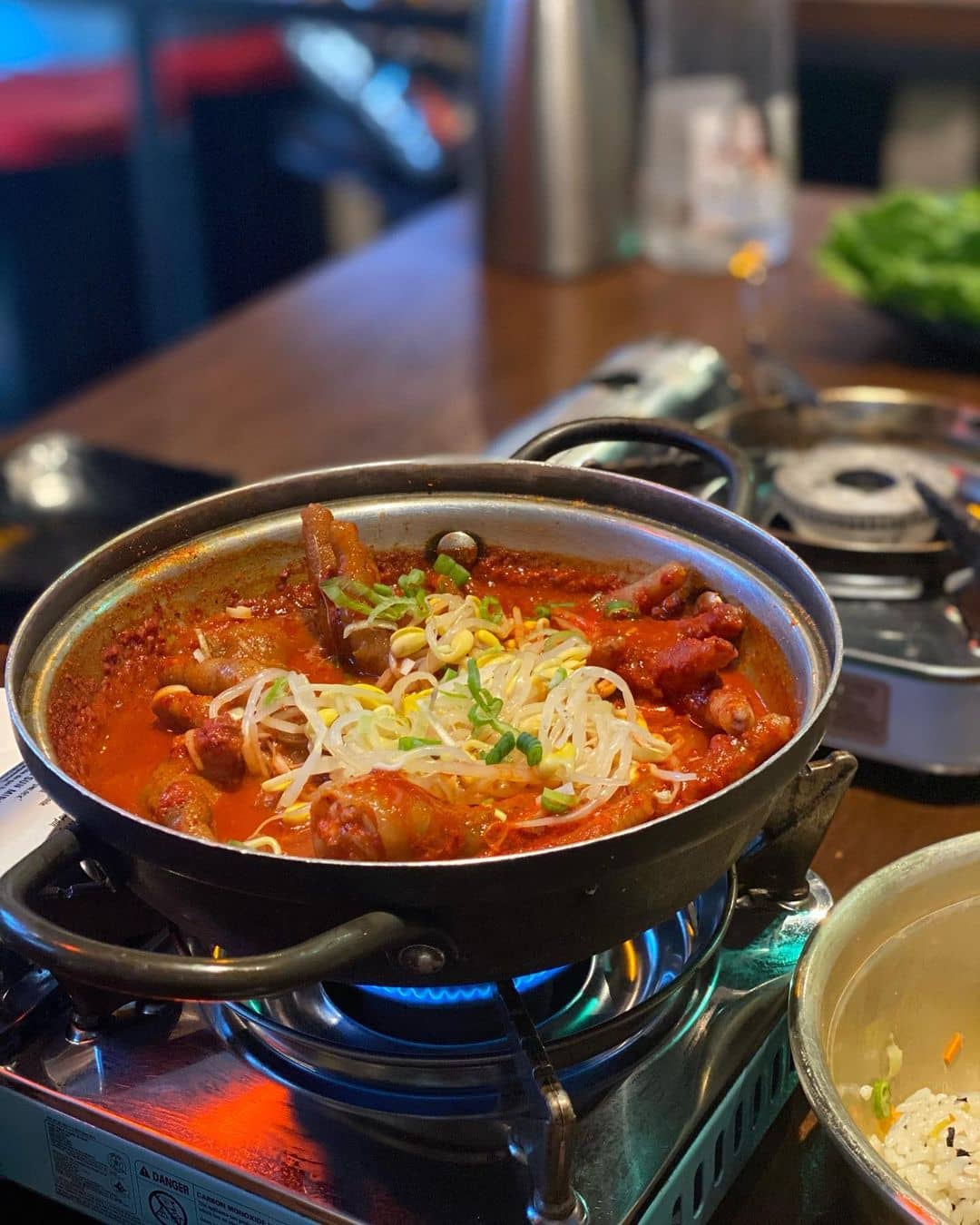 If you haven't visited Mr. Bro Korean Bistro yet, you are missing out. This is a cozy and lively izakaya (bar-type of bistro) where you can hang out with your friends after work and enjoy some drinks or Korean food.
When you get there, try out their Korean Army Jigae (Spicy Sausage Stew) that is made with an assortment of ingredients like sausage, kimchi, baked beans and spam!
You will be surprised at how filling and refreshing a spicy stew can be. Don't forget to grab a Korean seafood pancake too!
And if you want to be WOW'ed, grab their insane 51 cm long sushi roll.
What to order: Korean Army Jigae, 51 cm long sushi roll
Address: 8580 Alexandra Road Unit 2000 Richmond, BC V6X 4B3
Website | Instagram | Facebook
21. Anar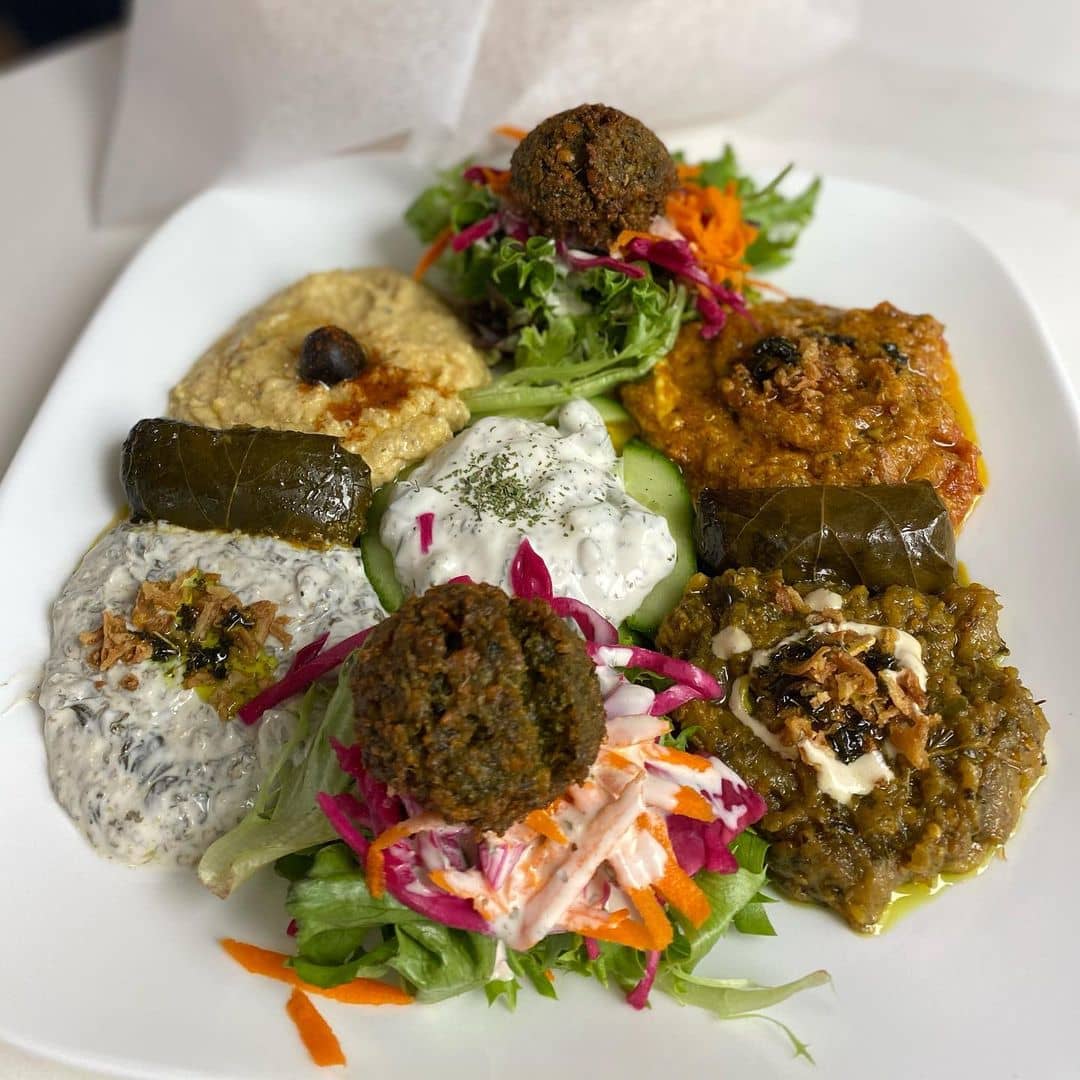 Located in a gorgeous heritage building, Anar brings to you the rich and authentic taste of Iranian cuisine, commonly known as Persian cuisine.
With influences from Turkish, Russian, and Greek cuisines, the Iranian culinary style will impress you till your last bite.
The restaurant has a laid-back atmosphere and delivers fantastic service. Anar is a must-visit place when you visit Steveston.
At Anar, you got to sample their homemade Hummus. Served with Persian bread and olives, the hummus tastes incredible, with a rich, savory, umami taste.
Adasi is a Persian lentil soup that Iranians enjoy for any meal of the day. With lentils and vegetables as its main ingredients, this soup is as healthy and as nutritious as it gets and is one of the most hearty dishes you can have in this restaurant.
Oh, did we mention that Adasi is vegan, gluten-free, vegetarian, and organic?!
When you're at a Persian restaurant, you cannot leave without trying their lamb shank dish.
Here, your option is Baghali Polo Ba Gosht – slow-cooked lamb shank served with basmati dill rice and fava beans.
The lamb shank is cooked so well that the meat falls off the bone and is extremely succulent. The dill rice is the perfect pairing for the rich meat, and everything tastes divine together.
What to order: Hummus, Adasi, Loghmeh Kabob, Baghali Polo Ba Gosht
Address: 12051 Third Avenue, Richmond, BC V7E 1K3
22. Gami Sushi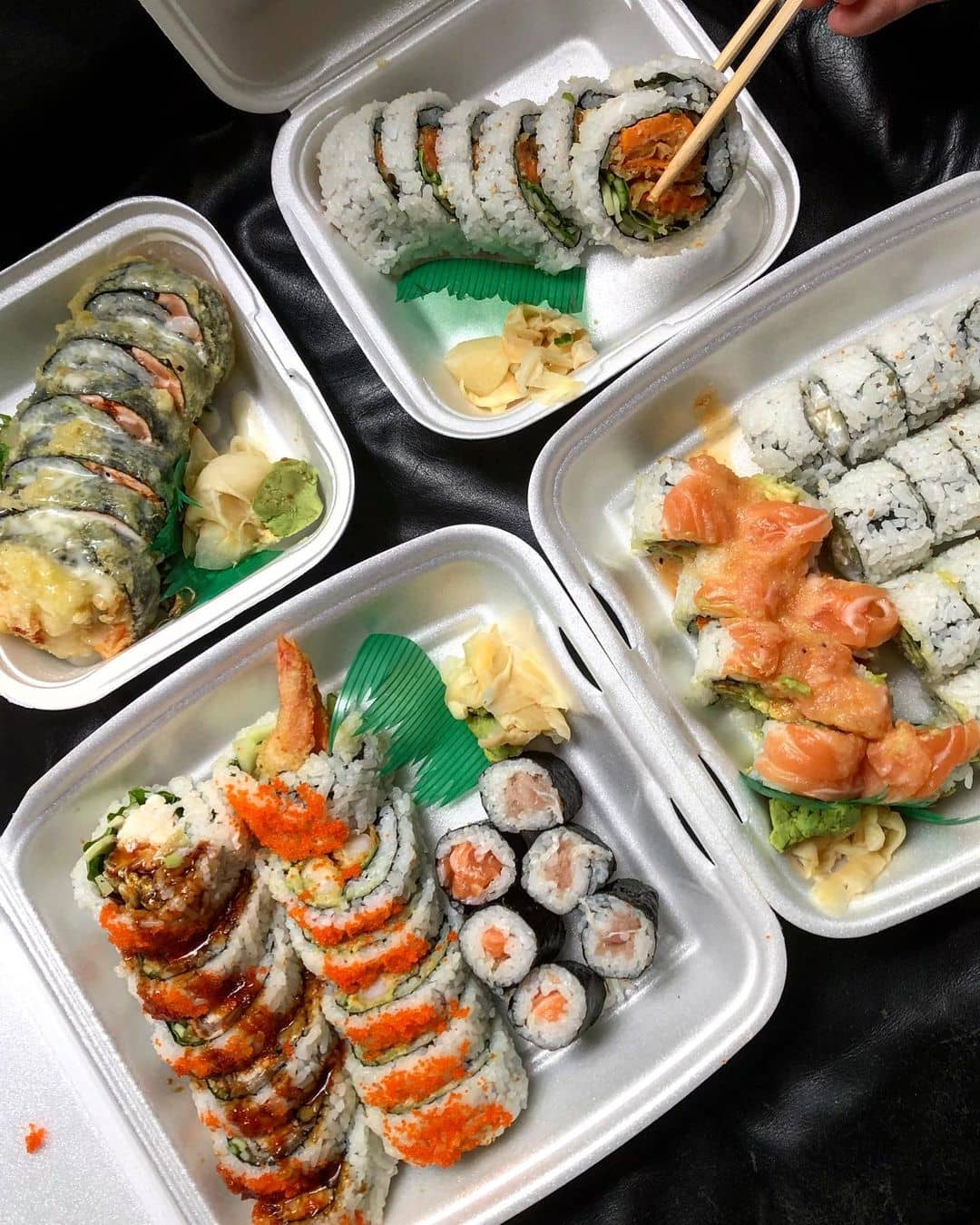 In the mood for a quick bite of Sushi? Would you like a place that serves fresh fish, is reasonably priced, and has extreme;y generous servings?
Gami Sushi is the place for you to go and eat to your heart's content.
With extremely pleasant and helpful waiting staff, a quiet atmosphere, and artistic decor in brick and stone, Gami's is one of Richmond's hidden delights.
What we love about Gami's is their faithfulness to traditional Japanese cuisine with their own playful variations.
Their Alaska Roll which is a big seller here has mashed avocado as filling, with salmon on top. You have to try their Sashimi Salad, which is always fresh and bursting with flavour.
We particularly love their Bento Box as it comes with miso soup, two gyozas, four california rolls, three pieces of tempura and a good serving of rice and teriyaki.
Tip: Gami Sushi offers a 10% discount on all orders above $30 with code GAMISUSHI
What to order: Alaska Roll, Sashimi Salad, Bento Box
Address: 10111 Number 3 Rd #126, Richmond, BC V7A 1W6
23. Timothy's Frozen Yogurt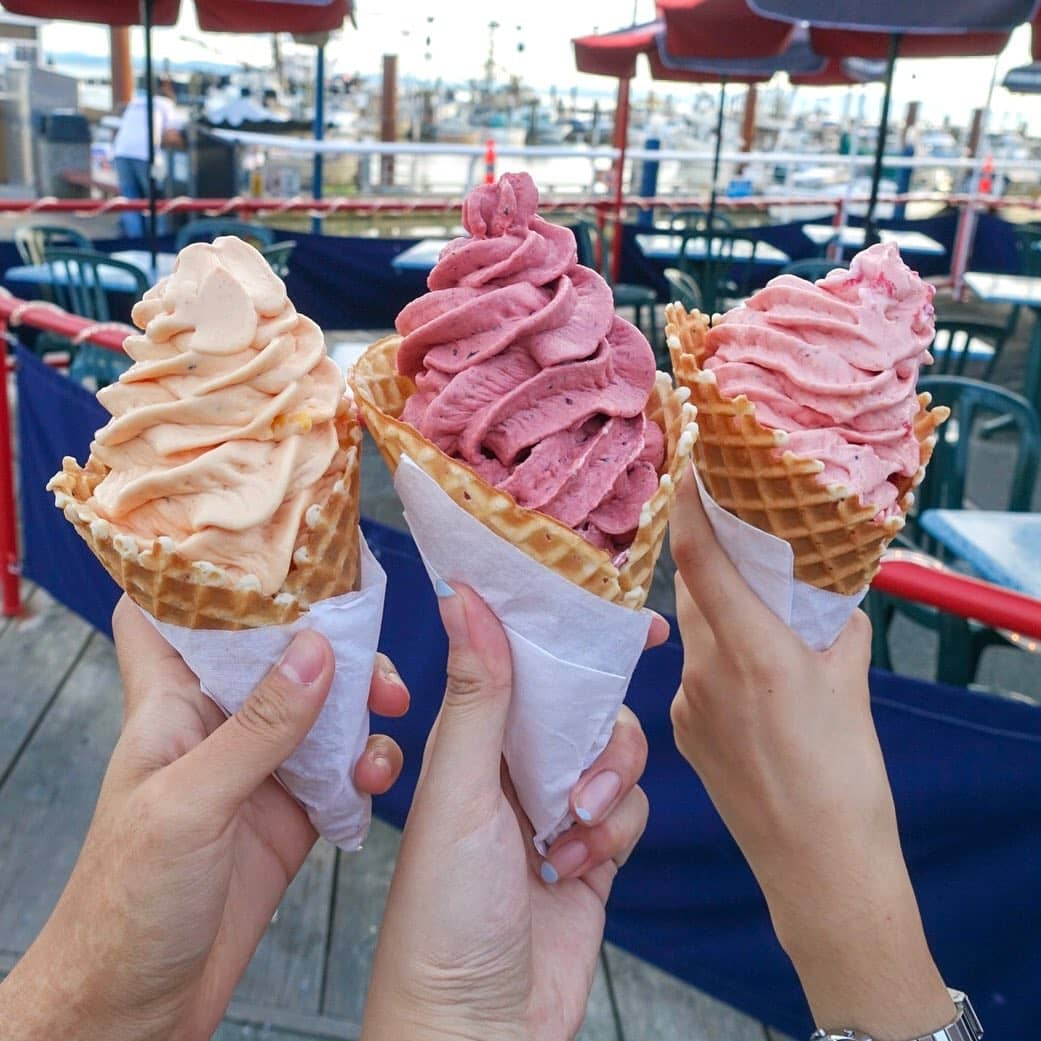 Ice cream sounds great. But do you know what is great too? Frozen yogurt!
May we introduce you to Timothy's Frozen Yogurt, a must-visit place when you are around the Steveston Village Area.
Timothy's Frozen Yogurt has been serving classic frozen yogurt and gelato in waffle cones for over 30 years. And there is a reason why they are still popular up to this time.
Besides a wide variety of ice cream and yogurt to try out, you will love their made-in-house waffle cones and fresh fruit blend for yogurt, which cause a lineup all the time!
Make sure you try Frozen Yogurt in a Waffle Cone. Super crunchy cover and slightly sweet taste, smooth texture on the inside, absolutely will make you fall in love.
What to order: Frozen Yogurt in Waffle Cone (best combos: peach & mango, mixed berries & mango, strawberry & peach, or blackberry & mango.), Salted Caramel and Chocolate Hedgehog Ice Cream.
Address: 3800 Bayview Street Richmond, BC V7E 6K7
24. Shibuyatei
Who would have known that you'd get to taste the best ramen in Richmond right next to a carwash?
Shibuyatei is a hole-in-a-wall joint that is run by a 1 man show.
Despite the location, you will surely be amazed by the quality and affordability of the items in the menu.
We highly recommend this restaurant for the fact that the ramen is all hand-made and prepared by the owner himself. Takeo San prepares the broth without MSG.
If you are ever near the area, show Takeo San some love and get yourself one of his famous bowls. Order the Larmen.
You'd be surprised that this simple ramen packs a good and hearty shoyu broth with firm noodles. It also comes with a rather thick but still very tender chashu.
Pro tip: They only serve 20 bowls per meal. If you want to get a bowl, you better come early for their lunch or dinner service.
What to order: Larmen
Address: 125 – 2971 Sexsmith Rd, Richmond, BC V6X 2H4
25. Steveston Pizza Company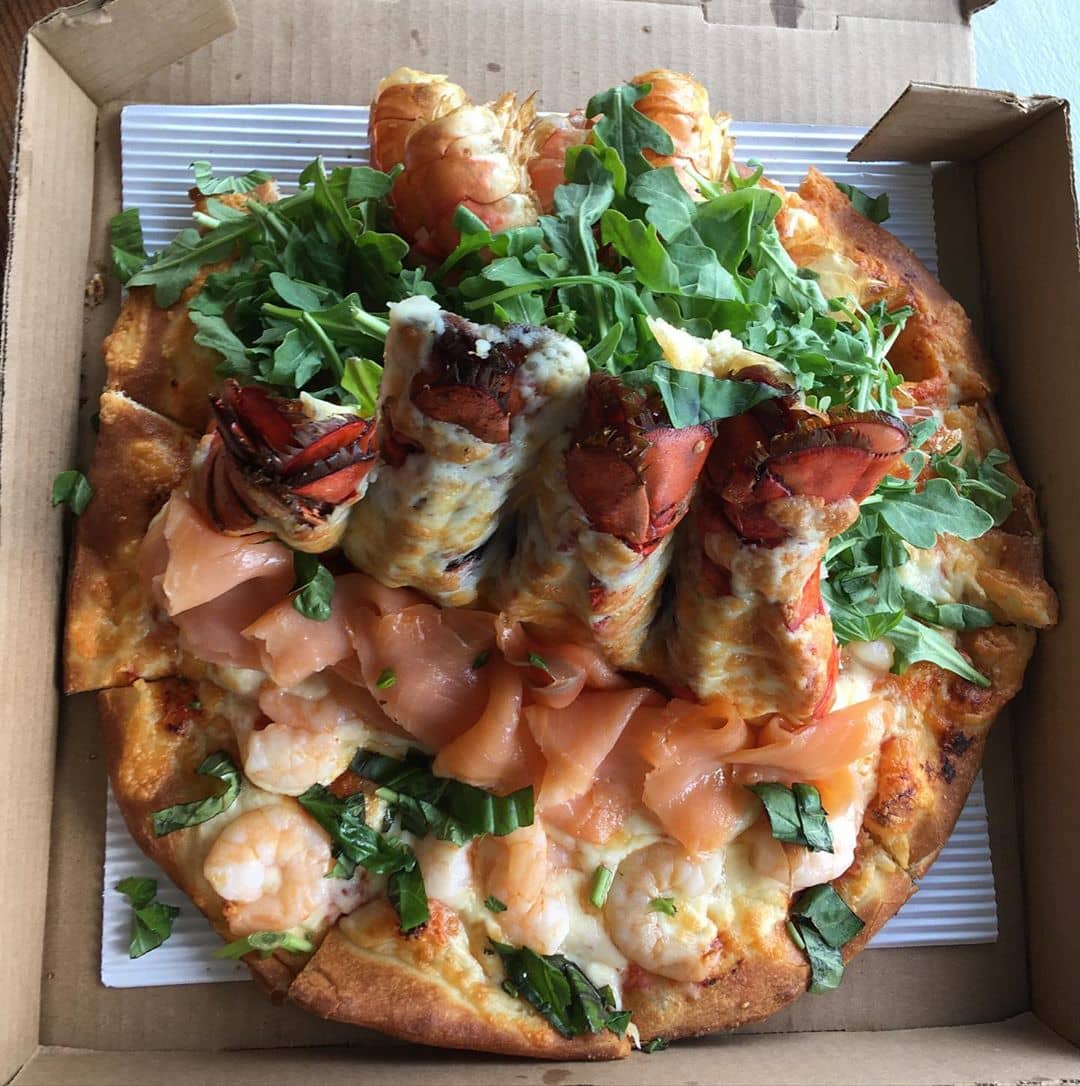 Spend a day out in Steveston and see the sights, walk along the waterfront and enjoy the views. Then, stop by Steveston Pizza Company and dig into the most incredible seafood pizzas you will ever eat! That's right.
This spot is famous for serving up divine pies with toppings that will blow your mind.
Order their Hurricane pizza, which comes loaded with Shrimp, prawns, Canadian lobster tails, and smoked salmon, or try their shrimp and crabmeat with a mean basil pesto.
If you want something more traditional, go for the Italian, which is a beautiful blend of Pepperoni, genoa salami, capicolli, olives, roasted peppers and caramelized onions.
Protip: Save some room for dessert, and ask for JJ's Cheese Cake!
What to order: Hurricane pizza, Italian pizza, JJ's Cheese Cake
Address: 3400 Moncton St #100, Richmond, BC
26. Fortune Terrace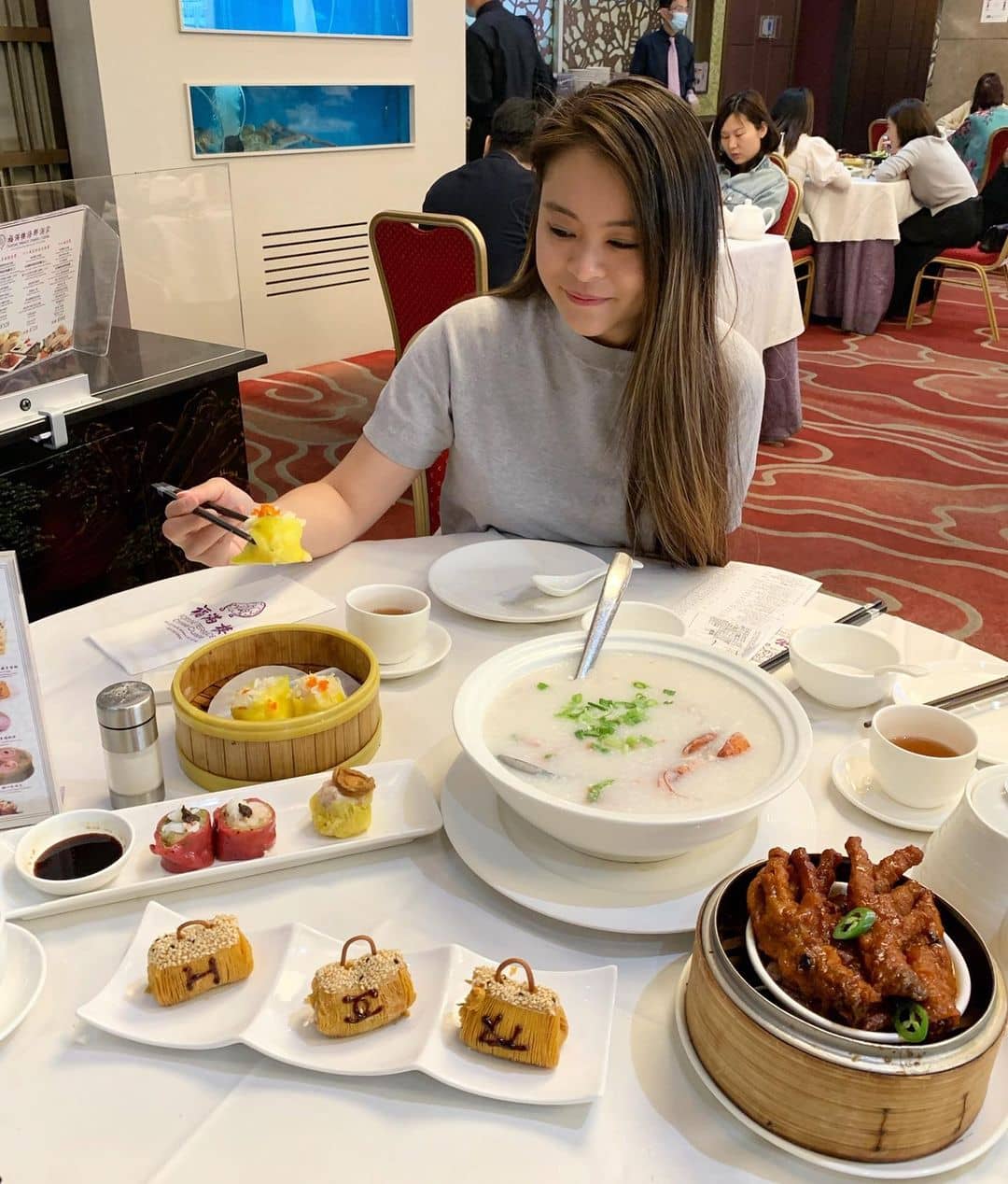 Fortune Terrace Chinese Cuisine is a must-try place if you want to experience dim sum in a non-traditional and cuter way!
They have all sorts of dim sum shaped into cartoon characters, which are very Instagram-worthy.
Plus, the decoration and interior here are bright and super fancy, ideal for a lovely hangout!
The selection is wide, but you probably shouldn't miss their Deep-fried Dry Shrimp & Pinched Meat Dumplings, Shrimp & Lobster Dumplings, and Pig Egg Young Bun.
Their dumplings are mostly cooked and seasoned to perfection, especially the Shrimp & Lobster ones, flavorful, fresh, and mouth-watering in every bite!
No meal here is completed without the sweet, vibrant taste, and soft texture from Pig Egg Young Bun.
What to order: Deep-fried Shrimp Dumplings, Pinched Meat Dumplings, Steamed Shrimp and Lobster Dumplings, Pig Egg Young Bun, Truffle Siu Mai.
Address: 130-6200 River Road Richmond, BC V7C 4N1
Website | Instagram | Facebook
Done with your food walk in Richmond?
Head to our Best Restaurants in Vancouver list to start with a new list of restaurants to try and tick off the ones that have already satisfied the foodie in you.
How We Create Our "Best" Lists
All Noms Magazine's "best" lists are created using multiple factors and signals to help readers find the best restaurants, things to do, and places to stay at. Some of these factors and signs include personal experiences, correspondence with locals, and compiling experiences from review sites.
Each list is also created to be balanced (in terms of price, cuisine type, ambiance, and more) as possible. This means that the lists are not specifically created in ranking order. You should be comfortable picking from any of the spots on the list and generally have a good time. But of course, YMMV (your mileage may vary) and everyone may have different experiences/palates.