Who doesn't like good sushi? Sushi comes in various striking colors, textures and even temperatures. So, it's no wonder why sushi is massively popular among local and tourist foodies alike.
Being a coastal city, freshness is guaranteed when it comes to Richmond sushi. But where do you go to get your sushi fix? There are a number of Japanese restaurants in the area and choosing one can be a big challenge.
To help you out with this problem, we took it upon ourselves to take this culinary quest and put together a list of the top 10 Best Richmond sushi spots just for you.
10. Matsuyama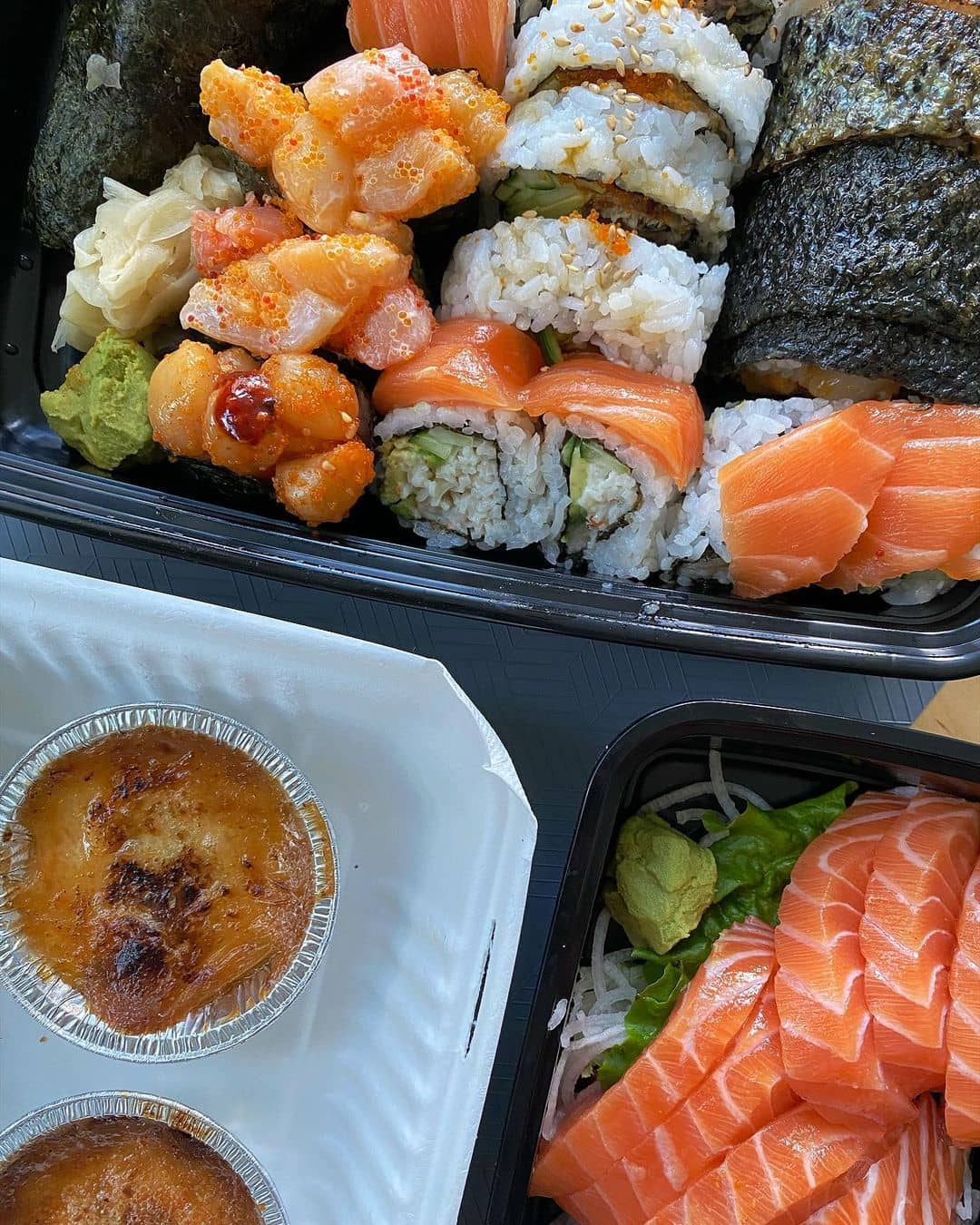 Ever had a sushi craving late at night? Well, you no longer have to suppress your hunger because Matsuyama is open pretty late daily. Vancouver locals would even make the trek to spend a busy weeknight here.
We recommend that you grab their sushi platter for a bit of everything – California roll, cucumber roll, salmon roll, dynamite roll, chicken karaage, and a whole lot more.
Pro tip: Order the deep fried banana for dessert. You will definitely thank us for this crispy banana drizzled with amazing chocolate sauce.
Pro tip 2: Their late-night specials start at 8:30 PM and go on until closing.
What to order: sushi platter, deep fried banana
Address: 8500 Alexandra Road Suite 110 Richmond, BC V6X 3L4
Website | Instagram | Facebook
9. Banzai Sushi House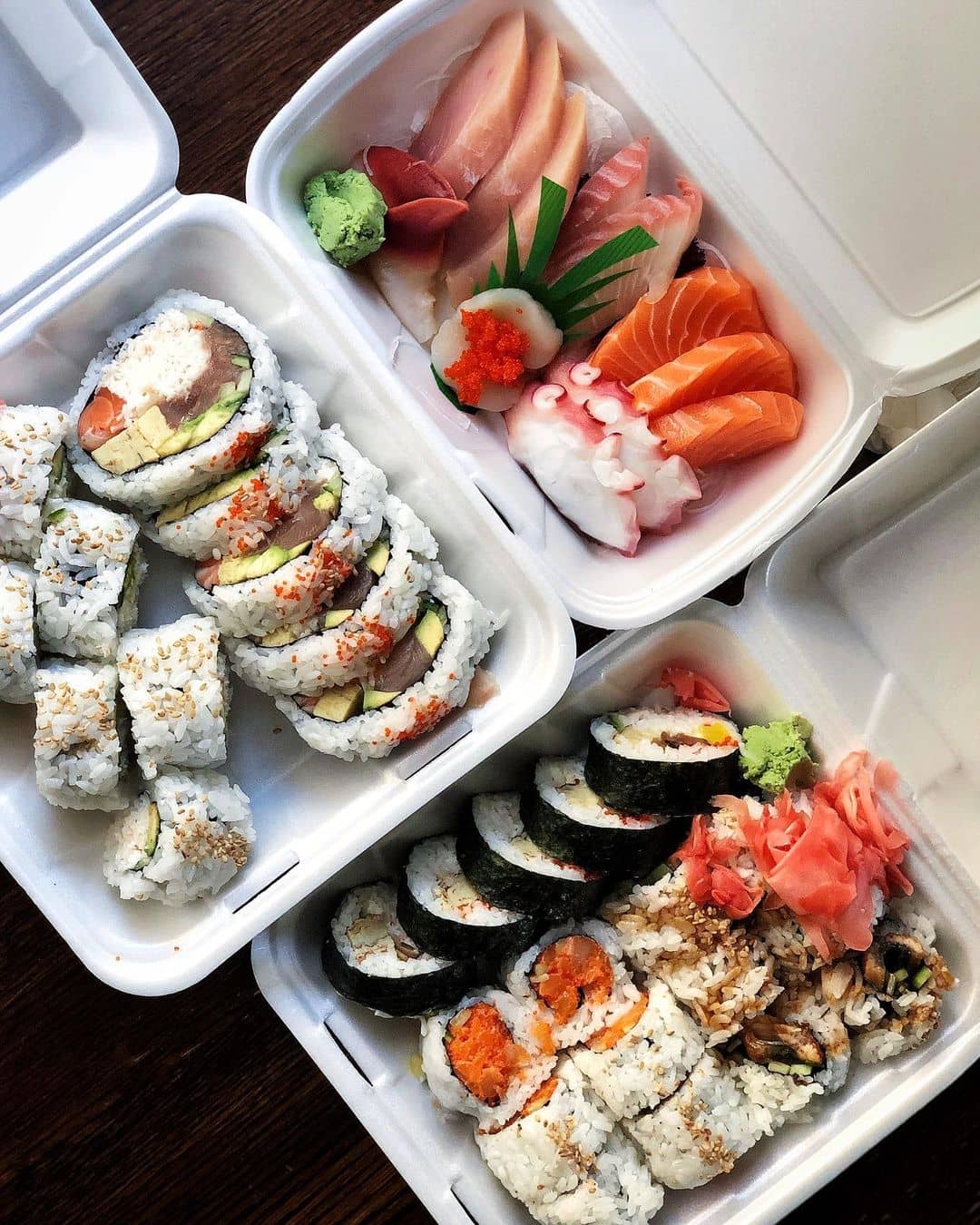 Banzai! This is a Japanese battle cry and the restaurant is aptly named because you will surely be up for a food battle! There's one thing that Banzai (same brand as Samurai Sushi in Vancouver) is known for is their MASSIVE size and price. You just can't beat them and you will definitely leave with a very full stomach.
And if you have a potluck coming up, their party trays make the perfect item to bring along.
Try out their Mixed Combo to get a taste of tuna, salmon, ebi and a choice of either Dynamite, Alaska, SSSR or BBQ Salmon roll.
Pro tip: Make sure to drop by the nearest ATM before going. They only accept cash.
What to order: Mixed Combo
Address: 8251 Westminster Highway Suite 40 Richmond, BC V6X 1A7
8. Kyabia Japanese Restaurant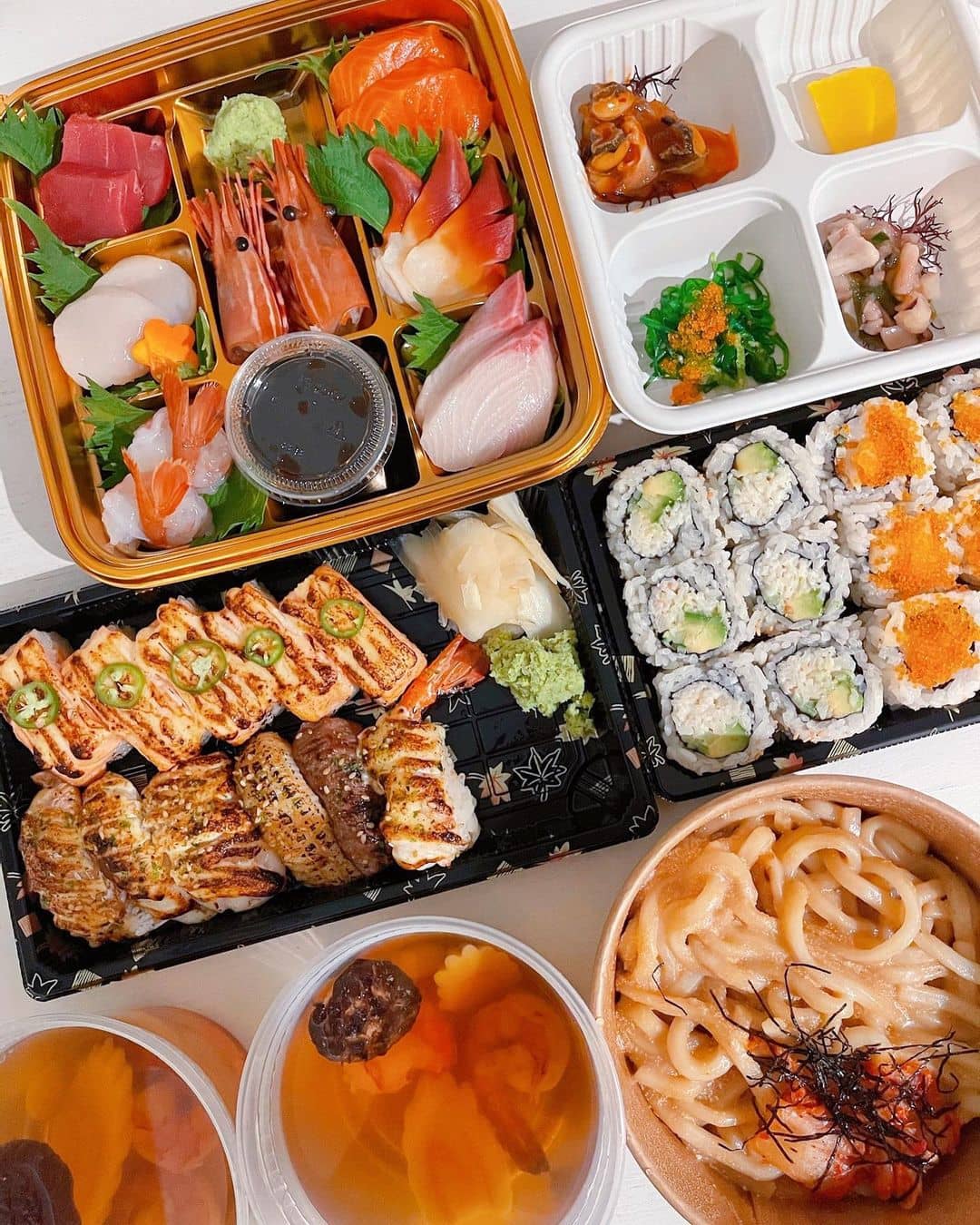 Kyabia aims to offer good food and good sake with good friends. It is a true gem that serves great sushi and once you're seated, it's not a bad idea to drink sake too!
They have all the usuals like aburi, nigiri, sashimi and sushi rolls. But if you want the best of sashimi and sushi worlds, their bentos will have what you want. The Salmon Tobiko Chaahan are super crispy and flavorful, and the Seafood Yaki Udon is sure to impress your taste buds!
What to order: Bentos, Salmon Tobiko Chaahan, Seafood Yaki Udon
Address: 1028-8300 Capstan Way Richmond, BC V6X 4B7
Website | Instagram | Facebook
7. Sushi Hachi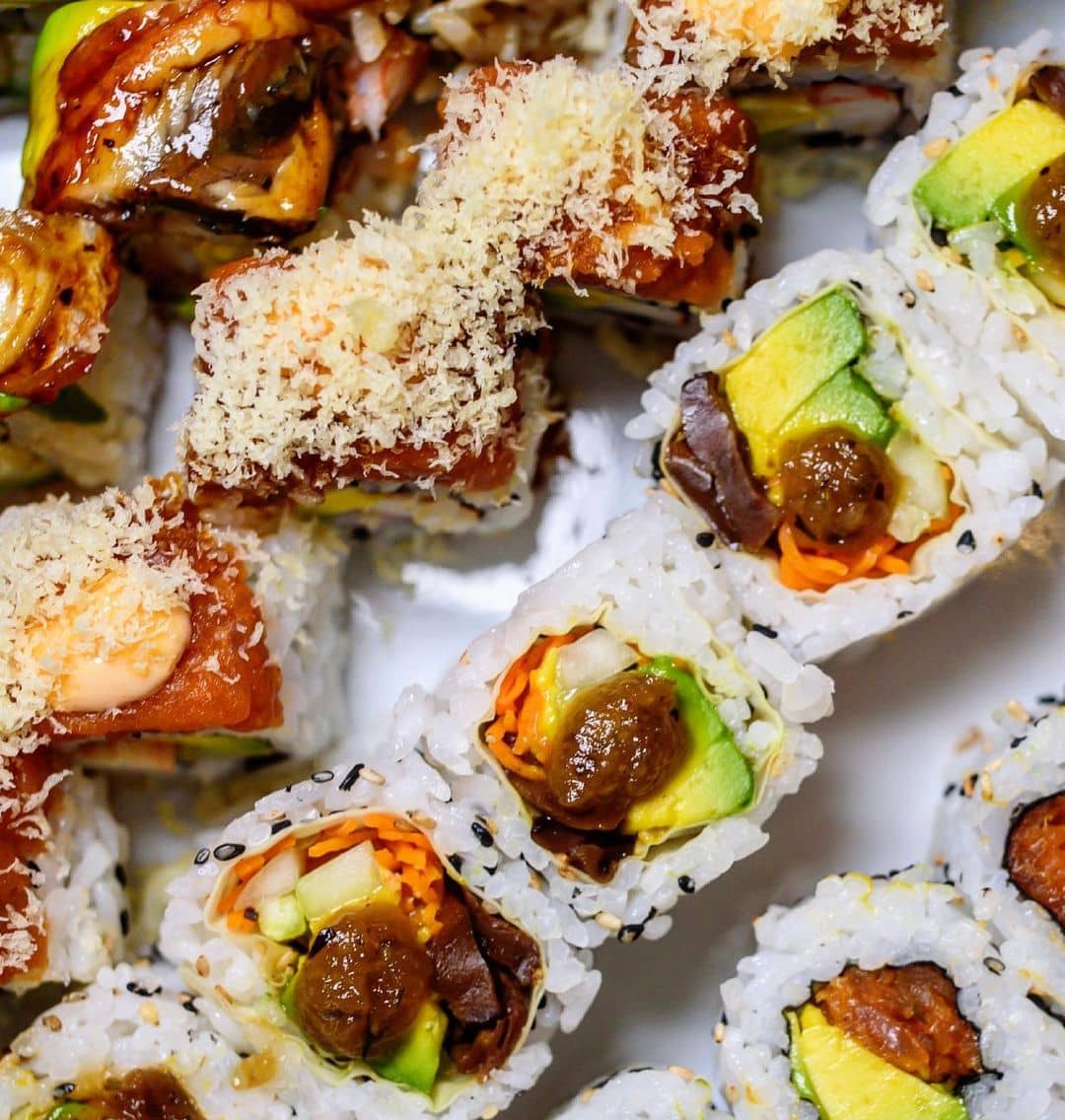 This is a small mom-and-pop sushi joint that has a homey feel to it, but don't worry about the simple looks because you can enjoy the best sushi here. To many Richmond locals, this is sort of a hidden gem for sushi.
Our recommendation? Sit by the bar to get a good view of the master at work and try the Chef's Choice with 10 pcs of assorted sashimi and 1 roll. Don't forget to get the spicy toro for a little bit of heat too!
Pro tip: They don't accept walk-ins. So, make a reservation beforehand if you don't want to go home with an empty stomach.
What to order: Chef's Choice, spicy toro
Address: 8888 Odlin Crescent Suite 1278 Richmond, BC V6X 3Z8
6. Seto Japanese Restaurant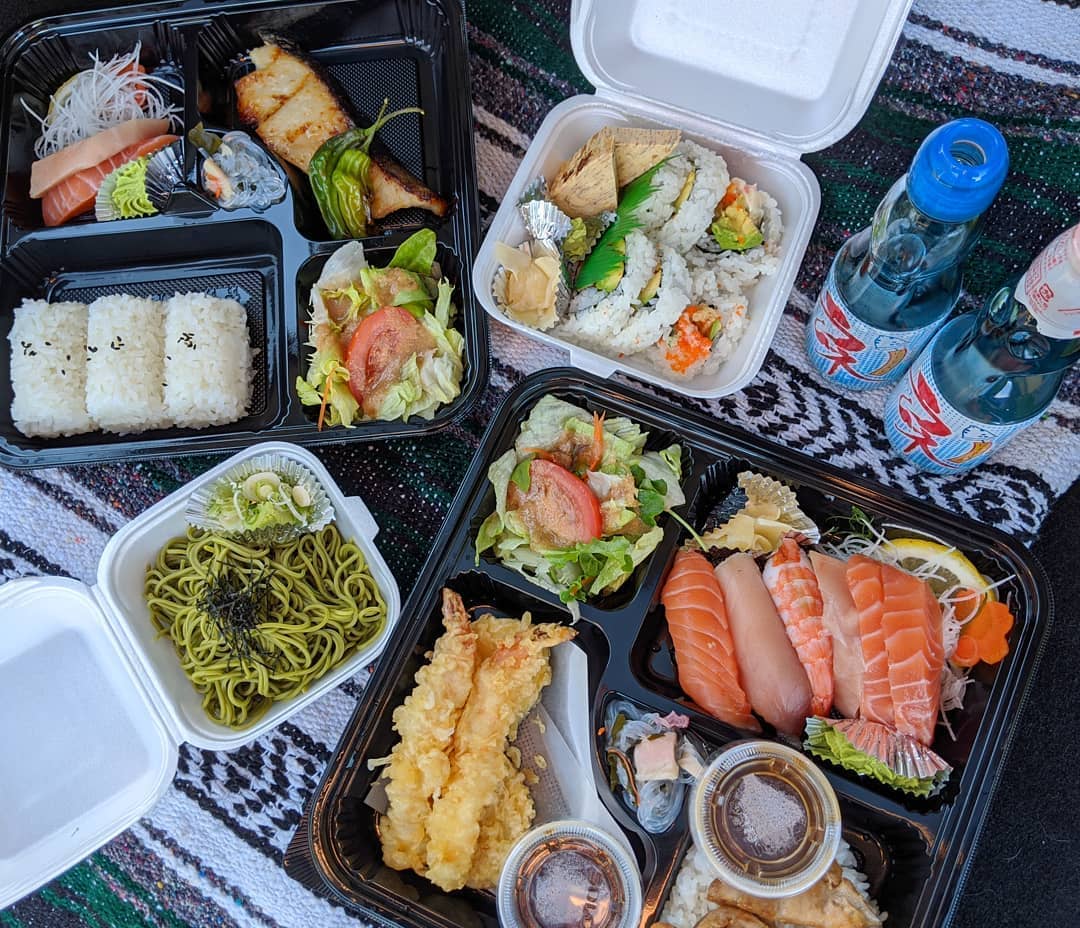 Seto is a great place to grab a fresh bite of sushi in Richmond that offers authentic Japanese experience with their classic wooden interiors. Even with humble interiors, patrons still find their way to Seto because of their superior sushi.
Our recommendation? Seto is iconic for their rich and creamy uni. So, make sure to get an order of uni sushi. While you're there, grab the Dynamite+BC+California combo for a bit of a crunch with your sushi experience. You will definitely leave with a full belly!
Pro tip: Try to sit by the sushi bar to get the full sushi experience. It's amazing to see their sushi masters at work!
What to order: uni sushi, Dynamite+BC+California combo
Address: 8460 Alexandra Road Suite 155 Richmond, BC V6X 3L4
Website | Instagram | Facebook
5. Gami Sushi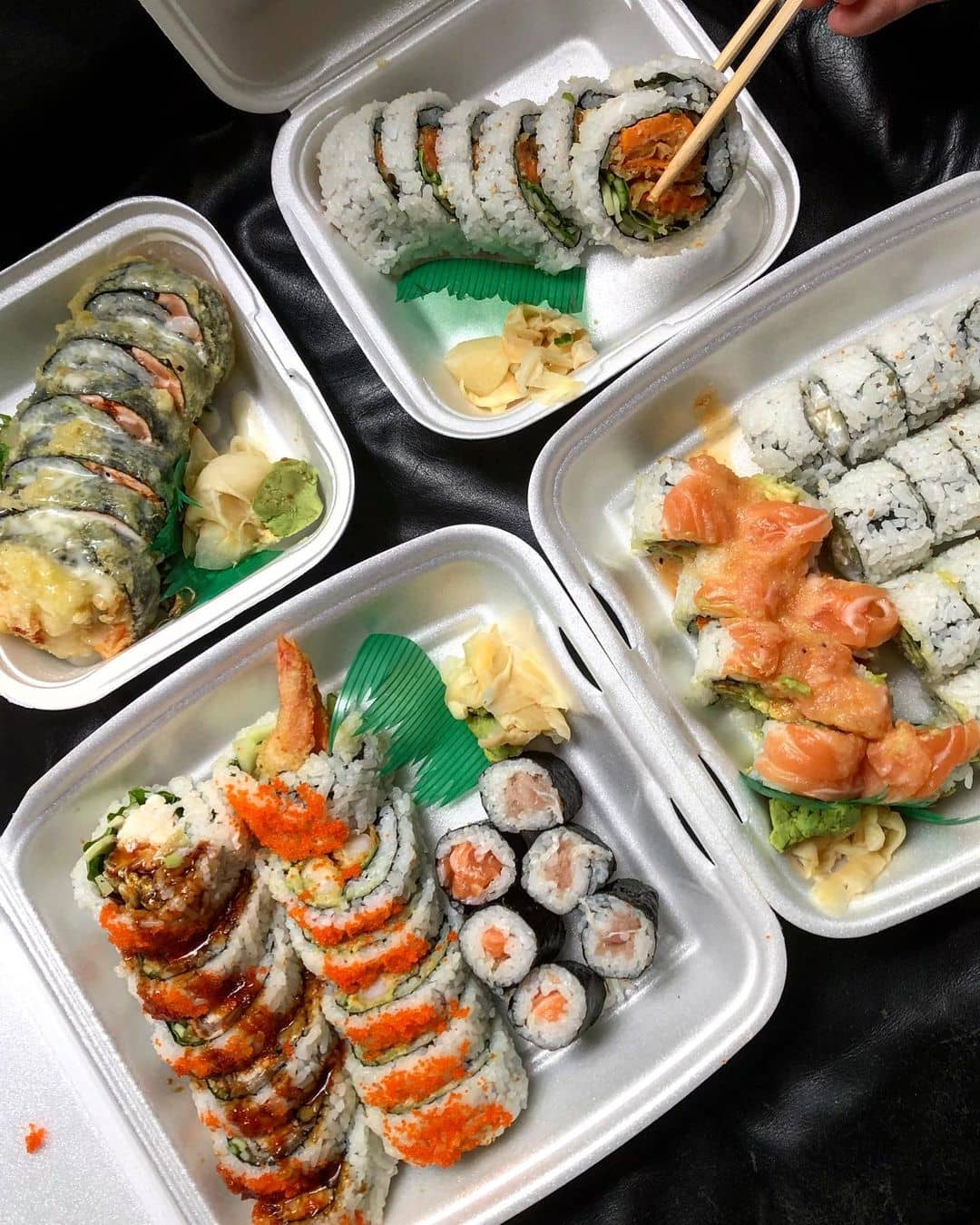 The sushi game is definitely on in Gami Sushi. Local patrons rave about their fresh seafood and amazing sushi rolls. This is a great spot for foodies looking to enjoy the epitome of Japanese cuisine.
If you don't know what to order, just the Deluxe Assorted Sushi with tuna, ebi, tako, ika, scallop, salmon and more! Vegetarians can still enjoy their sushi with their vegetarian options like the Tropical Roll and Park Ride Roll.
Pro tip: You can actually save 10% off with a take out.
What to order: Deluxe Assorted Sushi, Tropical Roll, Park Ride Roll
Address: 10111 Number 3 Road Suite 126 Richmond, BC V7A 1W6
4. Kun's Omakase Bar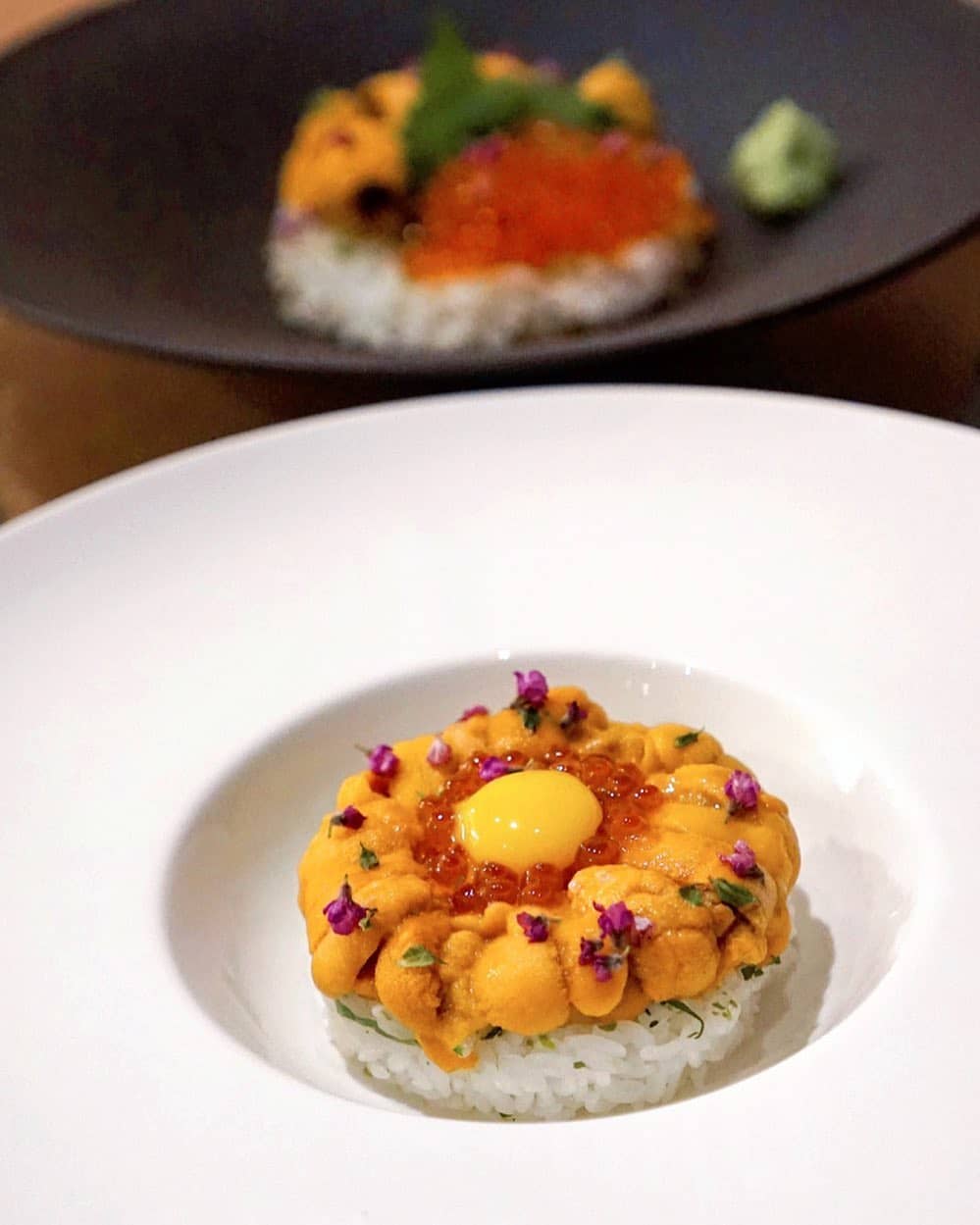 Kun's is a hidden gem situated in the heart of Steveston. It is a definite go-to sushi place for both locals and tourists alike. The ambience is great and patrons wouldn't miss a photo-op next to the koi mural during their visit.
We definitely recommend getting the Zen Signature – a bang for your buck because it has everything you need to try: nigiri, sushi, sashimi and aburi.
Pro tip: You can easily make orders and reservations through their Instagram. This can save you a lot of waiting time. It can be very busy during service!
What to order: Zen Signature
Address: 150 – 3500 Moncton Street Richmond, BC V7E 3A2
3. Takeya Sushi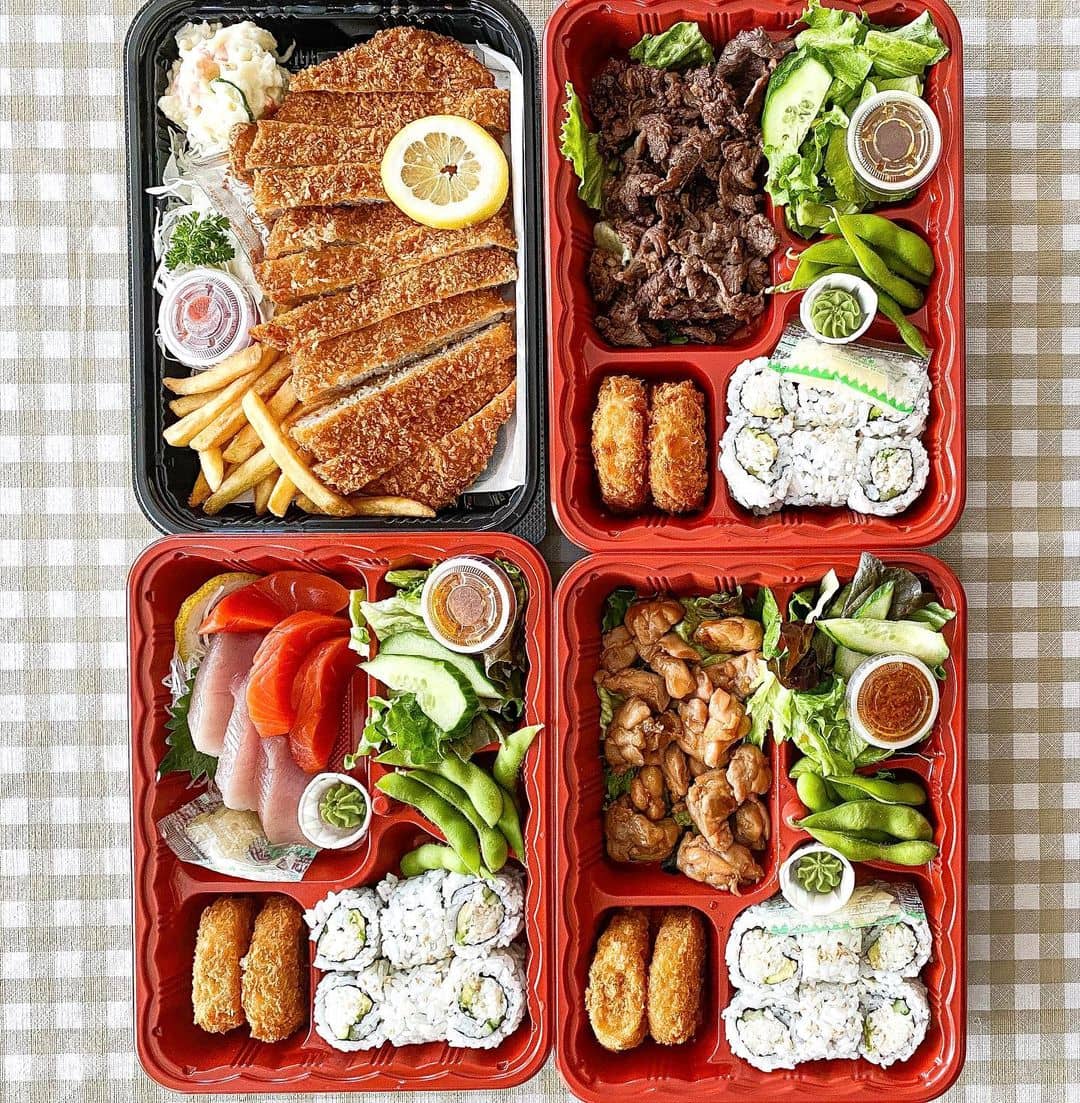 Takeya Sushi will definitely take ya to sushi heaven! Get it? Take ya. Takeya? Who would've known that the best Richmond sushi can be found in a small restaurant in a mall? The storefront may be simple but their name really says it all. They offer a huge variety of sushi options from aburi, ebi, kani and even uni.
They have 10 sushi combinations to choose from and we highly recommend the Takeya Nigiri Combo with toro, saba, amaebi and 2 kinds of sushi rolls. Have you ever heard of vegetarian sushi? Takeya definitely took it up a notch with their Green roll and Brown Sweet Potato Avocado Roll. When we say they have all the sushi options, they really have it all.
What to order: Takeya Nigiri Combo, Green roll, Brown Sweet Potato Avocado Roll
Address: Seafair Mall 17-8671 No.1 Rd. Richmond B.C.
Website | Instagram | Facebook
2. Sushi Lovers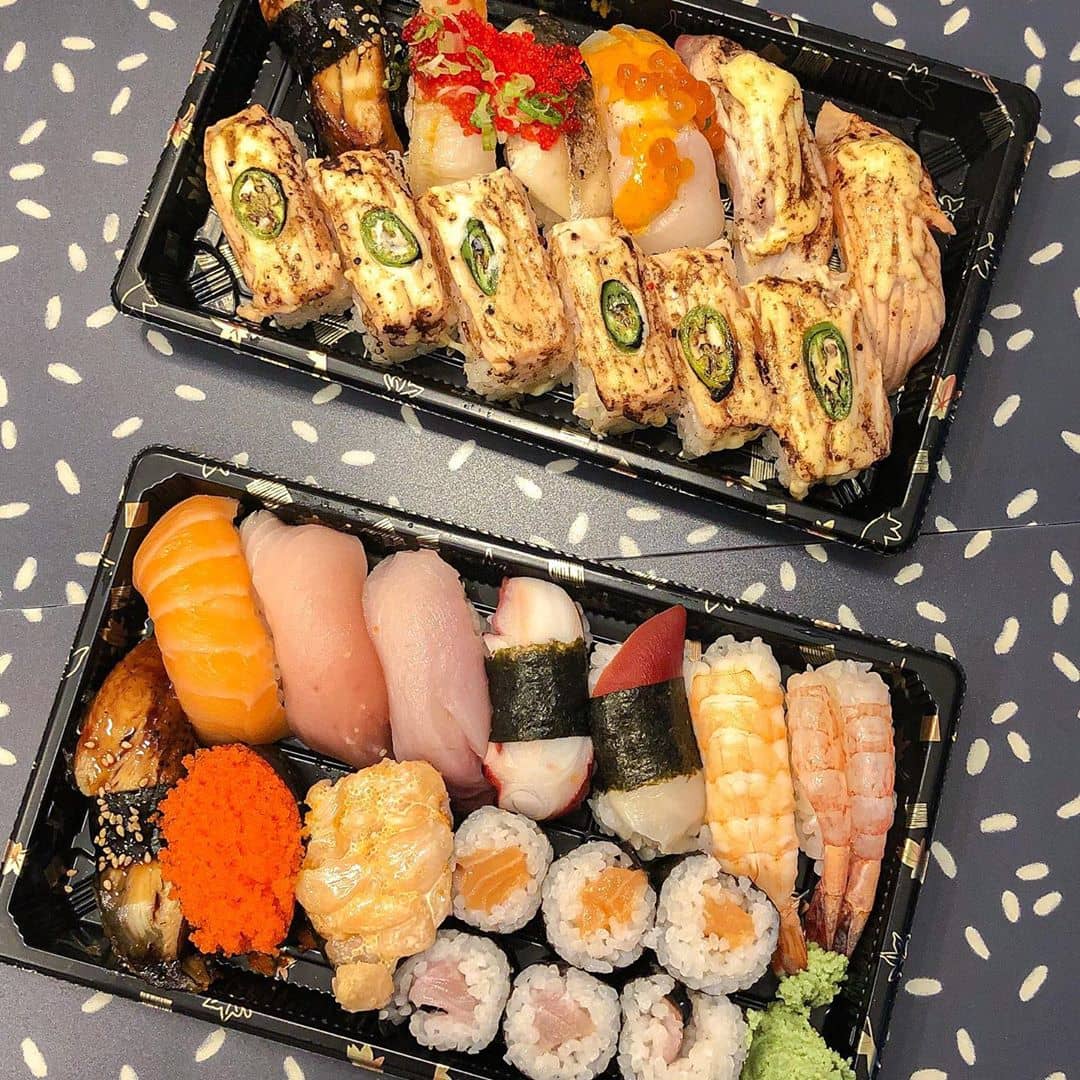 If you are looking for sushi, this restaurant's name says it all. Sushi Lovers may have a humble facade located in a strip mall that is far from the Richmond downtown, but it can cater to everyone in need of good quality sushi – that doesn't break the bank – to make their day.
Our recommendation? You will not go wrong with their Aburi Lovers Set filled with hefty portions and fresh fish seared to perfection. Don't forget to try their Mermaid Oshizushi, topped with creamy uni and the distinct texture of tobiko.
P.S. If you've got someone's birthday coming up and are looking for a birthday cake, Sushi Lovers has a sushi cake that may be up your alley…
What to order: Aburi Lovers Set, Mermaid Oshizushi
Address:170-4775 Blundell Road Richmond, BC V7C 1H2
Website | Instagram | Facebook
1. Ichiro Japanese Restaurant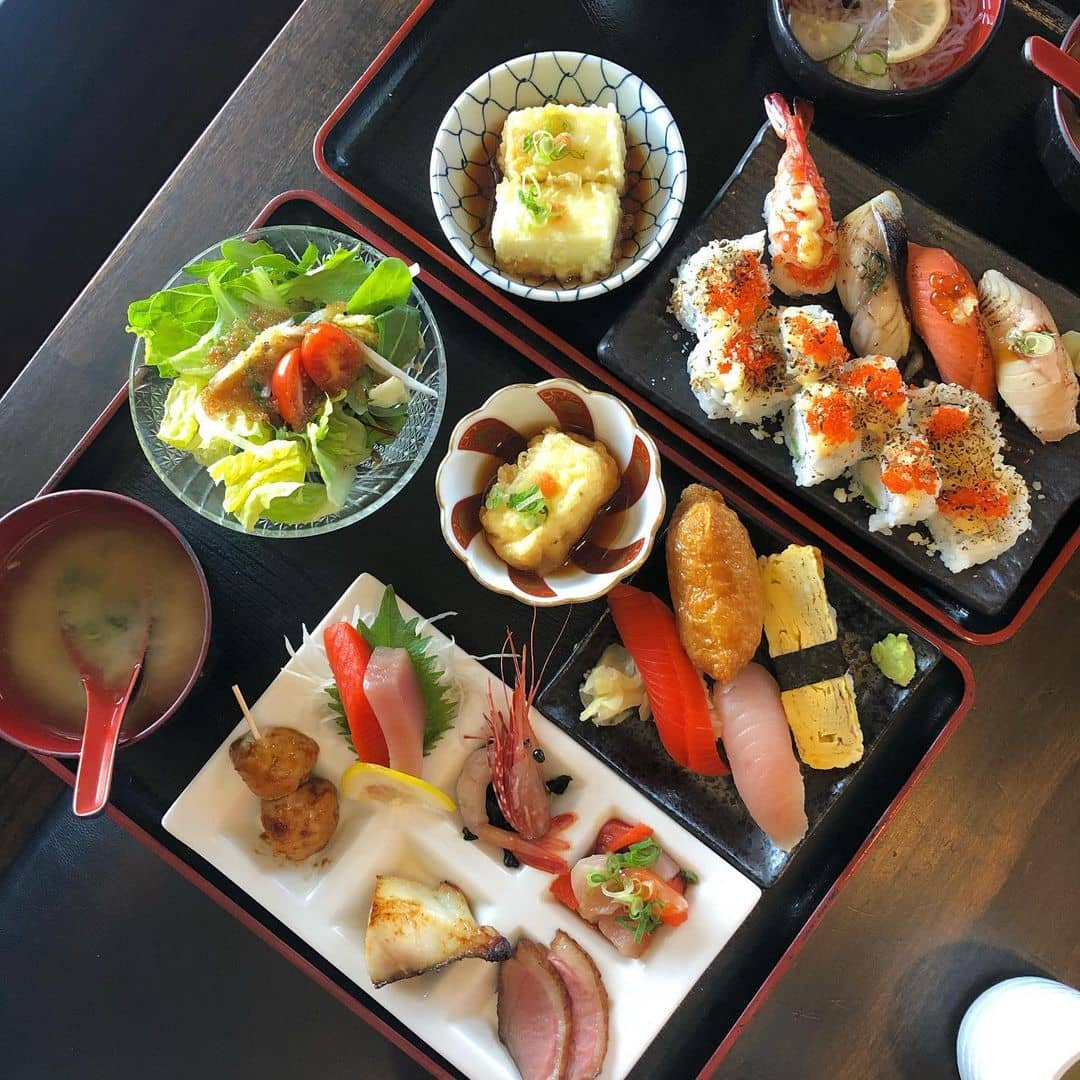 It has been 15 years since Ichiro paved the way for Japanese cuisine in Richmond. With the food they offer, there is no wonder why they have gathered a lot of patrons over the years.
You will definitely love their sushi bar – packed with the freshest seafood. If you don't know what to order, you can grab the Deluxe Assorted Sushi with salmon toro, red tuna, squid, hamachi, shrimp, chu-toro, BBQ eel, salmon maki, tuna maki and salmon roe.
This way, you'd be able to get a taste of a bit of everything from sushi rolls to nigiris. 
Pro tip: The place is always packed! Make sure to make a reservation before heading over.
What to order: Deluxe Assorted Sushi
Address: #110-12011 2nd Avenue Richmond, B.C., Canada V7E 3L6
Website | Instagram | Facebook
It's a blessing to have a number of Japanese restaurants in Richmond. But it can be hard to find a good one, so we hope our list helps you get the best sushi in town and find your favourite Japanese restaurant to frequent.
Craving for something else? Check out our list for the best bubble tea in Richmond.
How We Create Our "Best" Lists
All Noms Magazine's "best" lists are created using multiple factors and signals to help readers find the best restaurants, things to do, and places to stay at. Some of these factors and signs include personal experiences, correspondence with locals, and compiling experiences from review sites.
Each list is also created to be balanced (in terms of price, cuisine type, ambiance, and more) as possible. This means that the lists are not specifically created in ranking order. You should be comfortable picking from any of the spots on the list and generally have a good time. But of course, YMMV (your mileage may vary) and everyone may have different experiences/palates.