Nestled between the tranquil waters of the Salish Sea, Victoria is famous for its proximity to a bounty of fresh seafood and fish. So it comes as no surprise that Victoria is home to many top-notch sushi restaurants, from creative modernist cuisine, authentic traditional sushi, or the Pacific Northwest's unique take on fusion. Whatever you're craving, you're sure to find something to whet your appetite in Victoria!
Here is the guide on the 12 best sushi restaurants in Victoria that will satisfy your sushi cravings and what you should order at each spot. Let's jump right in!
1. Gozen Sushi Bar Izakaya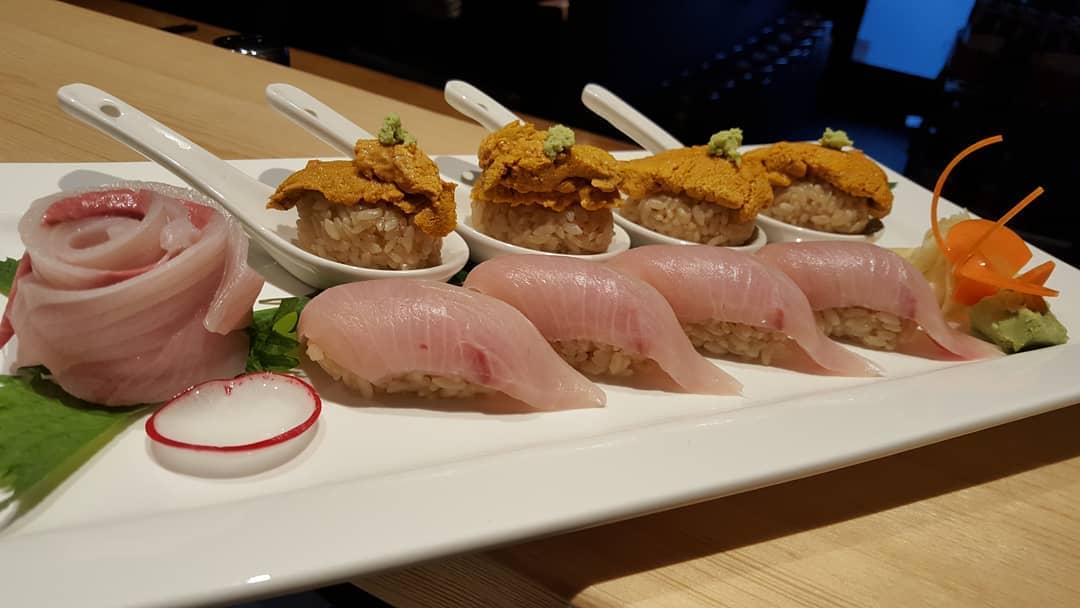 After a long walk around Government Street, maybe you will want to stop and rest at this cozy Japanese restaurant, where it's all about good food, a warm atmosphere, nice wine, and quality time with your beloved ones.
Gozen Sushi Bar Izakaya's food is not only a fest for the belly but also a fest for the eyes. The presentation is spectacular and very Instagram-y, you'll be seduced at the first sight! Must-try here includes Sashimi Special, which is phenomenal, and Salmon Bowl. They are super fresh with a soft-bouncing texture that is hard to resist.
For rolls, never miss their Pop Corn Roll, which comes with avocado, crab meat, prawn tempura, deep-fried chopped scallops, yam bits, and fish roll on top. Tasty and oh-so-good in every bite!
What to order: Salmon Bowl, Chicken Yakisoba Gozen, Pop Corn Roll, Sake Yaki, Aburi Sake Oshizushi, Unagi Flame Roll
Address: 1005 Langley St, Victoria, BC V8W 1V7
Website | Instagram | Facebook
2. Sen Zushi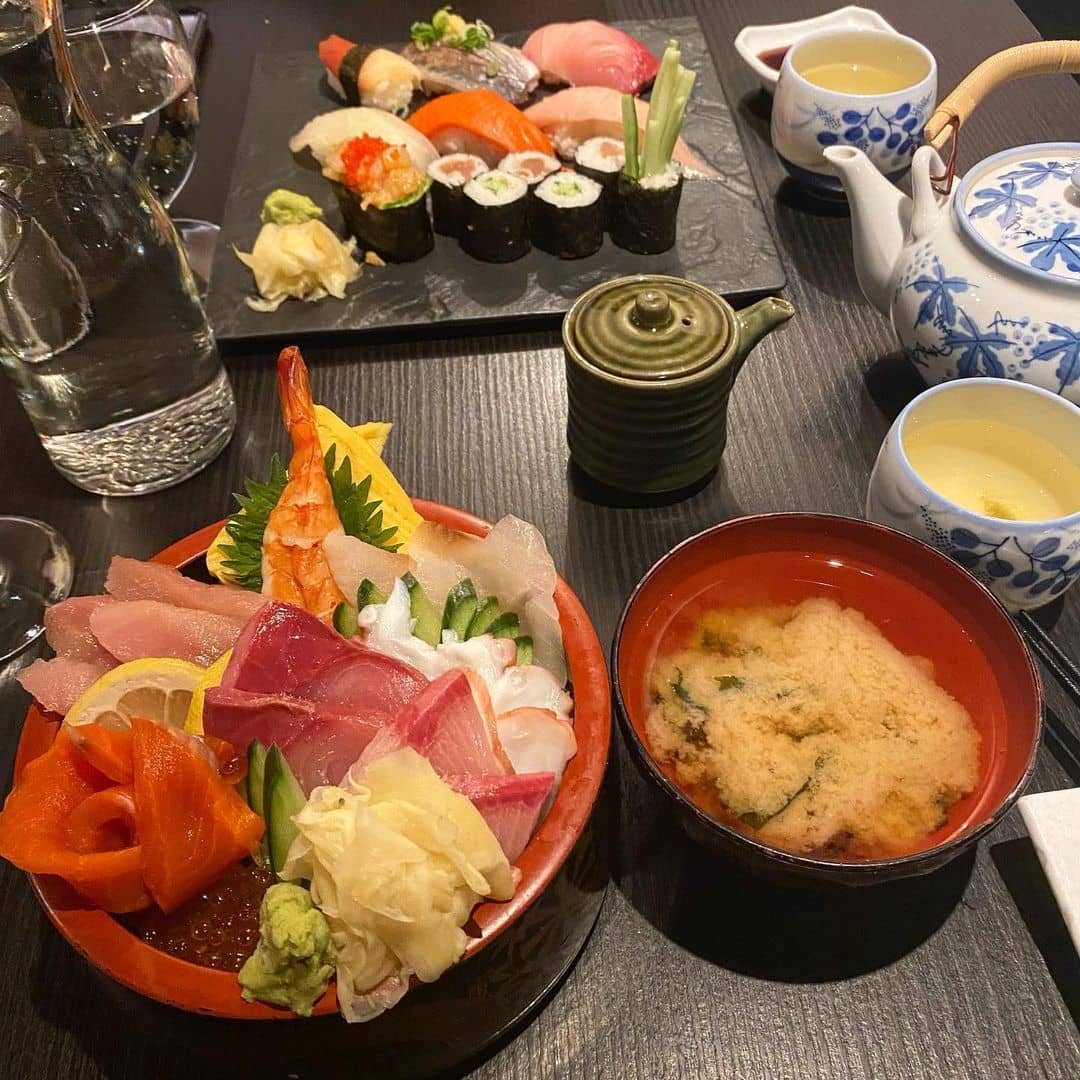 Taking pride in ensuring an authentic Japanese taste and experience with a mix of both traditional and contemporary dishes, Sen Zushi is your next go-to for the tastiest Japanese food on Fort Street. Pay a visit and be impressed by their wide choice of sashimi, sushi rolls, grilled fish, udon noodles, and premium sake.
It's always ideal to start with Snow Crab Sunomono Salad, simple, and refreshing with a sweet-tangy taste that comes from cucumber, seaweed, rice vinegar, and snow crab. Continue to feast your palate with their Sunset Roll, light yet flavorsome with avocado, imitation crab, salmon, and topped with smoked salmon.
Accomplish your meal with Tuna Tataki, the delicate, gently-seared tuna on a bed of greens, cucumber, and onions with ginger ponzu sauce that is decadent till the last bite!
What to order: Snow Crab Sunomono Salad, Spicy BBQ Salmon Roll, Sunset Roll, Tuna Tataki, Chirashi Sushi.
Address: 940 Fort St, Victoria, BC V8V 3K2
Website | Instagram | Facebook
3. Nubo Japanese Tapas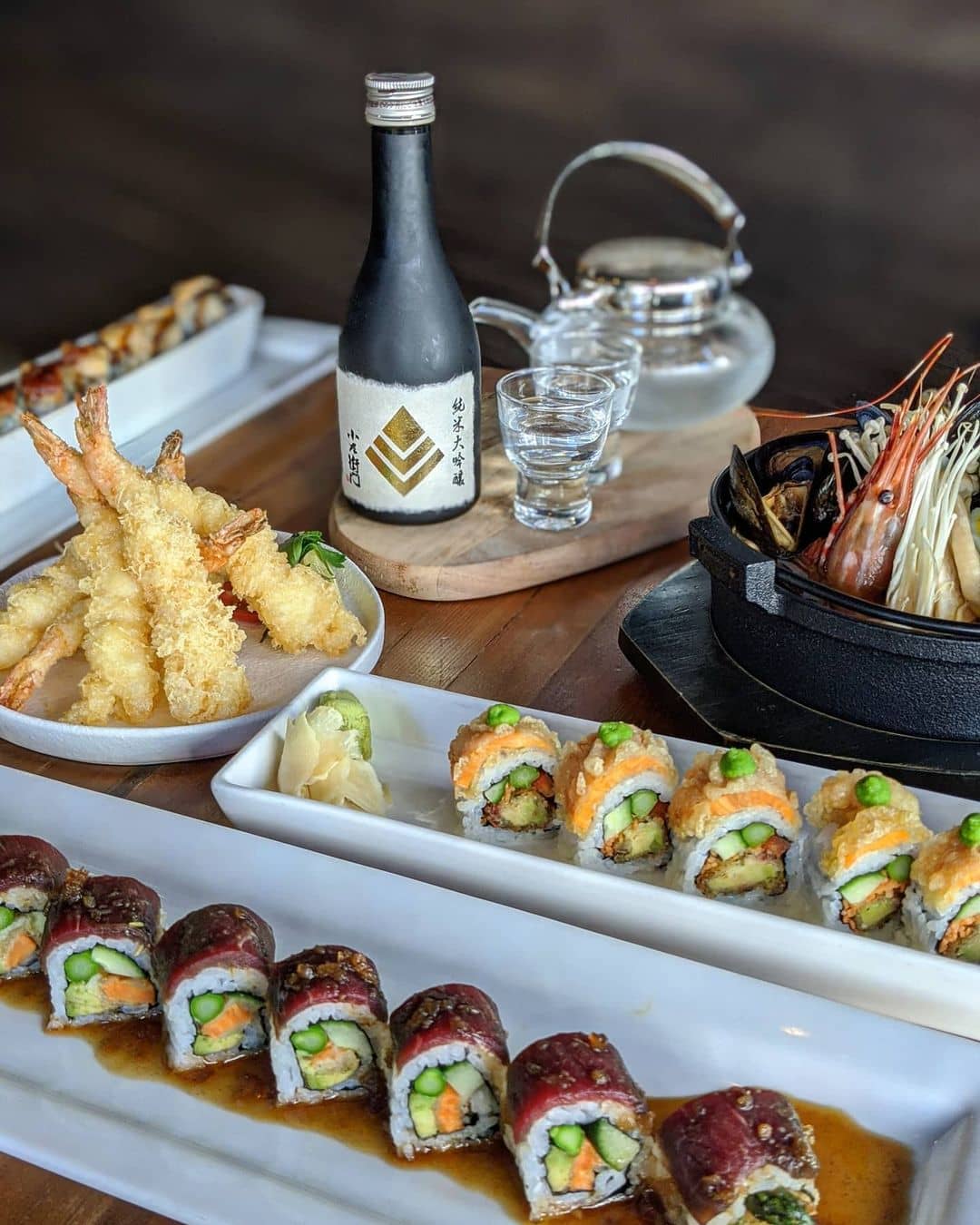 Famous for its innovative new-style Japanese cuisine, Nubo Japanese Tapas is where you'll experience the one-of-a-kind fusion of traditional Japanese cuisine with South American flavours by Chef Nobu Matsuhisa. So, whenever you demand something extraordinary and want to dine at one of the best restaurants in Victoria for a special occasion, think of Nubo.
Since the very first day, the Seafood Togarashi has been Nubo's favorite dish. Savory with a hint of spices, Seafood Togarashi consists of mussels, prawns, squids pan-fried with bokchoy, and oyster sauce. A few lime drops to complement seafood, and you're all set! Can't get enough of raw seafood? Pacific Sashimi is sure to satisfy you.
Nubo is also known for its creative rolls, so once you're here, don't hesitate to go for the Fisherman's Roll and Yoga Flame Roll. While the Fisherman's is spicy and flavor-packed with spicy tuna, sliced hamachi, and 7-spice aioli; the Yoga Flame is way more delightful with unagi, crab meat, and veggie.
What to order: Seafood Togarashi, Fisher Man Roll, Yoga Flame Roll, Pacific Sashimi, Nabeyaki, Sanuki Udon
Address: 739 Pandora Ave, Victoria, BC V8W 1N9
Website | Instagram | Facebook
4. Uchida Eatery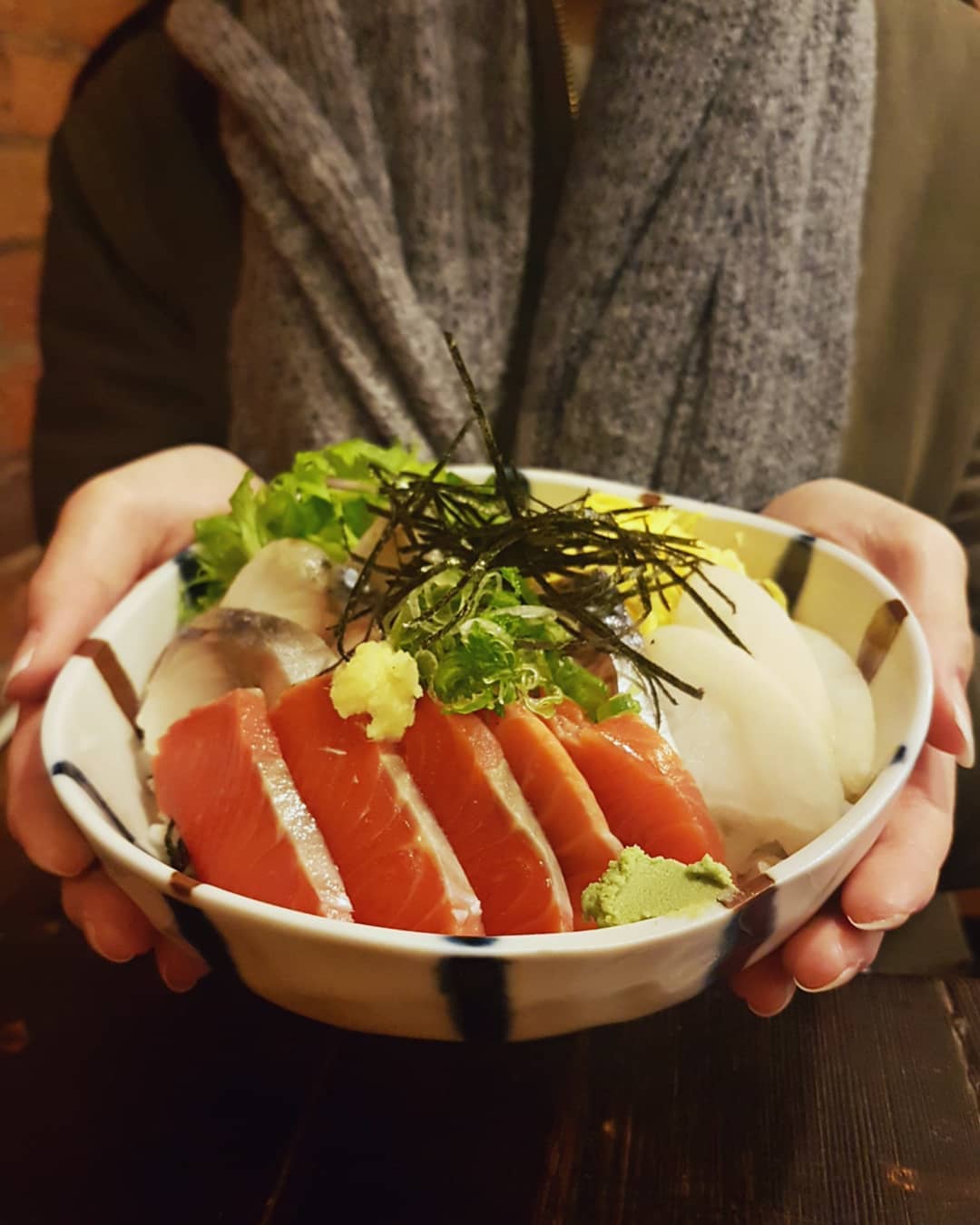 Uchida Eatery is one of Victoria's best-kept secrets due to its handcrafted sushi with the finest ingredients and special opening hours: only three hours during lunch. So, if you want to eat at this cozy, little gem, you have to be pretty organized. And don't be so surprised to see this place is full of Japanese people, because their food is authentic and remarkable!
They feature a rolling menu that is updated daily to take advantage of the fresh and seasonal products, but there are two that remain stable time after time: Tuna Zuke Don and Assorted Sashimi Don. Those top-notch tastes will never let you down!
While the Tuna Zuke Don has a rich and distinctive umami flavour with fresh sashimi grade tuna marinated in house sauce and topped on a bed of rice, greens, nori, ginger, and wasabi; the Sashimi Don is seafood heaven with all sorts of raw, fresh seafood.
What to order: Tuna Zuke Don, Assorted Sashimi Don, Negitoro Don, Grilled Sockeye Salmon Collar, Grilled Miso Salmon.
Address: 633 Courtney St, Victoria, BC V8W 1C1
Website | Instagram | Facebook
5. ENe Raw Food and Sake Bar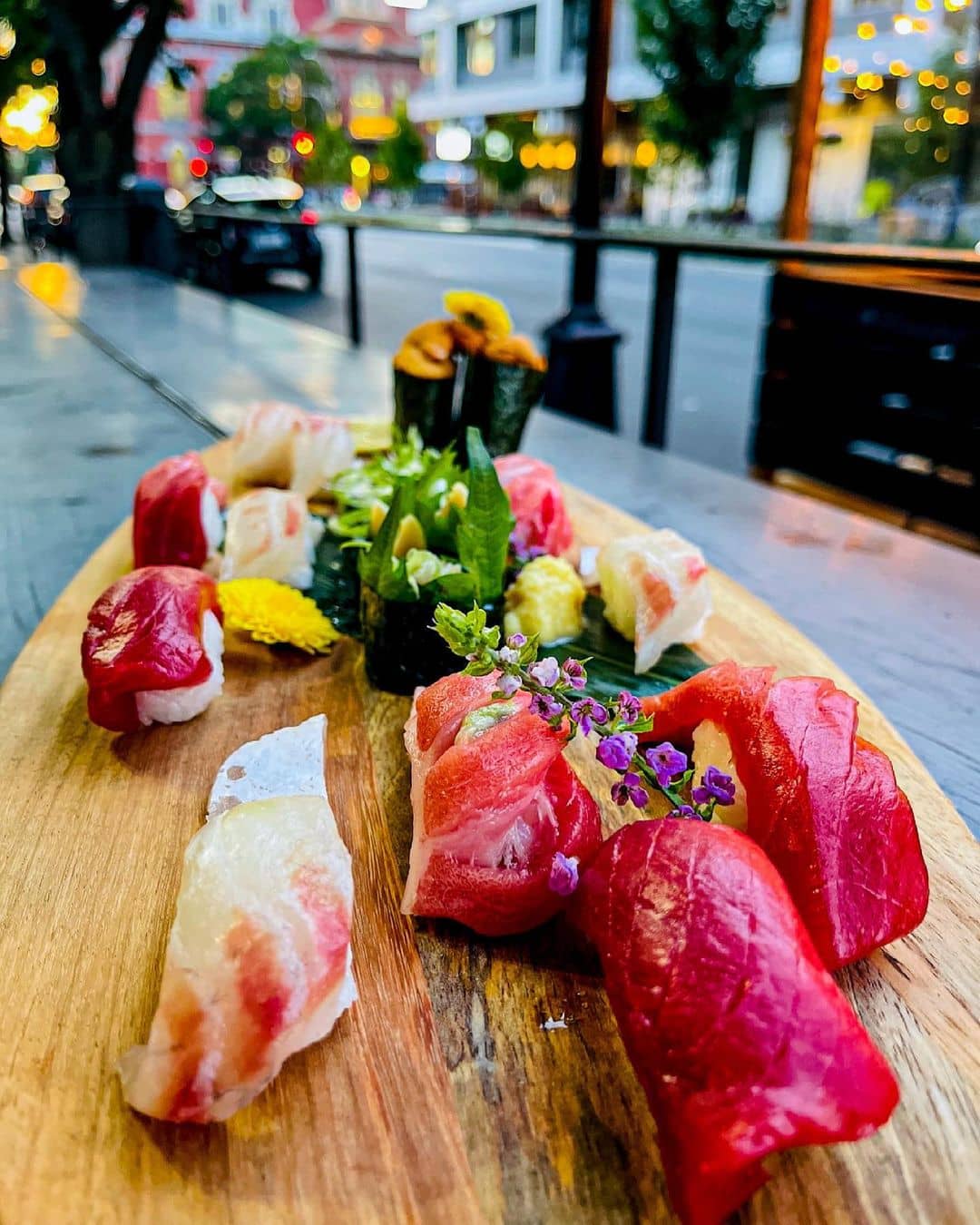 Sushi and Sake have always been an irresistible couple. If you're a fan of this, pay a visit to ENe and satisfy your appetite with the most mouthwatering sushi dishes and the widest sake selection! Not only the food and wine are crazy good but the cozy, wooden furniture will have your heart as well.
Treat yourself right with their top-notch Omakase Shokado, which comes with nine small plates of recommended random raw and cooked food. We're sure that you will have an unforgettable experience by trying new things. By the way, the decoration is super adorable and can't be seen anywhere else!
If you're here so the sake, settle down with their Sake Flights, from which you will experience the magnificence of flavor during four different flights, some with a smooth and clean taste and some delightfully sweet, which leave you with a comfortable feeling!
What to order: Omakase Shokado, Sake Flights, Tori Gyoza, Katsu Sando, Soft Shell Crab Salad
Address: 737 Pandora Ave, Victoria, BC V8W 1N9, Canada
Website | Instagram | Facebook
6. YuaBistro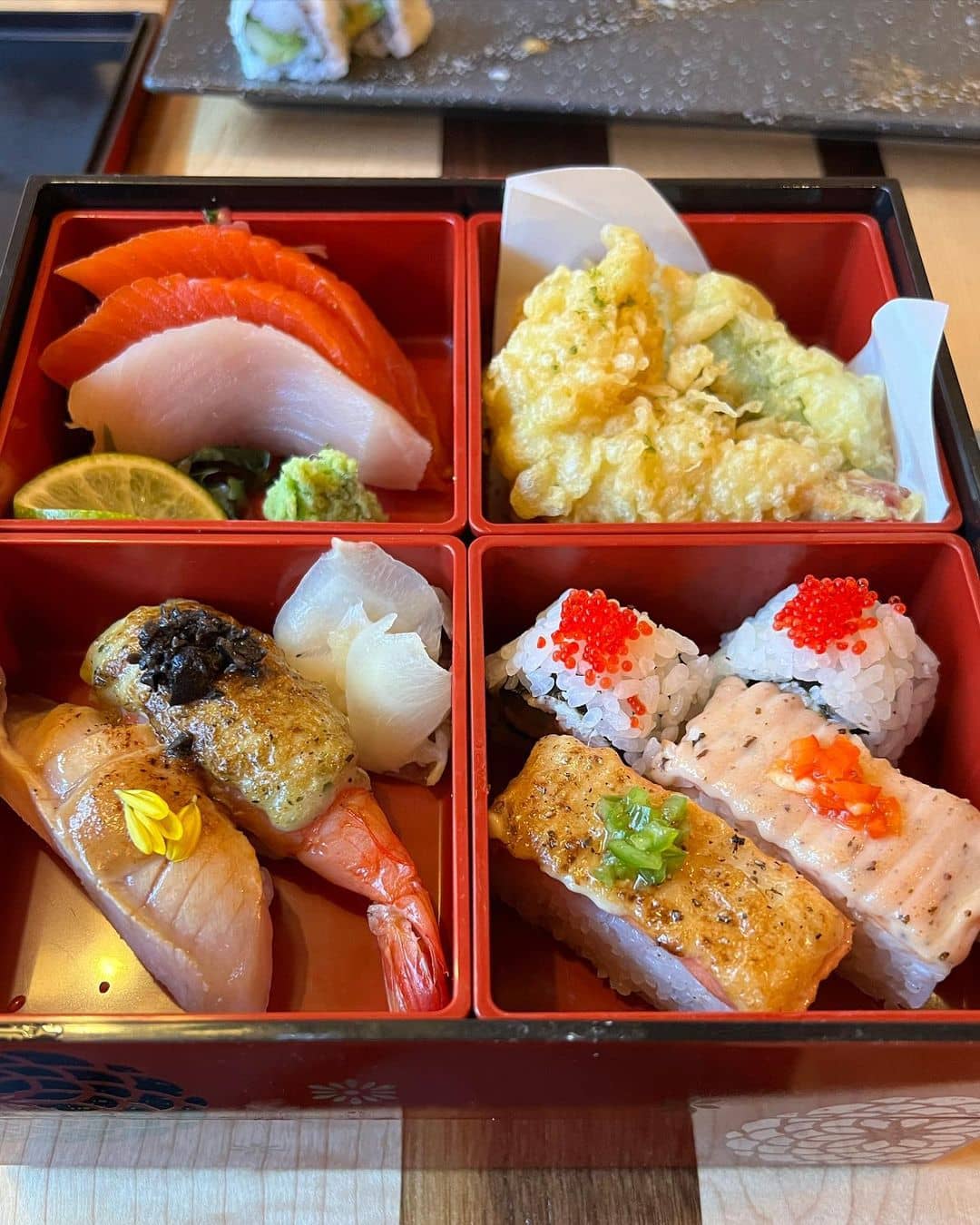 If you've ever thought sushi is all about raw seafood, then Yua Bistro is about to introduce you to a whole new concept: Vegan Sushi. You probably expect vegan sushi to be a bit plain and boring, but you will be blown away by the presentation and its unique taste! Being a perfect spot for a casual hangout, or even a romantic date night, Yua Bistro will undoubtedly be your next favourite go-to!
Besides vegan choices, Yua also offers a wide savory dishes that are irresistible. Settle down with their two best sellers: Vegetable Roll and Veggie Soba Yaki. Your taste buds will thank you for this! The roll comes up with asparagus, bell pepper, avocado, beet, radish, and veggie toppings, which are fresh, light tasting yet tasty with side sauce; while the stir-fried noodle is packed with flavors and full of veggies.
For a savory option, you might want to try Red Town Roll – a flavor bomb with real crab meat, avocado, pickled radish, house-made yuzu sauce, and spicy sauce on top!
What to order: Japan Saba, Aburi Sashimi Platter, Salmon Oshi, Red Town Roll, Vegetable Roll, Veggie Soba Yaki
Address: 622 Fisgard St, Victoria, BC V8W 1R6
Website | Instagram | Facebook
7. Sushi Story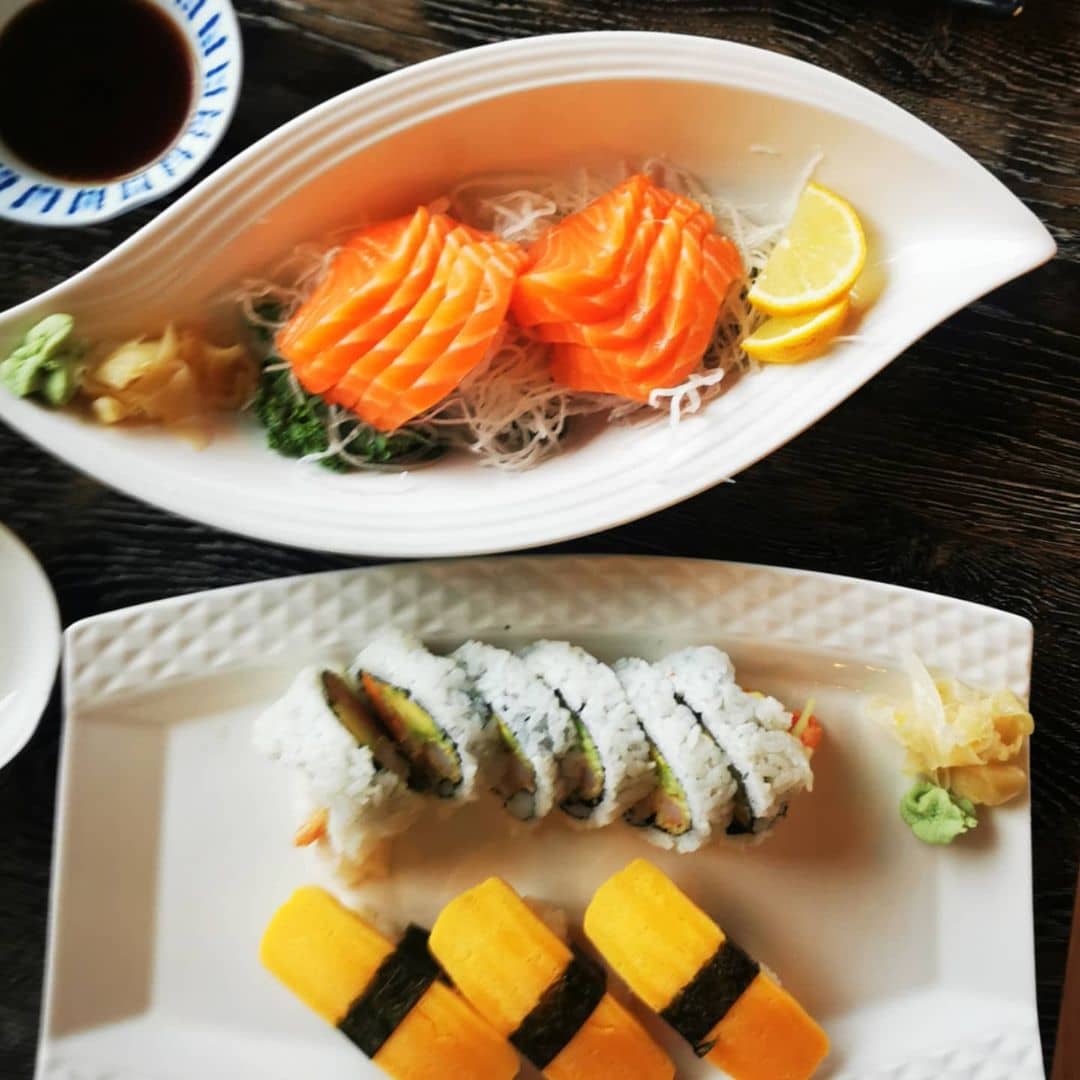 Craving stunning rolls in Victoria? Sushi Story is here to the rescue! Being a cozy and welcoming spot on Head Street, Sushi Story is the place where you'll find your favourite special rolls, sashimi, and bento. Whether you're coming for a quick lunch, family gathering, or a casual meeting, this place is gonna nail it!
Highlights of the menu include Torch Girl Roll and Sakura Combo. The Torch Girl Roll consists of veggie, crab meat, cream cheese, topped with seared salmon, and drizzled with motoyaki sauce, spicy mayo, and unagi sauce. Every bite is bursting with flavours, and the presentation is appealing as well!
The Sakura Combo is perfect to share among a group, with the 3 most popular vegan rolls: avo-mango roll, veggie roll, and cucumber roll. Refreshing yet surprisingly tasty!
What to order: Spicy Salmon Pizza, Salmon Teriyaki, Tuna Sashimi, Aburi Toro Nigiri, Sakura Combo, Mega Lobster Roll
Address: 1-612, Head St, Victoria, BC V9A 5S8
8. Shizen Japanese Restaurant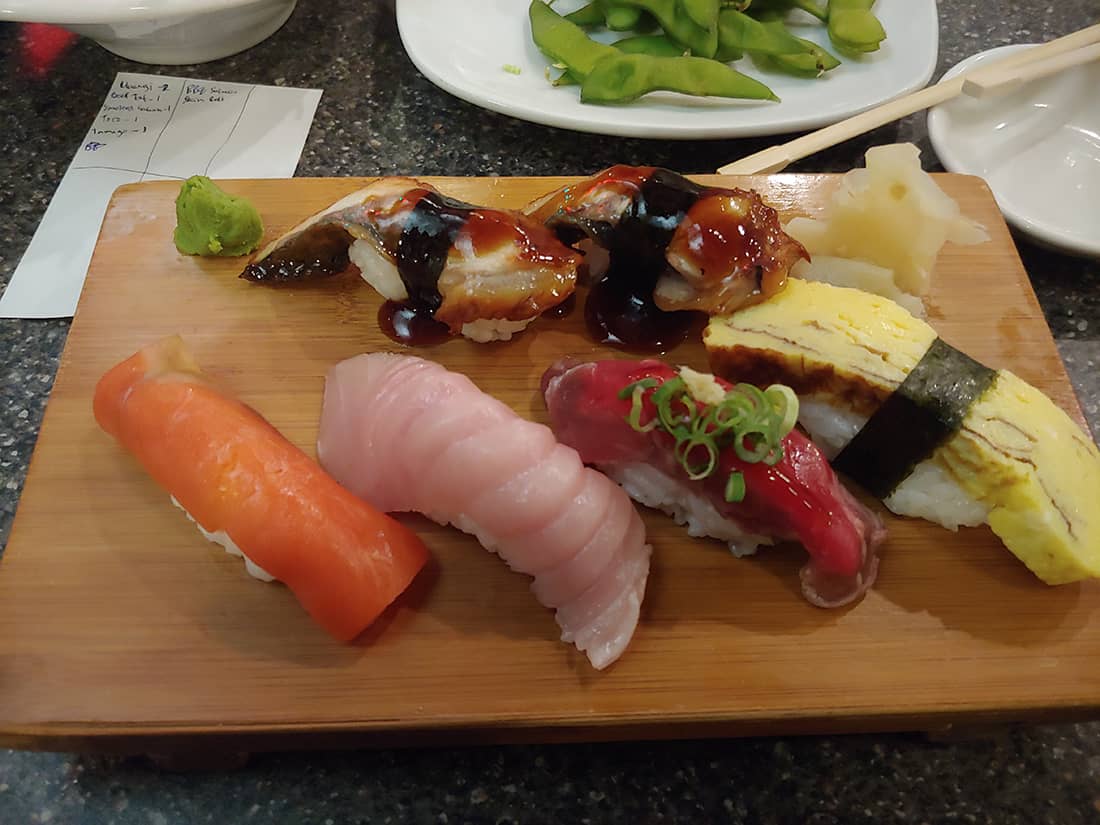 Located near Victoria's historic Chinatown, Shizen Sushi is an authentic Japanese restaurant, where you can enjoy your sushi and sashimi in their tatami rooms or traditional floor seatings. The atmosphere is lovely and cozy enough for a romantic date night, plus, they do offer quite a lot of creative vegetarian rolls to try out!
Don't forget to try the Highlander Roll with tempura prawns, seared steak, tabasco, avocado, a dab of grated ginger, minced garlic, and sweet teriyaki drizzle. If you're into spices and a bit adventurous, this one is a must!
For a lighter, fresher taste, Summer Delight Roll with shitake mushroom, carrot, cucumber, gourd, and avocado. And get yourself the Special Cone Combo with California cone, Spicy Tuna cone, and Prwan tempura cone to feast on your palate (and your belly too)!
What to order: Yu Tofu, Toro Sashimi, Highlander Roll, Summer Delight Roll, Seafood Salad, smoked Salmon Roll, Special Cone Combo
Address: 1706 Government St, Victoria, BC V8W 1Z5
9. Momo Sushi To Go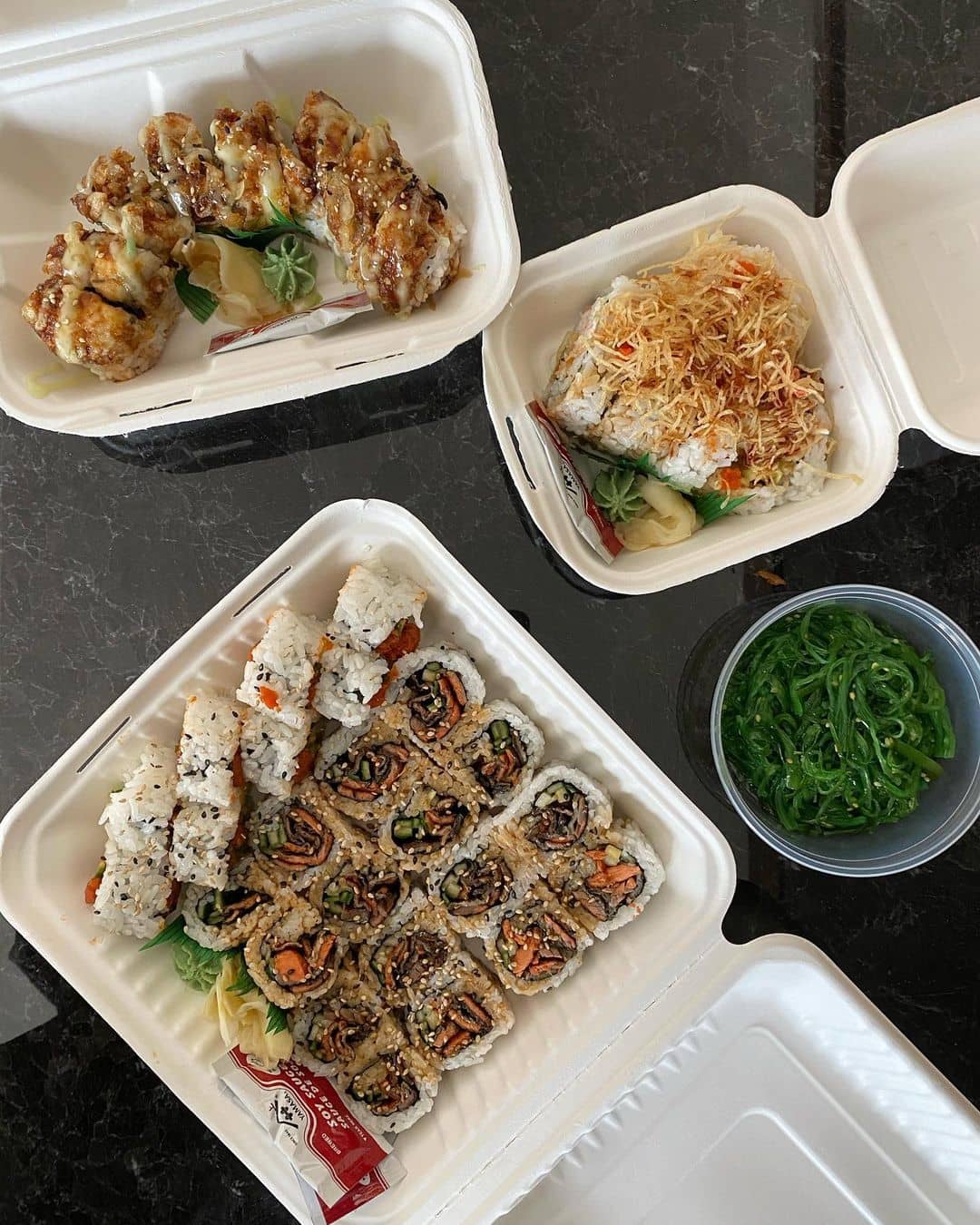 Being a nice, little sushi joint that is conveniently located downtown, Momo Sushi To Go has been the locals' favourite for its comfort food, friendly staff, and gigantic rolls. You can never leave with an empty stomach after visiting Momo Sushi, so make sure you're really hungry coming here!
Start waking up your palate with Seared Tuna Salad, a fantastically simple, yet superb dish with thinly sliced tuna, salad greens, ginger, and dressing sauce. Continue to explore their famous rolls section, and we highly recommend the Red Dragon Roll, Spicy Shrimp Roll, and Scallop Roll. They do offer take-out rolls in case you want to grab a quick lunch on a busy day!
Some other popular items are Dynamite Cone and Unagi Nigir, they are no less flavoursome and decadent. You'd love to try them next time coming back as the rolls above are sure to make you up to your neck!
What to order: Seared Tuna Salad, Red Dragon Roll, Scallop Roll, Dynamite Cone, Unagi Nigiri, Spicy Shrimp Roll.
Address: 1921 Quadra St, Victoria, BC V8T 4C1
10. Sushi Matsuri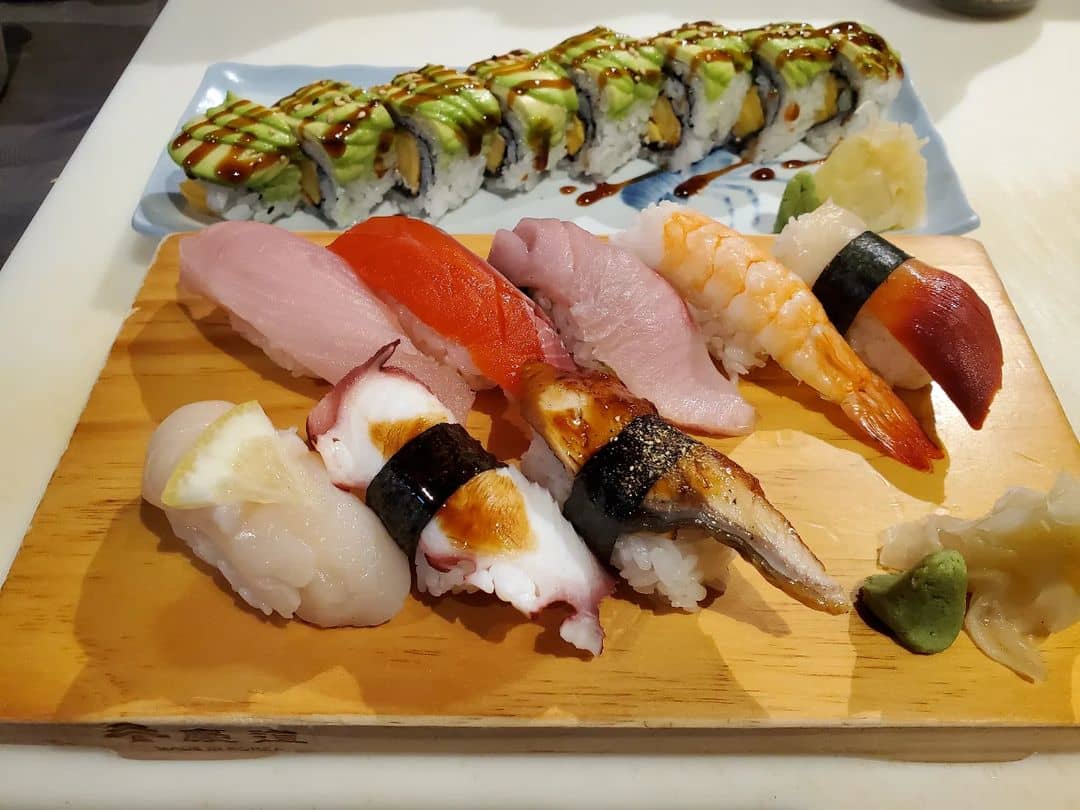 Situated right next to the James Bay area, Sushi Matsuri consistently serves incredibly fresh sushi and one-of-a-kind rolls in Victoria. Though the interior is quite simple and the menu is fairly small, Sushi Matsuri is considered a hidden treasure for its top-notch quality. Add this to the top of your list if you're in the mood for sushi!
The Tuna Sashimi is perfect with a delicate flavor and nice texture, while the Ikura is shiny and bright with a lively salty-fishy flavour. One of their best sellers is the Stop And Drop Roll, which comes up with spicy tuna, and cucumber, and is topped with deep-fried salmon and spicy-sweet chili sauce. Every flavor just works so well together, we are seduced!
Can't get enough of sashimi? Don't hesitate to call the Maguro & Sake Sashimi. This masterpiece is sure to satisfy your taste buds with its distinctive taste and texture.
What to order: BBQ Beef Roll, Crunchy Cali Roll, Sashimi Bibimbap, Tuna Sashimi, Stop Drop And Roll, Maguro & Sake Sashimi
Address: 239 Menzies St, Victoria, BC V8V 2G6
11. Oak Bay Bon Sushi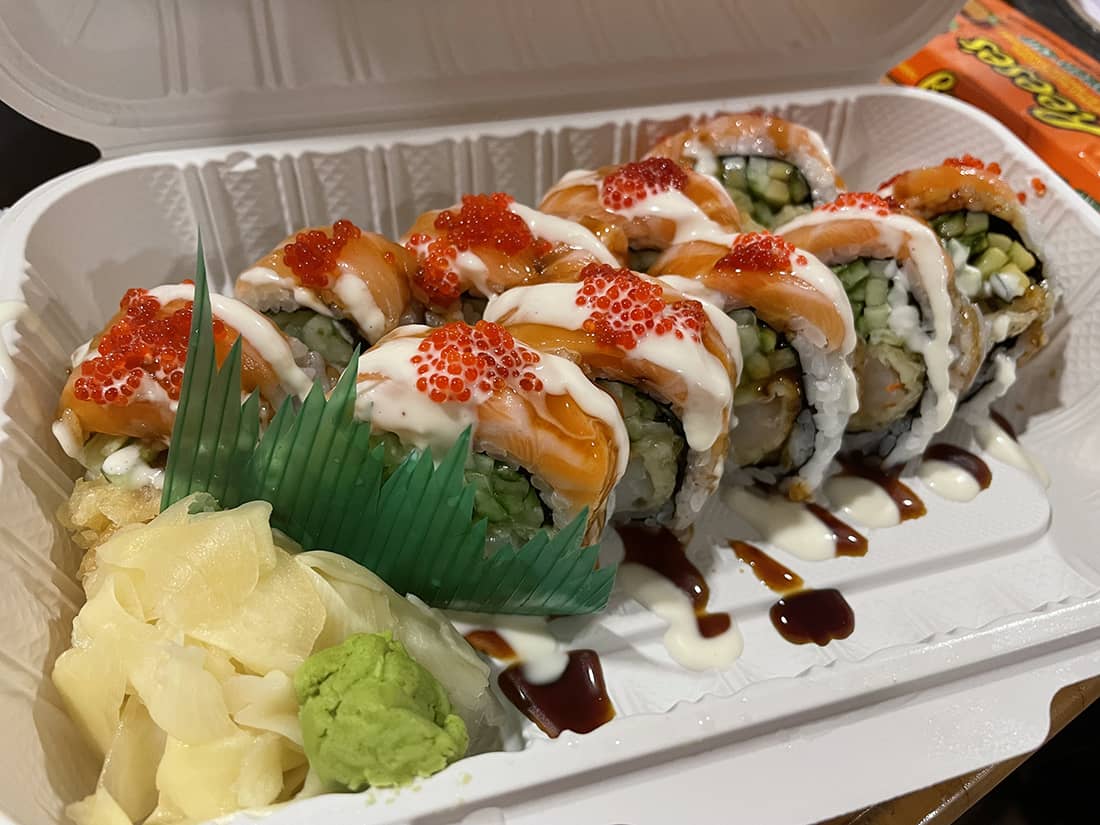 Searching for a fun and casual spot for some sushi? Bon Sushi is the place! Situated in the pleasant and quaint area of Oak Bay, Bon Sushi is about to feast your taste buds with their high-quality sushi and a range of Asian Fusion dishes for anyone's preference. Enjoy stunning Japanese dishes that have your heart from the first bite!
It is a must to have their TNT Roll and Angle's Kiss Roll every time you're here. While the TNT Roll is spicy and crunchy with cucumber, prawn tempura, tuna, hot sauce, and yam chips; the Angel's Kiss Roll is cheesy and meaty with crab, scallop, tobiko, and mozzarella baked house sauce on top.
Take a look at Chicken Udon as well, a super simple udon soup that guarantees maximum satisfaction with beautifully seared chicken, rich soup, and thick noodles!
What to order: Crunch Roll, TNT Roll, Angle's Kiss Roll, Chirashi Don, California Cone, Chicken Udon
Address: 1467 Hampshire Rd, Victoria, BC V8R 1G4
12. Kissako Sushi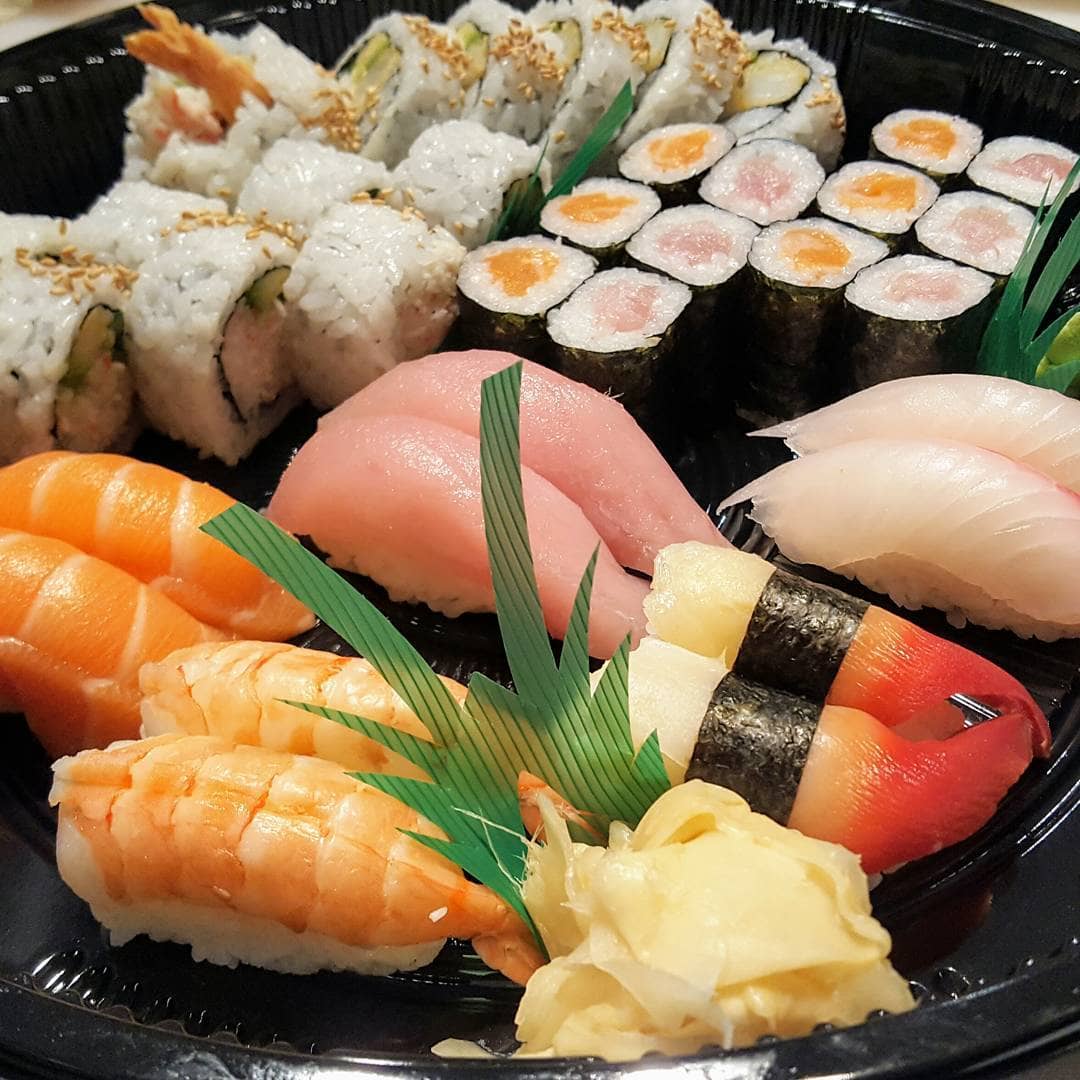 By serving tasty Japanese homestyle food in a pleasantly warm and welcoming ambiance, Kissako Sushi has become locals' favorite casual sushi spot in the town. Once you're here, let the comfort food, loving atmosphere, and aesthetic decoration pamper you. All you have to do is let down all the worries, pick up your chopsticks, and enjoy!
A must-try on the menu is the Angry Salmon Roll, one of their famous Special Rolls, and be careful because this dish is the flavor bomb! The surprising balance in flavor between the heat from hot sauce and the delightful sweetness from apple sauce will give you goosebumps on every bite.
A little more adventurous? Try the Chirashi Donburi that comes up with Chef's selected sashimi on sushi rice. We are sure your taste buds will love you for this!
What to order: Angry Salmon Roll, Black Dragon Roll, Oakbay Sushi Combo, Chirashi Donburi
Address: 2027 Oak Bay Ave, Victoria, BC V8R 1E5, Canada
We bet you have put some choices on your list, and hope they will fit you perfectly from the food to the ambiance. In case you're craving more than just sushi, explore our best restaurants in Victoria to feast on your palate now!
The following two tabs change content below.
Latest posts by Noms Magazine (see all)