Squamish is a favourite destination for nature-lovers. Tucked deep in the West Coast of the Pacific Ocean at the tip of Howe Sound, Squamish is a natural paradise filled clear crystal-coloured lakes, insta-worthy mountain vistas, abundant of trails, and towering trees that embody the common phrase amongst locals: Beautiful British Columbia.
No matter what your heart is after, Squamish is a natural playground that makes for popular all year-round destination for locals and visitors.
We've a curated list of the 9 best things to do in Squamish that you've got try out.
1. Ride the Sea to Sky Gondola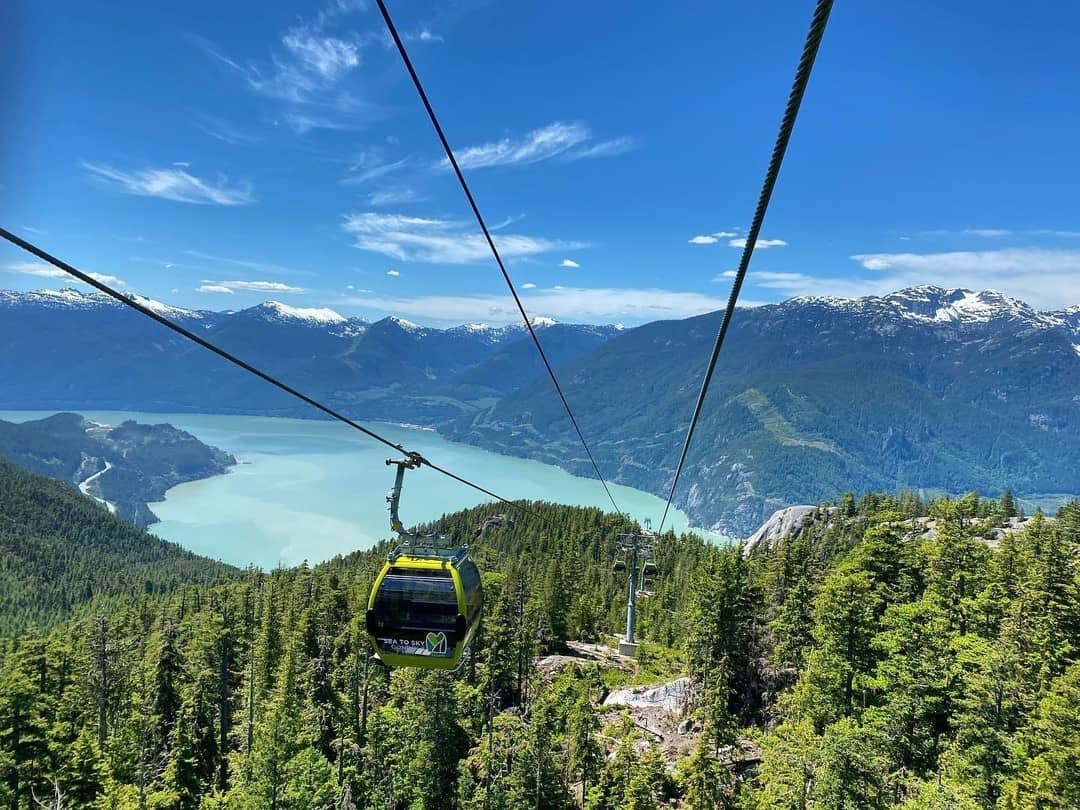 10 minutes and 885 meters above sea level, the Sea-to-Sky Gondola should be the first page of your Squamish's travel book.
You don't have to be a first-time visitor to enjoy this panoramic ride. Getting away from the chaos to be one with nature up in the air is a therapy you should be looking for once in a while.
Engulf the entire Howe Sound with your eyesight while the rugged coastal mountains are pampering your soul. At the end of the ride, there are 3 main viewing platforms on the top waiting for you to get off the cabin:
The Spirit Viewing Platform is home to interpretive walks.
Summit Lodge Viewing Deck faces the southwest, observing the deep blue sea of Howe Sound sprinkled with sun glitters.
Chief Overlook Viewing Platform surveys climbers on the backside of The Chief and windsurfers at The Spit.
While the gondola is open year-round, you want to get there when it becomes a gorgeous winterland, opening out to an extensive series of backcountry trails and winter sports.
Book your gondola ride here!
2. Get On an Off-Road Buggy Adventure or Go Mountain Biking and Dirt Biking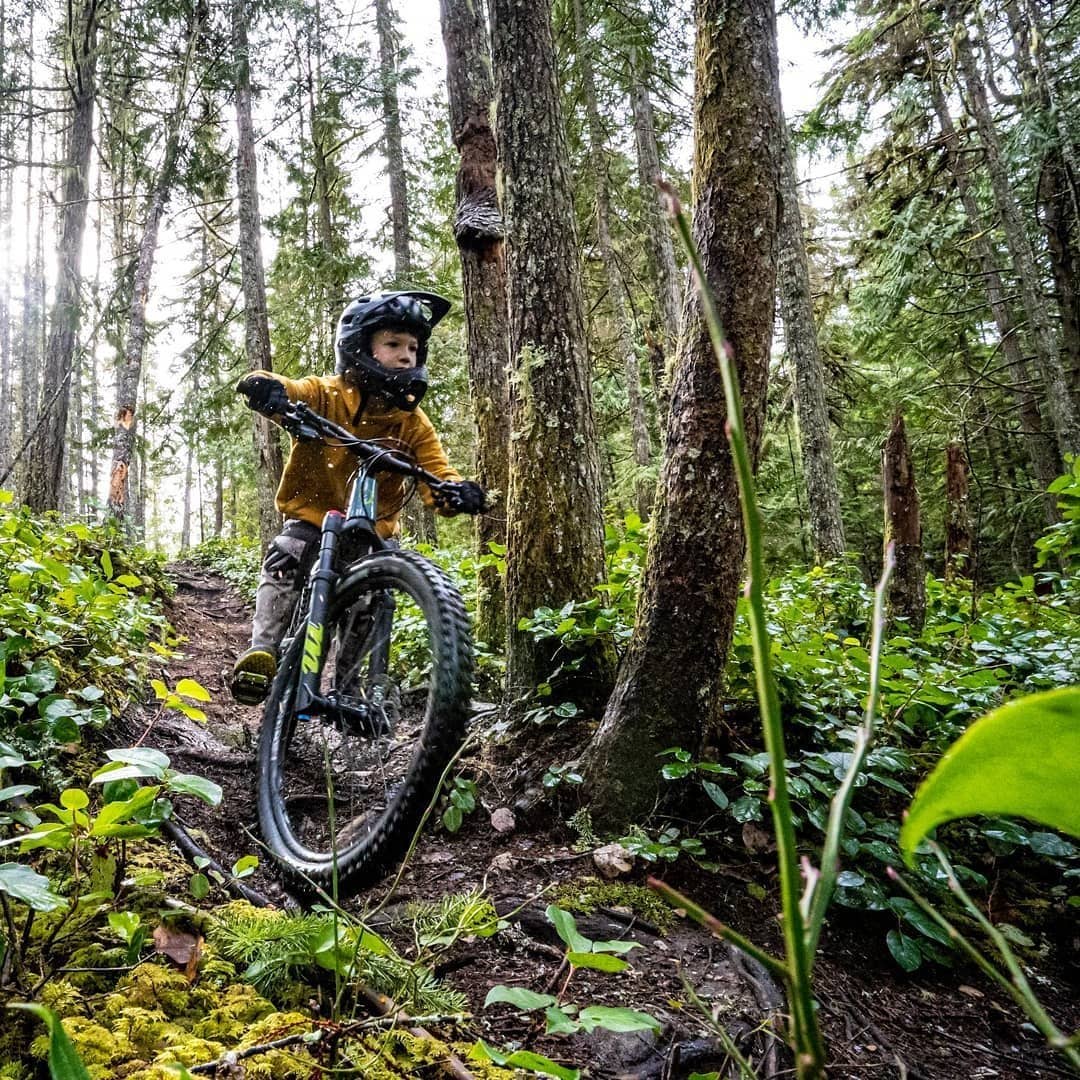 Blanketed by a large, lush rainforest environment pressed against the rugged mountains, Squamish offers some of the best spots for a wild off-road ride. Get a thrill out of an ATV, a buggy, or your own mountain bike deep in the woods and whizz down the valley flanked by the old-growth forests.
If you're here to conquer the naturally rugged terrain, get on an ATV. Not confident enough? Sign up for a buggy ride!
The weather plays a huge role though. Given ATVs are such a difficult challenge, you don't want to get out when it's all damped and muddy. But if it's getting really wet out there, head out to Lava Flow just behind Quest University, where non-motorized trails are accessible from Mamquam River Forest Service Road or Garibaldi Park Road.
Alternatively, you can sign up for a tour or rentals that let you to all parts of Squamish where both confident beginners and intermediate drivers are anticipating.
3. Conquer All the Water Sports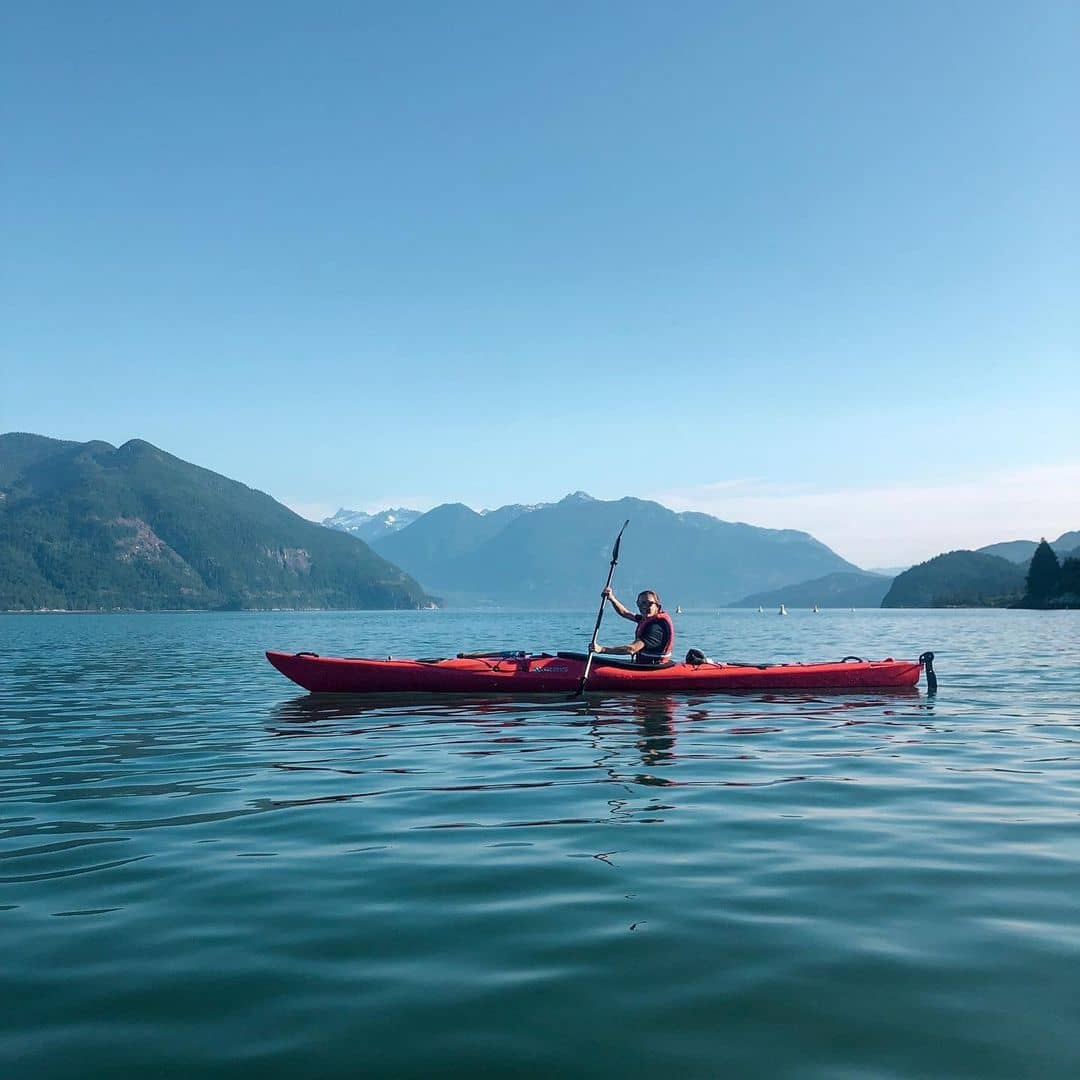 Don't let the glistening glaciers, cascading rivers, and soaring waterfalls of Squamish go to waste. These 8 incredible water things to do in Squamish will have you occupied for days.
Set Sail on a Boat
Classic and easy, boating lets you soak in the dramatic views of the snow-capped mountains rising steeply from the water. Plenty of places offer boat rentals for a self-navigating adventure, while boat and cruise tours level up your Sea to Sky experience with world-class views, wildlife sightings, and recreation opportunities.
Go Kayaking and White Water Rafting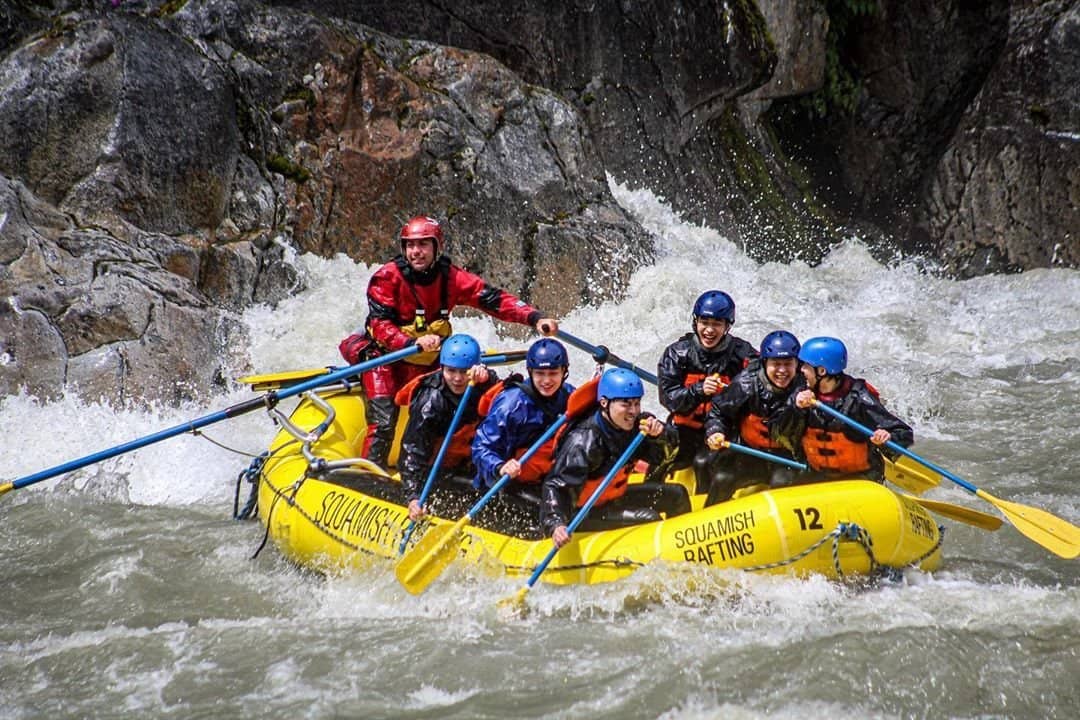 The best places for kayaking and white water rafting in Squamish inherit the fine charm of remote wilderness. The Weeping Wall, Squamish Spit, and Devil's Elbow are some of the most stellar places with the rugged beauty of the granite cliffs kissing the lush rainforests.
Get out of your comfort zone and have your hands on something new packed with emotions and heart-pumping thrills.
Fitness level doesn't agree, you say? That's where kayaking comes into play! Go with the flow and enjoy the unrivaled view of Howe Sound along the Mamquam River, Squamish Estuary, and Alice Lake.
Sea to Sky Adventure Company (Squamish)
Options: Rentals, Lessons, Day Tours
Website | Instagram 
Squamish Rafting
Website | Instagram
Canadian Outback Rafting (Vancouver, Whistler, Squamish)
Options: Day trips, Multi-day trips
Website | Instagram
Play Kite-Boarding
The kiteboarding in Squamish kicks starts from mid-May to mid-September. Steady winds of 18-35mph are at the ready, beckoning the attention of passionate riders to prepare for a day around the Squamish Spit where the Howe Sound meets the Squamish River.
Squamish Spit is not the biggest hook for beginners but you'll love it more if you've already set your foot in the kiteboarding scene and know how to ride upwind and self-rescue your kite.
High sailing days last throughout summer as long as you see the sky is clear with wind swell and small river waves.
Spend a Lake-Hopping Day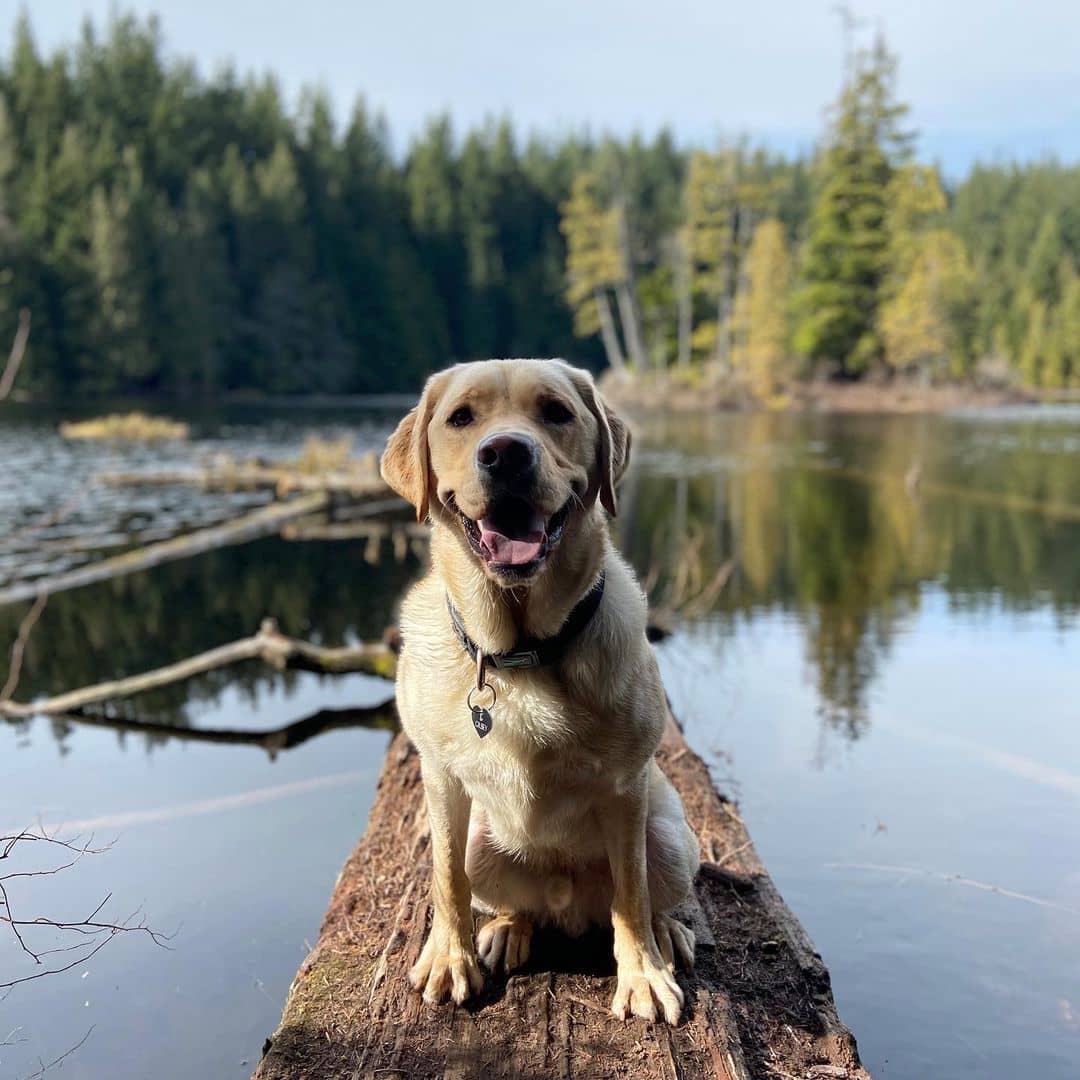 Squamish has a series of pristine lakes to take a dip on a hot summer day. Browning Lake, Brohm Lake, Alice Lake, and Cat Lake are some of the best swimming holes for a lake hopping day. A little further afield, Phantom Lake emerges as a gorgeous getaway with its glacier-fed turquoise water kissing the foot of the dramatic mountain range
A few hours before and after noon time tends to be the busiest times to visit Squamish lakes.
Enjoy River-Tubing
Have you tried river tubing before? If not, you've missed out on some of the greatest summer pastimes ever!
It's like a lazy version of kayaking as all you need to do is lounge in a huge floating tube that tucks your body in and go with the flow using just minimum effort.
The Okanagan River Channel running between Okanagan Lake and Skaha Lake is the most popular river tube in Squamish.
Go Scuba Diving
Porteau Cove serves as a scuba diving hub in Squamish, famed for three sunken ships sleeping 30 meters deep in the water. Its shallow and warm water makes it a great diving spot to admire the man-made boulder to cliff dive on a clear sunny day.
Not far away from Porteau Cove, Pam Rocks is another top call to snorkel with hundreds of marine species.
Standup Paddleboard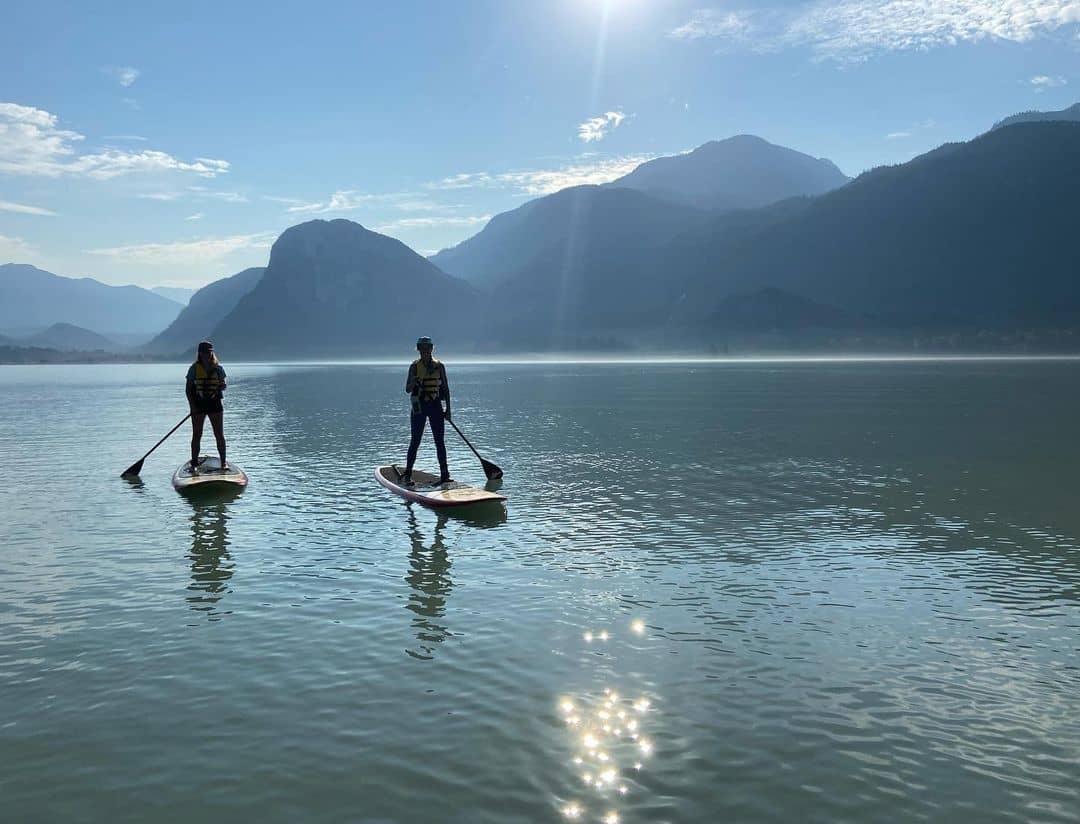 From the teal blue fjord to a more dramatic, intense white water area, Squamish is no short of outstanding spots to pedal with the pristine current. If you're new to Squamish and not so sure of what its nature has to offer, stick to the lakes first! Calmer water with few obstacles around Brohm Lake helps you enjoy the day to the fullest.
Check out SUP lessons and get your gear ready to stay safe and get a solid foundation before conquering this water sport. Once you have more confidence, it's never late venturing out to Miner's Run, Squamish Estuary, and Howe Sound's Islands to game up your skill.
Sea to Sky Adventure Company (Squamish)
Options: Rentals, Lessons, Day Tours
Website | Instagram
Go Fishing and Crabbing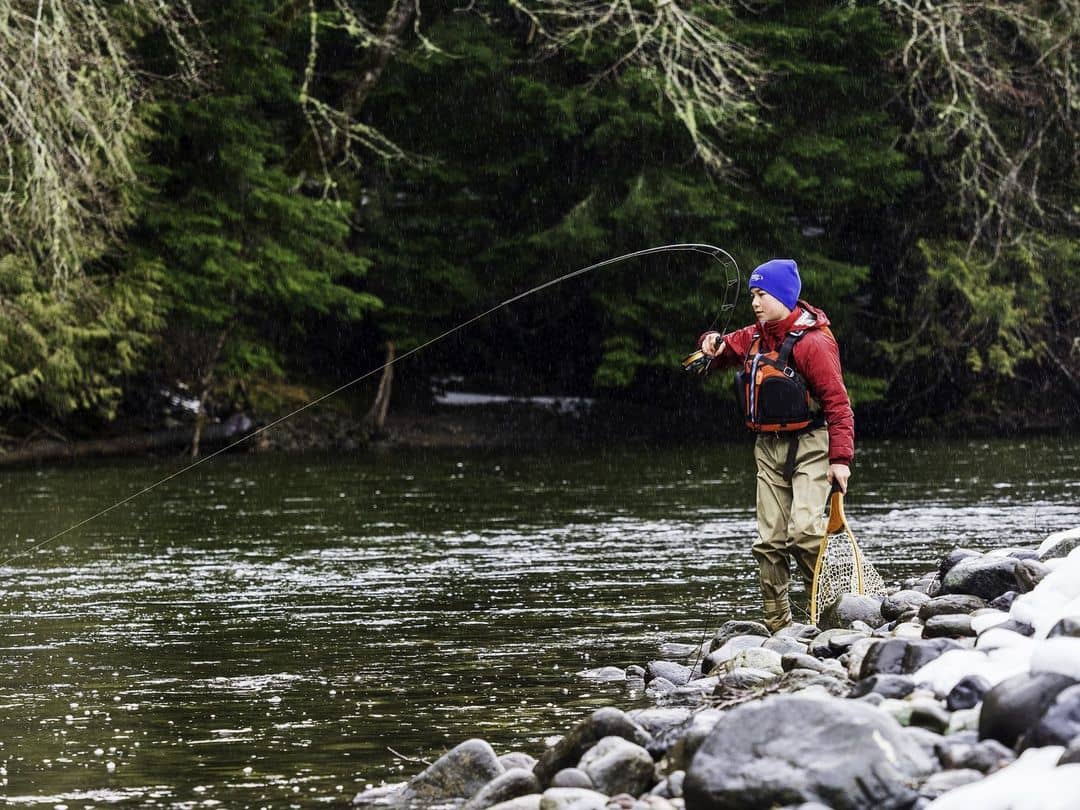 Call it a world-class fishing destination because the waters running around Squamish will make fishing fans jump for joy. Get your reel at the ready for a big catch of 5 different Pacific varieties racing and running thick in the soaring streams of the Mamquam, Cheakamus, Squamish, and Elaho rivers.
But that's not the only kind of fish you see in your bucket from late summer to fall! Dolly Varden char, bull, rainbow trout, and cutthroat trout are also waiting in the current.
And if you ever feel like fishing is getting dull, then prawning and crabbing in Squamish are waiting to steal your attention. You will need a license for fishing which may cost around $10 to $20 a day. If you join a tour, they will assist you to get a license.
4. Find a Place to Go Bouldering, Cliff Jumping, Climb the Rocks, and Try Via Ferrata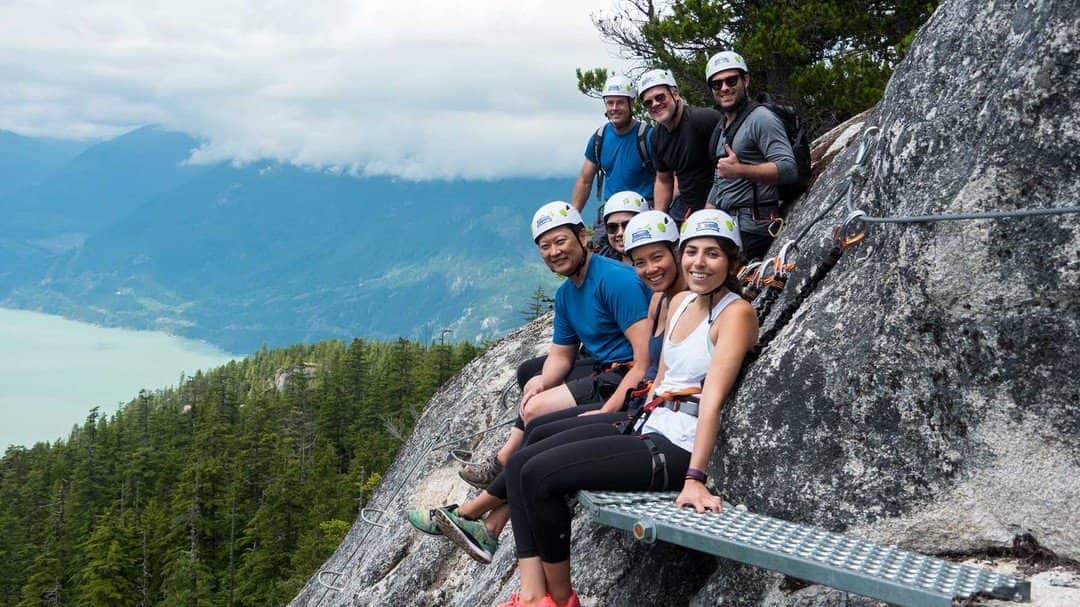 If hanging vertical from a cliff is what your heart is after, you'll want to stay for days in Squamish! This is a mecca of granite cliffs and bluffs overlooking Howe Sound and you only need a few minutes by car to get to the crags from downtown Squamish.
Popular climbs around Squamish marshal around The Chief like Banana Peel and Deidre. Then further afield, we have Klahanie Crack and Skywalker gathering around Shannon Falls. Alternatively, venture out to the Smoke Bluffs to conquer its world-famous granite with hundreds of predominantly traditional climbing routes.
MSA Academy
Website | Instagram
5. Take a Scenic Flight or Floatplane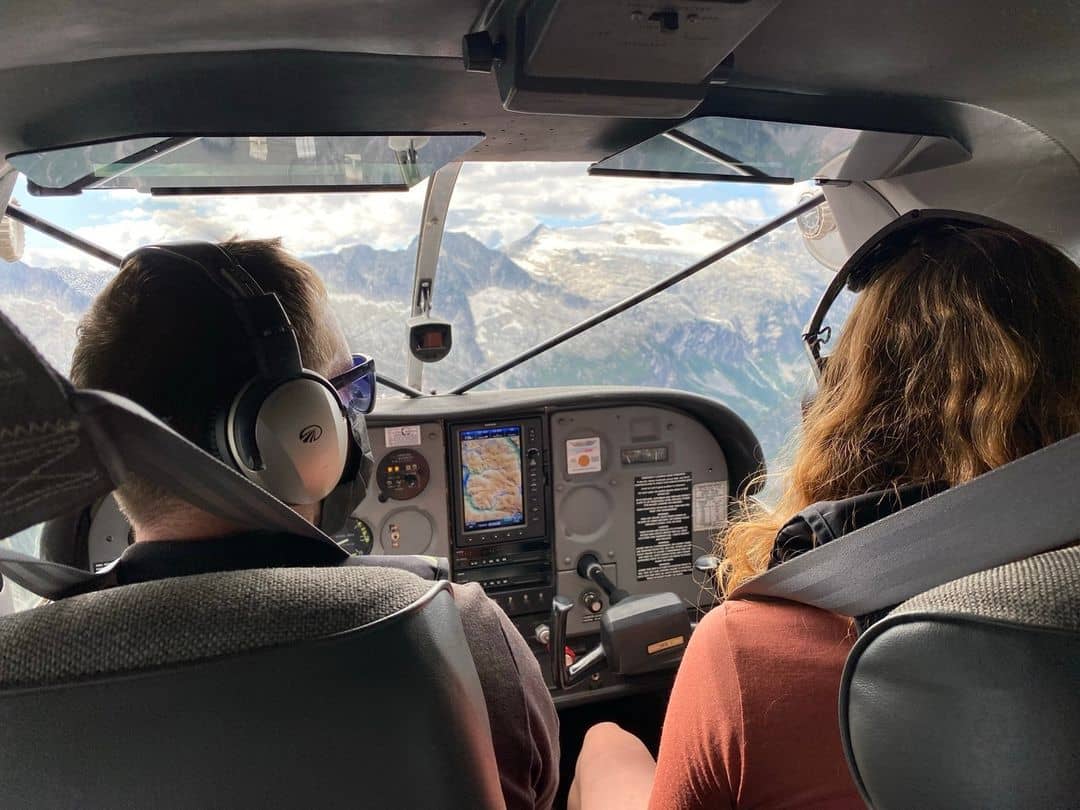 Wondering how to have the most memorable Sunday of your life? Take a scenic flight or floatplane and traverse the deep blue lakes of Squamish before soaring atop the dramatic Tantalus Range in half an hour.
The Howe Sound fjord and its surrounding wilderness come out at its finest when you get intimate with the mammoth Rumbling, Serratus and Zenith glaciers anytime of the year.
But that's not all!
Within only half an hour, the flights peel off the wildest regions of Squamish that most people don't know about. Those hidden gems are where grizzly bears, eagles, and goats co-habitat by the jagged terrains and secret waterfalls.
Sea to Sky Air
Squamish Explorer Tour: book here
Website | Instagram
6. Celebrate the Best Winter Sports
Go Snowmobiling
Every year when winter is around the corner, Brohm Ridge, Pemberton Ice Caps, and Callaghan are swamped with visitors all around BC to conquer the deep powder turns in an unobstructed ocean view. Snowmobiling is one of the most celebrated winter sports in Squamish, so much so that helicopter tours from Whistlers will fly out to this part of the province for a day trip.
Sled skiing and sled-assisted ski touring opportunities are also available for both adults and kids alike. Move a little further north and you'll encounter Tricouni Ridge and Brandywine. These are 2 other stellar spots for snowmobiling enjoyed by both amateur and ardent players alike.
Join a Heli-Glacier Tour
With the dramatic glaciers sitting up above, there's no better way to envelop the entire beauty of the snow-capped mountains, alpine lakes, and rivers than a helicopter ride.
Well, this is surely not on the cheap side on the spectrum of outdoor activities in Squamish but the flight-seeing experience it brings is second to none. There are multiple packages to choose from. You can soar above the pristine water of Howe Sound, send yourself to Mount Tantalus and Garibaldi, while some other tours fly you out to the ski resort of Blackcomb. So take your pick!
7. Get Intimate with Friendly Animals with Horseback Riding and Dog Carting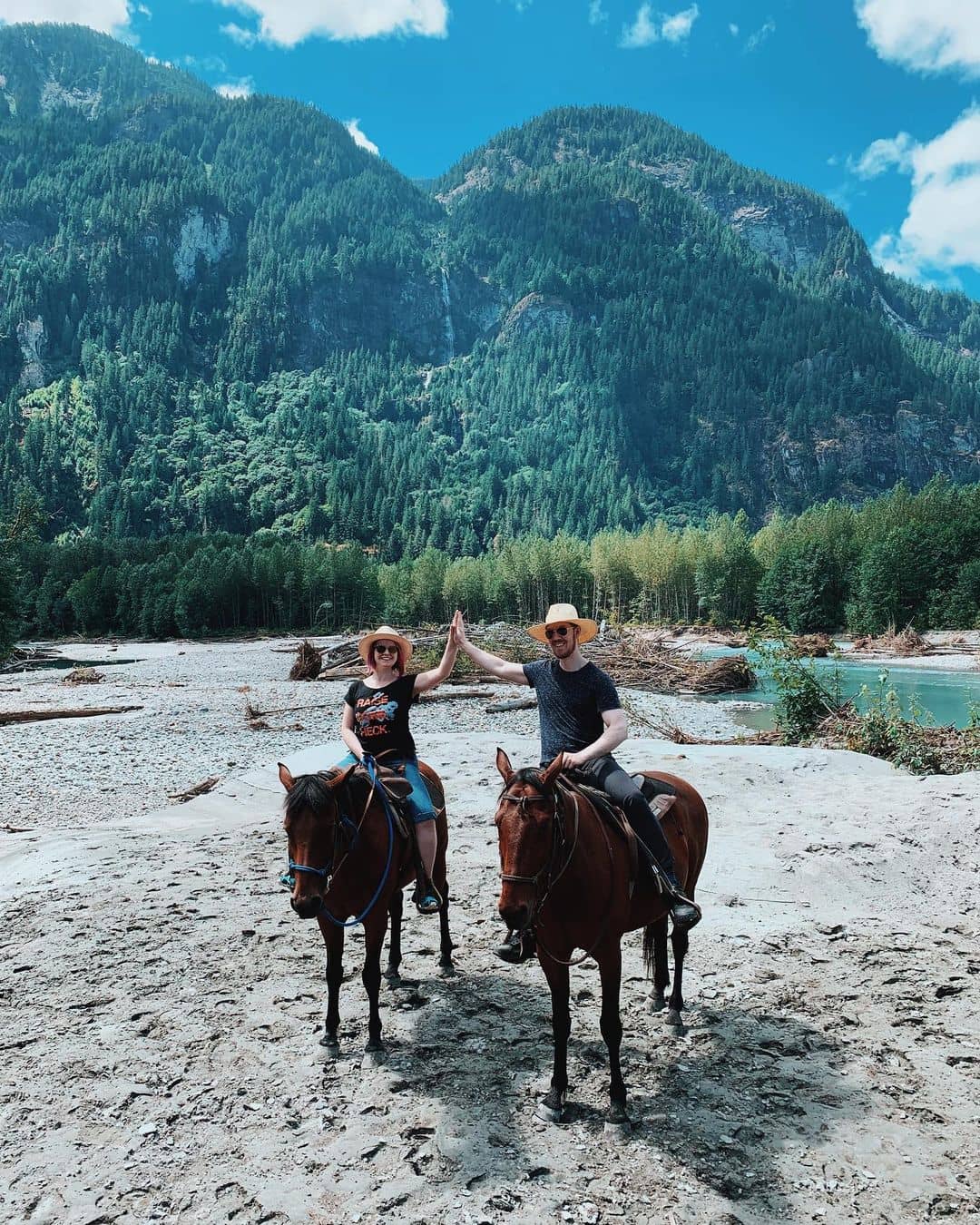 The sun-kissed equestrian farms and beautiful trails in Squamish are waiting to unleash your inner cowboy soul. Galloping through the old-growth forests and the beautiful Squamish River on the back of a friendly horse is the best way to immerse into Squamish nature to the fullest.
You don't need any horse riding skill to have the best level of fun. Sign up for one of the adventure tours ranging from two hours to full- day and team up with other riders following experienced equine enthusiasts.
Now if you'd rather sit lower to the ground while speeding it up a little, dog carting will be your thing. Dog carting is the summer version of dog sledding. Get pulled on a cart by a pack of friendly and fluffy Alaskan Huskies and other cross breeds that are harnessed up for a fantastic ride.
When the ride comes to an end, get off and meander through the thriving forests to find hidden lakes and some old trappers' hut.
Squamish River Horse Adventures
Website | Instagram
8. Play Golf and Disc Golf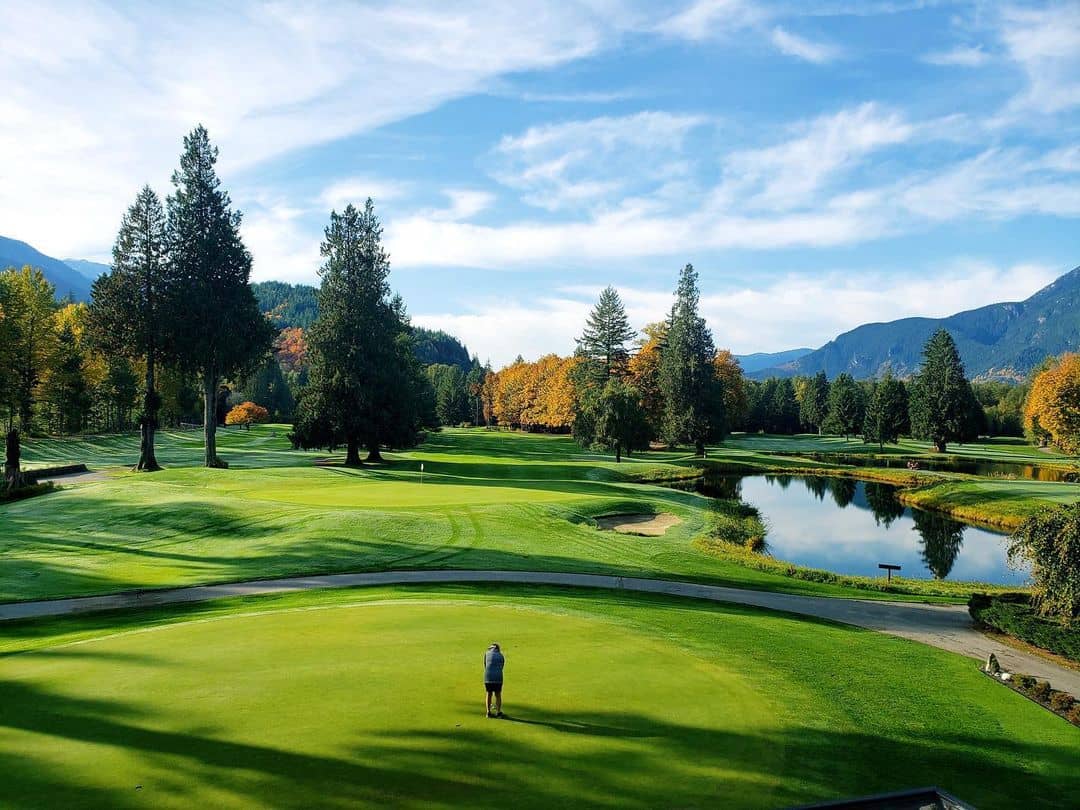 If you'd rather stick to something traditional, the 72-course Squamish Valley Golf Course is here to welcome you. You have 18 holes to complete in this lush classic parkland. And the old-established golf course will have you in awe because the lakes, forest, and massive old-growth stumps surrounding the bends of Mamquam River are beyond compare.
Address: 2458 Mamquam Rd, Squamish, BC V8B 0H8.
Website | Facebook | Instagram
The beautiful forest property of Legacy Disc Golf Course is located inside Squamish's Legacy Park where you get to share the space with other park users. There are 18 long and short tees installed along the slight slope. Tee 1 to 10 are in the lower forested area and loop moving forward to the park's entranceway near the pavilion and washrooms. Tee 11 to 15 belong to the hilly area with mossy cliffs and fern gullies.
Address: 1046 Raven Dr., Squamish, BC V8B 0G7.
9. Check Out the Best Food and Drink Spots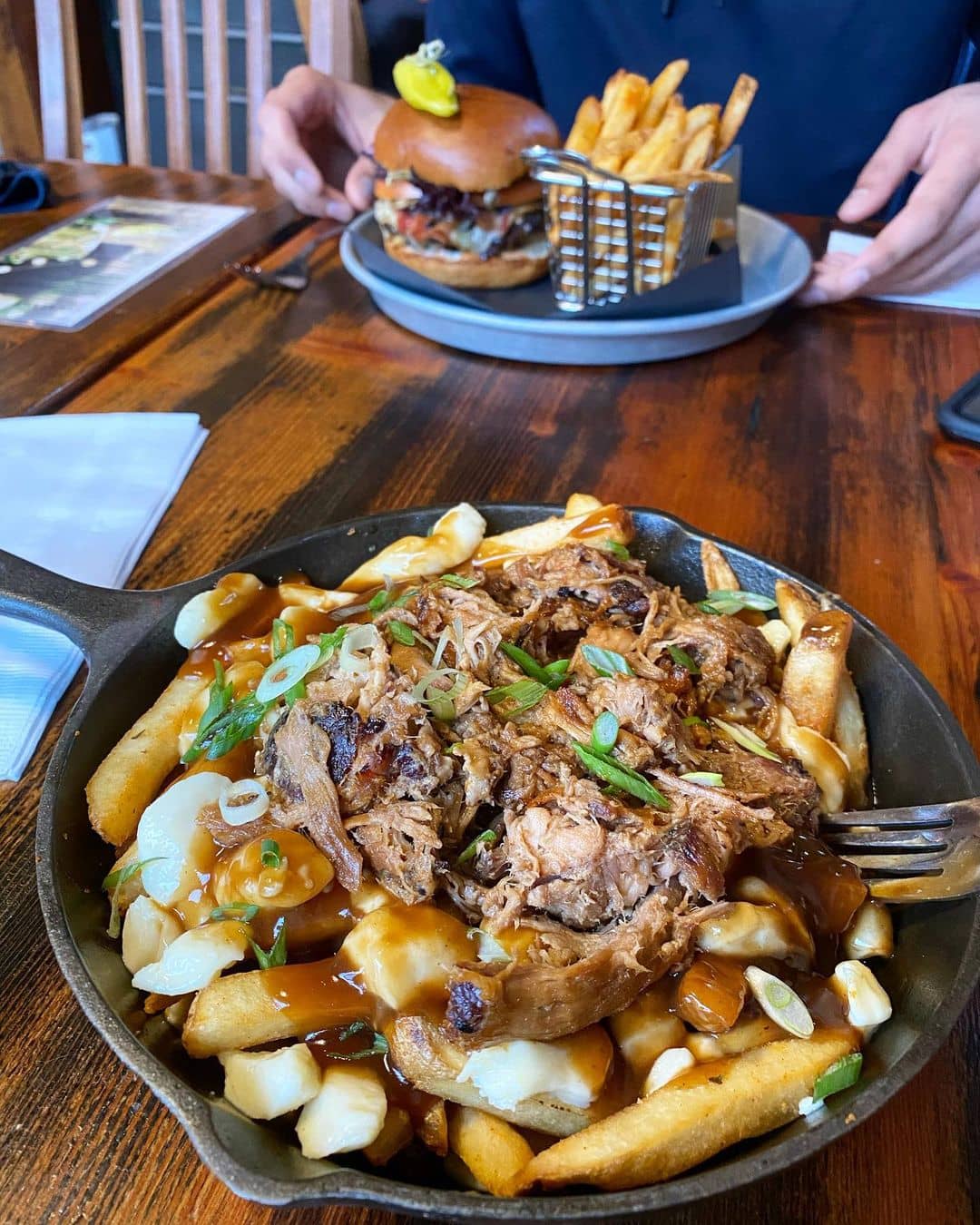 If you haven't checked out our curated list of 10 best restaurants in Squamish for a stellar meal, now it's time to do so. The wood-fired Joe Pesto pizza at the namesake restaurant and beet salad with goat cheese at The Salted Vine Kitchen + Bar are some of the best places to begin with.
Meanwhile, locally brewed beers and ciders spilling out of Howe Sound Brew Pub's tabs will quench your thirst. But if their selection of beers is not enough to fill your day with joy, then check out one of the distillery tours to sample Squamish's proudest spirit blends!
Visit a Farmers' Market
Squamish's favorite summer market runs between April and December, while Winter Market follows up from December until next April. The Sea to Sky farmers bring out their proudest fresh produce, artisanal crafts, French baked goods, heart-warming scones, and freshly baked bagels to come to Cleveland Ave and enjoy!
Address: 37996 Cleveland Ave, Squamish, BC V8B 0B2.
Website | Facebook | Instagram
Now you have the best things to do in Squamish at hand. It's time to book your stay at these best hotels in Squamish or reserve an entire vacation house for your family!
This article includes affiliate links where we may get a small commission if you use our link. No extra cost is added on and all funds will be used to support our team and content.
The following two tabs change content below.
Latest posts by Noms Magazine (see all)