Tucked away in the heart of the Canadian coastal mountains, Whistler is a world-renowned destination that ticks all the boxes on the bucket list of nature enthusiasts.
From the world-class ski resort and the sprawling après-ski scene to the tumbling white-water rivers and forest bathing possibilities, Whistler is a year-round sweetheart that keeps you coming back for more.
No matter how many times you've been to Whistler, there's always something new that you haven't tried. So consult our epic compilation below to uptick any activity that you still leave hanging!
This article includes affiliate links where we may get a small commission if you use our link. No extra cost is added on and all funds will be used to support our team and content.
Things to Do in Whistler During Winter
Downhill Ski or Snowboard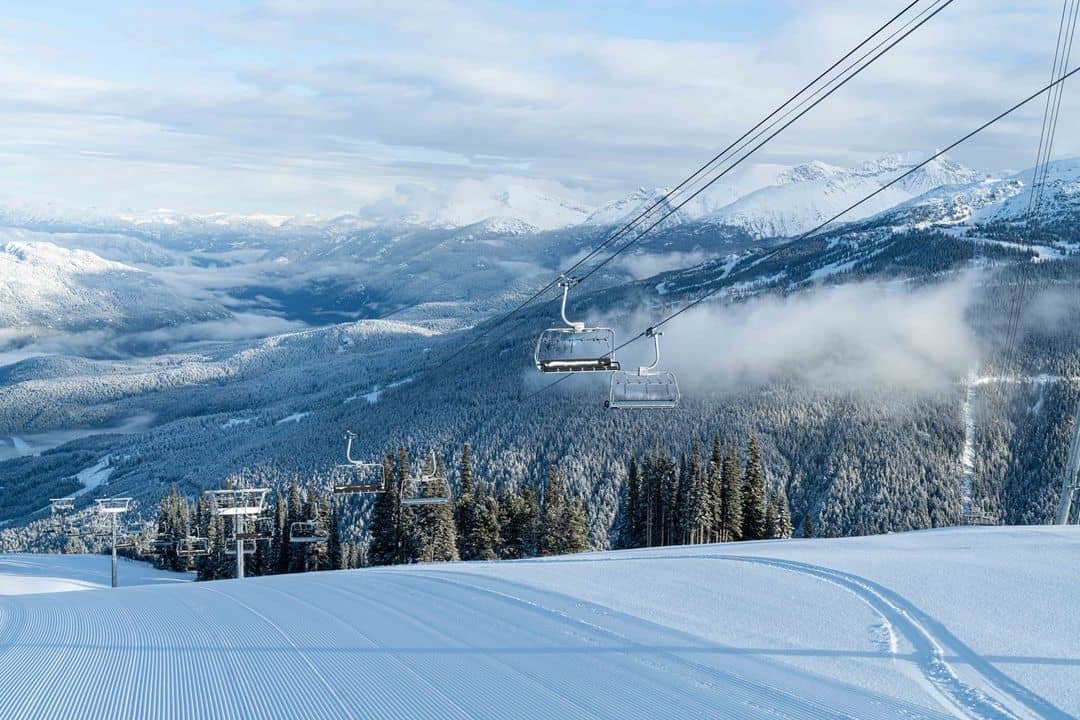 Let's put the skiing stuff on top of the list! Whistler is more than just a ski resort. Every year from December to March, ardent skiers around the world pack their gear and head out to Whistler Blackcomb ski resort to shred the snowy slopes.
Downhill skiing and snowboarding are the most famous things to do in Whistler during winter. With an Olympic pedigree, dramatic terrain, huge snow, and a bustling après-ski scene to outrival any other ski resort, Whistler is the last place you want to forget if you love skiing.
Try Heli-skiing and Cat-Skiing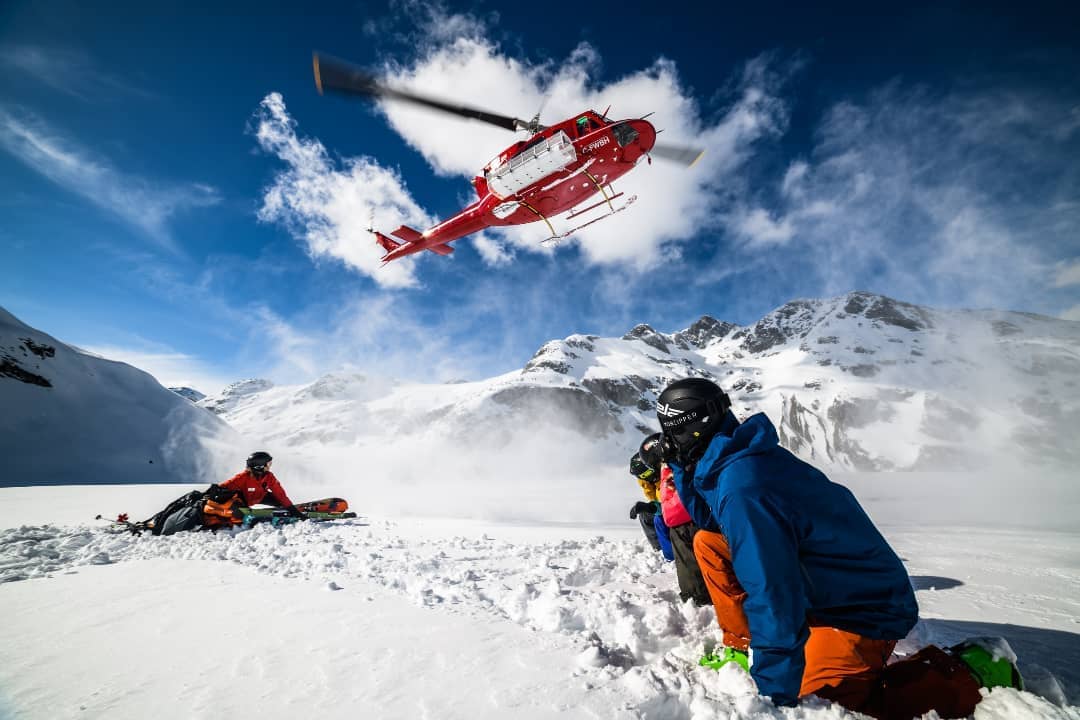 Intermediate skiers will love to take on heli-skiing and cat-skiing in the backcountry. If your fitness level agrees, book a heli-skiing tour where the guide shows you all the way up before guiding you down the untracked slopes of new powder snow.
Compared to heli-skiing, cat-skiing is more affordable. Having a snowcat to act as your lift instead of riding a helicopter also promises an equally heroic outcome.
Enjoy Backcountry and Cross Country Skiing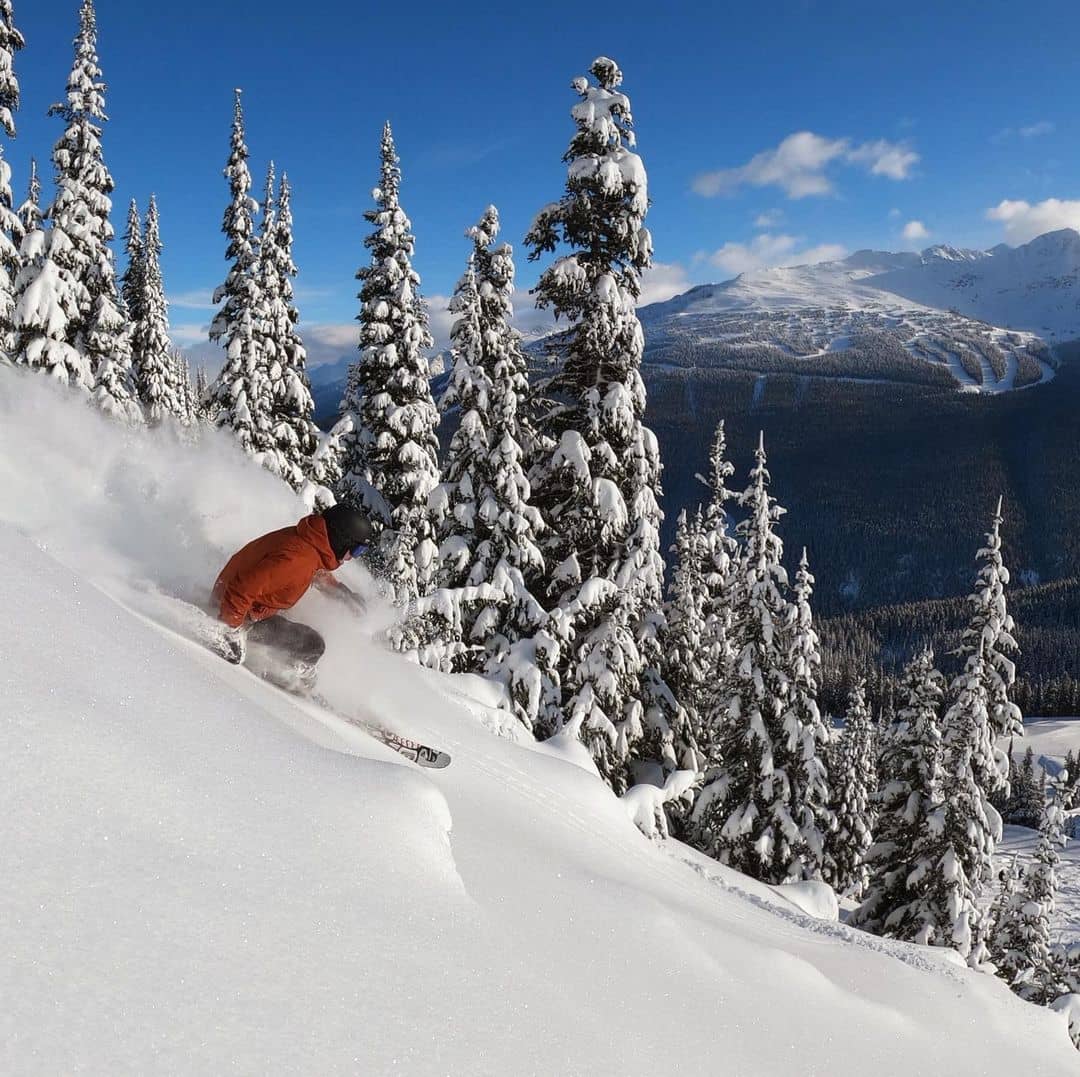 Travel a little further to explore a cluster of backcountry and cross-country trails near Whistler. Endless tree-lines and open powder fields make it a paradise for off-piste riding. Musical Bumps, Spearhead Glacier, and Spearhead Traverse are some of the most epic trails to start exploring out of bounds.
For cross-country fans, the nearest trails you can get from Whistler are around the Lost Lake that extend for 30 kilometers altogether. Other than that, Whistler's Valley Trail and the Olympic Park in the Callaghan Valley are a little further afield but guarantee you a whale of time.
No matter which one you choose, there should be a certain level of experience before setting off. An avalanche training is needed or be with a guide who shows you the best spots and takes care of your safety.
Snowshoe on Whistler's Best Known Trails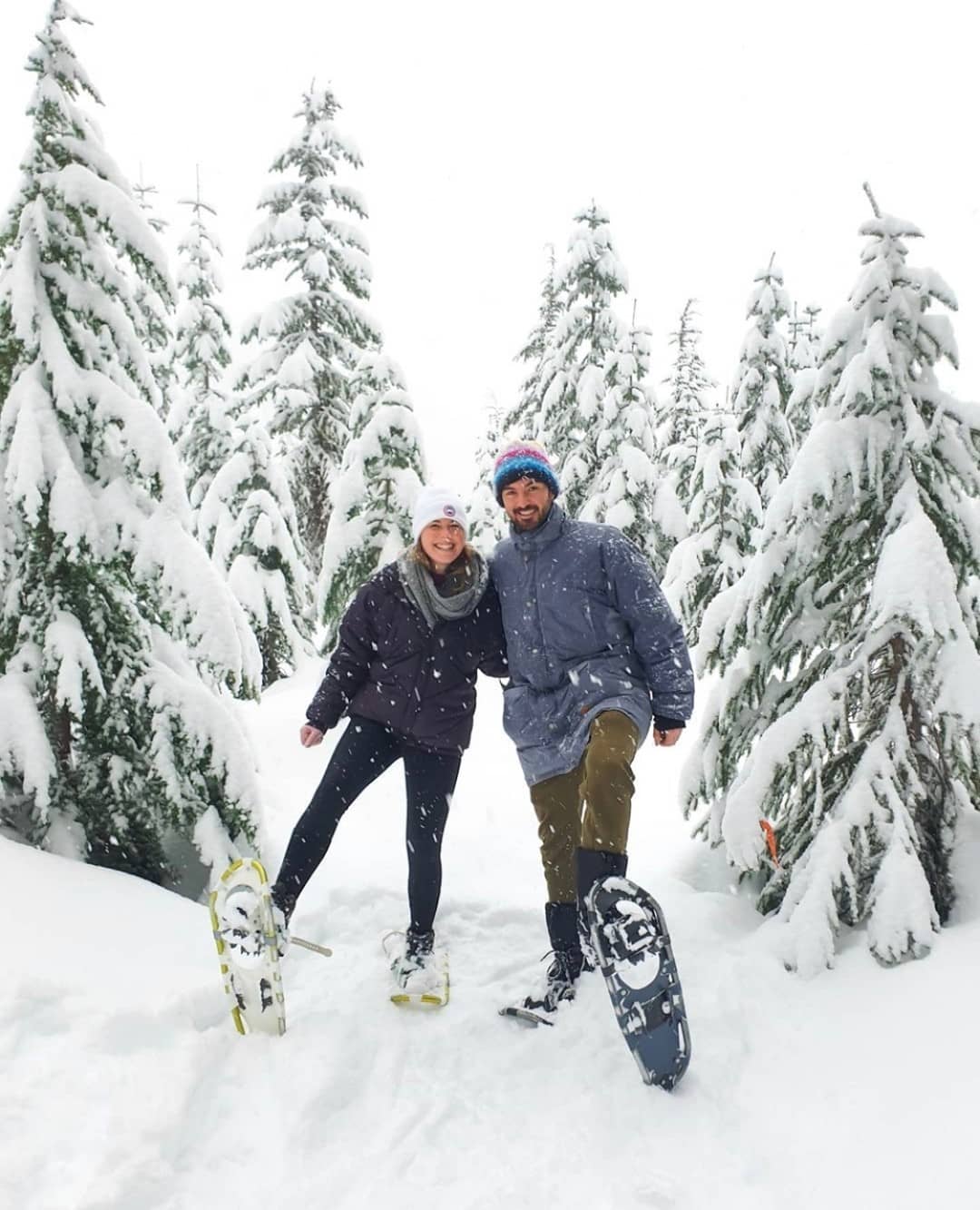 What if we tell you that you don't need any skiing experience to have great fun in Whistler during winter? Let's try snowshoeing! It's way less expensive than regular skiing and you can still explore the different natural areas of Whistler.
Take on super-flat trails like Brandywine Falls or Ski Callaghan if you're a beginner. Then whisk your way up to Parkhurst Ghost Town, Cheakamus Lake, or Joffre Lakes to push your skill forward.
Want a guided tour? Check out these snowshoe tours.
Escape to the Snowy Mountains on a Dog-Sledding Adventure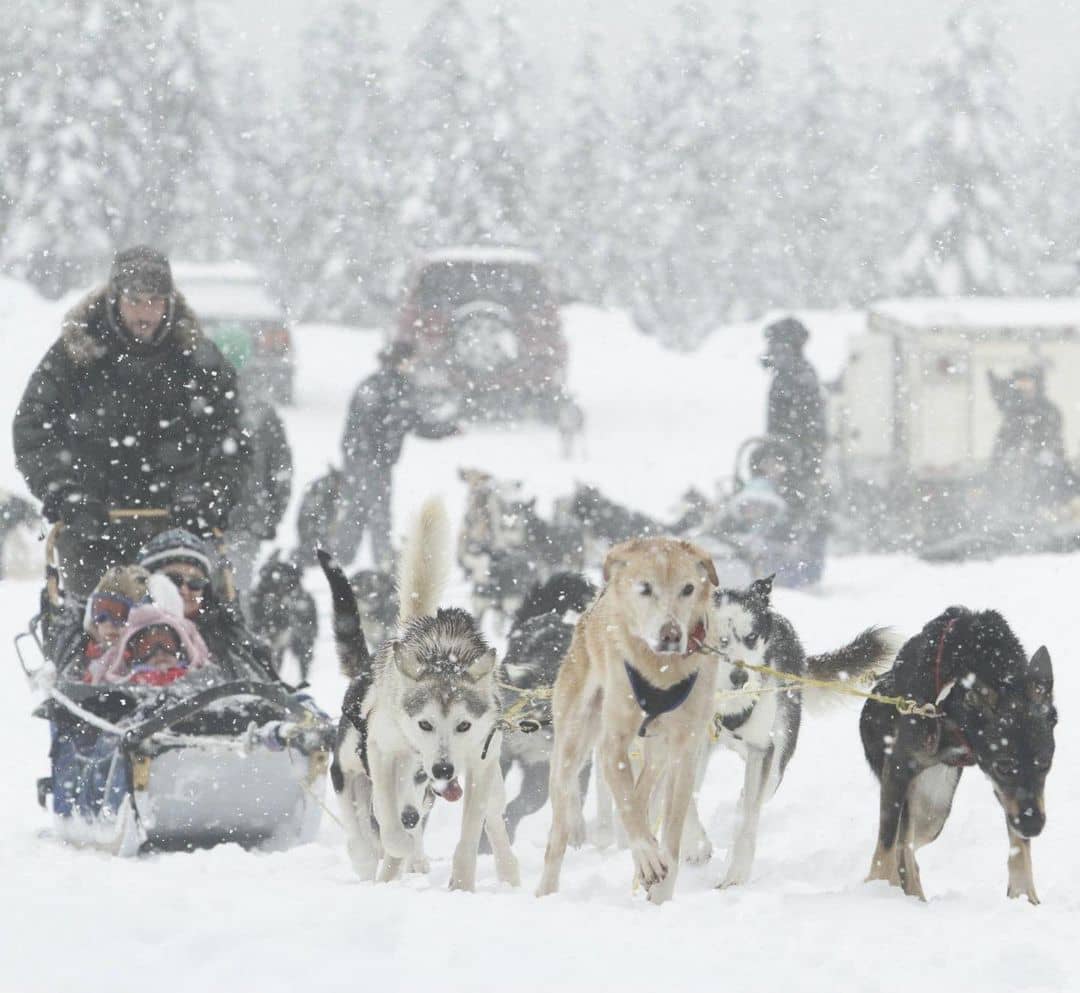 Turn into Santa Clause for a day and have a group of six adorable dogs sledding you through the dramatic wilderness! Tuck yourself into the cozy sled, sit back, seize the harness and learn how to drive!
Out of all things winter-related out there in Whistler, dogsledding is probably one of the most unique activities that assure the same kind of fun.
Go Snow Tubing and Tobogganing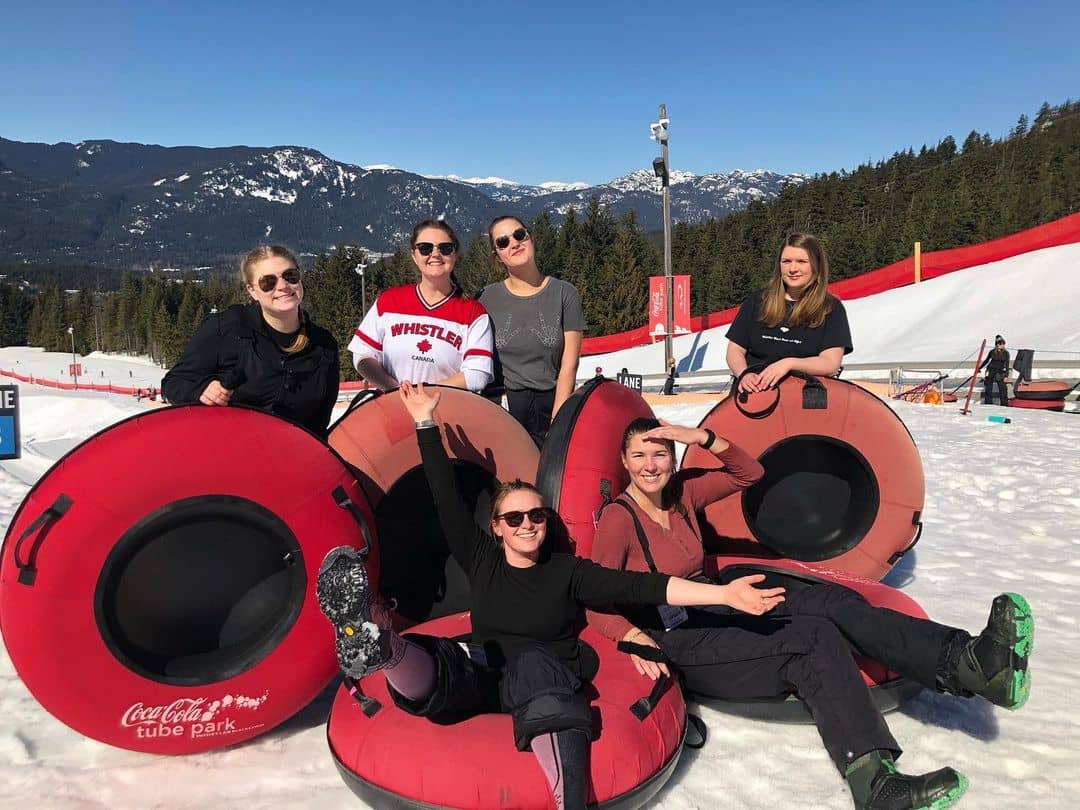 Pop into Bubly Tube Park, rent a tube, and cruise down the curving lanes. Snow tubing is great fun for families and friends. Nothing beats the pure joy when the frosty breeze kisses your face as you sled down the exhilarating tubing hill.
Admission Rates:
Type
1 hour
2 hours
ADULT (19-64)
$28 Online
$29 Window
$40 Online
$41 Window
YOUTH (13-18) &
SENIOR (65+)
$26 Online
$27 Window
$37 Online
$38 Window
CHILD (7-12)
$21.50 Online
$22.50 Window
$25.50 Online
$26.50 Window
MINI LANE (AGES 3+)
BETWEEN 91 CM AND 104 CM
$17.50 Window
$21.50 Window
Note: Prices do not include 5% GST Tax. The cost of tubing includes a tube.
Book your tickets here.
Address: Whistler Blackcomb, 4870 Glacier Ln, Whistler, BC V0N 1B4.
Hours:
open daily until April 16th: 11am – 6pm (Last tickets sold at 5pm). Hours of operation are dependent on weather conditions and are subject to change.
Website | Facebook | Instagram
Once you've done snow tubing today, put your gloves on tomorrow and take your family to Whistler's Olympic Park for tobogganing. You don't need to bring your own sled because rentals are included in tickets. To recharge after a fun day on the hill, get some hot chocolate at the Day Lodge and wind down.
Looking for a place to stay in Whistler?
Ice Skate at Whistler Olympic Plaza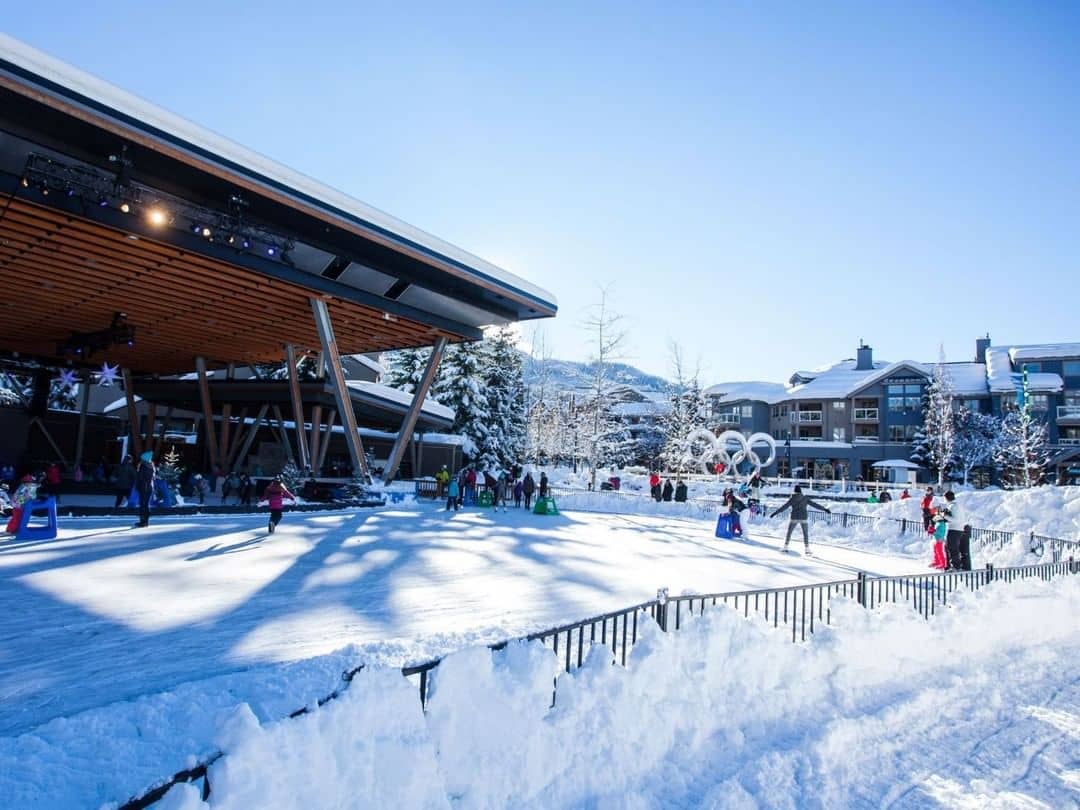 Skiing is fun but have you tried indoor ice skating? There's nothing that sounds more Canadian than ice skating, and Whistler is one of the best places to show off your skills.
Every year when winter comes, the stage of the Olympic Plaza transforms into a free skating rink where you can be a star of your own contest. Test out all three sections at the Olympic Plaza to pick your favorite. There's one to ice skate indoor, one for mini-games of hockey and the other one is out on the lawn.
The ice skate rink is open for a public visit without an entry fee. So grab your gear and feel the ramps to go up and down from the top rink!
Admission Rates:
Admission fee: $2, if you bring your own skates
Skate rental: $9, includes admission fee
Helmets and skate aids are available at no charge.
Address: 4144 Village Stroll (Road access from 4365 Blackcomb Way), Whistler BC
Hours: 11AM–1:30PM, 2:30–5PM, 6–8:30PM (daily).
Climb or Snowshoe to the Base of Alexander Frozen Falls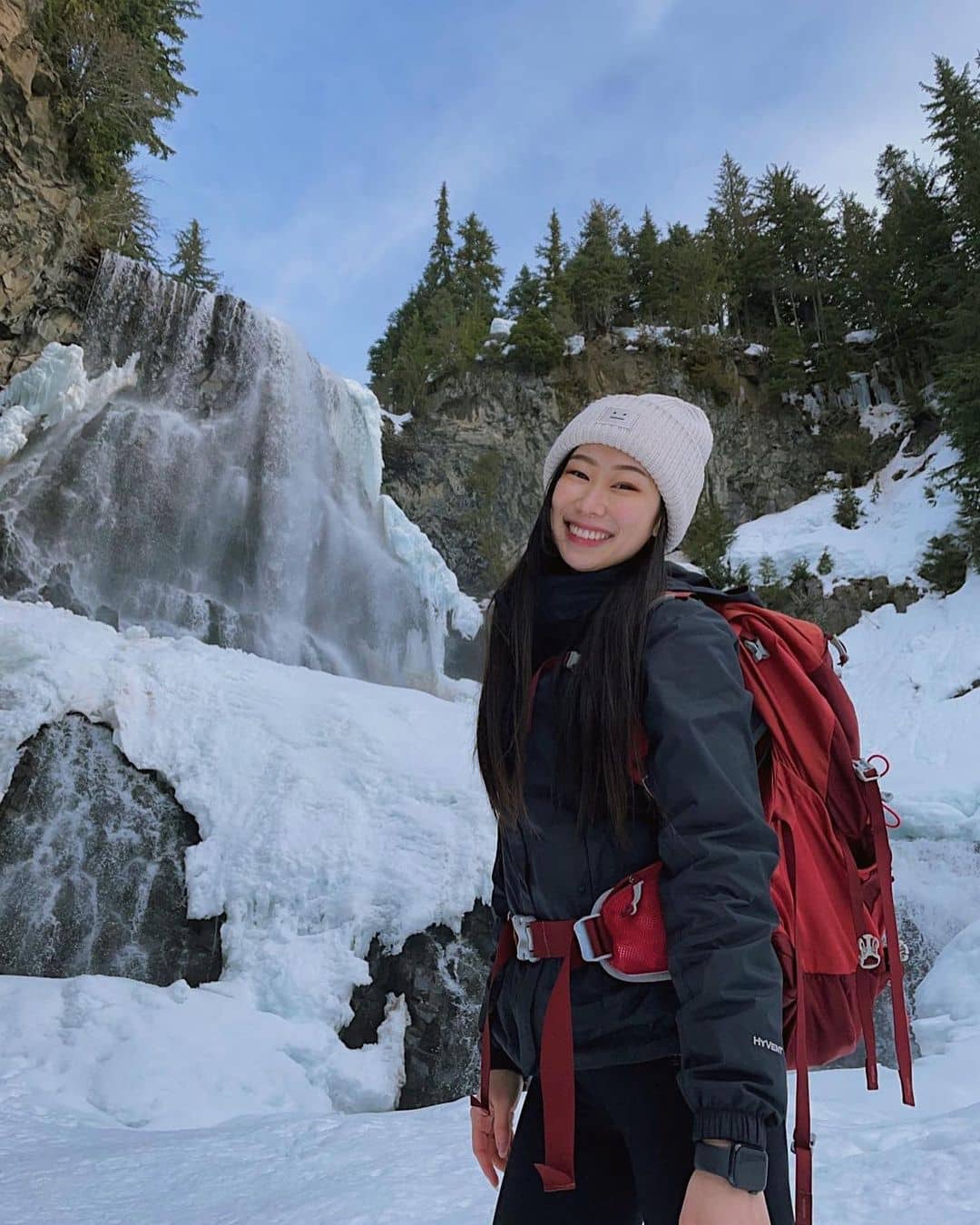 When the temperature drops, snowshoe into the forest following the Ski Callaghan trails and be amazed at the cascading Alexander Falls frozen into an awe-inspiring ice sculpture.
The cascading water freezes into tiers of icicles when the temperature drops below zero. Alexander Frozen Falls is a spectacular present from mother nature that reaches a whopping height of 55 meters.
An easy day out like this won't knock you off in pain with muscle soreness like what you get after a long day skiing.
Play Bobsleigh, Luge, and Skeleton at Whistler Sliding Center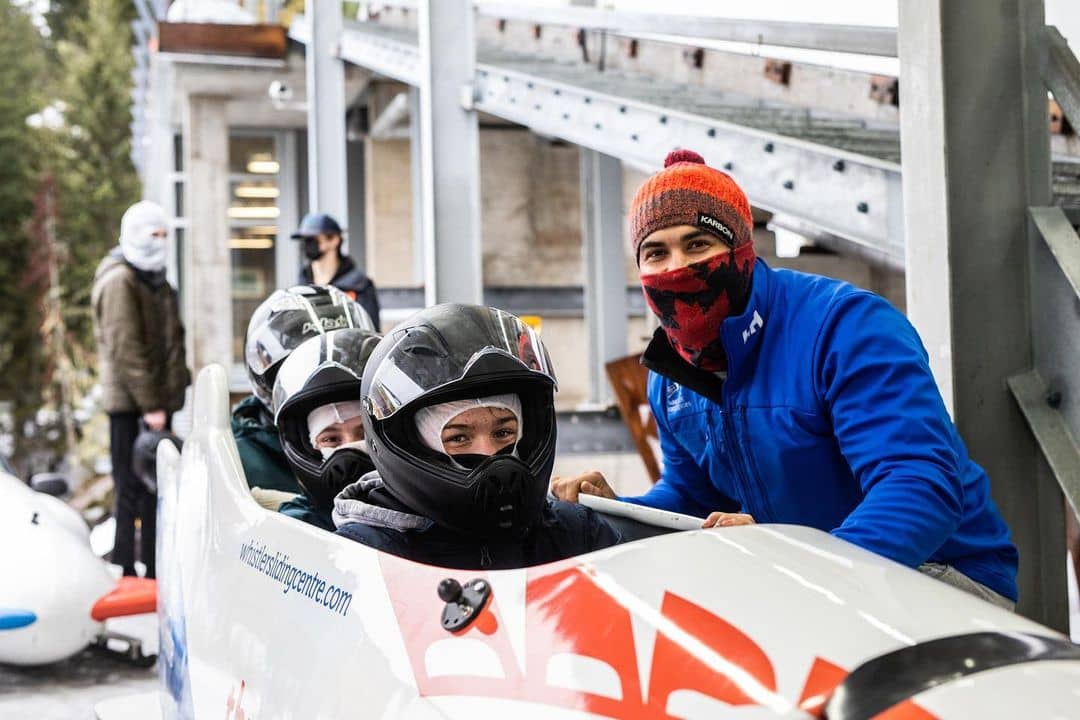 Have you tried bobsleigh before? It's a crazy sport where you tuck yourselves in a metal tube and slip down an icy track at a lightning speed.
It looks terrifying, doesn't it? But once you get your hands on this speedy game at Whistler Sliding Centre, you'll realize that it's not as scary as it seems.
Whistler Sliding Centre takes pride in its state-of-the-art facility where you can experience the action first-hand while being accompanied by a trained pilot in passenger bobsleigh and skeleton rides.
Drive to the base Blackcomb Mountain, book a ticket and ride the Excalibur Gondola to reach the center.
Admission Rates: 2 hours passenger bobsleigh and public skeleton starting at CAD $209 (USD $158).
Book your tickets here.
Address: 4910 Glacier Ln, Whistler, BC V8E 0C2.
Hours: 9AM – 7PM
Website | Facebook | Instagram
Explore the Powdery Hills on a Horse-Drawn Sleigh Ride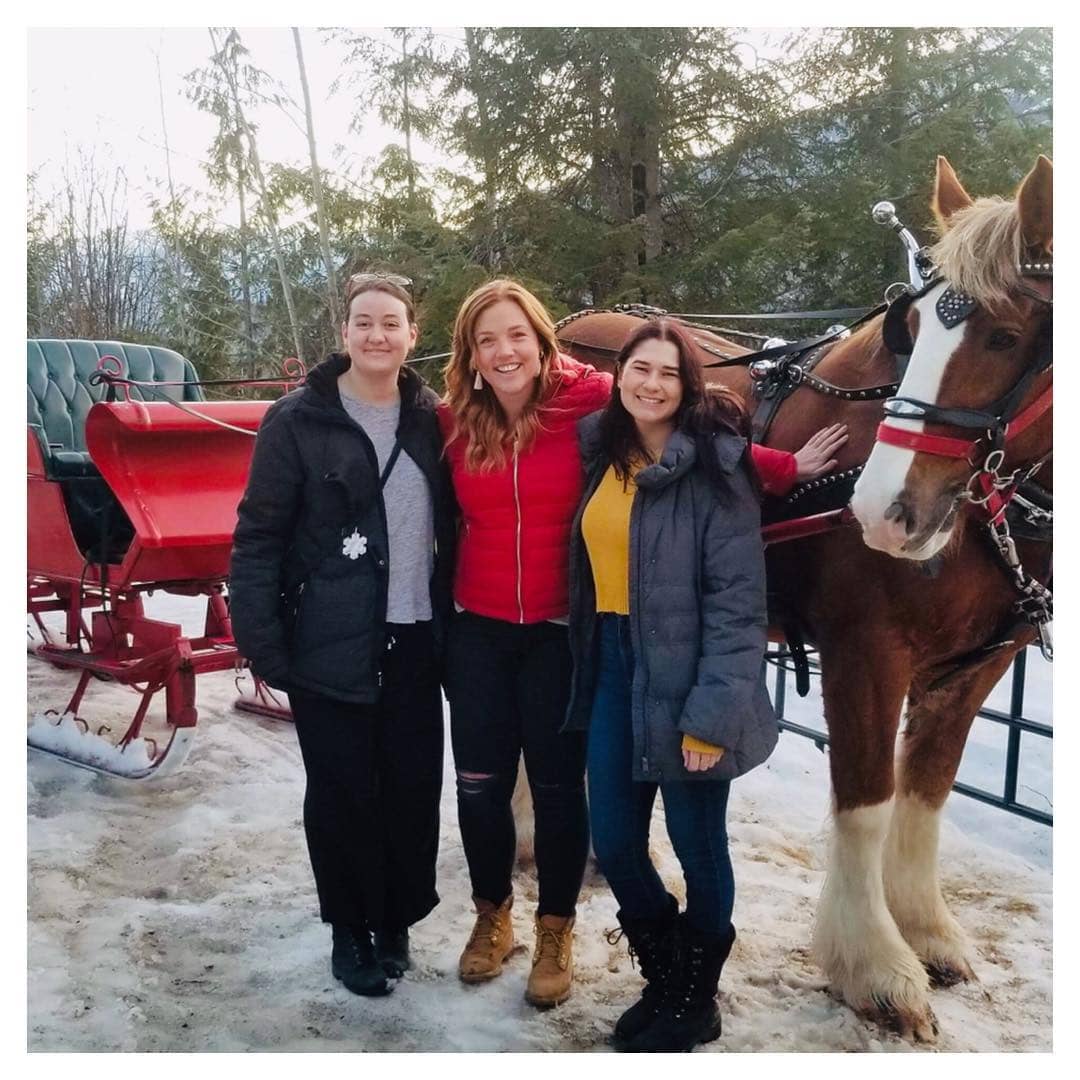 Note: Sleigh ride tours are not running in 2021/2022 season
Dashing through the snow on a horse-drawn sleigh ride promises a whimsical experience that provokes a true Canadian winter vibe.
No sore muscles nor intense exercise! Take a ride up to Whistler Blackcomb after dusk, sit back, tuck in warm and let the hard-working horses pull you across the powdery alpine hill.
A horse-drawn sleigh ride is a top call for those who want to take it easy without missing out on the magical environment blanketed in snow. It's also a great idea if you're looking to spruce up your winter holiday.
Go Ice Fishing in a Frozen Lake
Here comes another Canadian-related thing to do in Whistler during winter to tick off the bucket list!
Ice fishing in Whistler takes somewhere around three hours. Step out to the frozen lakes near Whistler, wind down in the incredible beauty, let its stillness cleanse your mind while waiting for some rainbow trout or kokanee to hit your line.
Ice fishing in Whistler requires a valid British Columbia Freshwater Fishing License. But those who want to embrace their winter holiday in full swing won't let this chance go to waste.
At the end of the trip when you see some trout, pike minnows, and steelhead pop out through the hole cut in the ice, it's a great reward for your patience after hours sitting still.
Want a guided ice fishing experience? Check this ice fishing trip.
Sail into the Woods with an Eagle Viewing Float Tour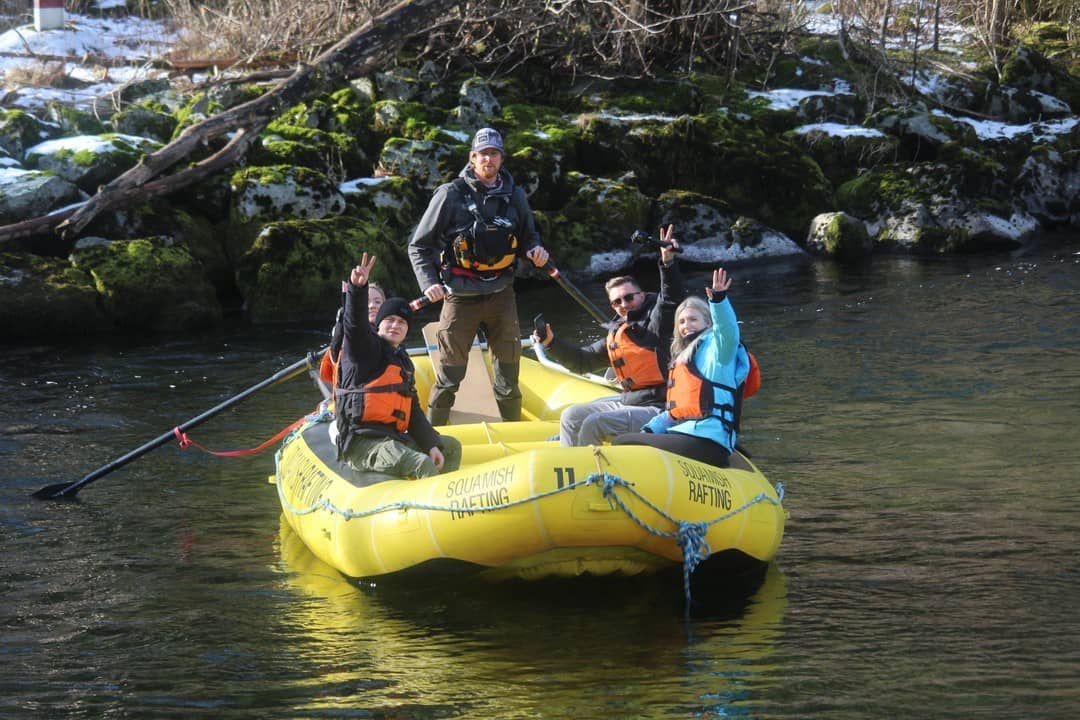 On any given day between November and February, eagles soar across the sky and wait to feed on those salmon that jump over the glacial-fed Squamish and Cheakamus rivers.
If you have a free day to spend, join an eagle viewing float tour from Whistler to admire this spectacular nature movement from a beautiful vantage point!
Floating into the woods and spying on eagles are a thrill to begin. Then learn about the life cycle of Whistler's bald eagle and salmon as the guide narrates when you gently sail on the river.
Book your Eagle Viewing Float Tour
Enjoy the Après-Ski Culture of Whistler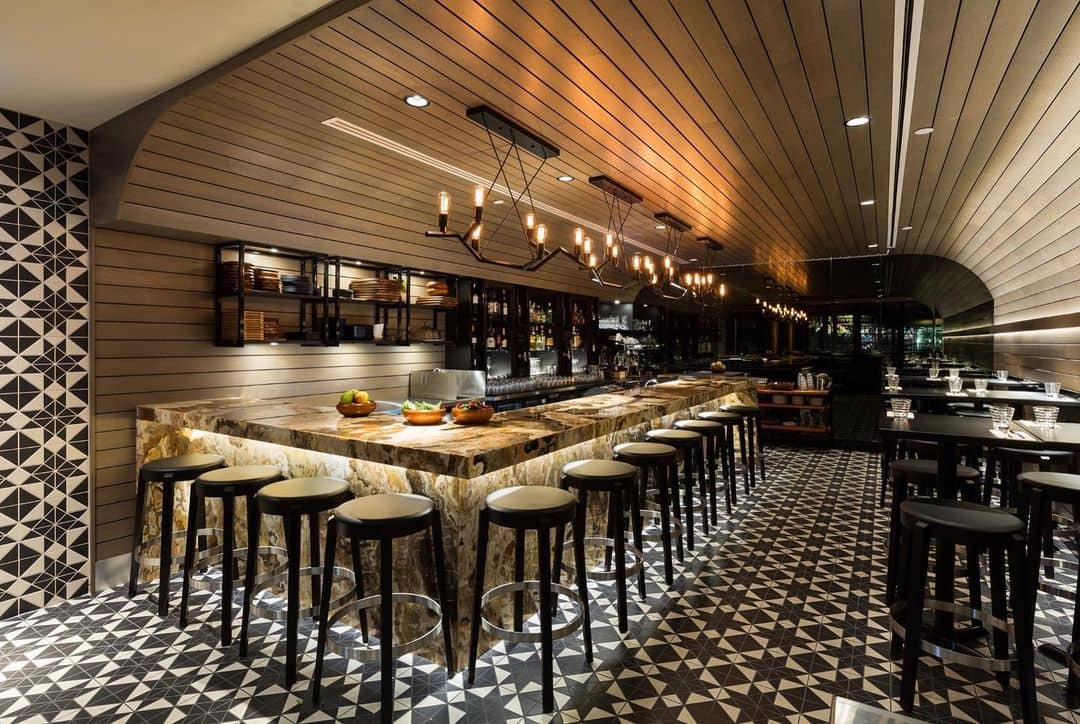 Nothing beats the temptation of an après-ski after a long day shredding the snowy ridge. So put your gear aside, head to an outdoor patio, sip on a beer, and munch on some hearty nachos after coming back from the ski resort.
The après-ski culture takes place around Whistler Village. Check out these best restaurants and bars in Whistler to pick the one that suits your tastes. The best après-ski bars have outdoor terraces where you can enjoy live music and eat good food.
Accommodations in Whistler
Things to Do in Whistler During Summer, Spring, And Fall
Go Whitewater Rafting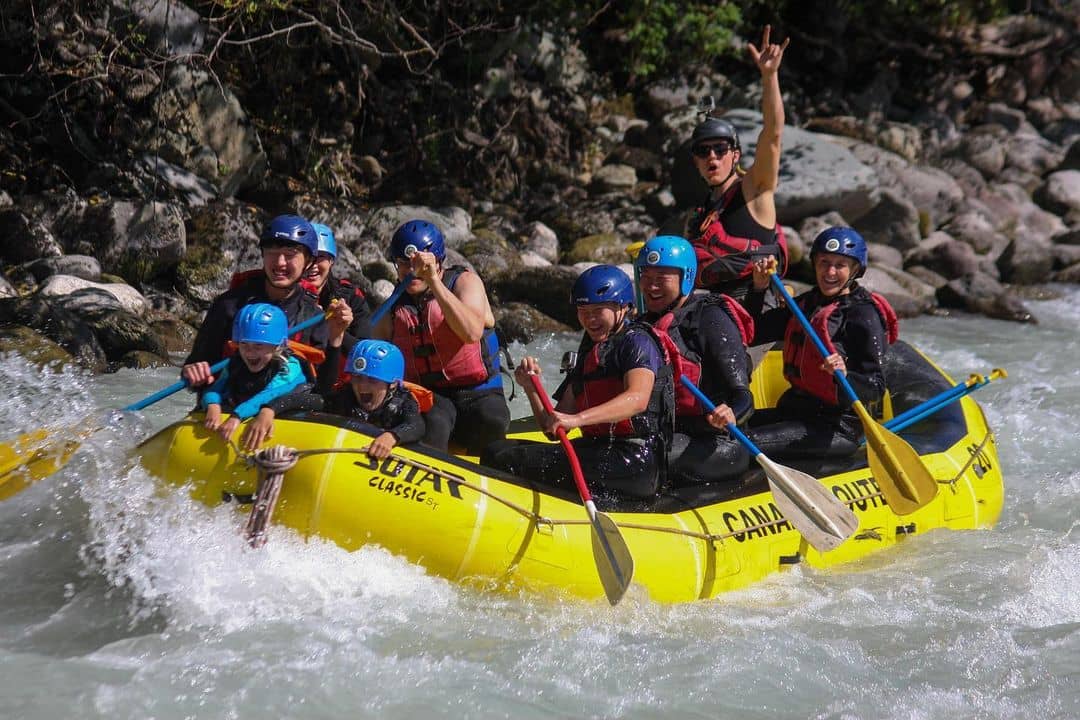 Skiing is fun, but enjoying the thrills and spills of wedge rafting guarantees the same level of intensity and excitement.
When the snow hasn't crept back to Whistler, book a trip with a wedge rafting operator and wind your way down the soaring rapids. Taking an early bath on the raft will erase all sweats and heat that come in the way. This epic outdoor adventure is best enjoyed with your fellas or family.
Book your white water rafting trip here.
Go Tree Climbing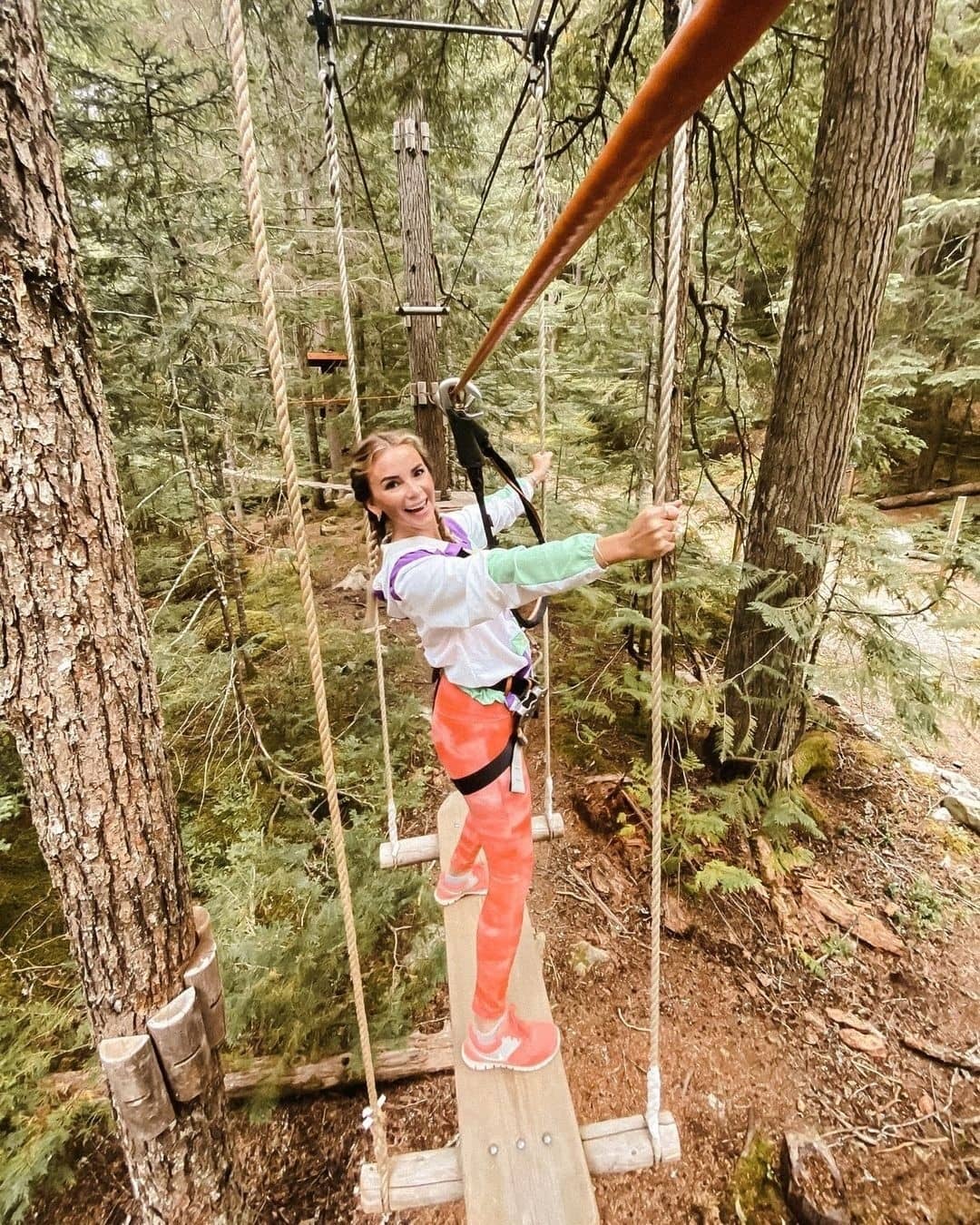 As the bright sunlight pierces through the canopies, let's head into the woods and leap down a treetop or zipline through the ancient forest!
Tree climbing is a great way to celebrate the summer heat, break the sweat and conquer your fear. You may want to take on an easy or moderate course, or game it up with The Treetops Adventure when the lines are perched high in the treetops.
Book your tree climbing expeirence here.
Paddle the River of Golden Dreams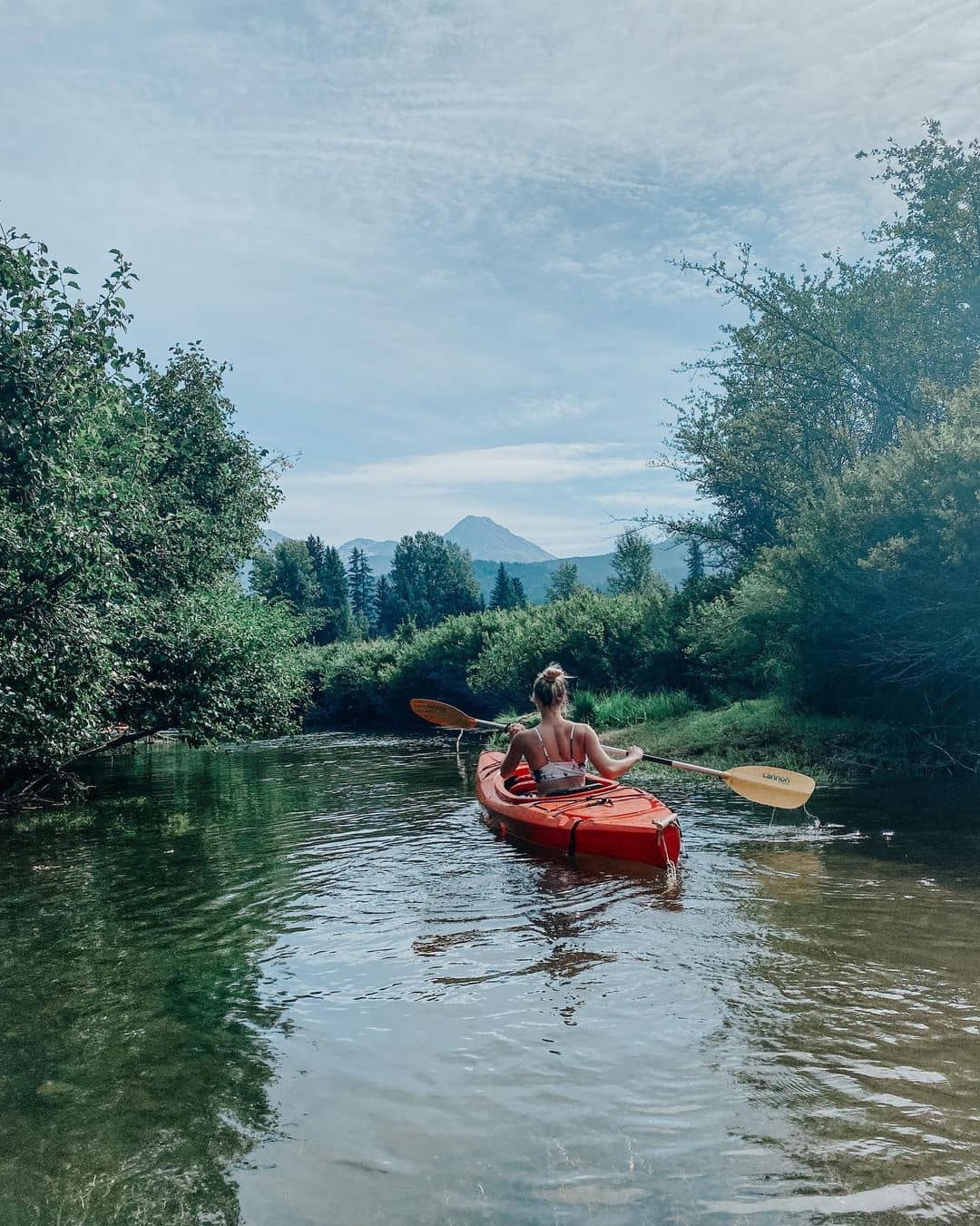 How about kayaking down the river of Golden Dreams when the sun still shines up high? Break a sweat and engage your cores as you paddle through the wildflower-lined tributary, cross the shady creek, and sail forward while reflecting on the crystal-clear water underneath.
The River of Golden Dreams is a crowd-pleaser. It will give you a whale of a time even if you're a beginner to kayaking. The whole journey is incredibly scenic as you meander under the snow-capped mountains that border the evergreen forests.
Catch a Glimpse of the Great Bears
Whistler is heaven for nature enthusiasts and wildlife lovers. Aside from the eagle, grizzly bears are Whistler's fascinating creatures that you can admire, learn and explore on the ground.
Let's sign up for a bear-watching tour to reveal all the coolest features about the bear habitat in Whistler in the most responsible way! You will be with a highly-educated guide who takes you on a safari ride and helps you explore the wild with style and responsibility.
Riding a jeep into the wild is seriously fun, and there will surely be some off-roading to make sure you can be intimate with the bears at a respectful distance.
Book your bear viewing tour here.
Ride a Jeep, ATV, or 4×4 Buggy to See Mountains and Wildlife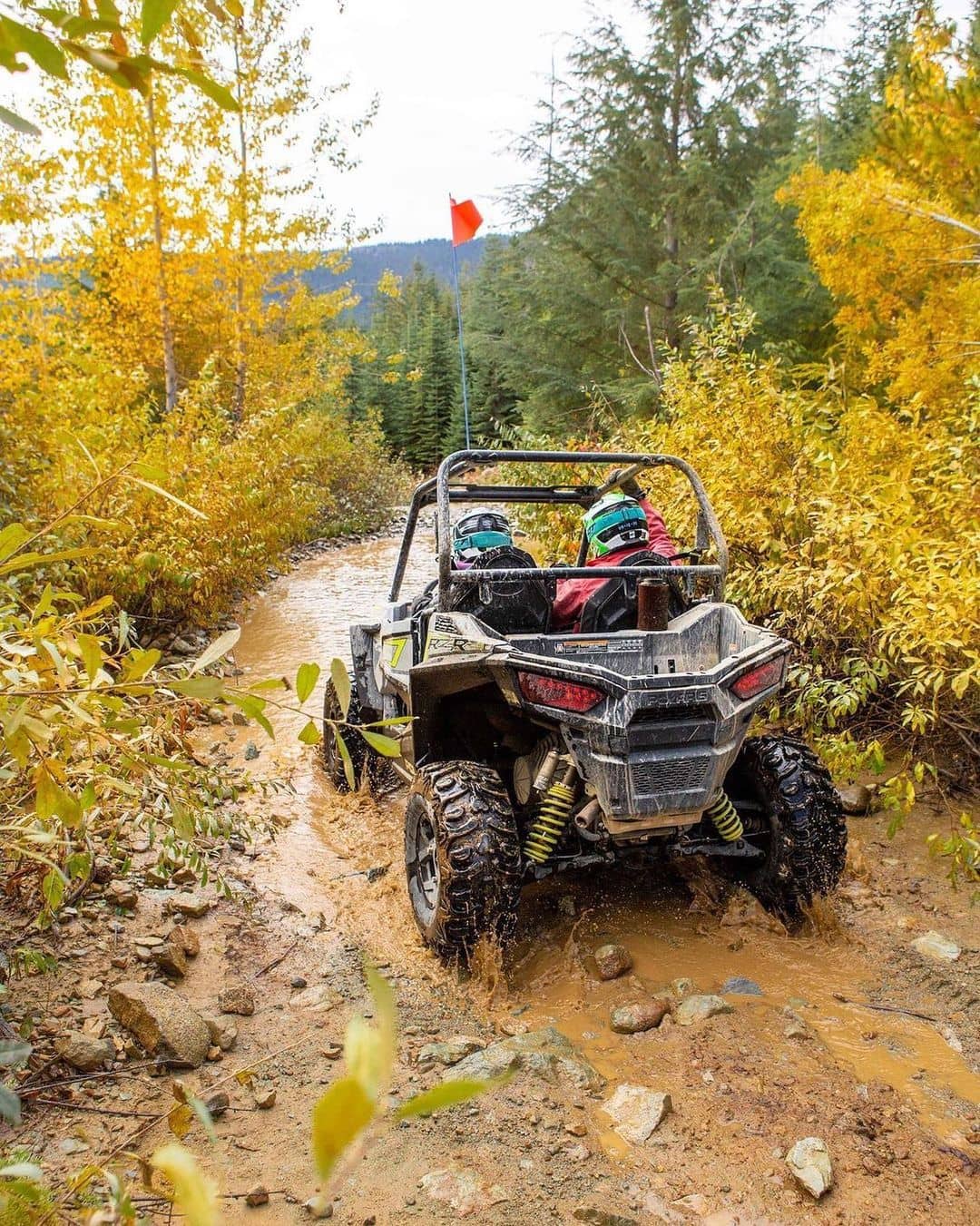 This summer, hop on a jeep and ride to the mountains to see their snow-capped peaks! Start in Whistler Village and go straight up to the base of the side of Blackcomb Mountain to contemplate the Horstman Glacier.
You will cut through the evergreen forest, steer slowly on the trails and the rocky mountain soon leaps out behind the trees. You can choose between a safari jeep tour, ATV, or a 4×4 buggy ride. Taking a jeep tour is also a great way to see wildlife along the way. So expect to see some deer chilling by their mothers behind the bushes!
Sign up for a Floatplane Tour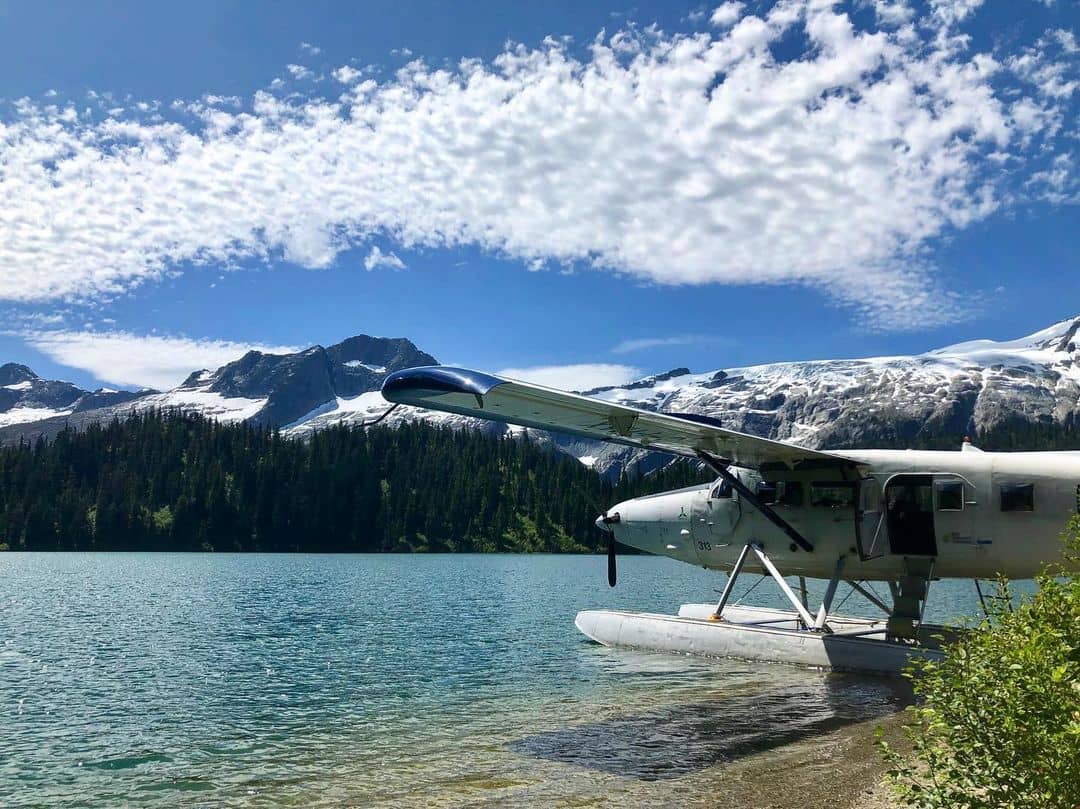 Getting tired of walking the land every day? How about soaring in the sky to enjoy a new angle of Whistler nature in a floatplane tour?
This dramatic experience promises a spectacular bird's eye view of the rugged mountains, rivers, glaciers, and lakes. A floatplane tour lasts from 20 minutes or as long as two hours, with the two-hour package including an alpine lunch.
Book your floatplane tour here.
Play Golf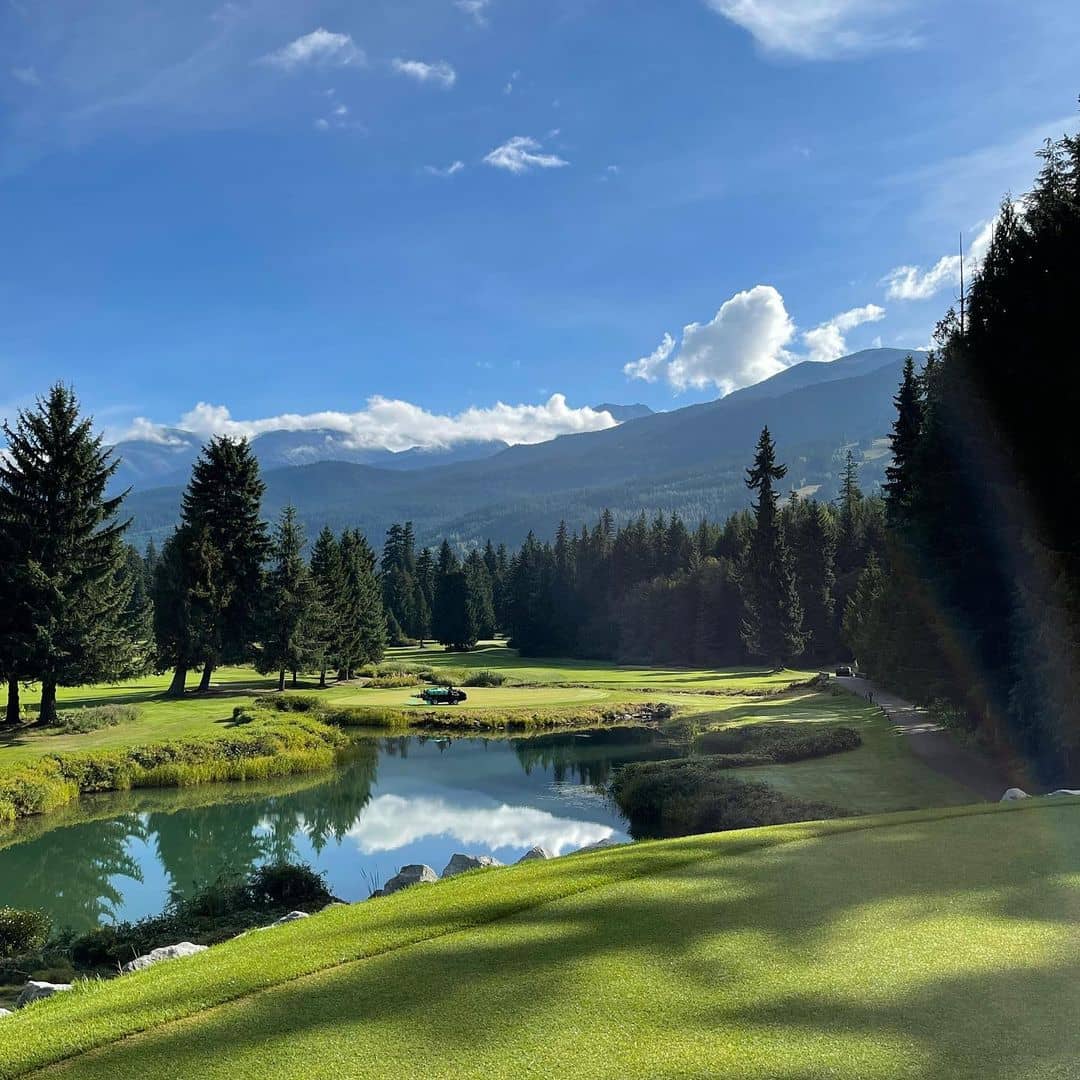 Swathed by soaring mountains and sprinkled with rugged forests, Whistler is recognized as the best golf destination in the province. Summer golfing is accompanied by a plethora of thrilling courses where you can tee off in a sweeping wraparound landscape.
Take your wedge out in the grassy knolls, stand on the fairway, breathe in the crisp mountain air before swinging your club. The best golf courses in Whistler range anywhere from the back of a resort to amazing places not far from town.
Explore Whistler on an E-bike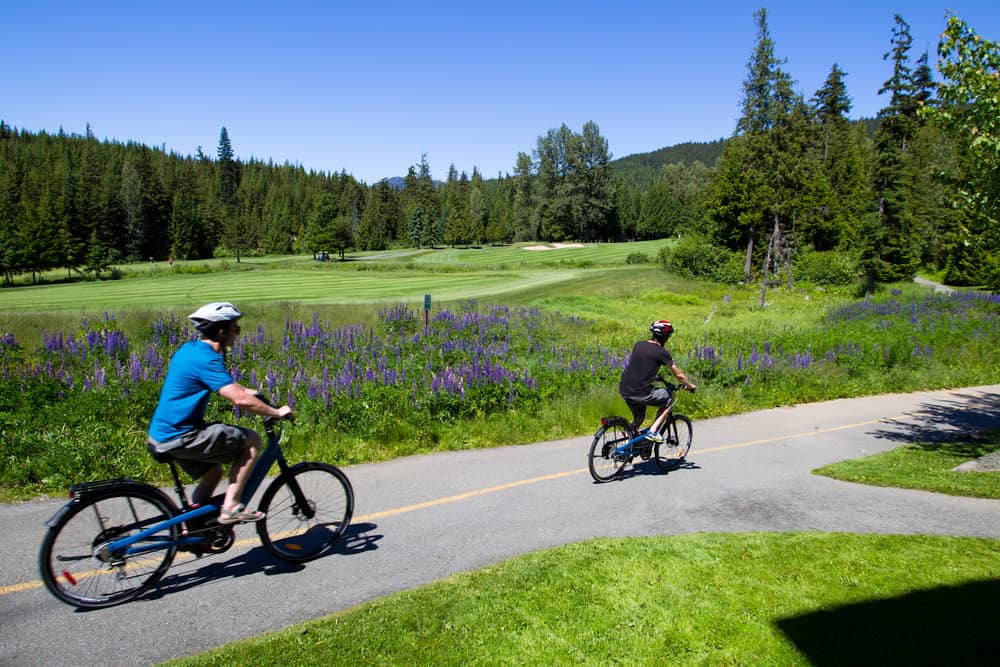 Hop on an electric bike and enjoy the breathtaking valley in the most sustainable way. This environmentally-friendly form of transportation is your best friend for a day as you meander on the rocky trails, snake through the forests, and pedal down the hills.
Rent a bike and venture out to the wild by yourself. Alternatively, sign up for a guided tour and glide past the glacier-fed alpine lakes, a golf course, watch bears, and pedal under the ancient Canadian red cedar stands to call it a day.
Once your core is tired, stop en route by a café to wind down and recharge.
E-bike rentals can be found at Cycle Whistler & Whistler Sports
Things to Do in Whistler All Year Long
Drink Vodka in an Ice Room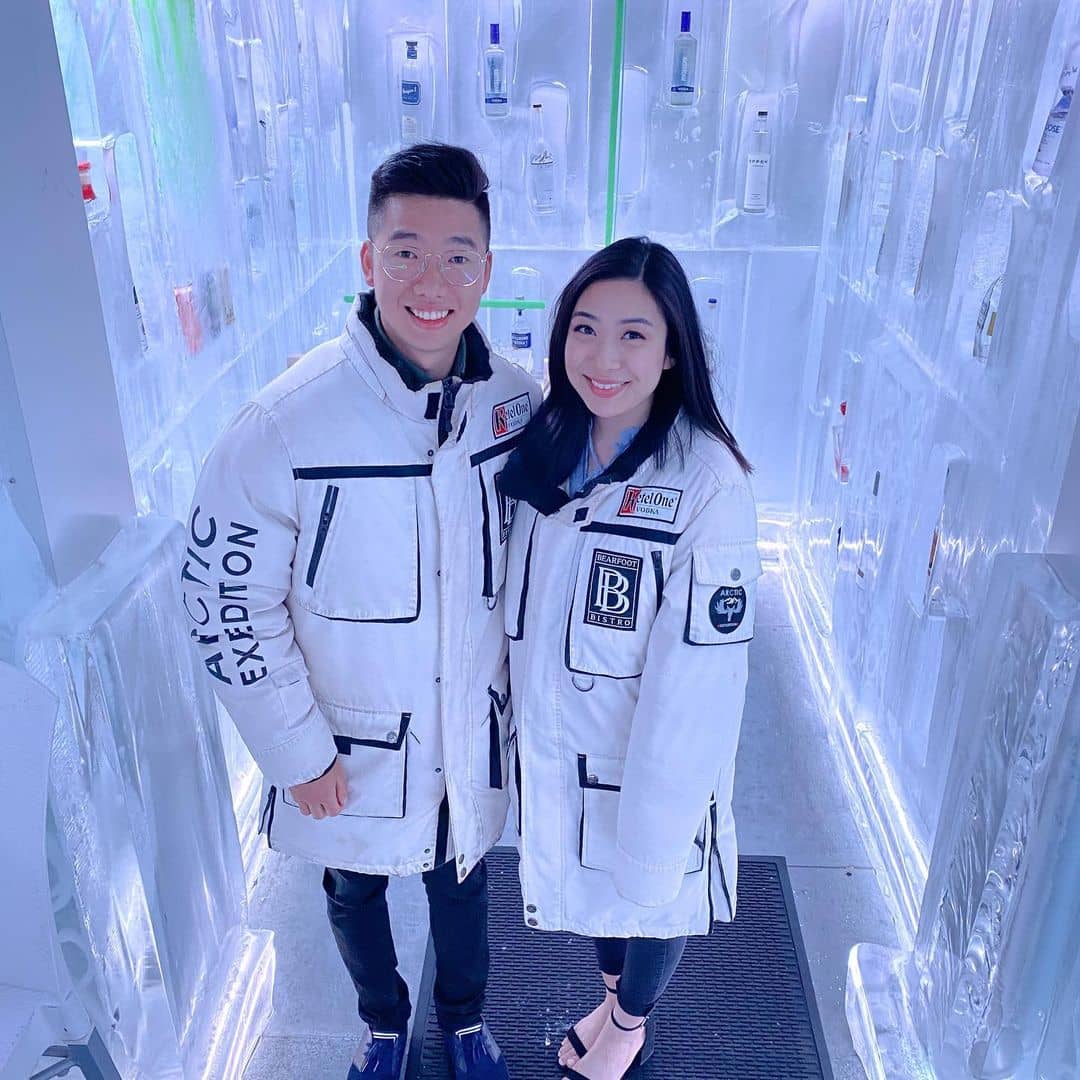 Let's make a great escape, but not into the woods, not to an island, but into a vodka ice room!
Do you know that vodka is best served cold? If you're a vodka fanatic, visit Bearfoot Bistro, tell them to take you to Ketel One Ice Room where you're surrounded by a -32°C environment.
This is an optimal degree weather and atmosphere serving over 50 worldwide premium vodkas. You will learn about the distillation, filtration, and grain processes before sipping on your favorite bottles.
It's more than just a drinking evening or a social gathering, but a curated, exhilarating adventure. So put on your arctic-ready parkas and venture out!
Admission Rates: $52/person.
Notes:
All bookings are prepaid for parties of 2 to 10.
Reservations are only available 3 weeks in advance.
Book your visit here.
Address: 4121 Village Green, Whistler, BC V0N 1B4
Hours:
Sunday: 4:30 PM – 9:30 PM
Monday: Closed
Tuesday: 4:30 PM – 9:30 PM
Wednesday: 4:30 PM – 9:30 PM
Thursday: 4:30 PM – 9:30 PM
Friday: 4:30 PM – 11:00 PM
Saturday: 4:30 PM – 11:00 PM
Website | Facebook | Instagram
Eat, Shop, and Relax at Whistler Village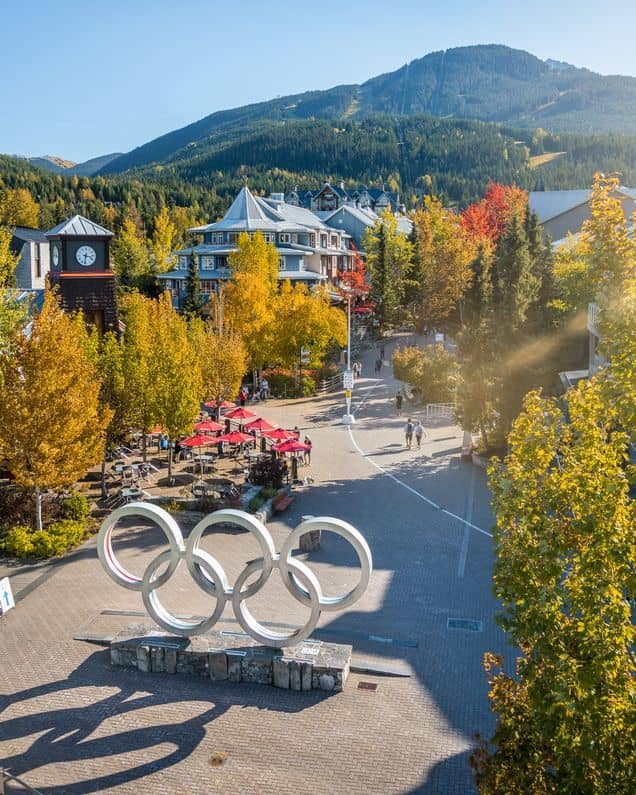 No vacation to Whistler is complete without a stop at Whistler Village. It's the beating heart of the area where all the main social community happenings gather. Whistler Upper Village is the main section of the area, which is located at the base of the Blackcomb Mountain.
On any given season of the year, you'll see hordes of tourists swing by this lively part of town. They walk around the alpine-themed buildings, dine out, and check out the picturesque shopping streets.
When it comes to dining out, you'll find the best restaurants wrapping around the beautiful pedestrian. There are lots of après-ski restaurants and bars serving up live music and hearty comfort food near the central hotels and Airbnbs.
Find a Green Getaway to Rebagliati Park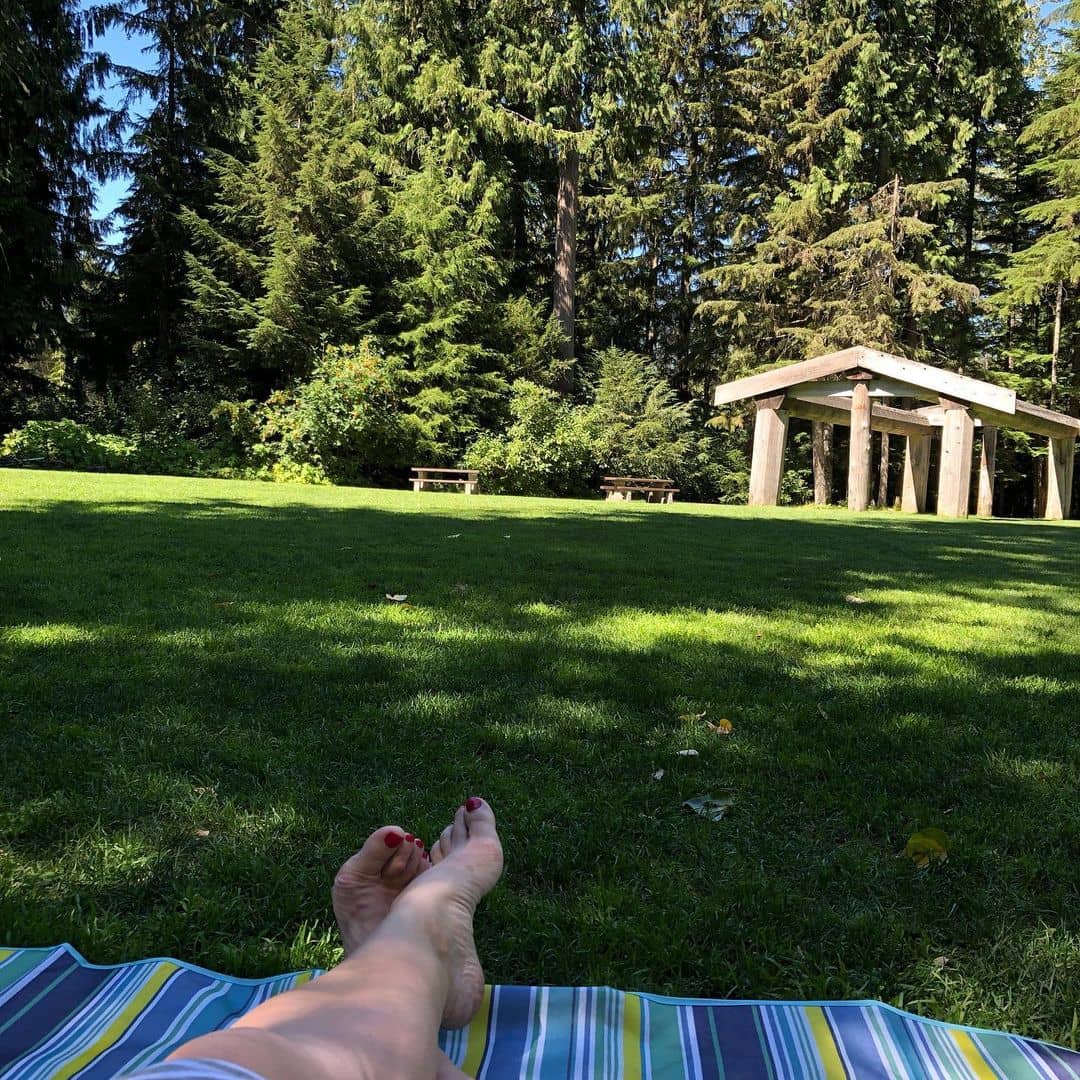 Nestled by a covered bridge between Upper and Lower Village, Rebagliati Park is a haven of solitude. It's blanketed with a luscious green lawn set deep in the woods. The park is more on the lesser-known side so you will find some meaningful time alone away from the bustling streets.
Whenever you need a quiet space to cleanse your mind from the hustle and bustle, come here to soak in the lush and unending greenery!
Address: 4540 Blackcomb Way, Whistler, BC V0N 1B4.
Take on a Hike to Parkhurst Ghost Town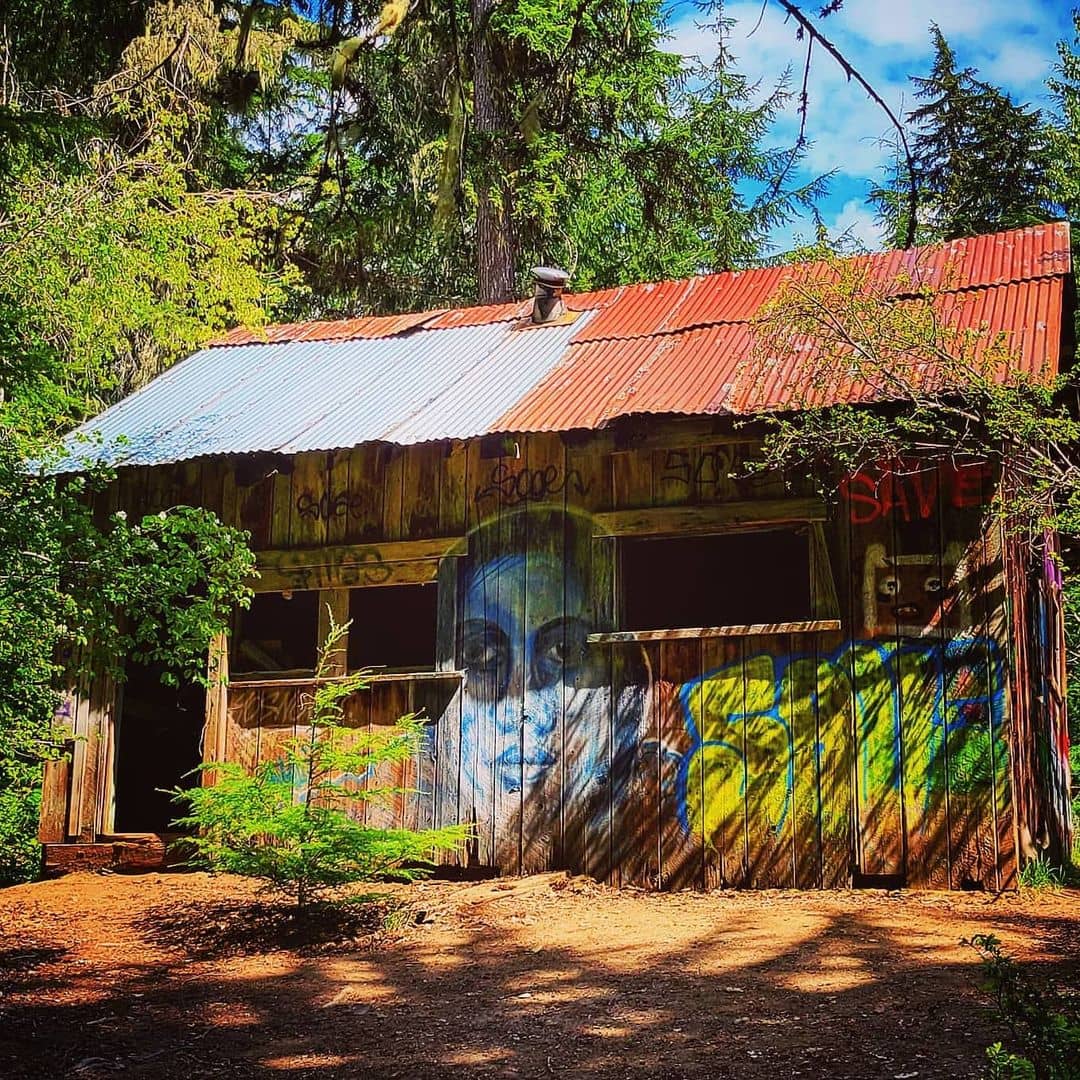 Linger that Halloween vibe with a visit to Parkhurst Ghost Town for some spooky experience. Jokes aside, Parkhurst Ghost Town is an abandoned town tucked behind Whistler Green Lake. Making your way to the town is an epic hike itself, with a multitude of historical artifacts waiting for you at the end of the trail. You'll see collapsed buildings, old stoves, and even a mysterious chalet with a smiley graffiti face slashed on the wooden walls.
Check out this Google Maps driving directions to the Parkhurst Ghost Town trailhead before you go!
Glide over a Bubbling Creek at a Zipline Course
The great outdoors of Whistler's nature beckons your attention from all angles, on foot, on skis, on boards, on a kayak, and in the air.
But how about hanging suspended between treetops? That's the joy you'll find when visiting a zipline course!
Choose from a multitude of zipline tours that your fitness level agrees. Bring your family out and watch them soar through the forest on an exhilarating high wire adventure. You can also walk through the forest and glide over a bubbling creek.
These adrenaline-fueled games are ready to be found at Ziptrek Ecotours, a famous zipline course located in the heart of Whistler. Other than that, you can also head northbound in a ten-minute drive for some unique experiences with Superfly Ziplines.
Ziptrek Ecotours
Book your tour here.
Address: 4282 Mountain Square, Whistler, BC V0N 1B4.
Website | Facebook | Instagram
Superfly Ziplines
Address: 4293 Mountain Square #211, Whistler, BC V8E 1B8.
Website | Facebook | Instagram
Hike and Bike on Whistler's Greatest Trails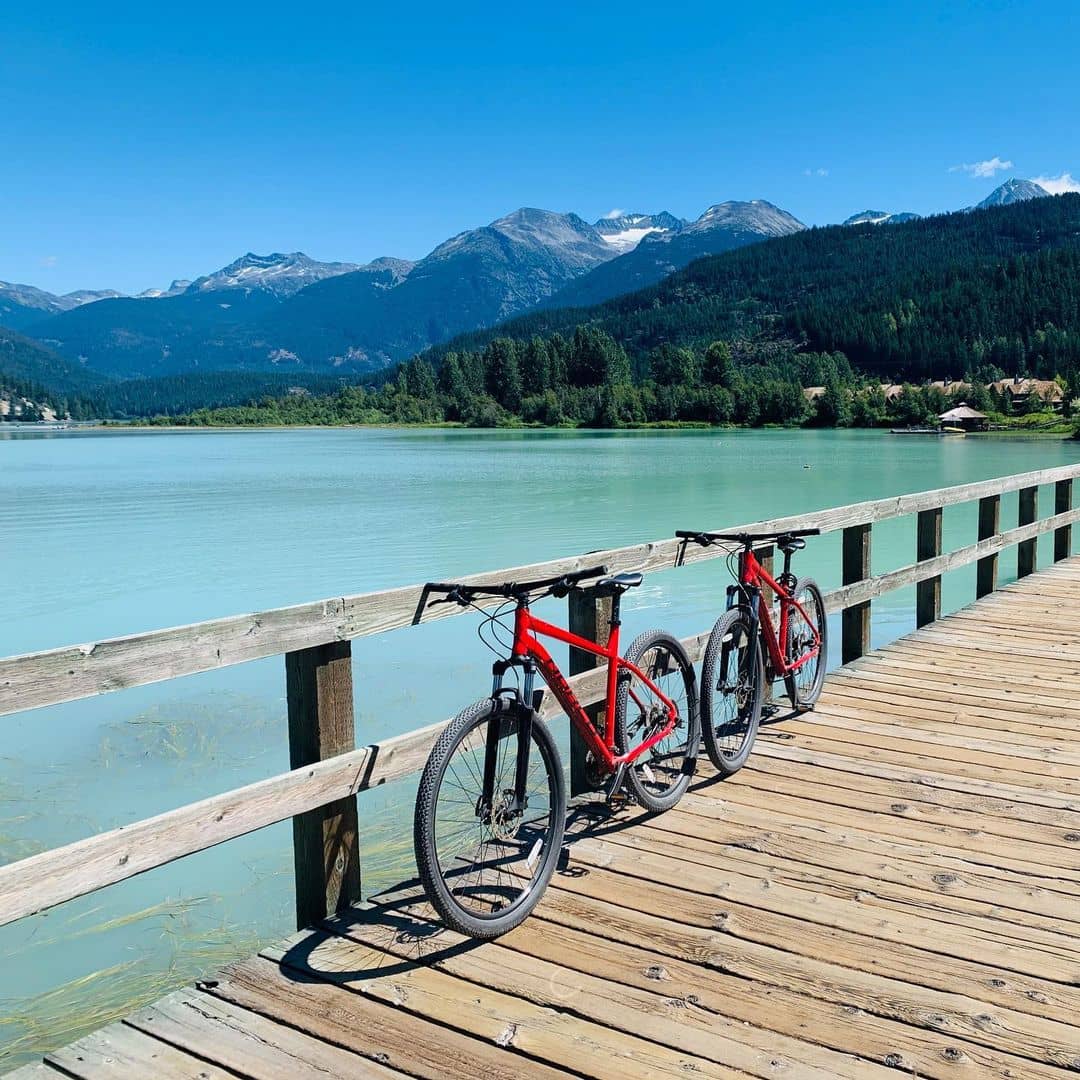 You don't need to wait for the snow to end to set off on your bike and lace up your shoes to hike and bike. The seasonal trails in Whistler have become such a big hook for outdoor enthusiasts as they can pick the ones they like anytime in the year.
Let us walk you in on a little secret! Late summer and early fall when the snow has just melted are the best time to hit the trails. It's a blissful point when the green grassy hills are merely revealed, and those well-trodden hiking paths start beckoning outdoor lovers.
Which one of these best trails in Whistler is your favorite? Some of them give you a mellow walk, while some let you take on a multi-day hike through the rugged terrain. We also break it down into season, difficulty, and distance to shed light on your doubts.
Hit the Streets to Celebrate a Seasonal Festival
Cornucopia, Crankworx, and Whistler Village Beer Festival are some of the most celebrated festivals in Whistler. If you happen to drop by this incredible town during one of those events, don't miss out!
If you're a big foodie, Cornucopia is definitely the right place to belong! It's a moment of time when global cuisines gather in one place. They host educational drink seminars, chef's demonstrations, signature events, and winery dinners for guests of 19 and older.
Then we have Crankworx, an adrenaline-fueled event catered to mountain bikers. Those with a big love for this off-road outdoor sport can partake in a ten-day race, slopestyle competitions, Kidsworx events, and bike demos with other like-minded riders.
Finally, the Whistler Village Beer Festival is one of our favorite events to indulge in the craft beer scene. Enjoy the main tasting events hosted at Whistler Olympic Plaza on the weekend. They also have cask nights, beer battles, and dinner events to pair your favorite food with the silky niceness of a beer.
Spend a Day at the Lake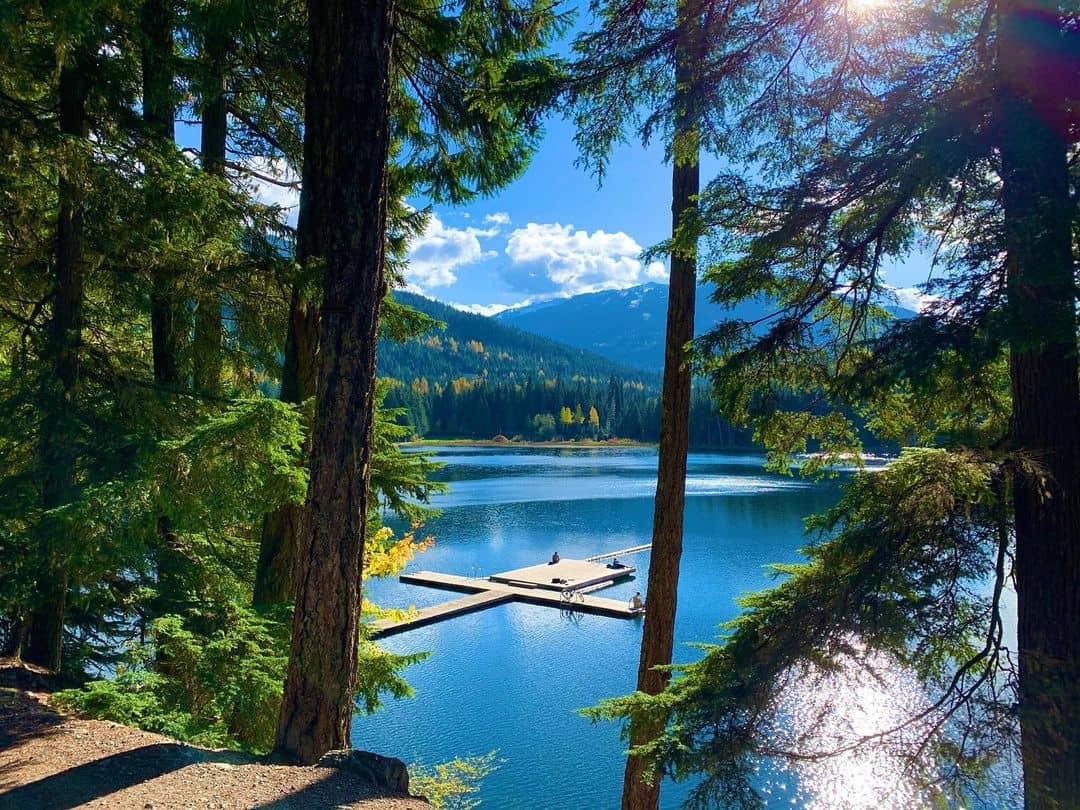 Do you know that Whistler is home to five different lakes, offering an unobstructed view of nature and connected with majestic networks of trails?
What we like about the lakes in Whistler is that each of them has a unique personality that keeps you exploring.
Let's take Green Lake as an example! This is the largest and deepest lake in the area. Green Lake is a top call for motorized vehicle riders to gather on any given sunny day to waterski and wakeboard.
Other than that, Lost Lake located within the namesake park is a hub to relax, play Frisbee, go picnic and swim.
Soak in the View from the Peak 2 Peak Gondola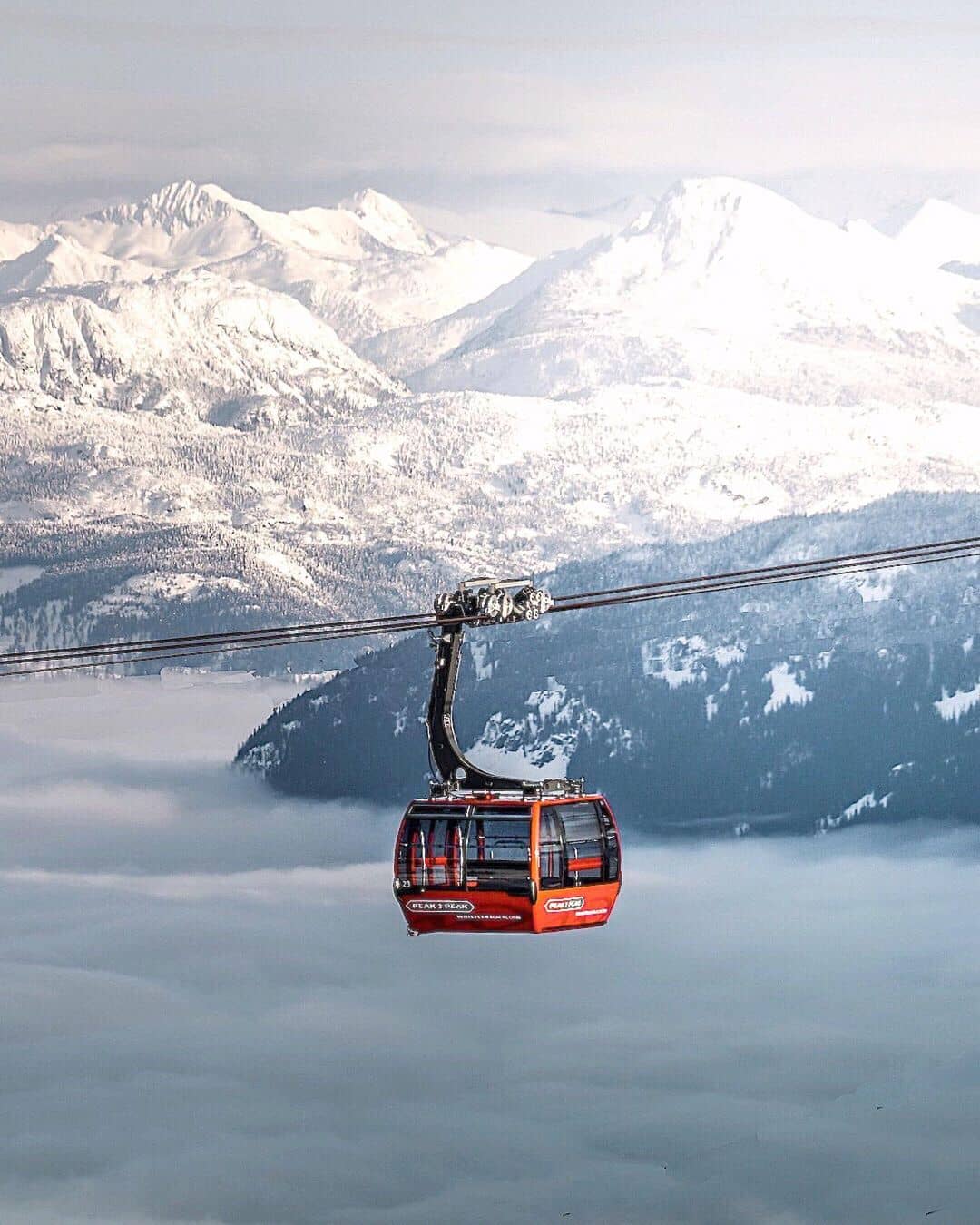 If there's one thing talked about the most in Whistler after skiing, that would be the Peak 2 Peak Gondola. Riding the gondola is a common, affordable way to surveil the magnificent mountain range in Whistler.
So what's it really like when riding the peak 2 Peak Gondola? What's so special about it?
The gondola connects Whistler Mountain's Roundhouse Lodge with Blackcomb Mountain's Rendezvous Lodge. Expect to ascend over the treetops throughout a 25-minute-long journey over 1900 meters above the ground. You're soaring above the sky while the sweeping wraparound view is floating underneath.
Once you reach the top, the full-day alpine adventure 360 Experience is waiting for you to enjoy. Pick a guided tour, a running trail, a labyrinth of giant snow walls, or indulge in the seasonal events!
Admission Rates:
Summer Sightsee Tickets (June to September)
| | | |
| --- | --- | --- |
| Type | Summer Rate | Fall Rate |
| Adult 19-64 | $90 | Weekends: $85 |
| Senior 65+ | $80 | Weekends: $75 |
| Youth 13-18 | $80 | Weekends: $75 |
| Child 7-12 | $45 | Weekends: $43 |
| Child 6 & under | free | Weekends: free |
Note:
The Summer Sightsee 360 Experience is your ticket to access PEAK 2 PEAK Gondola, Whistler Village Gondola and Blackcomb Gondola.
During fall, the PEAK 2 PEAK Gondola is open on weekends only.
Book your tickets here
Hours:
April 17 – June 9: CLOSED (No Access)
June 10 – September 10: 10 AM – 5 PM (Blackcomb Gondola)
September 11 – 24: 10 AM – 5 PM (Sat – Sun) (Blackcomb Gondola)
September 25 onwards: CLOSED (No Access)
Note:
Hours of operation are subject to change by season.
Final upload time 30 minutes prior to closing from the base lifts.
Website | Facebook | Instagram
Play Disc Golf in the Woods
An easy day out forest bathing seems promising, but have you tried disc golfing in the woods? Let's spruce up your outdoor activity with a friendly competition with friends and loved ones!
Disc golfing lets you relax in copious amounts of fresh air with easy exercise and a great deal of fun. This outdoor possibility doesn't demand top dollars either, so you can save more bucks for other leisure things to do in Whistler like eating and shopping.
All you need to do is purchase a disc and head out to Spruce Grove disc golf course at the back of Lost Lake Park. This is where you can try out 27 holes including 18 baskets and nine tonal poles.
Aside from Spruce Grove, the Kadenwood disc golf course is another place to try out. It's a lesser-known place with a secret hillside location tucked away in Bayshores. Both of these are public courses and free to use.
Spruce Grove Park
Address: 7328 Kirkpatrick Way, Whistler, BC V0N 1B0
Kadenwood
Address: 40 Kadenwood Dr, Whistler, BC V0N 1B2.
Go Bungee Jumping and Be a Daredevil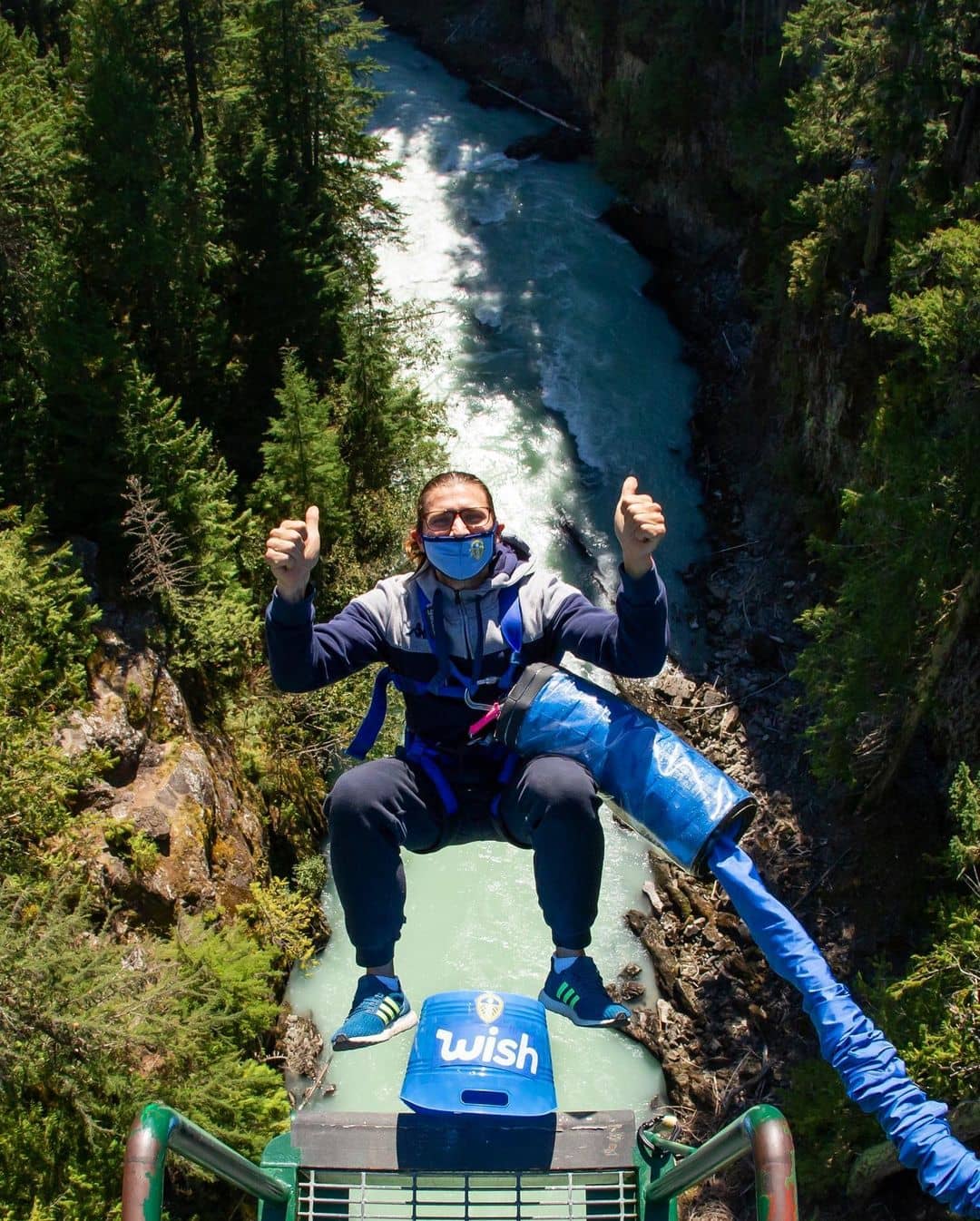 Here comes an adrenaline-stimulating game in Whistler that you can try any time of the year. Whistler Bungee is the highest and most impeccable year-round bungee jumping site you can find in Whistler. It's located 15 kilometers south of Whistler Village, perched 49 meters over the glacial-fed Cheakamus River.
If this heart-pounding game is where your heart is, get in the car and head southbound to immerse in an exhilarating freefall!
Leaping off a platform of great height is not the only joy you can get when bungee jumping in Whistler. It's the dramatic backdrop of Black Tusk, the Cheakamus River Canyon, and surrounding areas that make it worthwhile.
Admission Rates:
| | |
| --- | --- |
| Type | Price |
| 1ST TIME JUMPERS – SELF DRIVE | Pre-booking required$130 /person |
| TANDEM JUMP FOR TWO PEOPLE | Weight limit is 300lbs. $130 per person |
Sales Tax (GST) is included in all jump pricing.
Book your jump here.
Address: Calcheak Forest Service Rd, Whistler Bc.
Website | Facebook | Instagram
Join a Helicopter Excursion for a Thrill of a Lifetime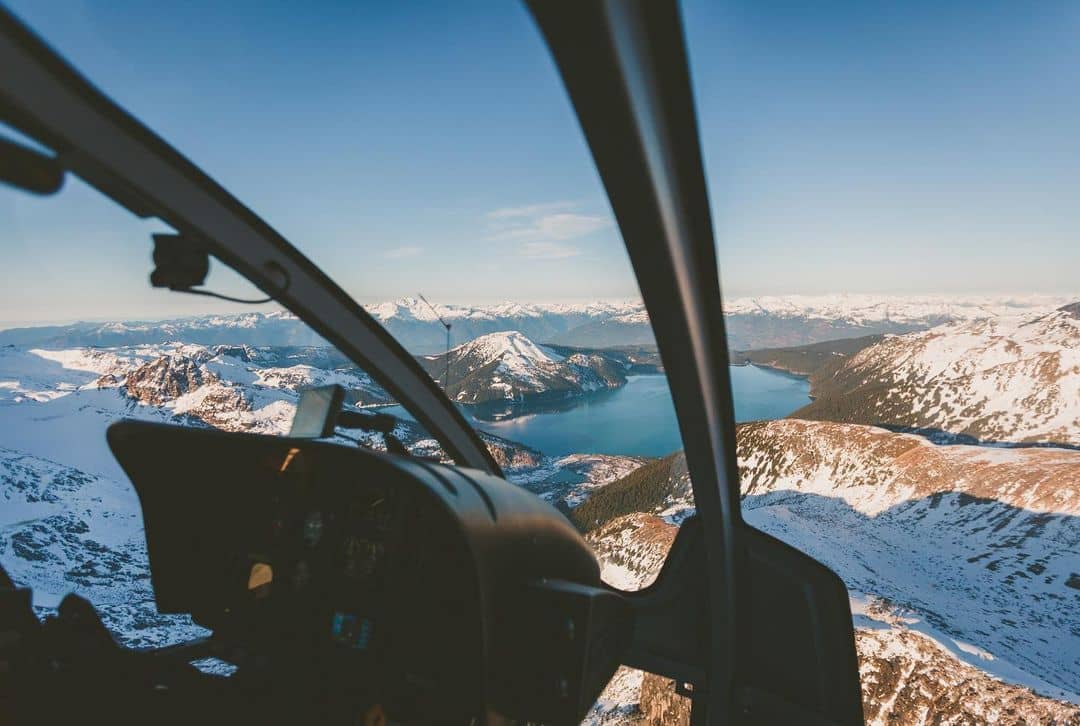 The untamed, rugged landscapes of Whistler show off its finest beauty in all four seasons. We know there's no way walking and driving on land can cover the entire dramatic beauty of Whistler within a day.
And that's why a helicopter excursion comes into play!
We already talked about heli-skiing above. This is the most famous helicopter excursion. But do you know we have six cooler ways to send you to the most scenic flights of your life? From Whistler Explorer private tour and BC Experience to Heli Picnics and Ice Cave Adventures, you name it!
A helicopter excursion tour like this can be as short as 12 minutes or up to full-day seven hours.
Book your excursion below:
Immerse in Whistler's Whimsical Tales at Vallea Lumina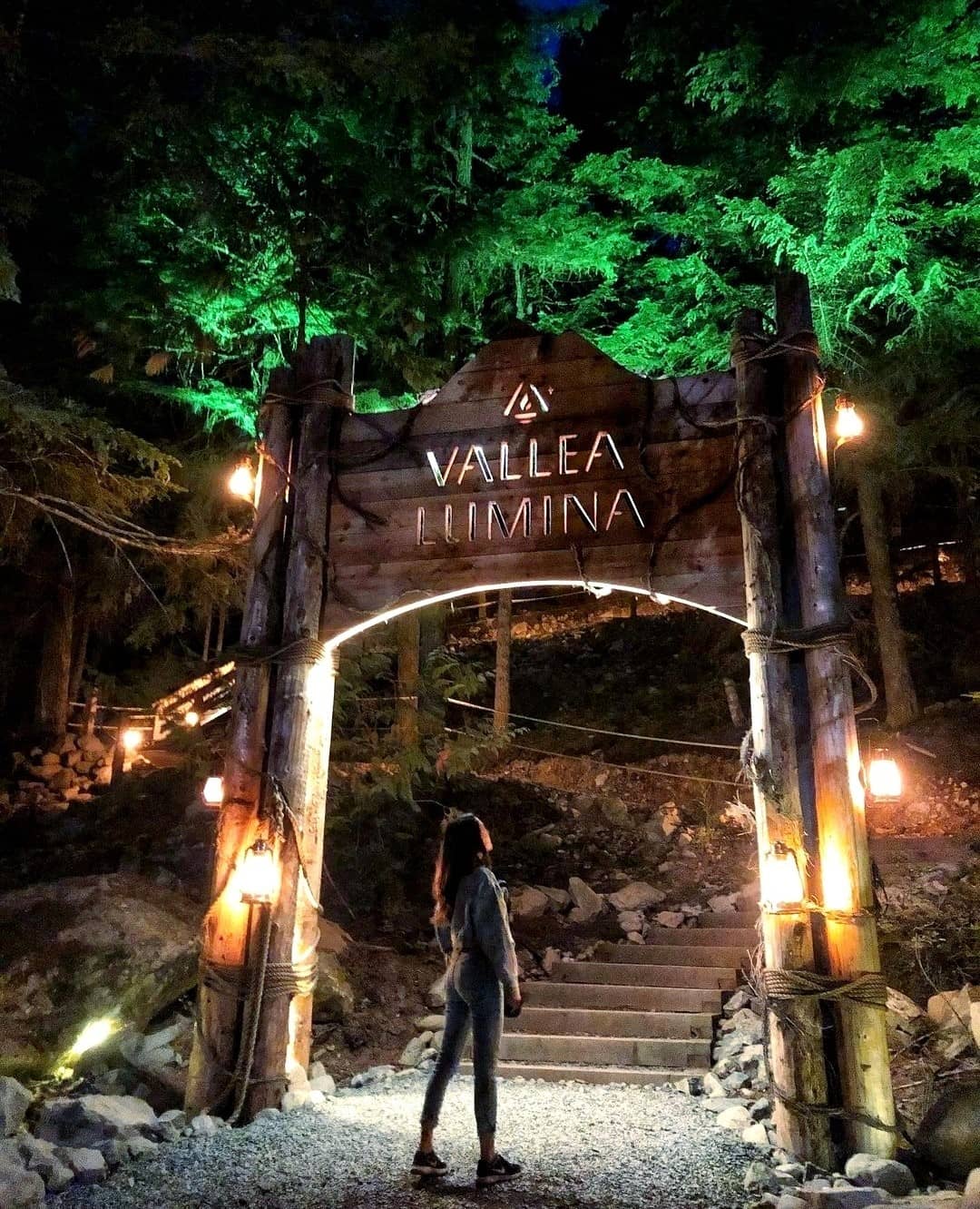 Traversing up and down the forest path of Vallea Lumina is something you barely find elsewhere.
A journey to Vallea Lumina is an evening excursion projected by cryptic radio transmissions. You'll turn into a tale seeker following the traces on a pitch black road deep into the woods. This is where you find a hidden valley where stardust falls from the sky, filling all living things with pure light.
The entire journey is unequivocal, complete with three firepits, atmospheric music, with a snack bar at the end of the journey to sip on a hot drink and reflect.
This never-before-seen journey takes your night experience to a whole new level. It's all about the magical, Pandora-esque feeling coming from the dazzling light and sound effects that keep the stories engaging as much as possible.
The summer pathway takes between 50 minutes to 80 minutes, while the winter one is between 40 and 60 minutes.
Admission Rates:
June – October (Opening June 2nd, 2023)
| | |
| --- | --- |
| Type | Price |
| Adult 13 and over | $49.99 |
| Youth 6 – 12 | $44.99 |
| Child 5 and under | Free |
November – May (Now Closed)
| | |
| --- | --- |
| Type | Price |
| Adult 16 and over | $34.99 |
| Youth 6 – 15 | $29.99 |
| Child 5 and under | Free |
Note: Closed on select midweek days during low volume periods, check booking window for up to date availability.
Check updated operating hours and book your journey here
Address: 4293 Mountain Square #211, Whistler, BC V8E 1B8.
Website | Facebook | Instagram
Fill Your Cart with Local Crafts and Fresh Produce
The best thing about Whistler's shopping scene is that you're not limited to any specific goodies. There's so much going on to please even the most demanding shoppers.
This quaint hilly town is chock full of special boutiques. But the first place we want you to check out is Function Junction's Camp Lifestyle + Coffee Co. This trendy, innovative mountain espresso bar houses incredible Canadian crafts like Northwest Coast Indian bangles and MacAusland's blankets.
Then we have Fanatyk, a highly visited ski shop catered to custom footbeds and Intuition boot liners. Even if you're planning an easy day to stay put, stop by Nesters' Market and Wellness Centre to find fresh local produce. Steak, deli, lobster, fish – you name it!
Give Your Taste Buds a Fancy Treat with a Fine-Dining Dinner Tour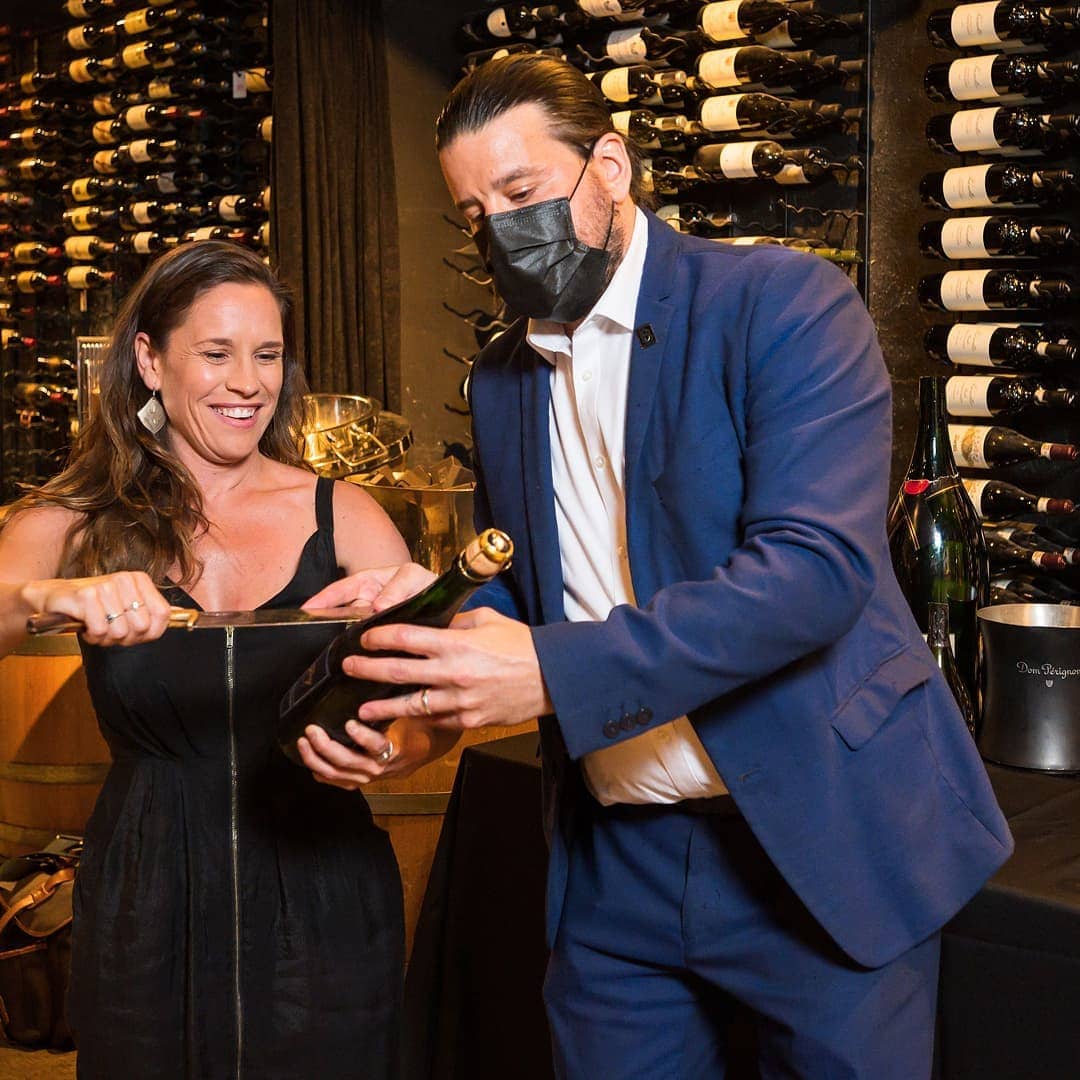 Spending a day outdoors in Whistler doesn't necessarily keep you on the hills or in the forest. If you love food, why not book a fine-dining dinner tour and learn how Whistler earned its foodie credentials?
When joining a fine-dining tour, you don't have to venture out seeking hidden gems all by yourself. Follow a local foodie to unveil the finest restaurants for an intimate, extra-special experience. Looking for something fancy? Choose a wine-pairing upgrade to make your taste buds go crazy!
From steak to seafood, from wine truffles to seasonal desserts, taste your way around and immerse yourself in Whistler's fine-dining reputation!
Book your fine-dining tour here.
Throw a Roaming Dinner at Whistler's Hidden Gems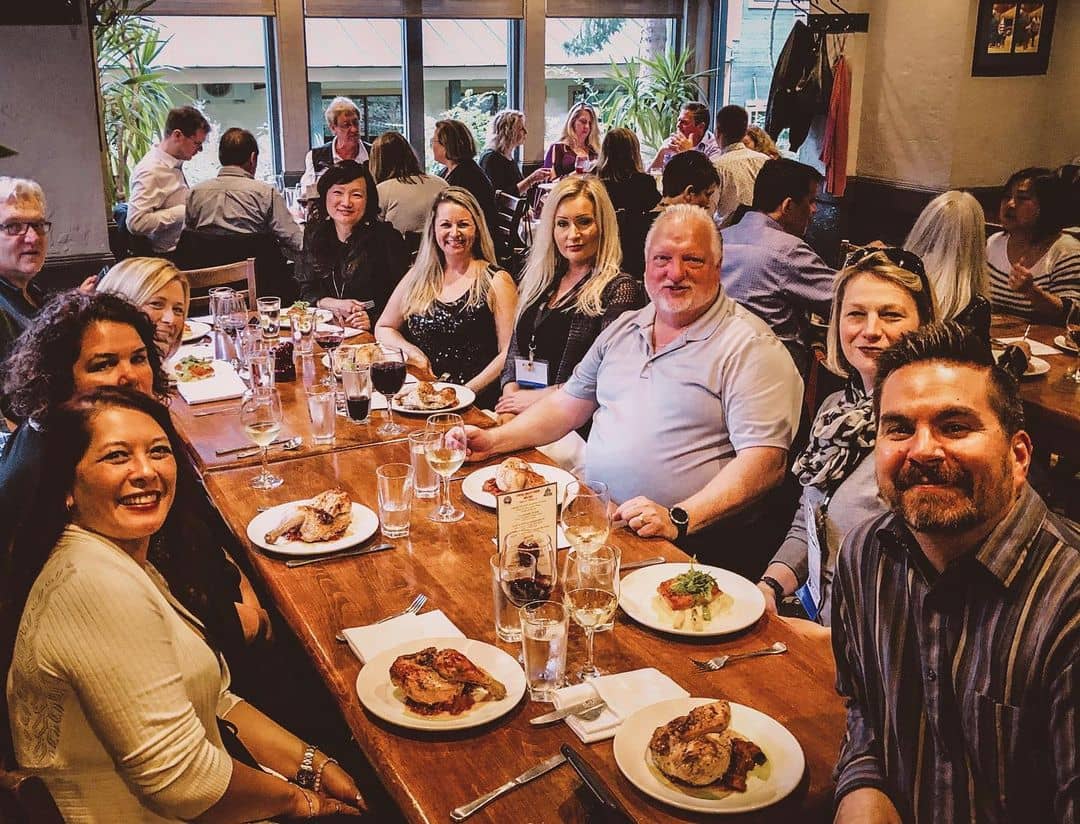 If you're keen on a more casual, laid-back vibe strolling around Whistler's secret dining spots, this tour is for you. Are you here for some award-winning tapas, fresh seasonal vegetables, and traditional comfort food? If that's a yes, this hidden gems dinner tour is the last thing you want to miss.
A night of roaming meals helps you discover Whistler's hard-earned culinary reputation. It's way better than a self-ordered meal because you don't have to wander through their websites, lock in a date and book a table. All reservations are prearranged on the tour!
Book your hidden gem food tour here.
Sling Axes to Hit Bullseyes at Forged Axe Throwing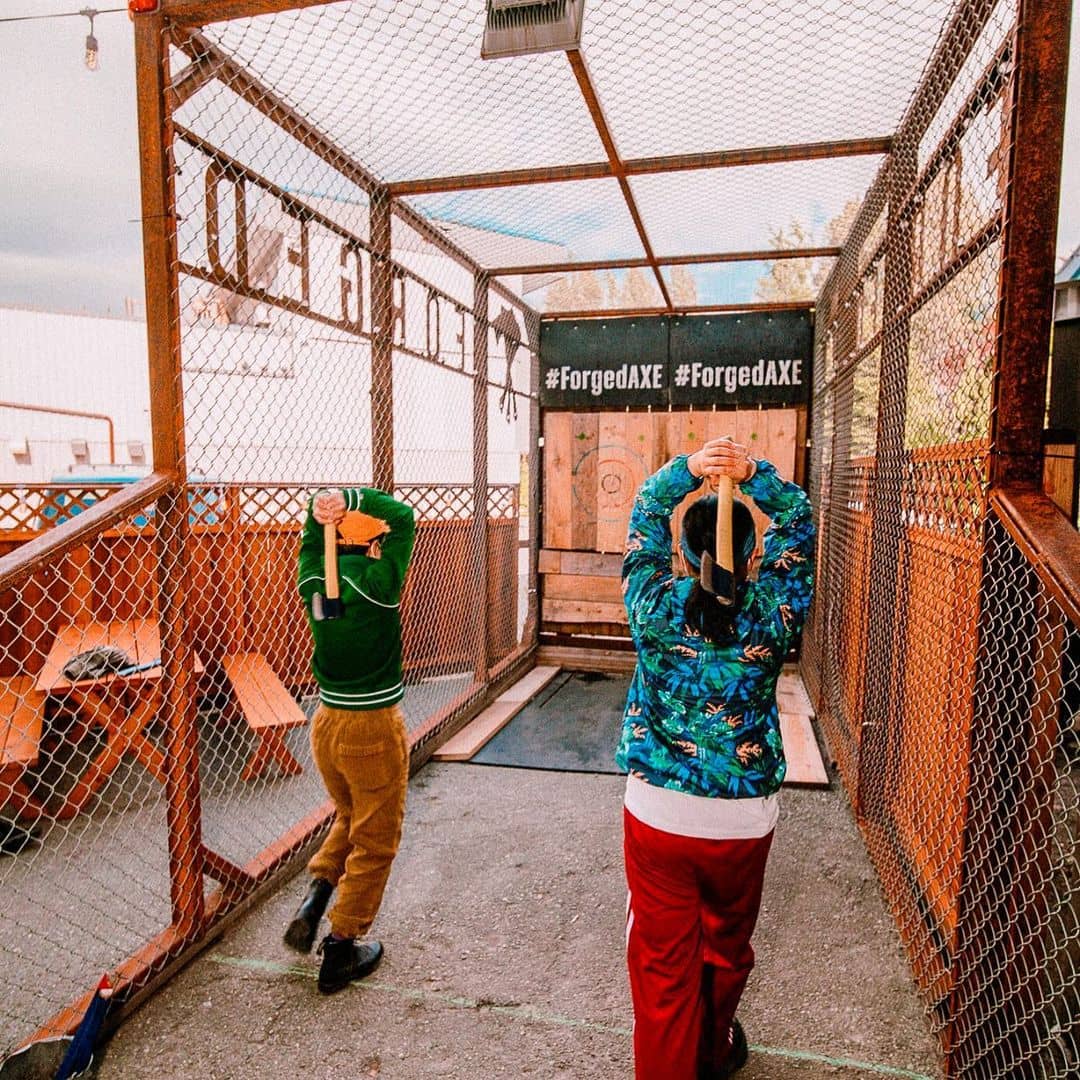 Have you tried hurling an axe across a room into a target and competing with your friends? Axe throwing at Forge in Function Junction is some of the coolest things to do in Whistler.
A 15-minute drive south of Whistler Village leads to a funky industrial hub where you learn to lob hefty blades into targets with the help of a friendly professional guide. You don't need to be a timber veteran or any experience to partake in this exhilarating sport. All you need is a pair of closed-toe shoes, lock in a date, and book a reservation in advance!
Admission Rates:
1 Hour starting at CAD 37.99.
3-Hour Venue Buyout starting at CAD 2499
2-Hour Axe Throwing League starting at CAD 97.
Private Axe Throwing – 2 Hour starting at CAD 47.99
Book your slot here.
Address: 1208 Alpha Lake Road, Whistler, BC V0N 1B1
Hours: Mon – Sun 12 pm – 6:15 pm PDT.
Website | Facebook | Instagram
Ward Off Toxins, Get a Spa Treatment and Soak in a Hot Tub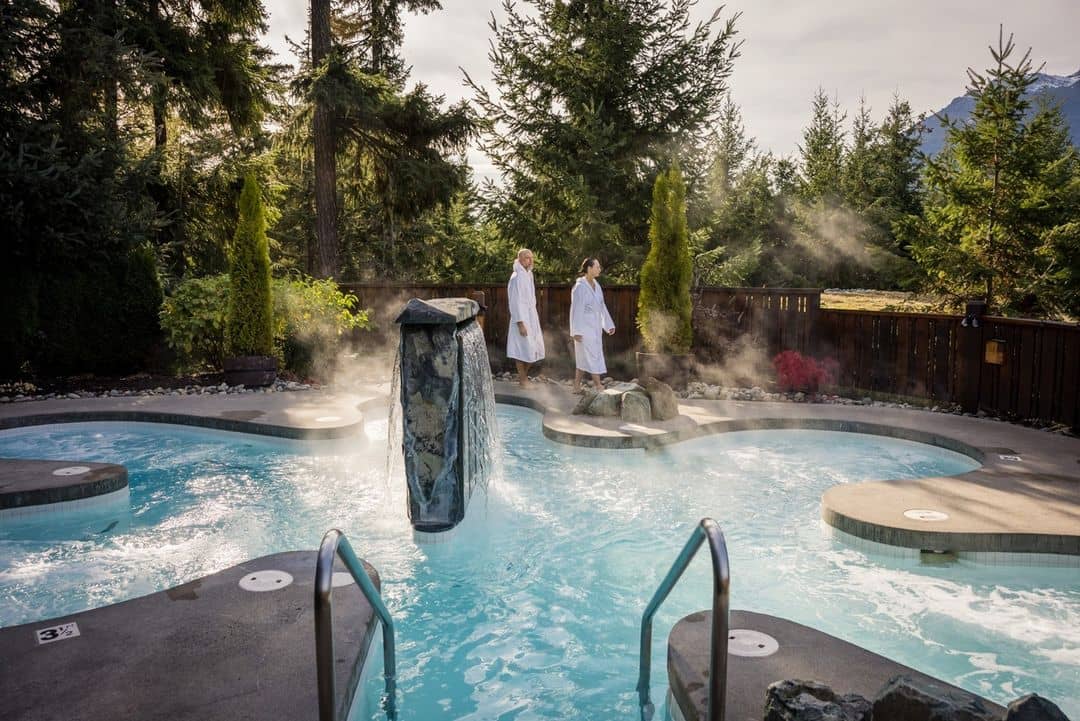 Getting a spa treatment after winding down at a hot tub is the best ritual to fight the cold in Whistler. Let it open your skin's pores and ward off toxins.
After you spent all day skiing, hiking, and adventuring in the mountains, head back to Scandinave Spa to pamper, ache your muscles and get your cold feet figured out. This enormous spa is a haven of après-soak and treatments. There are plenty of temperature pools to hop between before resting your body on the massage lounge.
Address: 8010 Mons Road Whistler, BC, V8E 1K7.
Website | Facebook | Instagram
For a more luxurious experience, reserve a spot with The Spa at Nita Lake Lodge! It has two outdoor hot tubs nestled under the gorgeous mountains, a sauna, and plush couches to recline for hours.
Address: 2131 Lake Placid Road, Whistler, BC, Canada, V8E 0B2.
Website | Facebook | Instagram
Go Shooting at Pemberton Whistler Shooting Adventures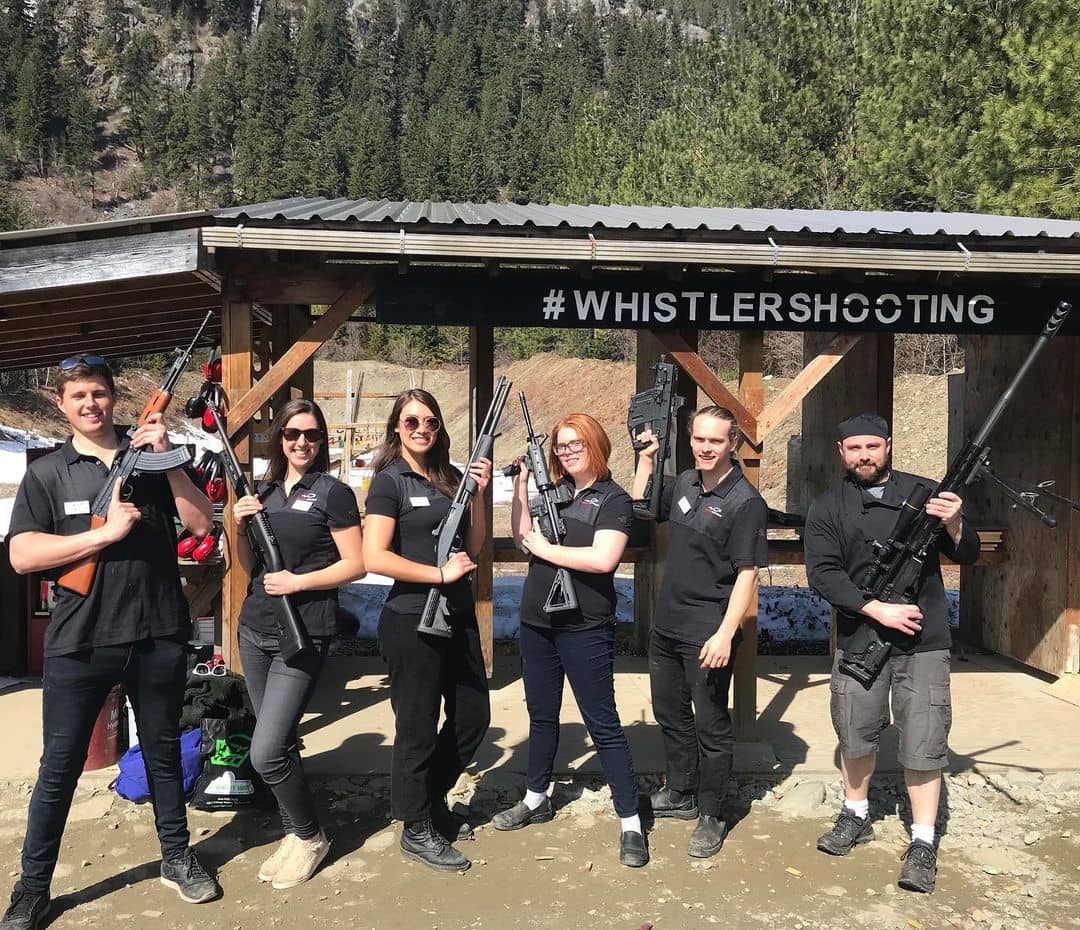 Head northbound for 20 minutes from Whistler Village and you will see a beautiful wildlife shooting range that arms you up with a rifle, handgun, or carbine to become a sharpshooter for a day.
Pemberton Wildlife Association Shooting range is a place of exhilaration. Grab your friends, get into the woods and practice for the best shots! This shooting range is a place for everyone from 10 and above.
No experience nor a firearms license is needed to sign up for a shooting session at Pemberton. There's a multitude of firearms to choose from, including low recoil, rifles, handguns, and carbines. All of them are provided in multiple packages.
Admission Rates:
| | |
| --- | --- |
| Type | Price |
| Small Shooter (for children only) | $85 per person |
| Easy Shooter | $99 per person |
| Bullets & Buckshot | $99 per person |
| Tactical Five | $119 per person |
| Rainbow Six | $129 per person |
| WSA Package | $129 per person​ |
| Top Gun | $145 per person​ |
| The Big Boomer | $185 per person​ |
| Sniper Package | $500 per person​ |
Book your slot here
Address: Sea-to-Sky Hwy, Pemberton, BC V0N 2L1.
Summer Hours: Wednesday – Sunday (9 am – 2 pm)
Website | Facebook | Instagram
Feed Your Creative Juice at Audain Art Museum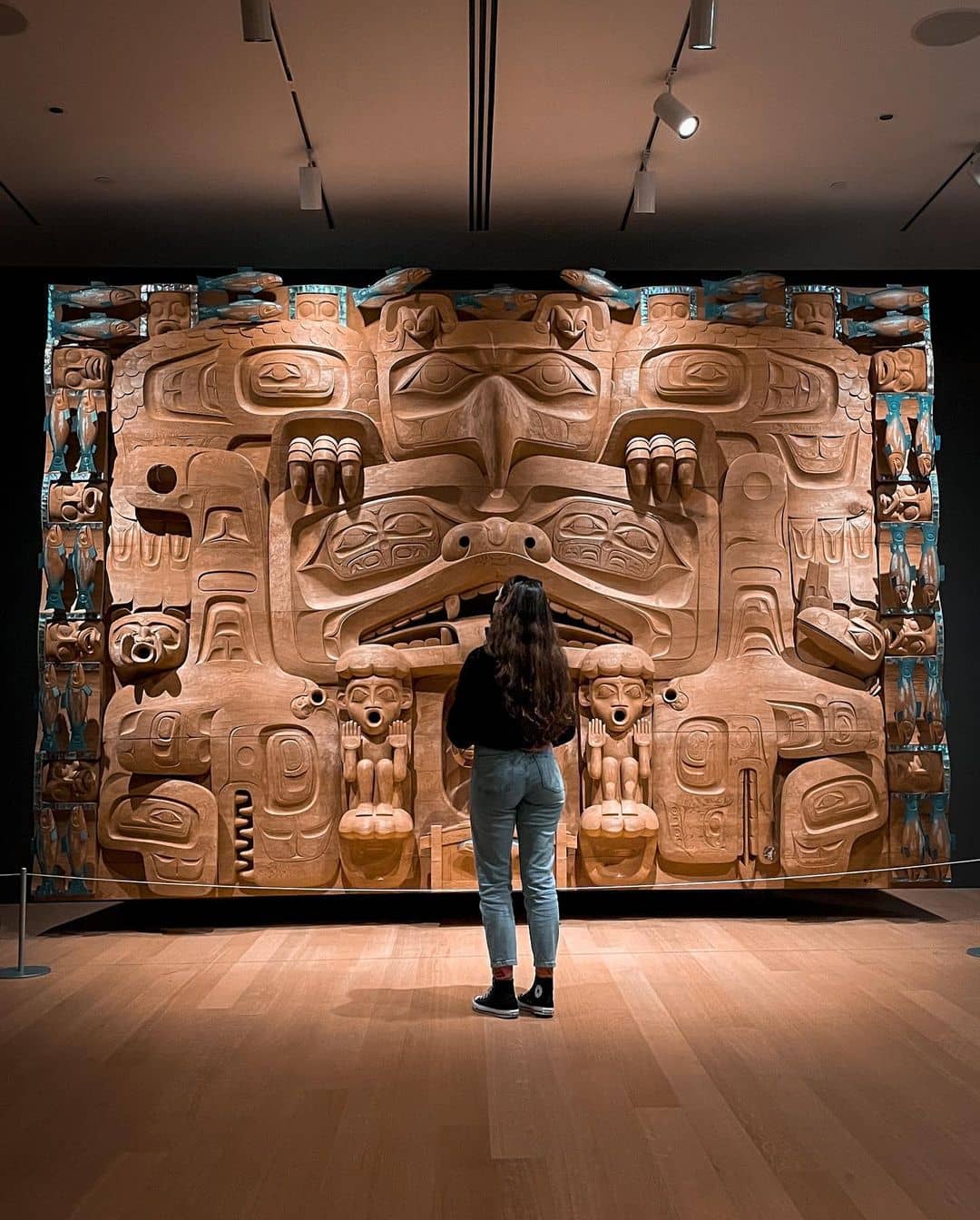 This angular 5203-square-metre building pays tribute to Michael Audain with his impressive, private art collection. It's a new attraction in Whistler aired in 2016 but quickly became a big hook for art lovers and culture-vultures. You will be amazed at an extensive exhibition of nearly 200 works reflecting BC art from the 18th to the 21st century.
Even the building itself is an architectural masterpiece with a strong focus on modern and contemporary flare. The building is wrapped around by a luscious green space. Using floor-to-ceiling windows, the interior invites a great amount of sunlight to brighten up the whole space.
Admission Rates:
| | |
| --- | --- |
| Type | Price |
| Adults | $20 |
| Seniors (65+) | $18 |
| Young Adult (19 – 25) | $10 with proof of age |
| Youth (18 & under) | Free |
| Members & Indigenous Peoples | Free |
| Guests of Members | 10% Discount |
Book your ticket here
Address: 4350 Blackcomb Way, Whistler, BC V8E 1N3.
Regular Hours: Thursday to Monday  11am – 6pm
Special Hours & Holidays: 
Thursday, June 22 – 11am – 5pm
Friday, June 23 – 11am – 5pm
Saturday, July 8 – 11am – 5pm
Thursday, July 13 – 11am – 5pm
Saturday, July 15 – 11am – 4pm
Saturday, July 29 – 11am – 4pm
Website | Facebook | Instagram
Reflect and Explore the First Nations' Past at Squamish Lil'wat Cultural Centre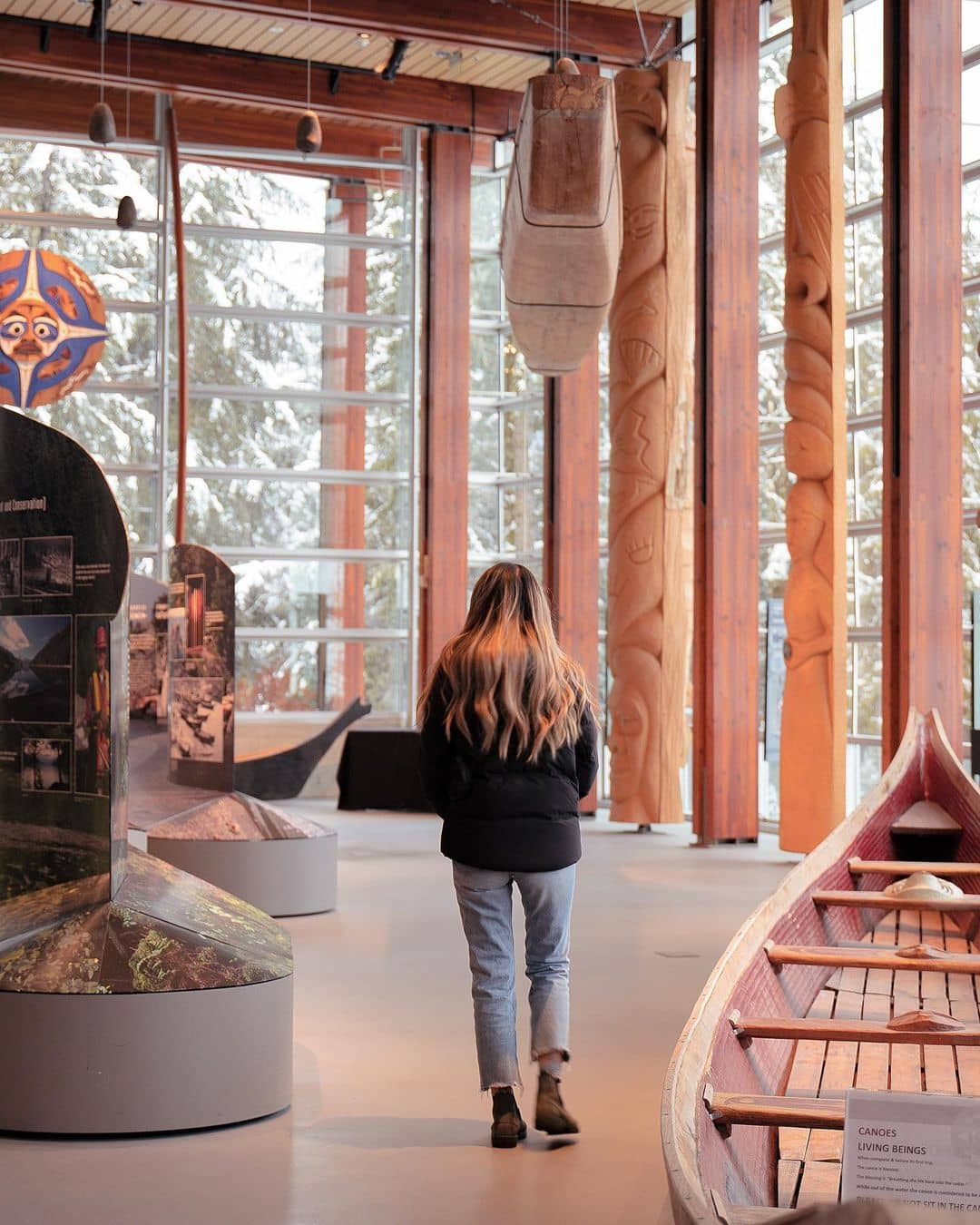 Aside from the modern Audain Art Museum, Squamish Lil'wat Cultural Centre is the first museum in Whistler that promotes the history and culture of the First Nations. Since the culture and landscapes of Whistler are weaved into the First Nations' past, it would be a waste if you miss out on the great heritage collection here.
If you come with kids, take them here, let them discover the ancient cultural practices. There are also plenty of workshops teaching you how to make cedar rope, bracelets, wood paddle rattles, and dream catchers.
Squamish Lil'wat Cultural Centre is a quaint little museum that's enriched with insightful information. They also offer indigenous tea ceremonies and interpretive forest walks.
Admission Rates:
| | |
| --- | --- |
| Type | Price |
| Adults | $20.00 |
| Child (6-18 yrs.) | $7.00 |
| Child (5 under) | $0 |
| Family Pass** | $45.00 |
Notes:
Rates are subject to 5% GST and are quoted in Canadian Funds
Rates subject to change
Admission is free for members of the Squamish Nation and Lil'wat Nation upon presentation of a valid Status Card
** Family Pass includes admission for two adults and two children (6-18), each additional child receives 15% off applicable admission
Admission for the last hour of the day (4pm – 5pm) is 50% off.
Address: 4584 Blackcomb Way, Whistler, BC Canada V8E 0Y3.
Hours: Tuesday – Sunday: 10am – 5pm.
Website | Facebook | Instagram
Be Amazed at Whistler's Early History at Whistler Museum
Whistler Museum is a young community nestled at the back of Whistler Public Library in the core of Whistler Village. If you've been wondering what life was like in Whistler long before the ski resort came around, Whistler Museum is the place to belong.
Within only an hour, this little museum will walk you in on so many stories no one told you before. From Whistler's colorful pioneers to the bid for the 2010 Winter Olympic Games, from the stories of the mountains to the natural history – it's got you covered!
All of the natural artifacts and man-made displays come together so you'll gain a new perspective about the local heroes and characters throughout their journeys building the great Whistler you see today.
Whistler Museum is also a magnet of Instagram-worthy shots, especially the 2010 Olympic torch.
Admission Rates: by a suggested donation of $5.
Address: 4333 Main St, Whistler, BC V8E 1B3.
Hours:
6 days a week, 11 am – 5 pm.
Thursdays, 11 am – 9 pm.
Closed on Wednesdays (excepting Wednesday, July 1).
Website | Facebook | Instagram
Get Locked up in a Room and Make a Way out at Escape! Whistler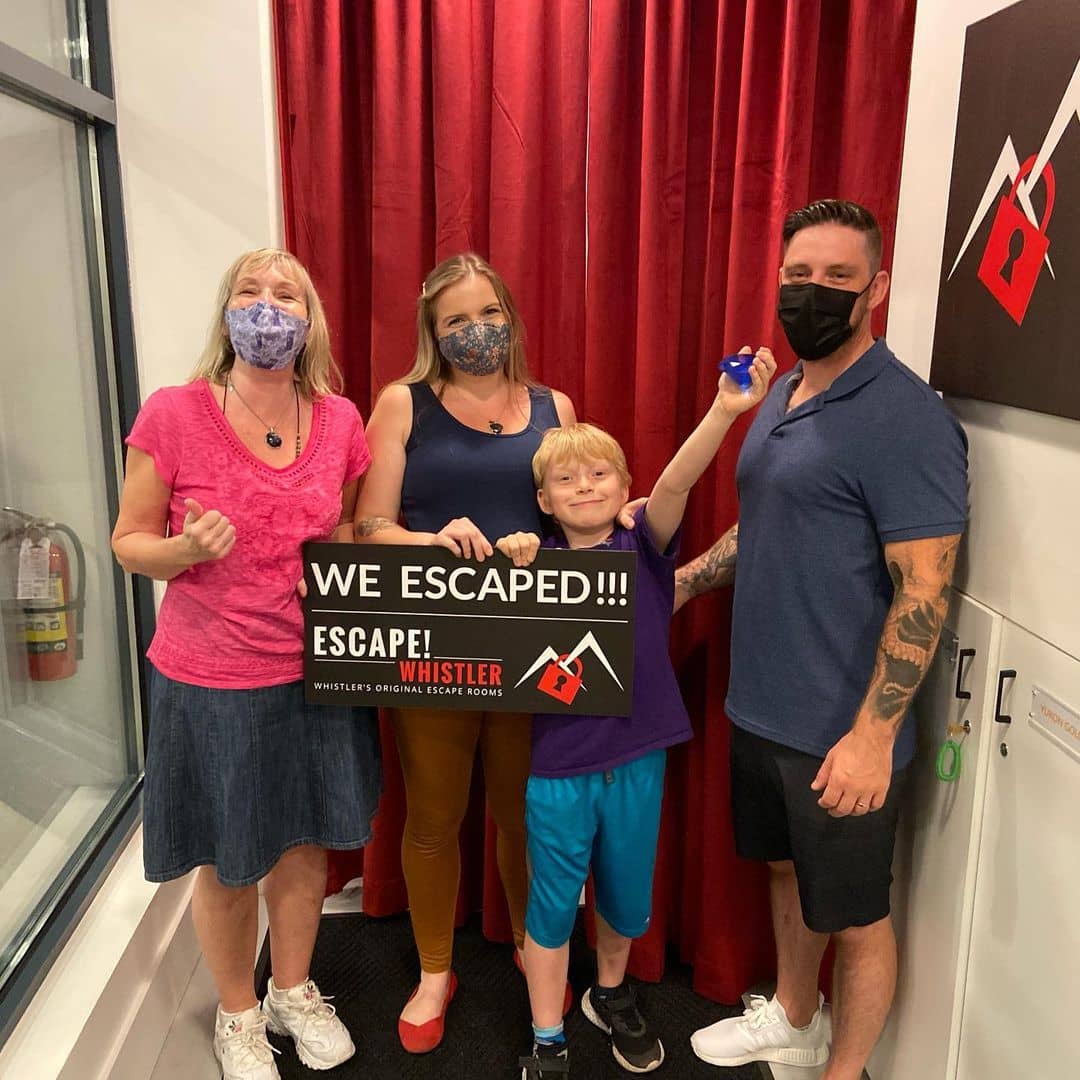 At Escape! Whistler, you're locked up in one of the four theme rooms where you've gotta solve the puzzles, riddles, and clues to get out within 45 minutes. Take your teamwork skill and brain use to a whole new level as you're making your way through different roadblocks.
Escape! Whistler is a perfect visually immersive place, but it's not a piece of cake. There's no such thing as a straightforward way out so you have to pay full attention to the surroundings and details!
Admission Rates:
Type
Price
Per Room:
All bookings are private. 
Kids 6 & under are free.
$36.99/player
Group bookings

$31.99/ player
$29.99 per player for groups of 30 + players

Address: 4293 Mountain Square #122, Whistler, BC V8E 1B8.
Website | Facebook | Instagram
Game up Your Rock Climbing Skills at Whistler Core Climbing and Fitness Gym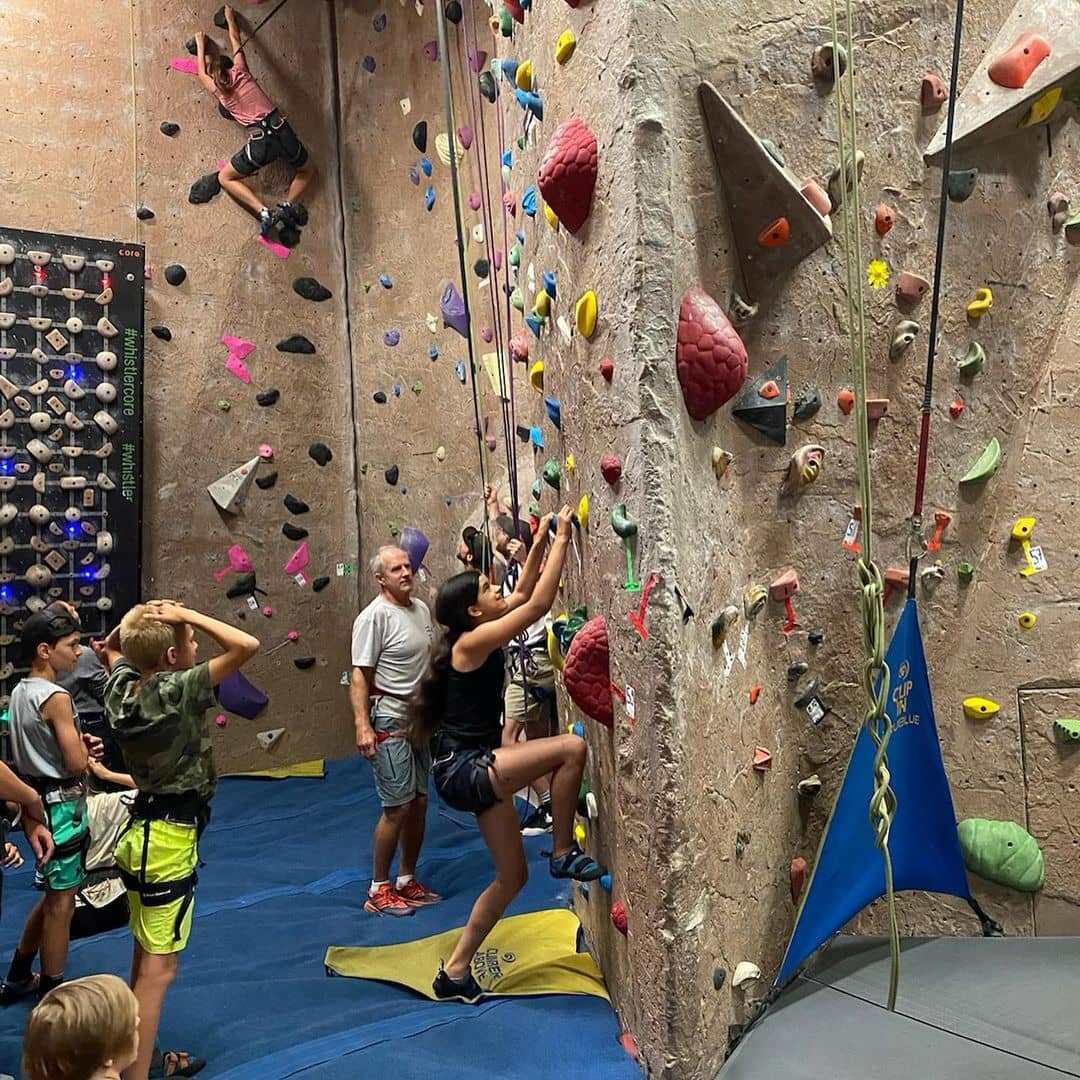 Is it raining out there and your inner athlete calls for an active day? Let Whistler Core Climbing and Fitness Gym fill in the blank on your bucket list! The center is located in the heart of Whistler Village, where you meander through the busy streets and walkways to get to this premier fitness facility.
No matter what you have in mind, this place's got you covered! You'll find a massive climbing area, free weights, cardio equipment, and fitness studios for indoor cycling. Even if you crave a less-sweaty activity like yoga or circuit, it's got your back!
Admission Rates:
| | |
| --- | --- |
| Type | Price |
| ADULT DROP IN | $19 |
| DROP IN COMBO (GYM & ClIMBING) | $23 |
| YOUTH DROP IN (UNDER 18yo) | $16 |
| RENTAL PACKAGE | $9 |
| RENTAL SHOES | $5 |
| RENTAL HARNESS | $5 |
| LIQUID CHALK 50ml | $11.50 |
INDOOR GUIDED SESSION (Price per person)
| | |
| --- | --- |
| Type | Price |
| 1 person | $60 |
| 2 people | $39 |
| 3 people | $35 |
| 4 people | $33 |
| 5 people | $32 |
Note: Prices are per person and all equipment is included. 72-hour cancellation policy. Reservations are recommended.
Address: 4010 Whistler Way, Whistler, B.C, V0N 1B4
Hours:
Monday-Friday: 7:00am-9:30pm
Saturday: 7am-9pm
Sunday & Statutory Holidays: 8am-9pm
Closed on Christmas Eve at 7pm Christmas Day, New Years Eve at 7pm.
Website | Facebook | Instagram
Stretch Your Muscles at a Yoga Class
Are you stuck in bed after a long day chasing down the alpine and the streets? Head to one of the best yoga classes in Whistler, stretch your muscles, and try a signature treatment before bedtime!
Without traveling further afield, Yogacara is right in the core of Whistler Village so you can visit anytime in the day. Their Apres Flow class is to die for!
Then we have YYoga. It's one of the largest studio chains in the whole country where you can try out their Hot Yoga to warm those chilly bones.
Play Sports, Drink Coffee, and Go Picnicking at Whistler Olympic Plaza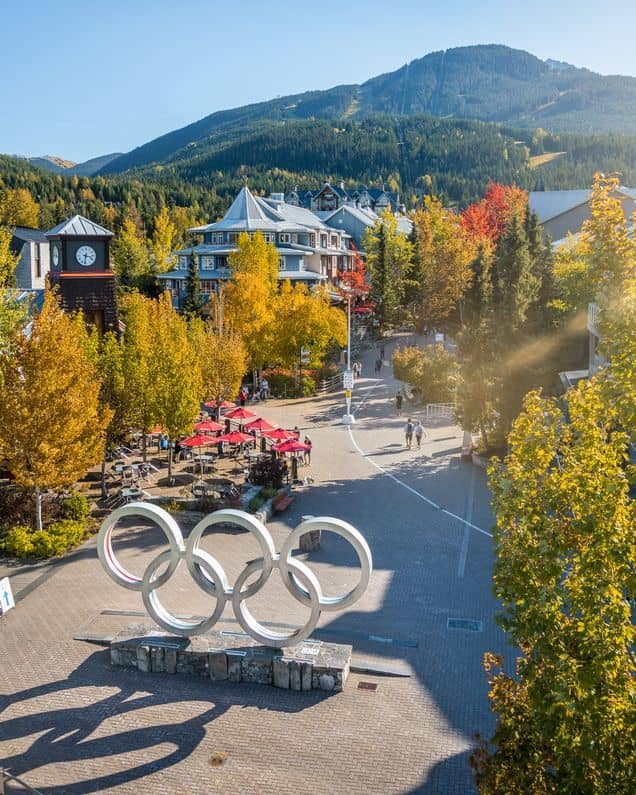 No visit to Whistler is complete without a day at the Plaza. This legacy of the 2010 Olympic Winter Games has now transformed into a cutting-edge outdoor performance facility and community space.
There's so much to do at Whistler Olympic Plaza that you can even spend a whole day there. Summer or winter, the plaza beckons an influx of locals and visitors to grab a coffee, chill out on the Adirondack chairs, go picnicking, build a snowman and play sport.
It also hosts live outdoor music, face painting, crafts, games, balloon animals, and many other social gatherings to engage in a meaningful time.
Of all facilities inside out, the skating rink and snow zone are the most common sections to create adventure opportunities for adults and little ones.
A pleasant trip to fully explore Whistler takes somewhere between three to five days. You can stay at one of the best hotels in Whistler that fits your budget and style or pick an Airbnb for a luxury retreat.
And if you're setting off from Vancouver, we have this year-round guide from Vancouver to Whistler you can consult!