Vancouver Island is home to a dedicated community of stellar grape-growers and winemakers. The island has around 30 different wineries, from the Comox Valley on the northeast coast down to Sooke, near the southern tip.
Some are family-run legacies, some are boutique-sized estates; some offer tours and tastings only seasonally, and some offer full-service restaurants or picnic areas so that you can enjoy your trip to the fullest.
Whatever it is, here we have made a shortcut to the 9 best Vancouver Island wineries to visit when you're visiting the neighbourhood. Hesitate no more, let's get right into it!
9. Sea Star Vineyards and Winery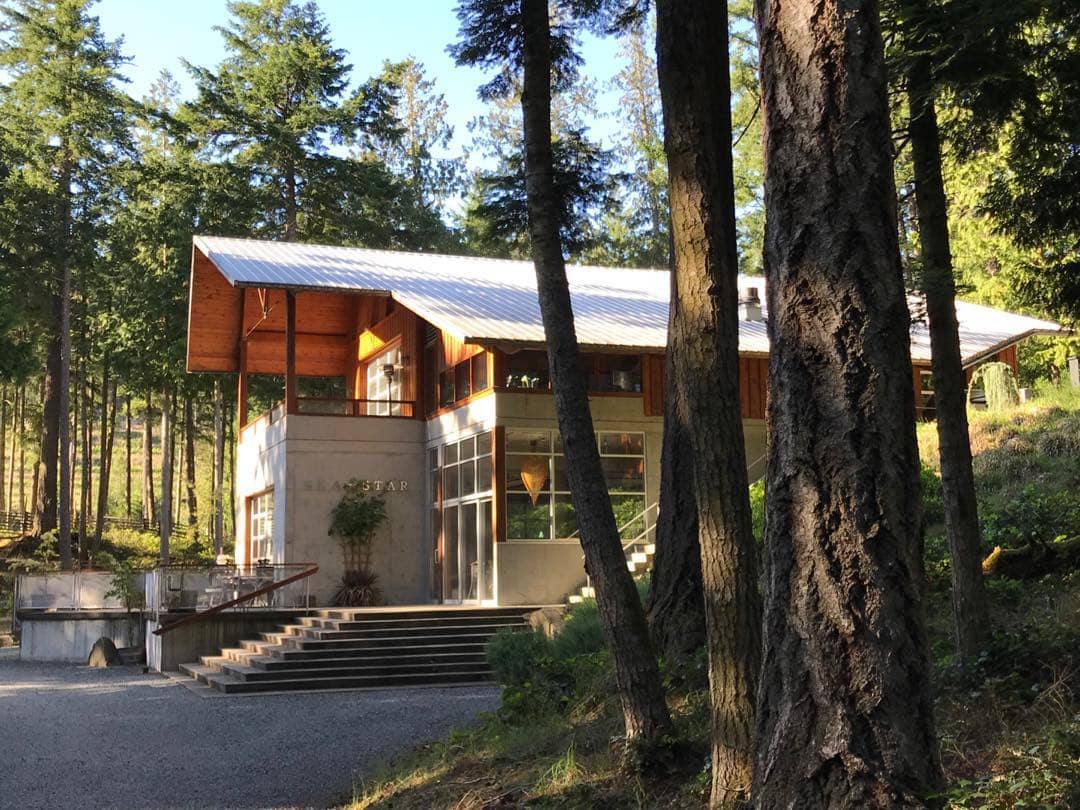 Features two beautiful vineyards, one is up to Mount Menzies, the other one is down to the beach; Sea Star Vineyards and Winery is one of the most unique wineries in British Columbia. Once set foot at Sea Star, you can find some of the very best Riesling, Pinot Noir, Pinot Gris, and try out their award-winning signature estate wines.
Wine Tasting & Tour is available every day, you'll get a chance to sample a selection of Sea Star wines paired with local snacks, and immerse yourself in the 26-acre terraced vineyard that stretches to the summit of Mount Menzies and bathes in the whales' breath of the Salish Sea.
2021 Salish Sea is a great bottle to bring home, which captures the scent of melon, pineapple, and herbs. This is an excellent partner to garden-fresh vegetables and zesty salsas, thanks to the bright acidity and balanced palate with a medley of tropical fruit flavors.
What to order: 2021 Salish Sea, 2021 Blanc de Noir, 2016 Encore, 2019 Prose
Address: 6621 Harbor Hill, Pender Island, BC V0M 2M1
Website | Instagram | Facebook
8. Symphony Vineyard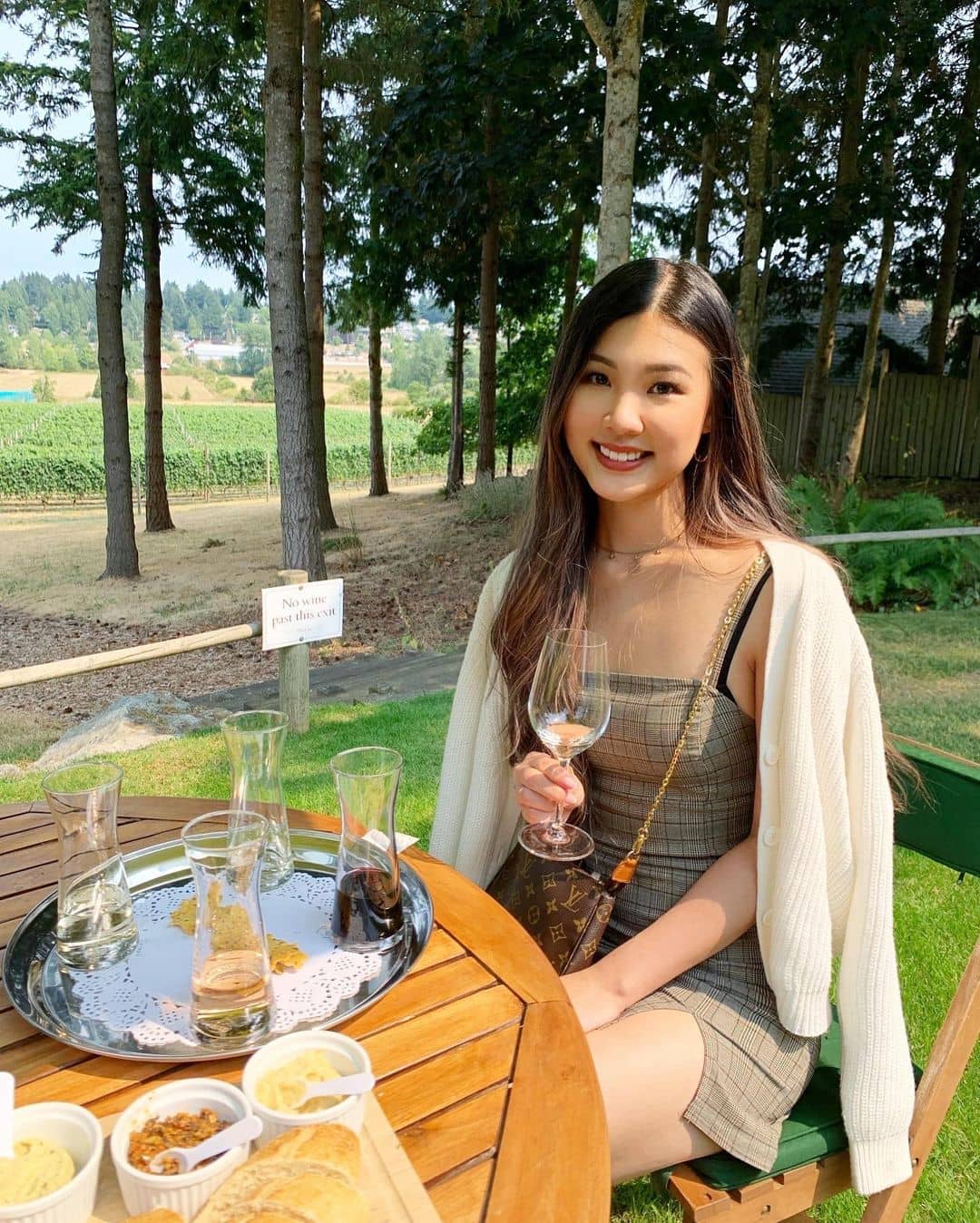 If you're simply searching for a place to enjoy a bottle of wine, soak in the sunshine, and have a great, peaceful time, then Symphony Vineyard is top-notch. They are known to produce the most stunning crisp, dry white wines, and lightly barrel-aged, fruity-forwards red wines; now that you've known what to expect when visiting this place!
At Symphony Vineyard, you can either choose to sample the wines at the Tasting Room with the staff's guide or enjoy your own pace at their open patio, munching on their snacks while sipping on their wines.
Be sure to try Gewürz 2021, a true gem with lively acidity, floral aromas, and sweet lychee, grassy citrus on the palate. Or Noir 2020, a delicate wine bottle with heady aromas and flavors of sour cherry, violets, and toasted spice. You can pair this beauty with almost every dish, especially salmon and poultry. Stunning!
What to order: Gewürz 2021, Noir 2020, Gris 2021.
Address: 6409 Oldfield Road, Saanichton, BC V8M 1X8
Website | Instagram | Facebook
7. Venturi-Schulze Vineyards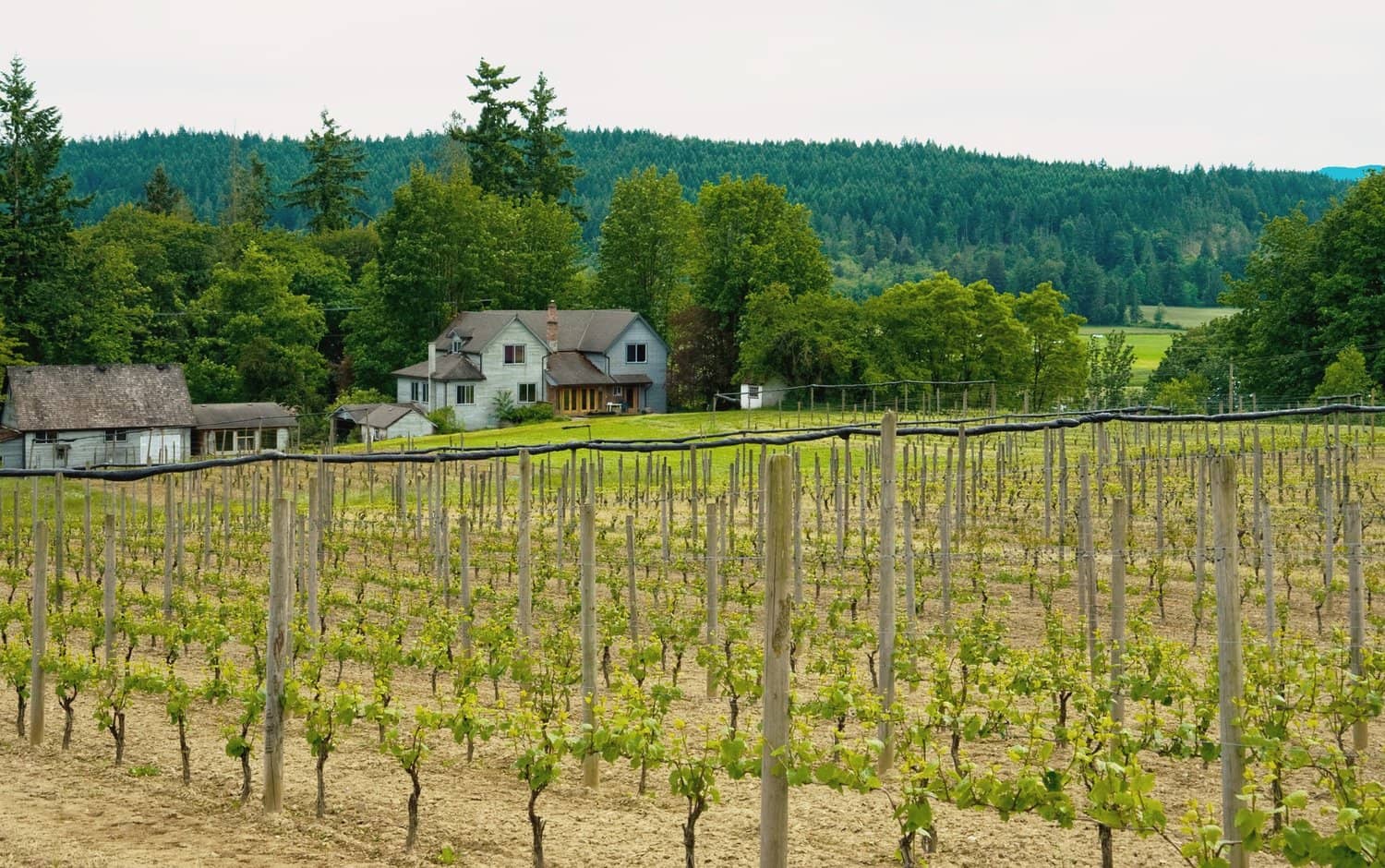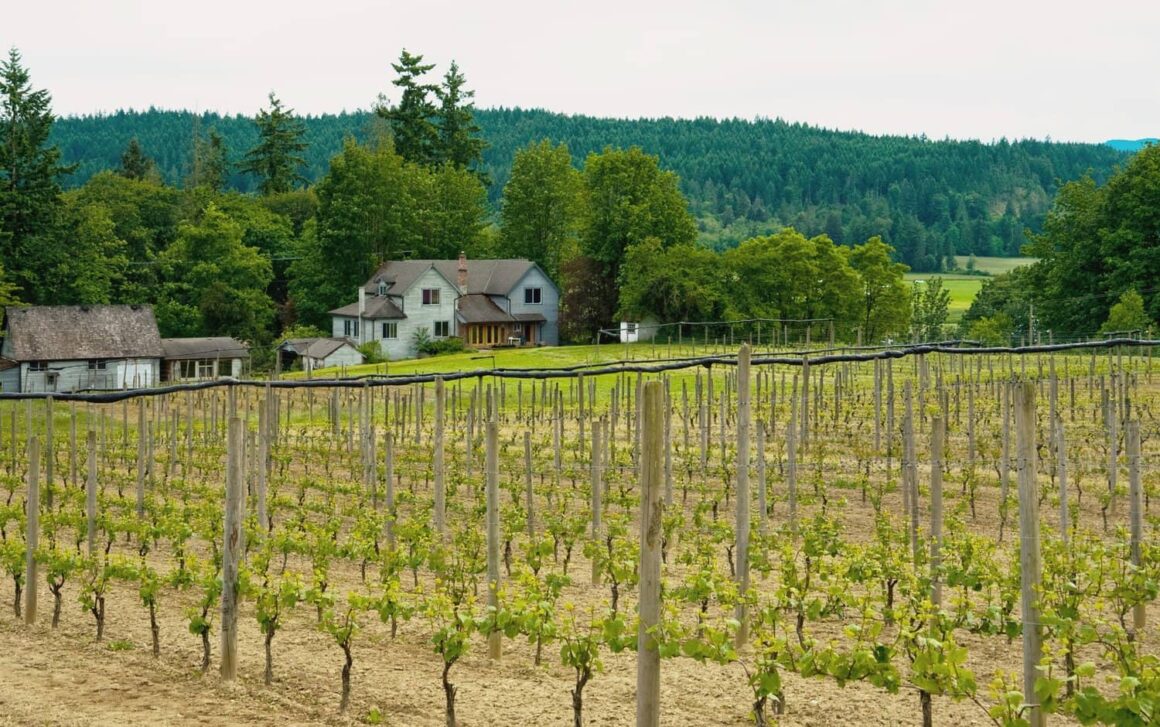 Having been operating since 1988, Venturi-Schulze Vineyards is a gentle 5-acres vineyard with excellent choices of Pinot Noir, Pinot Auxerrois, Siegerrebe, alongside stunning stories about the vineyard history, inspiration, and making process from the owner.
You can experience their estate wines at their open-air patio, or directly at their wine shop. We highly recommend you try Brut Naturel 2014 and Kerner 2019, absolutely worth your every penny! While Brut Naturel 2014 is crisp and clean with a fine mousse that fits with a wide range of appetizers, Kerner 2019 has a sweeter taste from peach, apricot, and honeysuckle.
In case you want something bolder, stronger, go for Pinot Noir Reserve 2016! This big dry red is dark and complex with hints of leather, cigar, and chocolate, perfectly paired with red meat and heavier dishes with cheese.
What to order: Brut Naturel 2014, Pinot Noir Reserve 2016, Kerner 2019
Address: 4235 Vineyard Road Cobble Hill, BC V0R 1L5
Website | Instagram | Facebook
6. Enrico Winery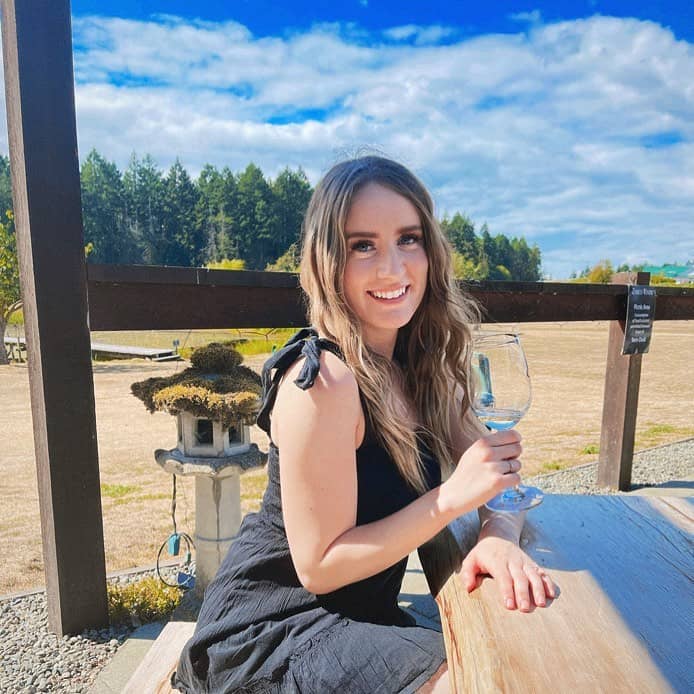 Nestled in the beautiful Cowichan Valley, Enrico Winery has been widely known for making fine quality wines that earned the Lieutenant Governor's Award of Excellence in British Columbia Wines. So, expect to sip some of the best award-winning bottles when visiting Enrico, ranging from fruity whites to full-bodied reds!
Besides a usual Tasting Tour, at Enrico Winery, you can also join The Round Table Program, where you'll get your free sample bottles delivered right at home twice a year, including new releases, limited-edition releases, and exclusive wines. A new way to enjoy wines, with your family or friends in the comfort of your home!
Don't go home without Revelation Charme de L'ile – gleaming bubbles with a soft fruity nuance of wild strawberry and subtle grapefruit finish. Let the taste develop to the fullest when paired with shellfish, smoked seafood, and Asian dishes of all kinds.
What to order: Confessor Ortega Estate Reserve, Red Dragon Rose, Revelation Charme de L'ile.
Address: 3280 Telegraph Road, Mill Bay, BC V0R 2P3
Website | Instagram | Facebook
5. Rocky Creek Winery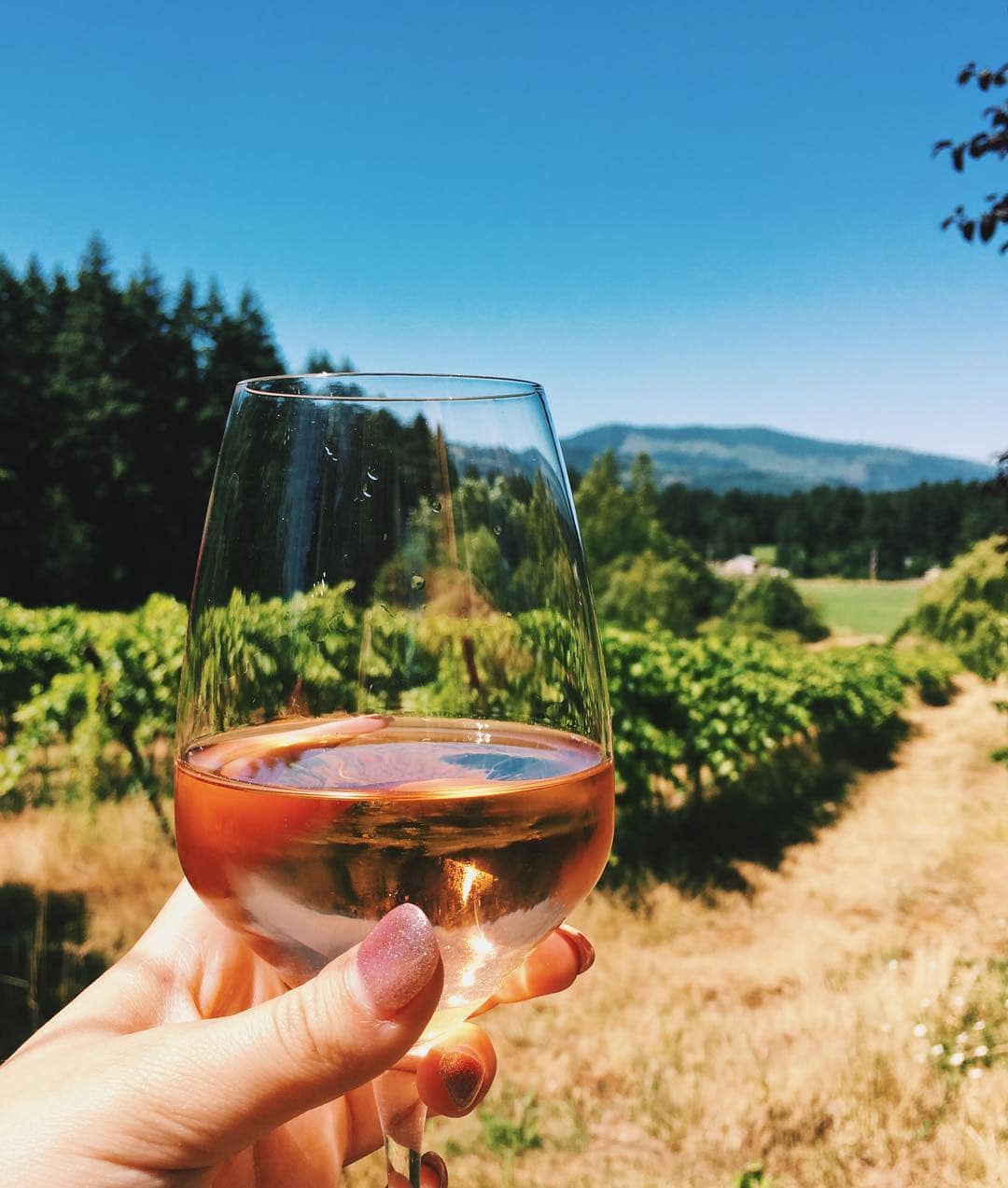 Rocky Creek Winery is undoubtedly the place where you can both get beautifully-made wines and memorable moments with your family or friends. Besides offering all sorts of wines from Red, White, Sparkling to Rose, this is an ideal spot for a picnic, where you can soak your skin in sunshine, breathe the fresh air, and adore the nature surrounding.
There are so many bottles and varieties that we'd love to recommend to you, but Pinot Gris 2020 and Sirius Red 2018 truly stand out. It isn't difficult to find Pinot Gris 2020 is luscious and mouth-filling with just the right amount of balance between rich tropical, citrus, and apple flavours. This gem can go very well with spicy prawns, sushi, and butternut squash ravioli, so give it a try!
Sirius Red 2018 is more of an earthy side with a slight toast, where you can spot some hints of plum, black currants, and roast pepper notes. Can be even more delicious with rib steak, goat cheese, or roast lamb.
What to order: Pinot Gris 2020, Sirius Red 2018, On The Mark
Address: 1854 Myhrest Road Cowichan Bay, BC V0R 1N1
Website | Instagram | Facebook
4. Chateau Wolff Estate Winery and Vineyard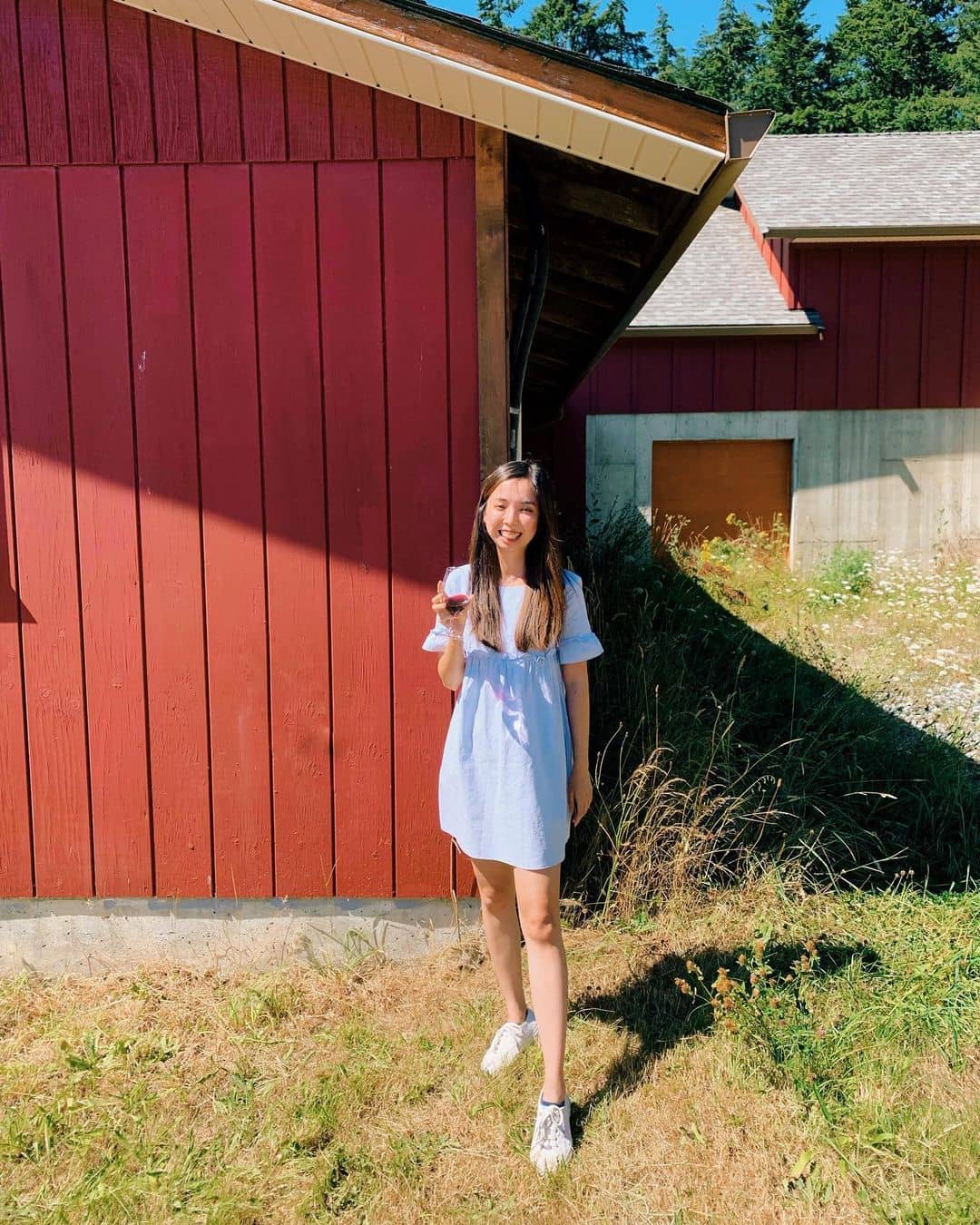 Being one of the oldest vineyards on Vancouver Island, Chateau Wolff Estate Winery and Vineyard has gained a reputation through its traditional old-world method and minimalist intervention in producing wines. In other words, Chateau Wolff wines can bring you back to the good old times.
They're best known to produce Pinot Noir, Syrah, Chardonnay, White Blend, Rouge that speak for themselves. You can make your way through with their two most iconic bottles: 2018 Pinot Noir and 2018 Cabernet Franc.
While the Pinot Noir is light and elegant with notes of strawberry and raspberry which can't go wrong when paired with roasted chicken, salmon, or pizza; the Cabernet Franc is a medium-bodied red that can easily please the crowd with its silky mouthfeel.
What to order: 2018 Pinot Noir, 2018 Cabernet Franc.
Address: 2534 Maxey Road Nanaimo, BC Canada V9S 5V6
Website | Instagram | Facebook
3. Church & State Wines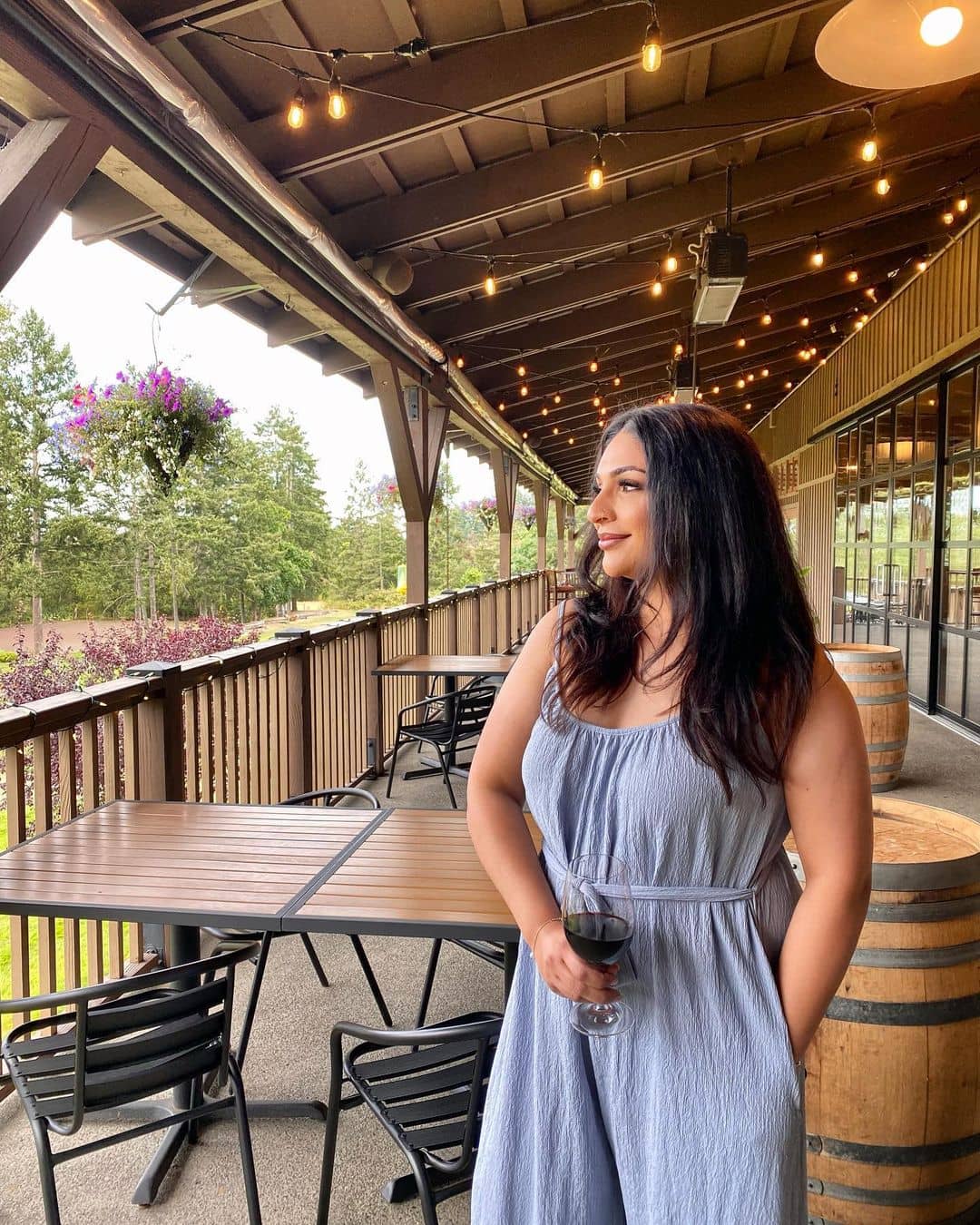 Being Vancouver Island's largest winery, Church & State Wines is a must-see when you visit this region. Spend some time enjoying their award-winning wines while adoring the magnificent scenery surrounding Church & State, you're sure to have a very unique experience here!
You wouldn't want to miss their 2018 Lost Inhibitions Rose with aromas of white peach, nectarines, and pineapple, which is followed on the palate by honey, orchard fruit and create a long finish.
The 2018 Foundation Sauvignon Blanc is no less lovely with a blend of fresh pastry, marzipan, and ripe tropical fruits like mango & passionfruit. Thanks to the bright acidity, this masterpiece can fit perfectly with every seafood dish. Shout out to all the seafood lovers!
What to order: 2018 Lost Inhibitions Rose, 2018 Foundation Sauvignon Blanc, 2018 Viognier.
Address: 1445 Benvenuto Avenue Victoria, BC, V8M 1J5
Website | Instagram | Facebook
2. Unsworth Vineyards
Nestled in the heart of Vancouver Island's wine country, Unsworth Vineyards is an award-winning, family-owned vineyard that is stunning to pay a visit to. Here at Unsworth, you can find all sorts of traditional and artisanal wines, together with their restaurant that gets complimented every time. What a delicious wine and culinary destination!
After having a Tasting Tour in their private room, you can go straight to their charming, cozy restaurant to relax and enjoy panoramic views that change with the breezes. While doing so, don't forget to have yourself a bottle of 2019 Saison Vineyard Pinot Noir. This is a light, bright wine with aromas of dark cherries, bramble, and mid-palate leading to a long, silky finish.
Or you can take a look at the 2020 Sunnydale Vineyard Rose, bone dry with firm but has a good acidity balance. That herbal notes from sage and spices highlight the fruity scent of raspberry and strawberry!
What to order: 2019 Saison Vineyard Pinot Noir, 2020 Sunnydale Vineyard Rose, 2020 Amiel
Address: 2915 Cameron Taggart Road 1 Mill Bay, BC V0R 2P2
Website | Instagram | Facebook
1. Blue Grouse Estate Winery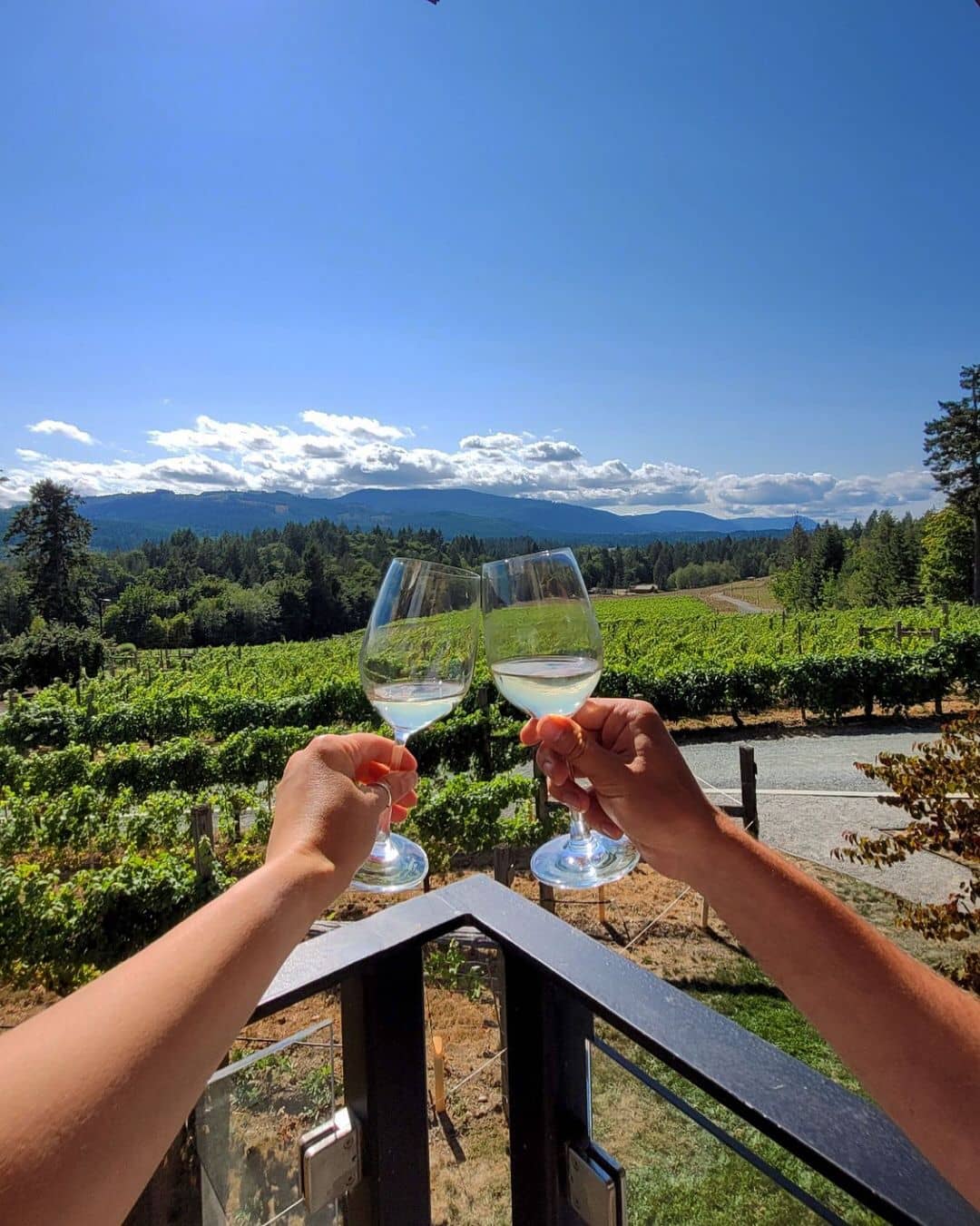 Tucked away on a sunny Vancouver Island slope in the Cowichan Valley, welcome to the family-owned, sustainably farmed, award-winning vineyards you should never miss when visiting the neighborhood – Blue Grouse Estate Winery!
Their Tasting Tour and Tasting Room are too unique and interesting to pass by. From the first moment, you'll find yourself falling in love with the curve ceiling, highlighted with a beautiful shade of blue from the grouse's tail feathers, and that cozy, charming ambiance. They do offer cheese and bites to pair with sample wines, so don't hesitate to have some!
Bring home some bottles of 2021 Ortega, a bright, fruit-forward, medium body wine with the aroma and taste of ripe orange, caramel. Or 2016 Paula Sparkling is also an option if you're a seafood lover because this gem offers aromas of green apple, a bit of earthy mushroom; the palate follows with flavors of caramel and creamy lemon curd, all accented by a fine mousse.
What to order: 2021 Ortega, 2016 Paula Sparkling, 2019 Black Muscat Reserve.
Address: 2182 Lakeside Road Duncan, BC V9L 6M3
Website | Instagram | Facebook
Our suggestions above are sure to have something for everyone by selecting a variety of styles and types of wineries. So, we wish you have your chosen ones for the next trip to Vancouver Island.
Just remember to double-check the opening hours and whether the Tasting Tour is available. In case you're wondering what else to do in Victoria, we've got your back!
How We Create Our "Best" Lists
All Noms Magazine's "best" lists are created using multiple factors and signals to help readers find the best restaurants, things to do, and places to stay at. Some of these factors and signs include personal experiences, correspondence with locals, and compiling experiences from review sites.
Each list is also created to be balanced (in terms of price, cuisine type, ambiance, and more) as possible. This means that the lists are not specifically created in ranking order. You should be comfortable picking from any of the spots on the list and generally have a good time. But of course, YMMV (your mileage may vary) and everyone may have different experiences/palates.