Looking for the best Vancouver steakhouses? Well, you've come to the right place!
Is there anything better than a good old-fashioned steak? If you agree, then get ready to cut your way through some of the juiciest meats and the best prime cuts served in Vancouver Steakhouses, and cooked to perfection.
Check out our top 10 picks of the best Vancouver steakhouses, where you can enjoy good times, good wine, and of course great steaks!
1. Elisa Steakhouse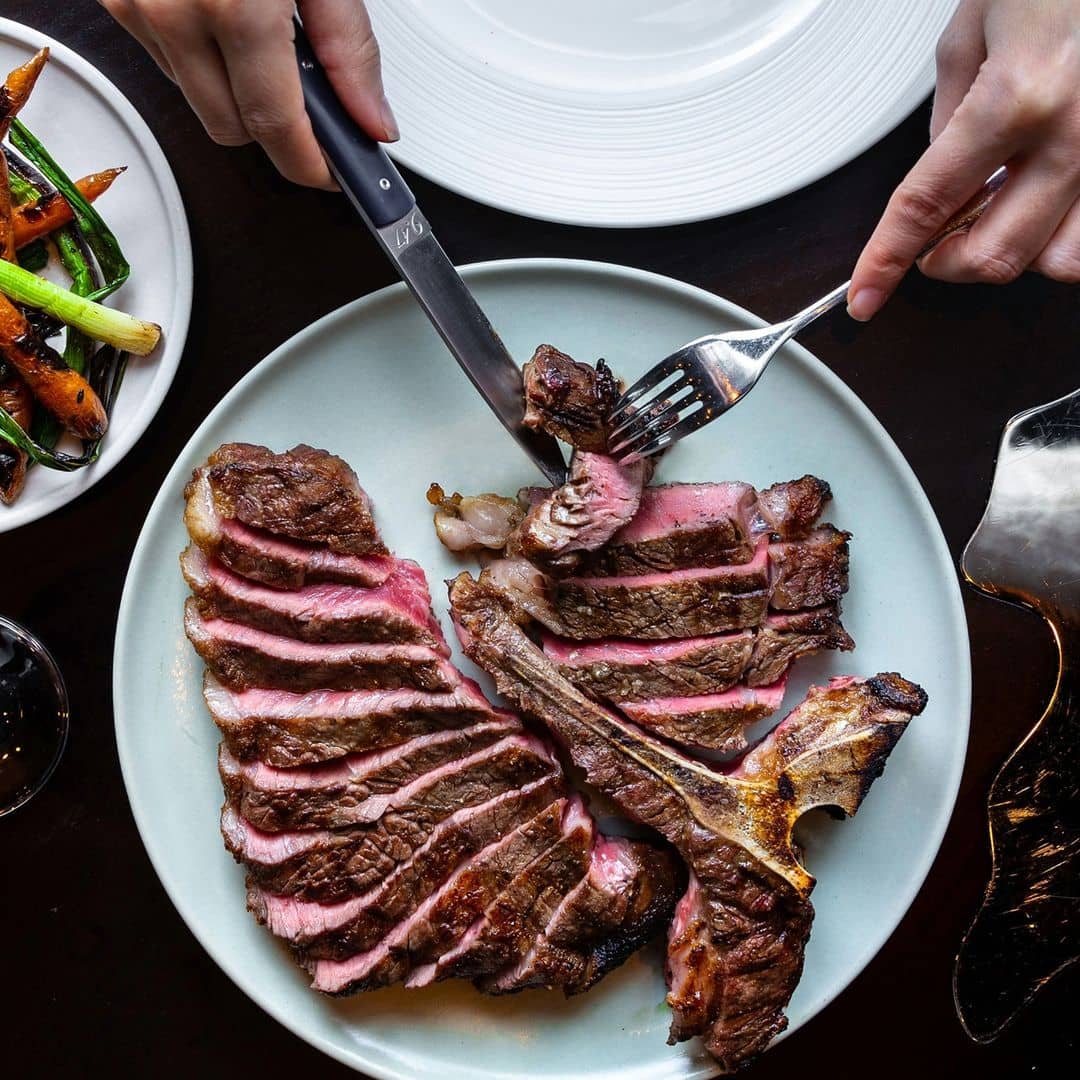 An elegant and critically acclaimed spot for a great steak, Yaletown's Elisa Steakhouse never fails to make it to wow.
With its charming ambiance, Elisa is not your average steakhouse. The service here is top-notch, and the food is simply divine.
They boast a classic Grillworks Infierno wood-fired grill, so you know those steaks are going to be done to perfection.
Order their 12oz Ribeye or Porterhouse that is well worth dressing up for and is packed with flavour.
Pair your steak with a glass of red from their award-winning wine list. Add a side of roast potatoes with sea salt.
And for dessert go straight for their gorgeous Baked Alaska that's hand-crafted by their Pastry Chef.
Address: 1109 Hamilton Street Vancouver, BC V6B 5P6
Website | Instagram | Facebook
2. Hy's Steakhouse & Cocktail Bar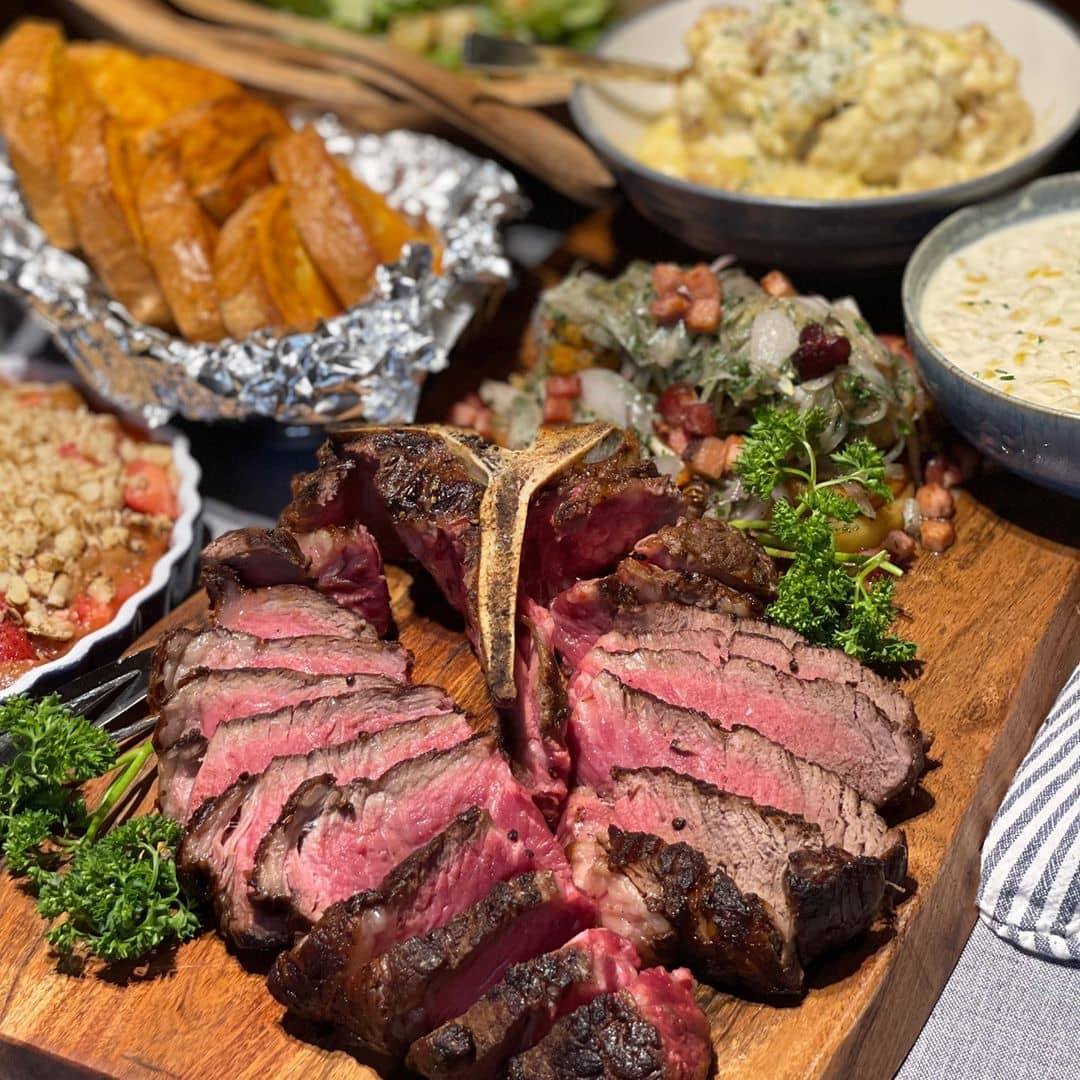 Defining the steakhouse experience in Canada for 65 years and counting, Hy's Steakhouse & Cocktail Bar needs no introduction.
They are an institution that sets the bar for quality steaks, serving diners the finest cuts, cured and flavoured to perfection, along with the freshest ingredients.
For an appy start with their signature Cheese Toast for Two. Since Hy's specializes in steaks, you have a lot of options to choose from.
If you want one that leaves an impression, go for one of their prime steaks, which are aged for 28 days or more. If we had to choose, we'd go for the melt-in-your mouth 10z New York Steak or 22oz Porterhouse.
Pair it off with a glass of Giusti Merlot and you're set for a spectacular meal!
For dessert, we recommend the Belgian Chocolate Bourbon Cake, which is in a word, divine!
Address: 637 Hornby Street, Vancouver, British Columbia, V6C 2G3
Website | Instagram | Facebook
3. Gotham Steakhouse & Cocktail Bar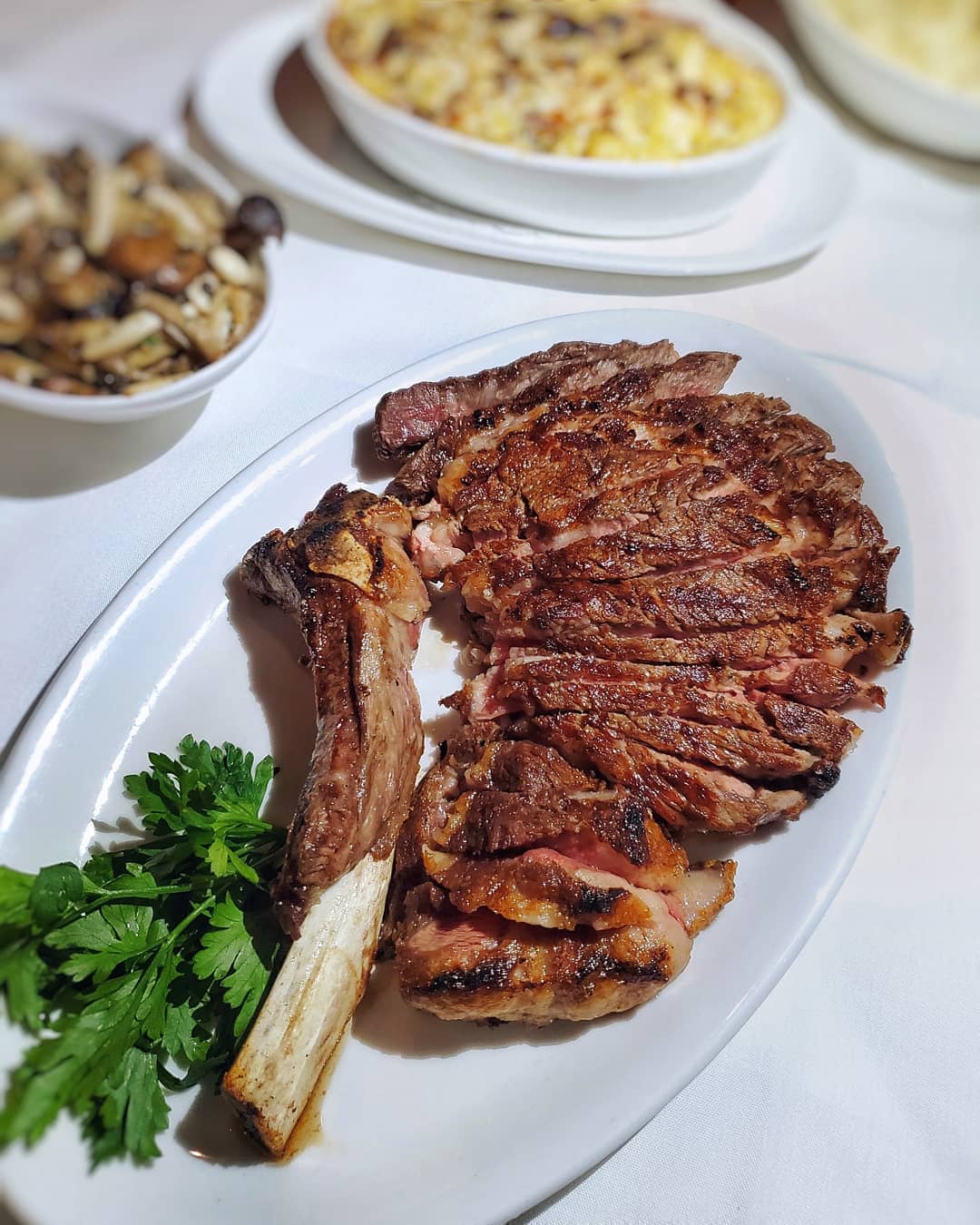 Simplicity and elegance meet at the classy Gotham Steakhouse.
With an uncomplicated menu that features the choicest meat, seafood and produce available, to their luxurious wood and mirror-paneled walls, Gotham is the perfect blend of fine dining with rustic ambiance.
There is a range of separate seating catered to a mix of small parties, game crowds and amorous diners.
The Beef Carpaccio, thinly sliced with fresh shaved parmesan, makes an excellent starter as does the Local Organic Sturgeon Caviar.
But, the King of the kitchen is their 20oz Bone-In Ribeye Steak seared and cooked to perfection.
Complete an excellent meal with their decadent Belgian Chocolate Bourbon Cake, or the eternal favourite, a slice of Baked American Cheesecake with Mixed Berry Sauce.
Address: 615 Seymour Street Vancouver, BC V6B 3K3
Website | Instagram | Facebook
4. The Victor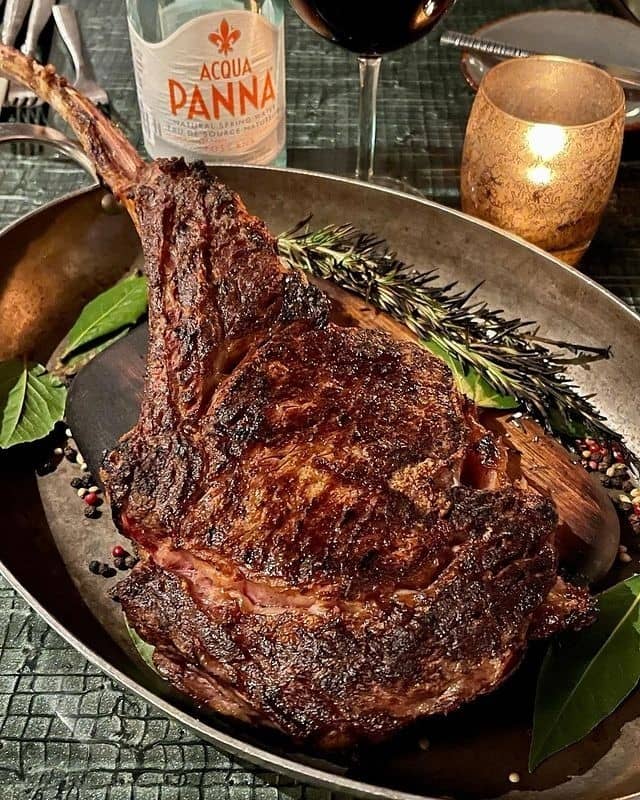 Step into another era with an ambiance that exudes old-world charm at The Victor.
Solid wood furnishings, splendid hangings, and top-notch food are some of the many reasons The Victor is so well-loved.
An excellent spot for a date, family gatherings or even a group of friends that want to hang out in class.
It's very easy to get spoiled for choice at The Victor.
Not only are they famous for their delicious signature steaks like the Rib Cap Steak and  Wagyu Striploin, but they also specialize in freshly caught seafood, and their sushi and raw tower bar is an experience worth having.  
Address: 39 Smithe Street Vancouver, BC V6B 0R3
Website | Instagram | Facebook
5. Black + Blue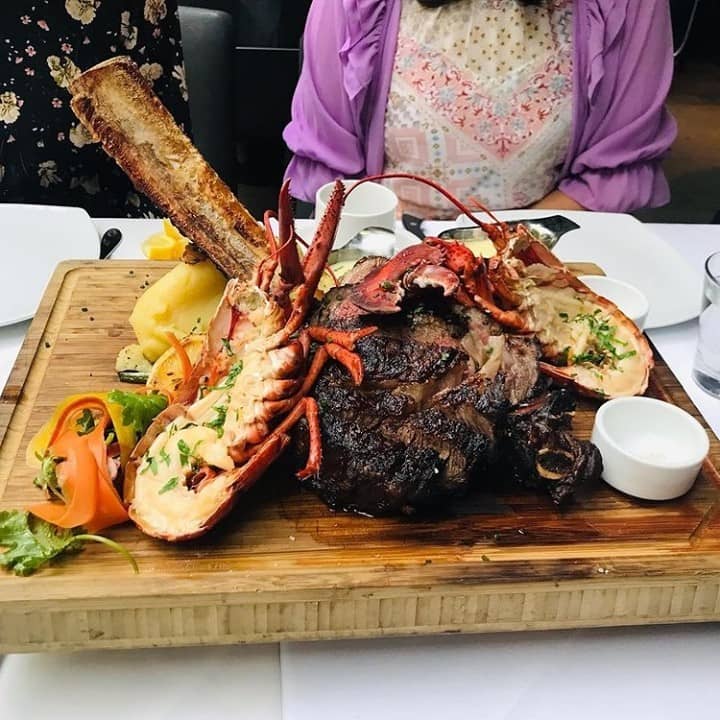 Offering a magnificent panoramic view from its rooftop dining, Black +Blue is easily one of Vancouver's most glittering gems.
This down-to-earth, classy steakhouse has a family-friendly vibe and a relaxed ambience, offering visitors a chance for some laid-back fun with excellent food cooked over wood coals.
Black + Blue has an insane Seafood Tower and some wonderful Blackened Ahi Tuna and Forno Baked Eggplant Parmesan.
But steaks rule here and a prime example is the Tomahawk 200, a 55oz long bone rib eye steak that has to be shared.
For a special steak treat, order the imported Kobe Beef Rib Eye and Striploin that literally melts in your mouth.
Address: 1032 Alberni Street Vancouver, BC V6E 1A3
Website | Instagram | Facebook
6. Au Comptoir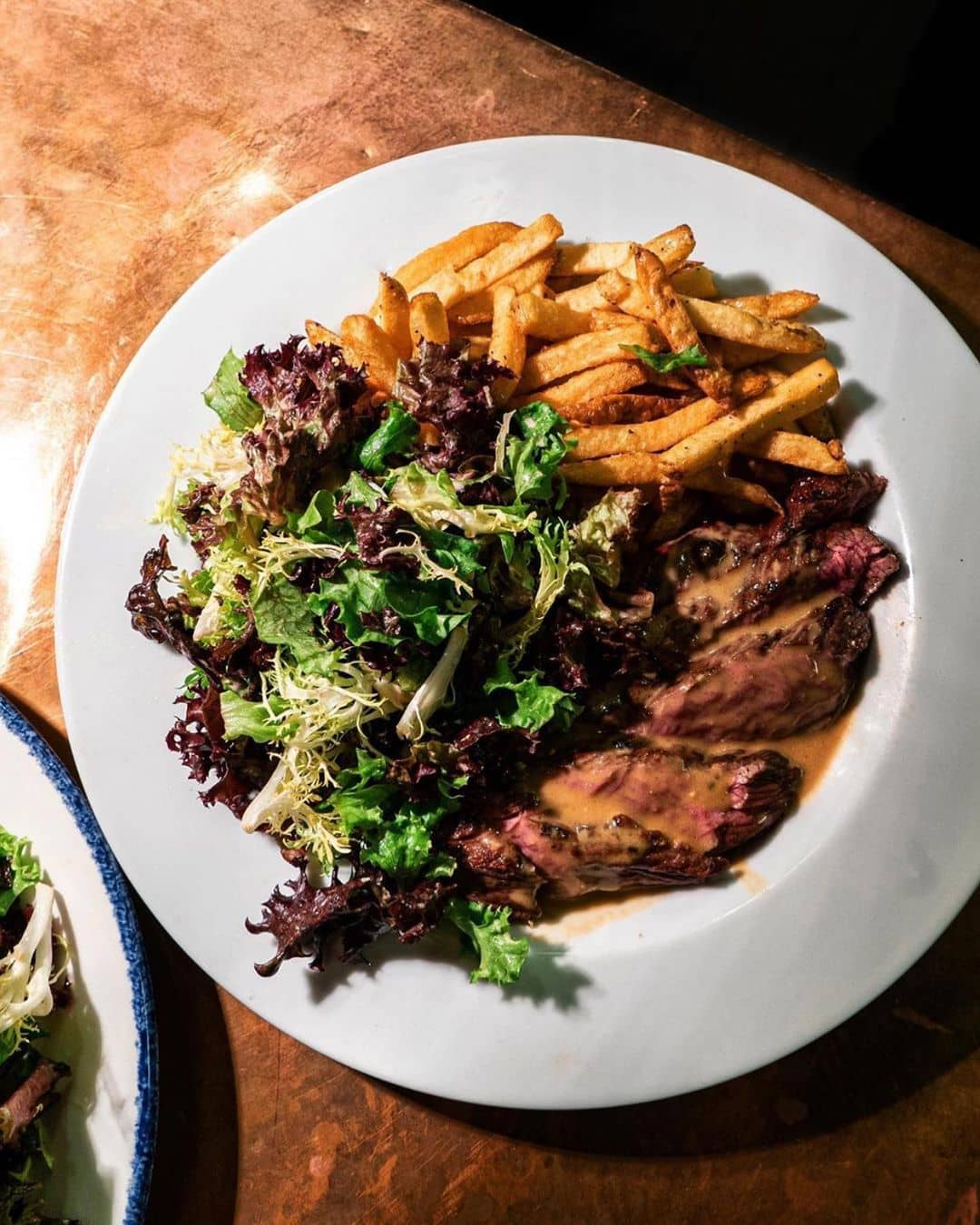 A visit to Kitsilano's Au Comptoir can be likened to stopping by an upscale bistro in Paris.
With the right touch of flair and panache, and a constant desire to reach new heights with their French cuisine, Au Comptoir is definitely the place to go for a memorable experience.
Au Comptoir updates their menu with the seasons to accommodate local produce, ensuring the freshest cuisine.
Try their Filet De Veau (Grilled Veal Striploin) or the popular Bavette D'aloyau, Pommes Dauphines (Bavette Steak) which we personally love.
Ask your waiter to pair your steak with a French wine from their extensive list, available by the glass or bottle. 
Address: 2278 W 4th Avenue Vancouver, BC V6K 1N8
Website | Instagram | Facebook
7. Savio Volpe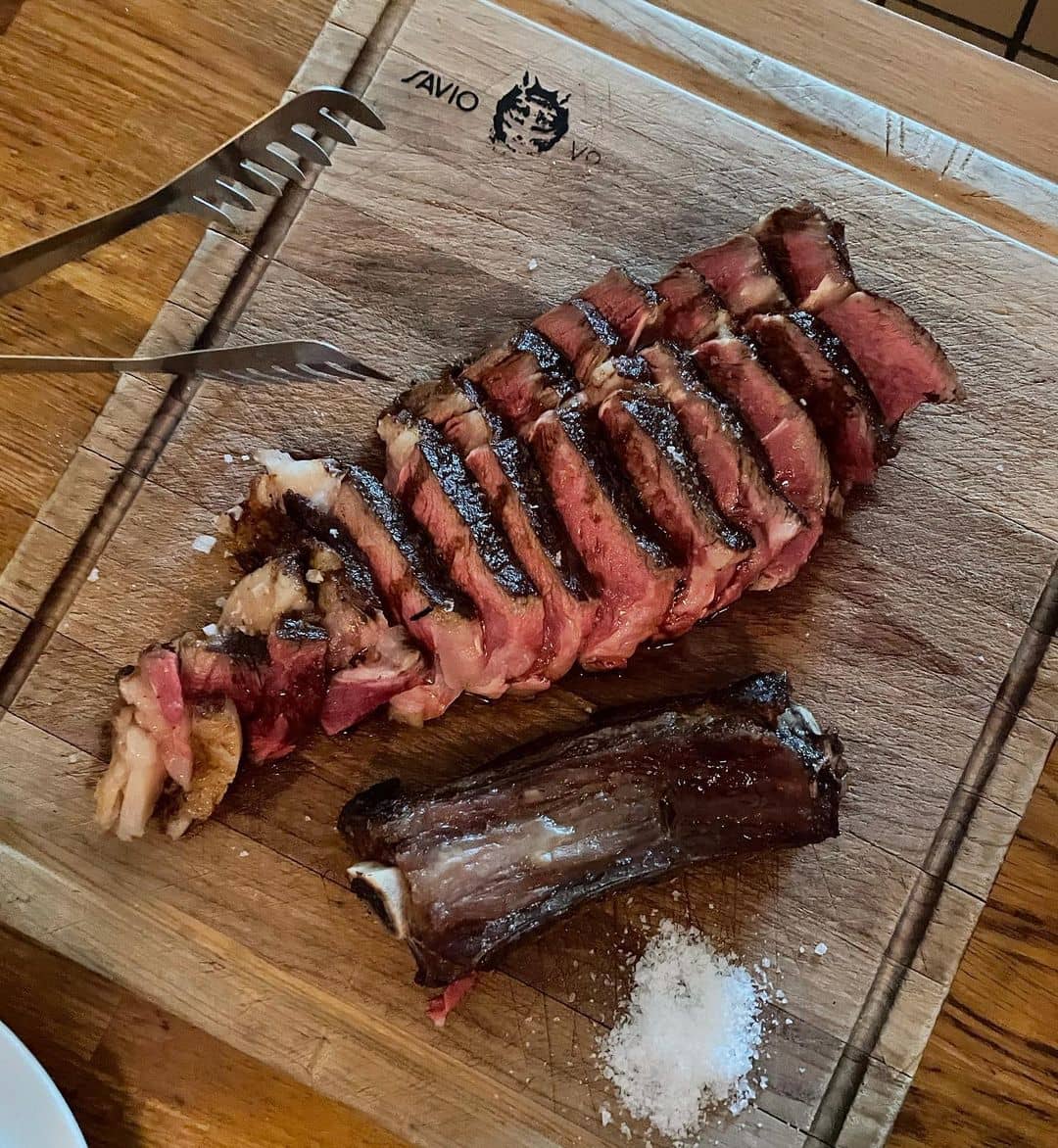 Bringing rustic and stately Italian cuisine into a friendly and welcoming ambience, Mount Pleasant's Savio Volpe is all about liveliness, warmth and hospitality.
Food cooked with simplicity and freshness over wood fires, charming waiting staff, and a home-like vibe are why Savio Volpe is the ideal place to relax, unwind and enjoy quality Italian cuisine.
Although Savio Volpe is known for their pasta, their flat iron steak and thiccc marbled ribeye are just as swoon-worthy and impeccable.
The people who has tried these dishes know and once you do give these a try, you'll leave with wide-eyed enthusiasm as well.
As in all Italian cuisine, order some robust wine to pair your steaks and finish off with some fresh in-house gelato.
Pro-tip: if a steak or ribeye dish is the feature of the day, don't make the mistake of skipping on it.
Address: 615 Kingsway Vancouver, BC V5T 3K5
Website | Instagram | Facebook
8. L'Abattoir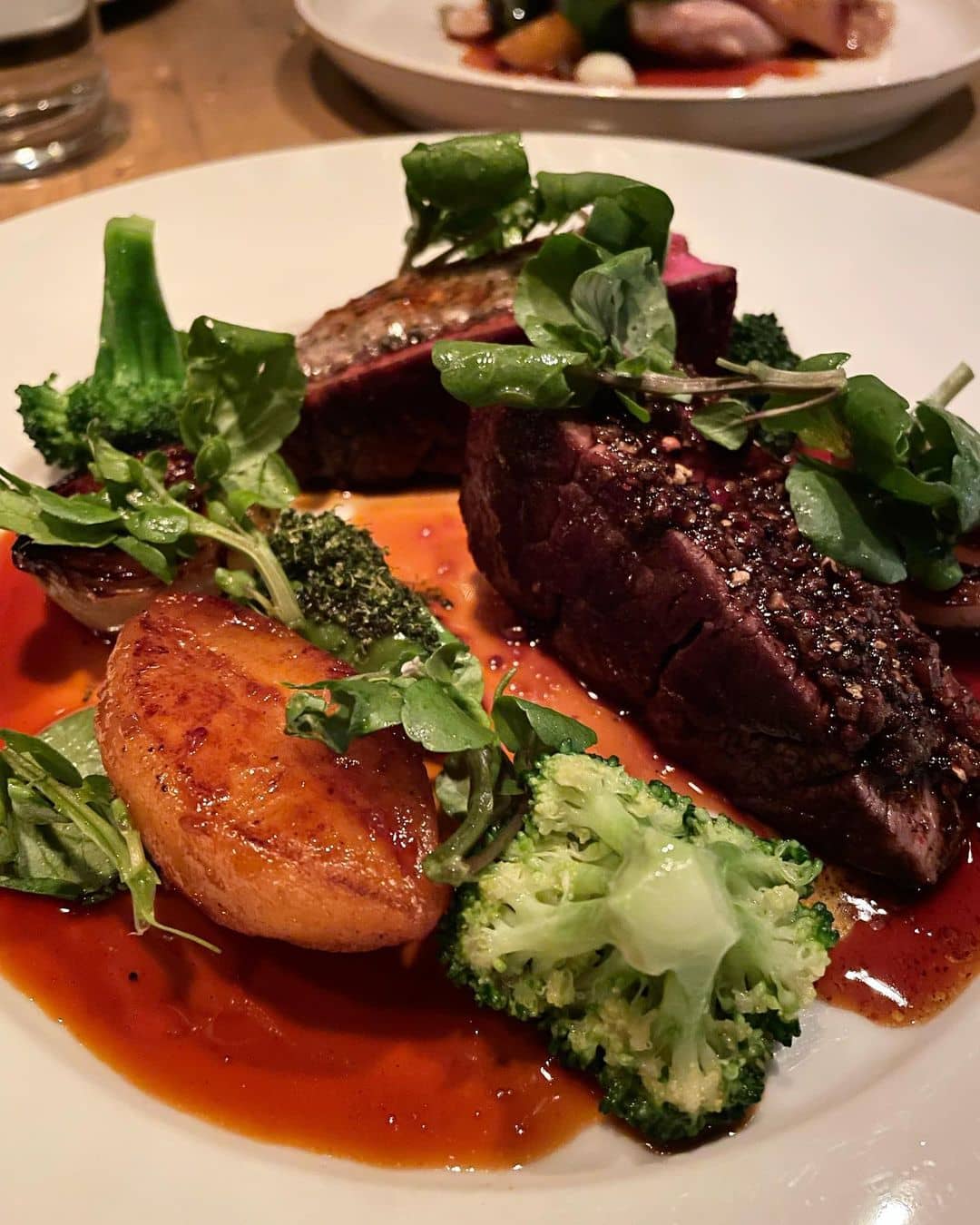 Relaxed and cultured, Gastown's L'Abattoir combines local fresh produce, experienced chefs and French influences to create suave and fashionable dishes that are simply mouth-watering.
L'Abattoir has its setting in a quaint, heritage building that served to add even more charm and grace to an extraordinary dining adventure.
And if you are a big fan of wine or cocktails, this place has got you covered.
A classic and favourite amongst Vancouverites (and chefs) look towards the juicy and robust Steak Diane.
The steak itself is cooked to your mouth watering perfection and comes with charred onions, potato fondant, and a peppercorn condiment.
Don't forget to orders some Baked Pacific Oysters to make your meal even more spectacular.
Address: 217 Carrall Street Vancouver, BC V6B 2J1
Website | Instagram | Facebook
9. Chambar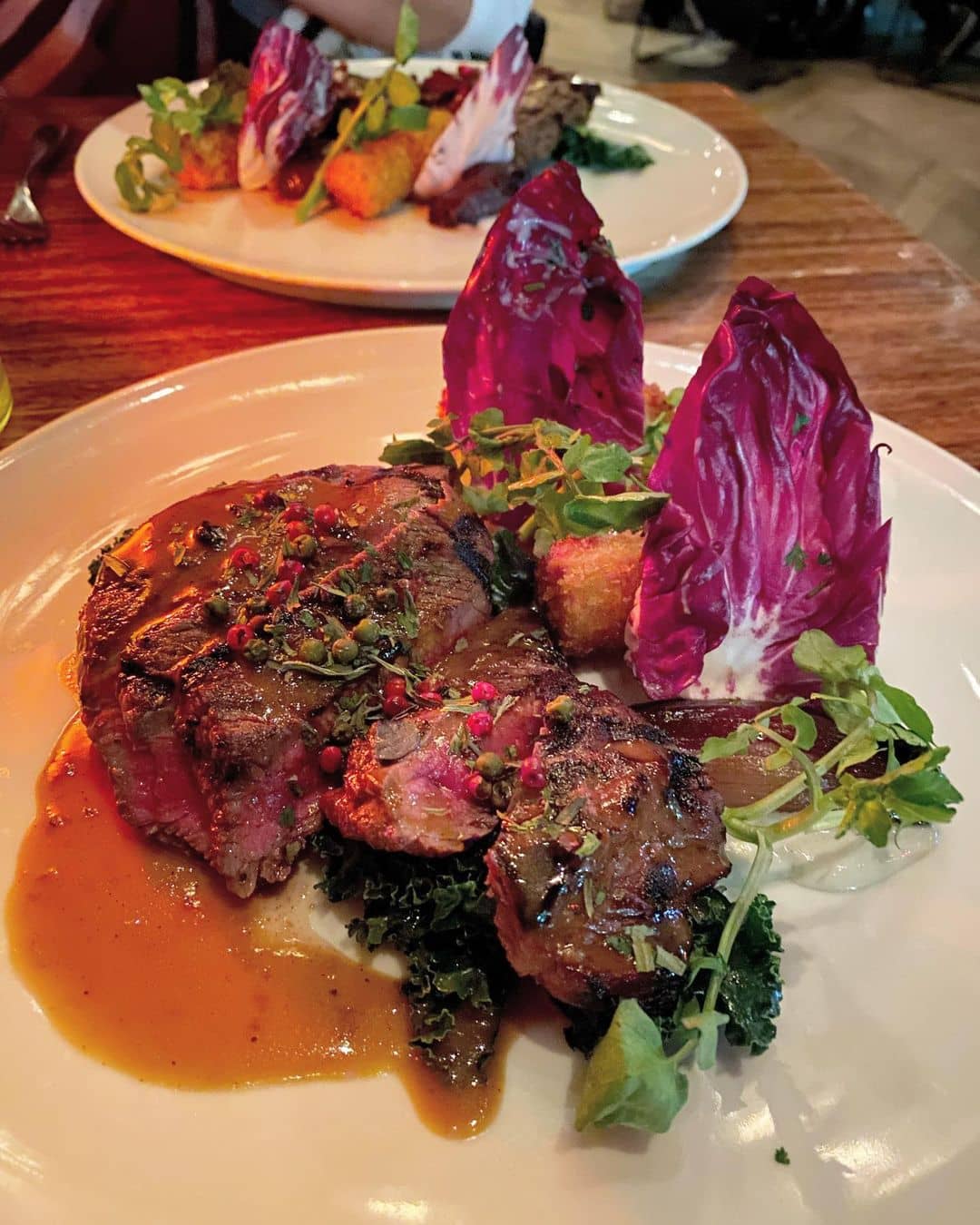 Chambar is one of those places you can go to and find everything just right. Their food is fabulous, and their plating is impeccable. The serving staff are attentive, friendly, and go the extra mile to make you feel at home.
Beautifully designed with muted colour tones, Chambar sets the tone for a relaxed evening with good food, an excellent wine list, and a totally relaxed atmosphere.
Start with their cool Rolling Tides gin cocktail, and try their selection of Canadian Cheeses for starters.
At times you'll find their incredible La Piece de Viande (char-grilled free-range flank steak) on their menu.
But when it's not around, a second great option would be the Red Wine Braised Beef Short Ribs that are just the perfect blend of flavour and melt-in-your-mouth goodness.
The Grilled Albacore Tuna is another dish we love here, and for dessert, we never say no to their decadent ​​Chocolat Fumé.
Address: 568 Beatty St, Vancouver, BC V6B 2L3
Website | Instagram | Facebook
10. Le Crocodile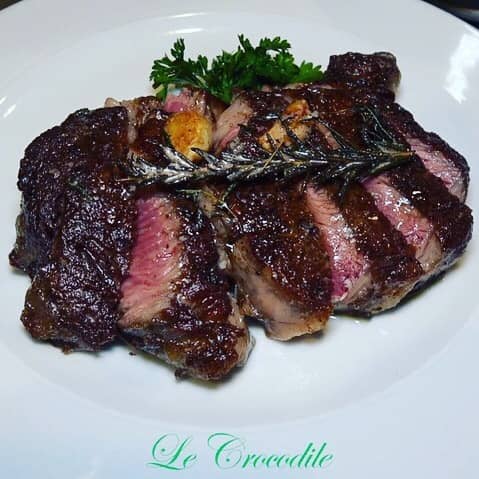 Elegant in ambiance and serving up traditional fare, Le Crocodile has been a part of Vancouver's food scene since 1983.
Renowned for their amazing and seared-to-perfection steaks, this is one spot you need to visit with your friends or family for a memorable time.
For starters get the Seared Goat's Cheese on Mesclun Greens, and for your main try their Pan-seared Dry-aged 16oz Ribeye.
The Veal Medallions are simply delicious, and the Slow Braised Lamb Shank is another must-try.
Pair with a glass of wine from their rotating wine list, and for dessert you cannot miss out on the signature Crème Caramel.
Address: 909 Burrard St #100, Vancouver, BC V6Z 2N2
That wraps up our list of the best steakhouses in Vancouver. We hope you try a few of them the next time you're craving a great-tasting steak.
If you're up to exploring the city some more and also want to enjoy more amazing food, check out our picks of the best restaurants in Vancouver!
How We Create Our "Best" Lists
All Noms Magazine's "best" lists are created using multiple factors and signals to help readers find the best restaurants, things to do, and places to stay at. Some of these factors and signs include personal experiences, correspondence with locals, and compiling experiences from review sites.
Each list is also created to be balanced (in terms of price, cuisine type, ambiance, and more) as possible. This means that the lists are not specifically created in ranking order. You should be comfortable picking from any of the spots on the list and generally have a good time. But of course, YMMV (your mileage may vary) and everyone may have different experiences/palates.