Editor update: Big Way has moved their soft opening date to Thursday, September 14th 5PM
Downtown Vancouver is about to be even more delicious!
That's because one of the top hot pot spots in Burnaby & Richmond, Big Way Hot Pot is set to soft open their new Robson Street outpost this Wednesday, September 13th.
We got a sneak peek during their Friends & Family event, offering us a firsthand experience of their newest venue.
Who is Big Way?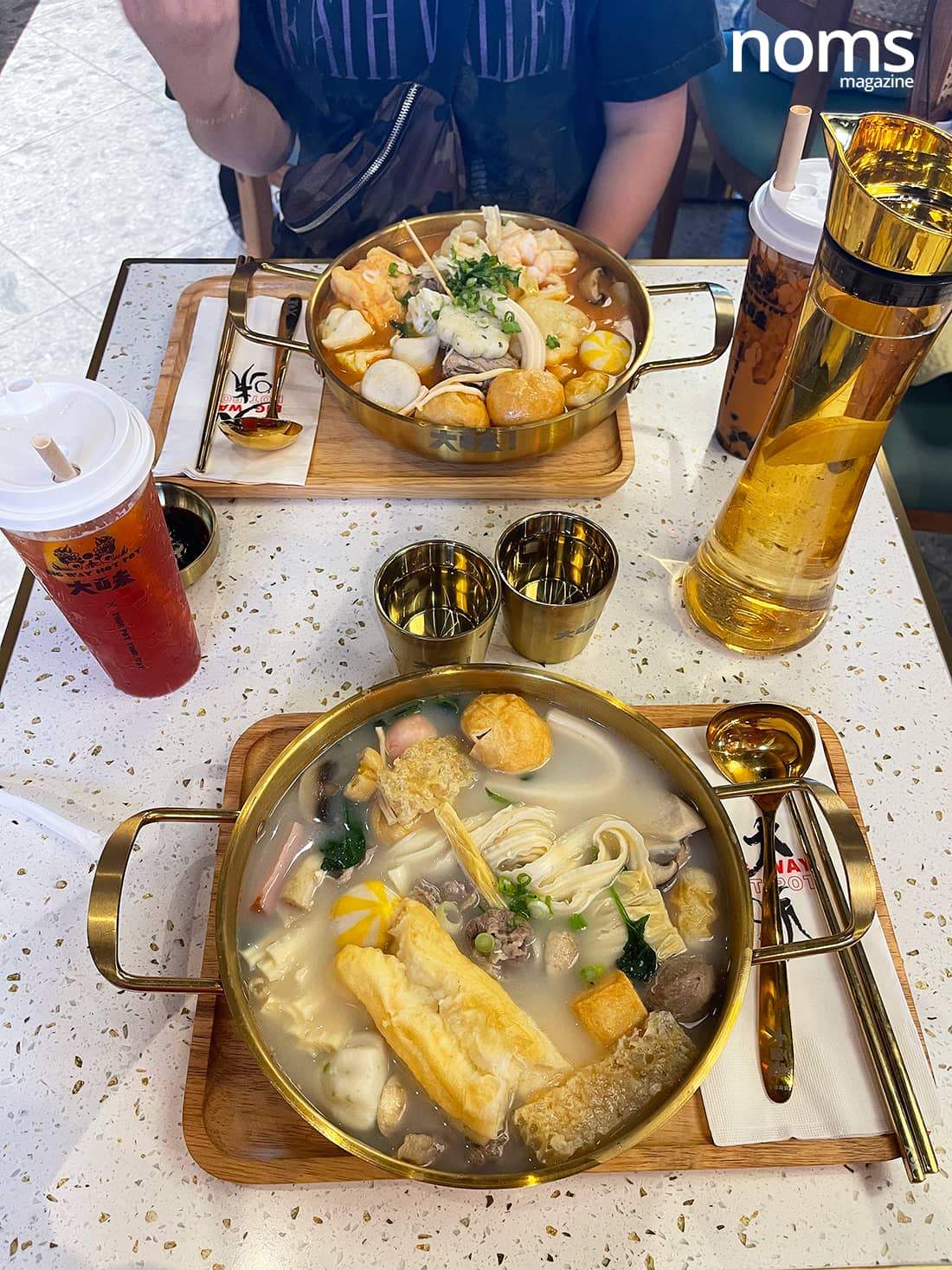 The rising hot pot chain first opened its doors on Kingsway in 2021 by an experienced mom-and-pop duo.
With previous experience at Boiling Point and Dolarshop, it's no surprise that Big Way has seen such meteoric success and love from locals.
The restaurant specializes in a pick-and-choose style hot pot where customers grab a bowl & tongs and select from a wall of over 90 fresh ingredients like seafood, vegetables, and noodles.
After selecting their your toppings, customers then choose a soup base you have the choice of over six different soup bases and dry mixes, including popular options like Malatang, Collagen Bone Broth and Tom Yum, as well as new seasonal broths like Kimchi and Golden Curry.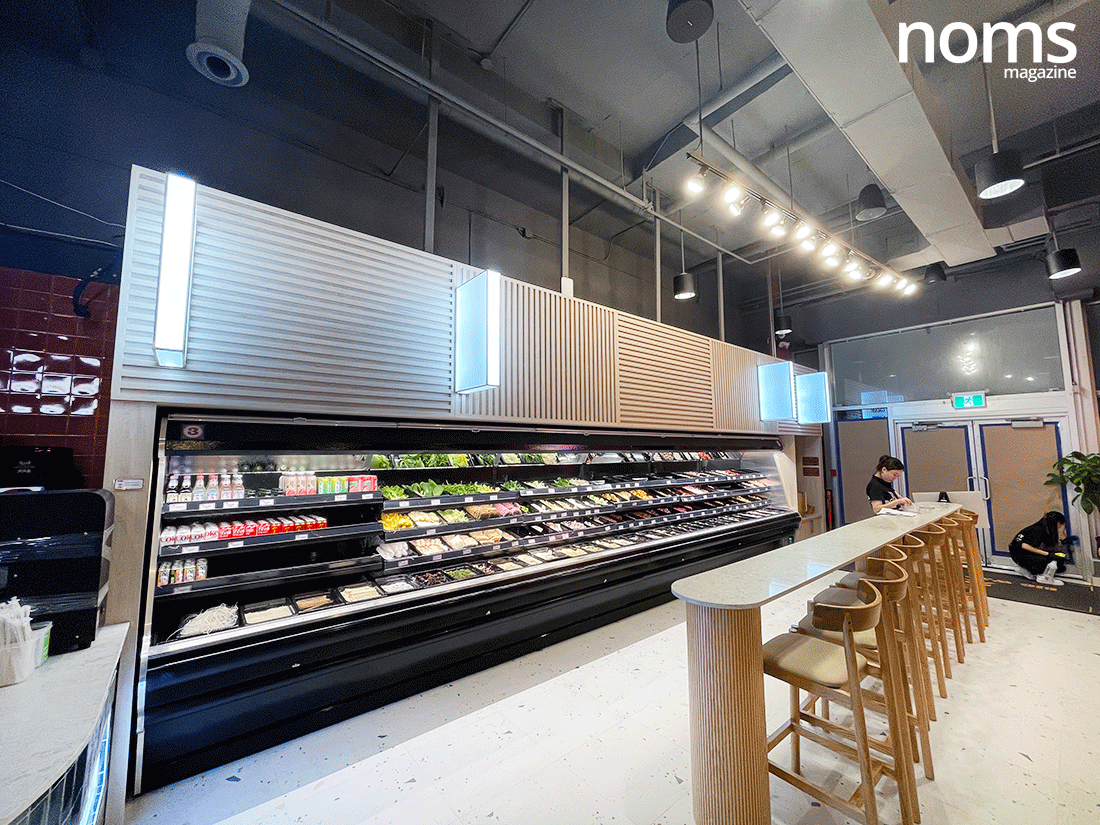 Your bowl's weight ultimately determines the price. Depending on how hungry or heavy the toppings are, the meal can vary in price.
To accompany your hot pot, Big Way offers an array of drinks, including our personal favorites, Passionfruit Sparkling and Lychee Sparkling. Both come with exciting popping pearls.
And for the adventurous, they even offer alcohol-infused bubble tea drinks.
You can also cap off your meal with their complimentary soft-serve ice cream, served in charcoal cones sourced from a Victoria-based company.
A Unique Design For Each Store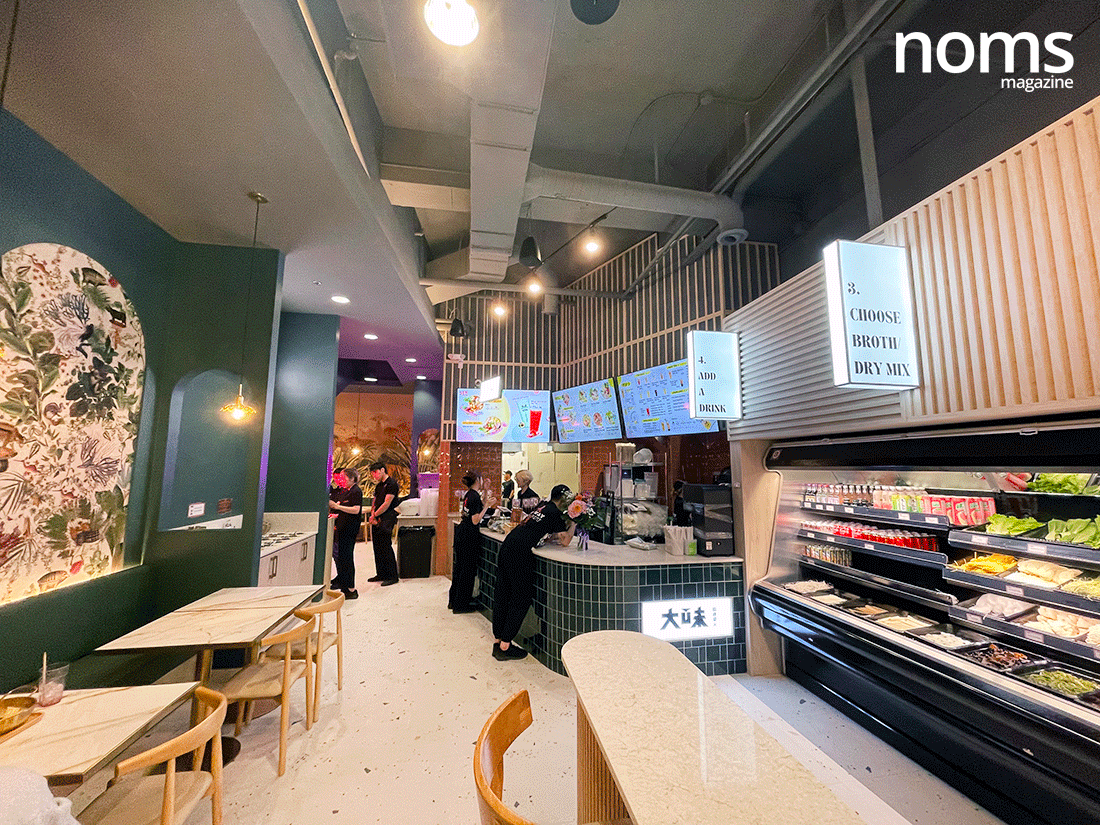 One thing we love about Big Way is how they slightly change the interior to fit the vibe and demographic they look to target.
For instance, the Richmond location sports a mix of a traditional Chinese aesthetic with gold accents and the Kingsway location caters to young families with its spacious and bright design.
Design Fit For Downtown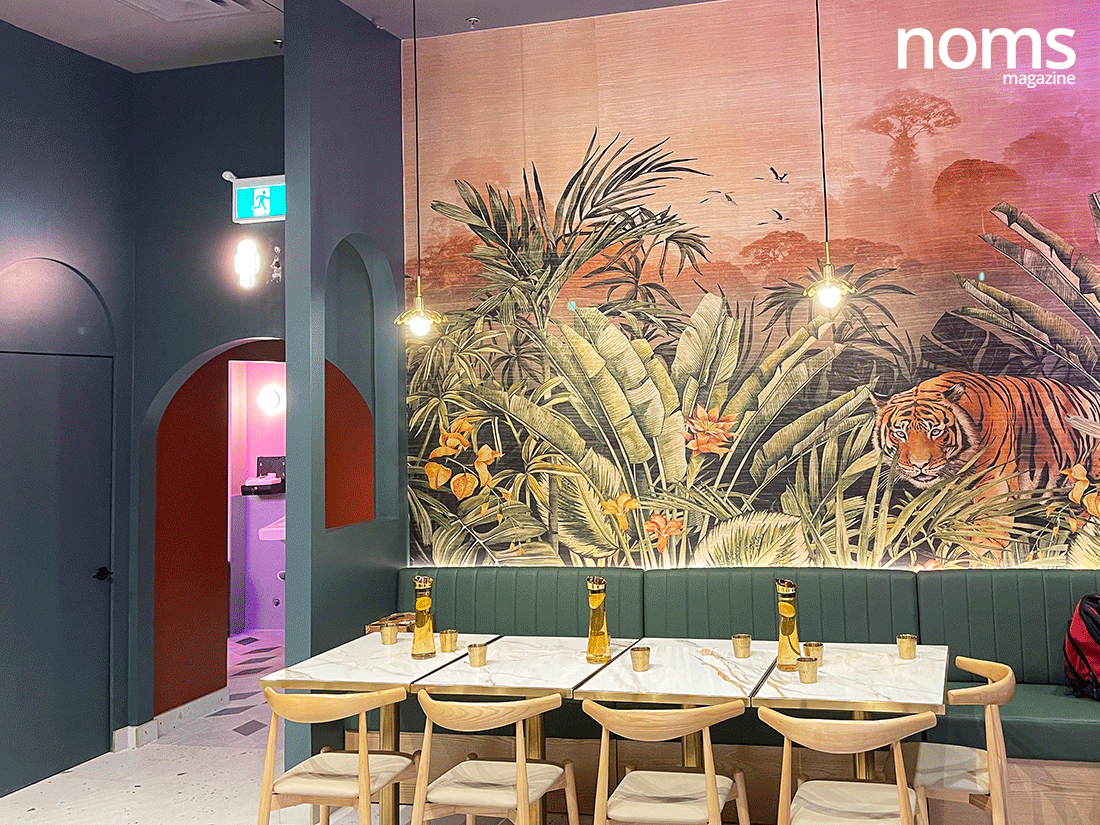 The new 62 seater Robson Street outpost takes on a more elevated design aesthetic, while still maintaining the brand's core concept: individual hot pot dining.
Co-owner Christiana, in an exclusive interview with Noms Magazine, stated that the refined interior—marked by Italian silk patterns and gold accents—was intentional to align with the downtown ambiance.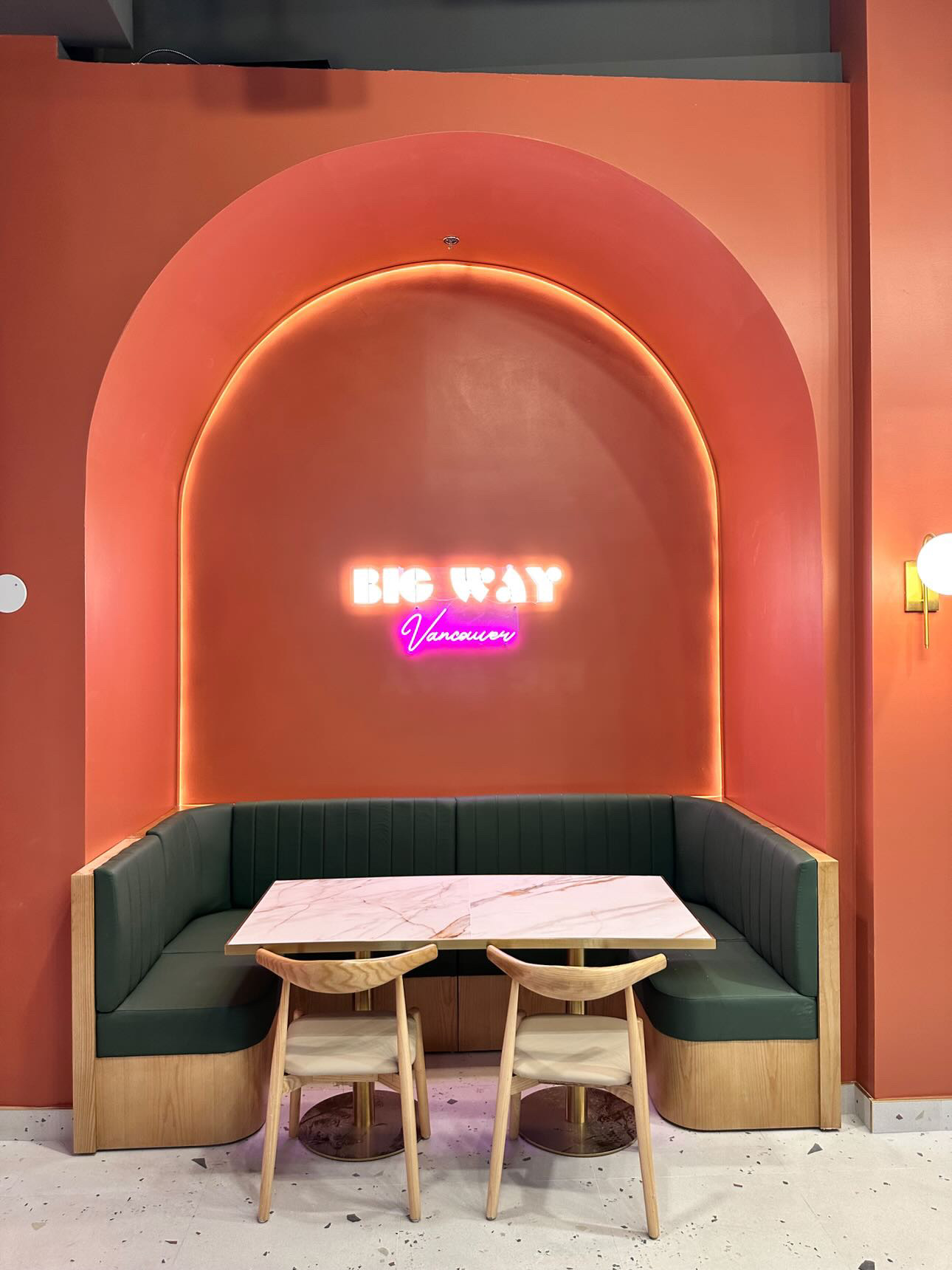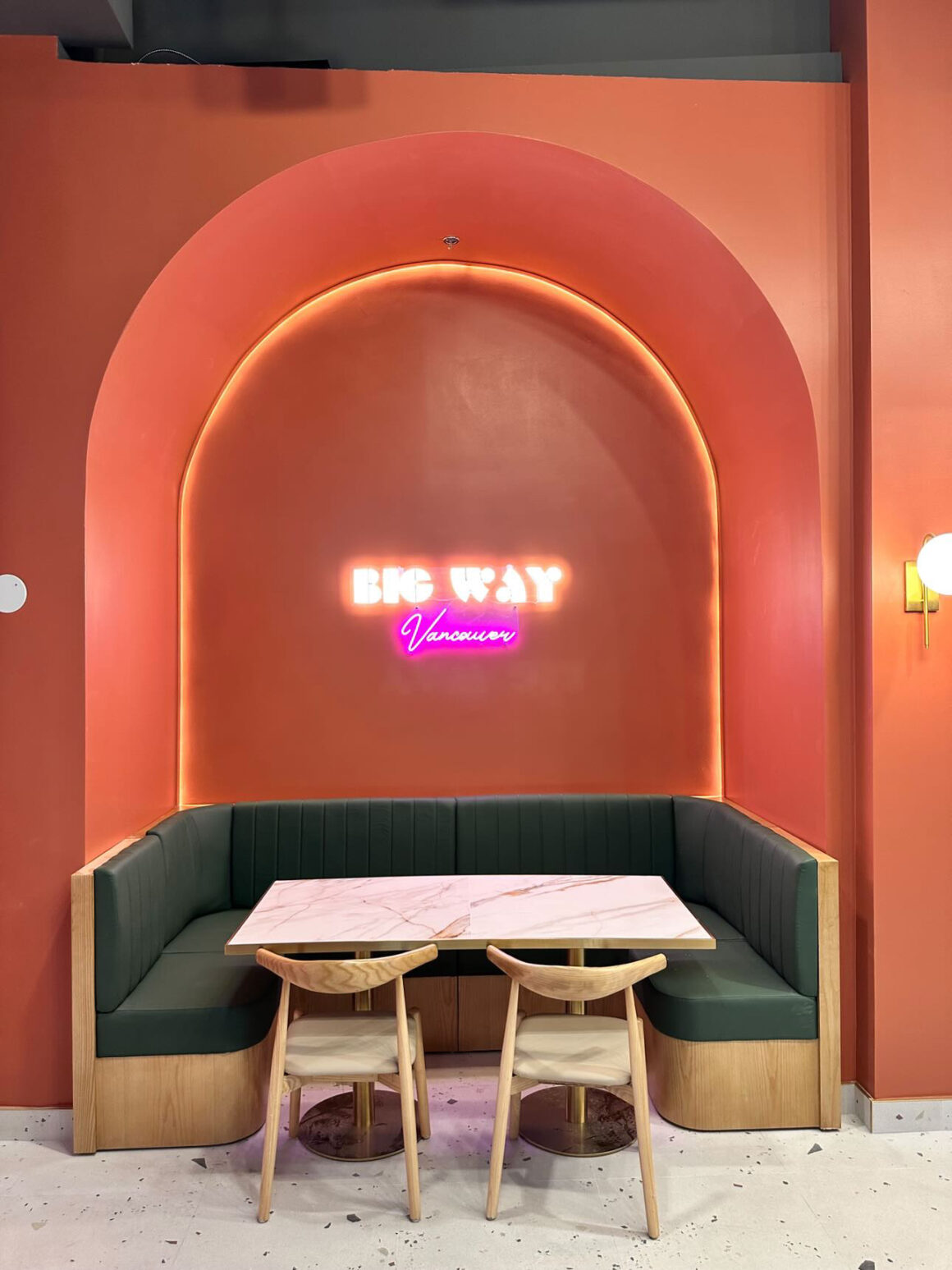 She shared that hot pot is generally seen as only an Asian cuisine. But her goal is to introduce hot pot to for everyone to experience as a global cuisine.
A unique feature of the Robson Street location is a new seating area designed for large groups (up to 14 people).
Whether it's a party or a corporate team-building event, this new addition is bound to attract a lot of attention.
More Expansion Plans
The Big Way brand shows no signs of slowing down.
In an exclusive teaser to Noms Magazine, Big Way revealed an upcoming location near Lougheed Station for next fall has been confirmed and a second Richmond outpost for next spring.
So, whether you're a Big Way veteran working in downtown or a newcomer yet to experience this hot pot delight, this new Robson Street location gives you all the more reason to dive in!
Address: 778 Robson St, Vancouver, BC V6Z 1A1