Looking for the best croissants in Toronto? Well, you're in the right place!
Toronto is a melting pot of cultures, and this diversity is reflected in its food scene. Among the many culinary delights the city has to offer, the humble croissant stands out. This French pastry, with its flaky layers and buttery taste, has found a home in the heart of Toronto!
Whether you prefer it plain, filled with almond cream, or topped with chocolate, there's a bakery in Toronto that makes it just the way you like it!
Hesitate no more to explore the 10 places to get the best croissants in Toronto. These bakeries have mastered the art of baking, each adding its unique twist to it. So, get ready to embark on a culinary journey through the streets of Toronto, one croissant at a time!
1. Emmer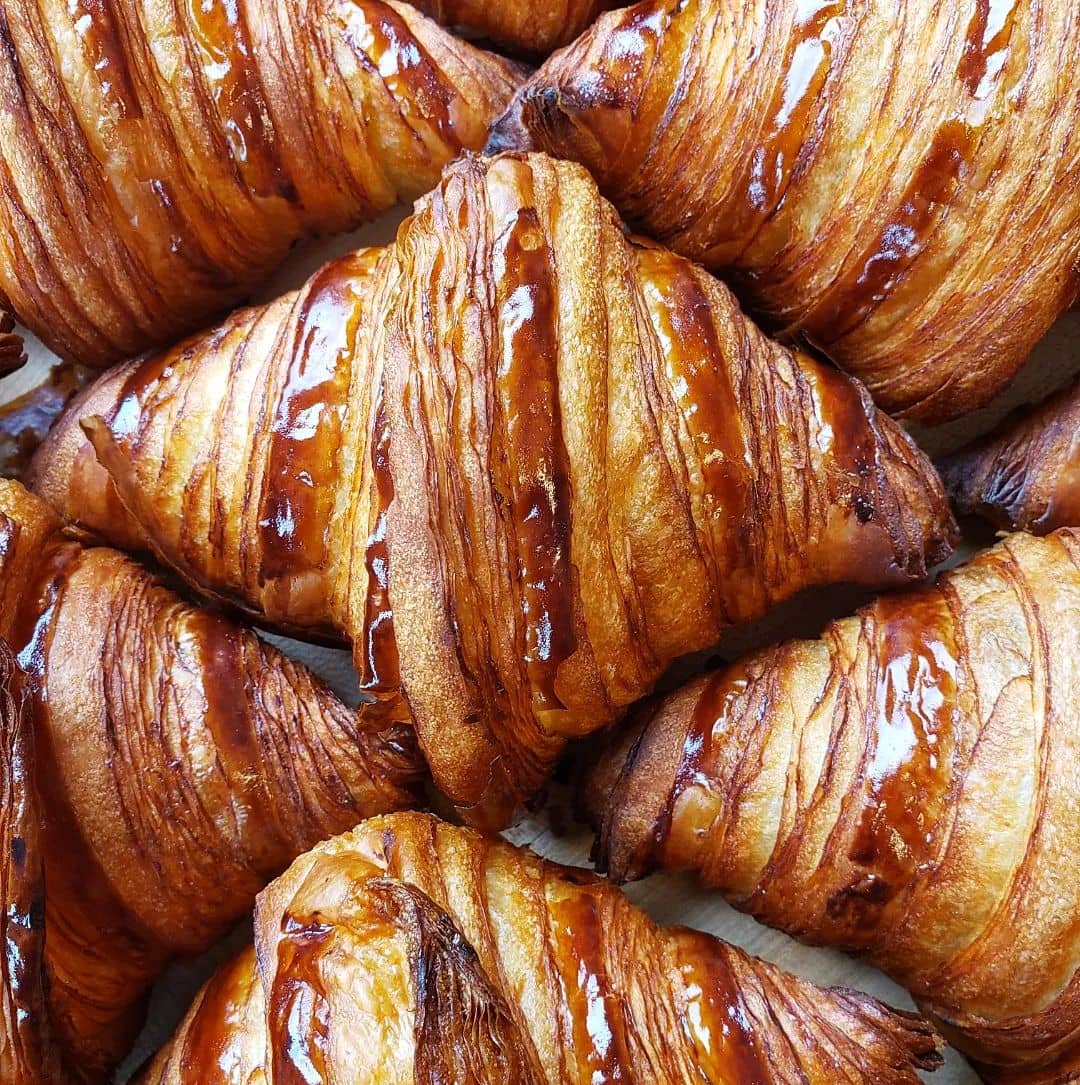 Emmer has long been the locals' favourite for serving up stunning sourdough bread, croissants, and pastries. With frequent line-ups throughout the day being common and empty display cases by the end of their workday being frequent, you know you won't be disappointed visiting this place!
If you're here during the morning, get the signature Sourdough Bread, which has a chewy crust and pillowy inside and is one of the most popular items available at Emmer. Simplicity can be incredibly tasty, especially with their Butter Croissant. You'll love it at the first bite for its flakiest outer layer with a very crunchy yet airy texture!
The Pistachio Croissant is even more popular. Not only is it coated on top with Sicilian pistachios, but also find them generously filled within the pastry as well. In case you're looking for the ultimate brunch sandwich, you'll want to give their Roasted Beef Sandwich a try!
What to order: Sourdough Bread, Butter Croissant, Pistachio Croissant, Roasted Beef Sandwich
Address: 161 Harbord St., Toronto ON M5S 1H1
Website | Instagram | Facebook
2. Geste Bistro & Boulangerie
Geste means "gesture" in French, and from the name, you can tell your experience at Geste Bistro & Boulangerie is going to be great!
At Geste, you'll be trying classic French pastry with modern techniques along with their ever-evolving menu. Pay a visit and let their wide range of pastries win your heart!
The Cheese Croissant and Pistachio Chocolate Croissant are the stars of the show. While the Pistachio Chocolate is a unique twist on the classic croissant, filled with rich pistachio cream and chunks of dark chocolate, the Cheese Croissant takes this traditional pastry to the next level with rich and tasty cheese inside and on top,
For something unique, the Orange Marmalade Croissant takes the creativity factor up a notch, regular croissant dough stuffed with a sugary scratch orange marmalade, topped with a sticky-sweet orange gel, and chunks of candied orange peel. You can't say no!
What to order: Pistachio Chocolate Croissant, Cheese Croissant, Orange Marmalade Croissant
Address: 506 Queen St W, Toronto, ON M5V 2B3
3. Pain Perdu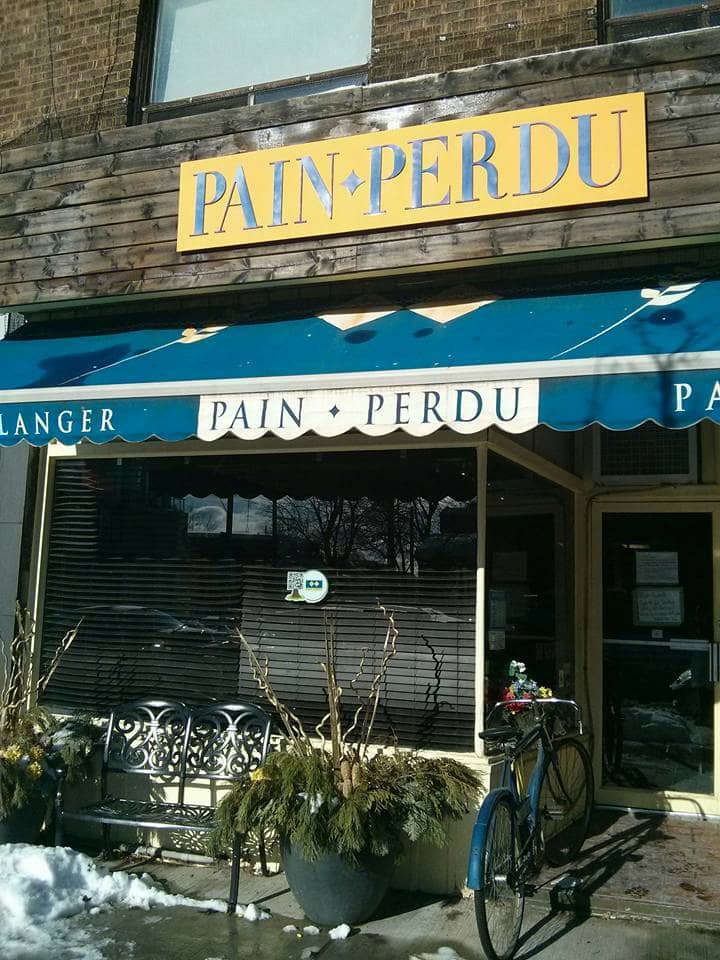 Nestled in the heart of Toronto, Pain Perdu is a small and quiet French bakery that is a must-visit for croissant lovers. Inside, this cozy nest is filled with colourful flowers, French music, rustic furniture, and the aroma of freshly baked goods wafting through the air.
If you're a big fan of croissants, you must never miss this wonderful place!
Their croissants are a hit, the original version is a delicate glory with tons of layers and a dense buttery center, while the almond one has a hint of sweetness on top wrapping around a sweet custard filling that seeps into the inner layers!
Another crowd-pleaser is the Jocelyn croissant, a unique blend of the sweetness of the maple syrup combined with the tartness of the raisins creates a delightful contrast of flavors. For an unforgettable sweet treat, get the Croque Monsieur! A glorious invention of Swiss cheese baked over bread and black forest ham with bechamel sauce, garnished with a single split grape tomato
What to order: Pain Croissant, Almond Croissant, Jocelyn Croissant, Croque Monsieur!
Address: 736 St Clair Ave W, Toronto, Ontario M6C 1B3, Canada
4. Fleur du Jour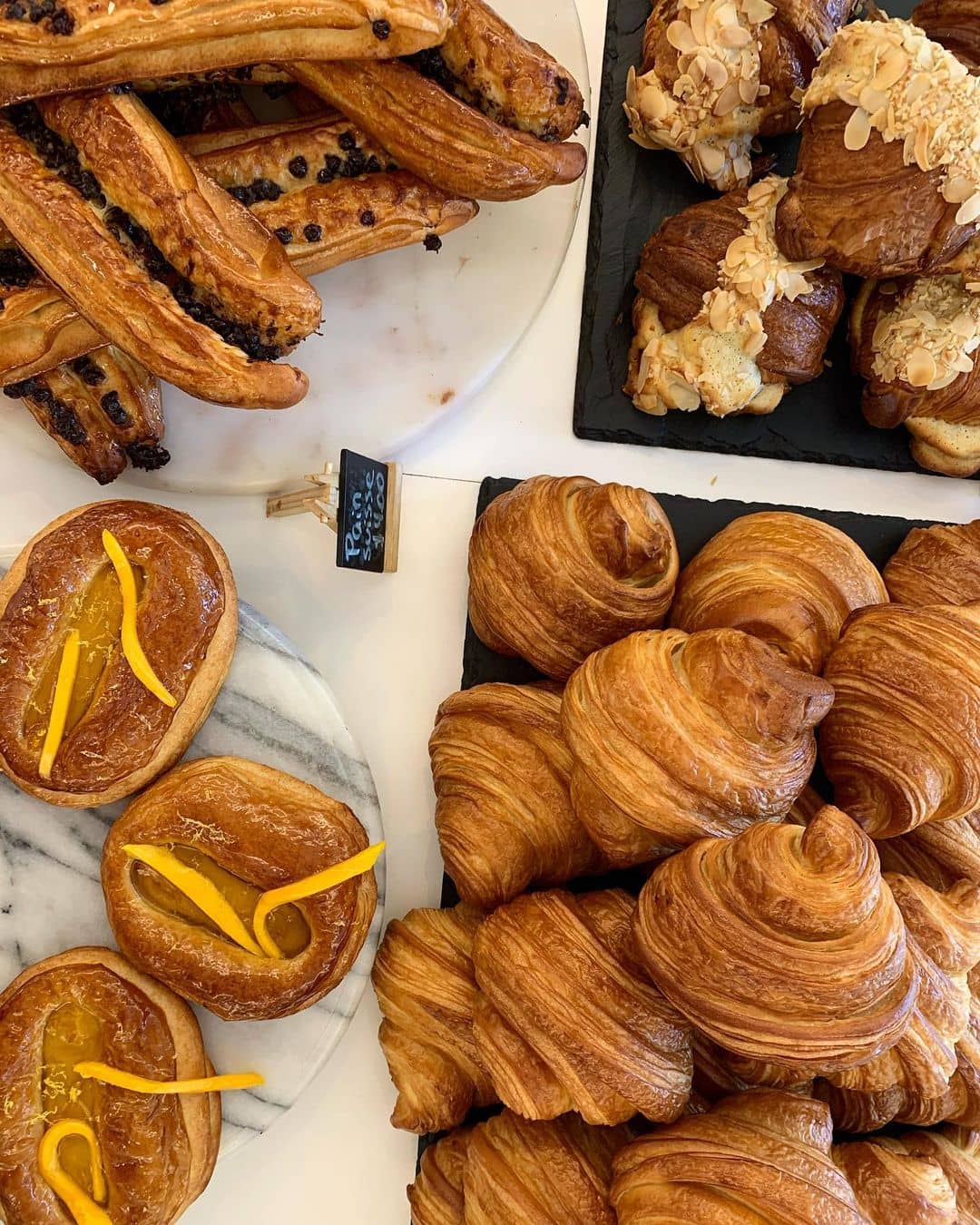 Fleur du Jour is an artisanal patisserie serving up classic and inventive takes on icons of French baked goods. You'll find its authentic French vibe reflected in its interior design and the quality of its pastries. The space itself is minimal, with only four tables for seating but we promise you the baked goods are absolutely worth-trying!
Start it right with their famous Brietto, a croissant with brie and prosciutto. It has the saltiness from the prosciutto and brie and sweetness from the honey and apples, they just go along too well! 
For a light taste, you can try their Rosier – a croissant with lemon cream insert! Another wonderful treat you never knew you need is their Donut Tatin, which is a spin on the traditional tarte tatin, prepared upside-down with layers of caramelized apples and topped with creme fraiche. How wonderful!
What to order: Brietto, Rosier, Donut Tatin
Address: 603 St Clair Ave W, Toronto, ON M6C 1A3
Website | Instagram | Facebook
5. Goûter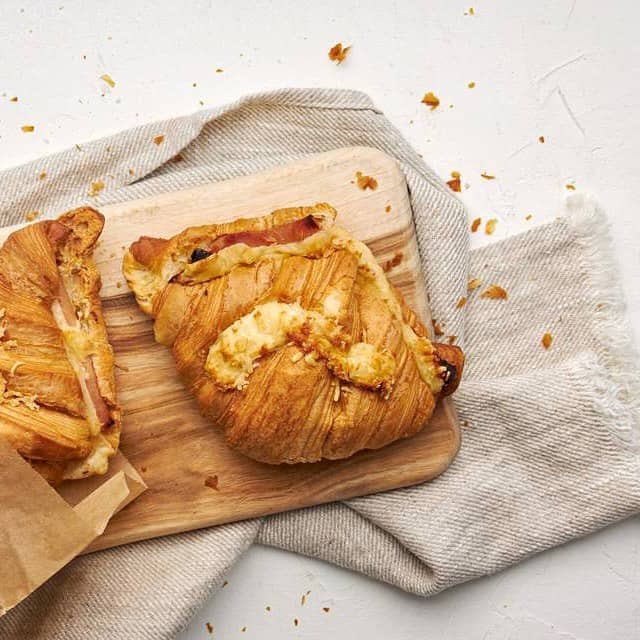 Goûter by RA is a pâtisserie, boulangerie, and chocolaterie in Toronto that offers a modern twist on French classics. Specializing in customized made-to-order products, Goûter promises to make each visit a unique experience!
The space is small but bright thanks to a big front window, with a pop of detail at the back thanks to illustrative graphics.
Don't skip their Nutella Croissant, which is crunchy with big air bubbles, and feels super luxurious with a generous amount of Nutella inside and top, with a sprinkle of nuts on top as well!
The Raspberry Croissant is no less stunning with its crispy texture and creamy taste with fruity swirls of raspberry jam.
Paris Brest consists of a circle of choux pastry topped with a hazelnut praline flavored cream, which is so sweet, and creamy, with toasty hazelnut mousseline inside that feels like heaven in every bite! Plus, Goûter has a highly addictive range of ice cream too, we highly recommend you to try the Cookie Explosion and Maple & Pecan flavour. They are the best!
What to order: Nutella Croissant, Raspberry Croissant, Paris Brest, Cookie Explosion Ice Cream, Maple & Pecan Ice Cream
Address: 3507 Bathurst St, Toronto, Ontario M6A 2C5 Canada
Website | Instagram | Facebook
6. TASSO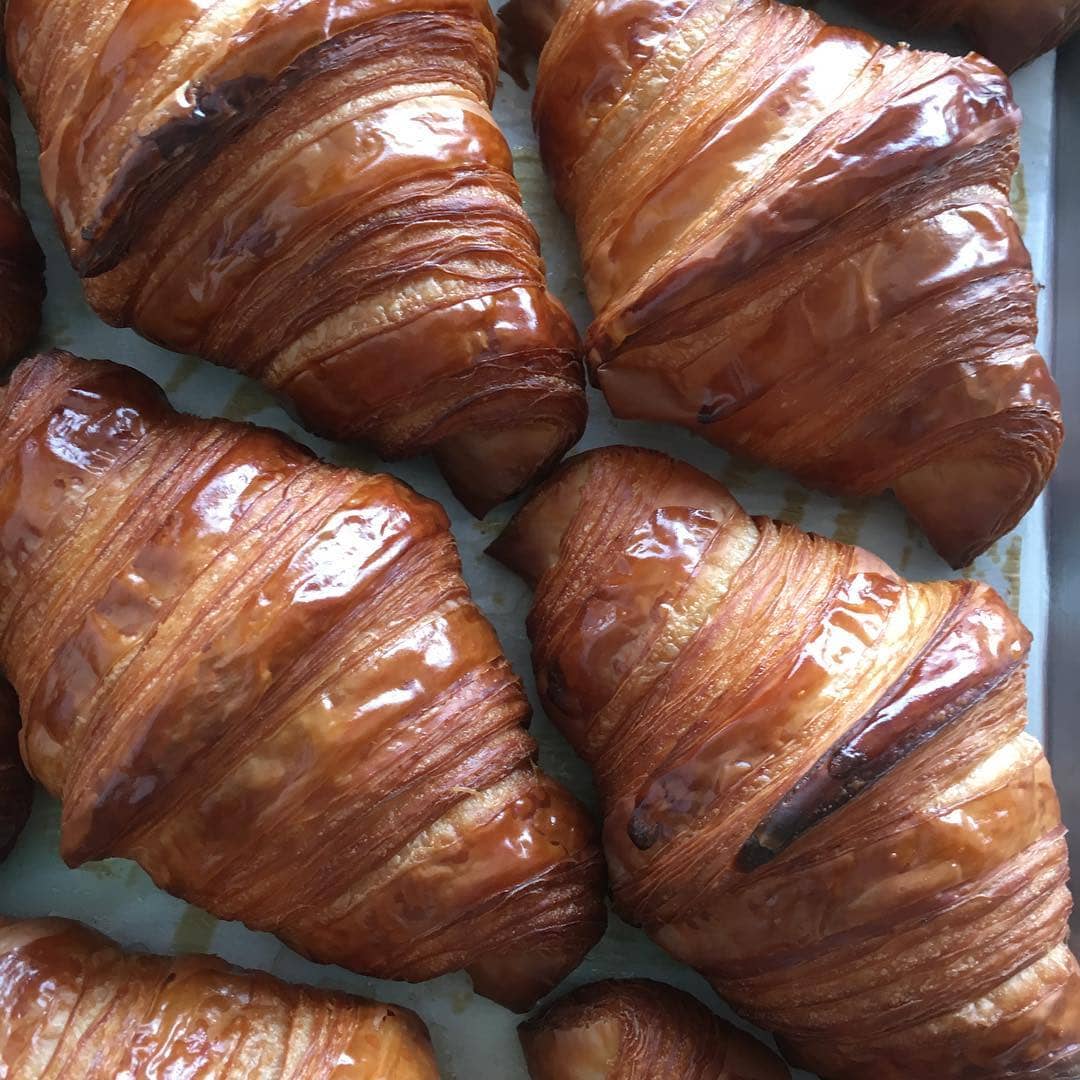 TASSO is a little gem in Toronto that only opens for a few hours each week, and if you don't show up early, you might leave empty-handed! Here, they offer fresh pastries baked in-house plus brewed coffee, and espresso drinks. If you ever wonder what is a perfect croissant, you might find your answer at TASSO!
There's a reason why people line up outside the 300-square-foot shop well before it opens. It's because of their croissants! Despite an eight-per-person limit, TASSO usually runs out of croissants in just two hours. There are Plain, Chocolate, and Almond varieties to choose from, all of them taste oh-so-good with a perfect flaky, crunchy texture!
The bakery also serves a small selection of other pastries, like Cinnamon Bun made with croissant dough and a kick of spice. Or the Kouign-Amann, a sticky spiral slick with caramelized butter. 
What to order: Almond Croissant, Pain Croissant, Chocolate Croissant, Cinnamon Bun, Kouign-amann
Address: 540 Parliament St, Toronto, ON M4X 1P6
7. Blackbird Baking Co.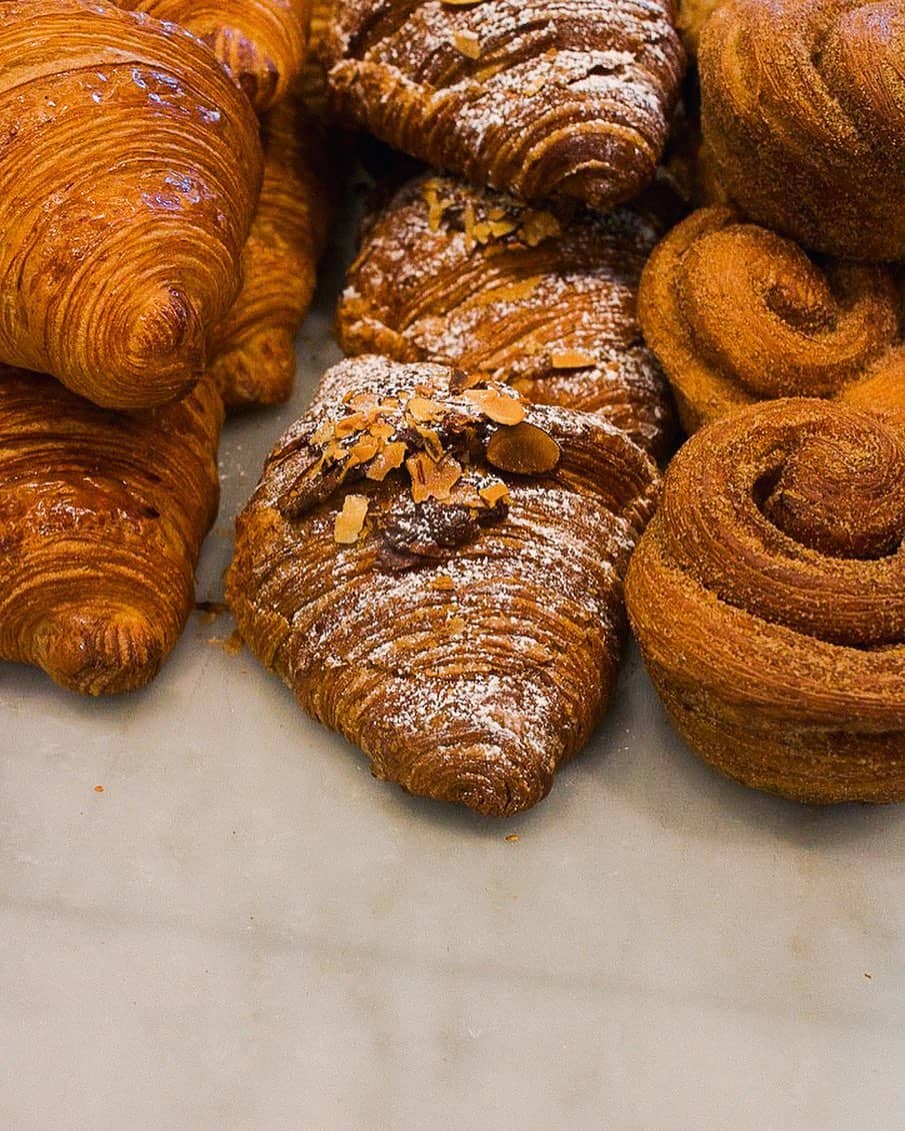 Blackbird Baking Co. is a beloved bakery in Toronto that is famous for its artisanal bread and pastries. Inside, the setting is modern with a minimal interior that creates a relaxed and welcoming atmosphere. This place has never let us down with its delicious baked goods and friendly service. We bet you'll love it like we do!
The bakery's croissants are highly recommended by us all. The Plain Croissant is praised for its light and airy texture, with a golden, crispy crust that is simply irresistible. And the Chocolate Cork is another standout item, featuring a rich, chocolate filling that perfectly complements the buttery pastry!
When it comes to their viennoiserie, danishes are super popular. There's always one sweet and one savoury seasonal variety available, like a Squash and Mascarpone Danish option. Don't be shy to grab a cup of coffee to accompany with you too!
What to order: Plain Croissant, Chocolate Cork, Squash and Mascarpone Danish
Address: 635 Queen St E, Toronto, ON M4M 1G4, Canada
Website | Instagram | Facebook
8. Patisserie La Cigogne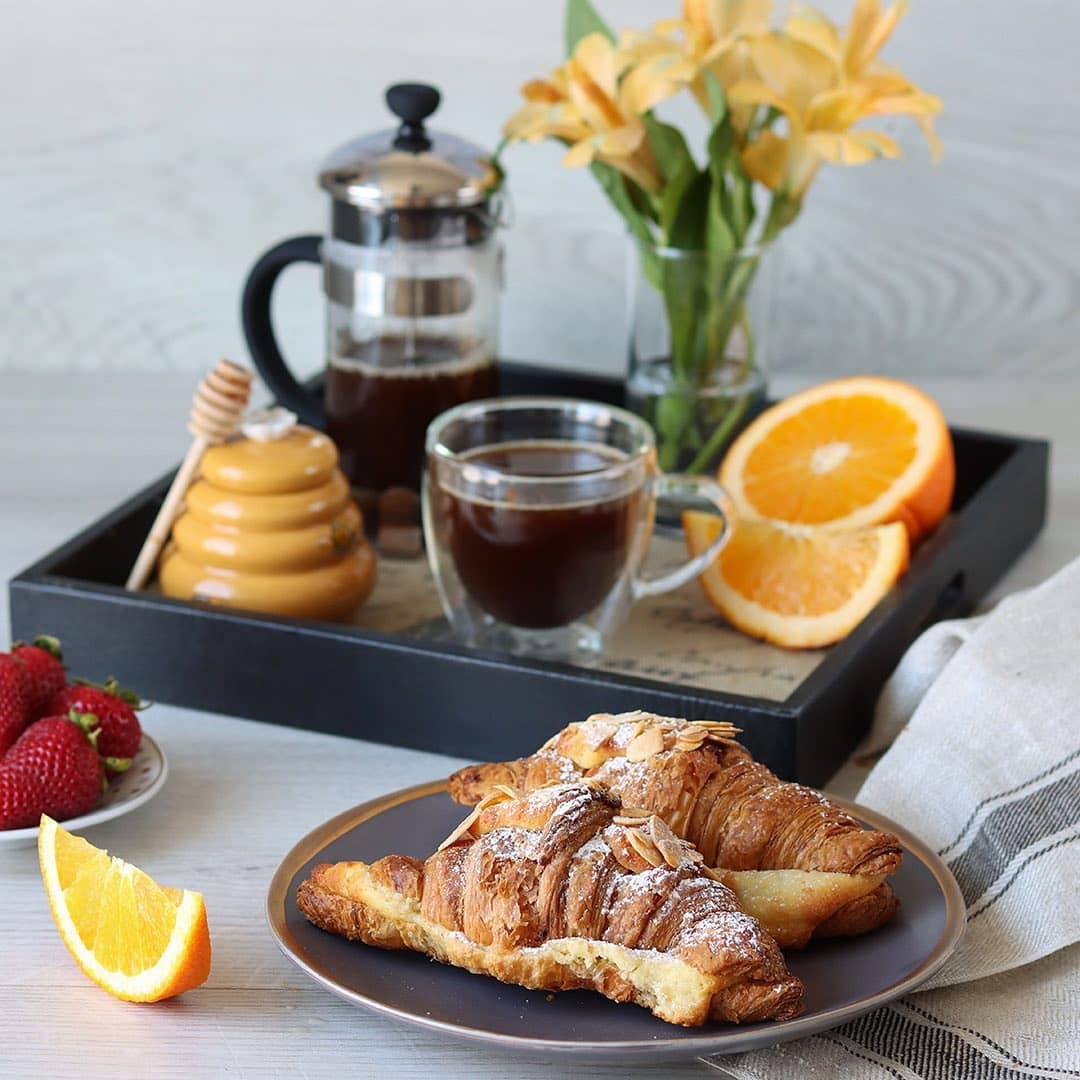 Located right in the heart of Bayview Avenue, Patisserie La Cigogne is your next go-to place for all the charming French pastries! Here, you'll be feasting on you tummy with authentic French treats in a cozy and inviting ambiance that transports you straight to a Parisian café!
Stables like Croissant and Chocolate Croissant are a must when you visit Patisserie La Cigogne.  It's a perfect blend of crunch and creaminess that leaves you wanting more! The Coffee Cake,  a tender crumb cake with cinnamon pecan topping, is another crowd-fav. You can't deny this for your weekend and brunch treat!
To satisfy your sweet tooth, grab the Symphony Cake, a combination of dark, white, and milk chocolate mousse filled with fresh raspberries, finished with raspberry Purée. For a sweet & sour combination, Pina Colada with coconut mousse and light pineapple mousse with dark chocolate cake soaked in rum is going to please your taste buds!
What to order: Chocolate Croissant, Coffee Cake, Symphony Cake, Pina Colada
Address: 1626 Bayview Ave, Toronto, ON M4G 3B7, Canada
Website | Instagram | Facebook
9. Bake Code Croissanterie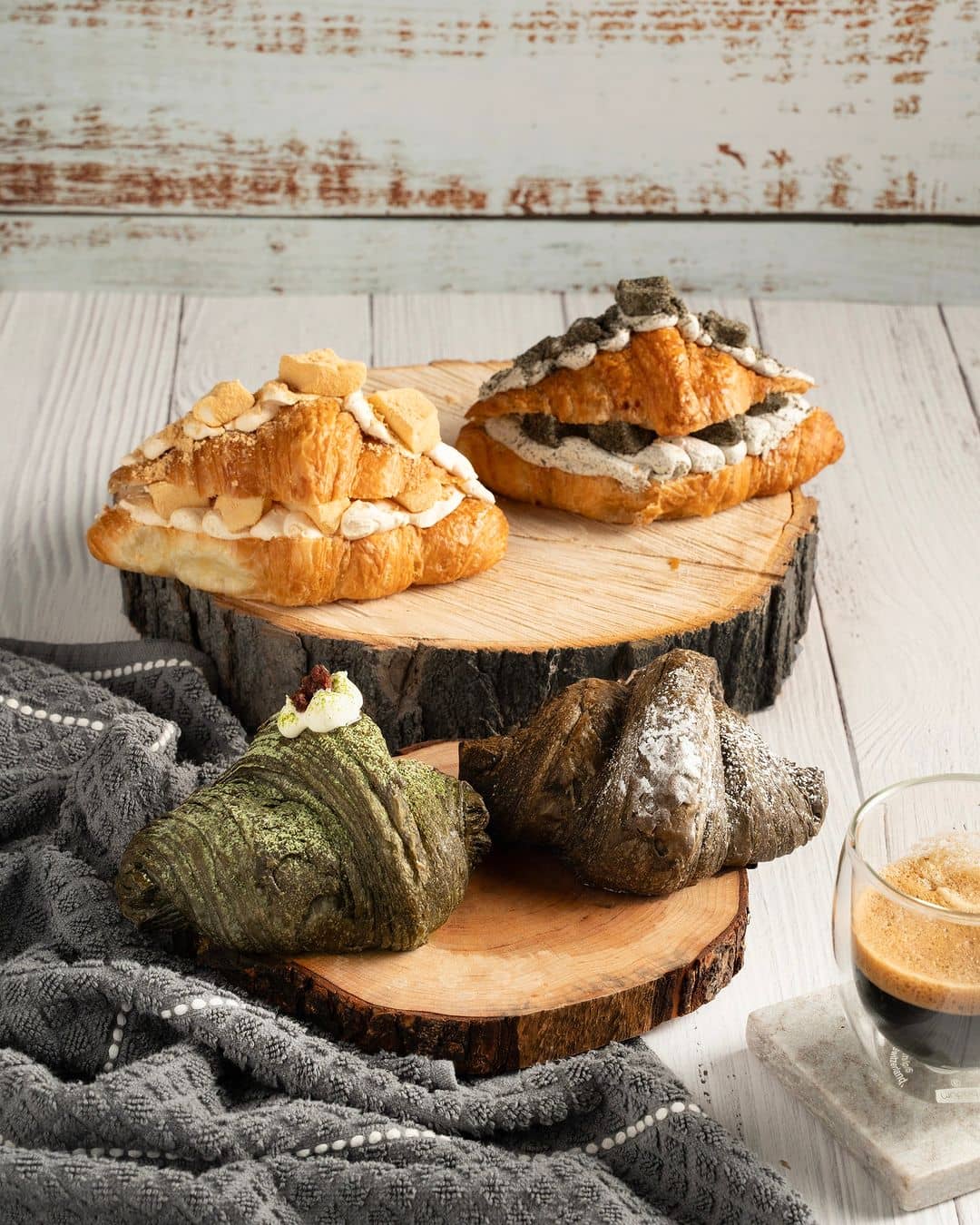 Bake Code Croissanterie is a modern Euro-Asian bakery that offers a unique twist on traditional pastries. Located in various parts of Toronto, including North York, Mississauga, Markham, Richmond Hill, and Vaughan, this bakery is known for its innovative flavours inspired by Asian craft. If you're bored of traditional croissants, this place is your next destination!
The Vietnamese Coffee Croissant is a standout, with its robust coffee flavour paired with the lightness of the croissant. It's a delightful fusion of flavours that coffee lovers will surely fall for!
Another popular choice is their Earl Grey Croissant, a perfect blend of the classic tea flavour with the buttery goodness of the croissant. 
We personally love the Maple Bacon Croissant. It is a savoury snack with Canadian flavours: bacon, maple syrup and cream cheese. It's even decorated with a small slice of crispy bacon. Or you can order the no-less-delicious Mushroom Truffle Croissant made with a mix of mushrooms, alfredo sauce and onions. Totally chef-kiss!
What to order: Vietnamese Coffee Croissant, Earl Grey Croissant, Maple Bacon Croissant, Mushroom Truffle Croissant
Address: 626 Yonge St, Toronto, ON M4Y 1Z4, Canada
Website | Instagram | Facebook
10. Nord Lyon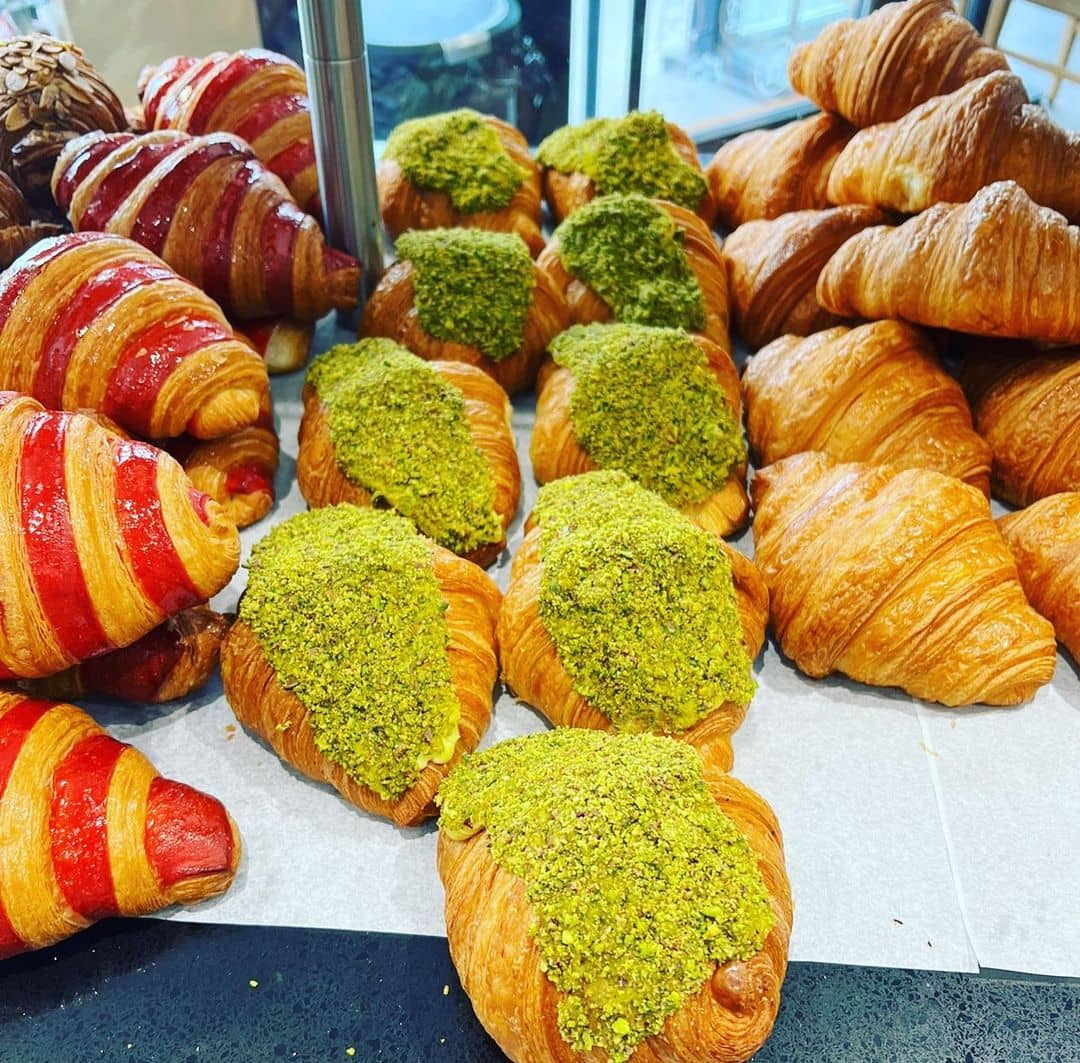 Nord Lyon is a sprawling bakery in the heart of Toronto, specializing in traditional French pastries and breads. This two-story bakery is the ideal space for an amazing taste of handcrafted French products.
Daily, their passionate team bakes from scratch all the best traditional products with a French touch, from baguettes, viennoiseries, sandwiches, pastries, to cakes, macarons, and chocolates!
Their croissants are particularly noteworthy, with the secret to their flavours being the use of French butter, creating a much richer flavour for their croissants and other pastries. Besides the classic Plain and Pistachio Croissant, you can make a try with their Tart Fruit with creamy custard filling surrounded by a crisp sweet pastry shell and lots of beautiful fruits!
The Tart Lemon Meringue is another best-seller of Nord Lyon, which can hit your taste buds right away with a burst of sweet and sour flavor. Its sharp lemon filling, indulgent meringue, and shatteringly crisp crust combination can literally put a smile on your face!
What to order: Croissants, Tart Fruit, Tart Lemon Meringue
Address: 665 Queen Street West, Toronto, ON M6J 1E6
Website | Instagram | Facebook
We've taken you on a tour of Toronto's best croissants, from the traditional to the innovative. So, the next time you're in Toronto, make sure to stop by these bakeries and treat yourself to a delicious croissant.
Now that we've satisfied your craving for croissants, how about some Italian cuisine? Continue your culinary journey with our list of the best Italian restaurants in Toronto. Get ready to say "Buon Appetito!"