Looking for the best Italian restaurants in Toronto? You're in the right place!
In Toronto, there's no shortage of amazing Italian restaurants, ranging from traditional, and classic with a twist to modern and mixed culinary that allow your palates to travel to its different regions of Italy.
Here are the best Italian restaurants in Toronto that are sure to satiate your cravings! 
12. Terrazza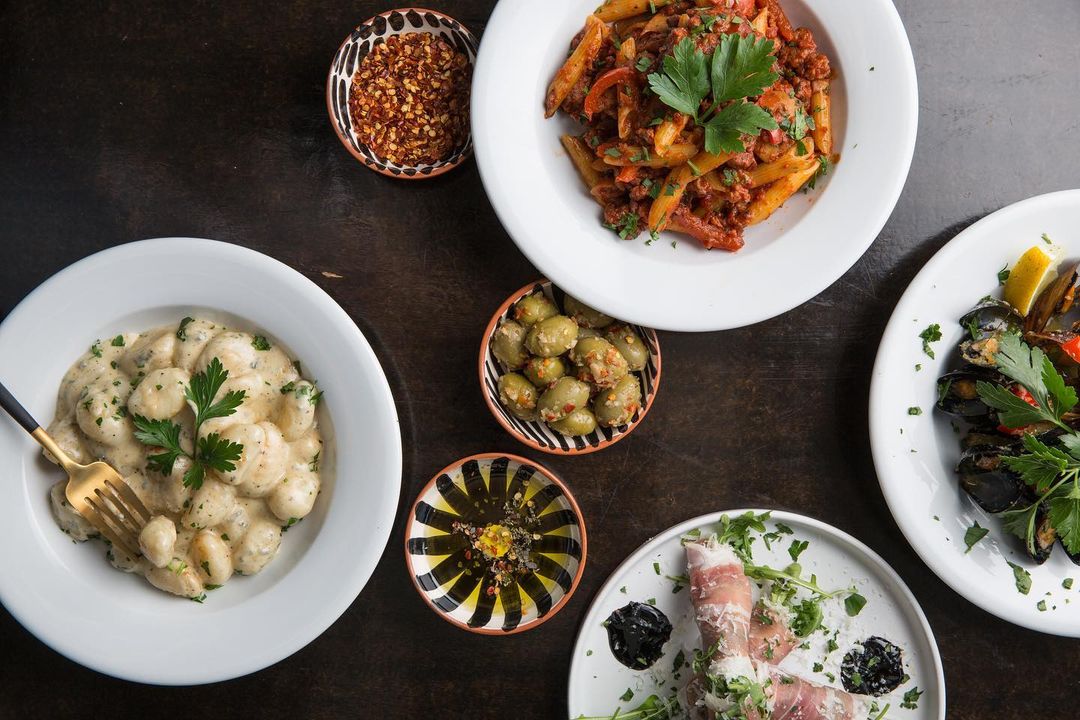 You can never find a more home-y Italian restaurant in Toronto than Terazza, it's just like being in grandma's kitchen with that stunning aroma and cozy ambiance!
Here at Terrazza, you can enjoy their little garden view at the courtyard patio, which is way more romantic at night when the lights are on.
People love Terazza partly because of their pizza, so once you're here, settle down with the Giuseppe and Piccante.
They both come up with spicy salami, but if you're into something spicy and meaty, Piccante is a perfect fit with spicy sausage and hot peppers, while Giuseppe has a herbal-ish aroma with roasted herbs and veggie.
The Chicken Marsala is one of their signatures as well! The chicken is lightly fried then baked with cheese and tomato sauce, then finally served with linguine. Or you can get the classic Ravioli stuffed with ricotta in a white wine rosé sauce.
What to order: Giuseppe, Piccante, Shrimp Linguini, Chicken Marsala, Ravioli
Address: 372 Harbord St, Toronto, ON M6G 1H9
Website | Instagram | Facebook
11. Piano Piano Restaurant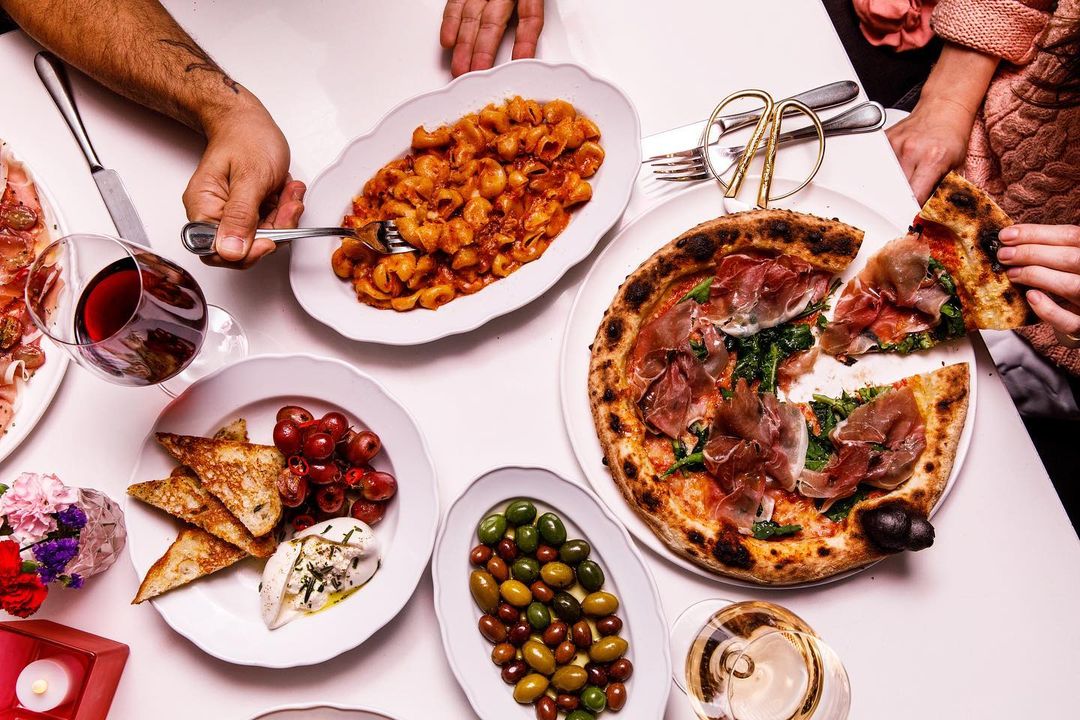 Piano Piano Restaurant is a place that serves soulful and sensual in Italian cuisine in a warm, welcoming atmosphere you can't find elsewhere.
At Piano Piano Restaurant, the concept is to slow down, be more family-focused, food with a huge portion that is meant to be shared, and quality time, that's why this is a perfect family-gathering location for locals here.
For pasta, Rigatoni & Meatball is the star! The baked cheese sauce just takes it over the top, along with tender, flavoursome meatballs.
For pizza, don't you miss the Sweet Hornet with fior di latte, spicy soppressata, black llives, and hot honey; and light yet tasty The Fun Guy with roasted mushrooms, caramelized onions, and mozzarella!
End your meal right with Chocolate Caramel Budino, an Italian-style pudding made extra decadent with heavy cream and lots of egg yolks that will make you scream for more!
What to order: The Sweet Hornet, The Fun Guy, Rigatoni & Meatball, Chocolate Caramel Budino, Bone-In Veal Parmesan, Egg Yolk Ravioli
Address: 88 Harbord St, Toronto, ON M5S 1G5
Website | Instagram | Facebook
10. Sugo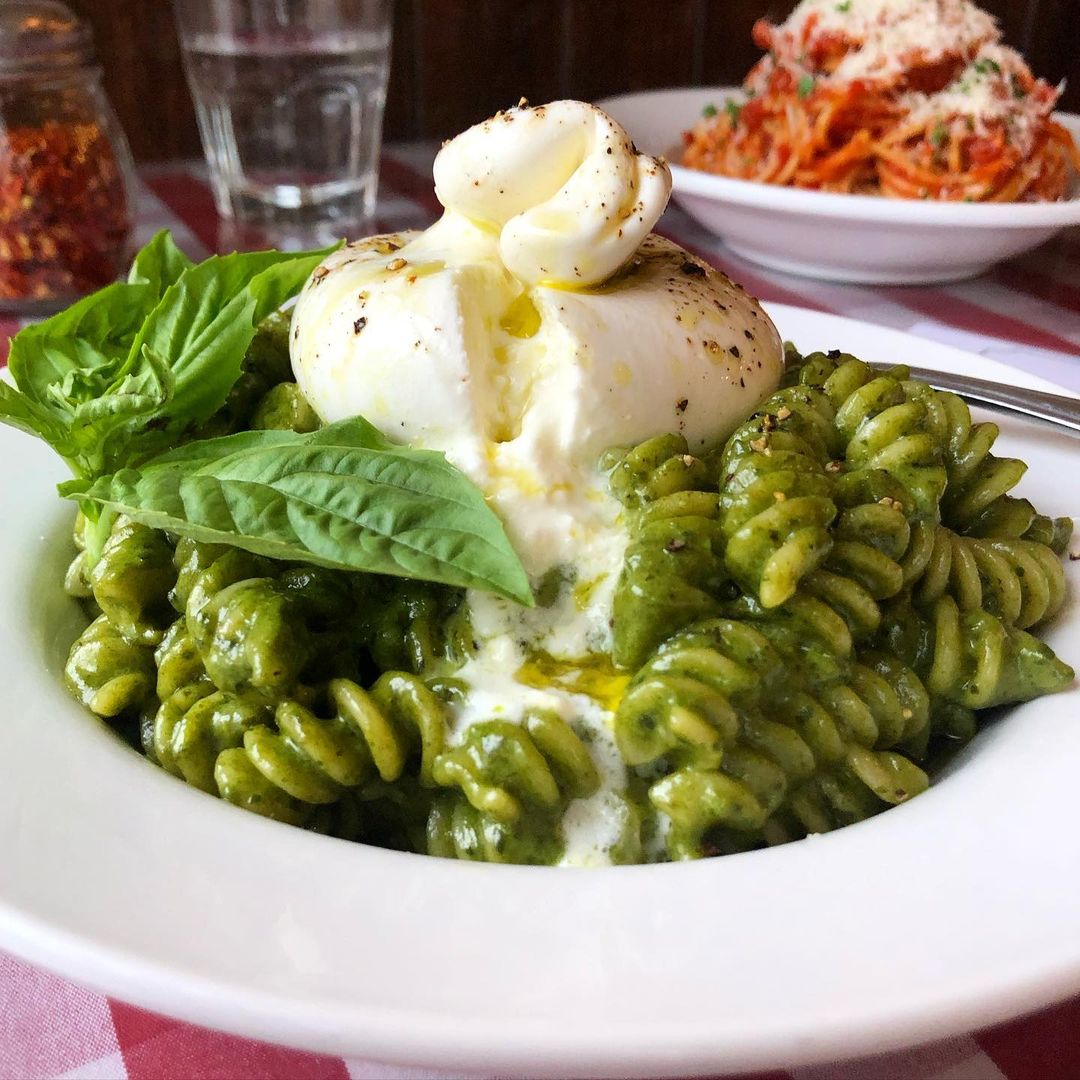 Located at the corner of Bloor and Landsdowne Streets, Sugo is a classic Italian restaurant, where you are sure to find all your old-time favourite dishes while being greeted like a real family member.
With a simple yet pleasing ambiance and comfort food, Sugo has long been the hang-out spot for locals, and now it's your turn to try it out!
Highlights of the menu include Eggplant Parm, Spaghetti Pomodoro, and Chicken Parmigiana Cutlet. Even when you're a picky one, these fellas are not going to fail you!
Start gently with Eggplant Parm which features layers of crispy eggplant slices that have been baked until nicely crisp and golden brown. This is a classic for a reason!
Don't just stop there, go on with their signature spaghetti that highlights the freshness of tomatoes with a mound of parsley, or the best Chicken Parmesan with a deliciously crispy breadcrumb coating, smothered in a rich homemade sauce and melted mozzarella cheese!
What to order: Eggplant Parm, Spaghetti Pomodoro, Chicken Parmigiana Cutlet, Meatball Sandwich
Address: 1281 Bloor St W, Toronto, ON M6H 1N7
9. Gusto 101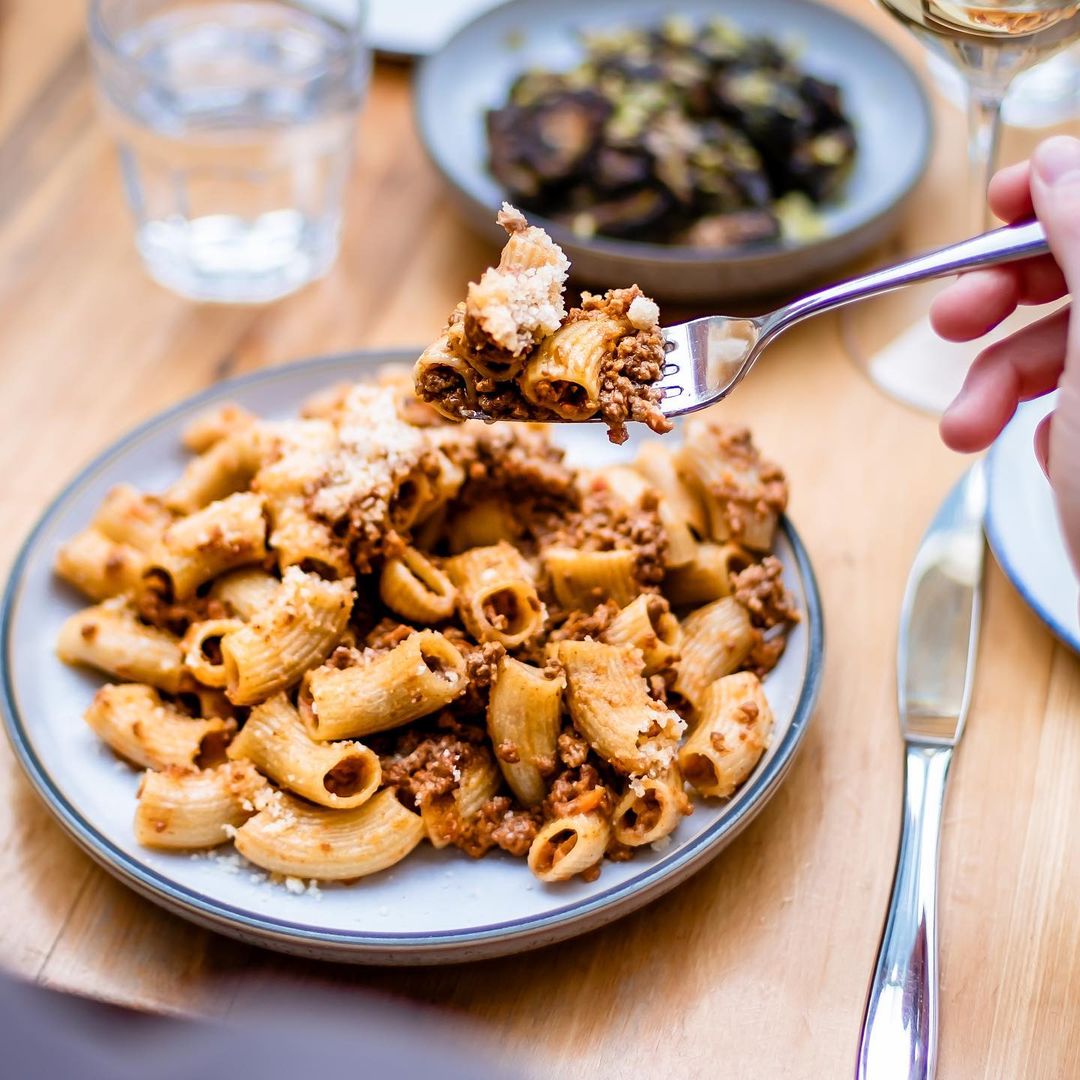 Located in a repurposed garage in the heart of downtown Toronto, Gusto 101 is your next go-to whenever you're craving the warmth of a wood-fỉred grill or a glass of wine on the rooftop patio.
Once you walk in, you'll be immediately greeted by the elegant, beautiful settings, and stunning open kitchen that can get bustling by night.
If you're searching for an outstanding choice for special occasions, this is the place!
Always start easy, and this time, Carpaccio is a must-try! The dish is beautifully plated with thin layers of beef carpaccio, pecorino, cured egg, peperoncino, mushroom conserva, and chive.
Each bite is mild and fresh, yet still packed with a lot of flavors!
Continue with the Gusto "Americano" Burger that is no less mouth-watering with Angus beef, caramelized onions, American cheddar, dill pickles, arugula, and Tuscan fries. Oh, order the Italian Green Goodies to accompany with you along this hearty dish!
This bowl comes up really stunning with artisan mixed greens, snow pea, watermelon radish, pomegranate, green goddess, and hemp seeds. So much texture here!
What to order: Gusto "Americano" Burger, Torta Di Formaggio, Carpaccio, Italian Green Goodies
Address: 101 Portland St, Toronto, ON M5V 2N3
Website | Instagram | Facebook
8. La Fenice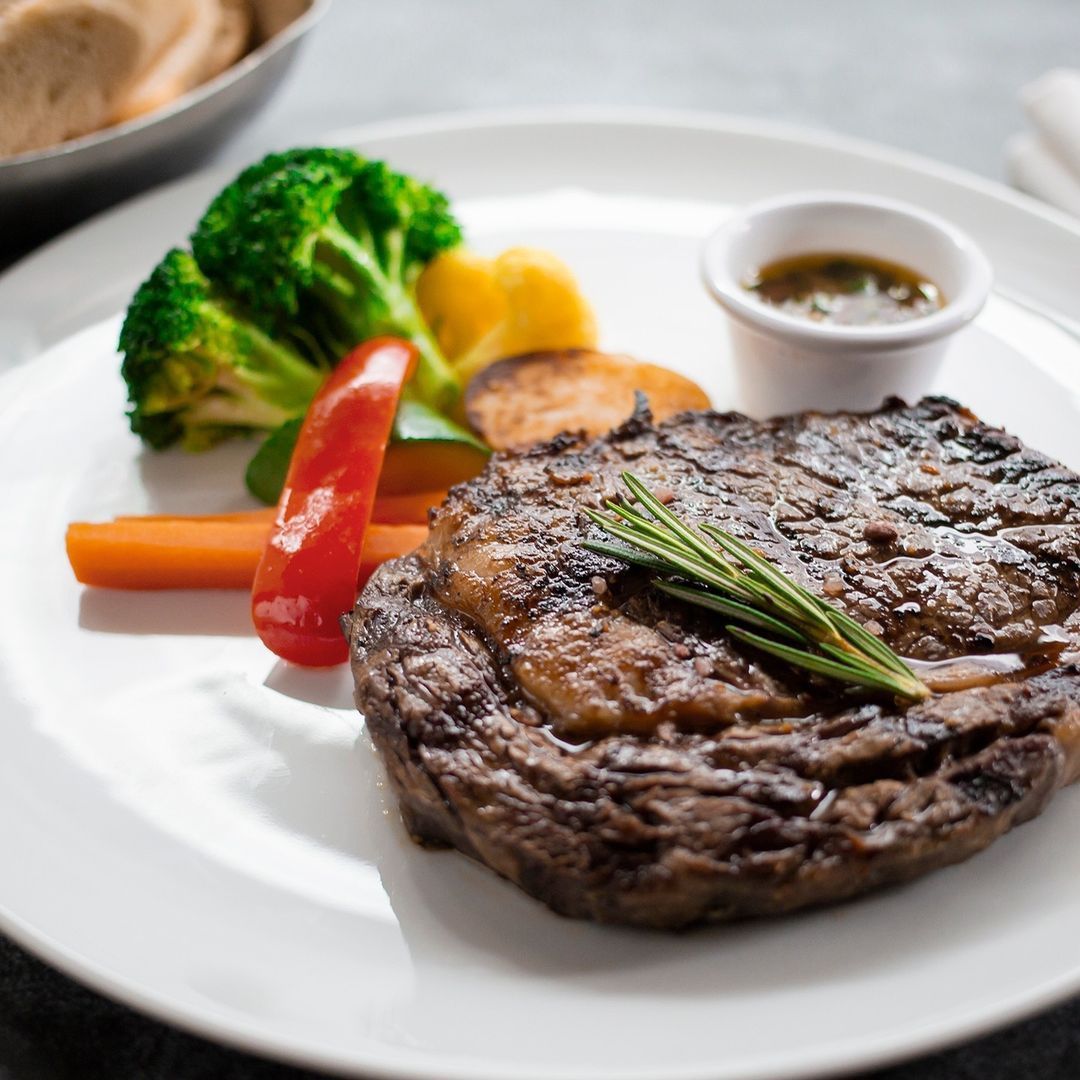 Nestled right in the center of Toronto's Entertainment District, La Fenice has been known and loved for not only its authentic Italian cuisine but also its fresh seafood and premium Canadian steaks.
Setting foot here and the fine food along with an elegant atmosphere will guarantee your return!
For starter, we highly recommend the Spicy Sauteed Squid with a super rich taste that has a lot of depth, fermented umami, and just a touch of sweetness. Just mouth-watering enough to light up your palate!
Or you cna just simply pick Soup Of The Day in case you want something surprising and of course, lighter!
Some other must-try dishes are Suprema di Pollo Milanese, lightly breaded boneless chicken breast with mozzarella and tomato sauce, and Mushroom Pizza which is top-notch!
What to order: Suprema di Pollo Milanese, Mushroom Pizza, Grilled Shrimp & Squid, Spicy Sauteed Squid, Soup Of The Day
Address: 319-A King St W, Toronto, ON M5V 1J5
Website | Instagram | Facebook
7. Il Covo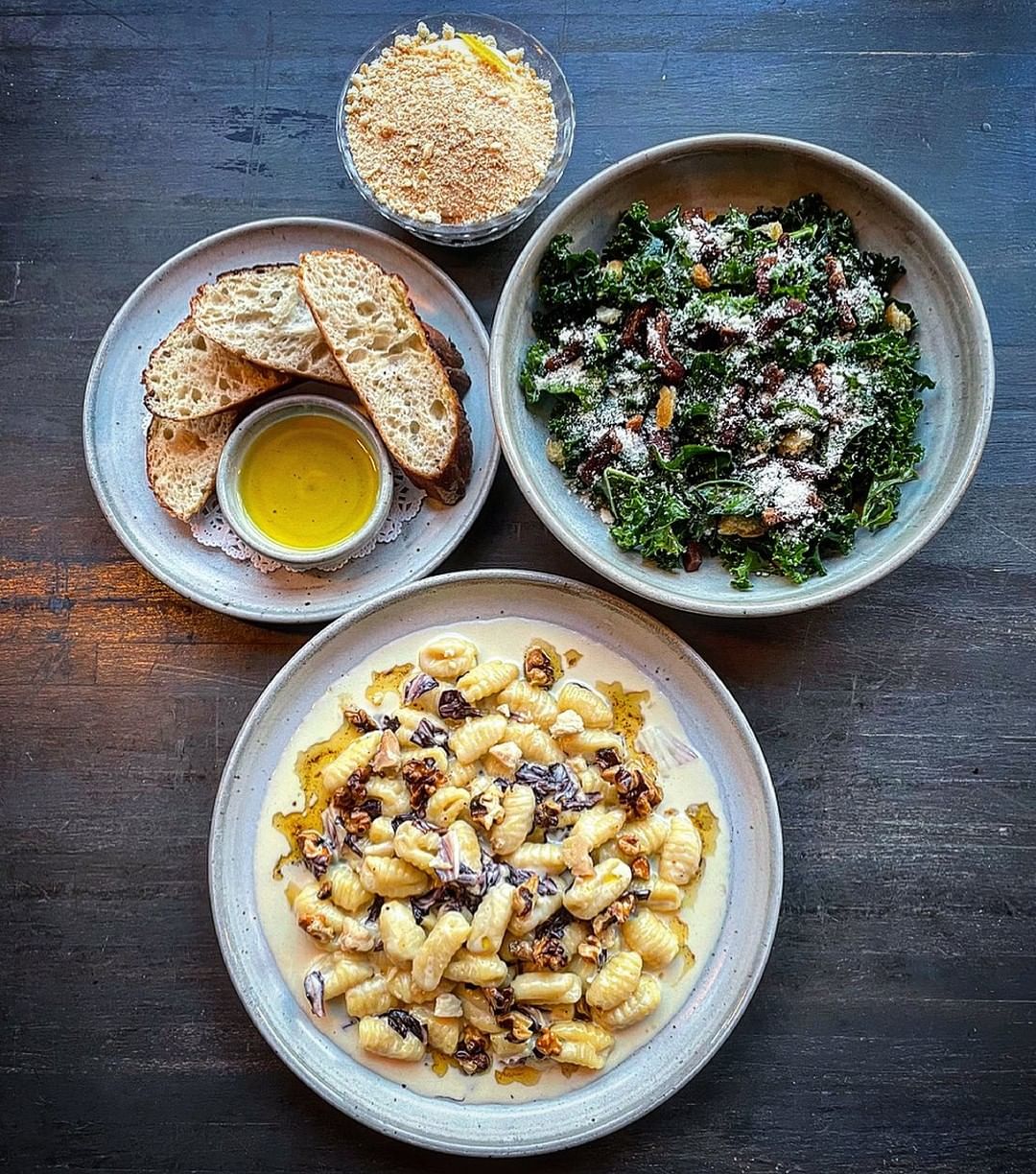 Serving stunning Italian dishes, especially handmade fresh pasta in a cozy and plush space, II Cove is a place where a quick drink and small plate could be grabbed in the late afternoon or after work.
Pay a visit, and you'll be surprised to find yourself revisiting over and over again!
They have been loved for their Scrigno, which is filled with a well-balanced mixture of tangy, creamy Carozzi gorgonzola and slightly bitter radicchio di Chiogga, all set off by 10-year-aged Modena balsamic.
Those combinations make everything so harmonized that you might burst into tears of happiness!
Start your night right with the Tartare di Manzo, which is absolutely satisfying to try with AAA Tenderloin Beef Tartar, confit cherries tomatoes, chive, yogurt and mustard ice-cream.
It meaty, full of umami taste and highlighted with some sweet & sour notes. In short, this dish is surprisingly wholesome.
Continue with the crowd favorite – Agnello & Anguria – the dish is perfectly cooked and presented with rack of lamb, a slide of watermelon salad mixed with goat cheese, red onion, veal, and garnished with some coriander. Don't go home if you haven't had their Tiramisu for dessert. This classic choice always nails it!
What to order: Tartare di Manzo, Agnello & Anguria, Tiramisu
Address: 585 College St, Toronto, ON M6G 1B2
Website | Instagram | Facebook
6. Ristorante Sotto Sotto Toronto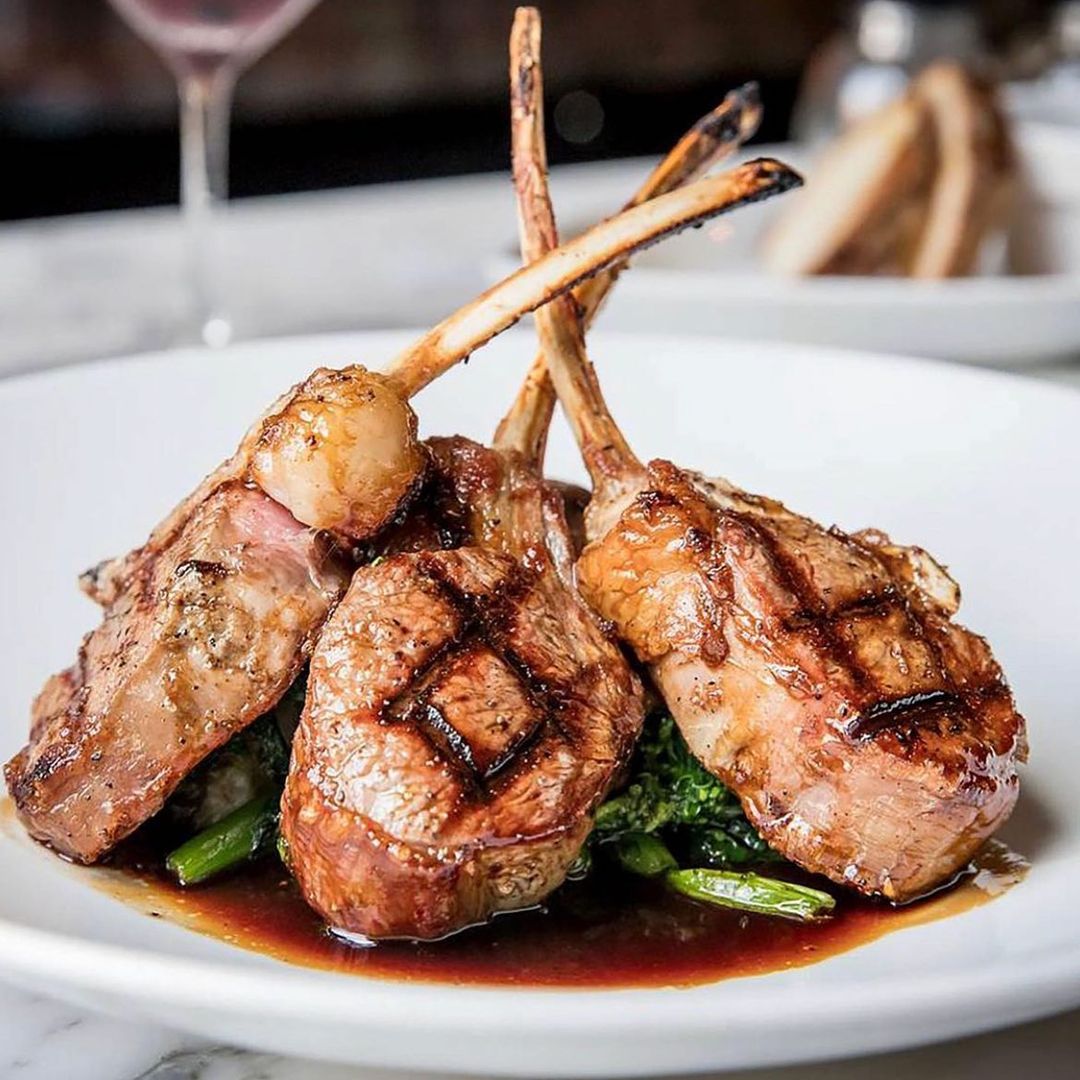 Bringing the romance of Italy to the heart of Toronto, Ristorante Sotto Sotto can quickly seduce us with its enchanting atmosphere, coupled with authentic Italian cuisine and a wide variety of wines.
If you're thinking of a place with romantic candlelight for your special date night, Ristorante Sotto Sotto has got your back!
There's nothing better than a dish of Frittura Mista di Pesce for starter. Each piece contains buttermilk-battered deep fried shrimp and calamari, don't forget to dip it into the tartar sauce to double the deliciousness!
In case you want something light, try their Vongole Veraci In Padella with clams sauteed in white wine, olive oil and garlic.
In the mood for some soup? Because the traditional hearty vegetable soup Minestrone is going to surprise your palate with farm fresh vegetables and house secret ingredients!
End it right with some desserts, shall we? Pasticceria Italiana is a must-try here with assorted Italian shortbread cookies, dipped with fruit compotes, hazelnut cream, and chocolate!
What to order: Frittura Mista di Pesce, Vongole Veraci In Padella, Minestrone, Pasticceria Italiana
Address: 120 Avenue Rd, Toronto, ON M5R 2H4
Website | Instagram | Facebook
5. Carisma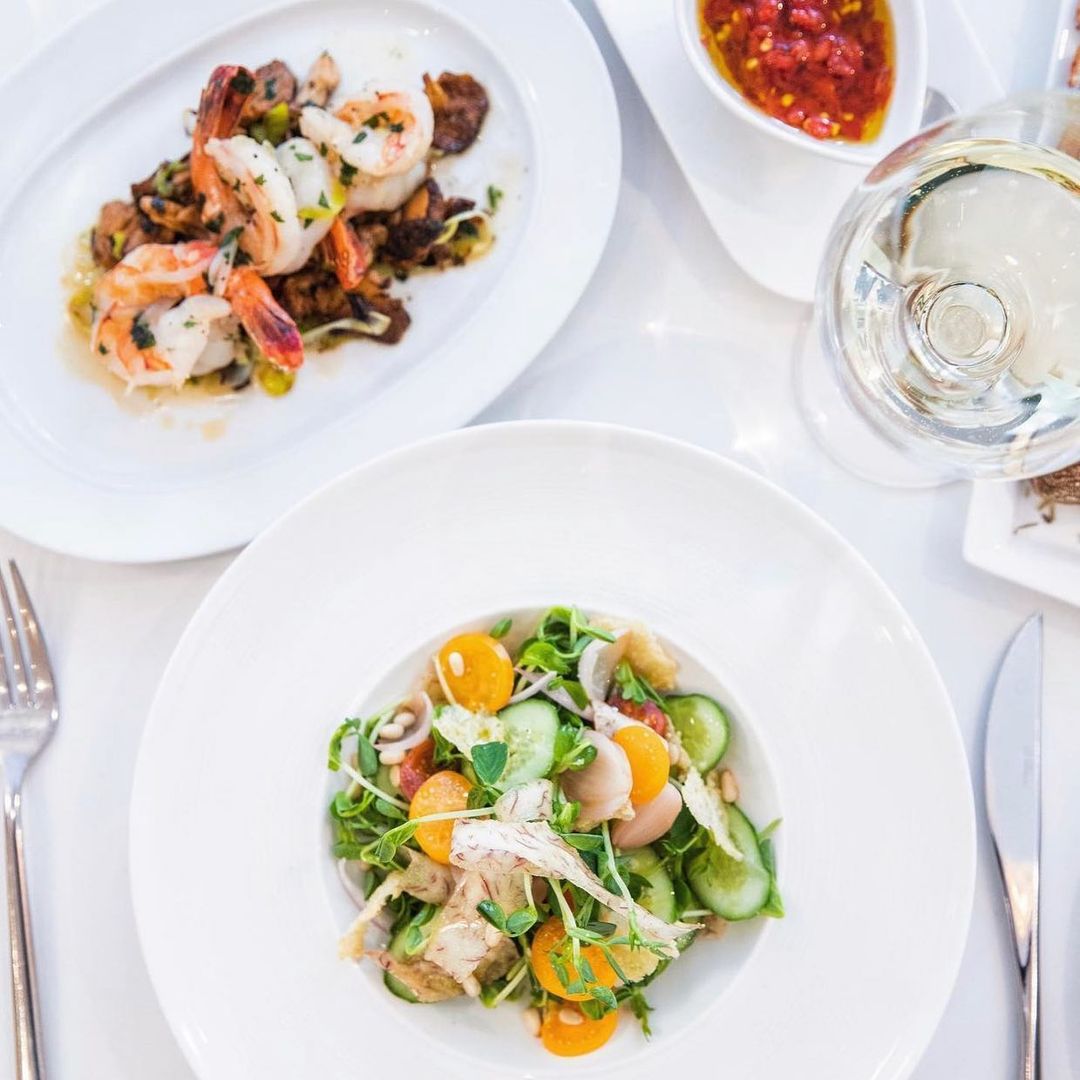 Wandering around the downtown core and craving Italian classic favorites? Stop by Carisma and you'll wish to find this place sooner. Offering an elegant and traditional Italian dining experience, along with the luxurious yet comfortable 1920s-inspired decor, Carisma never fails to amaze you!
Sophisticated as the restaurant is, the food far surpasses the decor. Start it right with Carpaccio Di Manzo, thinly sliced marinated beef tenderloin and Parmesan cheese served on a bed of Rucola and covered with the Cipriani sauce.
This is a perfect pair with a bottle of dry white wine or best to eat with a side dish of delicious pizza bread.
Treat yourself right with the light yet tasty Capesante Con Funghi that includes pan-seared scallop, roasted wild mushrooms, saffron, wine sauce, and garnished with some lemon zest. Craving spicy seafood? Calamarata is your go-to!
What to order: Carpaccio Di Manzo, Capesante Con Funghi, Calamarata, Lasagna, Galletto Al Mattone
Address: 15 Toronto St, Toronto, ON M5C 2E3
Website | Instagram | Facebook
4. Enoteca Sociale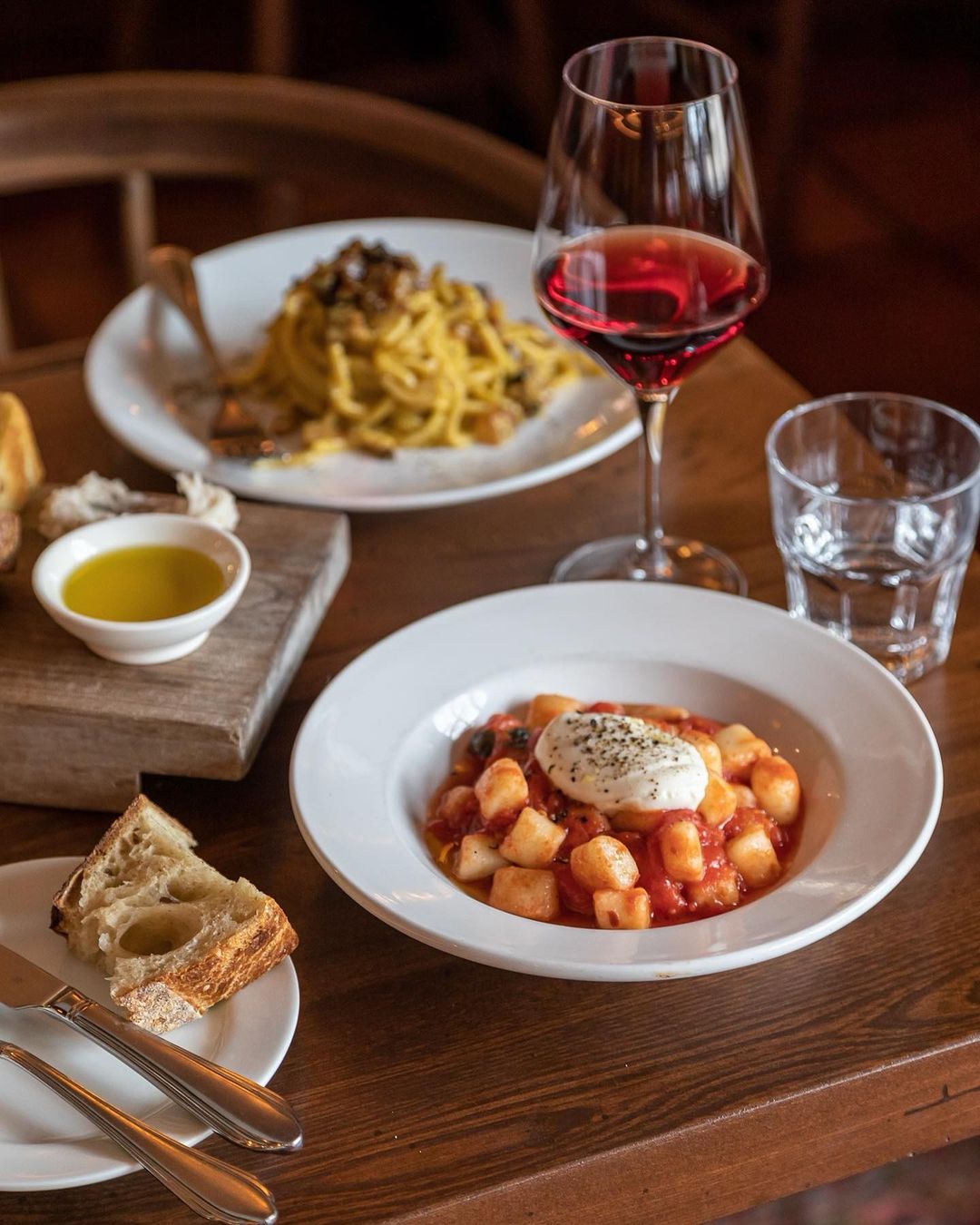 Being famous for making some of the city's best pasta, salumi from scratch in-house, and a perfect hand-selected wine list, Enoteca Sociale is a must-visit spot for top-notch wine and food in Toronto.
You can either choose to breathe fresh air on the patio or stay inside their private dining rooms with a view of an open kitchen. Make an evening of it and find out for yourself.
Get the basic but classic Agnolotti ai Funghi packed with savoury wild mushrooms and truffle, lemon-ricotta, porcini, and parmigiano reggiano. Simply the best choice to start your meal!
Keep rocking your palate with the flavorsome Vitello Tonnato, aromatic veal served in a rich fish sauce made from tuna, capers, and anchovy.
If you're coming with friends, a meant-to-be-shared Cacio E Pepe is always on the menu, representing a cheesy and spicy with a perfect chew to the egg noodles. This humble but stunning dish will not net you down.
What to order: Agnolotti ai Funghi, Cacio E Pepe, Vitello Tonnato, Branzino
Address: 1288 Dundas St W, Toronto, ON M6J 1X7
3. Buca Osteria & Enoteca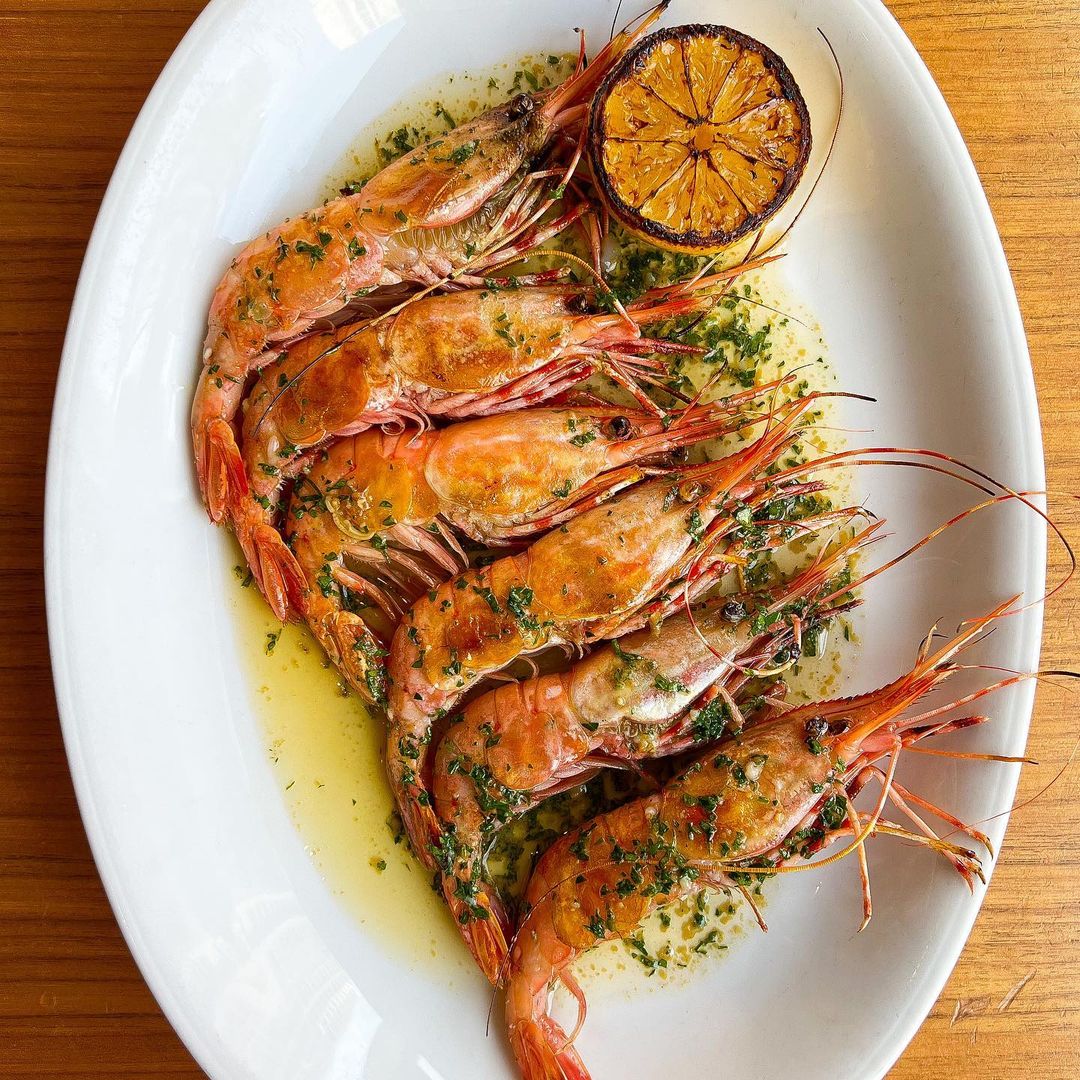 Taking inspiration from the traditions of Italy with a contemporary culinary touch, Buca Osteria & Enoteca is a modern classic restaurant built on the perfect balance of the old world and new.
Sooner or later, you'll find yourself coming back for their warm greetings and artisanal fare, including famed house-cured meats, pizza, and pasta.
Highlights of the menu are Pancetta, Bigoli, and Salumi di Buca. You can never go wrong with these gems!
While the Pancetta comes with cured pork belly black pepper that brings a gentle porkiness, an almost sweet nuttiness with a complex hint of richness; the Bigoli is a bronze die-extruded duck egg pasta, duck offal ragu, Venetian spices, mascarpone, and basil.
And their Salumi di Buca is finger-licking good with those smoky notes!
For a more traditional stuff, get the Lorighittas with handmade pasta from sardinia infused with saffron, salt spring island mussels, preserved san marzano tomato, and bone marrow. You just can't resist the quality and flavor of this dish!
What to order: Salumi di Buca, Gnocco Fritto, Pancetta, Bigoli, Lorighittas
Address: 604 King St W, Toronto, ON M5V 1M6
Website | Instagram | Facebook
2. Giulietta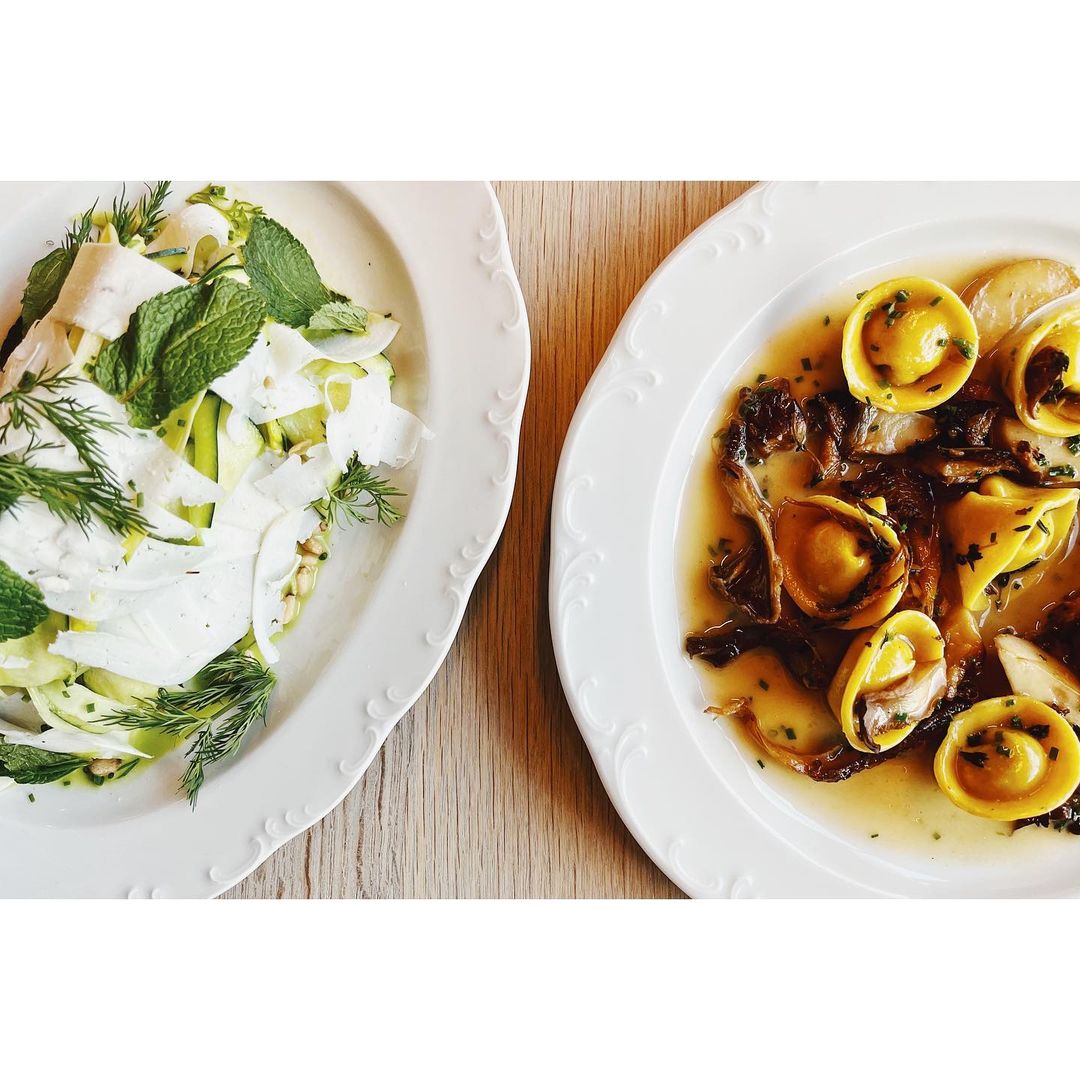 Entering Giulietta, you'll be surprised by how simple this place is, from the decoration to the menu.
But that's how Rossi the Chef has chosen to express classic Italian cuisine, this merely means doing it simply and correctly.
Together with a delightful wine list that touches all the right notes, Giulietta is a hidden gem to the locals!
The signature Giulietta Pizza with lardo and scamorza is all about perfection, from presentation to flavors, and the grilled octopus – Polpo E Fagioli – is pure heaven when served with dollops of salsa verde and cannellini beans.
You must also try the La Campagnola, a vegetable-based sauce that is crazy good!
Don't go home without having their Pine-Nut Tart for dessert. A twist on the classic butter tart with a less sweet taste that has become every customer's favourite.
What to order: Polpo E Fagioli, Pine-Nut Tart, La Campagnola, Braciola di Maiale, La Valentia
Address: 972 College St, Toronto, ON M6H 1A5
Website | Instagram | Facebook
1. Trattoria Fieramosca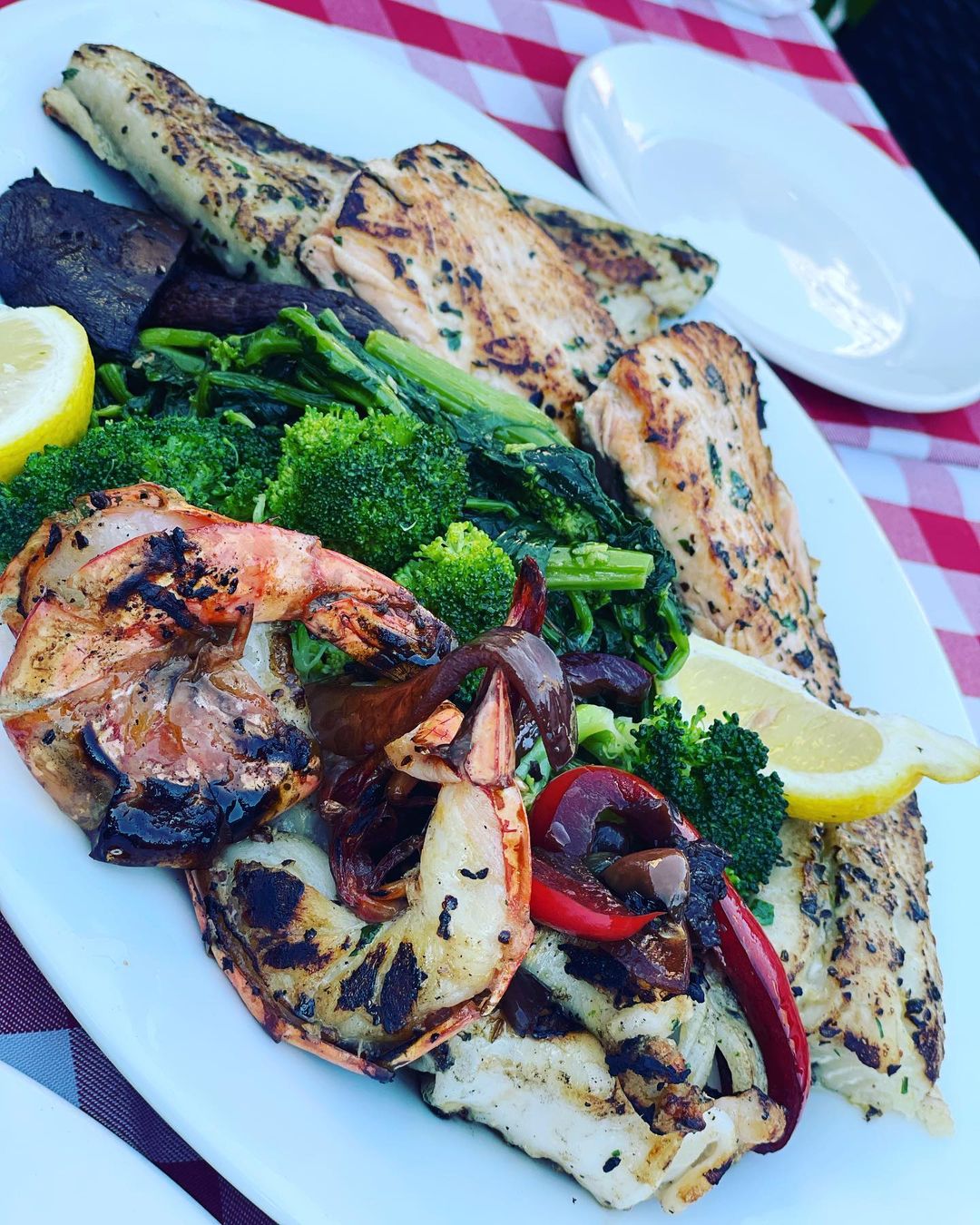 Bringing a special atmosphere of an old-world charm, Trattoria Fieramosca is a traditional Italian restaurant that is uniquely charming for its wooden, quirky interior, a breezy patio that feels like something out of a scene on the Mediterranean, and stunningly good food.
Settle down with Calamari Alla Griglia Fritti, grilled calamari and drizzled with balsamic reduction on a bed of fresh baby lettuce. You can either choose to be served with Fieramosca sauce, which is no less tasty.
The Spaghetti di Mare Alla Mario with seafood and white wine sauce is always proudly on the menu, so must try it anytime you have a chance!
Remember to save room for Petto di Pollo In Crosta Di Nocciole, the stunning hazelnut breaded chicken breast topped with rosemary cream sauce, and finally served with seasonal veggie. This baby is a hidden treasure!
What to order: Calamari Alla Griglia Fritti, Spaghetti Di Mare Alla Mario, Petto Di Pollo In Crosta Di Nocciole, Salmone Alla Grigila
Address: 36 A Prince Arthur Ave, Toronto, ON M5R 1A9
We have to thank Italy for creating some of the most delicious foods in the world, including authentic pizzas, luscious pasta, and meats as well as decadent desserts.
Keep yourself updated with our best restaurants in Toronto, and don't forget to let us know what you think about them!
How We Create Our "Best" Lists
All Noms Magazine's "best" lists are created using multiple factors and signals to help readers find the best restaurants, things to do, and places to stay at. Some of these factors and signs include personal experiences, correspondence with locals, and compiling experiences from review sites.
Each list is also created to be balanced (in terms of price, cuisine type, ambiance, and more) as possible. This means that the lists are not specifically created in ranking order. You should be comfortable picking from any of the spots on the list and generally have a good time. But of course, YMMV (your mileage may vary) and everyone may have different experiences/palates.