Vancouver is a city that knows how to take care of its caffeine addicts. From the corner coffee shop down your street that serves specialty coffee, with aesthetic and instagrammable backgrounds or proper seating for remote work or catching up with friends, Vancouver has got you covered.
We've narrowed it down for you with this list of 10 best downtown vancouver coffee shops. So get up and start walking to find the perfect spot!
10. Small Victory Bakery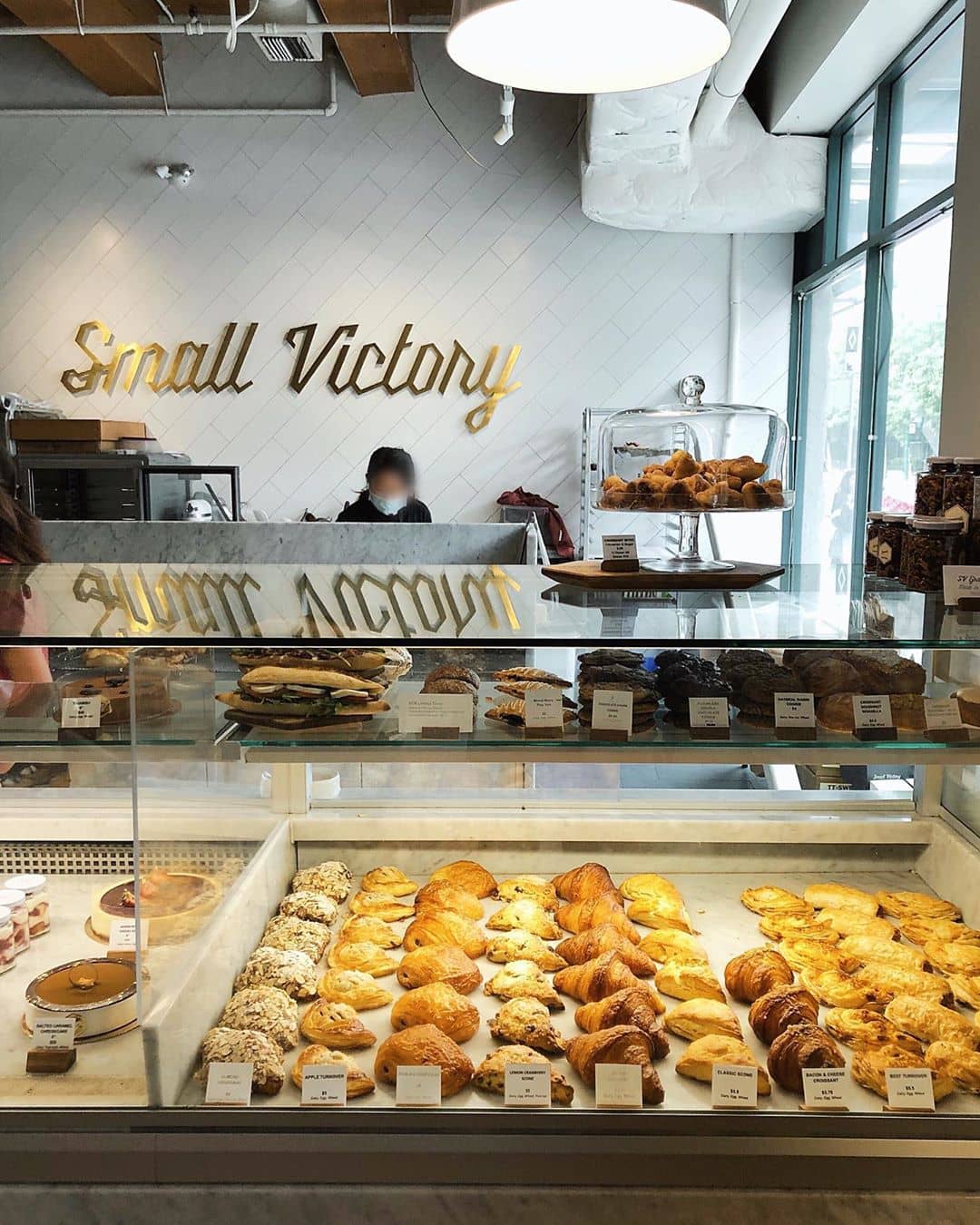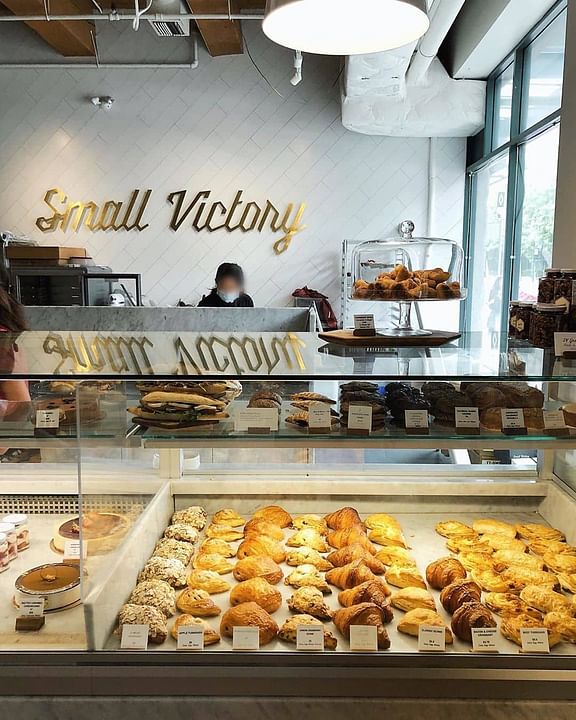 You're walking through Yaletown and catch a whiff of baked goods in the air. If you follow your nose, it will lead to Small Victory Bakery- so head on inside! Inside this gorgeously fancy bakery cafe is everything that's too tempting not to try.
This is one of the best coffee shops in town where you can indulge yourself with a light snack or an exquisite meal. The Chicken Pot Pie and Eggplant Parmesan are both to die for! If it's breakfast time, don't miss out on this Apple Danish that will blow your mind!
Address: 1088 Homer St, Vancouver, BC V6B 2W9, Canada
Order Online: DoorDash
Website | Instagram | Facebook
9. Propaganda Coffee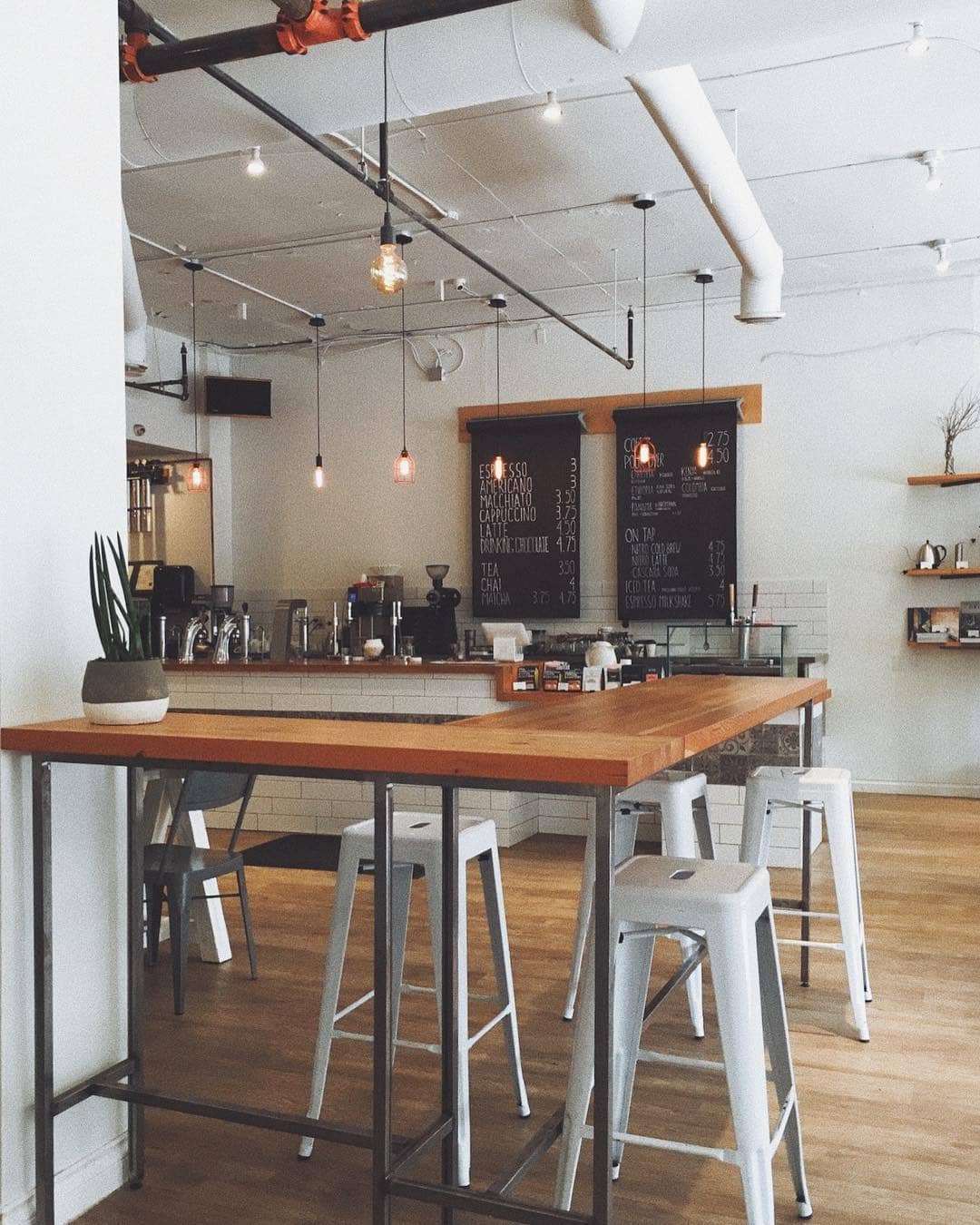 The best coffee in Vancouver's Chinatown area can be found at Propaganda Coffee. This cafe has a modern atmosphere and is perfect for those looking to work while enjoying their favorite drink.
While there, try some of their filter coffee and espresso. The coffee comes from various roasters such as Phil & Sebastian, Detour, Monogram. Get some of their cappuccino, latte or iced matcha. They are all delicious with nice foam and you'll also enjoy the artwork.
Location: 209 E Pender St, Vancouver, BC V6A 1T8, Canada
Order Online: Uber Eats
Instagram | Facebook | Website
8. The Birds & The Beets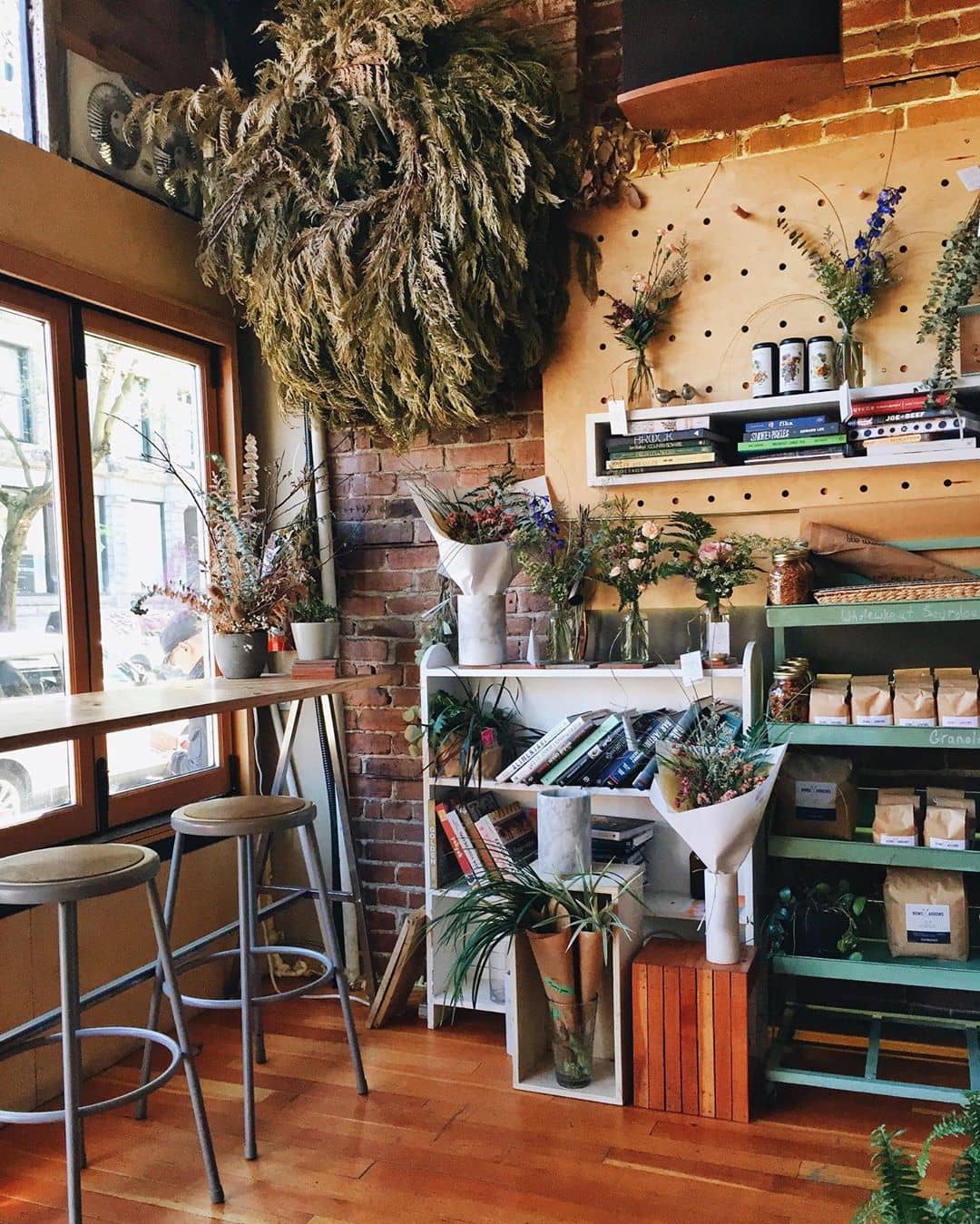 This is a popular and cozy cafe spot, charmingly nestled in between Powell Street and Alexander Street. A perfect spot to refresh from your Gastown touristing with a yummy cup of cappuccino with almond milk or perhaps an oat milk latte. It also has one of the most aesthetic corners in this part of the city.
If you are a vegan you may particularly like it here. They also serve some great food and their meals are hearty. Get an avocado toast and feast on the pile of avocado you'll get. Their vegan tofu banh mi is another gem, and you won't even notice it misses the meat.
If you check-in on Wednesday night, you can get an exclusive, perfectly-fresh, fermented grape juice. This is the latest from The Birds & The Beet's Wednesday night pop-ups. Freshly fermented grape juice is all the rage in Europe right now and it's apparently conquering the world and Vancouver, too.
Location: 55 Powell St, Vancouver, BC V6A 1E9
Order Online: DoorDash
Instagram | Facebook | Website
A rundown of all the best restaurants, cafes, drink spots, shops, and places to stay in the Gastown area.
7. Milano Espresso Lounge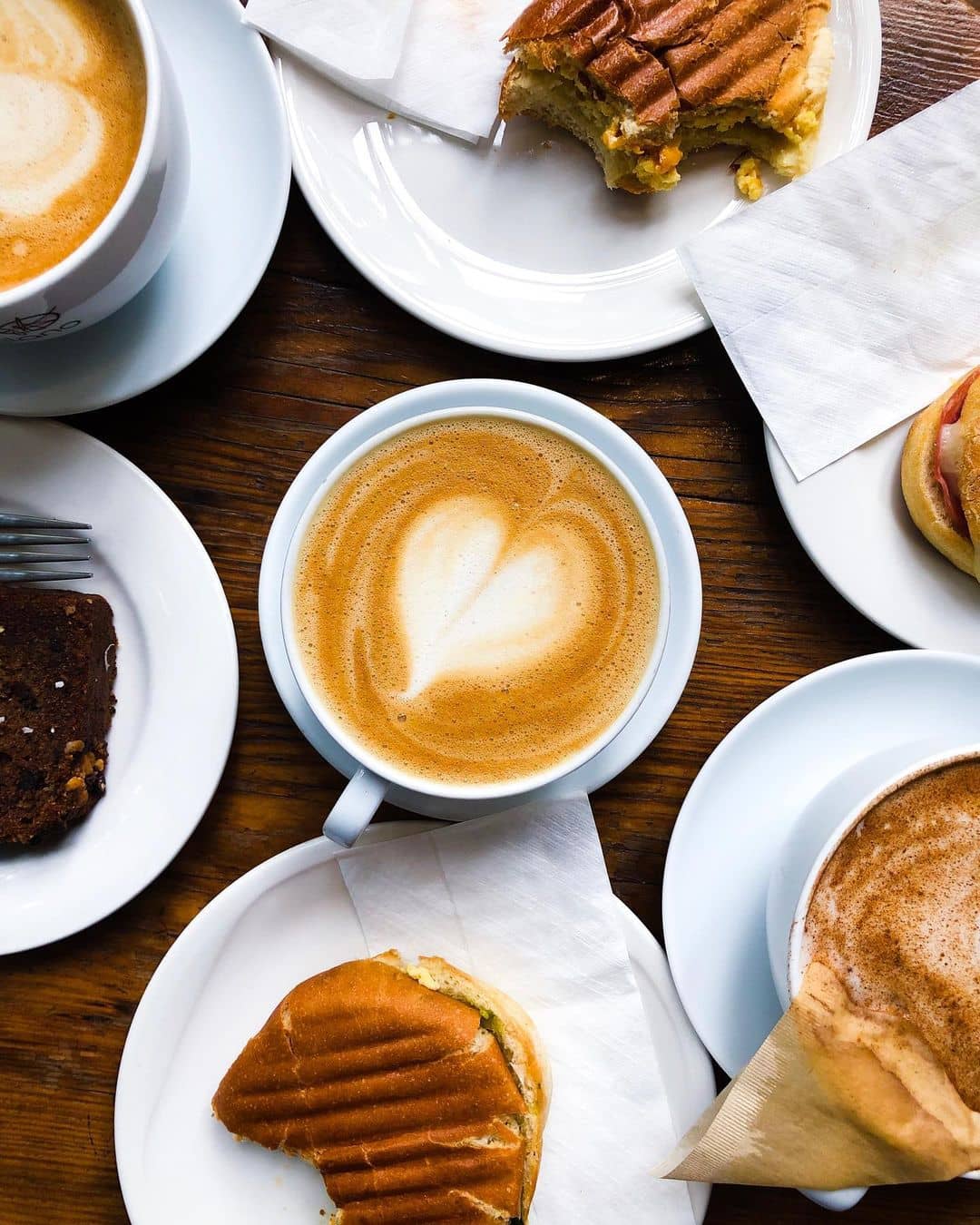 A great majority of coffee shops in Gastown serve 49th parallel, which is awesome, but in case you want different roasts, head to Milano Espresso Lounge. Their La Futura blend is an award-winning, and it tastes fantastic both as a latte and espresso.
It's a cafe of ample size, with a sense of modern-industrial style, and since there are so many tables and chairs inside, you'll never feel like the place is too full of people. It's in the center of the neighborhood, but enough away from all its super-busy intersections so it doesn't feel too busy outside the cafe either.
What's also great here is that you can pick the espresso beans you'll have in your drink. The dark roast pour over is excellent. They also serve amazing mocha, such as Hedgehog mocha (hazelnut) or Lavender white chocolate. If you like your mocha a bit on the sweet side, here it just might be the perfect deal for you.
Location:
-36 Powell St, Vancouver, BC V6A 1E7
-849 Denman St, Vancouver, BC V6G 2L9
Instagram | Facebook | Website
6. Nelson the Seagull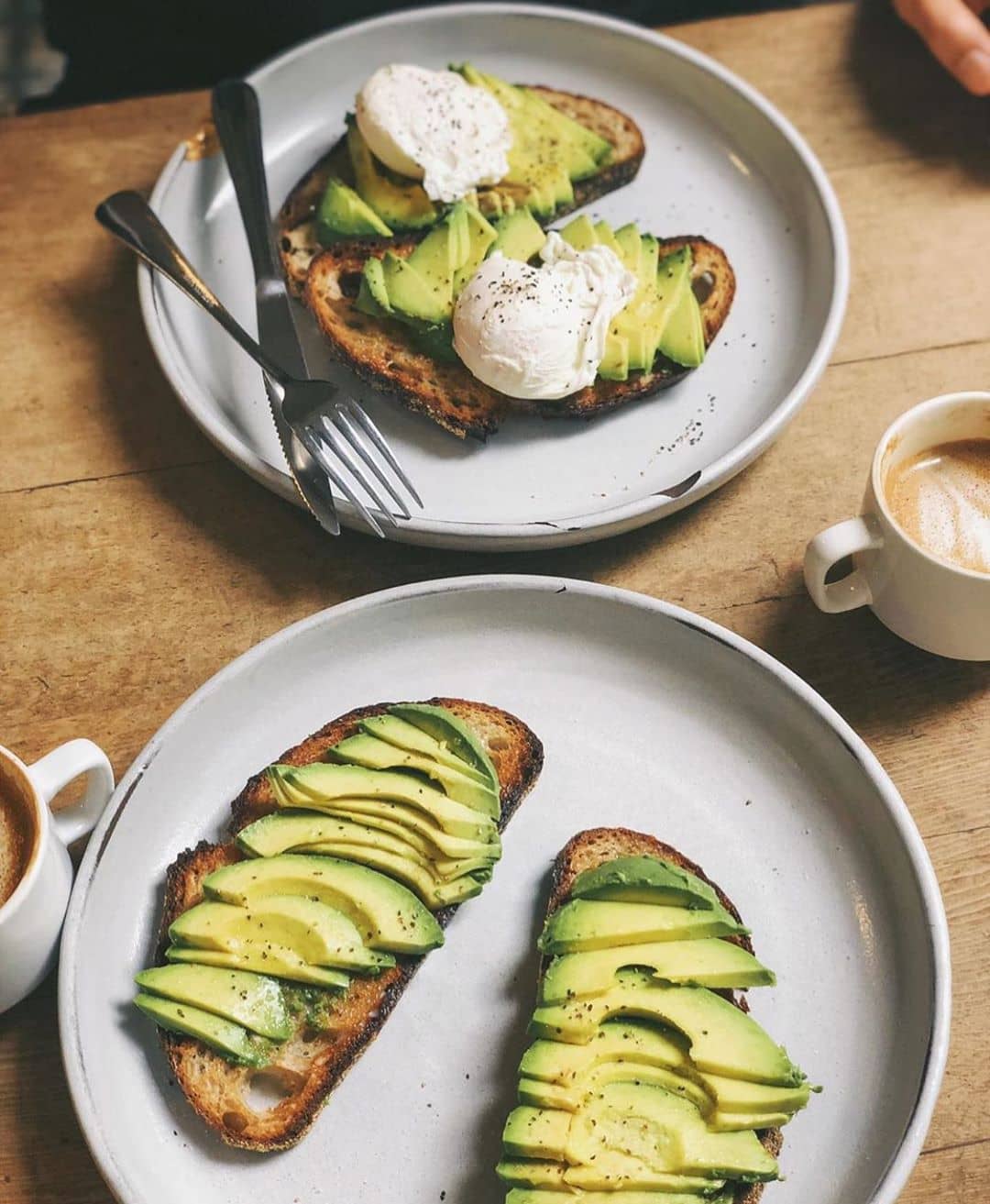 Nelson the Seagull is a chill coffee shop that alongside delectable coffee, serves some mouth-melting pastries as well. Get a coffee with oat milk or perhaps an iced americano.
At their open kitchen, you can catch the action and order fresh bread and tasty baked goods. But what they are best known for and what you really MUST have while at Nelson the Seagull is the avocado toast, which we listed in our ultimate Vancouver food bucket list. For your sweet tooth, perhaps chocolate chunk macadamia nut oatmeal cookie or their warm, freshly-baked croissants.
Whether you were wondering about the name of the cafe, it's inspired by an old English folksong and Nelson Mandela.
Location: 315 Carrall St, Vancouver, BC V6A 0A7
Order Online: DoorDash
Instagram | Facebook | Website
5. Timbertrain Coffee Roasters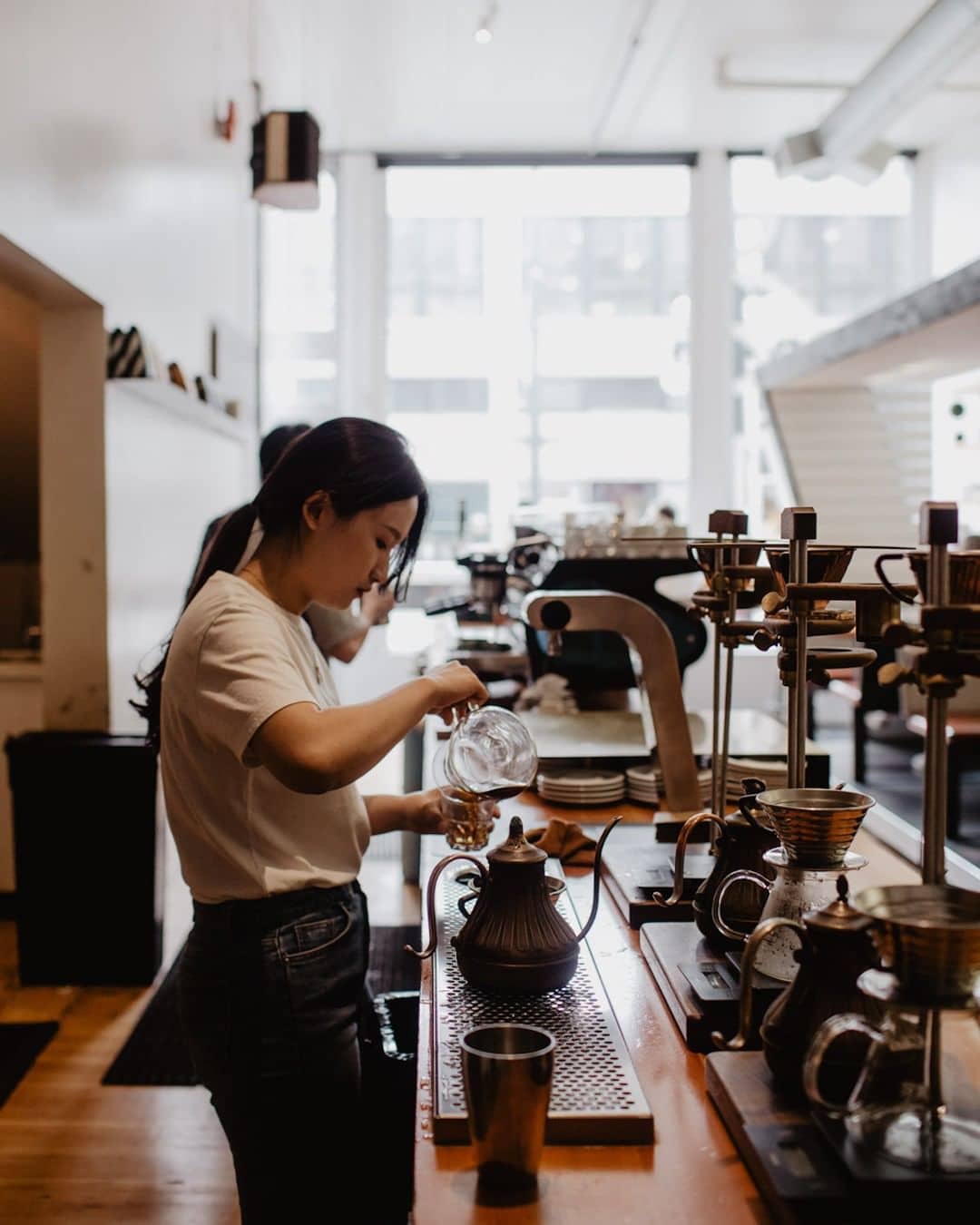 Timbertrain serves some of the best coffee in Gastown, and it's on our best coffee shops in Vancouver list. The cafe is inside a big Gastown heritage building and the atmosphere is always jubilant.
Watch out for their fancy coffee machines that make brewing look like almost an attraction, and enjoy some of the best pour overs in town. Their almond milk latte is perfect, stirring a smooth coffee flavour and some of the best almond milk you'll find around. Their nitro cold brew with rich foma is also fantastic. Don't miss their marshmallow cookie either.
Location: 311 W Cordova St, Vancouver, BC V6B 4K2
Order Online: DoorDash
Instagram | Facebook | Website
4. Café Portrait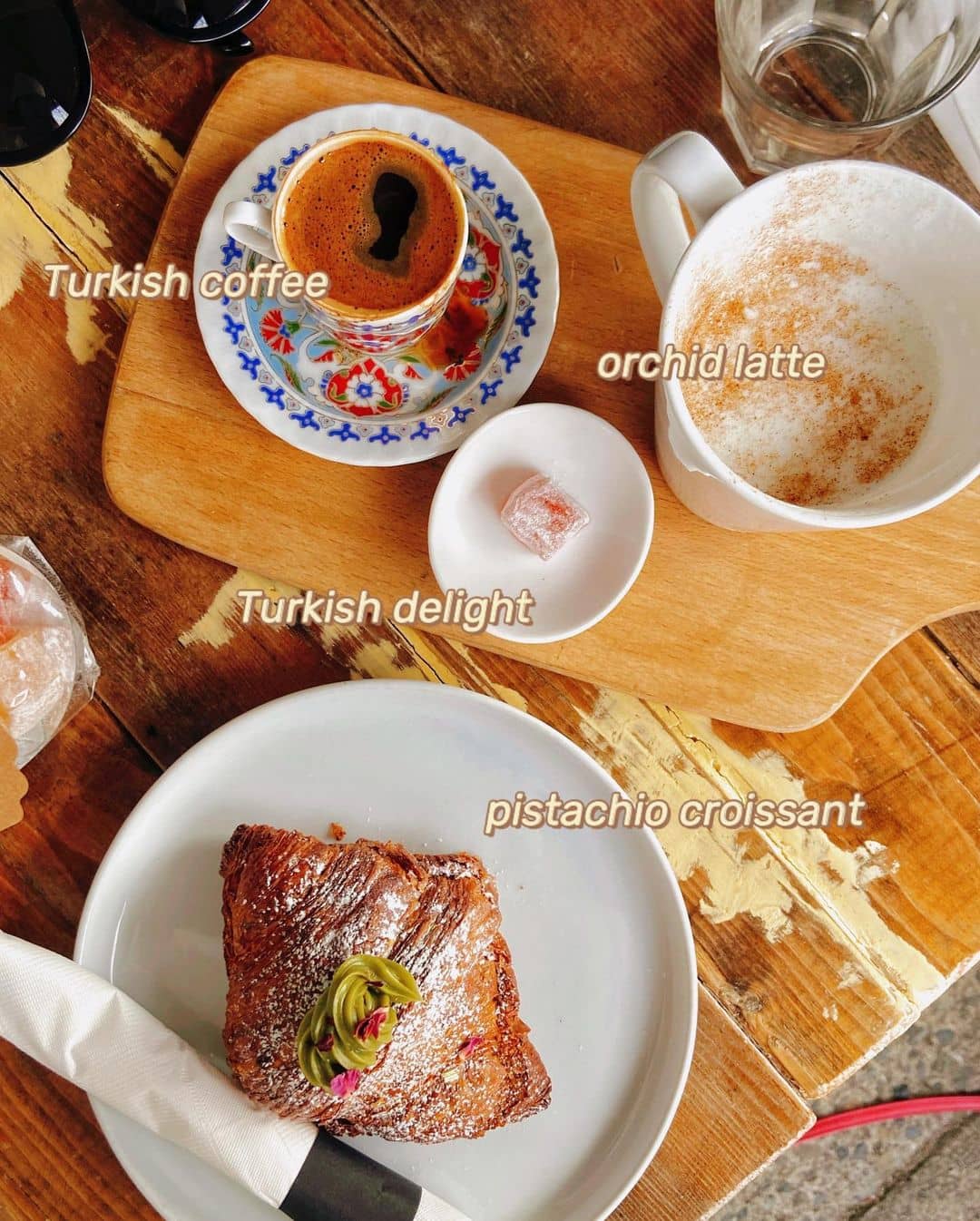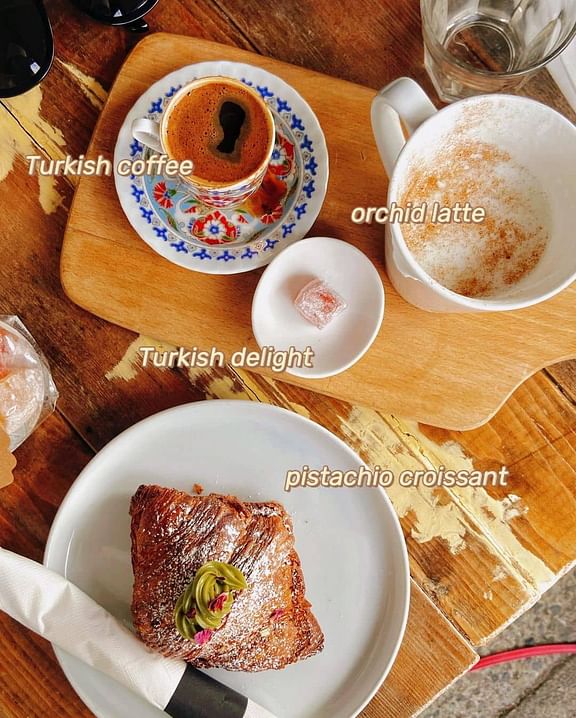 Art with a side of coffee—what could be better? Cafe Portrait is a dream come true for art lovers, and those looking for a chic and vibrant spot to hang out. Just try their traditional Turkish coffee brewed over hot sand! A tradition going back 100's of years, they promise you will leave with a grin and a conversation starter about the history of coffee!
Their breakfast options cover all your weekend recovery, and morning energy boost needs! Favourites include Shakshuka served with hearty bread to dip, stuffed pastries, fried egg skillet with spiced beef sausage, and more! Something to eat and drink for every mood, and the art space to leave you inspired when you're in the West End area.
Address: 1120 Denman St, Vancouver, BC V6G 1T2
Website | Instagram | Facebook
A rundown of all the best restaurants, cafes, drink spots, shops, and places to stay in the West End area.
3. Revolver Coffee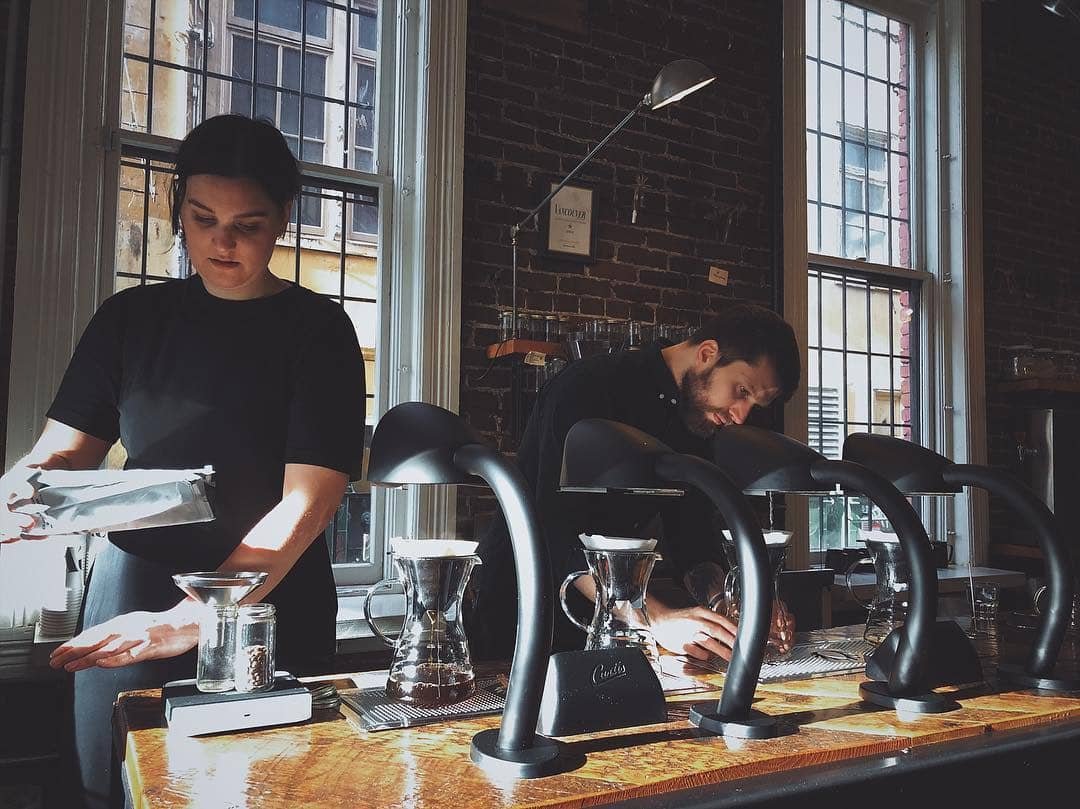 Revolver is crazy popular and it seems to be one of those never-dying Vancouver brands. Here you'll find some of the finest coffee, and coffee offer that is always rotating. They source their beans from the best roasters around North America. Put this place on your bucket list especially if it's your first time in the city.
Watch out for their tasty latte with a perfect layer of micro-foam and eye-catching latte art. Order a flight of espresso and you get to choose from two out of the three options listed on the Espresso menu. It can really get crowded during busy hours but the service is quick and friendly. Revolver is also on our list of best coffee shops in Vancouver.
Location: 325 Cambie St, Vancouver, BC V6B 2N4
Order Online: DoorDash
Instagram | Facebook | Website
2. Nemesis Coffee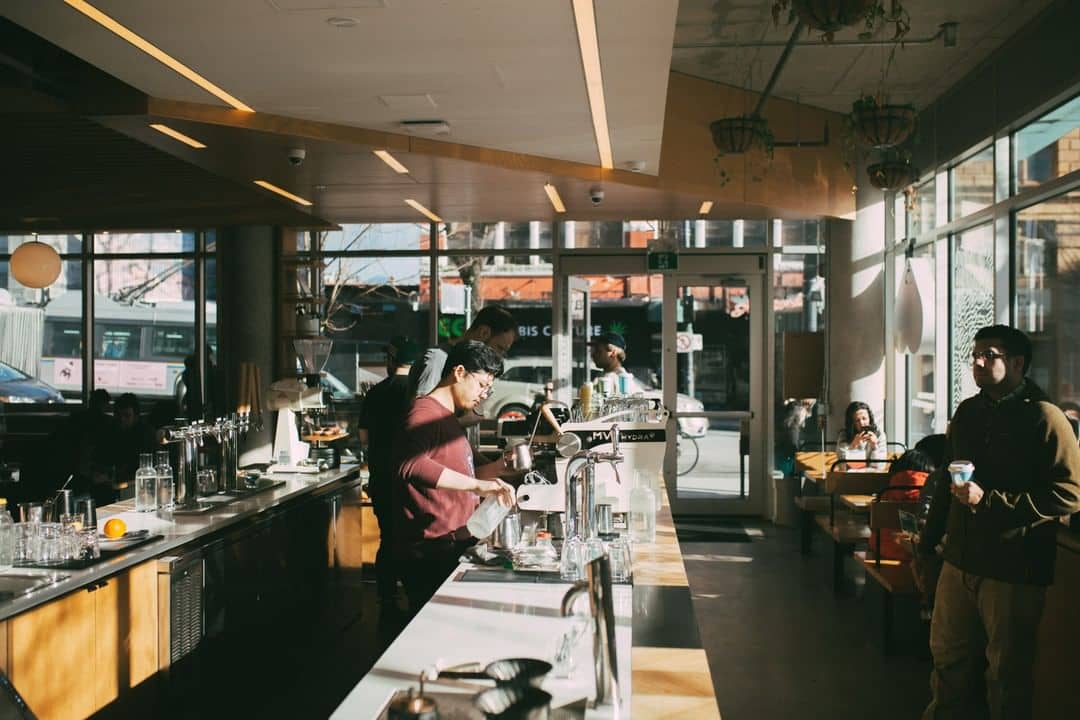 What can be better than coffee and cookies? It's coffee and cookies at Nemesis in Gastown. Nemesis is one of the best coffee shops you can find in town and because their coffee is really special, coming from a rotating selection of beans, we have them featured on our 10 Best Coffee Shops in Vancouver list.
Try some of their pour overs or some of their espresso. Combine your coffee with their stunningly luscious chocolate cookie. And if you are a bit more hungry than that, a salad, avo or french toast will do it.
Location: 302 W Hastings Street
Order Online: DoorDash
Instagram | Facebook | Website
1. Prototype Coffee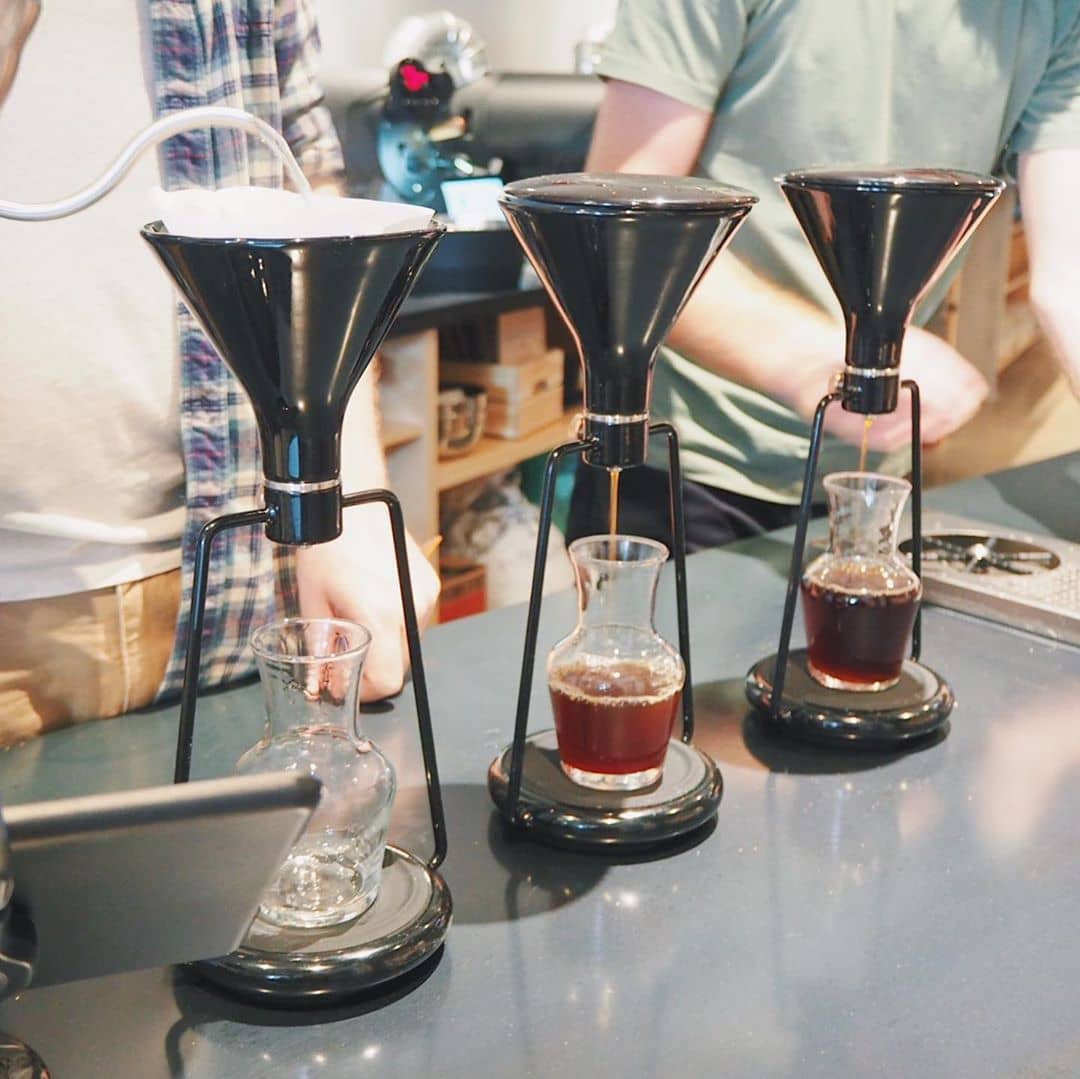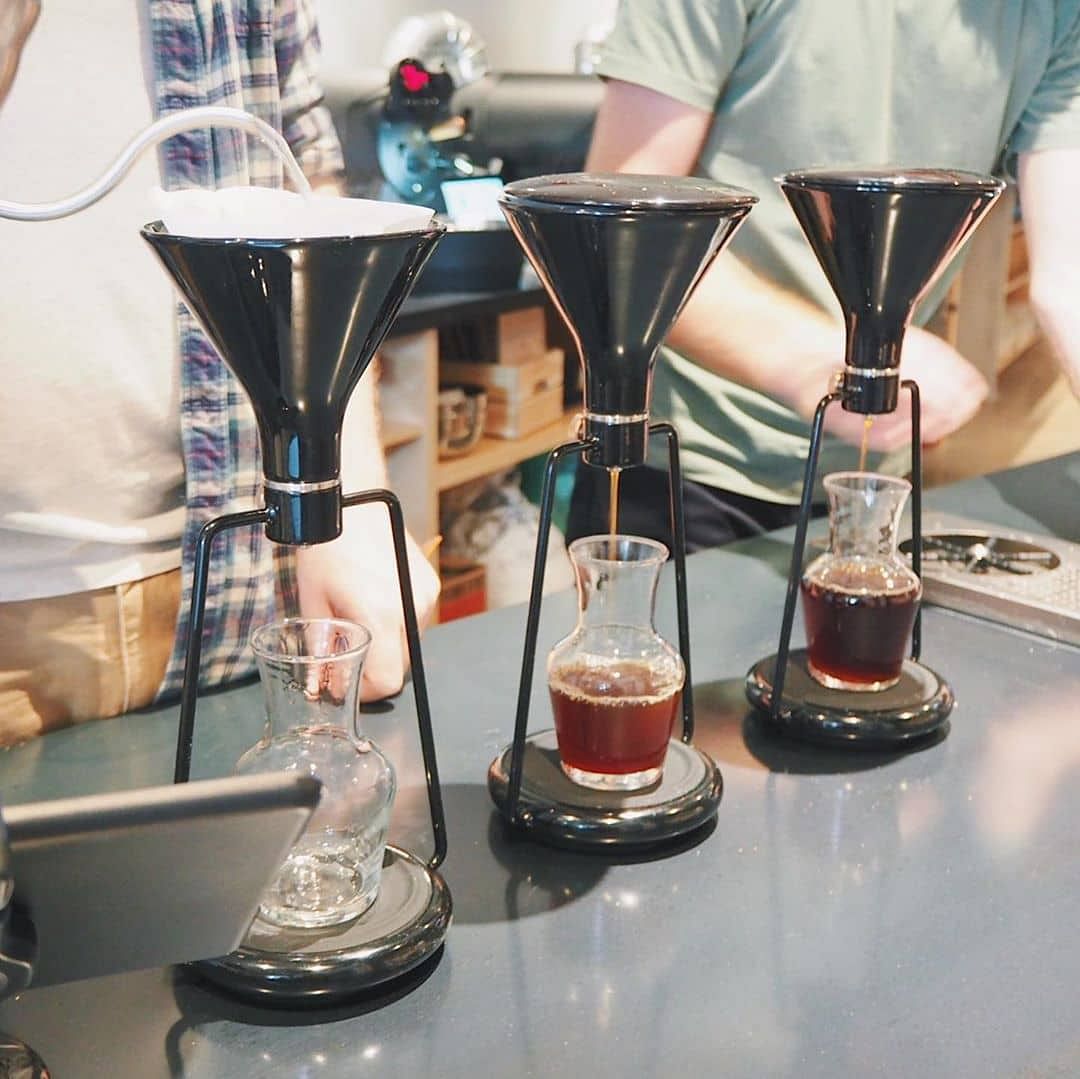 If you are looking for some of the best coffee in Vancouver's Strathcona neighbourhood, head to Prototype Coffee. This place is a newcomer on the city's coffee scene but already picked up several accolades and mentions from top dogs like Bonappetit.
The cafe interior also leaves an impression: Dark-hued, accented with mirrors and moss walls. Prototype's simplistic furnishing of the site is in complete harmony, floor to ceiling, coffee mugs to counter. As impressive as the decor is, the fancy equipment shines as well.
There's plenty to choose from the menu (over a dozen coffees to choose from), but note that the prices of the cups change depending on which bean you choose. What you order, you can also buy in-store as beans. Get a Codex Guatemala Candeleria, if you fancy an intriguing fusion of Macadamia nut, vanilla, and fruity flavours.
If you're stuck when choosing from their giant list, Co-Owner Matt and his friendly team are there to help you nail down the right one for you.
Feel good observation: The pour-over came in a wine flask and some items (mocha in our case) came in custom-made ceramic cups.
Location: 883 E Hastings St, Vancouver, BC V6A
Order Online: DoorDash | Uber Eats
Instagram | Facebook | Website
Now that's it if you're looking to get a good cup of joe in downtown Vancouver. And it if you're looking for some brunch to fill your stomach, consider these 10 best brunch restaurants in Vancouver.
The following two tabs change content below.
Latest posts by Noms Magazine (see all)