The hand mixer market is huge but it doesn't mean shopping for the right item is a piece of cake. If you're an enthusiastic baker who's experienced different types of mixers before, then it shouldn't fret you over because you know what you need.
However, you may struggle in finding the right item if you're new to the scene or simply because you don't know where to start. It has a lot to do with power, design, functions, weight and especially the attachments that come with it.
To save you more time from scrolling endlessly on the e-commerce pages, I'm happy to share my insights after testing out ten different hand mixers (and best sellers) on the market in this handy guide.
8 Elements to Consider Before Buying a New Hand Mixer
1.Weight
Not every hand mixer weights the same. You don't want a heavy hand mixer because it's going to transfer all the force into your hand and shoulder, which is likely to cause you fatigue.
However, a hand mixer that is too lightweight isn't a good choice either as it becomes a bit too flimsy and may collapse to the countertop if you try to rest it somewhere. I recommend looking out for something about 2.55 pounds with attachments.
2. Handle
I personally like a hand mixer with a slanted handle. It's not an essential design for the brands to follow, but I've worked with so many types of hand mixers before and nothing gives me the comfort I need better than one with a slanted handle.
This type of handle bends to the natural form of your palm so you don't have to point your elbow straight up. It also needs to come with a comfortable grip or pulse so you can switch between the speeds without pausing in between.
3. Pulse
Look for a pulse that doesn't hide under the handle or way below your wrist. It should be just beyond the fingers or thumb so you can do the switch with one swift motion.
4. Speed
Most of the hand mixers are built with six or seven speeds on average and it can go up to nine or ten for higher-end models. Whereas, some cordless, battery-operated hand mixers only offer two speeds. There's nothing wrong with a two-speed mixer if you only need it for a simple blend once in a while.
However, if whisking and baking are your daily job, a hand mixer with more speed settings is more efficient and multi-functional. Some mixers are also developed with a QuickBurst feature to add more power to the mixing tasks, and for that reason, you can tackle dough, cream, batter, cold butter in no time.
The number of speeds also indicates the motor power. I usually look for an average of 250 watts for my kitchen work once or twice a week.
5. Flat Base
Many friends of mine don't really notice how important the base of a hand mixer is. We usually fall for the design and forget how functional and hassle-free an item should be.
The base is the side of the mixer standing on the countertop when not in use. You want a sturdy base without crazy curves and wide enough to stand on its own.
6. Construction
I see plastic and stainless steel are the most common materials. Both of them have a pro and a con. I personally like the stainless steel mixers more because they look sleek and stand the test of time.
The downside is that it heats up quickly if you use it over a long cycle. Plastic, on the other hand, absorbs the motor heating but it's not sturdy enough.
7. Attachments
I highly recommend you to go for a multi-attachment hand mixer even though you are not a professional chef or baker. You never know until someday you will need a beater or a dough hook but it turns out your mixer at home doesn't have one. I got this from my personal experience and even if I have to pay more for those attachments, I will.
Wired beaters, curved beaters, dough hooks, and whisks are the most common attachments. Different attachments give you more options to deal with different ingredients without hesitation.
These attachments should be made in stainless steel because they are the ones to interact with your food. Some beaters are capped with plastic to minimize scratches.
8. Price
A good hand mixer doesn't necessarily come with a higher price tag. I tested many brands that go as low as 20-ish dollars and they still mix things up perfectly. However, some of the best-sellers can reach up to USD $145 that give you multiple attachments, ten-speed controls, a three-year warranty, a snap-on storage case, and even a recipe book. However, at the end of the day, price doesn't indicate how good a mixer is, only specifications can tell.
A Sum Up of Our Top Picks for the Best Hand Mixers
Best Budget-Friendly Hand Mixer: Hamilton Beach 6-Speed Electric Hand Mixer
A sturdy and low-cost hand mixer that does a perfect job.
Best Immersion Blender with Whisk Attachment: BELLA Immersion Hand Blender
My go-to multi-functional immersion blender with a whisk attachment to plug into any container you have in hand.
Best Hand Mixer with HeatSoft Technology: Oster HeatSoft Hand Mixer
Buy this one if you wish to tackle cold butter without any hassle!
Best Overall Hand Mixer: Cuisinart Power Advantage Plus 9-Speed Handheld Mixer
This is the best easy-to-use hand mixer with all the basic functions you need.
Best Compact Hand Mixer: Dash Smart Store Compact Hand Mixer Electric
The best lightweight and portable hand mixer for beginners.
Best Turbo Electric Hand Mixer with Storage Stand: 5-Speed Turbo Kitchen Handheld Mixer with Storage Stand
Keep your attachments and appliance straight up for a sleek and modern kitchen corner.
Best Hand Mixers for Tech-Savvy: Breville Handy Mix Scraper Hand Mixer
It detects which attachments you are using and recalibrates to the right speed you need.
Best Cordless Hand Mixer: KitchenAid Cordless Hand Mixer
This is the best battery-operated hand mixer to keep your kitchen tidy.
Best Hand Mixers with Count-up Timer: KRUPS Electric Hand Mixer
This is my favorite hand mixer for those who wish to keep track of their whisking time with a pause.
Best Powerful Hand Mixer with Anti-Slip Handle: Braun Electric Hand Mixer with Soft-Grip Anti-Slip Handle
Bring this home if you look for a hand mixer with the highest power and comfy handle.
More Detailed Hand Mixer Reviews
1.Hamilton Beach 6-Speed Electric Hand Mixer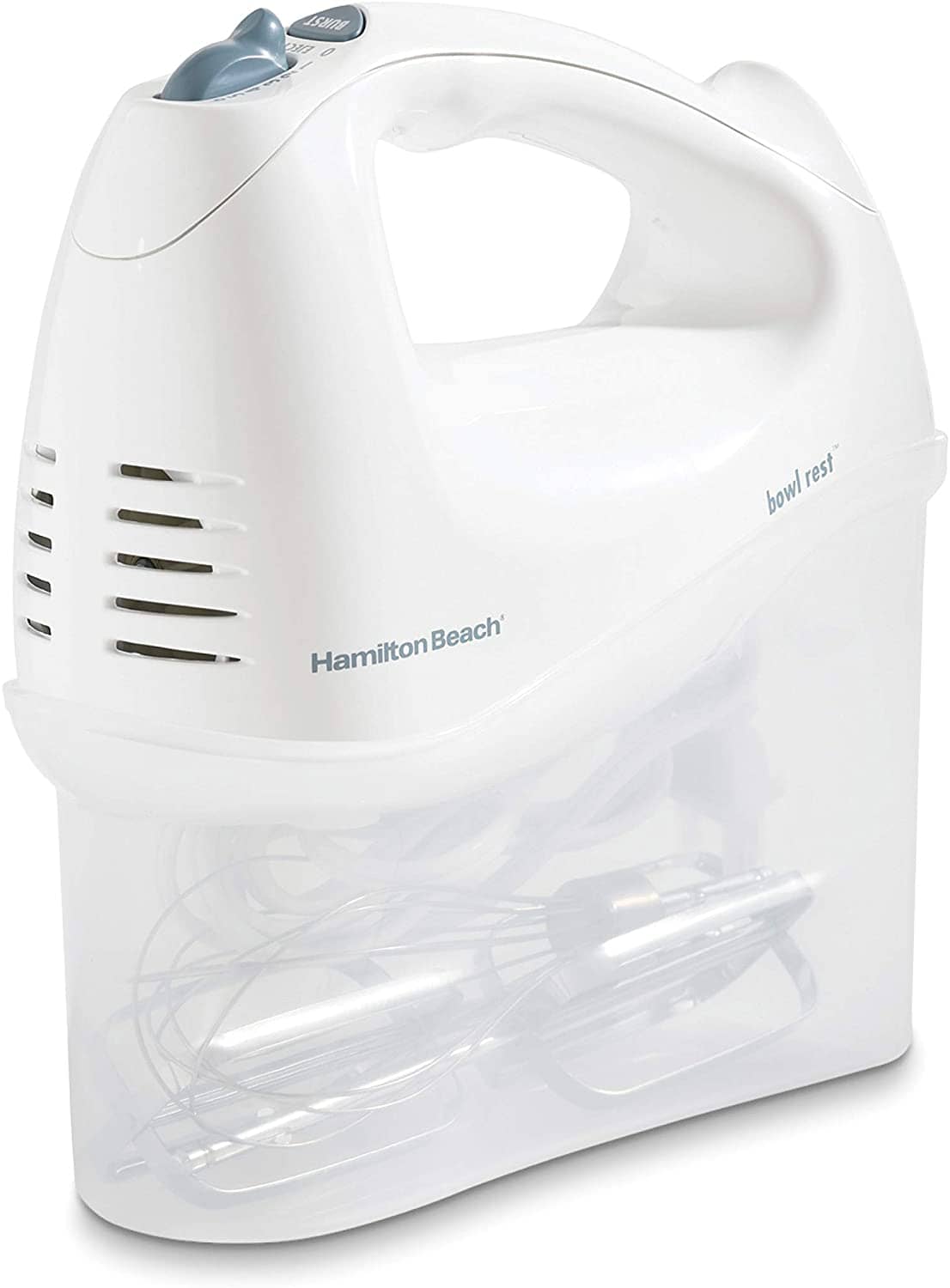 There are three things I love about this hand mixer: the built-in groove, a QuickBurst button, and low cost. I put this item on the top of my review simply because it works well for almost everyone. As a home cook myself, this was one of the first hand mixers I was introduced to, and it worked like a charm.
250 watts and an average weight make it an appealing item to recommend to everyone. It serves my recipe baking needs perfectly and I personally think that you don't have to invest in the most expensive, high-end models out there if you're not a professional baker. With less than $20, this Hamilton Beach is a keeper, especially with the impressive built-in groove that allows you to rest on your bowl in between the tasks.
For all those reasons, this item is one of my favorites on the list. One downside is that one of the cords extends on the side of the mixer, which is fine for right-handed people like me. However, I once invited a friend over, she's left-handed and the cord got in the way and into the batter.
Pros:
Snap-on case keeps the attachments where they belong.
Choose your favorite color between red and white to match your style.
A good hand mixer that doesn't hurt your wallet.
A built-in groove to rest your mixer on the bowl without dripping.
Cons:
The cord extends from the right side of the mixer, which may require a little effort for the left-handed to rearrange the cord to the other side so it won't dip in the batter.
Not made for heavy doughs.
The lowest speed can be too fast for some users.
2. BELLA Immersion Hand Blender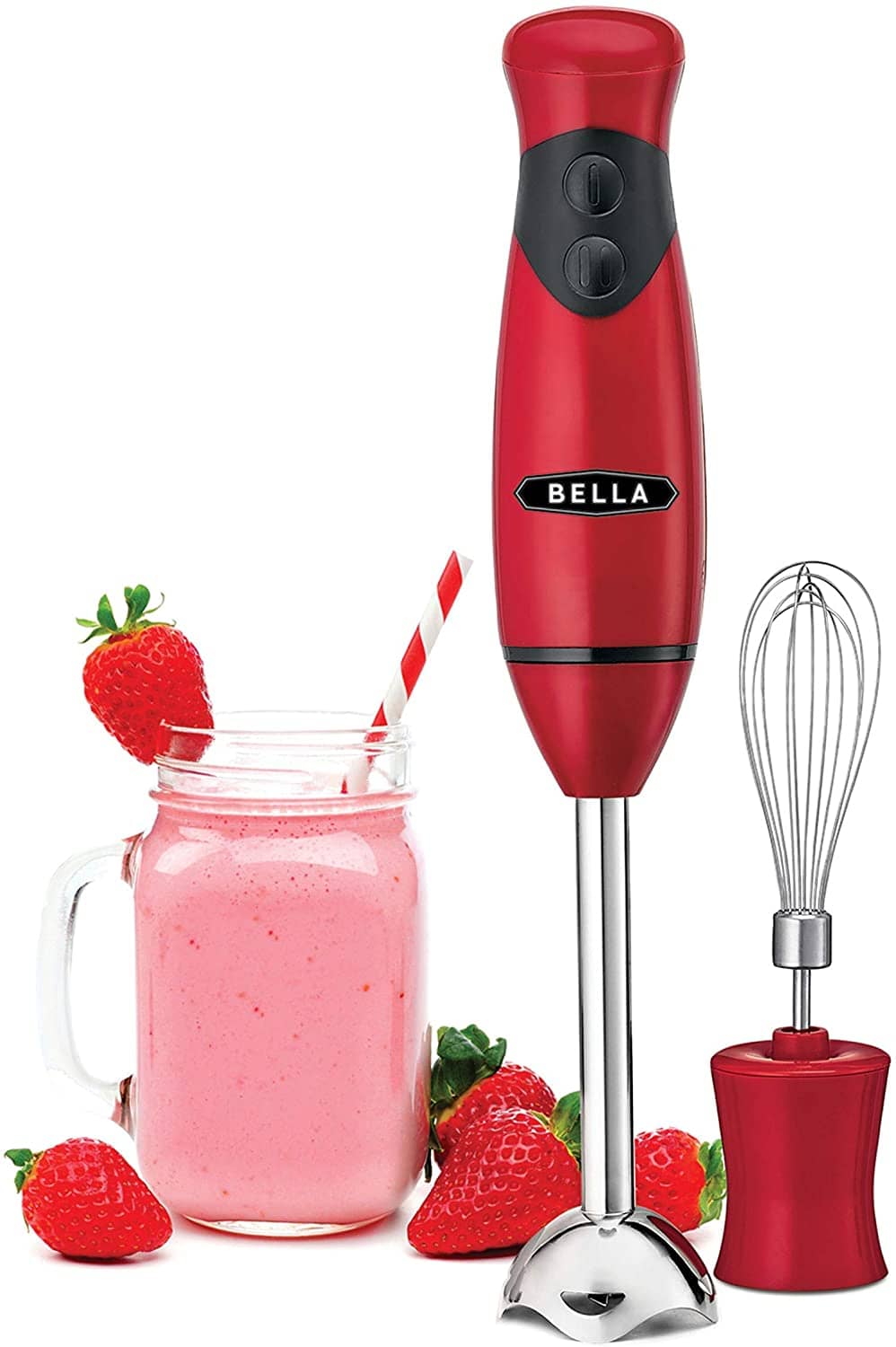 You can tell that this is meant to be an immersion blender and not a professional hand mixer. For that reason, the only things you can use to mix ingredients are the blade system and a whisk attachment. I know it only produces two speeds and two attachments. This is frustrating if you need to tackle different types of ingredients.
However, this item is specifically made for tall pots and pans. It's easy to carry, keep in the cabinet, and it works just fine for easy mixes like sauces, purees, soups, and smoothies. That's the reason why I decided to get it home even though I know it cannot replace a professional hand mixer.
For the price, I was surprised to see Bella was five dollars higher than the Hamilton Beach above. I guess this is because of its initial benefit as a handy immersion that lets you switch between a hand blender and mixer with one simple switch.
A major downside I noticed is that the powerful motor is indeed a two-blade knife. 250 watts add great power into the whisking and make prepping so easy. However, as a hand immersion blender – whisker, it tends to overheat pretty quickly and keeps my hand vibrating the whole time.
Pros:
This immersion blender is easy to go into tall pots and pans and doesn't eat up much space.
Its six-foot cord ensures a seamless maneuver between stove and countertop.
The blaze system and whisk attachment are stainless steel.
The attachments are easy to remove.
Cons:
The cord seems flimsy which may not stand the test of time.
Only two speeds are available, which cannot coordinate a variety of ingredients.
Its powerful motor creates a greater vibrancy that you need to keep small containers in the right place.
3. Oster HeatSoft Hand Mixer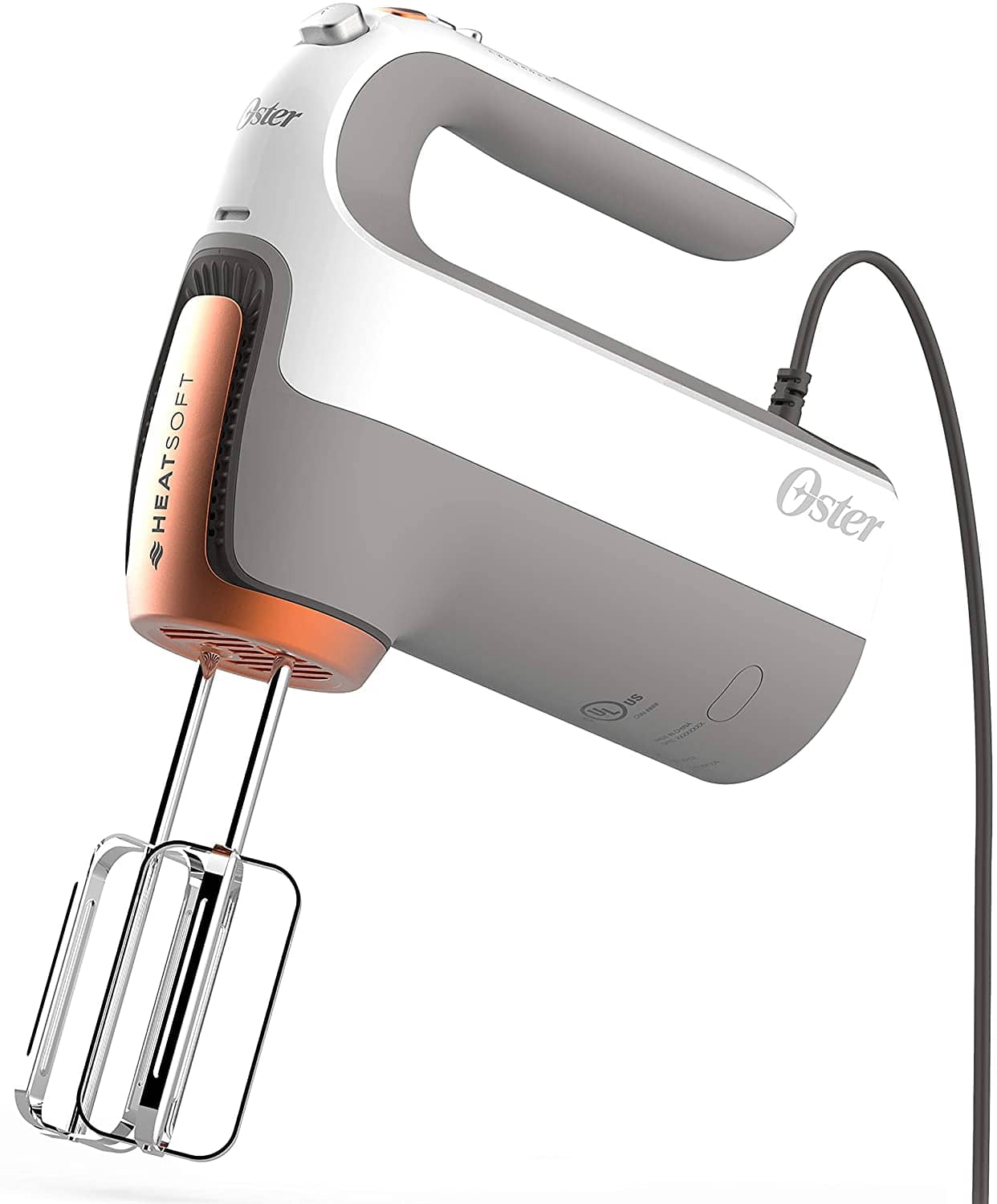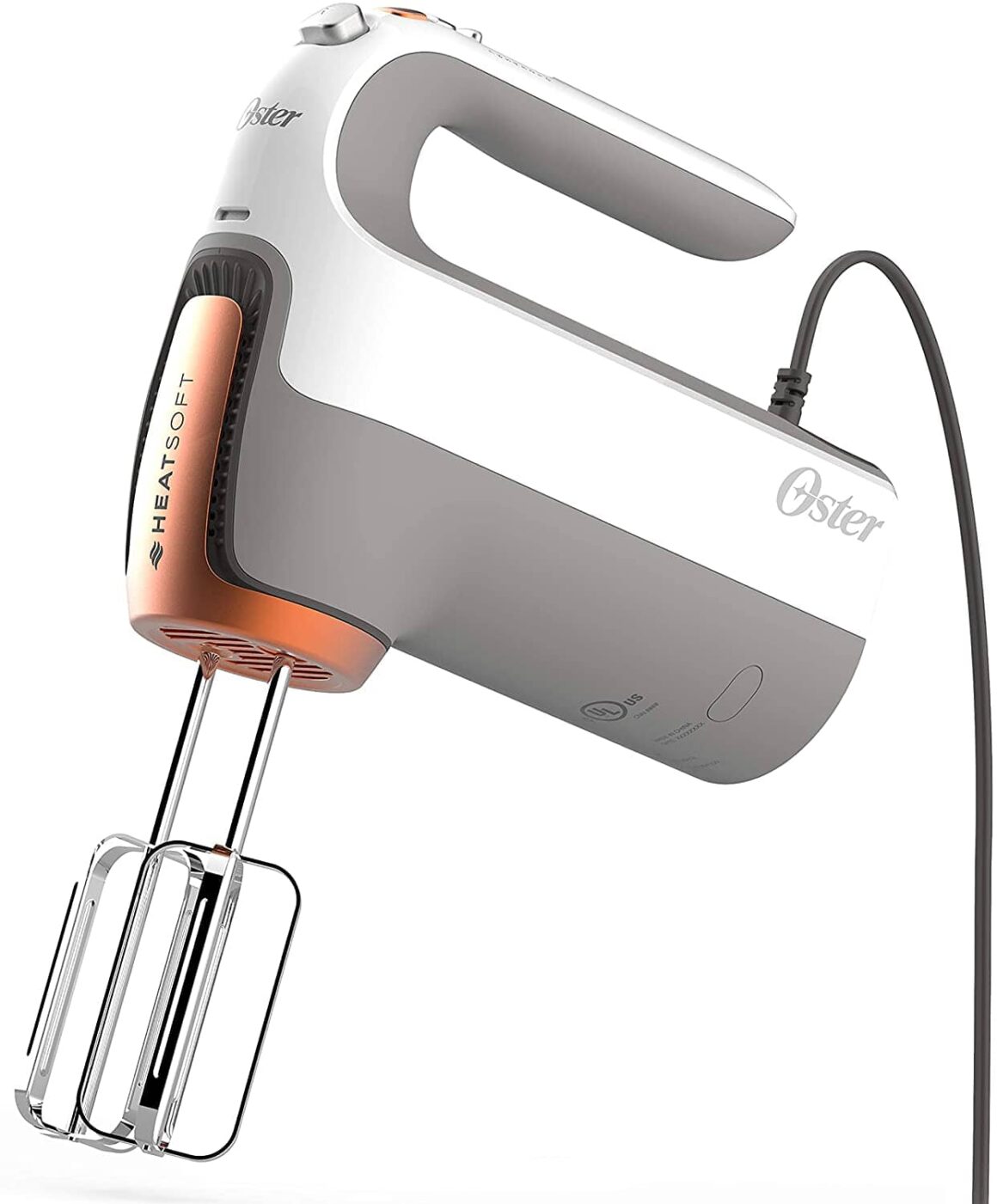 Honestly, this Oster hand mixer is one of the best buys I've ever invested in. First off, it looks sleek, contemporary, and modern. Second, the HeatSoft technology is the top of the crop! This technology brings cold butter back to room temperature, which helps me save one more step from the prepping process – there's no reason not to buy it!
This Oster produces 270 watts, making it one of the powerful motors compared to other hand mixers on my list. Other than that, I have seven speeds, five attachments, an eject lever, storage case. Everything about this Oster is sufficient and advanced, which gives me the confidence to recommend it for those whose baking is where the hearts are.
Now comes the disadvantages! To be fair, the handle is not slanted enough. As I mentioned above, a slanted handle gives you the right comfort that coordinates with your natural hand movement. However, this is something I can't see from this item. In addition, 4.86 pounds don't make it a heavy machine but I won't say it's lightweight either. Finally, you can hear some noise coming up when the heat is on, which is not too bad to frustrate me but it's good to let you know!
Pros:
Cold butter can be softened 12 times faster.
HeatSoft technology heats up your cold ingredients and saves more time prepping.
The burst of power is available to handle thick batters.
Cons:
The attachments are hand wash only.
A noise comes up when the heat is on.
4. Cuisinart Power Advantage Plus 9-Speed Handheld Mixer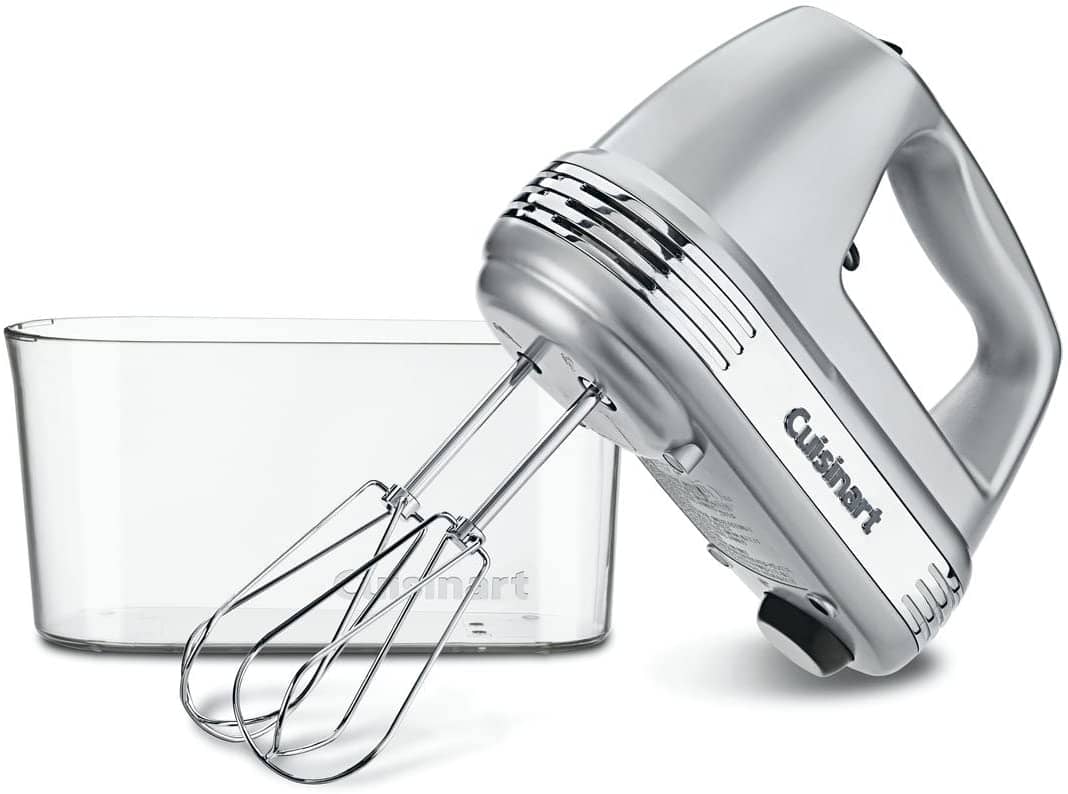 This Cuisinart has everything it takes to be a great mixer. The nine-speed setting is a wow factor. I guarantee every home baker will jump for joy if they bring this one home. Next, we have the design! That shining, sleek and modern construction gives me a luxurious feeling to gift my friends and relatives.
For power, 220 watts is no biggie for me compared to Hamilton Beach's 250 watts or Oster's 270 watts. It works perfectly with all kinds of batter so far. For that reason, it's not a complaint from my side even though some users are not so happy about it. The digital control is really cool which may outrival the old slide switch from other developers. So this one is another bonus.
The drawbacks? I have two. First, it's really loud and I couldn't have any conversation going on when it's in use. Second, the extortionate price doesn't make sense to me. As I said, a hand mixer should not be expensive. All in all, if budget and noise are not your concerns then I'm happy to recommend this Cuisinart.
Pros:
The modern and simple design coordinates with most of the kitchens' designs today.
The nine-speed setting gives you more control over the speeds.
LED display is a luxury touch and easier to use rather than the old slide switch.
Cons:
The noise is insanely loud which may annoy other people around you.
The price tag is much too high for a hand mixer.
5. Dash Smart Store Compact Hand Mixer Electric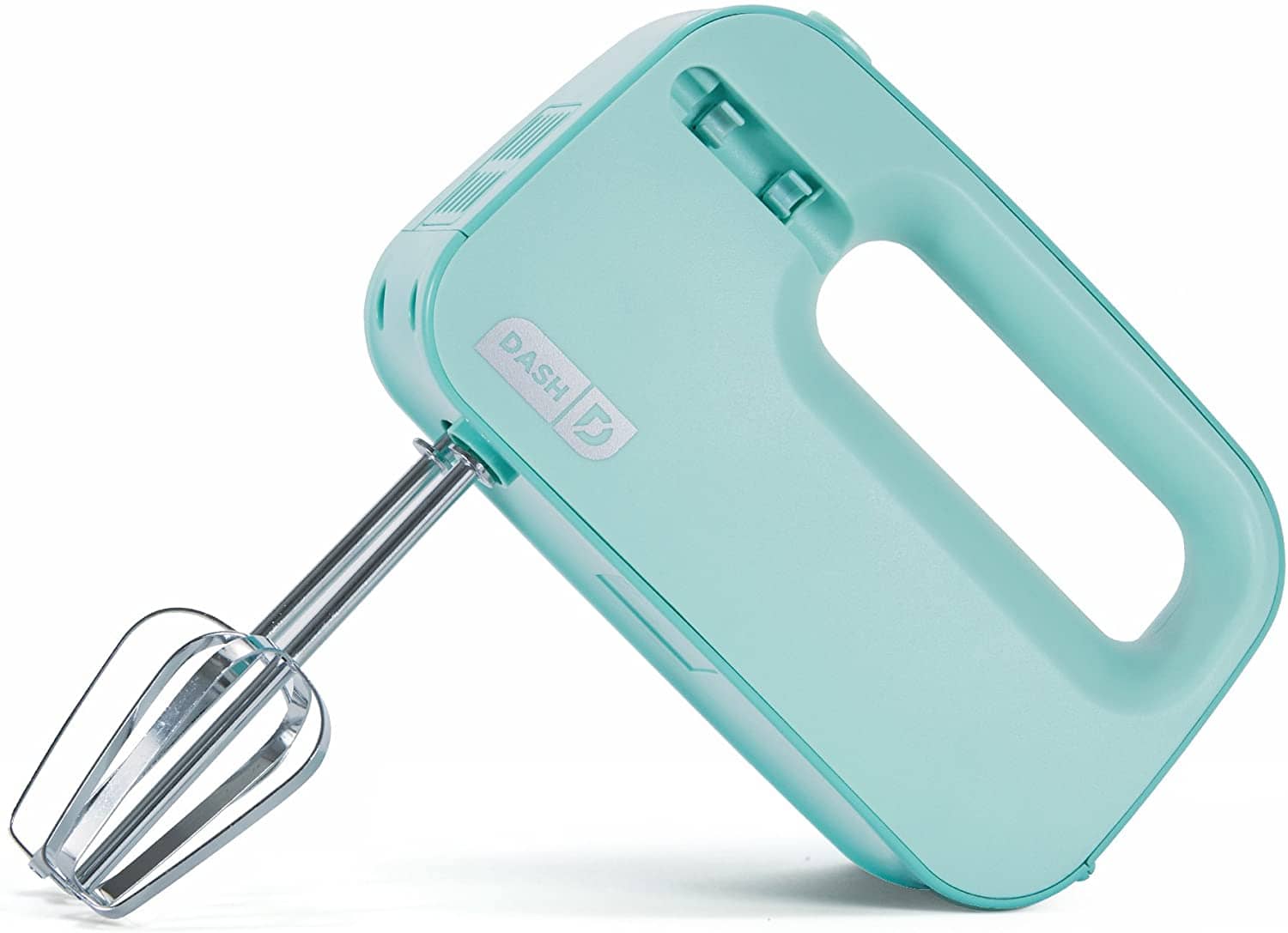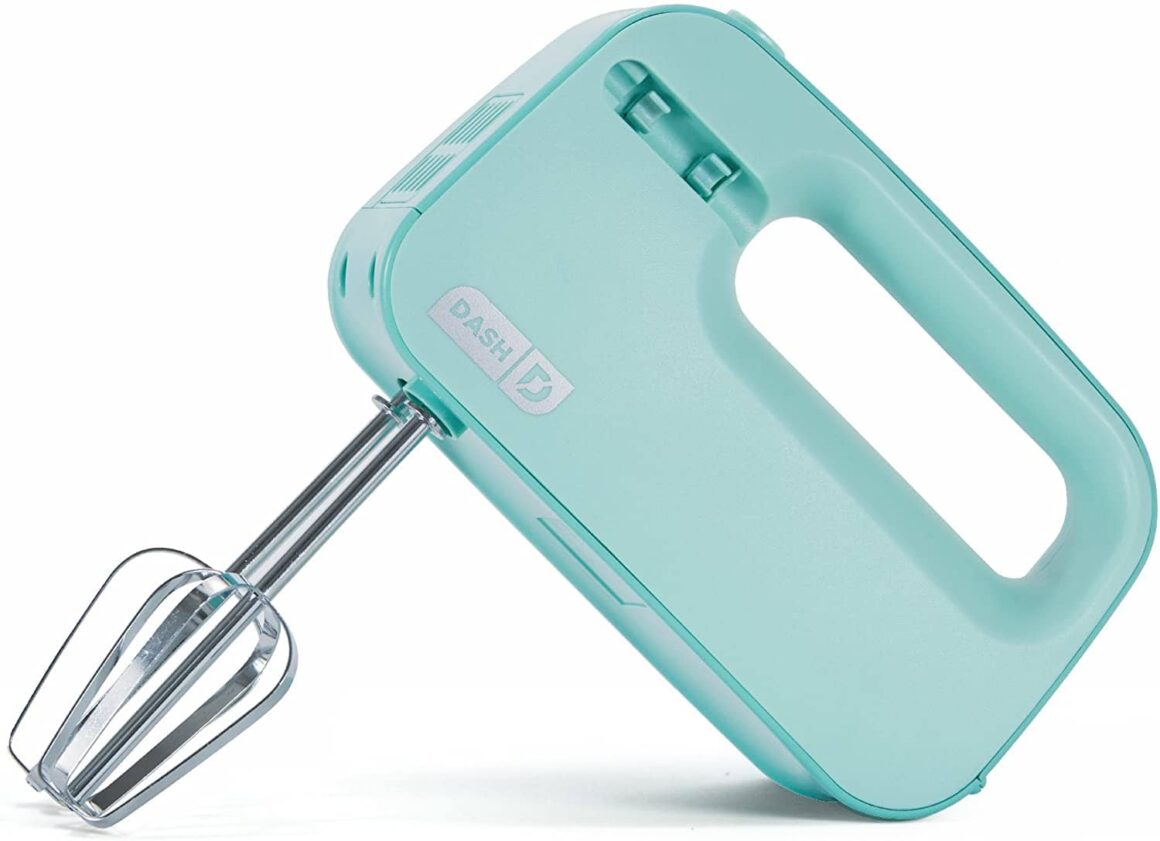 Dash compact hand mixer was the first one I used back in the college days. My first impression was how portable and lightweight it was, which made so much sense if needed to do the packing, shipping, or share a dorm.
You don't even need a storage case because the beaters can be snapped into one side of the handle and they stay firmly right there. However, because there's no storage case, I had no choice but to wrap the cord all around the body and put it back in the box before tucking it into the cabinet. This can be a little annoying for some people.
The body is made of plastic, not stainless steel, that's why you cannot expect it to have a sleek and modern look compared to the Cuisinart or Oster equivalents above. Other than the two beater attachments, there's nothing else to be offered. So make sure you know what you're going to get before adding it to your cart.
Dash runs on 150 watts and three-speed settings, which works just fine for beginners, students, or if you live alone. The only thing I wish it could be better is the price tag. Compared to Hamilton Beach above, this Dash guy is six dollars higher with less power, fewer attachments, and less appealing construction. But at the end of the day, the choice is yours.
Pros:
The storage clip is a clever and thoughtful touch in replacement for a huge storage case.
It's available in four different colors and picking the right one that goes with your style is easy.
You have access to the recipe database on Dash's official website.
Cons:
The beaters are shorter than average, which can be annoying if you use a deep mixing bowl.
Only three speeds available, which is less than my recommendation of six or seven.
The cord sticks out at the bottom of the body and it's not easy to rest the mixer that way.
6. 5-Speed Turbo Kitchen Handheld Mixer with Storage Stand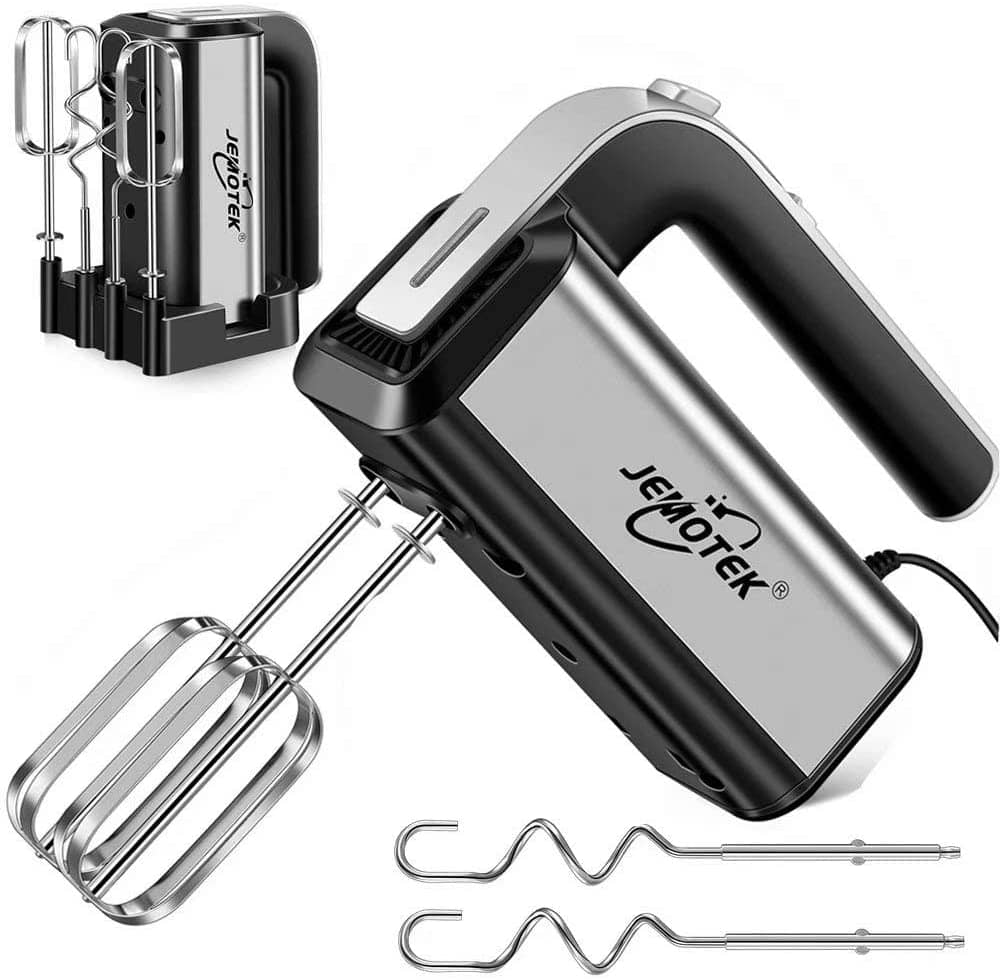 This Jemotek hand mixer had me thanks to the little details and thoughtful functions that set it apart from other mixers I've used so far. It's very easy to use and safe to operate and clean. I love how the eject button comes in handy and removes my beaters with one click away. I didn't have to mess with my hand trying to twist them off like some other old-fashioned mixers.
Other than this, I must admit that the overheating protection system is really impressive. This is an advanced function that enhances your safety and you barely see other mixers developed with such function.
Finally, the storage stand is a killer! It makes storing attachments so much fun and keeps the whole item sleek and modern in my kitchen. However, as there's no cover on the top of the stand, the pieces tend to attract dust sprinkled on the tips. And so I had to find my own piece of cloth to shelter them.
I have two drawbacks to say about the cord and one coming from the power. The cord is really short and it doesn't seem to reach anywhere unless you put your bowl right next to the outlet. As they already developed such a beautiful stand for the attachments, I'm wondering why they left the cord behind to be wrapped around the handle? Finally, 300 watts are beyond my expected level of power to go into the whisking. If I put this Jemotek against the Oster HeatSoft mixer above, I'd prefer the 270 watts from Oster more!
Pros:
Anti-rust material helps it stand the test of time.
The silver-black color doubles its chic and modern look.
The quick cooling system protects the body from overheating.
The body is lightweight and doesn't take up too much space.
Cons:
The turbo motor is too powerful even when it's running on the lowest speed setting.
The eject button is very close to the turbo button, and you may accidentally click on it when mixing.
7. Breville Handy Mix Scraper Hand Mixer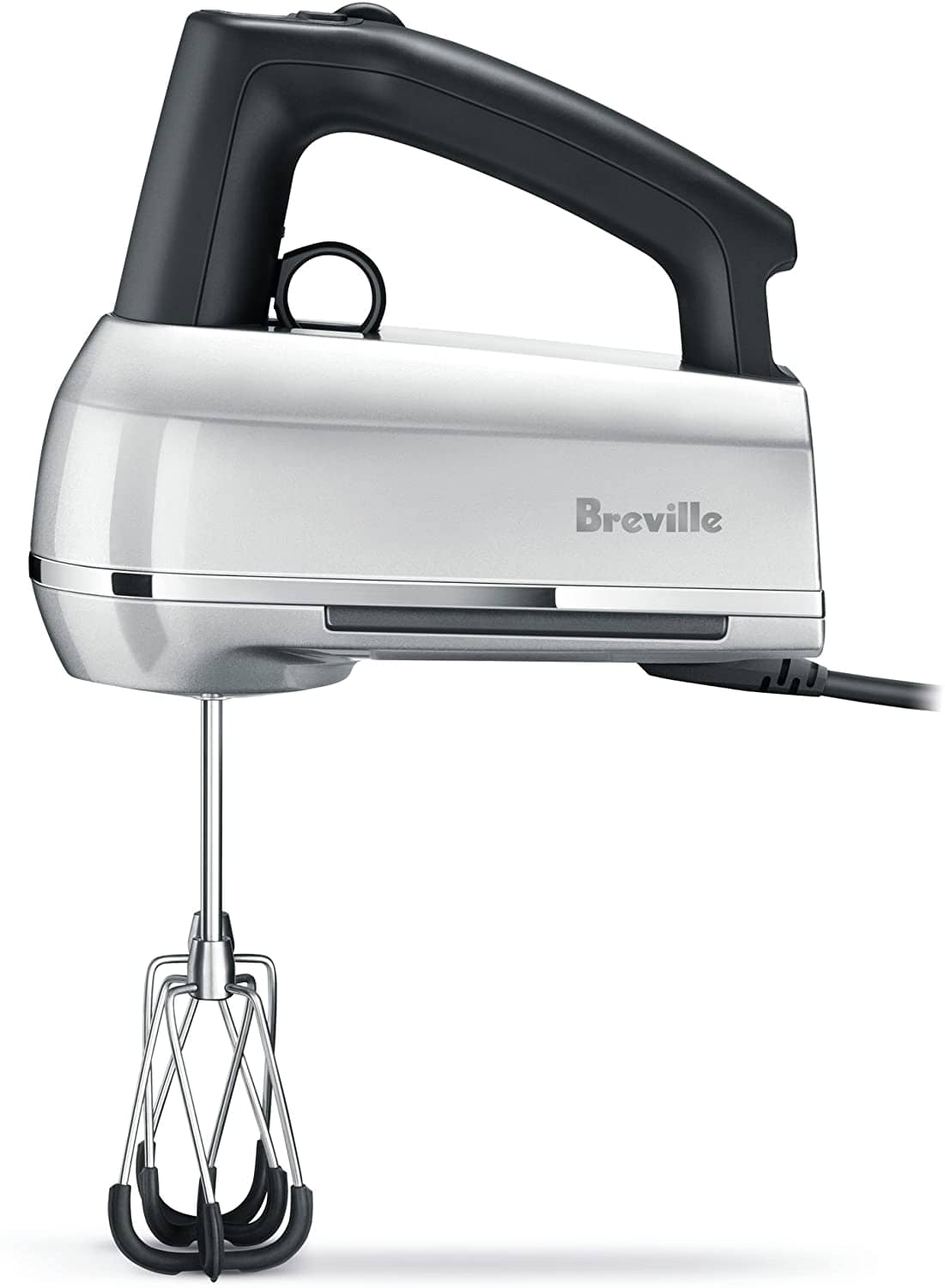 Comparing Breville and Cuisinart Power Advantage, the Breville hand mixer is more likely to win my heart. The two items are in the same price range, same weight, and all offer nine speeds but Breville is $15 cheaper than Cuisinart while its design is more modern and the IQ intuitive interface that comes with it.
First, we have the scraper beaters that eliminate scratches and clanging sound during the mixing. This function cannot be seen in Cuisinart. The IQ intuitive interface system saves me a lot of effort since I don't need to switch between the speeds one by one to set the right one for the attachments.
Other than that, Breville produces 240 watts, which is 20 watts higher than Cuisinart. Even though the gap doesn't indicate much different, at least for me, some of you may require extra horsepower. The two items come with slanted handles, which I love but Breville's handle provides better comfort to my movement.
I agree that the Breville hand mixer is heavier than Dash, Jemotek, and Hamilton Beach hand mixers above. So if you're not looking for something that adds four pounds to your hands, then this Breville may not be the top candidate.
The last thing I need to mention is the rubber scrapers that cover the beaters. They worked like a charm for me but the ones from my friends came off after half a year of use. Once again, this con may depend on certain items due to malfunctioned manufactures.
Pros:
The IQ technology will automatically recalibrate to the perfect speed after detecting which attachments you are using.
Rubber-capped beaters come in handy to minimize clanging and scratches.
Clear storage case is available to keep your attachments and cord where they belong.
Sleek and timeless design with plastic external housing and chrome accent.
Cons:
The rubbers that cover the beaters may not last a lifetime.
The whole body is heavier than my recommended average weight for a hand mixer.
8. KitchenAid Cordless Hand Mixer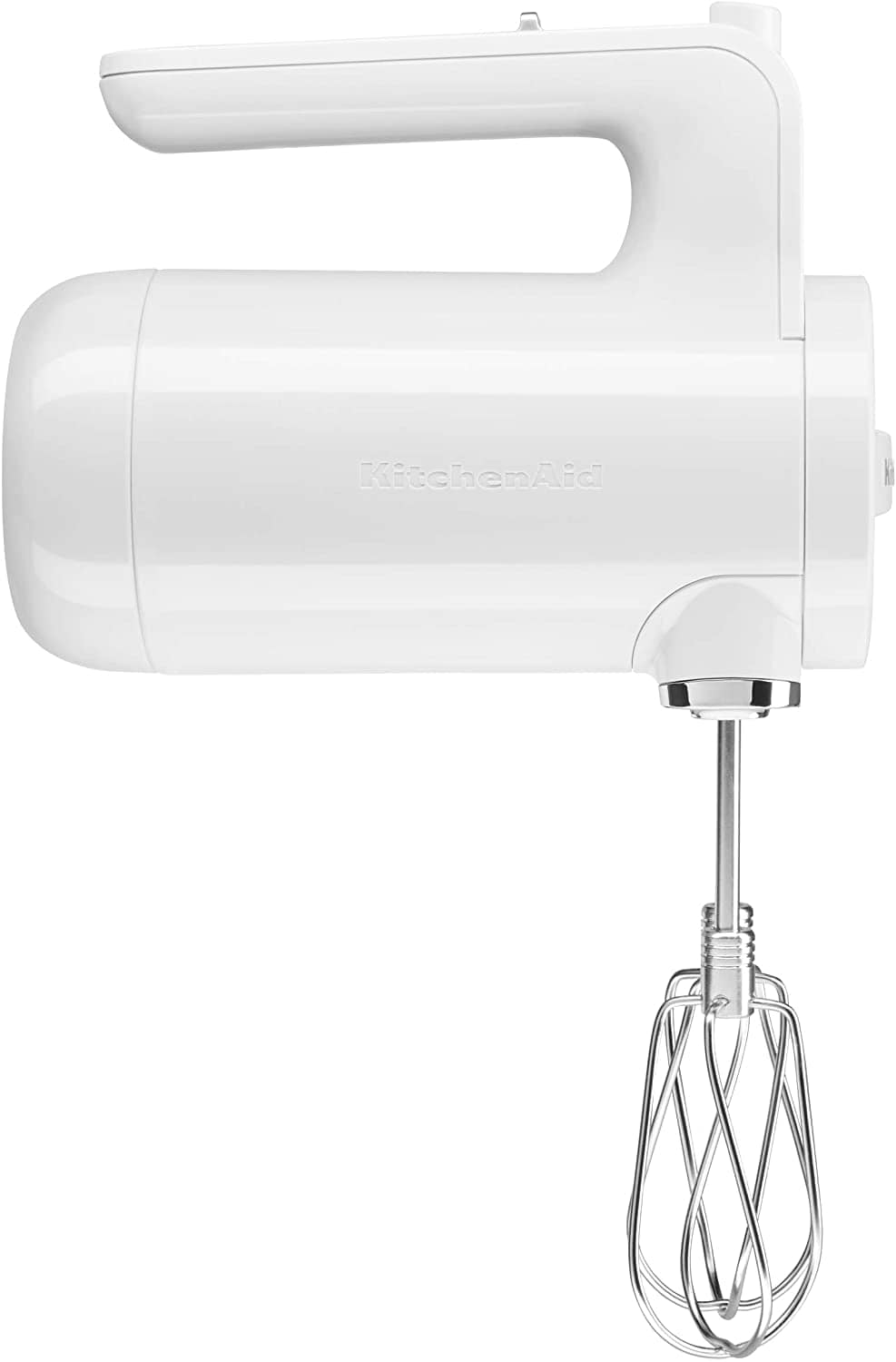 I love this cordless hand mixer in every single way. It's really fun to play around with it. No cord means no mess, and I don't need a storage case to tuck all the whistles and bells in like what I do with other corded mixers.
I wouldn't say it's a state-of-the-art design that mesmerizes you at first sight. However, the lithium-ion battery nestled inside the body allows the mixer to stand on its own, and it looks really neat that way. Therefore, I don't even need a groove to rest the handle when it's on pause anymore.
The construction is plastic – yes, you've heard it right! That's why you shouldn't expect it to have that kind of shining and modern design compared to Oster or Jemotek. But on the other hand, the solid color speaks for a contemporary and simple beauty that coordinates with any kitchen style! Less is more!
Since it's operated by battery, the power is actually not the most attractive feature. I've been using a corded hand mixer for so long and the first time I switched to this cordless one, it felt a little weird and slow to whisk things up. Don't get me wrong, it works just fine but it will surely take longer to tackle the batter, especially for heavy-duty mixing like heavy cream.
For the attachments, remember that it only comes with two beaters, no dough hooks nor whisks. I would say a cordless hand mixer like this is still a star if you're not high maintenance who only wants a tidy space and a bit of fun for the baking.
Pros:
You can choose from seven basic colors to match your style.
It doesn't produce noise when in operation.
The mixer is designed to stand on its own, which doesn't collapse when put on hold.
Cons:
Only two turbo beaters are included in the set, no dough hooks, and whisks.
Less powerful than regular hand mixers using cords and therefore cannot tackle heavy mixing duty.
9. KRUPS Electric Hand Mixer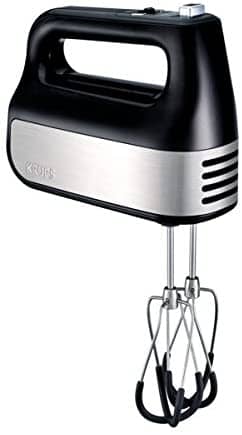 There are so many great things about this hand mixer to begin with! This is the only item on my review list to have ten-speed settings, but this is not the only cool feature about it. I barely see many hand mixers developed with a count-up timer and a pause function to keep track of the whisking time.
I believe this Krups electric hand mixer is designed for professional use. I tested this one and compared it with the Breville hand mixer above because the two items share a few similar features. They both offer plastic scrapers, almost the same speed settings (Breville has nine and Krups have ten), and operate on 240 watts. However, Krups is half Breville's weight and $30 cheaper. Other than that, Breville looks better and is developed with IQ technology while Krups has a count-up timer with a pause function to keep track of mixing time.
Given, all things considered, I recommend Krups if you don't chase after the design and simply want a lightweight hand mixer that's easy to use without breaking the bank. Incline towards Breville if you love a fancy-looking item for professional baking!
Pros:
10-speed settings give you more control over the speed.
Silicone-coated beaters eliminate clanging and scratches.
Count-up timer with pause function to keep track of time.
Quiet operation ensures an enjoyable and hassle-free prepping time.
Mixing light lets you view ingredients during the mixing.
Cons:
Greater vibrancy moves the mixing bowl around.
The on-off button is too close to the turbo button and you may accidentally press on it during the mixing
10. Braun Electric Hand Mixer with Soft-Grip Anti-Slip Handle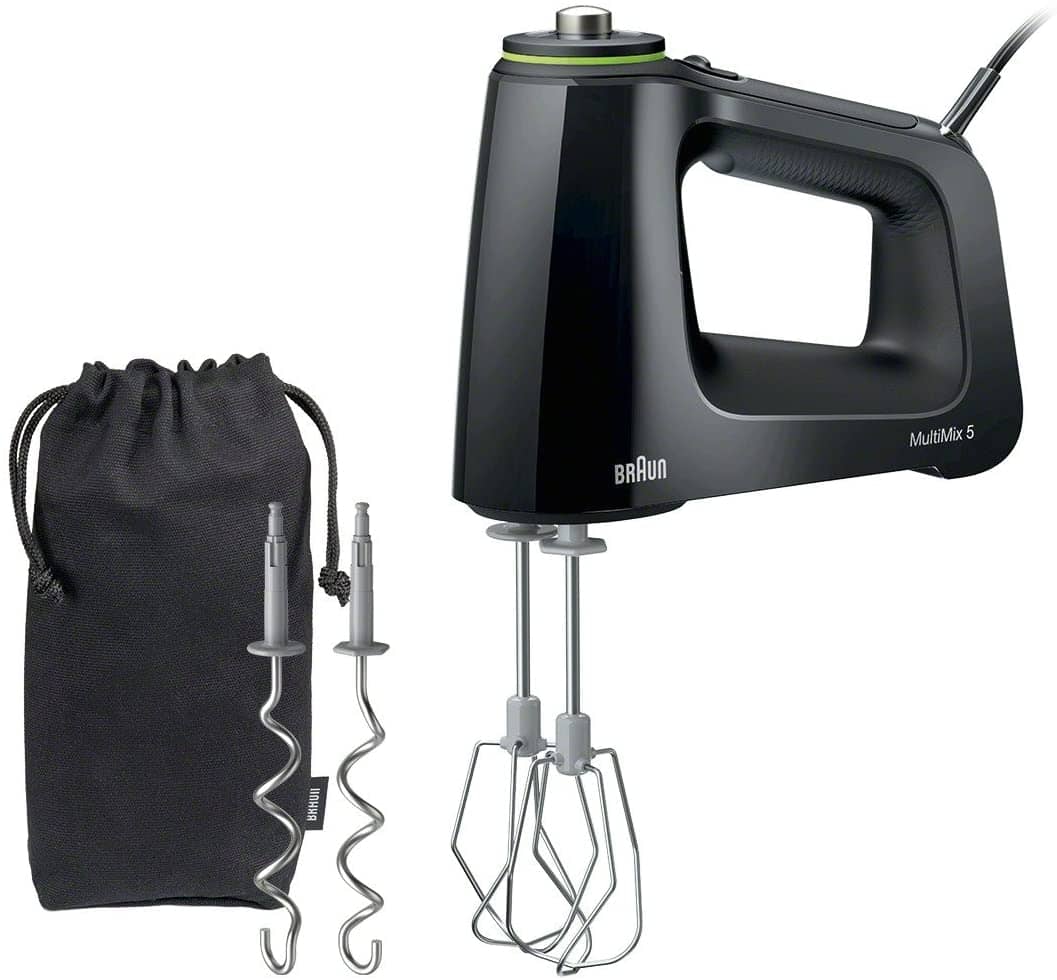 This hand mixer by Braun has the highest power level on my list. 350 watts is a great deal for many passionate home bakers and chefs who prefer a great power to tackle even the hardest elements.
Nine speeds make it a keeper, especially to those who like to have more control over the prepping time. I'm impressed at the way they installed the VarioControl speed dial as well as the on/off button. They are located right at the top of my fingers which allows me to set the speed without slipping my fingers to the other button like the Krups hand mixer above. The best thing about Braun is the in-line vertical motor design that shifts the weight of the mixer from my hand into the bowl. This advanced function does make my hand and wrist less fatigue.
There's one thing I wish Braun would notice the way they designed the VarioControl dial setting! This type of speed control is not the easiest design to tackle with a thump. And so when in use, I tried to switch my thumb around the dial and it was somehow frustrating with only one finger doing the job. And therefore I had to use the two fingers from the other hand to do the job for me, which means it's not seamless enough to get ten points for the dial.
Finally, If you deal with a thick cake dough, chances are the batter will pull up from the beaters onto the mixer's body. I experienced it once but had no problem other times I tried it as the batter was not full enough to climb up the body. I give a seven out of ten for the sound as its loudness still has room for improvement.
Pros:
It offers the best power for a hand mixer.
In-line vertical design shifts the mixing effort from your hand to the bowl.
Whisk and beater attachments are merged into one, creating a light and foamy mixture.
Cons:
It's not the quietest item out of every hand mixer I've tested.
The mixture is likely to pull up from the beaters onto the mixer's body.
Check my reviews clearly before jumping to a conclusion! Let me know if you have any favorite hand mixer that can stack up against my products above! I also wrote an insightful review about the ten best toasters! If you're searching for one, don't hesitate to go over them!
Noms Magazine is a participant in the Amazon Services LLC Associates Program, an affiliate advertising program designed to provide a means for sites to earn advertising fees by advertising and linking to Amazon.com and Amazon.ca. Clicking and purchasing from the links helps support our publication and no extra cost is added to you
The following two tabs change content below.