Just like you, we know how overwhelming browning a toast can be. Some toasters are too heavy and large that take up huge space on your counter. Whereas, some are too small with only a tiny slot and you have to rush it every morning to make some sandwiches for the kids.
Our review below will break down all the best toasters of 2021, their pros and cons, what to consider before buying, and our own experience using each of them.
7 Elements to Consider When Choosing The Best Toaster For Your Kitchen
1.) Toaster Size
Think about your kitchen space and counter space!
The size of a toaster has a lot to do with its bread slots. A four-slot toaster makes more sense if you need to feed a large family every morning. But let's say you live alone in a small apartment, you definitely want to look out for a compact and lightweight toaster that takes up less room and without the wide slots.
2.) Bread Slot Width
Just like you, bread is not the only toast we eat every day. Think about what type of pastry you usually have. Is it a bagel or muffin?
Different kinds of pastry come in different sizes. It depends on your certain need that you want a specific slot width that fits your favorite pastry. Bread is our daily staple but we also love to have some crispy, chewy bagels for the weekends. So in this case, you look for a toaster with 1.5-inch extra-wide slots to toast bagels and thick bread.
3.) Browning Controls
We want our toasts to be browned differently. Most of the toasters come with seven-speed control settings more or less that allow you to set your desired browning levels.
We personally like it to be lightly toasted golden brown colour with the right crispiness without losing the fresh, delicious-smelling aromatics. Whereas, someone else may prefer a darker shade of a well-done toast.
4.) Versatility and Presets
Toasting is the basic function of a toaster, but there are some other functions to be considered. We usually ignore one without multi-functions such as Defrost, Reheat, Bagel, and Cancel. The "Bagel" button heats the cut side of your bagel. The "Reheat" function lowers your bread back down for a while more if you happen to forget about it.
These are some of the most essential features defining how much you should pay for a toaster.
Versatility provides you with ease of use. No matter what type of pastry you're cooking, a versatile toaster with multiple preset functions is a one-time investment that saves you more effort.
5.) Cleaning & Removable Crumb Tray
We're talking about a removable crumb tray in this case.
You don't want to buy a cheap toaster only to realize that you have to flip it upside down and bang on the body to pour the crumbs out. A removable crumb tray makes cleaning easier and one of the features you shouldn't overlook.
So make sure you keep an eye on it when buying a new toaster!
6.) Toaster Design
Alright, the first thing you notice at a toaster is how it looks!
Even though it's not the most important thing when you buy a new toaster (you don't want to break a bank for a toaster just because it looks beautiful), the style will spice up our newly-renovated kitchen. We've seen some toasters really killing that chic, retro style and we're sure it fits a 1950s-style home. And others that has all the bells and whistles in a minimalistic look to match that type of kitchen appliances.
Style matters even more if you choose it as a housewarming gift because you want something that looks sharp and starts a conversation when your friends unbox it!
7.) Safety and Durability
If you want a lightweight, sleek toaster that lasts long, we highly recommend looking at stainless steel toasters.
The good news is that most of the toasters in the market today are made of this durable material. Its strong nature is a perfect fit for daily use.
Stainless steel toasters are much likely to endure cracks and dents if you happen to drop something heavy on them. Stainless steel is also a hygienic material when it comes to prepping food.
Finally, make sure to keep an eye out for non-slip feet. It's a crucial matter of safety when you have kids at home or if you happen to bang it with your elbow.
Our Top Picks for the Best Toasters of 2021
Best Toaster of 2021 for Family with Kids: Keenstone 4-Slice Stainless Steel Bagel Toaster
This 4-slot toaster fits a large family with kids.
Best Toaster of 2021 for Retro Lovers: Smeg 2-Slice Toaster
This cute little toaster is a conversation starter for your kitchen.
Best Toaster of 2021 with Anti-Overheat Protection: REDMOND 2 Slice Retro Stainless Steel Toaster
Redmond is a great toaster if you look for anti-overheat protection to enhance safety in the kitchen.
Best Overall Toaster of 2021: CUSINAID 4 Wide Slots Stainless Steel Toaster
This Cuisinaid toaster is a good choice for big families or small bistros.
Best Precise Toaster: Dash Clear View Extra Wide Slot Toaster with Stainless Steel Accents
Dash Clear View toaster lets you keep track of the right toasting levels every time.
Best Toaster of 2021 for Bagels and Thick Breads: BREVO 2-Slice Extra Wide Slot Toaster for Bagel Breakfast with Brushed Stainless Steel
Bring this toaster home if you struggle with fitting bagels and thick bread into your old tiny slot toaster.
Best Toaster of 2021 with Self-Lowering and Raise Check: Kenmore Elite 4-Slice Auto-Lift Long Slot Toaster in Stainless Steel
Our favorite toaster choice for those who need to keep a close eye on their desire browning level.
Best Toaster of 2021 with Warming Rack: LOFTER 2-slice Stainless Steel Bread Toasters
This toaster reheats your cold pastry when you forget to pick it up.
Best Compact Toaster of 2021 for Small Space: Oster 2-Slice, Bread, Bagel Toaster
Go for this Oster toaster if you don't like a large appliance eating up too much space on your countertop.
Best Smart Toaster of 2021 for Tech-Savvy: Revolution Cooking R180 High-Speed 2-Slice Stainless Touchscreen Toaster
If you want everything automatic and advanced or simply impress your guest, go for this toaster!
Detailed Reviews of The Best Toasters 2021
Keenstone 4-Slice Stainless Steel Bagel Toaster
Best Toaster of 2021 for Family with Kids: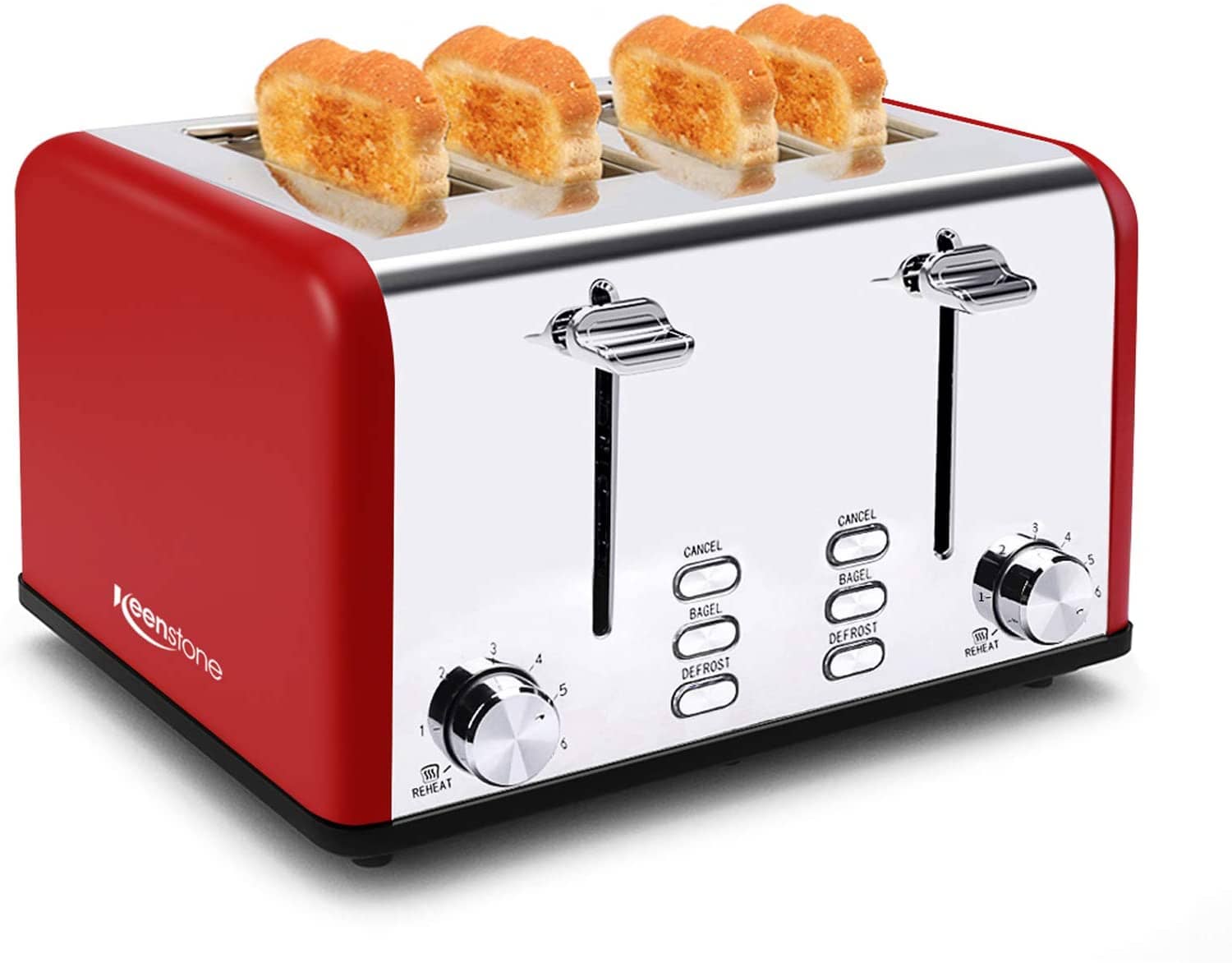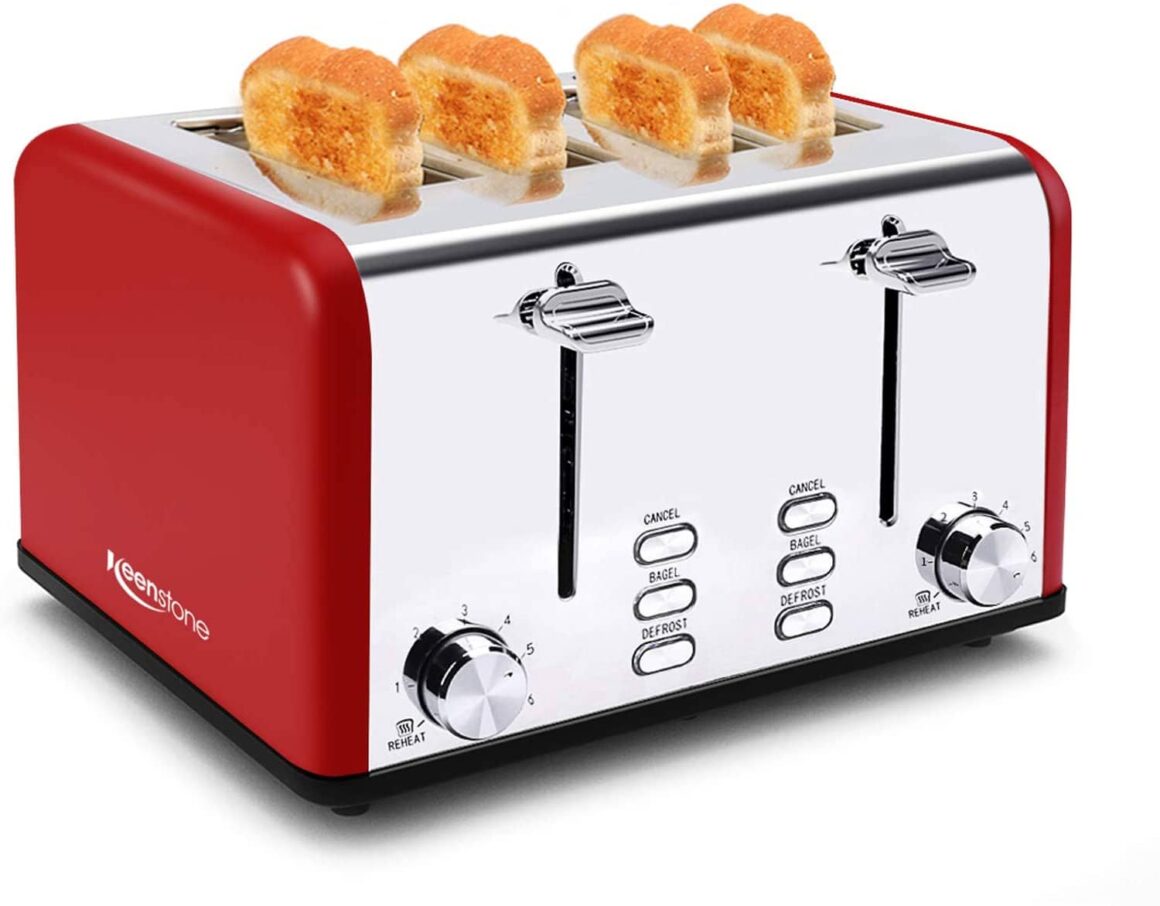 The first thing that popped into our head when we saw this four-slice toaster was how sufficient and fast breakfast was going to be. We had a friend who lives with two young boys and as you know, they ate a lot so it makes more sense to recommend the best toasters that can toast four at a time. As they name it, the machine can toast bagels perfectly with four 1.5-inch wide slots.
We love how the toaster has the dual settings to coordinate the slots separately. So we tried to plug in each of the slots with a bread, bagel, muffin, and waffle, press down the levers at once, and worked like a charm! One downside is that one of the levers sort of broke after over a year our friends used it. Not sure if the toaster was abused or it was poorly made with error.
Pros:
The lever will automatically pop up when finished.
No more constant adjustment is needed since its handy dual control will do the work for you.
It does the job for any type of pastry we've tried so far including bagels and burger buns.
Cons:
Made of thin tiny metal, so you have to be extra careful and don't drop anything on it unless you want it to dent.
Not sure about other models but our toaster levers didn't last long. It broke in just over a year of use.
Smeg 2-Slice Toaster
Best Toaster of 2021 for Retro Lovers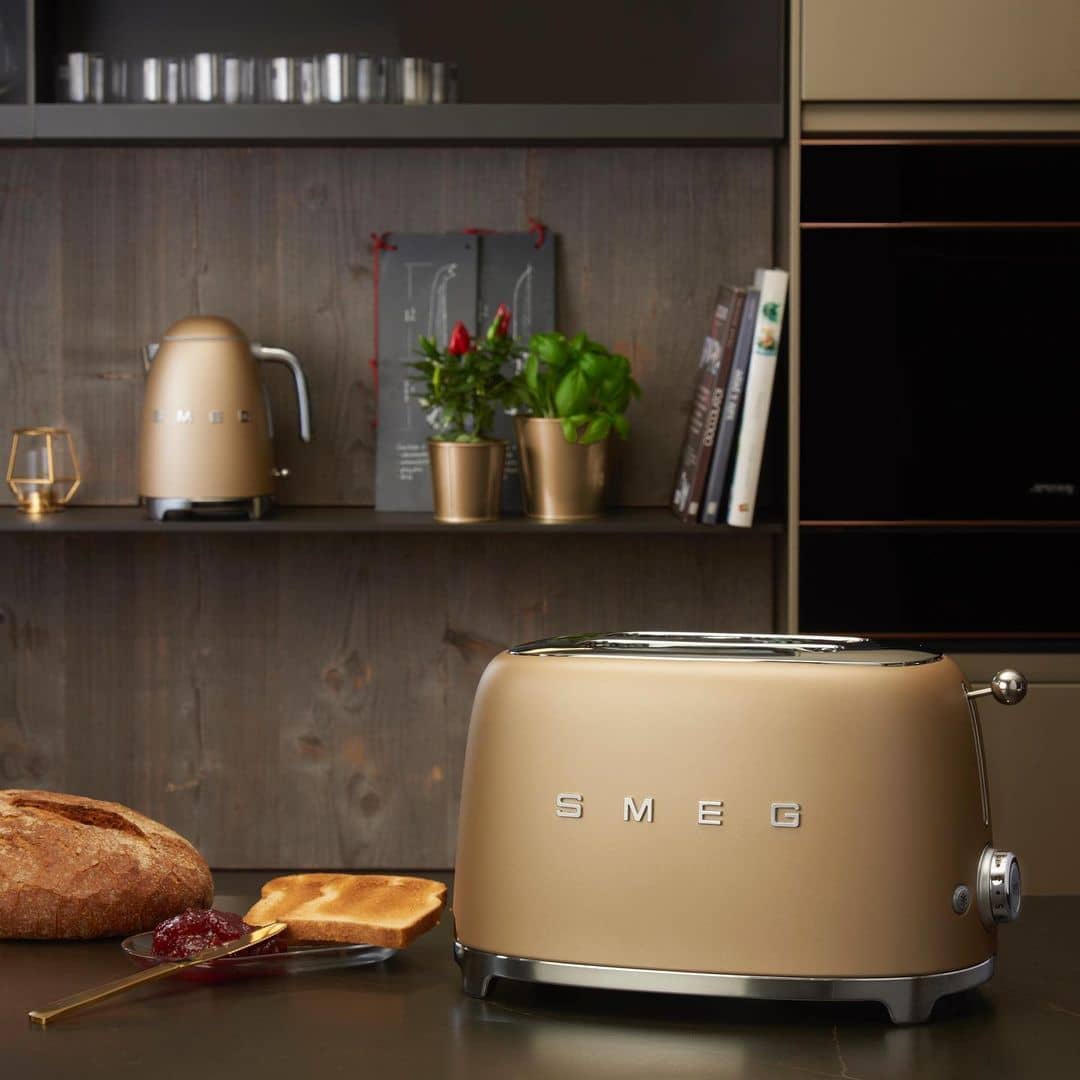 The most outstanding feature of this Smeg toaster is the mid-century style. This iconic look sets it apart from other modern, sleek toasters in the market. If you're looking for a perfect, chic-looking gift for a housewarming party, you may like to get this one. Other than this, we agree that this item is a basic toaster, so it does a good job of what a toaster should do – toasting. You will also see six browning levels and three pre-set programs.
So far, the toasts have come out evenly. It's straightforward to use and compact, so if you live alone or in a small family, you can go for this. However, the extortionate price tag and the pop-up force raised my eyebrows. If you only look for a basic toaster with smaller price tags, you may consider other options in my list. The pop-up force also has room for improvement, so we're waiting to see if other toaster models throw the toasts on the countertop, or would it be improved over time.
Pros:
The retro construction is beautiful. You can stock up your kitchen instantly or gift it to your loved ones.
With eight toaster colors available, it was easy for us to go for something retro and cute with the pastel shade while the black and chrome ones truly give that sleek and chic look.
Built-in cord wrap ensures safety.
Cons:
Definitely not a cheap buy if you're on a budget for a toaster.
Easy to use but it's still a basic toaster, and therefore doesn't have the luxury leverless technology of what you usually see in a high-end model.
REDMOND 2 Slice Retro Stainless Steel Toaster
Best Toaster of 2021 with Anti-Overheat Protection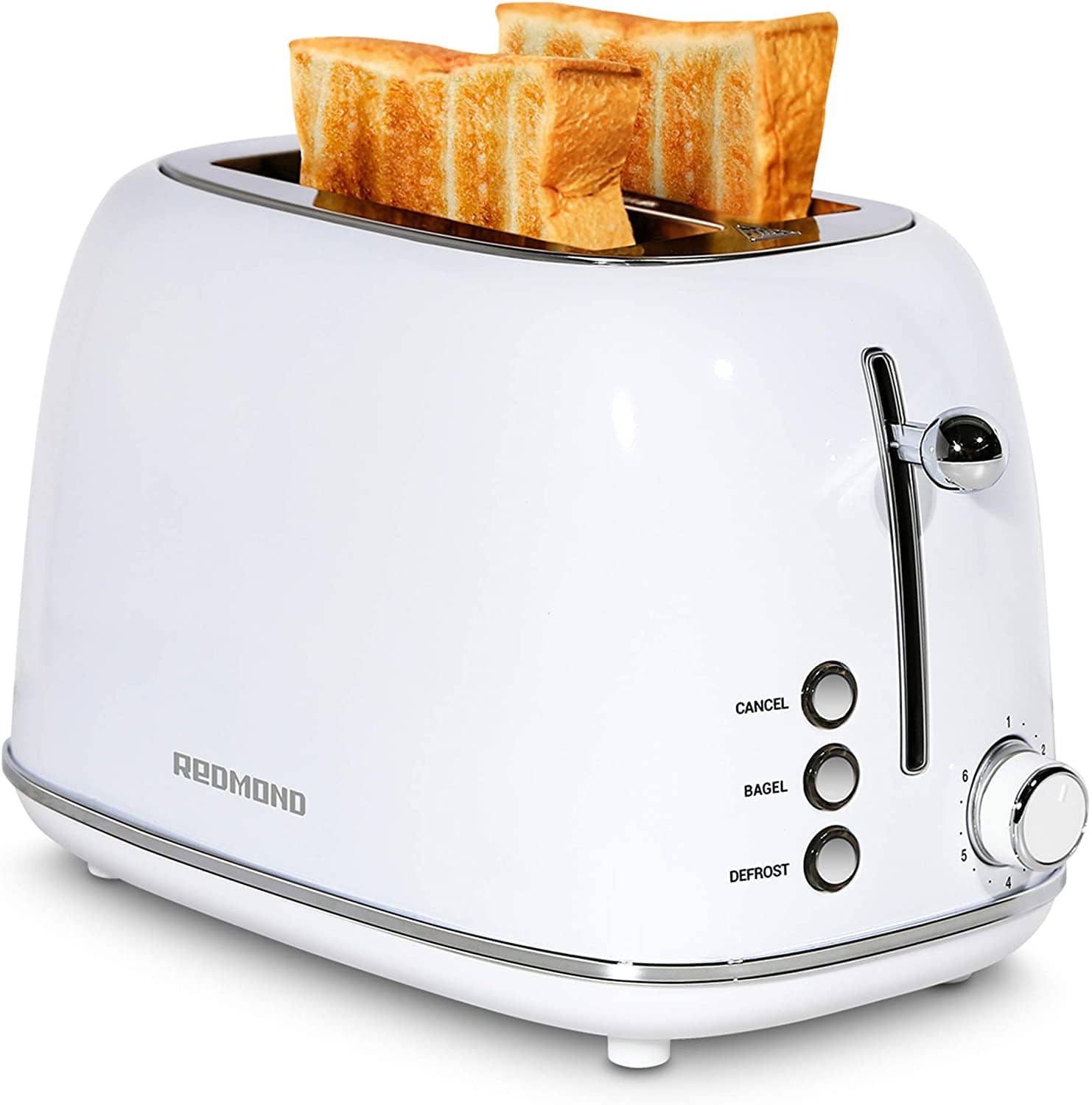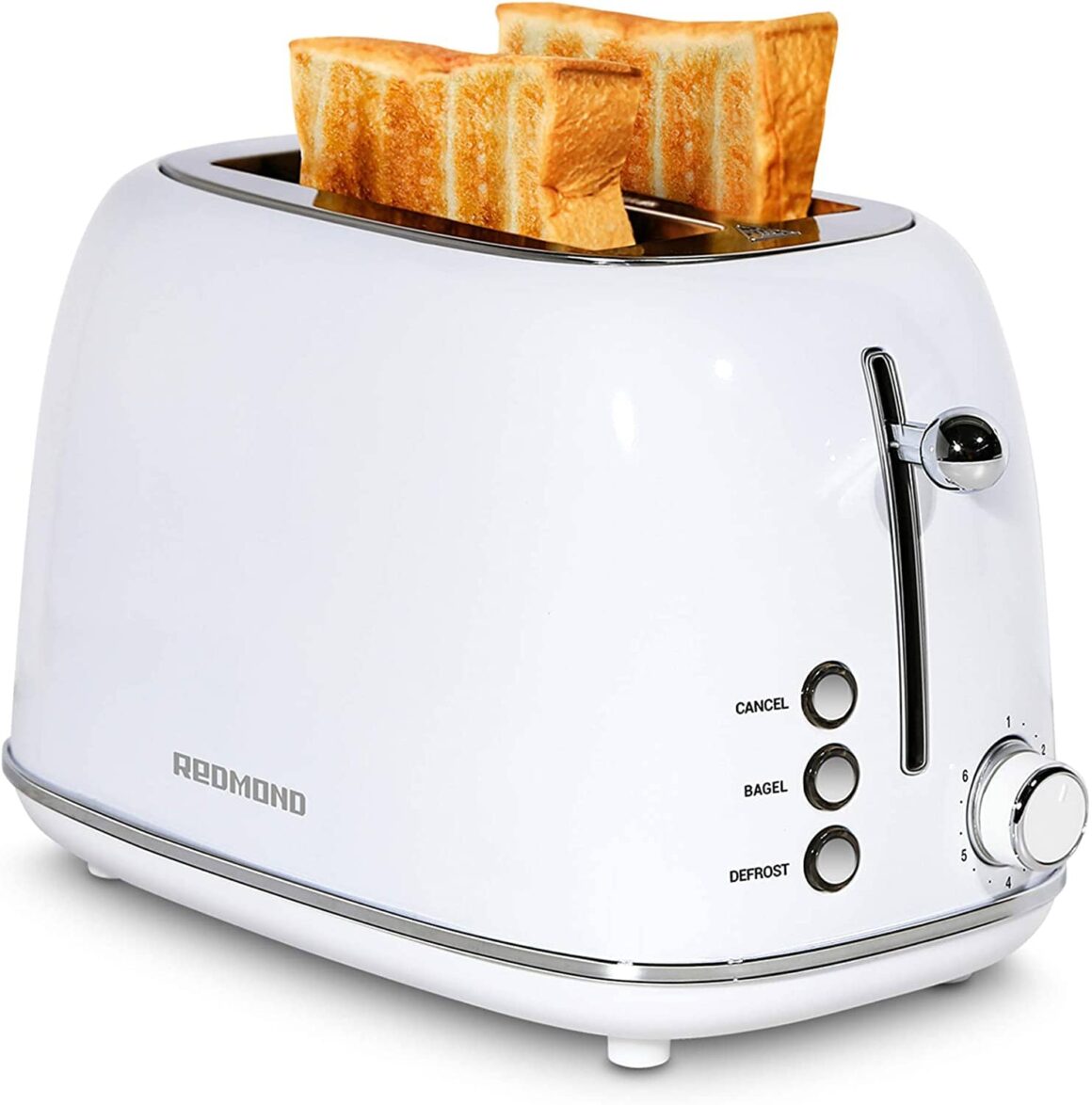 Compared to the Smeg retro toaster above, we personally prefer this toaster from Redmond. It still has a modern touch added to that retro style, especially the white or pink one. And so for us, it's even more handy if you decide to choose it as a present thanks to the balance between the vintage and the modern.
The price is way more reasonable and it sure doesn't hurt your wallet at all. The body stays cool during the entire event and it's a really thoughtful design to ensure safety if you have kids around. It also has two slots but 0,1 inch wider than Smeg. We love the way its pamphlet indicates how each browning number will toast, which helps us set the right speed accordingly. We played with different types of bread, English muffins, bagels and they all came out nice.
The only complaints from us for this toaster has something to do with the pop-up force and the noise. The pop-up force is strong and my toasts sometimes fly in the air and land on the countertop. It only happens a few times, and we're not sure if it goes the same way for other models. And then comes the high pitch during the toast. We would say it's the quietest toaster we've ever had, and sometimes the pitch panics my dog so we have to make sure he's not around when we need some toasts.
Pros:
I love the vintage retro look to it and would recommend it as a housewarming gift as you can choose amongst three colors available.
The toast slots are long enough for English muffins and bagels but not wider loaves of bread, so I had to cut off the edge crush to fit them in.
Cons:
The pop-up force is strong which lands the toast on the countertop sometimes.
The high pitch panics out dog several times and I always have to make sure he's not around when I use the toaster.
CUSINAID 4 Wide Slots Stainless Steel Toaster
Best Overall Toaster of 2021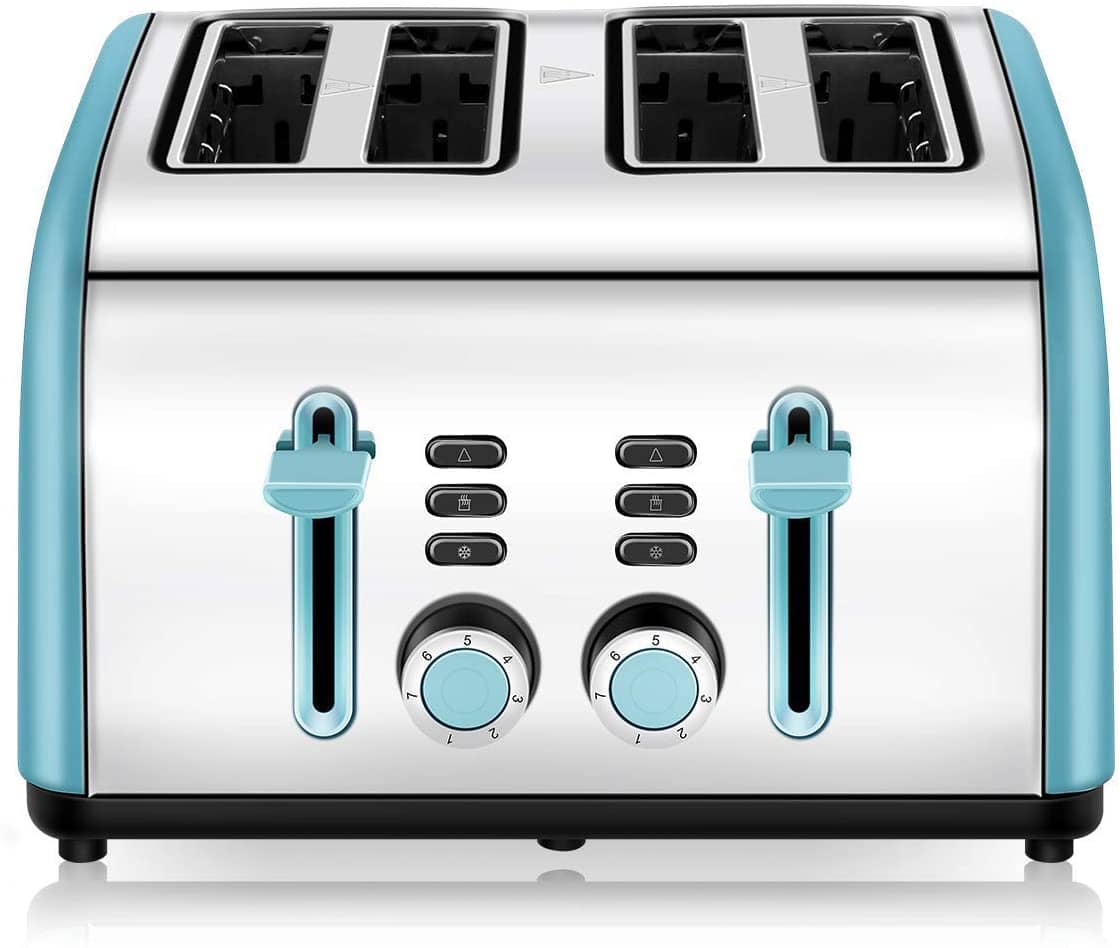 This Cuisinaid toaster provides all the basic settings a good toaster needs, especially the dual settings to tackle different toasts at a time. I love to see the Cancel/Stop button available right there so if you're in a rush, push the button and your breakfast is ready in no time.
The body is made of stainless steel with two removable crumb trays at the back. However, this toaster may require more effort to remove the crumb tray if the machine is plugged into the wall outlet right behind. So far it hasn't burned my toasts, and I don't have any issue with uneven toasts either, so this is another bonus from me.
The last thing I want to mention is that the numbers of the temperature knobs are hard to read, so some of you may even need to turn on the light or use a flashlight. Anyway, this Cuisinaid toaster is worth what I paid for!
Pros:
The colors provide a half-modern, half-retro feel to it.
Cord wrap storage makes no mess.
Dual independent control panels give us more control over each toast separately.
Cons:
The crumb trays are installed at the back of the toaster, which requires a little effort to take them out if it's plugged into the wall outlet behind.
The numbers on the temperature knobs are hard to read.
Dash Clear View Extra Wide Slot Toaster with Stainless Steel Accent
Best Precise Toaster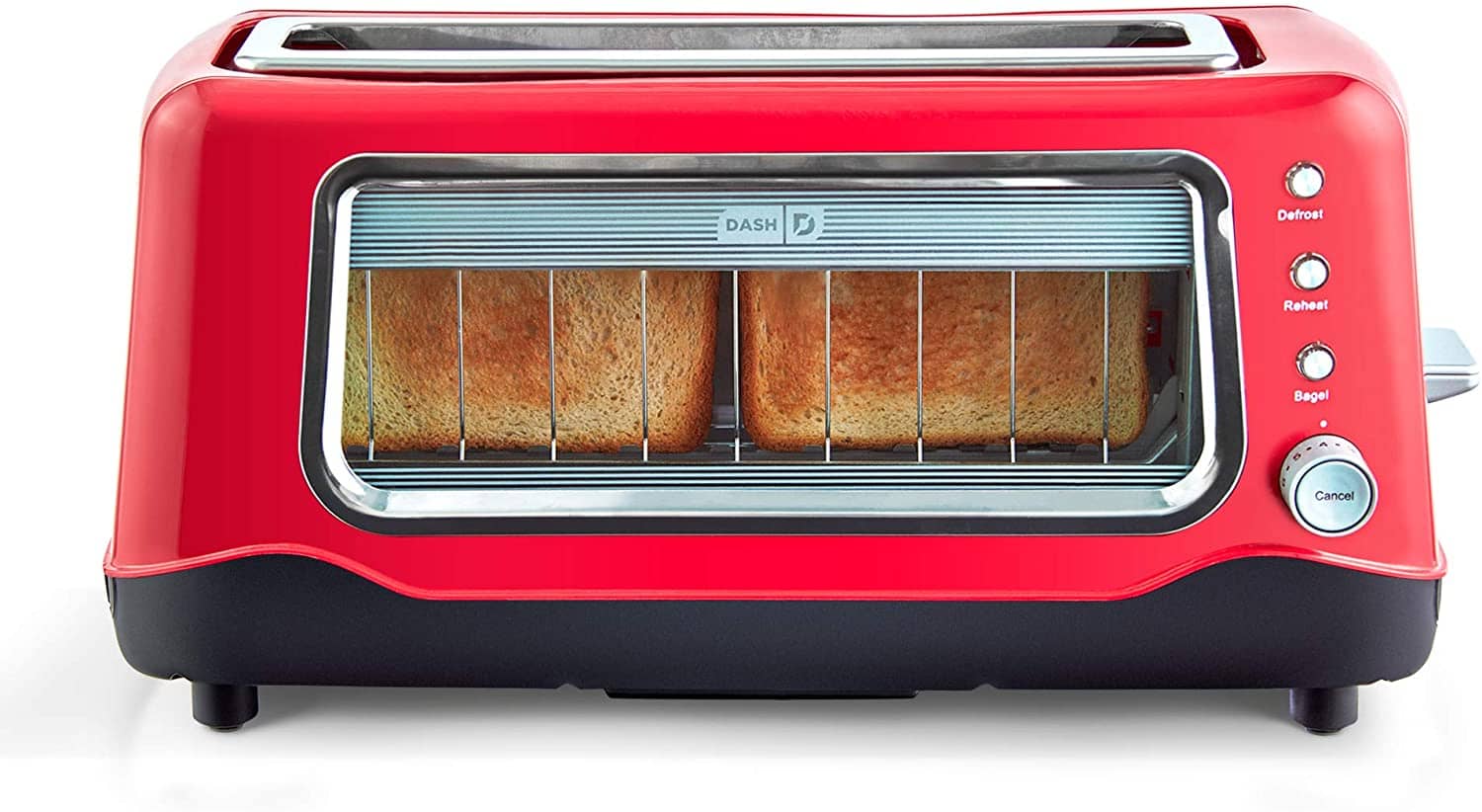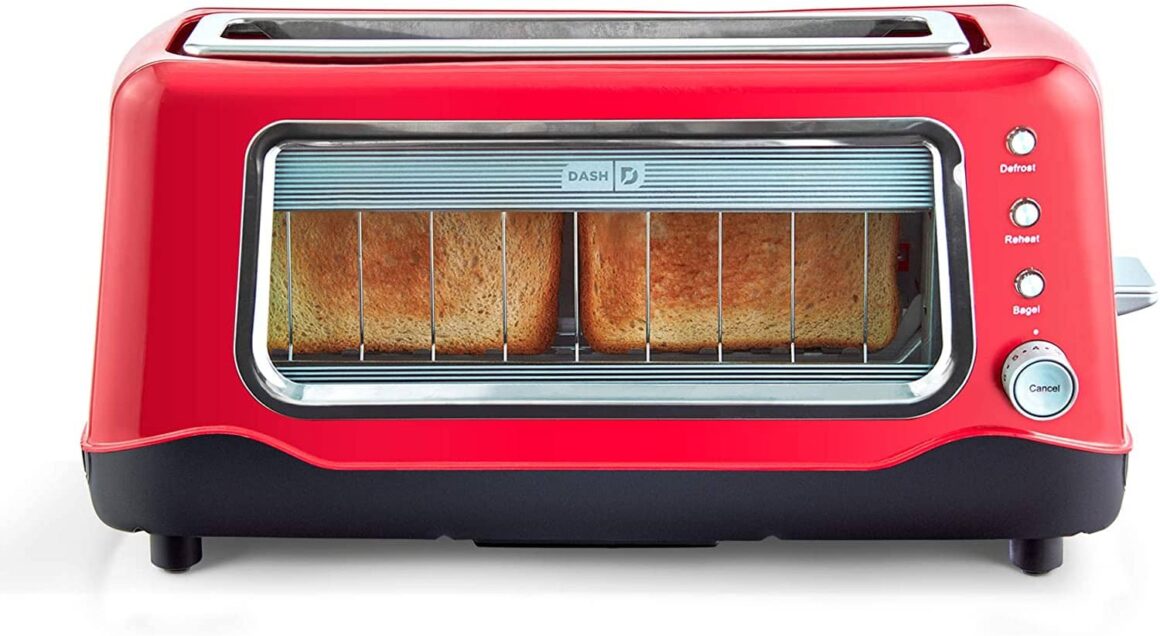 We love how Dash toaster identifies the pain point many customers have had and came out with this advanced function. The see-through window is just a simple touch that helps me keep track of the right browning level we want. What's even better is that the price is fair and you don't have to break the bank for this additional function.
When we first looked at the picture online we supposed it would eat up quite a bit of counter space, but it turned out to be compact. So overall, we give 5/5 for the solid look. At first, we was intimidated as it only has one slot and no Cancel button, while the Cuisinaid toaster has two slots with a Cancel button. However, if you look closer you would see that the Dash clear-view toaster is twice longer than Cuisinaid's, 50% cheaper with a clear-view window. In this case, we're on the side with Dash because the price and accurate toasting level are our priorities. If you're not a high-maintenance buyer, you would be happy when it toasts lighter on the side facing the window.
Pros:
A removable glass panel is built to slide out and wipe down giving a clear view.
Compact size takes up small counter space.
I love how it is available in five different colors, which allowed us to pick the right one that coordinates with our current kitchen design.
Cons:
It pops up with more enthusiasm and force than most of the others. Sometimes you will see your bread land directly on the plate. However, if you don't mind this humorous scenario then it won't be a big deal.
It toasts lighter on the side facing the window.
BREVO 2-Slice Extra Wide Slot Toaster for Bagel Breakfast with Brushed Stainless Steel
Best Toaster of 2021 for Bagels and Thick Breads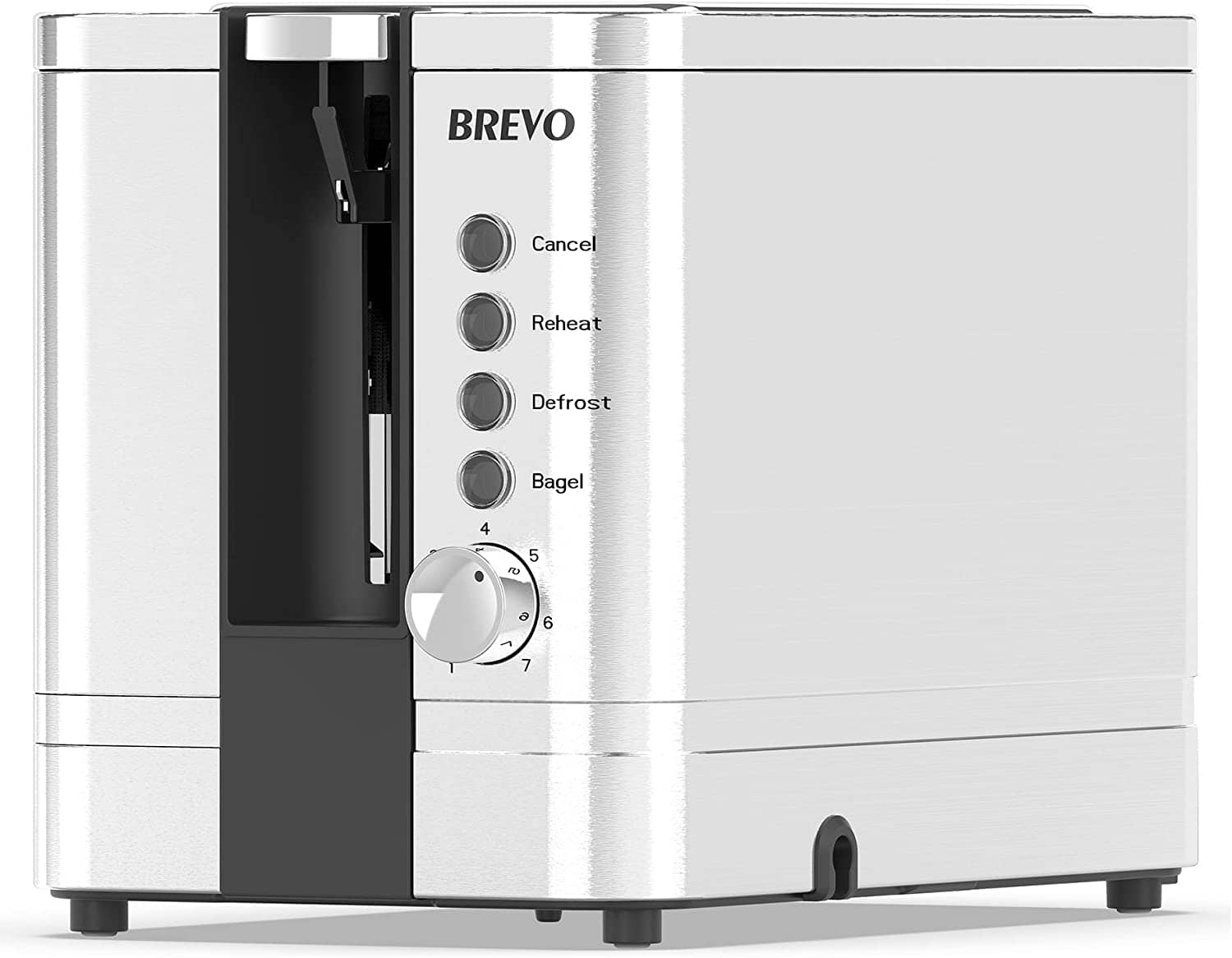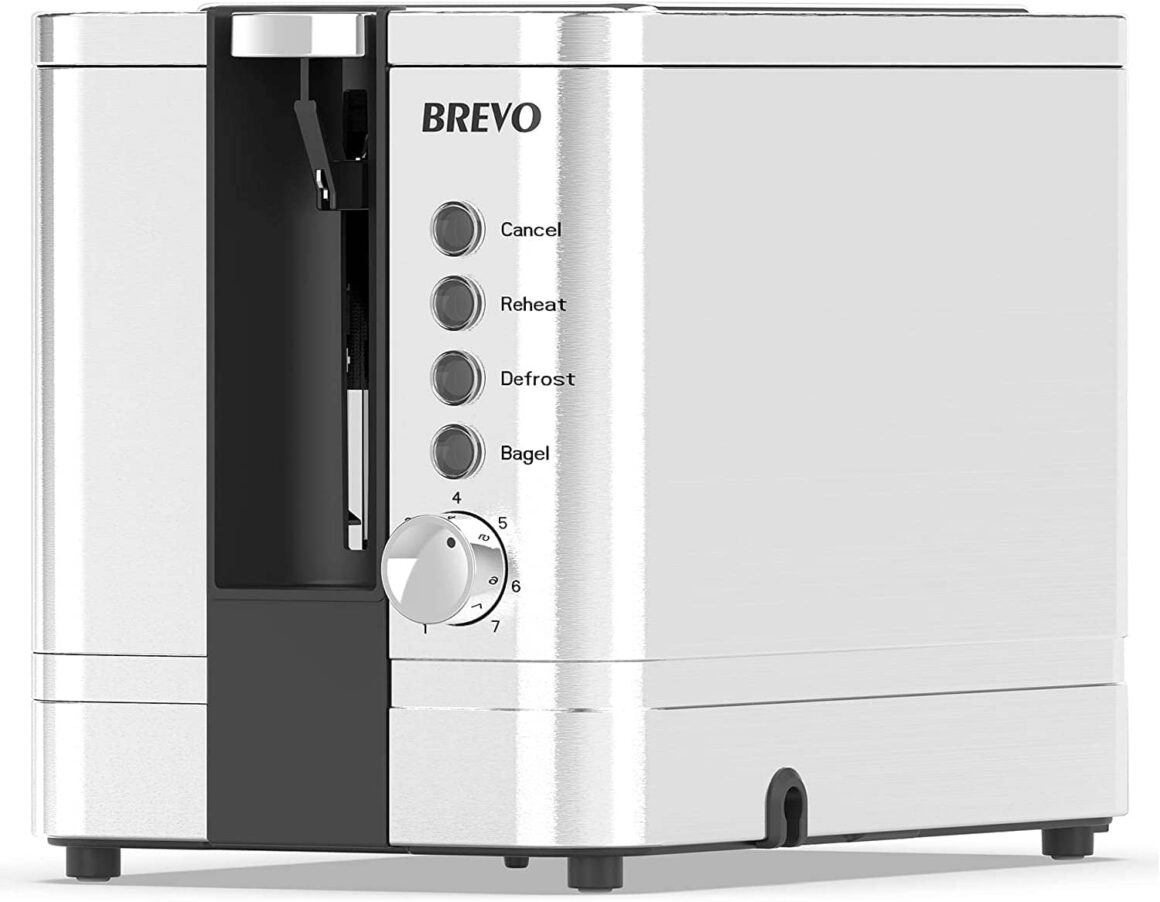 This Brevo toaster does look expensive and clean. We love the modern design that corresponds with most of the kitchens in many households today. It has nice lines and intricate details. Another plus that we don't see in other toasters is the brushed finish that doesn't show fingerprints. After unboxing, we let it run on a full cycle on the highest setting to eliminate all that odor of a new toaster and tested if the Bagel function works that well. It did! Only the cut side of the bagel was toasted while the other side was warm.
Our advice is to set it at four if you want a nice, warm bagel with the right amount of crispiness and you can hold it in your hand afterward. What could be improved is the lever. Some people have trouble with the lever getting stuck halfway through and for that reason only half their bread was toasted. We didn't encounter any problem with that until three months after the purchase, but a little jiggle worked it out.
Pros:
The sleek and modern toaster design creates a fancy corner for your kitchen.
The controls and settings are very well-built and don't seem to fall off or malfunction even when I try to manipulate them with a bit of force.
Cons:
The metal is thin, which makes it easy to be carried around but you don't want to drop anything heavy on it to avoid unwanted hollow marks.
The cord doesn't stow easily.
Kenmore Elite 4-Slice Auto-Lift Long Slot Toaster in Stainless Steel
Best Toaster of 2021 with Self-Lowering and Raise Check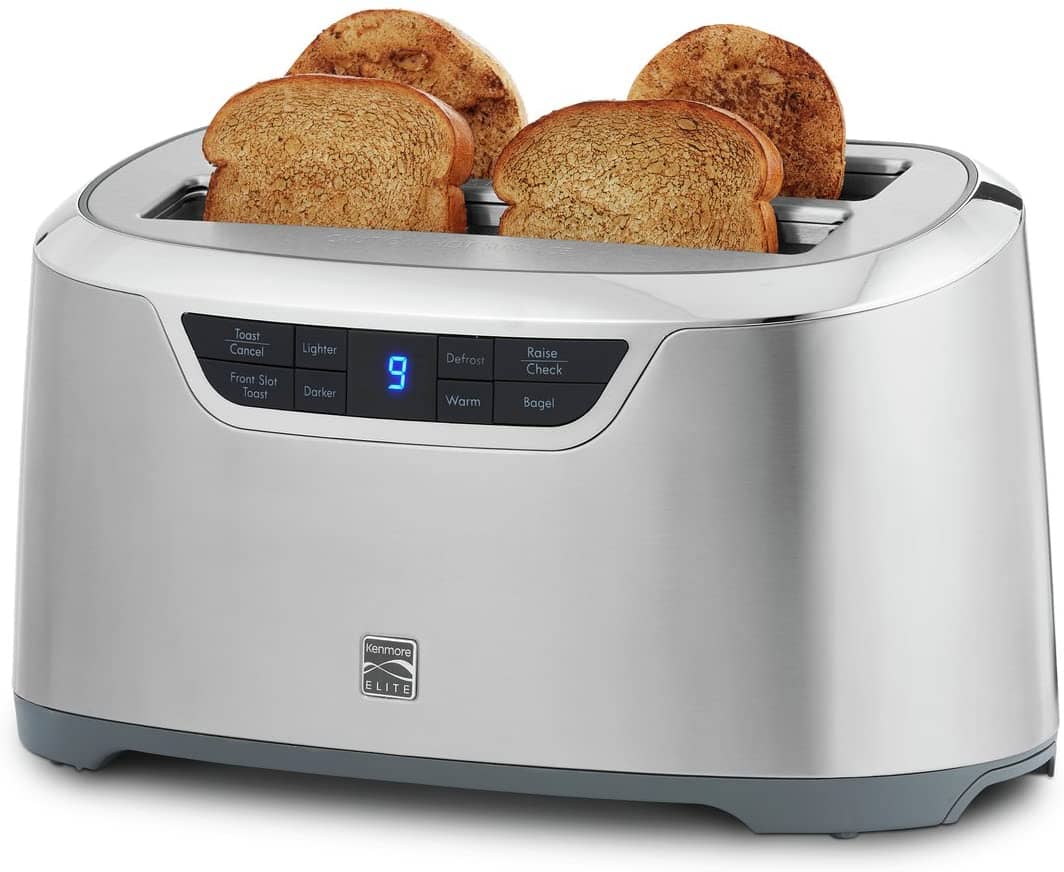 When we put Brevo and Kenmore on the weight, it's hard to decide which one we love the most. Technology-wise, Kenmore earns four extra points given the LED countdown timer, auto-lift, raise check, and self-lowering functionality. We barely see these functions developed for other toasters and that's why it won my heart.
Other than this, Kenmore offers up to nine browning levels while the Brevo above has seven. Both of them toast bagels pretty well and if you select the "Bagel" button, you get one side darker than the other. These advanced functionalities are excellent in improving the level of consistency. A brushed stainless steel surface is also constructed for both Kenmore and Brevo to eliminate smudges and fingerprints, which we love at both items.
However, this Kenmore toaster is two pounds heavier than the Brevo one and doesn't look as sleek and contemporary as Brevo. So to sum up, if you're after the design, lightweight, and basic appliance that toasts bagels well, Brevo is the right candidate. For those who value consistency, modern features, and hassle-free functionality, Kenmore is my recommendation.
Pros:
Self-lowering, raise check functionalities and self-adjusting bread guides are available.
The LED countdown timer keeps the toasting precise and consistent every time.
Retractable cord is easy to store and keeps the spice tidy.
Cons:
The crumb tray requires you to shake it to thoroughly remove crumbs.
The "finish toasting" signal alarm is loud that startled me quite a few times before I finally got used to it.
LOFTER Stainless Steel 2 Slice Bread Toaster
Best Toaster of 2021 with Warming Rack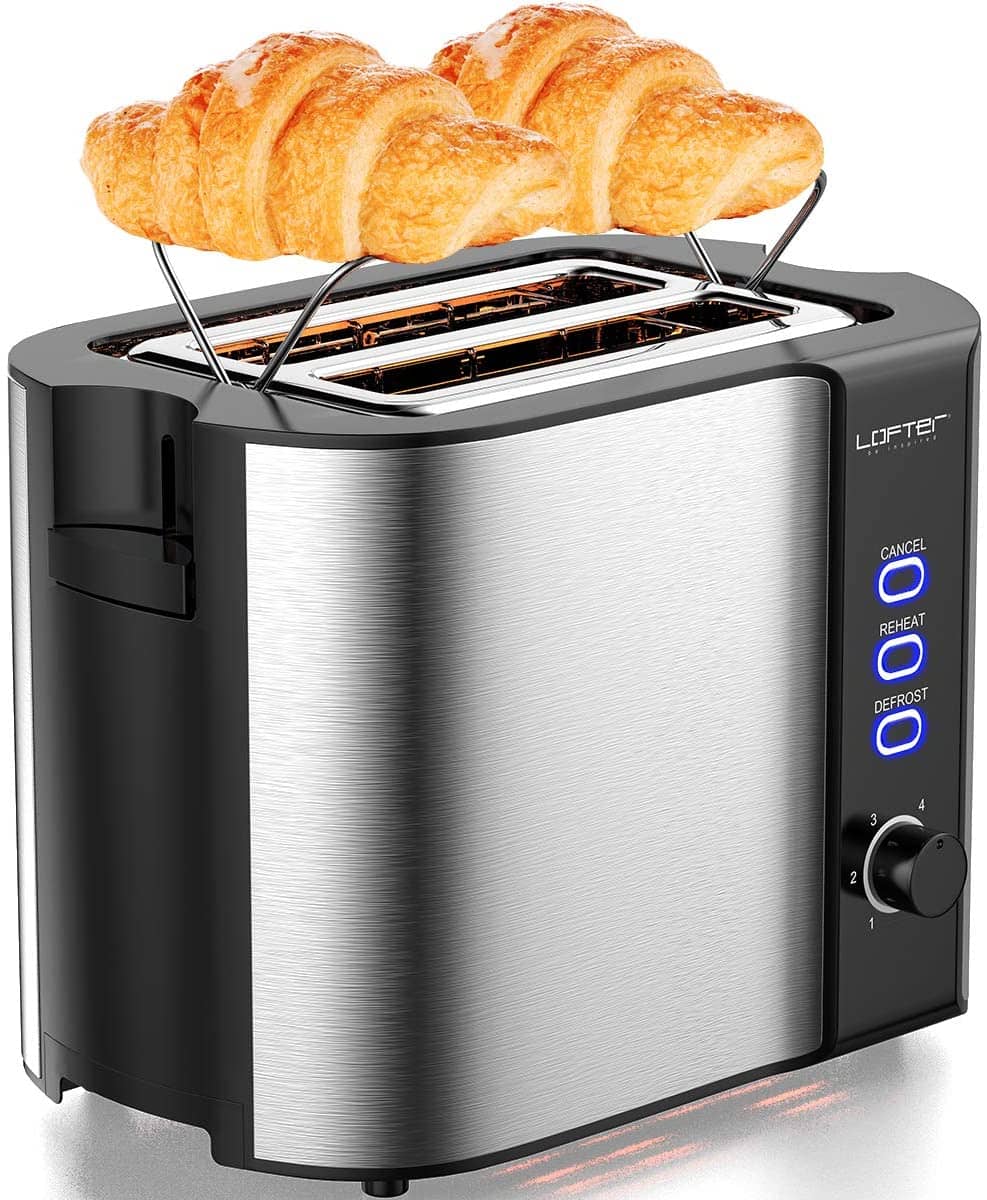 Easy to use at an affordable price, this Lofter toaster does a great job. After letting it run five times without toast after the purchase to erase all the toxic smells, we started using it. We must say that this is one of the best toasters in the mid-range tier you should consider.
The warming rack is really handy while many other toasters in the market don't have this function. A small detail about it we noticed is the crumb tray seems to be deeper than ones from the other toasters and so it catches all the crumbs and spills perfectly. It seems like everything about this Lofter is just right. It's efficient, budget-friendly, doesn't eat up much space and is also lightweight. There's nothing extravagant about it except for the warming rack to keep your bread ready to eat.
We've seen many reviews saying that it toasts unevenly. When we tested, it was not too bad to make me return it, but the toast burned on one side before it was done than the other side. This happened a few times but otherwise, it toasts just right for me.
Pros:
A multi-hole toaster design at the bottom allows the body to cool off fast.
Easy wrap-up cord storage is attached at the bottom.
Keep your toaster in place using its rubber feet base and avoid scratches on your countertop.
Cons:
The toast tends to burn on one side before it's done on the other side.
It doesn't let me cancel the toasting in mid-cycle.
Oster 2 Slice Bread and Bagel Toaster
Best Compact Toaster of 2021 for Small Space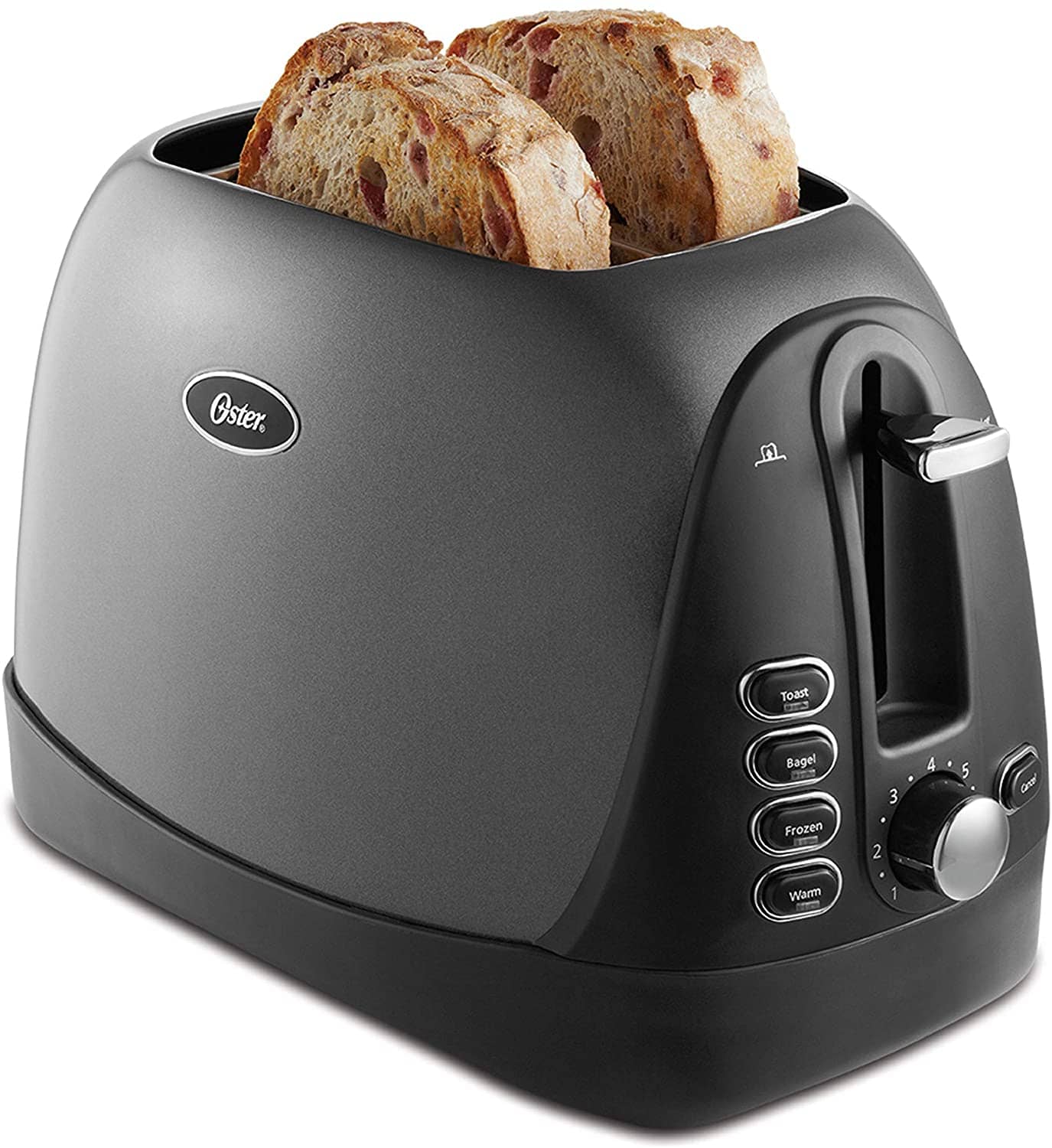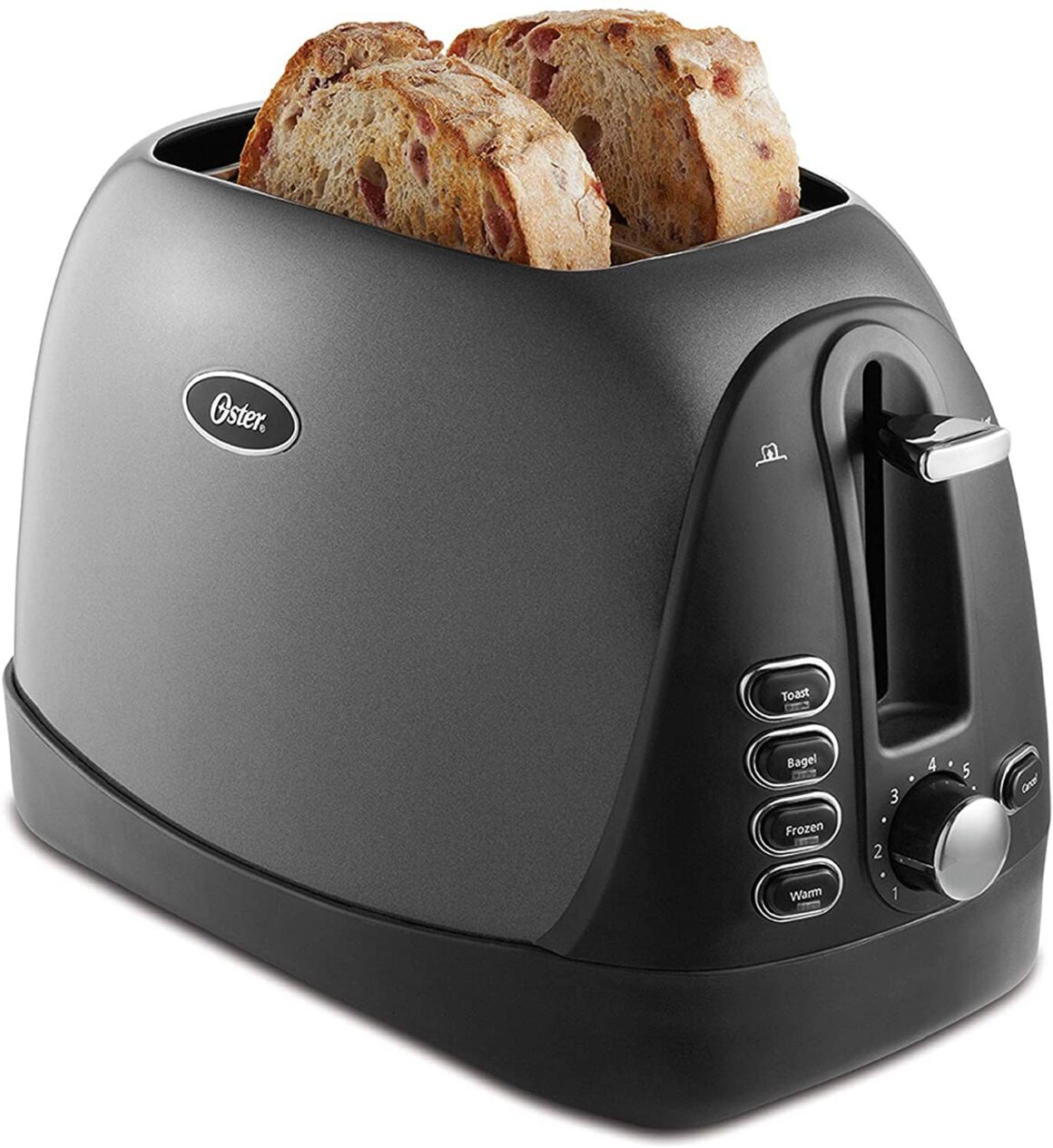 We like this one! It's a shining star in the scene of budget toasters. Small, lightweight, and easy to use with an advanced dual bread guide to accommodate different bread thicknesses. Honestly, we didn't expect much when buying a toaster around this price range. But to be fair, this Oster is fine. If you're not a high-maintenance customer, you live alone or on a shoestring, this one turns out to be very handy.
However, some drawbacks are hard to tell if you haven't used it personally. For us, the depth of the slots is pretty shallow compared to other toasters we've used before. So if you plan to plug some large bagels or Italian bread, expect it to stick out and not toast evenly. Finally, remember that it's not full-body stainless steel. It does look nice overall but the shell is made of metal and plastic.
This little Oster and the Lofter above can be considered at the same time. They both perform well as a good toaster should do. Unlike Lofter, this Oster item is way cheaper and not made of stainless steel. The metal shell will be heated during the event, so you want to be extra careful around it.
Pros:
The advanced dual bread guide automatically adjusts to accommodate different bread thicknesses.
Timeless and sleek toaster design that coordinates with every kitchen style.
This is a budget-friendly option given all the basic and advanced functions you ever need from a toaster.
Cons:
The "Bagel" function doesn't do the job as it always toasts both sides of my bagels, and there's no diagram to signal which side to face the bagel.
Most of the external cover of the toaster is metal, which may be heated at some parts during the toasting.
Revolution Cooking High-Speed 2-Slice Stainless Touchscreen Smart Toaster
Best Smart Toaster of 2021 for Tech-Savvy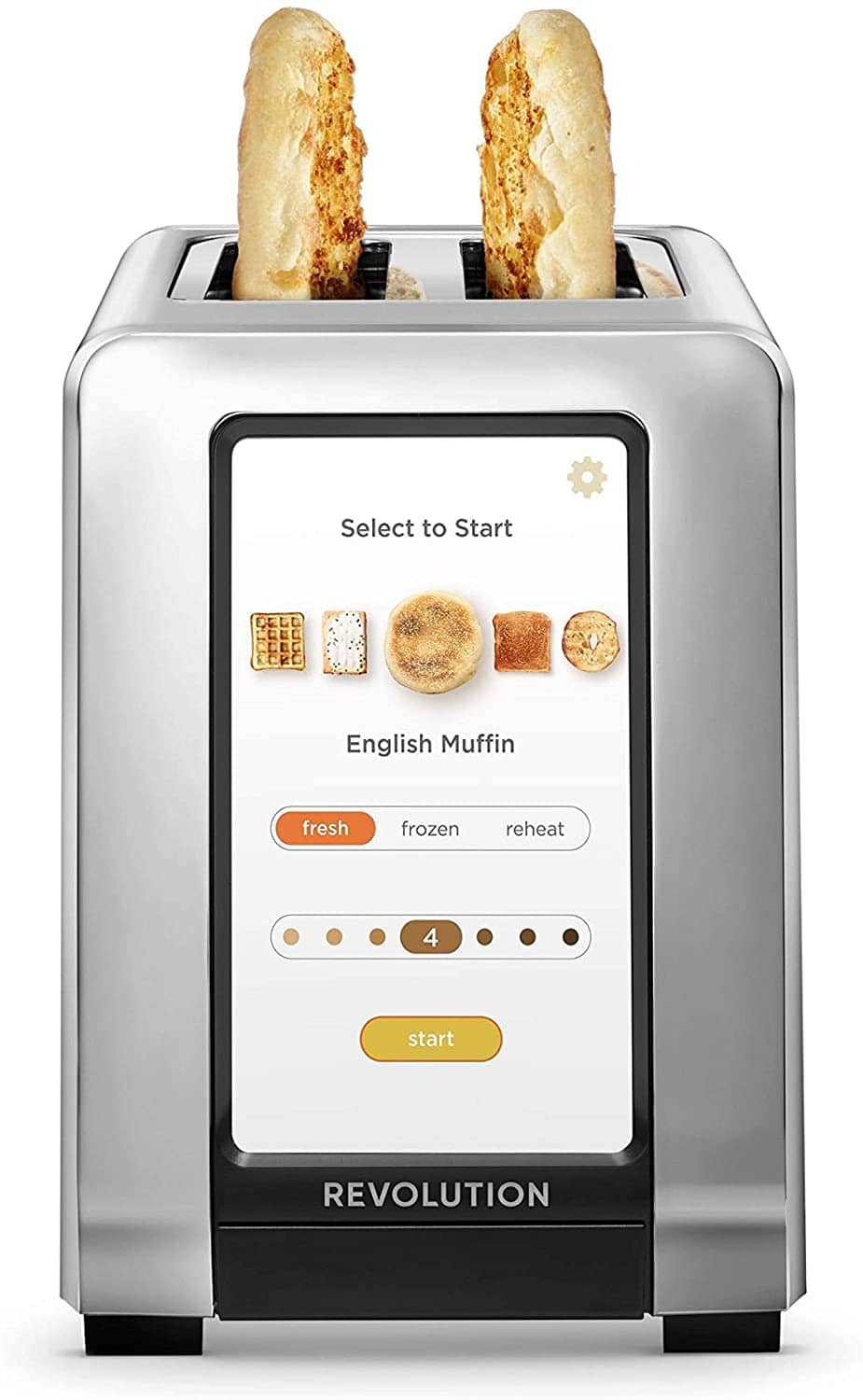 Save the best toaster for last, this Revolution touchscreen smart toaster has been taking the world by storm and we discovered it on Tiktok. This never-before-seen toaster is truly a revolution with a wide spectrum of smart tech and advanced functions involved. If money is not a problem, you can go for this one. It may take a little more effort to tackle the right settings, flavors, and pastry types before pressing start.
However, it does toast faster than a traditional, cheap toaster so it earns a plus from us for a busy morning. This is the most modern and top-notch appliance on this list. We love the countdown timer and also a nice kitchen clock showing up on the screen when not in use. Overall, it looks perfect on the countertop. And if you are looking for a fancy housewarming gift, this smart toaster is the top of the crop.
Some people we know are not fully satisfied with this smart toaster because the picture of the toast on the screen doesn't match the heat level setting when the toasts come out. On our side, we don't have any bad experiences with this machine.
Pros:
InstaGlow heating system ensures an even and fast browning process in no time.
Auto glide lowers and lifts to save our time for other daily tasks.
Sleek and innovative toaster design that instantly impressed our home guests.
It's catered to all types of pastries including bagels and English muffins, which is a top call to recommend our friends who like to play around with different pastries every now and then.
Cons:
It's heavier than many other toasters I tested, so don't expect to have something compact and lightweight to carry around.
$300 may sound ridiculous for a toaster for those who only need a quick slice of toast to get breakfast done.
After reading this you now know what is the best toaster, with the right bells and whistles, for your kitchen size so you can make some sweet golden brown toast.
If you're still in the hunt for practical, useful, and eye-pleasing appliances to stock up your kitchen, take a look at our collection of the best hand mixers right here! We carried a decent research to round up the best hand mixers for each type of user and budget.
Noms Magazine is a participant in the Amazon Services LLC Associates Program, an affiliate advertising program designed to provide a means for sites to earn advertising fees by advertising and linking to Amazon.com and Amazon.ca. Clicking and purchasing from the links helps support our publication and no extra cost is added to you
The following two tabs change content below.