Choosing the best hotels in Vancouver can be tricky for out-of-towners. There are so many options to choose from for just a few nights' stay. Each neighbourhood has its own charm and your greedy soul coming from within doesn't want to miss out on any site! So instead of fretting over which neighbourhood to stay in Vancouver, why not go straight ahead with the top-rated hotels for a pleasant and stylish stay?
Read on to reveal 10 best hotels in Vancouver to cut down your searching time!
1. JW Marriott Parq Vancouver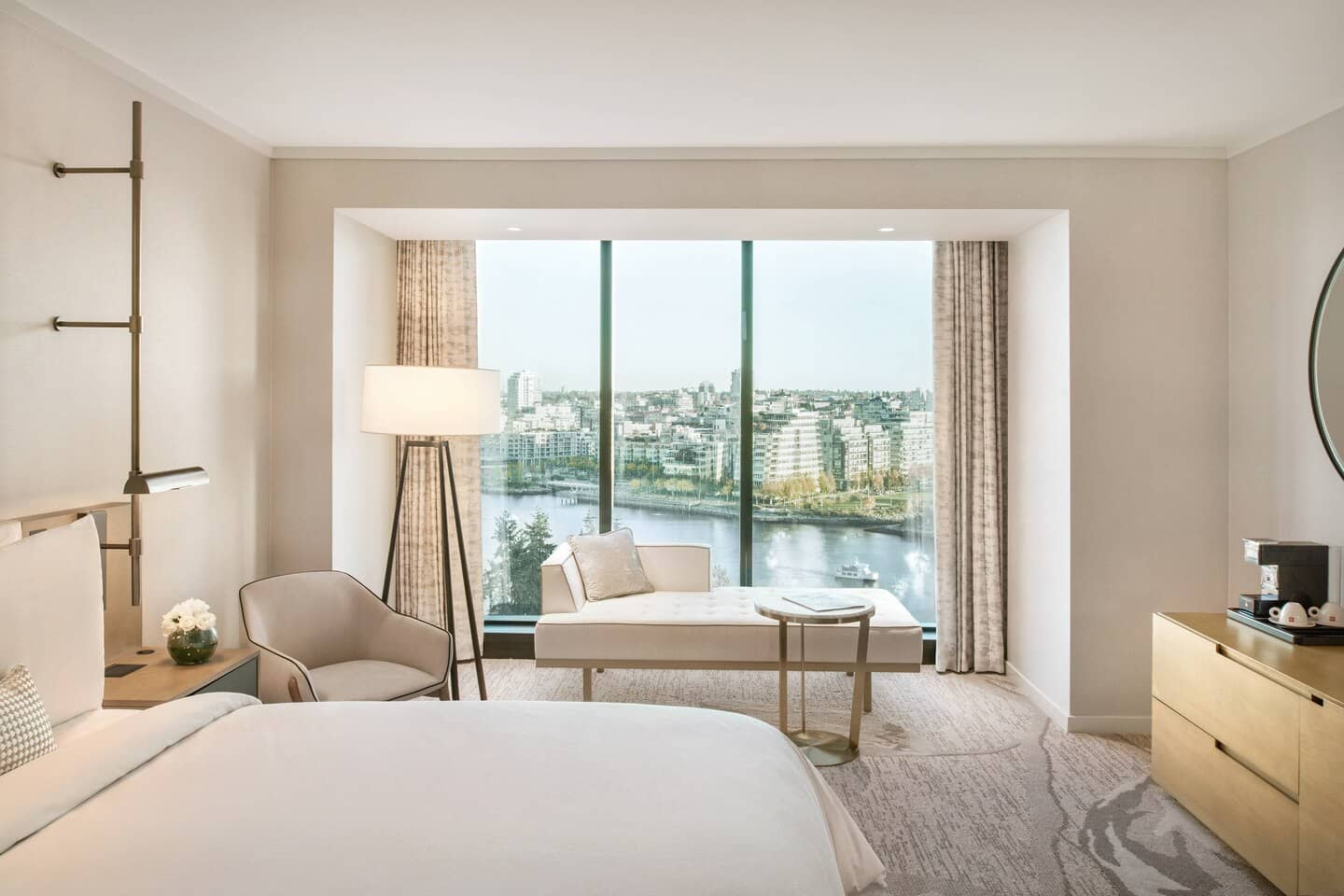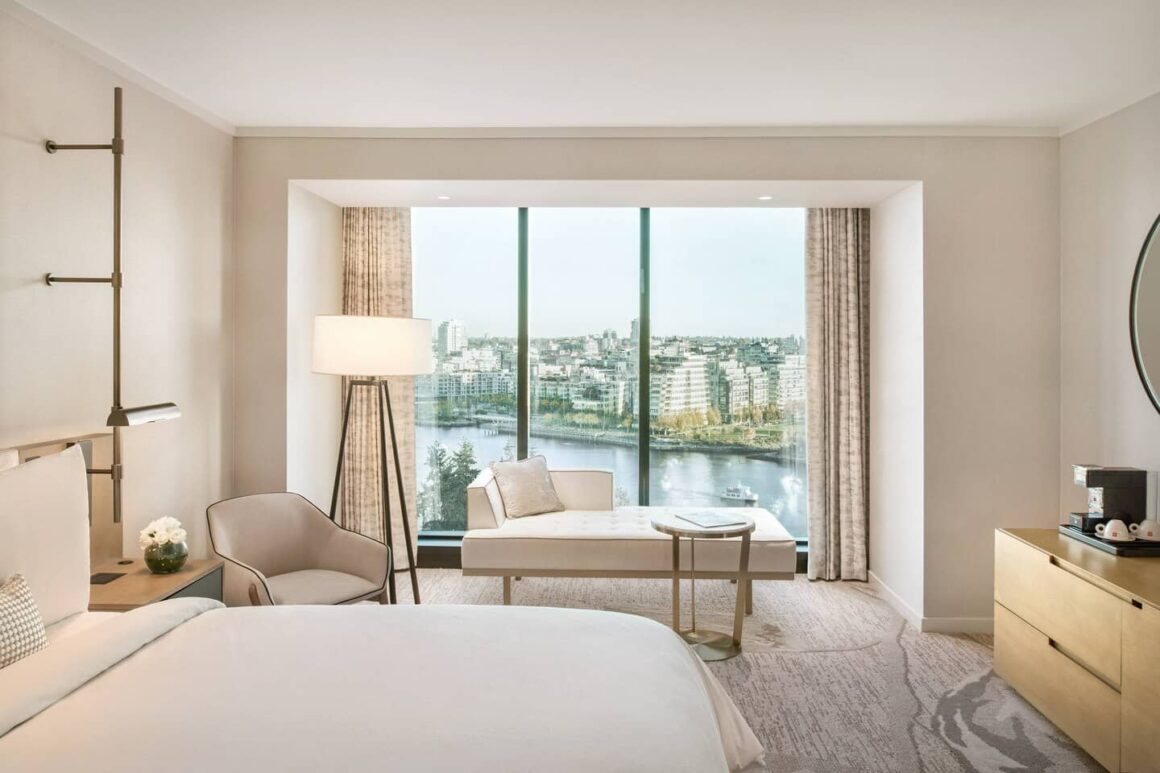 Being a new player in the game of Vancouver's hospitality industry doesn't stop JW Marriott Parq from being a star of its own. Opened in 2017, JW Marriott Parq Vancouver was recognized as British Columbia's Leading Business Hotel in 2020. This five-star hotel catches any by-passer's attention with a cutting-edge exterior design hiding a luxurious vibe of the lobby behind the entrance.
Standing vividly in the core of a vibrant entertainment district, JW Marriott Parq will spoil you with a wide range of options. Housed inside this majestic building is a collection of over 300 rooms and suites lining up along the gorgeous hallways, eight high-end restaurants, and a top-notch casino to serve as a premier entertainment destination.
One of the biggest appeals of JW Marriott Parq is the prime location it's set. There are a lot of parks with walking and jogging paths around Yaletown, False Creek and Canada Place, making it an easy spot for those who want to work out in a scenic view. All in all, JW Marriott Parq comes with a legitimate service that seamlessly meets all your needs!
Address: 39 Smithe St, Vancouver, BC V6B 0R3, Canada.
2. Fairmont Hotel Vancouver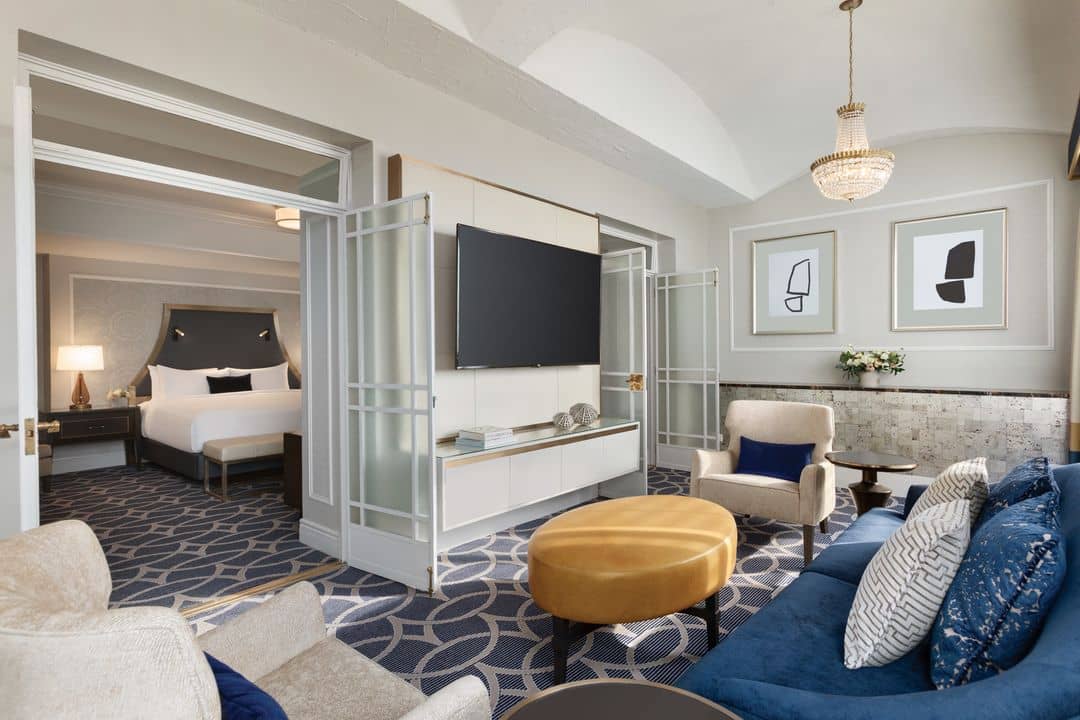 The historical structure of imposing stone exterior and rustic green copper roof reminds you of a lavish property stepping out of a movie. Rather than just a hotel, Fairmont ranks top on the list of the best hotels in Vancouver as a classic old Fairmont style.
The splendid view over Vancouver Art Gallery and proximity to Robson Street makes it worth every penny. Going strong for nearly a century, this heritage property remains undimmed by the test of time. Despite being a classic old building, Fairmont Hotel Vancouver doesn't lack an essential touch of modernism. Featuring Le Labo bathroom amenities and aesthetic décor, each room complements a heavenly style and a sense of opulence you would expect.
If you like to stay at a historical building in the heart of Vancouver, don't hesitate to pick Fairmont Hotel Vancouver and get ready to be amazed by this enduring piece of the city's history!
Address: 900 W Georgia St, Vancouver, BC V6C 2W6, Canada.
3. Fairmont Pacific Rim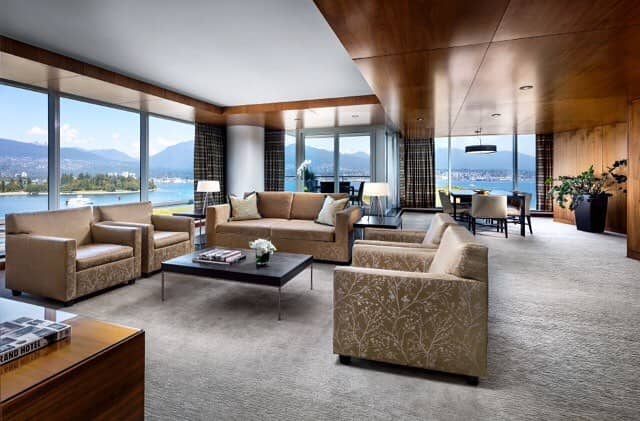 Announced as the World's Best Business Hotel by Condé Nast Traveler readers and the top hotel in Canada by Travel + Leisure, Fairmont Pacific Rim has more than just one reason to captivate your attention. The true charmer of Fairmont Pacific Rim comes from the tasteful ultramodern design. Showcasing beaded vintage couture and a splendid white marble flooring and pillars, this upscale hotel truly translates an opulent vibe. Its iconic lounge is one of the busiest after-hour spots in town and it houses the Botanist Restaurant, which has superb garden-esque aesthetics, cocktails and brunch.
Straight ahead, the heated outdoor pool takes an edge off an evening chill, adding in another spotlight that turns Fairmont Pacific Rim a next-level hotel of choice!
Address: 1038 Canada Pl, Vancouver, BC V6C 0B9, Canada.
4. Wedgewood Hotel & Spa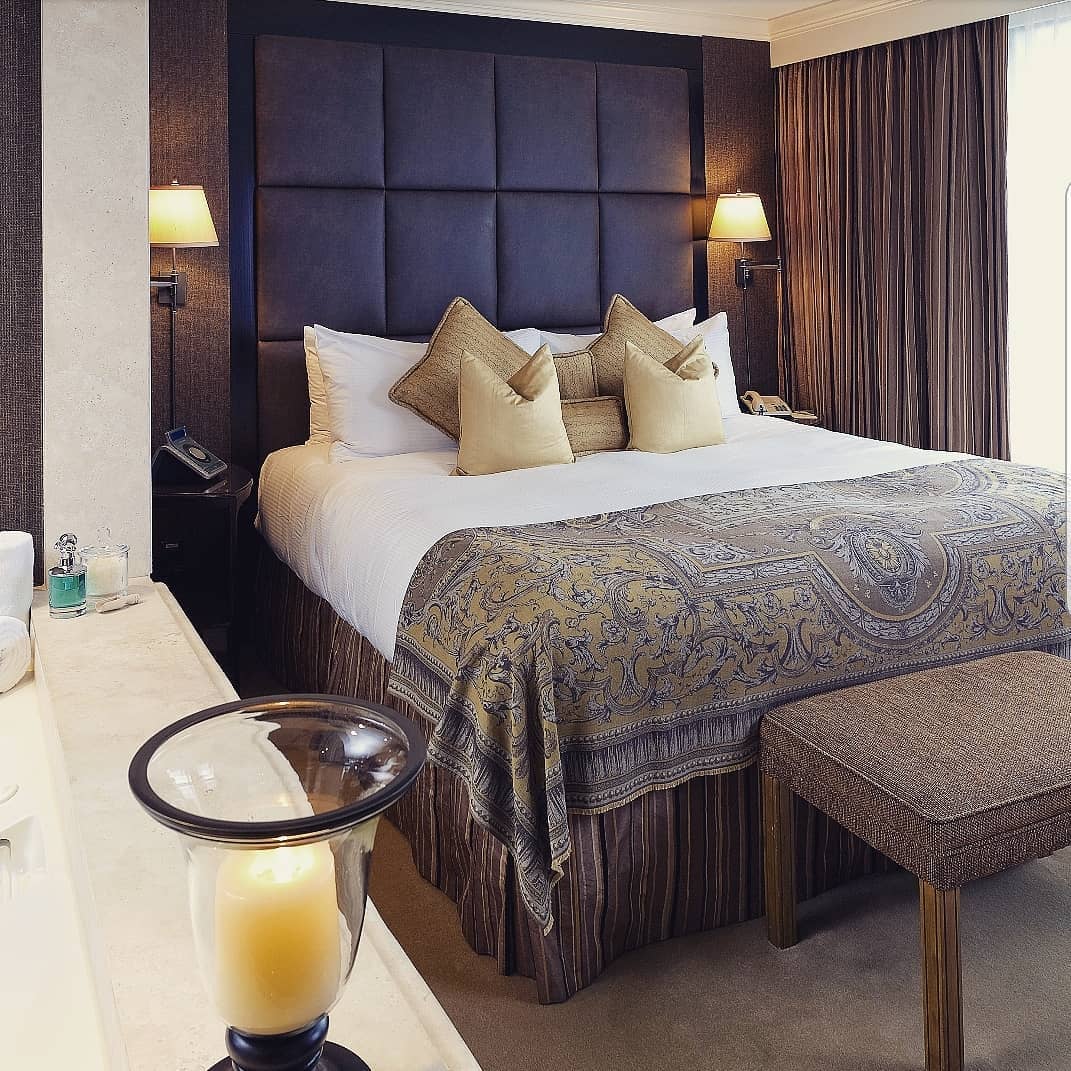 Landed at the fifth place on the list of the Best Hotels in Canada by the US News in 2020, Wedgewood is an award-winning hotel that sits amidst the gardens and waterfalls of the vibrant neighborhood of Robson Square. Inheriting a particular style of a European boutique hotel, Wedgewood Hotel & Spa welcomes you with a cozy, awe-inspiring lobby made of solid wood wainscoting.
The lobby puts on a contemplative setting with dark-shaded walls, furnishings, and floral-accent rug well lit up by the elaborate chandelier. The well-groomed doorman standing by the double entrance door gives a unique first impression to set it apart from other high-end equivalents. Wedgewood has its torch on the Bacchus Lounge where you can de-stress on a plush armchair by the roaring fire.
The heart of hospitality is truly complemented that allows you to embrace the air of civility and a sense of meticulousness from a standard Relais & Chateaux-affiliated hotel.
Address: 845 Hornby St, Vancouver, BC V6Z 1V1, Canada.
5. Delta Hotels Vancouver Downtown Suites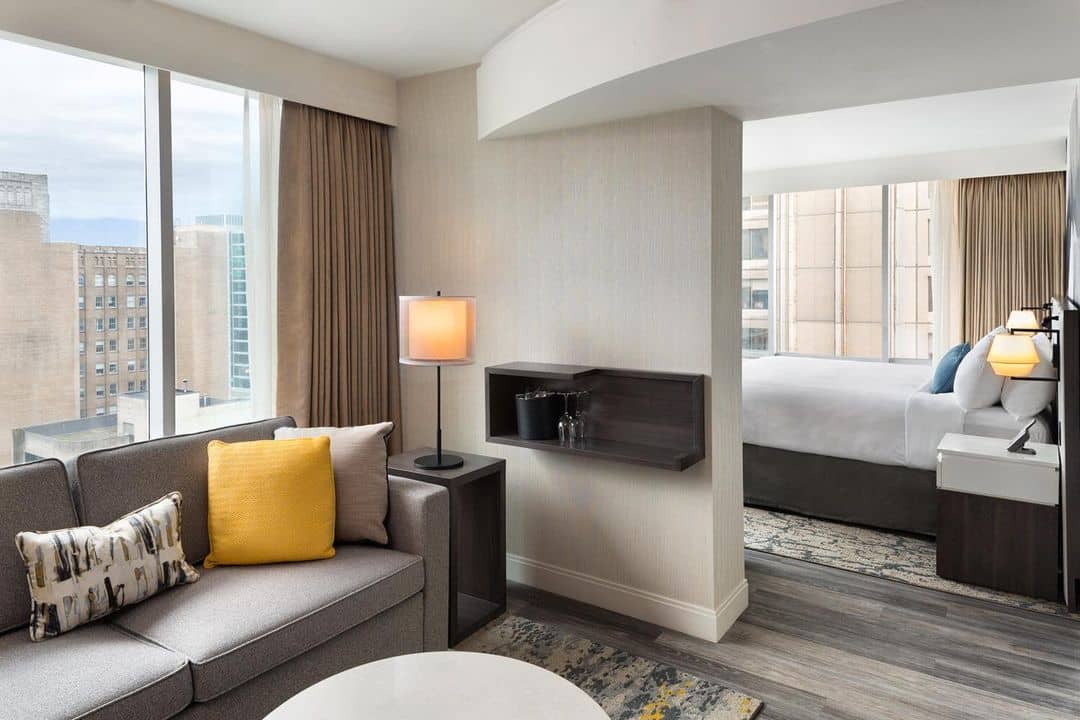 The central and convenient location is not enough to complement Delta Hotels. The wow factor is humbly translated by its posh and modern concept. This is one of a few accommodations in Vancouver to offer all-suite options. Each of the suites boasts a splendid bird eyes' view over the city skyline and harbor waves, which is a great magnetic field pulling you out of bed every morning. Its proximity to Yaletown and the historic Gastown means you can pick up a fun sightseeing day and engage in a vibrant nightlife without any hassle! Coming over for a business trip? You will love it even more when you can break a sweat at the 24-open fitness center after a long-hour meeting.
Address: 550 W Hastings St, Vancouver, BC V6B 1L6, Canada.
6. Shangri-La Hotel Vancouver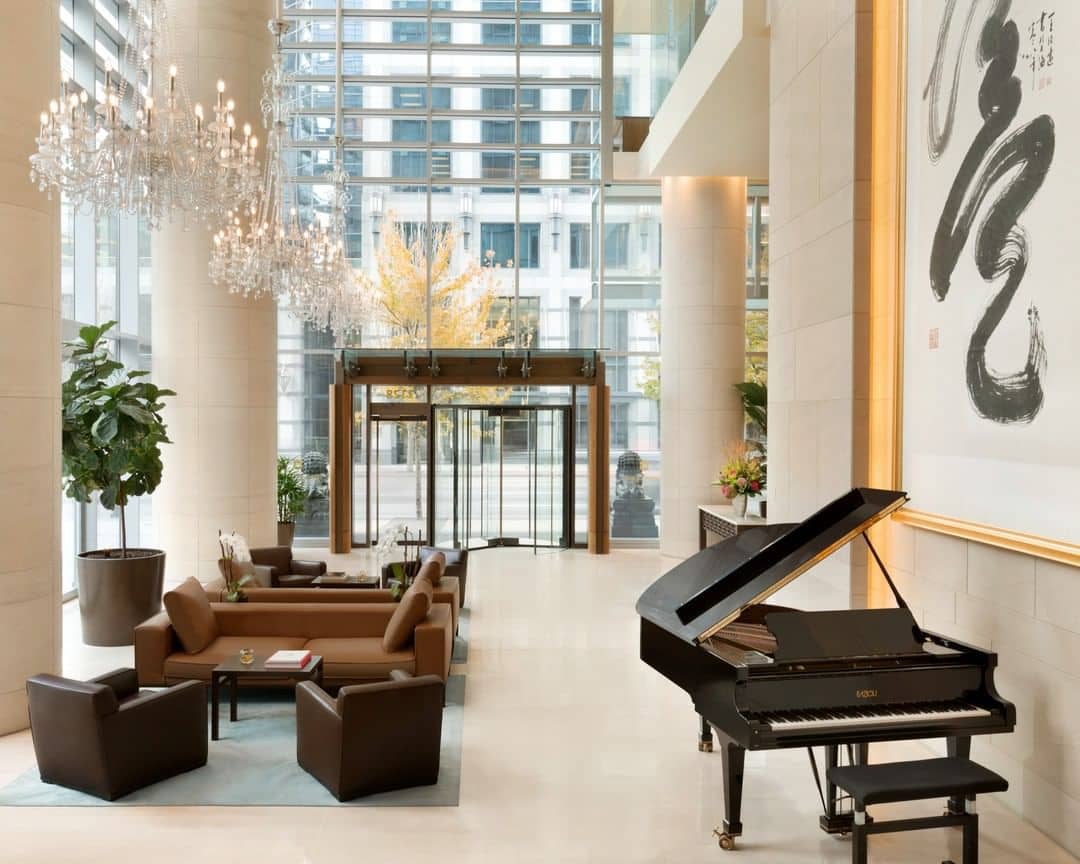 Speaking of where to stay in Vancouver, Shangi-La commonly lands on the top list of luxury accommodations in Vancouver. The urban sanctuary it's nestled in is top-notch and you cannot ask for a better location!
Reaching 660 feet, this gigantic building boasts 119 rooms and suites. All of the rooms come in a large footprint with the smallest availability encompassing more than 400 square feet of space. The floor-to-ceiling glass windows invite a solid amount of sunlight that pairs finely with leather furnishings in the lobby. Each room is accompanied by an expansive bathroom made of granite vanities and soaking tubs.
Shangri-La is a true charmer as a beige-and-brown palette player. This combo of colors provides the setting with an elegant, classic, and luxurious feeling. Embrace the sun to bike the Stanley Park Seawall or shop till you drop at the nearby Robson Street! Don't forget to delight in a special treatment at Chi – The Spa voted as Top 25 Spas in Canada by Canadian Spa & Wellness Awards in 2019!
Address: 1128 W Georgia St, Vancouver, BC V6E 0A8, Canada
7. The Westin Bayshore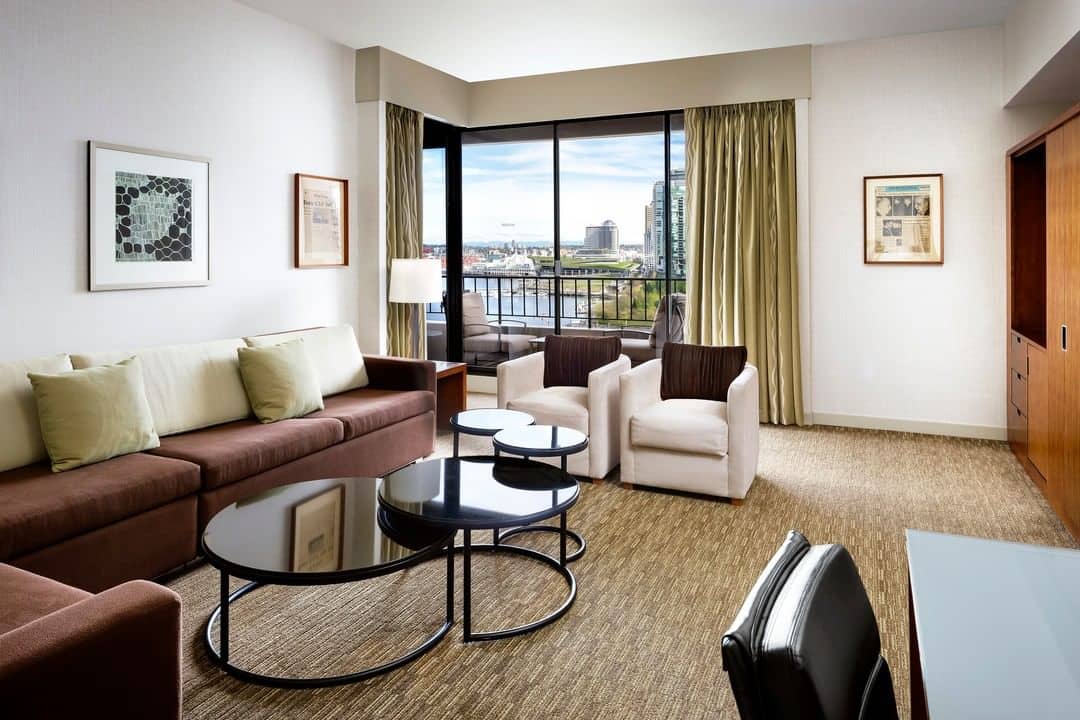 Dreaming of a waterfront dinner and waking up to the sunny harbor view every morning? Then Westin Bayshore Hotel is the answer to all your needs! Its glorious nautical theme is a big hit for families and business travelers seeking an exclusive stay in the heart of Vancouver. The prime location by the harbor gives Westin Bayshore one of the most scenic spots to enjoy the beauty of nature without commuting.
The hotel's lobby is a big hit if you're looking for a quaint architecture. It reminds you of a luxury cruise with patterned carpet and wood paneling adding a nice dose of luxury to the white accents. Getting worn out after a long meeting? It's time to tread water at the circular outdoor pool overlooking the harbor!
Address: 1601 Bayshore Dr., Vancouver, BC V6G 2V4, Canada.
8. L'Hermitage Hotel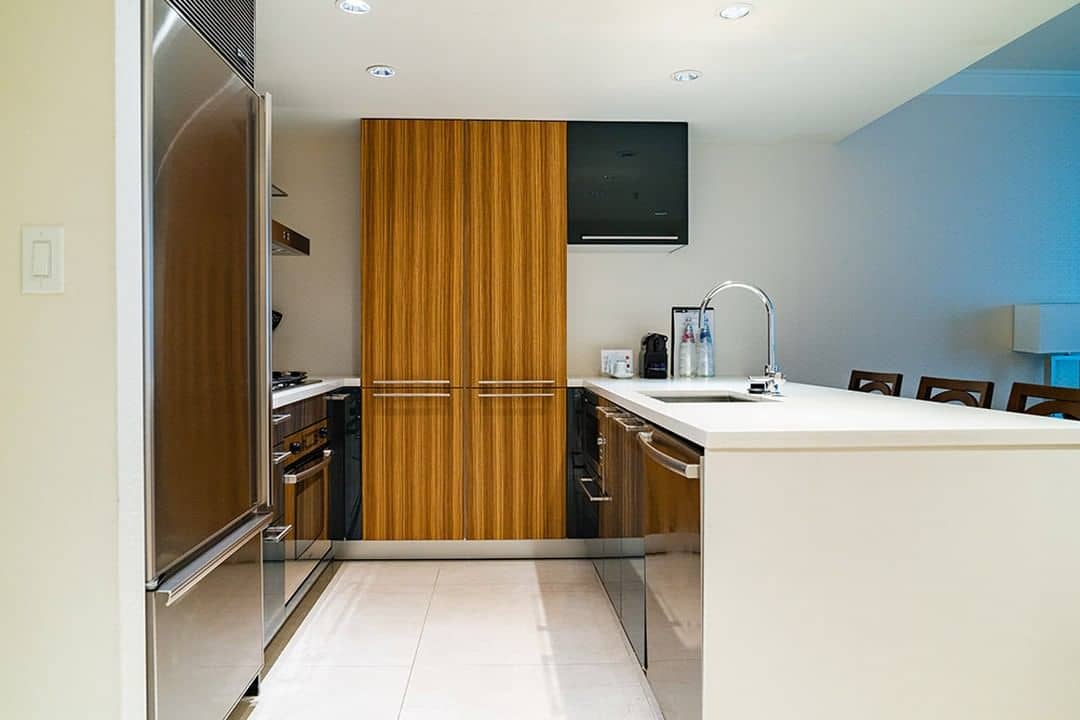 In the core of Vancouver's shopping and entertainment district of Robson Street lies a 60-room boutique property of L'Hermitage Hotel. Charming, elegant and cozy, L'Hermitage aims to bring you a home-away-from-home experience instead of a dramatic grandeur kind of stay.
The vogue décor turns L'Hermitage into the crux of an ultimate metropolitan getaway. If the gold armchairs and floor-to-ceiling bookshelves impress you with the grand appearance, then the marble floors and art-deco lighting system will finish it with a chic concept.
Whenever you wish to lounge around with your family, come over the on-site restaurant of L'Orangerie, take a sip of their exceptional high tea, munch on a British finger sandwich and call it a day!
Address: 788 Richards St, Vancouver, BC V6B 3A4, Canada.
9. The Burrard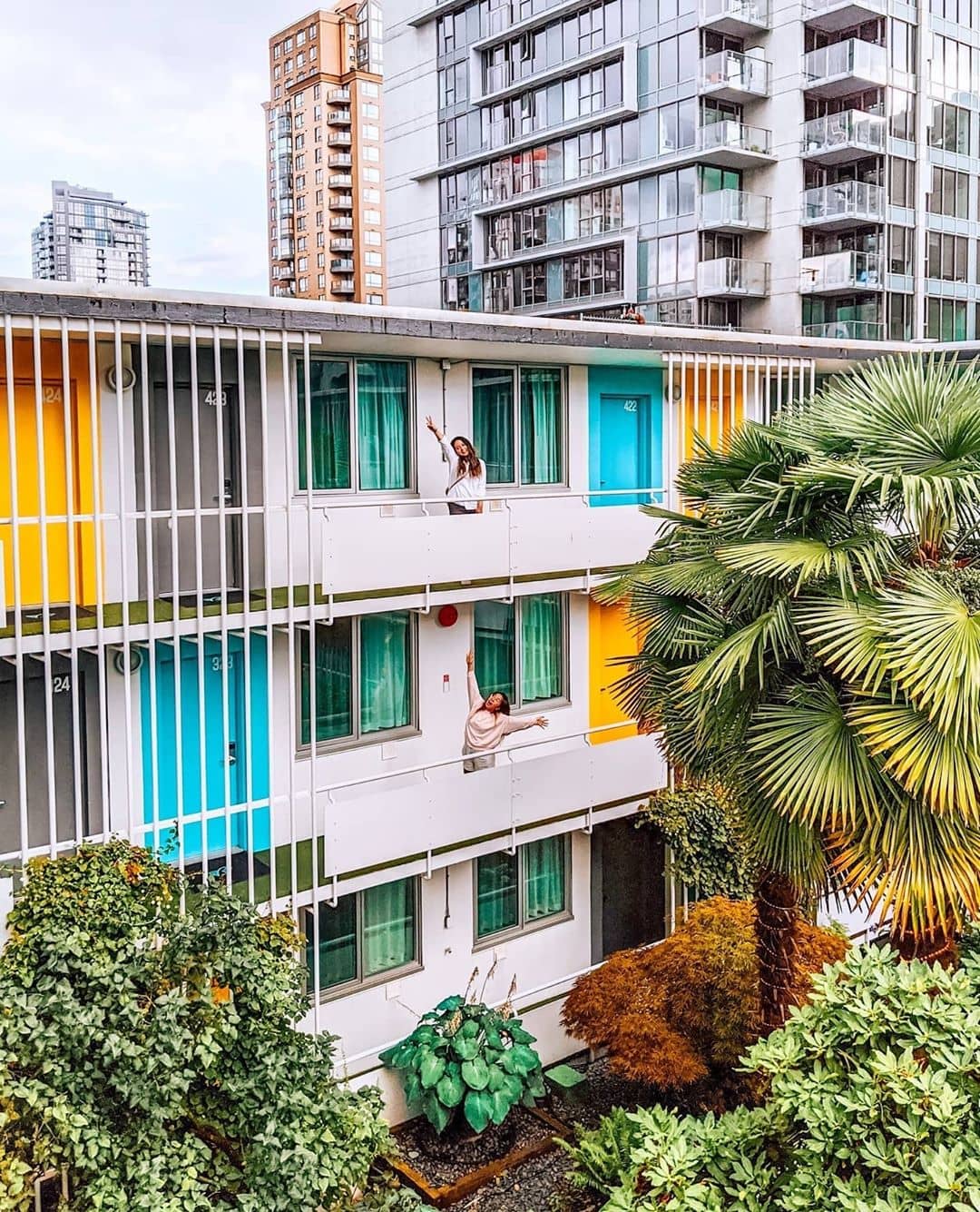 The Burrard has nothing to envy the heavyweights as you can't beat its prime location! Hugging a spacious oasis of palm-trees courtyard at its heart, this mid-range hotel speaks for a signature retro West Coast style. The vibrant and playful palette of green, blue and yellow are tastefully displayed along the corridors. Yaletown and Davie Street allows you to take on any shopping and dining opportunities.
Taking root as a 50s-era motel, The Burrard has undergone a multi-million-dollar renovation to bring your stay closer to an utter convenience of technology. You will appreciate the in-room casting service that lets you stream apps right from your little device! If you're looking for a budget-friendly hotel in Vancouver without missing out on a unique style, then The Burrard is the right place to go!
Address: 1100 Burrard St, Vancouver, BC V6Z 1Y7, Canada.
10. Hotel Blu Vancouver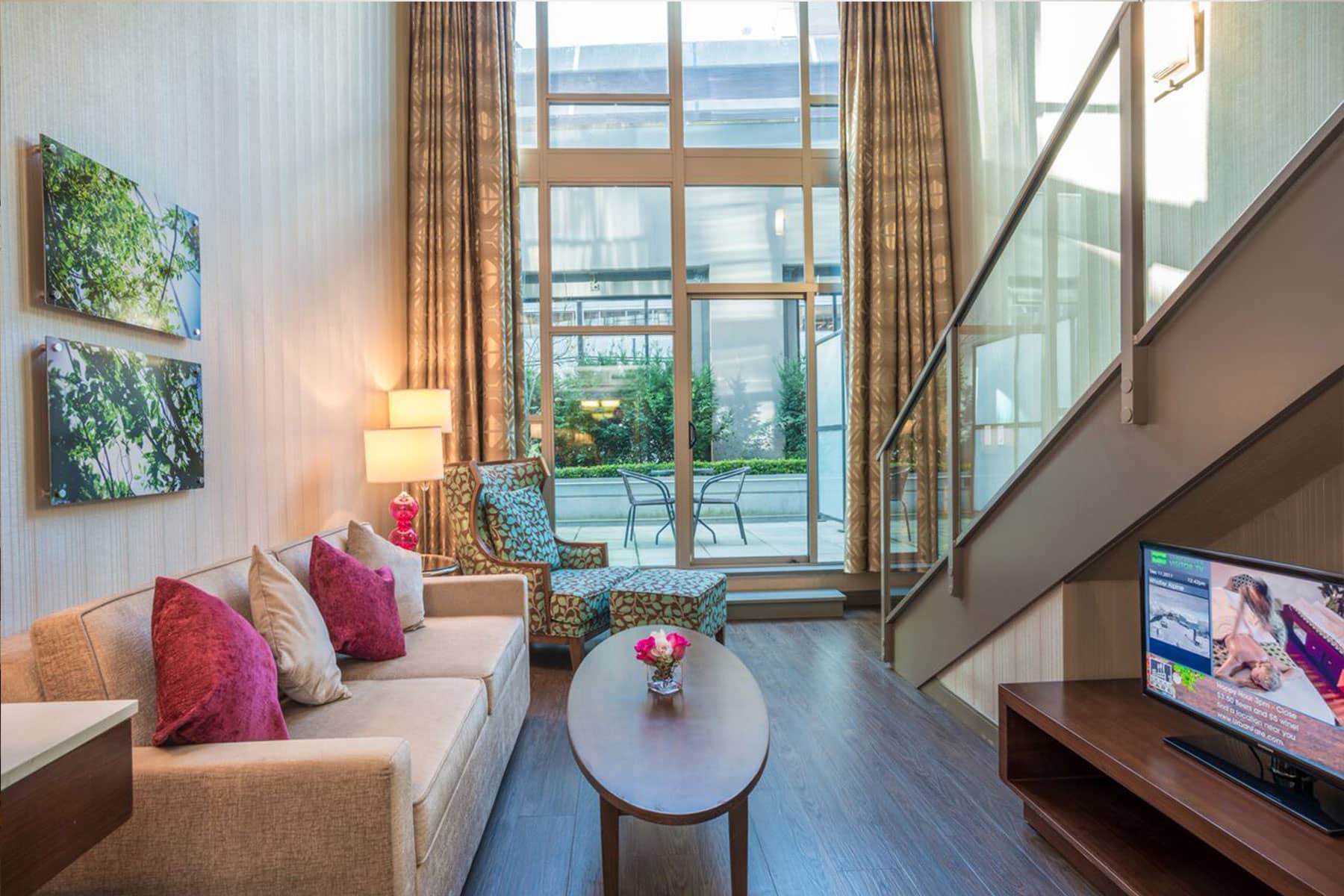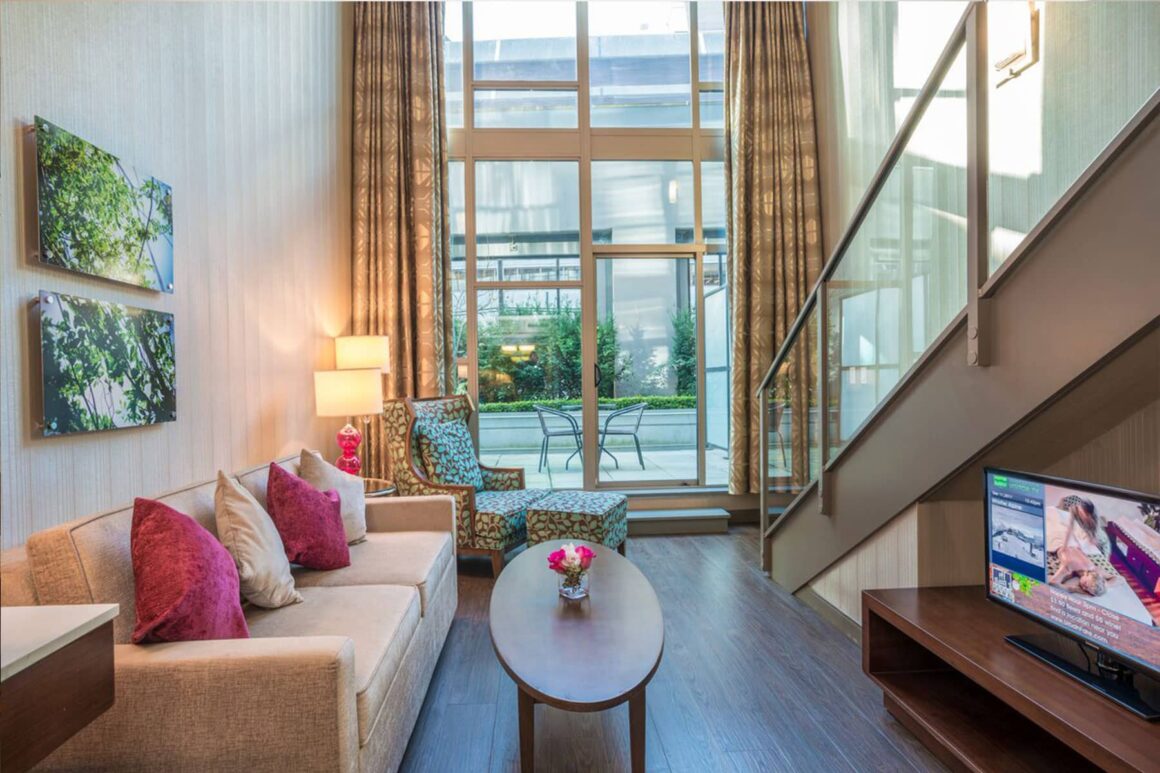 Carrying its torch on the tech-savvy amenities and sustainable practices, Hotel Blu is a game-changer in the hospitality industry when showing care for the environment. It features an eco-conscious zone as a plastic-free area combined with electric-car charging stations.
Each room is smartly stocked with tablets and high-tech entertainment systems. Modern as it is, the hotel doesn't limit itself from having a tasteful, chic décor. You will be greeted with a bustling and energetic vibe coming from the textured silver wallpaper and glossy black tiles. Both leisure and business travelers will find a pleasant refreshment from the aromatherapy humidifier. Given an excellent location by BC Place and Rogers Arena, Hotel Blu is a true definition of luxury and technology meeting sustainability!
Address: 177 Robson St, Vancouver, BC V6B 0N3, Canada.
Sitting on the fence about your final decision? Or are you just looking for something off the grid?
Why not take a look at these 10 coolest Airbnbs in British Columbia to spice up your holiday with a unique accommodation?
---
This page includes affiliate links where we get a small commission if you book with our links, but there is no extra cost to you. This helps support our website to create more guides for you.
The following two tabs change content below.
Latest posts by Noms Magazine (see all)