Buying the right juicer starts with intention and budget, but many people stop right there and forget other essential elements and working principles. That's a huge mistake! It's no biggie if you're professional. However, many people end up breaking the bank for the wrong product that they don't even need, or invest in one that's so hard to clean but doesn't juice well.
That is why this buyer's guide comes into play! I've worked with many different juicers from masticating to centrifugal, and went under its belly to discover what I like and dislike about each. Read on to reveal what I have to say!
6 Elements to Consider Before Buying a New Juicer
Masticating and centrifugal are the two most common types of juicers in the market. For me, choosing which type of juicer is boiled down to a few matters:
1. How Much Noise Can You bear?
A masticating juicer takes longer to squeeze and press your fruits. It uses a slowly rotating screw to crush the pulp. Accordingly, this slow turning speed generates a quiet action. Meanwhile, centrifugals have spinning blades that spin against a mesh filter to squeeze the juice out of the pulp.
It takes just a second to complete the job and therefore the machine produces a fair amount of noise.
2. How Long Can You Wait?
As mentioned, masticating works slower and it takes around five seconds or more to crush the fruits and spill the pulp outside a round portal. In contrast, a centrifugal juicer only needs less than a second to separate juice and pulp into two containers.
However, if you are willing to spare a couple of minutes more in exchange for an intact amount of nutrition for your customers or family, I think it's totally worth it to get a masticating juicer!
3. How Much Nutrient Is Left in the Juice?
Once again, a masticating juicer earns an extra point in this category. A slow rotating speed ensures that all the juice and nutrition are preserved. Meanwhile, a centrifugal juicer is a speedy mechanism and too much force is involved in the working principle. Therefore, you should expect that a fair bit of nutrition is still attached to the pulp and sent to a separated container and goes to waste.
Given all things considered, a masticating juicer earns a better review thanks to an efficient way of breaking down the plant fibers.
4. How Much Are You Willing to Invest in a Juicer?
Out of the two, centrifugal juice is the most affordable. Yes, it's very fast but lightning speed is also the major downside of this machine. The speed results in more noise and creates bubbles, which reduces the authentic flavor of the juice itself. For a masticating juicer, it performs very well with both soft and hard fruits with great content of nutrition being preserved.
Moreover, you barely have any problem with the noise when working with a masticating juicer. And for that reason, a masticating juicer is priced way higher than a centrifugal one. If you look closer at my list below, the best centrifugal juicers fall into the $80 – $150 range, while masticating juicers are priced somewhere between $200 – $1500.
5. Vegetables, Greens, or Fruits?
The next big question to put into consideration is what type of ingredients you're working with regularly. Apparently, we all need one that can tackle all ingredients. At the end of the day, we don't really want to keep two different types of juicers at the same time. However, you've gotta remember that each type of machine is targeted to a specific ingredient.
A masticating juicer works best with leafy greens and hard veggies. If that's what I juice most of the time, I'd invest in a masticating juicer. Otherwise, a low-cost centrifugal is ideal for soft, high-juice ingredients.
6. Feed Chute Size
The capacity of a feed chute is not the most important matter but it also comes into play since you need to know how big the cuts should be. Most centrifugal juicers have a large feed chute that can eat half of the whole fruit. On the other side, a masticating juicer has a smaller feed chute to prevent overfeeding. This means a large piece of apple is likely to clog the screw from rotating.
My recommended size for a centrifugal chute size is three inches and two inches for a masticating juicer.
Recommendations for the Best Juicers that Suit You the Most
Best Electric Citrus Press Juicer: Cuisinart CCJ-500 Pulp Control Citrus Juicer
My favorite electrical citrus press juicer to deal with orange, lime and lemon.
Best Budget-Friendly Centrifugal Juicer: Hamilton Beach Premium Juicer Machine
This is the coolest entry-level centrifugal for beginners to invest at low cost.
Best overall Centrifugal Juicer: Breville BJE200XL Juice Fountain Compact Centrifugal Juicer
An easy-to-use and durable centrifugal juicer you can invest under $100.
Best Entry-Level Masticating Juicer: IKICH Juicer Machines 2 Speed Slow Masticating Juicer
This is the best low-cost masticating juicer you can bring home.
Best High-Performance Centrifugal Juicer with Heavy-Grade Polymer Construction: Breville JE98XL Juice Fountain Plus Centrifugal Juicer
JE98XL is a higher-end centrifugal model compared to Breville BJE200XL.
Best Die-Cast Metal Centrifugal Juicer: Breville 800JEXL Juice Fountain Elite Centrifugal Juicer
This is my favorite centrifugal juicer made of die-cast metal to prolong its shelf life.
Best Slow Vertical Auger Juicer with Entry-Level Price: Hurom HP Slow Juicer
Hurom HP is always my go-to vertical auger juicer.
Best Slow Vertical Auger Juicer with Large Feeding Chute: Kuvings Whole Slow Juicer EVO820GM
One of the top high-end vertical auger models that eats a whole fruit with a large feeding chute.
Best Slow Juicer with Twin Gears: Tribest GSE-5050 Greenstar Elite, Cold Press Complete Masticating Slow Juicer with Jumbo Twin Gears
This is the highest-performance on the list with a twin-gear mechanism.
Best Manual Citrus Press Juicer: Zulay Premium Quality Metal Lemon Lime Squeezer – Manual Citrus Press Juicer
A sturdy, easy to use manual squeezer to juice lemons and limes.
Detailed Reviews of Ten Best Juicers Available on Amazon
1. Cuisinart CCJ-500 Pulp Control Citrus Juicer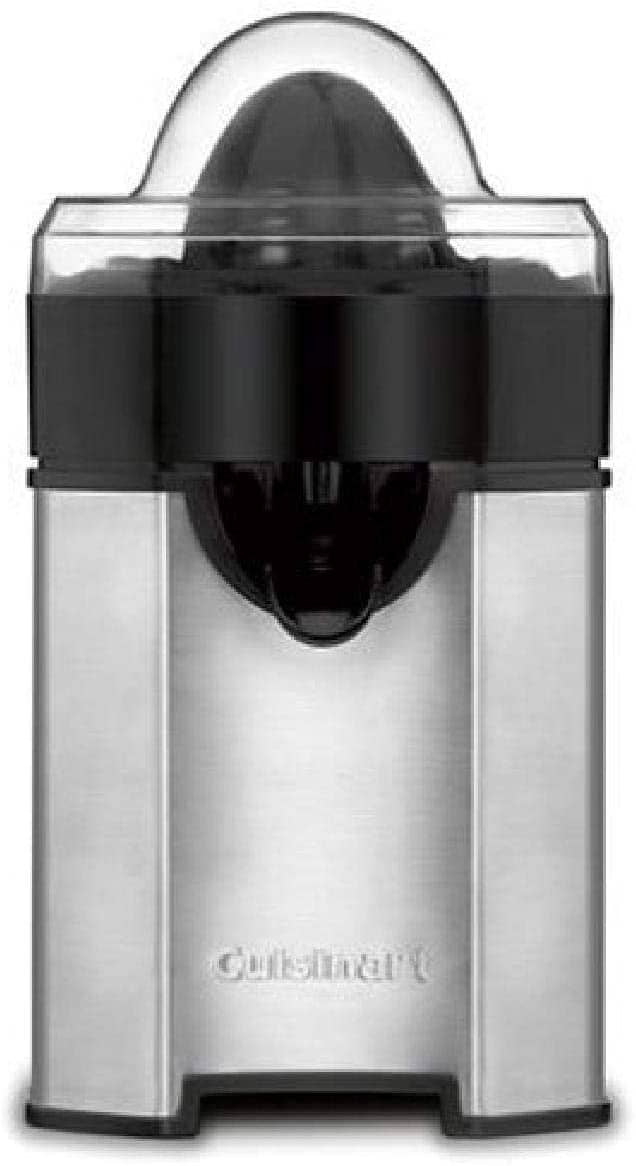 This is my introduction for anyone who only needs a basic, handy machine to juice some citrus fruits. There's nothing fancy about this item and no point in comparing it with the bells and whistles of the high-performance ones.
This Cuisinart only works with orange, lime, lemon, and other citrus fruits of the same family. It's an upgrade from a manual, plastic handheld citrus presser. And so if you have an orange booth or so, this one should be your right hand!
I love the way they give it a spin feature. This means the cone automatically spins the other way around on the second press. To be honest, I'm really impressed with this advanced function! I've always been fretting over the left-over bit of juice being stuck in the rind and mesocarp since other old-fashioned juicers' cores only spin in one motion. And so this one reduces waste greatly.
If there's one thing I don't like about the item, it would be the strainer basket. Even though it allows adjustments, I still see some seeds and stems make their way into the juice. And ultimately it still requires me to clear the strainer every now and then. If this downside is improved on the next manufacturer, it would earn an extra point from me.
Pros:
Cuisinart is straightforward to use and it saves a great deal of workforce compared to a handheld, manual citrus juicer.
Auto-reversing core enhances efficient juicing and reduces waste.
The machine is compact and portable, which resides nicely on a countertop or a small juice vendor.
This is a budget-friendly juicer given all the benefits it offers.
Cons:
The cord is not extensive enough so you've gotta keep the machine next to the outlet or require an extension.
There are no anti-slip feet, which means you have to keep a firm grasp on the body when in use.
2. Hamilton Beach Premium Juicer Machine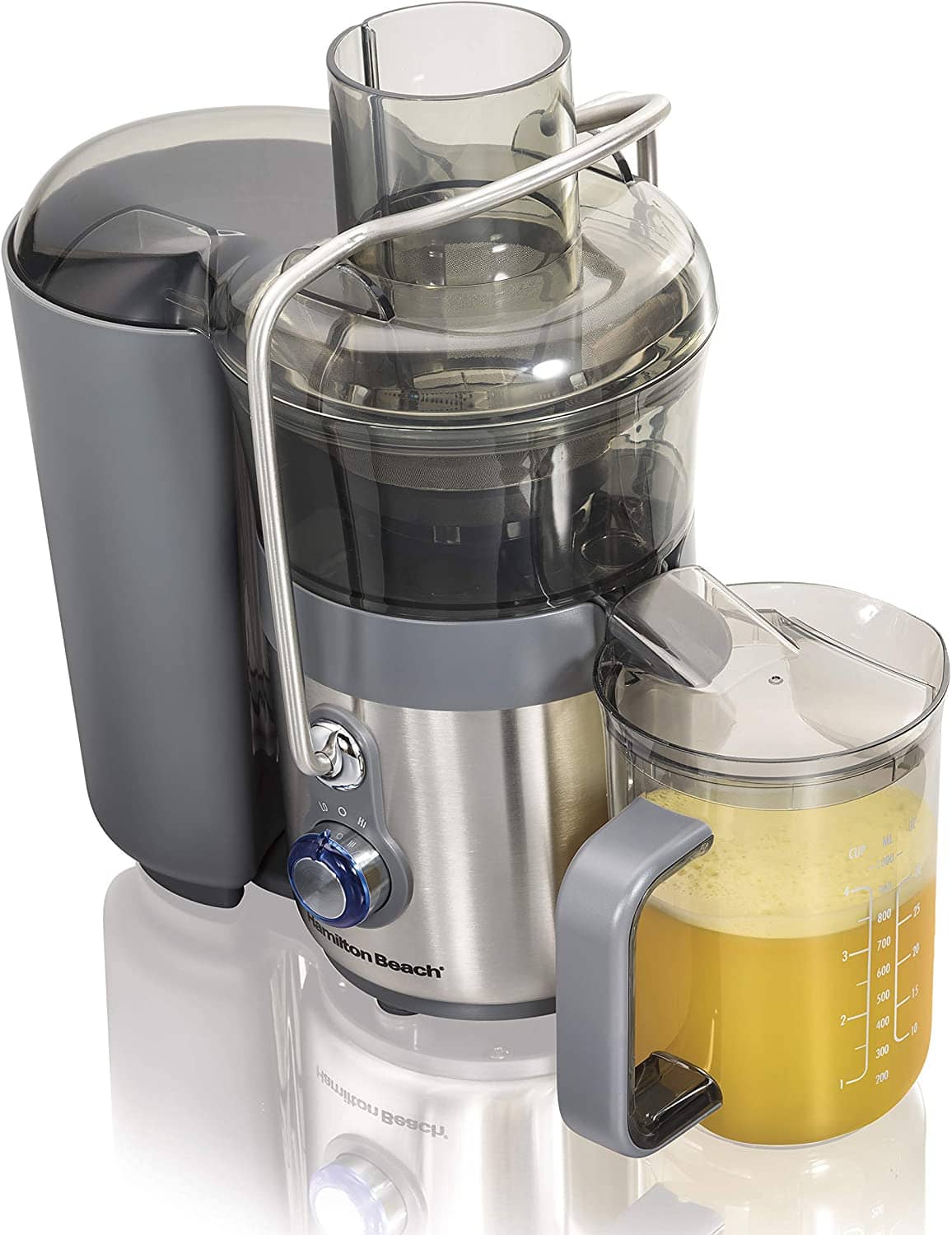 In a higher price range over $70 and under $100, Hamilton Beach is my favorite low-cost centrifugal juicer that you can get for your family. This guy is also a great investment If you own a small juicer bar without breaking the bank for higher-end models. 850 watts make a great input power. It's not too low to diminish the performance but not too high too high to consume a great amount of your electricity.
The large fruit chute is no complaint. Three inches is a perfect size that eats a whole apple. I tested its versatility with celery, cucumber, beets, and juicy fruits to see if there's anything it cannot handle.
And so far so good, it works like a charm! But as I said, kales and spinach go better with a masticating juicer so I don't really bother to run on those ingredients. The next selling point I have about Hamilton Beach is the large container that stores up to 40 ounces of juices. Out of all ten juicers I have on this bucket list, this Hamilton Beach machine has the biggest juice jug.
That's one of the reasons why I think it's a great investment for a juice bar. I've worked with it for over a year now and one trick I learned for myself is that when the juicer is leaked (which many people have experienced), the biggest problem usually lies in the overloading pulp container.
Sometimes we're so busy juicing for the customers and forget that the container is not properly covered or when it's full. Just make sure to empty it frequently and it should be fine. My final words have to do with the vibration. If it happens to shake and move around the countertop, just open the lid, look down into the chute and disassemble the strainer which has small micro blades in it. When it's in use multiple times without cleansing, the blades are clogged and you have to rinse it off.
Pros:
BPA-free 40-oz juice jug keeps more juice without letting it stop every few seconds.
This Hamilton Beach is a high-performance and efficient machine that falls under $100.
You've got a powerful workhorse that can eat hard fruits in whole.
The measuring cup fully lids to prevent splashing.
A foam separator is included to remove froth and keep your juice fresh and flavorful.
Cons:
The strainer is easily clogged which requires extra care and frequent cleaning.
The machine will not operate if it's not locked properly.
It creates a clattering sound when in use.
3. Breville BJE200XL Juice Fountain Compact Centrifugal Juicer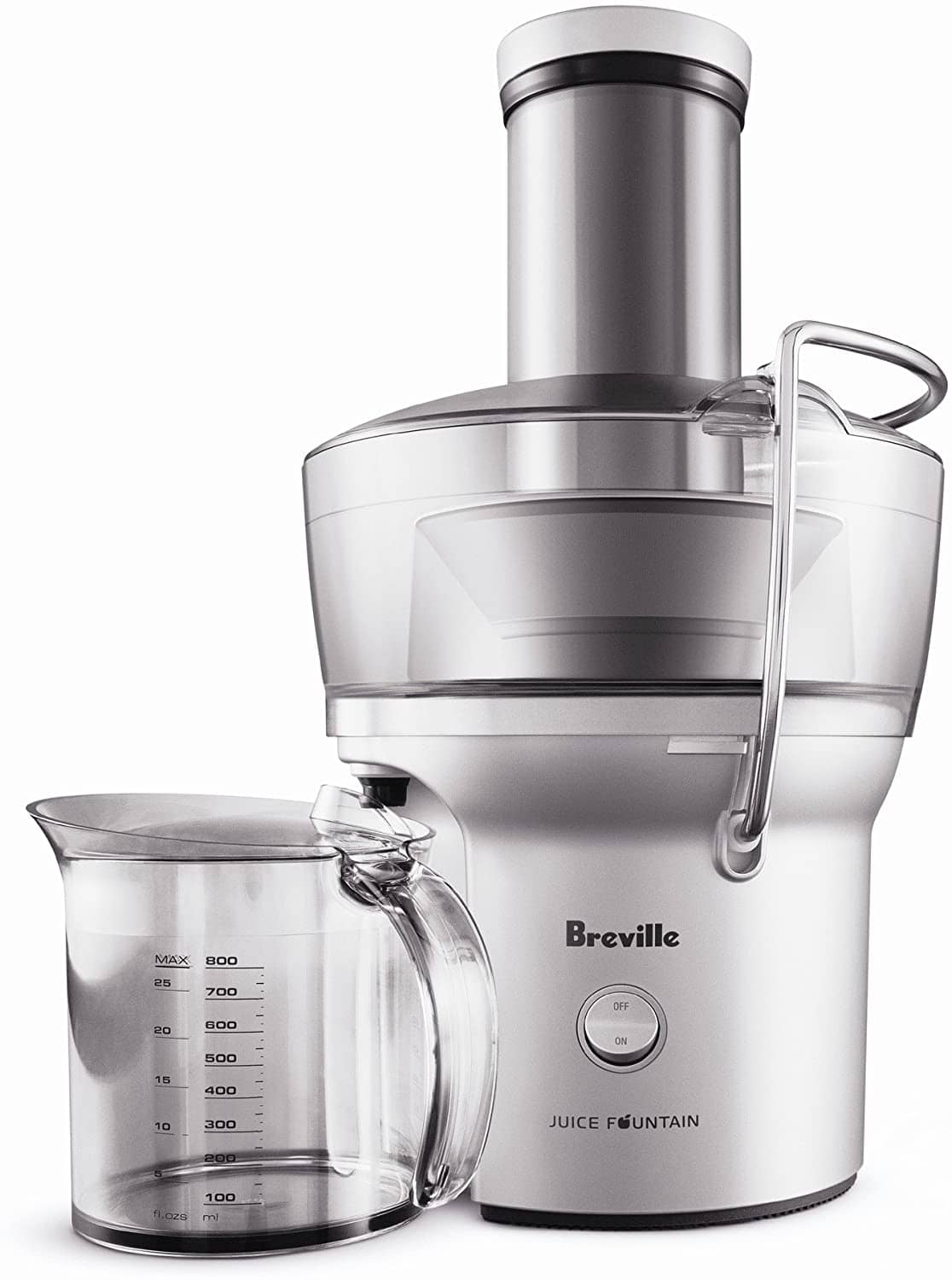 Another centrifugal juicer to jot down your bucket list is Breville BJE200XL juice fountain compact centrifugal juicer. This guy is priced $20 more compared to my Hamilton Beach even though the power is only 700W, which is 150W less than Hamilton. The good news is that both machines function very well and fast. And for that reason, the gap in power doesn't get on my nerves.
I guess one of the main reasons why Breville is priced higher than Hamilton Beach is due to the sleek-looking appearance and durability. After testing it out a few times after buying and going over the manual, I realized that it has a titanium-reinforced disc and an Italian-made micro mesh filter basket. Both of them are made of stainless steel and that's why the juicing process is greatly optimized.
After three or five apples or so, you can take it out for a clean. And that's when you see the pulp is dried, which means all the nutrition and juice are fully extracted. I wish the machine was designed with two more speeds instead of one simple on/off button as an added value for the product. Even though one easy switch makes operating a seamless motion but more speeds put a bright smile on the face of a juice bar attendant for sure!
Pros:
A double titanium blade increases the juicing speed.
Ultra-sleek and contemporary design coordinates with any modern juice bar and kitchen style.
Breville BJE200XL is a high-performance juicer that's easy to navigate and affordable.
The juice jug has a built-in froth separator to pour more juice and keep it fresh when serving.
Cons:
The pulp container is relatively small and may limit it from multi-serving purposes.
The machine is not whisper quiet.
4. IKICH Juicer Machines 2 Speed Slow Masticating Juicer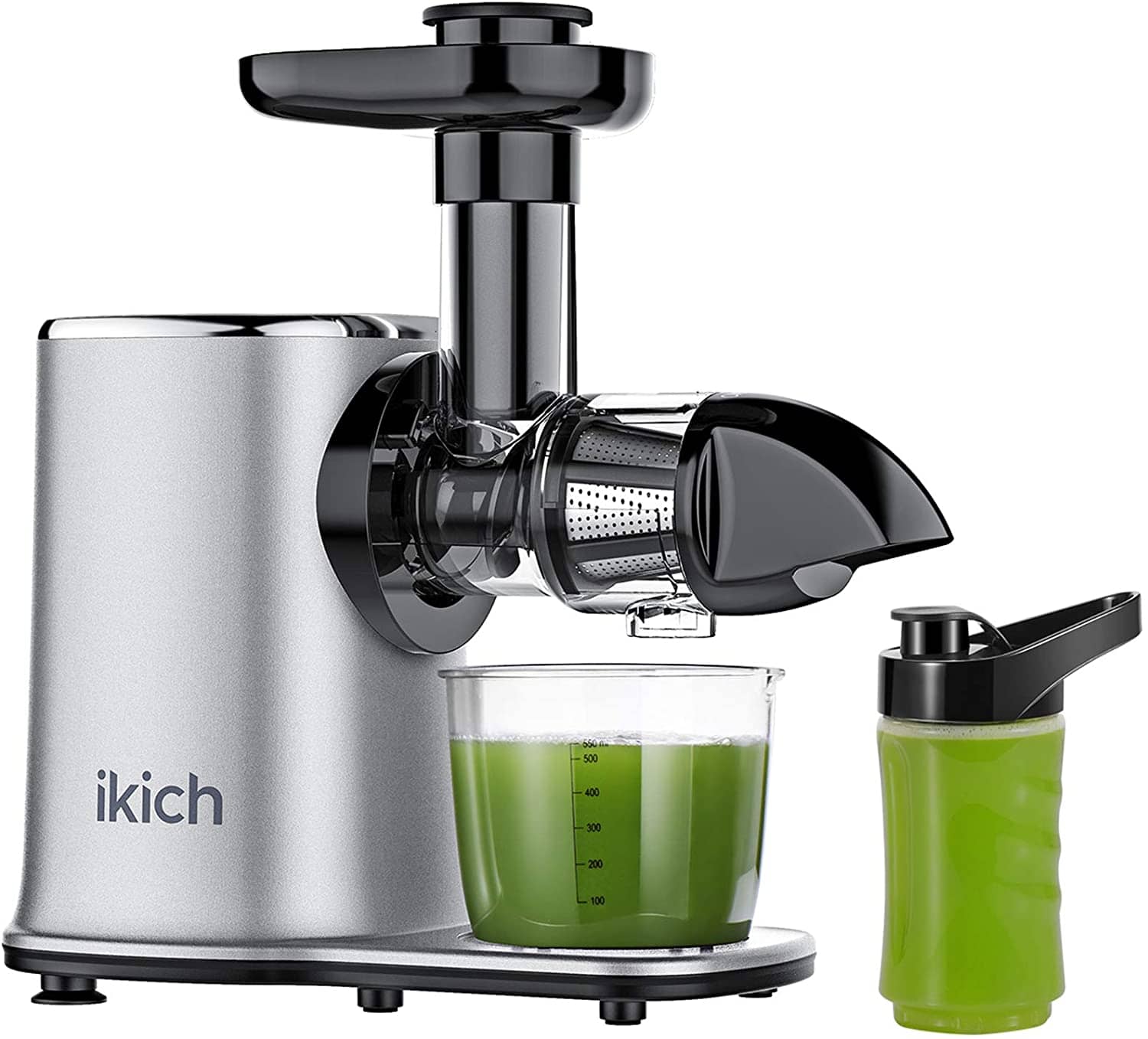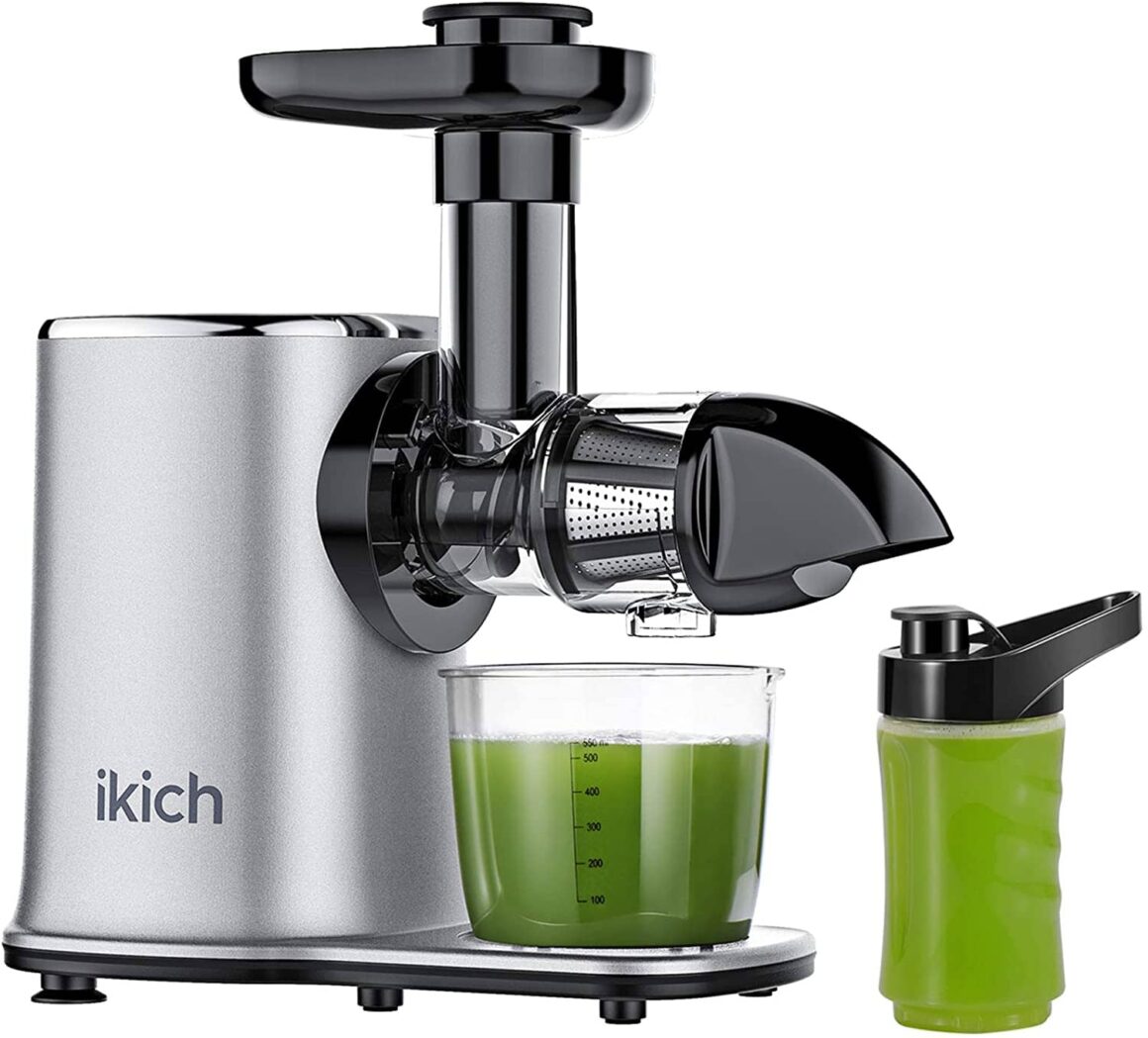 Alright, this masticating juicer is one of the best investments I've ever purchased! Only $10 more and you get an efficient, modern masticating juicer with lots of accessories included! I love to play around between two speeds, one for softer fruits and one for harder fruits.
There are two things I notice about the construction that deserves a round of applause! First off, the reverse rotation diminishes the chance of clog buildup, which is meant to provide an easy cleaning effort at the end of the day. Second, if you pay closer attention to details, you would see the mouth cover is flat instead of a round design.
This thoughtful innovation only comes up when our pain point is recognized. Since a round cover is slippery and hard to grasp on, a flat cover allows me to detach it with one swift motion. Even though the machine is a tad heavier than the two juicers above, it's not a big deal for me. The chute size can be a bit smaller compared to the centrifugal juicer, which goes the same way with other masticating juicers I've worked with so far. All you have to do is slice off your fruits into smaller pieces and it's all good. Overall, IKICH is still my favorite entry-level slow juicer!
Pros:
The high-grade plastic outer casing provides a sleek and luxurious look to the item.
An automatic circuit breaker is activated when the screw hole is overloaded.
Two speeds bring more control over the fruits.
Easy dismantling juicing parts from the motor base for a quick and accessible cleaning business.
Cons:
Since the feeding tube is too small, the plunger gets stuck a few times.
Despite the luxurious aspect, the plastic construction raises a question about whether or not it would stand the test of time, especially if you drop something hard and heavy on it.
5. Breville JE98XL Juice Fountain Plus Centrifugal Juicer
You can tell that this Breville JE98XL is an upgrade if you've owned a Breville BJE200XL before like I do. The two items share a few features in common but some differences make JE98XL a higher-end model if you look closer into each.
First of all, the two items are built with titanium reinforced disc and Italian-made micro mesh filter basket which break down more nutrition and last longer with time. However, the JE98XL is more powerful with 850 watts offered while the BJE200XL can only produce 700 watts.
JE98XL comes out in a better-looking construction and more durable. The heavy-grade polymer construction enhances its shelf life, which outrivals the plastic casing of the BJE200XL juicer. As compensation for this loss, BJE200XL comes with 14000 RPMs even though it only has one speed. Meanwhile, the highest RPM you see in JE98XL only reaches 12000 but instead, it offers two speeds to tackle soft fruits with more efficiency.
One more difference I could see after testing out the two is the dryness level of the pulp. With Breville BJE200XL, the pulp is left totally dry while JE98XL leaves it semi-dry. Even though it's hard to taste the difference in the juice you drink afterward, I can definitely tell that a tiny bit of juice and nutrition is left to waste in this JE98XL.
Finally, the juice jug included with JE98XL is a lot bigger, with ten ounces more compared to BJE200XL. Given all things considered, I still love this Breville JE98XL like the first time I bought it. If all the downsides are improved in the next manufacture, I would give it a 10/10.
Pros:
Dual speed motor provides two-speed control to break down soft and hard fruits at the same time.
The housing is developed with a modern, sleek design with durable construction.
Built-in froth separator keeps foam away from your favorite sip.
The construction is easy to disassemble and clean with a dishwasher.
Convenient storage with an easy wrap-up cord under the base.
Cons:
The pulp is not fully squeezed and there's so much wasted juice left in the wet pulp.
Just like a regular centrifugal juicer, you should expect some noise during the juicing process.
A few bits of pulp still fly out of the mouth and so you have to keep the lid on hold the whole time.
6. Breville 800JEXL Juice Fountain Elite Centrifugal Juicer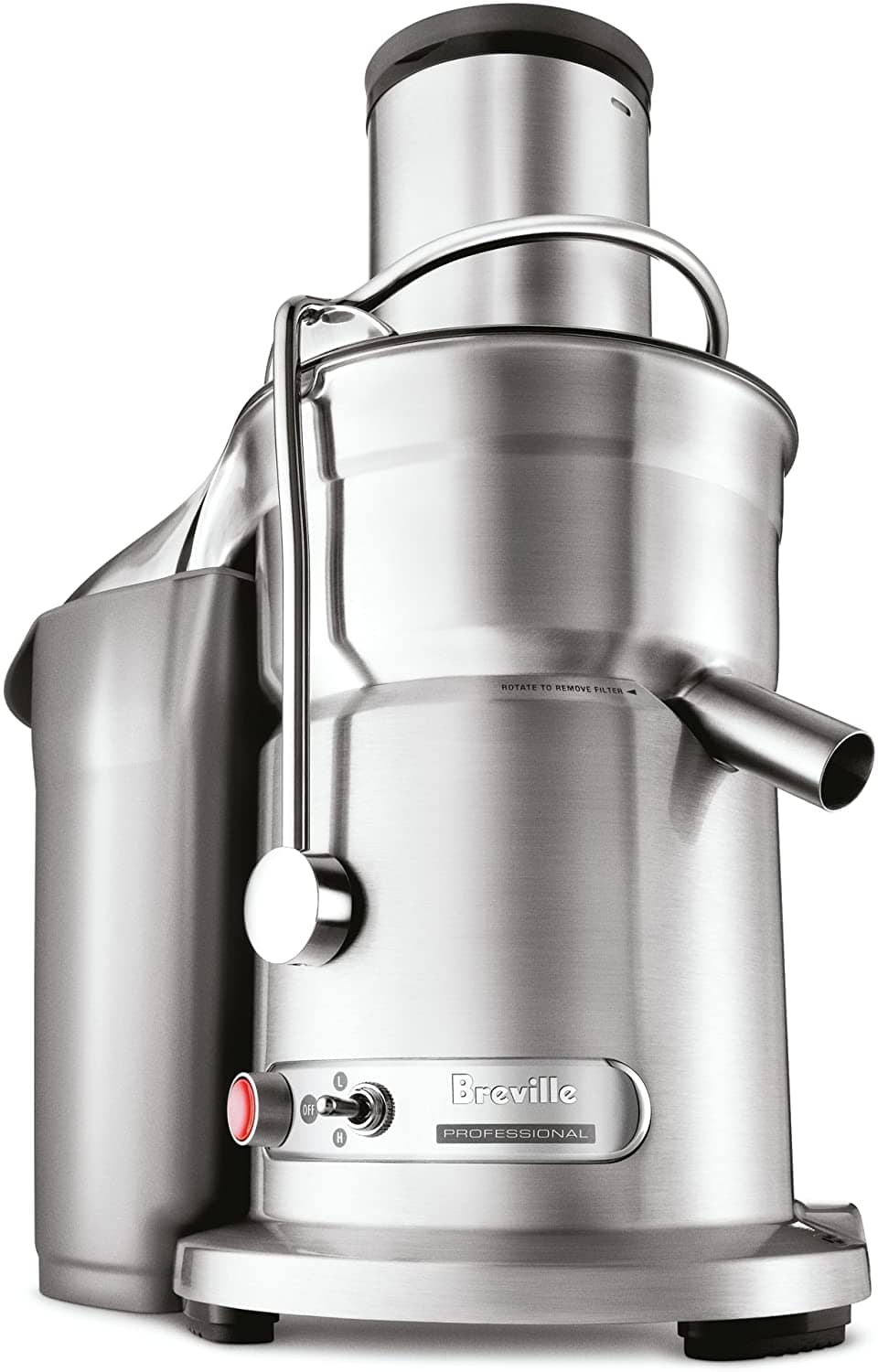 Many friends of mine don't really agree on the extortionate price tag when they put Breville 800JEXL and JE98XL on the weight. However, I still decided to test it out to see why it's priced so high and what benefits are offered to customers. The most visible difference is the die-cast metal constructed for the body.
If we already see an upgrade in material from BJE200XL's plastic casing to JE98XL's high-grade polymer, Breville gives a final punch to their 800JEXL range by improving its shell life even longer with die-cast metal. The next big thing I noticed from the Breville 800JEXL is the potent motor base that reaches 1000 watts.
Once again, we see two speed controls developed for this item. And so when I play around with soft and hard produce, the drink quality is very smooth and not muted. In my opinion, Breville JE98XL is better with hard ingredients while 800JEXL works better for soft fruits.
Since the price already hits the $300 range, I wish Breville pays closer attention to the noise, especially when it's at the highest speed. It doesn't have to be whisper quiet as a masticating juicer but it surely compensates for the high price tag.
My last words about the high speed are that it generates an intense air movement. And so the juice is likely to make a splash back out of the pitcher when it's poured down from the mouth.
Pros:
Durability is greatly enhanced with die-cast material constructed for the body.
A large juice pitcher allows uninterrupted juicing.
3-inch extra-wide feeding chute cuts down prepping time.
Dual speed motor provides two-speed control to break down soft and hard fruits at the same time.
Built-in froth separator keeps foam away from your favorite sip.
The construction is easy to disassemble and clean with a dishwasher.
Cons:
The extortionate price tag is not persuasive given what's offered.
High speed creates intense air movement which makes the juice fly back out of the pitcher.
The noise level is not bearable at all and it may bother the people around you.
7. Hurom HP Slow Juicer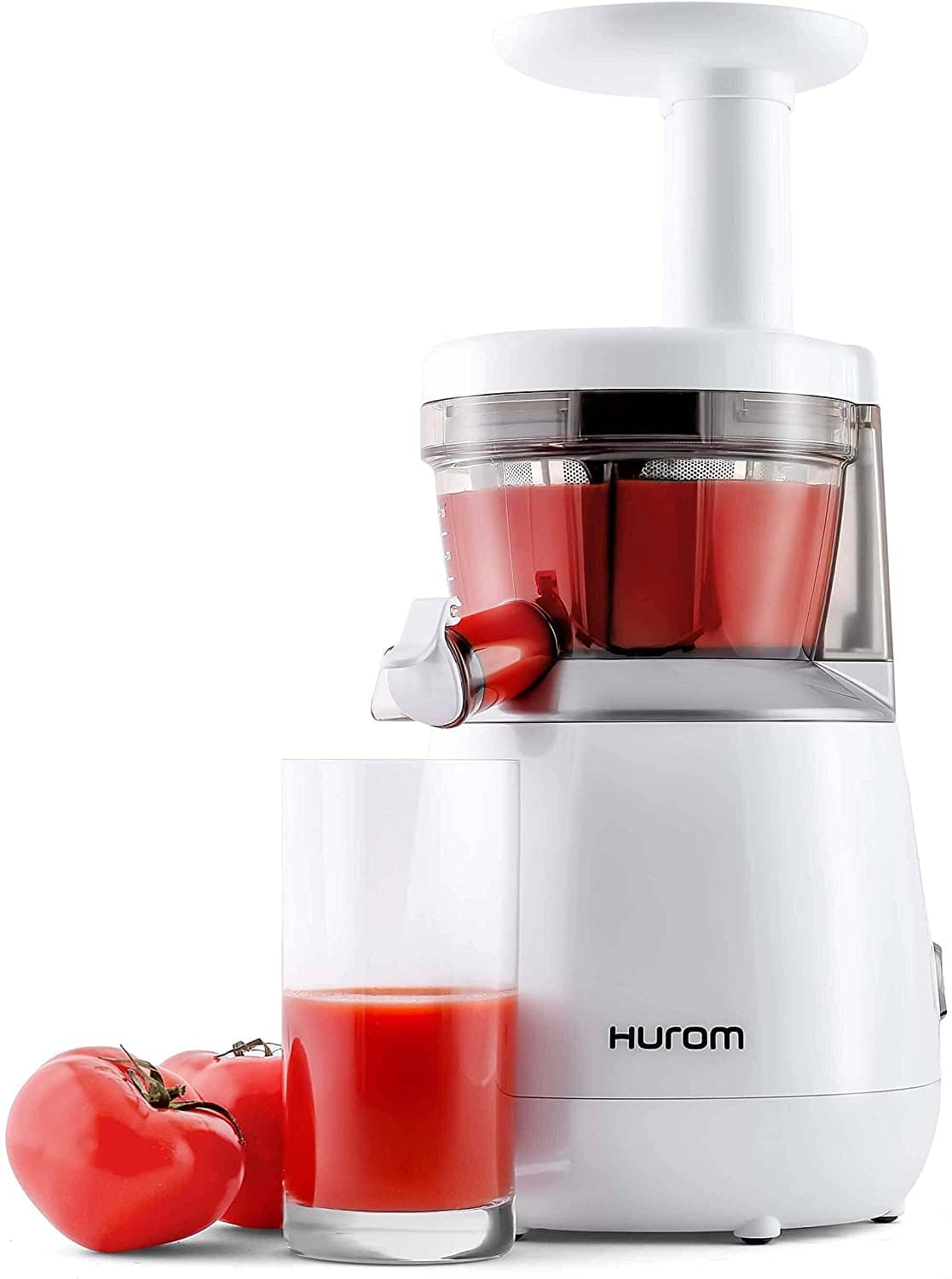 Before Hurom HP slow juicer, the definition of a vertical single auger juicer almost didn't exist in my mind. Most of the time when I searched for juicers, it was probably either masticating or centrifugal. But ever since Hurom vertical single auger juicer came around, I finally figured out why it's such a big hit.
This type of machine gathers all the best features and quintessence of a masticating and centrifugal juicer, and Hurom HP is one of the best developments I've seen so far. This guy eliminates the disadvantage of crushing leafy greens you normally see in a centrifugal, while accelerates the slow rotating speed of a normal masticating juicer.
Hurom HP is the second generation that Hurom has developed, with the most visible refinement coming from the elimination of small holes on the bottom of the juicing screen. This development minimizes the chance of built-up clogs, which accordingly reduces the excessive pulp dropped into your juice. I tested with every kind of fruit and greens out there, from hard fruits like apple to soft orange, from kale to almond milk. It impressed me every single time.
For ease of use, it may take you a while to figure out what's going on because there are so many separate parts that you need to assemble. When you refer to the manual guide, basically it will tell you to click the coarse and fine strainer into the spinning brush before plugging the auger in. Install the whole thing in the middle of a chamber before connecting with a hopper. Make sure everything is locked into place before pressing start!
This complicated installation can lead to a hard time in cleaning and putting things back together before use. And if you run a juice bar, you likely have to cleanse several times a day and it may eat up quite a bit of your time. In compensation for this, operating is pretty straightforward to use and fast with a high content of juice.
For slow juicers, we cannot ask for a bigger feeding chute. Weighing the strengths and weaknesses, I'm still proud to bring this Hurom as soon as I can, and will definitely recommend it for anyone looking for an advanced masticating juicer that goes into high gear.
Pros:
It's available in three solid colors to coordinate with any juice bar and kitchen style.
The compact design comes with a cute, retro-style look.
Sturdy construction is made of impact-resistant ABS plastic.
It produces a high yield of juice and minimizes waste.
A handful of accessories are included in the set.
The pouring mouth is securely locked with a tap dispenser.
Cons:
It only has one speed available.
Assembling and cleaning require an extra effort.
The whole machine is a tad heavier than its counterparts.
Since the mouth is so small, a bit of pulp cannot escape the machine.
The hefty price tag may hold you back in doubt.
8. Kuvings Whole Slow Juicer EVO820GM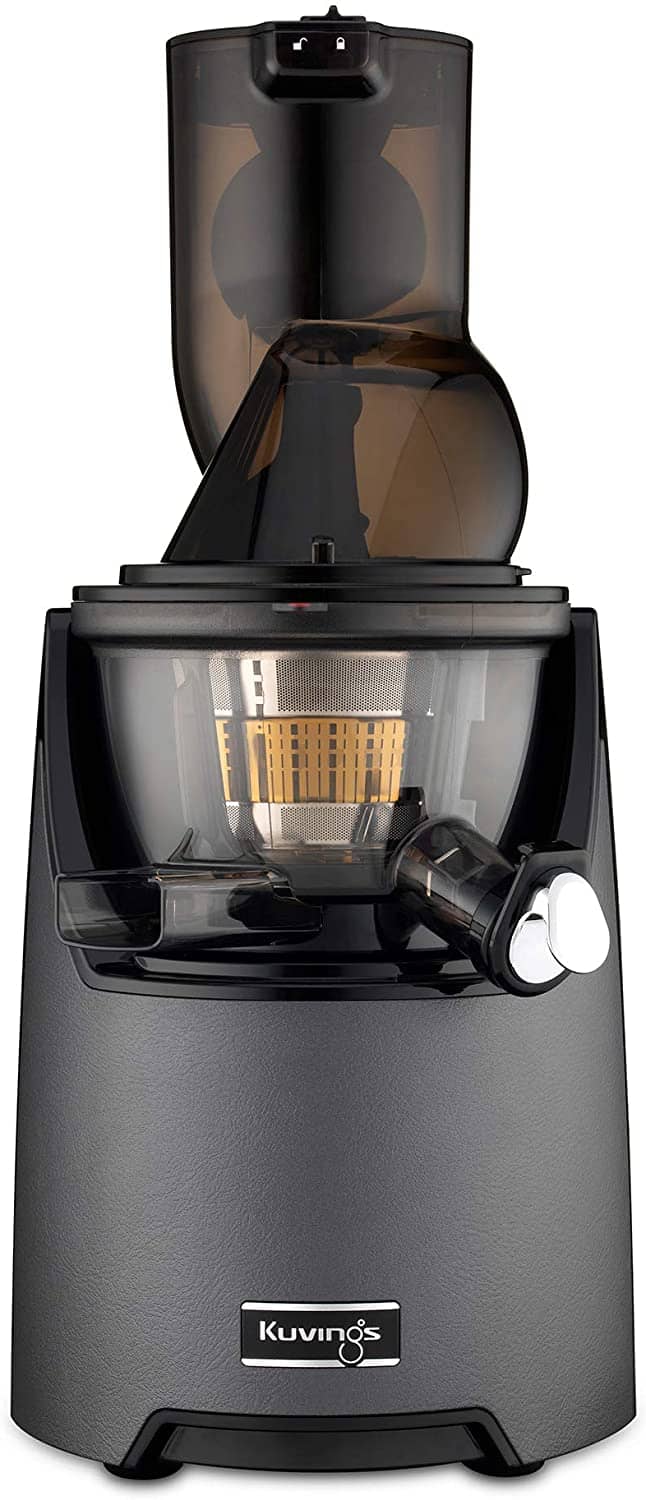 For those who have been playing around with Hurom HP for a few years and now looking for an upgrade, why not spend $221 more and bring home this Kuvings whole slow juicer as I did? I know $600 is an exorbitant price tag for a lot of people, but let's break down what's offered!
The first thing I noticed about this Kuvings is the wide feeding chute that reaches 3.2 inches. Most of the time a masticating juicer cannot eat a whole fruit like this – even for the Hurom HP above, and so that's a first selling point right there.
240 watts also make it an impressive horsepower compared to the 150 watts Hurom offers. You see there are two outlets attached to the body, one comes with a spout and the other one is large enough to spill all pulp out of the strainer. This thoughtful design uncovers customers' pain points and I'm personally greatly impressed at this function, especially after I experienced the leftover bits of pulp when I worked with Hurom.
There's not much to say about the juice quality and its versatility. As a vertical auger juicer itself, we shouldn't have any problem with the ingredients. Don't take my words for it! You've gotta try it for yourself. If you look closer, you'd see the flap gate system added to keep your hands from entering the chamber.
This is specifically handy when you have kids at home! While Hurom offers two strainers, this Kuvings gives you three! I know it's not a big deal to ask for more accessories when I already paid too much, but at the end of the day, it's more fun to change each of them for daily juice, sorbets, and smoothies.
This item's got me crazy! I love it so much and it will take me a whole day to list down its benefits. Overall, I'm confident to say that this Kuvings whole slow juicer is the best thing since sliced bread. I will boil down what I don't like about this machine in the Cons section below!
Pros:
Upgraded drum lid to make the assembled drum set stronger and stable.
Expulsive power that reaches up to 240W.
The pulp outlet is wide enough to release all pulp out of the strainer.
The extra-wide feeding chute is safely locked with a flap gate system to prevent children's hands from entering.
High-grade material: Tritan container is free of Bisphenol A, while the juicing mesh and screw are made of ULTEM.
Ultra-sleek design with a leather finish on the body.
Cons:
It's a lot heavier than other juicers I've worked with.
$600USD makes it one of the most expensive juicers in the market.
9. Tribest GSE-5050 Greenstar Elite, Cold Press Complete Masticating Slow Juicer with Jumbo Twin Gears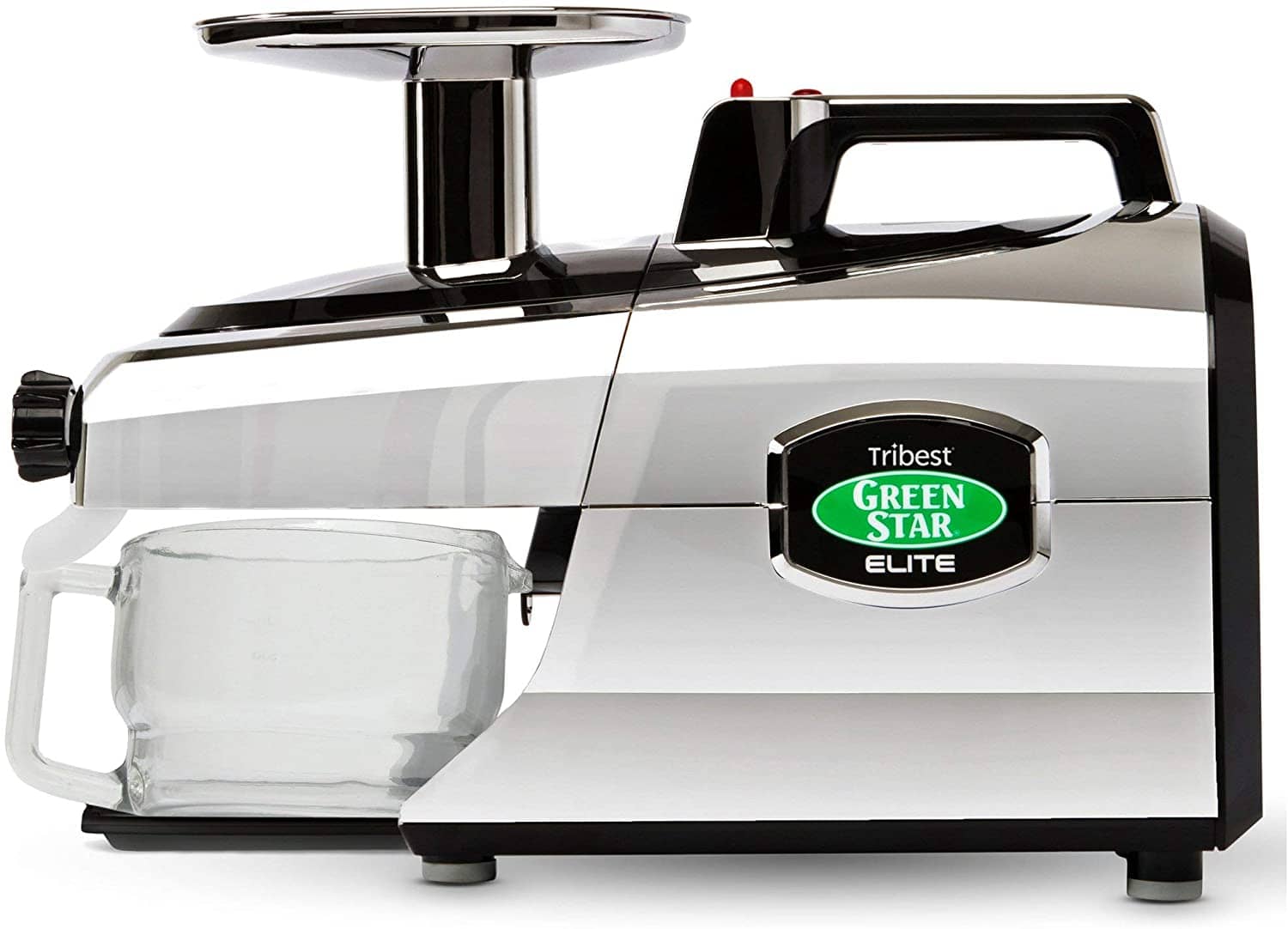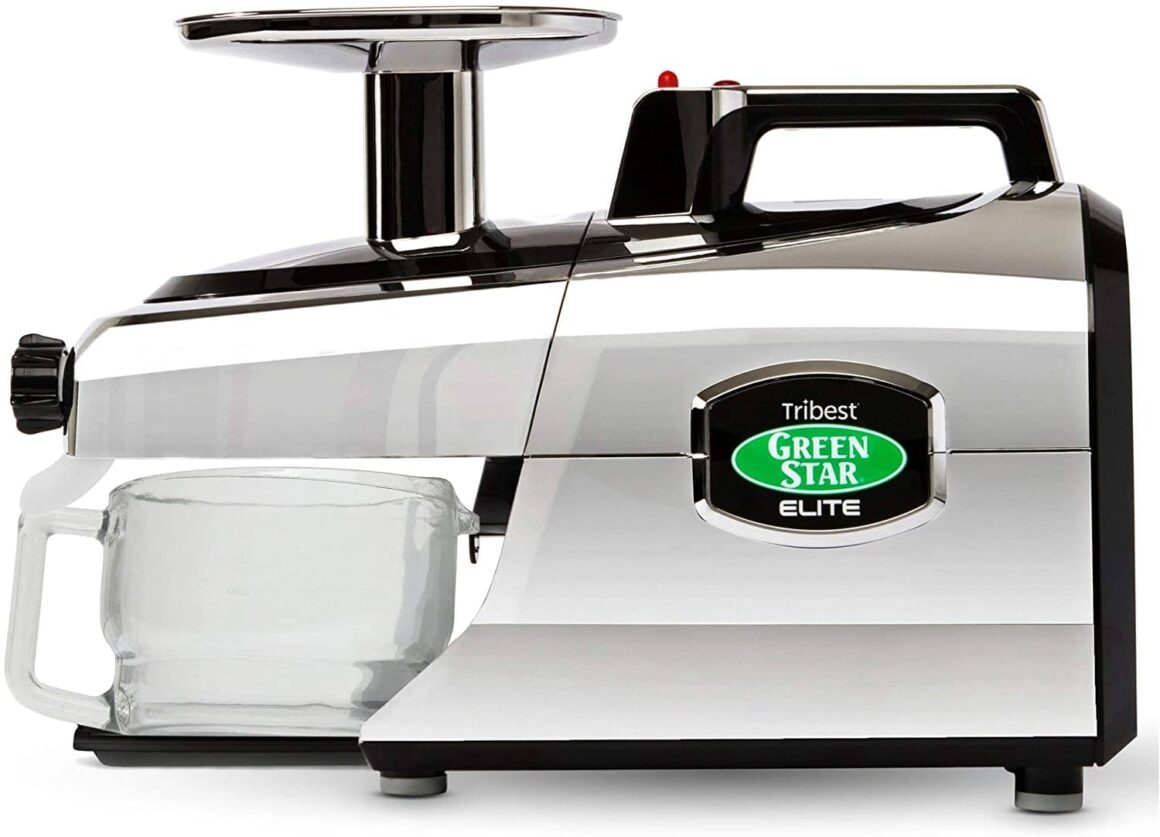 Alright! Here comes the most pricey juicer on the list. We have a cold press masticating juicer with jumbo twin gears from Tribest! For those who are new, a twin gear slow juicer is the best form of juice extractor thanks to the two augers added into the juicing mechanism.
A twin gear slow juicer is usually the most expensive due to the highest juice extraction efficiency and nutrition retention level. And while you can choose some other twin-gear machines, I personally prefer mine from Tribest a lot!
Amongst this Tribest's GS Series, GSE-5050 Greenstar Elite is the latest update making it an improved version of the range. It may look large at first sight but disassembling all parts is straightforward with one snap only.
Once you look into the little gears forming the juicing mechanism inside, you can see that Tribest developers put a lot of effort into manufacturing a durable and efficient system. We have the dual stainless steel gears improved with magnet and bio-ceramic technology. This is to extract the highest content of the juice while minimizing heat build-up at the same time.
As a slow juicer, it surely takes longer to yield compared to a centrifugal one. During the test, it took me roughly 15 minutes to juice about 12 cups of green juicer. When I came to test the cleaning part, it turned out to be more simple than I expected. Since all the parts are disassembled with an ease, I had no problem with rinsing off the dirt stacked in the tiny holes and niches.
My go-to approach to clean the item is to run cold water over it first before scrubbing it out with a brush that's included in the box. Now comes the downsides! The narrow feeding chute is not the end of the world. However, since the item is already priced so high, I wish Tribest would give it a large feeding chute like what you see in Kuvings, and that would be a win.
Pros:
The stainless steel twin gears are designed with special pocket recesses to add an extra force when dealing with hard ingredients.
Cutting points are placed on the gears plus the development of magnetic and bioceramic technology to yield more juice.
Its versatility has been massively enhanced to prep a variety of recipes such as sauces, pate, and butter.
Four different screens are included in the box.
The simple assembly allows easy clean-up.
Automatic pulp ejection reduces cleaning effort.
Cons:
The hefty price tag makes it not the best choice for people looking for budget-friendly items.
The juicing time lasts longer compared to a centrifugal juicer.
The feeding chute could have been wider to reduce prepping effort.
The whole item is incredibly heavy, giving you a bit of sweat when carrying it around.
10. Zulay Premium Quality Metal Lemon Lime Squeezer – Manual Citrus Press Juicer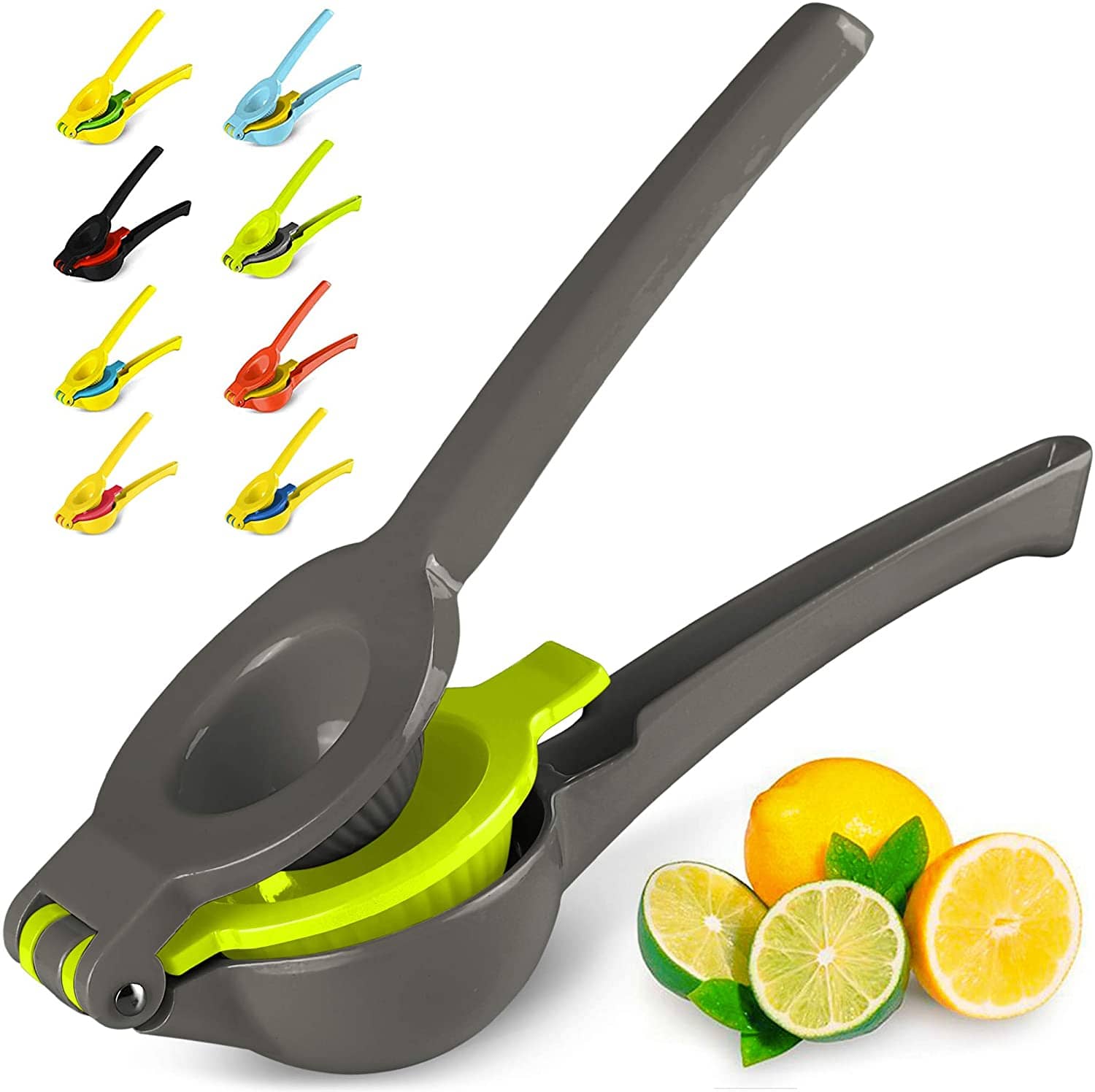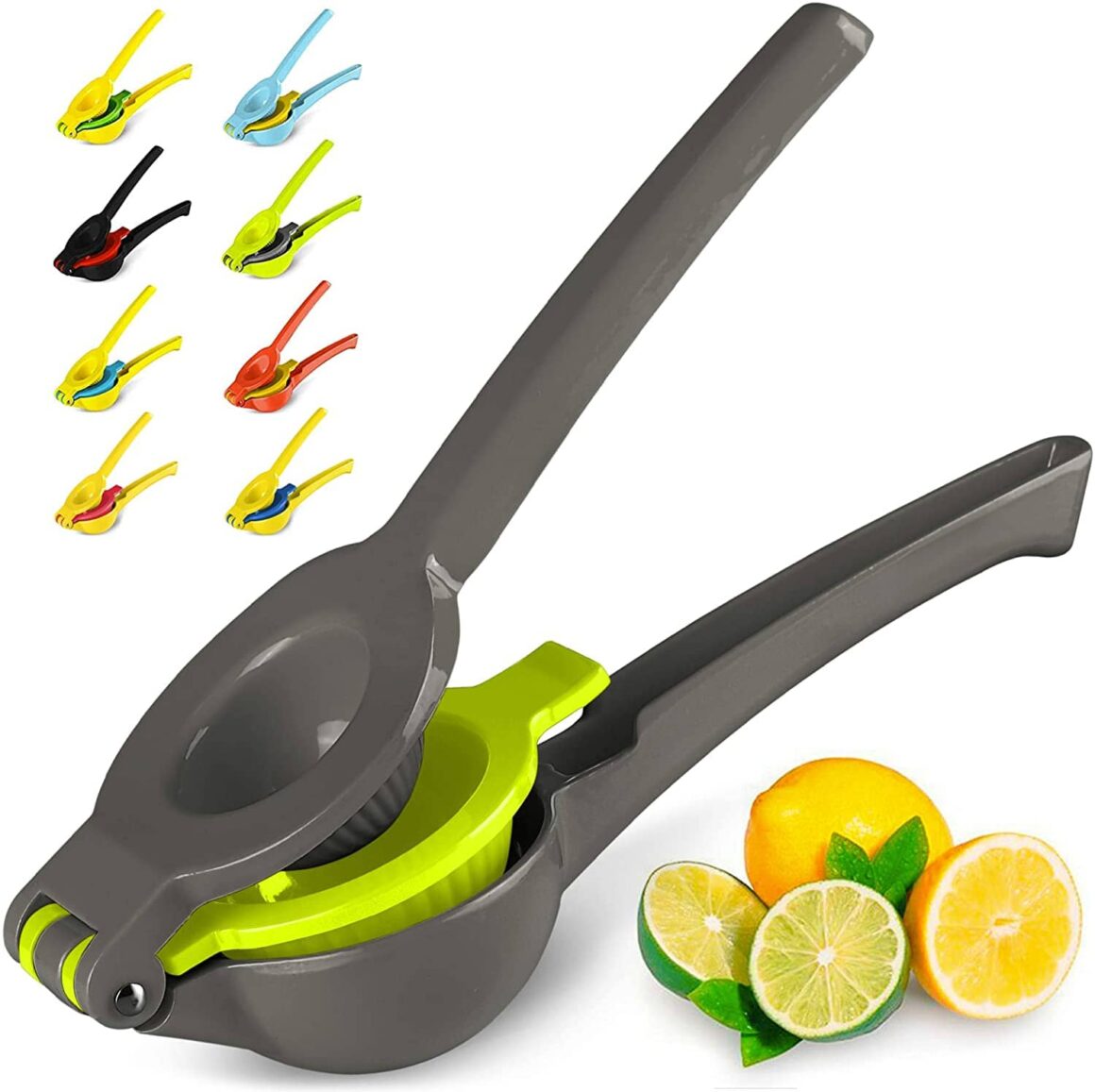 To give my list a wrap, I decided to include this handheld citrus press juicer to diversify my option. And so for those who don't ever need a high-performance, electrical juicer, let this Zulay do the hard job!
Many of you may have had a manual press juicer at home before and now looking for a sturdier one. I bought this Zulay over a year ago and it's still working like a charm! Scooping the seeds out of the juice from every single glass prolongs your customers' and families ' wait time.
The strainers keep all the seeds and send the juice down to where it belongs. The diameter is wide enough to tackle lemons, orange, Lisbon lemons, and any citrus fruits you have at home. The whole idea about this Zulay's design is the ease of use. There's nothing fancy or bells and whistles about it. Cleaning is a breeze.
However, I must agree that not every single drop of juice is fully extracted, and you'll still see a bit leftover of it stuck in the rind. Overall, I highly recommend this premium metal press juicer as a quick tool to squash a basket of citrus fruits in one go!
Pros:
This is a lightweight and durable manual press juicer at an affordable price.
It's dishwasher safe and easy to clean by hand.
The item is available in nine different colors.
Cons:
It won't fit extra-large lemons.
Not all the juice is extracted from the pulp, causing a tiny bit of waste.
Final Words
In this comprehensive buyer's guide below, I just walked you through:
How many different types of juicers are there?
What to consider before buying a juicer?
A detailed review of the top ten best juicers of all types you can find online.
If you need more inspiration to stock up your kitchen or cafeteria, remember that I also shared my personal experience with blenders! Check this blender buyer's guide and reviews and pick the right item that works for you!
Noms Magazine is a participant in the Amazon Services LLC Associates Program, an affiliate advertising program designed to provide a means for sites to earn advertising fees by advertising and linking to Amazon.com and Amazon.ca. Clicking and purchasing from the links helps support our publication and no extra cost is added to you
The following two tabs change content below.