Maybe you wouldn't expect to find authentic Mexican tacos in Vancouver, but thankfully you'd be wrong. There are hidden (or not so hidden) gems all around the city, just waiting for you to discover them and enjoy their amazing tacos.
We've yet to come across a serious foodie who doesn't like Mexican food, so here are nine of the best taco places in Vancouver.
1. La Taqueria Pinche Taco Shop
La Taqueria has mastered the art of meat tacos – try the Asada, Pastor, or Mole, and they also make an amazing guacamole. The already mouth-watering flavours can be enhanced by the variety of self-serve salsas. Opt for the habanero for a good kick.
Pro tip: Don't be put off by the waiting line at peak times, it moves quite fast and is a testament to the amazing food quality. You'll get your tacos in no time.
Locations:
-322 W Hastings St, Vancouver, BC
-586 Hornby St, Vancouver BC
-2521 Main St. Vancouver BC
-2450 Yukon St, Vancouver BC
-1305 Welch St, North Vancouver BC
-766 Fort St, Victoria BC
Order Online: DoorDash | Uber Eats | SkipTheDishes
2. Maizal RMF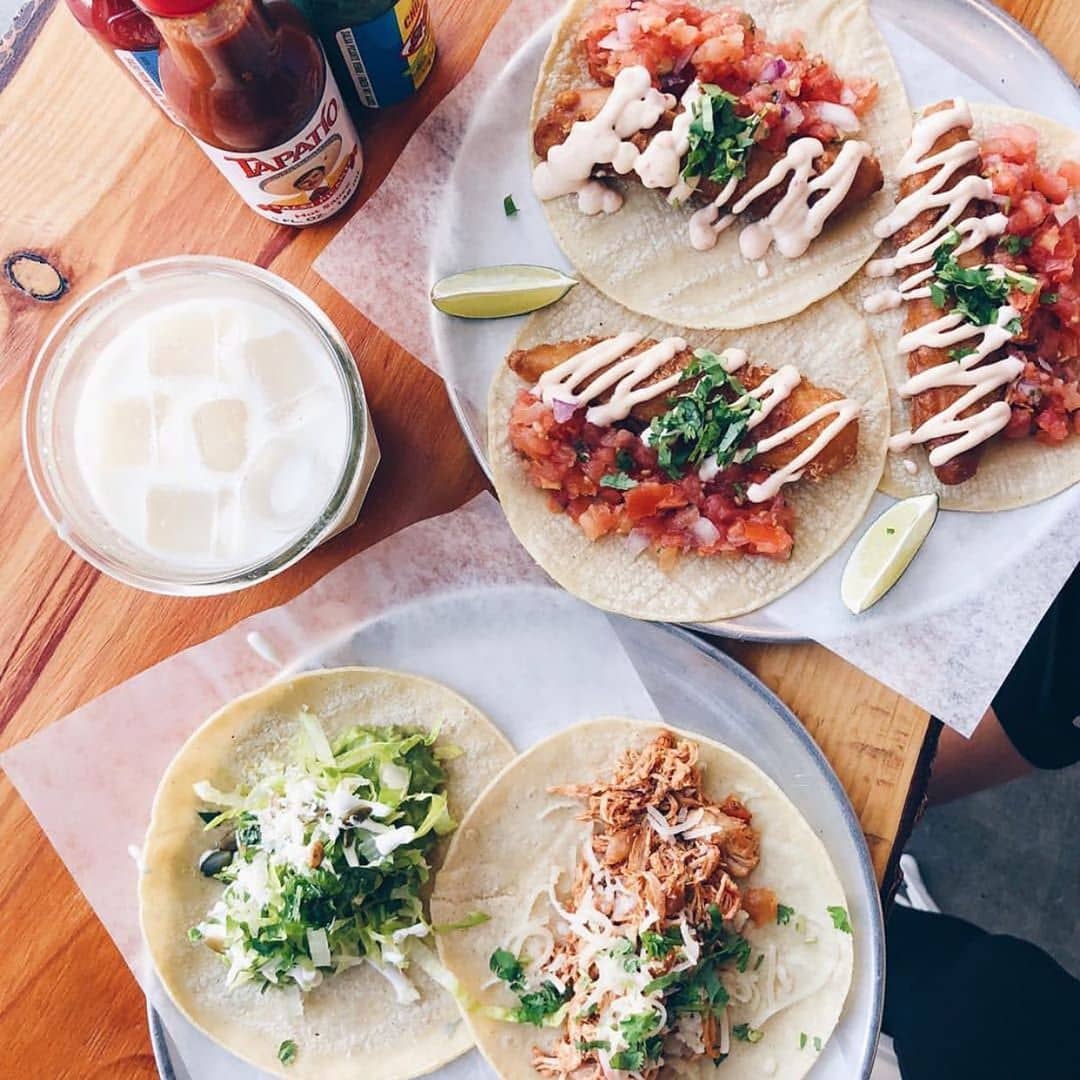 When they say RMF (Real Mexican Flavours), Maizal mean it. While the restaurant offers a more simple and casual setting, our stop at Maizal in Mount Pleasant on our food series discovered the effort they go to bring that authentic experience to their customers.
Their fresh, made from scratch corn tortillas are the perfect texture for any tacos on the menu, and you should definitely complement your meal with some legit horchata and nachos. The bowl is huge and very tasty.
Also, if you're looking for the best fish tacos in Vancouver, the Pescado at Maizal has to be at the top of the list.
Location: 2815 Main St, Vancouver, BC V5T 3G1
Order Online: DoorDash | Uber Eats | SkipTheDishes
Website | Instagram | Facebook
3. Tacofino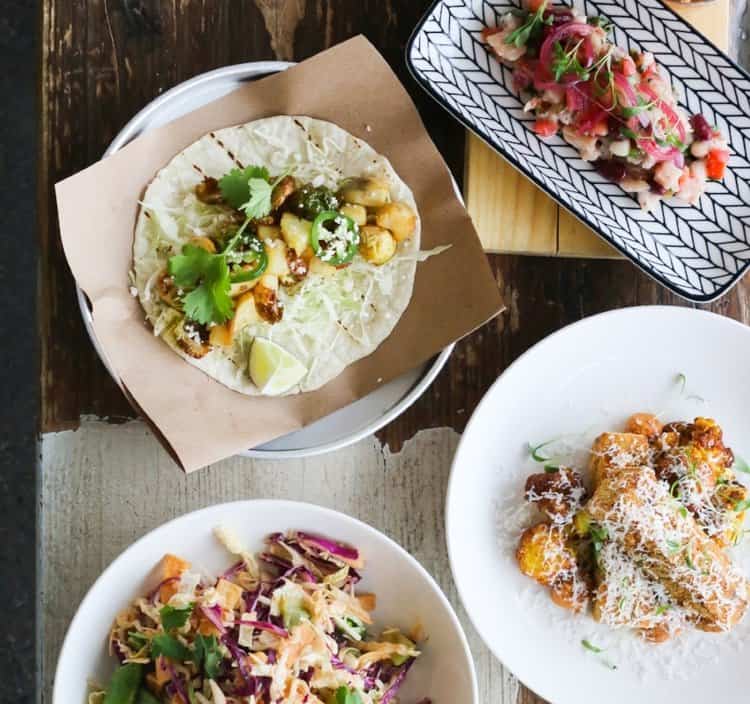 Tacofino started as a Mexican food truck in Tofino by a family of surfers and ocean lovers, offering people a tasty bite between surfs. Their brand is inspired by bold flavours and back alley BBQs – shows their fun laid back West Coast style.
Nowadays, they have 3 food trucks and several brick and mortar spots, most of which in Vancouver. Each location has a specific theme, vibe and unique menu, so make sure to check all of them out!
The menu also varies among the different spots, so what stays consistent? The answer is Tacofino's quality meat and seafood, which is sourced in accordance with Ocean Wise and The David Suzuki Foundation recommendations. You can rest assured that your delicious fish taco or meat tacos won't have a negative impact on the ocean and support local farmers.
Not only are their tacos to die for, Tacofino makes some bomb burritos and nachos that are favourites amongst Vancouverites. There's a good reason why Tacofino is the king and go-to spot for Mexican food in Vancouver.
Locations:
-Hastings Sunrise 2327 E Hastings St, Vancouver BC
-Yaletown Burrito Bar 1025 Mainland St, Vancouver BC
-Gastown Burrito Bar 15 W Cordova St, Vancouver BC
-Gastown Taco Bar 15 W Cordova St, Vancouver BC
-Downtown Pink Truck – Howe & Robson, Vancouver, BC
-Tacofino Oasis – 122-1050 W Pender, Vancouver, BC
-Mount Pleasant Ocho – 8 E 5th Avenue, Vancouver, BC
-Victoria Taco Bar – 787 Fort St, Victoria, BC
-Tofino Original Truck – 1184 Pacific Rim Hwy, Tofino, BC
Order Online: DoorDash
Website | Instagram | Facebook
4. Sal y Limon
The passion and nostalgia of four friends for real authentic Mexican food is what Sal y Limon was born from.
Back in the day, it used to be a tiny place with a few tables, but it has since bloomed and grown into a cool big space with beautiful artwork on the walls, and a friendly atmosphere where everyone feels welcome.
This is one of the rare places where every taco is their specialty. Their goal is to bring the flavours of real Mexican street food to the Vancouver and Surrey neighbourhoods.
Sal y Limon have a big variety of delicious self-serve sauces, but be warned, they are hot! Put out the fire by sipping some authentic horchata. Or, if you're not a fan of spicy foods, go for the avocado sauce.
Pro tip: if you're extra hungry, the burritos and tortas are also amazing here, and will satisfy the stomach.
Locations:
-Unit #10, 2428 160th, Surrey, BC
-Unit #5, 701 Kingsway Street Vancouver, BC
Order Online: DoorDash | Uber Eats | SkipTheDishes
5. Milssam Tacorea
What could be more interesting than Mexican-Korean fusion? This is a great place in Yaletown to experiment if you love spicy foods. You won't find much that isn't hot, but you can try the Korean version of horchata to calm your taste buds.
Milssam Tacorea was born from the immense popularity the Korean tacos received from owner, Eric Lee's first food venture, Damso.
Among the top foods of Milssam are their KFC (Korean fried chicken) wings, and the tacos are not to be missed either. While some tacos come in a regular tortilla, such as the Milssam taco (beef belly, onion, lettuce, and gochujang), others come in thicker bao buns (try the Spicy Pork Bao). Depending on your preference, there will be an option you'll love.
Make sure to stay for dessert, as the fluffy cheesecake will send you straight on a temporary trip to heaven. Fresh from the oven every half an hour, this dessert is a huge win.
Pro-tip: They have $3 tacos for Happy Hour every day
Location:
-1130 Mainland St. Vancouver BC
Order Online: DoorDash | SkipTheDishes
6. La Mezcaleria
Great for brunch, lunch or dinner, La Mezcaleria is a hip place, with a great vibe, especially if you go on select nights, with live music.
When you visit La Mezcaleriea, you simply have to order the famous Queso Fundido (melted cheese fondue served in a volcanic stone bowl), which will blow your mind. Try the chorizo or the mushrooms as toppings.
They also offer a variety of other Mexican foods, among which, good veggie options such as the Hongos con Kale tacos (a combination of mushrooms, kale, melted cheese and salsa verde).
Enjoy your food together with some of their unique cocktails like Pacho, Coquito, or Ancho Old Fashioned.
Locations:
-Gastown – 68 E Cordova St, Vancouver, BC
-Commercial Drive – 1622 Commercial Dr, Vancouver, BC
Website | Instagram | Facebook
7. Bandidas Taqueria
Bandidas Taqueria grew from the passion of two friends into an amazing vegetarian Mexican restaurant in East Van Commercial Drive area.
Bandidas get extra points for being so creative with the food, offering so many types of fillings for their tacos and burritos. While all food is vegetarian, it can also be easily veganized or made gluten-free.
The food is guaranteed to satisfy even the hungriest Vancouverite, especially if you order burritos. Try the Stella, as the butternut squash is lush (#rhymemaster). The nachos are also huge as well as delicious.
The best thing about Bandidas (except for the food, of course)? It's not only a food place, but a platform to support causes, by regularly fundraising and donating to various organizations!
Location: 2781 Commercial Drive, Vancouver, BC
Order Online: DoorDash | Uber Eats | SkipTheDishes
Website | Instagram | Facebook
8. Gringo
Purposefully inauthentic, as shown even by the name (Latin American term for white foreigners), Gringo was opened more for creating a specific vibe. It's a small, quirky restaurant, perfect for a fun evening with friends.
To enjoy this place, you have to know what it stands for. If you're looking for authentic Mexican food, this is not the place for you. It doesn't claim to be.
If you're looking for cheap food and drinks, in a fun, unpretentious place in Gastown, you're going to love Gringo (if you find it in the first place, it's hidden in an alley).
Not to worry though, the food is delicious, especially the Street Dog, their signature dish. Their drinks are just as unfussy as everything else there. They serve a few simple, but nice cocktails presented with creative names such as 'Wasted White Girl', or the 'Crap' or 'OK tequila.
Location: 27 Blood Alley Square, Vancouver, BC
9. La Cantina
La Cantina is a cool, colourful restaurant with a cheerful vibe, enhanced by their unique artwork and decorations. This spot is ideal for enjoying a nice meal with friends or family.
For a non-vegetarian restaurant, La Cantina really stands out through their creative veggie options. Try the Jackfruit Picadillo or the Carrot Tinga tacos, you'll like them even if you aren't a vegetarian.
The fish taco is also a favourite at La Cantina, with the added bonus of being baked, instead of deep fried, making it a healthier option. Delicious and healthy, win-win!
Can't say no to $2 tacos from their daily Happy Hour (3PM – 6PM)!
Locations:
-722 Nelson Street, Vancouver BC
-29-4340 Lorimer Road, Whistler BC
-209-7015 Nesters Road, Whistler BC
Order Online: DoorDash | Uber Eats
Website | Instagram | Facebook
Choosing just 9 taco places in Vancouver was no easy feat, because let's be real: does a bad taco even exist? With so many options available for Vancouverites, it would be a shame NOT to try all the great spots, with their unique signature dishes and specific vibes. There's a perfect option for everyone.
And if you're looking to continue your food adventure, check out these 10 fried chicken spots that will take you to comfort food heaven.
The following two tabs change content below.
Latest posts by Noms Magazine (see all)