Bold and striking colors, fragrant aromas, ingredients bursting with flavor, and age-old tradition packed into every dish, Vietnamese cuisine carries an authenticity few can match, and a glamour that sparkles. Adding the roster of classic South-East Asian restaurants and eateries in Vancouver, Vietnamese food maintains massive popularity among foodies, locals and visitors alike.
Where do you go for your next Vietnamese food experience? We put together a list of the 10 best Vietnamese restaurants in Vancouver for you to try out and savor.
*Noms Members are part of our exclusive paid membership. Only food spots we personally recommend are accepted as members. 
1. Phnom Penh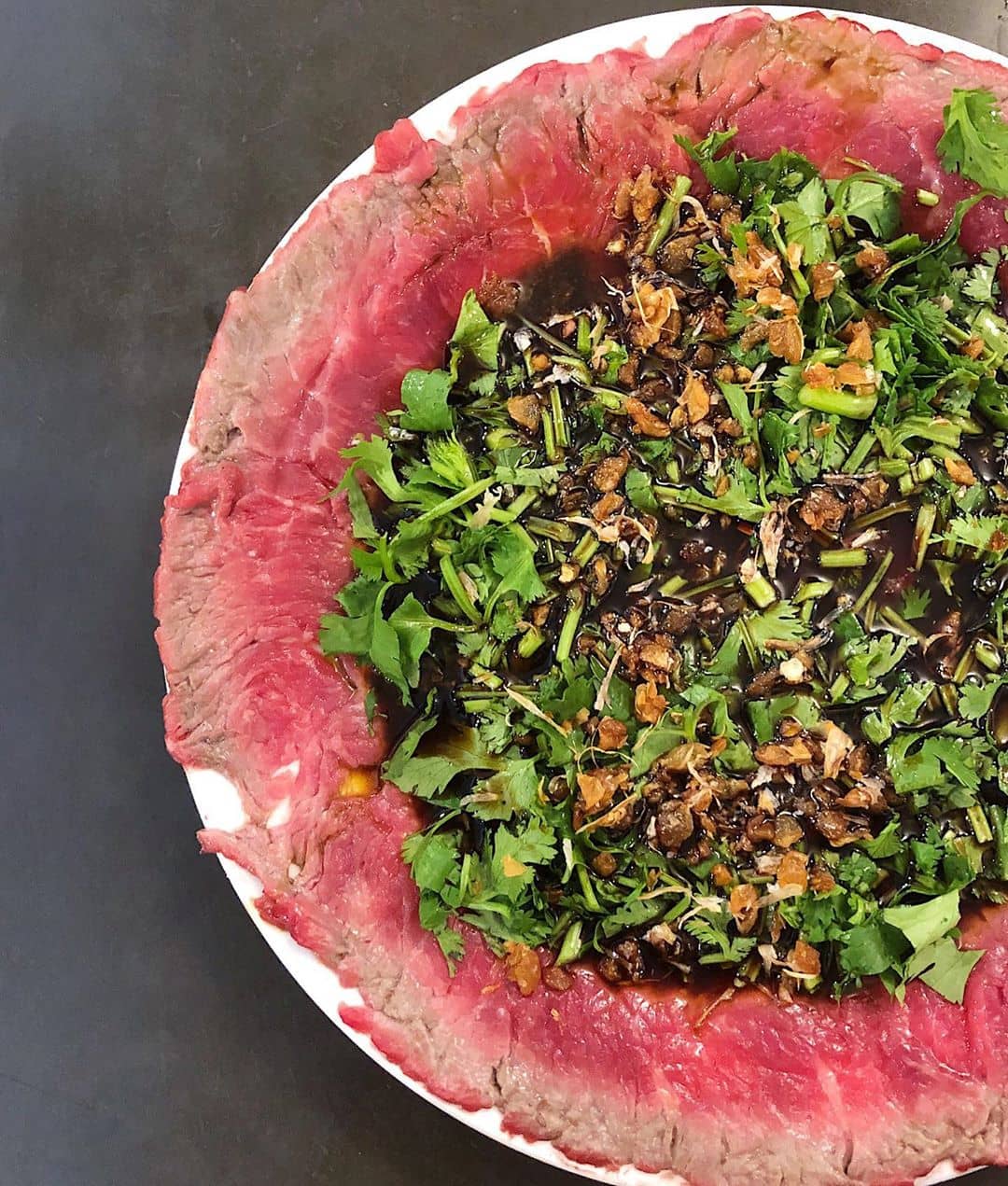 A real Vietnamese-Cambodian charmer and notorious for its fried chicken, Phnom Penh is a local favourite in Chinatown when it comes to South-East Asian food, and on our list of must-haves for anyone scouting only the best places Vancouver has to offer.
Phnom Penh's made its way into the hearts of customers who like to get the restaurant's butterbeef, deep fried chicken and beef lúc lắc on rice, an order so famous it's known to the locals as the "Holy Trinity" of options.
Location: 244 E Georgia Street, Vancouver, BC V6A 1Z7
Website | Instagram | Facebook
2. Mr. Red Cafe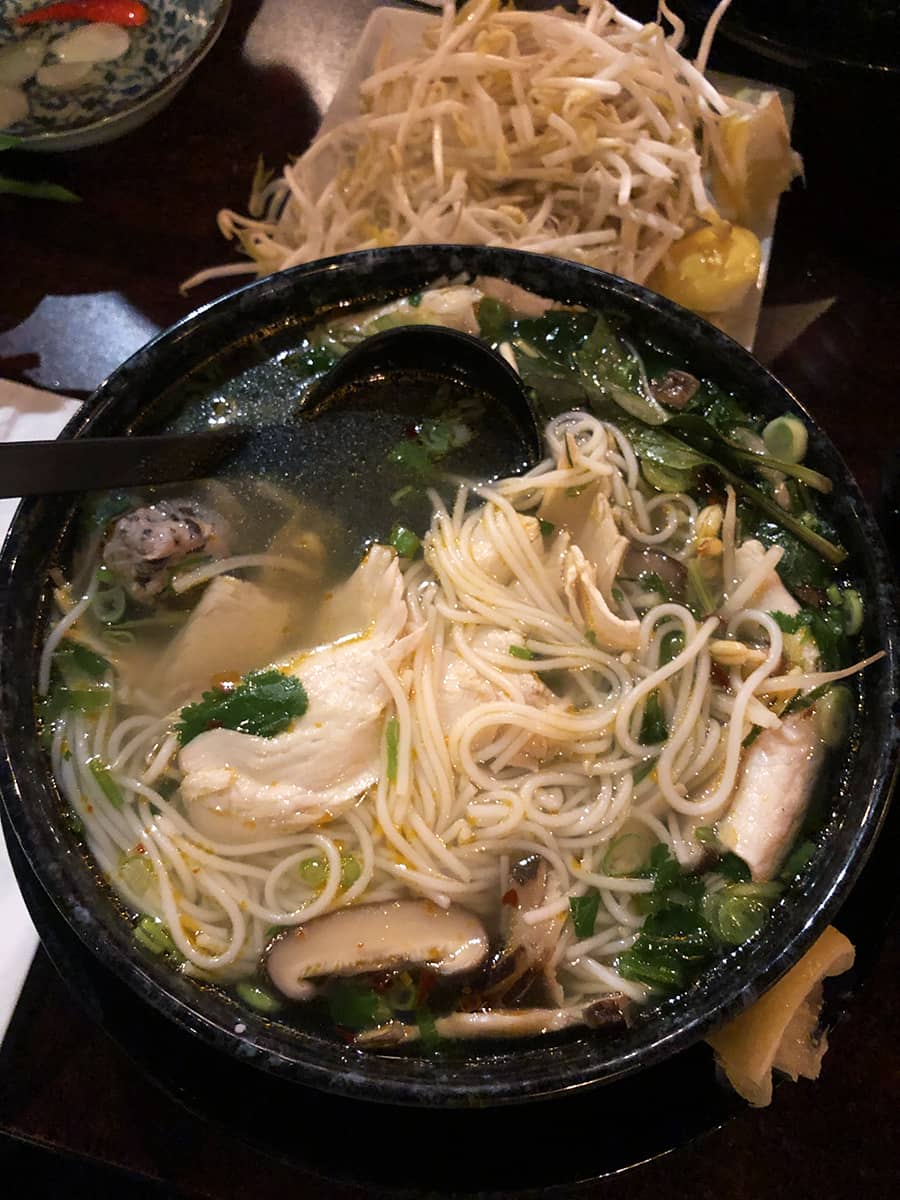 You can't get more authentic than generations of a Vietnamese family passing down their recipes to create one beautiful never-ending menu, offering a handful of only the yummiest of yummy choices. Mr. Red Cafe is just that spot, and they are a must-try if you aren't an ardent fan already.
We, like many of Vancouver's Asian-craving foodies, love their Bún Bò Lá Lốt but there's more than enough on the menu to satisfy your second, third, and seventeenth visit back.
Fun to know, you can catch the owners at Hanoi Old Quarter on Victoria Drive!
Location:
-2131 East Hastings St., Vancouver
-2680 West Broadway, Vancouver
Order Online: DoorDash | Uber Eats
Website | Instagram | Facebook
3. Hoi An Cafe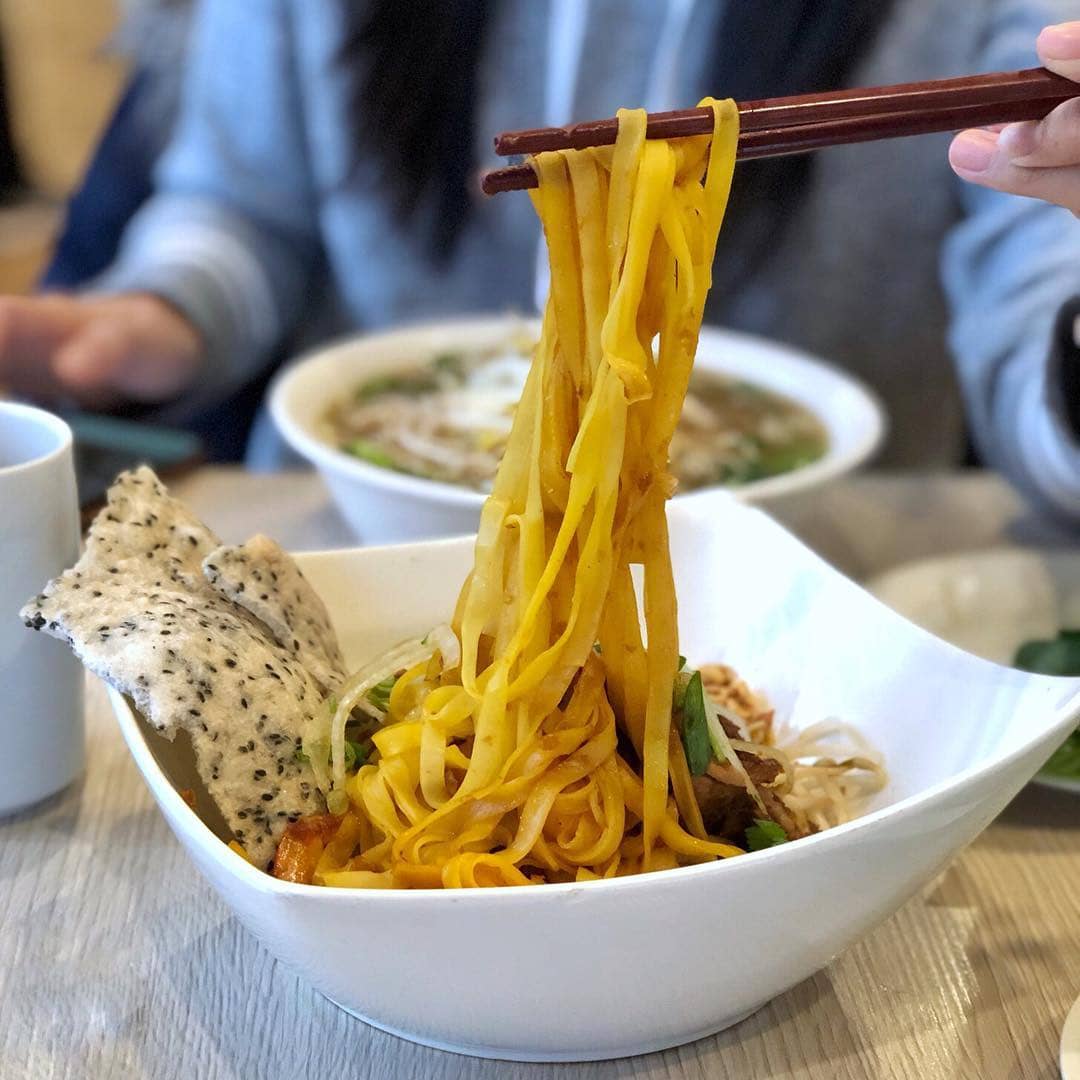 A small, but pretty busy spot on Victoria Drive, Hoi An Cafe delivers one of Vancouver's best places for a quick and easy Vietnamese bite. It's busy because it's popular for serving up fresh and delicious Vietnamese cuisine.
We're in love love love with their Cao Lau Dac Biet, a rice noodle bowl full with pork, greens, shrimp, garlic sauce and banana blossom. Side it with a plate of Banh Bot Loc La Chuoi (banana leaf tapioca dumplings) and have yourself a merry little delightful meal.
Location: 5002 Victoria Drive, Vancouver, BC V5P 3T8
4. Banh Mi Saigon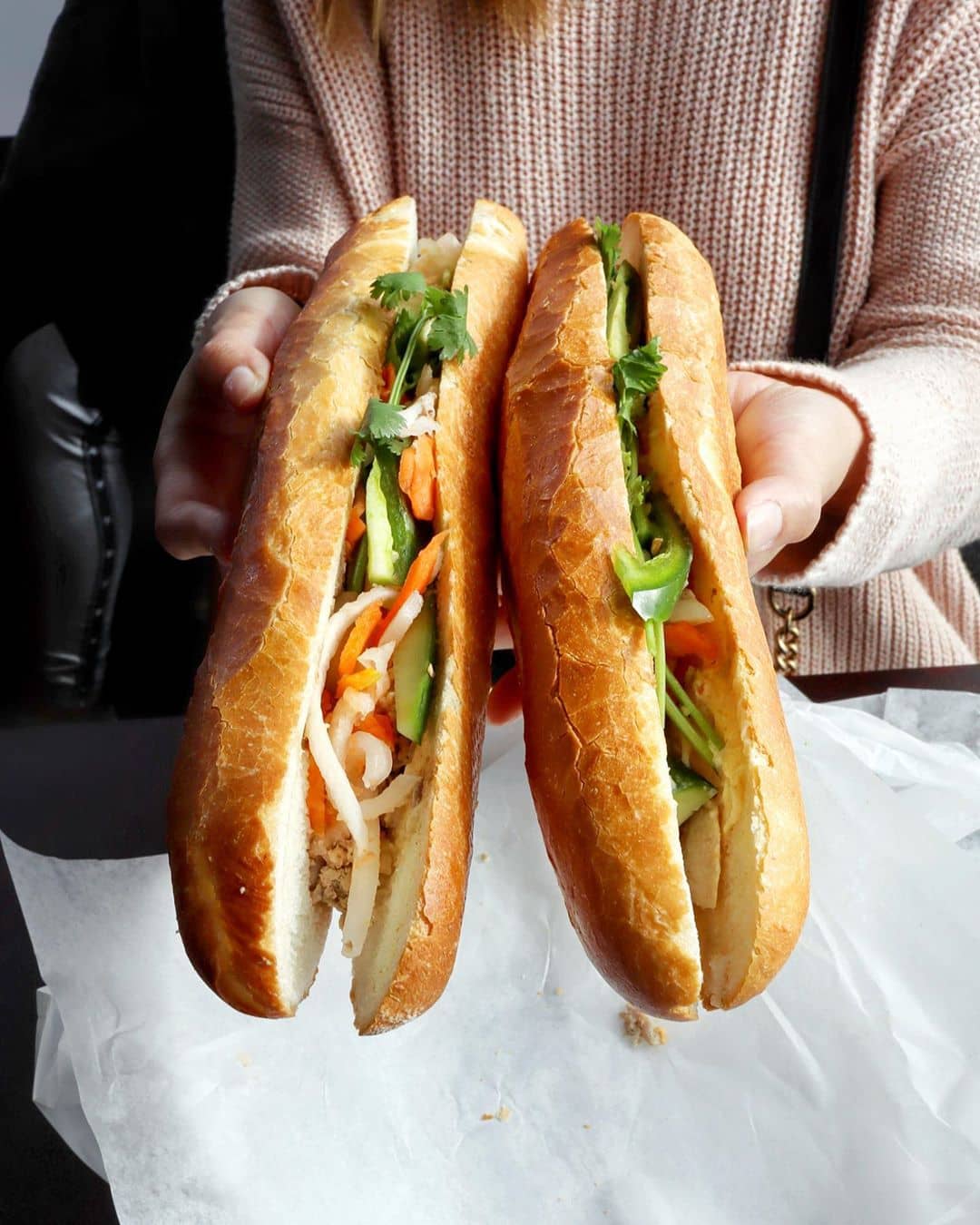 Give us bread! Give us Vietnamese! Give us bread with Vietnamese!
And Banh Mi Saigon did just that, supplying Vancouverites with fresh, quick, cheap and tasty sandwiches which we can never get enough of.
Our recommendation? The house Special Sandwich filled with ham, head cheese, meat balls, meat loaf, pate, homemade mayo, soy sauce and pickled vegetables. Grab your squad and get their 10 for 11 deal.
Location: 5397 Victoria Drive, Vancouver BC V5P 3V6
Website | Instagram | Facebook
5. Do Chay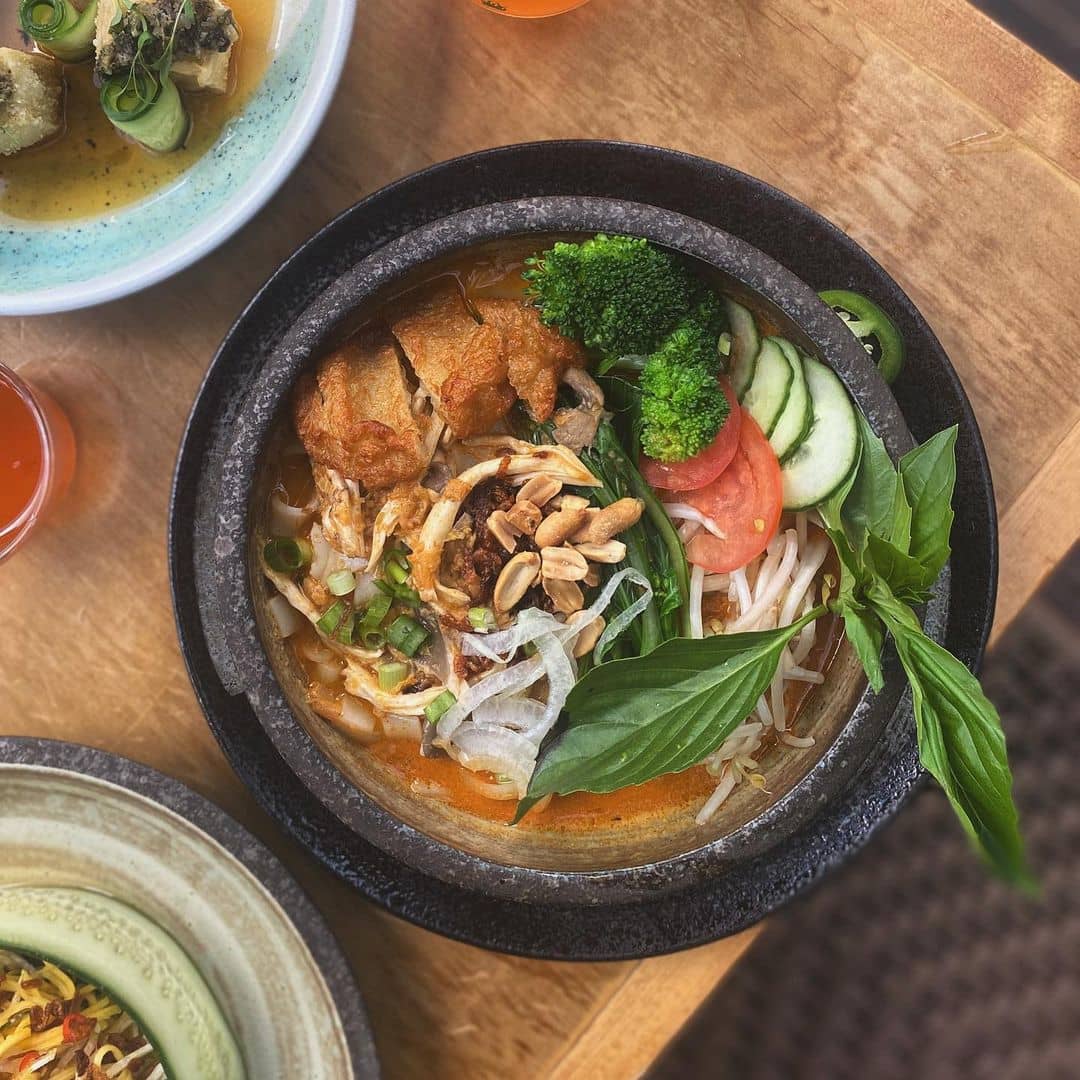 If you're either a long time vegetarian or just trying it out for fun, Do Chay was made for you. An absolute must for anyone craving a filling and authentic Vietnamese bite with a menu that's completely vegan and vegetarian friendly.
Their coconut rice cakes are a restaurant favourite and their satay noodles are to die for. Rich addicting flavours and organic ingredients? Sign us up!
Locations:
-1269 Hamilton, Vancouver, BC V5B 6K3
-1392 Kingsway, Vancouver, BC V5V 3E4
Order Online: DoorDash | Uber Eats | SkipTheDishes
Website | Instagram | Facebook
6. Bun Cha Ca Hoang Yen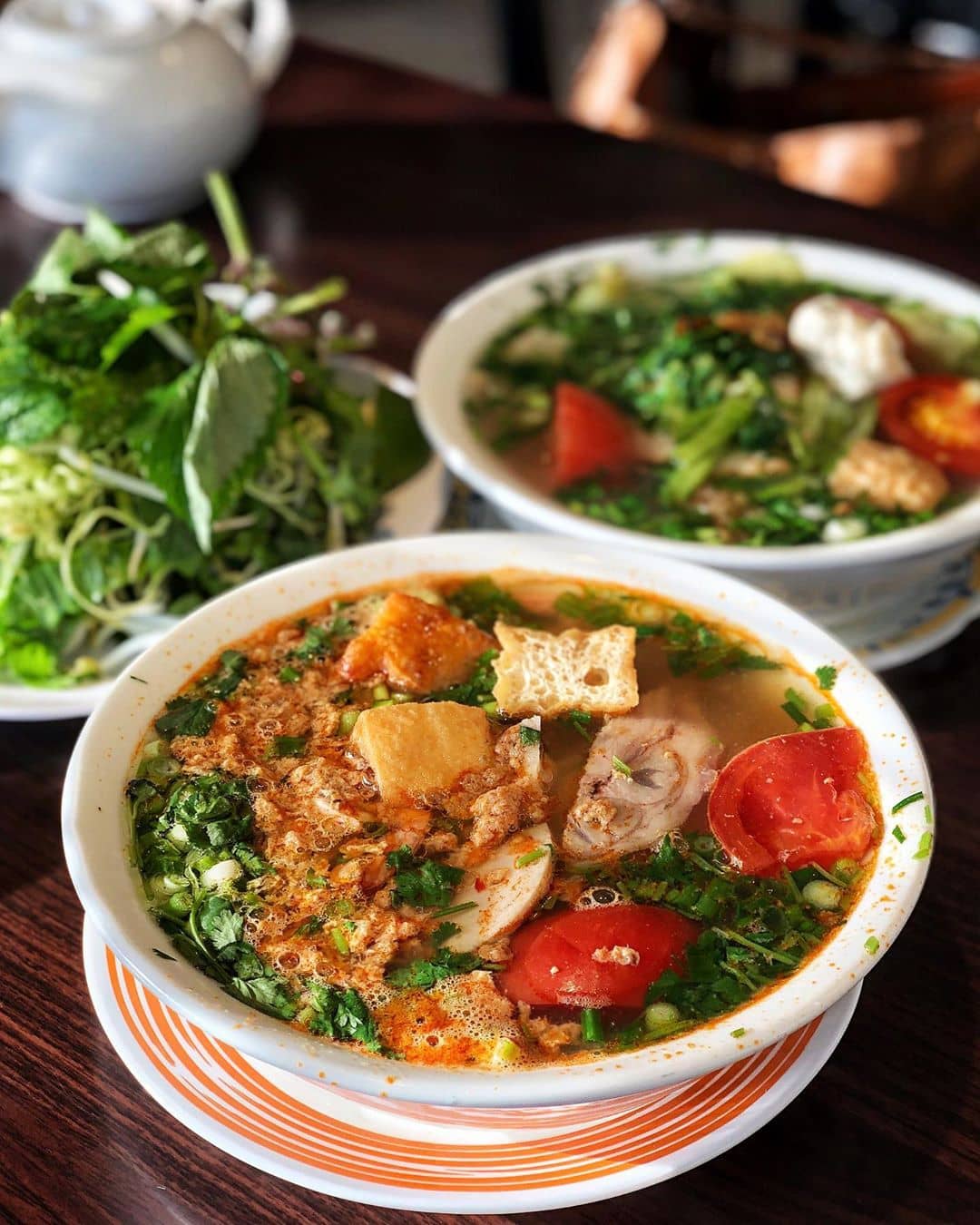 A true hidden gem ready to satisfy all your comfort food cravings, Bun Cha Ca Hoang Yen is a busy tiny hole-in-the-wall restaurant on Victoria Drive. A definite must-try for anyone scoping out the city's bests and dying to get their noodle on.
Although it's a little cramped, their infamous Bún Chả Cá Đặc Biệt (special fish cake with vermicelli) is what keeps bringing customers running back. Also, their Bún Riêu (crab cake with vermicelli) seems to be any Vietnamese-lover's biggest weakness.
Location: 5083 Victoria Dr, Vancouver, BC V5P 3T9, Canada
Order Online: SkipTheDishes
Website | Instagram | Facebook
7. Bánh Mì Très Bon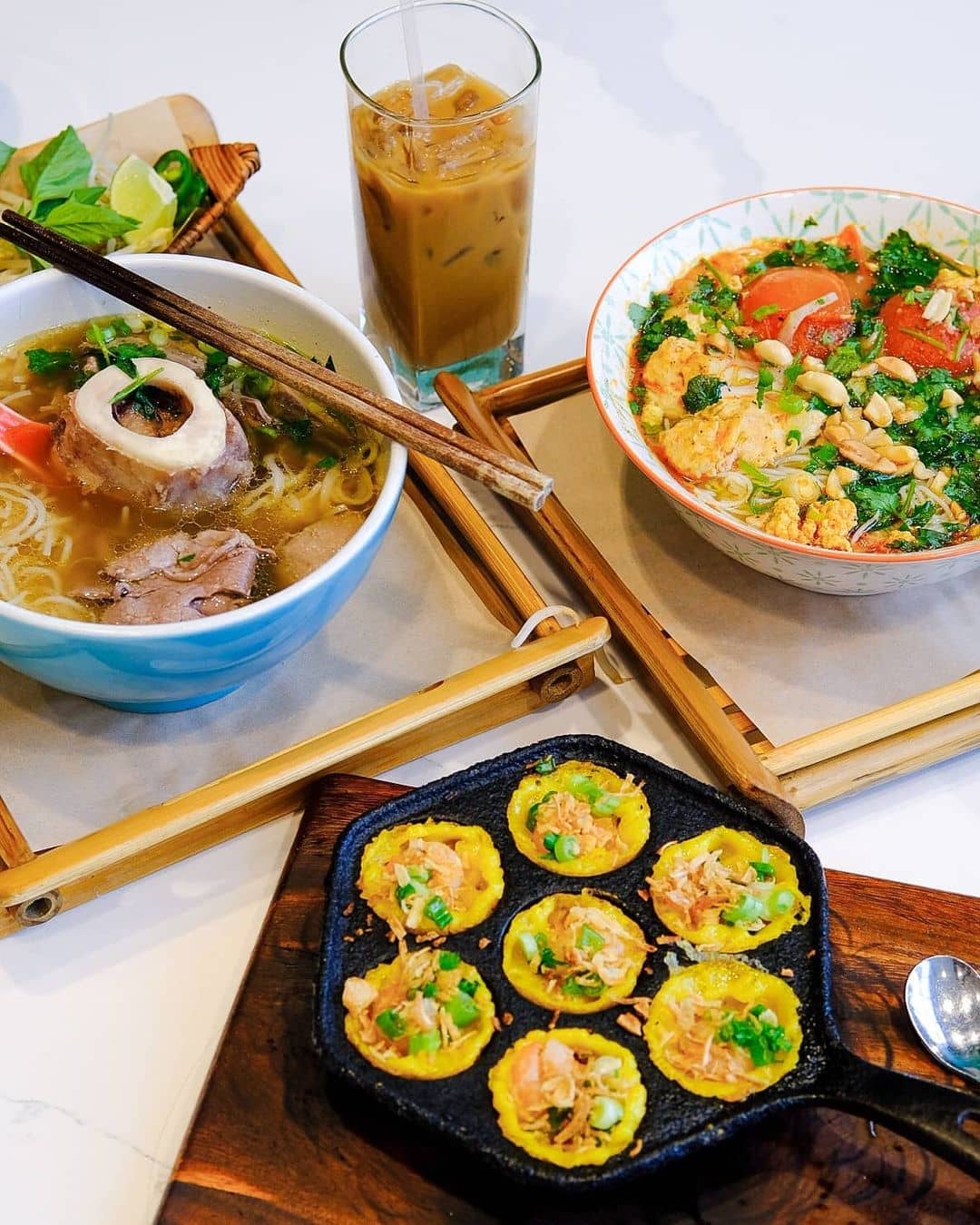 Oozing with sophistication and character, Bánh Mì Très Bon is a cute modern Vietnamese restaurant with the sweetest staff and the yummiest quality food. They will make you feel right at home, and serve up food that you soon won't forget.
That being said, it's not just their Savoury Mini Crepes that we love, but their Phở Tái Bò Viên (tenderloin and beef pho) is to die for, and we're not exaggerating. Really. We're not.
Location: 1840-4720 McClelland Road, Richmond, BC V6X 0M6
Order Online: Uber Eats
Website | Instagram | Facebook
8. Anh and Chi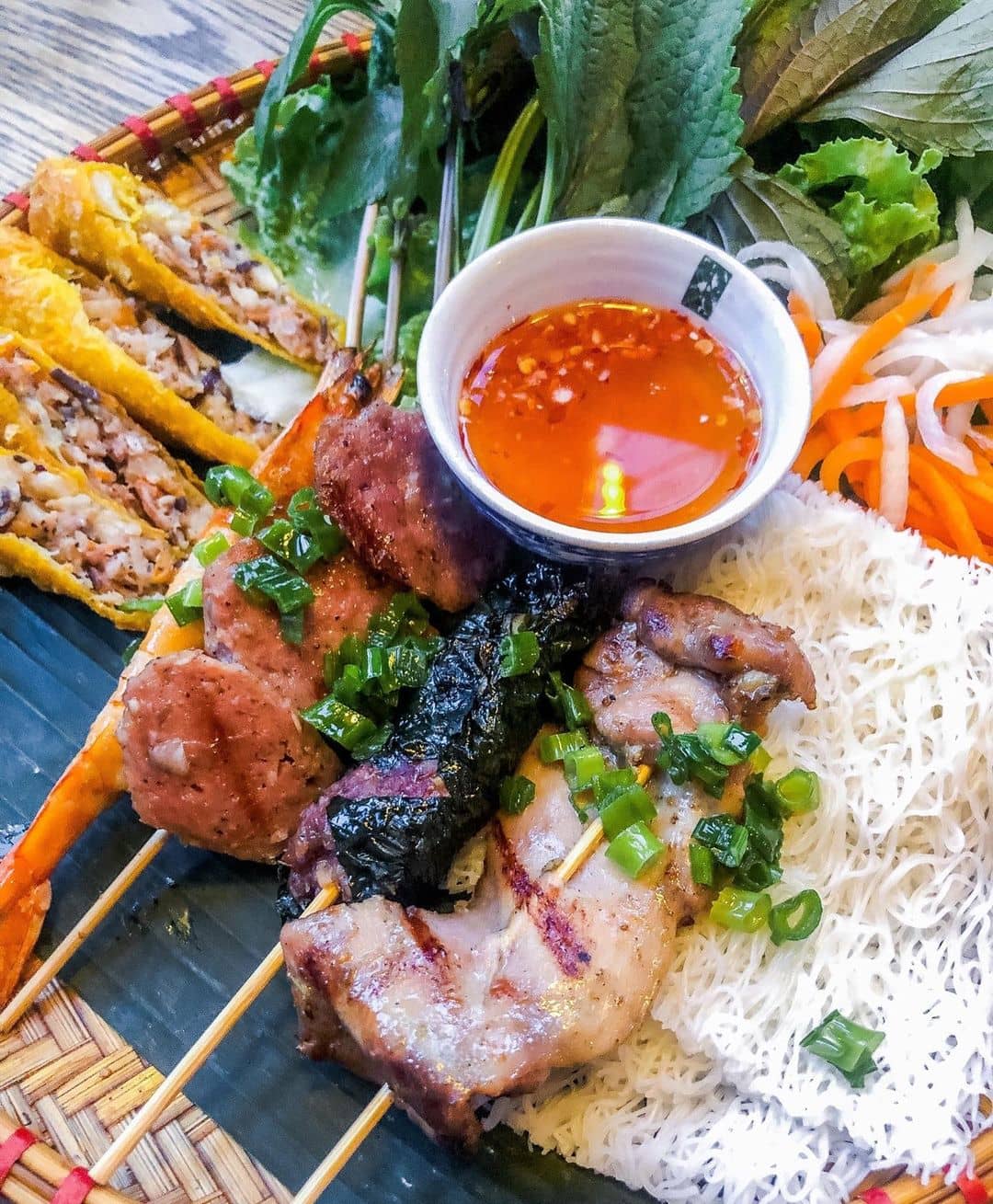 Mount Pleasant's Anh Chi is ready to serve you a modern twist on Vietnamese food in a beautiful chic restaurant that you'll never feel like stepping out of. Having been a finalist for Canada's best washroom, you can only assume how endearing the rest of the place is. Unique trendy food is also a big plus, of course!
Their DIY Street Side Platter lets you assemble your own wraps and we absolutely love the fun that comes with having our very own pick of toppings to create a meal we'd stay forever for. Their Turmeric Crepes and Soft Shell Crab Salad are also widely popular, so give them a try!
Location: 3388 Main Street Vancouver, BC V5V 3M7
Order Online: DoorDash | Uber Eats
Website | Instagram | Facebook
9. Lunch Lady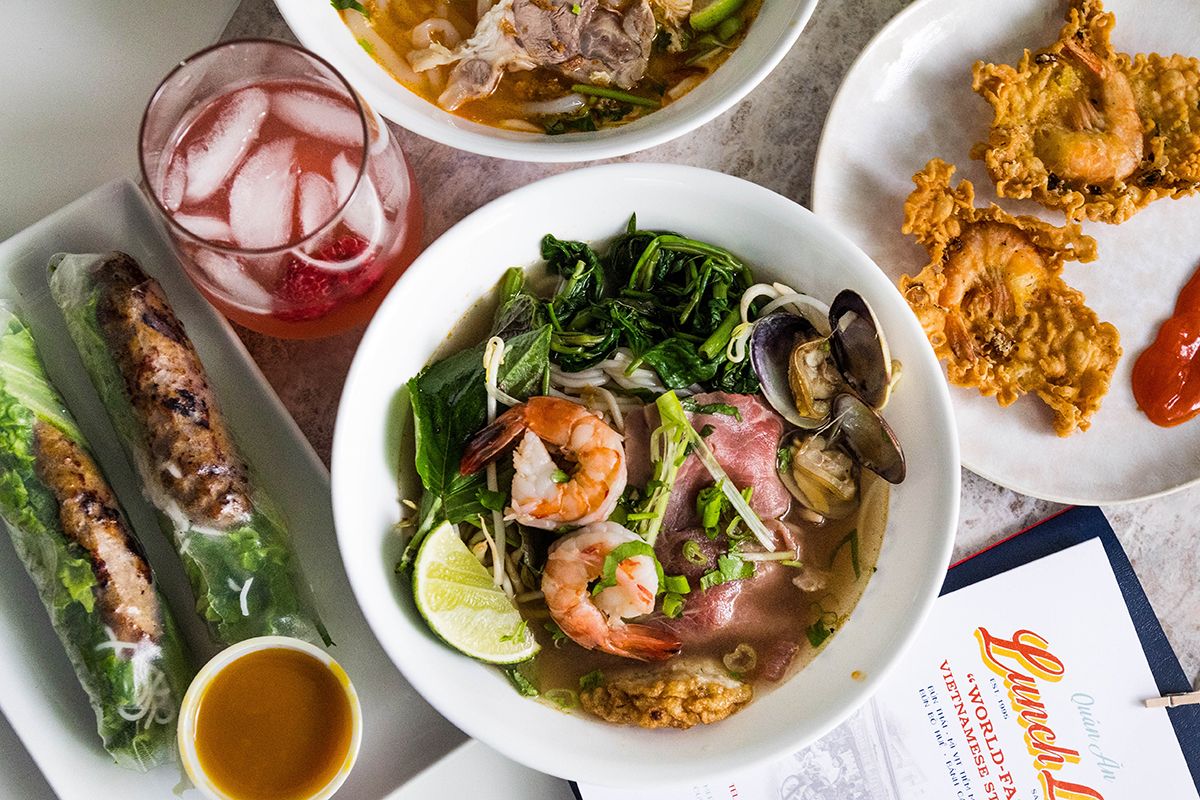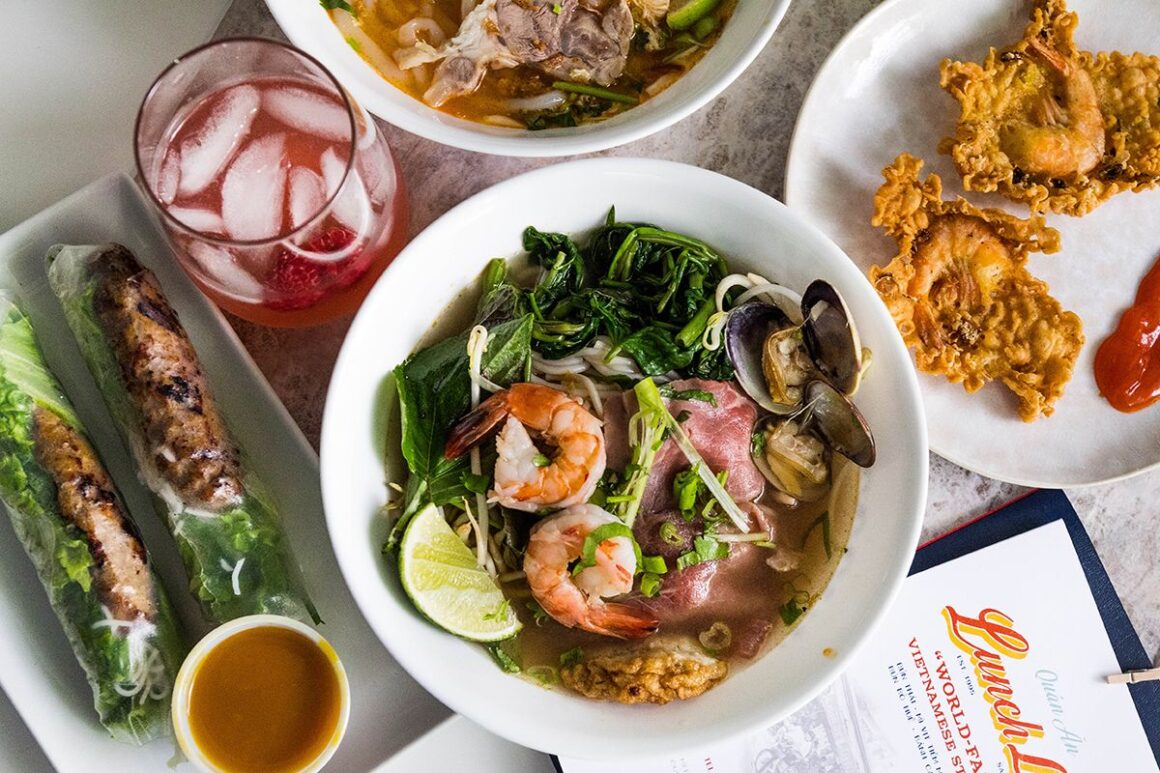 It's always fun when a restaurant transports you to a whole other country, and Lunch Lady executes this very journey flawlessly. Popularized by the late Anthony Bourdain's food travel show, 'No Reservations', Lunch Lady was originally a food stall on the streets of Vietnam before it expanded and conquered the Vancouver street food scene.
Now, it's any Vietnamese-lover's favourite choice on Commercial Drive. Whether it be beef pho, crispy spring rolls, beef luc lac or noodle soup, Lunch Lady's got you covered to fulfill all your South-East Asian comfort food needs.
Location: 1046 Commercial Drive Vancouver, BC V5L 3W9
Website | Instagram | Facebook
10. Pho Duy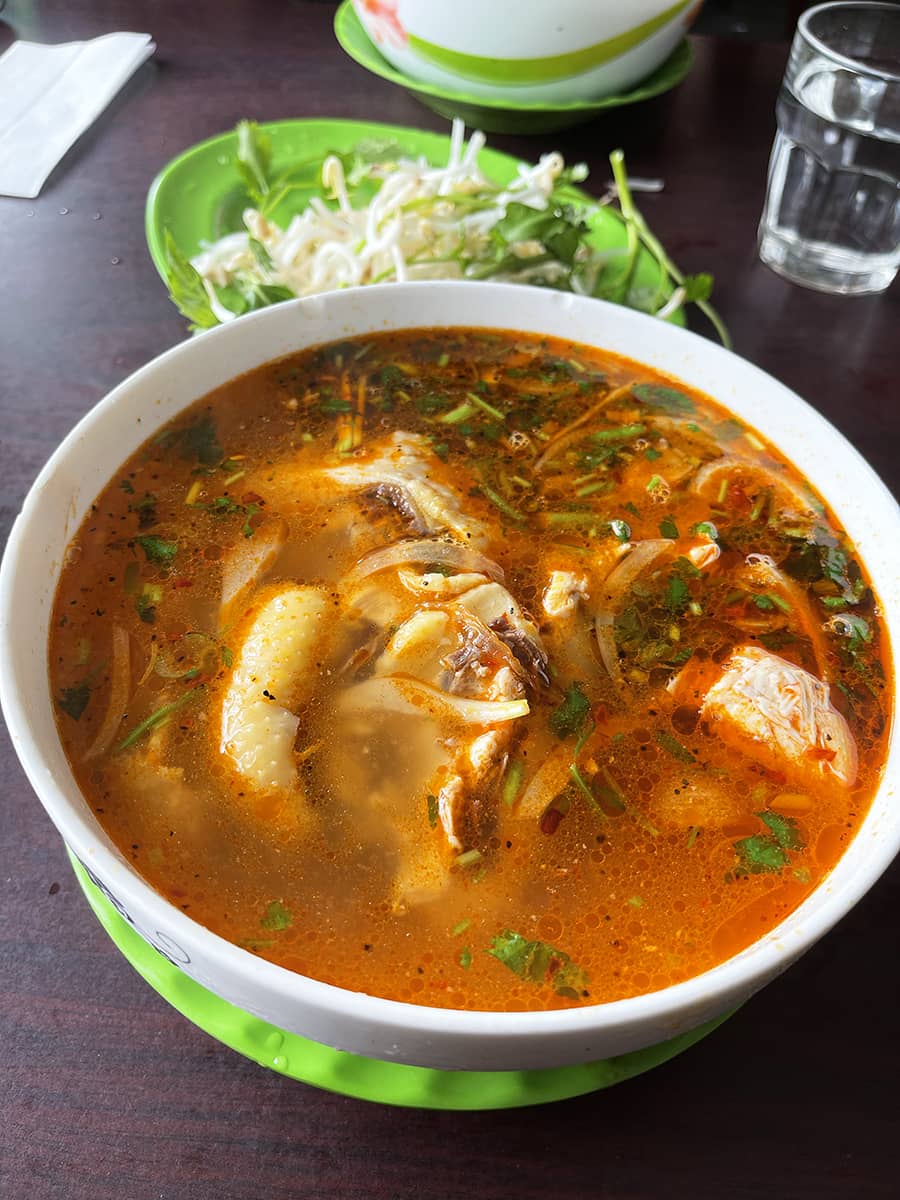 As the name suggests, Pho Duy offers you, yes you guessed it, pho. A limited menu sure, but Pho Duy keeps it fresh and real to give you a quick and rewarding lunch and one we can assure you you'll be running back for.
Once you're seated you're asked, "Beef or chicken?" and you then proceed to have only the best pho Vancouver has to offer. Regulars love to grab a Vietnamese Cold Coffee on their way out, so make you get in on that too.
Location: 1996 Kingsway Vancouver, BC V5N 2S9
That rounds up our list of the 10 best Vietnamese restaurants in Vancouver for authentic and delicious Vietnamese cuisine. We hope you try them all, and find your favorite spot to frequent. And, if you're looking to cool down this summer with a nice creamy cone or two, check out our list of 10 Best Ice Cream Shops you simply MUST hit up!
The following two tabs change content below.
Latest posts by Noms Magazine (see all)