When it comes to pre and post-workout drinks, vanilla or chocolate flavoured whey protein powder is the old age standard.
It is only in recent years are you seeing more and more flavours being introduced like Cotton Candy or Peanut Butter.
But as the bubble tea craze continues to dominate the world and is seemingly making it's way into every single category of food, it was only a matter of time someone crossed it with whey protein powder.
One of the first to create bubble tea flavoured and inspired whey protein powder, like brown sugar and taro, is Far East Alchemy.
We first stumbled upon this new Australian brand on TikTok, as it made an appearance on our #fyp.
Of course when their TikTok panned to the the beautifully patterned bag of brown sugar and taro whey protein powder, we were instantly curious what it would taste like and what other people thought.
To curb our own curiosity (and yours), we spoke with Co-founders Alric and Ophie how Far East Alchemy got started, how they came up with the flavours, starting a business during COVID, and where you can get your own bag of bbt flavoured whey protein!
Can you tell us a little bit about yourself and your background?
[Alric]: Hey readers of Noms Magazine! It's a real pleasure to be here. I'm Alric, Founder of Far East Alchemy.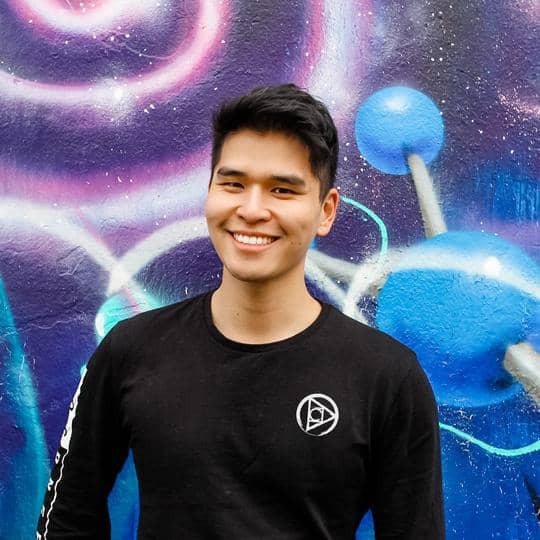 Where do I begin?
I was born and raised in Brisbane, Australia where I completed my dual undergrad degree in Business and Law, started my career in accounting and met my partner in crime for life, Ophie. Together we have two dogs, Sora and Dash!
For the last few years I've made Melbourne my home, fostered a full-time professional career in the property industry (completely not using either of my business or law degrees, by the way) whilst balancing my passion for this business, fitness, health and snowboarding. I'm an avid home cook and absolutely love creating new flavour experiences.
[Ophie]: Hi everyone! I'm Ophie, the Co-Founder of Far East Alchemy. Outside of my work here creating tasty gains, I work a corporate job during the weekdays and run my own health coaching business after hours. Aside from my passion for fitness and business, I also love creating graphics, playing piano, singing and video games.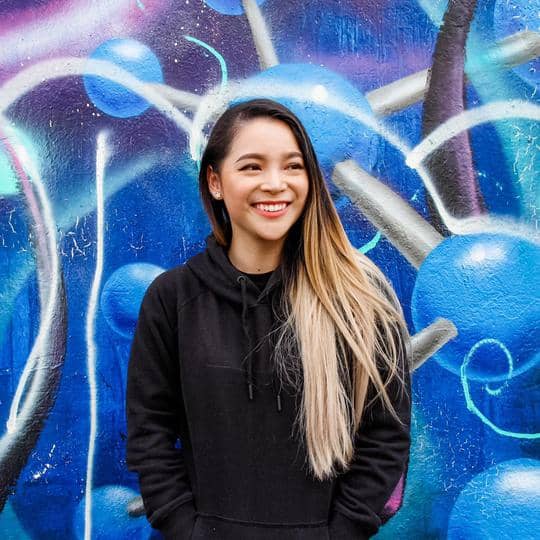 Growth both in life and work has always been something that is very important to me, and being able to create a project like Far East Alchemy with Alric has really helped me to foster and nurture that growth. It's been both challenging and rewarding; we've learned a lot along the way and I wouldn't have it any other way.
How did you come up with Far East Alchemy?
Oh wow, how far we've come! The brand now is actually a long shot away from when the idea first came to mind.
Looking back to March 2019, I still remember the exact moment that the idea came to mind. I was on my way home from the day job and getting a serious craving for bubble tea. Pretty typical, I know… except I've become more and more intolerant to dairy over time and actually hadn't had my favourite taro milk tea in years!
By coincidence just a few days prior, Ophie had decided to revisit a brand of protein renowned for its reliable taste that we used to drink when we first started our journey and we were both shocked at how bad it tasted. We were also tired of the mediocre and basic flavours the industry kept putting out. I mean how many vanillas and chocolates do you need?
From there, the idea basically came about by putting two and two together : whey is dairy based, and milk tea has dairy – so why not make bubble tea flavoured protein powder?!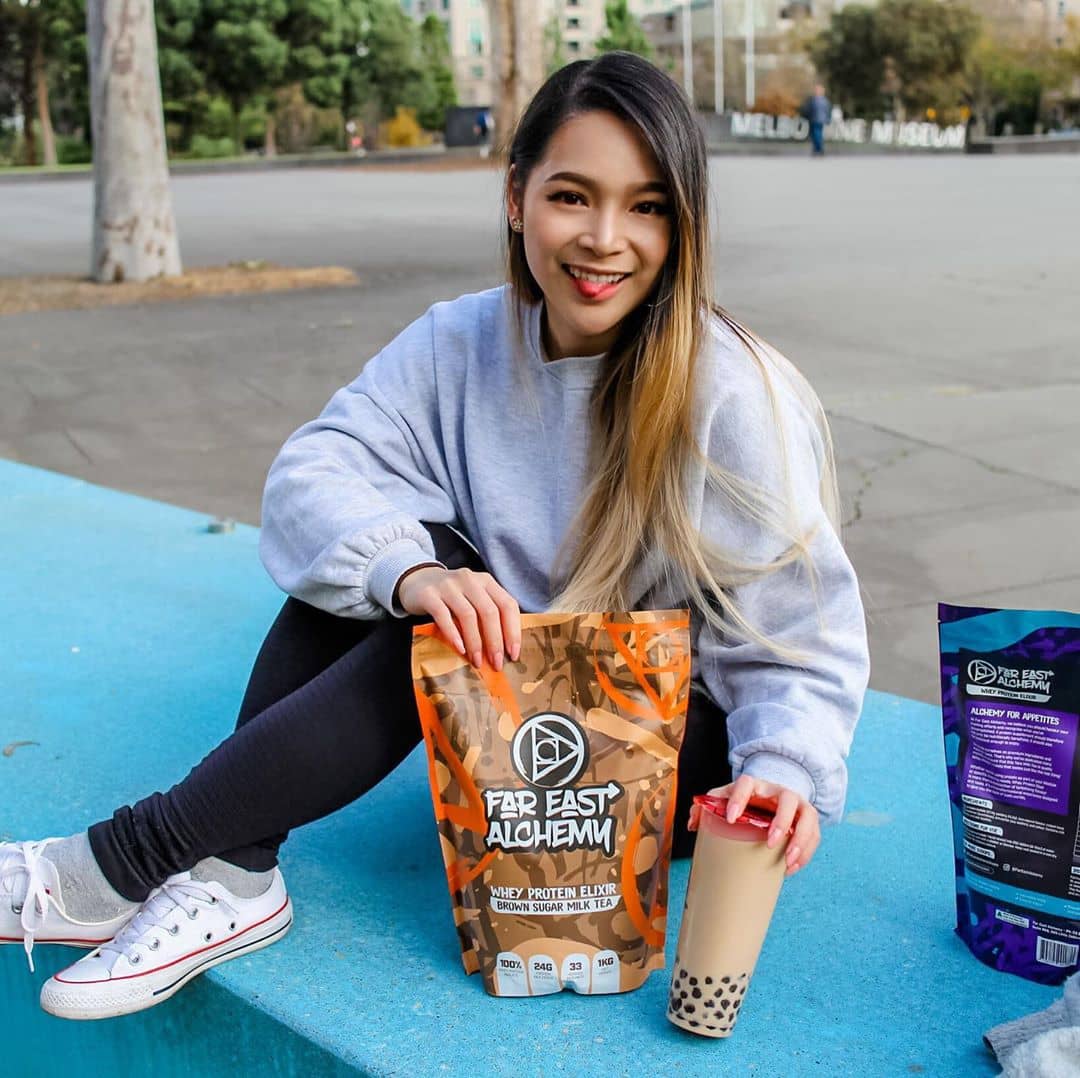 But it doesn't stop there.
After a number of months of serious research into the supplements and the industry that a realisation hit me. Asian representation is seriously lacking in the sports supplement industry. Think about the well-known brands out there today. How many of them feature people of Asian descent as their star athletes or the faces of their brands? In fact, research shows that Asian males are generally emasculated in Western society and Asian females are often fetishized.
That's why the brand moved beyond creating the best bubble tea protein powder. Our mission is for Far East Alchemy to become the brand that represents our culture in the sports supplement industry whilst constantly pursuing perfection (hence the 'Alchemy').
For people who don't know, what exactly is protein powder? And how is yours different from other brands?
Protein powder is a supplement you can take to help achieve protein intake goals. People with increased physical activity tend to need to consume more protein as a daily requirement because more of it is required to maintain or build the muscle you have on your body.
The most common source of protein is whey and of this type, Whey Protein Isolate is generally considered to be the highest quality as it has at least 90% protein yield and is the most bioavailable source of protein available. The extra filtration process that is required to make whey protein isolate also filters out most of the carbs and fats in the product (e.g. lactose).
To get the same amount of protein in a scoop of protein (24 grams in a 30g serve), you would need to eat ~80grams of chicken breast, or 130grams of lean beef mince. In contrast, whey protein is tasty, convenient and the most ideal protein source for priming your body for muscle maintenance and gain.
| | | | | |
| --- | --- | --- | --- | --- |
| | Serve Size | Protein | Fat | Carb |
| Whey protein elixir | 30g | 24.2g | 0.2g | 2g |
| Chicken Breast | 76g | 24.1g | 2.7g | 0g |
| Chicken Thigh | 94g | 24.2g | 101.g | 0g |
| 90/10 Lean Beef Mince | 130g | 24g | 13g | 0g |
| Egg | 4 eggs | 25.g | 19g | 1.4g |
| Chobani Yoghurt | 240g | 24g | 0g | 11.2g |
| Chickpeas | 350g | 24.5g | 7.3g | 66.5g |
Source: MyFitness Pal | Far East Alchemy on Whey Protein
When shopping for protein, you tend to find that whey protein isolate flavours are much more limited. This is because it is more expensive to produce and much more difficult to flavour.
At Far East Alchemy, we use whey protein isolate in our signature 'Elixir' range because not only do we want the best for our customers, the majority of our customers are actually lactose intolerant! Our protein gives you the best of both worlds: the quality of a whey protein isolate supplement, absolutely innovative flavours and incredible taste!
So you have Taro, Brown Sugar and Creme Brulee flavours. How did you decide on those?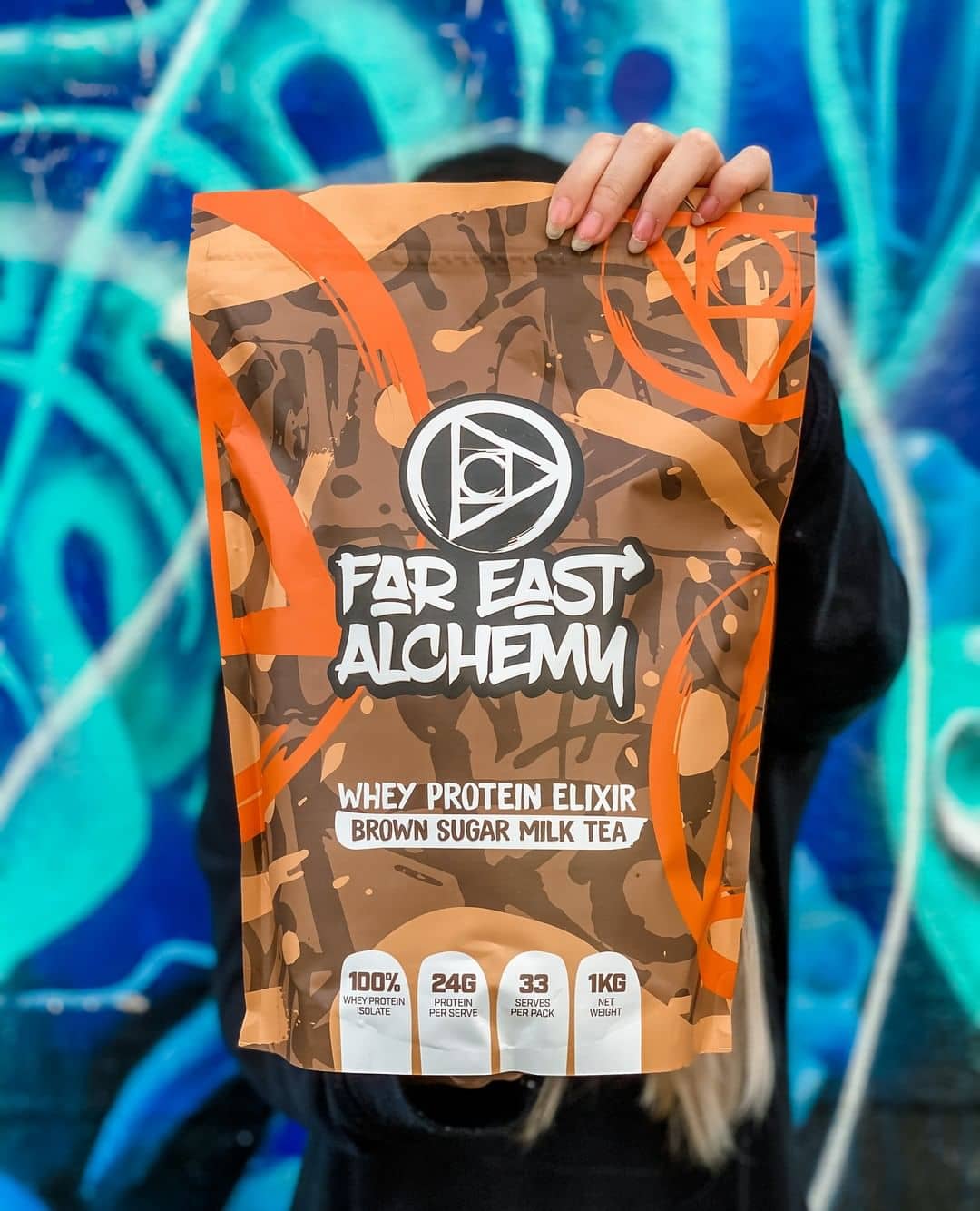 Brown Sugar is Taiwan's signature bubble tea and the king of bubble teas! I also couldn't go without trying to replicate the flavour of my favourite Taro Milk Tea from Gong Cha. Crème Brulee Milk (not a milk tea flavour) has also been a really popular choice in Melbourne bubble tea shops and we wanted something unique and different from the typical salted caramel flavours out there.
(Side note: we often get asked how much sugar is added in our brown sugar milk tea protein.. the answer is none)
What's the most popular flavour? And what's your favourite?
It's a close one, but Brown Sugar just pushes ahead of the Taro as the most popular flavour.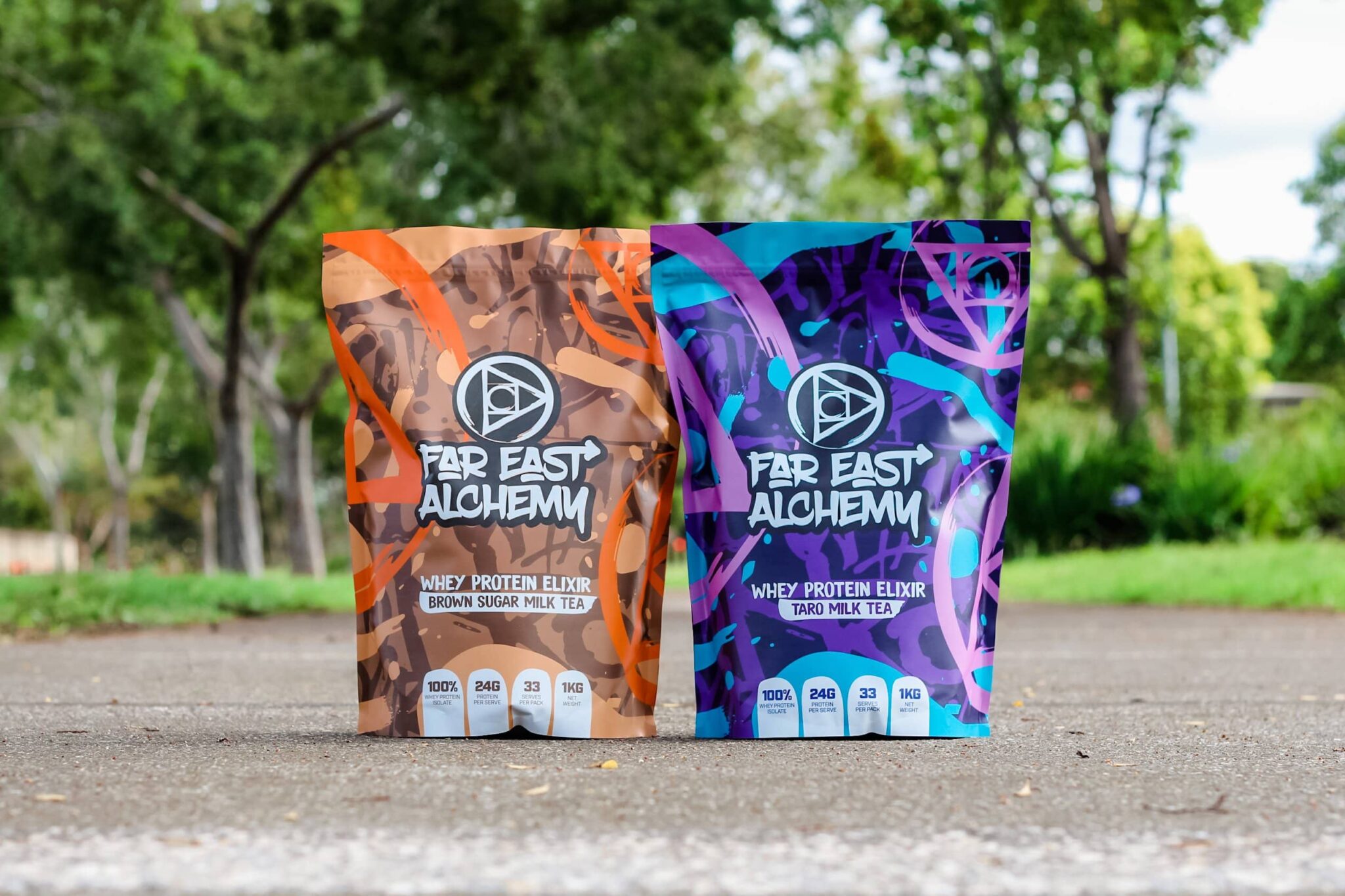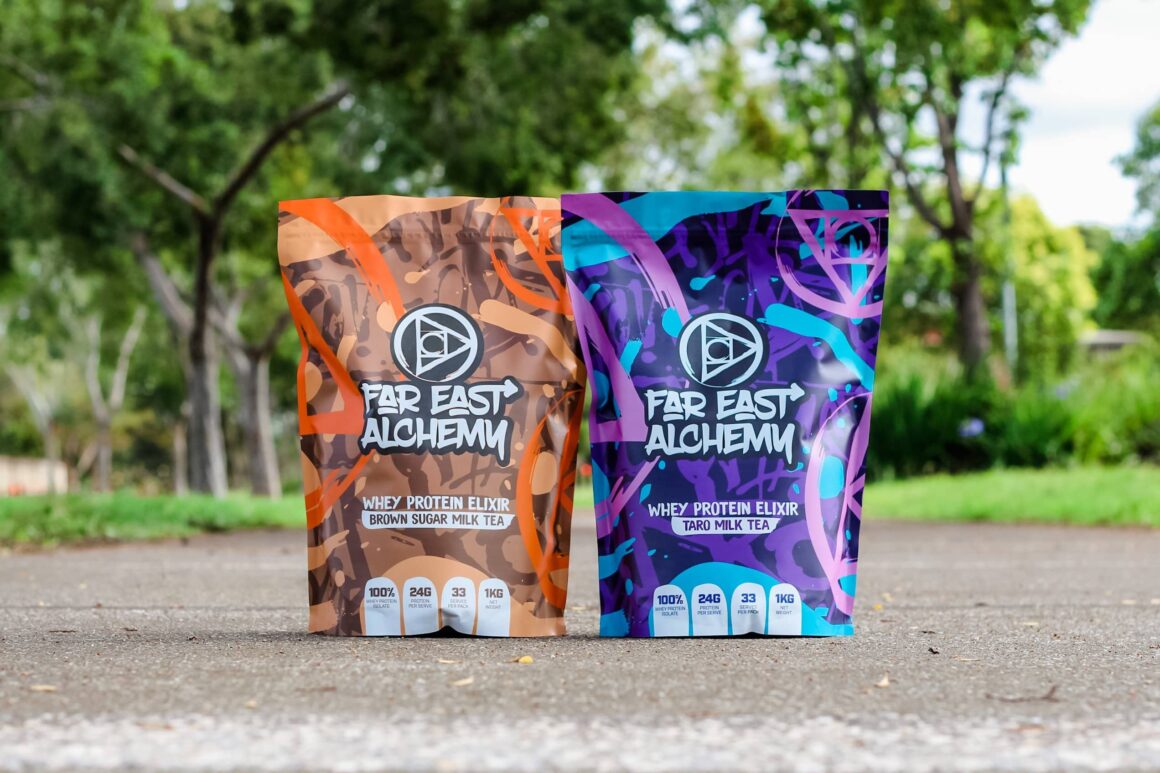 Both Ophie and I have Taro as our favourite!
You're one of the first boba flavoured protein powders out there. What's the response been so far?
It has been absolutely incredible! There aren't enough words in the English language to describe how grateful we are of the support there has been for the brand and its flavours, and we're so excited to be bringing more innovative and creative flavours to fuel your gains!
It's especially fulfilling when we hear that our protein shakes taste JUST like the real thing. Seeing the community get creative with their shakes by mixing into their yoghurt, making hot lattes, or getting gourmet with pearls and milk has been so rewarding!
Do you have any memorable or funny stories when you first started Far East Alchemy?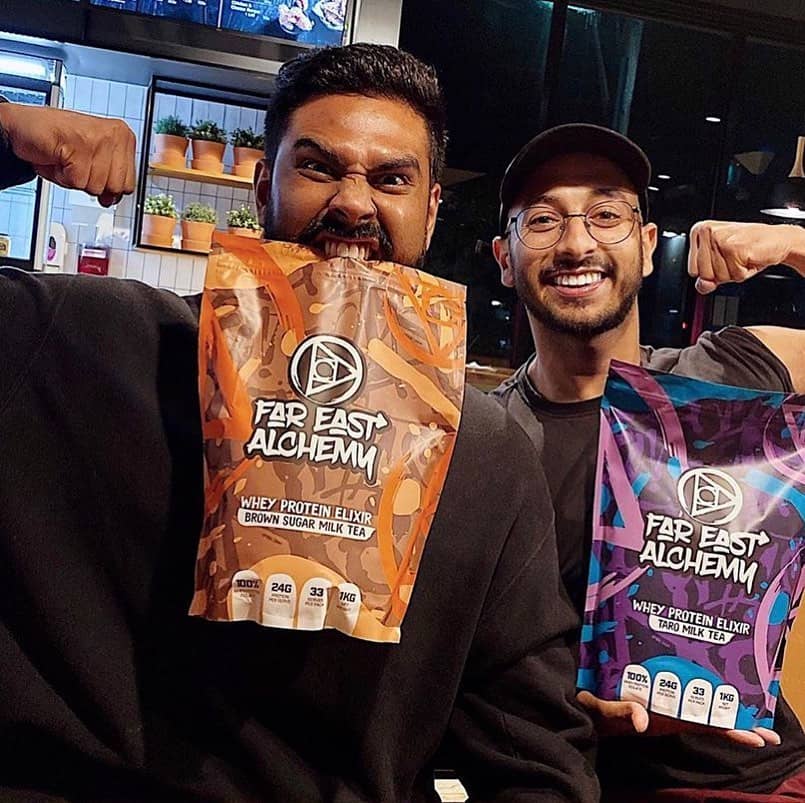 Oh boy! We decided to push our pre-launch a few weeks early on 22nd June 2020 to commemorate COVID-19 restrictions starting to get lifted in Australia and the return to gyms. Victoria was one of the last states to have theirs lifted and a week later, a day after our official launch date they closed the gyms again!
I also remember driving all the way across town much earlier on (over an hour each way) to deliver some pre-production samples for beta-testing feedback, only to realise I'd picked up the wrong samples…
What would you say to someone who has never tried Far East Alchemy?
You are in for a real treat!! Stop compromising on quality and flavour and pick up your ticket for the train to tasty Gainsville.
Boba gains, say what?!
---
For more information about Far East Alchemy and to grab your own bubble tea flavoured whey protein, head to their website and follow along their Instagram.
Get 10% OFF your order by using promo code 'NOMNOMNOM' at checkout.
The following two tabs change content below.
Latest posts by Noms Magazine (see all)