Looking for gift ideas for a Vancouver foodie, look no further!
Whether it is for Christmas or for a Birthday present, we've asked our foodie friends and did some brainstorming on some gift ideas that any food lover would enjoy receiving. Under each category, we've compiled several options that let you choose the one best for your friend.
So take a peek below our list of 15+ gift ideas for a Vancouver-based foodie:
This article includes affiliate links where we may get a small commission if you use our link. No extra cost is added on and all funds will be used to support our team and content.
1. Gift Card Their Fav Restaurant
Starting things off with the most simple and safe gift idea! As bleh as a gift card may sound, one to their favourite spot OR to a top Vancouver restaurant isn't one to shrug off.
If you're not sure what is their favourite restaurant, a safe bet is to get a gift card from one of the city's top restaurant groups. This means the receiver gets has multiple options to choose where to dine!
For A Sushi Lover – Aburi Group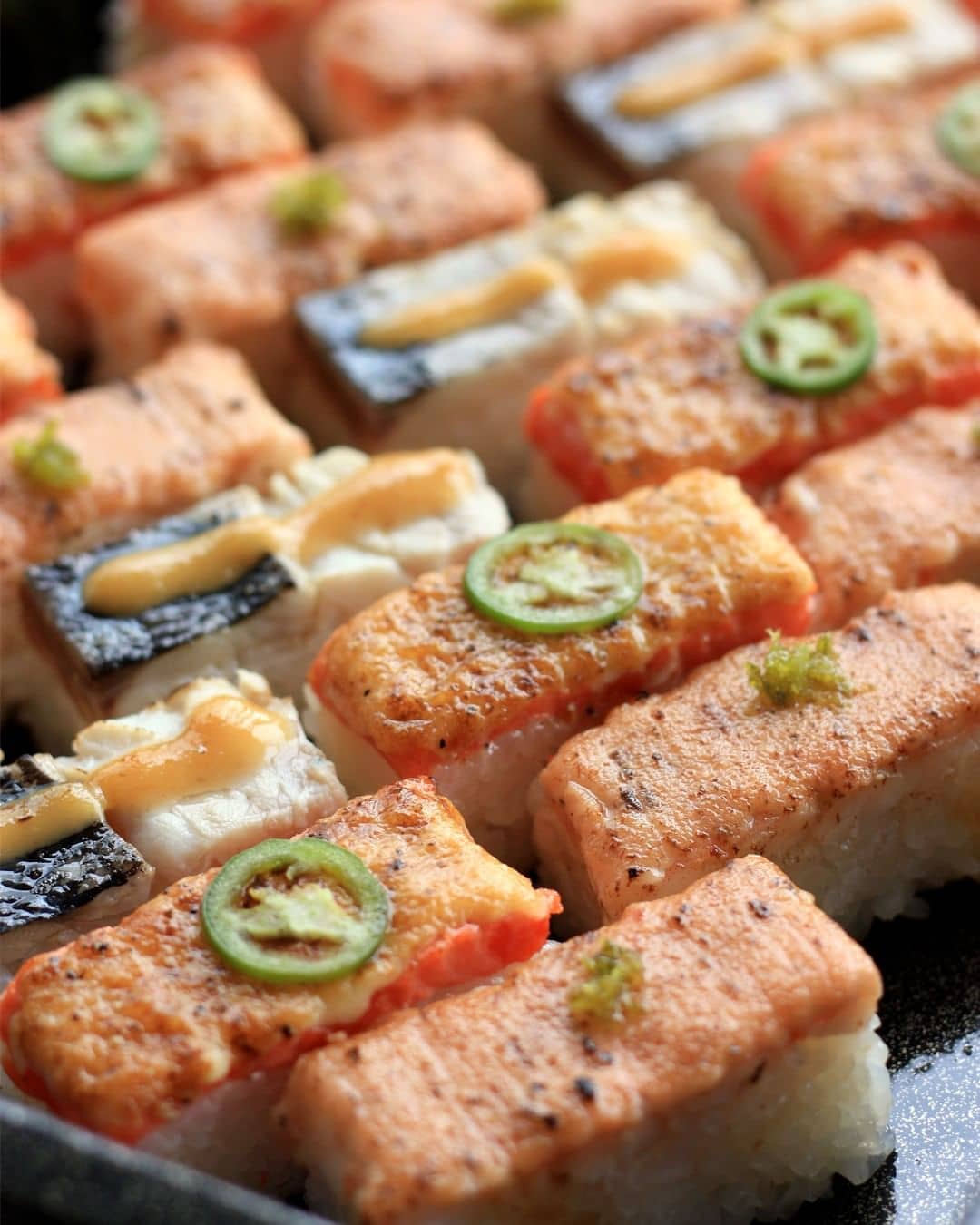 Restaraunts: Miku, Minami, Gyzoa Bar, Aburi 2 Go
Mentions: Best Sushi in Vancouver, Ultimate Vancouver Bucketlist
Physical and E-Gift cards are available.
For An Italian Food Lover – Kitchen Table Group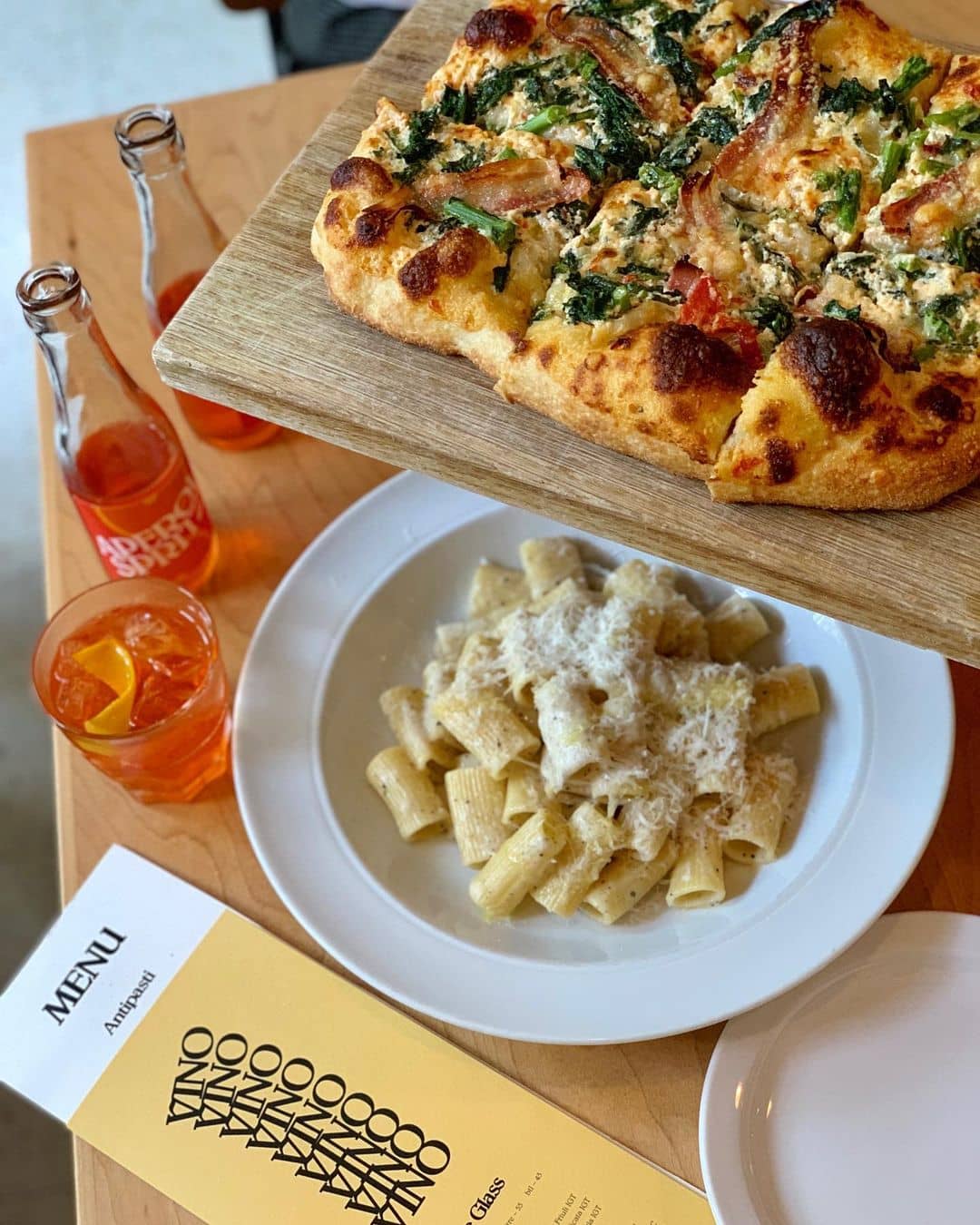 Restaurants: Ask for Luigi, Pourhouse, Pizzeria Farina, Di Beppe, Giovane Caffe, Super Veloce, Carlino, Farina a Legna
Mentions: Best Italian in Vancouver, Best Pizza in Vancouver, Best Burger in Vancouver
Physical and E-Gift cards are available.
For A Bougie Foodie – Toptable Group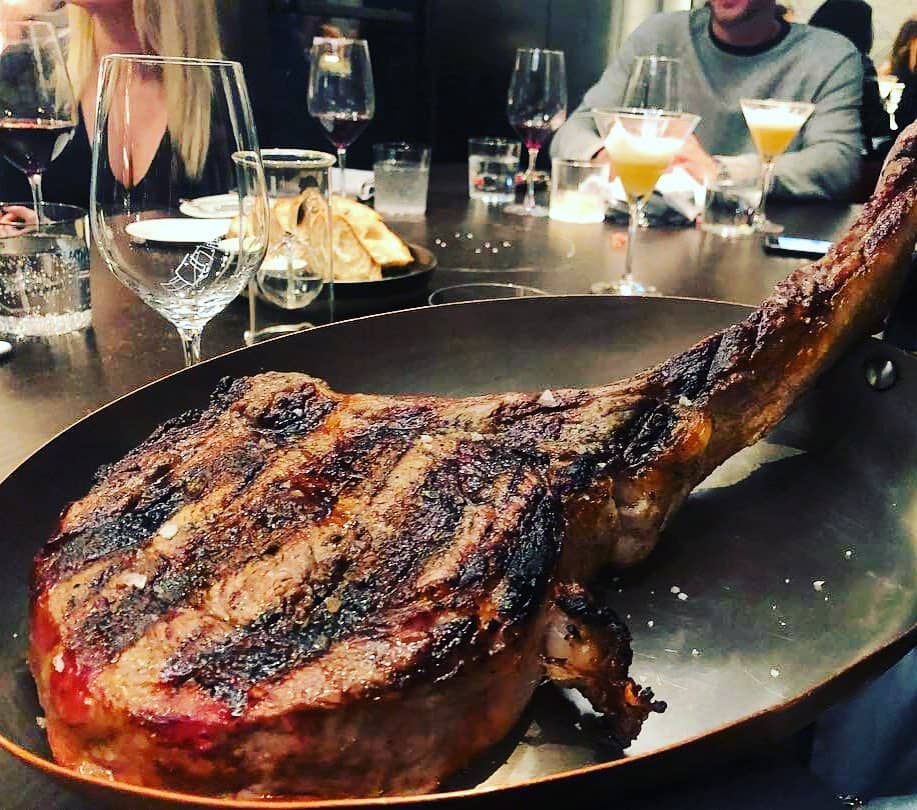 Restaurants: Bluewater Cafe, Cincin, Elisa Steakhouse, Araxi, Baro Oso, Thierry
Mentions: Best Seafood in Vancouver, Best Italian in Vancouver, Best Steakhouse in Vancouver, Best Bakery in Vancouver, Best Romantic Restaurants in Vancouver, Best Downtown Restaurants, Best Fine-Dining in Vancouver
Physical and E-Gift cards are available.
For An All-Rounder – Glowbal Group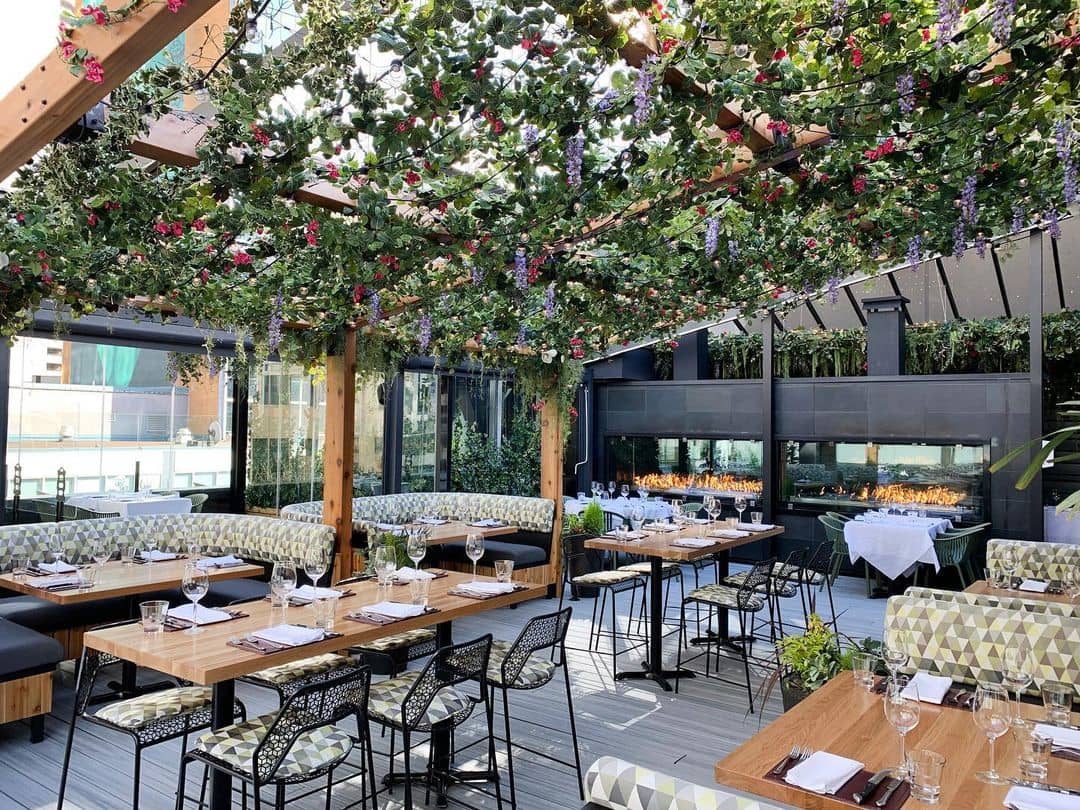 Restaurants: Glowbal, Italian Kitchen, Trattoria, Coast, Black + Blue, Five Sails, Nosh
Physical and E-Gift cards are available.
For Izakaya Lover – Tamaru Shoten Group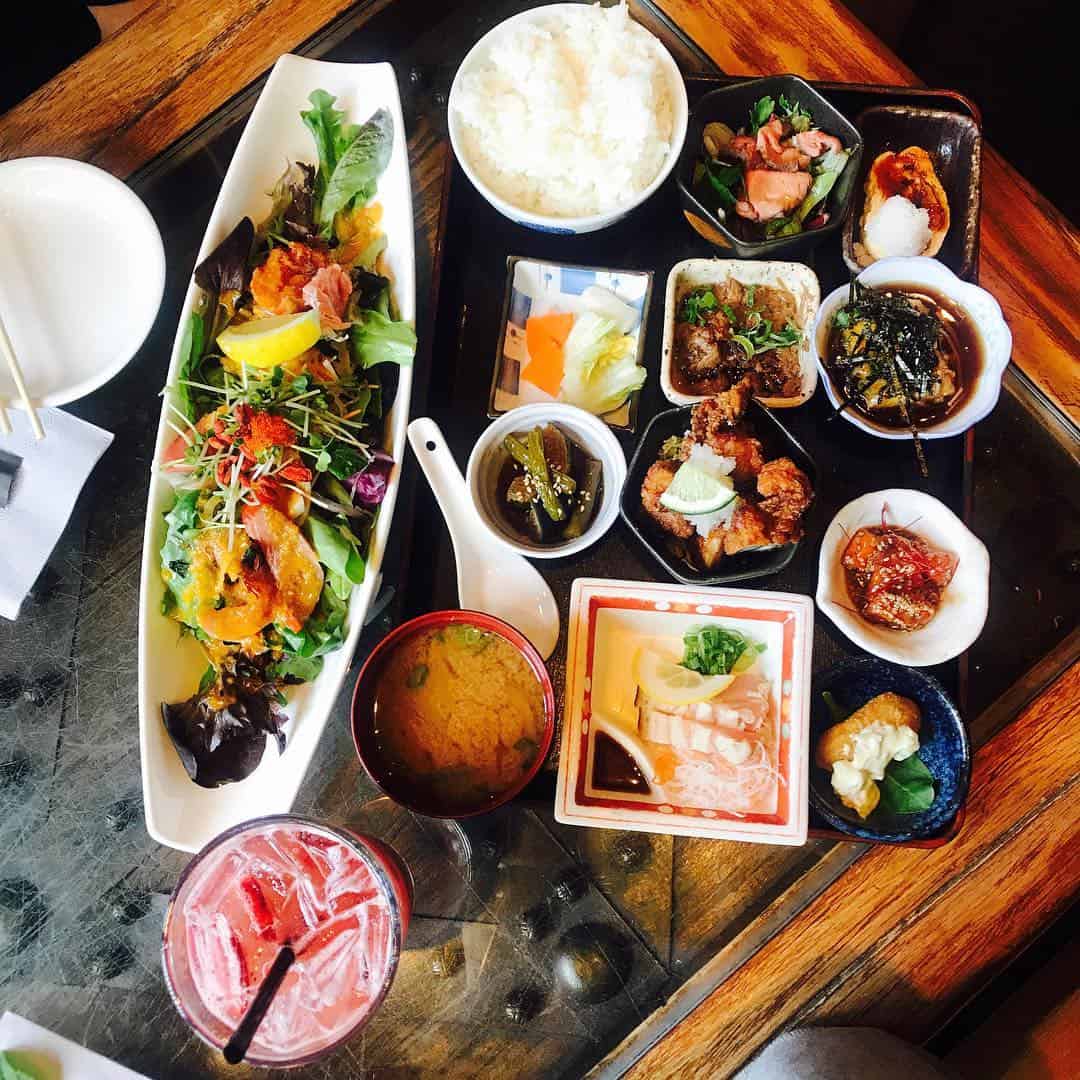 Restaurants: Kingyo, Raisu, Suika, Rajio
Physical gift cards available in store only
2. A Cookbook From A Local Restaurant
If your foodie loves to cook, why not give them a cookbook created by a local restaurant or bakery to recreate some of the top dishes?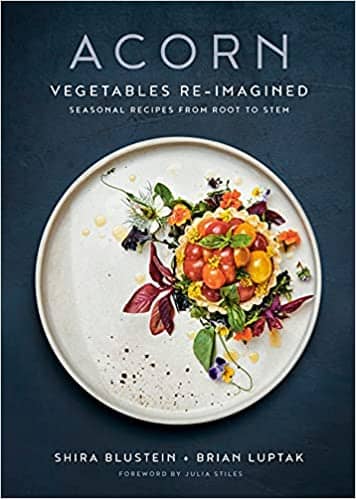 Acorn: Vegetables Re-Imagined: Seasonal Recipes from Root to Stem
By the award-winning Mount Pleasant vegan restaurant, Acorn, this cookbook pushes you to be daring with your vegetables, giving a year's worth of seasonal recipes. Acorn takes vegetarian cooking to the next level by being both visually attractive and methodically planned.
Price: $39.60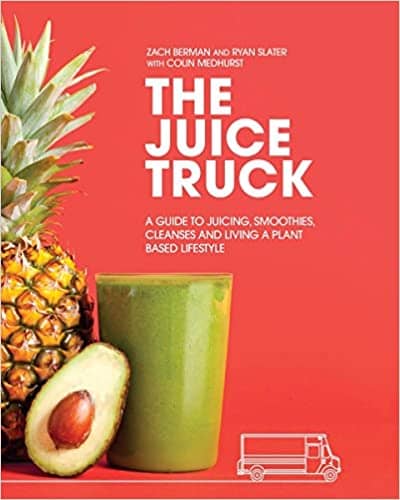 The Juice Truck: A Guide to Juicing, Smoothies, Cleanses and Living a Plant-Based Lifestyle
This book will appeal to both long-time and new juicers, as well as the devoted fans of Juice Truck (as well as people who want to transition to a healthier diet). This isn't your typical juice recipe-filled book; it's a got a mix of storytelling, nutrition, and tried-and-true recipes that belongs in every juicer's kitchen.
Price: $24.70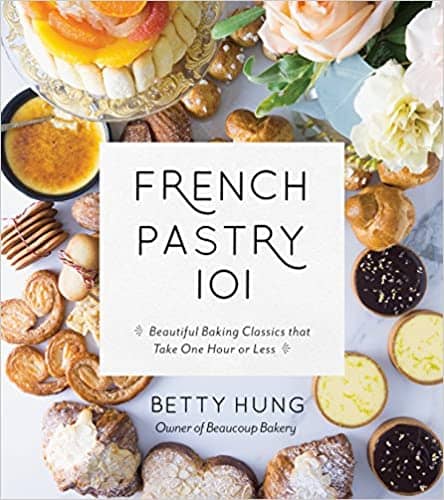 French Pastry 101: Learn the Art of Classic Baking with 60 Beginner-Friendly Recipes
The typical perception of French pastry is that it's tough to master, but Betty Hung, co-owner of Beaucoup Bakery, makes traditional French baking more approachable than ever. The majority of her dishes take less than an hour to prepare and beginner-friendly.
Price: $31.76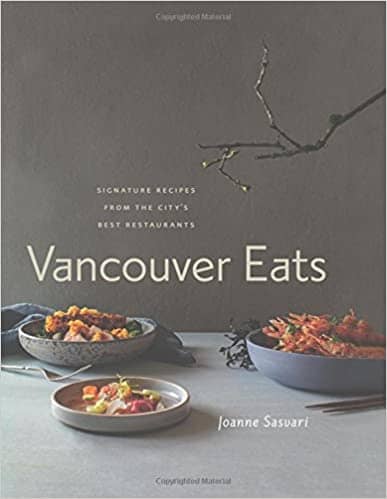 Vancouver Eats: Signature Recipes from the City's Best Restaurants
Vancouver Eats is a cookbook that features 90 delectable meals from 45 of the city's top eateries. You'll find recipes for salads, soups, brunch, mains, desserts, and cocktails from hard hitters like Tacofino, Cafe Medina, Thomas Haas, Botanist, and more in this cookbook.
Price: $38.56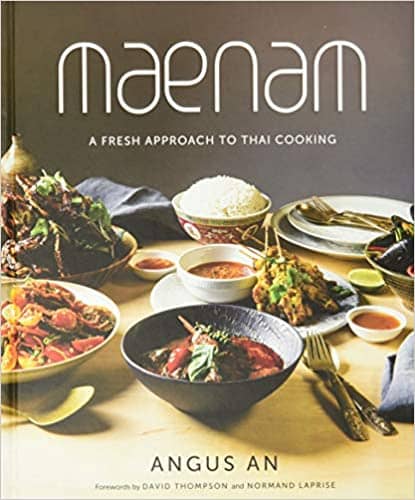 Maenam: A Fresh Approach to Thai Cooking
From the award-winning Thai restaurant, Maenam, Chef Angus An takes you on his quest to understand Thai cuisine and demonstrates how to combine traditional Thai tastes with local, seasonal inspiration from the west coast. Maenam is filled with 100 of his recipes and provides the foundation for modern Thai cuisine for daring chefs of all skill levels.
Price: $34.56
3. A Local Food Box
A local food box is a great way to introduce your foodie to new and interesting flavours from their own backyard. The items in the food box tend to have a large variety and makes for a great way to try new foods and learn about new food brands.
LEGENDS CLASSIC Gift Box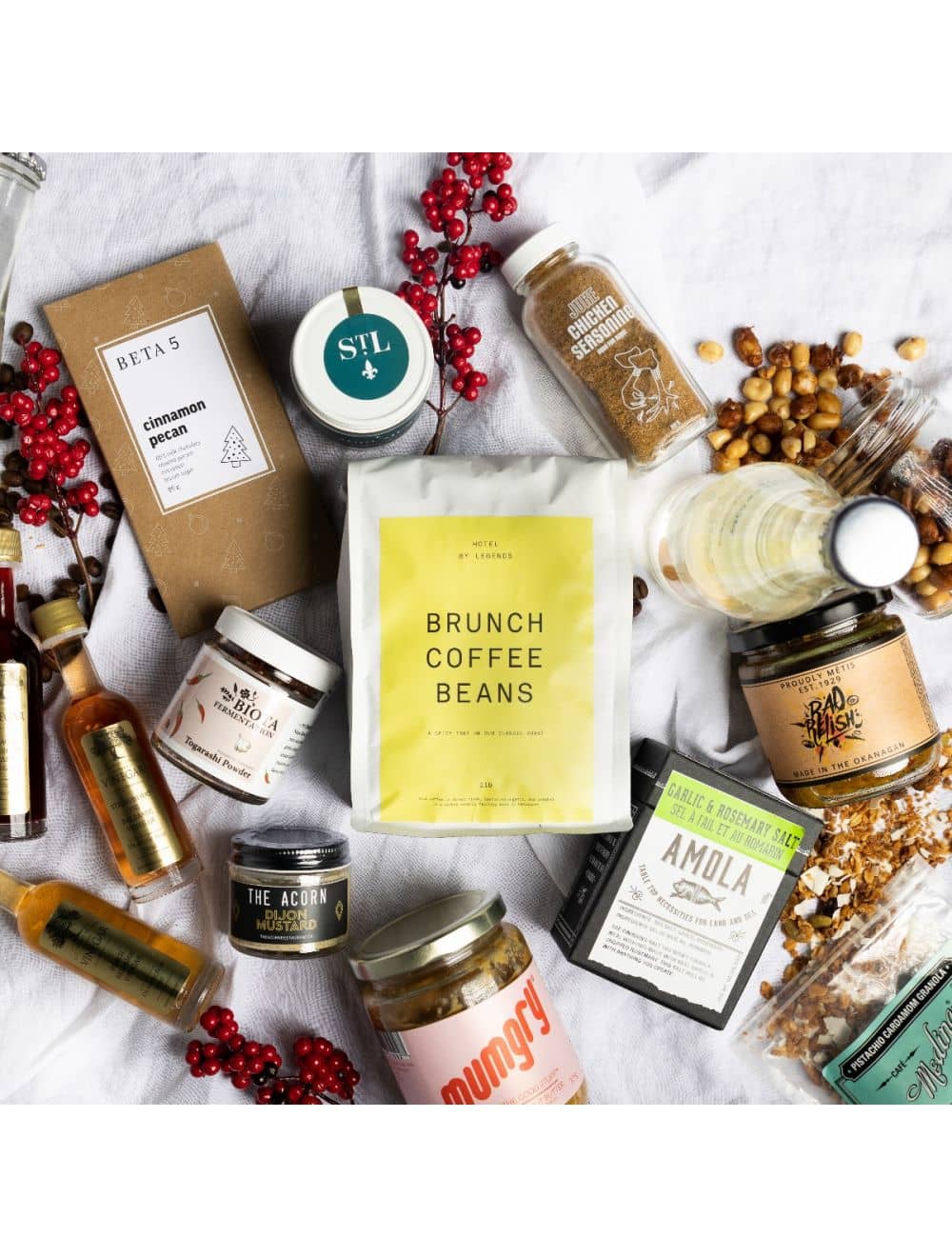 When they say "legends' and "classics" – they mean it. You'll see a roster of notable names plastered all over this gift box. From award-winning St. Lawrence Restaurant to Beta5 Chocolates to Anh and Chi, to Juke Fried Chicken, this is like a Vancouver Allstar box.
Price: $169.99
Commissary Connect Holiday Gift Box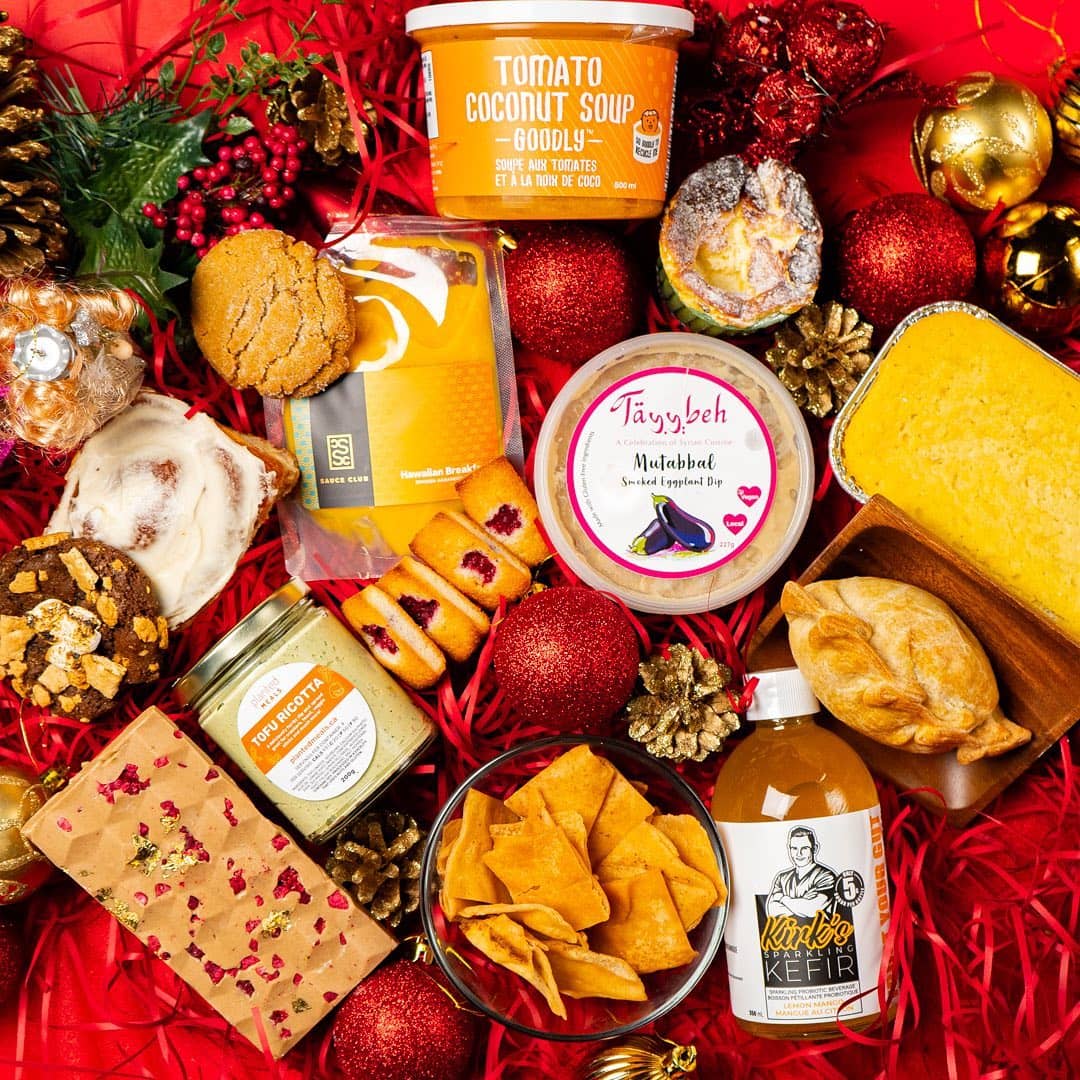 Every year, the local food entrepreneurs operating out of Commissary Connect come together to build a holiday gift box. With items from each food brand, this box will also donate part of the proceeds to The Canadian Red Cross to support the relief efforts in Abbotsford. Vegan & non-vegan options available.
Price: $75.00
Granville Island Delivery Co. Comfort & Cravings Snack Box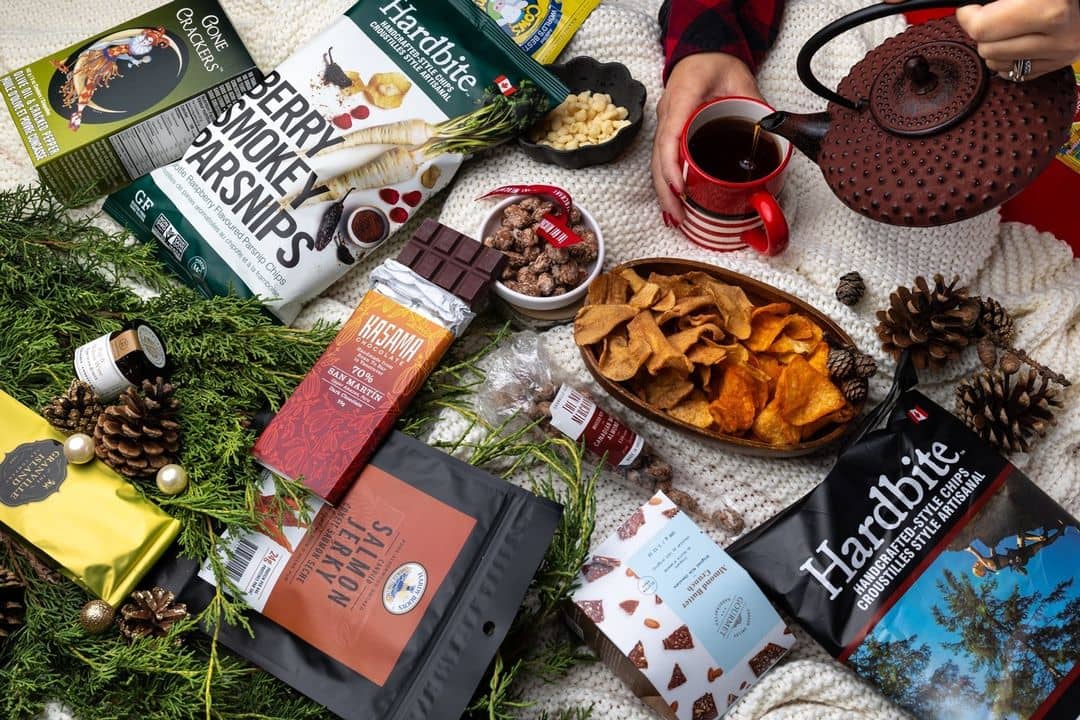 The team at Granville Island Delivery Co. compiled their favourite treats from the province and the food brands operating in Granville Island for this special sweet box. You'll find items from Granville Island's Tea Co, Kasama Chocolate, Hardbite Chips, The Nut Merchant, Cows Creamery and more!
Price: $119.99
Laid Back Snack Box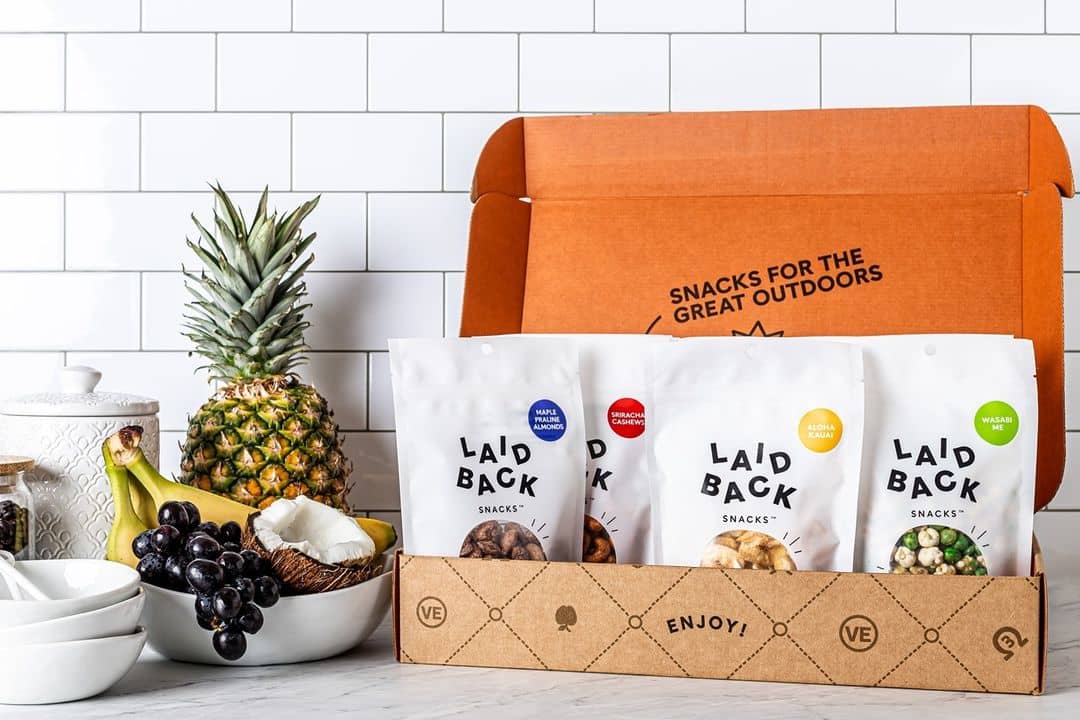 Want to give something that is both healthy and delicious? Laid Back Snacks' gift boxes has got that covered. Choose from flavours like 3 pm goji, cracked pepper pistachios, goji granola, Maui pineapple, nutless wonder, morning bestie, and more to create a box of 5, 10, or 15 snacks.
Price: $59.00
4. A Voucher For A Cooking Class
Cooking classes are a fun way for foodies to learn new techniques and recipes. They can also be a great way to meet other people who love food as much as they do. There are lots of cooking classes in Vancouver to choose from, so you're sure to find one that suits your friend's interests.
Some popular cooking schools in Vancouver include:
The Gourmet Warehouse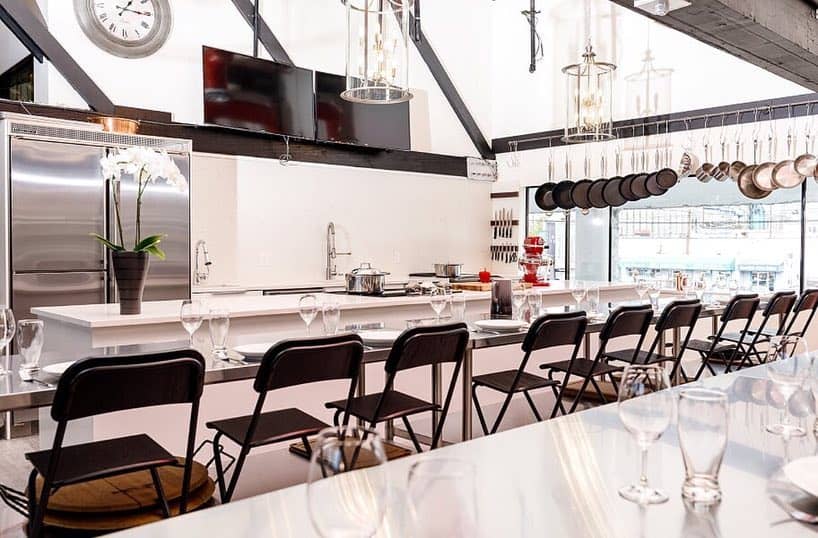 Cooking Classes available:
The Dirty Apron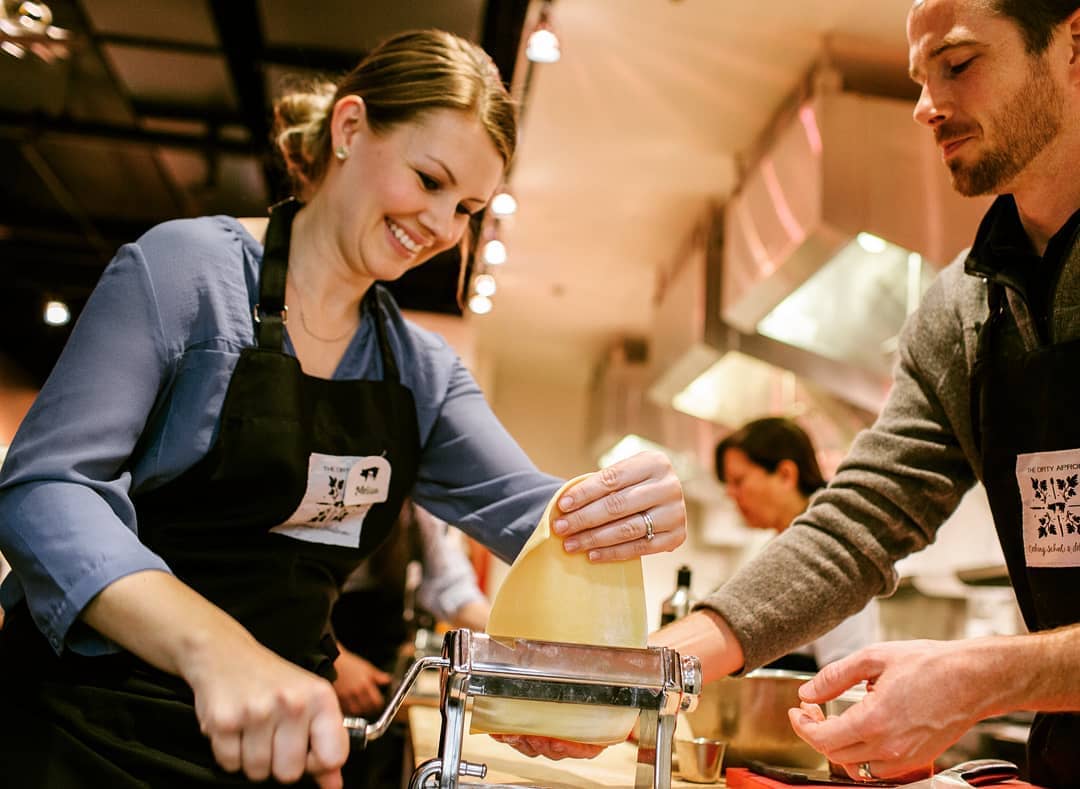 Cooking Classes available:
Uno Gelato 101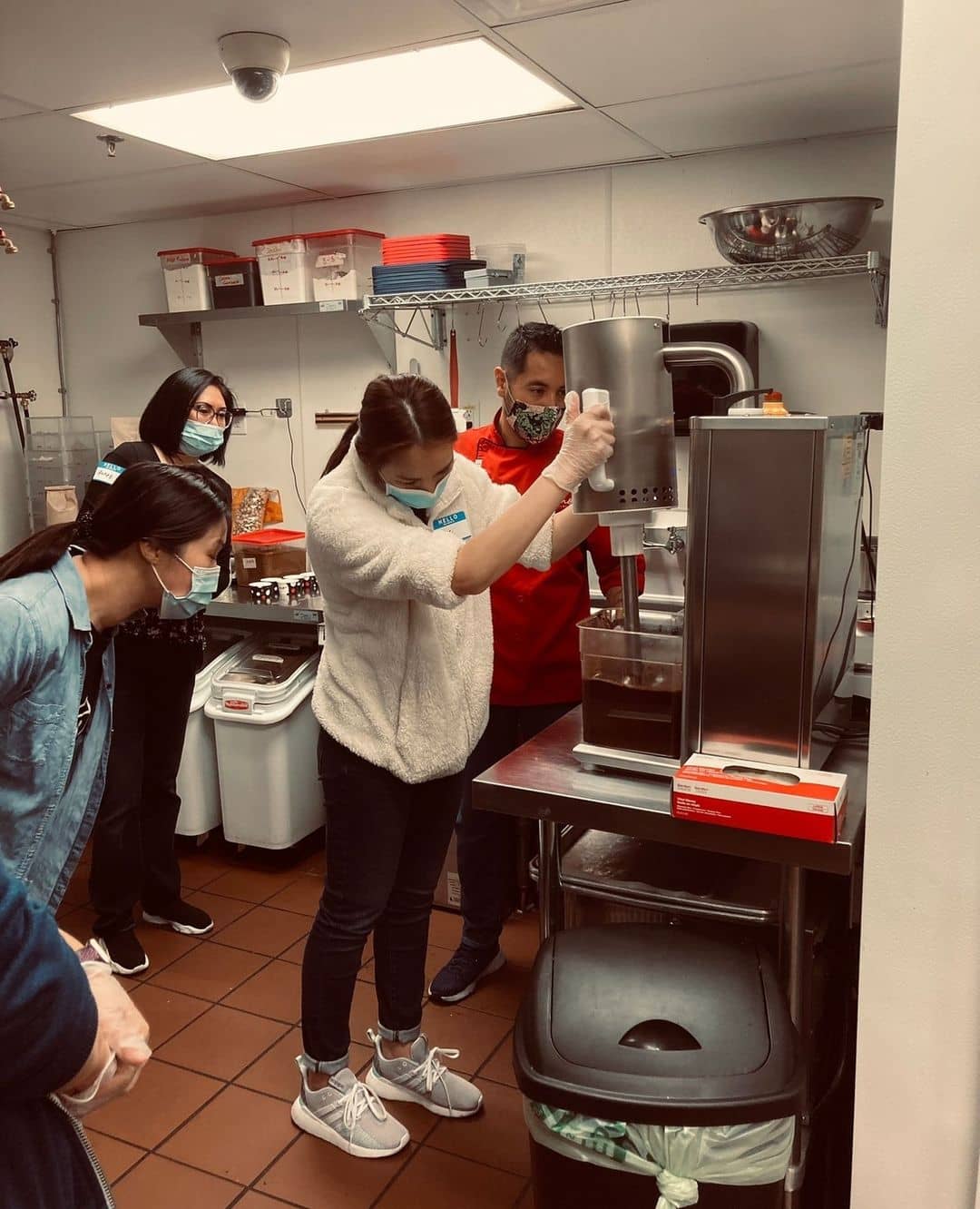 These seasonally-themed entertaining and delicious classes are suitable for everyone, from "cone novices" to experts. You get 10 gelato/sorbetto samples, a cup or cone of your choice to eat your creations, and a pint of each gelato and sorbetto to take home!
Price: $70
Wine Factory's Wine Making Class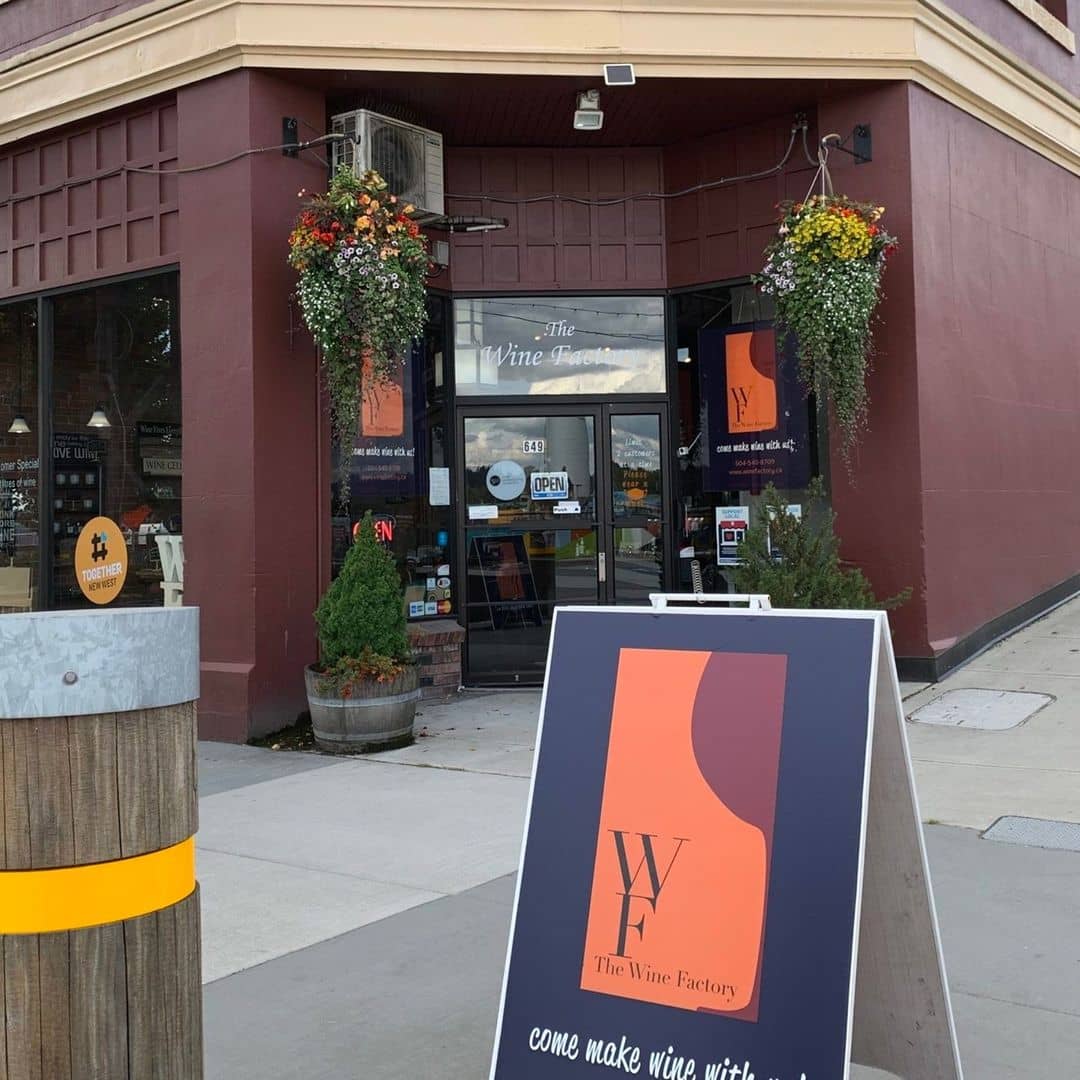 If wine is their drink of choice, Wine Factory's wine-making class & kits may be the most fun experience for them! In the 1.5 hour experience, they'll learn how to make their own wine from the kits – each containing grape juice, oak chips, stabilizing agents, clearing agents and sweeteners.
Customize the taste to their style and have around 30 bottles ready to drink within a few weeks! You bet they'll be boasting about their own creation for years!
Price: ~$300
5. A Homemade Treat
If your friend is one of those people who is all about the "effort" and "heart" you put into a gift, you can always whip them up a homemade treat! It could be anything from a cake to some chocolate chip cookies made with love.
Some easy sweet recipes: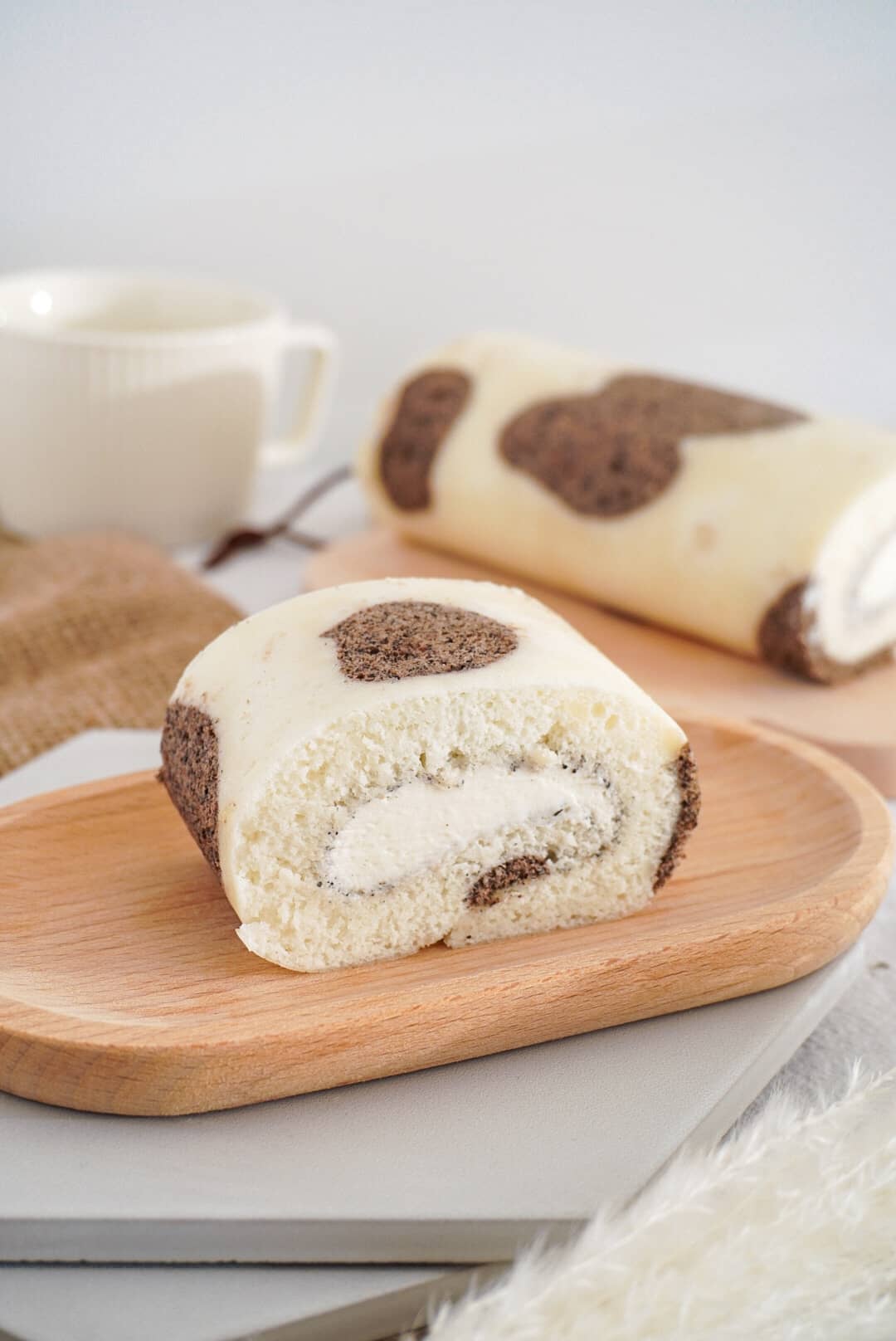 6. A Set Of Monogrammed Coasters or Wine Glasses.
A set of monogrammed coasters or wine glasses will be a treasured gift for your friend. They can use them at dinner parties or when they're enjoying a nice glass of wine in front of the TV with their spouse.
Custom Wine Glasses from Make Vancouver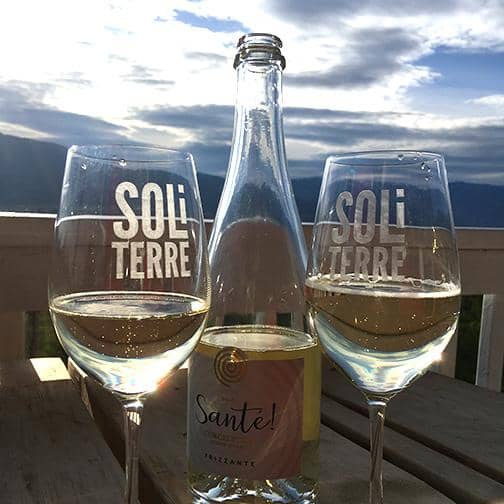 Price: $22.50
7. A Personalized Cutting Board, carved with their name or initials.
A cutting board is a great gift idea because it's useful and personalized! Plus, there are endless designs from which to choose. It's a gift that they'll undoubtedly get use of.
Custom Maple Serving Board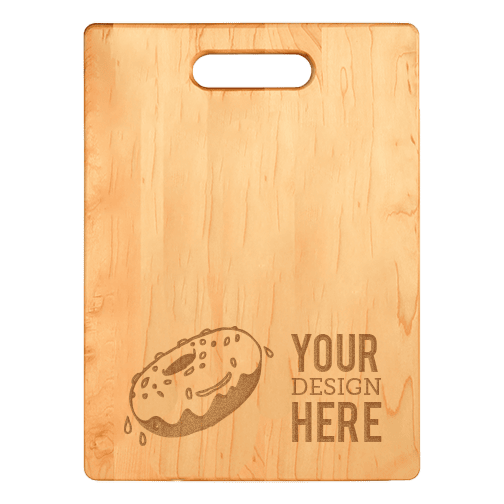 Price: $52.50
8. A Bottle Of Good Booze
If your foodie friend loves to drink, why not get them a bottle of their favourite wine, a top BC wine, a ridiculously delicious spirit or a 4 pack of a craft beer with a cult following? You probably already know that B.C. has many stellar vineyards and craft breweries, so you're sure to find one that suits them.
Here's some of our picks:

Narrative Rosé 2019
A rose that ticks all the right boxes! The grapes are gently destemmed with 12 hours of skin contact before they are pressed and fermented – giving it a bright fruity sweet taste of what Summerland has to offer.
Price: $21.90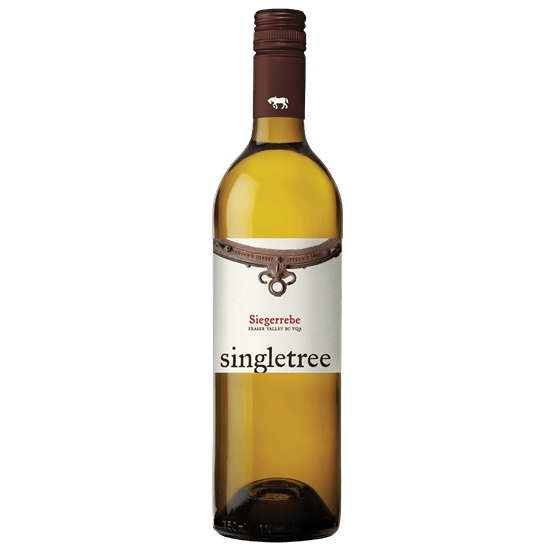 Siegerrebe 2020
If your foodie friend enjoys more fruit-forward wines like us, the Siegerrebe would be a good option. Sipping it will give you a plethora of fruity notes like lychee, apple, stone fruit, and honey. A sweet combination if we say so ourselves!
Price: $17.90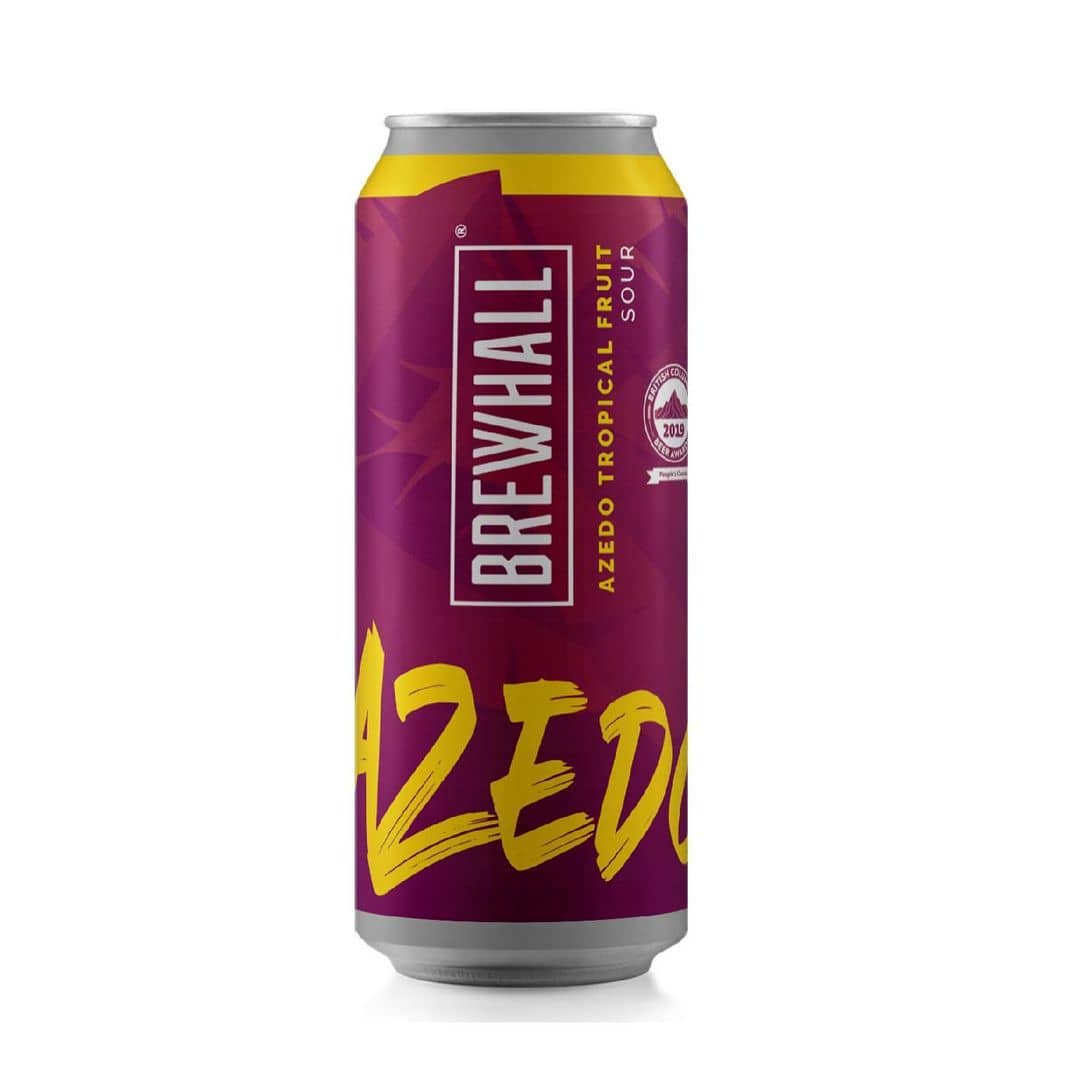 Azedo Tropical Fruit Sour from Brew Hall
This year we dived head first into trying all the fruit beers in the city. The Azedo from Brewhall was one of our favs and will surely be a winner for anyone else who enjoys alcoholic juice like us! Oh – and this won an award too.
Price: $4.50 singles & $17.50 4 pack
9. Fancy Dinnerware
Cookware gifts are the gifts that keep giving (in more ways than one). These gifts will be loved forever because they'll be used every day in the kitchen. If your foodie loves to cook, these gifts will be right up their alley!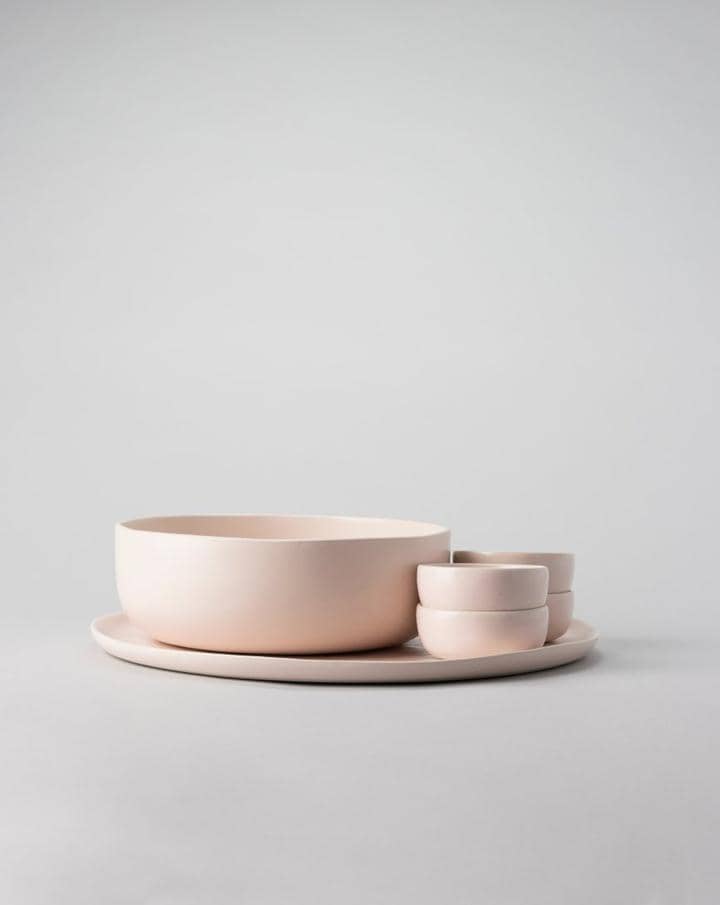 Fable Serving Ceramics Set
A stunning 6 piece set that is hand-finished in Portugal – giving it that sweet individually crafted feeling.
Price: $155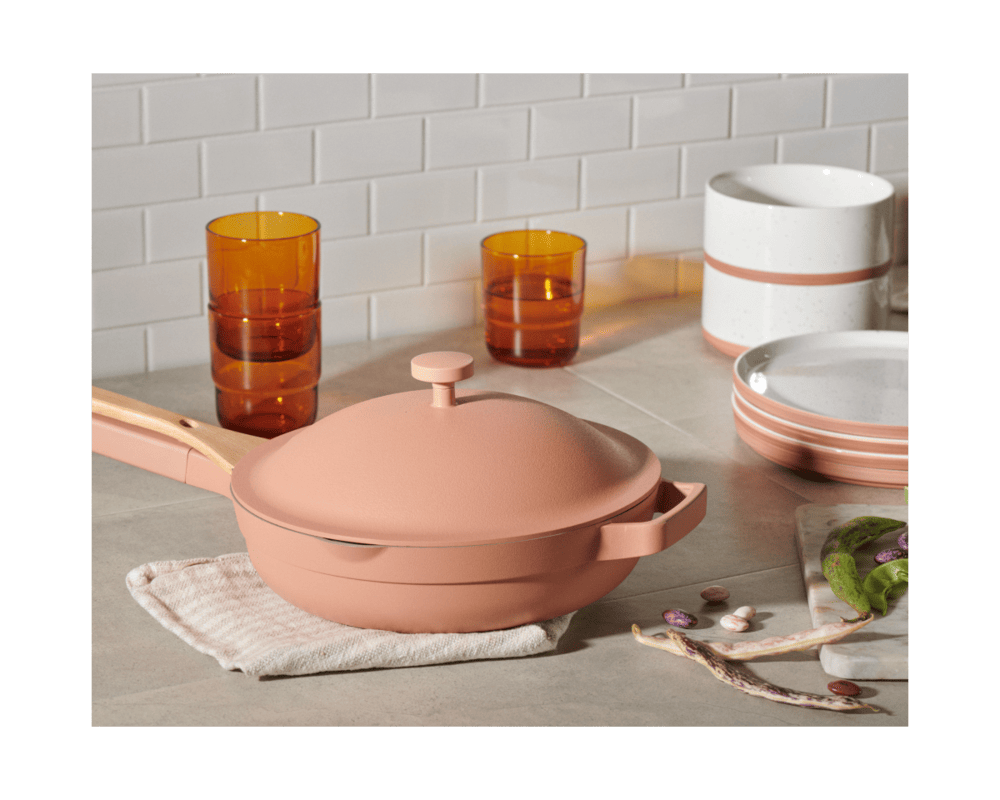 Our Place Always Pan
Ever hard of a pan that has a cult following? Well that's what they say (over 20,000 reviews) about this best seller. Not only does it have that minimalistic aesthetic to it, it also replaces 8 pieces of cookware since it is multi-purpose.
Price: $145
10. Subscription to a snack box
Imagine a box loaded with snacks arriving to your door every month. Heavenly right? Well gifting a subscription to a snack box is exactly that. Best of all, each month there are different themes and different snacks, so it is always a fun surprise every single time!
Japanese Snacks from Tokyo Treat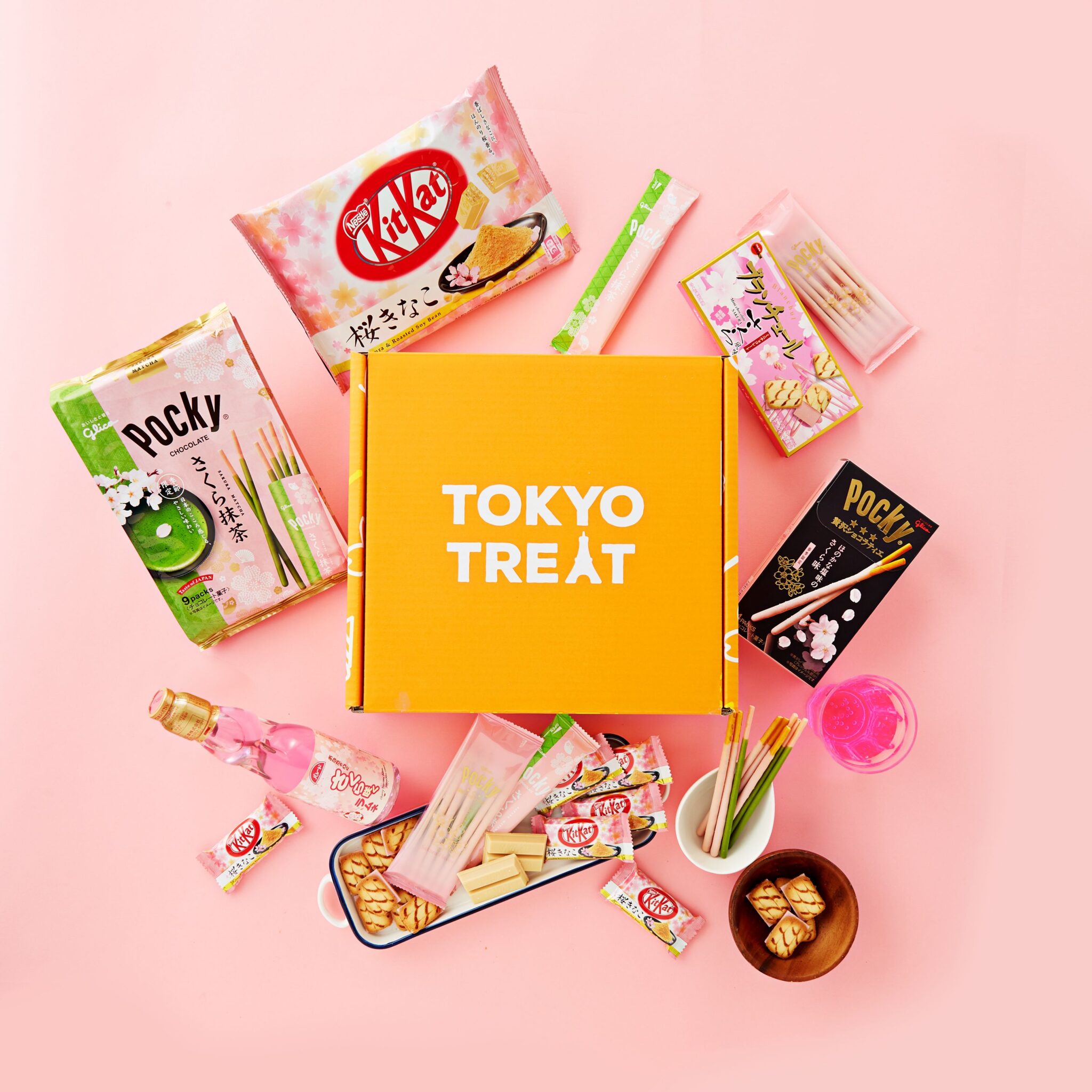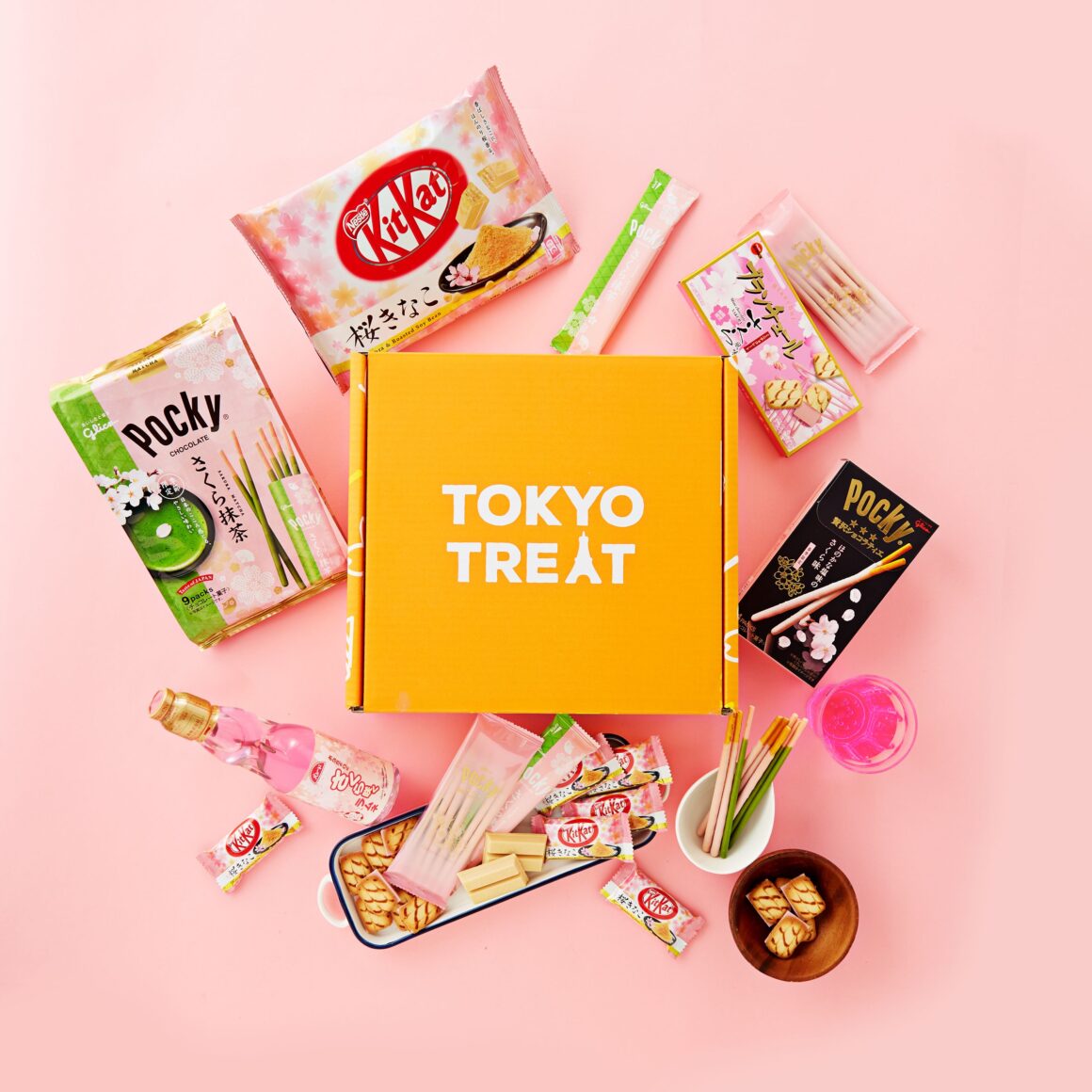 We are huge fans of Japanese snacks. Not only are they delicious, they are usually very exotic and unique. And we've been customers of Tokyo Treats for over a year and it is always a fun experience trying the different snacks with friends and family.
Price: $134.78 for 3 months
12. Food Related Clothing & Decor
A real foodie needs to do more than just go out and eat a lot. They need to make sure their fit and decor are on-point as well.
"WINE TIME" Classic Crew Neck Sweatshirt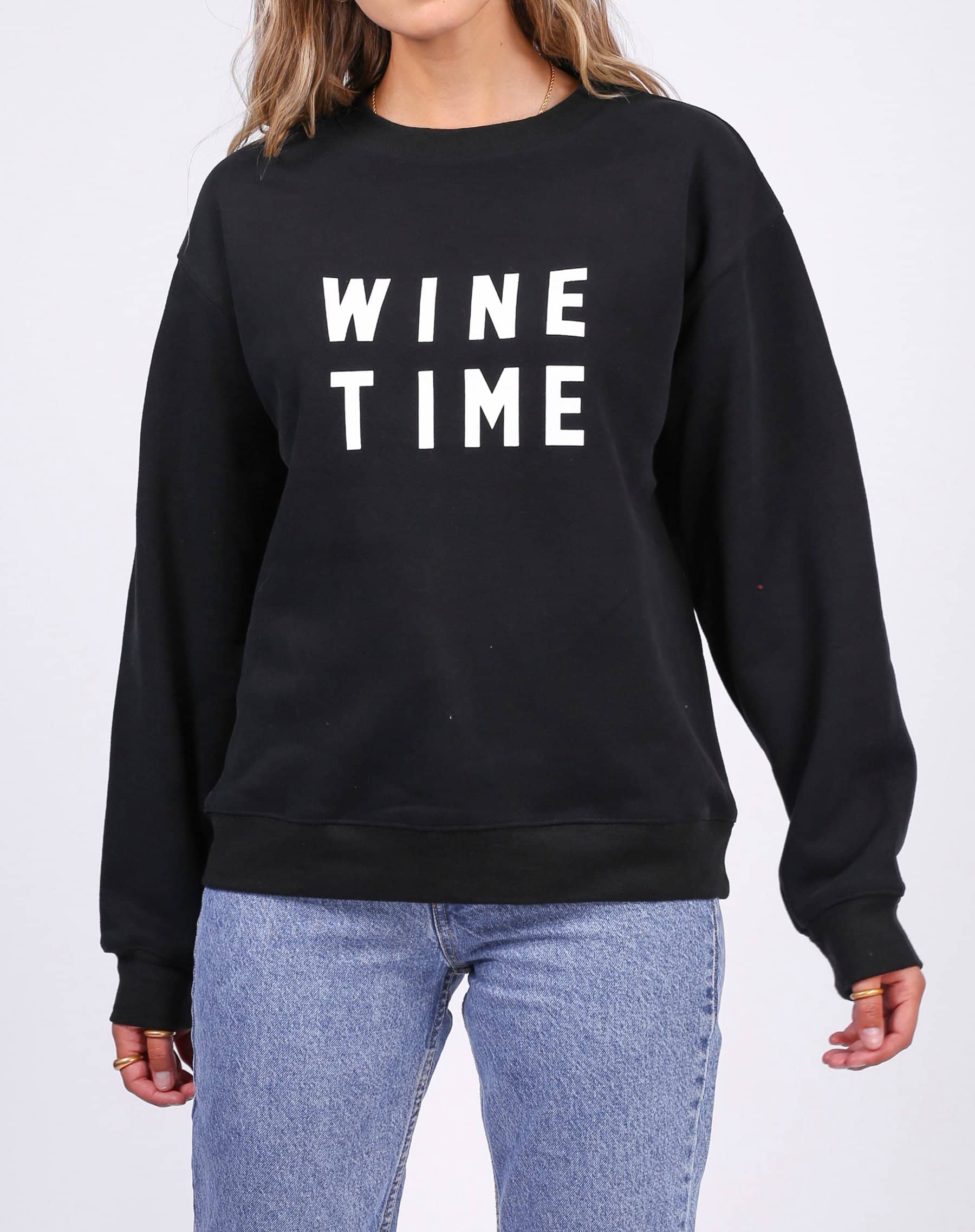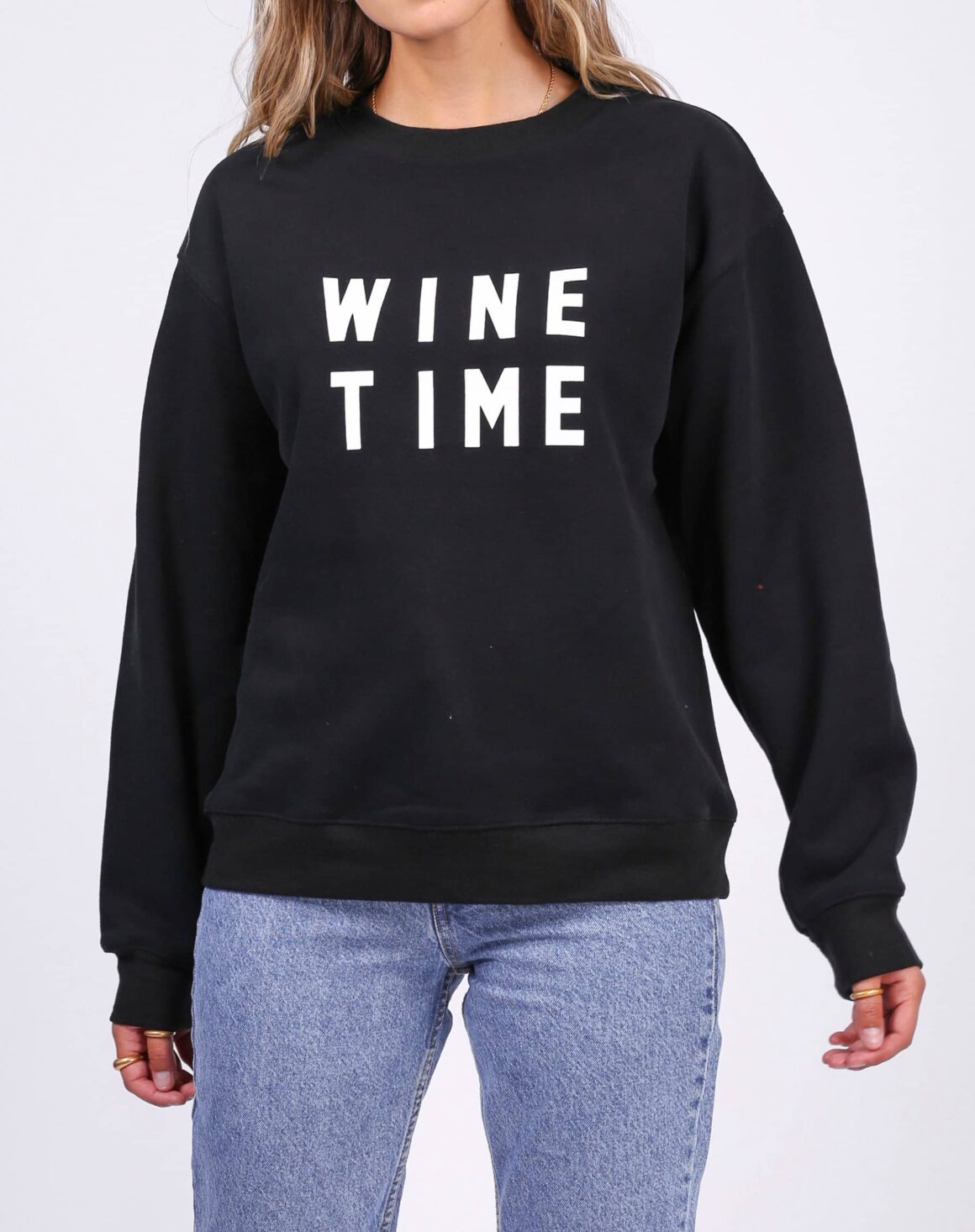 Price: $79.00
"PINOT PLEASE" Classic Crew Neck Sweatshirt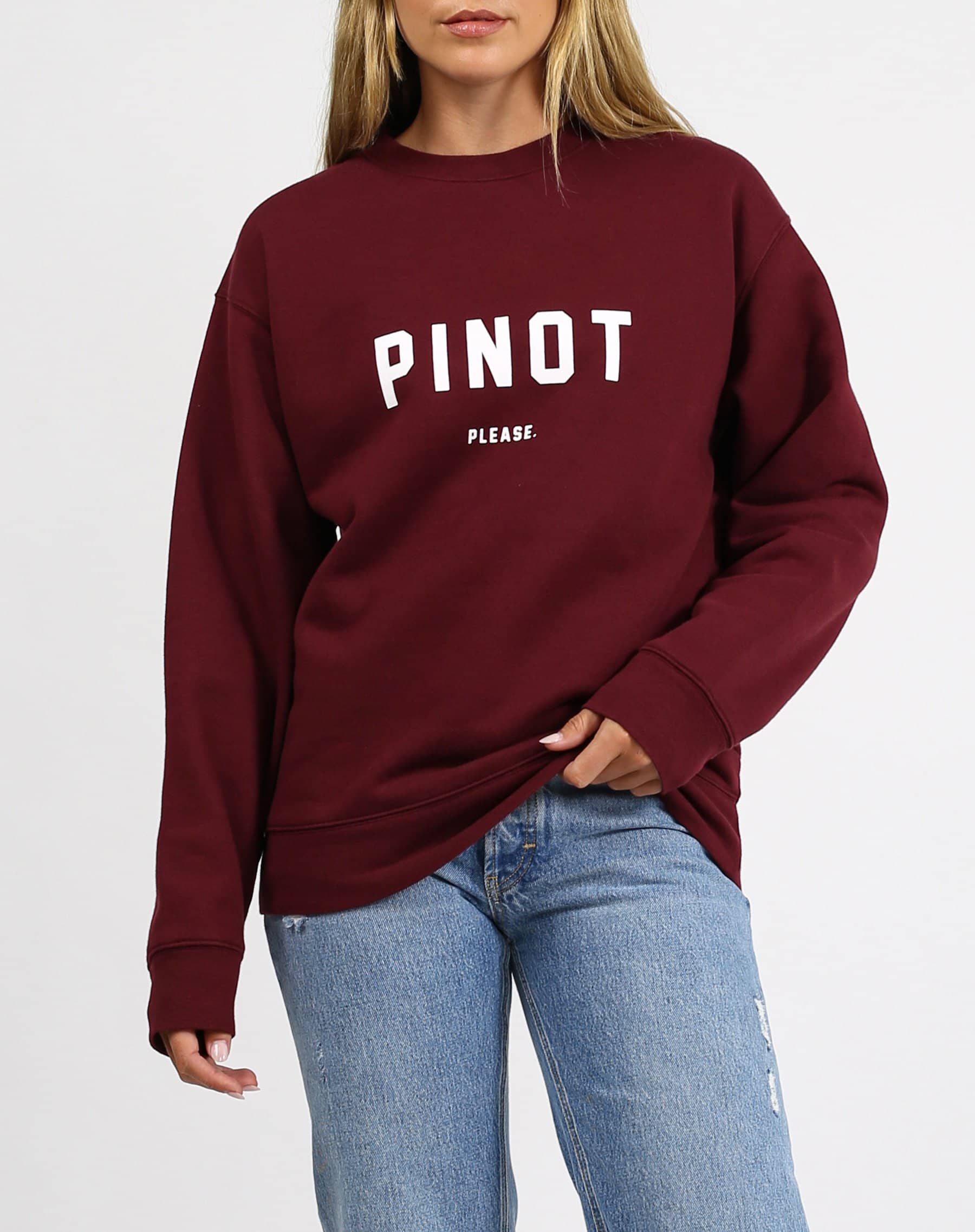 Price: $79.00
"COFFEE NOW PLEASE" Classic Crew Neck Sweatshirt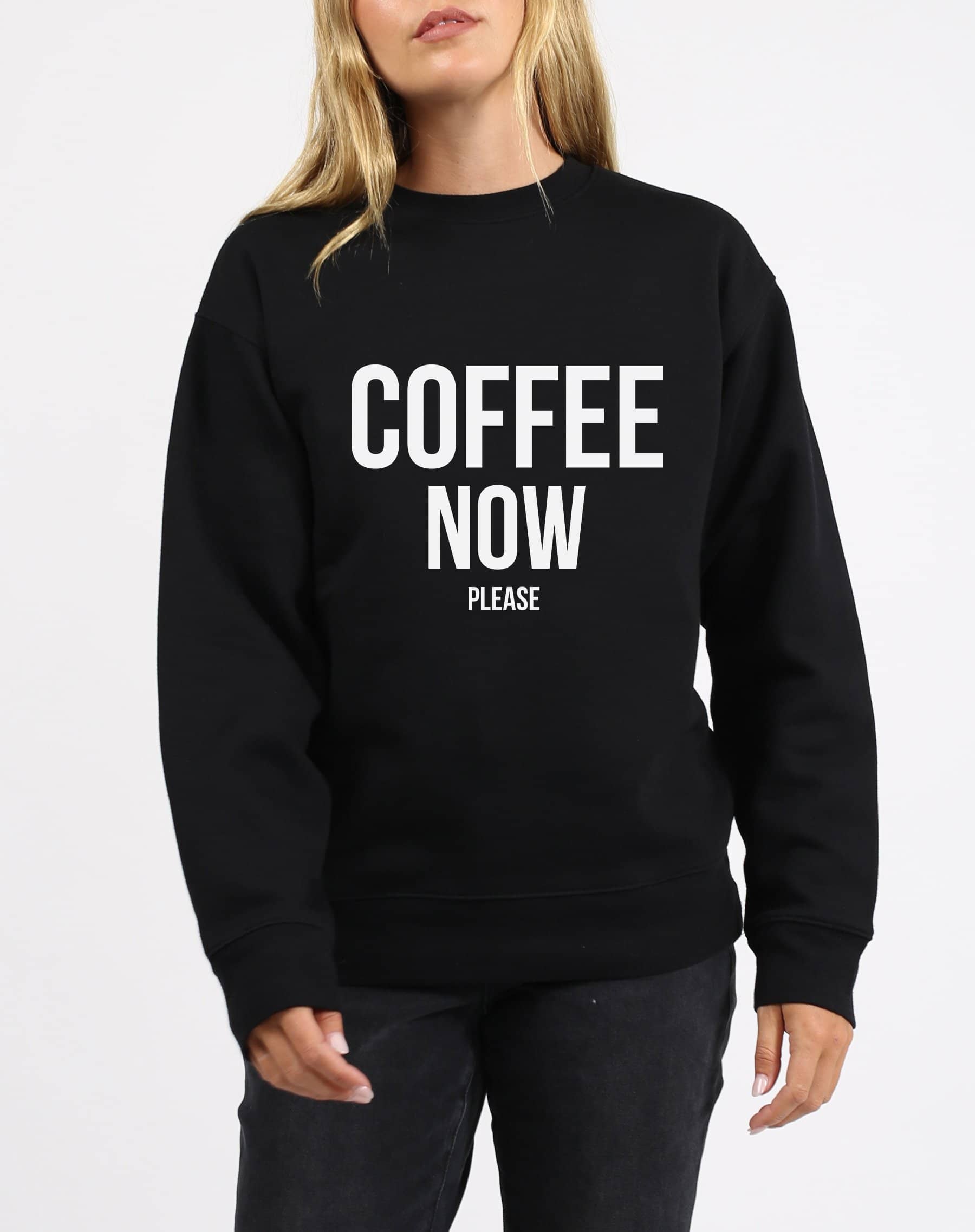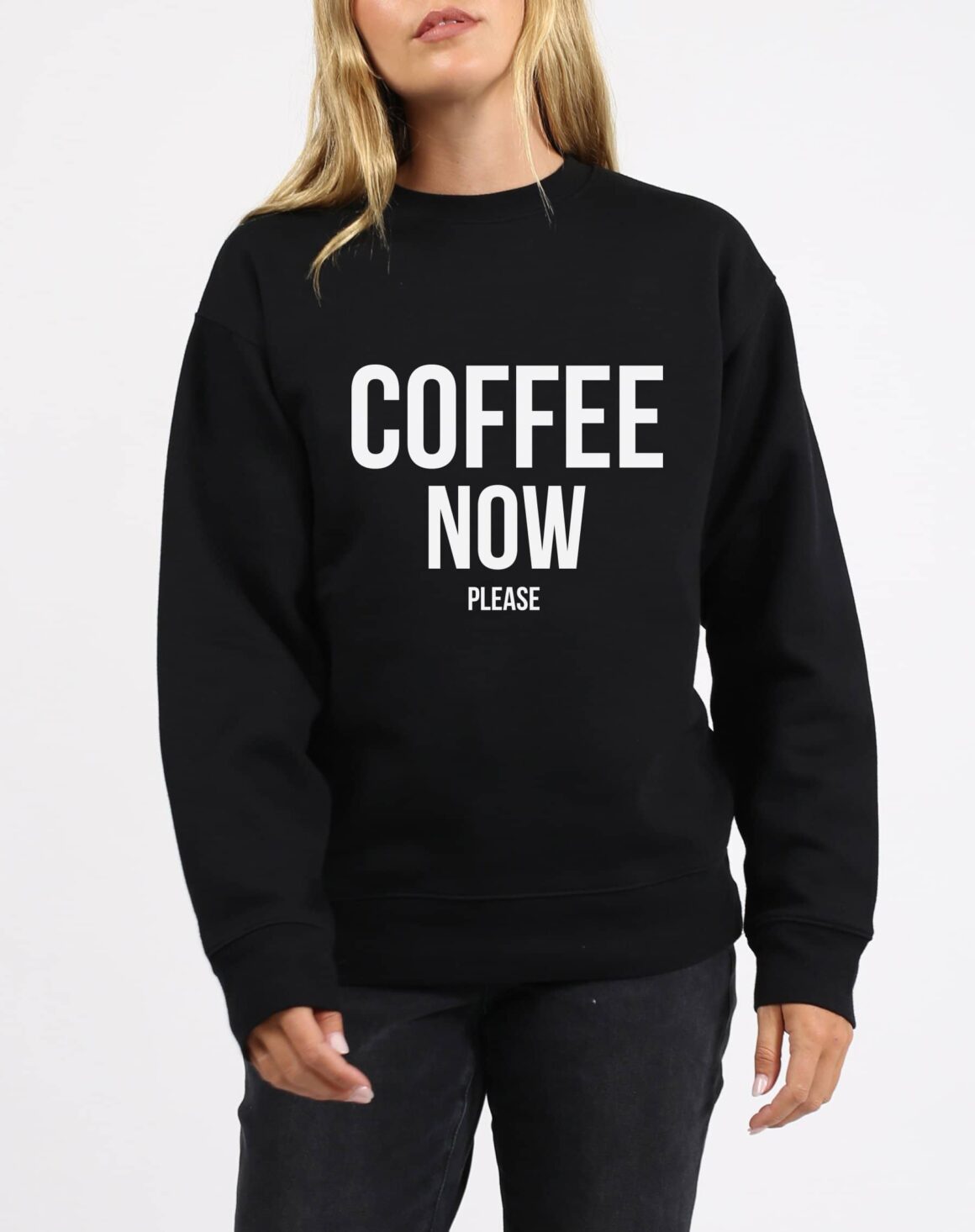 Price: $79.00
Bread Pillow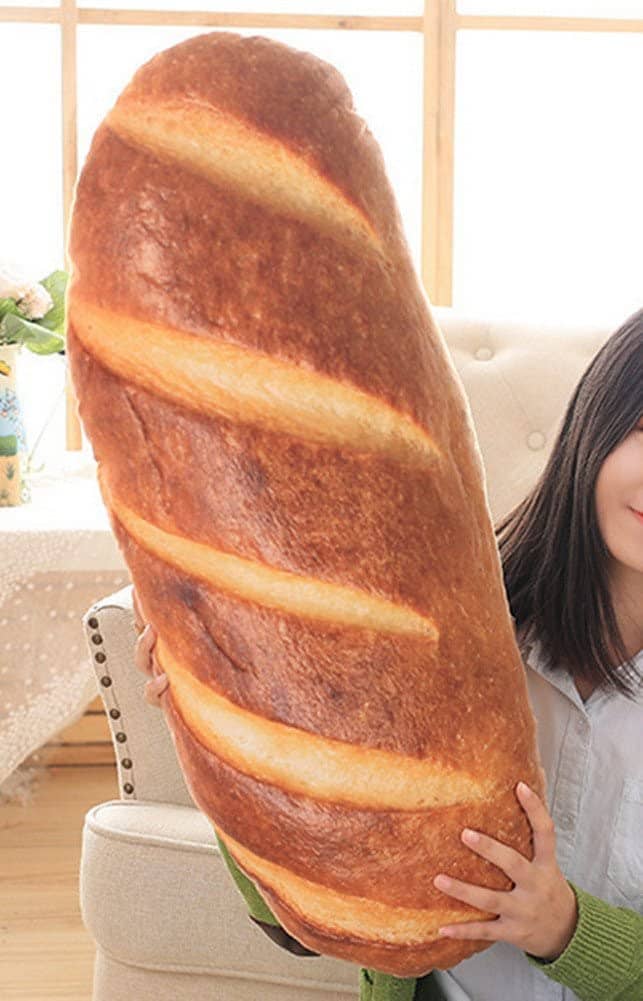 You probably have the same thought as we do when you first saw this…it's fricken cute! This bread pillow is soft, not overly fluffy, and has lots of cuddle power for naps!
Price: $32.88
Lil B Dumpling Ambient Light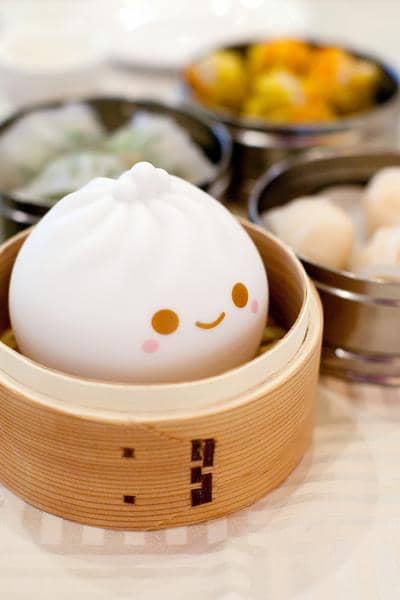 Say hello to Lil B – the Xiao Long Bao. Lil B makes for a friendly companion that will light up their world!
Price: $16
Tayto Potato USB Heated Slippers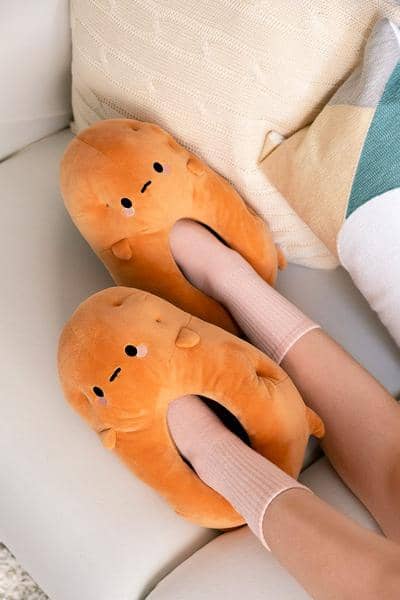 Go full on coach potato with these amazing USB heated slippered. Perfect for the cold season that is upon us!
Price: $28
13. A Fun DIY Kit
Cooking is a fun and memorable activity. Although we fail a lot in the cooking department, it is always something we vividly recall and talk about. So why not gift something that is fun, memorable, and delicious?
Large Fishcuterie by Fresh Ideas Start Here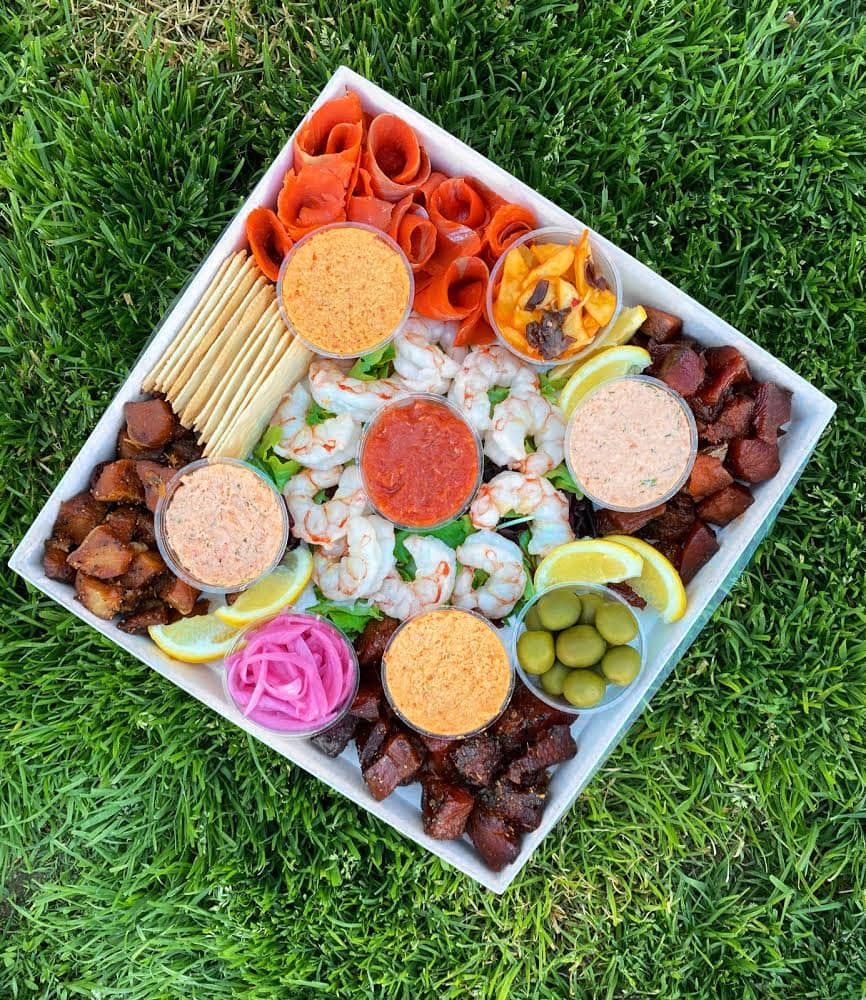 The regular ol' charcuterie boards are fun and all…but we're all about a twist here. This Fishcuterie box has everything a seafood lover would want. Such as pieces of prawn cocktail, maple smoked salmon candy, smoked black cod candy, squid salad, crackers, and more!
Price: $109.00
Pizza Kit from Caffe La Tana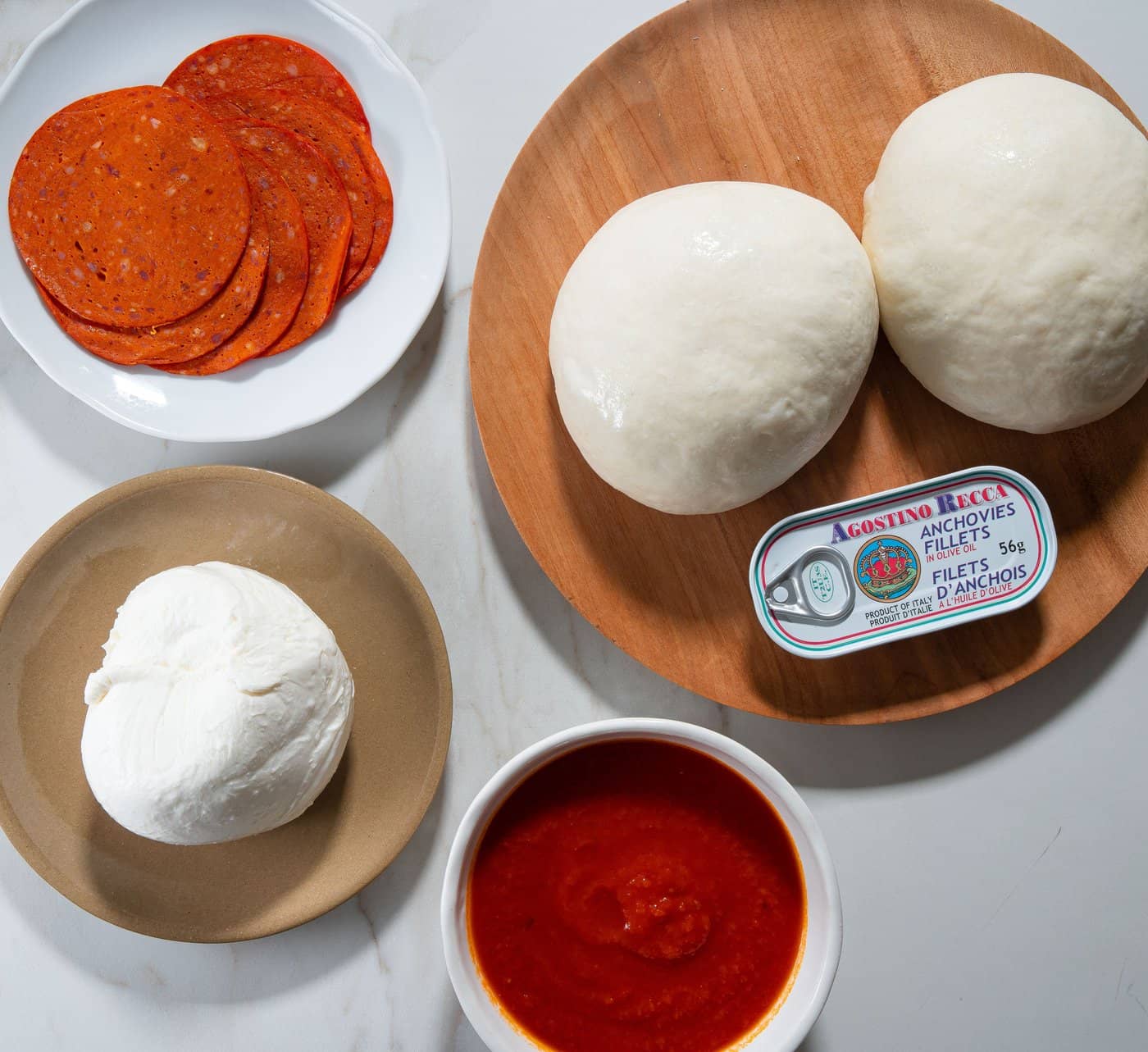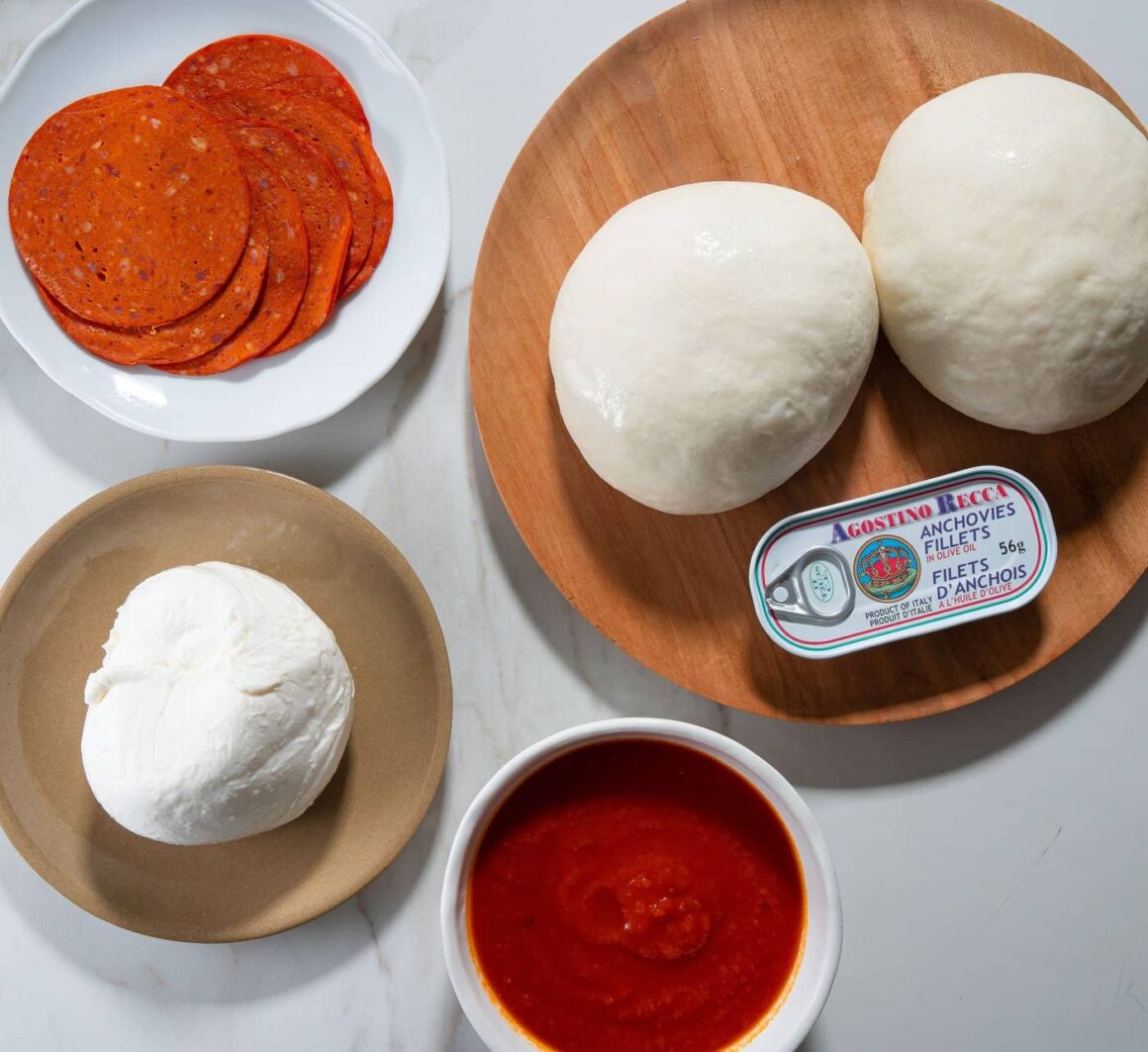 A nice pizza is an easy way to anyone's hearts. This fresh pizza kit makes for a fun and delicious experience. The kit includes fresh pizza dough balls, pomodoro sauce, mozzarella ball, a tin of anchovies, and Italian salami. So this isn't your basic pizza here!
Price: $25
Famiglia Fox Box – Spaghetti and Meatballs from Caffe La Tana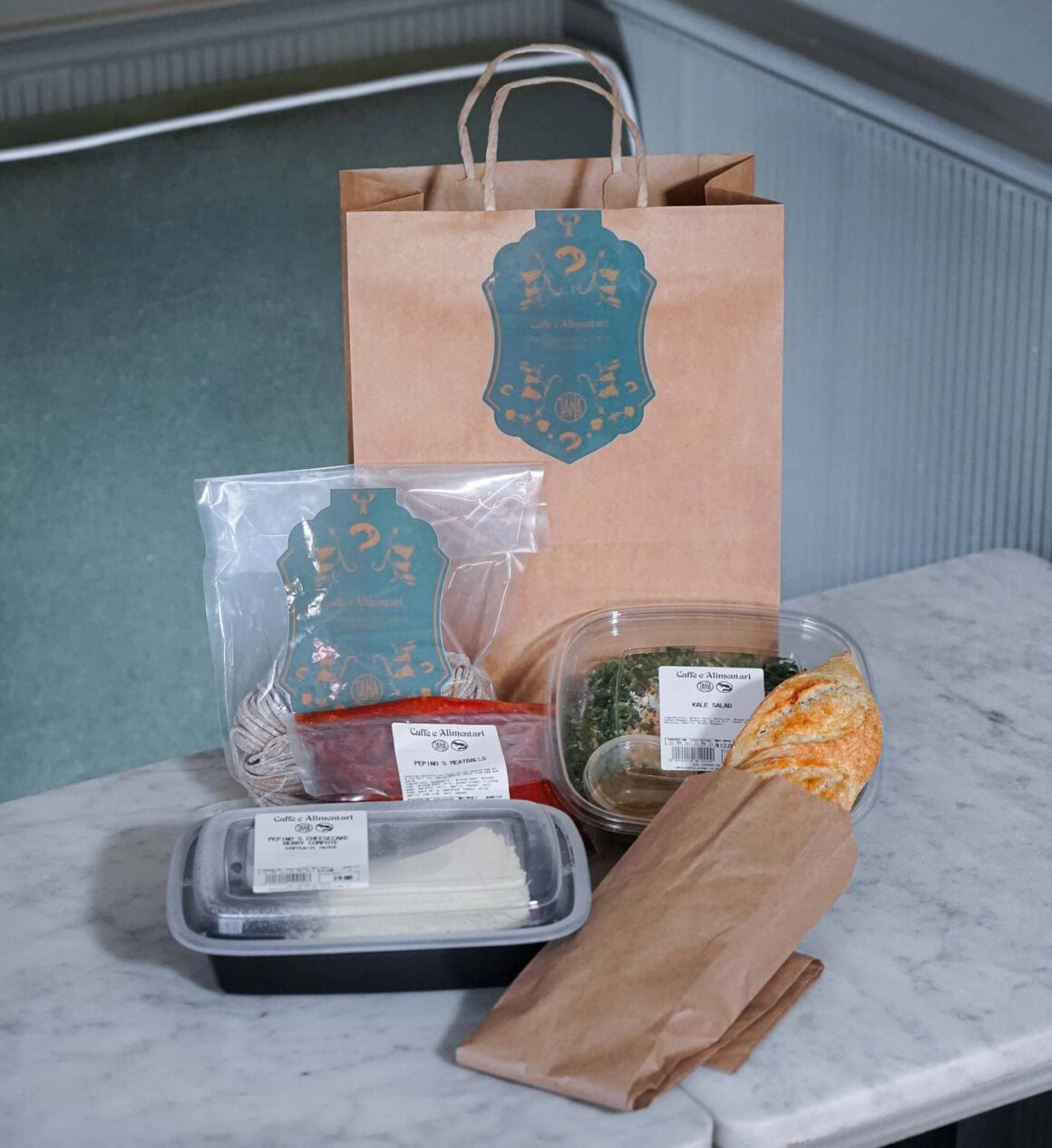 The Famiglia Fox Box is Chef Phil Scarfone's recipes and shopping list for an insalata, primo & dolce. It includes all the ingredients to make a 3-course Italian meal at the comfort of your home.
Price: $59
13. Food Scented Candles
The best part about walking past a bakery or a coffee shop is the divine smell! Now you can gift your friend similar feelings without all the hard work. All they need to do is light up a candle and voila!
Holiday Edition: Peppermint Cocoa by Mala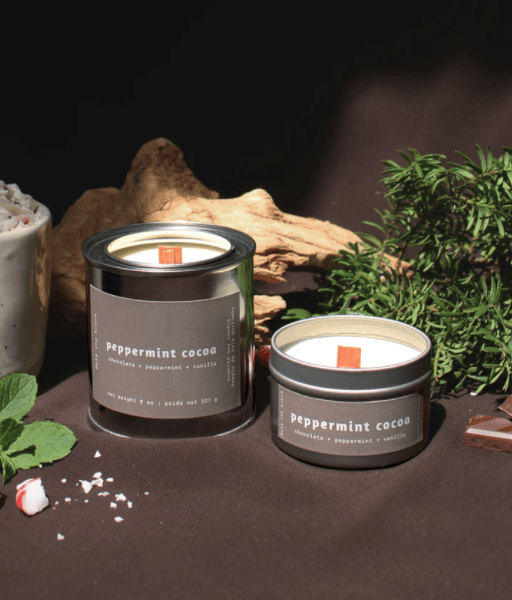 Notes of Chocolate, Peppermint, Vanilla
Price: $35.00
Coffee Cream by Mala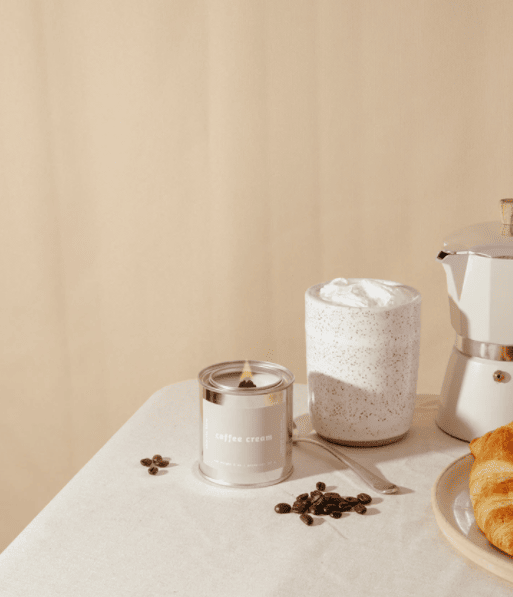 Notes of Coffee, Clove, Vanilla
Price: $35.00
Milk and Sugar by Mala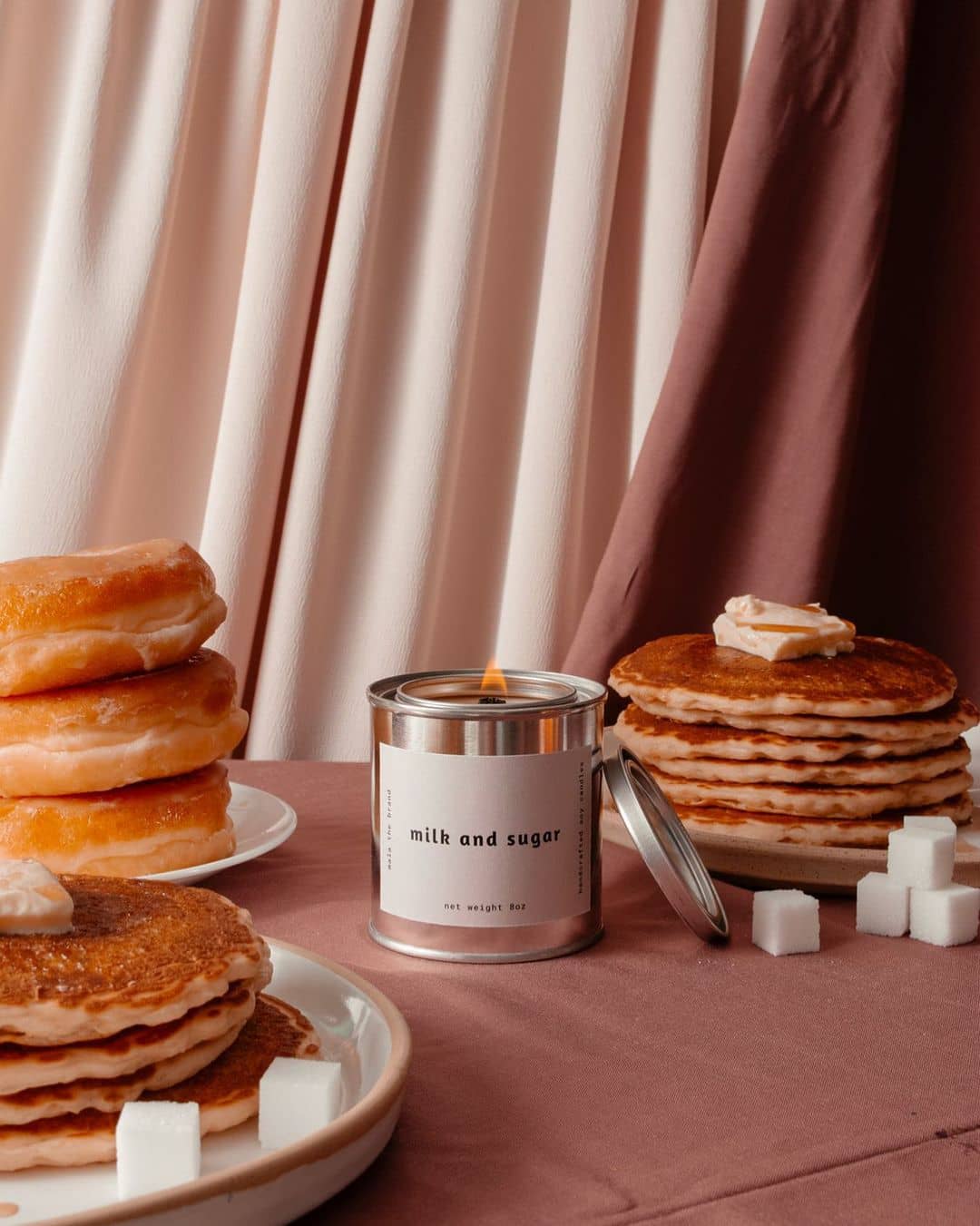 Notes of Vanilla, Cinnamon, Cream
Price: $35
14. Self Growing Herbs
A smart garden is perfect for a plant mom and perfect for a foodie who wants to benefit from the fruits of their labour…except there isn't any work needed with a smart garden. All they need to do is plug it in, put some water in the cartridge, and bam – it will water and grow some fresh basil by itself.
And if you want, you could go the extra mile to also grab them a pack of chili pepper or mini tomato pods.
Smart Garden 3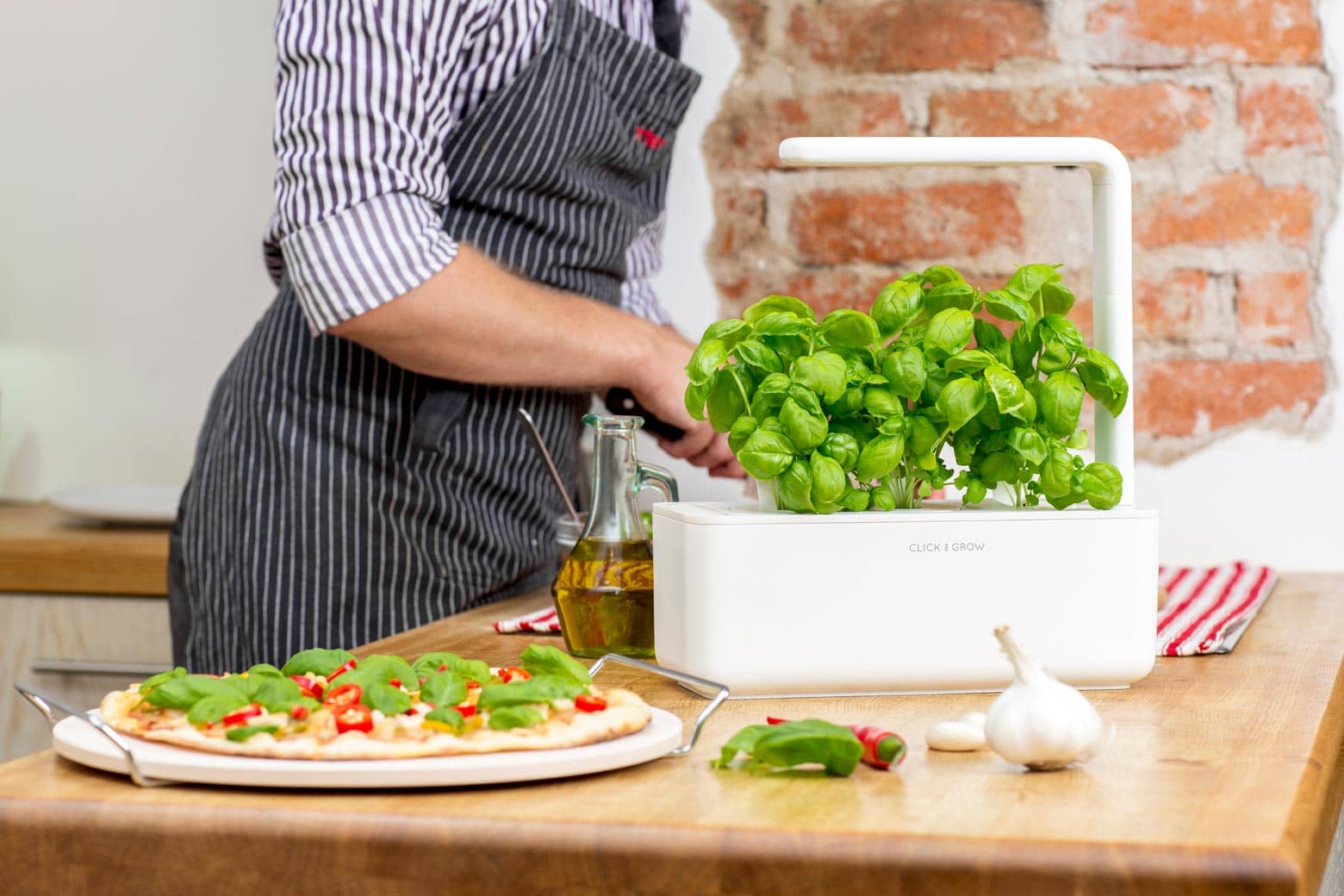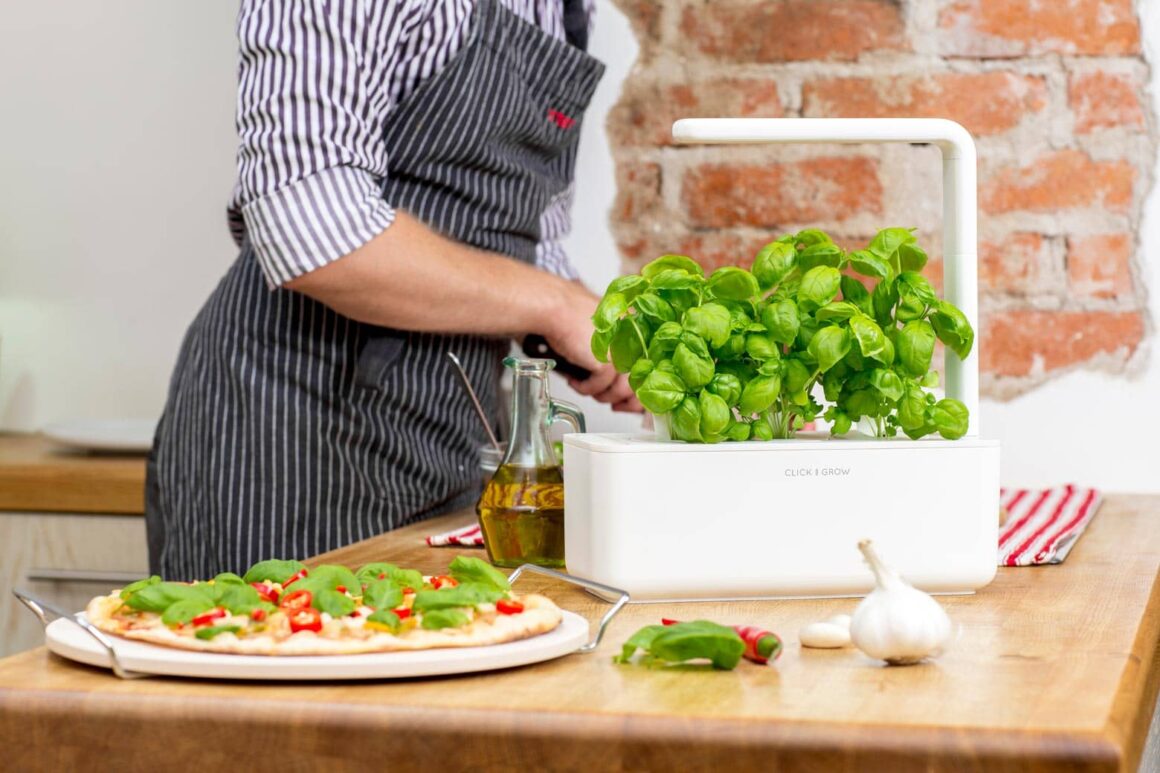 Price: $185.95
15. Fridge Stockers
Believe it or not, having the right sauce or condiment could make your meal 10 times tastier and more enjoyable. So if you wish your friend a good 2022, making sure they have these things in their fridge is a must.
Classic Kimchi Set by Salty Cabbage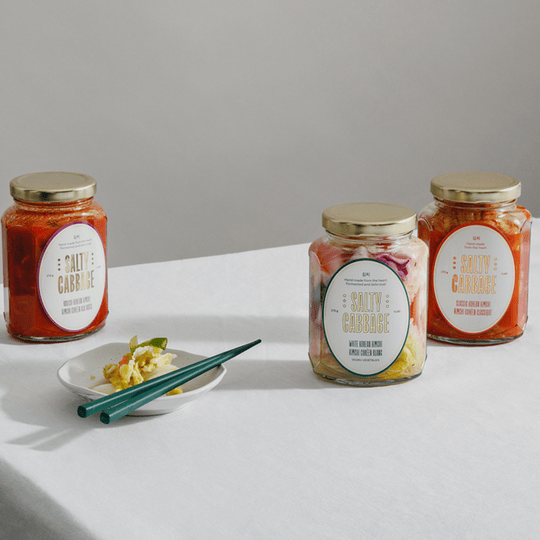 You probably know that Kimchi is a standard side dish in Korean cuisine. But many store-bought brands are filled with preservatives and MSG. You'll be amazed at the difference when you take a bite of premium-grade kimchi.
Price: $30.00
Holy Duck Chili Oil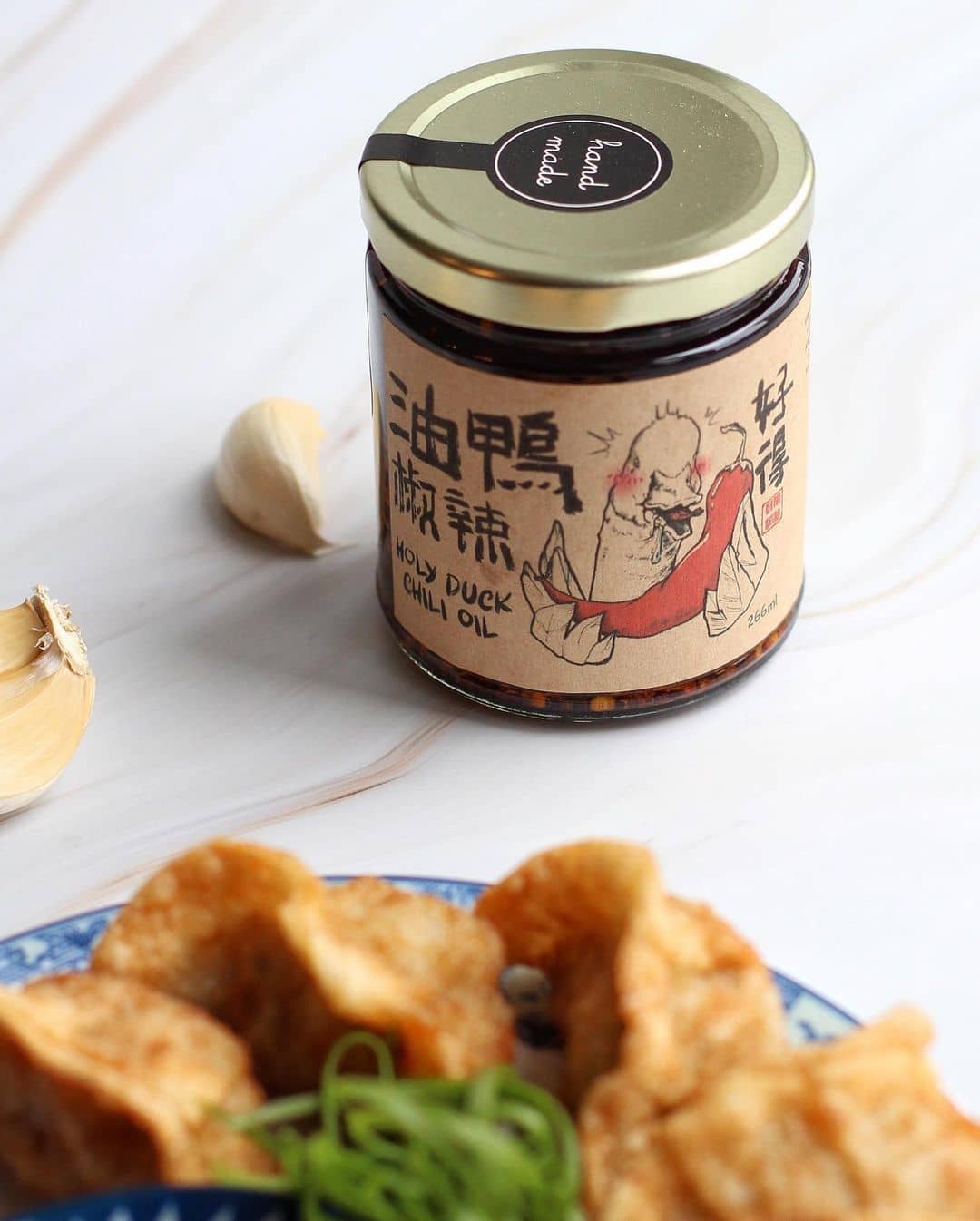 If we could put hot chili oil on everything, we would. And that's probably why you see it so often in Asian restaurants – cause it is basically a miracle oil. We know that many people are die-hard fans of Lan Ga Ma chili oil, but dare we say that Holy Duck's Chili Oil takes it up a notch and is even better.
Price: $18.00
Coffee Hot Sauce from Saus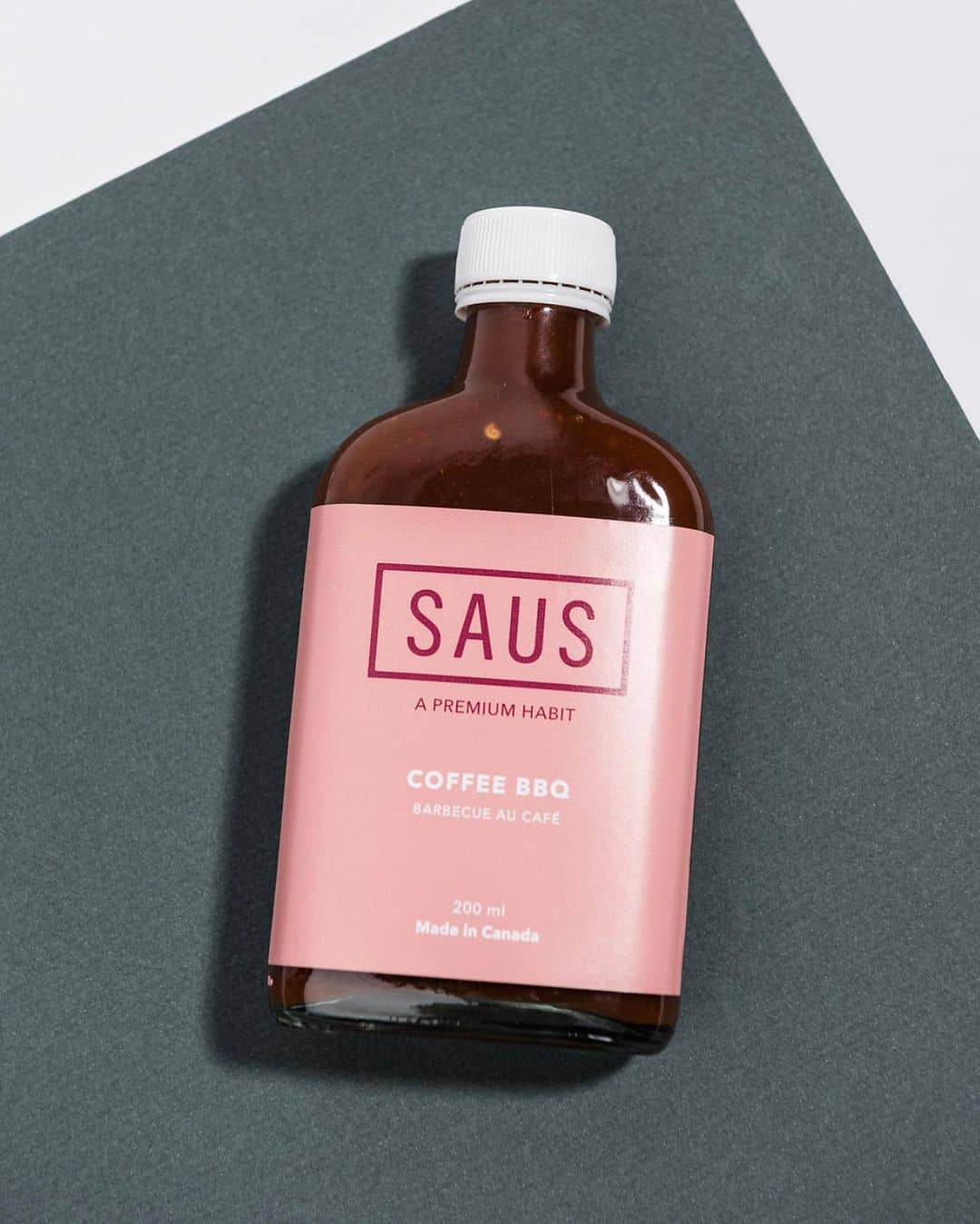 Everyone knows that hot sauce makes everything better. But this hot sauce is a little bit different than the ones you're used to. It is made with espresso, harissa, urfa biber, garlic and onion. On the Scoville scale, it clocks in between 50,000 – 80,000.
Price: $19.95
East Van Jam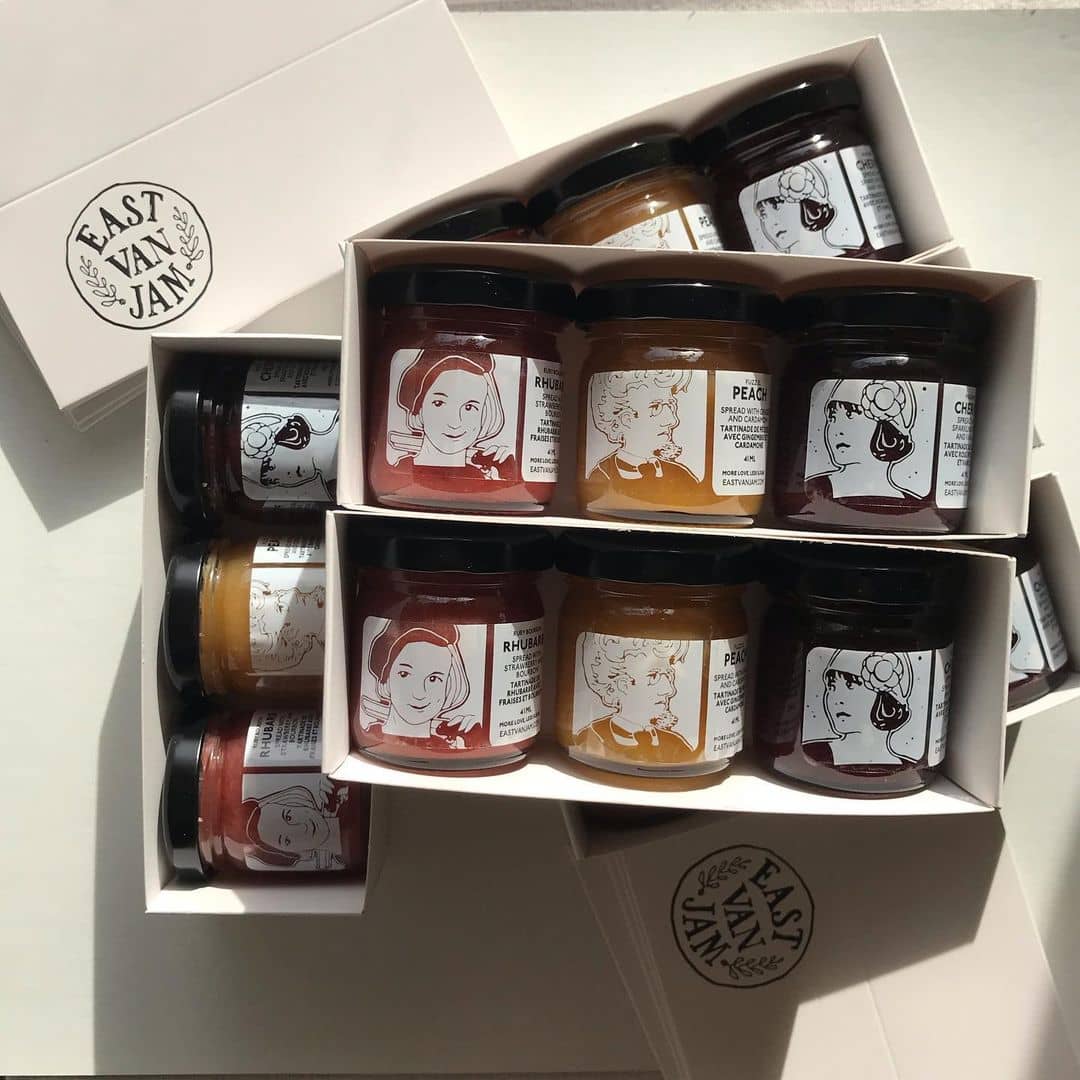 Whether it be for smearing on a piece of bread, filling up a pie, or to add to an epic charcuterie board, a good local jam is NEEDED. One of our favs is East Van Jam by Natalie. If you're gunning for a whole jar, we love the Blackberry or Nectarine ones. For a safer gift choice, their taste testers come with 3 different mini flavours.
Price: $17.00 for mini trio pack or $10.50 per 250 ml jar
Greek Yogurt from Thomakis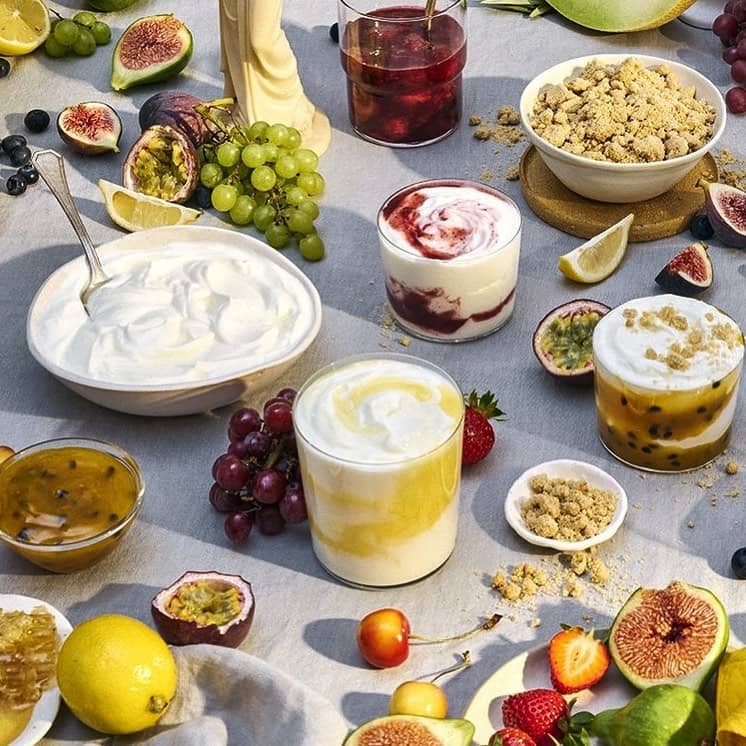 We'll be honest – greek yogurt was never something we were fond of…until we tried Thomakis. Unlike the store bought ones – which were too sour and didn't have the mouthfeel we liked – Thomakis' flavoured greek yogurts are smooth, sweet, and hits the right spot! We recommend the Strawberry Bloom or Passion Statement and a side of Golden Crumble.
Price: $9.99 each
16. Pleasing A Matcha Lover
One flavour that Vancouverites go crazy for is MATCHA. But matcha is much more complicated than most people think. Not only are there different grades of matcha, you also need the right equipment to properly bring out its flavours. So if the foodie you are gifting to is a matcha lover, here's what to get them.
Matcha Beginning Set from Whisk Matcha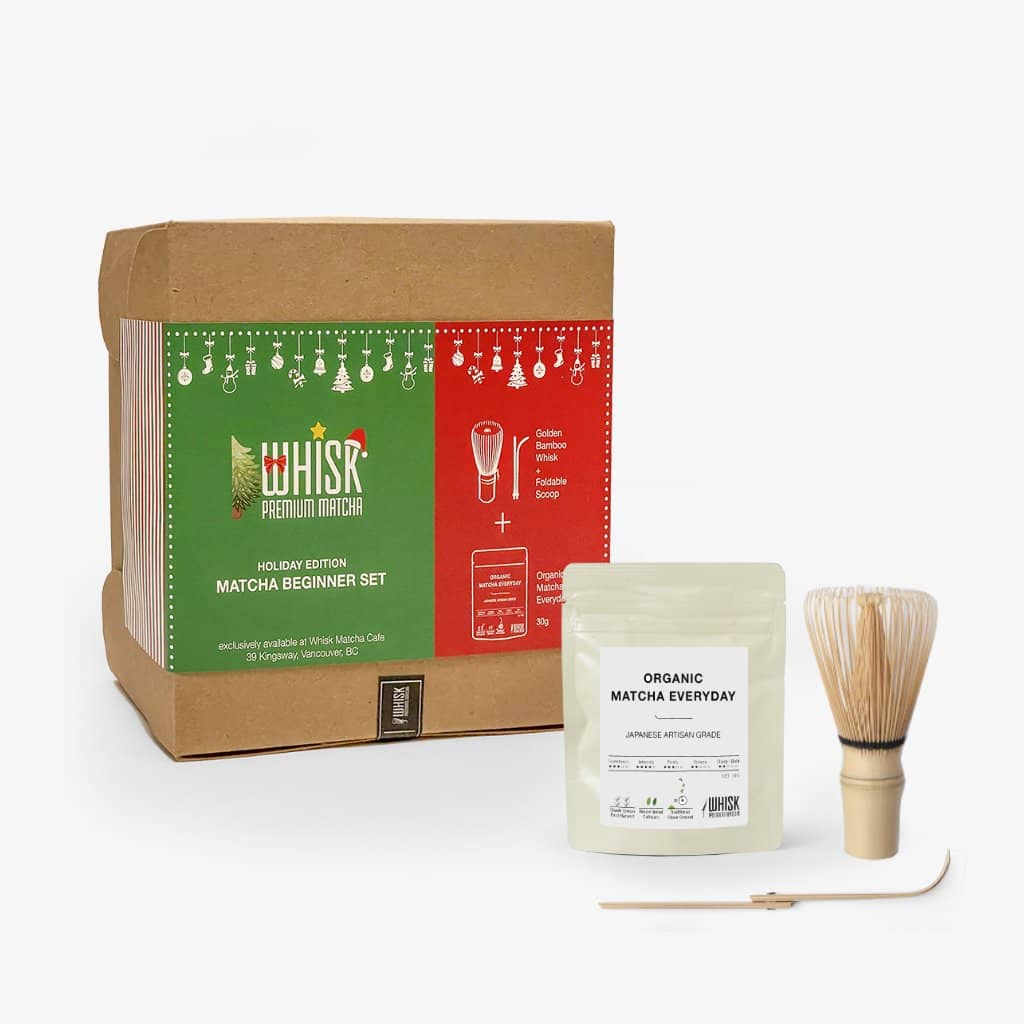 This set includes Whisk Matcha's two best sellers and makes for the perfect gift for a foodie who's obsessed with matcha lattes and wants to make it properly at home.
Price: $58.00
Nishio Matcha Celebration Series By 葵製茶 Aoi Seicha Flight of 3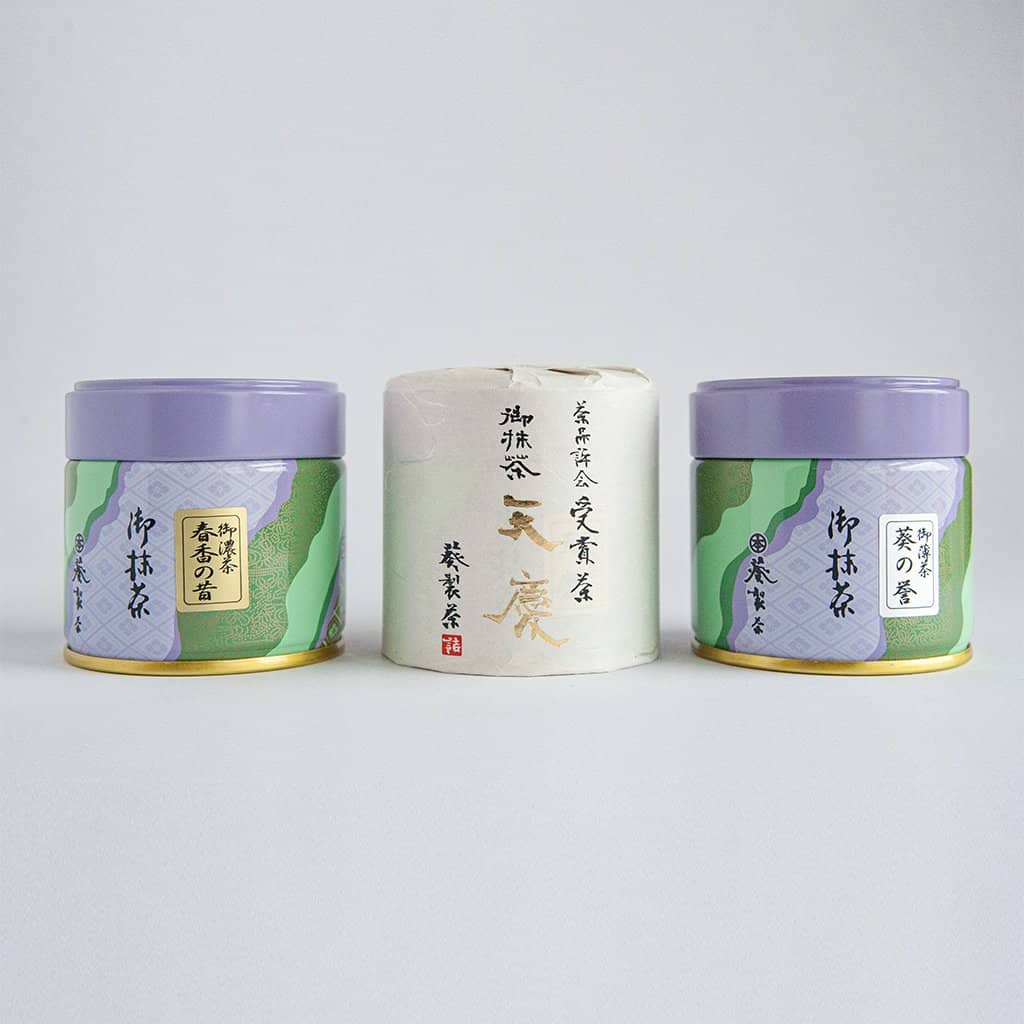 This may be the most fancy matcha out there in the city. It's rich in aroma and taste and some of the highest level matcha available. This flight of 3 (or you could just get one) is surely if you feeeeeeel fancy schmancy.
Price: Flight of 3 is $225
Glitter Matcha by DavidsTea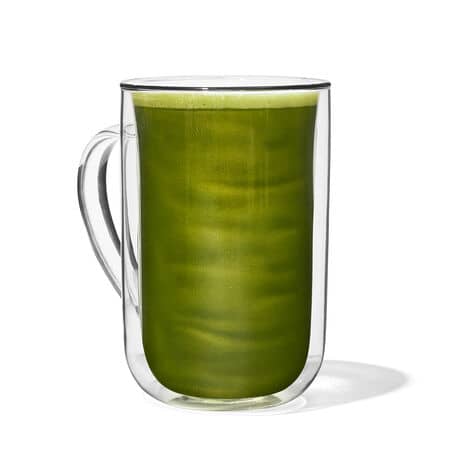 Not everyone has the palette (or money) for the highest grade matcha. Some people are totally okay with just something decent. Well DavidsTea's glittery matcha maybe that and have that extra oomph to make it a fun and special gift for a matcha lover.
Price: $21.96 for 100g
17. For A Tea lover
There's always something different about a nice hot cup of tea vs. other drinks. That calmness, that soothingness, that feeling that just makes a few life's troubles go away for a few minutes (maybe that's just us). So here's some suggestions if that's the feeling you want to give:
Mango Hojicha Powder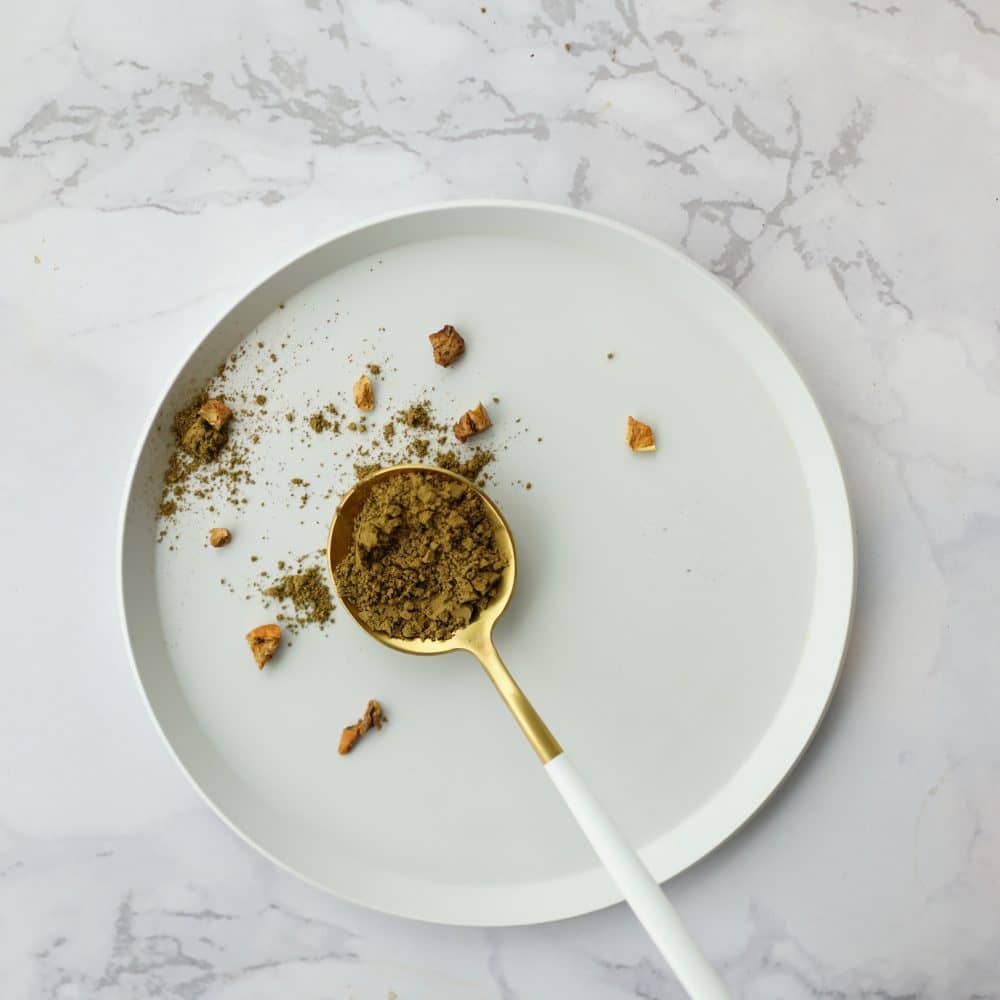 If you've been to Paragon Tea Room before, you'll know that their Mango Hojicha is their top TOP seller. Think of the coffee-like depth of hojicha and then inject some sweet and tangy notes of mango into it. Soooooo good.
Price: $22.65
Japanese Tea Flight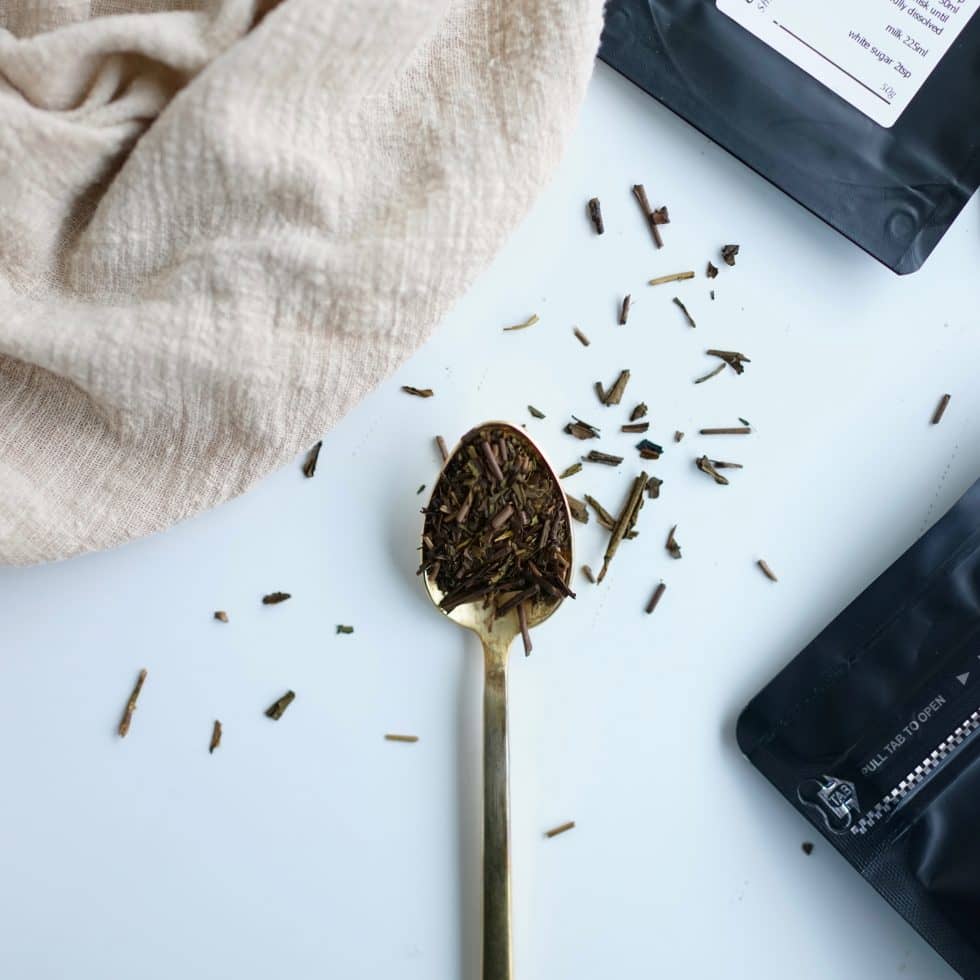 Go full out zen with this collection of 3 Japanese green teas: Organic Hojicha, Organic Kukicha, and Genmaicha. All harvested in Japan.
Price: $40.75
The Craft of Tea Gift Box from Cultivate Tea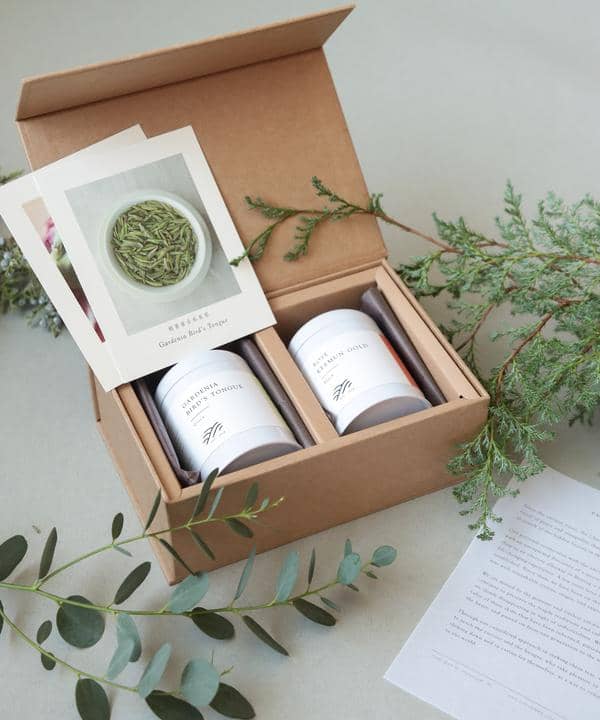 Your choice of 1 of 7 pairs of handpicked teas by the team at Cultivate that is a great introduction to craft teas. Each comes with a card detailing about its origin, story, harvest information, and brewing guide. Choose from White, Pu'erh, Flowers & Tea, Oolong, Black, Green, and Secret of the Empress boxes.
Price: $85
18. For A Bubble Tea lover
Taking a bubble tea lover out for bubble tea is probably the best gift in their minds. But we've got two suggestions that we know they will love just as much.
Reuseable BBT Cup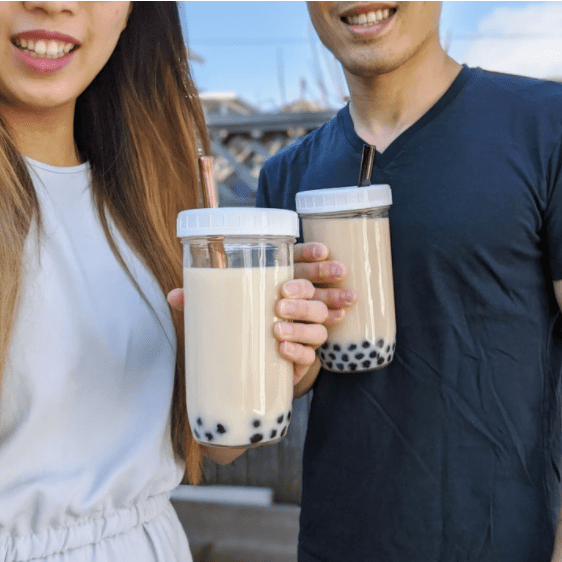 You've probably heard that bubble tea is a big culprit of single-use plastic waste. The cup is plastic, the lid is plastic, and the straw sometimes is plastic. Not very good for the environment (and turtles). So this reusable bubble tea cup makes for a great gift to poke your bubble tea-loving friend to reduce their plastic use. Some bubble tea shops even give a discount for bringing your own reusable cup!
Price: $17.00
Use "NOMSMAG" at checkout for 10% off your order
Brown Sugar Oat Milk Bubble Tea DIY Kit By Baroness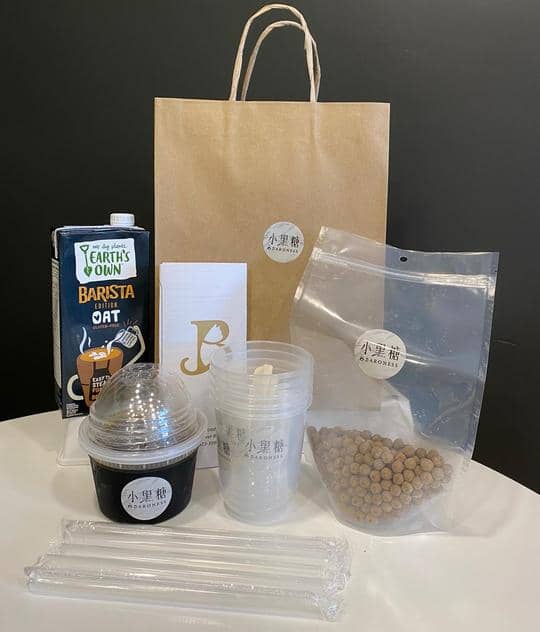 We've gotta say that every bubble tea lover needs to go through the trials and tribulations of making their own BBT. To understand more about their love. The great things is that Baroness (one of the city's top BBT brands), created this simple DIY kit that makes their popular Brown Sugar Oat Milk Bubble Tea.
Price: $28.00
Hopefully this list has given you some ideas for gifts that any food lover would love! Vancouver is home to an amazing array of culinary experiences, so there's something for everyone on this list. Merry Christmas and happy eating!