Looking for the best Korean restaurants in Toronto? Well, you've come to the right place!
Short on time?
The top 2 Toronto Korean restaurants on our list are Daldongnae Korean BBQ and Mapo Gamjatang. These two are local favourites, and you'll understand why after your meal there!
But Toronto has many stellar Korean food spots. So if you're craving for bibimbap, kbbq, or street food, we've got you covered.
Check out our recommendations of the best Korean restaurants in Toronto below.
1. Daldongnae Korean BBQ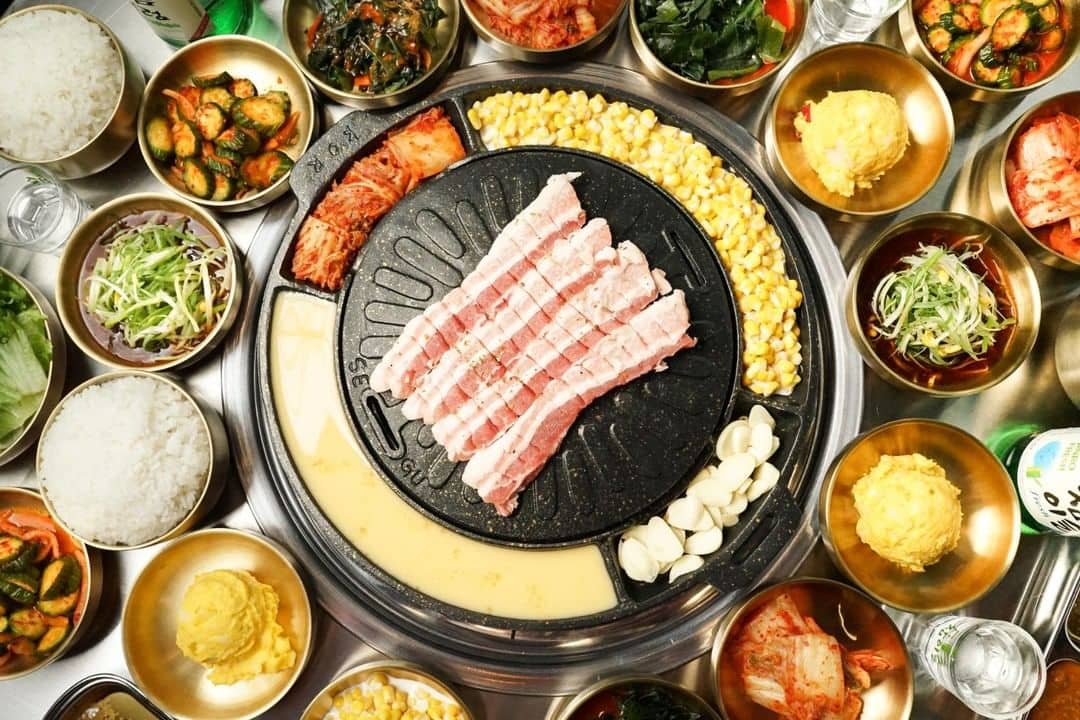 Ranked among the top 100 restaurants in Canada, Daldongnae brings you the authentic Korean BBQ experience right here in Toronto.
Apart from the complimentary refillable banchan bowls, like seaweed, kimchi, and spiced cucumber, start with their amazing side dishes/appetisers while you wait for your BBQ meat to arrive.
The Spicy Seasoned Squid, especially, is deliciously tempting. Tossed with veggies in a spicy sauce, the squid comes perfectly cooked, and the portion is big enough to be shared between two to three people.
For your KBBQ meat,we suggest that you start with the Pork Belly. Ask for it to be thin cut, and you'll get bacon-thin cuts of the meat, which slowly melt down on the grill, and taste wonderful with the dipping sauce and sides.
The Beef Boneless Short Ribs are melt-in-your-mouth tender with an amazing charcoal flavour once you grill them for just about 3 to 4 minutes on each side.
Lastly, the crispness of the fatty Pork Jowl Meat is an absolute delight to enjoy, and the Beef Tenderloin is perhaps the most tender piece of meat you'll get to enjoy here. Crisped on the outside and mouthwateringly juicy on the inside, this meat will make your eyes roll back in your head, especially when dipped in the gochujang sauce.
What to order: Spicy Seasoned Squid, Spicy Cold Noodle Salad, Pork Belly, Beef Boneless Short Ribs, Pork Jowl Meat, Beef Tenderloin
Address: 658 Bloor Street W, Toronto, ON M6G 1K9
Website | Instagram | Facebook
2. Mapo Gamjatang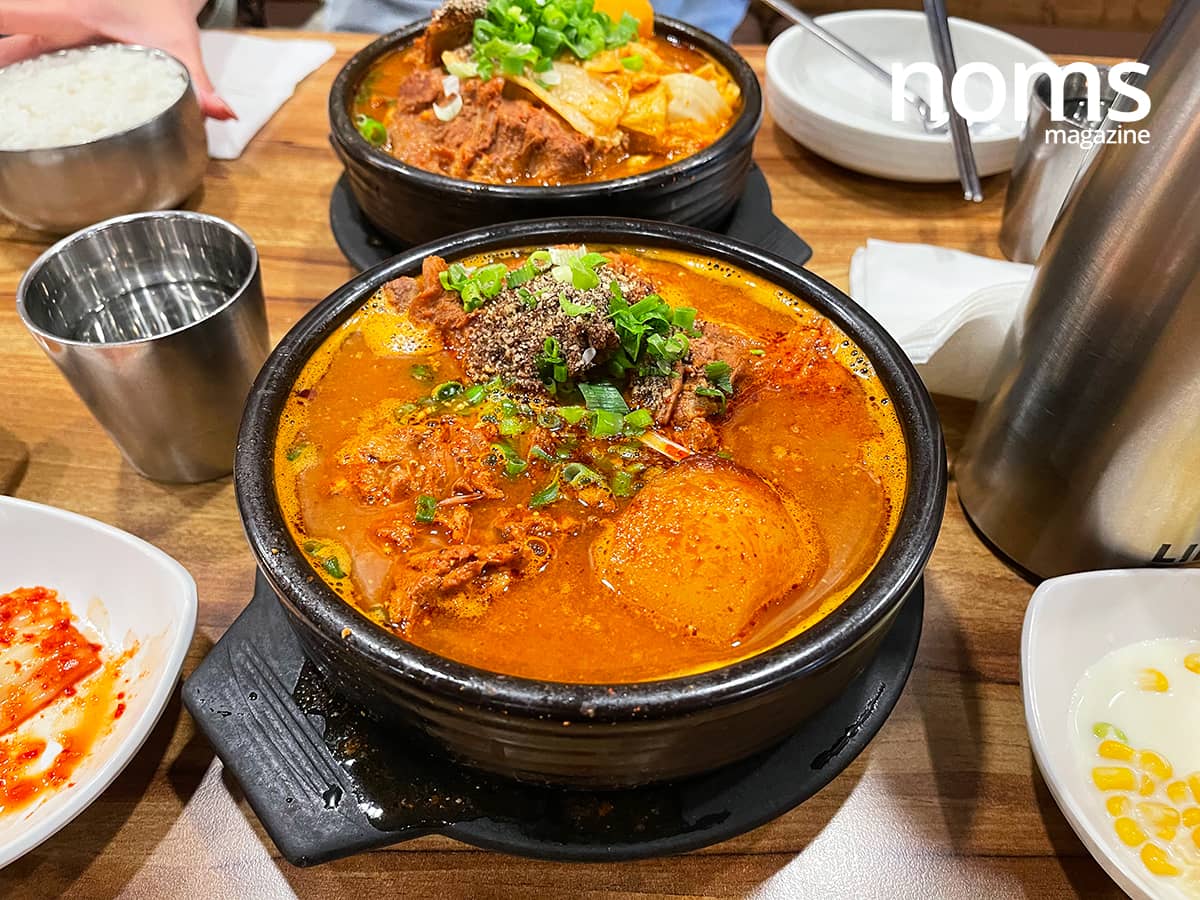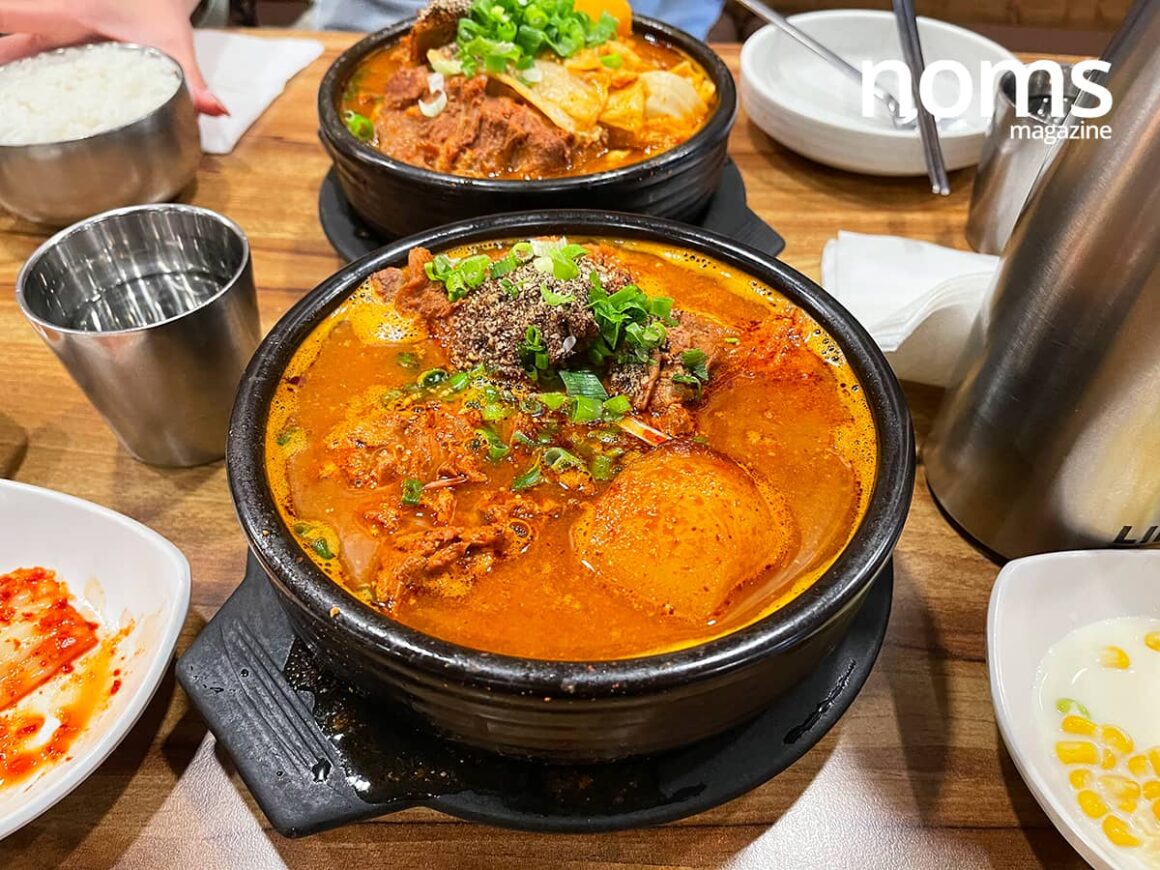 Thanks to the recipes passed down through generations, Mapo Gamjatang is one of the most loved Korean eateries in Toronto.
The recipes used here are the same ones used for over 50 years in the restaurant's original location in Seoul.
Since the restaurant has Gamjatang in its name, you already know what to get first – Mapo Gamjatang, of course!
This huge bowl of pork bone soup is super flavourful – salty, spicy, and umami – and the chunks of pork meat are extremely tender. This could easily be the best Korean pork bone soup in Toronto!
The menu also features many other variants of the soup, and the one with ramyeon noodles – Mapo Gamjatang Ramyeon – will manage to enthral your taste buds.
For a flavour contrast, get the Mapo Spicy Ppyeojjim. This is soy marinated pork neck bones with glass noodles and rice cakes. Allow the noodles and rice cakes to soak up all the spicy sauce and enjoy the yumminess to your heart's content.
If spicy is not your thing, go with the original Mapo Ppyeojjim.
What to order: Mapo Gamjatang, Mapo Gamjatang Ramyeon, Mapo Spicy Ppyeojjim, Mapo Ppyeojjim
Address: 4916 Yonge Street, North York, ON M2N 5N5
3. Mapo Korean BBQ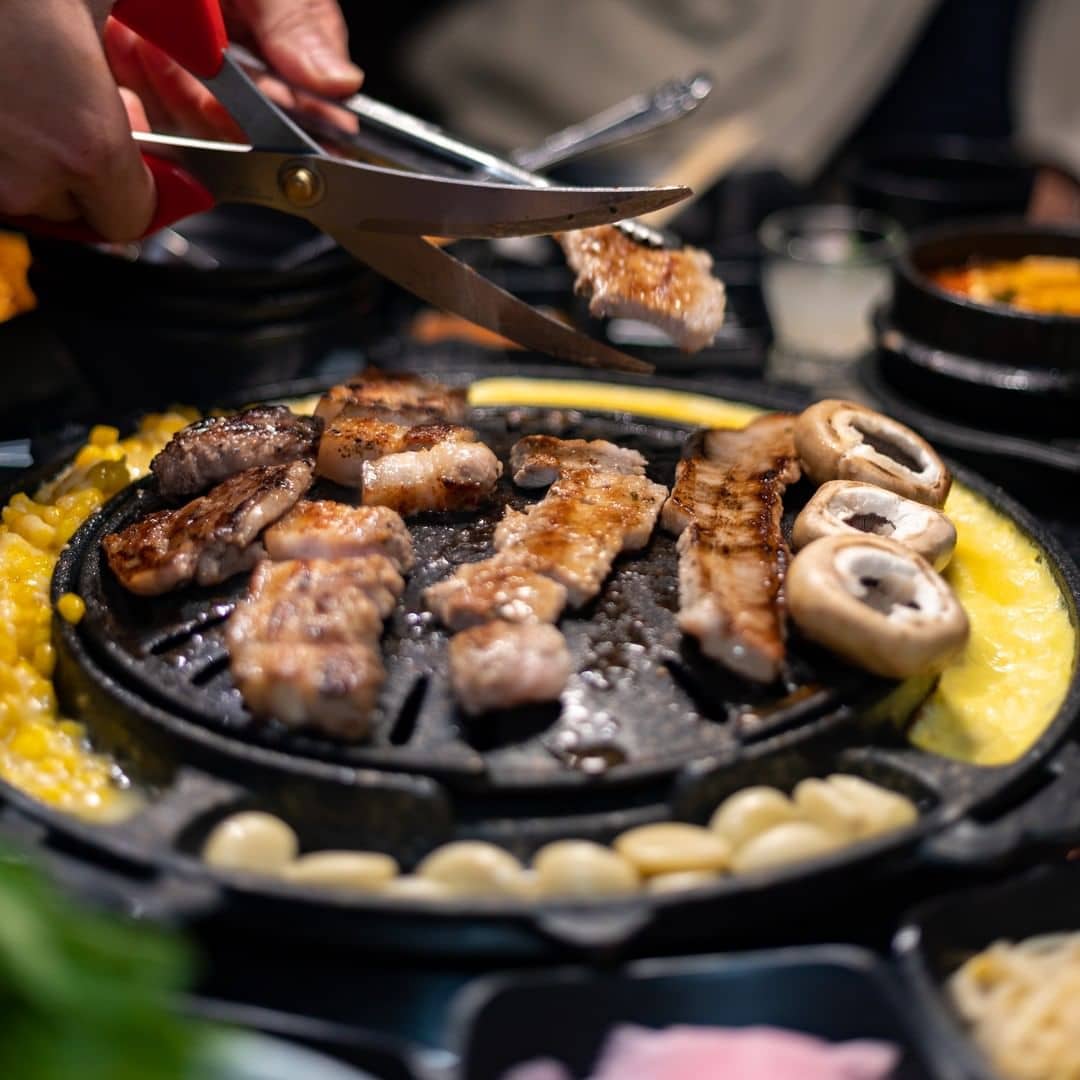 Located on Toronto's Bloor Street, Mapo Korean BBQ is a homey spot with in-table grills on each table, the place resembles the streets of Korea.
On the wall, you'll find various Korean celebrities and KPOP artists' signatures during their visit like Actor Lee Min Ho, BLACKPINK's Jennie, Seventeen's DK and Jeonghan, and more! So it is celebrity-approved!
For your appetizer, we recommend the Kimchi Pancake. It's zesty and packs in quite a punch with an evident kimchi flavour.
The Spicy Soft Tofu Stew is a crowd favourite at Mapo, and you can have it with pork, seafood, or beef.
Pork Belly and Beef Short Ribs are the two popular cuts of meat you'll love grilled. Their Marinated Beef Rib Meat comes beautifully marinated, soaking up all the flavours, and tastes extraordinary when grilled.
The Fermented Honeycomb Cut Pork Belly gets a golden and crispy outer texture and a juicier inside, thanks to the special honeycomb cut on the thick pork belly.
What to order: Kimchi Pancake, Spicy Soft Tofu Stew, Pork Belly, Beef Short Ribs, Marinated Beef Short Rib Meat, Fermented Honeycomb Cut Pork Belly, Cold Noodles Soup
Address: 708 Bloor Street W, Toronto, ON M6G 1L4
4. Sinjeon Topokki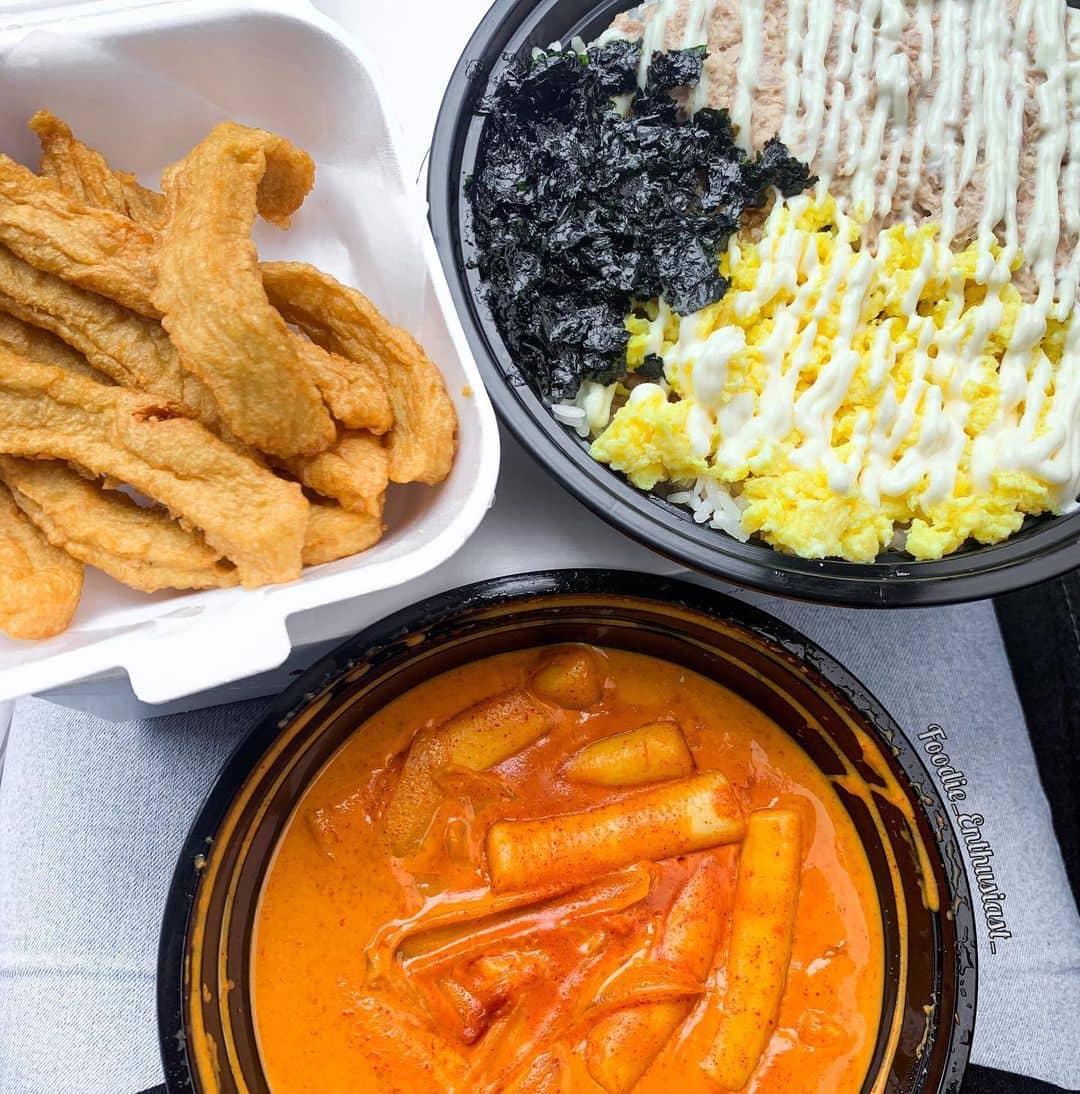 Sinjeon Topokki is the largest street food chain in South Korea with hundreds of locations around the world, and this place is their first in Toronto. The menu goes with that of a street food place, served in a casual atmosphere.
Sinjeon Topokki specialises in Tteokbokki, and offers numerous yummylicious versions of the same.
If you're new to tasting Tteokbokki, you can start with the Sinjeon Original Tteokbokki. The combination of chewy rice cakes and authentically savoury sauce is sure to delight your palate.
Foodie tip: Add cheese to your tteokbokki, and enjoy the AMAZING cheese pull.
The Rosé Tteokbokki is a creamy version of the original, with a super rich, creamy, and flavourful sauce.
Foodie tip: You HAVE TO order a portion of their Deep Fried Fish Cakes and dunk them in the tteokbokki sauce to experience foodgasm!
Other than tteokbokki, we recommend grabbing the crispy Seaweed Rolls and Sinjeon Cheese Gimbap.
What to order: Sinjeon Original Tteokbokki, Rosé Tteokbokki, Deep Fried Fish Cakes, Seaweed Rolls, Sinjeon Cheese Gimbap
5. Buk Chang Dong Soon Tofu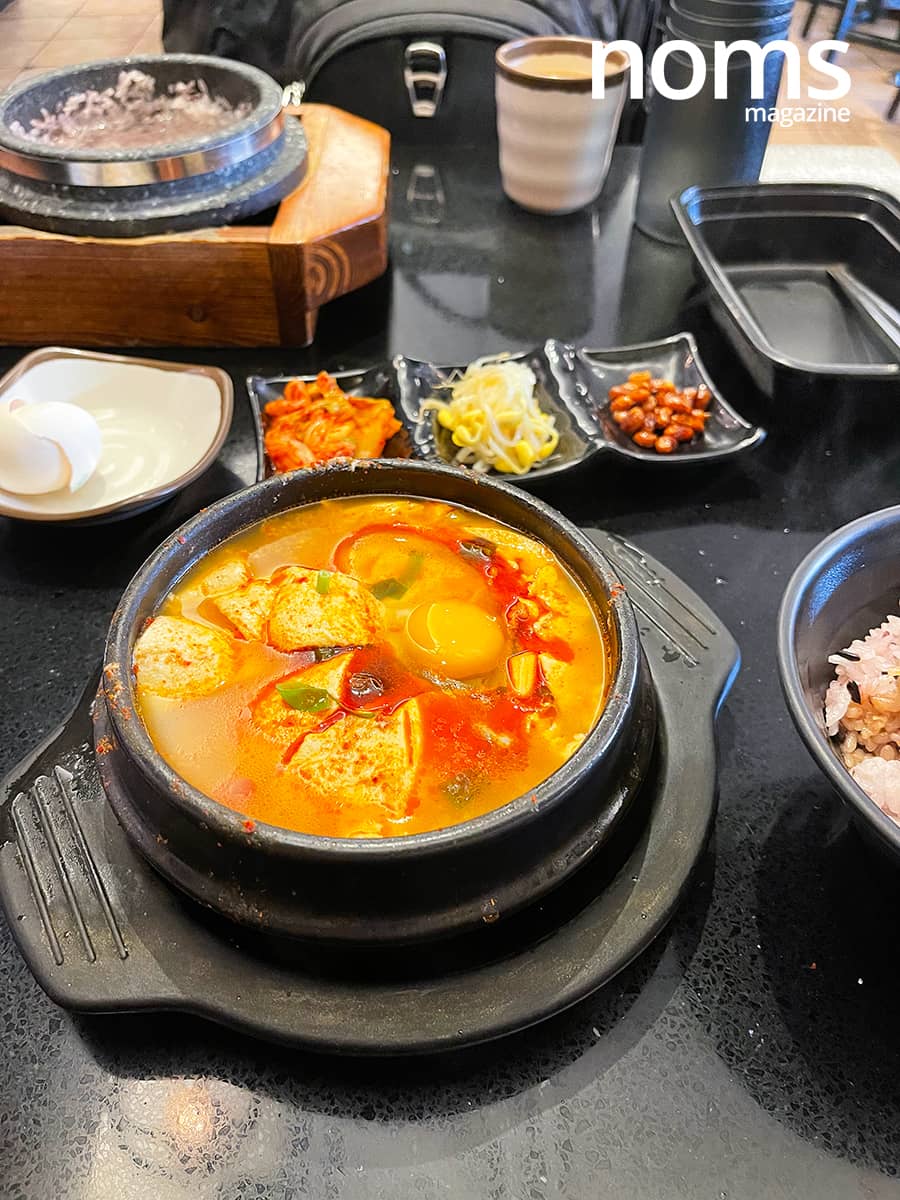 Buk Chang Dong Soon Tofu has been serving affordable and authentic Korean food since 2001.
The majority of the restaurant's menu is a tribute to the popular traditional Korean dish Sundubu Jjigae, also known as soft tofu stew/soup.
Among the many available versions, our favourite is the Combination Soon Tofu; as the name suggests, this soup has a combination of beef, shrimp, mussels, and tofu for its main ingredients, and is served with hot stone pot rice.
The soup is flavourful, and comes with just the right level of kick (you can choose your desired spice level too); the tofu is soft and smooth, and all the proteins are juicy and meaty, and taste excellent with the hot purple rice.
Not to mention, the portion is extremely generous for the price.
If you love kimchi, you have to get Kimchi Soon Tofu with beef and pork. The acidity and mild sweetness from the kimchi, along with the tender beef and pork, make this an outstanding bowl of tofu soup. This dish will get your seal of approval even if it's your first time trying it!
What to order: Combination Soon Tofu, Kimchi Soon Tofu, Bulgogi Soup, Dumpling Soon Tofu
Address:
-691 Bloor Street W, Toronto, ON M6G 1L3
-2450 Sheppard Avenue E Suite 106, Toronto, ON M2J 4W6
Website | Instagram | Facebook
6. KoSam Korean Restaurant & Bar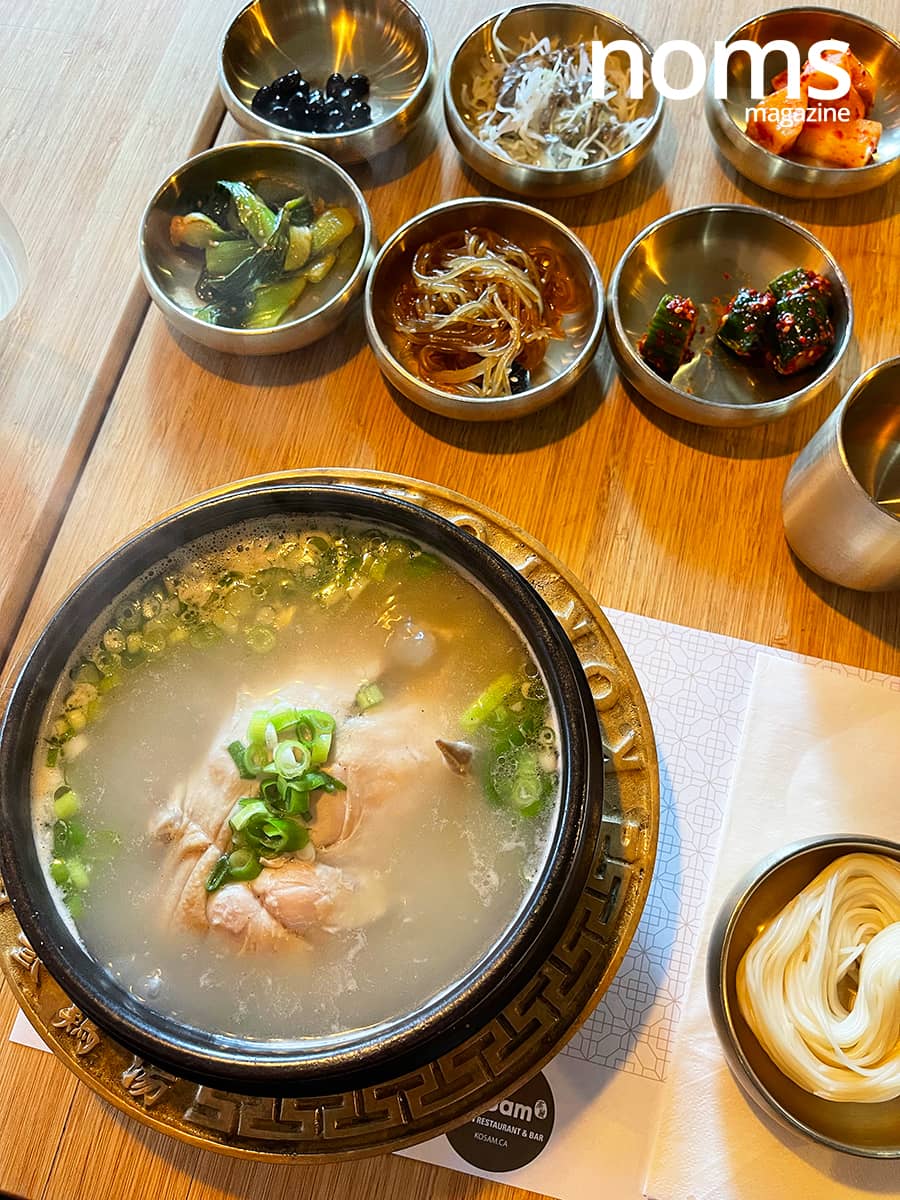 KoSam is a family-owned restaurant that has operated in South Korea for over 40 years. The restaurant is focused on introducing locals to the true tastes of Korea in a modern, family-friendly setting.
The specialty of KoSam is Koryo Samgyetang. Also known as the Korean Ginseng Chicken Soup, the chicken in here is juicy and tender with sticky rice stuffing, and the soup is rich, nourishing, and healthy too.
You can get the soup in other variations like Perilla Seed Samgyetang, which has an extra rich broth, or the Organic Pine Mushroom Samgyetang for vegetarians.
The Stir-Fried Bul Dak (Fire Chicken with Cheese) delivers a POW to your taste buds with not just its flavour but also heat.
Jjam Ppong Seafood Soft Tofu is a hearty bowl of flavour-rich beef broth filled with assorted seafood, soft tofu, and veggies. The broth has just the right level of heat to it but you can get it non-spicy too.
What to order: Koryo Samgyetang, Perilla Seed Samgyetang, Stir-Fried Bul Dak, Jjam Ppong Seafood Soft Tofu
Address: 4922 Yonge Street, North York, ON M2N 5N5
7. Imonay Korean Restaurant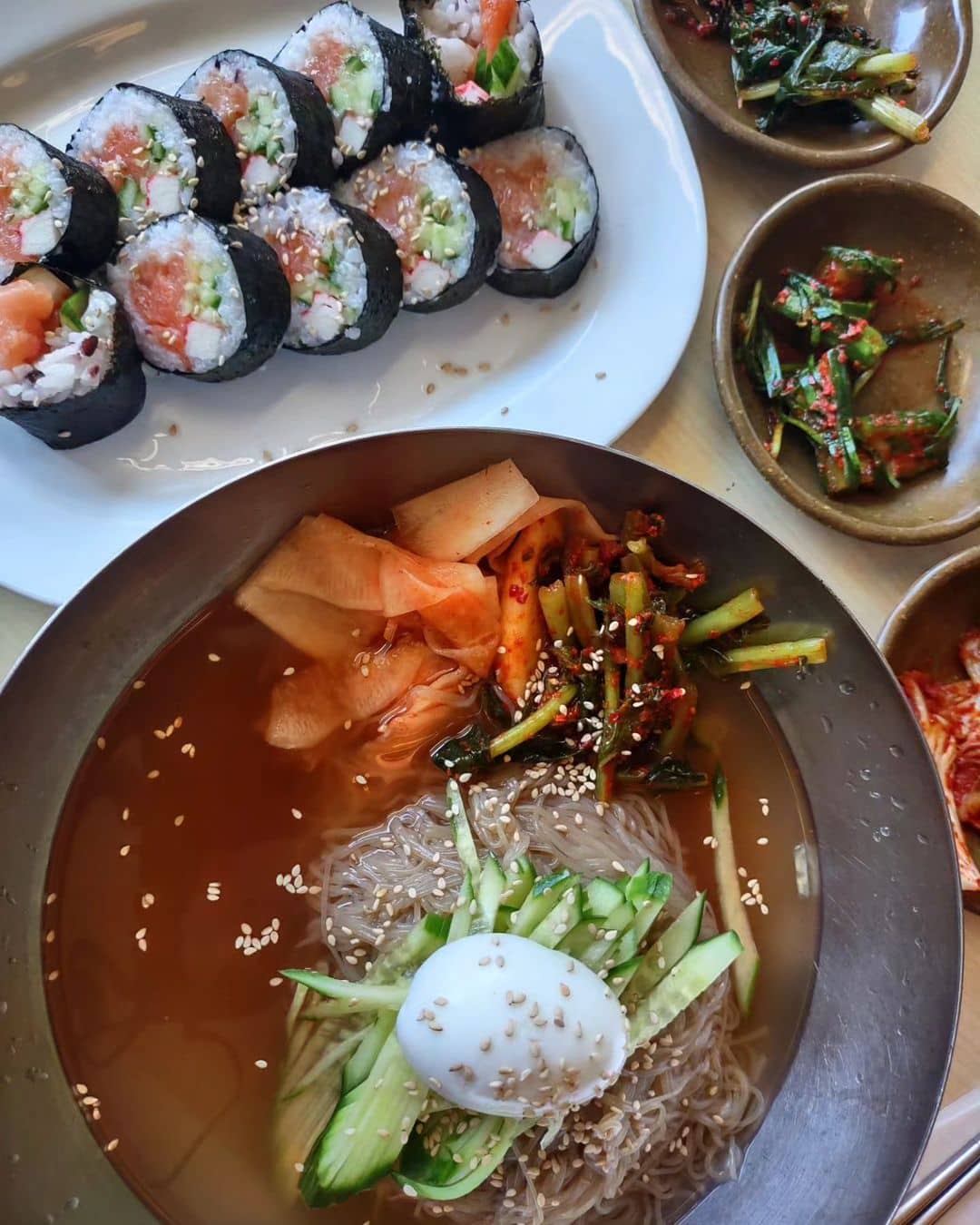 Translating to "aunt's place", Imonay offers simple, authentic, and home-style Korean food in a casual, modern setting.
Imonay's Gamjatang or Pork Bone Soup has a cult following and is a must order!
Arriving at your table sizzling hot, this bowl of soup is filled with savoury goodness, hearty, and flavour-packed. The pork bone has a huge chunk of meat for you to savour, and along with a bowl of rice or noodles, this soup is like a warm hug.
Their Kimchi Fried Rice and Kimchi Stew are a *chef's kiss* combination! With the perfect level of spice, and served piping hot, you'll be doing your happy dance after the first bite.
And you can't forget about their Dukbokki, it is absolutely delish. Swimming in a hot and spicy Korean sauce are perfectly chewy and slightly sweet white rice cakes – a hugely popular Korean staple. Add cheese as a topping, and it helps balance out the spiciness of the sauce.
What to order: Pork Bone Soup, Kimchi Fried Rice, Kimchi Stew, Dukbokki
Address: 665 Bloor Street W, Toronto, ON M6G 1L1
8. Ehwa Restaurant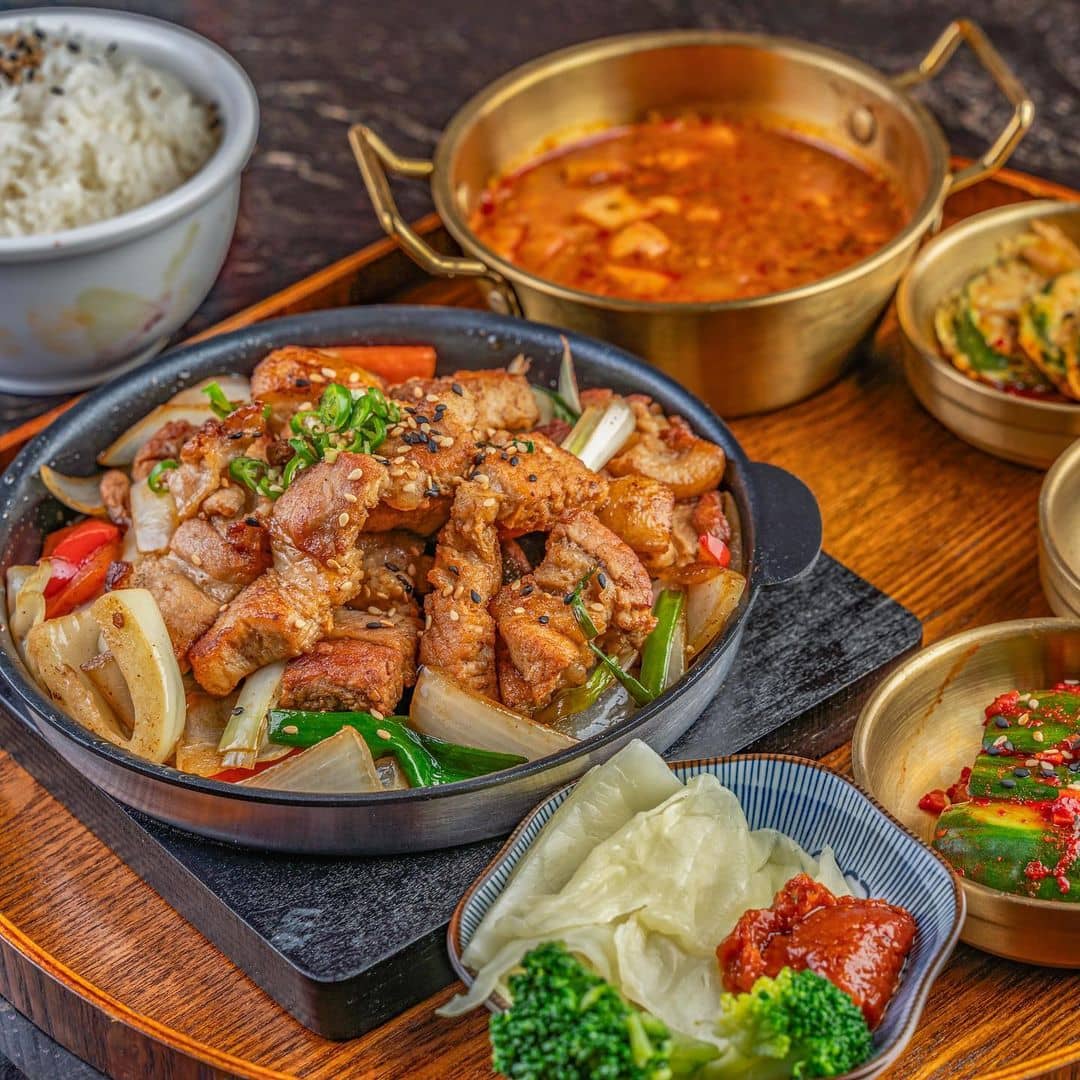 A Korean fusion restaurant with both downtown and uptown locations, Ehwa combines the art of traditional Korean cooking with modern flavours and techniques. This spot is best enjoyed with a group of friends or with a date.
One of Ehwa's signature dishes (not available on the menu) that you should try is the Cheese Spicy Chicken BBQ. You get a bowl of crispy fried chicken tossed in a fiery sauce and finished with loads of melted cheese on top. It is spicy, juicy, crispy, gooey, cheesy, and finger-licking delicious.
Gangjeong is another heavenly creation. It has deep fried rice cakes and deep fried boneless chicken coated in the restaurant's special sweet and spicy sauce.
The chicken is crunchy and juicy, and the rice cakes are perfectly cooked with a slight chewiness to them; the sauce brings together both the main elements perfectly well, resulting in this yum plate of food.
Samgyeopsal Tteokbokki, or rice cake with grilled pork belly is the ultimate Korean street food. The staple rice cakes are always perfectly prepared, and the pork belly is tender and juicy. The sauce they're covered in is sweet, spicy, and savoury – a delectable combination.
If you're in the mood for something unique, try the Pork Belly Chilli Cream Pasta. This is a combination of spaghetti with juicy pork belly tossed in their signature cream sauce with a hint of truffle oil – an interesting array of flavours that actually work!
What to order: Cheese Spicy Chicken BBQ, Gangjeong, Samgyeopsal Tteokbokki, Pork Belly Chilli Cream Pasta
Address: 16 Isabella Street, Toronto, ON M4Y 2A1
Website | Instagram | Facebook
9. BOM Bibimbap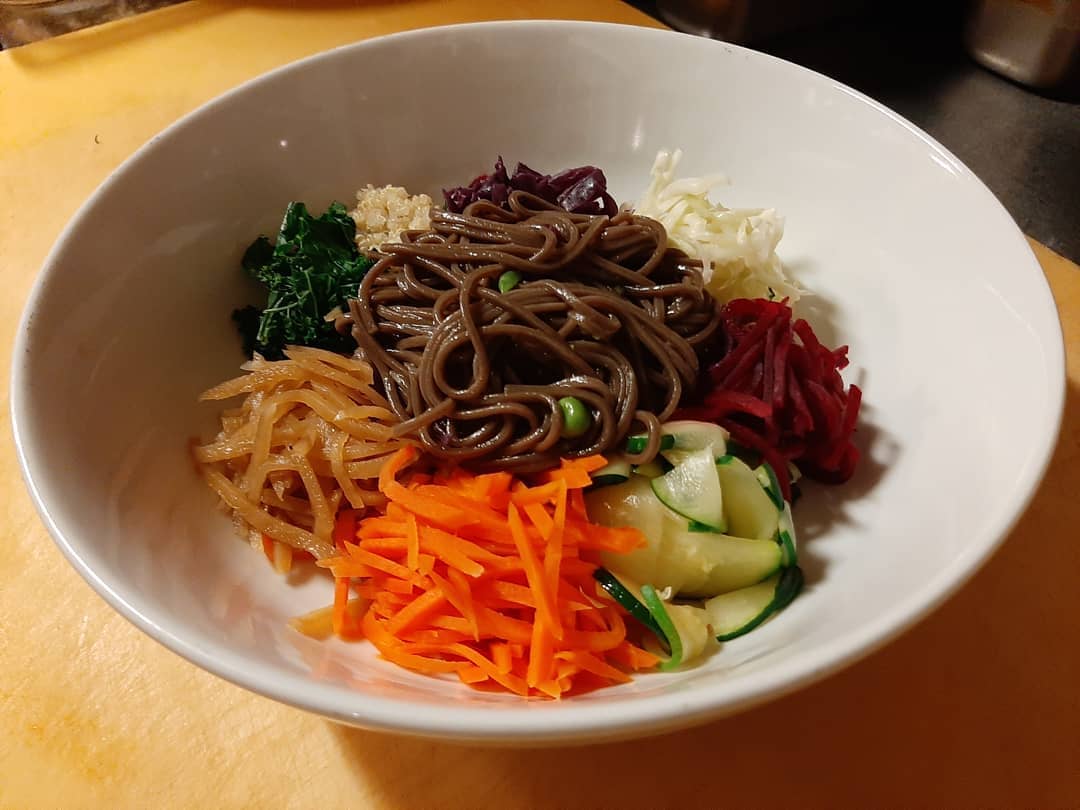 If you're after Korean bibimbap, trust BOM Bibimbap to deliver an epic bowl of the dish. The menu at this casual restaurant is mostly this humble Korean classic in different variations, served in a homey atmosphere.
The Spicy Pork Bibimbap is one of our favourites from BOM's menu. Mixing together perfectly steamed black rice, oozy fried egg, fresh vegetables, and flavourful spicy pork gives you a blend of luscious, spicy, crunchy, and pickled flavours and textures in every heavenly bite.
If pork isn't your choice of protein, get the Bulgogi Bibimbap. The perfectly marinated and grilled meat is ultra-tender and flavoursome, and mixing together all the elements leaves you with one boldly flavoured and gratifying bowl.
For vegetarians, there's the Deep-Fried Tofu Bibimbap, and the Kimchi & Tuna version is umami-filled wholesomeness.
What to order: Spicy Pork Bibimbap, Bulgogi Bibimbap, Deep-Fried Tofu Bibimbap, Kimchi & Tuna Bibimbap
10. Daol Korean Restaurant
A small, unpretentious Korean restaurant located on Queen Street, Daol offers an extensive list of Korean classics, and other Asian dishes as well. The atmosphere is simple, casual, and family-friendly, and the pricing, portions, and service are great.
Bulgogi Japchae – two classic dishes combined to make one incredibly tasty and filling dish.
Tteokbokki – Daol's version of this popular Korean street food is entrancing. The rice cakes are soft and chewy, and the sauce is spicy, savoury, lush, and sweet.
The spicy Kimchi Fried Rice is simply delicious, and the Vegetarian Japchae, loaded with fresh and crunchy veggies, will please any vegetarian.
LA Galbi – Korean short ribs perfectly marinated and charcoal grilled to get an even char and smoky flavour, while the meat remains tender and juicy on the inside, and comes with an addictive flavour.
What to order: Bulgogi Japchae, Tteokbokki, Kimchi Fried Rice, LA Galbi
Address: 1345 Queen Street W, Toronto, ON M6K 1L8
From award-winning restaurants to humble pizzerias, Toronto is home to a multitude of different cuisines and restaurants, and we have narrowed down the absolute best restaurants in Toronto for you to eat at.
How We Create Our "Best" Lists
All Noms Magazine's "best" lists are created using multiple factors and signals to help readers find the best restaurants, things to do, and places to stay at. Some of these factors and signs include personal experiences, correspondence with locals, and compiling experiences from review sites.
Each list is also created to be balanced (in terms of price, cuisine type, ambiance, and more) as possible. This means that the lists are not specifically created in ranking order. You should be comfortable picking from any of the spots on the list and generally have a good time. But of course, YMMV (your mileage may vary) and everyone may have different experiences/palates.