From busy pizzerias to bustling bbq joints to acclaimed award-winning restaurants, it comes as no surprise that Toronto is constantly flocked by foodies!
Walk along the streets of the city's bustling neighbourhoods and you will find yourself growing an appetite from just smelling everything around you.
With multiple cuisines coexisting with each other, it can be quite daunting to decide where to eat in Toronto. To reduce your burden, here is a list of the 15 best Toronto restaurants that are sure to put your taste buds to good use.
1. Aloette Restaurant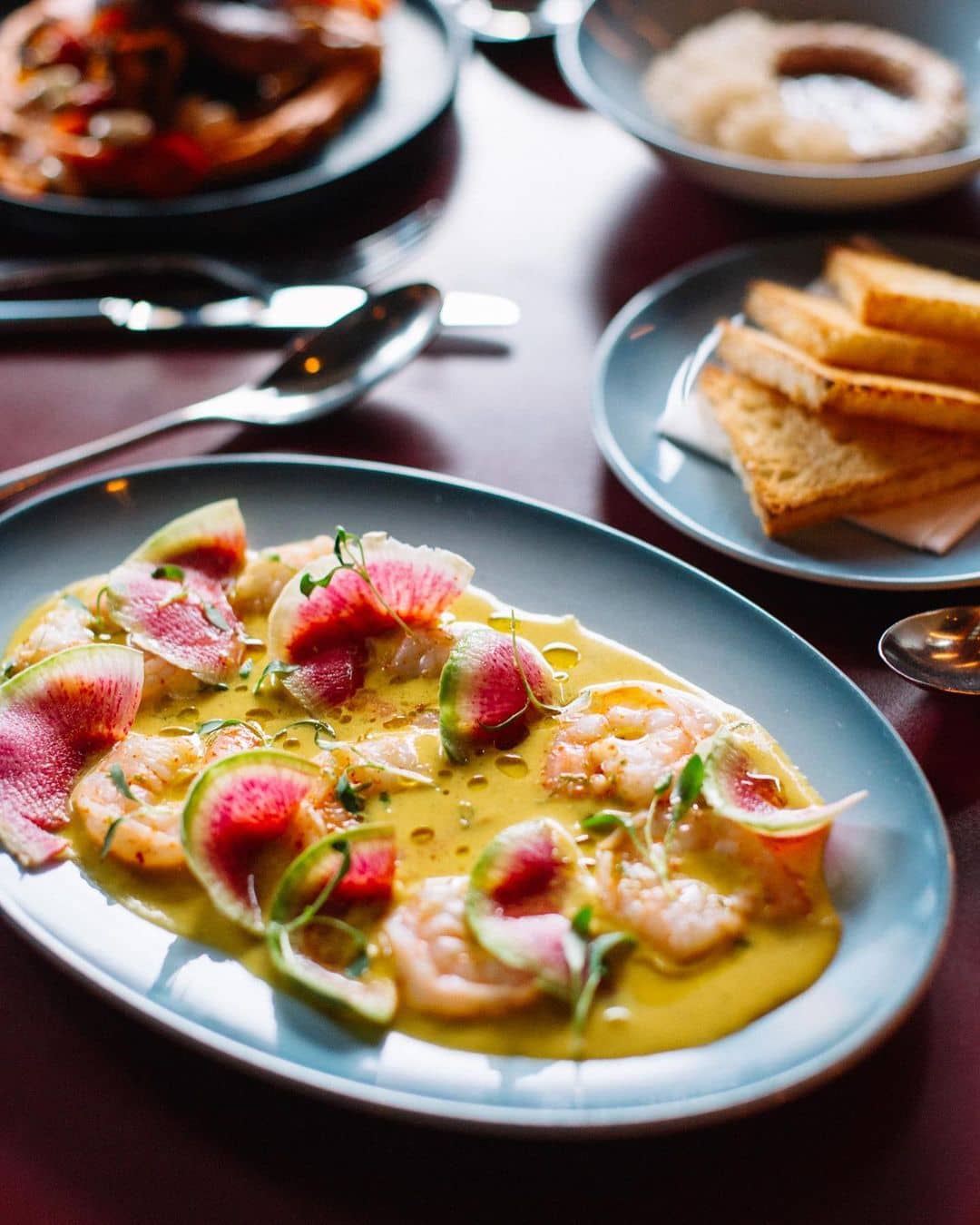 Aloette is your shining star bistro of the city, ever so popular among the locals and visitors since its launch in 2017. The food here is high-quality French cuisine meeting people's cravings for cheeseburgers, fries, and amazing desserts. Combined with a beautiful ambience and friendly service, Aloette will blow your mind in every possible way.
Start with Aloette's Iceberg Wedge – a simple yet extremely delicious salad. The crispy and crunchy iceberg bowl comes filled with a divine chive cream, topped with avocado, parmesan, and crispy wild rice. While the salad is easily enough for two, it is so good that you would probably finish it on your own!
Their Beef Tartare is delicate, with the meat having the perfect texture – neither too chunky nor too minced. The addition of manchego adds a bit of sweet, fruity flavour, and the pine nut and potato chips bring in the crunch.
For dessert, don't miss Aloette's famous Lemon Meringue Pie. While the pie slice looks picture-perfect, it tastes even better, with a balance of sweetness and tanginess, on a wonderfully done crust, and perfectly torched meringue on top.
What to order: Iceberg Wedge, Beef Tartare, Lemon Meringue Pie
Address: 163 Spadina Avenue, 1st Floor, Toronto, ON M5V 2L6
2. Richmond Station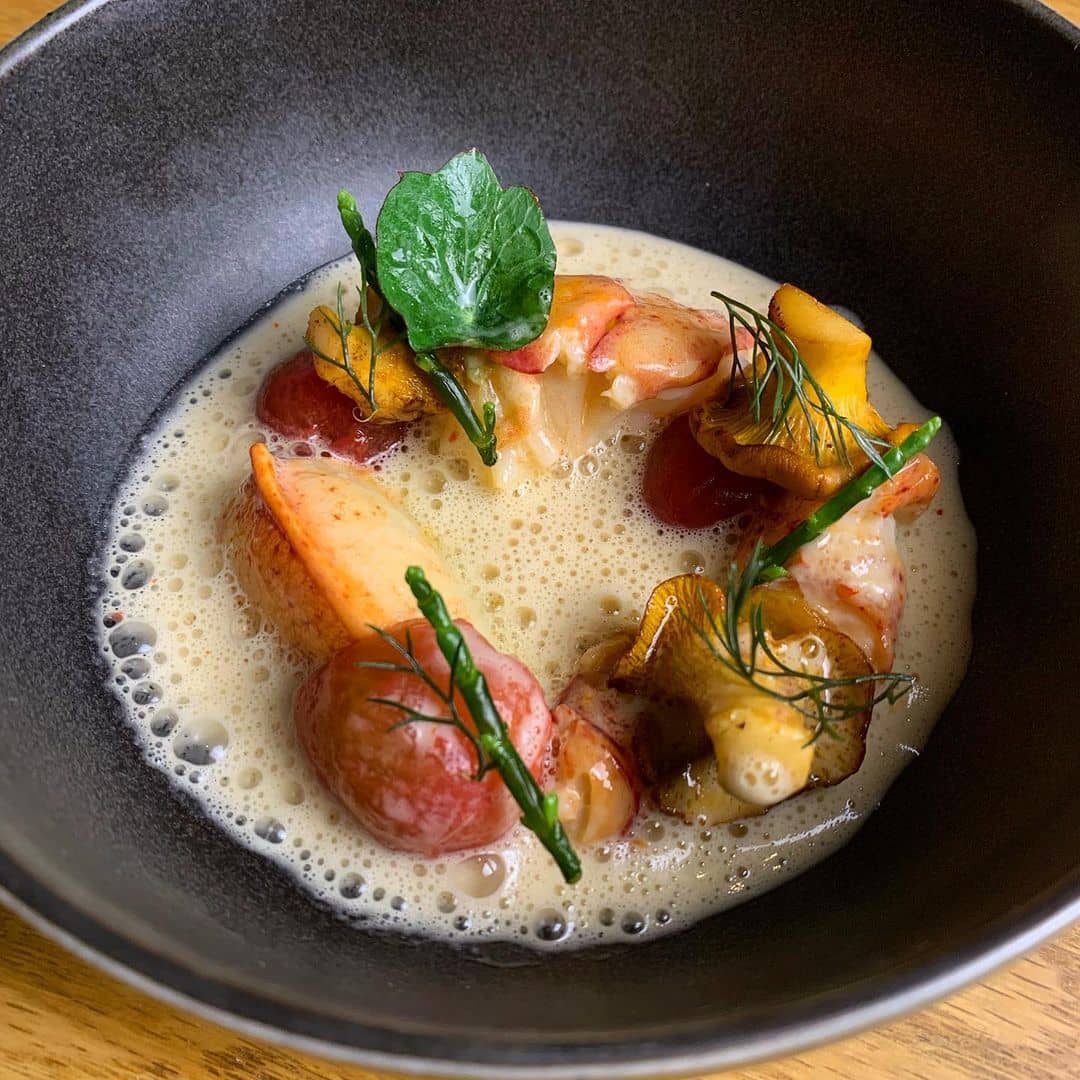 Located in Toronto's downtown core, Richmond Station is known as the stopping place where you can enjoy delectable food and excellent hospitality. This is one of those neighbourhood restaurants where you will see the owners around most of the time, the same staff for years, and more importantly, your favourite items never leave the menu.
If you're in the mood for a burger when you visit Richmond Station, the Station Burger will leave your tummy and heart satisfied! Made with organic, grass-fed beef, the patty is juicy and has a lot of flavour. The garlic aioli and beet chutney, along with all the other elements, make this an enjoyable burger.
The Duck Liver Pate at Richmond Station is a crowd-pleaser as well. Served on perfectly toasted brioche, the pate is creamy, light, and fluffy, with the texture of whipped cream, and just slides down the throat, making you go for the next serving right away.
Richmond Station also serves some amazing cocktails, and also a great selection of beers, wines, and ciders. They also have an exclusive kids menu.
What to order: Station Burger, Duck Liver Pate
Address: 1 Richmond Street W, Toronto, ON, M5H 3W4
Website | Instagram | Facebook
3. Canoe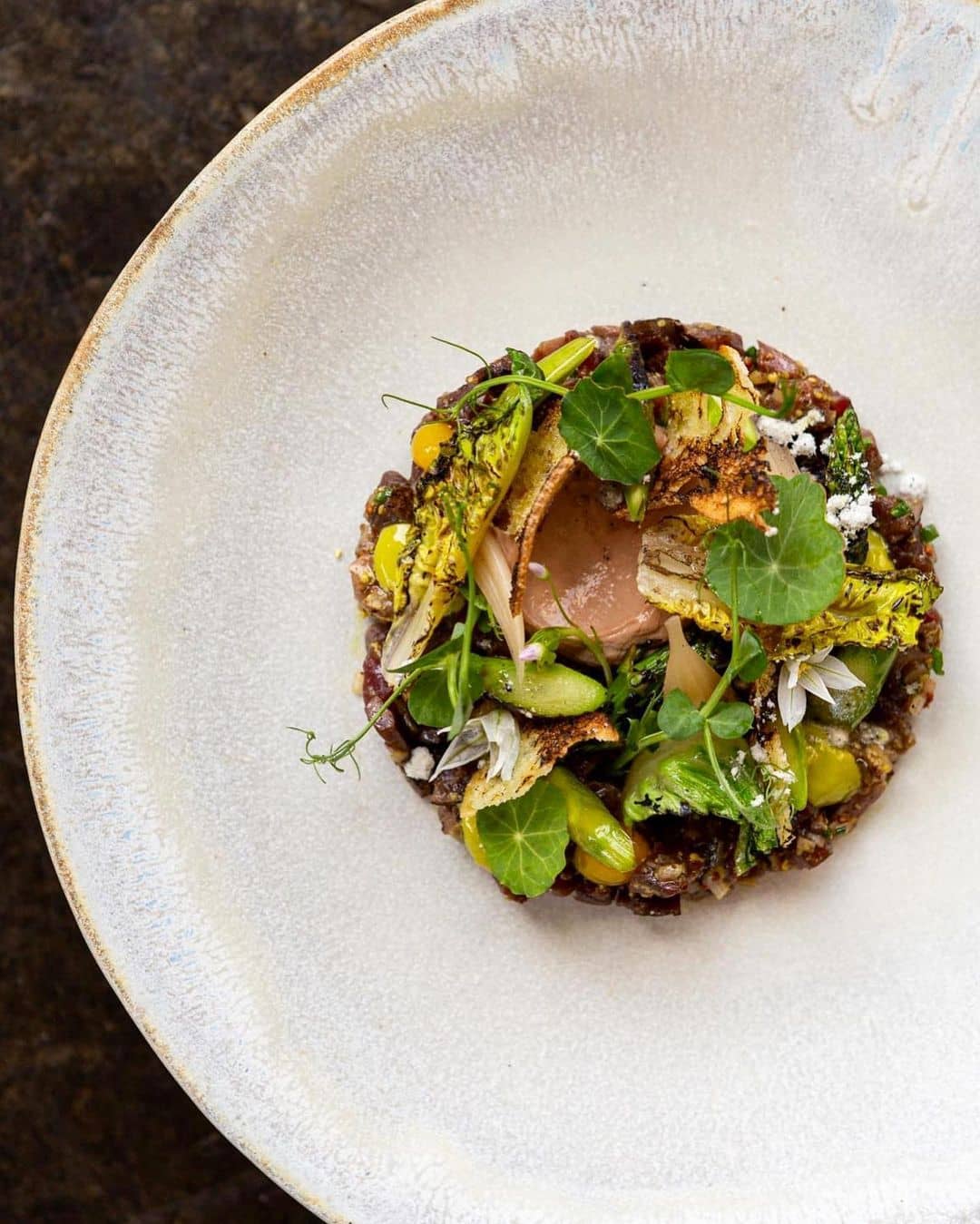 Located on the 54th floor in the Toronto Dominion Centre, Canoe is where the locals head for special occasions. This restaurant serves innovative Canadian cuisine, celebrating the ingredients and flavours from all over the country, and more importantly, offers phenomenal views of the city's glittering skyline, and more. The place is a textbook example of fine dining.
A fine example of Canoe celebrating the ingredients from around the country is their Québec Foie Gras dish. It comes as a parfait, paired with Ontario rhubarb, roasted beets, and radicchio. The parfait has a rich velvety texture, with a slightly deep umami flavour, and all the accompaniments pair well together.
Depending on the time you visit, the elements on your plate can differ; but, you can be sure that everything will taste awesome!
For a fine dining surf & turf experience, order the Surf + Turf from the menu. With an 8oz. 35-day aged strip loin – moist and tender, and Atlantic half-lobster, served with flavour-rich lobster jus and lettuce + ramp butter, you get to enjoy the best of both worlds!
What to order: Québec Foie Gras Parfait, , Surf + Turf
Address: 66 Wellington Street W, TD Bank Tower, 54th Floor, Toronto, ON M5K 1H6
Website | Instagram | Facebook
4. PAI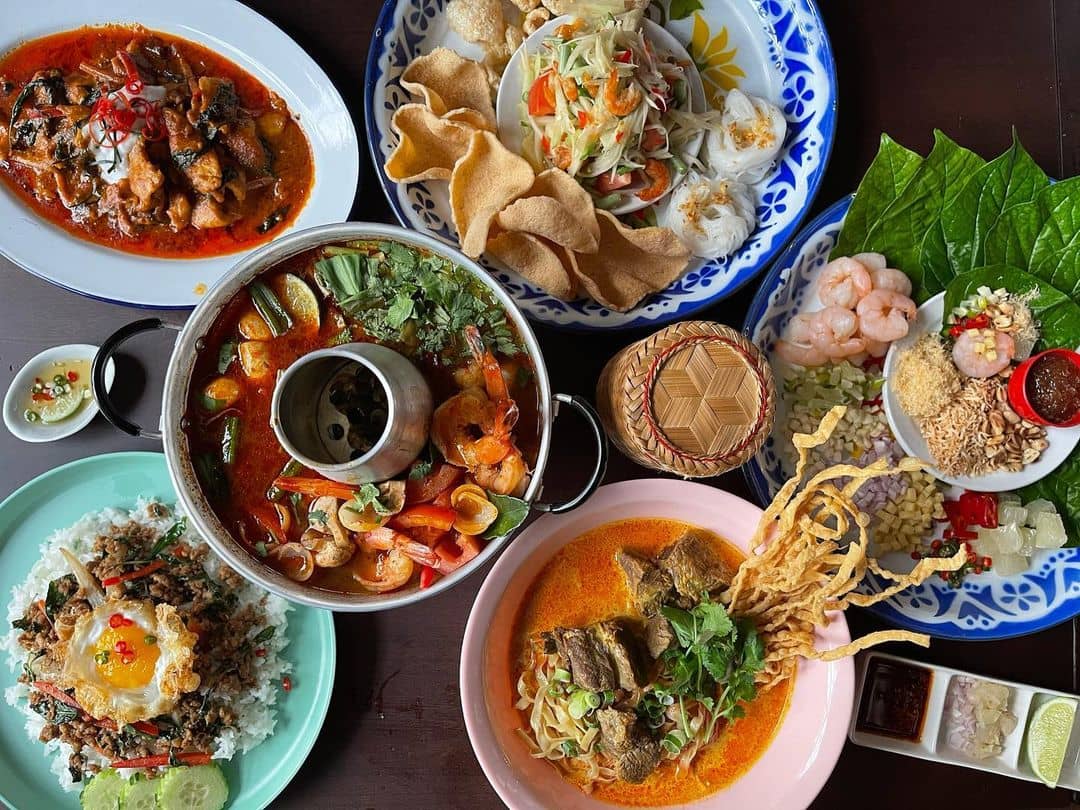 Named after Northern Thailand's village where the owner couple met, PAI is for Thai food aficionados looking for yummy traditional curries, Pad Thai, and other staples from the cuisine. At PAI, you can indulge in authentic Thai foods in a warm and inviting atmosphere.
We always say that when a dish is named after its chef, it has to be finger-licking good to be able to do justice to their name. At PAI, the Chef Nuit Pad Thai adds credit to the chef in every possible way and is chopstick-licking(!) good.
This authentic Thai food comes with a perfect balance of savory, sweet, sour, and spicy tasting elements, and will remind you of the original bowl of Pad Thai you had in the streets of Thailand.
For your protein, you can choose between beef, chicken, tofu & veggies, or shrimp. They also have a lobster pad thai available on Fridays and Saturdays. You can have your Pad Thai as a gluten-free and/or vegan variant as well.
From Chef Nuit's Favourites menu, you got to try her signature Khao Soi. This is fresh egg noodles served in a bowl of rich, thick coconut curry. The beautiful golden color of the curry will make your mouth water in an instant, and you will taste nothing but loads of flavour, perfectly tender protein of your choice, and a contrasting texture from the crispy noodles.
PAI is also famous for its Mango Sticky Rice dessert. Though a rather simple dessert, the freshness, ripeness, and juiciness of the mango along with the coconut sticky rice will be a pleasing ending to your Thai meal.
P.S. expect a wait during regular lunch and dinner hours, but it's well worth it!
What to order: Chef Nuit Pad Thai, Khao Soi, Mango Sticky Rice
Address: 18 Duncan Street, Downtown, Ontario M5H 3G8
Website | Instagram | Facebook
5. Gusto 101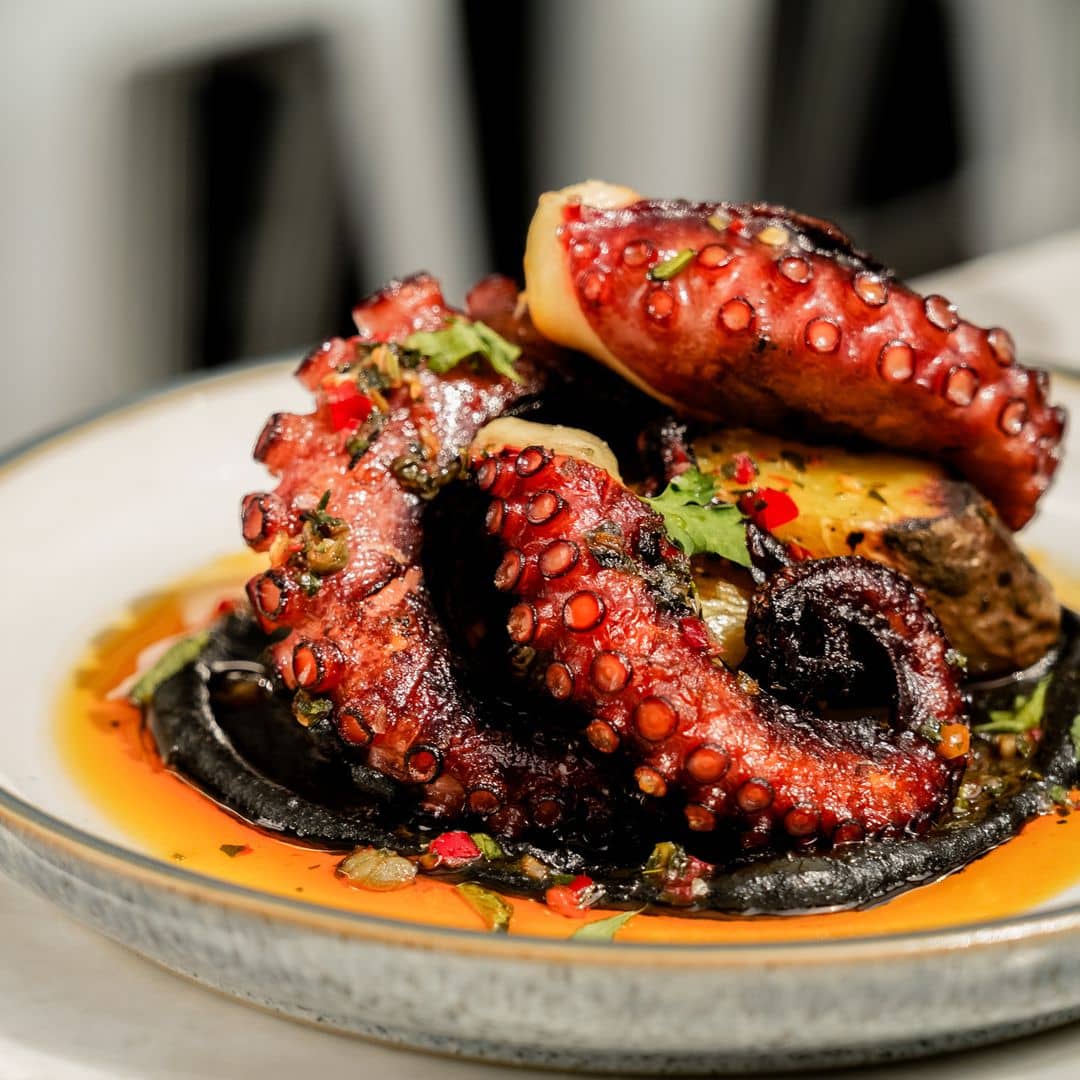 Meaning "tasty" in Italian, Gusto 101 is set up in a former auto body shop, and the place still feels cozy and lively. The restaurant serves Southern Italian classics and displays its modern takes on the same. Everything served here is soulful, and the venue is a favourite gathering place for the locals.
A must-have dish at Gusto 101 is their mushroom pasta or Mafalde Ai Funghi. Made with three different types of mushrooms – portobello, oyster, and porcini, the pasta attains an amazing fragrance from the mushrooms, and the truffle cream sauce is to-die-for.
The Polipo, or grilled octopus, comes nicely cooked, without being chewy but with an enjoyable texture. The spicy salsa verde and squid ink romanesco add interesting flavours to the dish.
Their Lasagna with fennel sausage ragu is known to have attained cult-classic status among Torontonians.
What to order: Mafalde Ai Funghi, Polipo, Lasagna
Address: 101 Portland Street, Toronto, Ontario M5V 2N3
Website | Instagram | Facebook
6. Grey Gardens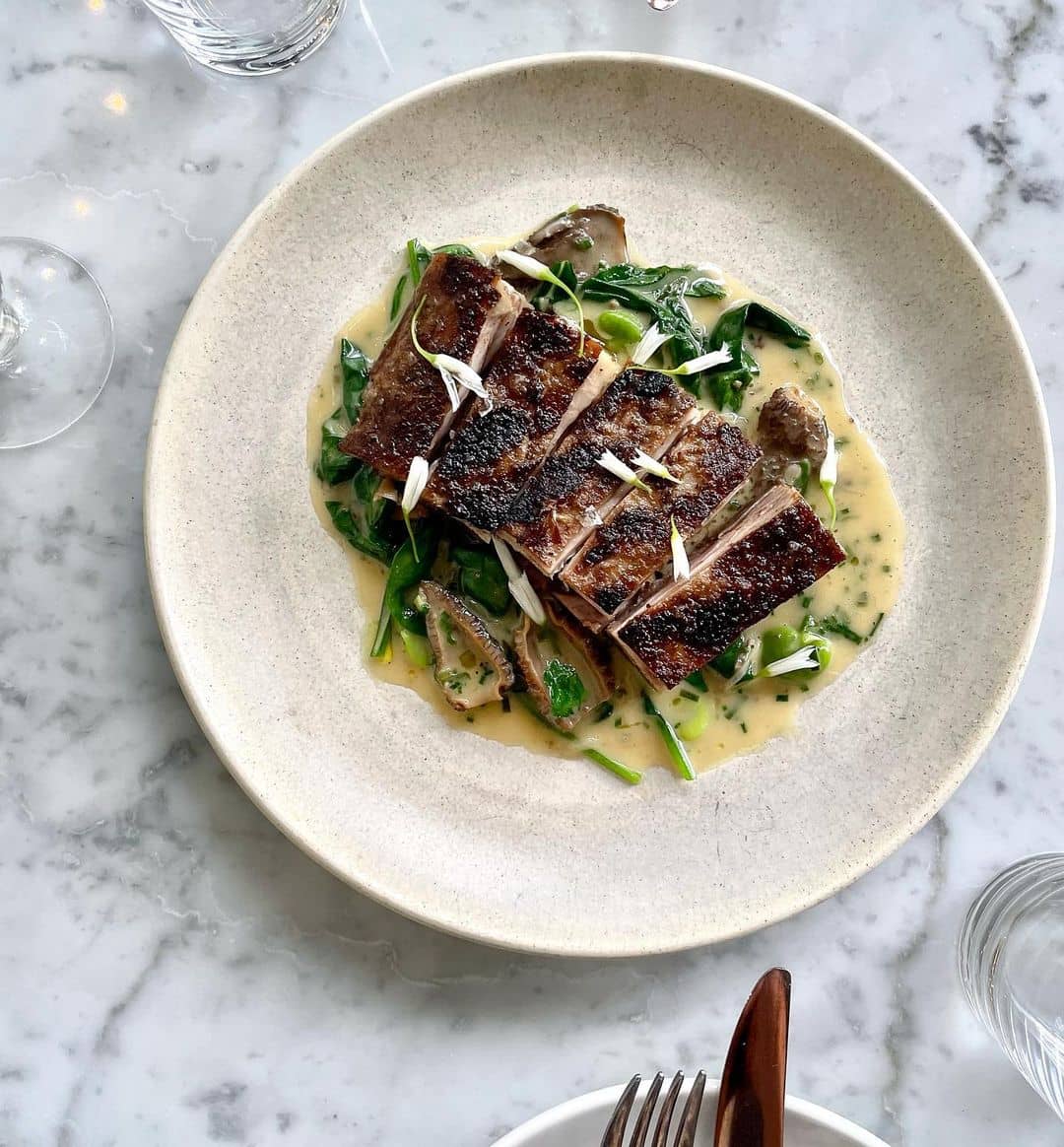 Grey Gardens is an effortlessly cool spot – a part restaurant, part wine bar establishment – that works as your weekly drop-in restaurant, your go-to fancy anniversary dinner place, or the favourite wine bar where you hang out with friends. From small snacks to full-size plates, you can enjoy a variety of Canadian fare here, paired with your favorite bottle of wine from their dynamic list.
Even if you're at Grey Gardens for a full-size meal, you have to start with the Chips n' Dip from their Snacks menu. Of course, the highlight is the dip – strong, fishy, and smoky, but in a not-so-overwhelming, irresistible kind of way. The homemade chips are a perfect complement to enjoy the prolific dip.
Don't forget to sink your teeth into the perfectly cooked Torelloni with fresh shrimp, floating in a deliciously flavourful lobster broth.
Grey Gardens is popular for its ice cream desserts. One such popular option is Strawberry, which is basically sunflower seed ice cream and sumac. The ice cream is creamy, refreshing, and delicious, and the sumac adds a nice tangy, citrus note to cut the creaminess.
What to order: Chips n' Dip, Torelloni, Sunflower Seed Ice Cream
Address: 199 Augusta Avenue, Toronto
7. Scaramouche Restaurant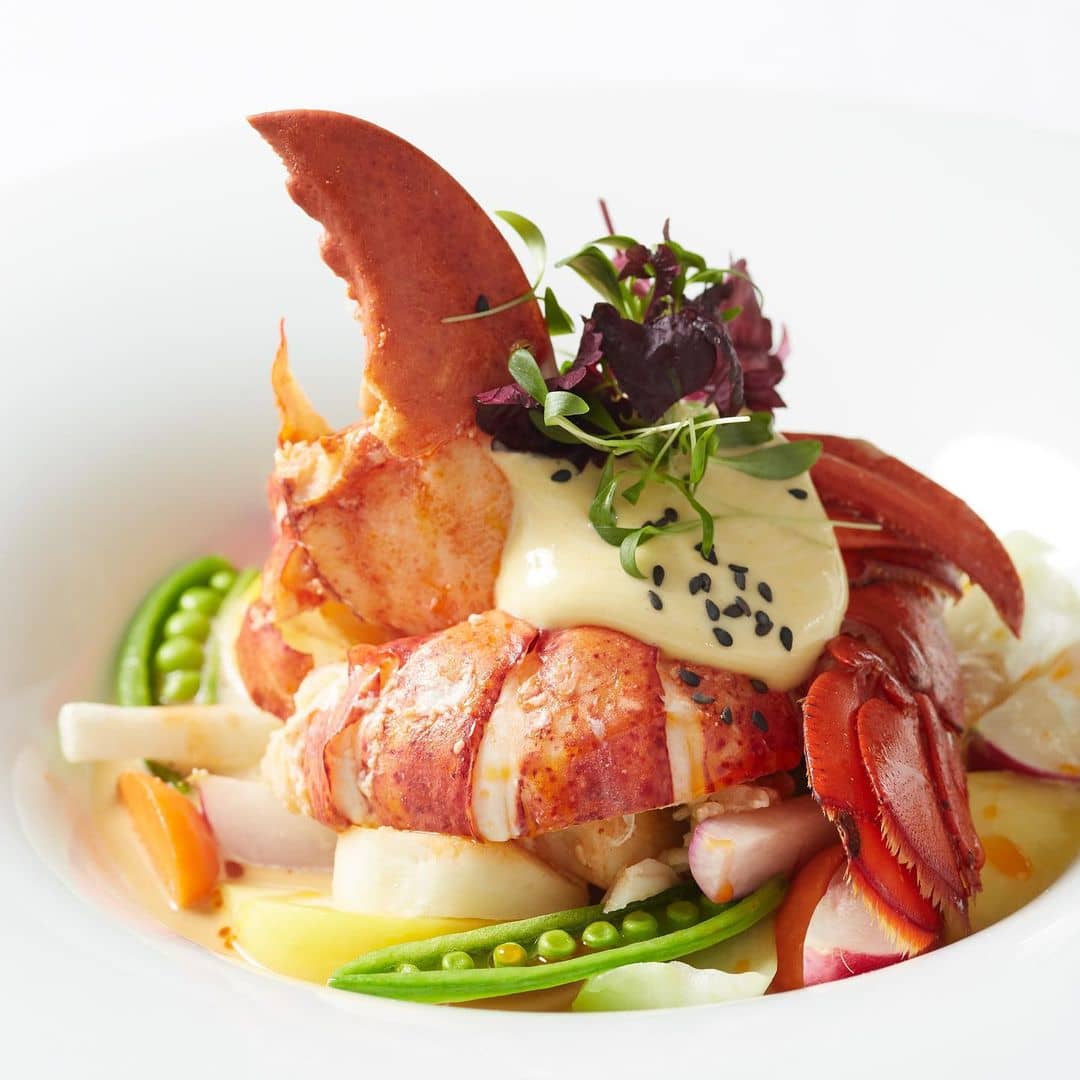 From upscale dining to a pasta bar to takeout, Scaramouche offers it all! The place serves sophisticated French food that can be enjoyed with great views of the Toronto skyline. Having served movie stars, politicians, and other popular clientele, Scaramouche is one of the few restaurants in Toronto with longstanding success.
Though you cannot make a bad menu choice at Scaramouche, we recommend that you start with the Foie Gras Terrine appetizer. This is an item that always stays on the menu due to demand. Presented like a piece of artwork, the foie gras is smooth, and along with the sour cherry reduction and other elements, the entire dish tastes exquisitely flavourful.
The classic grilled Filet Mignon is simplicity at its best – the meat cooked to perfection, a little bit of richness from the blue cheese butter, satisfying whipped potato, and beautifully reduced red wine jus.
Not a fan of coconut? Doesn't matter! You will nevertheless love Scaramouche's famous Coconut Cream Pie. Light and creamy custard and cream, topped with rich white chocolate shavings and dark chocolate sauce.
What to order: Foie Gras Terrine, Filet Mignon, Coconut Cream Pie
Address: One Benvenuto Place, Toronto, ON M4V 2L1
Website | Instagram | Facebook
8. DaiLo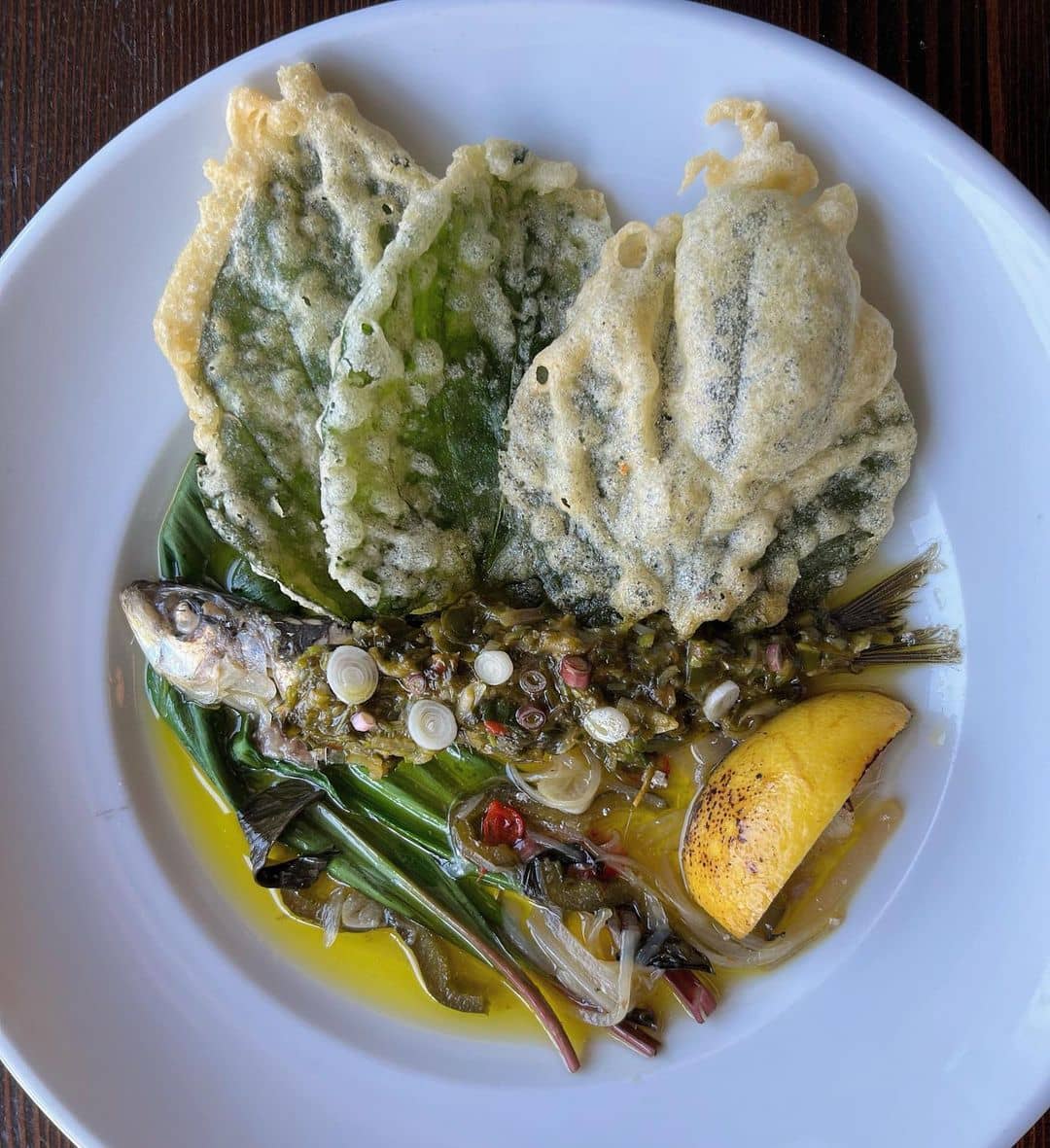 Known to be one of the sexiest dining spaces in Toronto, DaiLo serves what they call New Asian Cuisine – predominantly Chinese/Cantonese, following the French tradition. The menu features ancient favourites updated to suit the western palate, many of which are the chef's family recipes.
If you're up for trying something unique and fun, order their Fried Watermelon. The cooked watermelon has a warm juiciness to it, with some acidity from the pickled melon rind, and saltiness from the pork floss. A bunch of interesting flavors and different textures!
Big Mac Bao – an off-menu item that will remind you of your favorite fast food. What elevates the dish is the homemade secret sauce, which makes the bao dish taste exactly like Big Mac.
Another unique dish at DaiLo is their Crispy Octopus Taco. Though the combination of octopus and pork is very different, the two proteins work well together, and along with the sambal aioli, the tacos taste delicious.
What to order: Fried Watermelon, Big Mac Bao, Crispy Octopus Taco
Address: 503 College Street, Toronto
Website | Instagram | Facebook
9. Miku Toronto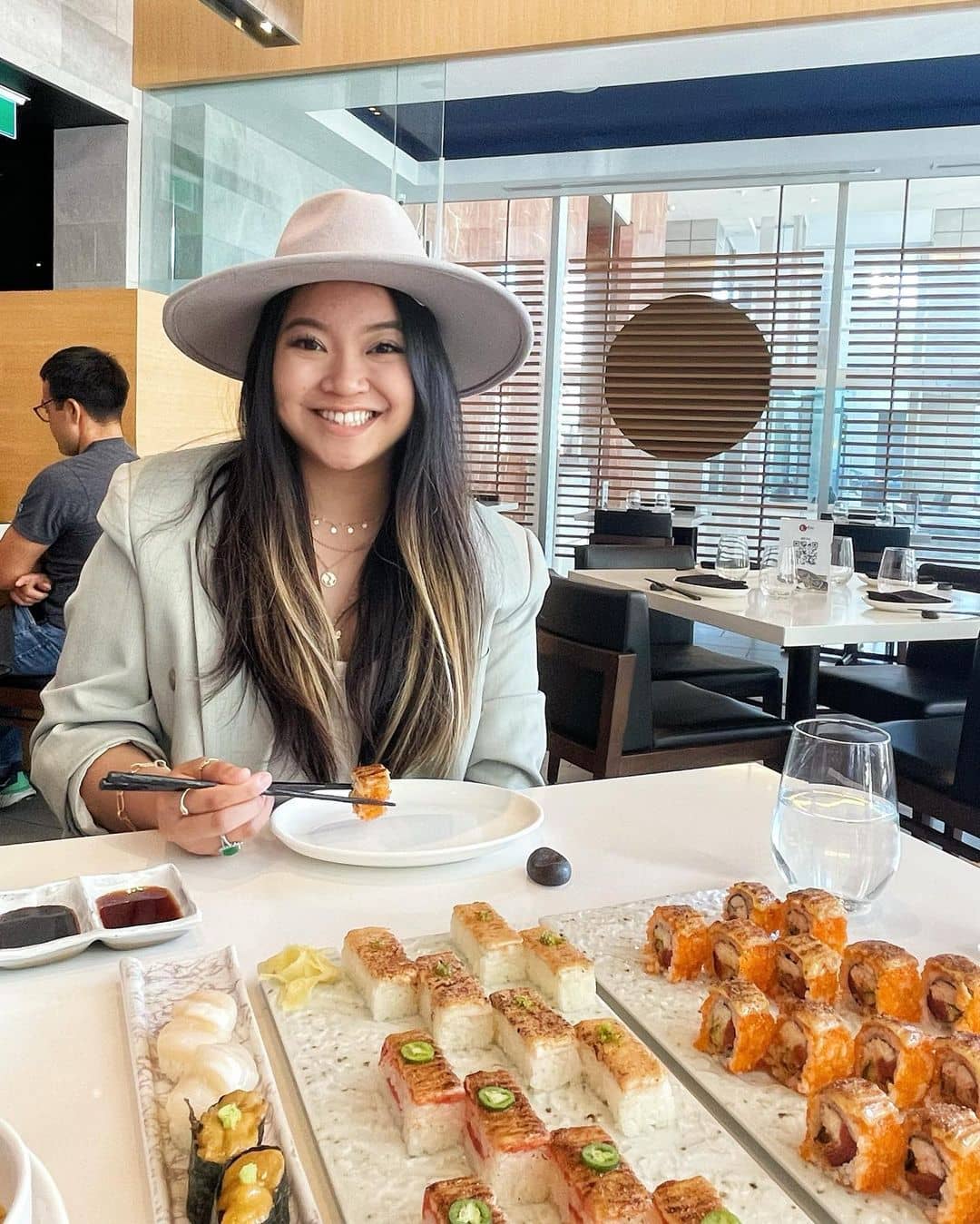 Miku is the first establishment to introduce Aburi sushi to Canada and made its name known as one of the best restaurants in Vancouver before making its way to the east coast. The restaurant features a raw bar, a sushi bar, and a large patio, serving innovative Japanese cuisine in a contemporary upscale setting. Miku is popular among food enthusiasts who are hesitant about the raw fish element in sushi.
When you're at Miku, your first order must be from their Aburi Oshi Sushi menu. One favourite from this menu is the Ebi Oshi Sushi, which is pressed prawn sushi with ume sauce. With a slight sweetness from the prawn, the char on top gives each piece a nice smoky flavor – simple and enjoyable.
Among their Specialty Rolls is the Red Wave Roll, a gluten-free option containing spicy prawn and avocado wrapped in red tuna and topped with a savory masatake sauce. You can literally taste the freshness of each element on your plate.
Last but not the least, the Green Tea Opera dessert at Miku is a top seller. The pairing of green tea with different elements like dark chocolate, hazelnut, etc. makes this dessert a hit even among people who don't generally like green tea flavour.
What to order: Ebi Oshi Sushi, Salmon Oshi Sushi, Red Wave Roll, Green Tea Opera
Address: 105-10 Bay Street, Toronto, ON M5J 2R8
Website | Instagram | Facebook
10. Piano Piano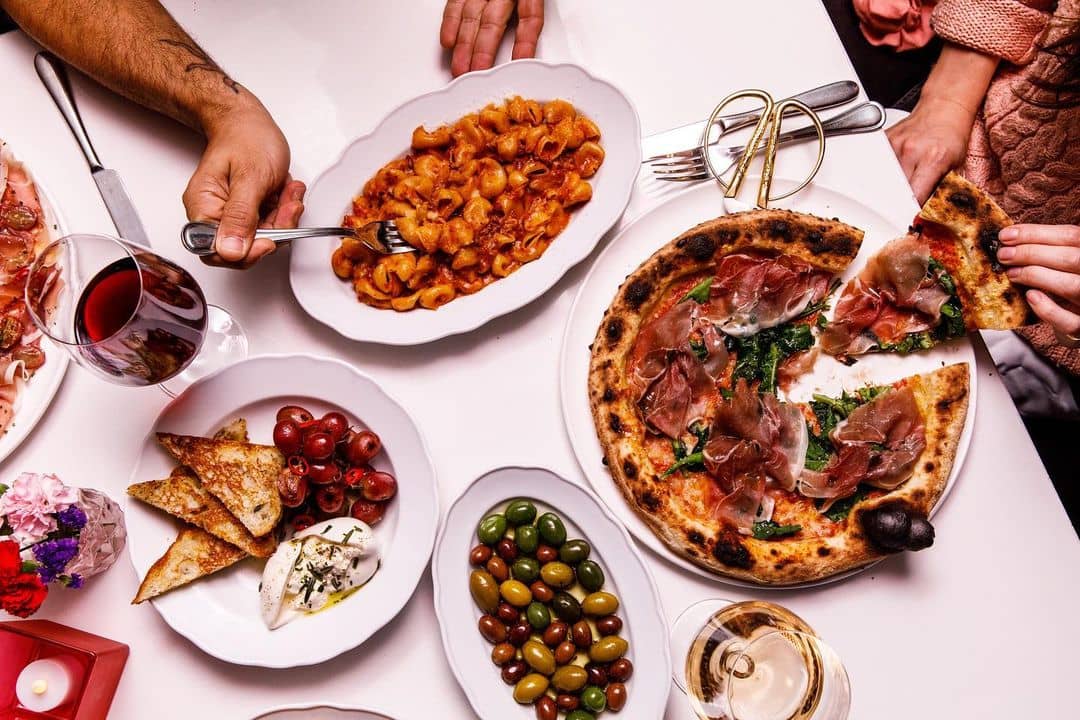 Piano Piano is the friendly, local Italian restaurant that everyone wishes to have just around the corner in their neighbourhood. The place has an informal and cool vibe, with bright colors everywhere, and the menu features traditional Italian food elevated to satisfying goodness. Everything here is made from scratch, and tastes like just out of your nonna's kitchen!
If you thought a gluten-free pasta dish wouldn't taste as good as a regular one, you should try Piano Piano's Canestri alla Vodka. The pasta has a tolerable level of spiciness to it and tastes absolutely delicious.
The Egg Yolk Raviolo, with the delightful ricotta and spinach filling, richness from the brown butter, and a hint of saltiness from parmigiano, will leave you craving for another plate.
As for dessert, the Nutella Tiramisu hits all the right spots!
What to order: Canestri alla Vodka, Egg Yolk Raviolo, Nutella Tiramisu
Address:
– Harbord Street Location – 88 Harbord Street, Toronto, ON M5S 1G5
-Mount Pleasant Location – 623 Mt. Pleasant Road, Toronto, ON M4S 2M9
Website | Instagram | Facebook
11. Baro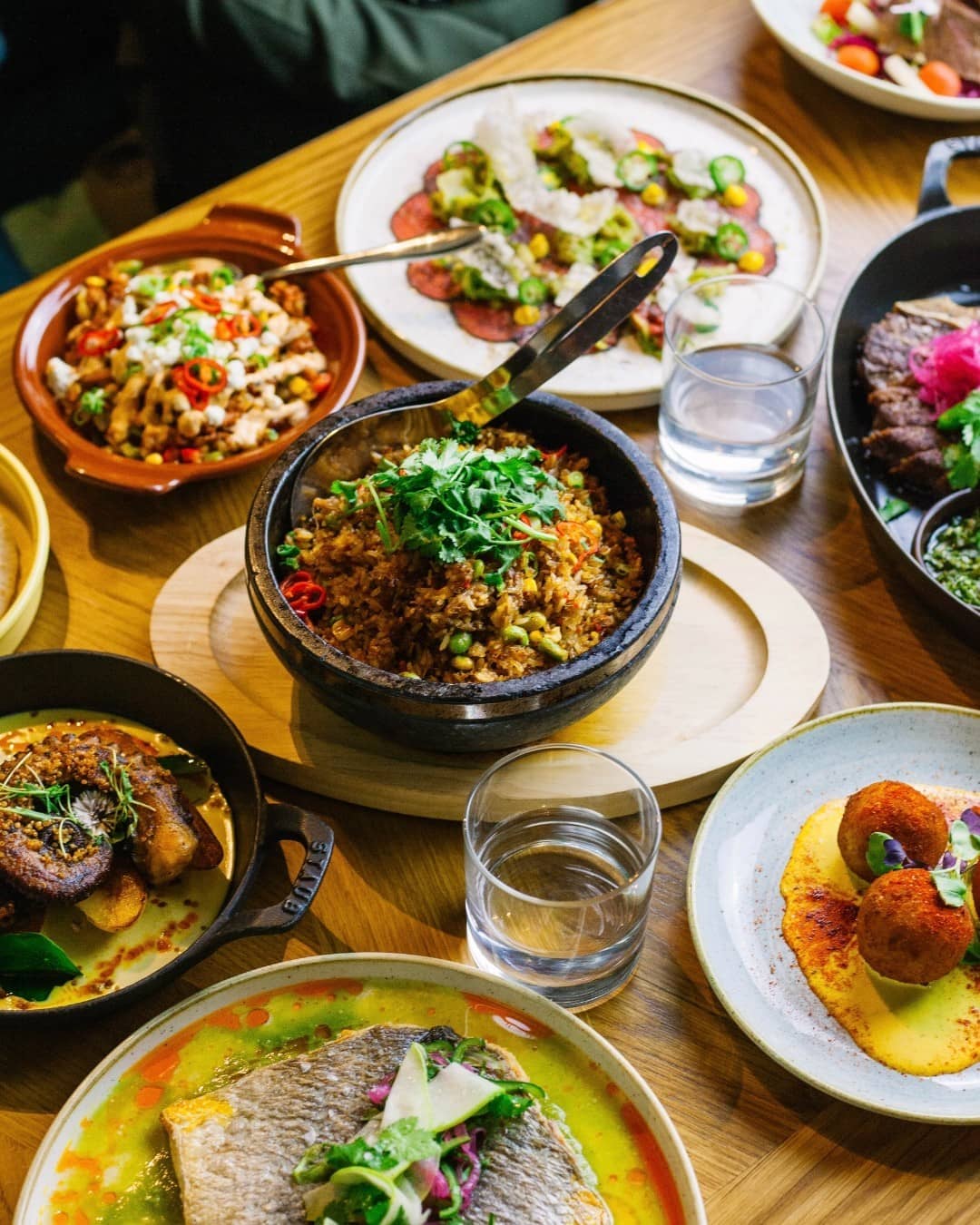 Baro has the right fix for all Torontonians whenever they crave Latin food. Just like its neighbourhood, the restaurant also comes to life at night, serving high-quality food in a vibrant and energetic atmosphere.
The Tiradito ceviche, made with yellowfin tuna, is fresh, clean, light, and delightfully acidic – a refreshing start to your Latin meal at Baro.
The OG Duck Chaufa – delectamentum! The duck, confit for hours, is juicy and tender, and is served with a generous portion of flavour-rich fried rice. Since the dish is served in a hot stone bowl, you get to enjoy a great texture in every bite.
Don't forget to indulge in their phenomenal Churros. Hot and fresh, and served with a salty-sweet caramel sauce, they are yummilicious!
What to order: Tiradito ceviche, OG Duck Chaufa, Churros
Address: 485 King Street W, Toronto, ON M5V 1K4
Website | Instagram | Facebook
12. Konjiki Ramen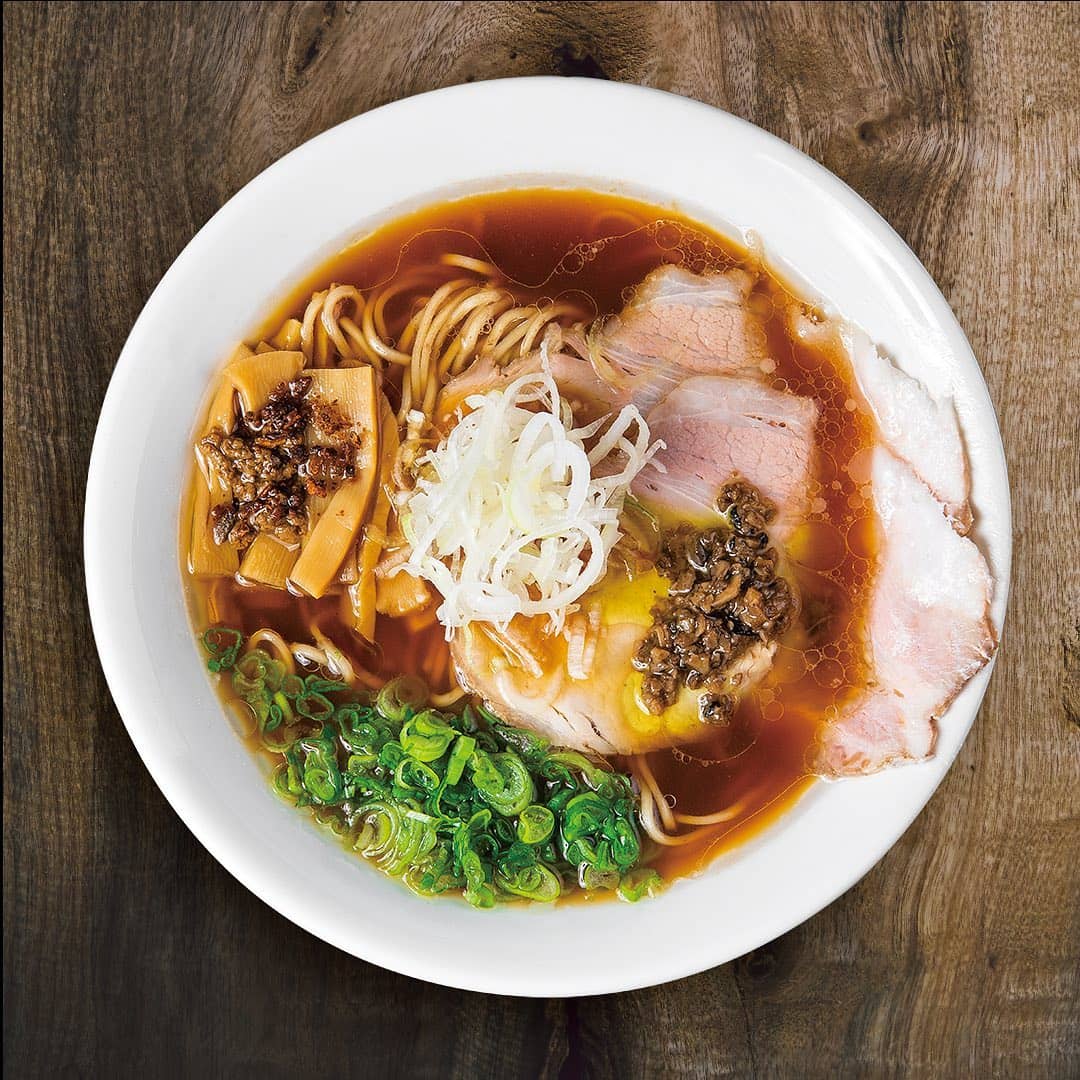 With its roots in Japan, Konjiki Ramen and its owner/chef Atsushi Yamamoto bring to you one of Japan's finest food traditions. This small, charming ramen place serves ramen of the highest standards, both in terms of the ingredients used and diligent preparation.
They are also one of the few ramen shops to make it as the Michelin Bib Gourmand recommended 2015-2018 and Tokyo Walker Magazine #1 Ramen in Tokyo for multiple years. So you know this place is good.
The Original Shoyu Tonkotsu Ramen comes packed with tons of flavor – creamy and complex, thanks to the pork bone soup base. The sous-vide pork chashu is melt-in-the-mouth tender and the noodles have a light bite to them, just the way they should be.
The limited quantity Wagyu Ramen proves worthy of its pricing. The beef comes nice and tender, the ramen noodles are cooked to al-dente, and you can definitely taste the black truffle in the sauce.
What to order: Original Shoyu Tonkotsu Ramen, Wagyu Ramen, Vegetarian Ramen
Address: 41 Elm Street, Toronto, ON M5G 1H1
Website | Instagram | Facebook
13. Dreyfus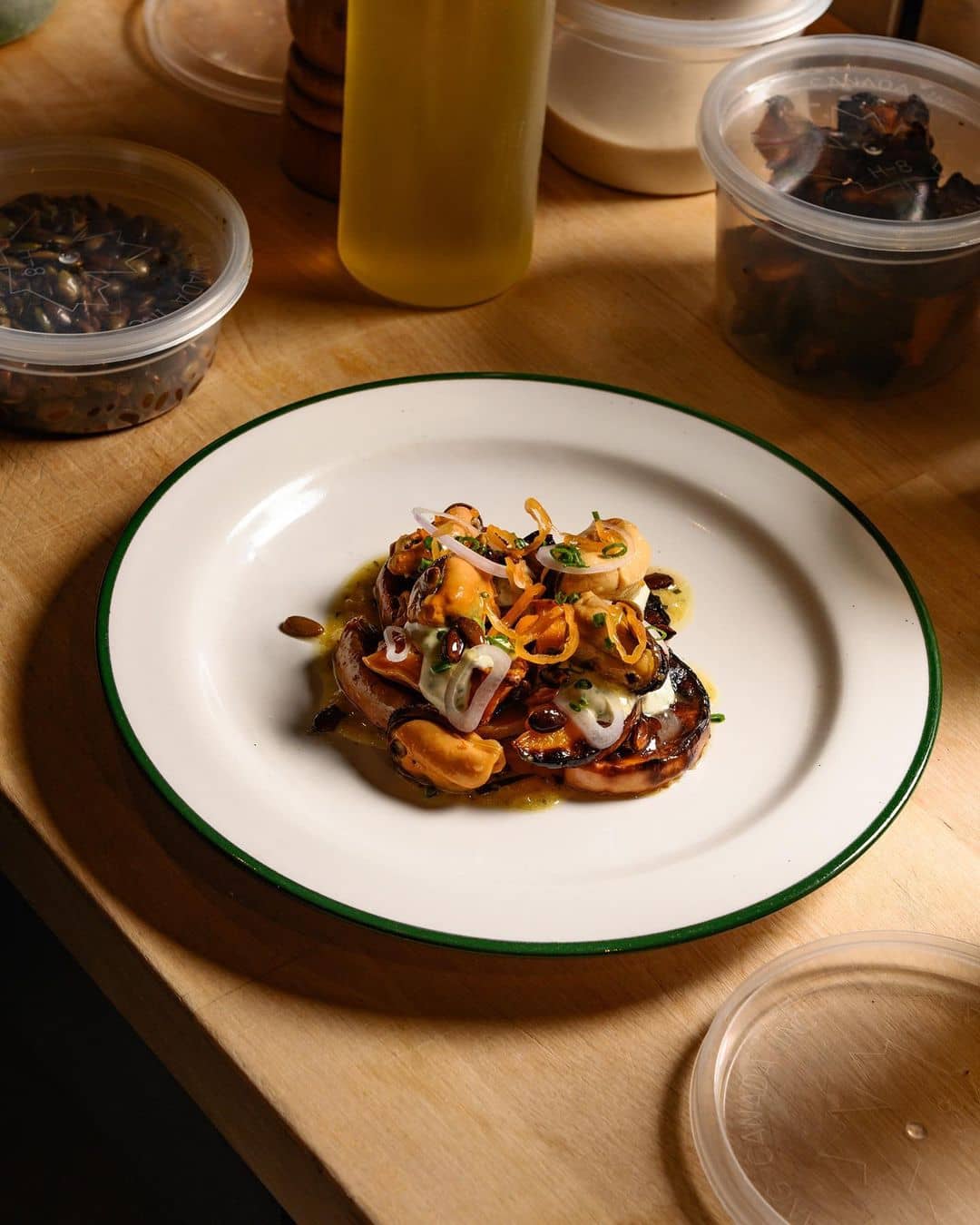 Located in a brick row house, Dreyfus is a "French-ish" eatery that serves classic French cuisine made from the exceptional produce from Ontario farms and Canadian fisheries. Pair your meal with a glass of natural local wine, and you're set for the night!
You can start by sharing a few small plates while you decide on your mains. Start with their popular Pommes Dauphine. Those deep-fried, perfectly golden fried dauphine potatoes are served with crème fraîche topped with trout roe – every element on the plate complements and balances the other amazingly well.
Since their menu changes often, try and get their tagliatelle (fingers crossed it's on the menu when you dine!). Served with BC mushrooms and mimolette shavings – a French hard cheese, the dish is buttery, and is likely to be one of the best pasta dishes you will eat this year.
What to order: Pommes Dauphine, Tagliatelle
Address: 96 Harbord Street, Toronto, ON M5S 1G6
Website | Instagram | Facebook
14. Ristorante Sotto Sotto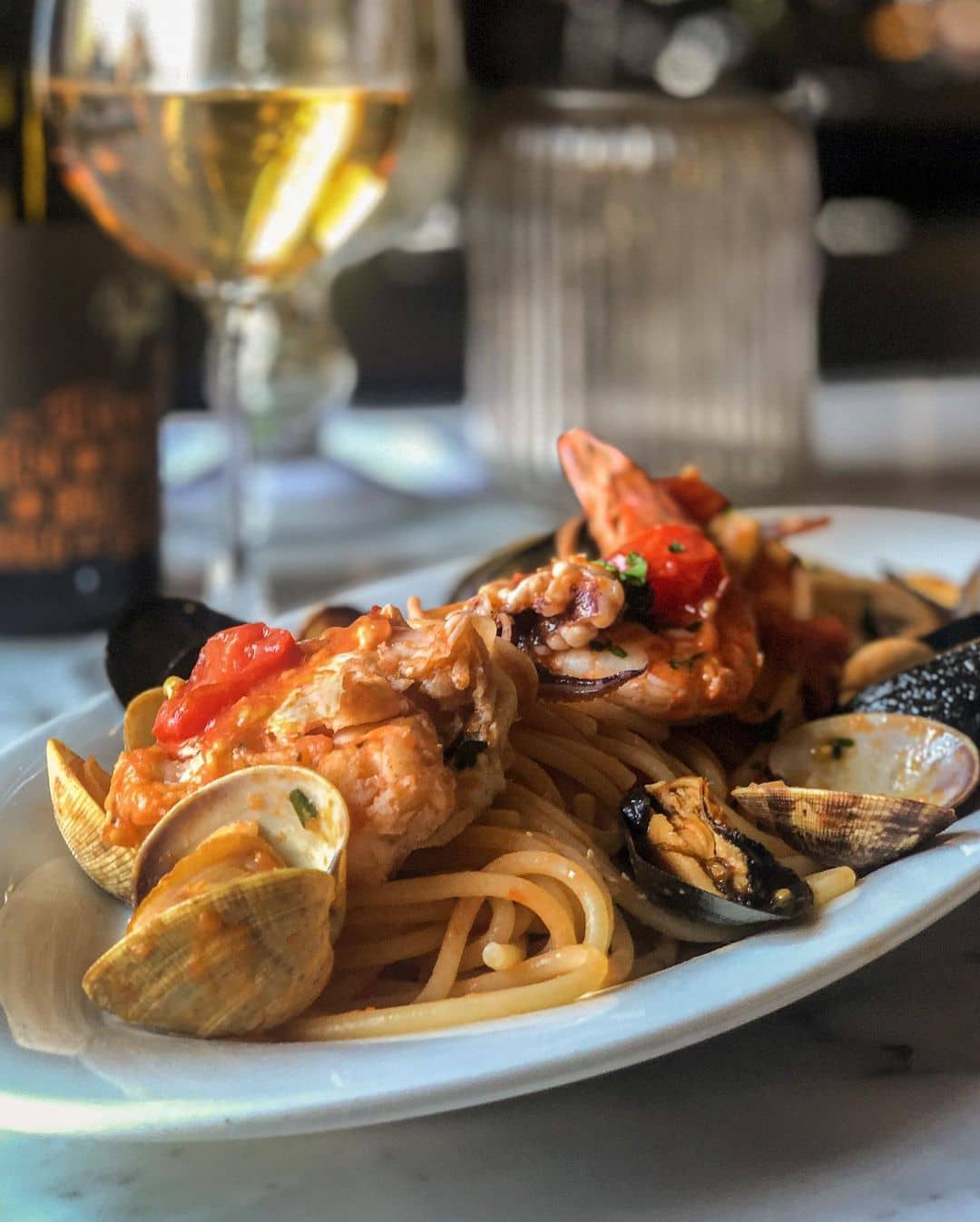 Operating since 1993, Sotto Sotto is a traditional Roman, Italian restaurant serving some great Italian classics in a cozy atmosphere. The place is known for its huge portions, extensive wine list, and quality food.
The Grilled Tiger Shrimp and Calamari, or Antipasto Gordonia, makes for a simple yet extraordinary first course. Both the shrimp and calamari are nicely seasoned and perfectly cooked, and even the veggies and cheese on the plate taste good.
Classic dishes never fail to amaze you, and the spaghetti carbonara (La Carbonara) here at Sotto Sotto is one such dish. Tossed with crispy pork cheek, the homemade pasta will leave you mesmerized with its nostalgic taste.
What to order: Antipasto Gordonia, La Carbonara
Address: 120 Avenue Road, Toronto, ON
Website | Instagram | Facebook
15. Chubby's Jamaican Kitchen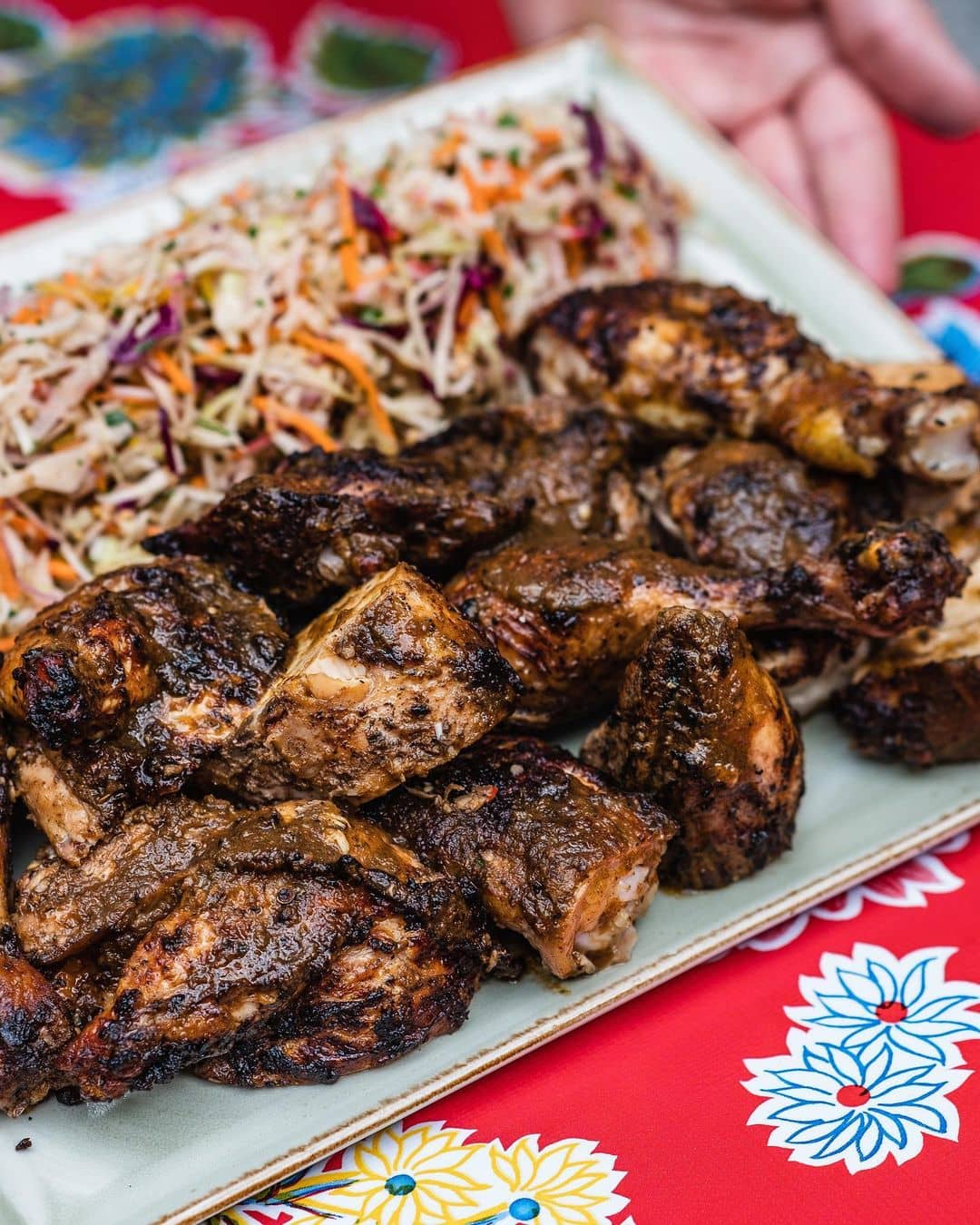 Known as the best Jamaican restaurant in Toronto, Chubby's Jamaican Kitchen serves traditional Caribbean cuisine with healthy culinary twists. The restaurant's entire menu celebrates the island's food, culture, and chefs. Established in a refurbished row house, the interior of the place gives you a Caribbean fish shack vibe, which goes hand-in-hand with the menu.
A Jamaican staple, the Saltfish Fritters served with mango-lime-papaya salsa is an appetizer you shouldn't miss. This classic has been elevated and you can taste layers of flavors that just kindle your appetite for the next course.
From Oxtail Stew to a burger named after the restaurant, there are many extraordinary dishes served here. But, the clear hero is their Jerk Chicken.
Available as a quarter, half, and whole portions, the chicken takes four days to prepare, from brining to barbecuing over a maple wood fire grill; take a bite of the jerk chicken and you will understand why people queue up for this classic.
After devouring the jerk chicken, soothe your palate with one of their coconut desserts.
What to order: Jerk Chicken, Saltfish Fritters, Oxtail Stew, Chubby's Burger
Address: 104 Portland Street, Toronto, ON
Website | Instagram | Facebook
With a diverse array of restaurants to please your taste buds and satisfy your cravings, Toronto is seriously a foodies' paradise. Can it get any better? It does, with some of the best brunch spots you can find in the country. Check out our Best Brunch in Toronto list for recommendations.
The following two tabs change content below.
Latest posts by Noms Magazine (see all)