Looking for a café that's all about the coffee?
Well, your search ends here.
Moving Coffee, after leaving Fife Bakery in 2020, is back in action and has found a new home near the Richmond Automall.
Who is Moving Coffee?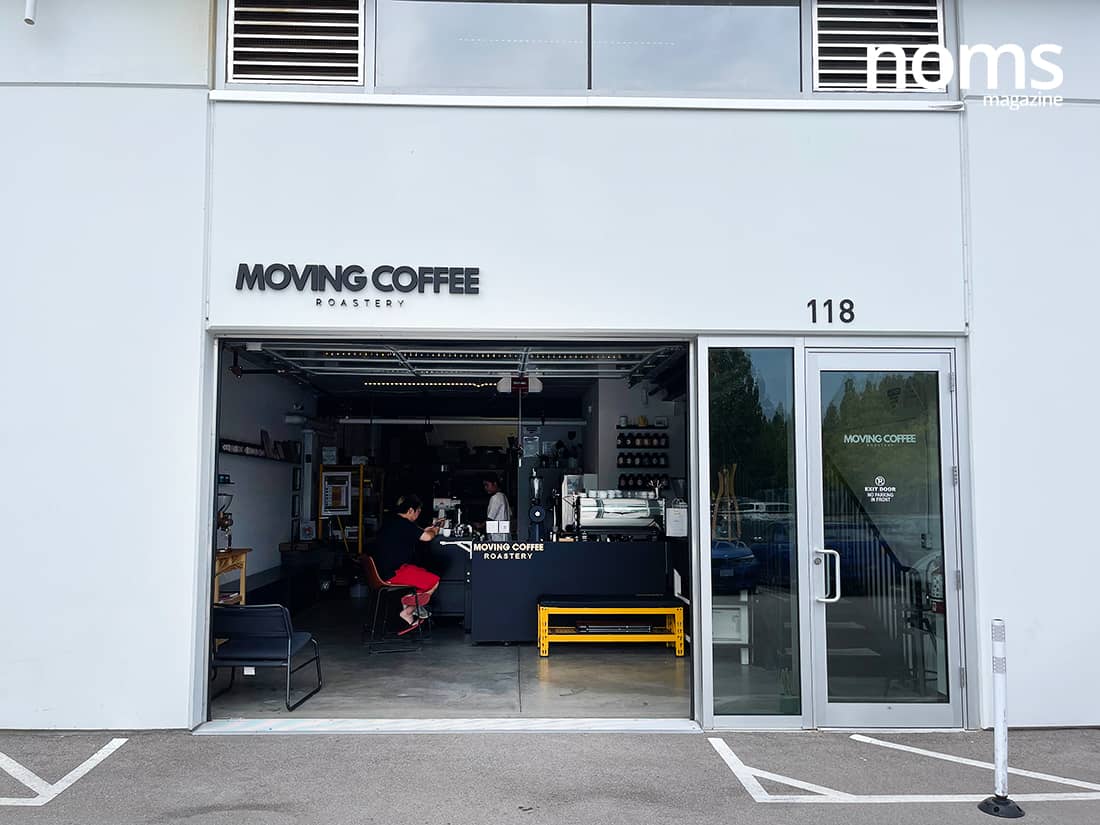 Moving Coffee is the brainchild of a husband and wife duo who are super passionate about specialty coffee. Edmond, the co-founder, has been a licensed Q-grader since 2012, a designation that is pretty much the coffee equivalent of a wine sommelier.
In 2019, they bagged 2nd place in the National Brewers Cup using their everyday coffee, a testament to the quality of their brews.
After they had to move out of Fife Bakery, Moving Coffee stayed active during the pandemic by ramping up its e-commerce efforts.
Now that they've settled into their new location, they are now ready to open their doors for tasting sessions and welcome the public to experience a new way of having coffee.
With a mix of industrial and modern minimalism, the new Moving Coffee has many exciting points to look at. Step through the open garage doors and you'll be welcomed by the sleek grey and black coffee bar.
Look further and you'll see the cafe's roasting machine and ecommerce operation.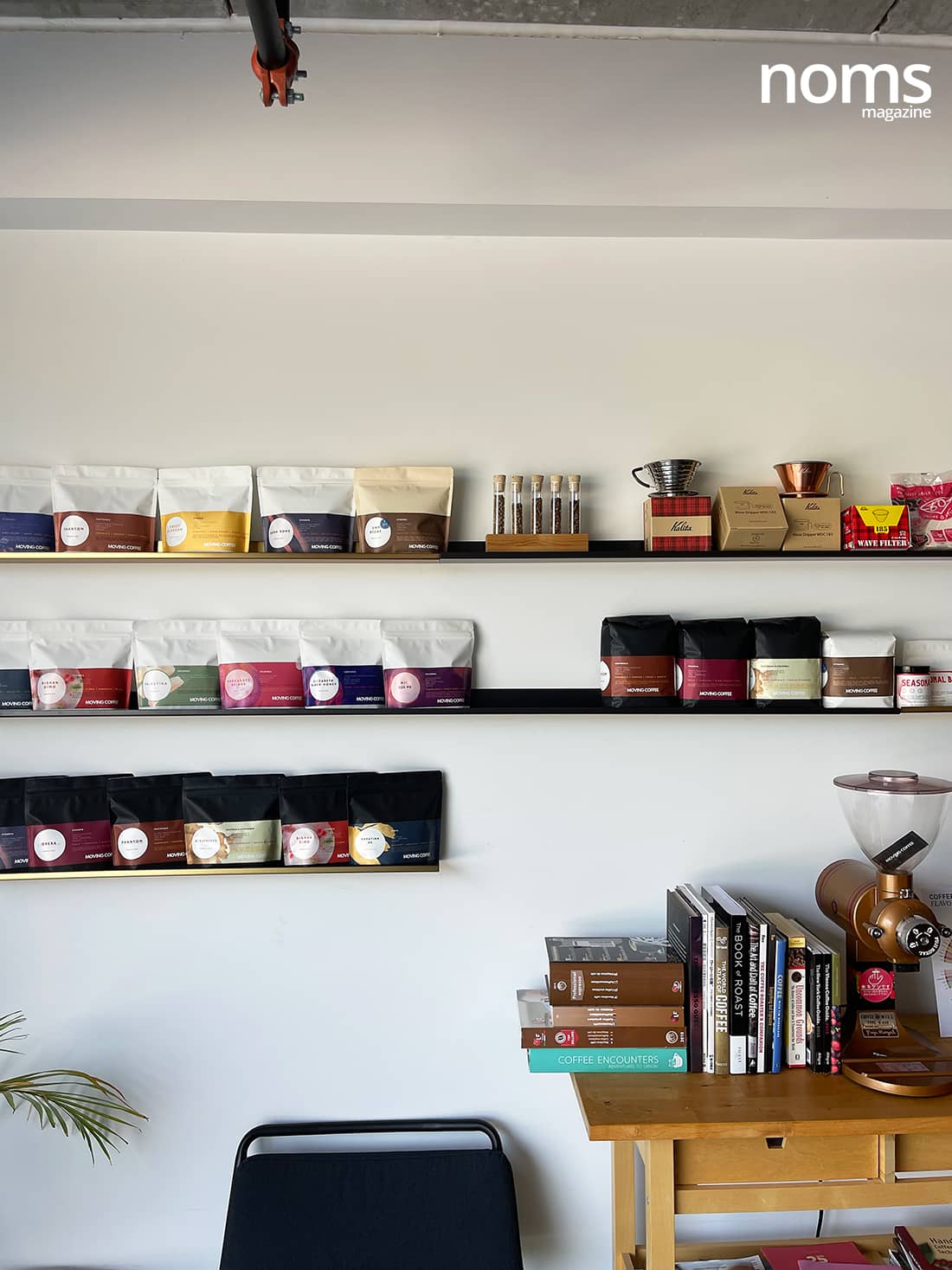 Look left and on the wall you'll see it covered with Moving Coffee's certificates, beans, awards from competitions, and various nerdy coffee-tasting note charts.
Everything about this spot screams specialty coffee at its core and will be a haven for diehard coffee fans.
All About The Coffee Here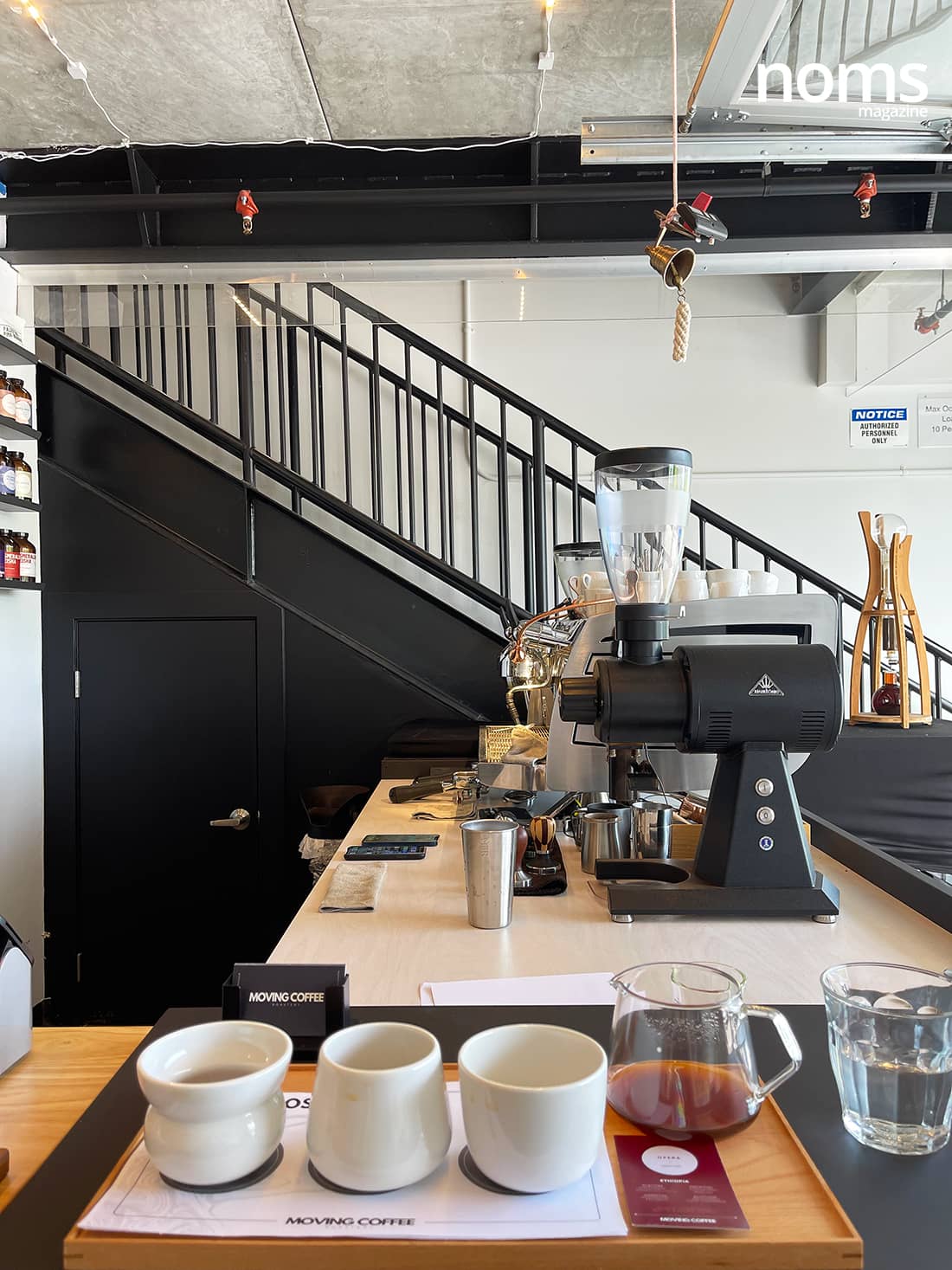 According to Edmond, the new Moving Coffee is his dream come true – to offer something different from what's already available in Vancouver, which took a long time to figure out.
That difference is apparent in the coffee-tasting session we tried.
One type is the Figgjo Oslo Coffee Cup Experience, which is inspired by concepts seen in Europe (like Norway) and Asia, but it's a first for BC.
Once you pick your bean of choice, the barista expertly brews your pourover along with three differently-shaped cups.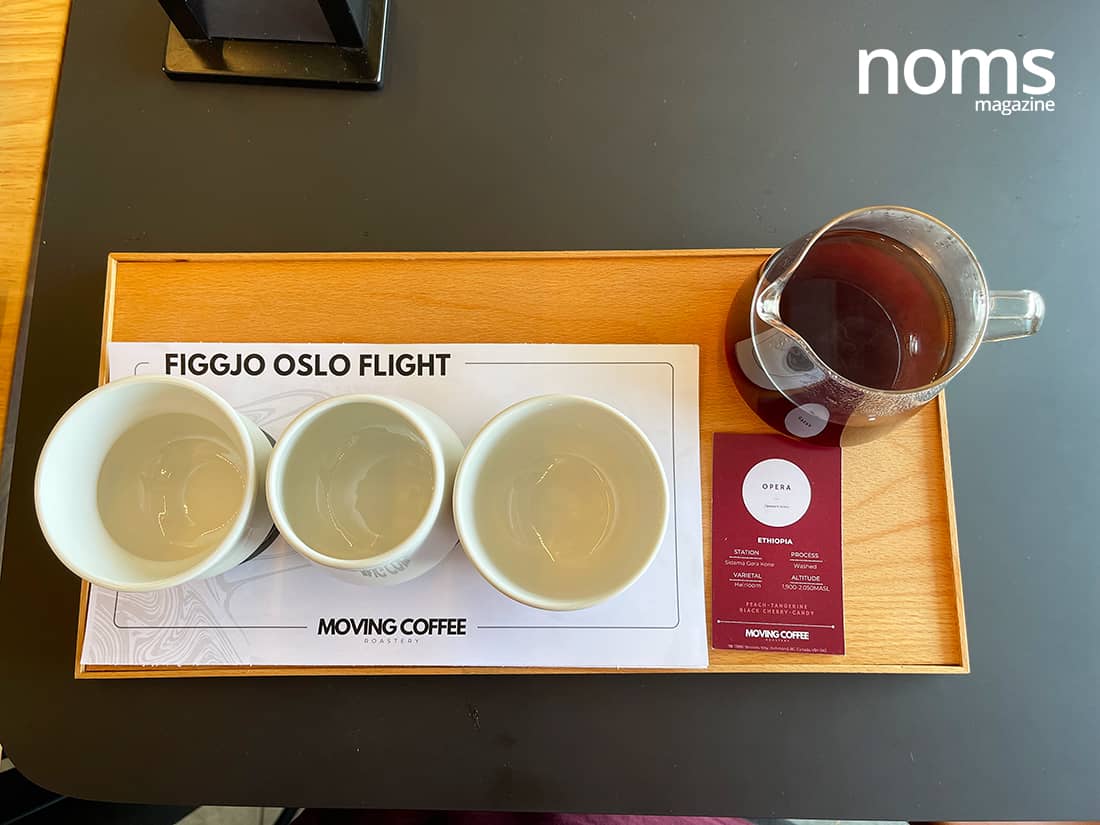 According to Edmond, the shape of the cup influences how the liquid hits your tongue, altering the acidity and sweetness. One cup acts as the control, while the others highlight more acidity or sweetness.
Edmond said that this approach better bridges the gap between trained professionals and customers, helping them understand the differences and broadening their coffee experience.
Whiskey You Won't Get Drunk Off Of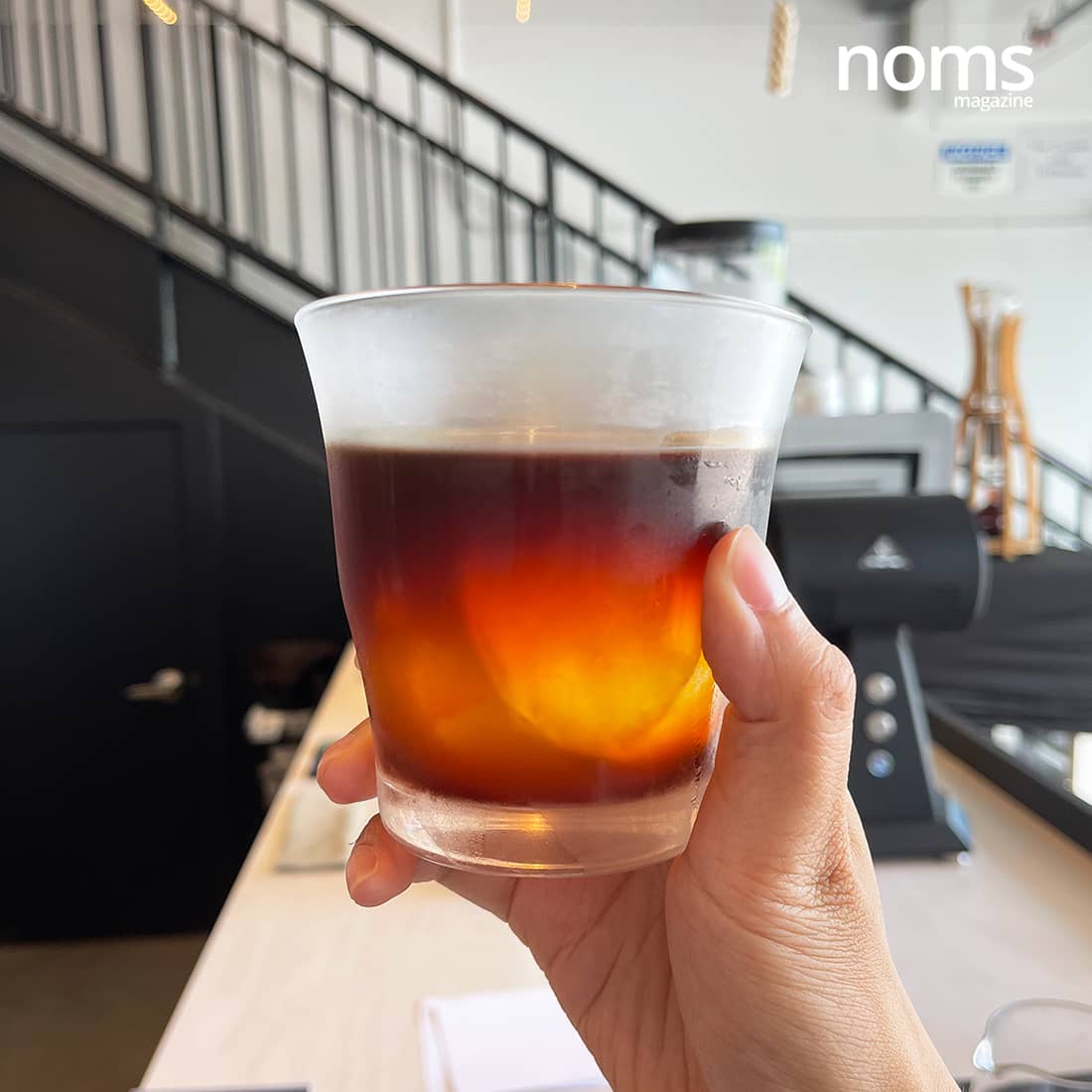 Another unique offering is the Morning Whiskey. This iced coffee cold brew/nitro brew is prepared using a Kyoto Style extraction and apparatus. It's brewed overnight, one drip at a time, and is ready to be enjoyed "neat" by morning.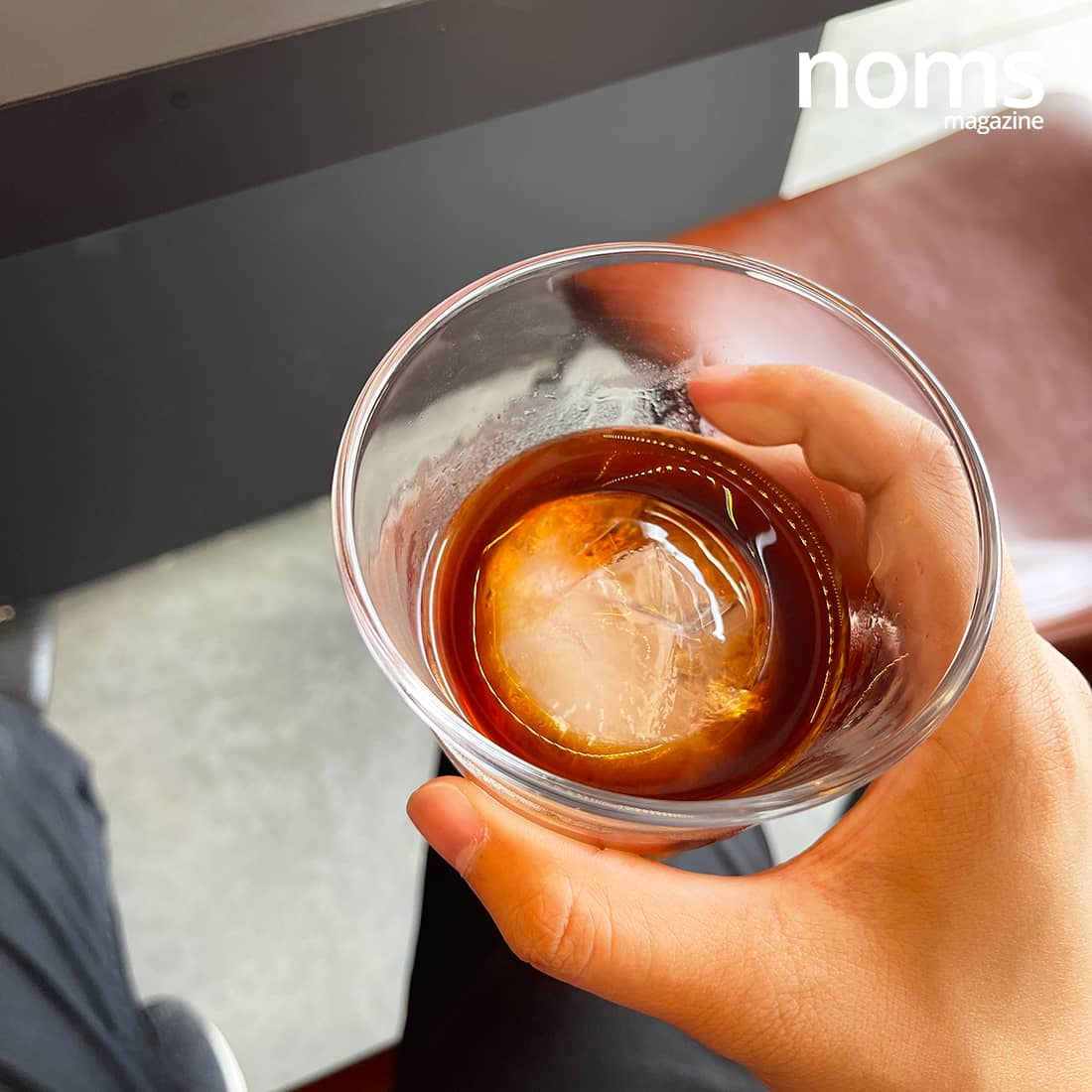 It's served in a classic short, wide brim, and thick base glass, just like whiskey. The kicker? It is also served with a large spherical ice, also typically used for whiskey to cool your drink quickly without diluting it too much.
You bet we had some fun rocking the cup in our hands.
So here's the catch with Moving Coffee – they don't offer any food. Why, you ask? Because their absolute focus is on the coffee experience, which is probably why their motto is "Moving Specialty Coffee Forward".
If you're on the hunt for a truly unique coffee experience, Moving Coffee is the place to be. If you're on the hunt to chat with someone who is really into coffee as you are, then Moving Coffee is the place to be.
As a new parent, the duo behind Moving Coffee are still figuring out the hours of the cafe. You can visit their website to book your tasting session.
For more new and upcoming food spots in Metro Vancouver, take a peek at our tracker here and subscribe to our weekly newsletter.
Address: 13880 Wireless Way Unit 118, Richmond, BC V6V 0A3