What is the first thing that pops into your mind when someone talks about Vancouver? Dynamic? Thriving? Modern? These features surely tell a lot about Canada's most livable city. However, these are not the only things to downright represent Vancouver. If you wish to delve into the underbelly of the city, take a stroll around its neighbourhoods and unfold the history of Vancouver's oldest buildings.
To help you embrace the unique character of not only Vancouver but also British Columbia, we're thrilled to introduce the 10 oldest buildings in town you need to check out!
1.Hastings Mill Store, 1865
The oldest building that is still surviving in Vancouver is the Hastings Mill Store. It was once located on the South shore of the Burrard Inlet. Built in 1865 and dedicated to Captain Edward Stamp, Hastings Mill Store was used as a sawmill company under Edward's possession.
The old mill store sat on the same location for another good 60 years during the second construction of a new store in 1887. Afterwards, this old commodity functioned as a storage. In 1930, the old building went under an extensive renovation and changed to the "Museum of B.C. Historical Relics in Memory of the Pioneers".
Address: 1575 Alma St, Vancouver, BC V6R 3P3.
Website | Facebook | Instagram
2. Vancouver Rowing Club, 1886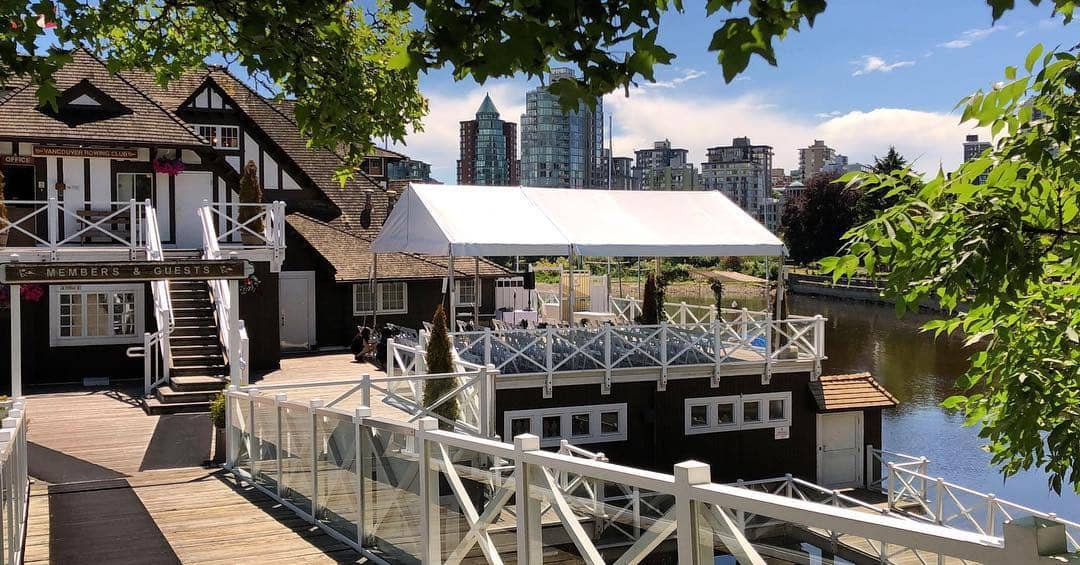 Another heritage building that's worth your visit is the Vancouver Rowing Clubhouse. Built in 1886, the building served as the city's boating club offering an unbeatable view over Coal Harbor and Stanley Park. Surrounding the house is a calm, mirror-like water dotted with multiple yachts. Vancouver Rowing Club perfectly preserves its initial architecture and charisma.
A visit to the clubhouse makes it a great getaway for peace-seekers and off-the-beaten-path travelers. The building only takes you a few minutes drive from downtown Vancouver, where you can indulge in the peaceful scenery around its patio. Nowadays, the clubhouse offers popular recreation rowing and rugby programs as well as venue rentals services.
Address: 450 Stanley Park Dr, Vancouver, BC V6G 3E2
Website | Facebook | Instagram
3. Alhambra Hotel, 1887
The story of Alhambra Building has a lot to do with the Great Fire which swept through Vancouver and destroyed a majority of the old city in 1886. The appearance of the Alhambra Building a year later was perceived as the most modern hotel in Vancouver at that time.
The hotel was furnished with running waters and wood stoves in every single room. Decorated with red brick and light trim facade, the Alhambra Building encompasses the gigantic Maple Tree Square in an eye-catching Victorian Italianate style. Also known as the Byrnes Block, Alhambra Hotel was a leading, opulent commodity in the late 19th century as it gave a big contrast against the cheap wooden hotels on the surrounding.
Address: Maple Street Square, Gastown, Vancouver.
4. Christ Church Cathedral, 1888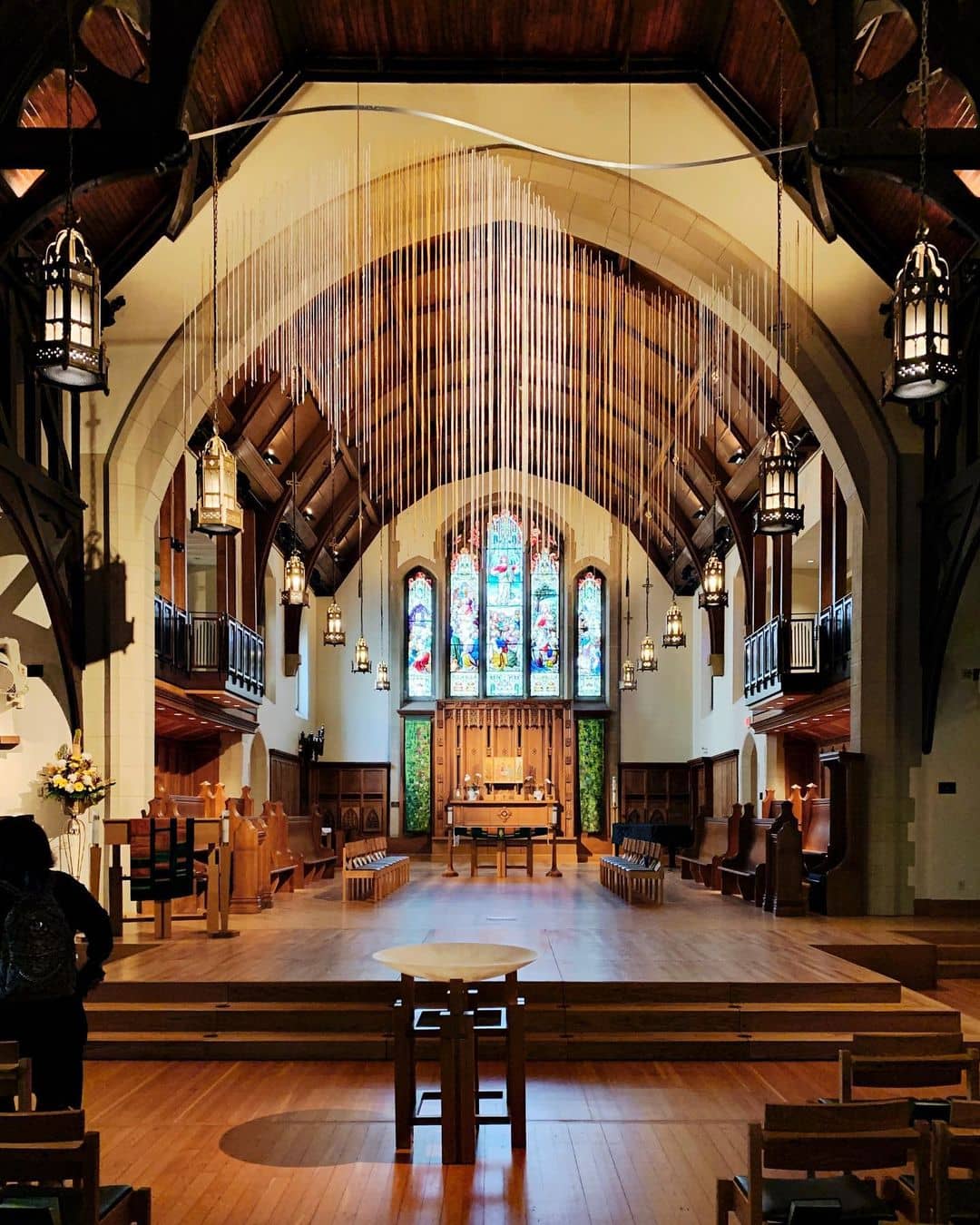 Shortly after the construction of the Alhambra Hotel, Christ Church Cathedral was introduced to the citizens of Vancouver as a new Anglican church in the West End neighborhood. The church was an idea to create a Protestant and Evangelical style in contrast to its mother church of St. James Church in the East End. There were two major renovations which relatively happened in 1909 and 1995 to preserve its Gothic Revival style.
Christ Church Cathedral today is stunningly visible right in the heart of Vancouver downtown across the Fairmont Hotel. The exterior walls are hugged with rough stones, which delivers a vintage and cozy look.
Address: 690 Burrard St, Vancouver, BC V6C 2L1.
Website | Facebook | Instagram
5. Beatty Street Drill Hall, 1899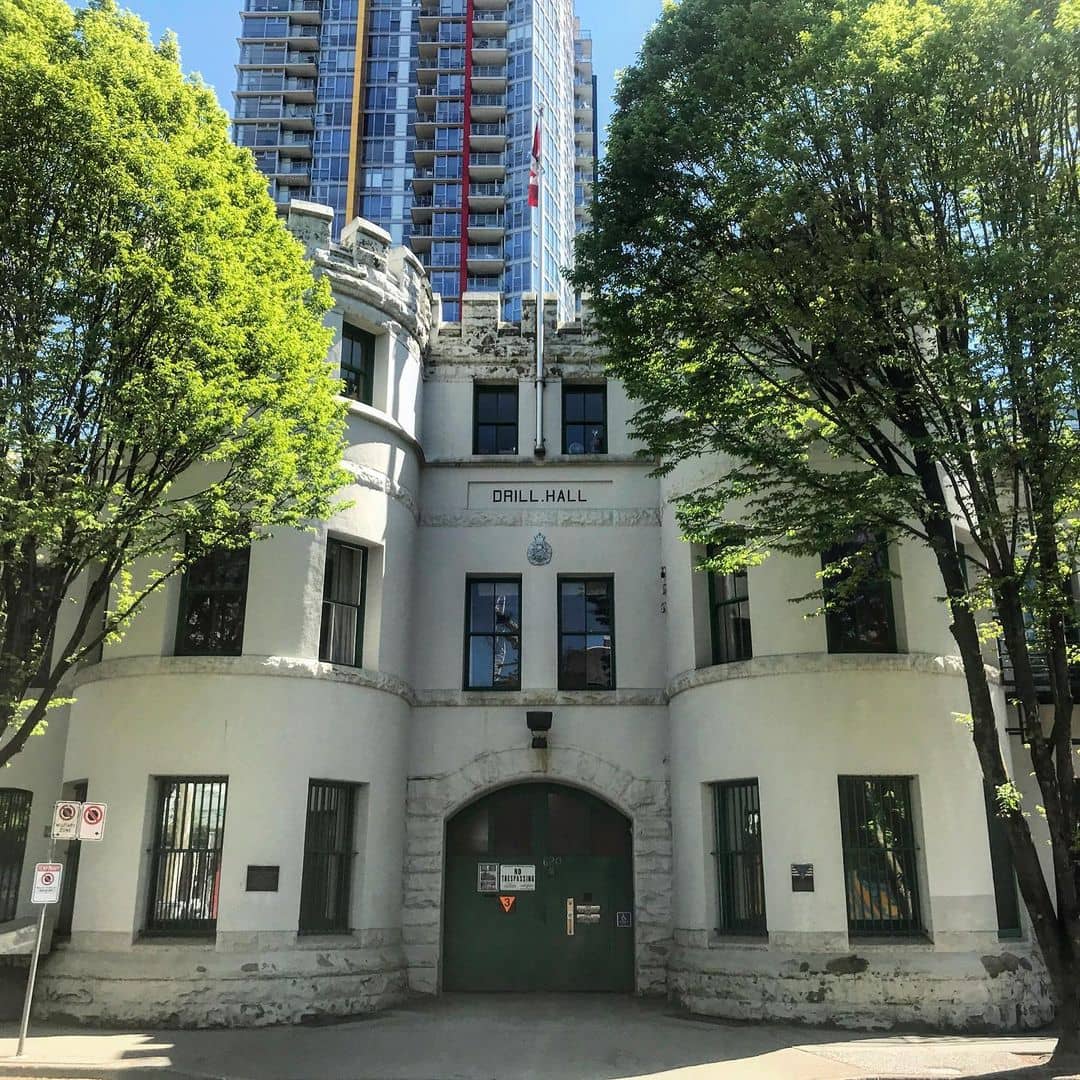 Started out as an alternative building for the expansion of Vancouver's militia gunners, Beatty Street Drill Hall is one of the oldest buildings and most memorable architectural gems in Vancouver. Built in 1899, Beatty Street Drill Hall became the training and recruitment center of Vancouver's soldiers during World War 1. Today, the building serves as the Canadian Forces Armoury, the oldest military unit in Vancouver.
The architecture was much preserved in its initial style. Two large castle-like turrets dominate in the middle of the white façade. Green entrance and windows scattering throughout the building add a special charm to the overall style. Functioning as an essential landmark of the city, the Beatty Street Drill Hall is ranked as a class-A heritage building.
Address: 620 Beatty St, Vancouver, BC V6B 2L9
6. Hotel Europe, 1908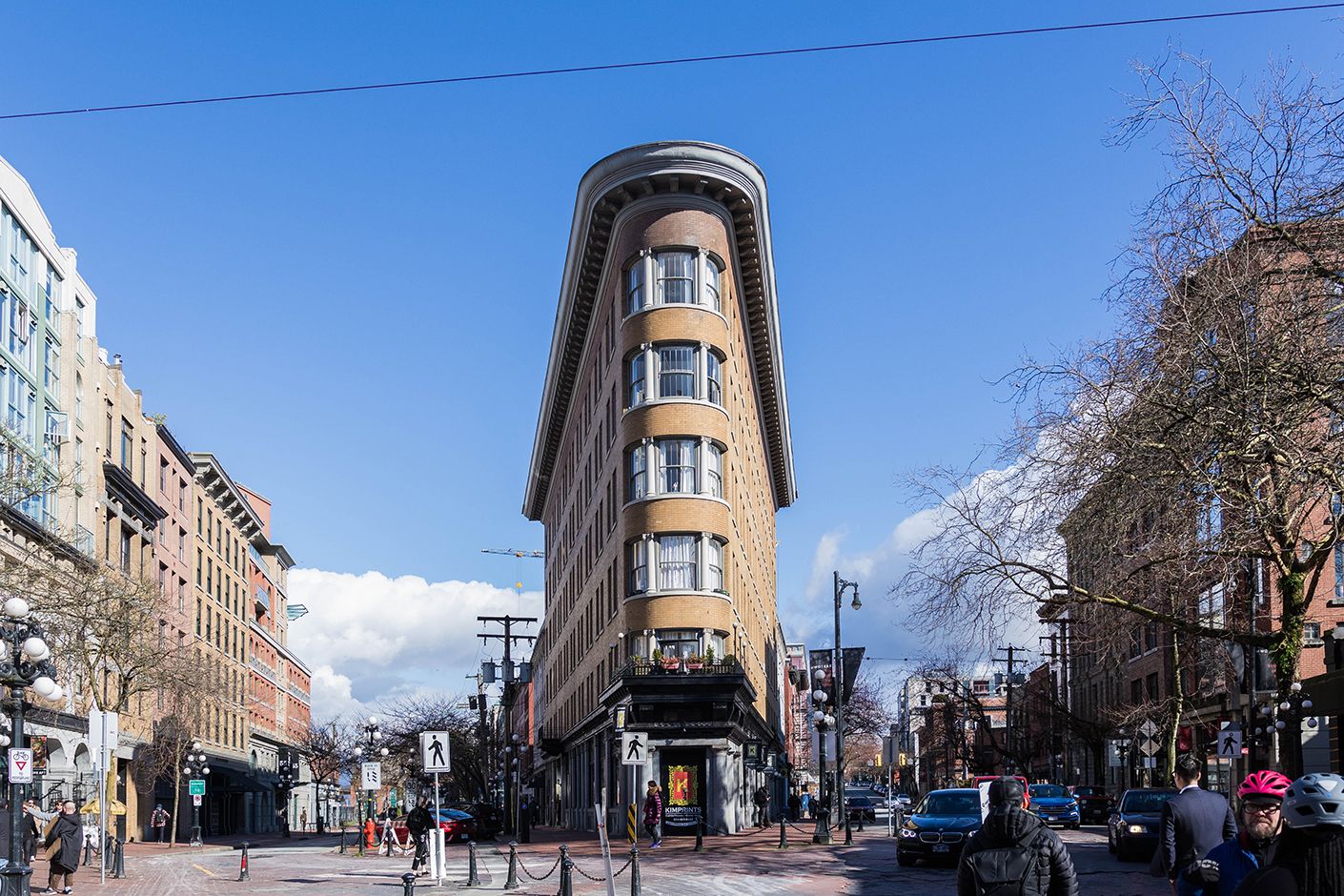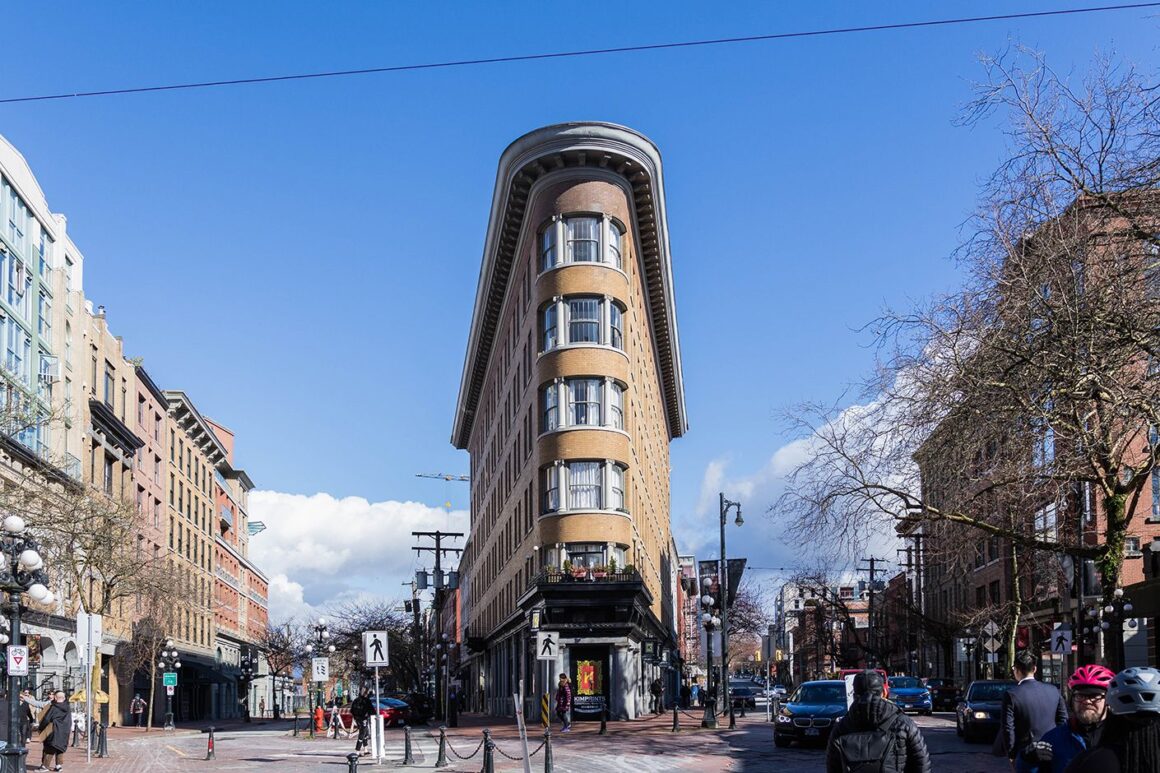 As a famous Instagrammable spot in Vancouver, Hotel Europe is a 6-story building dominating the center of Gastown neighborhood. The building appeared in 1908 and it has always been the spotlight of the area thanks to the triangular "flatiron" architectural concept.
Hotel Europe was built by Parr and Fee Architects whose innovative purpose was to place the building on a triangular lot. Up to now, Hotel Europe is still a visible example of the first reinforced concrete structure in the country. Not only is it a captivating architectural style but also a fireproof building, making it one of the first hotels in Western Canada to inherit such incredible function.
Walking into the lobby, you will instantly spot out the classic vibe along the bricked-up areaways. The upper floors of the building were renovated into subsidized housing units, making it an affordable housing complex in Vancouver in modern days.
Address: 43 Powell St, Vancouver, BC V6A 1E9.
7. Heritage Hall, 1915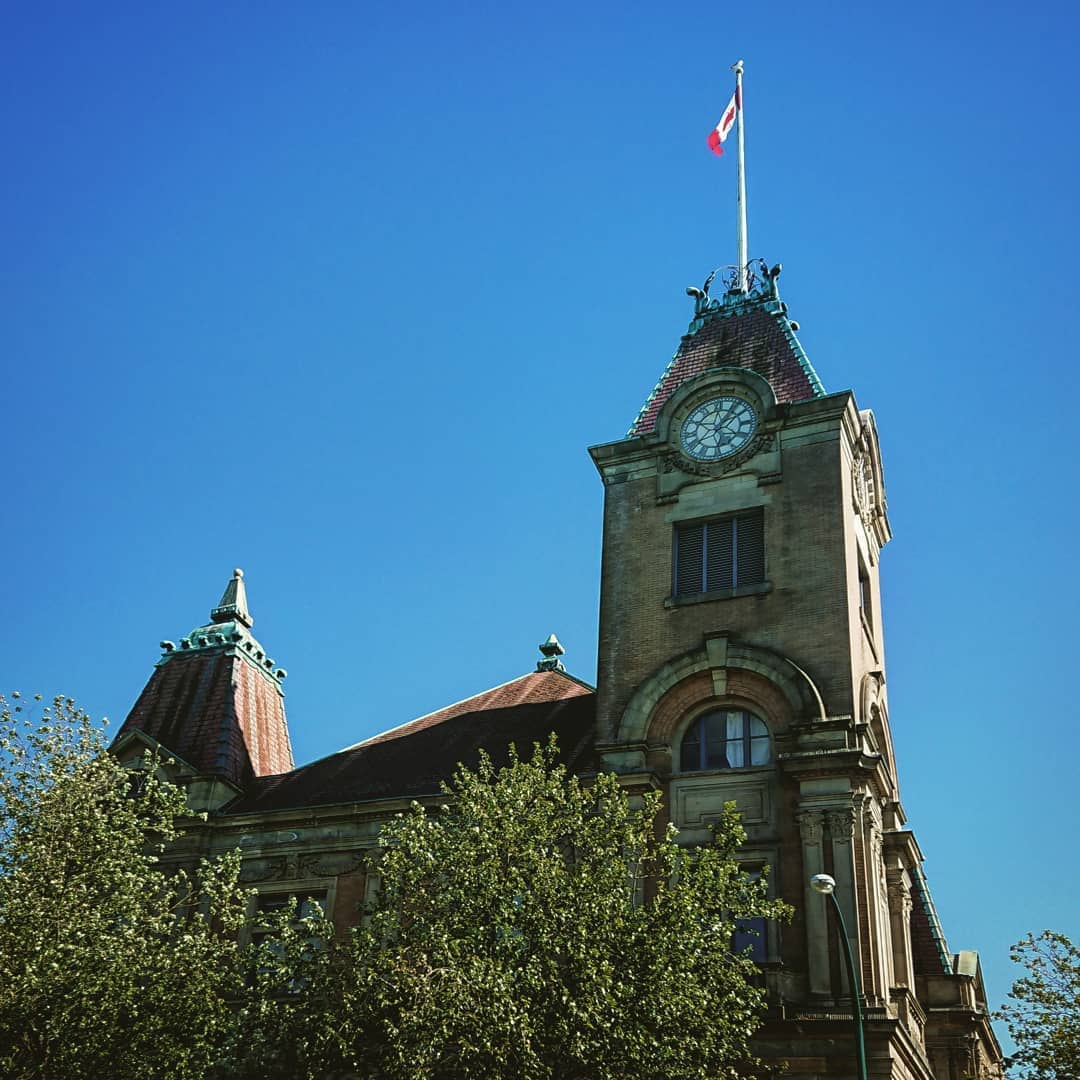 This is a historical and elegant venue smack dab in the heart of Vancouver with history dating back to 1915. The construction of Vancouver Heritage Hall comes with confusion around its origin. Some believe it was originally a bank while others claimed it was a city hall or a church.
However, these rumors ended as false statements. Initially started out as a post office, the Heritage Hall was an idea of encouraging the commercial explosion in the area around Mount Pleasant. Unfortunately, this idea never ended well as the arrival of new residents didn't happen as planned. Because of that, the building was used as the Dominion Agricultural Building before a renovation into a multipurpose venue in 1983.
Address: 3102 Main St, Vancouver, BC V5T 3G7.
8. Pacific Central Station, 1919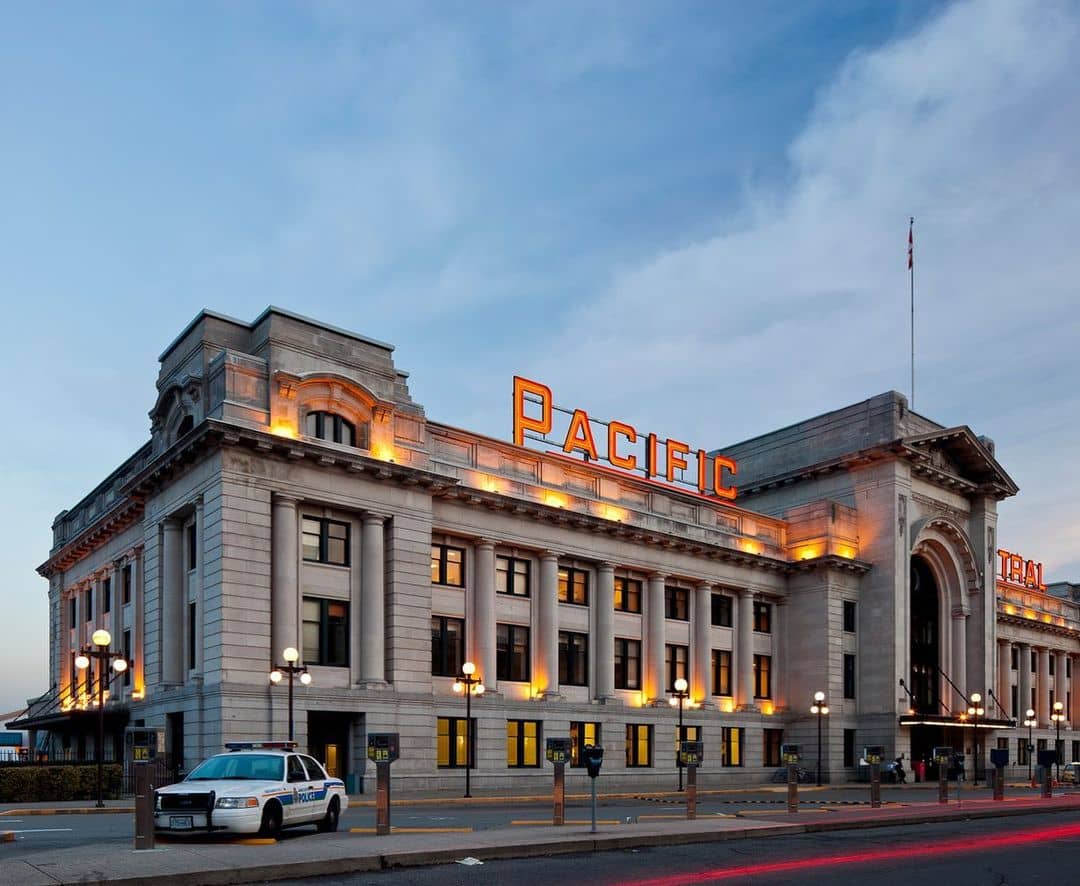 Traveling across Vancouver, you are much likely to pass by the Pacific Central Station. But little do you know the interesting history behind this gigantic railway station. Pacific Central Station was originally known as False Creek Station. This heritage is a perfect example of neoclassical revival architecture which was built in 1919.
Like any other old buildings in town, the Pacific Central Station underwent multiple restorations to retain its impressive style. Today, Pacific Central Station functions as the Western terminus of Via Rail's border-crossing trains, as well as the Northern terminus of Amtrak's Cascades to Portland and Seattle.
Address: 1150 Station St, Vancouver, BC V6A 4C7.
Website | Facebook | Instagram
9. Orpheum Theatre, 1927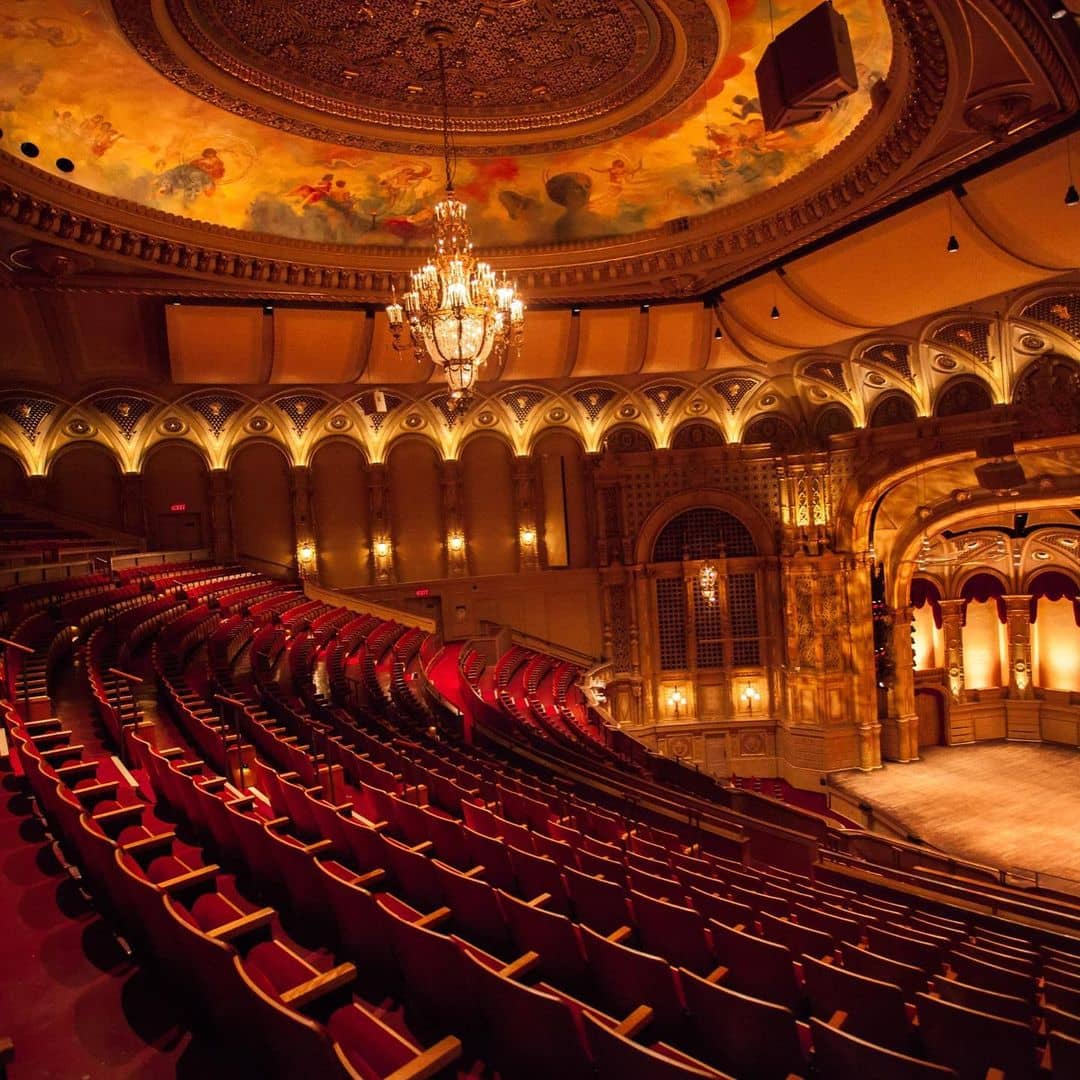 Hitting a theater is one of the coolest things to do in Vancouver at night. Amongst many entertainment venues in town, Orpheum Theatre is the most famous name. The theater was a magnificent heritage building originating in 1927. It's located in the heart of the booming entertainment district.
The locals have referred to this building as the Grand Old Lady of Granville, which is a giant art masterpiece by Priteca. He was a famous theater designer with influential and innovative works. Priteca spruced up Orpheum Theatre with numerous state-of-the-art elements. For instance, the triple-domed ceilings cover the angled seating lounge surrounded by deep and spacious balconies. Orpheum Theatre lived through two major renovations in 1974 and 1977, making it a classic theater in Vancouver in the modern days.
Address: 601 Smithe St, Vancouver, BC V6B 3L4.
Website | Facebook | Instagram
10. Marine Building, 1929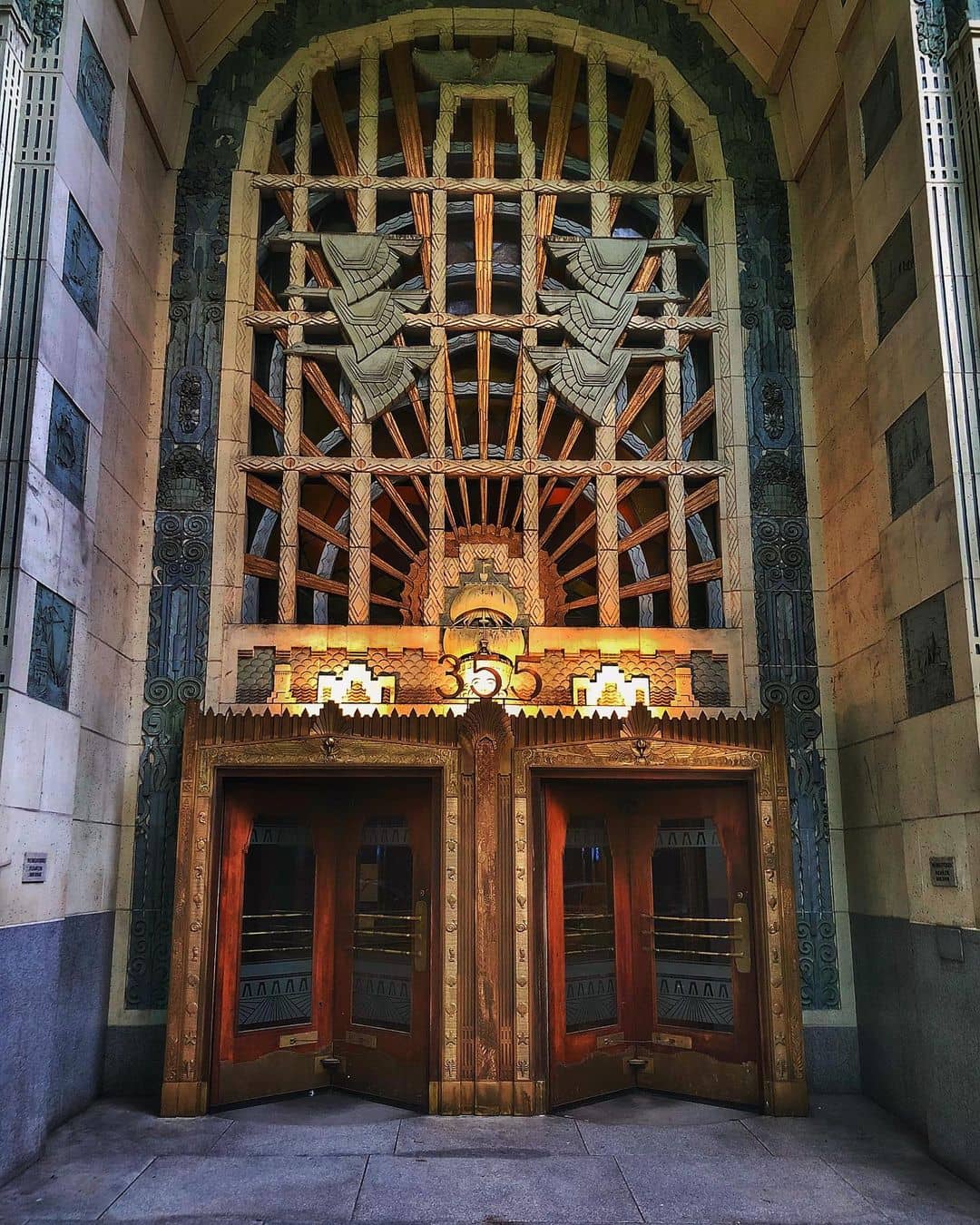 Ending the list of Vancouver's oldest buildings is the Marine Building whose origin dates back to 1929. More than just a historical structure, Marine Building is the most famous building in Vancouver with its notable Art Deco architecture.
This 22-story skyscraper houses a stunning collection of luscious interior decorations within. Thanks to its state-of-the-art concept, Marine Building became the venue of choice in many filmmaking and television programs including Timecop and Blade: Trinity. The beautifully crafted clock on the wall, sculptured marine symbols, and the iconic snow-like cap are some of the most prominent features of Marine Building.
Address: 355 Burrard St #1000, Vancouver, BC V6C 2G8
A stroll around these historical buildings not only brings you an endless source of Instagrammable photos but also opens a door to the good old days of Vancouver. If you look for another way to discover the city like a real local, check out these top hidden gems in Vancouver to maximize your travel experience!
This article contains links that may give us a small commission. No extra cost is added to you but will support our publication to continue to make more guides in the future.