Are you looking for the best ramen in Toronto? Plunge into our guide for some slurp-worthy noodles and broth!
If you don't have the time to read our list, I highly recommend Konjiki Ramen and Ikkousha Ramen Chicken.
The city's filled with ramen spots; you can find one anywhere. But finding that authentic, rich, warm, and layered taste in a Japanese ramen shop is challenging!
Fortunately, I made a list of the best ramen in Toronto, whether you are looking for a rich Tonkatsu, a lighter Shoyu, or a vegetarian alternative to the Japanese classic.
So, get ready to slurp soft noodles and velvety broths as I give you our 10 best ramen in Toronto to satisfy that noodle craving!
1. Konjiki Ramen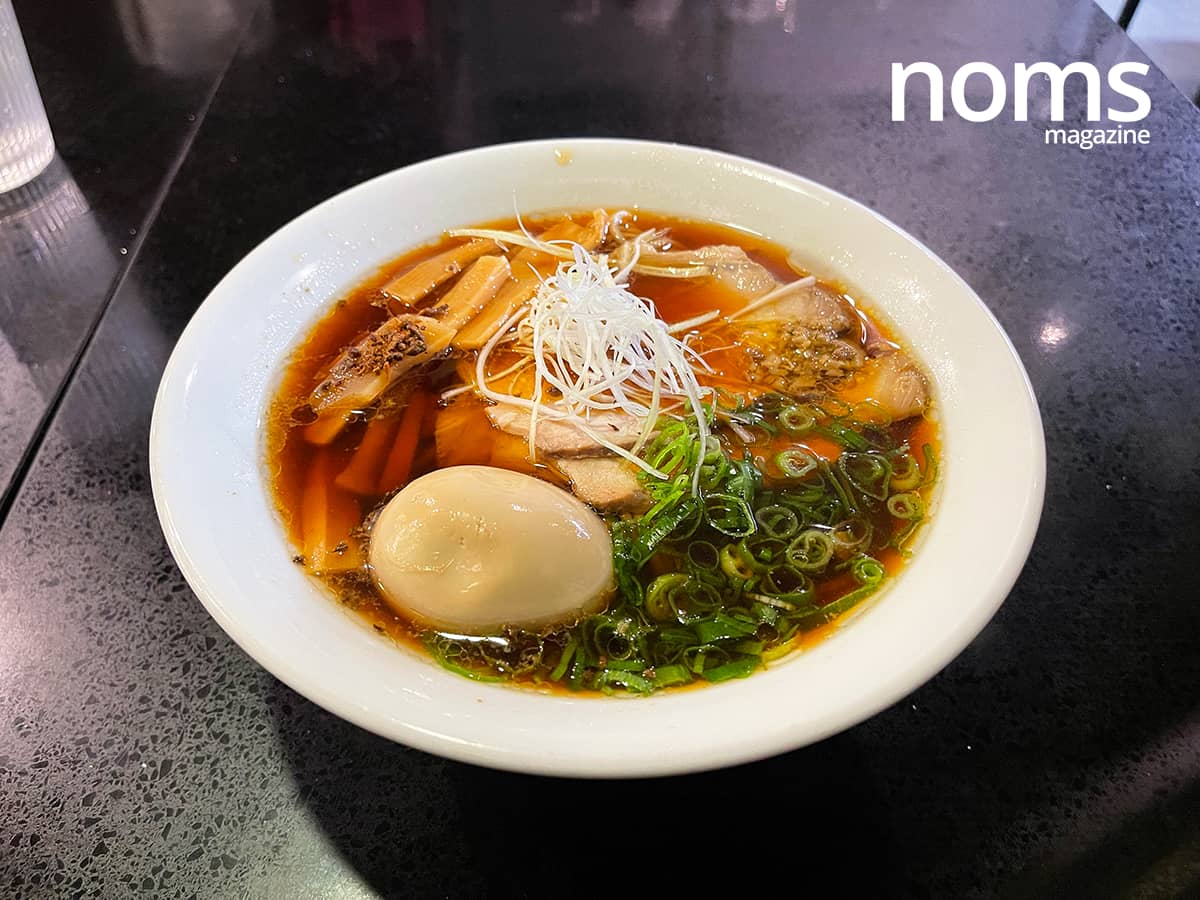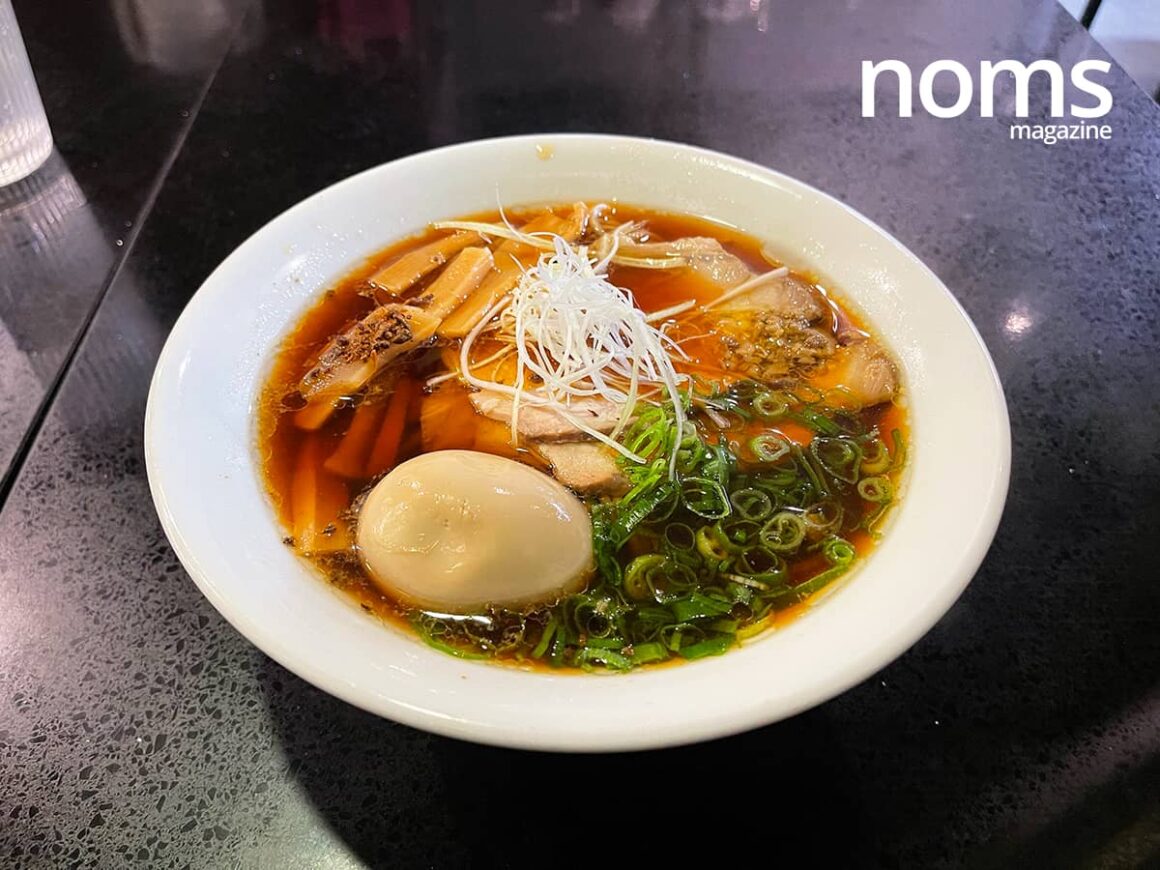 If you're a ramen lover in Toronto, Konjiki Ramen must be on your bucket list.
Not only did it have One Michelin Star for three years in a row from 2019 to 2021 in the Tokyo Michelin Guide, but it also had the Tokyo Michelin Bib Gourmand title for four consecutive years before that.
With spots in North York, Downtown, and Yorkdale Mall, they put a fresh spin on classic ramen by introducing creative elements.
The space feels both modern and traditional, with Japanese art pieces setting the mood.
What sets them apart is the pristine taste of their broths, especially the acclaimed clam ramen shio.
Dive into their Signature Clam Mild Shio or Intense Shio Ramen; every element, from the soup base to noodles, is spot on.
Equally impressive is their Smoky Black Tonkotsu Ramen, creamy yet not that salty soup with a hint of smoke charcoal flavour due to the juicy and firm smoked tomatoes.
What to order: Signature Clam Mild Shoyu Ramen, Signature Clam Intense Shoyu Ramen, Smokey Black Tonkotsu Ramen, Braised Pork Belly
Address:
5051 Yonge Street, Toronto, ON M2N 5P2, Willowdale
41 Elm Street, Toronto, ON M5G 1H1, Downtown Core
3401 Dufferin Street, Toronto, ON M6A 2T9
Website | Instagram | Facebook
2. Ikkousha Ramen Chicken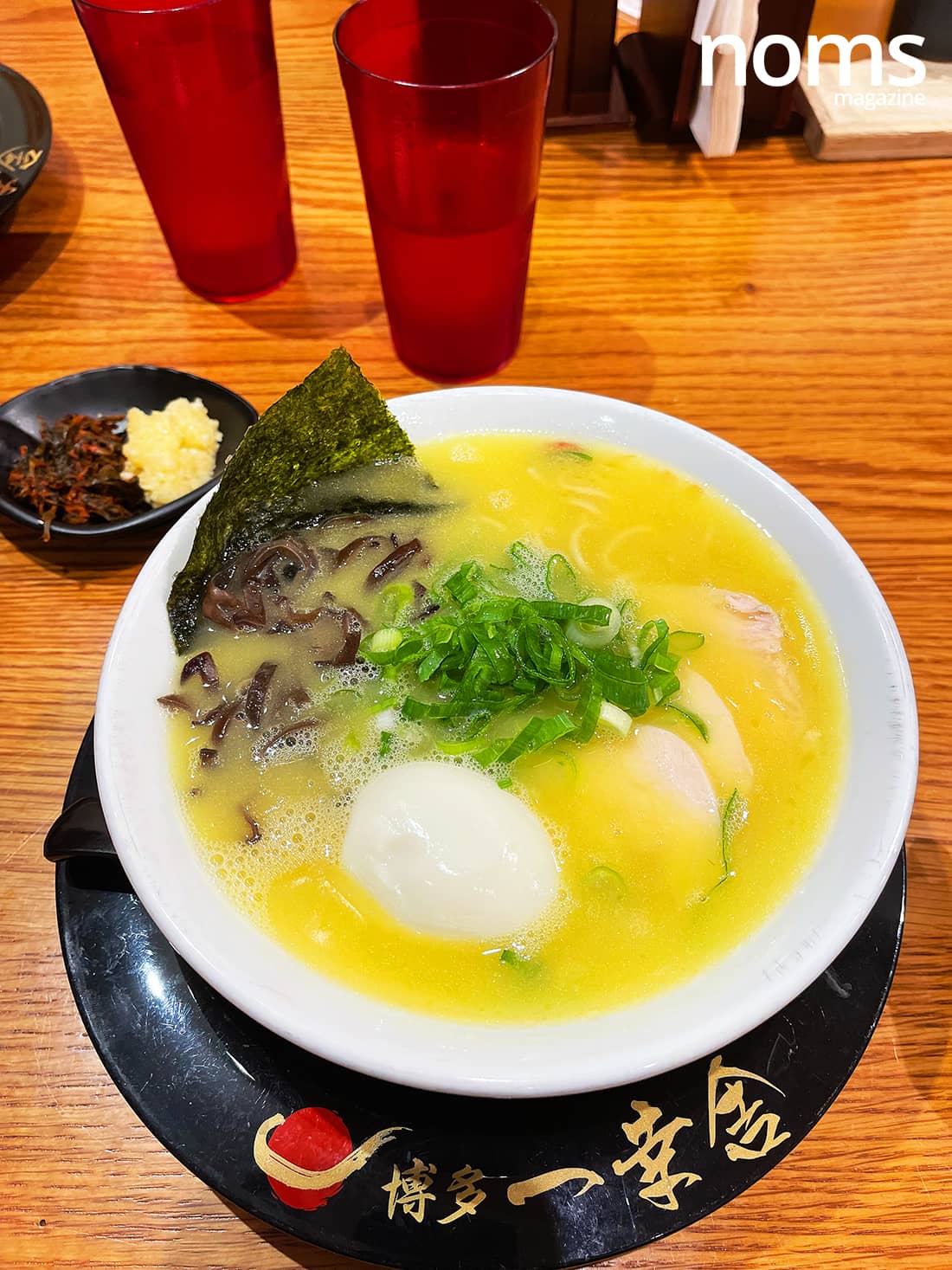 Take a rest from the usual pork bone-based soup ramen and head to Ikkousha Ramen Chicken for some chicken-based delight.
With an inviting ambiance, the sign outside the shop and the toppings on the table will remind you of the ramen shops in Japan. Since the seats are limited, my best advice is to sit at the bar so you can get seated quickly.
Remember, it's the spot right next to their pork-focused counterpart. With a menu highlighting chicken in every dish and some tasty sides like karaage and takoyaki, it's a refreshing change.
The Tori Paitan Ramen is a crowd-pleaser featuring silky chicken broth with tender chicken cha-shu. Trust me, the chicken's fragrance is enough to make you drool!
If you want to get spicier ramen, consider getting the God Fire filled with heaps of flavour and spice.
You can choose the spicy level from 1 to 4. I recommend level 2 as it has a nice amount of heat without overpowering the overall taste of the ramen.
What to order: Tori Paitan Ramen, God Fire
Address: 257 Queen Street W, Toronto, ON M5V 1Z4
Website | Instagram | Facebook
3. Musoshin Ramen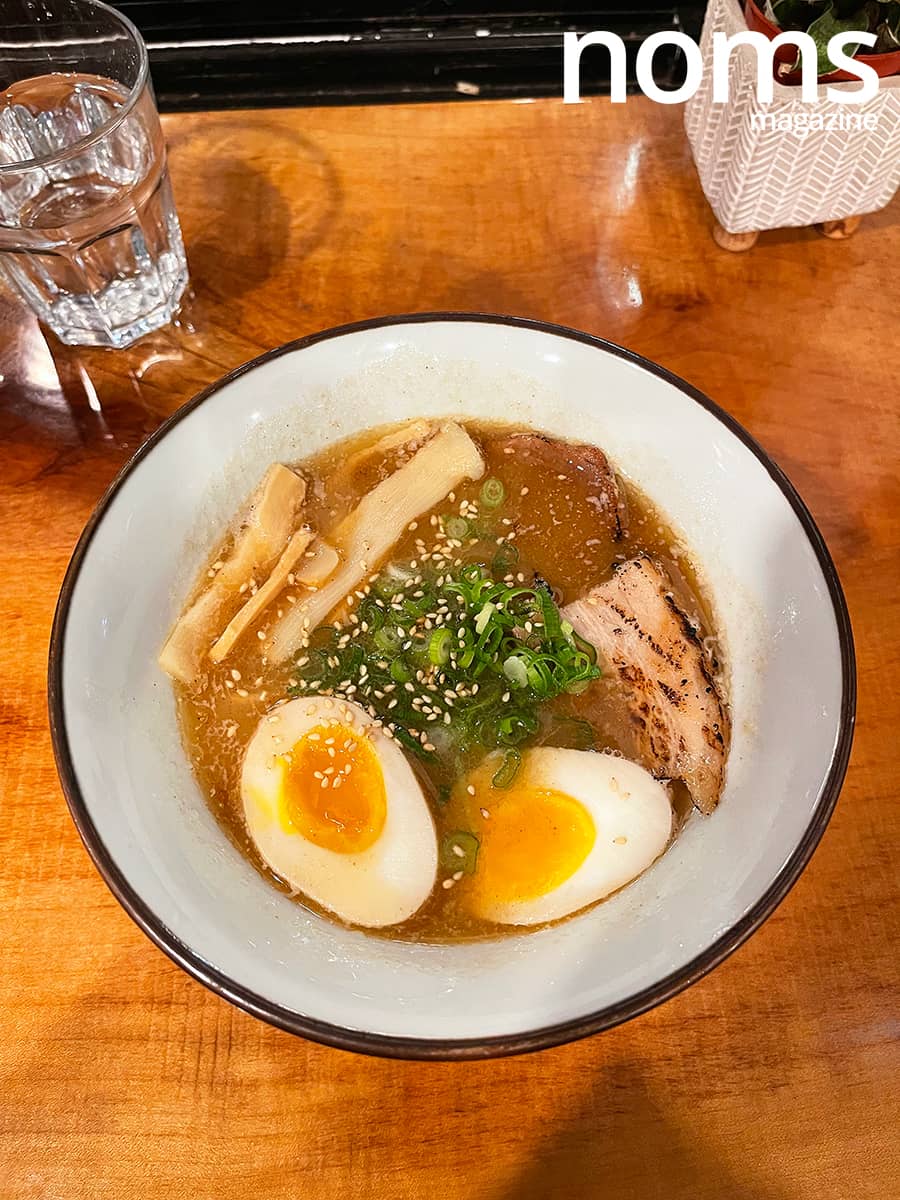 In the heart of Roncesvalles, Musoshin Ramen is hailed as one of the best Japanese restaurants in Michelin's best-of guides.
It has a cozy space that is bright and inviting, enhanced by an outdoor seating area for those sunnier days.
Their menu stands out with a mix of vegan and pork-based ramen, sandwiches, and a variety of other offerings.
Among the must-tries, the Vegan Japanese Style Curry Ramen is my top pick. Its kelp and shiitake dashi soup base will leave you more than satisfied.
If you're inclined towards the spicier end of the spectrum, the Musoshin Red Ramen is a worthy contender. It pairs perfectly with either juicy pork or tender beef toppings.
What to order: Vegan Japanese Style Curry Ramen, Musoshin Red Ramen
Address: 9 Boustead Ave, Toronto, ON M6R 1Y7, High Park
4. Ramen Isshin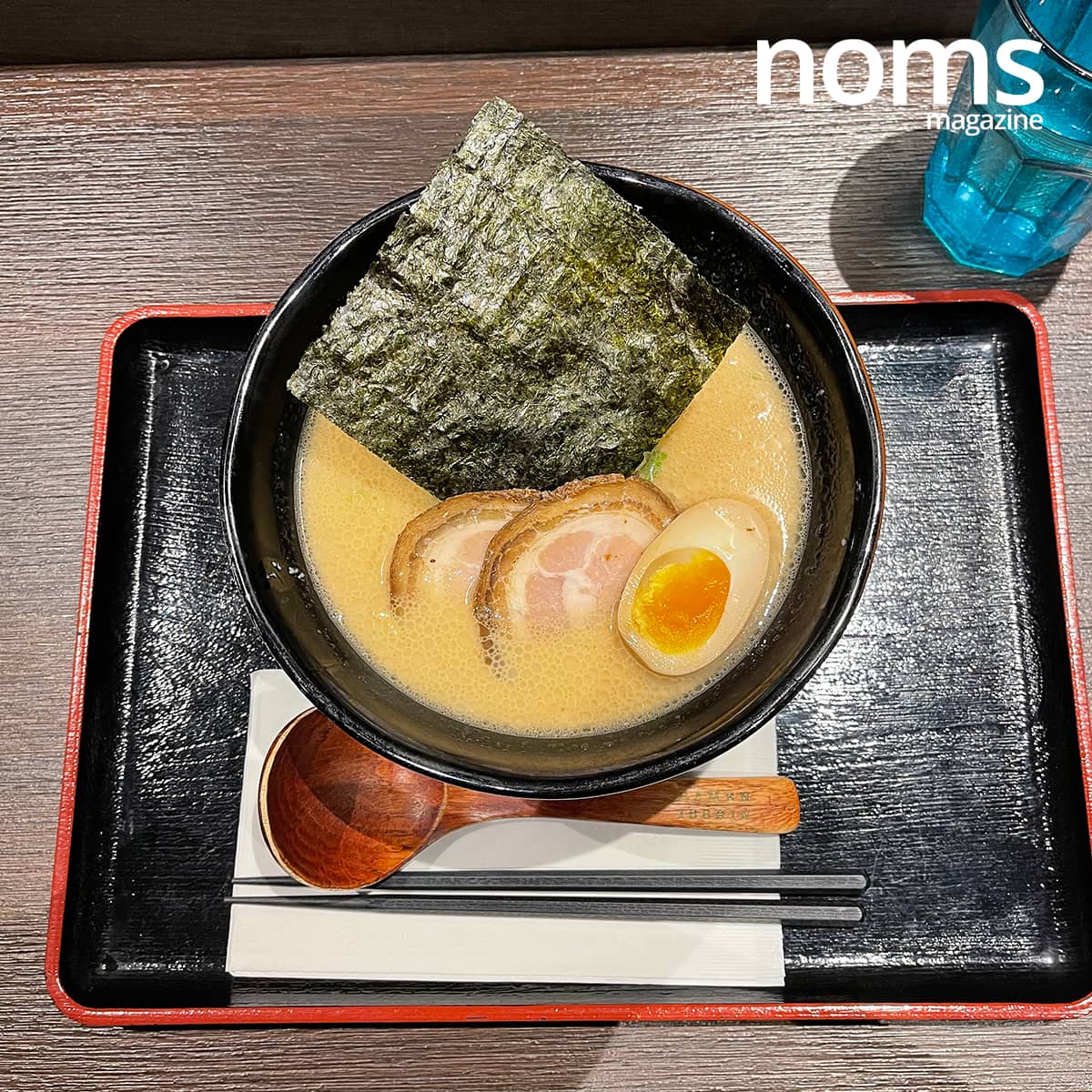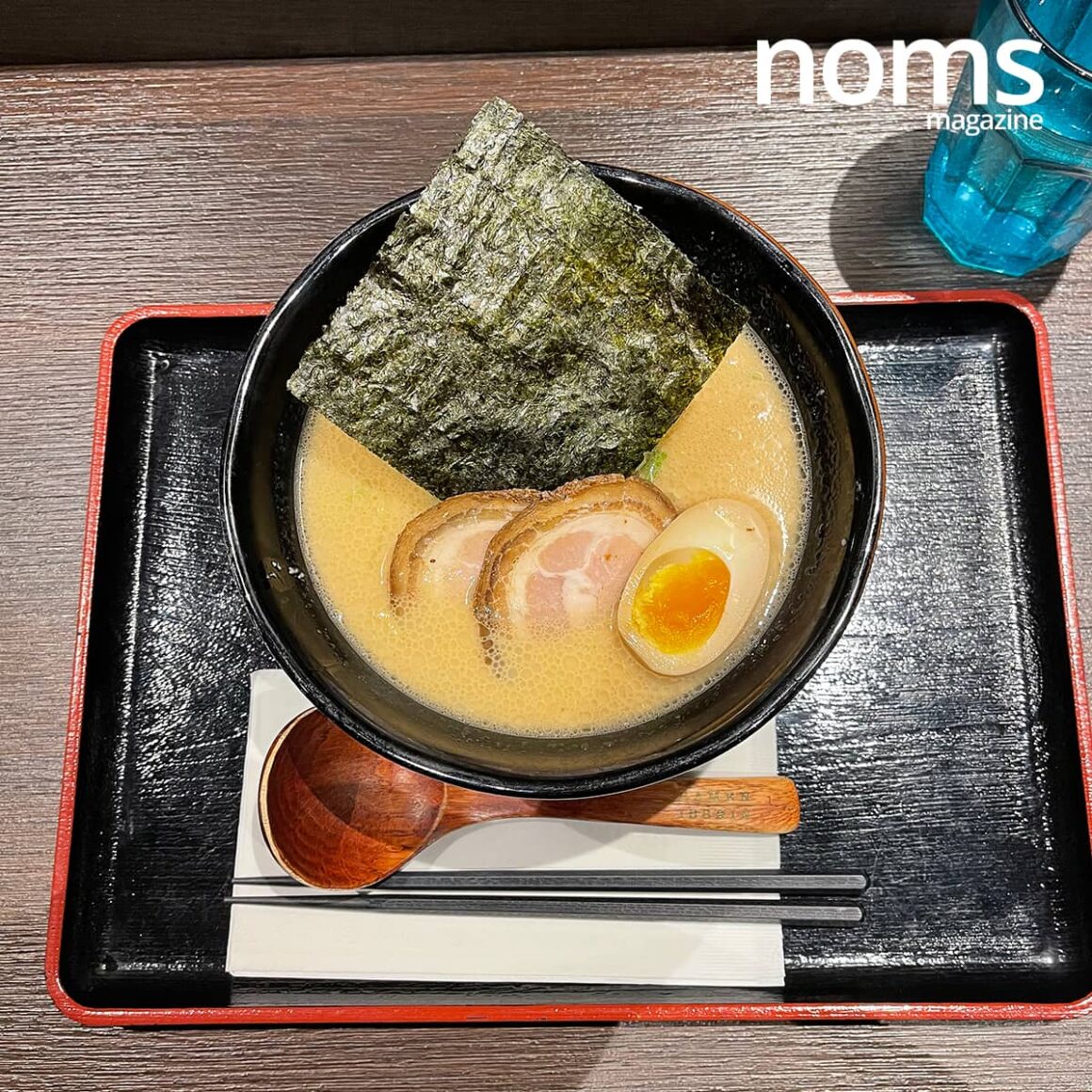 In the heart of Toronto, Ramen Isshin serves as a beacon for ramen lovers who cherish authentic Japanese flavours.
With its cozy feel and wooden touches, the ambiance is both comfortable and familiar.
Their swift Izakaya-style service ensures you're never waiting too long for a taste sensation.
Their menu showcases a variety of flavours, including vegan alternatives, sides, and tempting Japanese drinks.
The Red Miso bowl, with its thick noodles, tender chashu pork, and fresh veggies, is a must-have.
If you're feeling adventurous, try the Black Sesame Tan Tan Noodle. This dish offers a unique taste, striking the right balance between nutty sesame, spicy chilli oil, and creamy goodness.
And for vegetarians, the Vegetarian Red Miso is a real treat!
What to order: Red Miso, Spicy Red Miso, Black Sesame Tan Tan Noodle, Roasted Garlic Shoyu
421 College Street, Toronto, ON M5T 1T1, Kensington Market
609 Queen Street W, Toronto, ON M5V 2B7, Queen Street West
Website | Instagram | Facebook
5. Hokkaido Ramen Santouka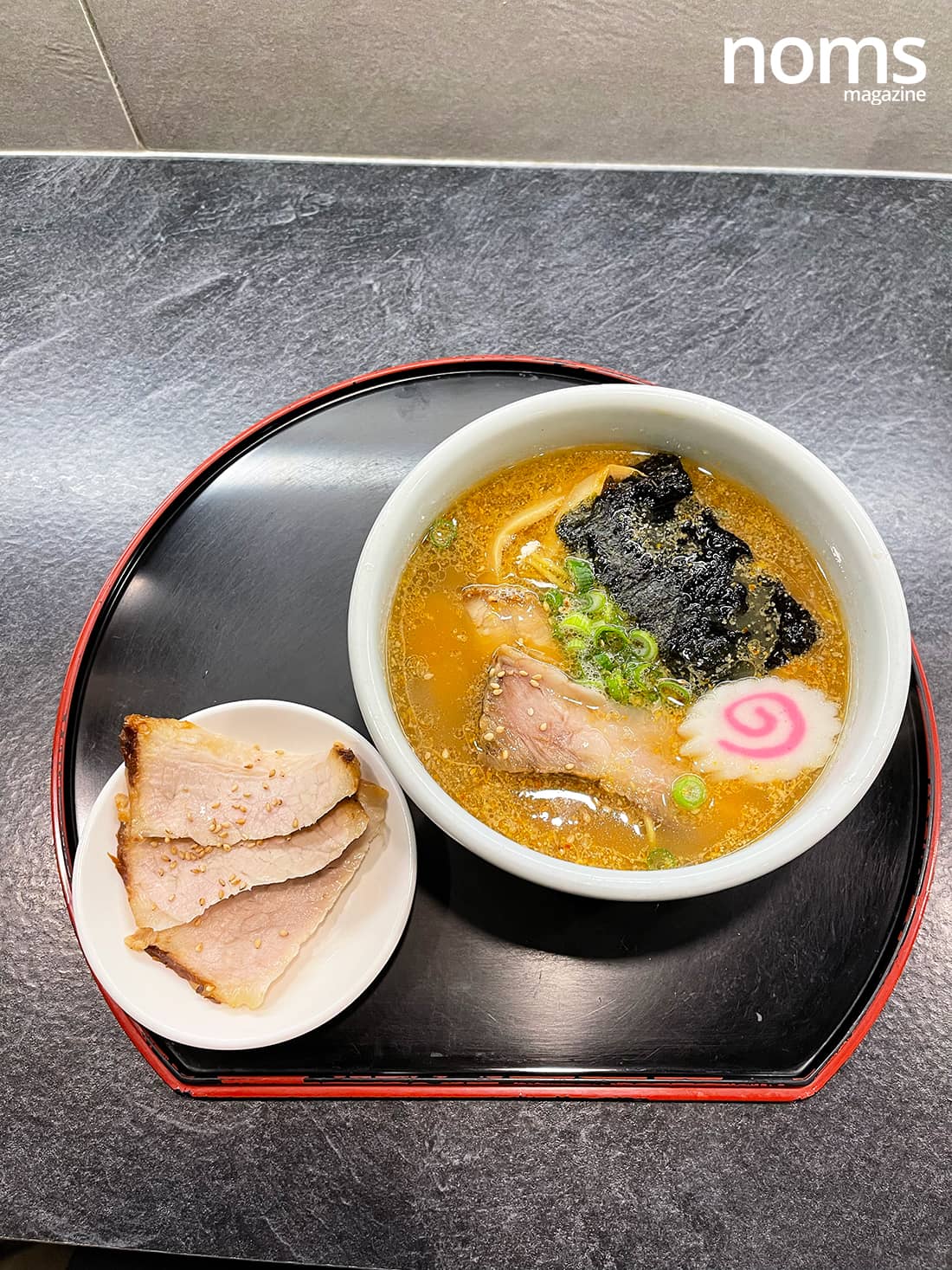 Craving for traditional ramen? You can get one at Hokkaido Ramen Santouka. They offer traditional ramen flavours across its Dundas Street and Eglinton and Yonge locations.
The space is illuminated and comfortable, promising a fantastic time. It can get busy sometimes but don't worry – their service is quick and accommodating, and trust me when I say that their ramen is worth the wait!
Their dishes are a testament to purity, minimizing salt and additives. My personal favourites are Shio Ramen and Kara Miso Ramen. 
The Shio Ramen is a white tonkotsu soup that boasts a creamy richness.
While the Kara Miso Ramen is another tempting bowl that brings a spicy zing to your taste buds.
Don't forget to pair your ramen with the Toroniku pork jowl and octopus-rich Takoyaki for a complete feast!
What to order: Shio Ramen, Kara Miso Ramen, Toroniku, Takoyaki
Address:
91 Dundas Street E, Toronto, ON M2B 2C8, Ryerson, Downtown Core
2057 Yonge Street, Toronto, ON M4S 2A2
6. Sansotei Ramen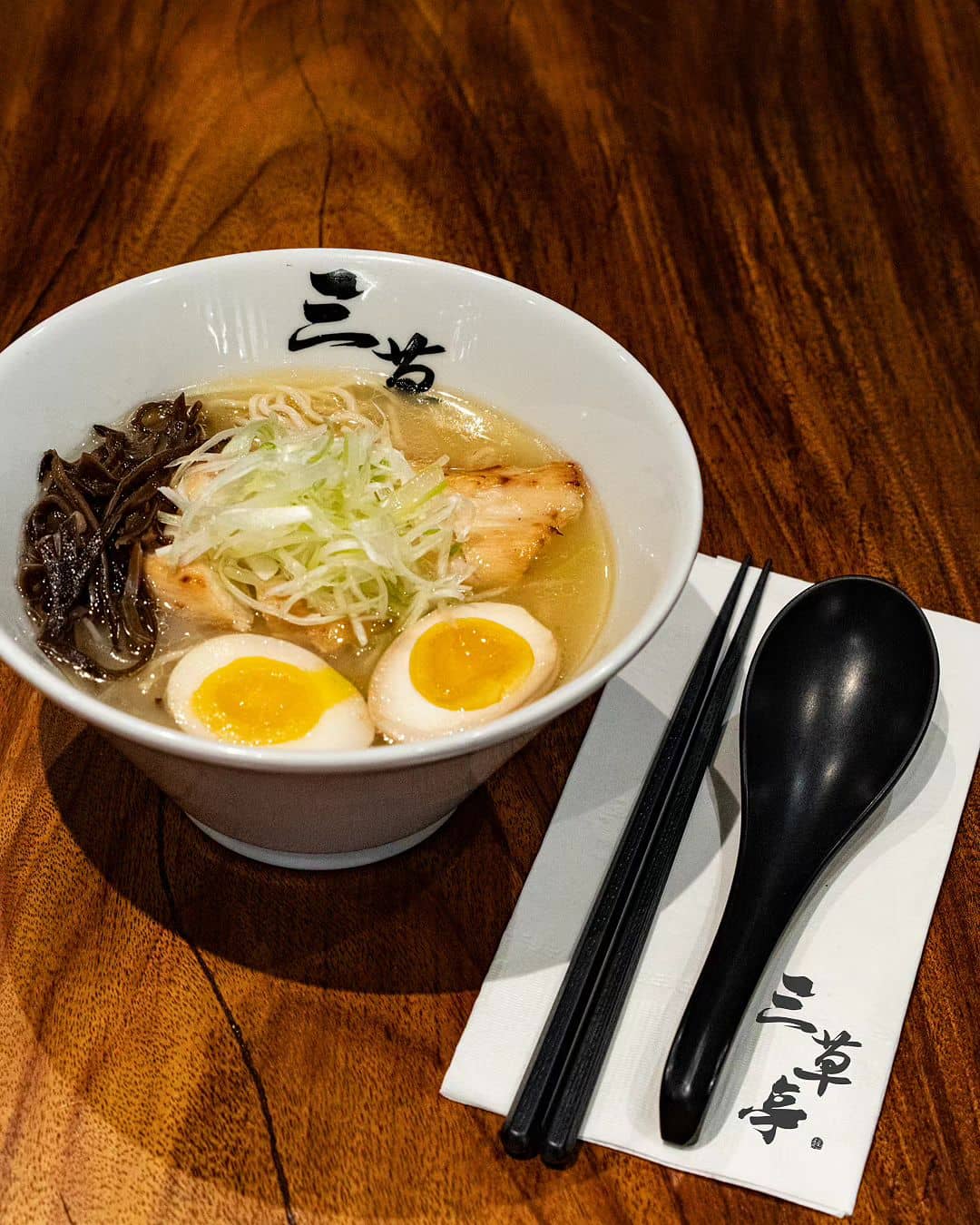 Sansotei Ramen a Canadian brand revered for its dedication to quality and authenticity.
Inside, modern design marries wooden touches, creating an atmosphere that's both buzzing and welcoming.
The menu is an amazing exploration of ramen, from broth to toppings. Their freshly made pork bone broth pairs impeccably with a choice of noodle thickness, allowing for a personalized experience. 
Of course, the ramen experience is incomplete without the sides. At Sansotei Ramen, options like gyoza, gyudon, and Japanese beverages await.
If it's your first time here, I suggest getting the Tonkotsu Black. Rich and packed with flavour, this dish is a revelation.
Chasing the heat? Get the Spicy Tantan and thank me later!
And for a different texture, the Zangi, a crispy Hokkaido specialty, is hard to resist.
What to order: Tonkotsu Black, Spicy Tantan, Chasu, Zangi
Address:
179 Dundas Street W, Toronto, ON M5G 1Z8
65 Front Street W, Toronto, ON M5J 1E3
30 Adelaide Street E, Toronto, ON M5C 3G9
115 Fort York Boulevard, Toronto, ON M5V 0K2
220 Yonge Street, Toronto, ON M5B 2H1
650 Yonge Street, Toronto, ON M4Y 2A6,
13 Byng Avenue, North York, ON M2N 5R7
421 College Street, Toronto, ON M5T 1T1
91 Dundas Street E, Toronto, ON M5B 2C8
249 Queen Street W, Toronto, ON M5V 1Z4
Website | Instagram | Facebook
7. KINTON RAMEN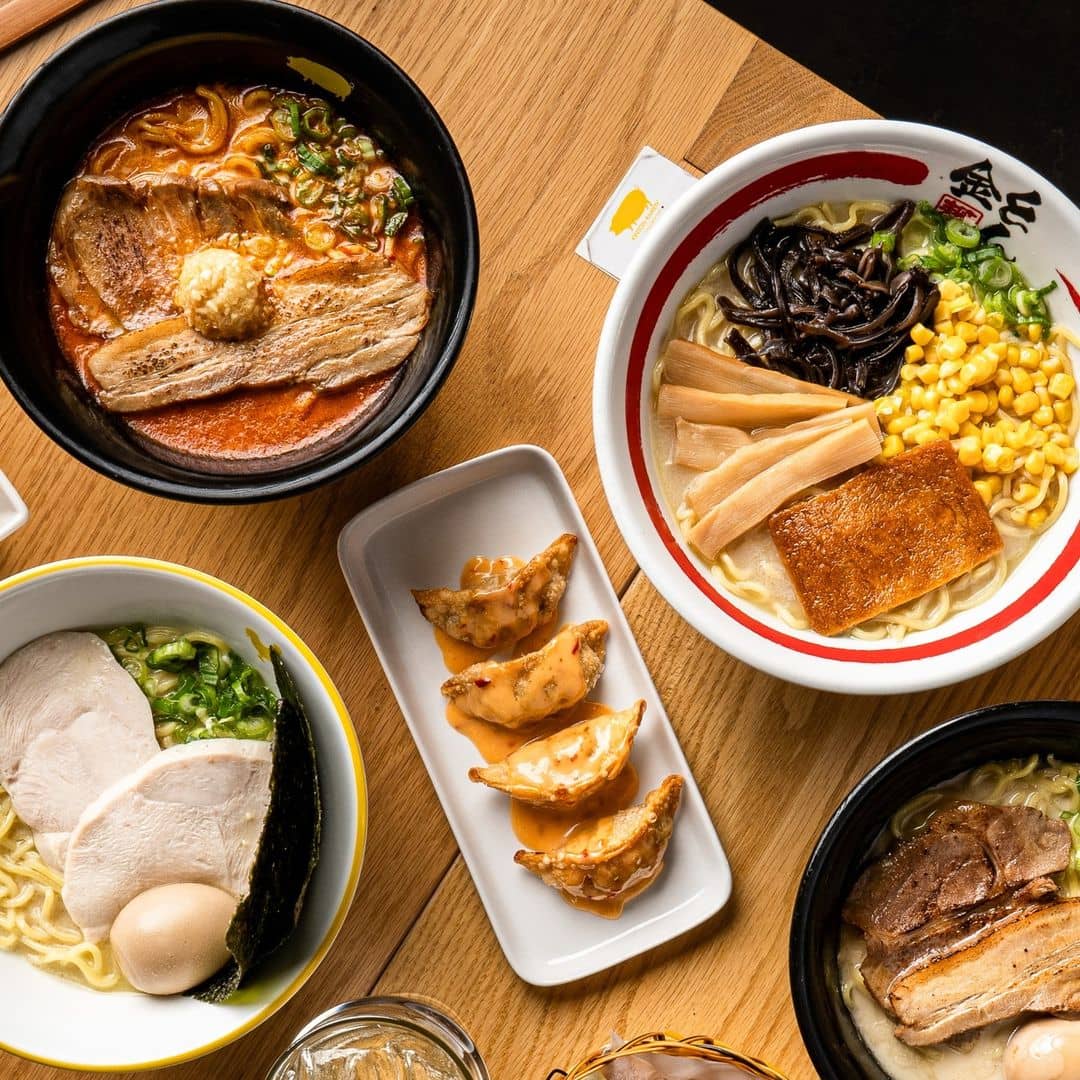 Toronto's ramen revolution owes much to KINTON RAMEN, an establishment that's been serving since 2012.
The Executive Chef, Aki Urata, drew inspiration from the ramen culture in Japan and aimed to replicate that experience in Toronto, thus resulting in this crowd-pleasing ramen chain expanding in numerous locations in the city.
The restaurant has an intimate vibe, allowing diners a front-row seat to the chefs' performance.
Offering varied bases like pork, chicken, and vegetarian, Kinton Ramen got your back when it comes to ramen cravings!
You may want to get the Pork Spicy Garlic. Intense and fiery, the spiciness leaves a taste that lingers on the palate.
The Pork Shoyu, with its savoury broth and noodle consistency choices, is another star.
And if you're looking for a side, the crispy Original Karaage or its spicier sibling, the Hot Karaage are the perfect accompaniments in my experience!
What to order: Pork Spicy Garlic, Pork Shoyu, Original Karaage, Hot Karaage
Address:
51 Baldwin Street, Toronto, ON M5T 1L1
5165 Yonge Street, Toronto, ON M2N 5P5
153 Liberty Street, Toronto, ON M6K 3G3
668 Bloor Street W, Toronto, ON M6G 1L2
1 William Kitchen Road, Toronto, ON M1P 2Y4
2216 Bloor Street W, Toronto, ON M6S 1N4
110 Harbour Street, Toronto, ON M5J 2L9
396 Church Street, Toronto, ON M5B 2A2
Website | Instagram | Facebook
8. Midori Ramen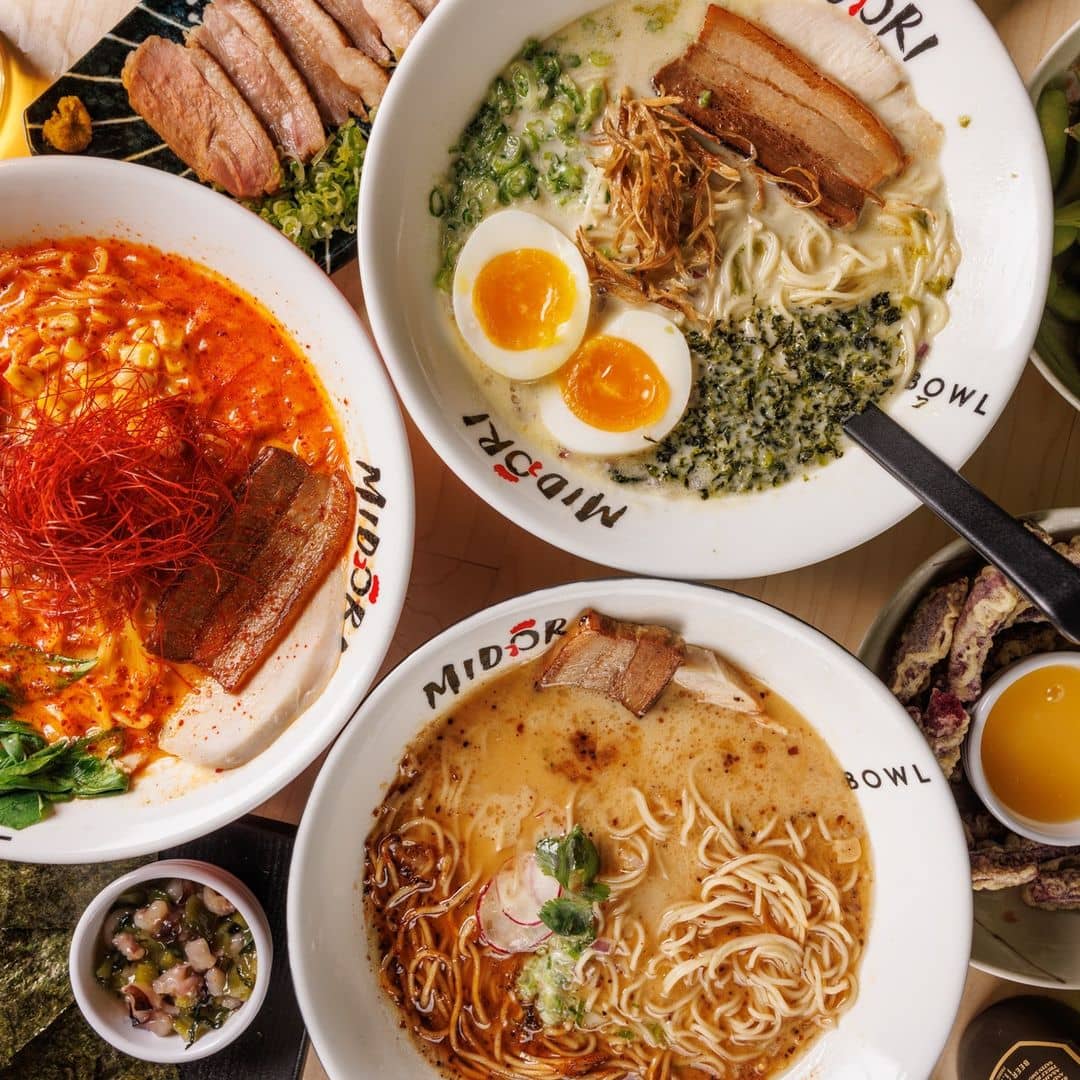 Midori Ramen is a true advocate of "omotenashi," the Japanese term for exceptional hospitality. The chefs are committed to quality, employing only premium ingredients in their dishes.
The restaurant's design is an homage to Japanese culture, featuring a miniature garden in the centre table, establishing an inviting, calm setting.
Their chicken broth is a house specialty, available with either chicken or pork chashu.
When in doubt, I suggest getting the Black Garlic Ramen, a smooth, slightly garlicky delight topped with garden-fresh vegetables and succulent meat.
If you have special dietary needs, the Black Garlic Vegetarian variant swaps chicken broth for a velvety cauliflower base.
Make sure you don't miss out on their Appetizer Flight! This customizable trio of your preferred starters is the best start to your meal.
What to order: Black Garlic Ramen, Black Garlic Vegetarian, Signature Tori Paitan, Appetizer Flight
Address: 412 Queen Street W, Toronto, ON M5V 2A7
Website | Instagram | Facebook
9. Ikkousha Ramen Toronto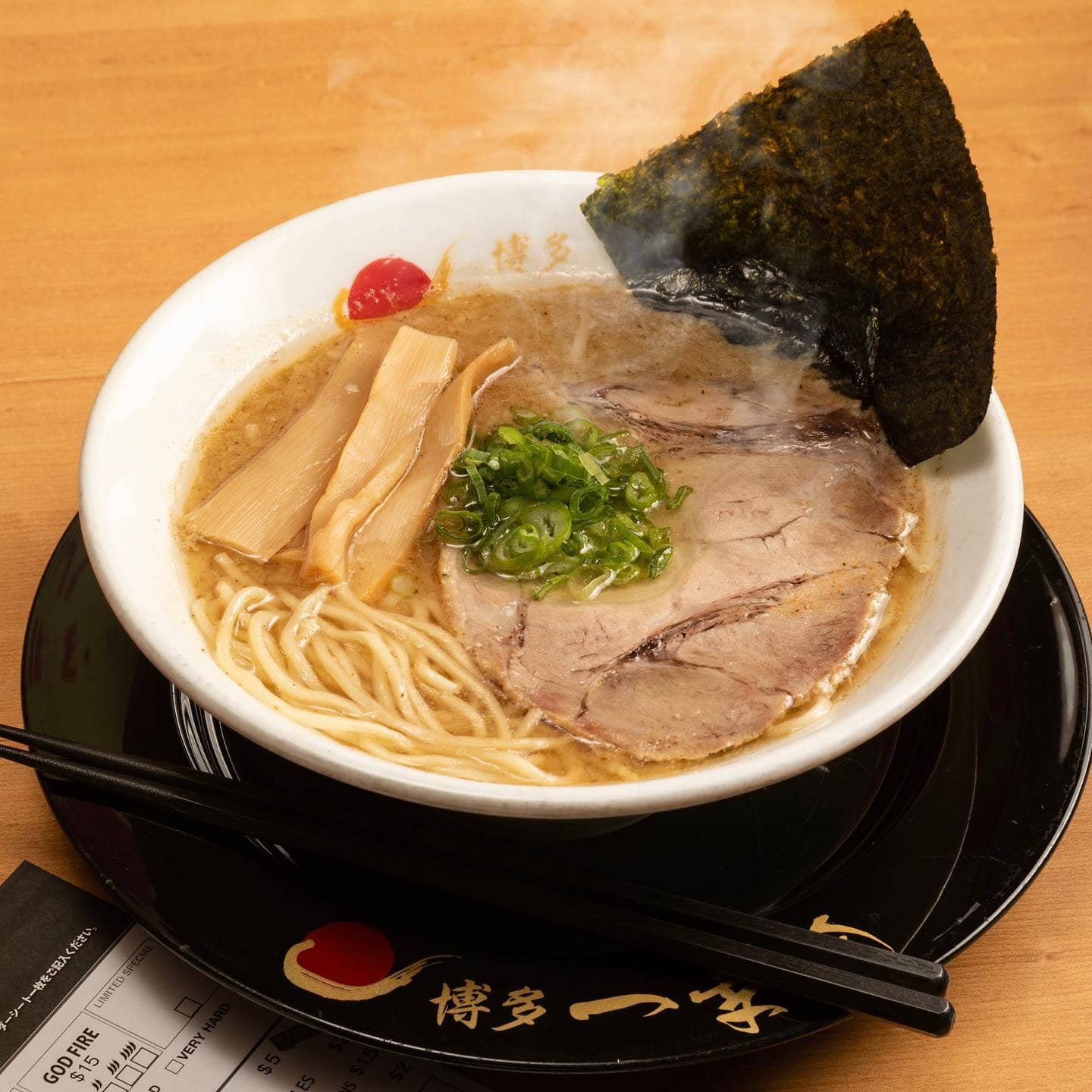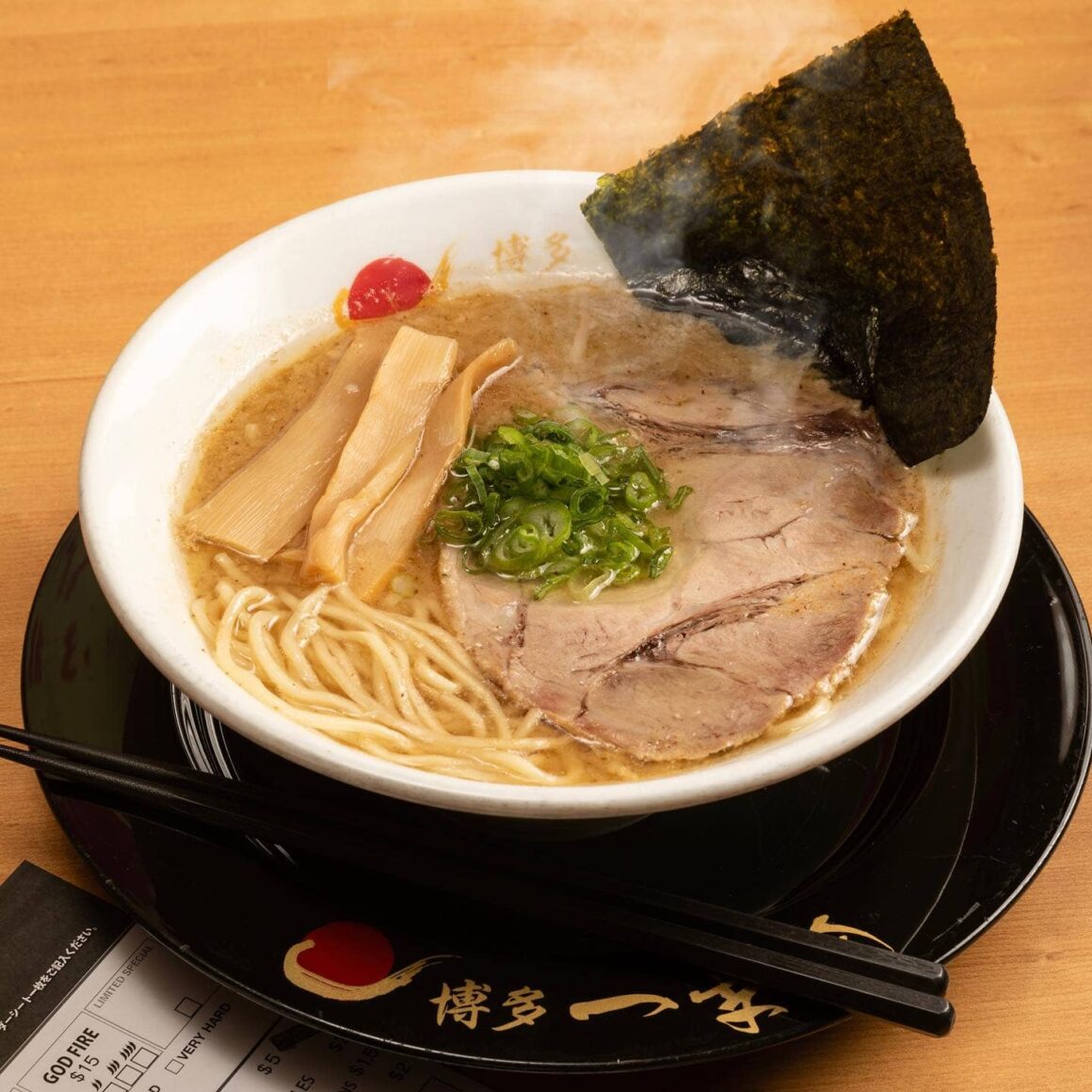 This branch of Ikkousha Ramen is dedicated to the authentic Hakata ramen tradition, often characterised by its pork-bone broth.
The interior captures the spirit of Japan's classic ramen establishments, complete with a lively, welcoming vibe. My best advice is to avoid peak hours and skip the wait.
Their culinary team emphasises genuine Hakata craftsmanship in each bowl. The menu offers a choice among four tonkotsu ramen options, two special combos, a vegetarian selection, and a range of sides, rice bowls, and beverages.
My personal favourites are the Signature Tonkotsu and the fiery God Fire ramen. Both are rich and comforting, especially when you select noodles with a texture to your liking.
As a perfect accompaniment, their Karaage chicken is moist inside and crisp on the outside.
What to order: Signature Tonkotsu, God Fire, Karaage
Address: 249 Queen Street W, Toronto, M5V 1Z4
Website | Instagram | Facebook
10. Ramen RAIJIN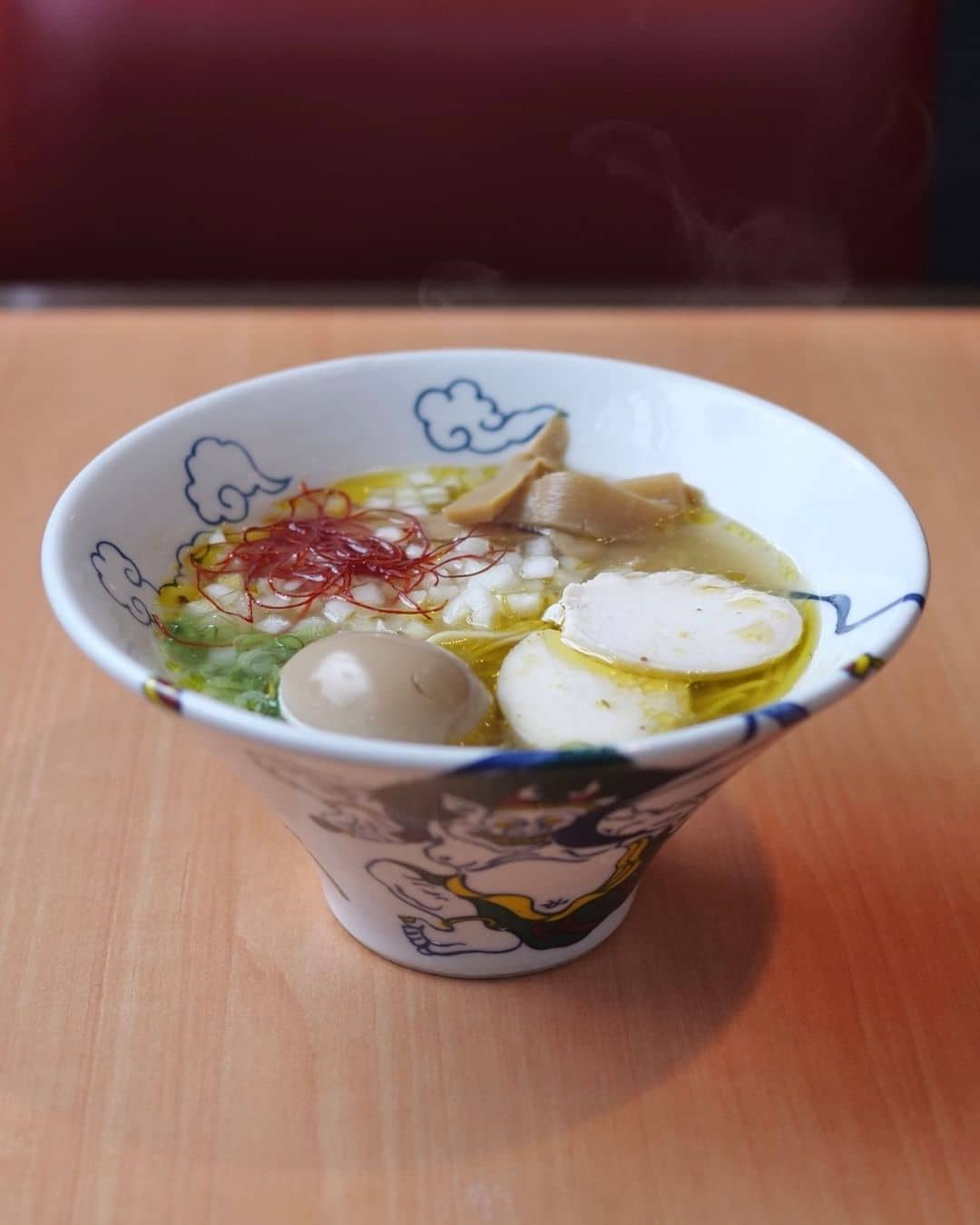 Hidden in plain sight between Wellesley and Yonge, Ramen RAIJIN offers a wide range of authentic Japanese ramen. The interior, adorned with oversized chopstick art, generates a casual, yet intimate, ambiance.
With an expansive menu that includes various styles like Tonkotsu and Shoyu, there's also a selection for vegan patrons.
Their Vegan Spicy Miso Ramen is surprisingly creamy, making it a delicious option for anyone, not just those on a plant-based diet.
The Spicy Tonkotsu Ramen is another standout, offering just the right amount of heat and perfectly springy noodles.
The best part? RAIJIN offers frozen ramen to recreate that authentic Japanese flavour at home. Remember to grab some before you leave!
What to order: Vegan Spicy Miso Ramen, Spicy Tonkotsu Ramen, Yuzu Shio Ramen
Address: 24 Wellesley Street W, Toronto, ON M4Y 2X6
Website | Instagram | Facebook
That concludes our roundup of Toronto's finest ramen spots! Now you're equipped with the info you need to indulge in some truly satisfying bowls of ramen.
If you've got more cravings, why not explore our picks of the best Toronto restaurants?
How We Create Our "Best" Lists
All Noms Magazine's "best" lists are created using multiple factors and signals to help readers find the best restaurants, things to do, and places to stay at. Some of these factors and signs include personal experiences, correspondence with locals, and compiling experiences from review sites.
Each list is also created to be balanced (in terms of price, cuisine type, ambiance, and more) as possible. This means that the lists are not specifically created in ranking order. You should be comfortable picking from any of the spots on the list and generally have a good time. But of course, YMMV (your mileage may vary) and everyone may have different experiences/palates.