If upscale fashion boutiques, lifestyle stores, and luxe salons are the first things to come to your mind when you think of South Granville, you are missing out big time. Because, the area also has quite a lot of cafes and South Vancouver restaurants, boasting a mix of global cuisine, so you can enjoy a scrumptious meal or a delectable snack after your shopping spree!
Here is a list of the best South Granville restaurants you should note down for the next few times you are here:
10. Bin 4 Burger Lounge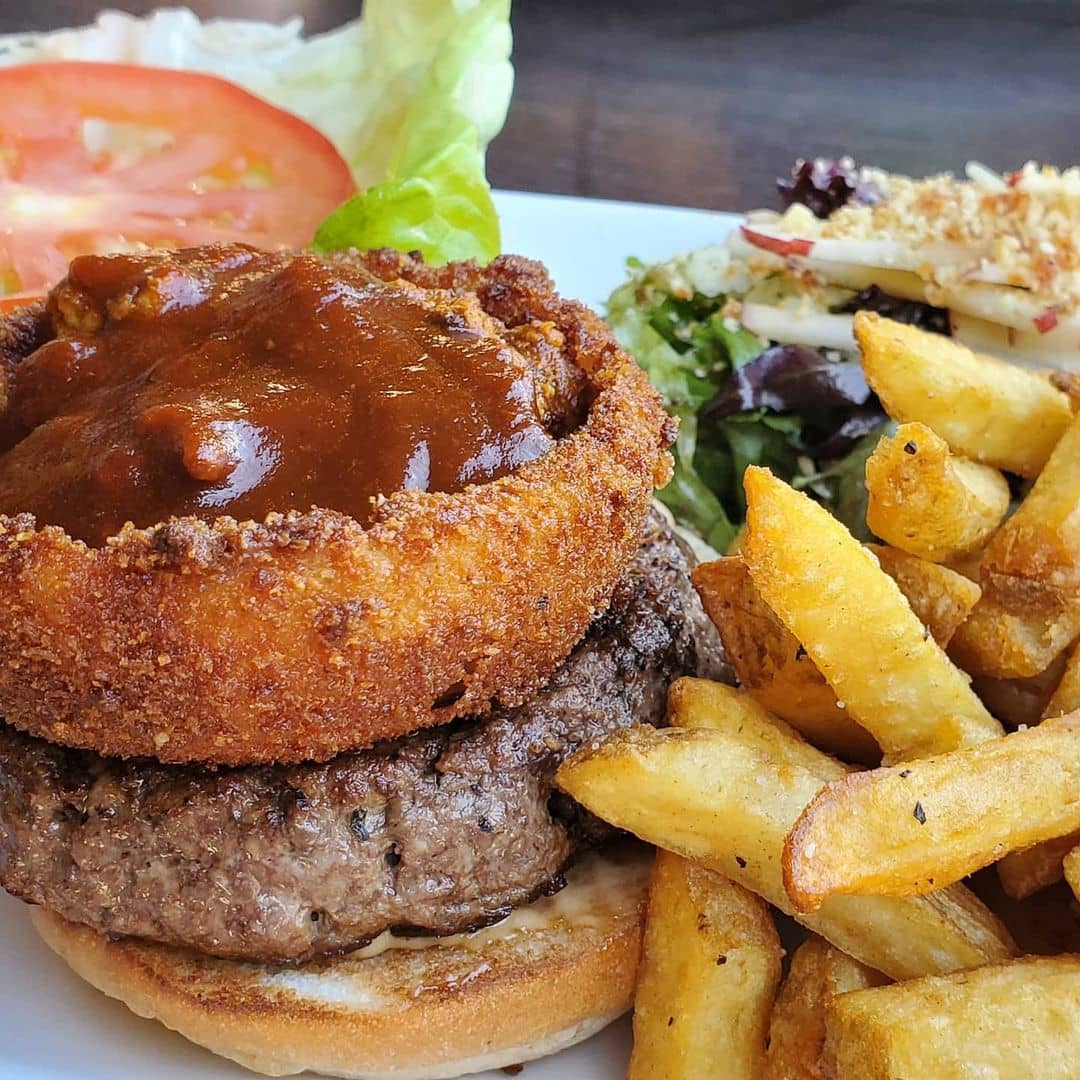 Ever heard of burgers with a gourmet touch? At Bin 4 Burger Lounge, the owners have managed to make this world's most favorite food gourmet! With more than five outlets in BC, burgers from this place feature only high-quality ingredients, like 5-year aged cheddar, smoked salmon, and 63 Acres Premium BC Beef, to become potentially the best burger you will ever have.
If you wish to neutralize that guilt you experience after finishing your burger, better start with the Bin 4 House Salad – with fresh artisan greens, red pepper, cucumber, and toasted pumpkin seeds, enhanced with lemon champagne honey vinaigrette.
The Bin 18 Dirty Bourbon Burger, equipped with all the goodies, from onion rings to finger-licking chipotle bourbon bbq sauce, will make your cheat meal feel worth it.
Gourmet burger taken to the next level would be Bin 4's Wild Mushroom burger, containing 63 Acres Premium BC Beef, wild mushroom, truffle oil, truffle aioli, and parmigiano. This is as rich as it gets!
What to order: Dirty Bourbon Burger, Wild Mushroom Burger
Address: 2996 Granville Street, Vancouver, BC V6H 3J7
Website | Instagram | Facebook
9. Kathy's Sandwich House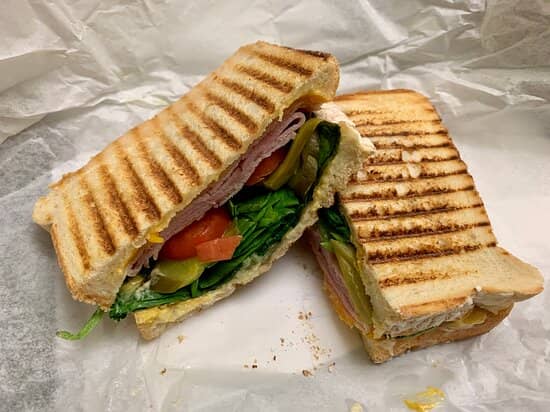 When you are on your lunch break, going on a long drive, or just been shopping around, a light yet filling sandwich and fresh juice to wash it down with could be all you need. If you are in Vancouver, Kathy's Sandwich House is that sandwich place you are looking for. Serving Vancouver for over a decade now, this sandwich spot serves breakfast, salads, and soups.
The highlight of Kathy's Sandwich House is that you can build your own sandwich, choosing from endless options of protein, like roasted beef, roasted chicken, smoked salmon, BLT, etc. Choose from more than 5 types of bread or go with a wrap, and finish your sandwich with fresh vegetables.
Don't know what to choose? Try their Montreal Smoked Beef sandwich or Shrimp Avocado Wrap. If you are an all-day breakfast person, you will be extremely pleased with their Egg Bagel with Bacon & Avocado.
What to order: Shrimp Avocado Wrap, Montreal Smoked Beef Sandwich
Address: 1505 W Broadway, Vancouver, BC, V6J 1W6
8. Café Salade de Fruits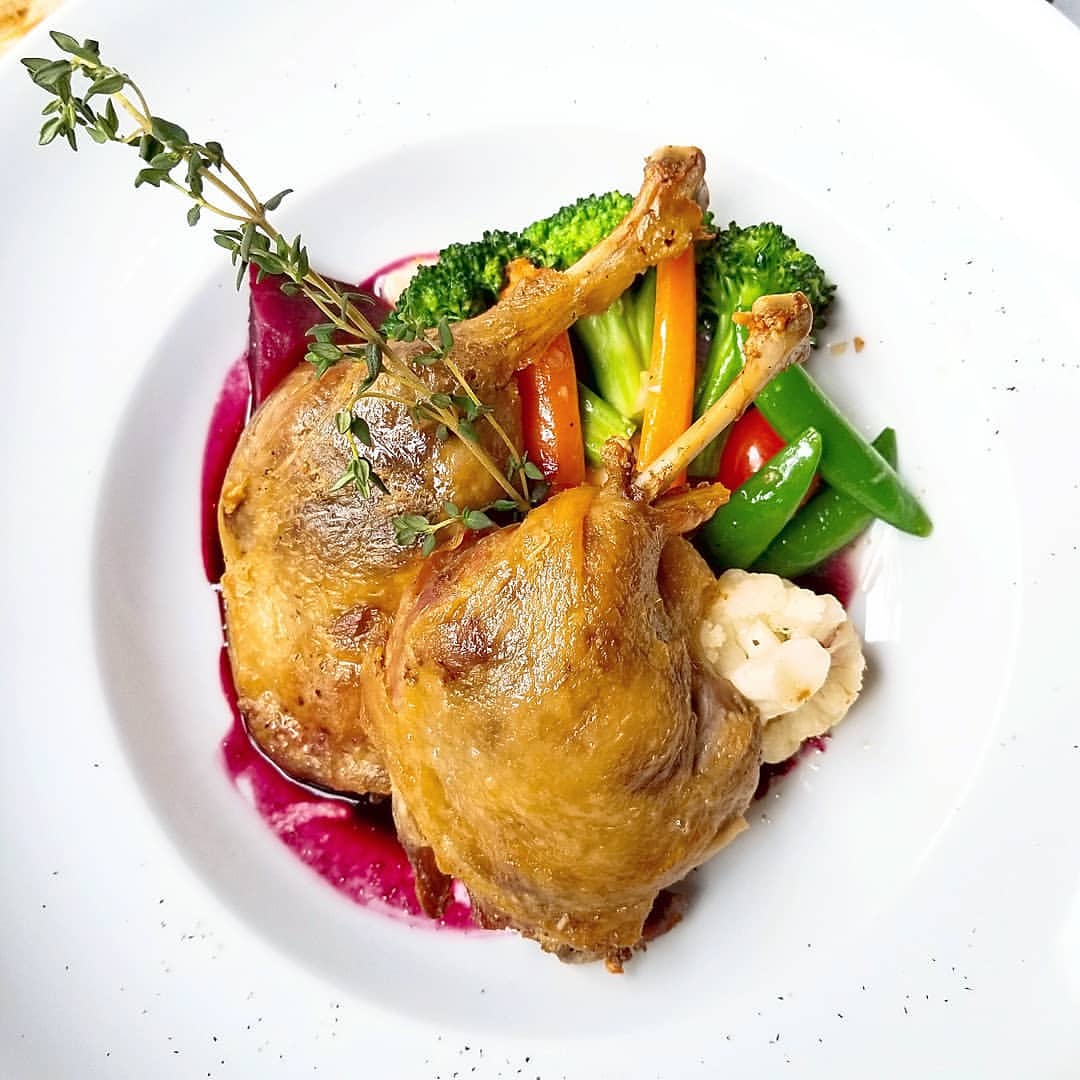 Looking for a pleasant way to spend your weekend? A Saturday or Sunday morning brunch, lunch, or dinner at Café Salade de Fruits with someone whose company you enjoy will make your plan a great success. The restaurant serves well-prepared French dishes, some classics and some with a twist, taking you through the streets of France, without the chunky airfare.
Bring out your adventurous side and start your course with their Garlic Frog Legs, sauteed to perfection. The Duck Confit Leg for the main course will leave your mouth watering, thanks to the juicy and tender duck leg with a slightly crispy skin on top. For dessert, Baked Alaska it is!
What to order: Duck Confit Leg, Garlic Frog Legs, Baked Alaska
Address: 1555 W 7th Ave, Vancouver, BC V6J 1S1, Canada
Website | Instagram | Facebook
7. Cheesecake Etc.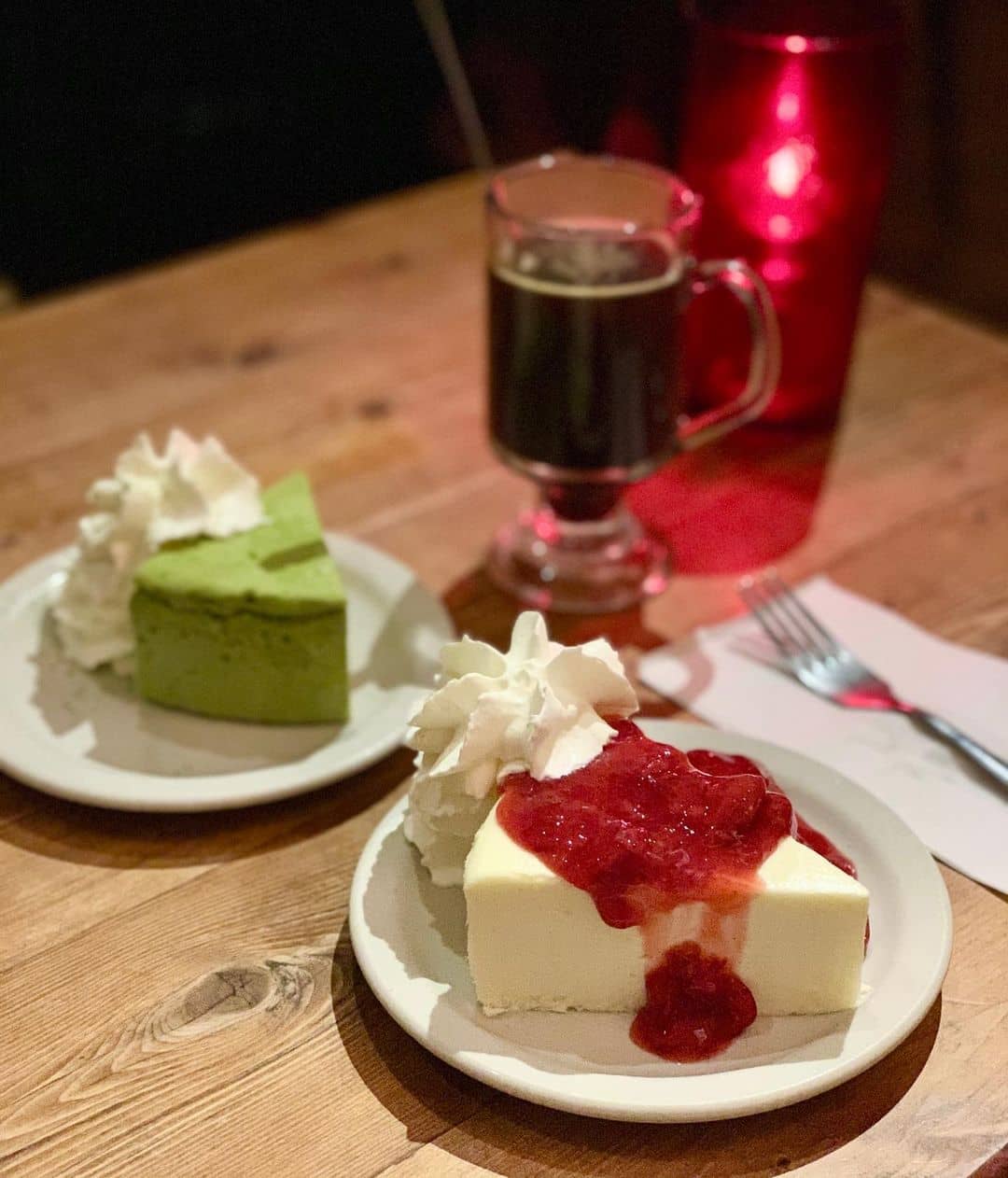 Among the hustle and bustle of Vancouver's main entertainment district, Granville Street, lies this treasure – Cheesecake Etc. Operating in Vancouver since 1979, this joint attracts guests from around the world in search of just one dish – their cheesecake, made with their original secret recipe.
Of course, you should try their cheesecake (duh!), but which one? Their Original Cheesecake has remained ever so popular; to suit your taste buds, you can add toppings of your choice to your cheesecake, like toasted pecans and almonds, fresh berries, and chocolate, mocha, caramel sauce, or peanut buttercream.
By default, all cheesecakes come topped with real whipped cream, which perfectly balances the lightness and creaminess of the cake. You can also choose from a wide selection of hot and cold drinks to go along with your cheesecake.
What to order: Original Cheesecake with a topping
Address: 2141 Granville Street, Vancouver BC, V6H 3E9
Website | Instagram | Facebook
6. The Stable House Bistro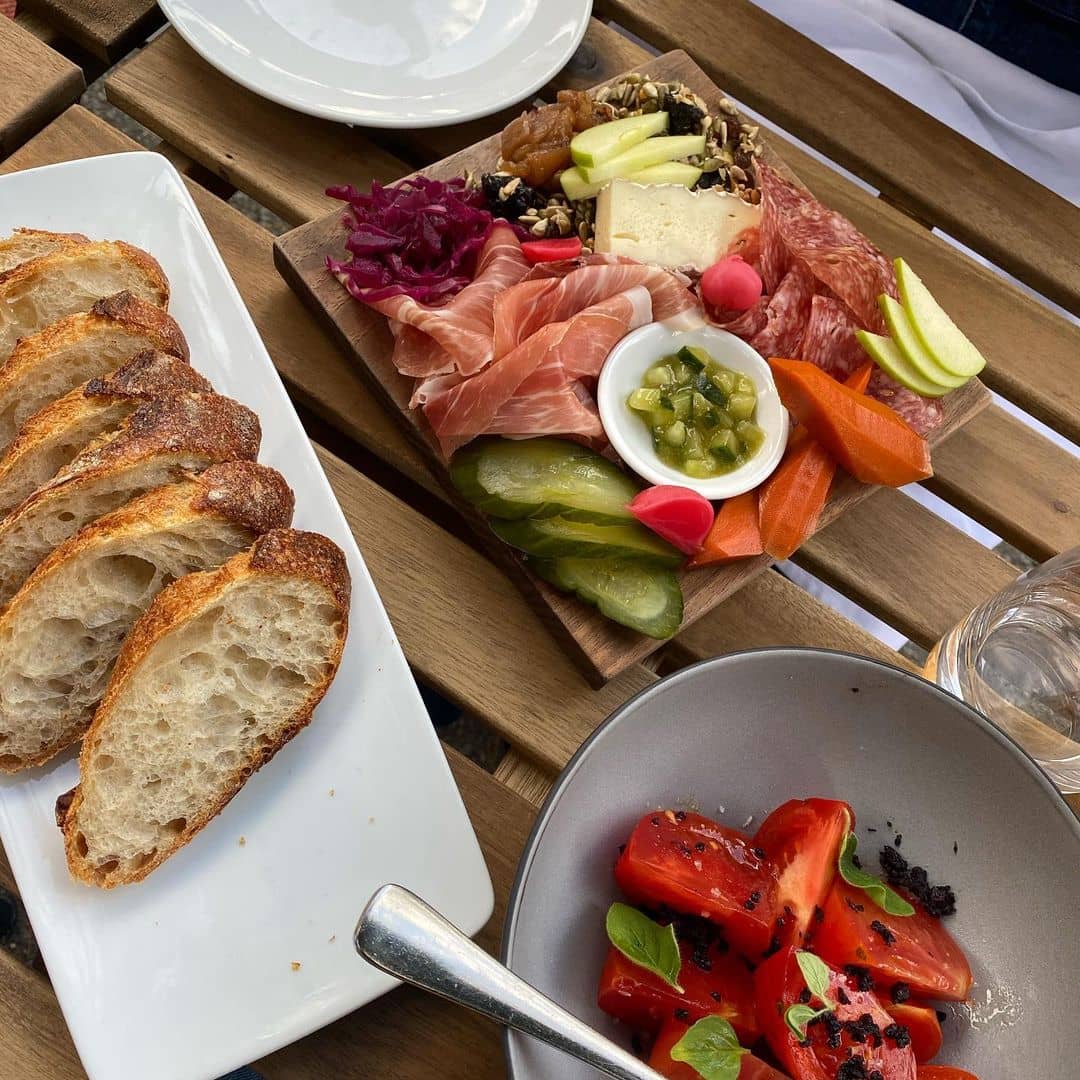 Established by a group of locals, The Stable House Bistro features seasonal food, made from the best of ingredients sourced from local farmers. As a result, their menu keeps changing, based on the harvest done by their partnering farmers at the time. The bistro is also known for its four-course family-style menu, and all their dishes can be paired with the perfect glass of wine.
The Charcuterie & Cheese boards are their signature, containing a rotating selection of one to five items. Their Autumn Menu allows you to delight in the freshness of Local Pink Scallops, paired with white wine, and with hay cream and local harvest beets for sides. Choose either their Cinnamon Sugar Beignets or Local Apple Tarte Tatin, your meal could not be more perfect.
What to order: Charcuterie & Cheese boards, Local Pink Scallops
Address: 1520 W. 13th Avenue, Vancouver, BC V6J 2G4
Website | Instagram | Facebook
5. Breakfast Table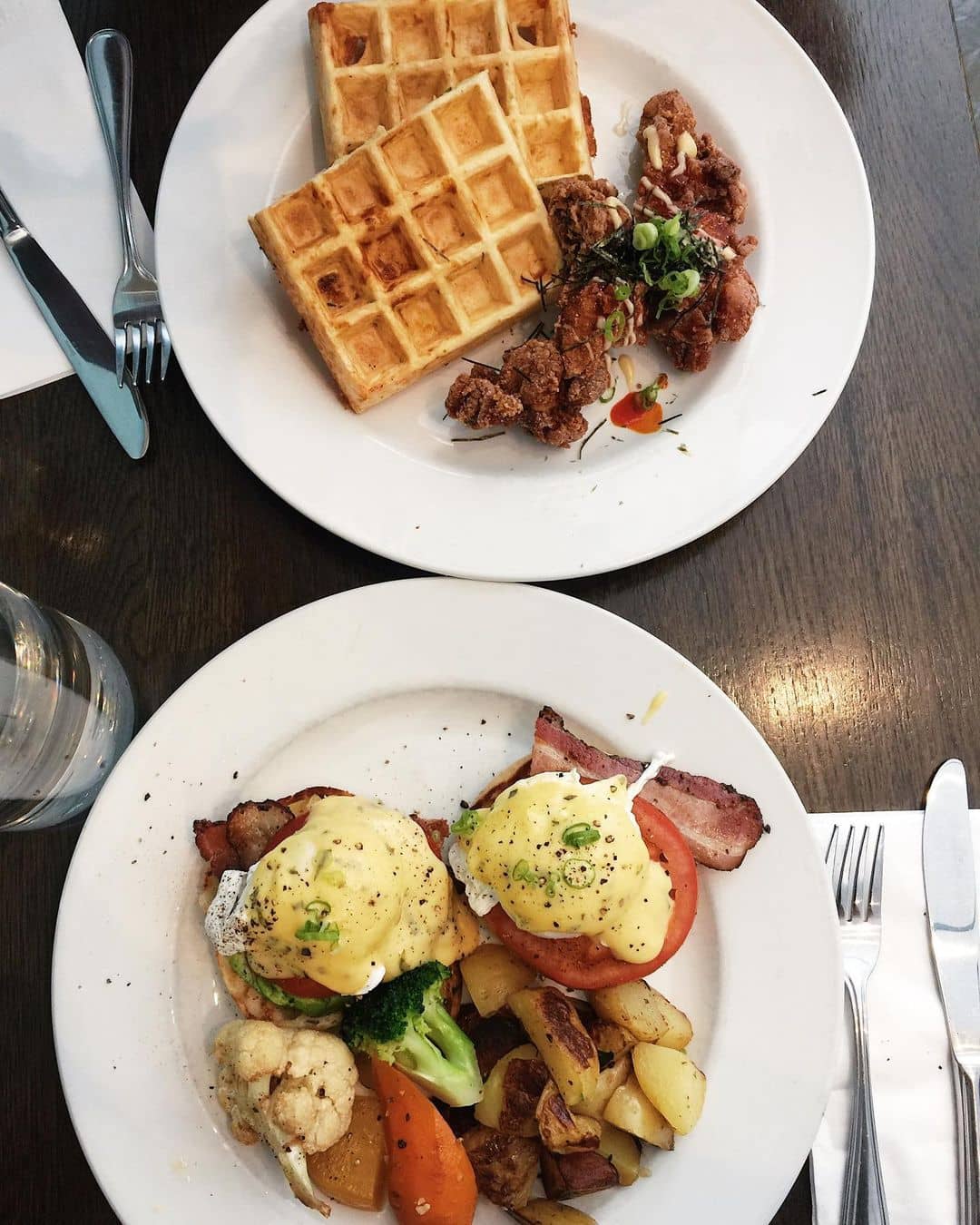 No South Granville restaurants list can be complete with a breakfast/brunch place to try. Serving more than just coffee and perfectly cooked eggs, the Breakfast Table happens to be a go-to breakfast spot for many in the area. From everyday breakfast to birthday brunches, their menu is exciting enough to attract a diverse crowd.
One of the most popular items from their Traditional list is the Beef Bulgogi Hash – served with two eggs, kimchi, sauteed mushrooms, spinach, and green onion. Many of their dishes are topped with the famous Sweet Ass Chilli Sauce, which gives them the necessary kick. Their Coffee Crusted Pork Belly Benedict is certainly one-of-a-kind.
What to order: Coffee Crusted Pork Belly Benedict, Beef Bulgogi Hash, Ube Latte
Address: 3014 Granville Street, Vancouver, BC V6H 3J8
Website | Instagram | Facebook
4. Mazahr Lebanese Kitchen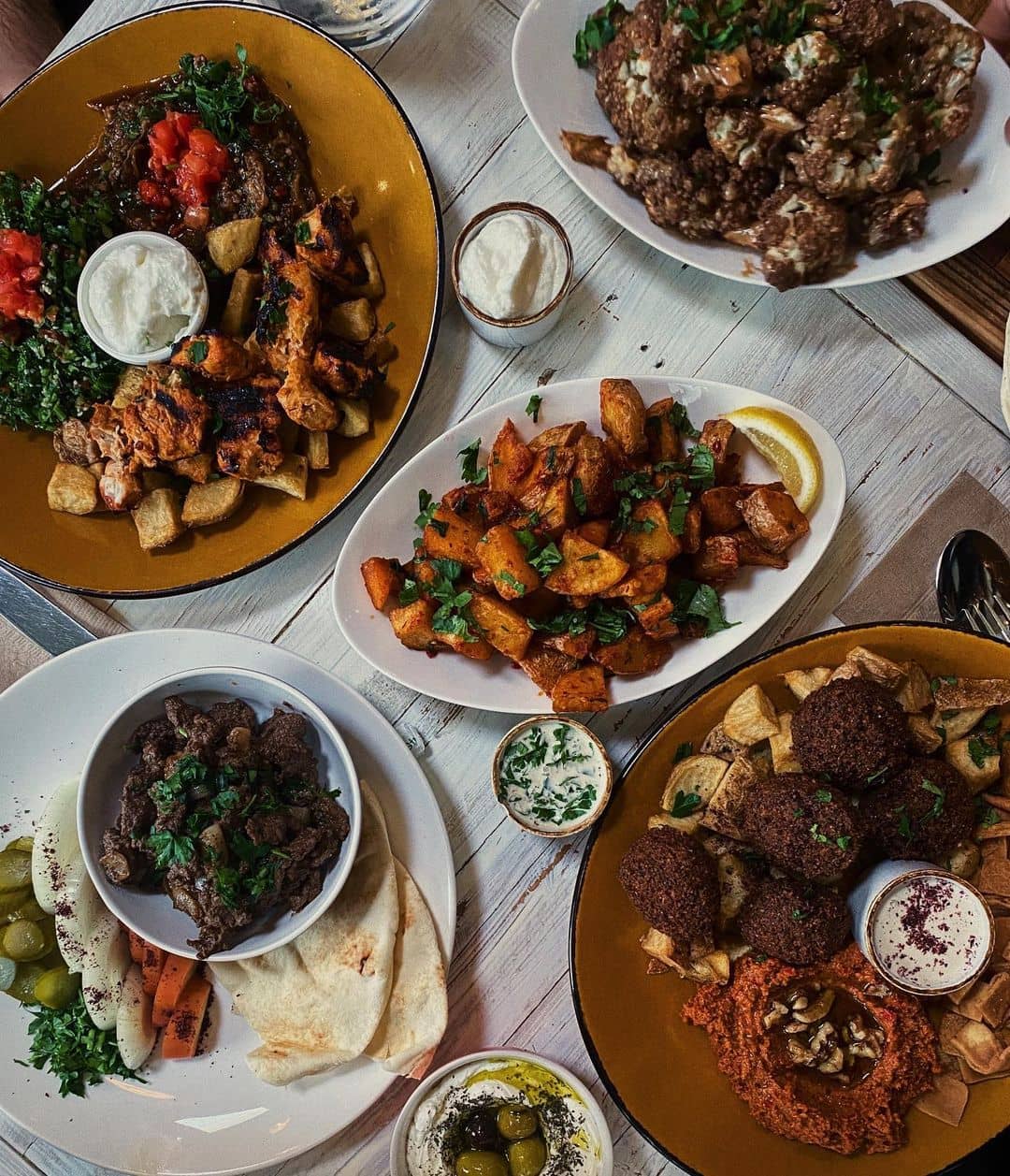 While many cuisines use their sauces to make their dishes flavorful, Lebanese food uses spices to achieve the same. Therefore, if you are looking for a new food adventure, to experience taste and flavor explosions in your mouth, Lebanese should be your choice; and there could be no better place around South Granville than Mazahr Lebanese Kitchen that can fulfill your "foodventure".
Mazahr Lebanese Kitchen is popular for their Mixed Grill Platter, which consists of Shish Tawook (juicy and tender skewered chicken marinated in earthy spices), Lahm Mishwi (skewered lamb marinated in a simple yet tasty dressing), and Kafta.
As the taste of the platter settles down, let your mouth explode in taste again with their Beef Shawarma, and if you prefer something cold and/or vegan, their Muhammara is ideal.
What to order: Mixed Grill Platter, Beef Shawarma, Muhammara
Address: 1488 West 11th Avenue, Vancouver, BC V6H 3J3, Canada
Website | Instagram | Facebook
3. Farmer's Apprentice Restaurant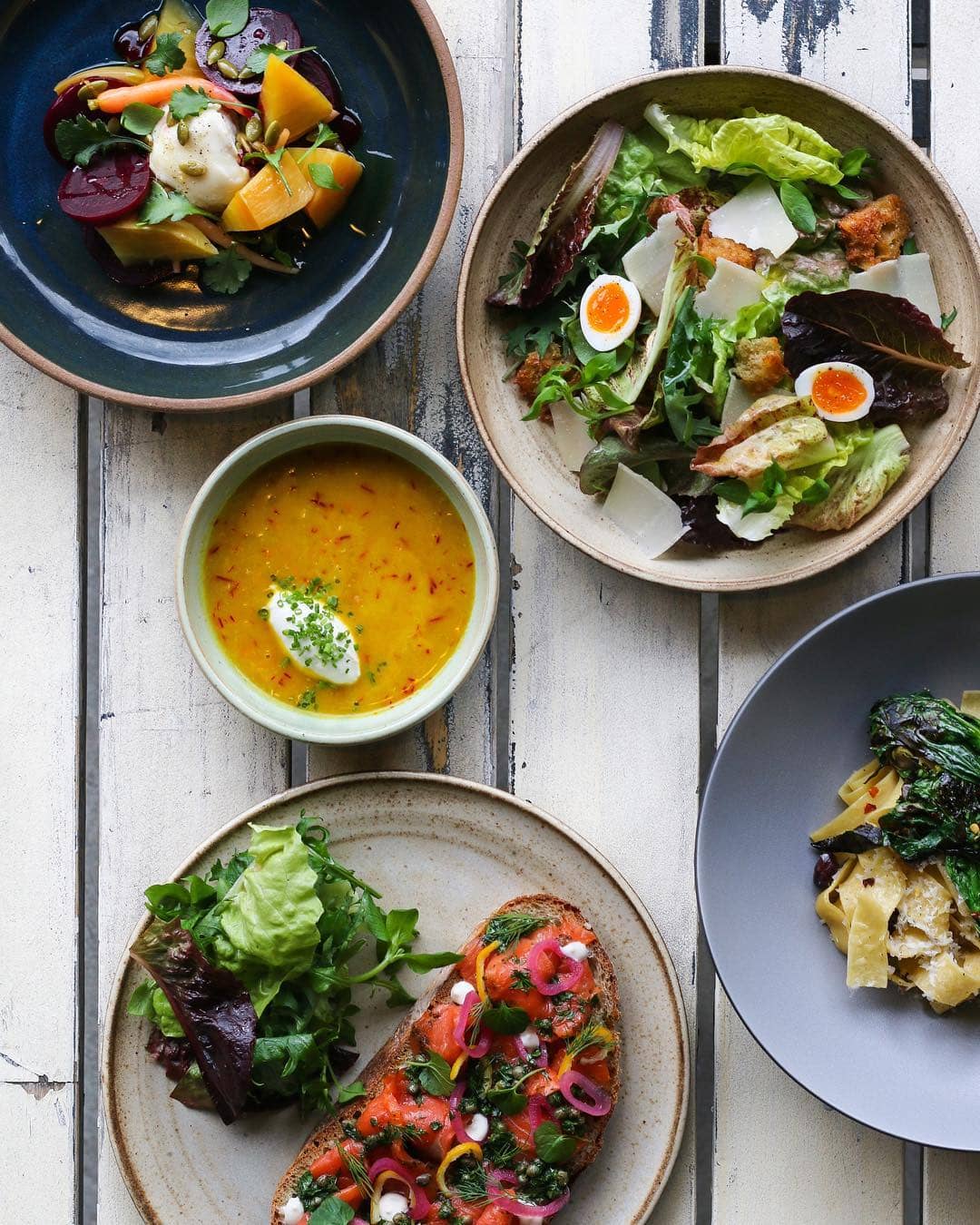 Being impressive not by the size but the sweet smell of wood smoke as you walk by, Farmer's Apprentice Restaurant is a cozy, simple spot that has something for everyone, from a cup of coffee, a glass of wine, a snack, a quick lunch to an easy-going dinner. Get in and feel that charming ambiance this place has with all the rustic wooden tables adorably touched with enamel cups and floral murals.
You can start with Tamari-Koji Pork Neck, Shigoku Oyster, and Wild Rice Crusted Yellowfin Tuna. They are all considered the signature of Farmer's Apprentice Restaurant for their decadent taste and Instagram-y decoration. It's not that hard to see Farmer's Apprentice takes inspiration from European to Asian cultures to create a twist in their dishes. So, be prepared for the most unique dining experience ever in South Granville!
For dessert, it can't go wrong with the Dark Chocolate Terrine, a pure chocolate dessert where the bitterness of dark chocolate is the key, soft yet firm, fudgier yet light, a delicious end to your meal!
What to order: Shigoku Oyster, Tamari-Koji Glazed Pork Neck, Wild Rice Crusted Yellowfin Tuna, Dark Chocolate Terrine
Address: 1535 W 6th Ave, Vancouver, BC V6J 1R1
Website | Instagram | Facebook
2. Fiore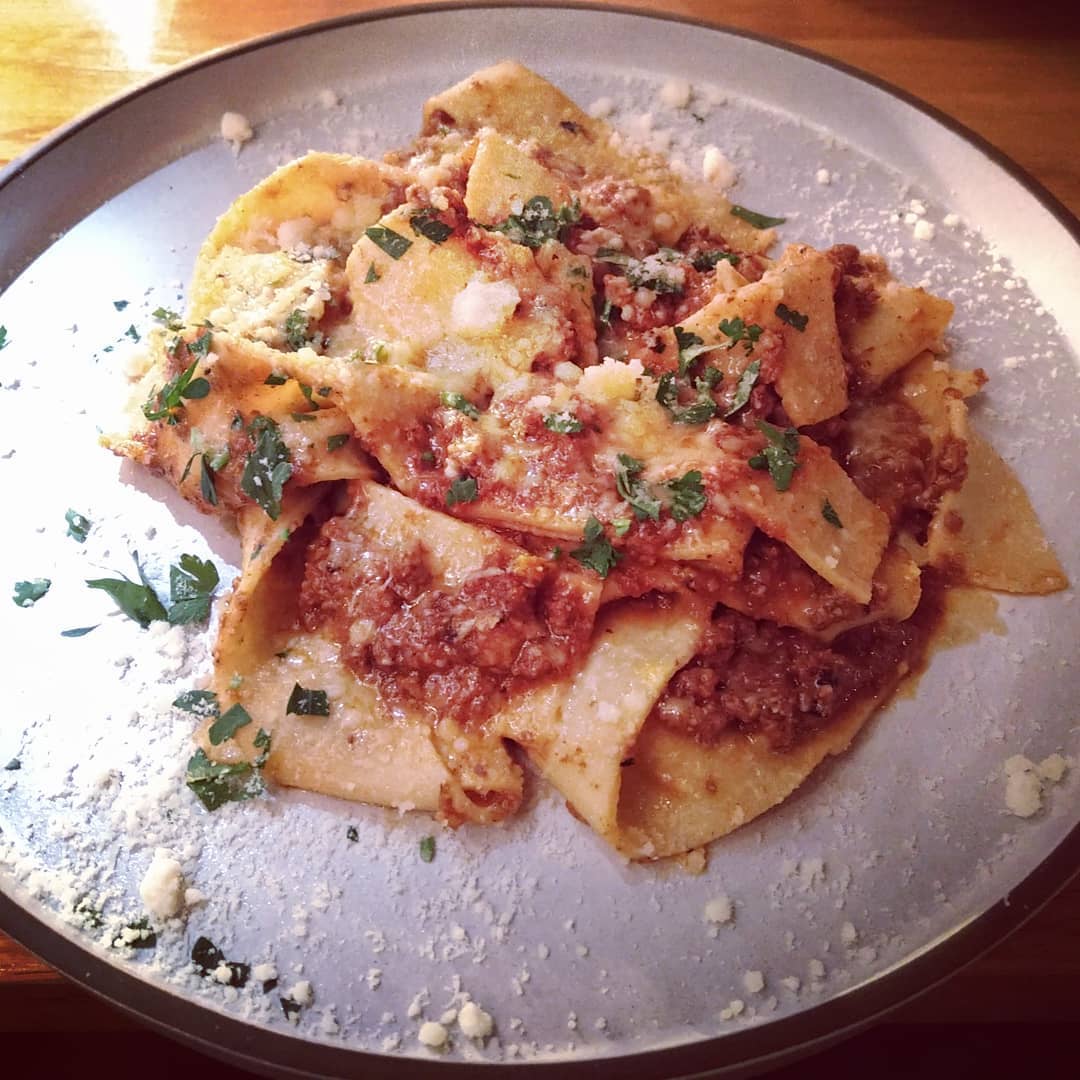 Italian is one cuisine that does not need expensive ingredients for the dishes to taste good. Simple Italian dishes when done right will easily linger in your memory for a long time to come. Fiore, located in the heart of South Granville, is your neighborhood Italian restaurant that serves hand-crafted pasta, tempting pizzas, and more in a friendly environment.
While you can start with their traditional Antipasti Board (Small or Large), do not forget to order the Pappardelle Bolognese – a balanced combination of veal, pork, and beef in the sauce, making you want more. Pair your dish with an Italian wine of your choice and Chocolate Budino for dessert, and indulge in heaven.
What to order: Pappardelle Bolognese, Beef Carpaccio, Pork Belly Gnocchi, Chocolate Budino
Address: 1485 West 12th Ave (just east of Granville St)
Website | Instagram | Facebook
A rundown of all the best restaurants, cafes, drink spots, shops, and places to stay in the Kitsilano area.
1. Bombay Kitchen and Bar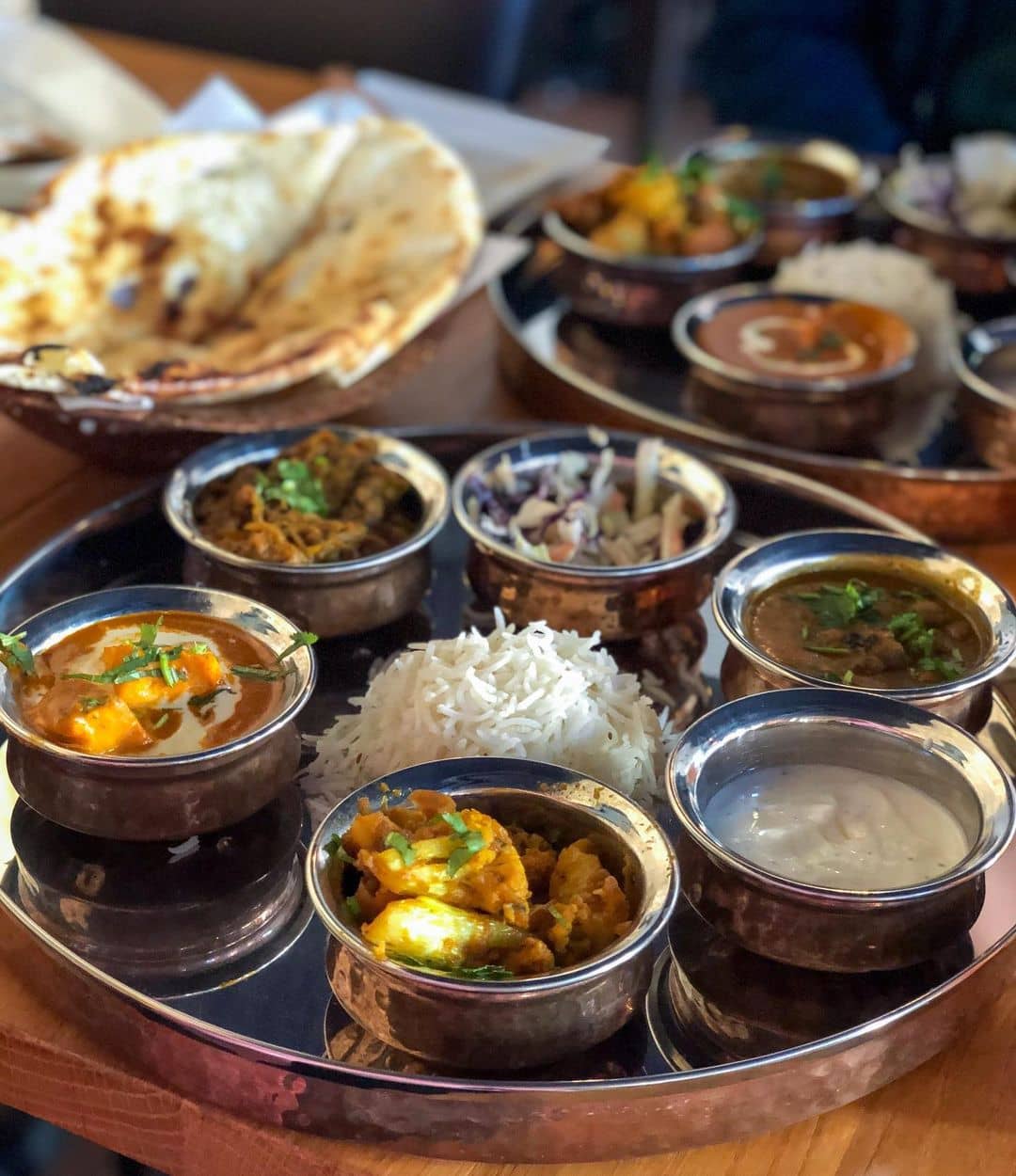 If you are ever on the lookout for a local spot that serves proper Indian cuisine, then book for a feast at the Bombay Kitchen and Bar. With mouthwatering Indian food and first-class service, this restaurant has become a favorite among the locals, and is sure to be yours too once you taste their amazing spread.
Start your Indian feast with crunchy appetizers like their Fish Pakora or Samosa with Chutney. Their options for main course like Chicken Jalfrezi, Lamb Korma, and Fish Tikka Masala are best enjoyed with plain and classic Basmati Rice and/or their tandoor oven specialties like Garlic Naan and Lacha Paratha. No Indian meal is complete without sweets; Bombay Kitchen and Bar's Gulab Jamun and Gajar Ka Halwa will not let you down.
What to order: Fish Pakora, Lamb Korma, Chicken Jalfrezi, Garlic Naan, Gulab Jamun
Address: 1480 West Eleventh Avenue, Vancouver BC
Website | Instagram | Facebook
From fresh bread sandwiches to gourmet burgers; full-on flavorful feast to on-the-go snacks and drinks, South Granville is one of the top locations in Vancouver to find the best restaurants and diverse cuisines, and these restaurants and their popularity prove the same.
The following two tabs change content below.
Latest posts by Noms Magazine (see all)