From starting your day with a wholesome and filling breakfast, to a fresh and light lunch; followed by a much-deserved chilled pint of local beer for the evening, and ending your day with a finger-licking dinner watching the mesmerizing sunset, UBC food places are diverse and interesting.
The number of restaurants at UBC can be a bit intimidating, but we have narrowed down the best UBC food spots to grab a good bite.
10. Tacomio UBC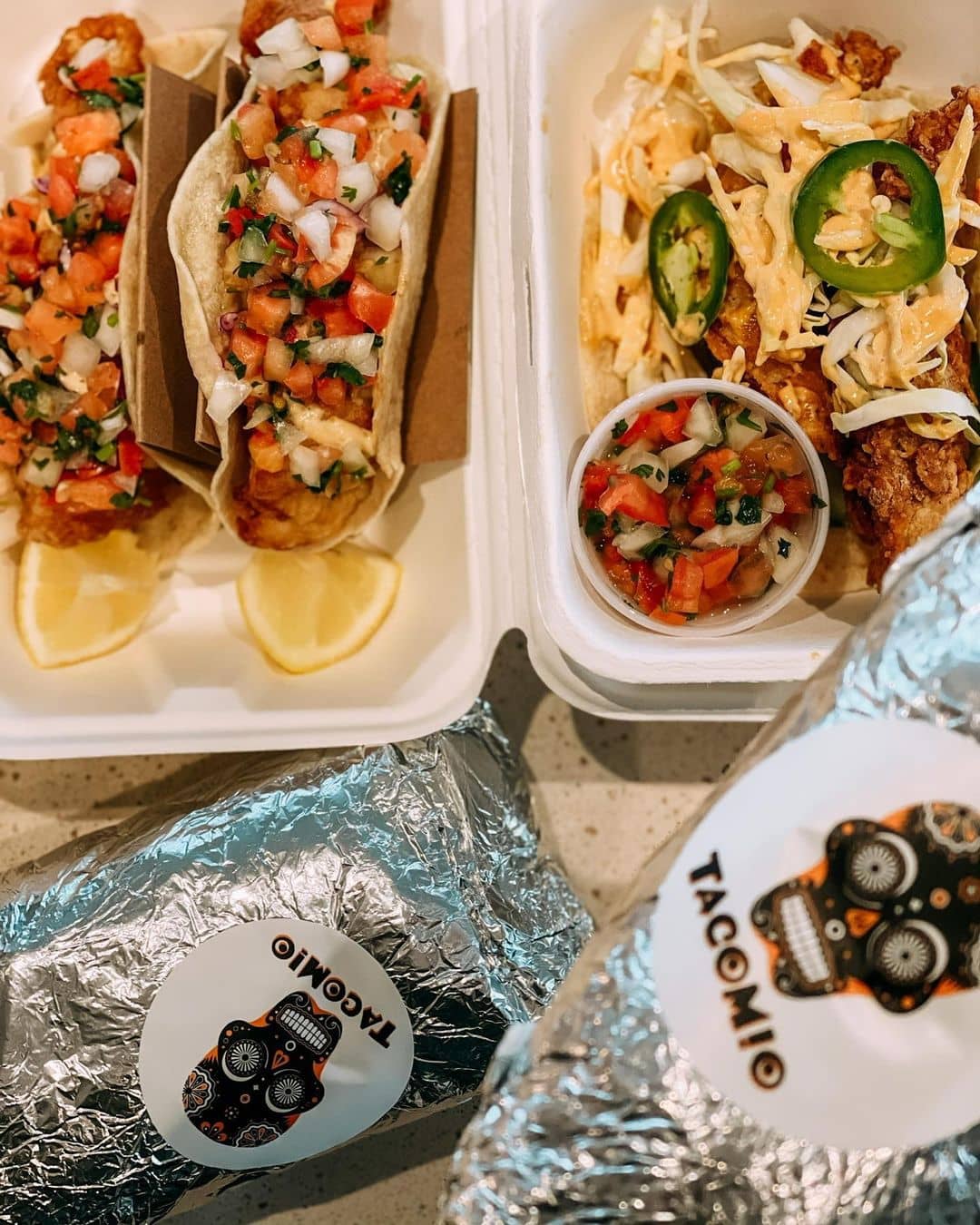 Located right next to DownLow Chicken on University Boulevard, Tacomio is a family-run Mexican restaurant that serves "fresh, authentic Mexican street food and some modern twists". They use local, seasonal ingredients, and their recipes are passed down through generations – the secret to their titillating dishes.
Tacomio's Salad Bowls are a hit among on-campus customers, not just for the convenience factor, but also for the portion size and amazing flavor and taste. Containing pinto beans, caramelized onions, and chipotle peppers, the Frijolitos Salad Bowl is widely enjoyed by vegetarians and non-vegetarians alike.
For your indulgence, the Quesabirrias from Tacomio would be fitting. Adobo sauce seasoned 6" corn tortillas are filled with shredded birria beef, fresh red onions, cilantro, and melted cheese; what takes the dish to the next level is the rich birria consommé, in which you dip the filled tacos before indulging. If that doesn't tingle your taste buds, we don't know what will!
What to order: Frijolitos Salad Bowl, Quesabirria
Address: 6025 University Boulevard, Vancouver, BC V6T 0C5
Website | Instagram | Facebook
9. Ryuu Japanese Kitchen UBC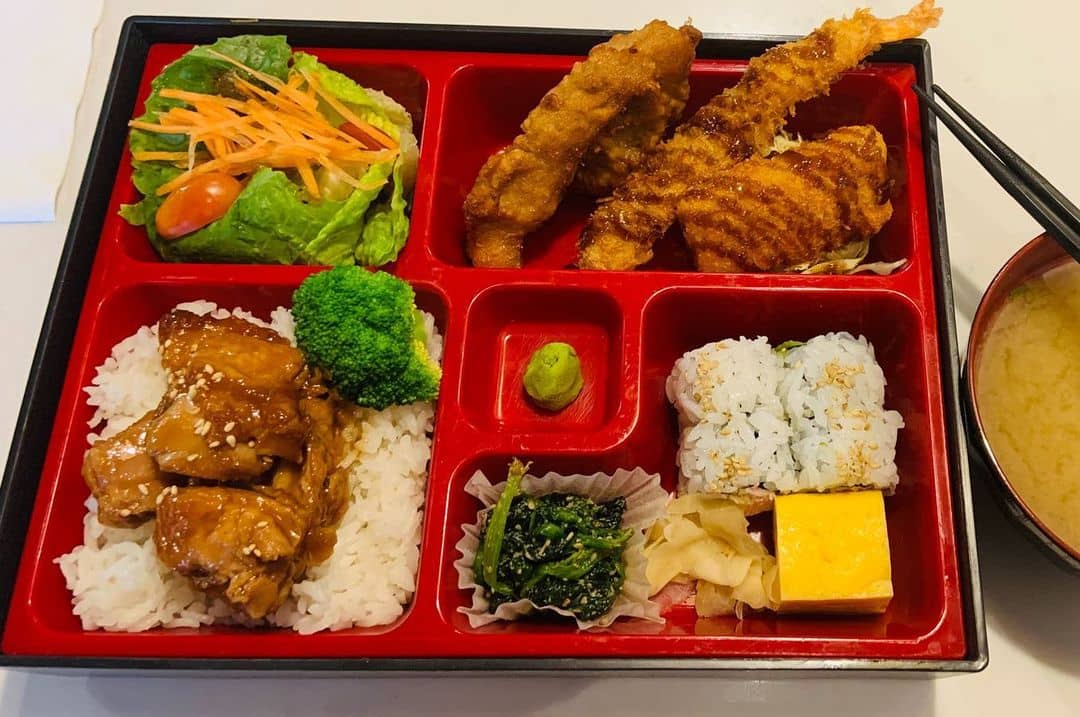 If you are a student of UBC or live near the campus and have a sudden craving for Japanese food, you can head to Ryuu Japanese Kitchen without a second thought. This kitchen serves a wide range of Japanese dishes, from sushi to Bento boxes to Japanese curry, and a whole lot more, all at reasonable prices.
The Japanese Yoshoku you get at Ryuu stands apart from usual traditional Japanese dishes. It is a Japanese adaptation of western cuisine, and what you get on the plate is a Wafu Hamburger Steak, chicken/beef curry rice, hashed beef rice/omlet chicken rice, and a few condiments. The curry and sauces accompanying all these dishes are the best part.
The restaurant is also known for its Bento Boxes. Though they have two non-veg options in this category, their Veggie Bento Box turns out to be a favorite among diners, especially students. Containing around 6 different items, this box is certainly a good bang for your buck.
What to order: Japanese Yoshoku, Veggie Bento Box
Address: 5980 University Boulevard, Vancouver, V6T 1Z3
Website | Instagram | Facebook
8. Sesame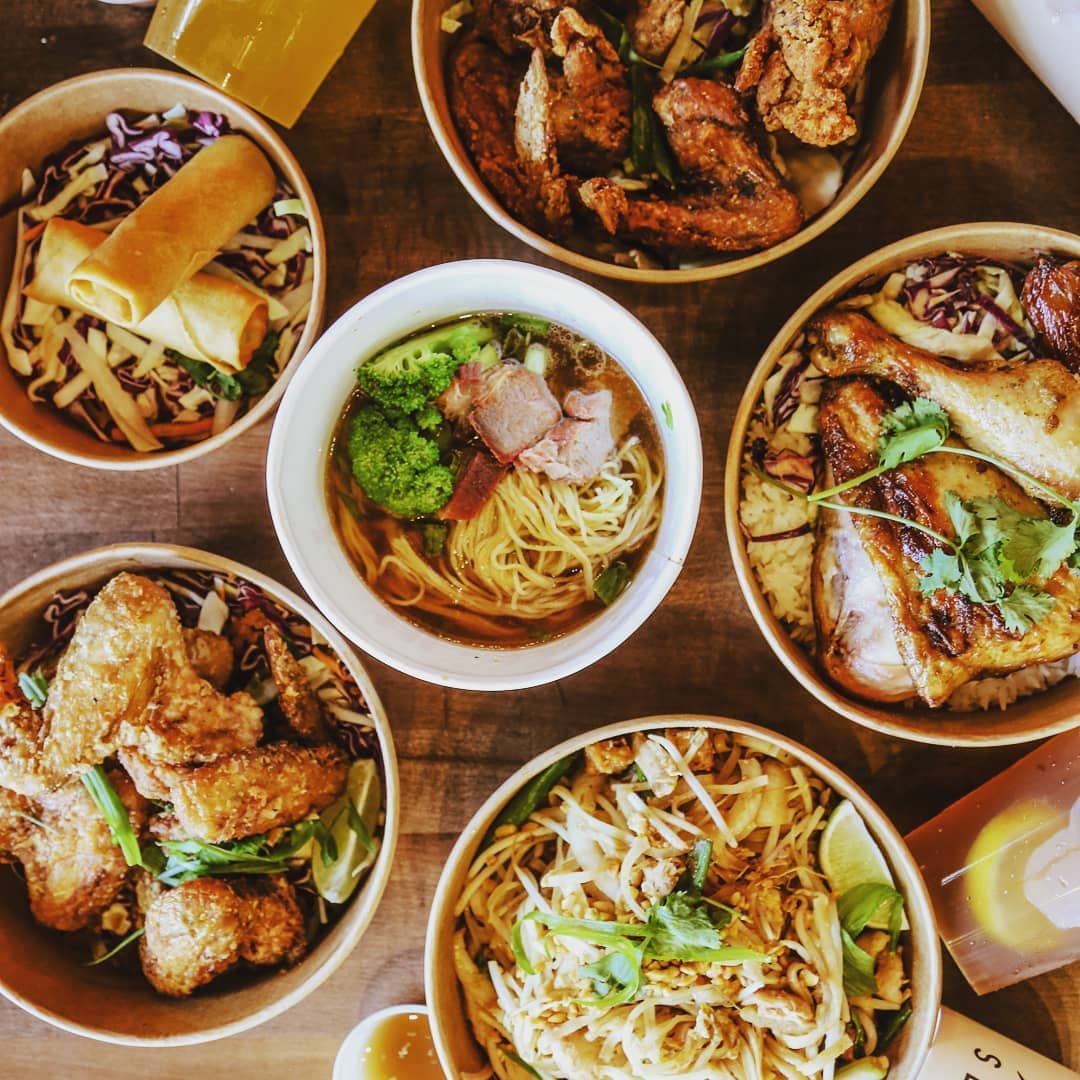 Sesame on University Boulevard is an Asian fusion restaurant, the menu of which is inspired by not one but three different cuisines – Chinese, Thai, and Vietnamese. The recreation of those authentic flavors in the restaurant's dishes stand out and make them delectable in their own right.
You cannot miss their signature Beef Fried Rice Noodle. As you watch your food being made (thanks to the open kitchen setting), you will find your mouth watering, and your food will reach you fresh from the wok, piping hot, containing all fresh and high-quality ingredients.
The Beef Rendang here is yet another flavor-rich dish you should try. Here, braised beef is served with red coconut curry and a side of jasmine rice; the beef itself is cooked well to make it melt in your mouth, and the jasmine rice is just what the dish needs to make you scoop up the curry till the last drop.
What to order: Beef Fried Rice Noodle, Beef Rendang
Address: 6111 University Blvd #103, Vancouver, BC V6T 0C7
Website | Instagram | Facebook
7. My Home Cuisine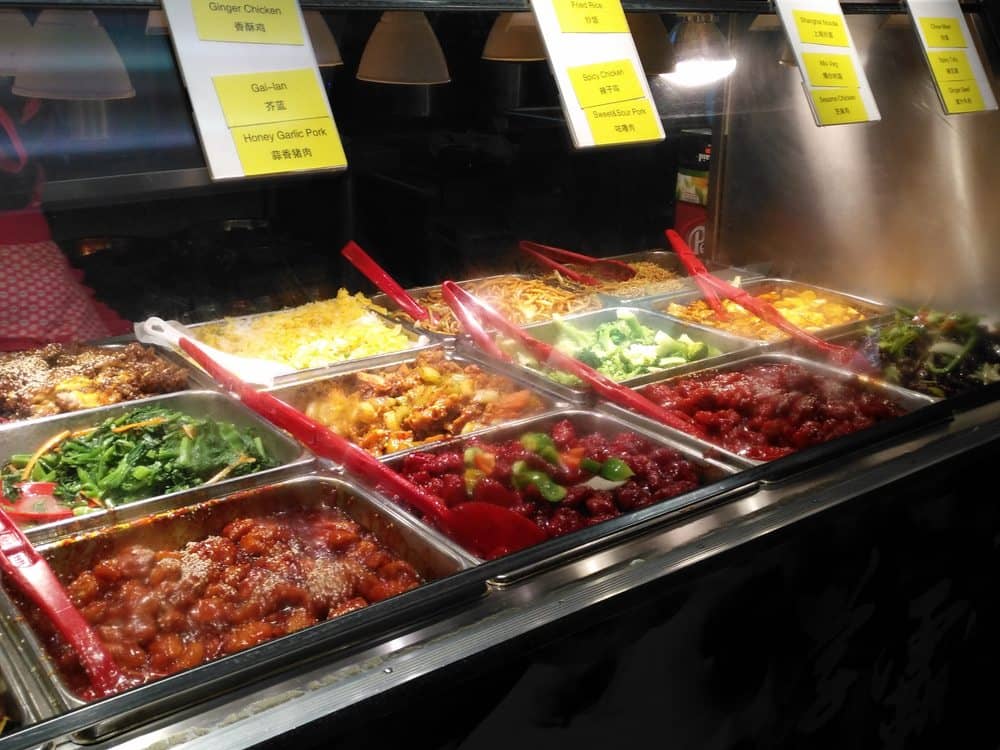 My Home Cuisine is a Chinese food court stall, and it is one of the few places here where students can have a full meal without having to compromise significantly on their daily budget.
Located at the food court near McDonald's, the menu and pricing here is quite similar to the Black Pearl Cafe in the same food court, but the food tastes a lot better. More importantly, for the price you pay, the amount of food you can get here is unlike nowhere else.
At My Home Cuisine, you should first choose your side, which can be steamed rice, fried rice, or fried noodles. After this, you can choose two or three sides (or even more), from an endless array of offerings. Their Sweet & Sour Pork and Sesame Chicken are two of the most popular items served here.
If you prefer the savory side of Chinese/Cantonese food, instead of all the sweet & sour options, go with their Curry Chicken. They also offer some good vegetarian options, like Braised Eggplant and Stirred Green Beans.
What to order: Sweet & Sour Pork, Sesame Chicken, Curry Chicken
Address: 5728 University Blvd, Vancouver, BC V6T 1K6
6. Jamjar Canteen UBC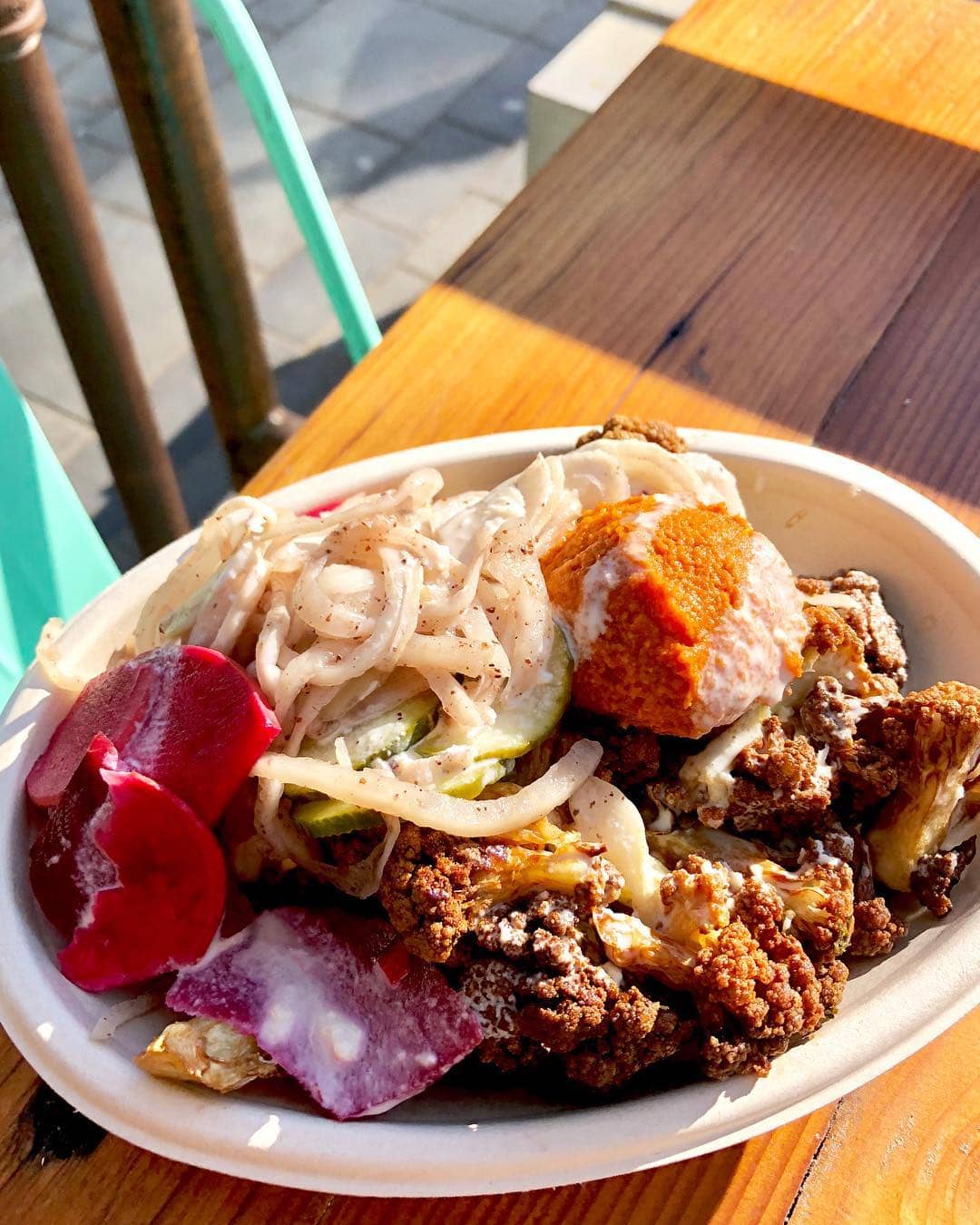 This Lebanese restaurant at UBC has designed its menu and operations to be student-centric – simple and swift. Using only the freshest local ingredients, the place serves simplified Lebanese food, customized according to the requests of each and every customer.
The Rice Bowls from Jamjar are the most popular among students and regular customers alike. While all bowls come with brown rice, cabbage salad, hummus, spinach dip, and pickles, you still have endless ways to customize your bowl. You can choose between proteins like chicken, beef, and vegetarian options.
The Tawouk wrap is an excellent on-the-go meal, and contains juicy and tender yoghurt marinated chicken thighs, garlic, lemon, original hummus, pickles, and veggies, all wrapped in pita bread. Not to mention, the wrap is huge and extremely filling as well.
What to order: Rice Bowls, Tawouk wrap
Address: 6035 University Blvd, Vancouver, BC V6T 0C5
Website | Instagram | Facebook
5. Virtuous Pie UBC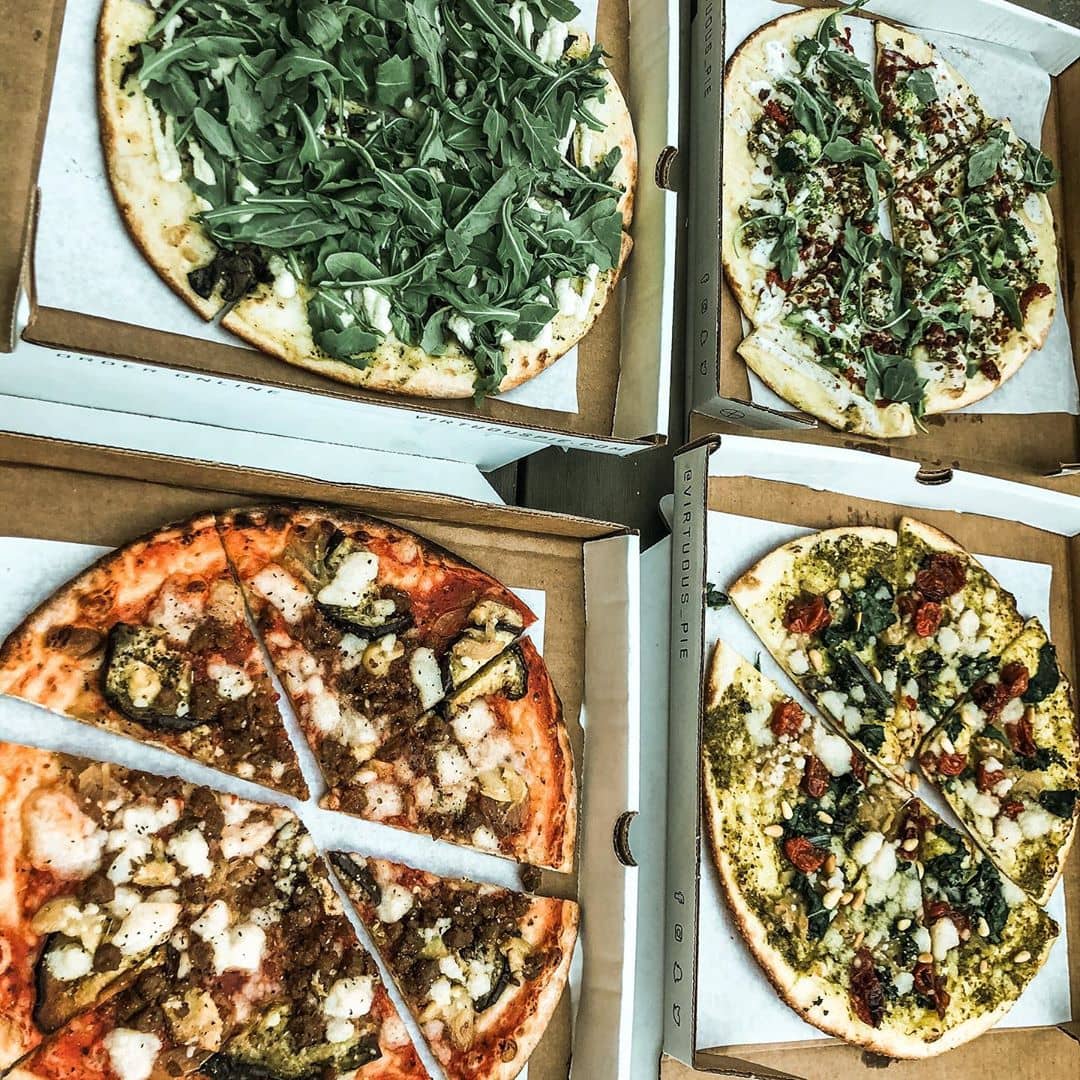 Virtuous Pie has taken the lead in the vegan culinary setting by bringing to you vegan pizza and ice cream. Run by "passionate vegan foodies", the restaurant serves great-tasting food made with produce from local growers, including locally produced wine. The whole design of Virtuous Pie extends a welcoming and inclusive space for individuals as well as groups.
The pizzas you get here are made fully in-house, with hand-stretched three-day dough and artisanal nut-based cheeses, 100% vegan, and taste exquisite.
The Stranger Wings pizza from Virtuous Pie will make you want to become vegan with its thin and crispy crust, spicy "Buffalo" cauliflower, and drizzled with creamy blue cheese. The restaurant's regular customers give this pizza a 10 on 10, it's that good!
Keep it simple with their Margherita pizza, where the highlight is the cashew mozzarella; yes, you will notice the taste to be different, but in a good way. The best part – you can finish an entire pizza and not feel guilty about it, but rather feel good.
When you visit Virtuous Pizza, you cannot leave without tasting at least one of their ice cream flavors. From your all-time favorite cookies + cream to new and unique flavors like Marionberry Cheesecake. Note that all the ice creams here have a creamy cashew + coconut base, and taste absolutely divine.
What to order: Stranger Wings pizza, Margherita pizza, Marionberry Cheesecake ice cream
Address: 3339 Shrum Lane, Vancouver, BC V6S 0C8
Website | Instagram | Facebook
4. Mercante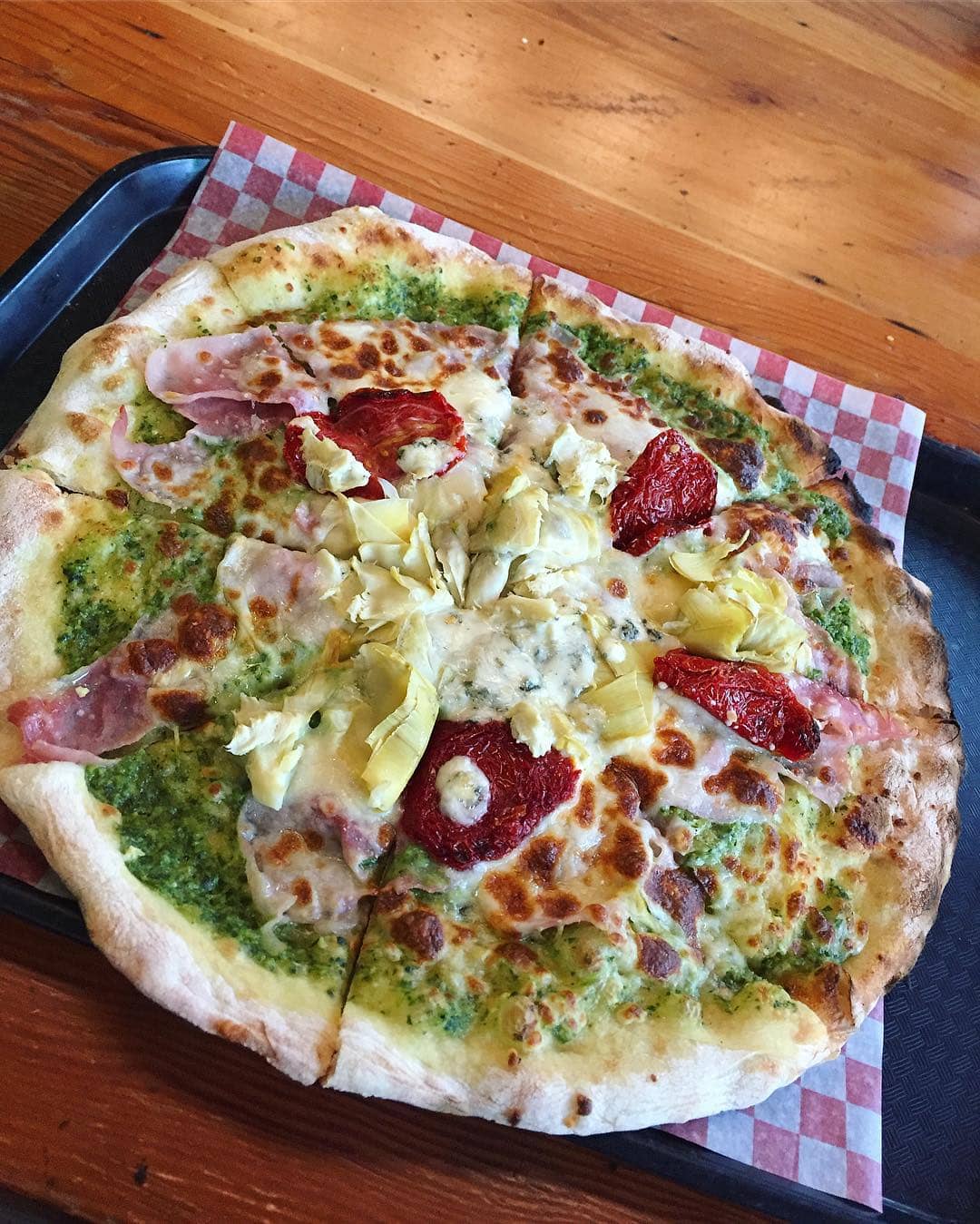 The food scene at UBC is as diverse as you would expect in any famous food street. Mercante is the area's go-to restaurant for students' and off-campus visitors' Italian cravings. The restaurant serves authentic Italian cuisine, and specializes in made-to-order traditional pizzas cooked in a stone hearth oven. Of course, they also serve pastas, desserts, and specialty coffees as well.
The Al Pesto pizza served at Mercante UBC is a testimony to why the place is popular for its pizzas. It is layered with house-made pesto sauce, which perfectly complements the toppings – prosciutto cotto (cooked ham), mozzarella, and artichokes. The size of the pizza is big enough to have leftovers, and will easily make a student's next meal.
The Tortellini you get here comes covered in a cream sauce, and topped with arugula and parmesan. The richness of the sauce is not overpowering and makes the pasta taste delicately delightful.
What to order: Al Pesto Pizza, Tortellini
Address: 6488 University Blvd, Vancouver, BC V6Z 1Z4
3. Kinton Ramen UBC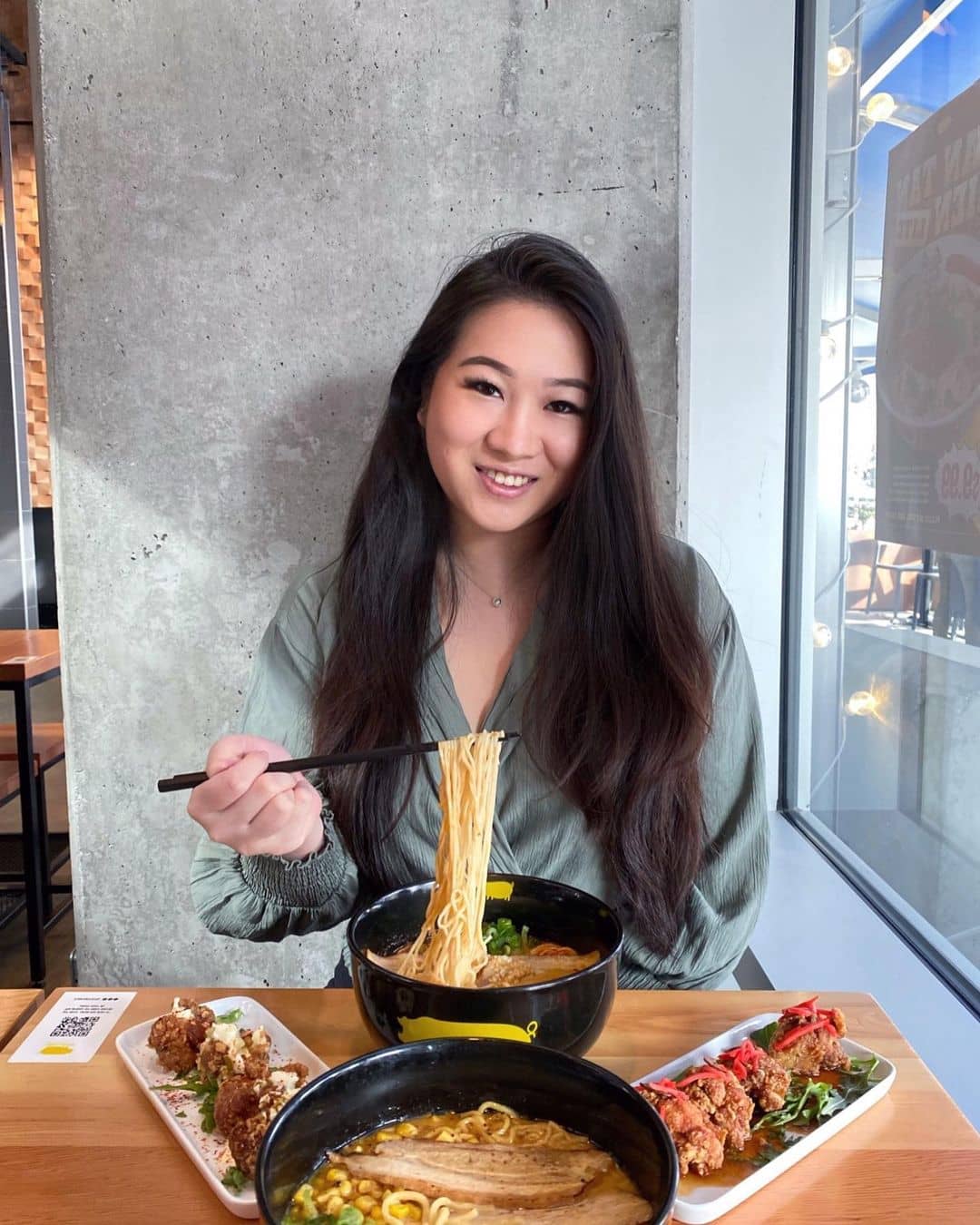 Kinton Ramen is a favorite of not just the students of UBC, but also of the customers off-campus. This bustling spot adds to the lively energy of the university's campus, and serves extremely flavorful ramen bowls made using the freshest ingredients, making you enjoy the taste of Japan down to the last drop.
If you are already a fan of ramen, you would love their Shoyu Pork Ramen. You will be given the option to choose between thin and thick noodles, which will be served in a soy sauce-based broth, extremely flavorful, and a soft boiled egg on top. The generous portion size will make you full when you are starving.
Like your food spicy? The Karaage Pork Spicy Garlic delivers bomb of a flavor in every bite and sip. The Karaage is fried to order – "juicy and flavorful", and the noodles come perfectly cooked with a light bite to it.
What to order: Shoyu Pork Ramen, Karaage Pork Spicy Garlic
Address: 6111 University Boulevard #102, Vancouver, BC V6T 0C7
Website | Instagram | Facebook
2. Blue Chip Cafe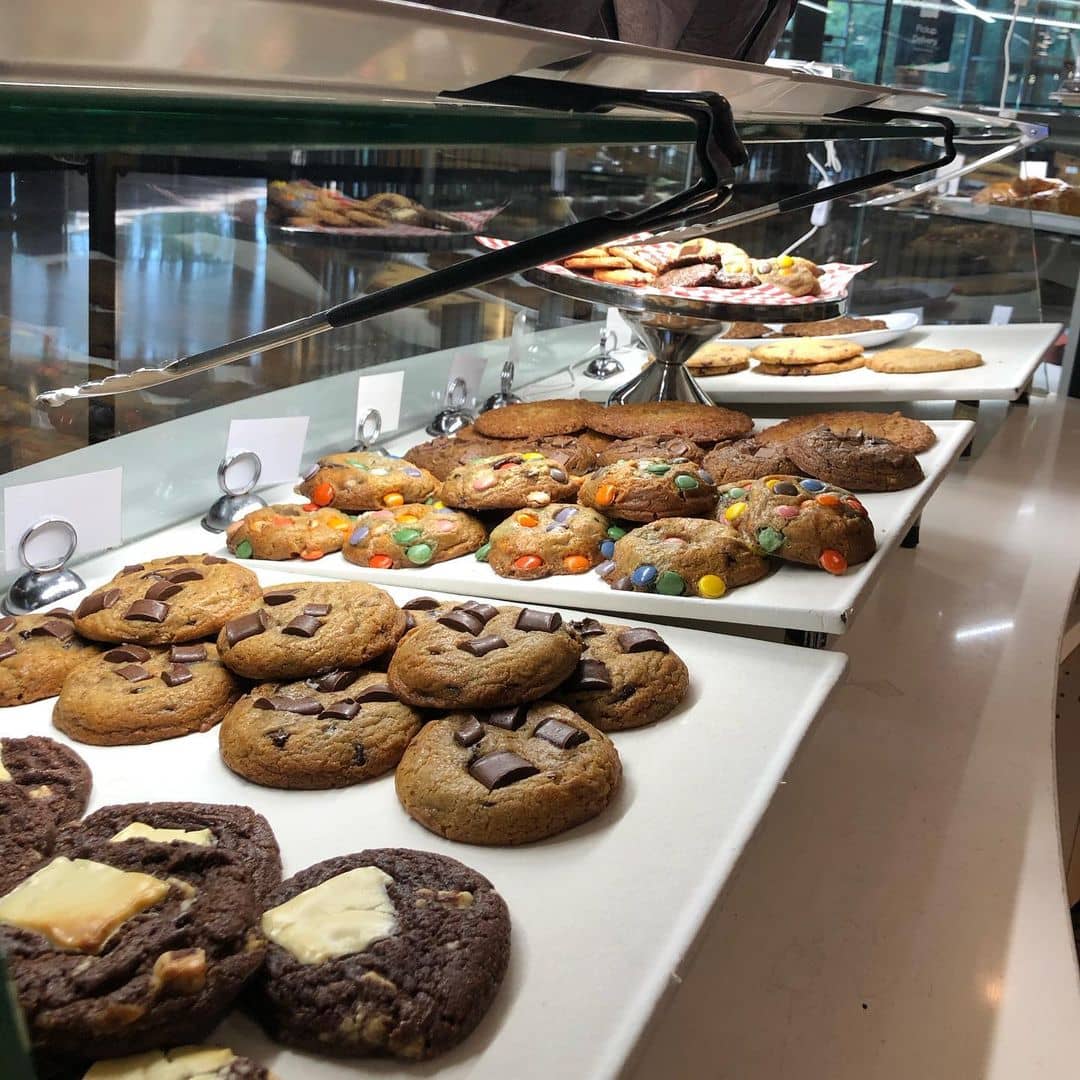 Owned and operated by the UBC AMS, the Blue Chip Cafe is known to have the best cookies on campus, hands down. While the whole decor of the cafe is just like any of your favourite neighbourhood cafes, the vibe here is very amiable, and the food is just too good.
When we say that they make the best cookies on UBC campus, we mean it! Their cookies are badass, like the popular Smarties – big, chunky cookies covered in Smarties, no compromise!
For a vegan, gluten-free option, you could try their Oatmeal Coconut Cookie – soft and chewy cookies with the perfect level of coconut taste and flavor.
Blue Chip Cafe also serves made-to-order deli-style sandwiches; their Ham & Swiss on Butter Croissant sandwich, made with fresh croissant, crisp lettuce, and good quality ham and Swiss will be your perfect late morning brunch.
What to order: Smarties cookie, Oatmeal Coconut Cookie, Ham & Swiss on Butter Croissant sandwich
Address: 6133 University Boulevard #1302, Vancouver, BC V6T 1Z1
1. DownLow Chicken UBC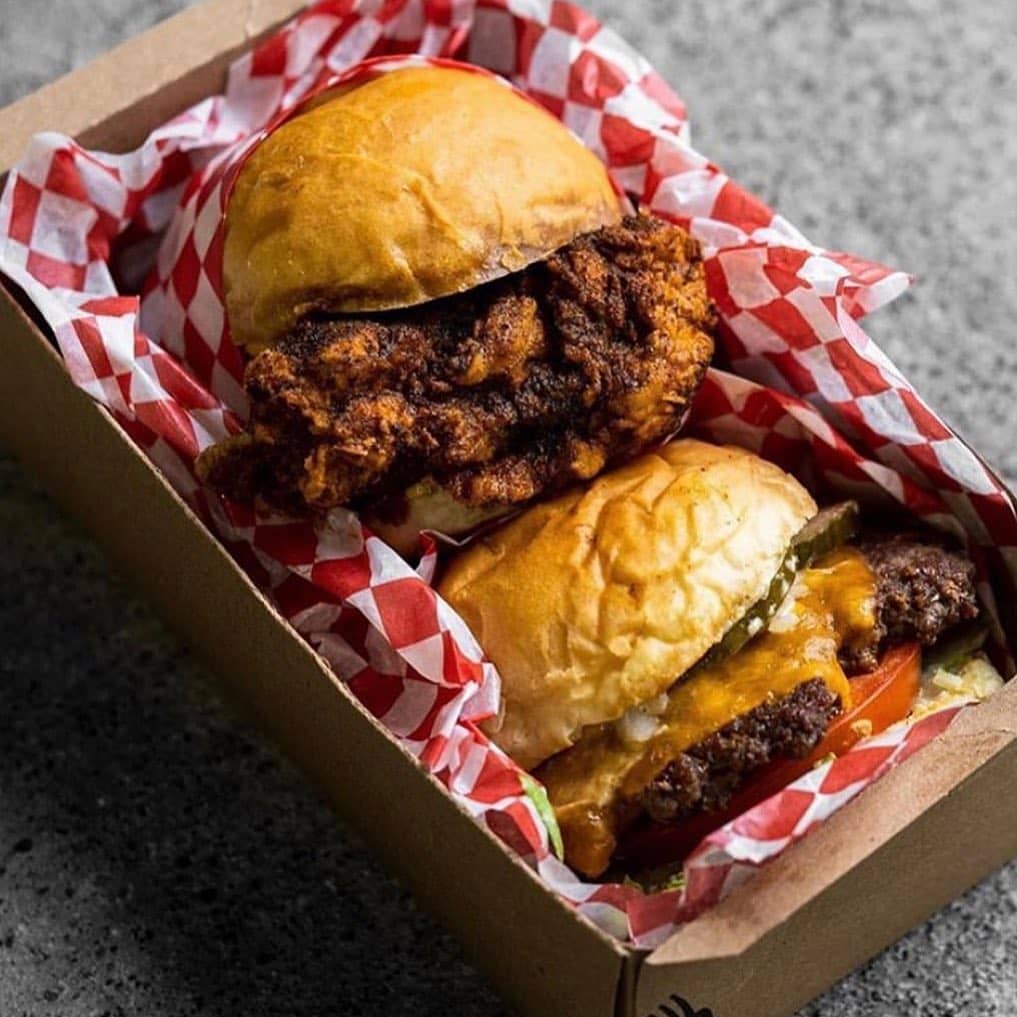 Juicy, crispy, and delicious fried chicken can make any glum day better and brighter, don't you agree? At their new location at UBC, DownLow Chicken now has a more spacious restaurant to serve more patrons, where the service is friendly, as always, and you can enjoy your Nashville-inspired fried chicken listening to the coolest playlist any time of the day.
DL Chicken always serves 100% fresh chicken, never frozen, and their sandwiches are made fresh to order. All the ingredients they use are completely natural, non-GMO, antibiotic-free, and hormone-free, which is most certainly one of their crowd-pulling aspects.
The Jerk sandwich from their "The Sando" list happens to be a crowd favorite. The jerk dusted chicken in the sando has a decent kick to it and the flavor is furthered by the jerk mayo. You can have your sando with either boneless leg meat or breast.
Want to try "The True Chicken Tender"? The tenders at DownLow Chicken UBC will make you salivate for more.
What to order: The Jerk sando, Chicken Tenders
Address: 6065 University Boulevard, Vancouver, BC V6T 0C5
Website | Instagram | Facebook
Breakfast, lunch, or dinner; mid-day coffee break; local craft beer to end a long day; or to satisfy your sudden cravings, UBC has quite an assorted array of food spots to offer. From value-for-money fast food shops, to international cuisines, the food scene here gives you plenty to cover.
The following two tabs change content below.
Latest posts by Noms Magazine (see all)