Our favorite all-inclusive resorts in Hawaii below will get you on the verge of being spoiled.
Hawaii has everything tropical-related. But once you stay at one of these places, your vacation is taken up a notch. Each resort sends you to the untamed beauty of the islands at their finest beauty with sparkling beaches and lush mountains, all packed within a luxurious and exclusive experience.
From award-winning spas that use only natural ingredients sourced from the farms to chefs' curated menus at an on-site fine-dining restaurant, from the oceanfront villas to award-winning pools, you name it.
This article includes affiliate links where we may get a small commission if you use our link. No extra cost is added to you.
1. Grand Hyatt Kauai Resort & Spa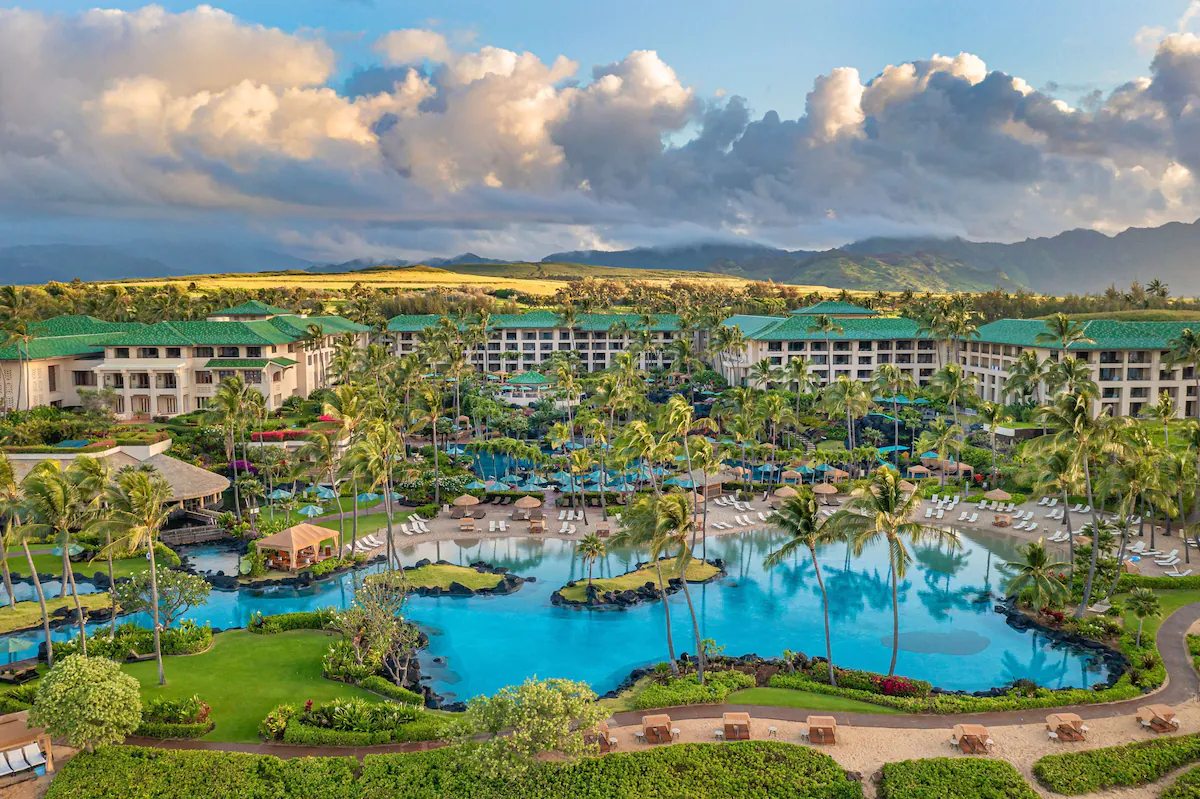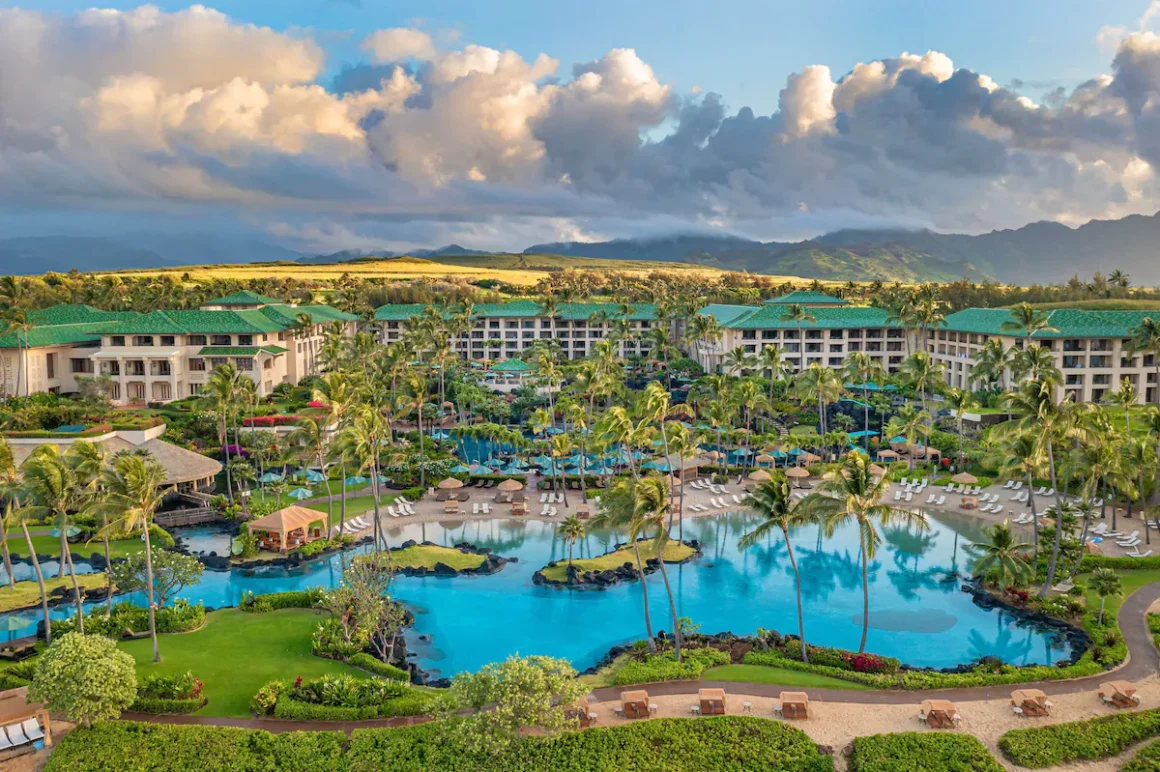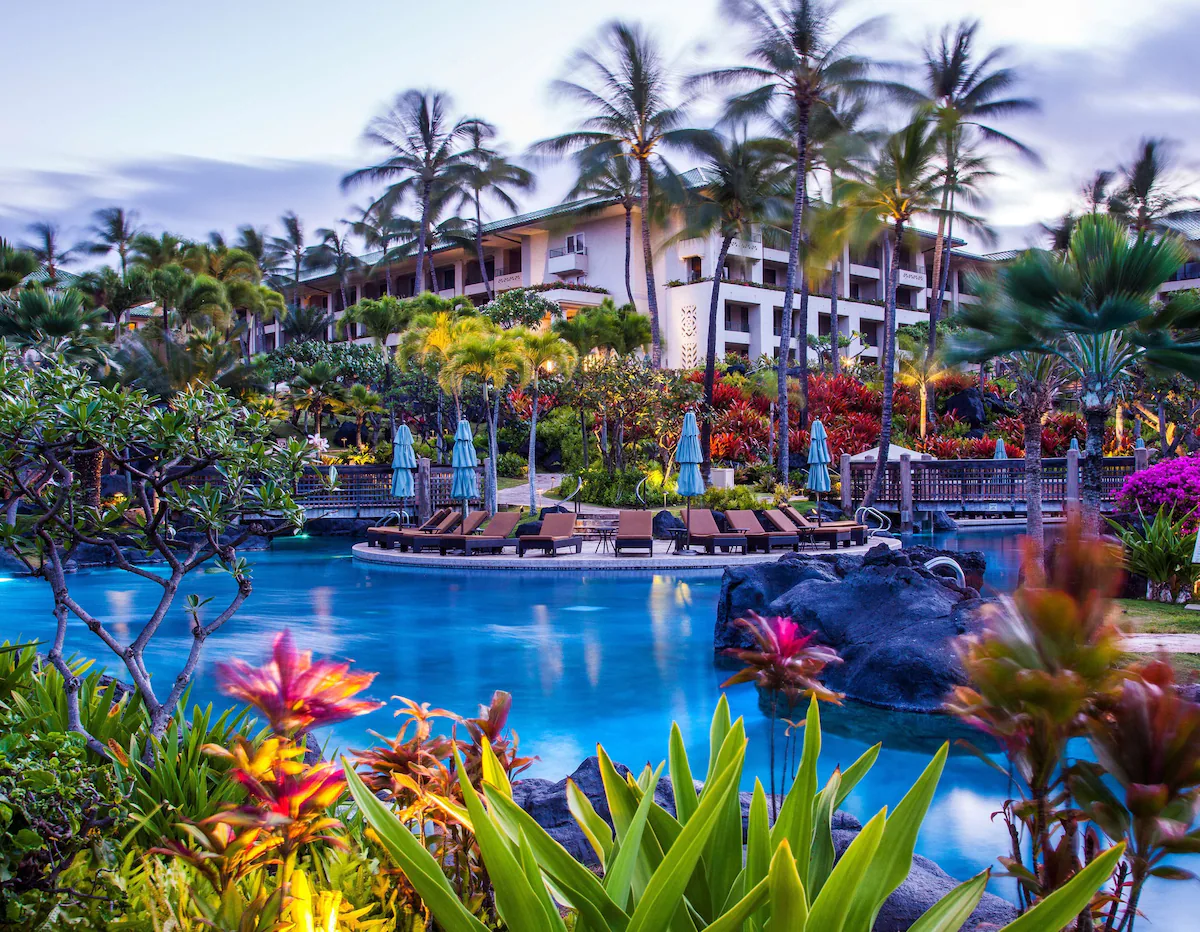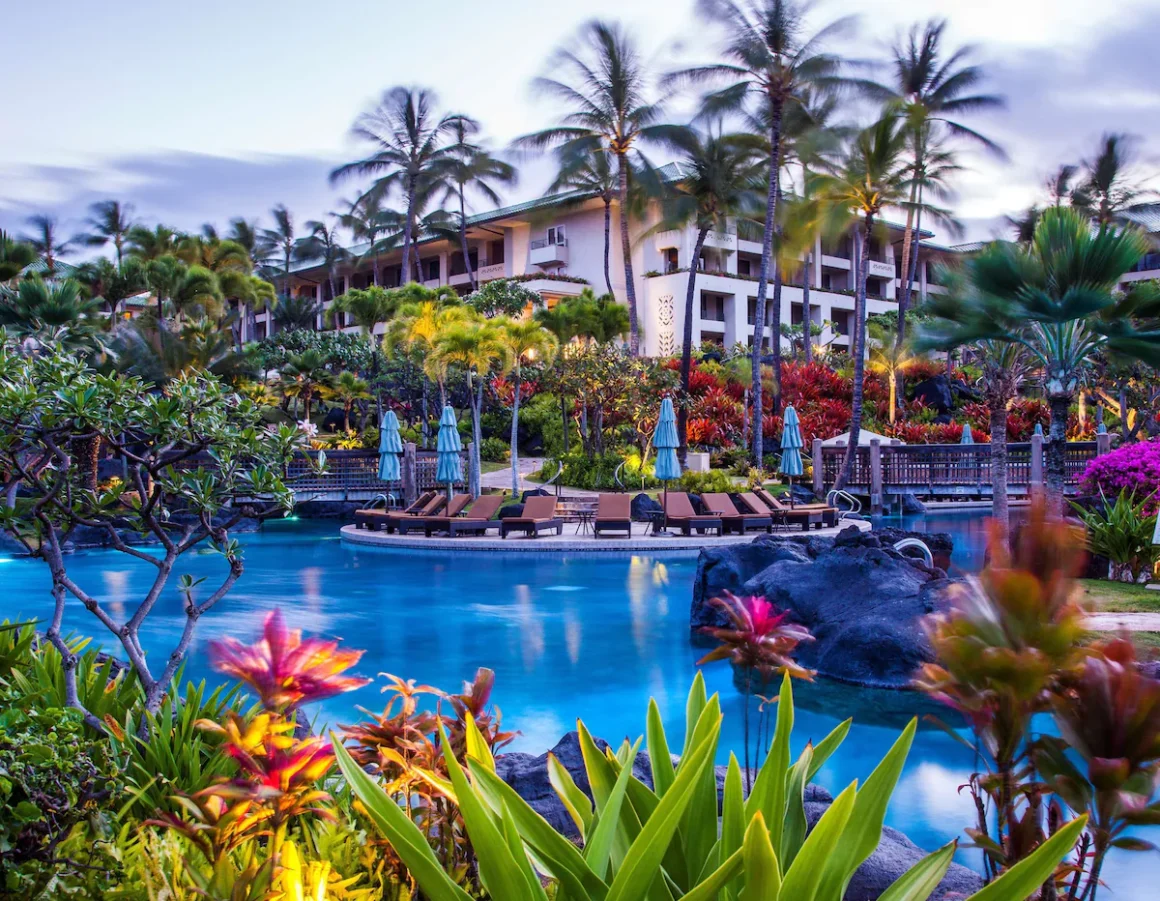 One of the most visited all-inclusive resorts on Kauai, Grand Hyatt Kauai Resort & Spa is a paradise on earth for honeymooners and families seeking a soothing getaway along the white sun-kissed sandy shore of Poipu.
The resort boasts 602 accommodation units looking out to the sparkling Pacific Ocean and abundant mountainside. It has eight inspiring suite options ranging from Pool Suite and Deluxe to Ocean View and Royal. Other than that, you can choose from 14 room options with an unspoiled ocean view or pool view.
On top of that, Grand Hyatt Kauai is home to Anara Spa, the largest spa on the island. The modern outdoor tennis courts keep you occupied while the freshwater pools with a lazy river and waterslide accommodate an active morning for the kids.
Other than that, the resort also hosts a kids' club called Camp Hyatt and a biweekly on-site luau party. If you're looking for an elegant open-air resort with the best activities for the whole family, Grand Hyatt Kauai with its reminiscent of old Hawaii will have you in awe.
2. Fairmont Kea Lani Maui Villa Experience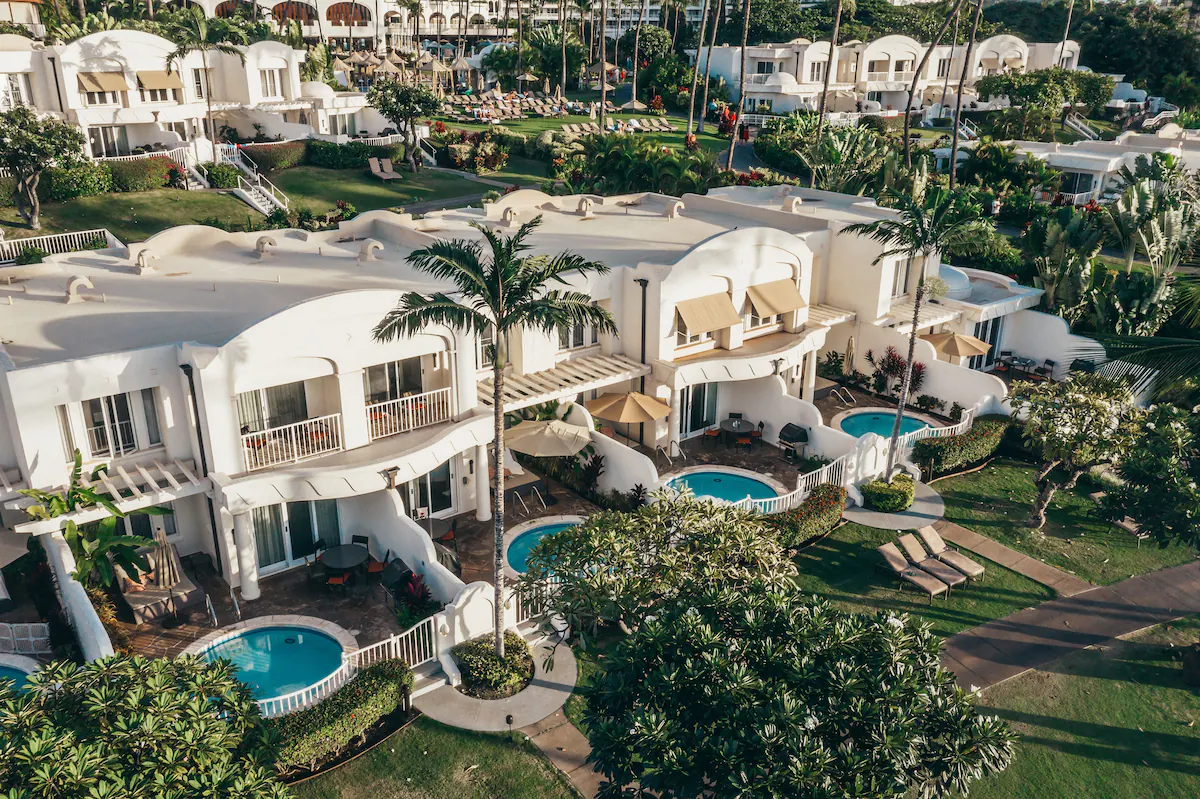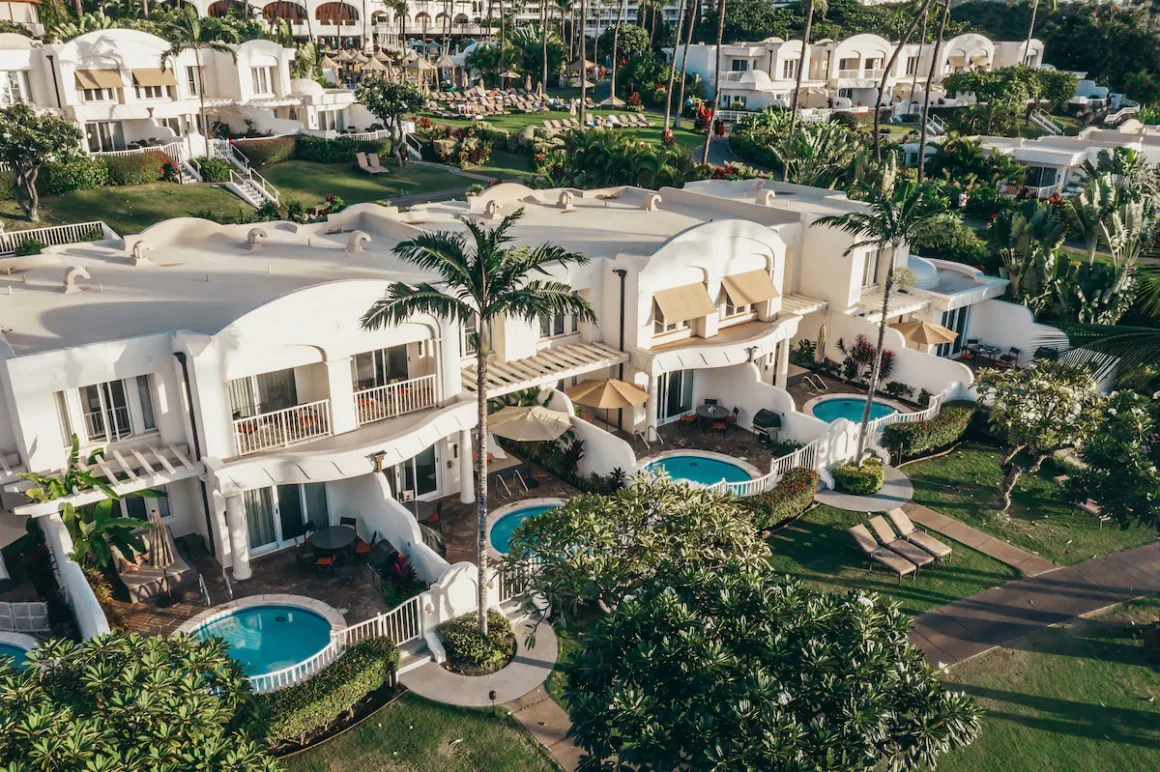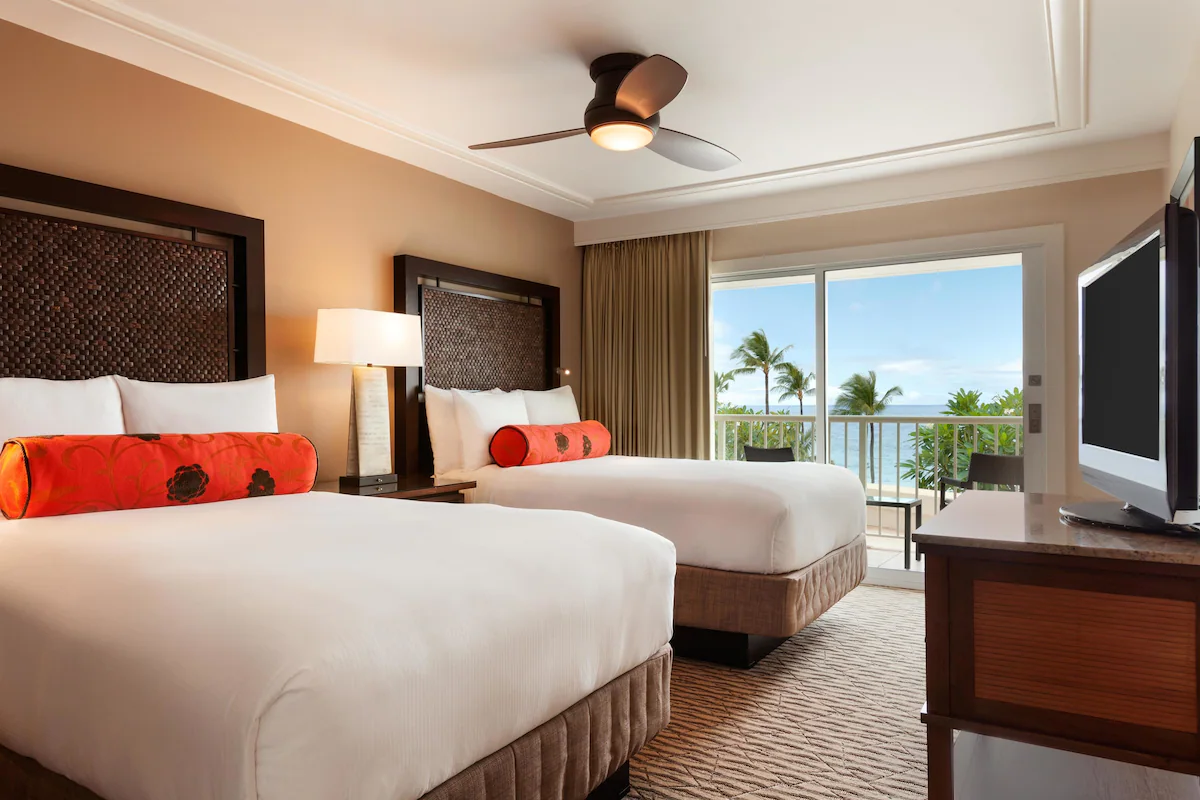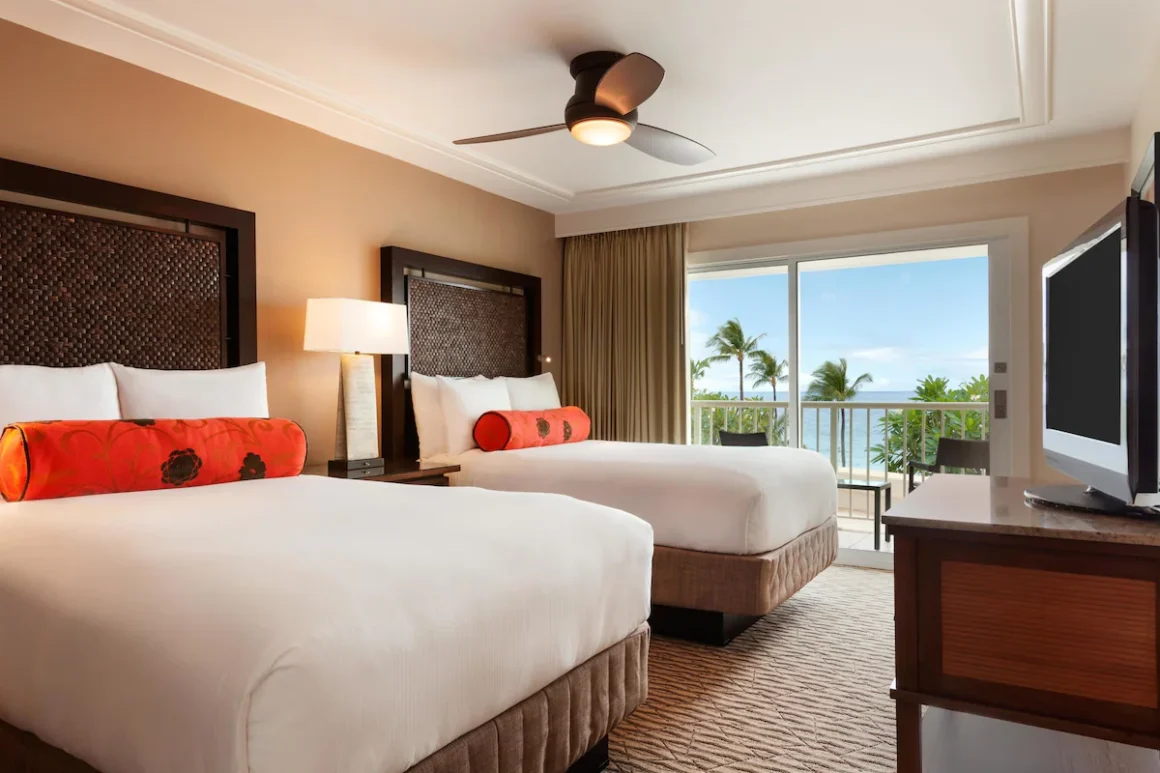 Fairmont Kea Lani Maui is perched on an island oasis, leaning its back against the primitive rainforest under the high blue skies. The five-star village-only resort benefits from the shimmering golden coastline of Maalaea Bay.
It offers 413 one-bedroom suites and 37 two-story villas. Each fully-equipped suite encompasses at least 860 square feet to bring the best comfort of home to your stay.
You will have a whole living room looking out to the stunning waters with a separate kitchen and a grand marble bathroom. On top of that, there are sliding doors out to the wrap-around lanai to kick back anytime during the day. Meanwhile, the villa collection is the top call for a large family from six to eight people on a long-weekend getaway.
On top of the comfortable accommodations, don't forget to check out its Willow Stream Spa, an award-winning center filled with top-notch treatments to relax your tired cores, combining Maui-sourced products with ancient Hawaiian tradition and state-of-the-art spa technology.
3. Montage Kapalua Bay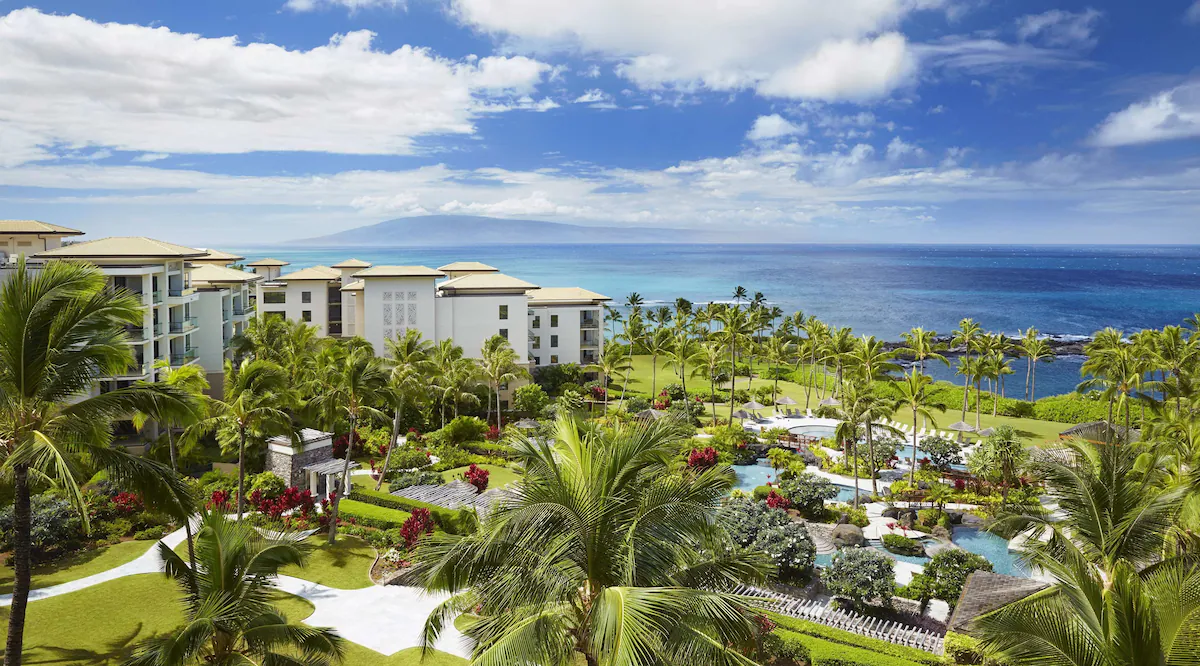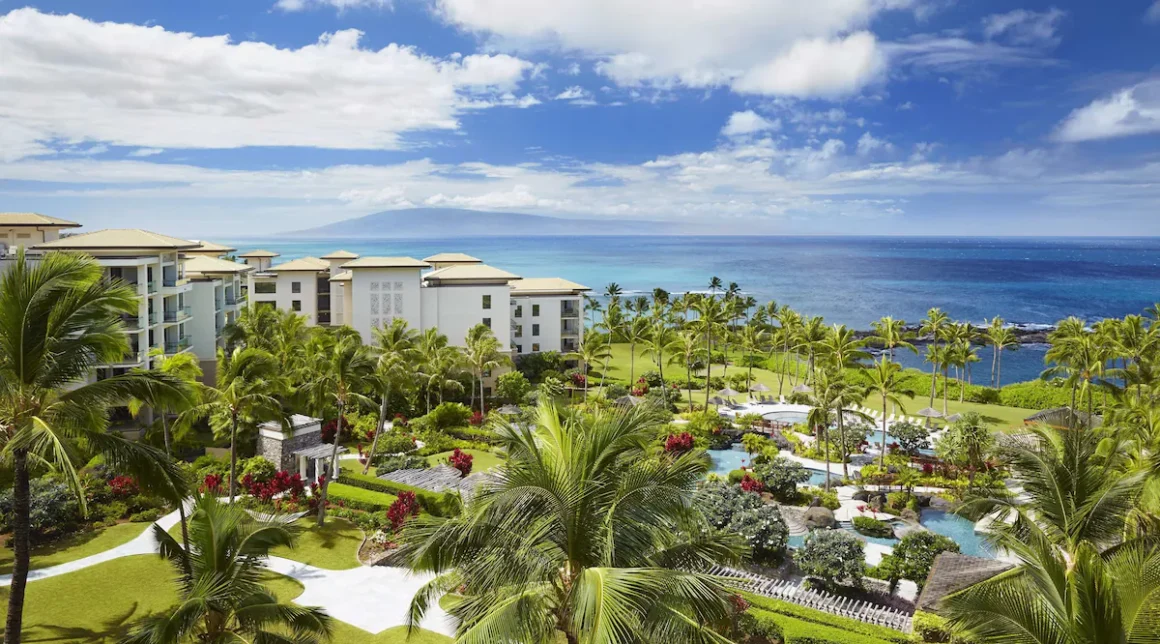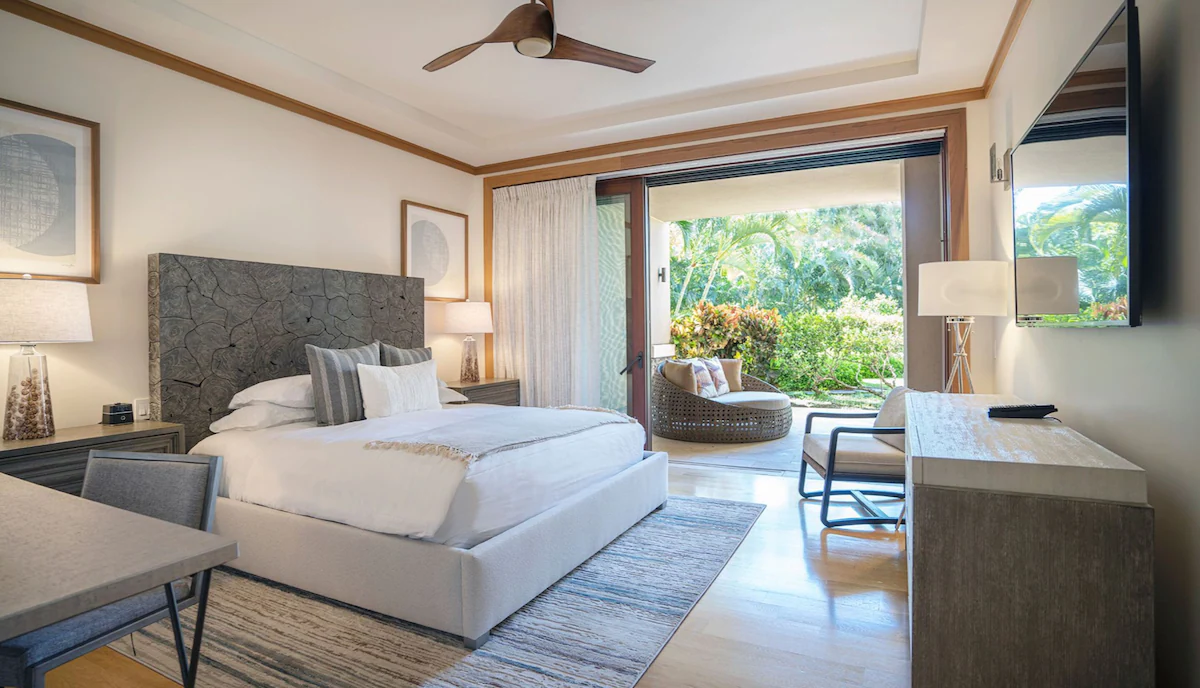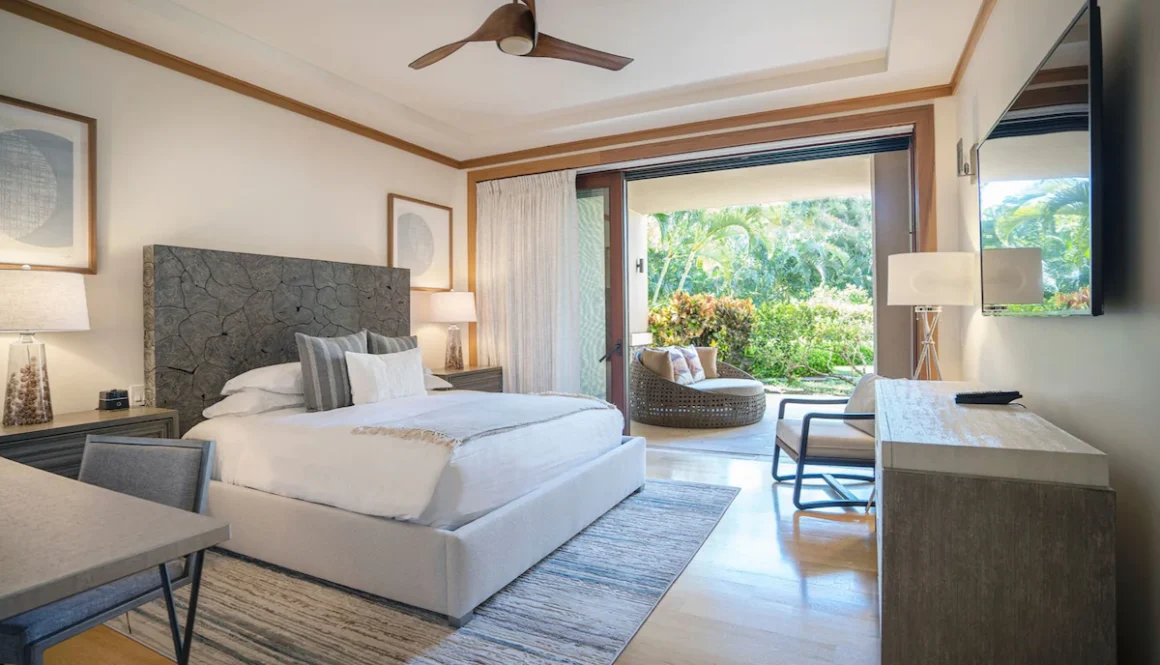 Nestled along the untamed waters of Namula Bay, Montage Kapalua Bay is a rare find, a five-star resort scrambled with genuine island hospitality and authentic culture.
Peppered along 24 acres of the tropical stretch of shoreline is a lush garden where the residential-style accommodations reside. Each accommodation is a heaven on earth with all the best amenities you need for a long stay.
Steeped in the spirit of Hawaii, each room boasts a whimsical design that pairs perfectly with a modern touch and a view to die for. From a full gourmet kitchen to expansive outdoor space and artisan furniture, Montage Kapalua Bay is an authentic upscale resort with an excellent location.
The nearby Wailea Golf Club and Makena State Park should be on your bucket list. But if you'd rather stay put to make the most out of your space without traveling further afield, the team at Montage Kapalua Bay Resort will design the best authentic Hawaiian culture that meets breathtaking tropical adventures.
Whether it's a tropical hike, setting out on a paddleboarding excursion, lounging by the Sunset Pool, or enjoying the immersive arts and culture programs, they've got you covered.
4. Mauna Lani, Auberge Resorts Collection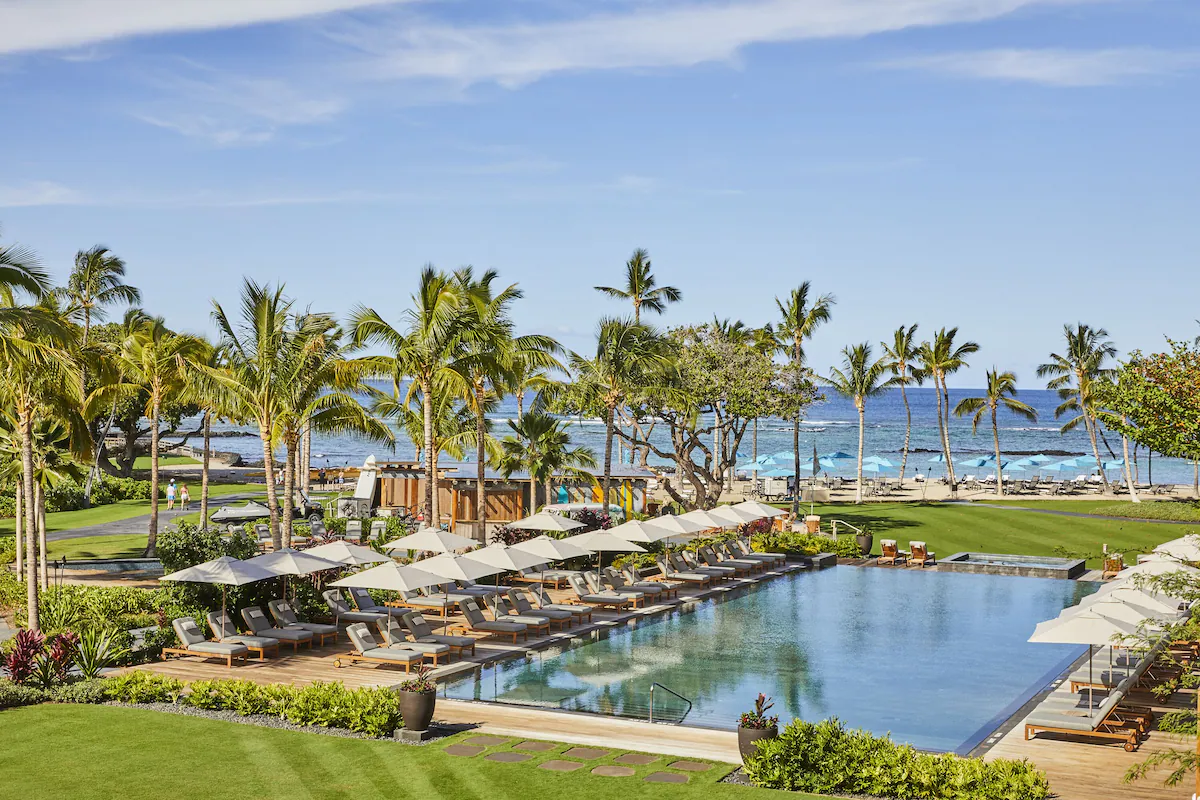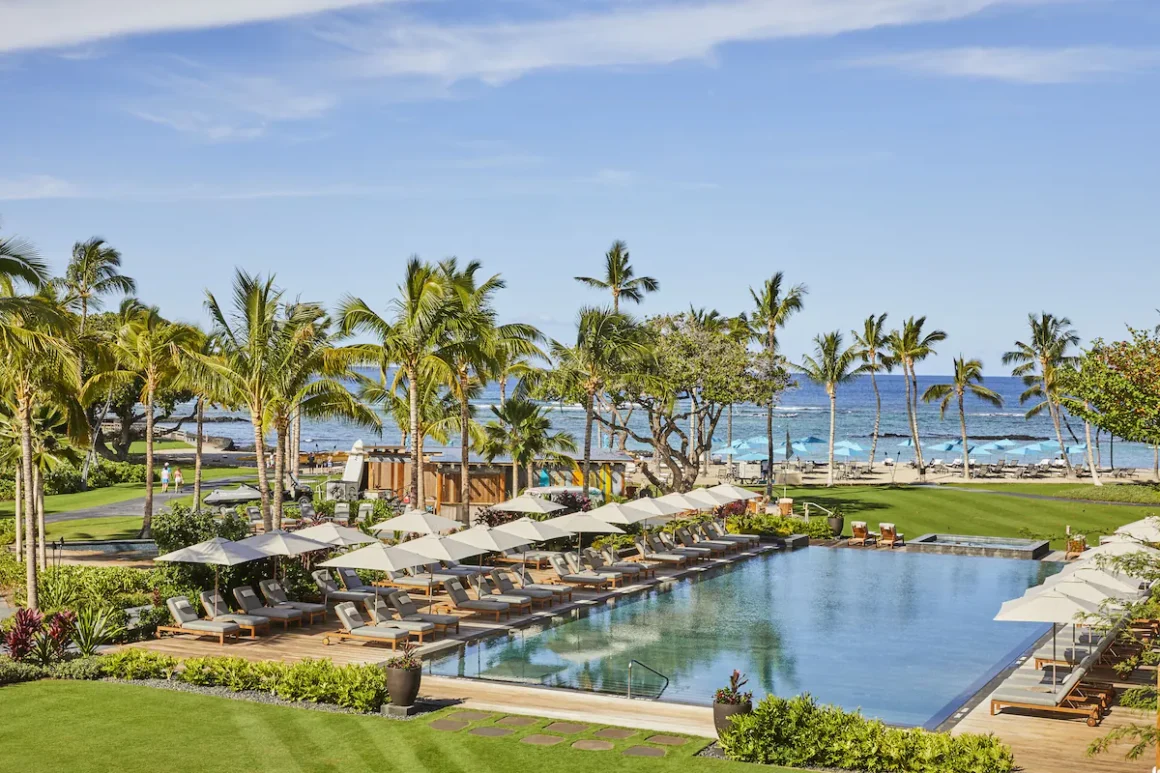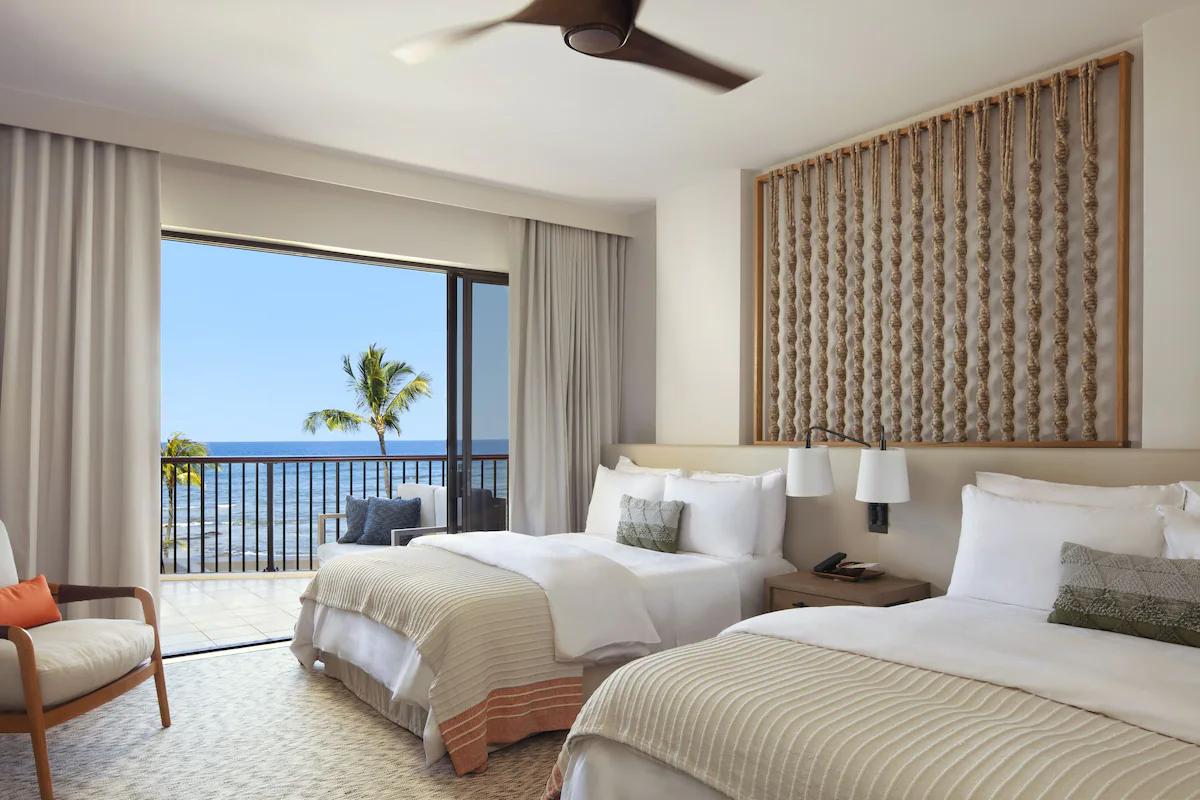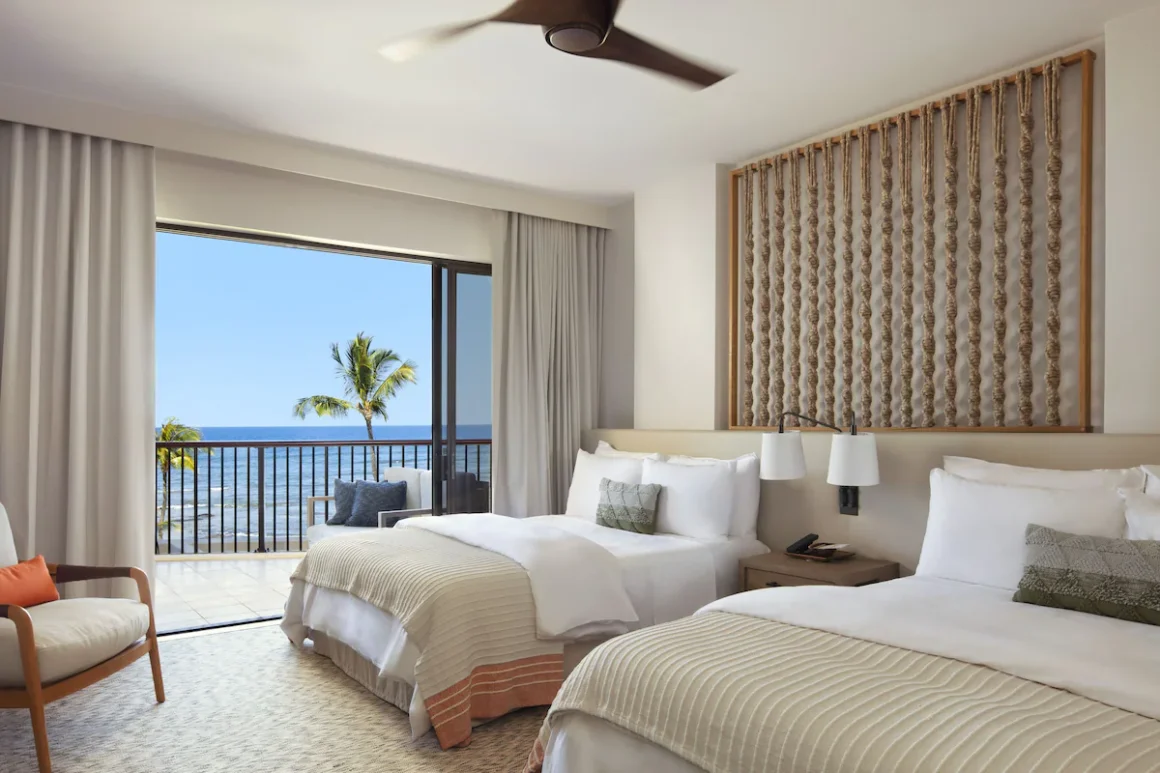 Is there anything better than staying on a soulful land once reigned by generations of Hawaiian royalty?
This five-star resort is perched on a sacred oasis of the mighty Kohala Coast. It has an excellent location surrounded by the complete serenity of the Mauna Lani Mountains. One of our favorite things to do here is watching the sunrise sparkling its dazzling rays behind the mountains' peaks from our patio. Or even better, head offshore and get closer to the far-flung mountains on the back of a canoe.
Wrapped around by the sounds of ocean waves and the headland heritage is a collection of 333 accommodations broken down into guestrooms, suites, suites, residences, and estates.
When the sun beams down, share your laughter with loved ones and mingle in coziness at Canoe House. Before hitting the shack, don't forget to stop by the Auberge Spa to rejuvenate the body and enrich the mind. All the herbs and treatment oils are brought to your body by the native farmers of the island.
5. Fairmont Orchid Gold Experience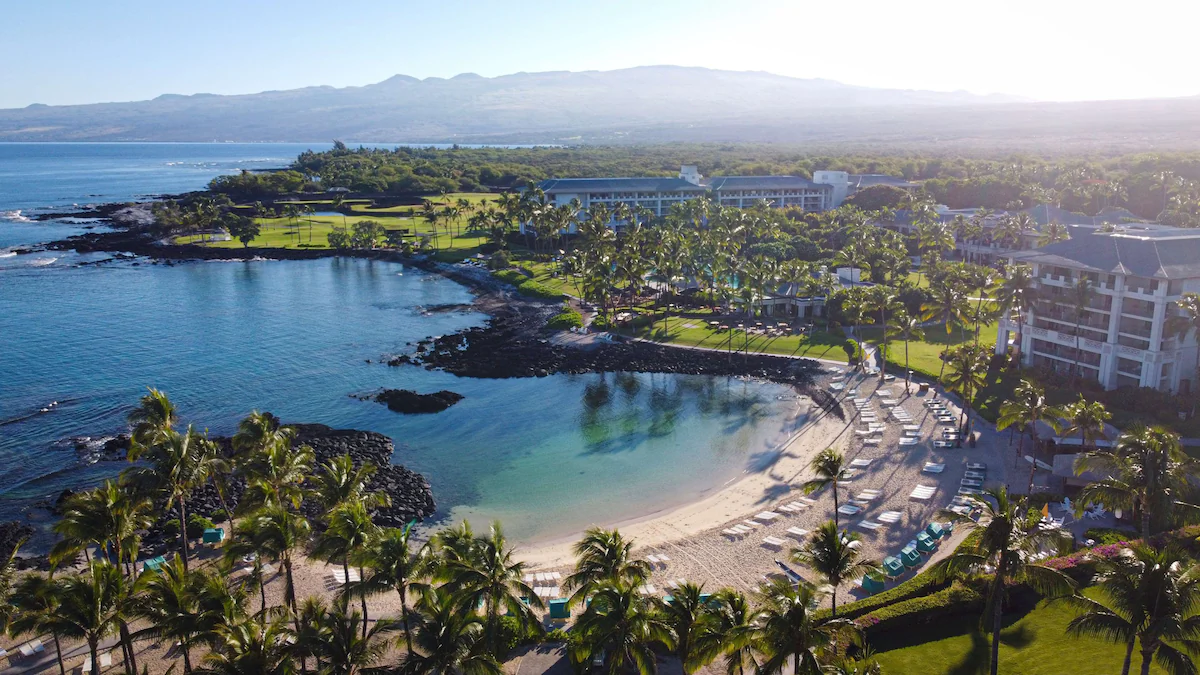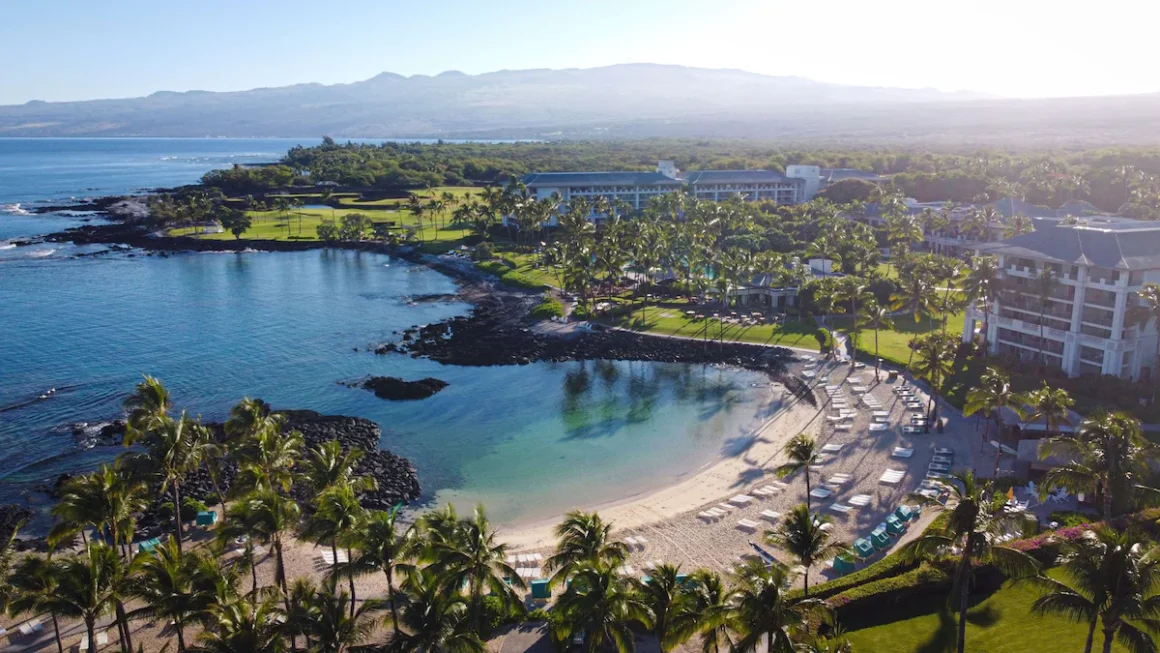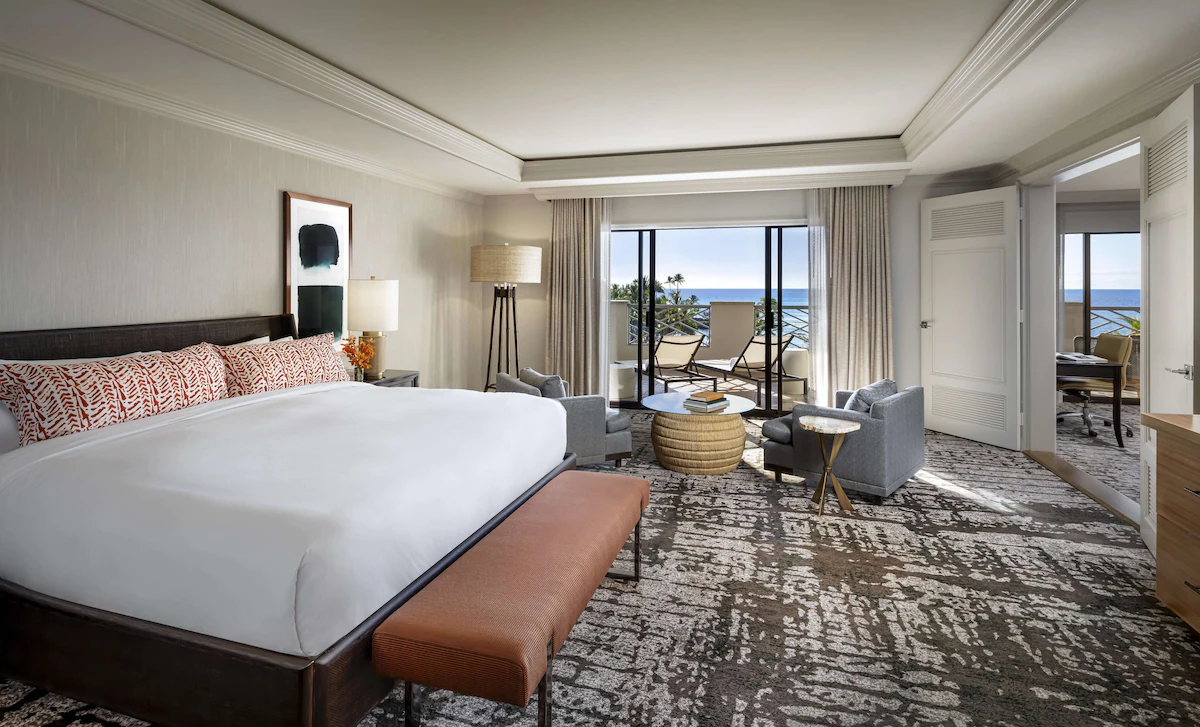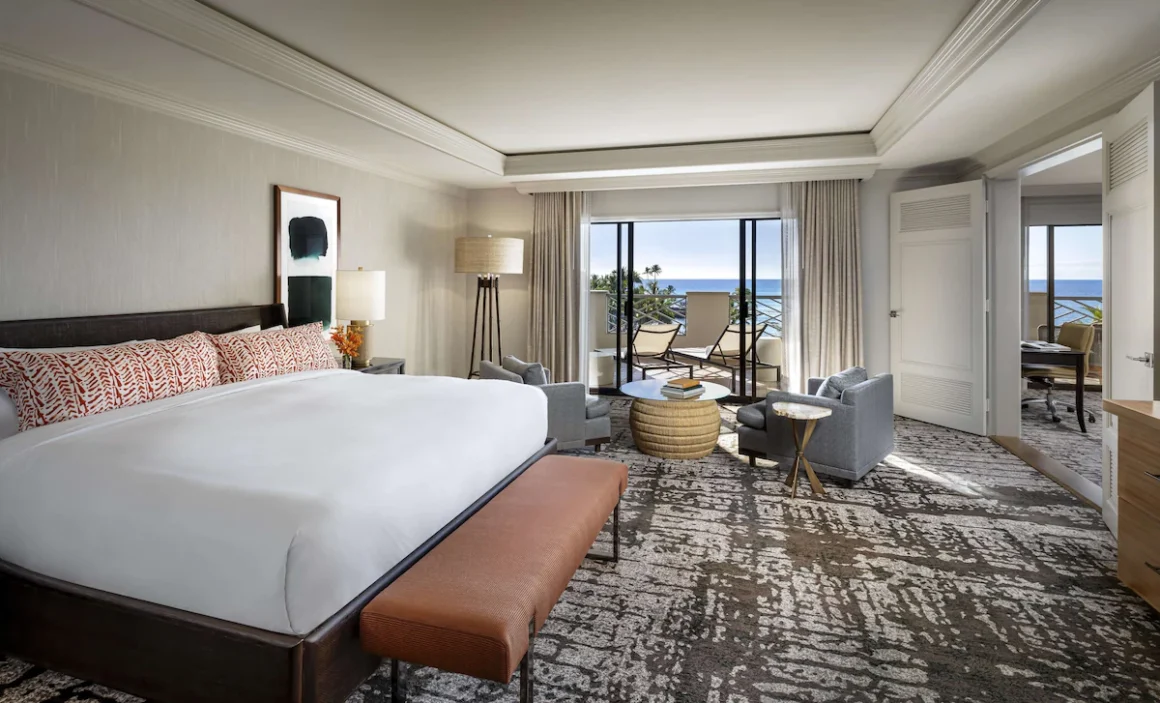 Looking for a luxury Kohala Coast resort by a private beach? Check out Fairmont Orchid Gold Experience, an exquisitely designed resort that begins on the 6th floor of the North Tower. The private check-in process takes place at the Gold Floor Lounge as part of a Gold Experience that's designed for those couples and families who like to spend a bit more in return for exceptional hospitality.
Scattering on 32 oceanfront acres of sun-soaked green space is a series of 540 spacious guest rooms, suites, and the exclusive Fairmont Gold concierge floor. Step out of your room's comfort and blend in the natural beauty of cascading waterfalls, a lagoon, and a tranquil white sand beach.
Whenever your heart desires a relaxing wellness getaway, check out the award-winning Spa Without Walls beside six restaurants, world-class golf, a fitness center, and a 10-court tennis pavilion. On top of that, you have access to a curated afternoon tea as well as afternoon canapés and an honor bar.
6. Koloa Landing Resort at Poipu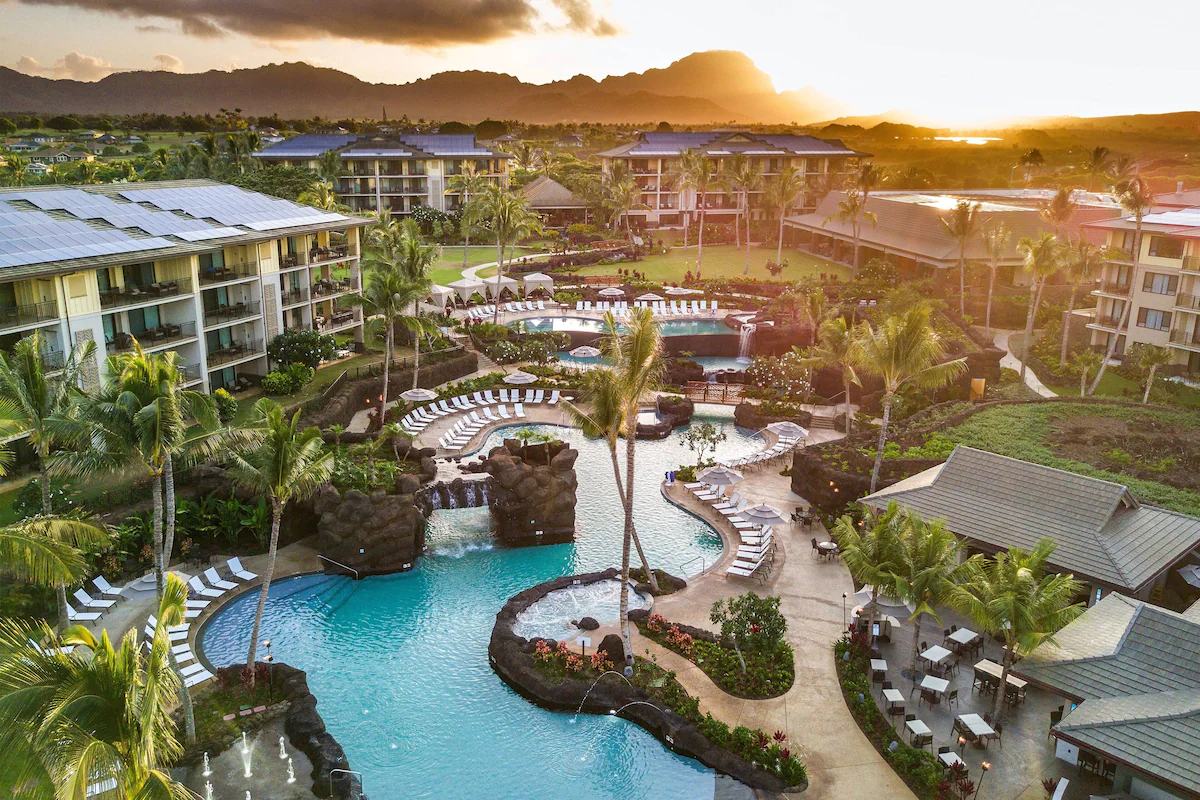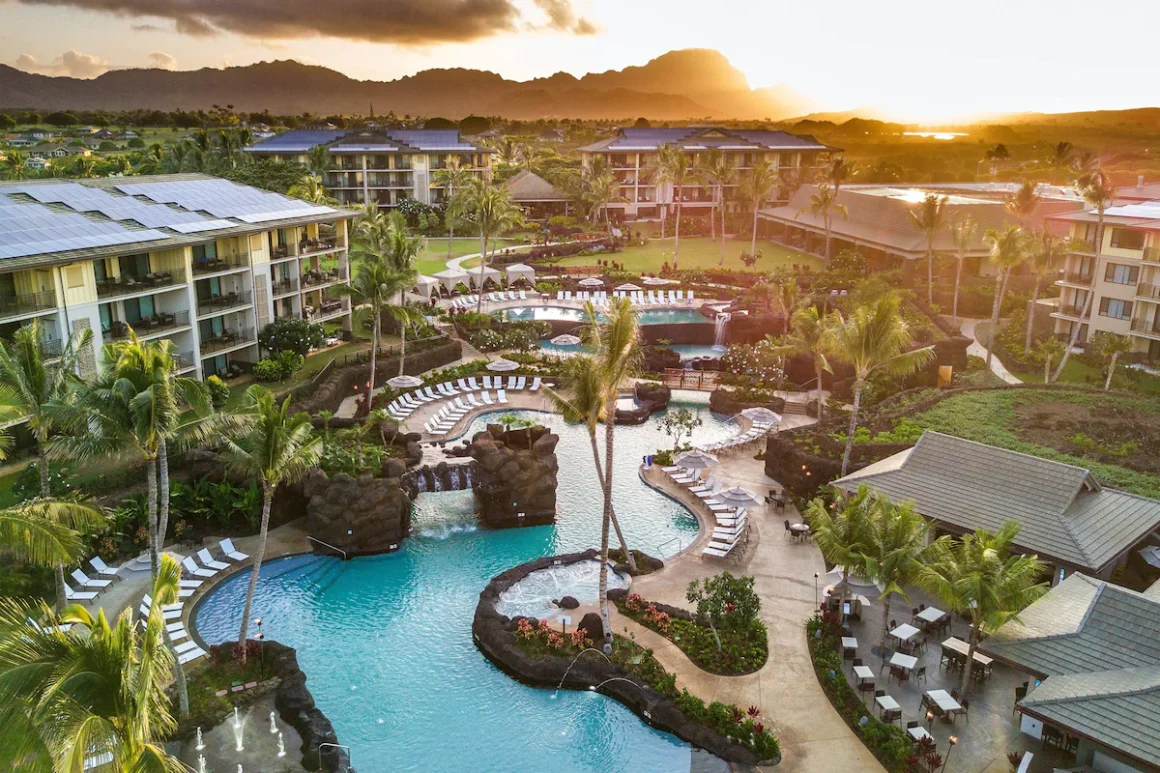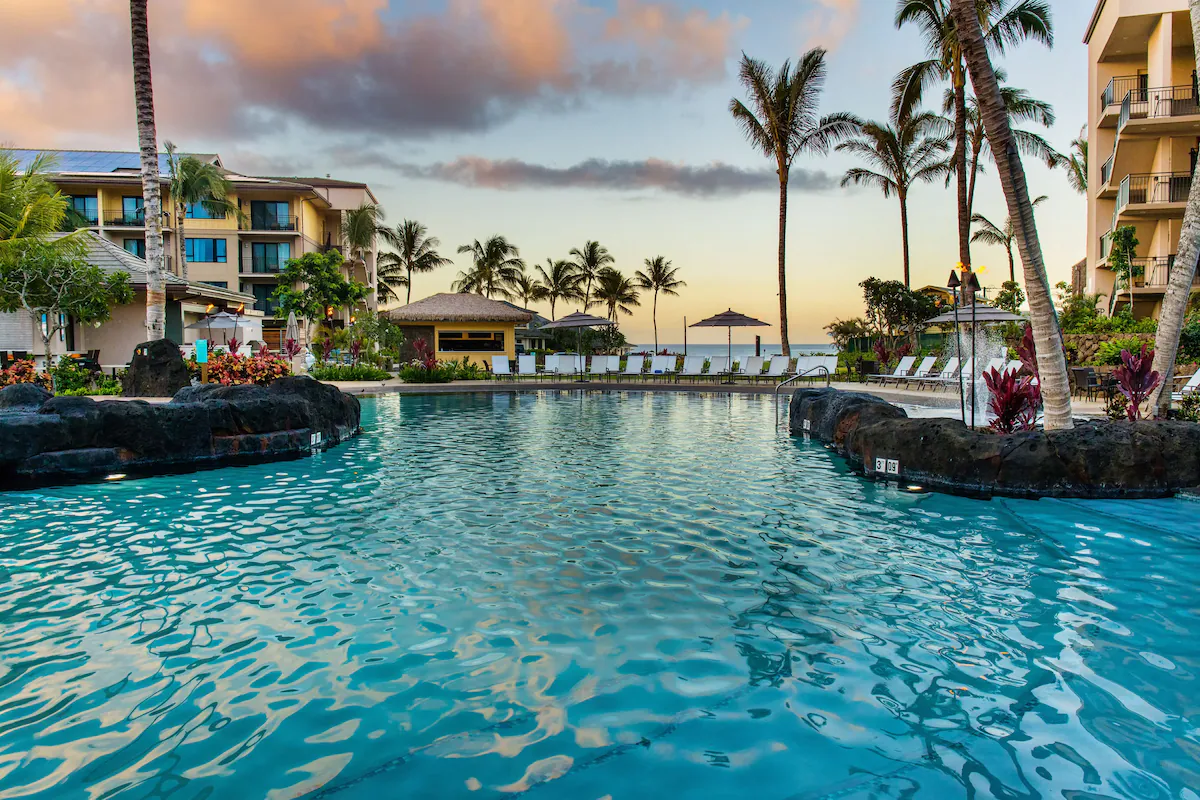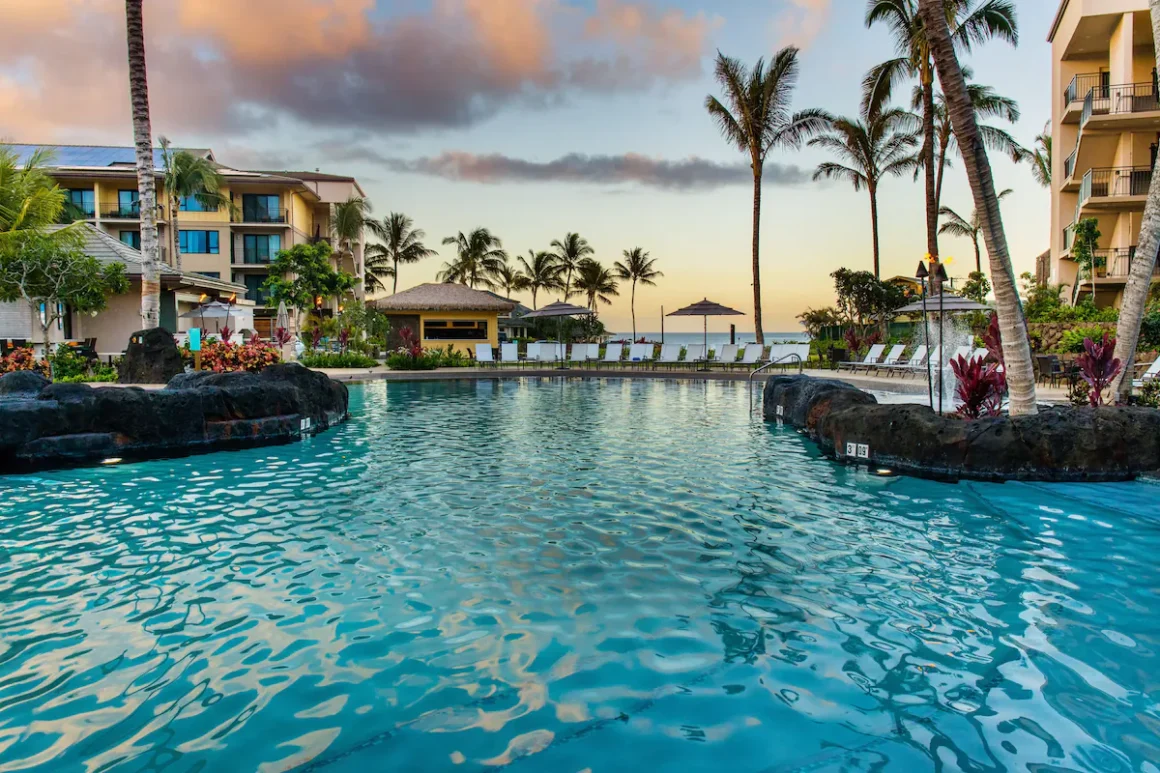 What's it like to stay in an all-inclusive resort with an award-winning pool? Welcome to Koloa Landing Resort at Poipu, one of our favorite Hawaii resorts set on 25 beautiful acres of Poipu by Kauai's sunny South Shore.
Koloa Landing is steps away from Poipu Beach and Kukui'ula Village. It features a massive 350.000-gallon saltwater pool and three lagoon pools dubbed as the 'Best Pool in America' 3 years in a row.
Koloa Landing Resorts truly cares about what makes its hospitality a top-notch service. The collection of deluxe studios, luxury villas, and penthouse suites coupled with the high-end amenities such as a poolside bar and grill, a 24-hour fitness center, and a 4,000 square-feet day spa with five private treatment rooms bring you a perfect getaway like no others.
Beyond the pools' boundary, you can also check out the island's only all-copper Ofuro Japanese soaking tub to unwind.
7. Four Seasons Resort Maui at Wailea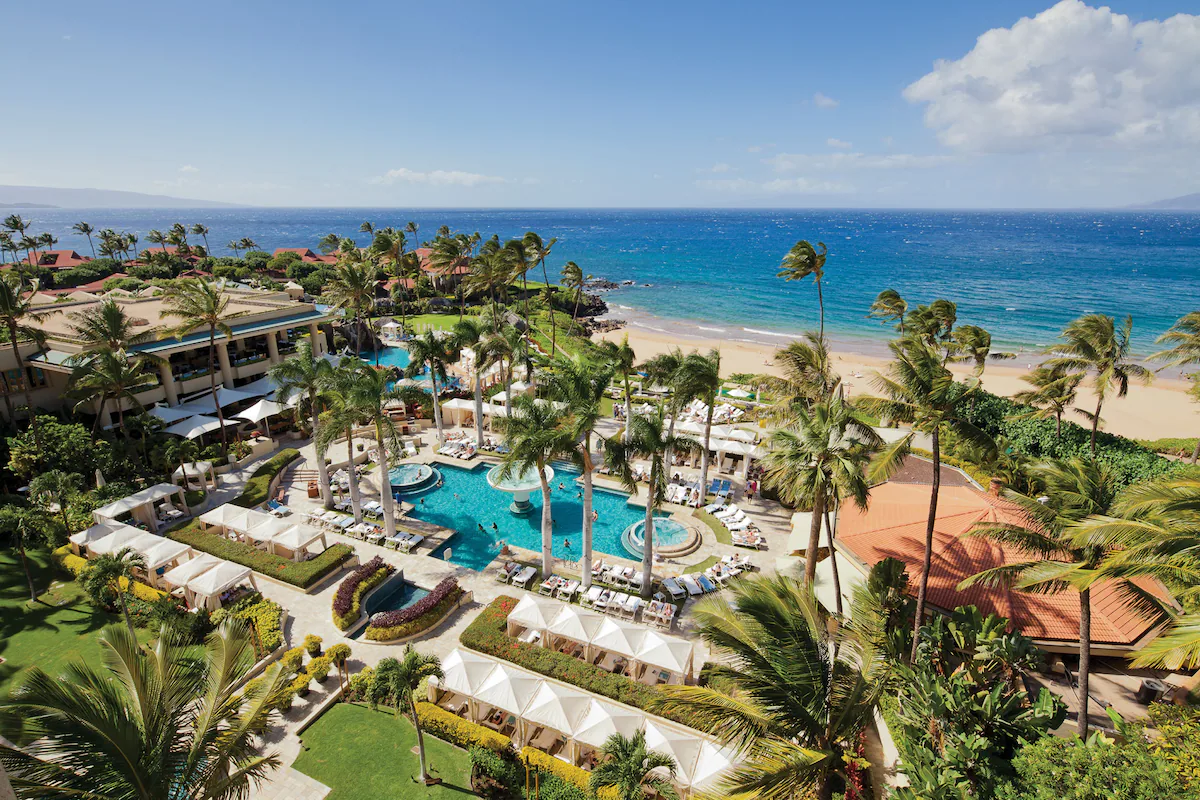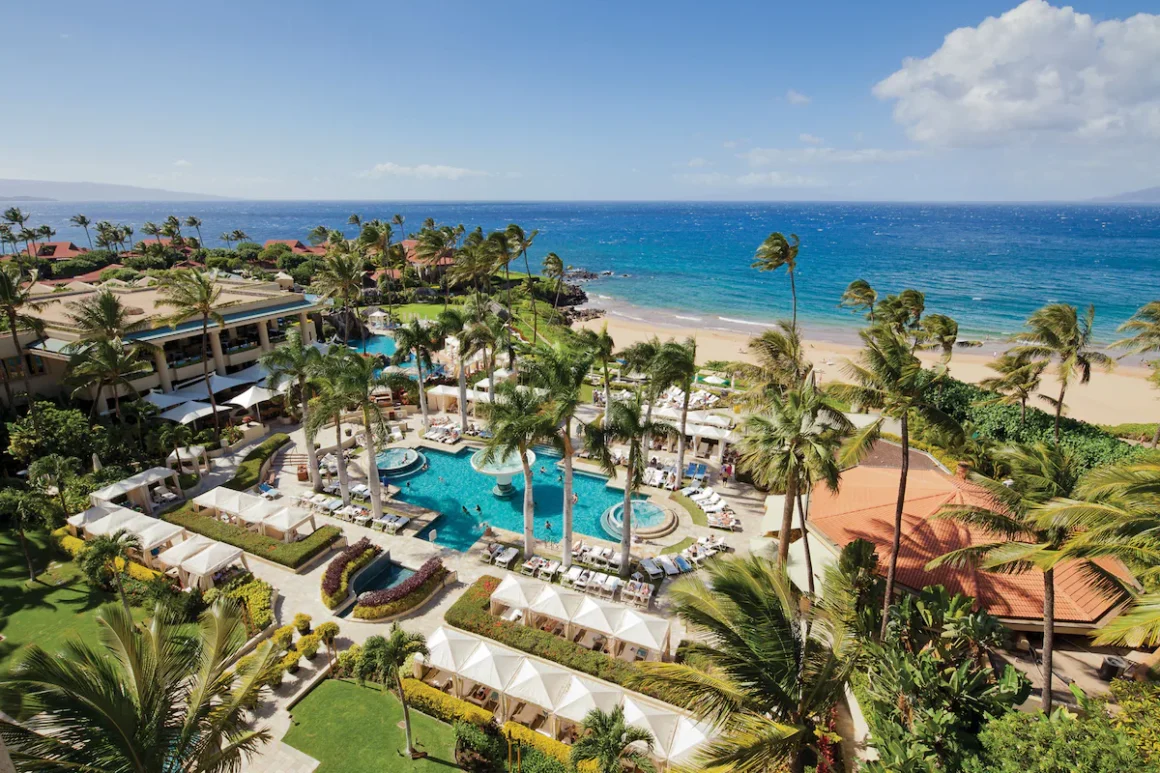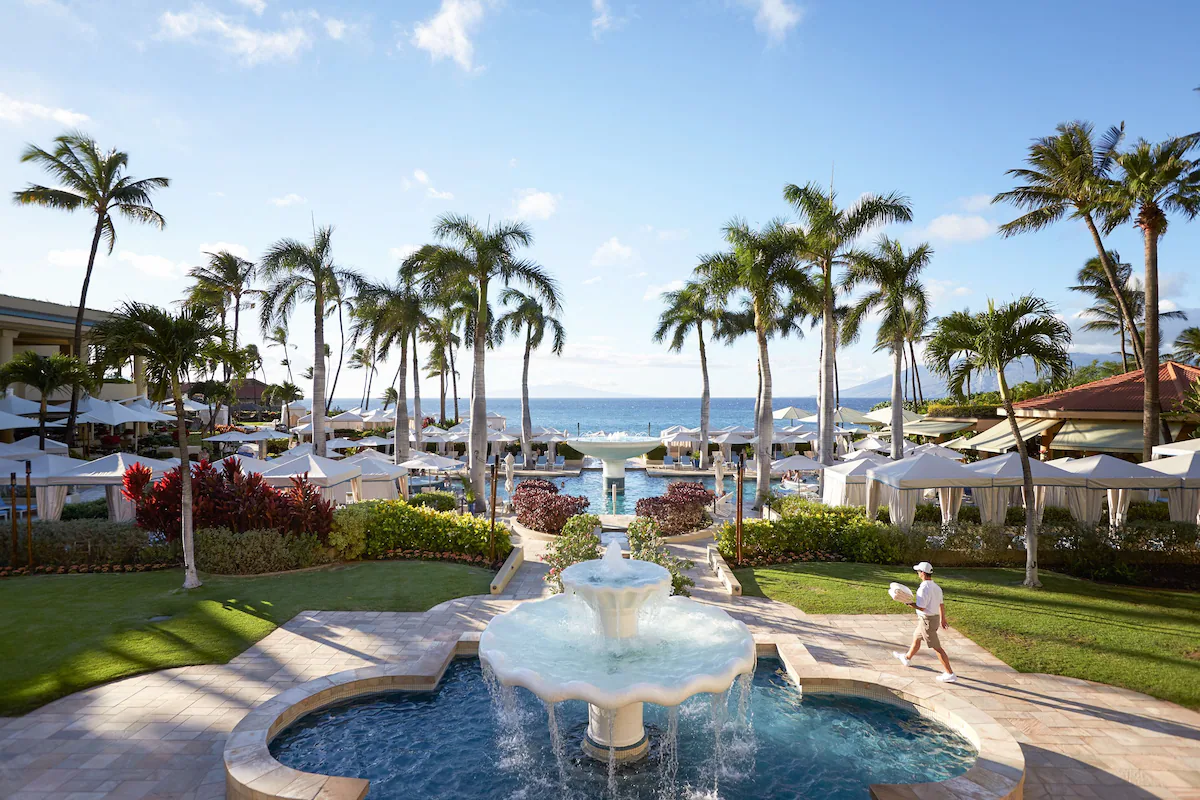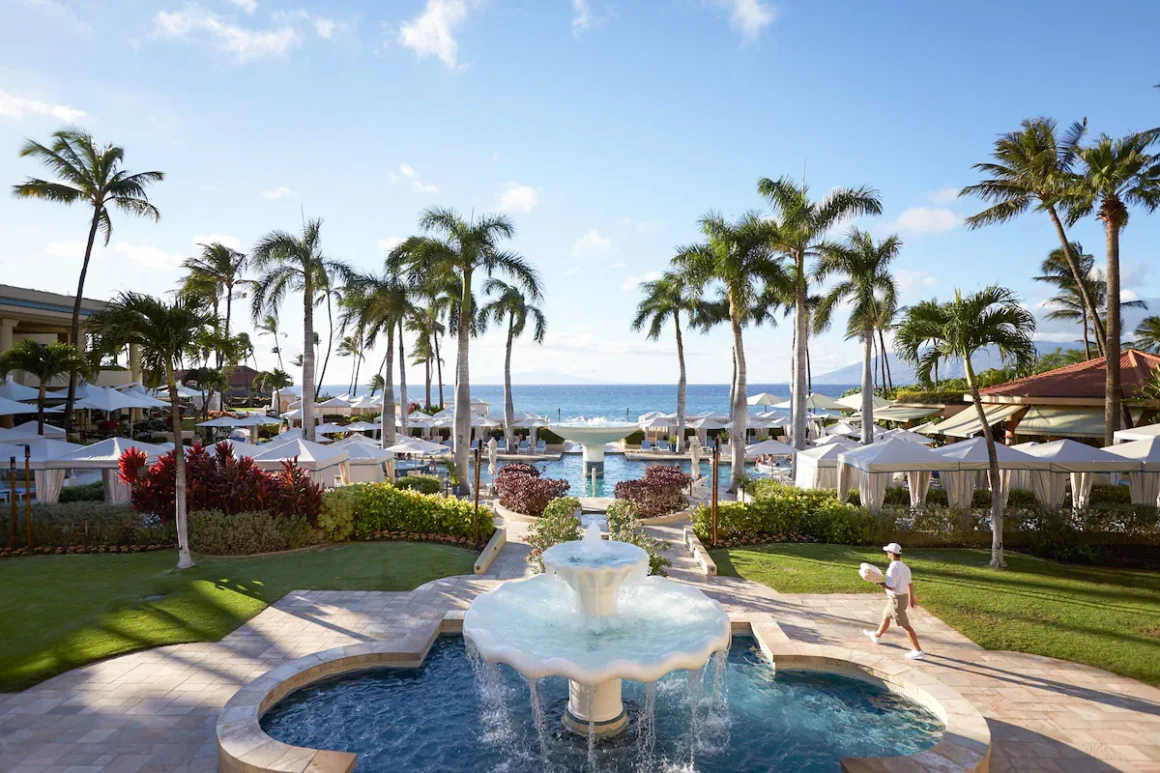 The old-established Four Seasons Resort Maui has been around since 1990 but it still maintains a timeless elegance that's been cherished by couples, golfers, friends, and families for years.
This family-friendly resort encompasses 15 gorgeous acres at the southern end of Maui's Wailea beach. Every day when the sun is out, you're guaranteed some of the best Insta-worthy views on all of the island.
Today, Four Season is home to 383 oceanfront accommodations, ranging from accessible rooms, and guest rooms to large suites and premium suites. No matter which one you choose, each room is spacious and tastefully outfitted with bathtubs, separate showers, and luxe amenities.
Four Seasons has three on-site restaurants. One of them is Wolfgang Puck's acclaimed Spago dubbed as one of the best restaurants in all of Maui.
For decades, Four Seasons has been a household name with a wide range of family-friendly pools, a game room, and a free kids' club. However, couples seeking some privacy can benefit from the adults-only infinity pool while soaking in the fragrance of plumeria.
8. Turtle Bay Resort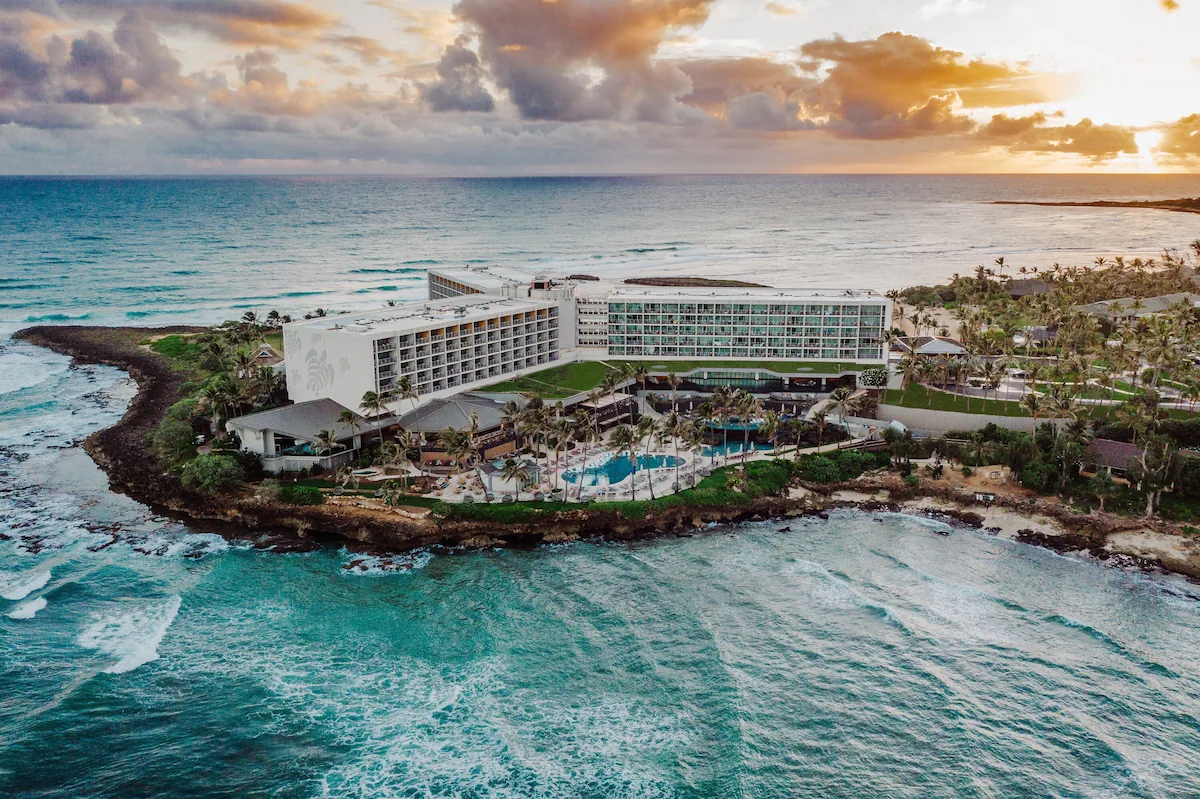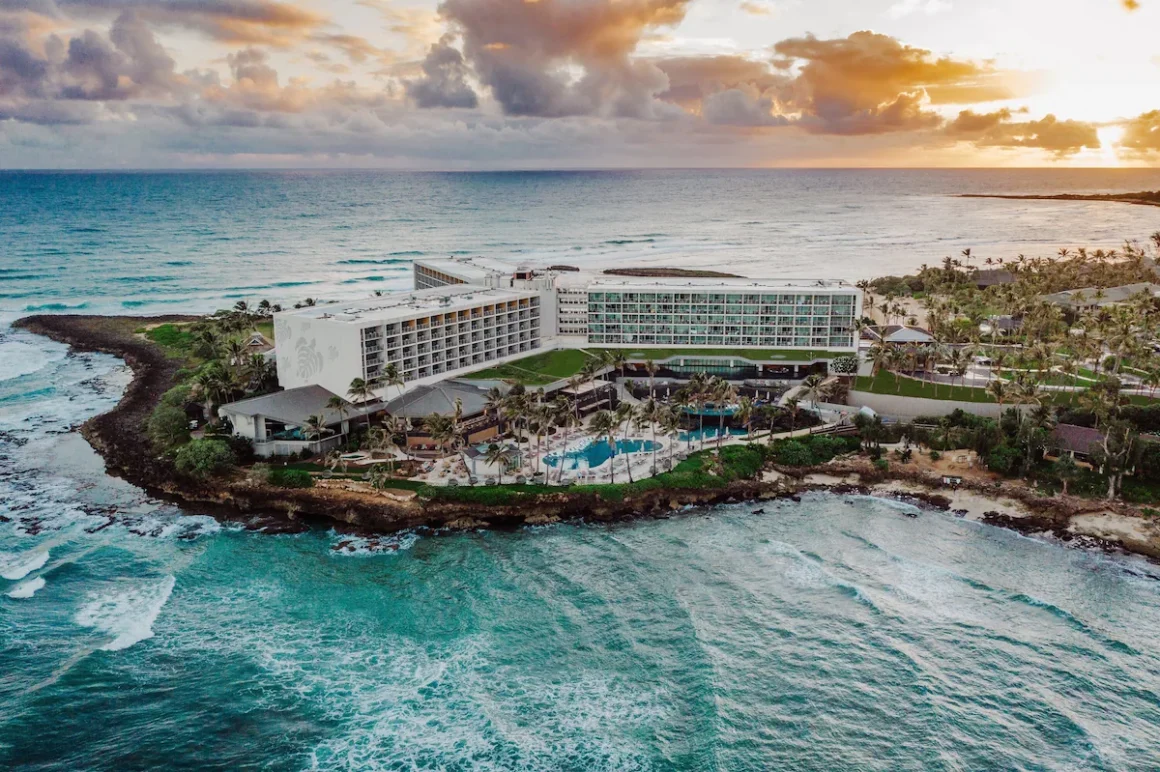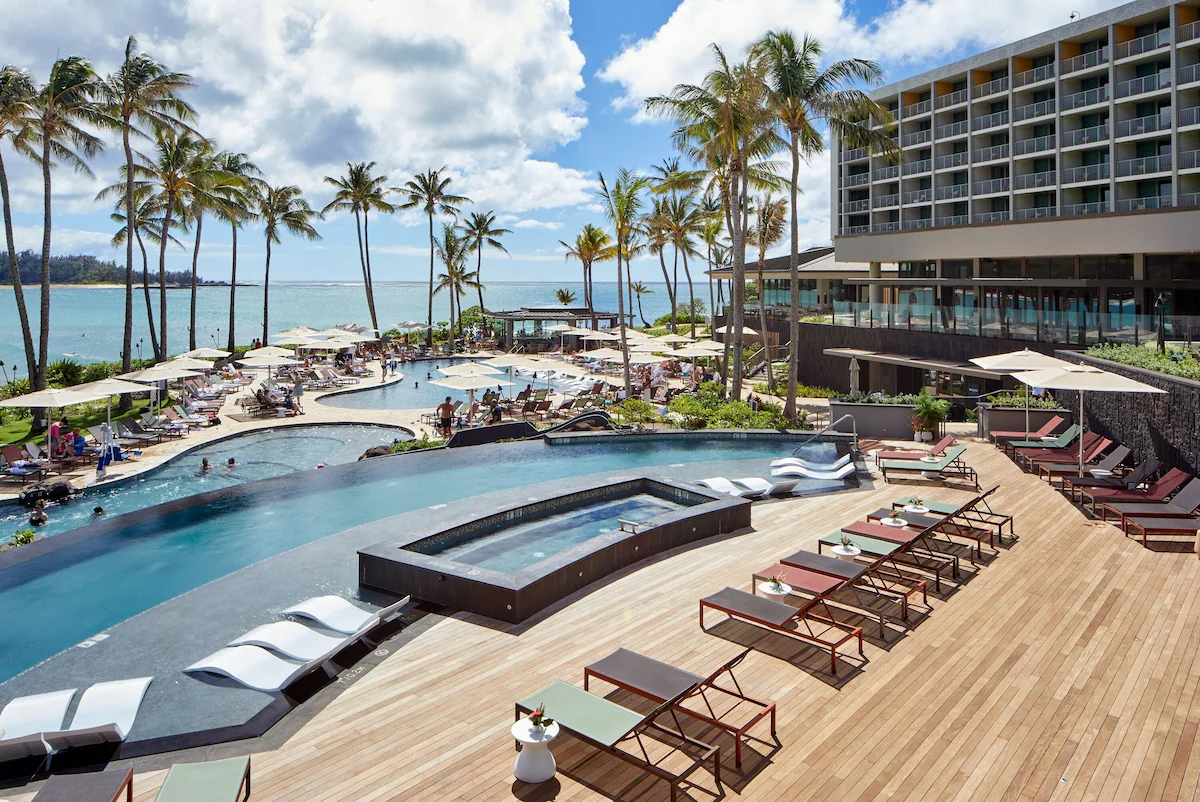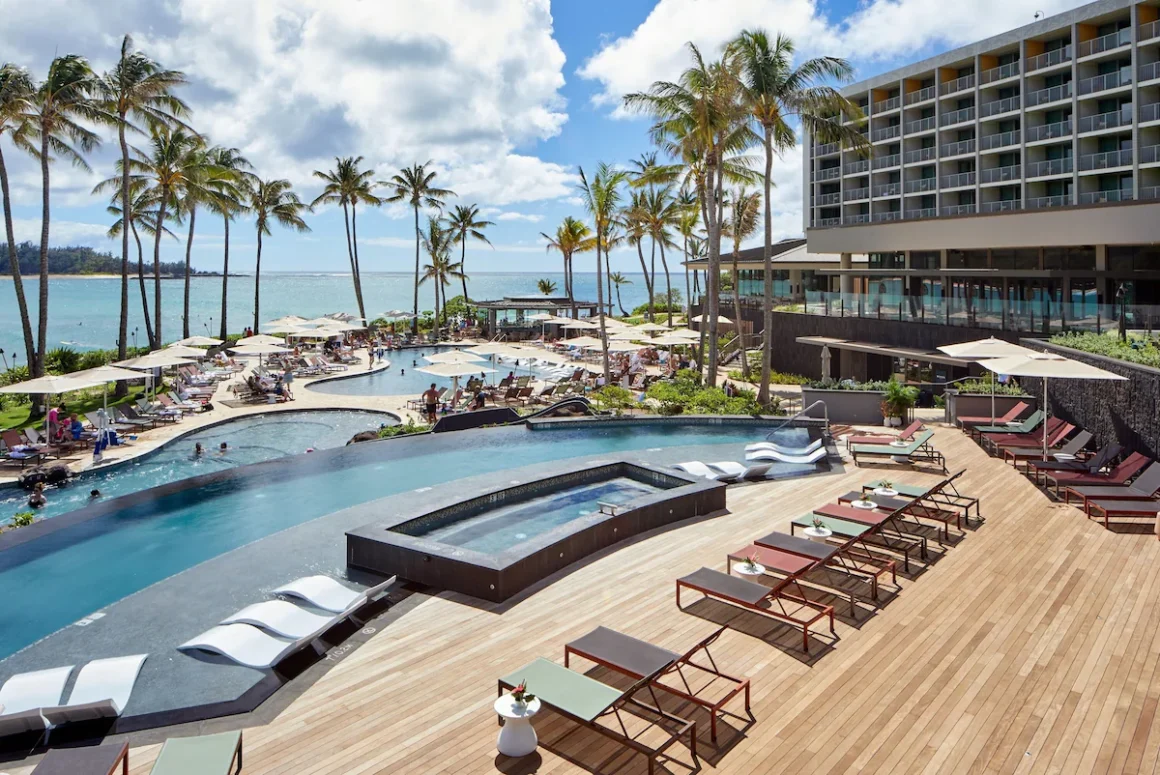 Boasting 375 guestrooms and 26 suites spanning six floors, Turtle Bay Resort is one of the most visited all-inclusive resorts on Oahu's North Shore. This impeccable area is blanketed with lush, historic land along five miles of untouched coastline that teams up with an extensive network of trails in the jungles nearby.
This abundant oasis is less than an hour's ride from Honolulu International Airport. Those who choose to spend their nights here usually look for some adventurous times bracing the waves at Sunset Beach, the Banzai Pipeline, and Waimea Bay. Not far away, the Polynesian Cultural Center, Historic Haleiwa Town, and Waimea Valley will keep you occupied for days.
If you come when the surf season is not around the corner, chill by the pool complex at the resort, including a 70-foot main pool area, two quiet spa tubs, a large children's pool, and an upper-level pool with a rock waterfall and a giant slide.
9. The Grand Wailea Maui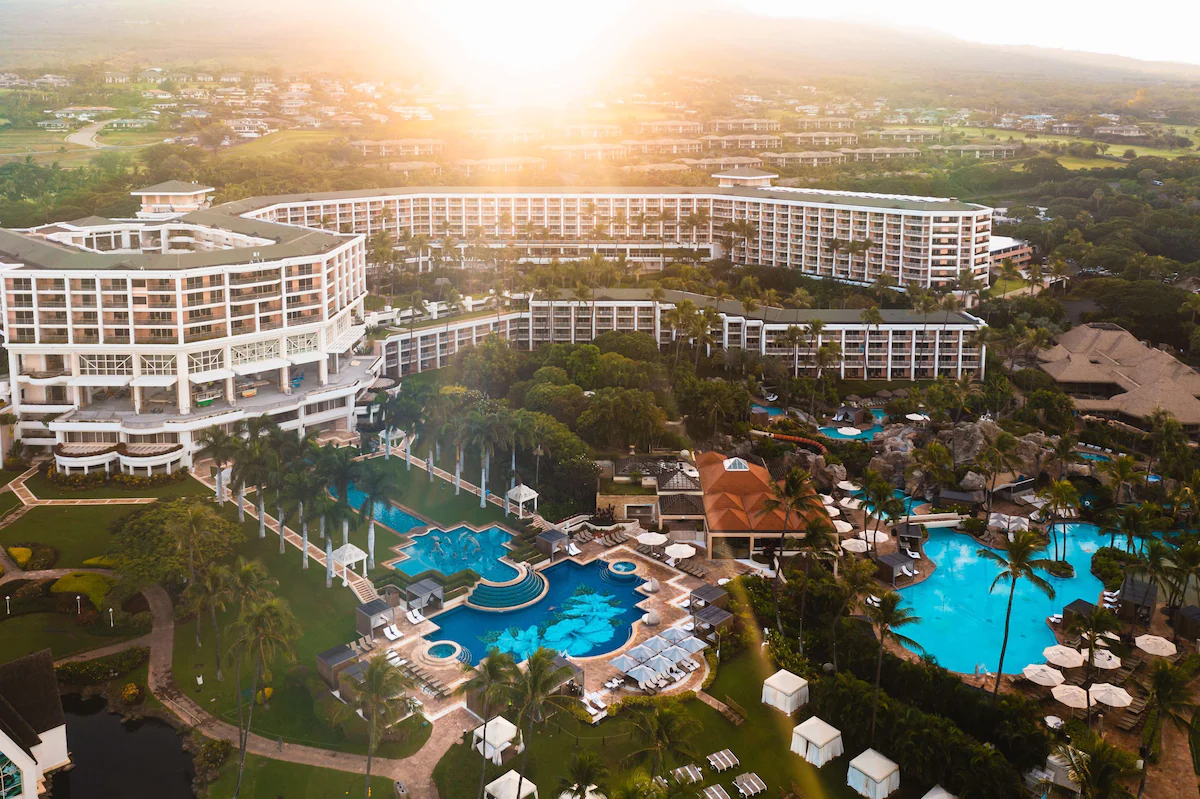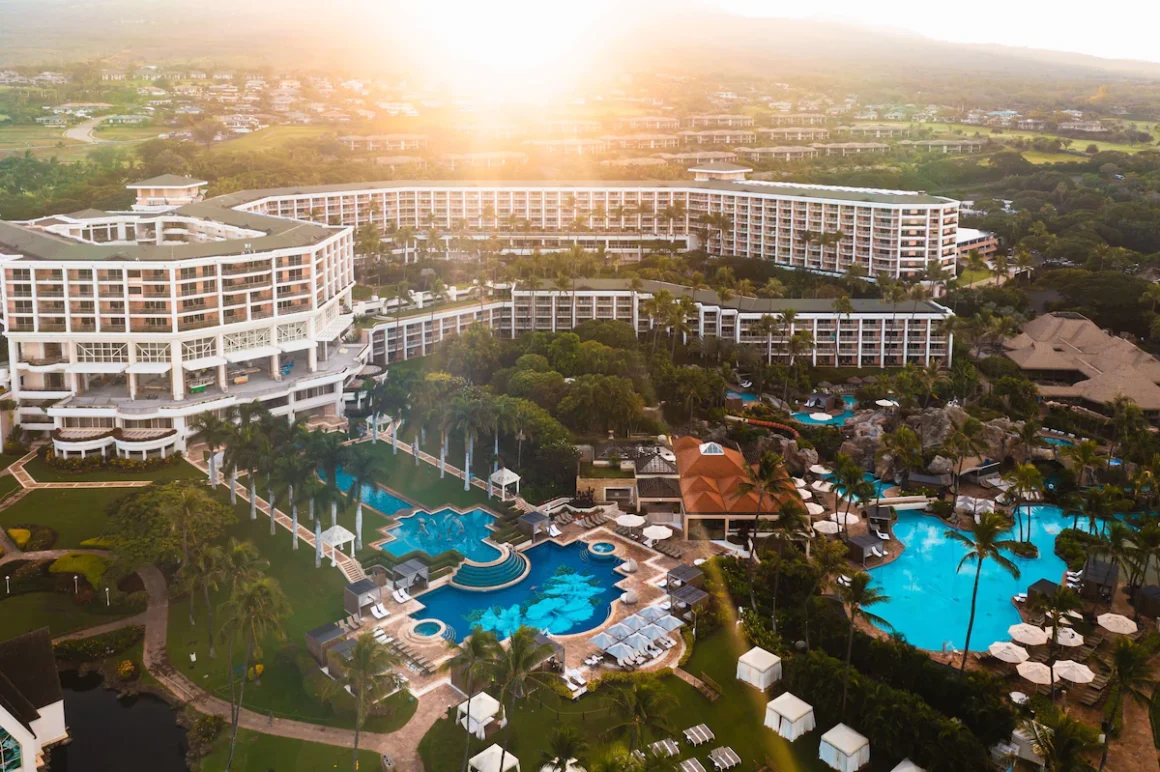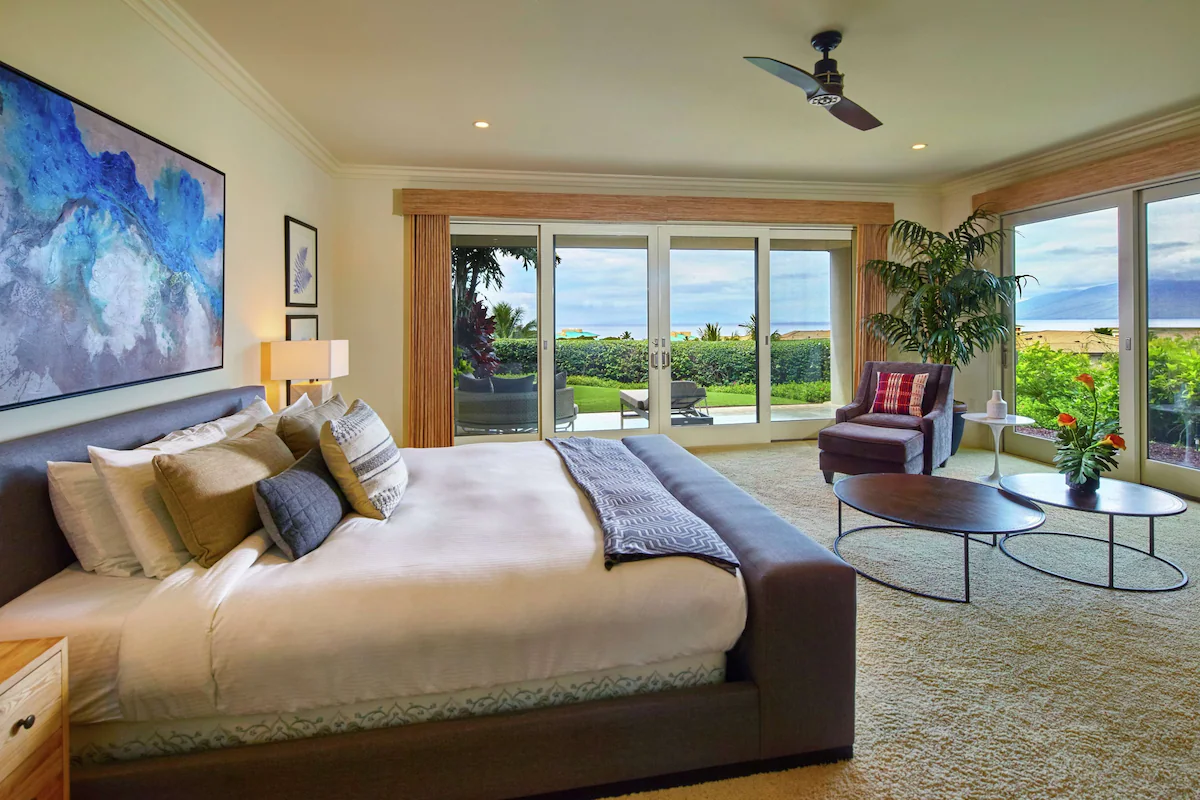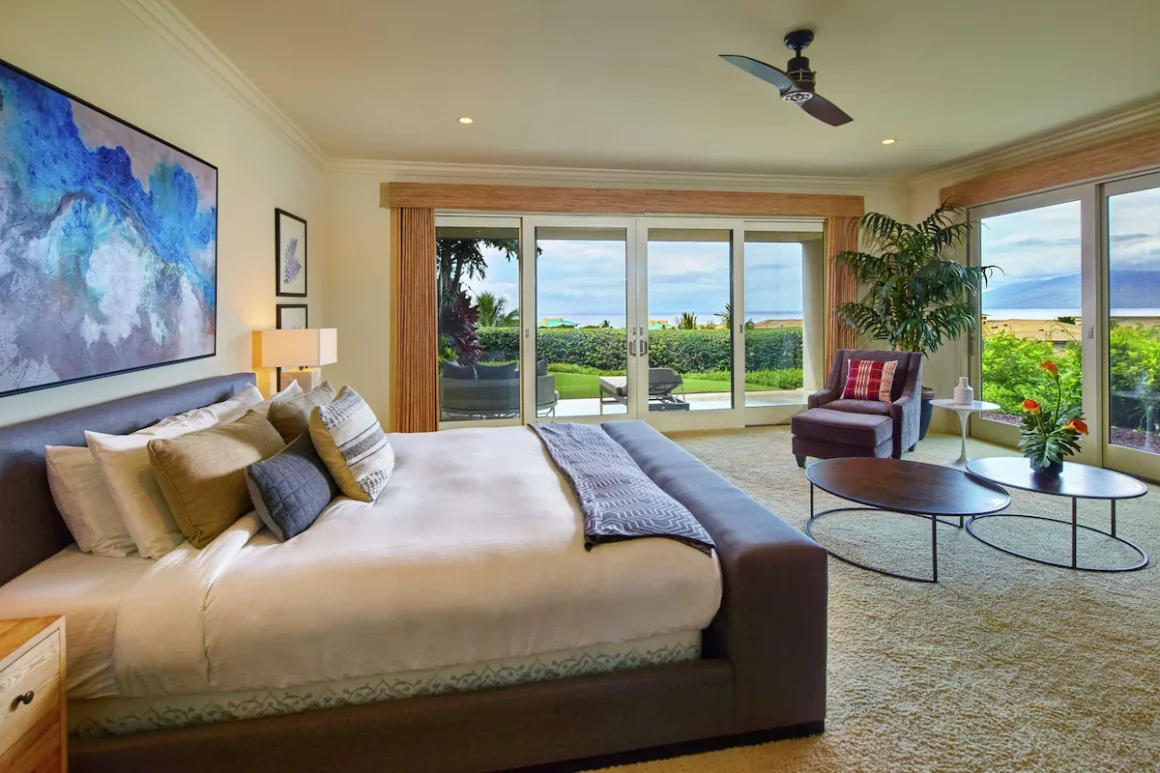 Taking over 40 acres of a sun-kissed tropical garden, The Grand Wailea Maui is pressed against the shimmering waves of Wailea Beach. It's neighboring the Wailea Blue Golf Course with proximity to the Ahihi Kinau Natural Area Reserve.
Celebrating the Hawaiian Ku and Hina traditions, Grand Wailea Maui offers a curated collection of custom-designed guest rooms and suites ensconced in a dreamy and refined design. Each serene room is nestled on the private upper floors.
Stay in one of the Napua rooms and suites to enjoy a rotating lineup of special experiences such as access to the chef's station and live entertainment. Meanwhile, the Ho'olei Villa collection is perched on the rocky boulder looking out to one of the pools with waterfalls. Each unit is accompanied by a luxury kitchen to cook up your gourmet dinner with an ocean or garden view.
The biggest hook of the resort is a setup of nine individual pools connected to a river. Each pool takes over a different level, allowing the whole family and friends to take a splash together.
If you'd rather stick to your own comfort with some relaxing time, benefit from the in-the-water Grotto Bar, sip on some tropical cocktails, or bask in the quietness of the adults-only Hibiscus Pool.
10. Aulani Disney Resort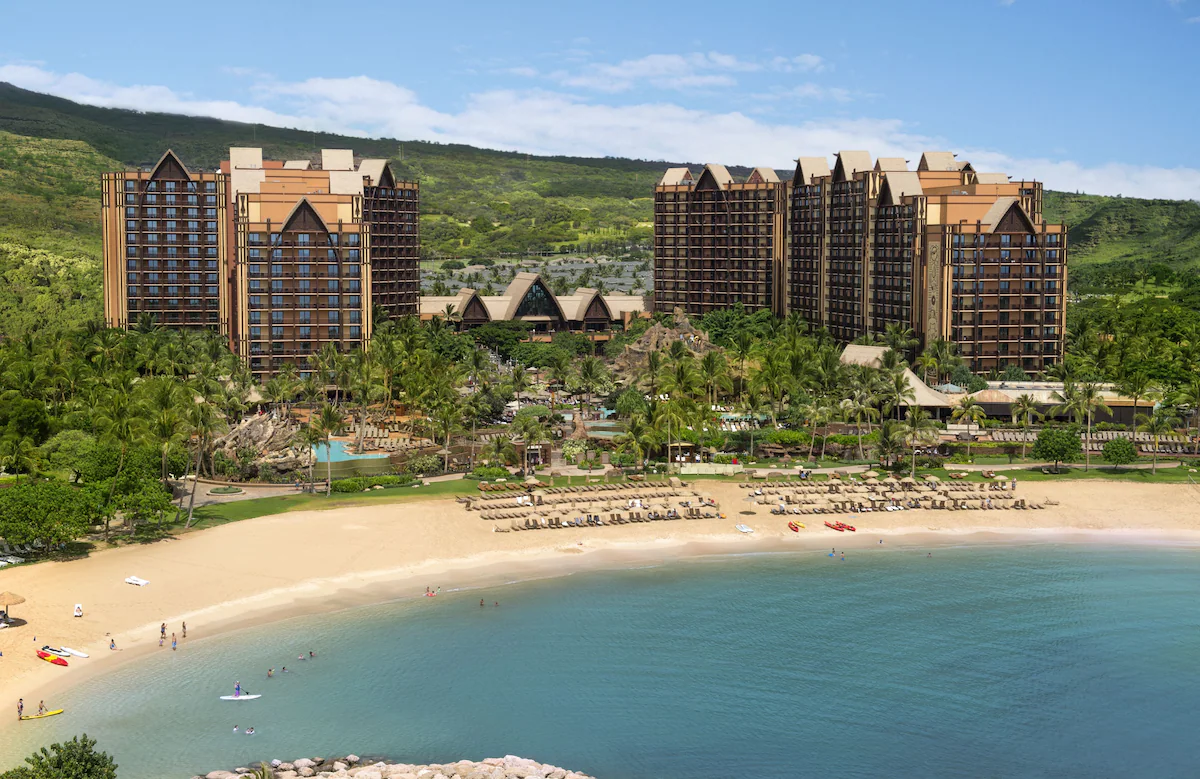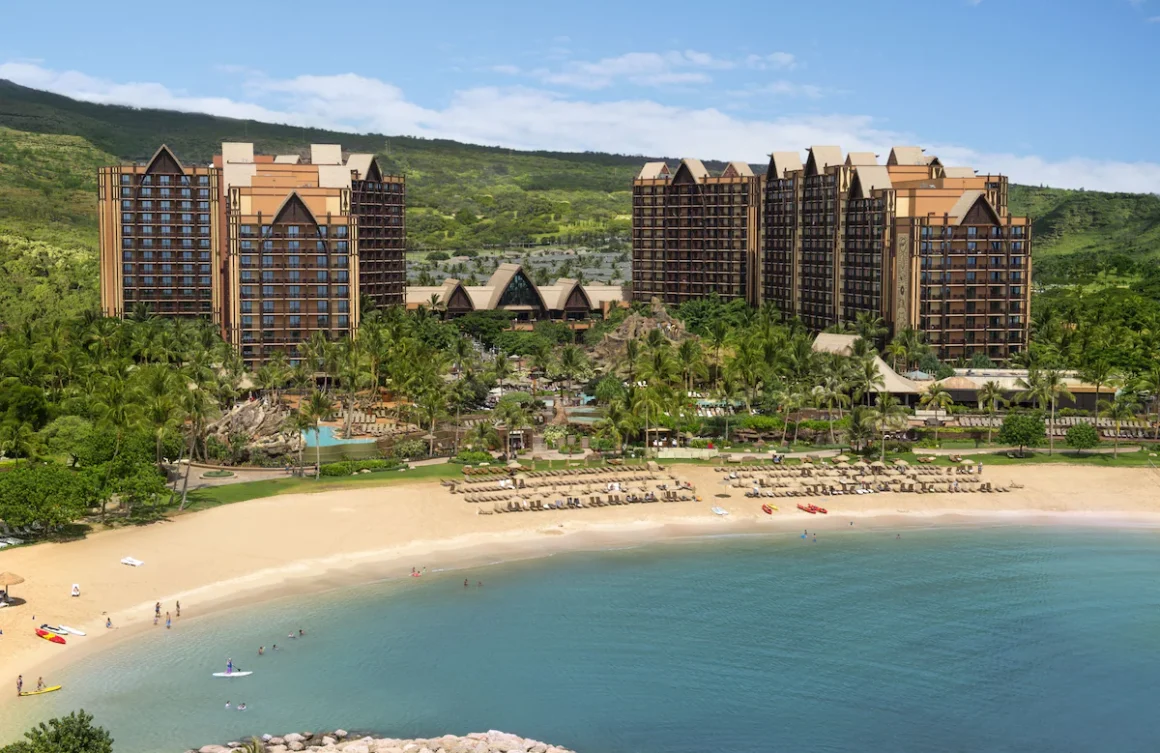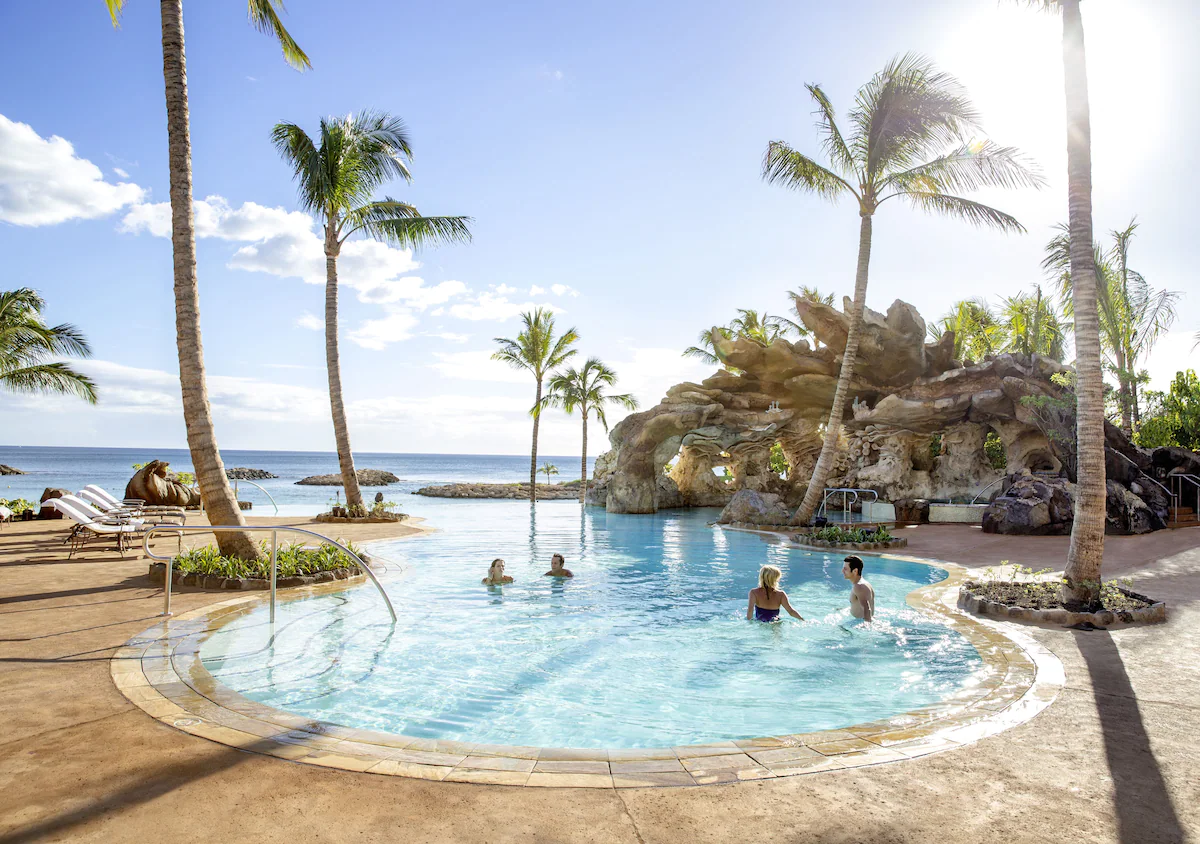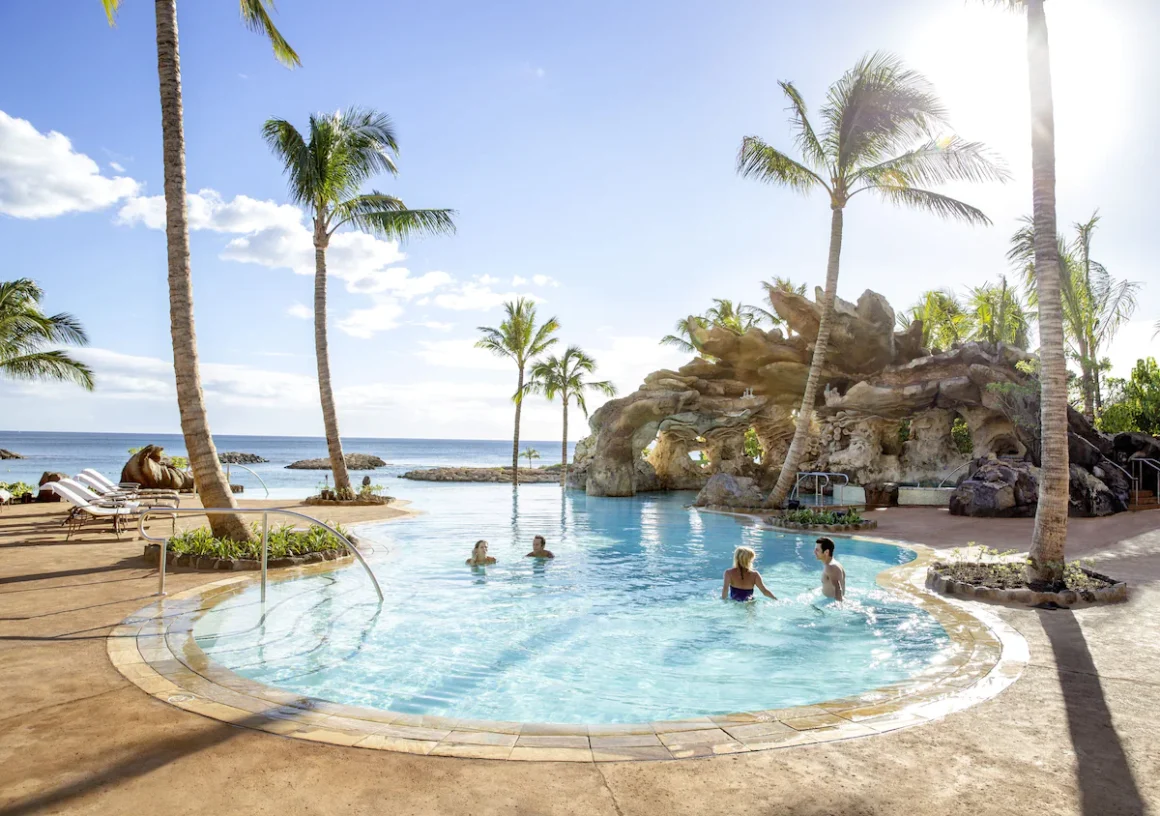 If there's one resort in Hawaii your kids will surely love, that would be Aulani Disney Resort. Nestled on the western side of Oahu in Kapolei, Aulani – translated into "the place that speaks for the great ones" – has been around since 2011, delighting kids from over the world with its lively Disney theme.
This kid-friendly resort doesn't belong to any theme park on the island. Today, the entire complex dominates over 21 acres, kissing the beach with a sandy shoreline. Aulani dedicates a huge part of its property to families with kids with incredible activities at every turn. From snorkeling in the private Rainbow Reef lagoon and plunging into the misty grotto to munching on yummy bites at an on-site restaurant, you name it.
Today, Aulani Disney Resort plays host to 351 hotel rooms, suites, and villas hugged by a sweeping wraparound vista of the ocean and the greens. In the middle of the resort, you can find a Disney-themed luau to celebrate Hawaiian traditions such as a regional feast, a hula performance, a fire dance, and many more.
If the call of the ocean is where your heart is after, check out these 10 best all-inclusive resorts in Cancun, Mexico for some refreshes on your bucket list besides Hawaii.
More Accommodations in Hawaii