Looking for the best Midtown NYC restaurants? Well, you're in the right place!
Before letting you be overwhelmed with all the options, we've already got you covered with a selection of only the best Midtown restaurants, from fancy spots for romantic dates to a home-like, cozy place that is perfect for you to waste your night with family and friends.
And, of course, the food quality in every restaurant is phenomenal!
So, don't let us hold you any longer! Here is the list of the 15 best Midtown restaurants in NYC for you to dine at:
1. Butter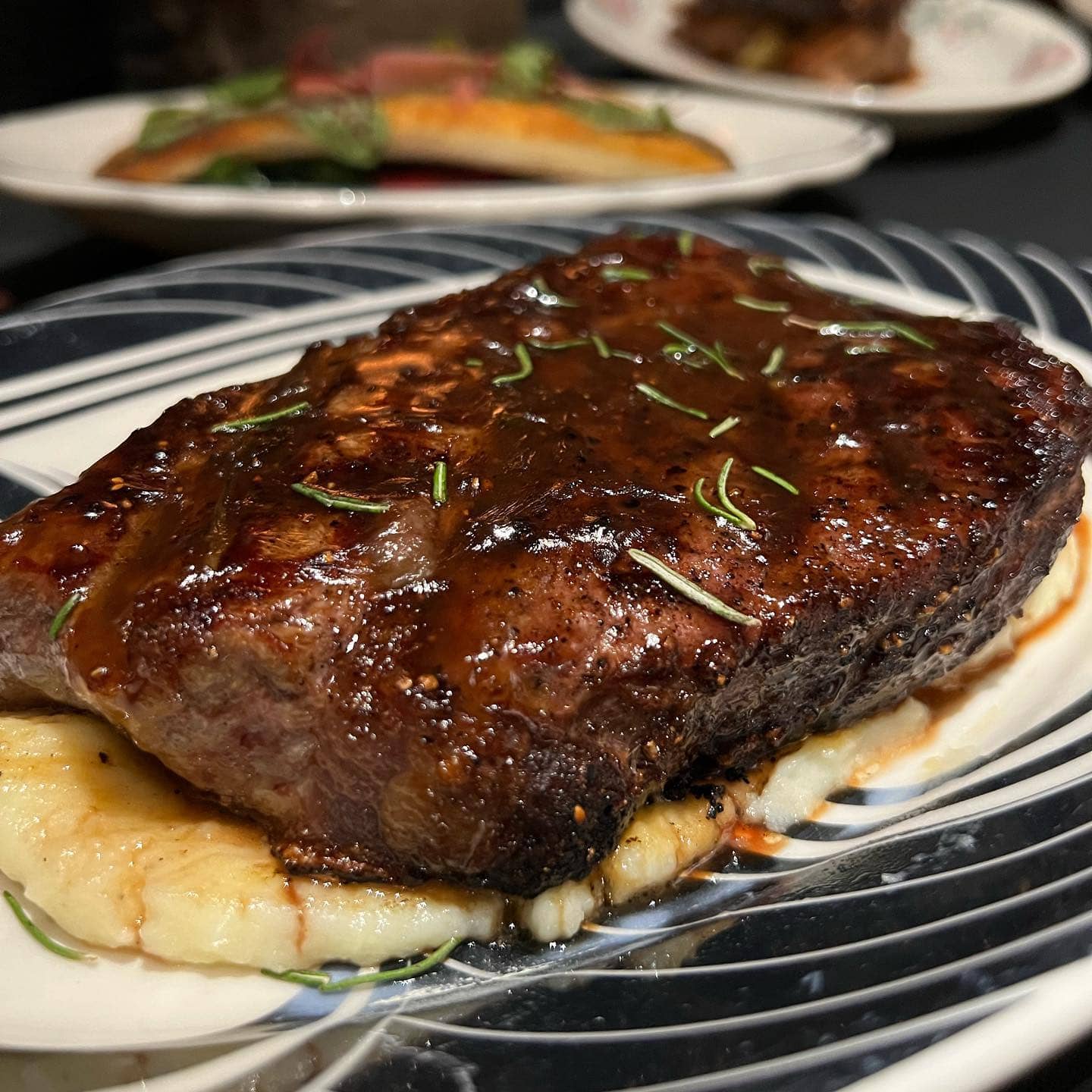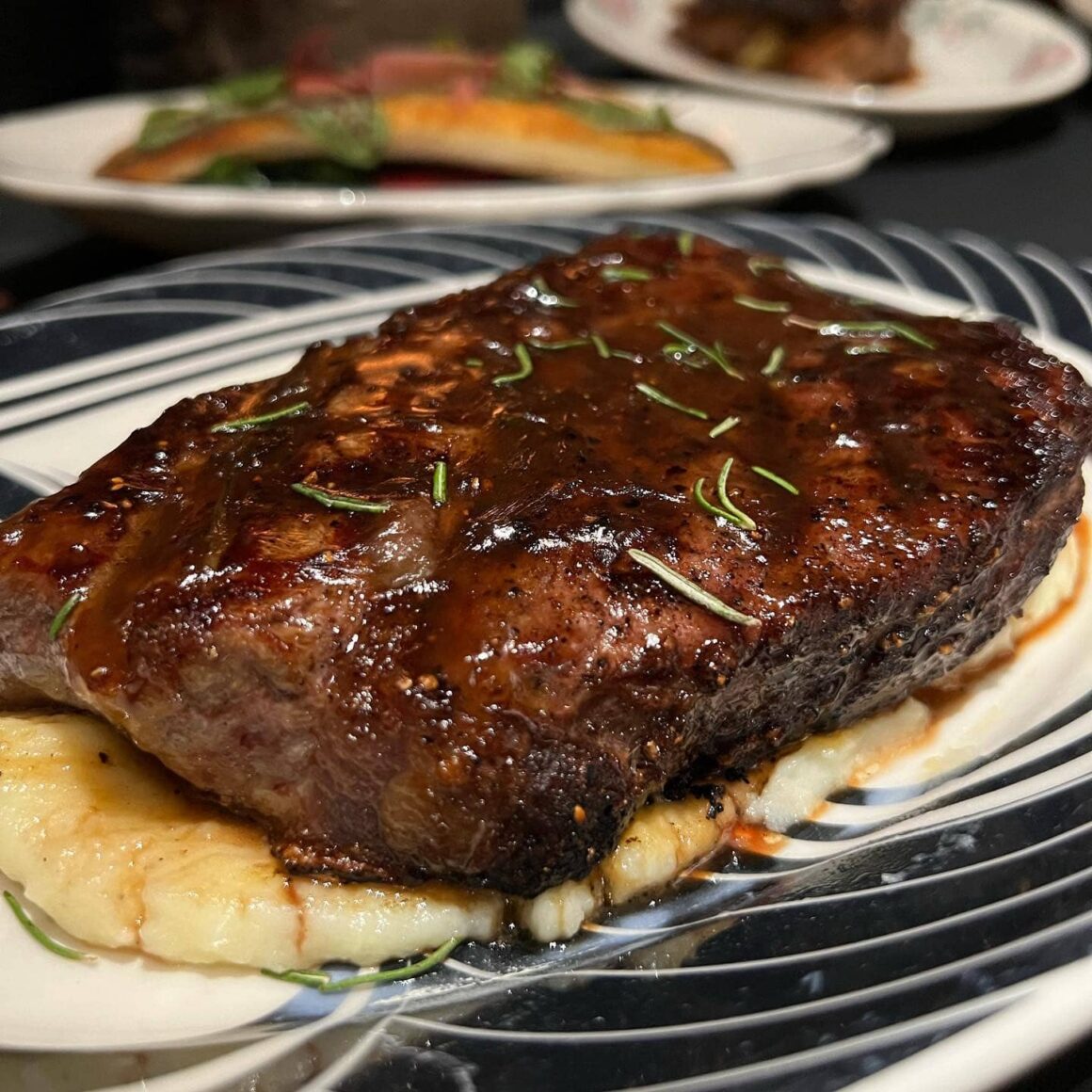 If you're looking for a New York classic to spend your night, don't miss out on Butter.
Offering you a unique atmosphere and elegant interior with high arching ceilings capped with a large format nature scape, cozy booths, and an inviting bar.
Butter caters to any guest, whether they are seeking either a formal dining experience or one that is a more casual night out with loved ones.
Everyone's obsessed with their ultimate Gnocchi "Mac & Cheese" covered in cheesy Cheddar. What makes this dish so special is the gnocchi, which is so light and fluffy with a spoon full of creamy potatoes and cheese.
Could there be a more perfect pairing of two things? Soft as pillows and rich but not overly so.
Besides the dish above, another star of the show is Smoked Double-Cut Berkshire Pork Chop pan-roasted garnet yams with an unbelievably generous portion and juicy pork chop.
You don't need to order a side since it comes with potatoes, which makes the flavor even more superb.
Tender and wonderfully flavorful with perfectly cooked pork that melts instantly in your mouth!
What to order: Gnocchi "Mac & Cheese", Smoked Double-Cut Berkshire Pork Chop, Grilled White Cloud Cauliflower
Address: 70 W 45th St, New York, NY 10036
Website | Instagram | Facebook
2. Kochi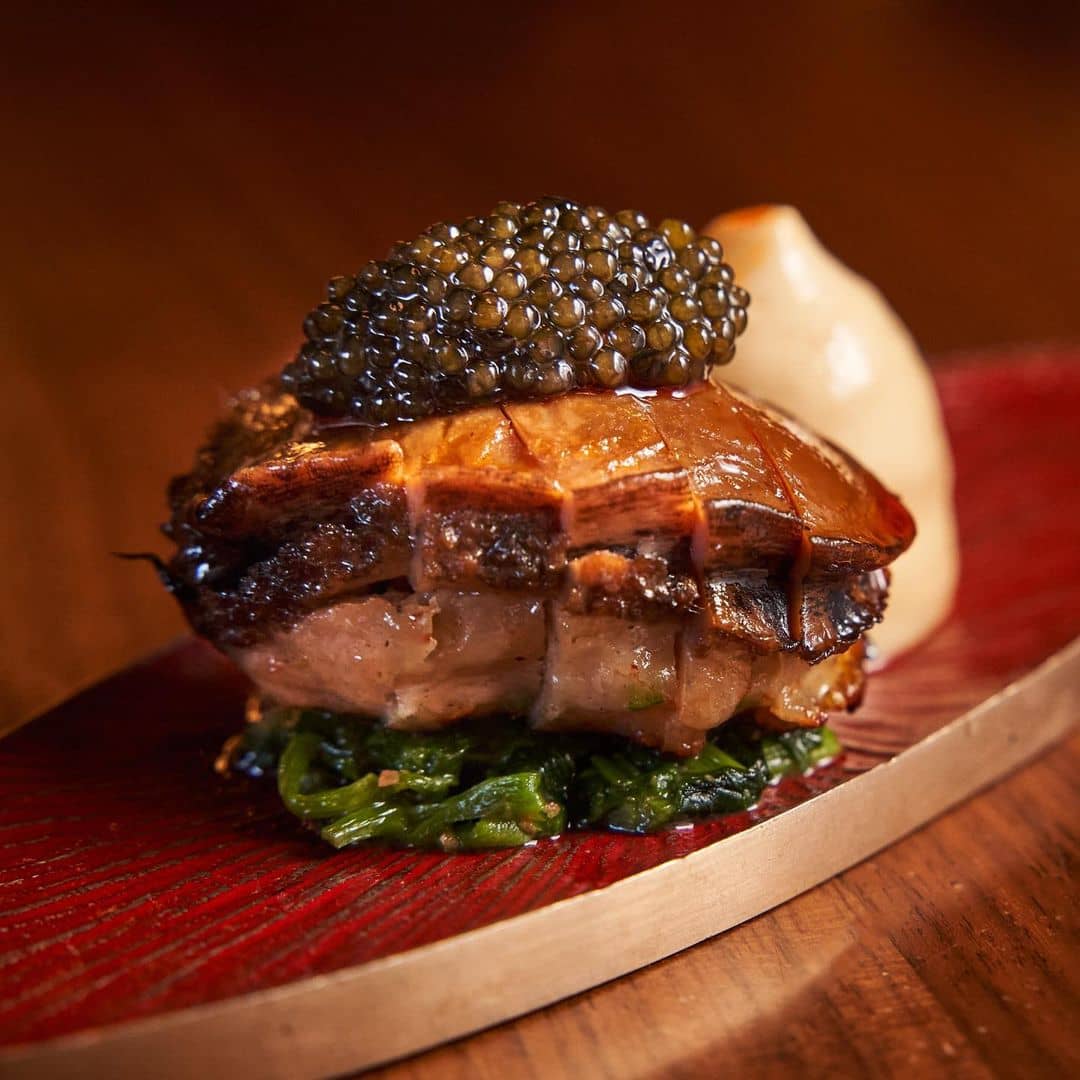 In the mood for some Korean gastronomy with a modern twist, Kochi is it! Kochi, which stands for "skewer" will not let you down with its nine-course tasting menu of skewered dishes inspired by traditional Korean cuisine, which is built around seasonality and balance.
By incorporating the freshest local ingredients daily and elevating them with the hand of gastronomic technique, Kochi will satisfy your hunger undoubtedly.
The A5 Wagyu is 100% the highlight of the whole meal. The buttery, tender wagyu is so unbelievable that you can almost feel like it's melting in your mouth.
The beautifully made Flat Iron is brought to another level with the savory and sweet Jjajang sauce that makes every bite so pleasant to enjoy!
We also highly recommend the moist, soft Halibut with eggplant at the bottom that adds a nice touch to the flavor.
A perfect combination of freshness, sweetness, and smoothness in flavor and texture. Worth every penny!
What to order: Flat Iron (A5 Wagyu), Halibut, Ice Cream
Address: 652 10th Ave, New York, NY 10036
Website | Instagram | Facebook
3. The Modern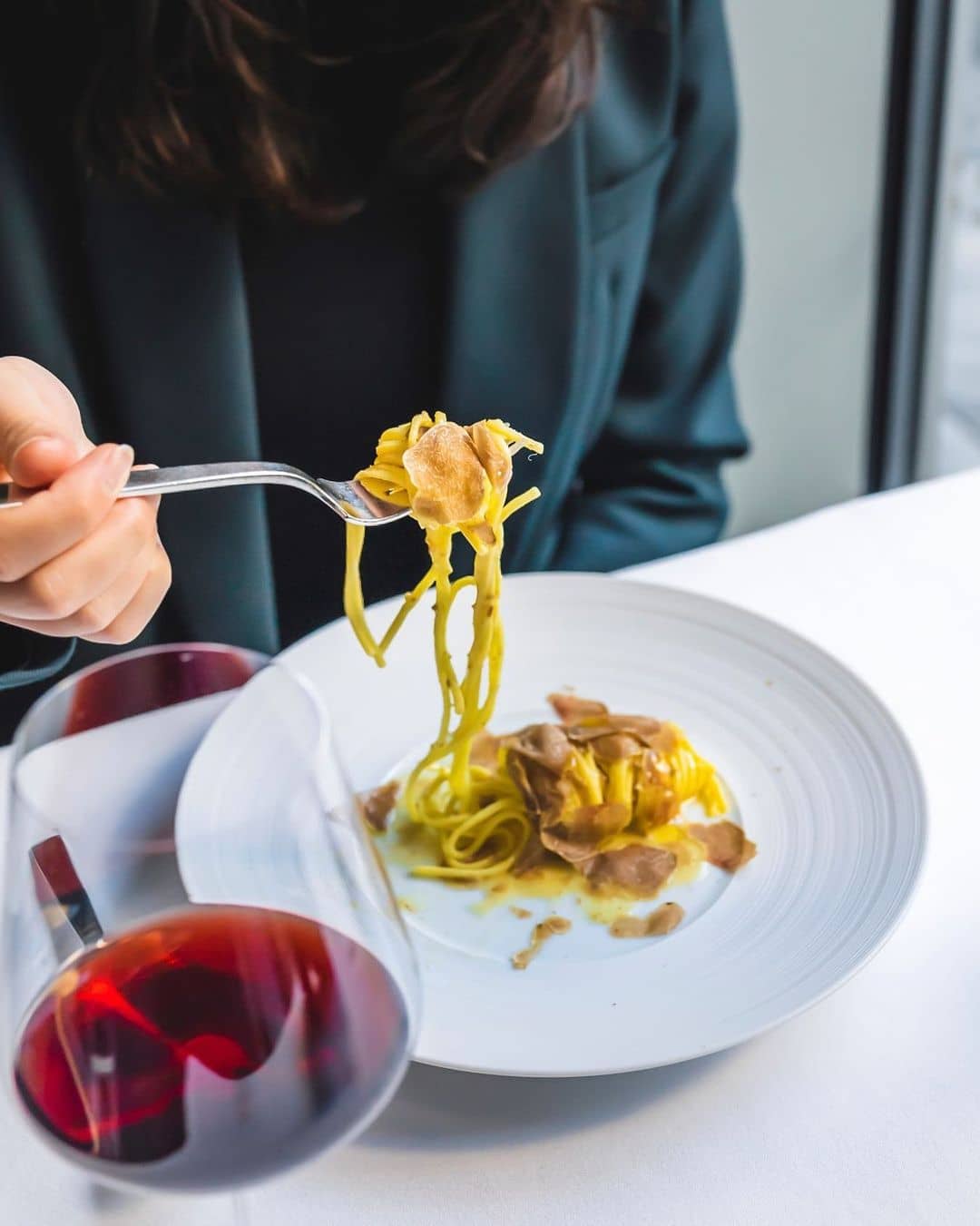 A beautiful and modern place that looks out into the outdoor sculpture garden at MOMA, The Modern is a two-Michelin-starred, contemporary American restaurant at the Museum of Modern Art that promises to offer you an unforgettable moment with delicious food while immersing in a unique vibe.
The restaurant's acoustics is also fantastic allowing you to hear your dinner mates clearly while subduing the other conversations in the dining room.
Also for wine lovers, this place is a hidden gem!
The star of the show Eggs On Eggs On Eggs – What a delight! This is a perfect combination between perfectly poached eggs, caviar, pickled shallots, and crunchy brioche stick.
The breadstick is so fluffy and soft inside creating an interestingly opposite texture to its crunchiness outside and it's soaked up in the creamy, buttery egg yolk and the frothy broth at the bottom.
The caviar flavor? Heaven! All these touches promise to make your dinner an experience to remember for a long time
The Herb Roasted Beef is a celebration of exquisite flavor and succulence. Each slice of beef reveals a perfect balance of tenderness and juiciness, with the herb-infused crust adding a delightful crunch.
Accompanying the beef are new potatoes, cooked to perfection.
These buttery and tender gems offer a comforting and earthy element to the dish. The potatoes absorb the flavors of the herbs and juices, creating a heavenly pairing that will satisfy your palate.
What to order: Eggs On Eggs On Eggs, Herb Roasted Beef, Scallops
Address: 9 W 53rd St, New York, NY 10019
🍕 Check out these top-rated guided NYC food tours!
4. Empellon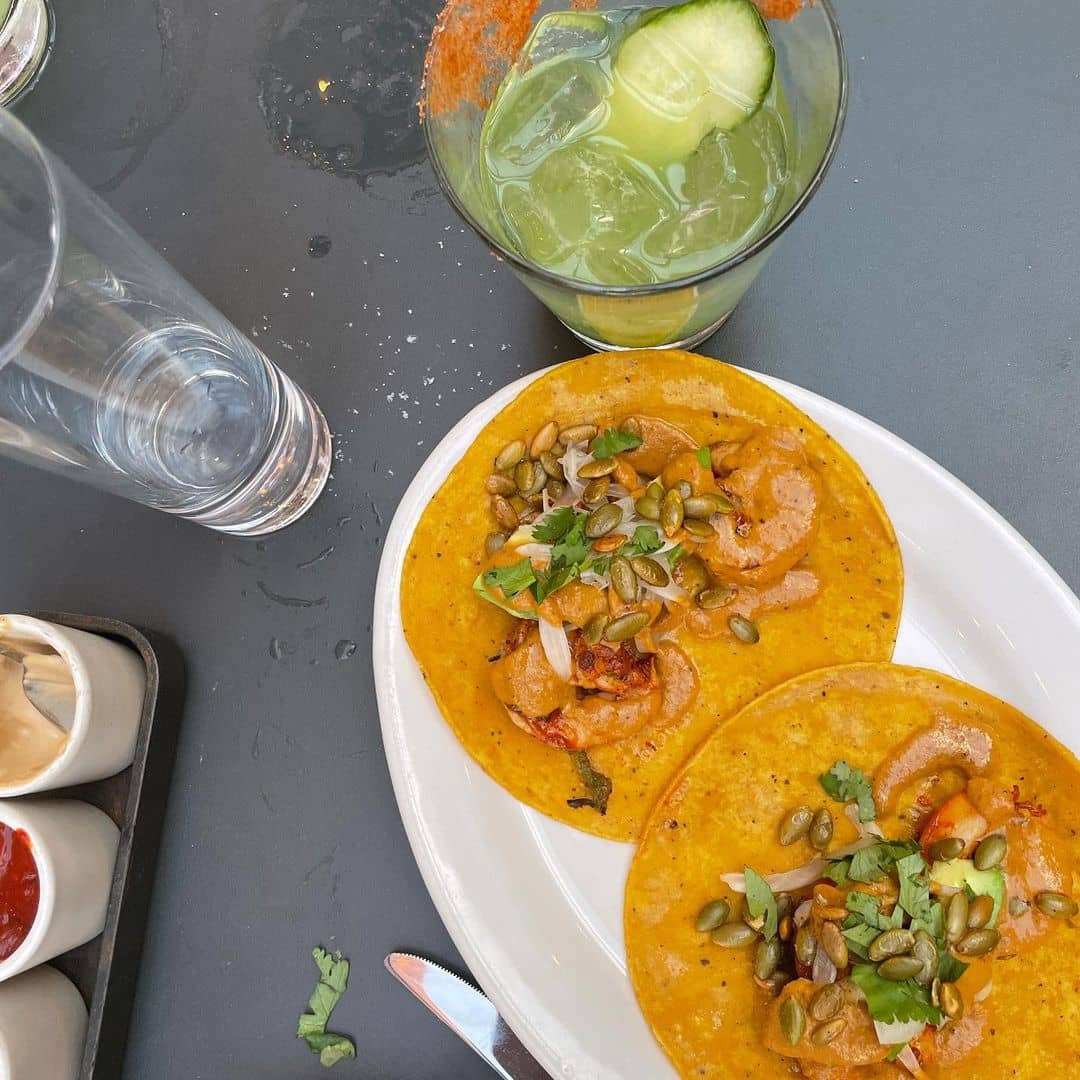 Located in Midtown, Empellón offers you tasty American cuisine with Mexican influences.
Entering the restaurant and you'll be embraced by the "modern and elegant" touch interior with aesthetic decorations covered in cozy yellow light.
By using the warm autumn palette, Empellon gives you that home-like yet fancy feeling, and even more with dishes that are crafted with the utmost precision.
Right off the bat, Guacamole with Seven Salsas is a must when visiting Empellon. The salsas are cleverly arranged so that the spice levels increase as you keep going, which helps to elevate the flavor and your experience.
The cashew cream that begins the meal is undoubtedly worth highlighting with its amazing creaminess with a hint of smokiness that creates a perfect match with the guac.
Since the chips are refilled so we'd recommend taking it slow with it as you'll still have lots of dishes after this!
The Fish Tempura Tacos is worth trying with soft, moist fish stuffed with crunchy cabbage and addictively savory tartar sauce inside a taco. Every bite is so pleasant!
And for dessert, we'd highly recommend the Avocado that presents flawlessly!
After being amazed by the lime raspado ice cream made just like avocado on top of eucalyptus yogurt, you'll be surprised by the refreshing and minty flavor from the lemon ice cream shavings that add a great touch to balance out the milder taste.
What to order: Guacamole with Seven Salsas, Fish Tempura Tacos, Avocado
Address: 510 Madison Ave, New York, NY 10022
Website | Instagram | Facebook
5. SESAMO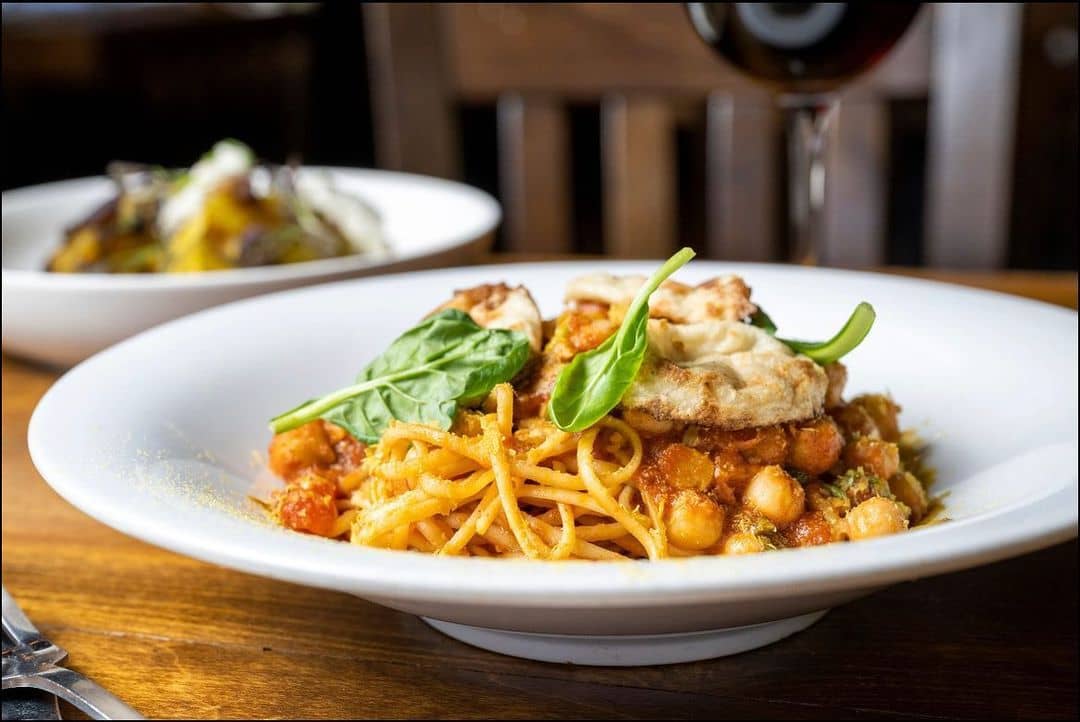 At Sesamo, you'll get a complete experience with an interesting meet between Italian and Asian cuisine in every dish and enjoy an intimate evening with someone special, a cozy and bottomless night with family and friends.
With a relaxing and comfy ambiance, Sesamo is a perfect spot for memorable memories right in the heart of Midtown.
Check out the tasty Duck Ragu Pappardelle with flavorful, chewy duck covered in spicy, savory masala and a touch of creaminess from hard ricotta and the refreshingly minty scent helps balance the flavor nicely. Simple but always on point!
Is it too soon to talk about dessert? We don't think so with their Black Tea Creme Brûlée. Slightly bitter with smoky notes of tea makes the perfectly textured custard both balanced and enticing.
Whatever you eat, remember to ask for this one to complete your memorable experience at Sesamo!
What to order: Duck Ragu Pappardelle, Black Tea Creme Brûlée, Burrata, Coconut Miso Salmon
Address: 764 10th Ave, New York, NY 10019
Website | Instagram | Facebook
6. Hutong New York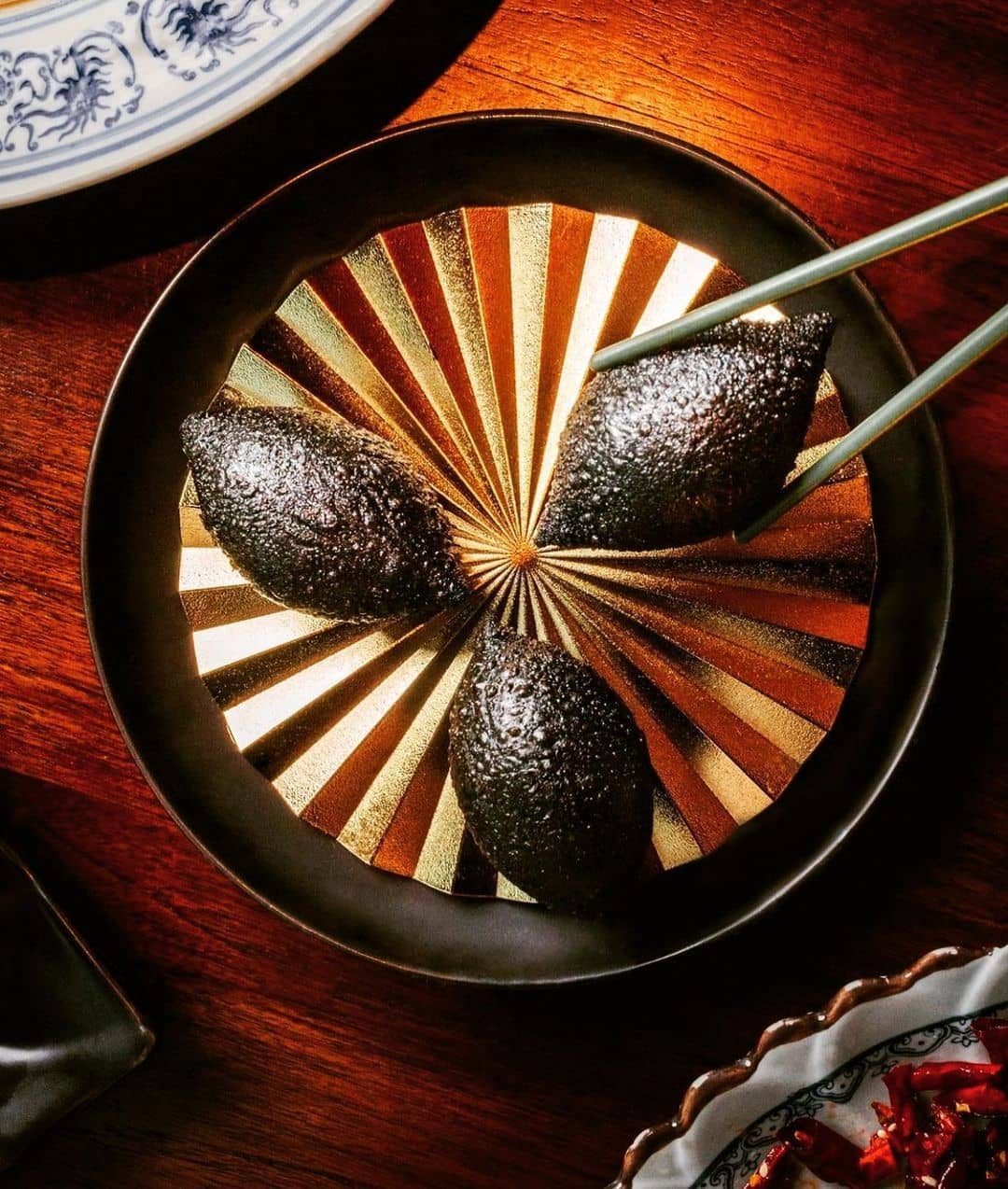 Authentic Northern Chinese cuisine with a contemporary twist – Hutong's cuisine captures the subtlety and surprises of Lu cuisine from Shandong province famous for its fresh seafood and kinds of vinegar combined with influences of nearby Sichuan province with its fiery spices.
So, if you're craving some Chinese signatures, come here and let Hutong invites you to step into glamour.
One of the most famous dishes is the Roasted Peking Duck with Pancake which promises to win your heart.
Being served in two stages, you are offered to experience the most unique and top-notch flavor.
The live fire with Chinese makes the duck skin extra crispy. Slices were glistening with the perfect ratio of fat underneath the skin and meat that creates an unbelievable tenderness.
Once finished, the second stage is served where the leftover meat is stir-fried with green beans to be eaten with fresh lettuce leaf cups.
After the rich flavor of the roasted duck, we think it's time to balance the experience with some nice sweet treat with Bao & Soy Milk that promises to enhance your journey of flavorsome even more.
The Bao has a white chocolate shell filled with sesame mousse as the "dough" and caramel as the "filling" for the bun. And a nice touch of refreshing soy milk ice cream is so pleasant, too.
What to order: Childhood, Kou Shui Chicken
Address: 731 Lexington Avenue, Inside Beacon Courtyard, New York, NY 10022
Website | Instagram | Facebook
7. STK Steakhouse Midtown NYC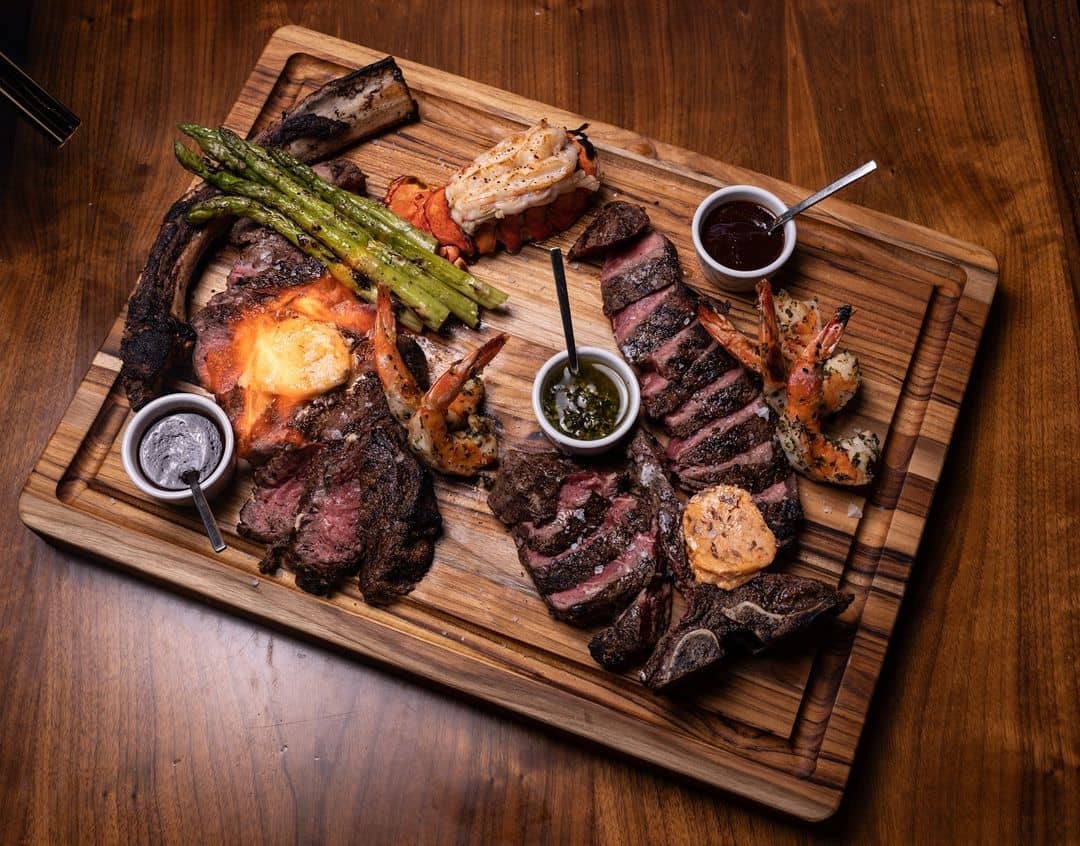 STK Steakhouse redefines the traditional steakhouse setting with a high-energy, chic, and sleek atmosphere.
With a menu that also highlights non-red meats, this steakhouse is crowded all nights of the week, thanks to the incredible food and impeccable service.
Filet Mignon, available in 6 oz and 10 oz sizes, has a mild flavor and is cooked to medium-rare perfectness. Add the STK Bold sauce (costs extra) to your filet to amp up the flavor.
You can also choose surf and turf, and order Lobster Tail or Grilled Prawns with your Filet.
Visit STK for lunch, and you could enjoy a solid Wagyu Burger & Fries. This is a premium quality burger, with a rich, caramelized, and juicy patty.
What to order: Filet Mignon, Filet with Lobster Tail, Wagyu Burger & Fries
Address: 1114 6th Avenue, New York, NY 10036
Website | Instagram | Facebook
8. Halal Guys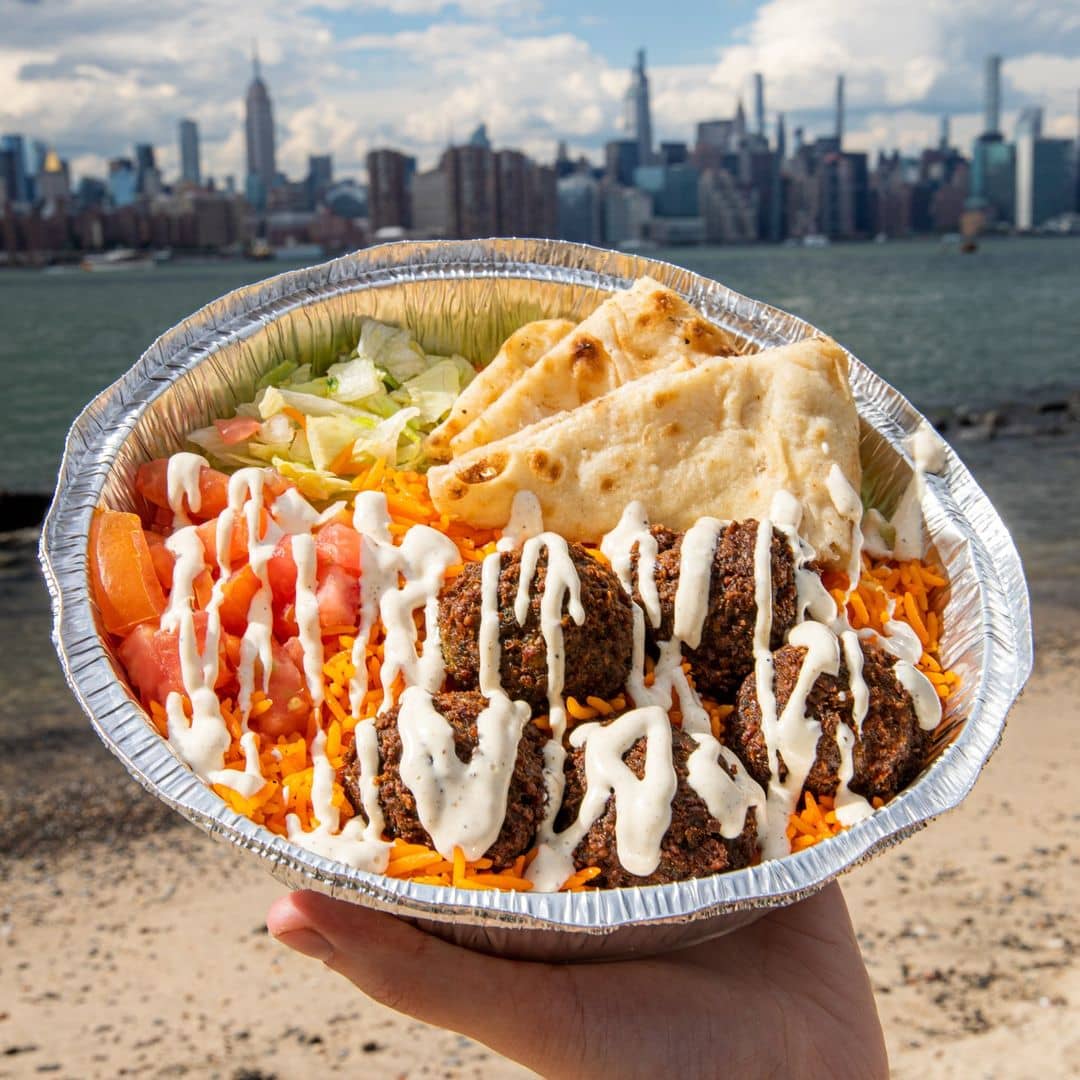 You know you can't go wrong with this place! Halal Guys is an amazing bang for your buck. Featuring flawlessly cooked Halal meats that are seasoned nicely, a melting pot of Middle Eastern and Mediterranean covered in their world-famous White Sauce.
Not a place to get a healthy meal but if you're looking for some dense comforting halal food to please your stomach, this is it!
Don't know what to choose? Try their Combo Platter to enjoy fully the flavor from both beef gyro and chicken on a large portion of seasoned rice with some crunchy lettuce on the side.
Don't forget to add a bit of their house hot sauce and a generous amount of white sauce.
The meat and chicken are definitely on point and nicely balanced with other elements.
Another crowd-fav is the Chicken Platter with tender, juicy pieces of chicken topping a large bed of seasoned yellow rice.
The white sauce is a must when it gives that creaminess, and savoriness to the dish even more.
On the other half, you'll get some juicy tomatoes, lettuce, and bread to balance out the flavor.
What to order: Combo Platter, Chicken Platter, White Sauce
Address: 6th Avenue &, W 53rd St, New York
Website | Instagram | Facebook
9. Totto Ramen Midtown East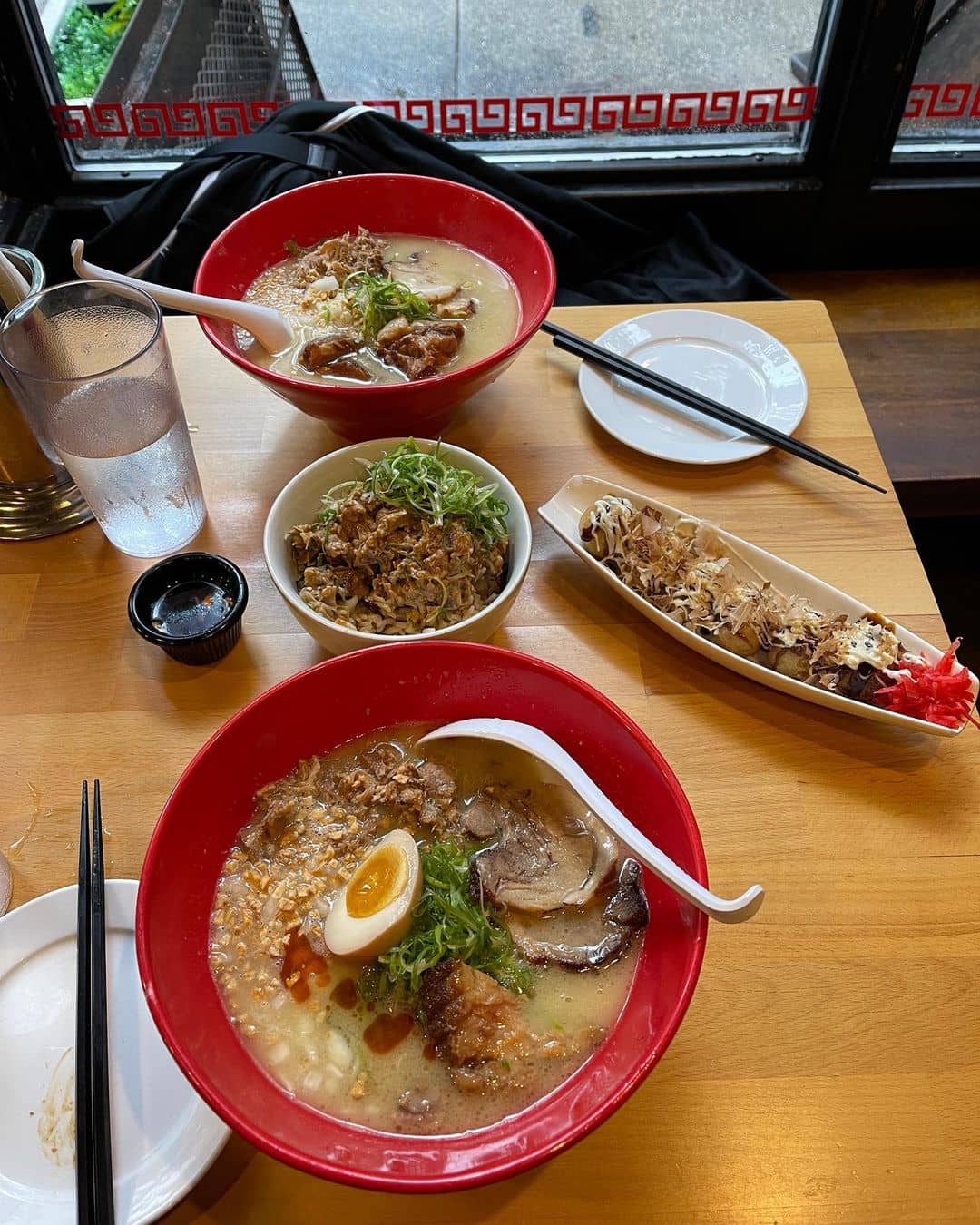 A cool tiny room with good music and friendly, welcome staff that serves only the best Japanese cuisine – that's how Totto Ramen gives an instant crush to its customers.
It became clear that NYC was ready for chicken-based ramen instead of ordinary choices like tonkotsu or pork-based ramen, and at Totto, you will be able to experience the ultimate flavor that you can't have anywhere else.
Before jumping into any kind of ramen, let's talk about their incredible Tuna Don with cubes of fresh, shiny tuna on top of rice that is nicely covered in their signature soy sauce with sesame oil and a kick of flavor by scallions.
The buttery, creamy texture is so addictive and unforgettable! Tuna Don promises to be a perfect option to fulfill your experience at Totto!
It's time for some ramen! And being famous for the chicken-based broth, you must ask for Fried Chicken Ramen to have a fully pleasant journey.
The broth is flavorful with crispy fried-chicken skin and tender, moist chicken meat inside, and the veggies are also delicately placed without overwhelming the taste of ramen.
And for the rest, we would leave it to you. Make sure to ask for it to discover more flavor!
What to order: Tuna Don, Fried Chicken Ramen, Spicy Ramen
Address: 248 E 52nd St, New York, NY 10022
Website | Instagram | Facebook
10. Peak Restaurant & Bar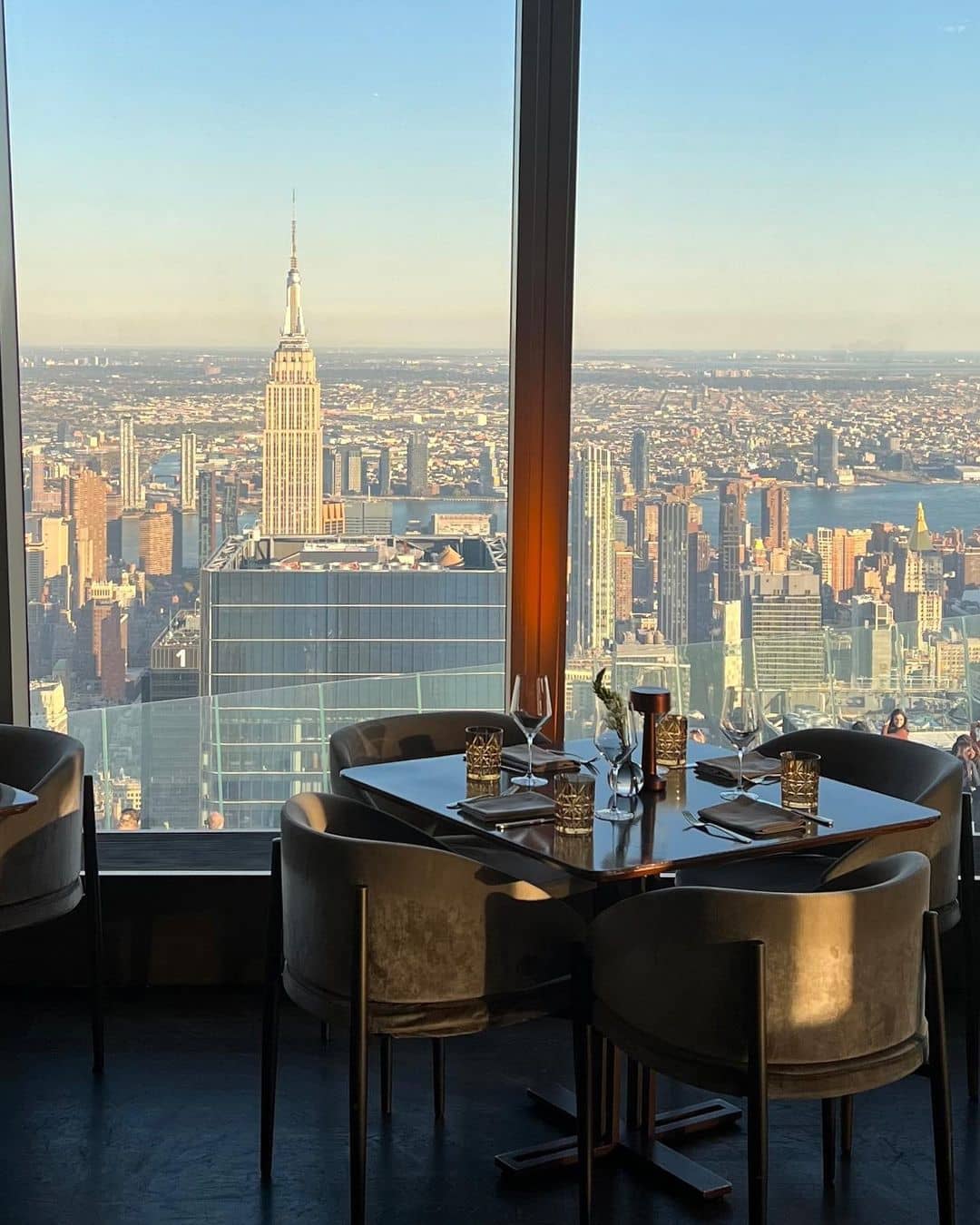 Peak Restaurant & Bar is a modern American restaurant and cocktail lounge where you can admire the sky-high eastern and southern views of the city extending to the Statue of Liberty and beyond.
Peak Restaurant's Halibut dish is a must-try at least once in your life. The halibut offers a delicate and flaky texture while the fava beans, artichoke, and tomato elevates the dish's flavor profile even further.
Who knew Halibut could taste this good?
End it beautifully with their famous Raspberries grounded with white chocolate ganache, hazelnut and lime sorbet. Yummy!
What to order: Smoked Lamb Belly, Maine Lobster, Bouillabaisse Halibut, Raspberries
Address: 30 Hudson Yards 101st floor, New York, NY 10001
Website | Instagram | Facebook
11. Marea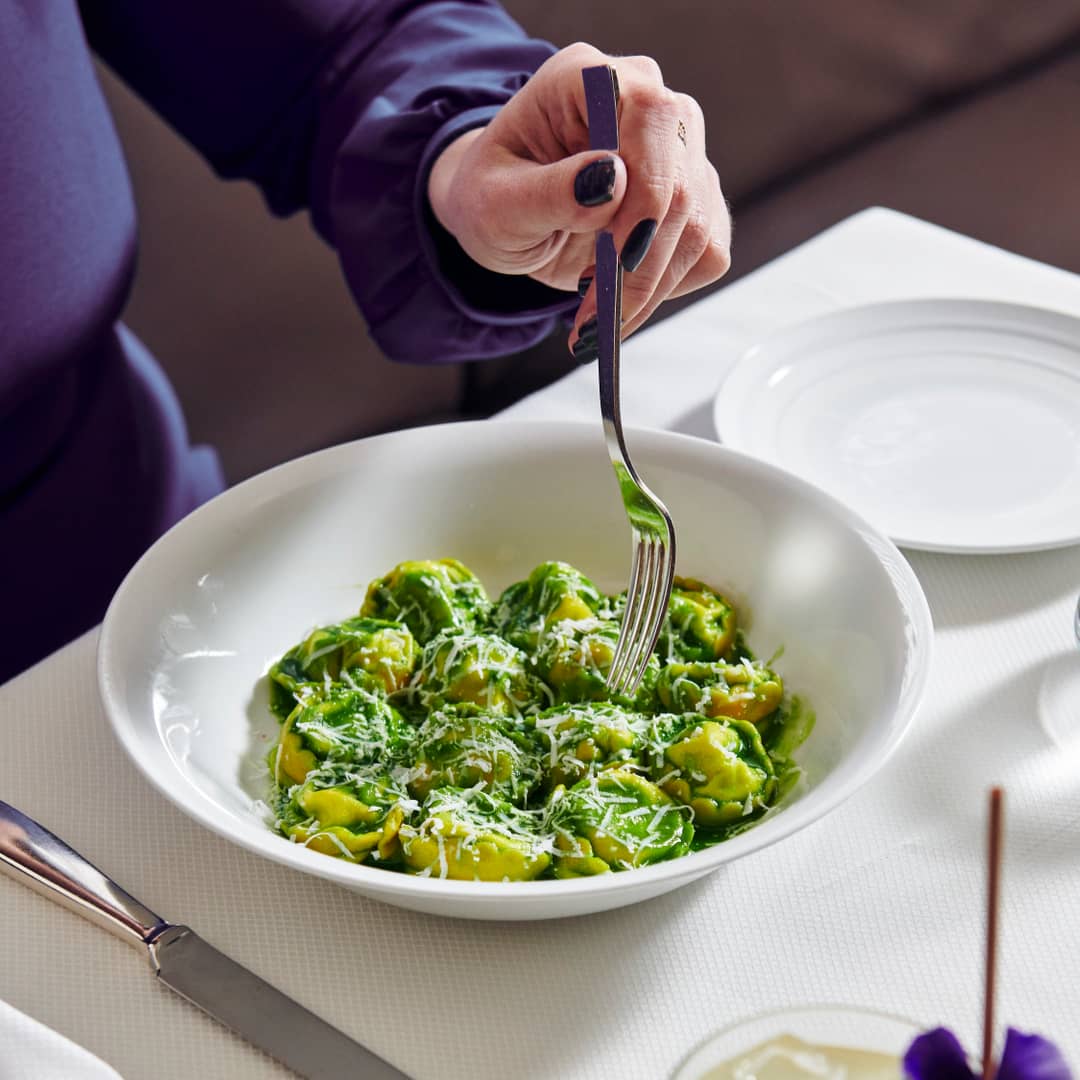 Entering Marea and you'll see the interior decor leans towards more sophisticated and what you'd expect from a Michelin Star fine-dining establishment yet casual enough to feel comfortable.
And of course, their food is top-notch just like the way they decorate the whole restaurant!
Nestled within a housemade potato bun, Marea's Caviar Slider brings together the richness of sturgeon caviar, the creamy tang of creme fraiche, and the tantalizing freshness of tuna tartare.
Each bite you take will blow your mind away. If you're seeking an unforgettable dining experience that exudes elegance and decadence, this Caviar Slider is a must-try.
Astice with fresh, tender, and sweet lobster is also highly recommended. The flavor is upgraded to another level with some creamy, savory burrata basil and eggplant al fun ghetto.
Nothing's better than having a big bite with all the ingredients above and enjoying the tastiness!
What to order: Caviar Slider, Astice, Risotto
Address: 240 Central Park S, New York, NY 10019
Website | Instagram | Facebook
12. Grand Central Oyster Bar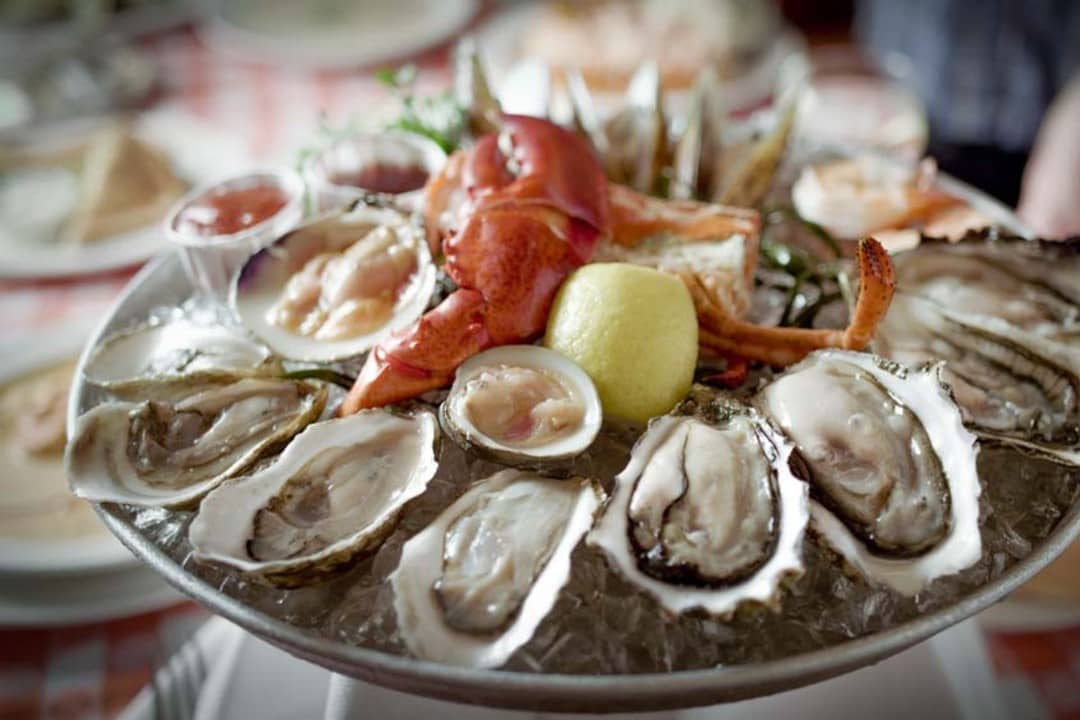 In the mood for some top-notch seafood but don't have options in mind? Grand Central Oyster Bar is the ultimate experience for any seafood lover.
Everything from lobster to different kinds of fish is hand-picked for the best flavor and freshness, especially for oysters, you'll be offered only the best quality.
Besides the diversity in oyster selection with freshness, deliciousness, and perfectly shucked with great mignonette (they were superb!), you can also try the New England Clam Chowder with savory broth and lots of meaty clams that gives the dish that signature sweetness.
It also comes with some crackers adding a nice touch of flavor to the dish.
Another worth-highlighting dish is the Stews Pan Roast, which is seasoned cream-based chowders of mixed seafood choices like oysters or scallops, clams, lobster, etc., With appetizing yellow presentation, we promise you'll have a watering mouth just by looking at it.
The taste is also phenomenal with the combo of fresh seafood and flavorful broth.
What to order: New England Clam Chowder, Stews Pan Roast, Oysters, Lobster Rolls
Address: 89 E 42nd St, New York, NY 10017
Website | Instagram | Facebook
13. Los Tacos No.1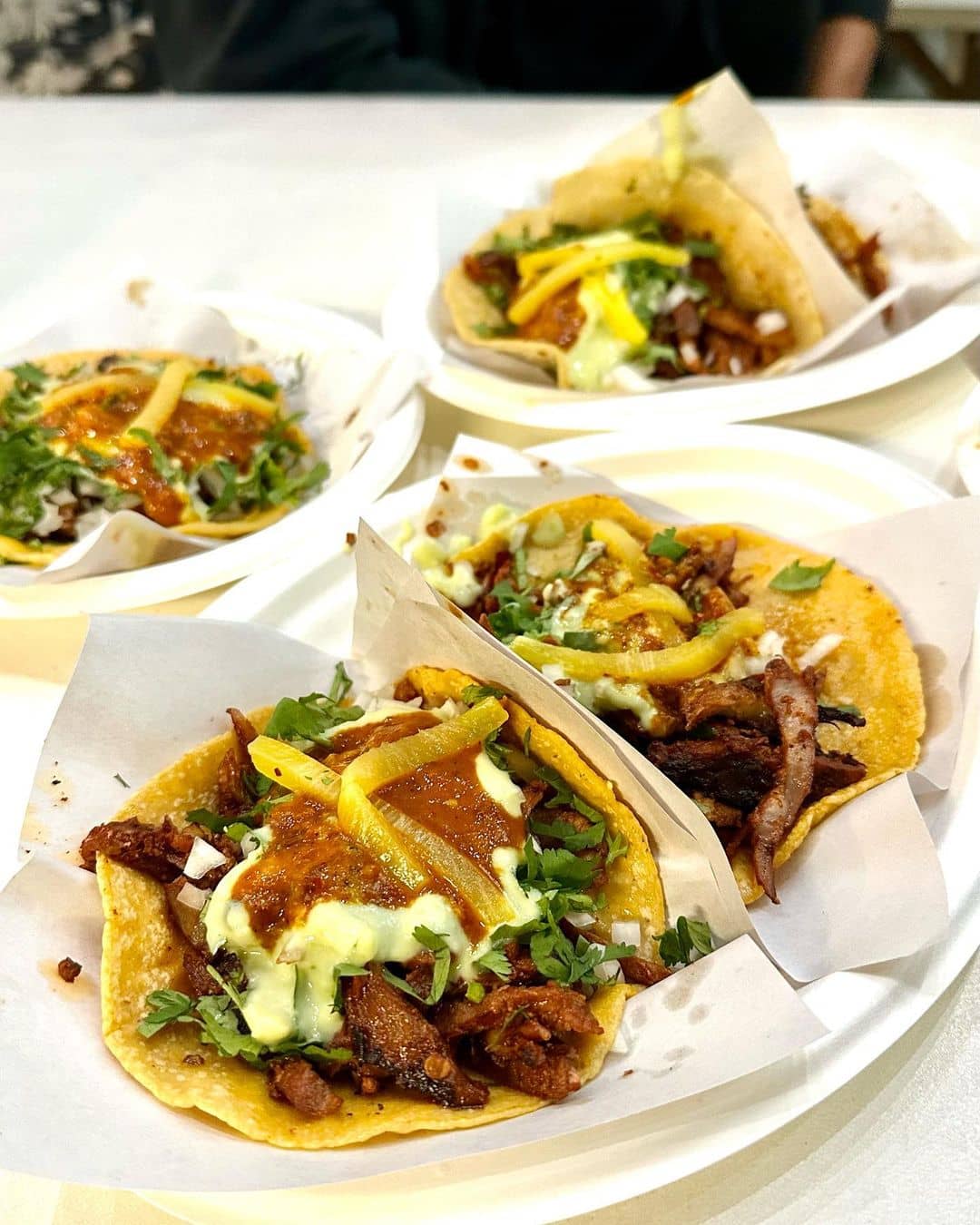 A stellar place to grab a quick bite in the Chelsea market and just minutes from Time Square! The line can be a bit hectic at times but the flavors are truly worth the wait and most definitely the price.
The superb authentic Mexican taste comes from family recipes and fresh, simple, and tasteful ingredients straight from home surely give you an instant crush.
The Adobada Taco is definitely worth the hype with unbelievably flavorful marinated pork with perfect tenderness and fattiness covered in their special sauce.
All the elements complement each other so well that you can't help taking another bite.
If you're not that into pork, try their Carne Asada and be embraced by the juiciness in every bite nicely balanced with their ultimately delicious salsa wrapped in a soft taco.
A nice touch of herby scent adds to making the flavor even more fulfilled and complete.
Oh, after you've picked up your order, there's a small salsa bar you can use to add a little extra flavor (although the taco itself is already full of flavor).
What to order: Adobada Taco, Carne Asada
Address: 229 W 43rd St, New York, NY 10036
Website | Instagram | Facebook
14. Felice 56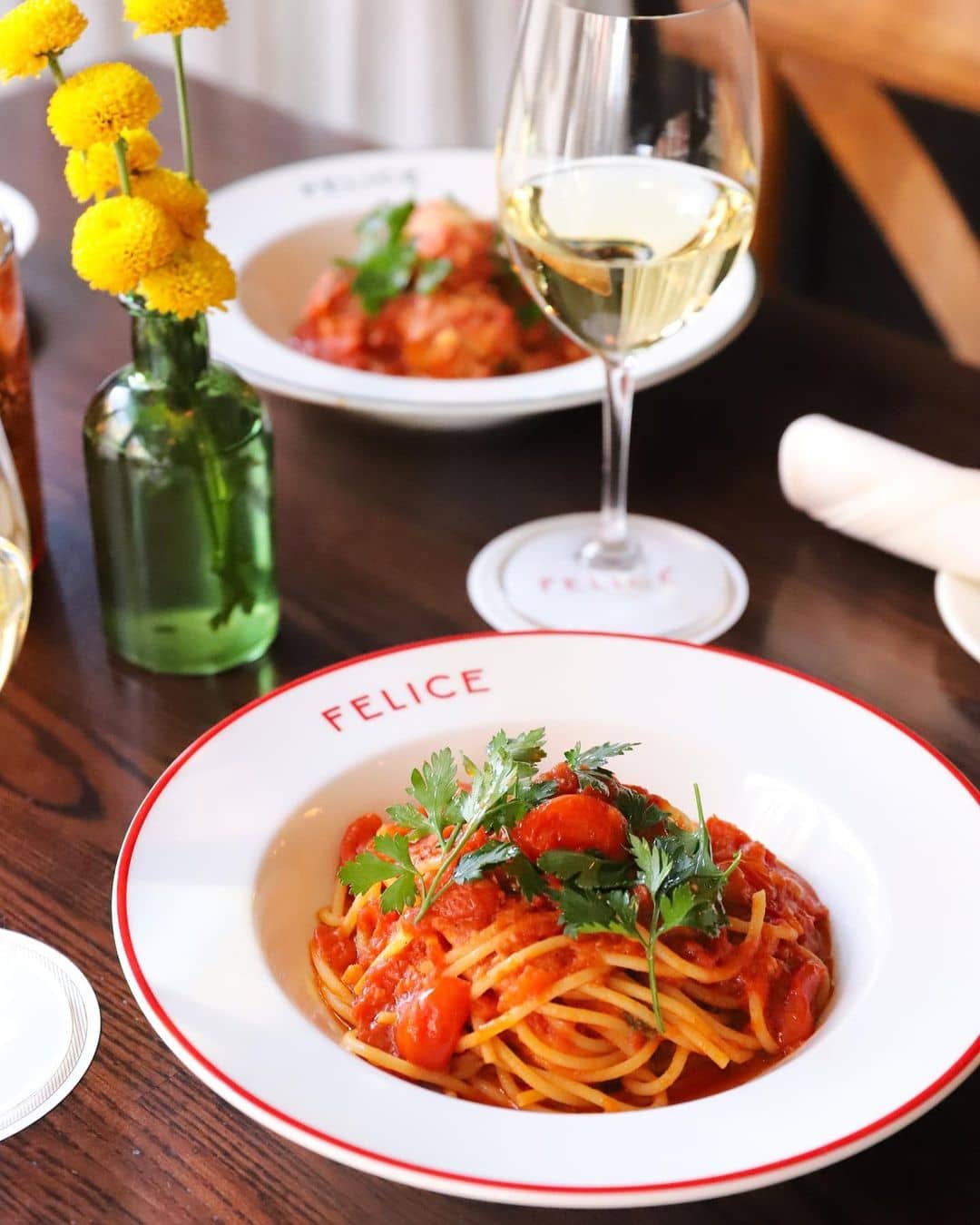 At Felice, you'll be embraced by the spirit of the Tuscan countryside and inviting neighborhood atmospheres that make every moment so calming and comfortable.
Featuring Italian classics made with the finest ingredients, every dish is taken care of with so much love and passion.
Come in and enjoy your phenomenally rustic traditional dishes by the dimly lit candles on the table.
Try the Crostino Toscano and we're sure it won't let you down! Coming with soft traditional bread tartine with smooth, creamy chicken liver mousse, savory onion confit, and crispy sage, Crostino Toscano is a perfect start for your meal.
Light but still impressive enough with a top-notch flavor.
Now, let's dive in with something more hearty and nutritious – Nizzarda di Salmone.
With this one, you are offered to enjoy the substitute seared wild salmon with tender and juicy grilled chicken, creamy hard-boiled farm egg with some veggies such as sun-dried tomatoes, and carrots to balance the rich, flavorful taste of the salmon and chicken.
What to order: Crostino Toscano, Nizzarda di Salmone, Caprese Invernale, Cavolfiore, Al Forno, Spaghetti Carbonara
Address: 15 W 56th St, New York, NY 10019
Website | Instagram | Facebook
15. The Original Soup Kitchen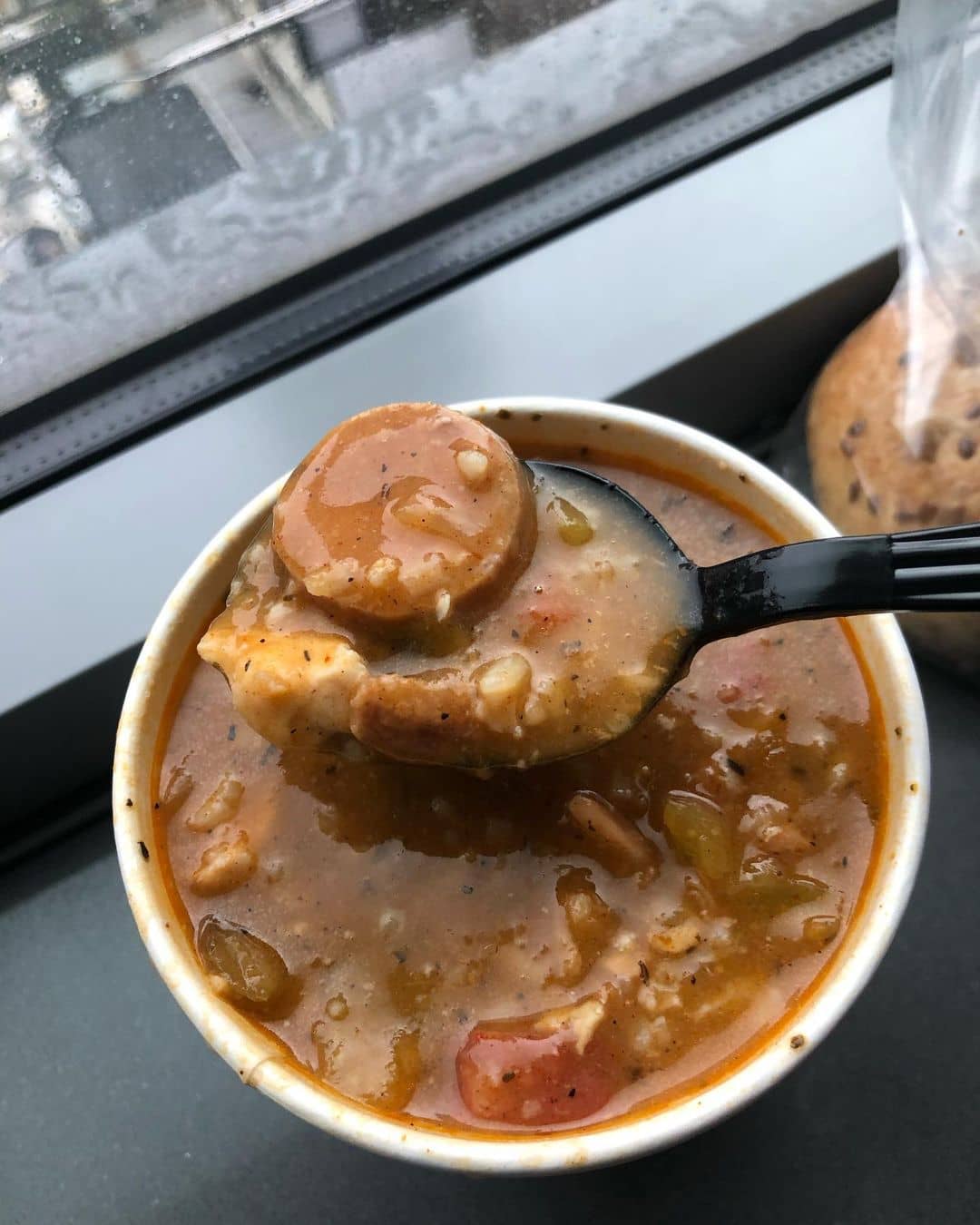 Since the winter is getting close, nothing's better than taking up some warm, hearty soup to satisfy your stomach.
And with The Original Soup Kitchen, we're sure you'll experience that home-like feeling of slurping freshly made soup with some steam coming out, and there you go.
If you're looking for a signature dish here, try the Lobster Bisque, which is an all-star dish that everyone's craving.
The lobster is soft, tender, and light sweet complementing well with the smooth orange cream soup and some bread is given along. Dipping the bread in the soup and enjoy your meal!
The flavor is also elevated with some buttery potato and crunchy carrots.
Worth every penny!
Wanting something more spicy and fiery? The Jambalaya is definitely for you.
A hearty and nutty option with a combination of tender chicken meat, shrimp, sausage, and rice mixed with Cajun seasonings. Every bite is full of flavor and that meaty feeling!
What to order: Lobster Bisque, Jambalaya
Address: 259A W 55th St, New York, NY 10019
We've hoped that the list above has helped you make your decision! If you're looking for the same thing in Brooklyn, we've had everything prepared.
Don't hesitate to check out our Best Restaurants in Brooklyn for further memorable moments!
Looking for a place to stay in New York?
This article includes affiliate links where we may get a small commission if you use our link. No extra cost is added to you.
How We Create Our "Best" Lists
All Noms Magazine's "best" lists are created using multiple factors and signals to help readers find the best restaurants, things to do, and places to stay at. Some of these factors and signs include personal experiences, correspondence with locals, and compiling experiences from review sites.
Each list is also created to be balanced (in terms of price, cuisine type, ambiance, and more) as possible. This means that the lists are not specifically created in ranking order. You should be comfortable picking from any of the spots on the list and generally have a good time. But of course, YMMV (your mileage may vary) and everyone may have different experiences/palates.