From beer halls to wine bars, Irish pubs and cocktail lounges, Vancouver's oldest neighbourhood Gastown with its eclectic mix of old world and new world charm is a hot spot for locals and visitors looking to get their booze on any night of the week. This vibrant and thriving neighbourhood hosts an amazing range of watering holes, bars, lively patios, and cocktail lounges that serve up diverse selections of after-dark drinks to all who work hard during the day but also love to play hard once the sun goes down.
To make sure you're hitting up all the right drinking spots on your next night out, check out our guide to the best bars in Gastown and enjoy great booze in a sparkling setting.
9. Local Gastown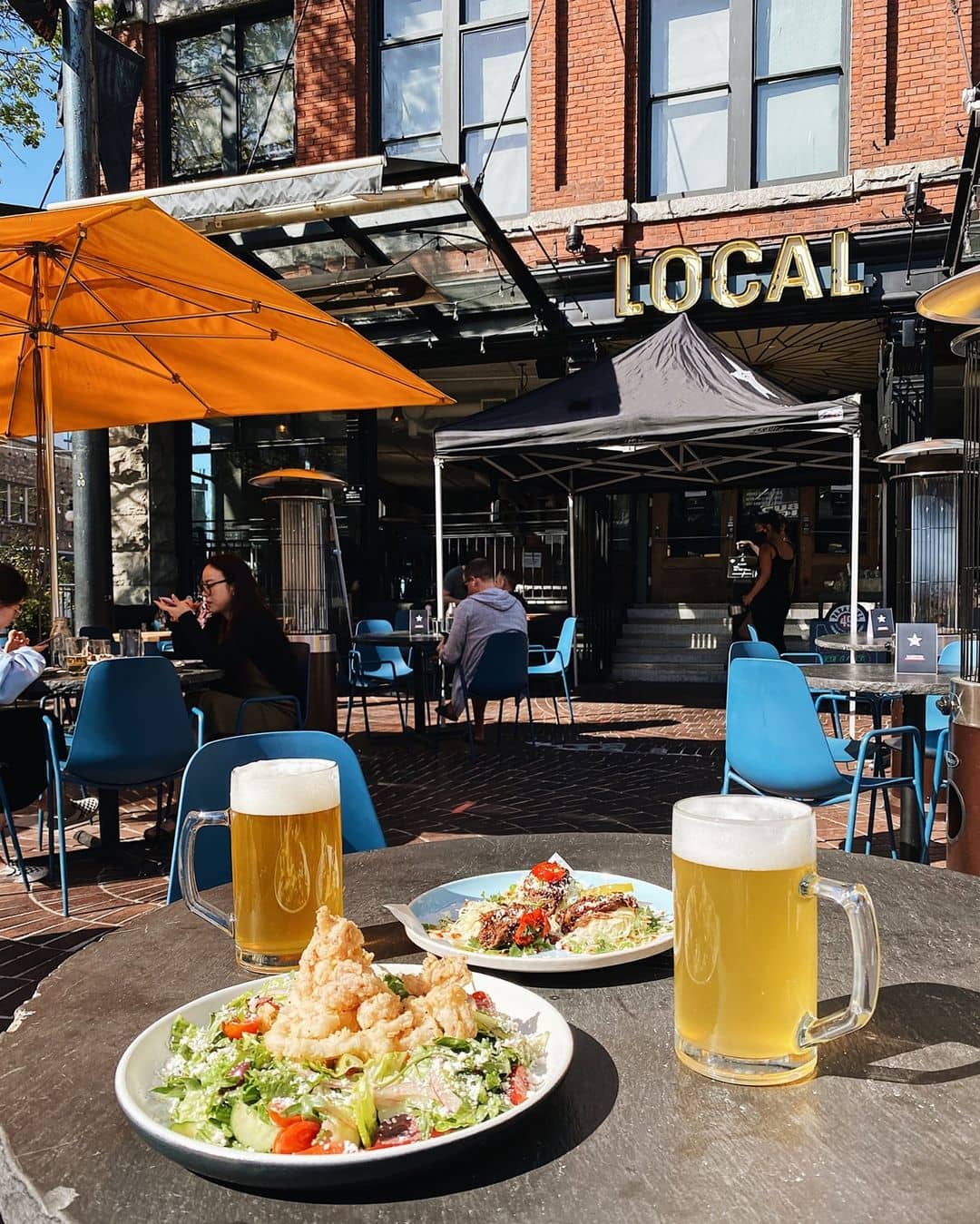 Local Gastown is one of those jubilant neighbourhood places that get really busy on a Saturday night and predestined to give a terrific evening to any accidental visitor that may happen to drop by. 
Their patio is always lively and full of people, and they also have an ever-rotating tasty selection of draft beer. Wine is on tap. Grab some cheese pierogies as an appetizer–it's cooked to perfection. And get a bottle of crisp Chablis, that is the wine you don't want to miss here. 
Address: 3 Alexander St, Vancouver, BC V6A 1B2
Instagram | Facebook | Website
8. Steamworks Brew Pub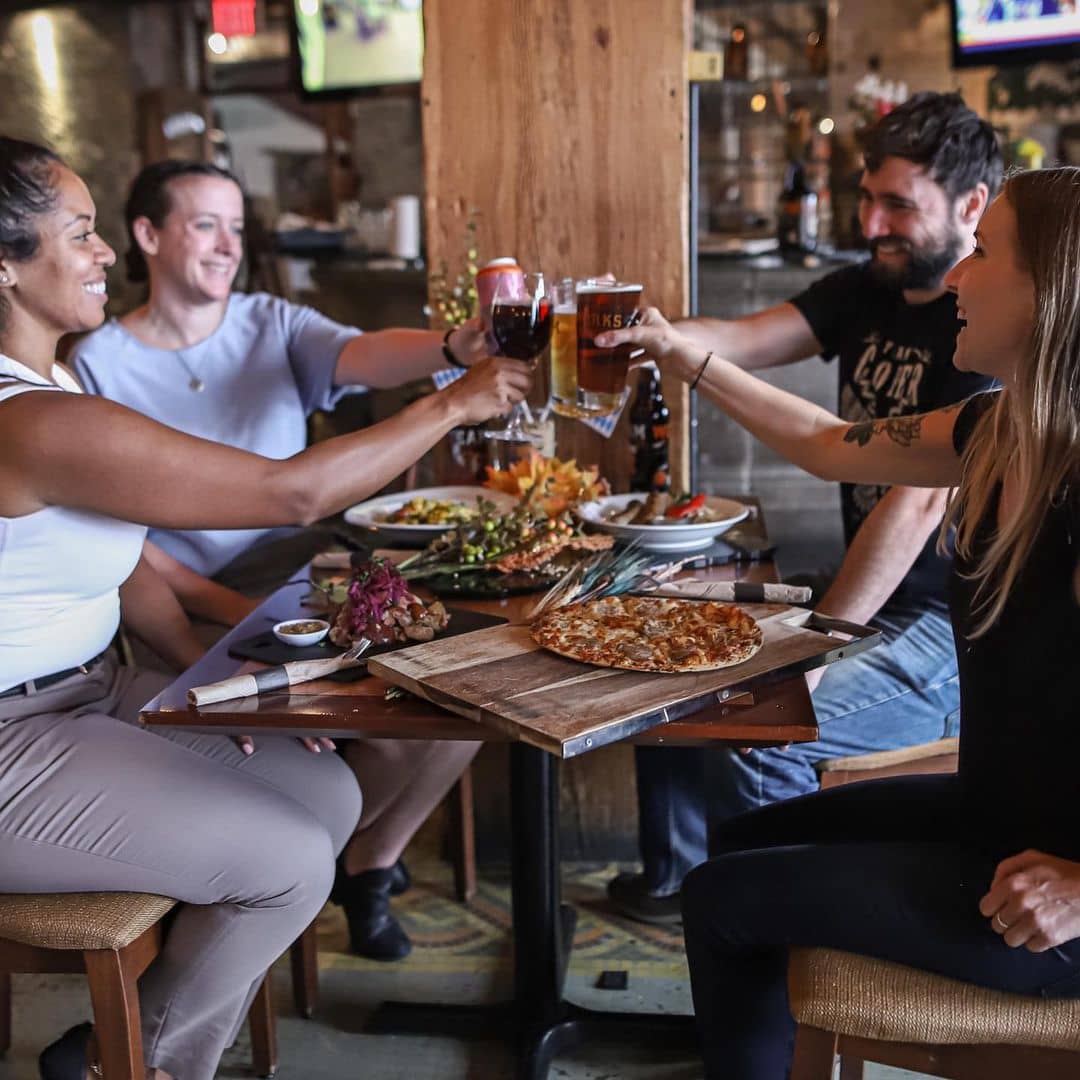 Ready for pub crawling Gastown? Start with Steamworks. Famous for their beer, they have been present on the beer scene since the 1990s. They are one of the favorites both among Vancouverites and visitors.
The name Steamworks takes after the well-known Gastown steam line that passes from here. They actually produce their beer on steam and the heat gives a genuine beer taste. Get a 10 Tap Taster and try 10 different beers. There is Pumpkin Ale, Cucumber Ale, or perhaps just Pale Ale. Or what about a Heroica Oatmeal Stout?
If you are feeling hungry, there's something for everyone, from chicken wings to pizza. Cheers!
Address:: 375 Water St, Vancouver, BC V6B 1B8
Order Online: DoorDash
7. Pourhouse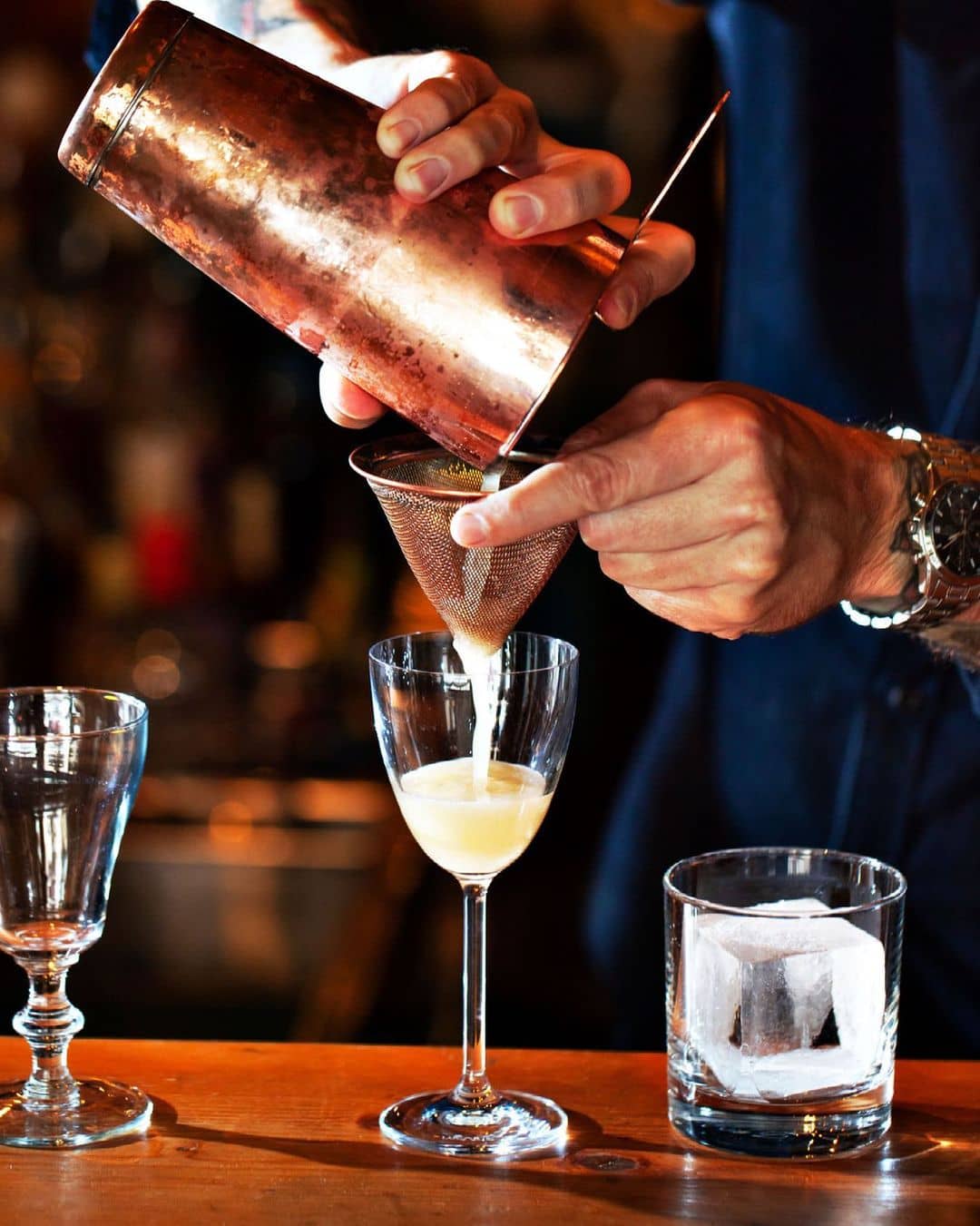 Just SouthEast of the historic Steam Clock in Gastown is Pourhouse, where sharing the simple indulgences of life with friends is what it's all about. Set in a 100-year-old building, this gorgeous spot is a relic of a bygone era complete with antique furnishings and custom old-world charm. The highlight of course is their 38 ft. handcrafted wooden bar from where you enjoy their best pours, mixes, wines and draughts.
For your booze fix, try their Gold Rush Daiquiri, a Manhattan (the Michter's Rye is amazing,) or a good ole Rum Old Fashioned. For quick bites to soak it all up, there's Fried Chicken, Onion Dip, and the must-try Truffle Tots and Pourhouse Burger.
Tip: Happy Hour is daily from 3-6PM & 10PM to Closing.
Address: 162 Water Street Vancouver, BC V6B 1B2
6. Gringo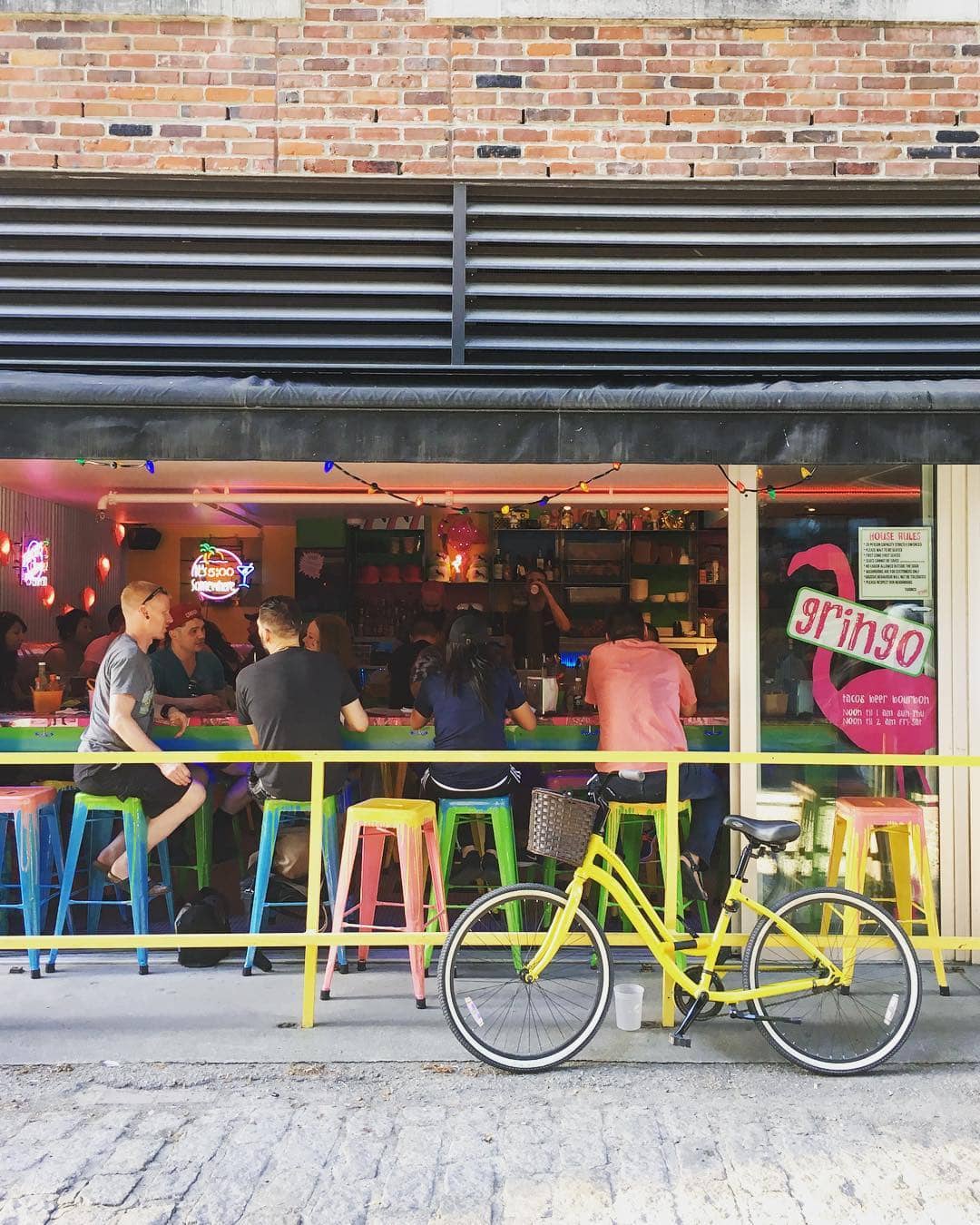 If you really want to boost your happiness hormones head to Gringo, also on Blood Alley. It's a joyous, sweet non-pretentious little hipster Mexican spot in Gastown, and as many Gastowners will tell you, there is no way not to feel happy when you go inside Gringo.
This place is bustling and has a super-friendly atmosphere boosted by a rainbowy palette of neon lights. The beer does not even cost $5, or if you don't want beer–you can always go stronger by grabbing one of their sand buckets. Perhaps with a Bourbarita which is a bourbon mixed with juicy watermelon + is served with some tempting gummies as an extra. Or some of their cocktails which are a bit pricier but totally worth it anyway. Combine your drinks with some of their tacos. It's first-come, first-serve.
Address: 27 Blood Alley Square, Vancouver, BC V6B 0C4
Instagram | Facebook | Website
5. Salt Tasting Room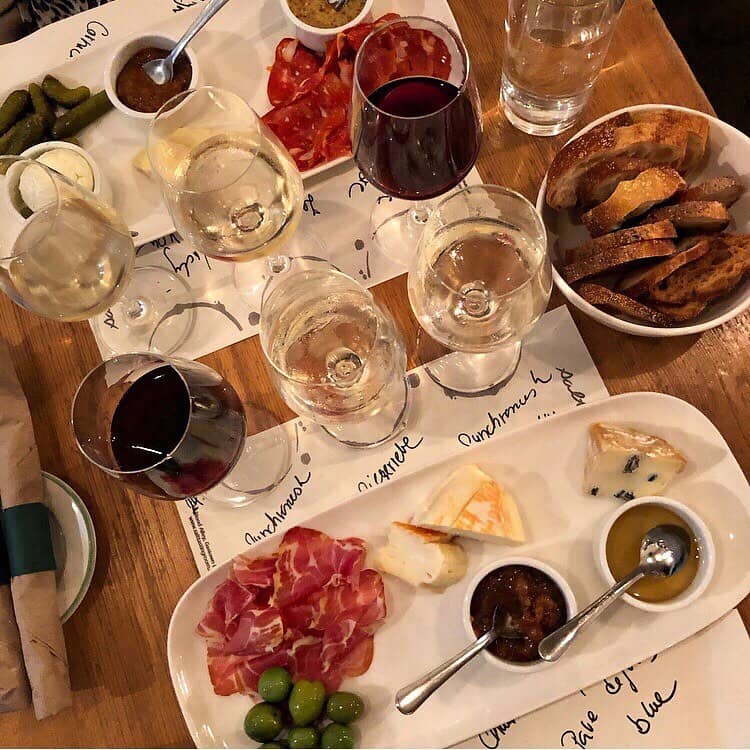 If you are a wine person, head to Gastown's Salt Tasting Room. You'll find this place in one of the neighborhood's dark alleys known as the Blood Alley. It's called the Salt Tasting Room since it specializes in artisan cheese and small-batch cured meats which you can pair with some fantastic wine options.
Since they have so many cheese and wine, time will melt on the clock quickly as will all those flavors melt in your mouth. You'll be asked to choose 3 different combinations of cheese and meat + 3 condiments.
You can also boost your order with a salad which might mean even more cheese (there's some pretty good goat cheese in the arugula salad). Have no idea which wine to take. Ask the staff and they'll give you some really great recommendations.
Address: 45 Blood Alley Square, Vancouver, BC V6B 1C7
Instagram | Facebook | Website
4. Juice Bar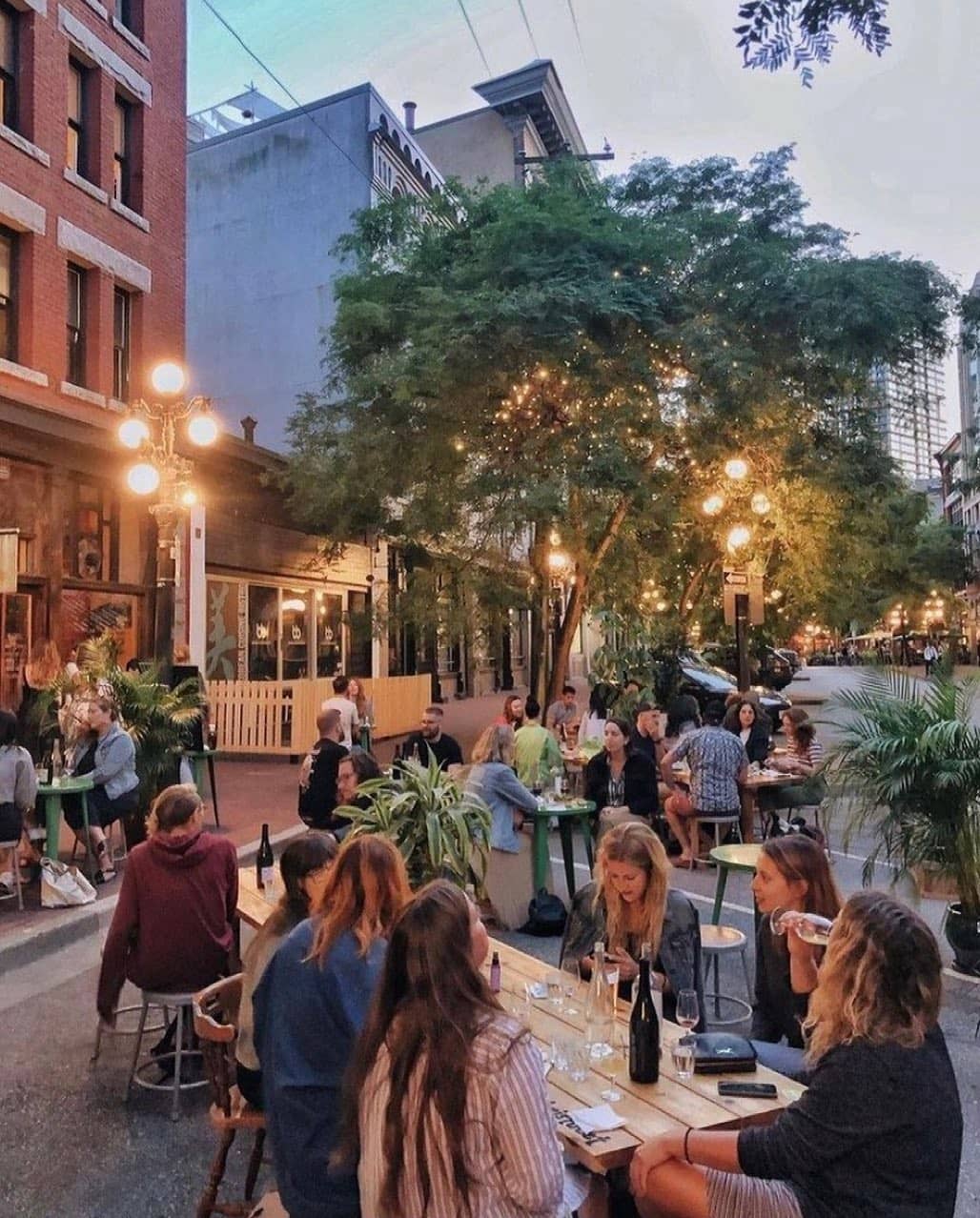 If you love natural or organic wine, Juice Bar at Birds & The Beets is the place you go. This delightful bar & shop features low intervention, cool and funky wines from British Columbia and around the world. Grab a bottle to go, enjoy a glass or two out on their patio (during summer), with some tasty bites to nibble on. It will surely give you a feel of New York in Vancouver!
We recommend you get a bottle of Revel Cider Soif, or the Else Wines Piquette 2020. Their juice boxes are pretty cool too (three bottles in a box.) For something to snack on, you could try their Chorizo Croquetas, or Sourdough bread, and definitely stock up on a few bags of Iberian Ham Potato Chips.
Address: 54 Alexander St, Vancouver, BC V6A 1E9
3. Pidgin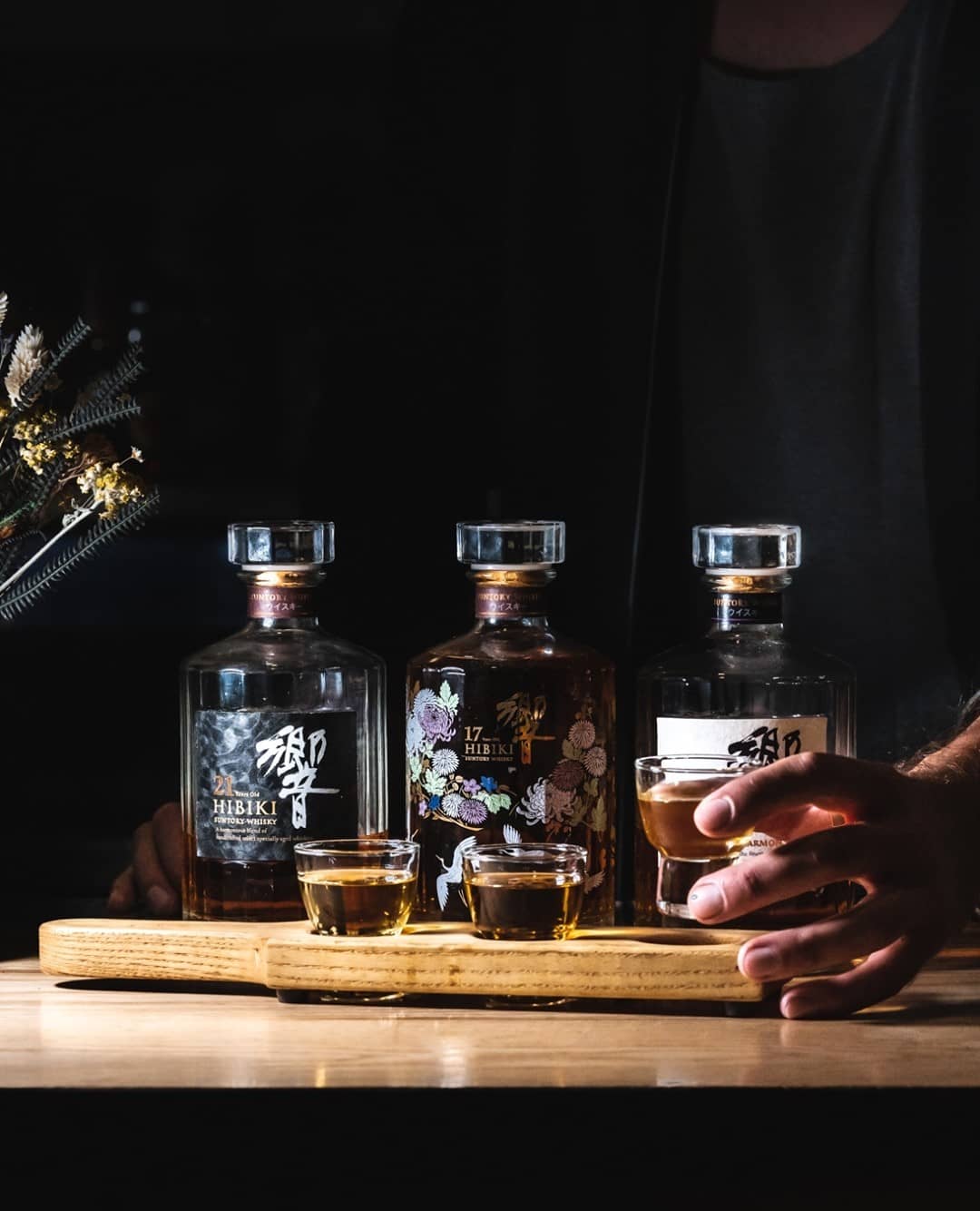 From beautiful craft cocktails and wine, to sake, beer, and Asian cuisine with French influences, Pidgin is one of those stylishly modern east-meets-west spots where everyone loves to spend an evening sipping drinks and nibbling on delicious bites. It's one of Gastown's brightest gems, and a fun spot to get your drink on and make some memories.
If you're flighty, then their Cocktail Flight on Tap is for you. If not, we recommend one of the many signature Pidgin Creations – Our favourite is Down by the Bay, a bay leaf infused gin with white port, fino sherry & lime. For food, get the Oyster Shot, or Beef Tendons, and we wouldn't say no to a Pork Belly Rice Bowl either.
Tip: The ever-changing Tasting Menu at Pidgin is a definite must-try!
Address: 350 Carrall Street Vancouver, BC V6B 2J3
Order Online: DoorDash | Uber Eats | SkipTheDishes
Website | Instagram | Facebook
2. The Diamond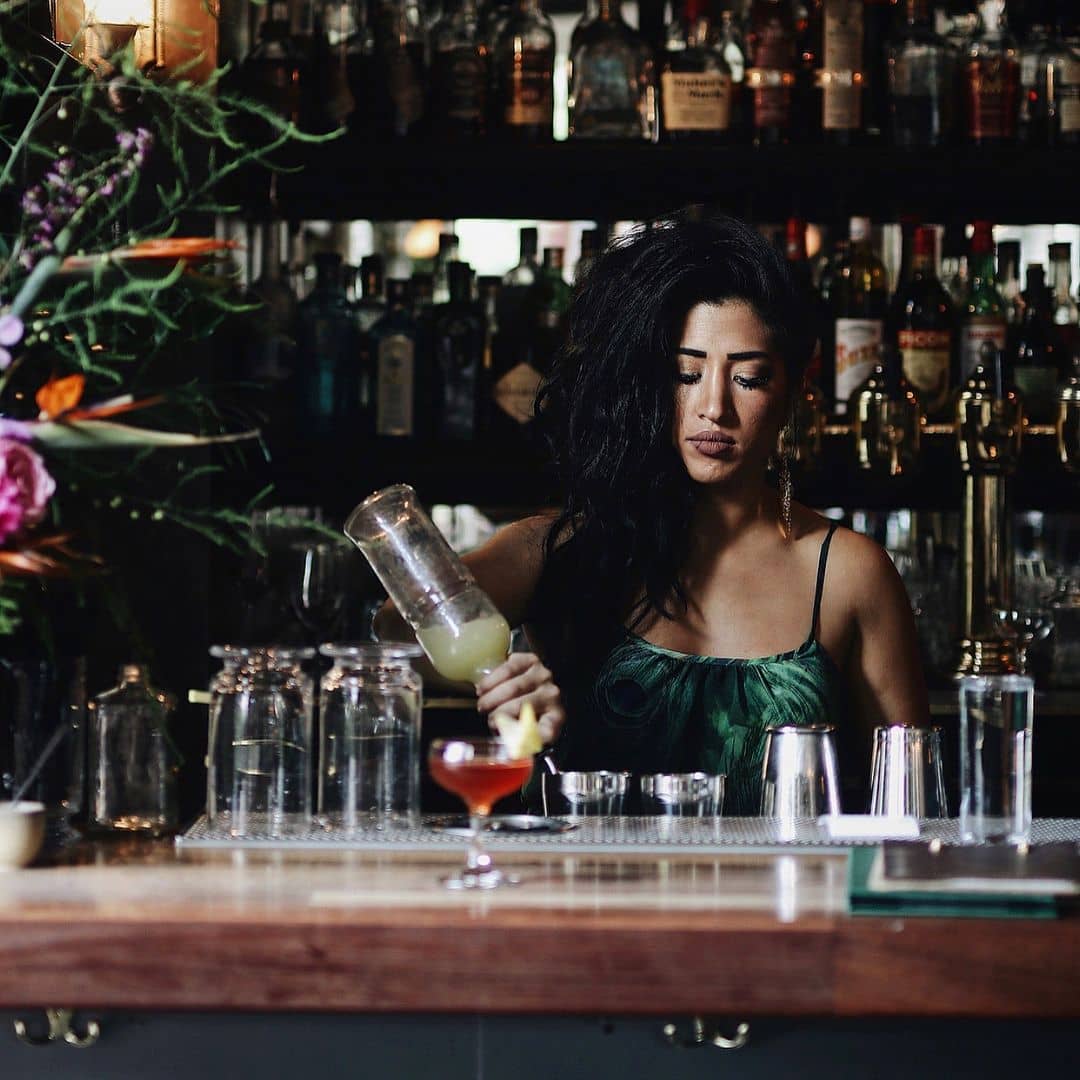 Rumor has it that The Diamond has one of the most gorgeous spaces in Vancouver. It's dark decor and dim lighting that fit perfectly with the place's brick walls, plus you have an open view of the hood. It's really the place where you want to down some drinks on a Friday night, perhaps celebrate your birthday or bring in your date on a more casual weekday evening. 
Beefeater, bittersweet vermouth, and orange bitters is what's in The Vancouver, so get that first and toast with the city's namesake. Try the Penicillin too, which is a mean mix of JW Black, laphroaig ginger, honey & lemon. For eats, there's cured meats and cheeses (including vegan options,) and an array of delicious and filling snacks.
Address: 6 Powell St, Vancouver, BC V6A 1E9
Order Online: DoorDash
Facebook | Instagram | Website
1. L'Abattoir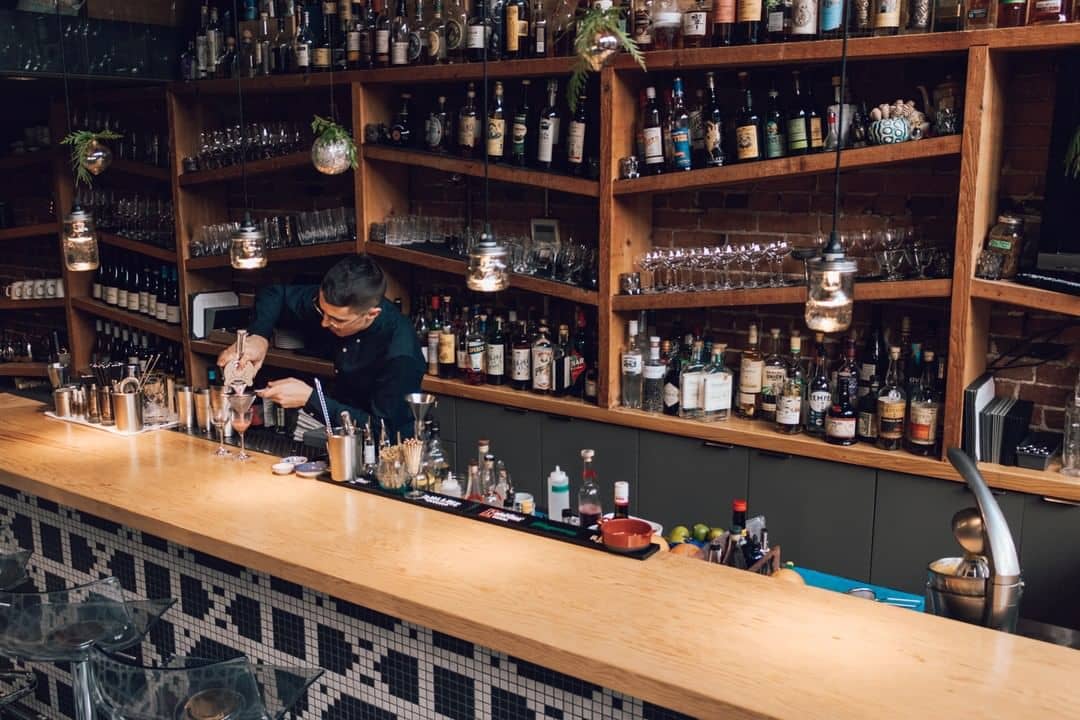 Cozily tucked between Gaoler's Mews and Blood Alley in Gastown, is the ever popular L'Abattoir renowned for their dazzling craft cocktails, award-winning wine program, and delicious food to pair your drinks with. This is the spot where you entertain out-of-town guests, celebrate a special occasion, or go for that classy date night.
From Japanese to Scotch and Irish whiskeys, the spirits here are plentiful, but their craft cocktails are worth a try too. For a vintage mix, get the Avocado Gimlet, or go for a seasonal Vermouth Spritz that's bubbly and bittersweet. For wine, there's that award-winning list, and we love a glass of Vancouver's own Kutatás '18 Pinot Noir. – If you're hungry, their menu has everything from Baked Pacific Oysters and Pork Chops, to Wild Sockeye Salmon and Country Lamb.
Address: 217 Carrall St, Vancouver, BC V6B 2J2
That wraps up our list of the Best Cocktail Bars to hit up in buzzing and vibrant Gastown. We hope you visit them all and have the best time.
And, since no visit to any neighbourhood can be complete until you sample their cuisine, take a peek at our list of Best Restaurants in Gastown for a delicious and memorable dining experience.
The following two tabs change content below.
Latest posts by Noms Magazine (see all)