Looking for the best bottomless brunch in NYC? Well, you're in the right place!
NYC is popular for its brunch culture, and bottomless brunch is a customary weekend tradition in the city, all year round. Loving the warm, sunny weather? Time to hit the best bottomless brunch spot in the city for some chill cocktails. Not a huge fan of cold and rainy weather? Cozy up in a corner of a popular brunch spot and enjoy fresh, hot, and hearty brunch classics.
Even if you're not too keen on the quintessential NYC brunch, these best bottomless brunch NYC places are sure to woo you!
1. Carroll Place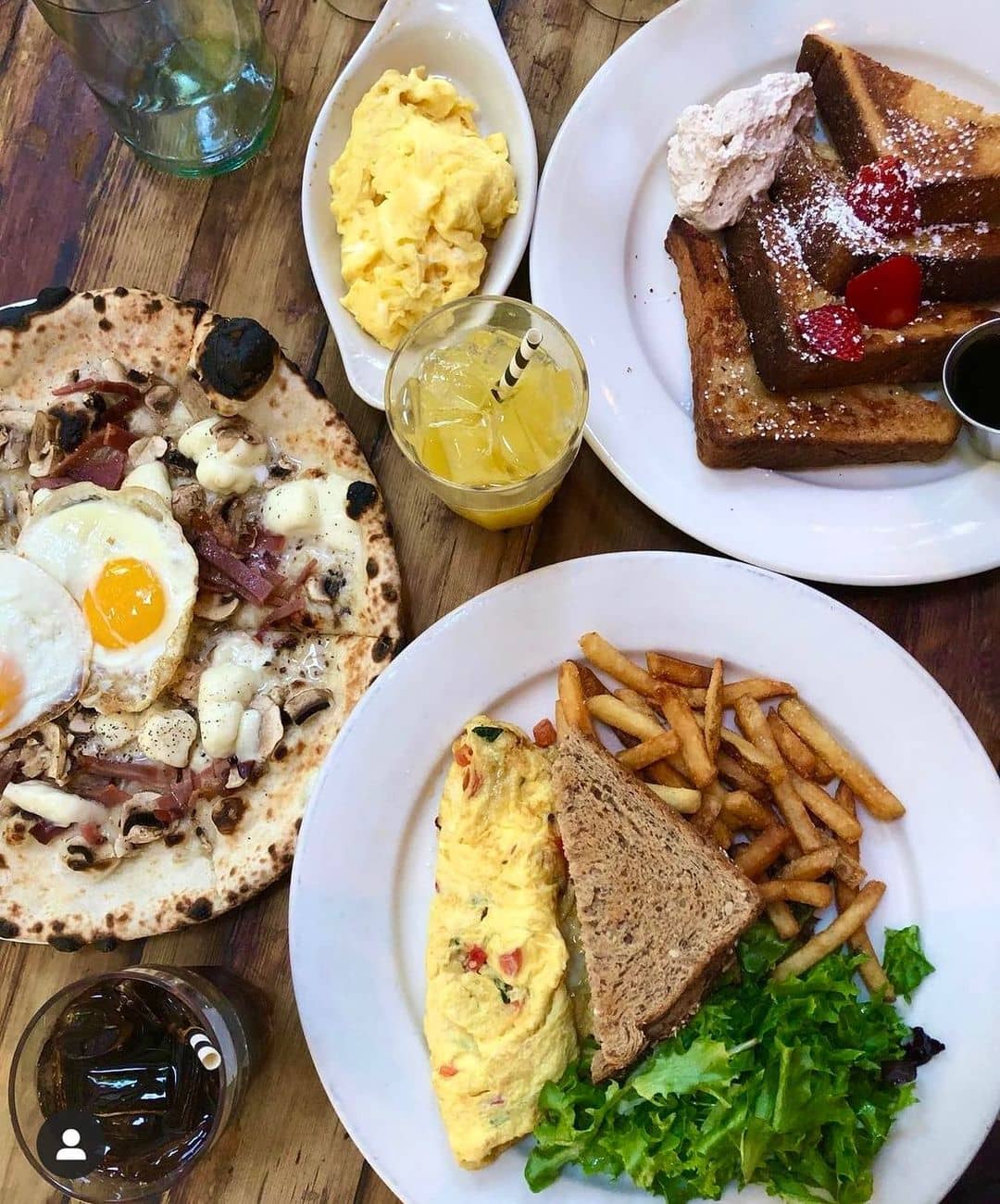 Carroll Place is an Italian American restaurant and cocktail bar that specializes in wood-fired pizzas, homemade pastas, and more. Their weekend brunch gives you 90 minutes of unlimited brunch drinks with any entree of your choice, and you can choose from mimosa, bloody mary, or rose sangria.
The Margherita pizza is a classic wood-fired pizza done right. The charred and smoky flavor of the crust elevates the sweet, tangy, and cheesy pizza, and the crust itself is pleasantly chewy.
Their French Toast with fresh strawberries is everything you'd expect from a classic French toast; but, the "wow" factor that takes this dish to the next level is the cinnamon whipped cream – fresh, creamy, and delicious – double thumbs up!
Special mention to their Truffle Fries – it's so amazing, you'd wish they had an unlimited fried option on their menu!
What to order: Margherita, French Toast, Buon Giorno Pizza, Truffle Fries
Address: 157 Bleecker Street, New York, NY 10012
Website | Instagram | Facebook
2. Poco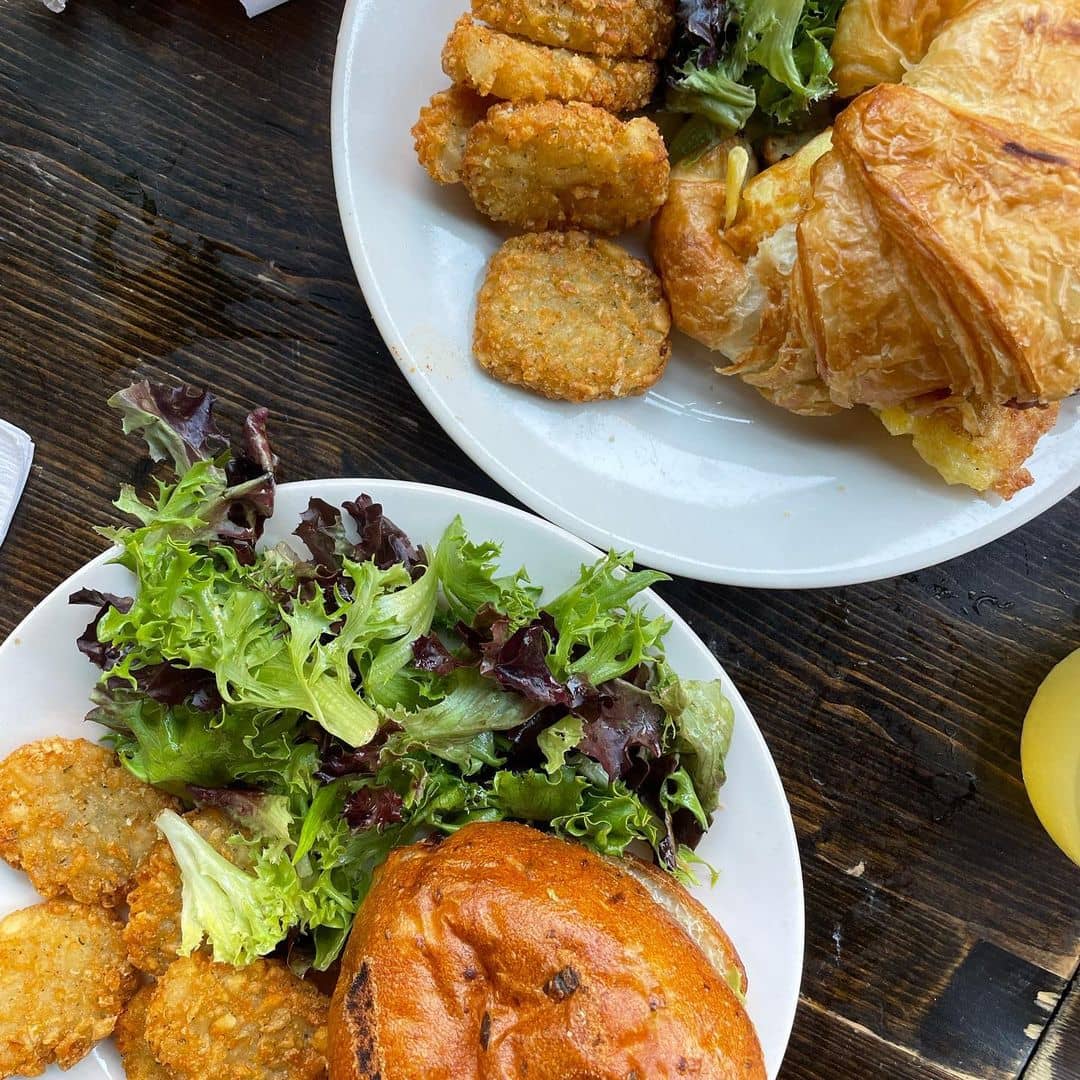 Located in the authentic Alphabet City neighborhood, Poco is one of NYC's favorite boozy brunch spots. Their Spanish-inspired tapas menu was created by chef Abe Lopez, winner of "Chopped" – Food Network's popular and hit show. The place is cozy and casual, with plenty of outdoor seating, and occasional live music.
Lobster Mac is one of Poco's signature dishes. The mac and cheese is rich and creamy and comes with sweet and buttery lobster, which complements the pasta's richness so well.
French Toast – thick slices of Challah bread soaked in rum egg bath come hot and fluffy, with just the right level of sweetness. The banana dulce de leche on top is super creamy and perfectly sweet.
Choose between unlimited bloody mary, mimosa, and red or white sangria to go with your food.
What to order: Lobster Mac, French Toast
Address: 33 Avenue B, New York, NY 10009
Website | Instagram | Facebook
3. The Horny Ram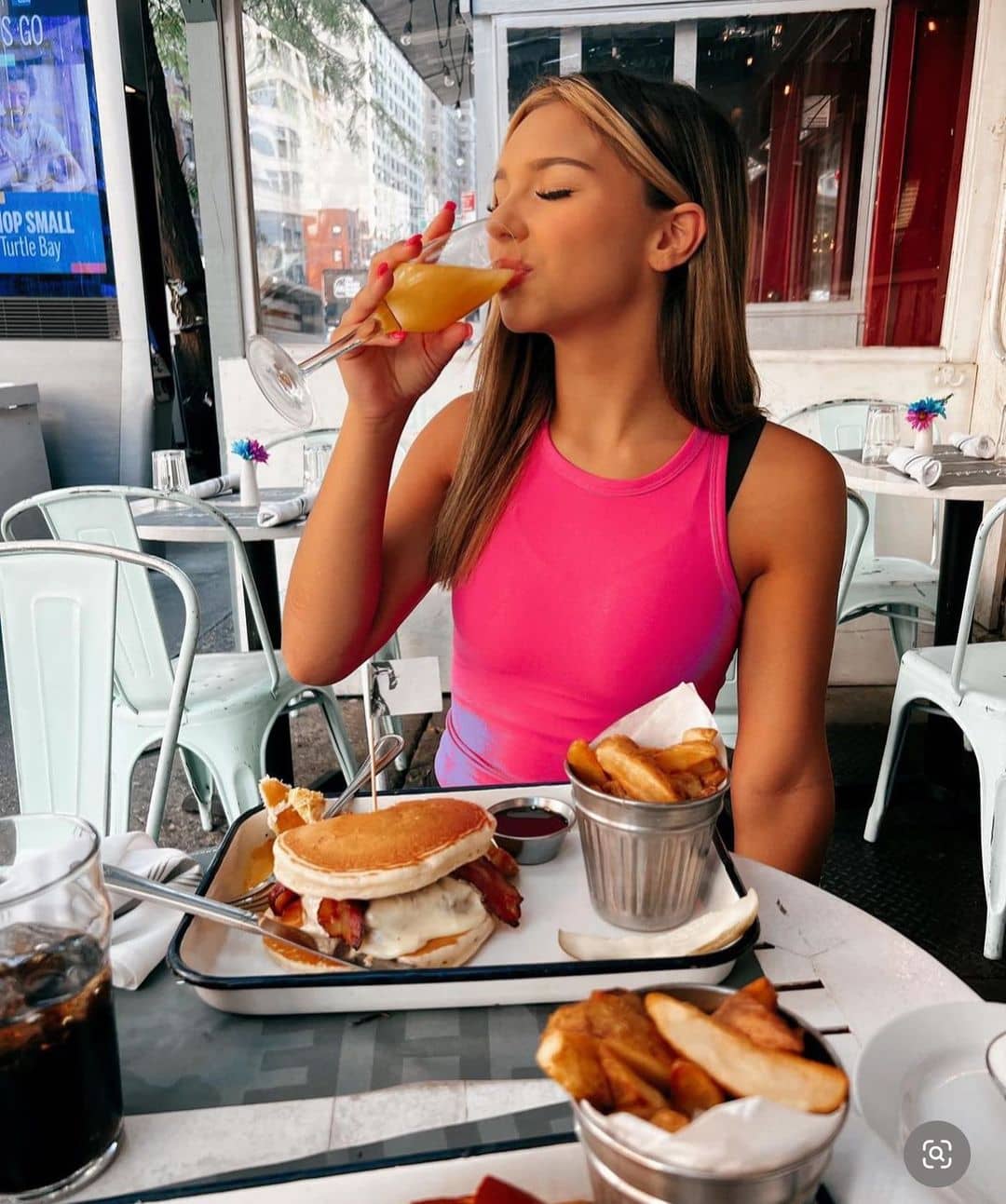 A Midtown East farm-to-table restaurant, The Horny Ram offers rustic comfort food and extraordinary cocktails served in a spacious, relaxed setting. The restaurant's famed bottomless brunch is available on Saturdays and Sundays, where you get unlimited drinks for 90 minutes.
The Pancake Burger is a highly satisfying classic brunch dish that you'll enjoy with your choice of Mimosa, Bloody Mary, or Berry Bellini. With bacon, cheese, and fried egg, and topped with maple syrup, this dish is like a complete brunch platter that will satisfy your cravings.
The Chicken & Waffles Sandwich is a surefire winner from their menu. Nestled between crispy and soft buttermilk waffles is cornflake-crusted fried chicken (crispy perfection), along with fried egg, cheese, and avocado. The sweetness of the maple syrup drizzle on top adds an enjoyable contrast to the savory chicken and waffles.
If you're craving something sweet to savor with your unlimited drinks, go with the M&M Pancakes. Fluffy and soft M&M-filled pancakes topped with maple syrup and whipped cream – simple and delicious.
What to order: Pancake Burger, Chicken & Waffles, M&M Pancakes
Address: 951 2nd Avenue, New York, NY 10022
Website | Instagram | Facebook
4. Mojave
With a subdued artistic decor, Mojave extends its Southwestern hospitality with a fun and interesting menu that features authentic Mexican flare. Their bottomless brunch weekends allow you to pair some of their best cocktails with mouth-watering food in a warm and comfortable atmosphere.
The Southwestern Huevos Rancheros is a delectable blend of different flavors. Everything on the plate makes sense, individually and together.
The Pan-Roasted Shrimp Tacos at Mojave is REALLY GOOD! Served with corn tortillas, tomato rice, and salsa verde, you can taste the spice and herb blend in the shrimp, and you get a generous portion of the same. The mango-pineapple pico is vibrant and zesty and adds a nice freshness to the dish.
We all know that XX Amber goes well with any type of Mexican food. At Mojave, they have incorporated the drink with one of their brunch offerings – Dos Equis French Toast. This is a fried French toast that is marinated in XX Amber, which gives it a sweet toasty flavor. Topped with dulce de leche and fresh berries, this dish is nothing short of divine!
Psst! Pair your food with their special Sangrita – a mix of their yummy Sangria and Frozen Margarita, and thank us later!
What to order: Southwestern Huevos Rancheros, Pan-Roasted Shrimp Tacos, Dos Equis French Toast, Sangrita
Address: 22-36 31st Street, Astoria, NY 11105
Website | Instagram | Facebook
5. The Flying Cock
Nestled in the heart of Murray Hill, The Flying Cock is a lively, fun, yet cozy bar that is popular for its bottomless brunch, and an interesting and delicious menu. With TVs at every angle, the place is almost always lit with energy, which makes it a great hangout spot for friends.
Available on Saturdays and Sundays, bottomless brunch at The Flying Cock gives you unlimited Mimosas, Bloody Marys, or Raspberry Bellinis for 90 minutes.
The Brunch Nachos here are excellent, especially with unlimited booze! Topped with three types of cheeses, fried eggs, fresh guac, jalapeno, and sour cream, you'll find it hard to stop with just one plate.
Their Banana Chocolate Chip Pancakes deserve a Reel on your IG page. Fluffy pancakes topped with slices of banana, sprinkled with a generous amount of chocolate chips and served with butter and syrup. Pour the syrup on the pancakes and get your Reel going as it drips down!
What to order: Brunch Nachos, Banana Chocolate Chip Pancakes, Brunch Salad
Address: 497 3rd Avenue, New York, NY 10016
Website | Instagram | Facebook
6. Lilly's Craft and Kitchen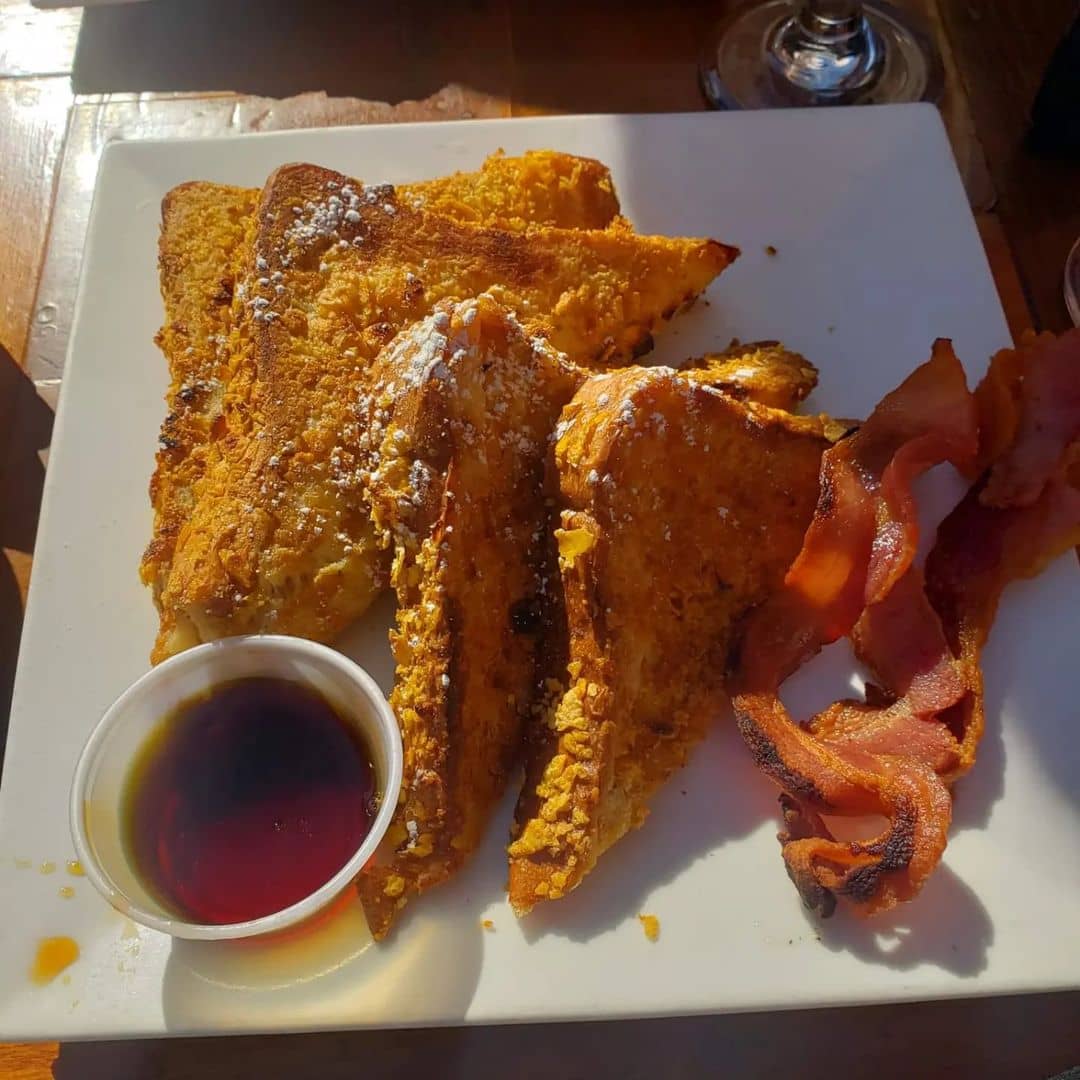 Located in Midtown Manhattan, Lilly's Craft and Kitchen is a charming speakeasy, serving elevated classic comfort food and signature cocktails. With a weekend bottomless brunch menu, this place scores high in tasty and quality food, an extensive selection of drinks, and gentle pricing.
If benedict is your go-to brunch food, we bet you'd be extremely pleased with the Short Rib Benedict offered at Lilly's. The house braised short rib is extremely juicy and tender and works in harmony with the creaminess of the poached eggs and hollandaise. An enticing savory dish!
The Crispy French Toast here, served with bacon or sausage, will leave you dumbfounded. Crispy on the outside and soft in the middle, this is a classic dish with spectacular execution.
Enhance your brunch experience with a selection of delightful morning cocktails and surrender yourself to the timeless classics of Mimosa, Bellini, and Bloody Mary. Sip on a refreshing Mimosa, savor the fruity sweetness of a Bellini, or enjoy the perfect balance of flavors in a zesty Bloody Mary. With these delicious libations, you can start your day off right!
What to order: Short Rib Benedict, Crispy French Toast, Mimosa Bellini, Bloody Mary
Address: 675 9th Avenue, New York, NY 10036
Website | Instagram | Facebook
7. The Malt House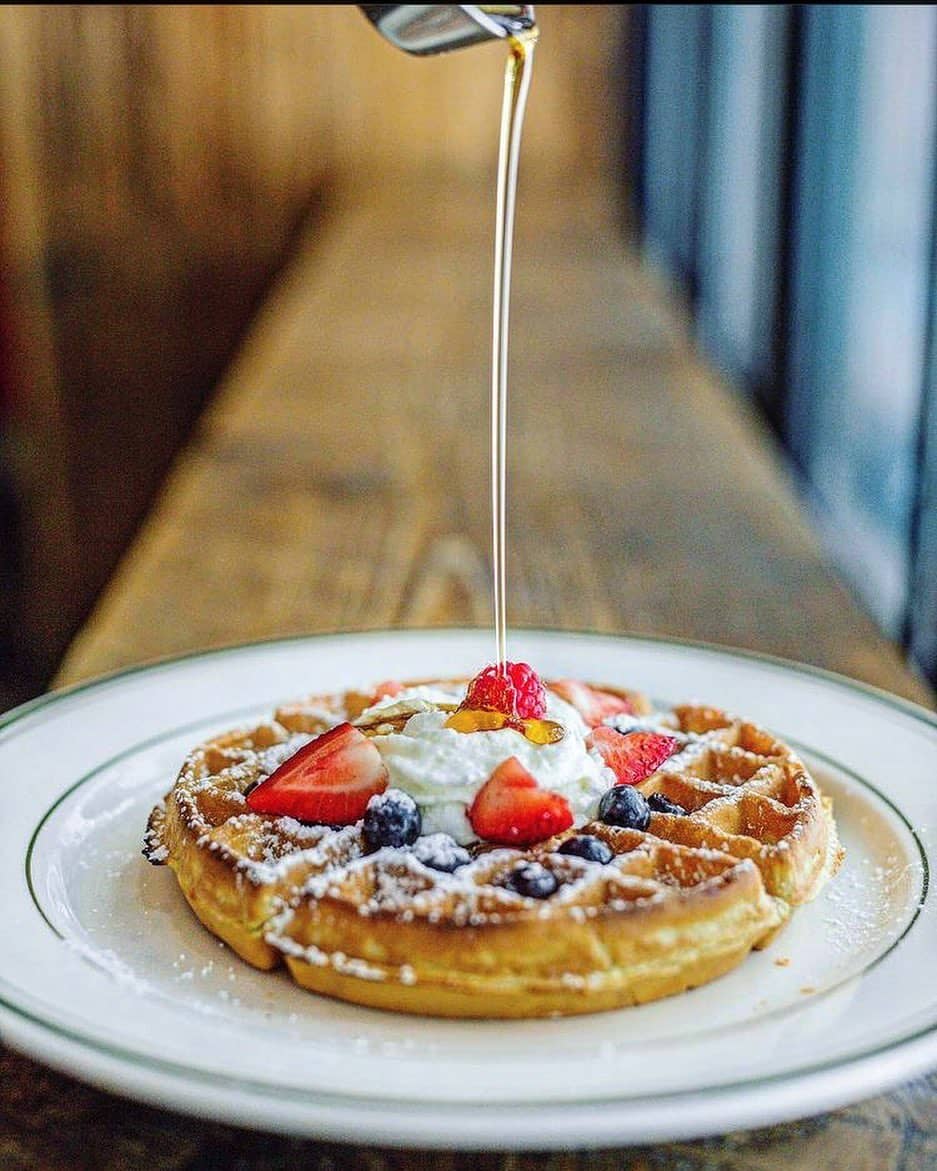 The Malt House is a hugely popular cocktail and craft beer destination, and their top-notch burgers are rated amongst the best in NYC. They have two establishments in New York, one in Greenwich Village and the other in the Financial District, and bottomless brunch is available in both these places during weekends.
The highlight here is that you get six different varieties of drinks to choose from for your bottomless brunch, unlike other places where the options are limited, and revolve around mimosas, bloody marys, and bellinis.
The Fried Chicken Waffle Club is absolutely delish. The pan-fried chicken breast is cooked perfectly – crispy and juicy, the smoked bacon comes hot – smoky and delicious, and the chorizo gravy is full of flavor and well-seasoned.
The Slow-Braised Breakfast Burrito is not just humongous in size but in flavor too. When meat is slow-braised for 7 hours, you know it will melt in your mouth, and the braised short rib in the burrito does exactly that. The chipotle cheese sauce is creamy and adds a light smoky flavor to the filling.
What to order: Fried Chicken Waffle Club, Slow-Braised Breakfast Burrito, Rustic Avocado Toast
Address:
-Greenwich Village – 206 Thompson Street, New York, NY 10012
-Financial District – 9 Maiden Lane, New York, NY 10038
Website | Instagram | Facebook
8. Maya
Maya adorns NYC's Upper East Side neighborhood with traditional bold flavored Mexican cuisine with a contemporary twist. The restaurant has been named by The Michelin Guide as one of The Best Mexican Restaurants in Manhattan, and its lively vibe is perfect to enjoy weekend bottomless brunch with your gang.
Their Shrimp Enchilada is abundantly Mexican, thanks to the guajillo sauce, which is creamy, rich, and slightly earthy.
The Maya Dog is the ideal "bar food" to pair with your cocktails. This is a bacon-wrapped hot dog, which is crispy and smoky; you also get smokiness from the chipotle mayo, and a nice kick at the end from the pickled chili.
The braised pork in their Carnitas Tacos is so aromatic, with a hint of umaminess, and the tomatillo salsa, onion, and cilantro refresh your palate before you take the next bite.
What to order: Shrimp Enchilada, Maya Dog, Carnitas Tacos
Address: 1191 First Avenue, New York, NY 10065
Website | Instagram | Facebook
9. Bea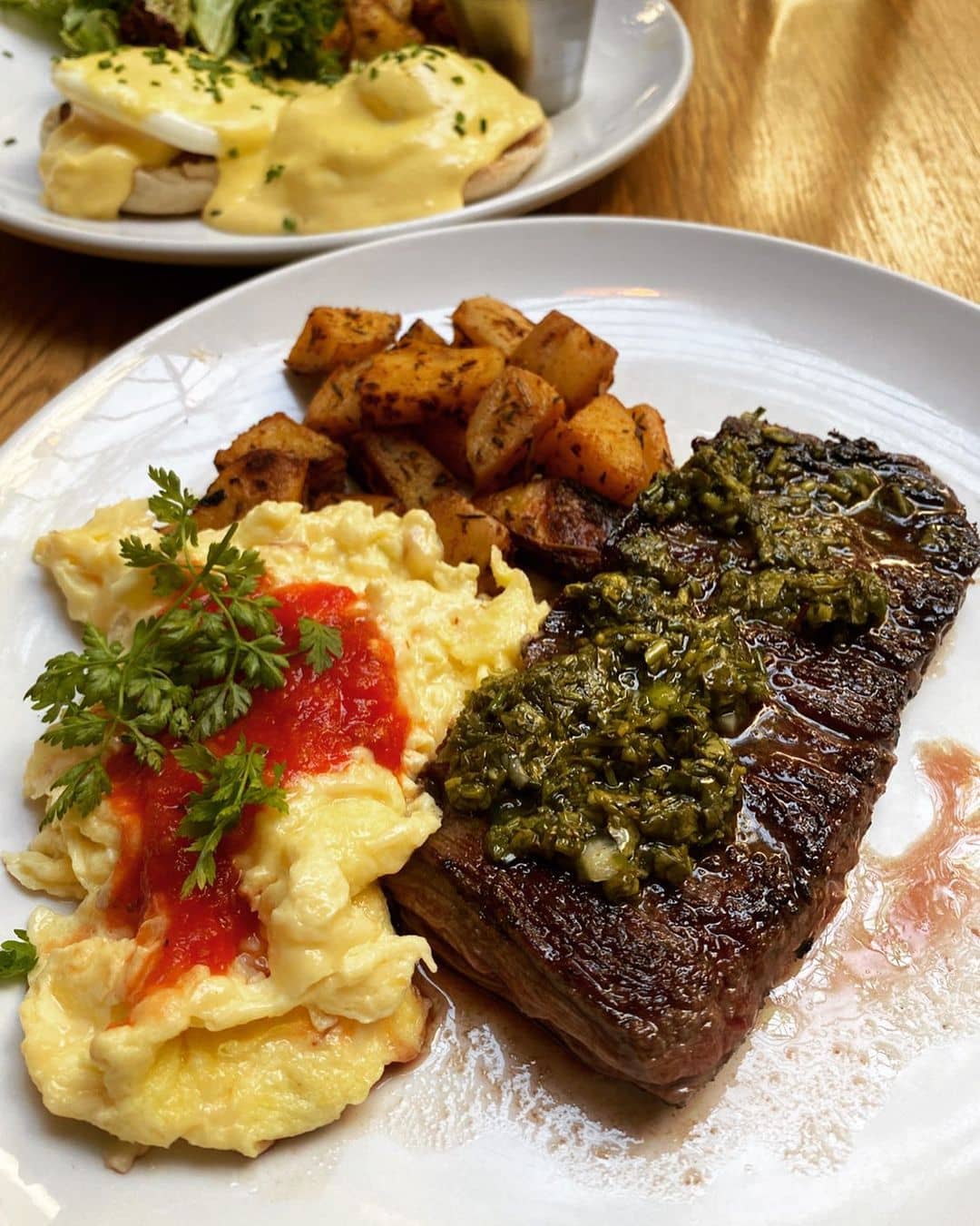 Bea is one of those places where you feel comfortable and relaxed, and enjoy a few drinks, meeting new people, or catching up with old friends. Their bottomless brunch features unlimited cocktails of your choice with the purchase of an appy or main event.
We would say that the absolute best way to start your bottomless brunch at Bea (apart from sipping your favorite cocktail, of course!) is with the House Ricotta and Spicy Lamb Meatballs.
The ricotta comes with grilled bread and is drizzled with rosemary honey – a killer appetizer!
The meatballs are greatly satisfying, with some heat from the smoked chipotle, and a fresh and tangy flavor from the creamy tzatziki on the side.
Their Brioche French Toast served with banana and berries and topped with nutella, caramel, and maple syrup, will satisfy the sweet tooth in you and is extremely drool-worthy.
What to order: House Ricotta, Spicy Lamb Meatballs, Brioche French Toast
Address: 403 W 43rd Street, New York, NY 10036
10. Jackdaw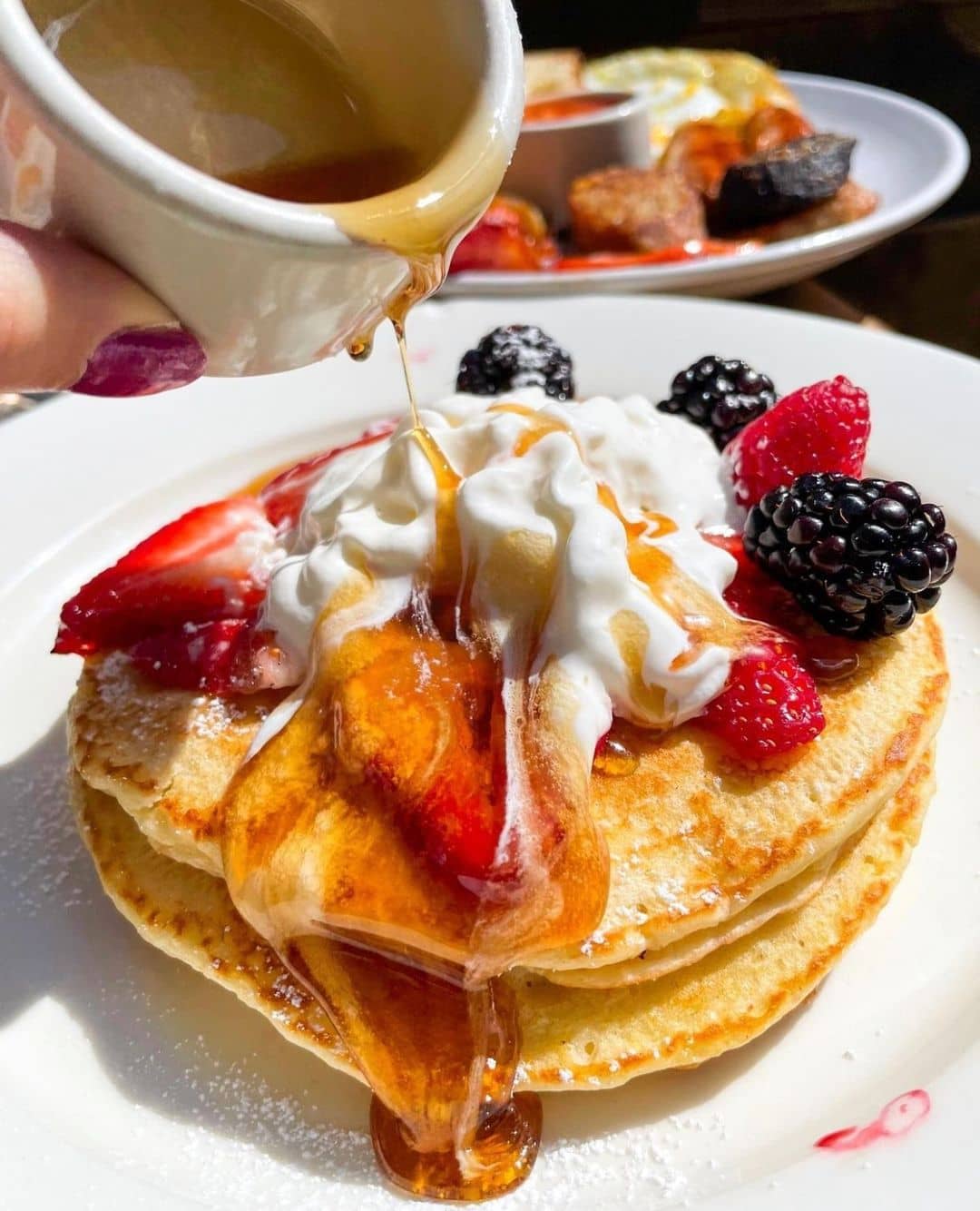 Jackdaw is a laid-back neighborhood bar serving craft beer, hand-crafted cocktails, and exquisite shared plates. Their menu features American-style dishes with hints of Irish influence, and their bottomless brunch menu has some strong and delicious drinks you'll love.
You can never go wrong with getting the Crispy Buffalo Chicken Sandwich at Jackdaw. This mouthwatering delight features crispy buffalo chicken nestled between a sesame bun, accompanied by Dubliner Cheddar, applewood bacon, lettuce, and tomato. Served with a side of chips or their perfectly seasoned home fries, this sandwich is a true crowd-pleaser that will satisfy your cravings.
The Eggs Benedict with Smoked Salmon is a transcendent weekend brunch dish. Served on an English muffin, the salmon just melts in your mouth, and the hollandaise tastes delicious. With sauteed spinach, arugula salad, and home fries, this dish is a real treat.
The first thing you'd notice about the Breakfast Flatbread is its massive size. With a spread of cream of spinach, feta, zaatar, and scrambled eggs, it is herby, soft, creamy, and deliciously messy.
What to order: Crispy Buffalo Chicken Sandwich, Eggs Benedict with Smoked Salmon, Breakfast Flatbread
Address: 213 2nd Avenue, New York, NY 10003
11. The Secret Room
As one of the city's most famous drag cabarets, The Secret Room is home to the "craziest, booziest drag brunch" in NYC. This speakeasy off-Broadway club brings to you bottomless mimosas, exciting food, and endless entertainment with a state-of-the-art sound and light system.
The brunch menu here features all things NYC, and some of our favorites are:
Buffalo Chicken Sandwich – the chicken breast is perfectly grilled and juicy, and the buffalo sauce is slightly sweet with a spicy afternote. Served with fried, the sandwich is your typical New York brunch food.
The Chicken Wings here are to die for. You get to choose between two different flavor options – Whiskey & Cola BBQ -Buffalo Hot Sauce, and Spicy Korean BBQ-Cajun Dry Rub. We're a fan of the tang, spiciness, umaminess, and slight sweetness from the latter.
The Sampler Platter, which has wings, grilled shrimp, mozzarella sticks, and onion rings, would be the perfect appetizer plate to go with those endless mimosas.
What to order: Buffalo Chicken Sandwich, Chicken Wings, Sampler Platter
Address: 707 8th Avenue, New York, NY 10036
Website | Instagram | Facebook
After a long break enforced by the pandemic, the restaurant scene in New York is getting back to its old self. With both old and new restaurants in the run, the city's best tables are highly coveted now, which means it's about time you made your reservations. But, before that, take a look at our list of the hottest restaurants in New York so you don't miss out on the best.