Some early birds in Calgary love to start their day with a cup of coffee and a quick breakfast. But some prefer to start a day bit later with their time well-spent on brunch! If you're the one who is fancy on brunch, from modern to classic, you're going to find yourself new favourites when scrolling down!
Here are the 13 best brunch restaurants in Calgary that you should not miss if you're looking for a hearty meal. Wait no longer, let's dive in!
1. OEB Breakfast Co.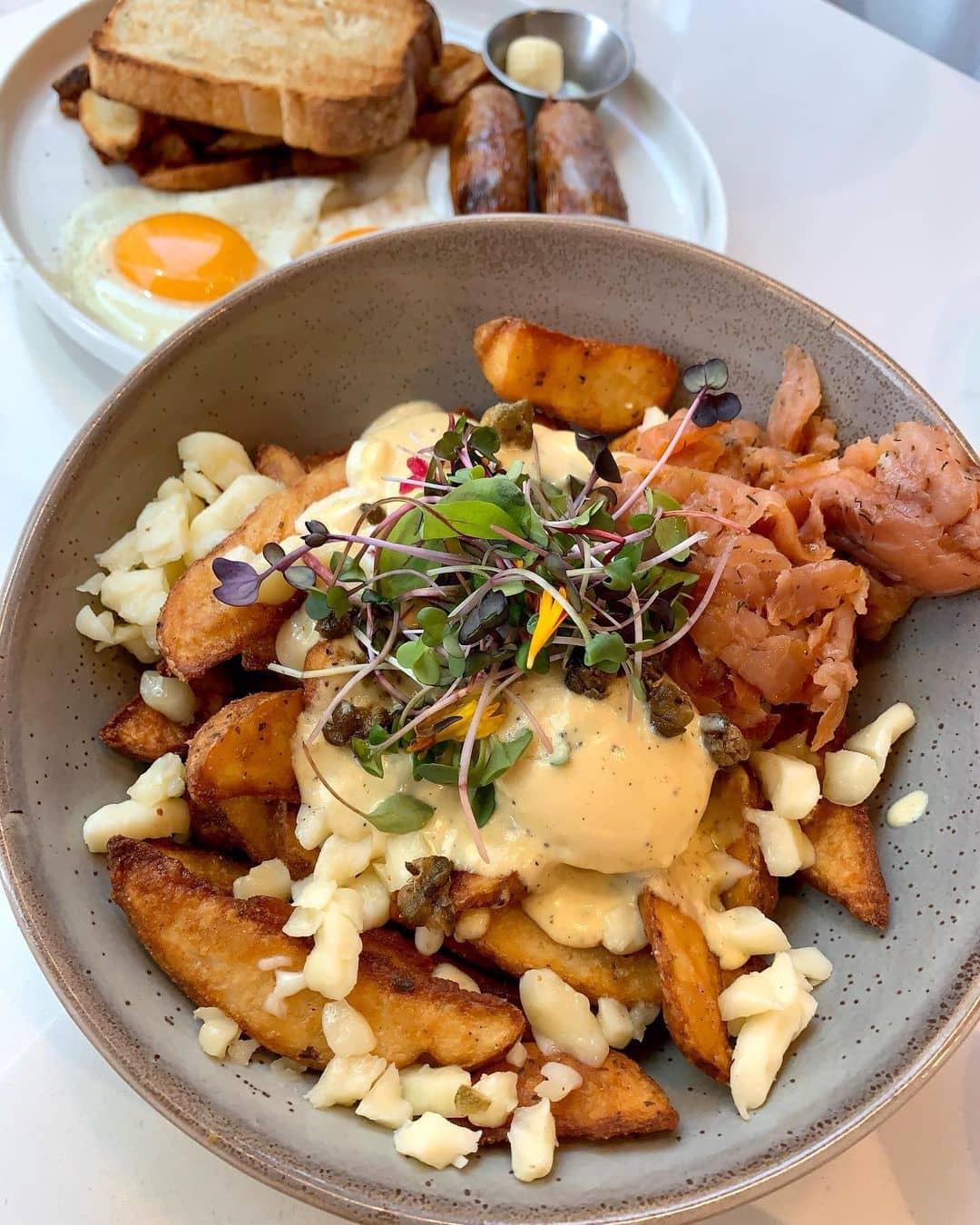 With four locations just in Calgary, OEB Breakfast Co. is a widely popular and favourite breakfast/brunch chain in Canada. OEB is known for its quality and taste, and you can expect the same in their Calgary locations as well.
Apart from the many OEB classics and favuorites, like the Hog & Scallops Poutine, Pierogies & Duck, Canadian Lobster & Shrimp Crêpe, and French Toast Trifle, we have another recommendation for you to try – Do Not Even Go There!
Yup, that's the name of the dish. It is a French-style crêpe, a sweeter version, with vanilla custard, fresh fruits and nuts, whipped cream, and Quebec maple syrup. This is a jaw-dropping combination for your sweet cravings.
What to order: Do Not Even Go There, Hog & Scallops Poutine, Canadian Lobster & Shrimp Crêpe, Pierogies & Duck, French Toast Trifle
Address:
-Bridgeland – 825 1 Avenue NE
-Downtown – #110 2225 Avenue SW
-Mission – 2207 4 Street NW
-University District – 4132 University Avenue NW
Website | Instagram | Facebook
2. ZCREW Cafe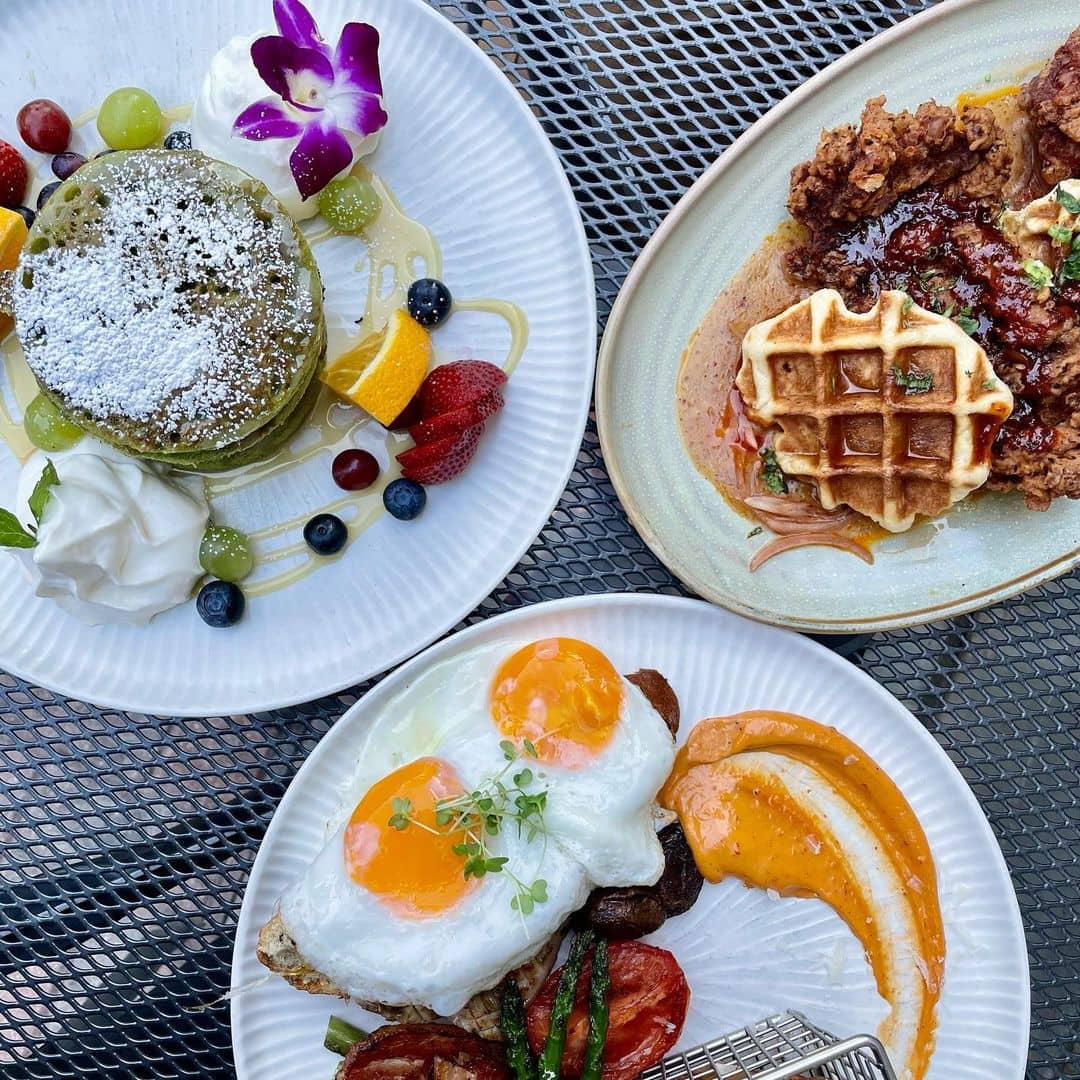 ZCREW is one of the favourite brunch destinations in Calgary. The place specializes in marrying "great food with great specialty coffee and tea", and all their dishes are 100% handcrafted with locally sourced ingredients. The interior is modern and the atmosphere is laid-back and casual.
One dish that constantly gets sold out here is their Bird Nest. This is ZCREW's version of scotch eggs, which are held by a potato nest. While we give full marks for creativity, they also score high in terms of taste. The tomato concasse on the base tastes yummy, and so does everything else on the plate.
The Matcha Pancake hits the spot just right, without the flavour overwhelming your senses.
The Korean Fried Chicken Burger, combined with the sweet, spicy, and savory gochujang sauce, will awaken every point in your taste buds. Don't forget to ask for their sweet potato donuts as the side – they taste AMAZING!
What to order: Bird Nest, Matcha Pancake, Korean Fried Chicken Burger, Iced Chai Latte
Address: 401 11 Avenue SE, Calgary, AB T2G 0Y5
Website | Instagram | Facebook
3. Namo Cafe Bistro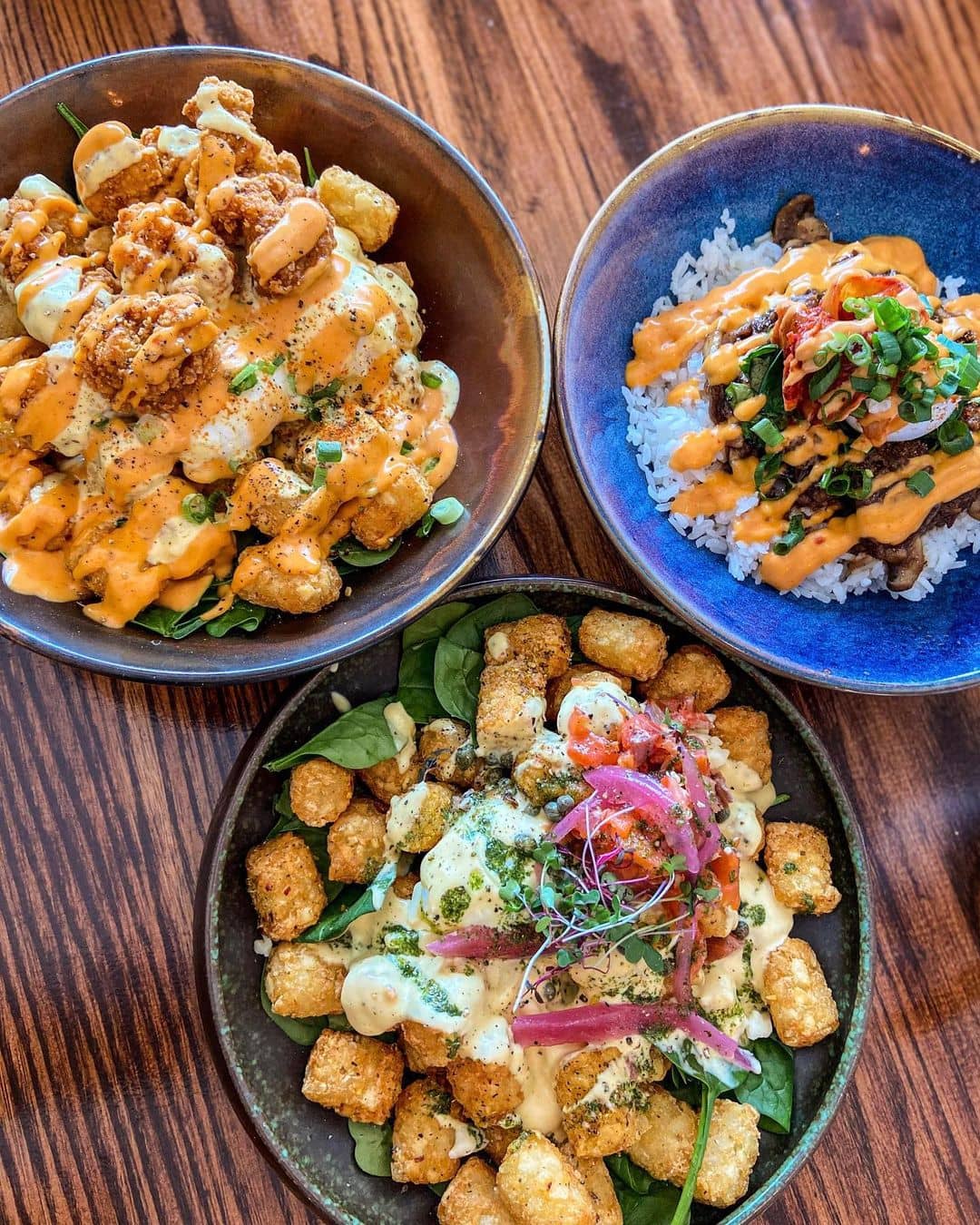 Namo is a chef-driven family-owned and operated restaurant offering familiar food with a unique twist. Their globally inspired menu is brought to life with locally sourced ingredients, and the interior is inviting, friendly, and comfortable.
The Duck Confit Monte Cristo is put together to take your taste buds on an adventure. A unique take on the famous monte cristo sandwich, this dish replaces the ham with bacon, which delivers the flavor without any compromise. The confit duck just melts away as soon as you put it in your mouth, and the French toast, hollandaise, bacon jam, and syrup on the side are a marriage made in heaven.
The Truffle Bacon Mushroom Brunch Bowl comes with a solid truffle flavour, without being stingy. The addition of pea mash at the bottom is a nice touch, and the oozy poached eggs bind all the elements together.
If you're vegetarian or vegan, the Mighty Buddha Bowl is for you. With sauteed veggies, lea mash, zattar hummus, aioli, and poached eggs, the dish tastes fresh, herby, tasty, and extremely flavorful.
What to order: Duck Confit Monte Cristo, Truffle Bacon Mushroom Brunch Bowl, Mighty Buddha Bowl, Brioche French Toast
Address: 824 Edmonton Trail, Calgary, AB T2E 3J6
4. Monki Breakfast Club & Bistro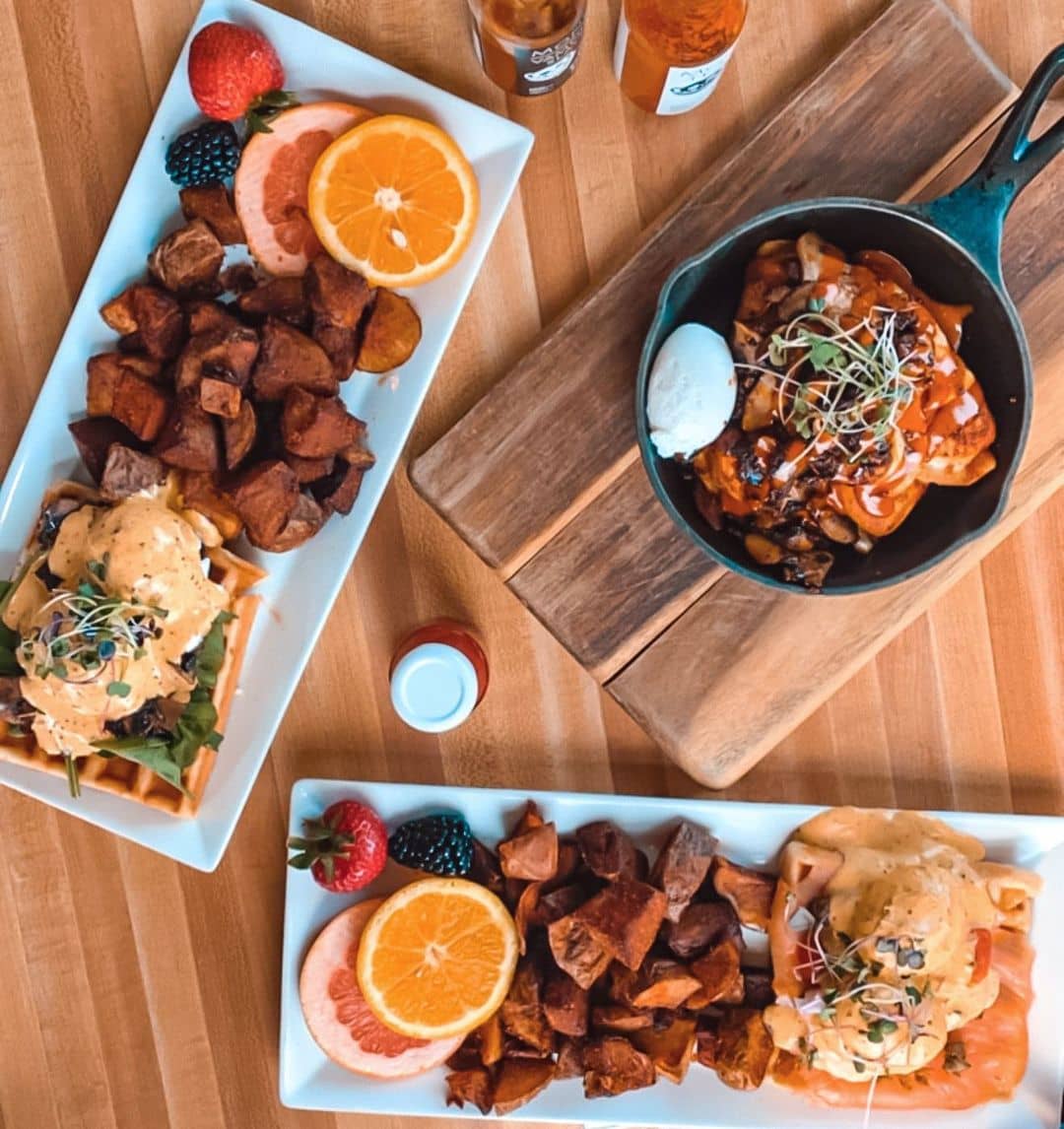 Located in the oldest neighbourhood of Calgary, Monki Breakfastclub & Bistro aims at offering a fulfilling breakfast/brunch experience for everyone. With many excellent choices on their menu, the space is spacey, family-friendly, and comfortable.
If you don't mind having something rich and heavy for brunch, Monki's Elvis French Toast will leave you speechless. This is their classic frangelico cream cheese stuffed French toast (a HUGE one!) with peanut butter, fried bacon, and caramelized cinnamon bananas. It doesn't stop there; the French toast is further topped with more peanut butter, icing sugar, and white chocolate – definitely not for the faint-hearted!
Of course, they have some great savory brunch specialties as well, like the Brisket Poutine. The show braised beef brisket, cooked with truffle ricotta, has an unforgettable flavour to it and is extremely tender and juicy. The cheese mix on top adds some gooey goodness.
Something interesting on their menu is the Pancake Breakfast Tacos. Soft and fluffy buttermilk pancakes are filled with chorizo, scrambled eggs, spinach, and caramelized onions. The sweet chipotle sauce on top has a nice balance of spicy and sweet.
What to order: Elvis French Toast, Brisket Poutine, Pancake Breakfast Tacos
Address:
-Inglewood – 1420 9 Avenue SE #4, Calgary, AB T2G 0T5
-Beltline – 1301 10 Avenue SW, Calgary, AB T3C 0J4
Website | Instagram | Facebook
5. Queens Breakfast Cocktails
Queens Breakfast Cocktails is an authentic Calgary brunch spot featuring a menu that showcases the local classics along with global food, and more. This cool restaurant has an intimate setting, and its brunch staples are just the fix you need when your day starts slow.
The Brioche French Toast is sure to make you its slave, making you want to come back for more and more of the same dish! The brioche is slathered with peanut butter and condensed milk, which instantly takes you to dessert land, and the bruleed banana is the cherry on top.
Queens' Cr'Q Madame (Croque Madame) brings to you all the amazing textures you would ever want in your meal. Thin layers of ham, melted cheese, crispy bacon, sharp mustard, sunny side egg, and crunch from the bread – this is heaven on your plate!
Their Croissant Benedicts are quite popular too, and you can choose from different variations. Our choice – Prawns & Bacon.
What to order: Brioche French Toast, Cr'Q Madame, Prawns & Bacon Croissant Benedict
Address: 3927 Edmonton Trail, Calgary, AB T2E 6T1
Website | Instagram | Facebook
6. Dairy Lane Cafe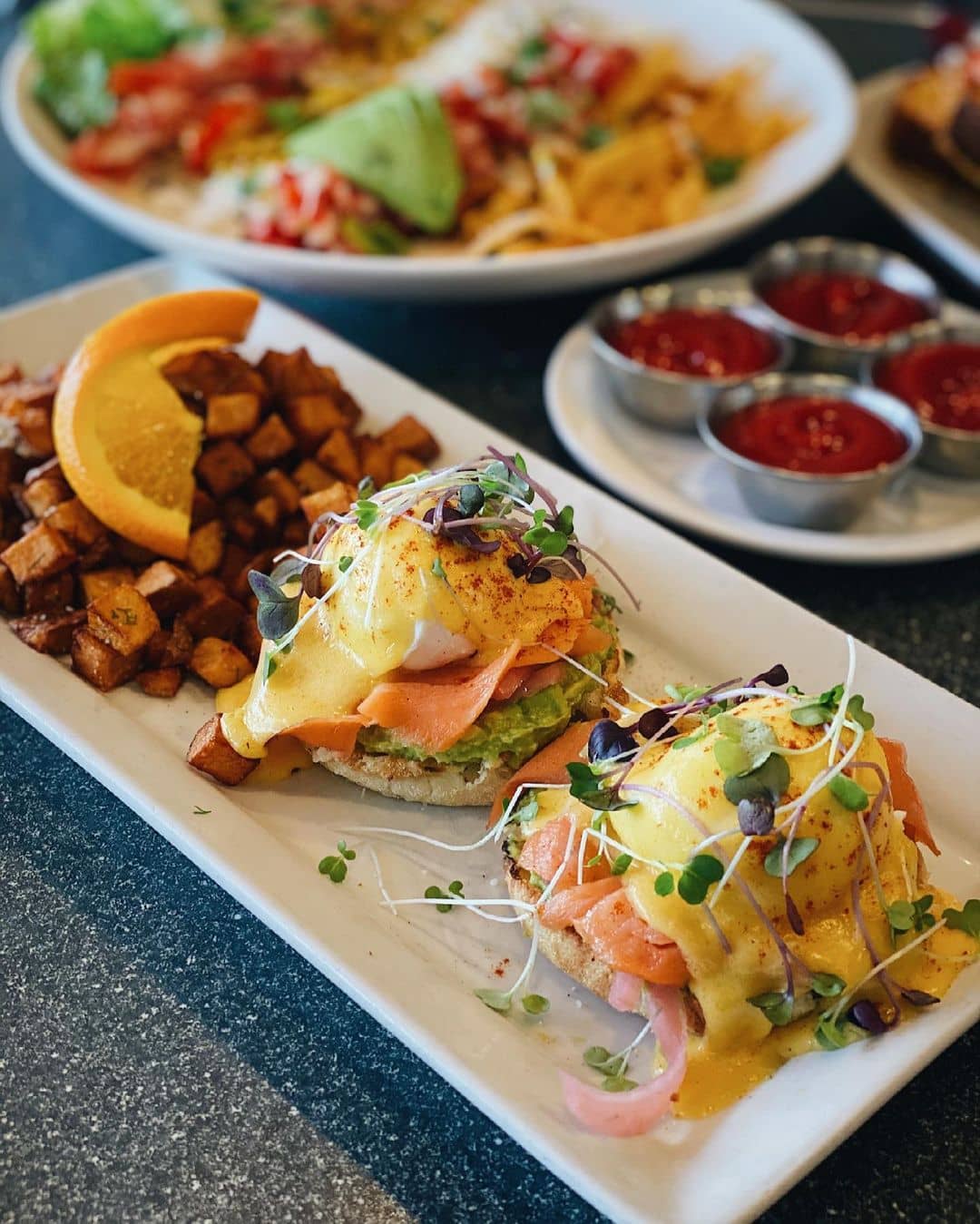 As the oldest restaurant in Calgary, Dairy Lane Cafe has been operating since the 1950s and has a sterling reputation for using the highest quality, local ingredients in their delicious food. The restaurant is small, intimate, and family-friendly, the service is prompt, and the food is outstanding.
If you're a sucker for eggs benedict, Dairy Lane Cafe will not disappoint! The Smoked Salmon, Avocado & Pickled Onion eggs benny has two perfectly poached eggs, melt-in-the-mouth smoked salmon, which pairs great with the avocado, and a heavenly hollandaise.
Hungry for more? The All-In Omelette has you covered! Served with red potato hash and your choice of toast, this omelette comes fully loaded, with bacon, back bacon, maple pork sausage, a whole lot of veggies, and cheddar, leaving your mouth filled with flavors and textures in every bite, and your stomach full after the meal.
What to order: Smoked Salmon, Avocado & Pickled Onion Eggs Benedict, All-In Omelette
Address: 319 – 19 Street NW, Calgary, AB T2N 2J2
Website | Instagram | Facebook
7. Brekkie Cafe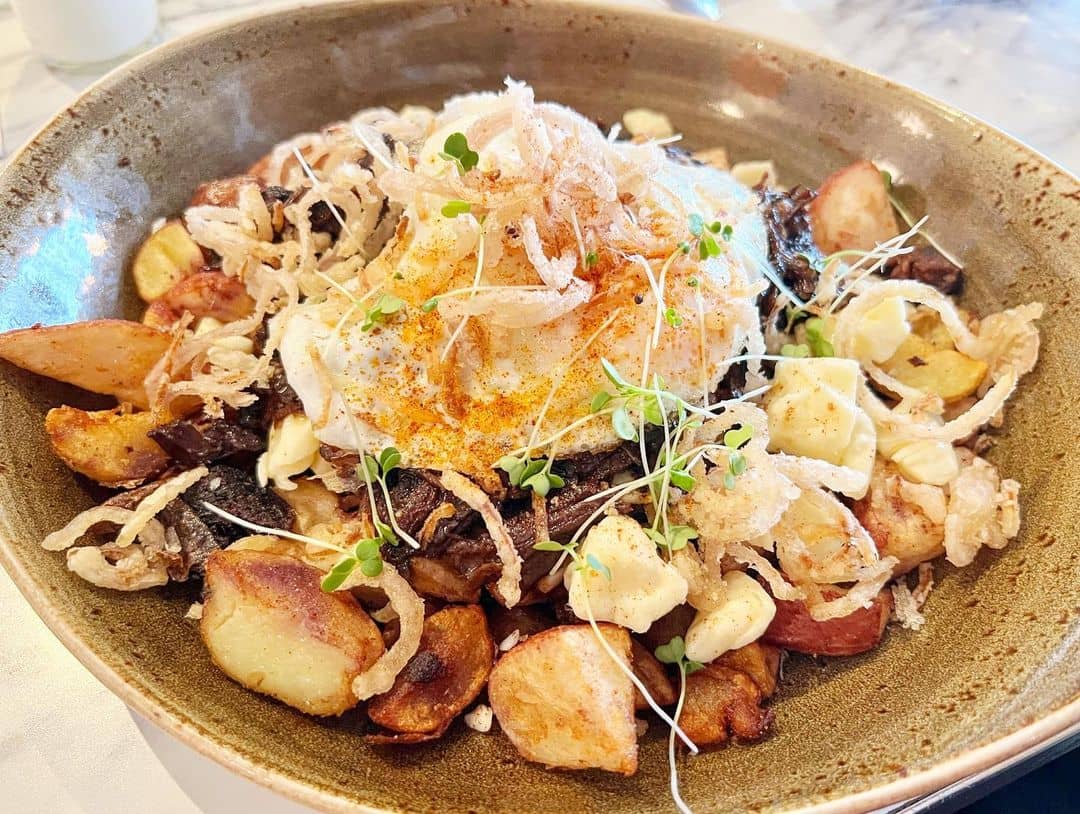 Brekkie is a multifarious restaurant cafe where you can indulge in locally-sourced, seasonal food, which is chef-driven and crafted to perfection. The space is welcoming and comfortable, with outdoor seating, and they offer a variety of vegan-friendly options on their menu.
If you want to go the savory route, you could start with their Braised Beef Cheek Poutine. While the beef cheek is incredibly tender and juicy, the addition of fried breakfast potatoes, cheese curds, red wine jus, and a fried egg on top leaves you with a glorious brunch plate.
You can have the braised beef cheek with your eggs benedict as well; just ask for the Red Wine Braised Beef Cheek Benny.
The Orange Creamsicle Pancake has the most mouthwatering elements – citrus custard, mandarin orange marmalade, shortbread streusel, white chocolate sauce, and fresh berries, everything topped over thick buttermilk pancakes. Do we even have to mention how the pancakes taste?!
What to order: Braised Beef Cheek Poutine, Red Wine Braised Beef Cheek Benny, Orange Creamsicle Pancake
Address: 125 – 20 Westpark Link SW, Calgary, AB T3H 0V5
Website | Instagram | Facebook
8. Galaxie Diner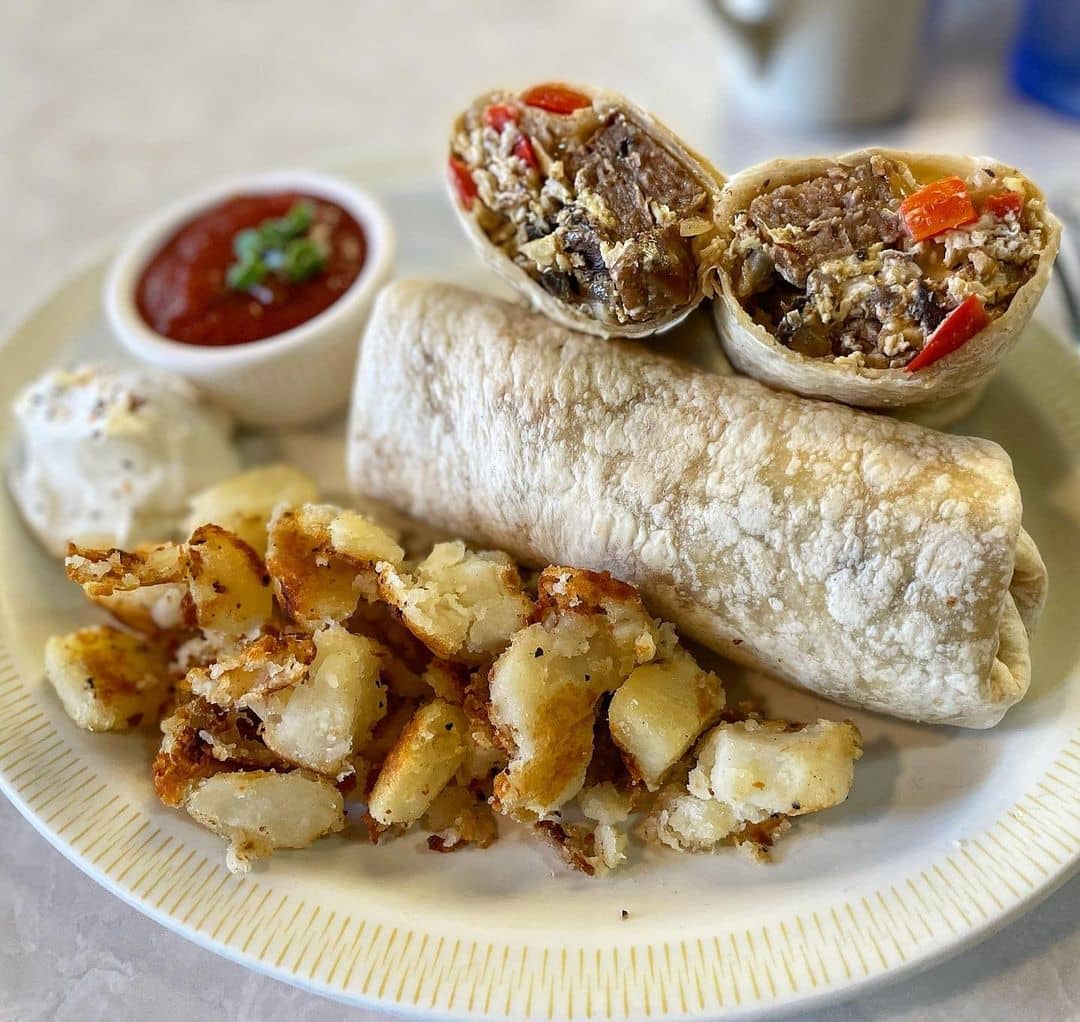 Established in 1996, Galaxie Diner is considered the best all-day breakfast restaurant in Calgary. This breakfast joint can be rightly called the locals' gathering place, and it features a classic retro diner look, with vintage bars and stools, and yummy food at fair prices.
The Montreal Smoked Meat Hash comes with authentic Montreal smoked meat, combined with hash browns, mushrooms, onions, and peppers. It is the cheese that combines and holds all these elements perfectly well together.
The Galaxie French Toast, as mentioned on their website, is to die for! With sourdough bread as its base, this French toast has a grilled banana and toasted coconut, delivering a truly tropical flavor, and is served with real maple syrup and hash browns.
The Cody Scramble is a spot-on mix of savory goodness on a plate. This scrambled egg has cheese, sauteed mushrooms, tomatoes, and green onions; add ham, bacon, or beef sausage for some meatiness to your scramble, and enjoy the complex taste and texture.
What to order: Montreal Smoked Meat Hash, Galaxie French Toast, Cody Scramble
Address: 1413 11th Street SW, Calgary, AB T2R 1G7
Website | Instagram | Facebook
9. Maven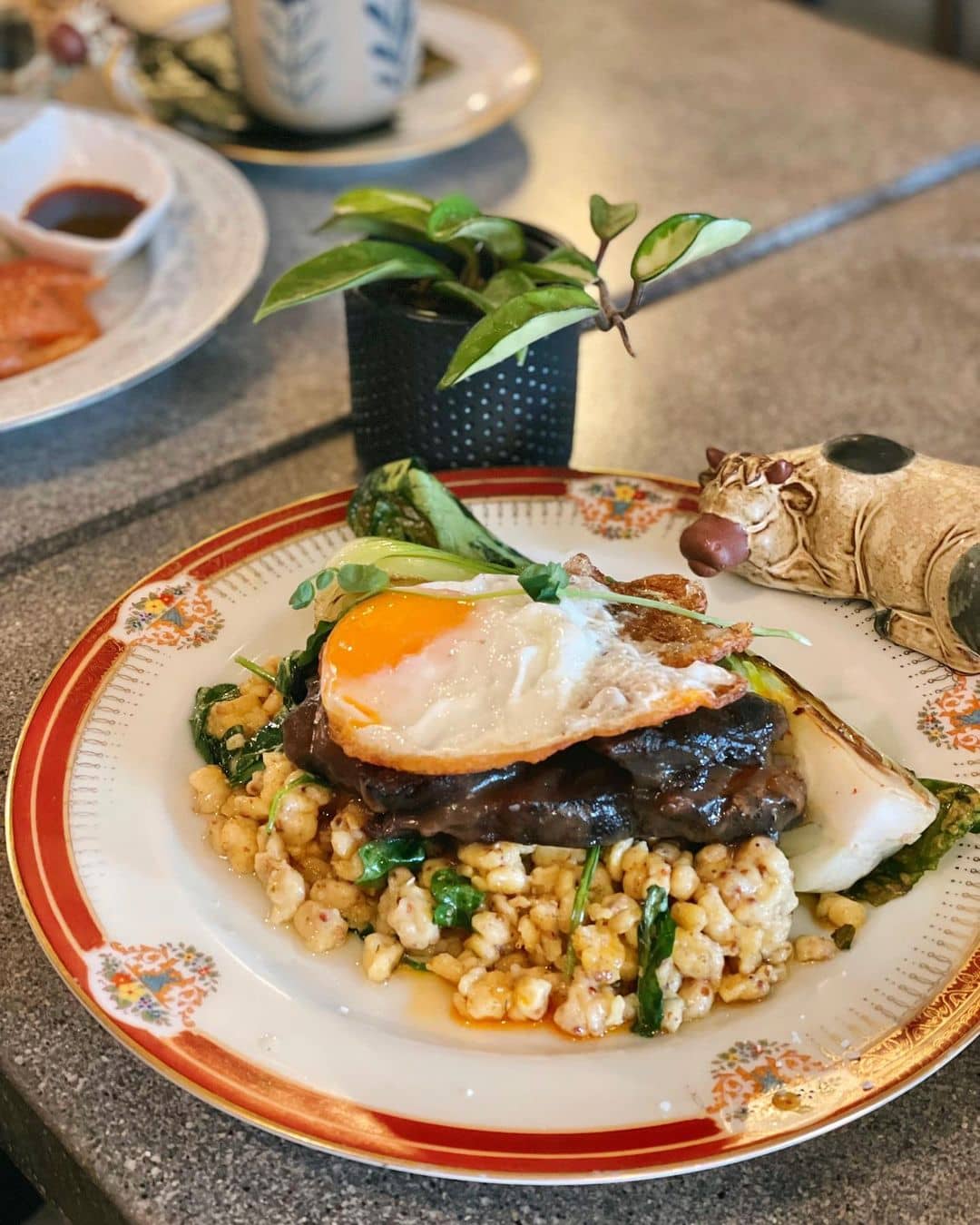 As one of the newer dining spots in Calgary, Maven offers a one-of-a-kind brunch experience. This is an eatery mixed with a plant shop, serving dishes with Asian and European backgrounds along with a sprinkle of local comfort.
On the sweeter side of brunch, Maven's Kaya French Toast is a popular choice. Inspired by the chef's childhood in Singapore, this dish has thick cut French toast, served with a coconut pandan jam, fresh fruits, and a poached egg. An amazing-tasting, Asian-inspired brunch classic!
A Scandinavian-inspired brunch staple is the Salmon Gravlax Eggs Benedict. Unlike traditional smoked salmon benny where you get a smoky flavor from the salmon, here, the salmon is first cured in sake and then seasoned, which makes it melt in your mouth, leaving behind an awesome flavour.
Their Candied Bacon Eggs Benedict is also a must-try dish.
What to order: Kaya French Toast, Salmon Gravlax Eggs Benedict, Candied Bacon Eggs Benedict
Address: 1006 17 Avenue SW, Calgary, AB T2T 0A5
10. Brouhaha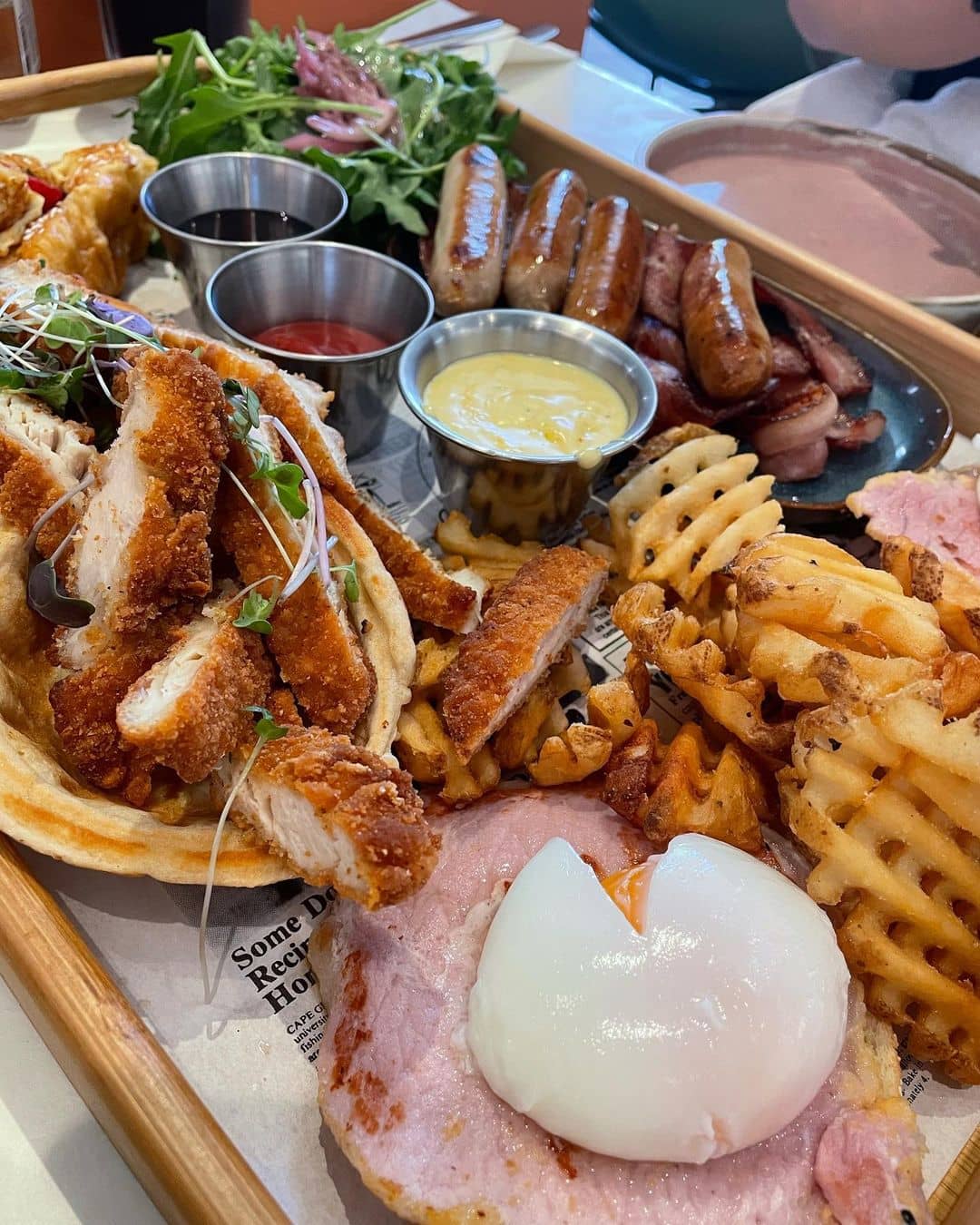 A chill Calgary brunch spot, Brouhaha offers a comfortable, lively, and friendly space where you can enjoy quality food and drinks. Their menu includes a wide selection of gluten-free and vegan dishes, and the place is the ideal mid-morning location to spend time with your crowd.
Whether you're a fan of omurice already or this is the first time hearing the name, you get an excellent version of this dish at Brouhaha. Available as original Omurice and Kimchi Omurice, you get savory and soft fried rice with bacon and vegetables – absolutely satisfying.
When you choose to brunch at Brouhaha, you not only get to enjoy comfort classics but also unique brunch dishes like their Meat Lovers Polenta Porridge. While the polenta is creamy and hearty, the pork sausage adds body and flavour, and the bacon jam has a beautiful caramelized flavor.
You can also get a vegan version of the polenta – Vegan Polenta Porridge.
If you want to get something to drink, the two items you should check out are Tea Latte and Iced Butterscotch, both of which taste incredible.
What to order: Omurice, Meat Lovers Polenta Porridge, Vegan Polenta Porridge, Tea Latte, Iced Butterscotch
Address: 609 14 Street NW, Calgary, AB T2N 2A1
Website | Instagram | Facebook
11. Red's Diner Ramsay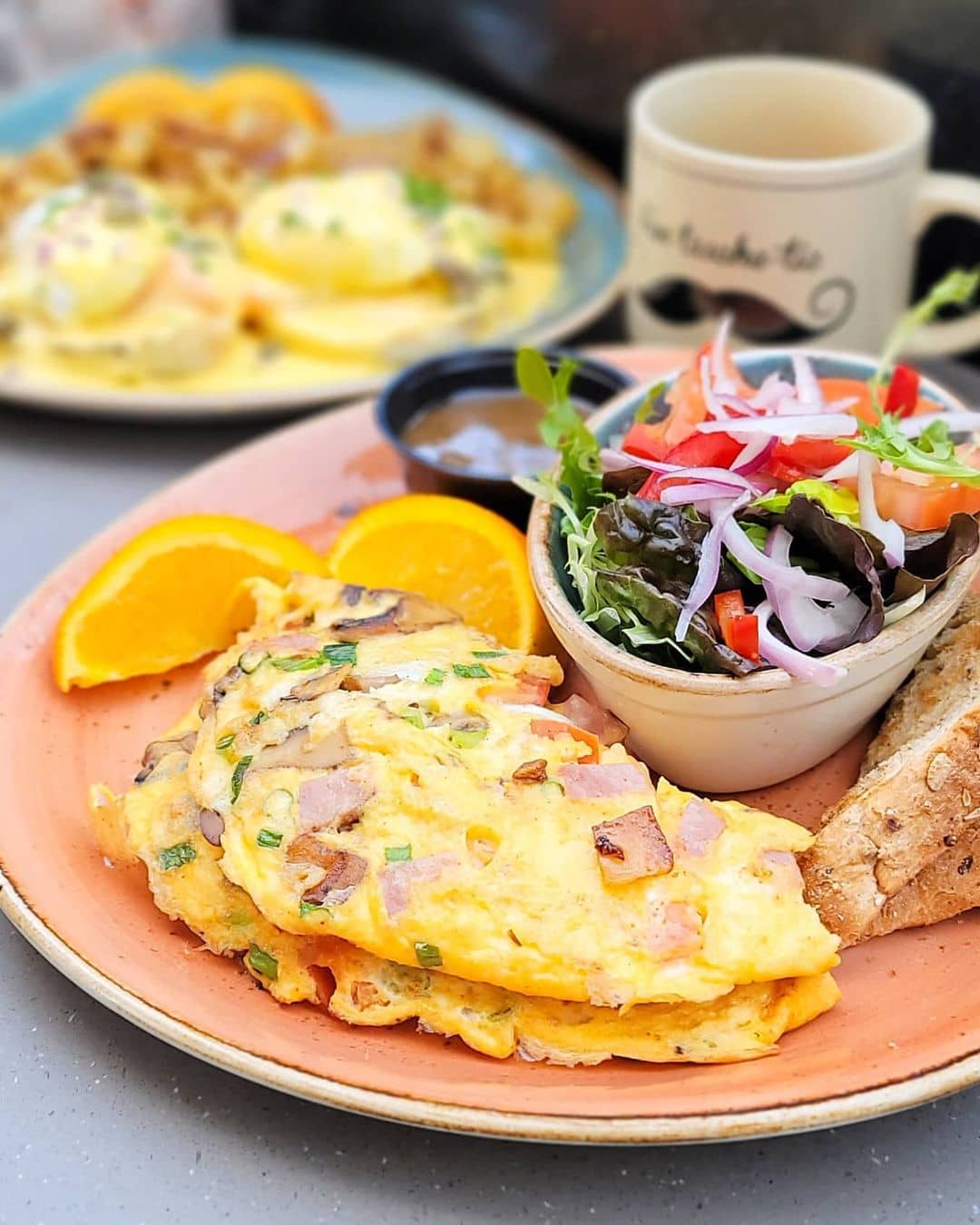 Whether it is for a business brunch or your next get-together with friends, Red's Diner Ramsay is the perfect all-day breakfast place you can head to. The interior is casual and comfortable, and the food is made using farm-fresh ingredients.
Their Good Morning Burger has everything you need to have a happy morning – moist, juicy, and perfectly seasoned AAA sirloin patty, crispy Applewood bacon, aged cheddar, and a fried egg, sandwiched within a brioche bun. Could your morning get any more delicious!?
If you're a benny-for-brunch kind of person, the Ramsay Benny should be on your table. You can choose how you want your eggs poached; the prosciutto and artichoke in the dish add a nice, enjoyable saltiness, and the house-made hollandaise is creamy and subtly rich without being overwhelming. Oh, and the balsamic drizzle, don't miss it because it makes all the difference!
Their Buttermilk Buckwheat Pancakes are huge in size and come to your table hot off the griddle. Served with whipped butter and maple syrup, you can make yours extra special by adding blueberries or chocolate chips.
What to order: Good Morning Burger, Ramsay Benny, Buttermilk Buckwheat Pancakes
Address: 1101 8 Street SE, Calgary, AB T2G 2Z6
Website | Instagram | Facebook
12. John's Breakfast & Lunch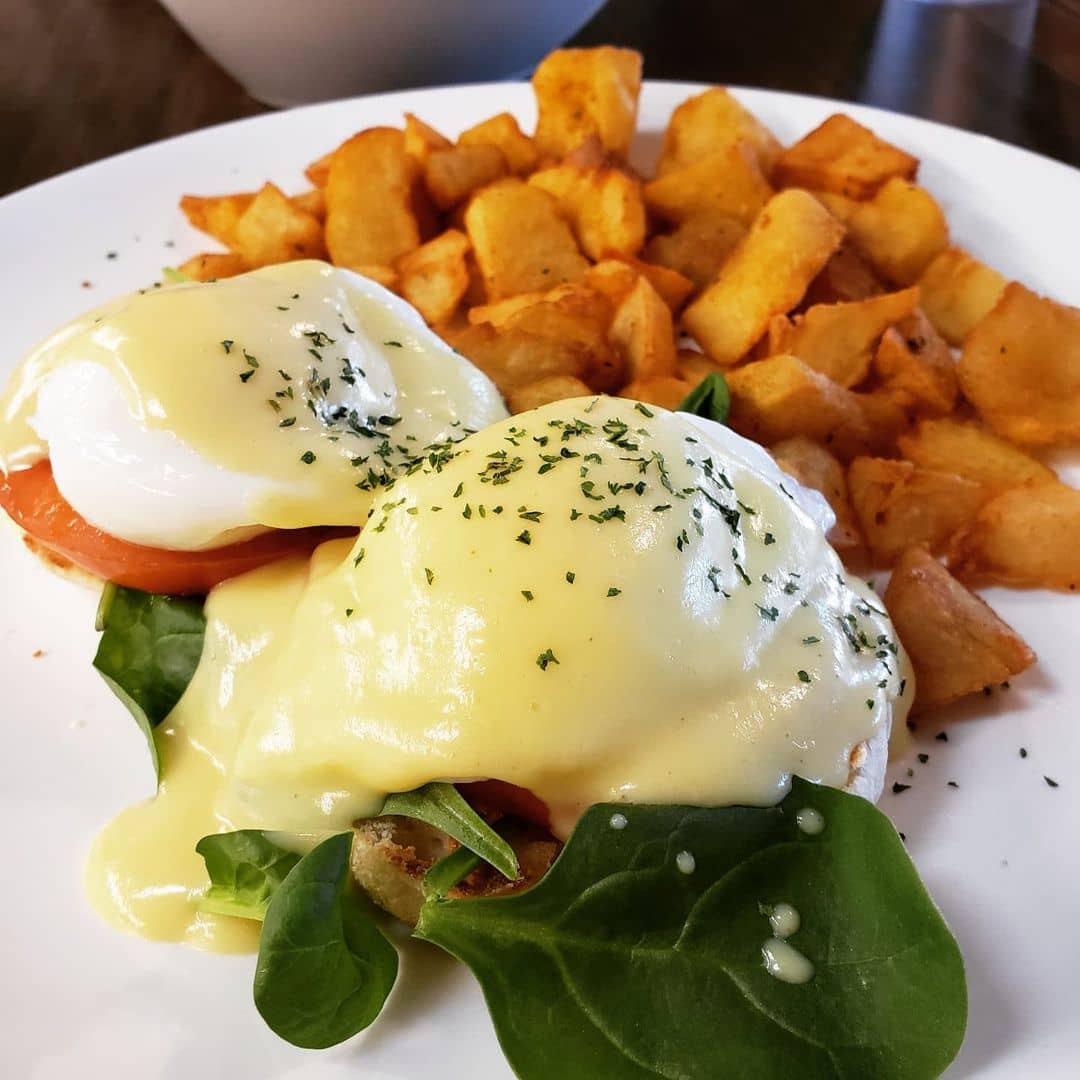 John's Breakfast & Lunch is a family-owned and operated cafe serving old-fashioned diner food, specifically North American breakfast and brunch classics. This family-friendly restaurant is one of those places where you can expect simple, delicious, and quality food, made with fresh ingredients, and great service.
Though you don't get anything fancy or unique at John's, their straightforward classics, like the Eggs Benedict, are just like they are supposed to be – simple, delicious, and satisfying.
You can have Benedict Omelette here, which contains bacon, cheddar, and hollandaise.
While the French Toast here is also very tasty, their Breakfast Poutine is another diners' favorite, containing the restaurant's 5-star homemade hash browns, topped with chorizo, cheddar, hollandaise, and two sunny-side eggs.
What to order: Eggs Benedict, Benedict Omelette, French Toast, Breakfast Poutine
Address: 2614 4 Street NW, Calgary, AB T2M 3A1
With its culinary ground rapidly advancing, Calgary doesn't fall short in meeting the expectations of people with varied food preferences. Take a peek at our best Calgary restaurants piece to learn more about the city's best of the best.