Cities around the world are known for their unique and iconic foods. What about Calgary? The city contains a wide array of restaurants offering almost all kinds of cuisines you can possibly imagine.
With its dining landscape constantly evolving, it can be difficult for you to keep up with the city's hottest eating spots. So, here is a list of the 15 best restaurants in Calgary you shouldn't miss.
This article includes affiliate links where we may get a small commission if you use our link. No extra cost is added to you.
15. Jonas Restaurant & Bar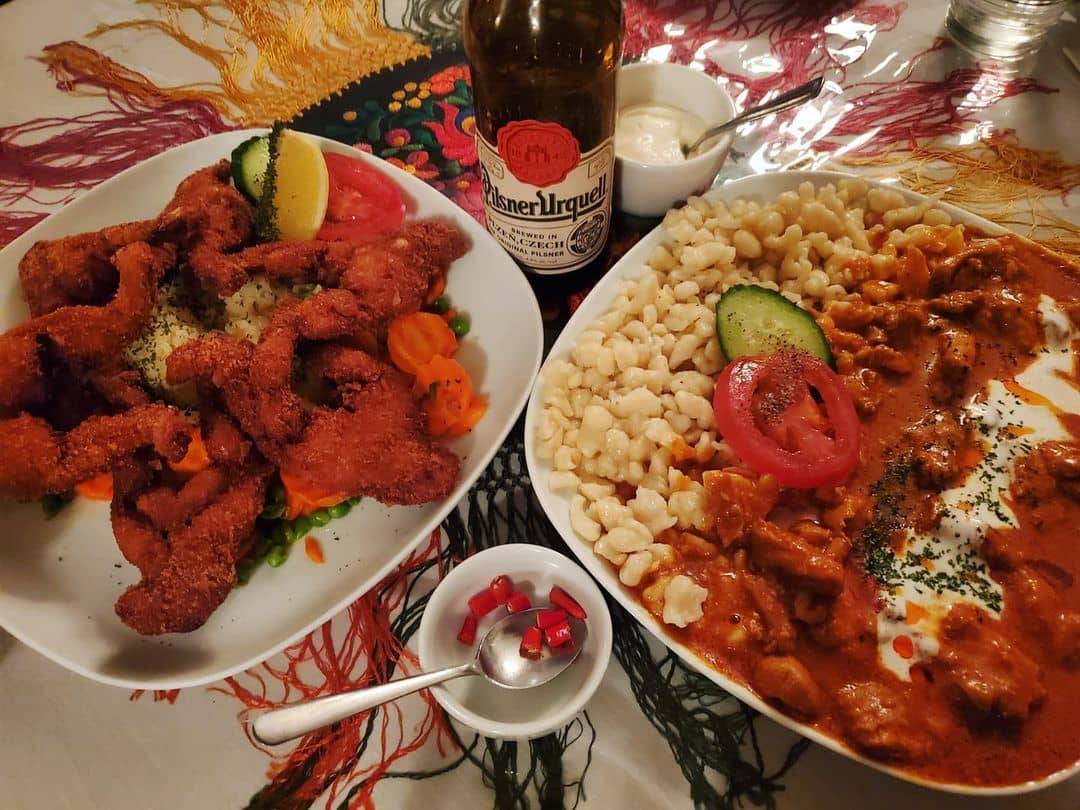 Jonas Restaurant & Bar, established in 1999, introduced the Calgarian food scene to authentic Hungarian cuisine. Just stepping into the restaurant will teleport you to a different country, and you will notice a bit of Hungary whichever direction you turn your head. The food, of course, will give you a complete experience of Hungarian culture.
Whether you visit Jonas Restaurant for lunch or dinner, you have to try the Chicken Paprikash. This is one of the most famous, authentic Hungarian dishes – mildly sweet chicken gravy with sour cream. The gravy is served with homemade Spätzle – tiny dumplings/noodles that goes well with the rich and creamy Paprikash.
The Chicken Schnitzel here is as authentic as it gets – large pieces of chicken, flattened and thinly breaded to attain the perfect level of crispness. The chicken is full of flavor and perfectly moist on the inside.
What to order: Chicken Paprikash, Chicken Schnitzel, Wiener Schnitzel
Address: 937 6th Avenue SW, Calgary, Alberta, Canada T2P 0V7
Website | Instagram | Facebook
14. OEB Breakfast Co.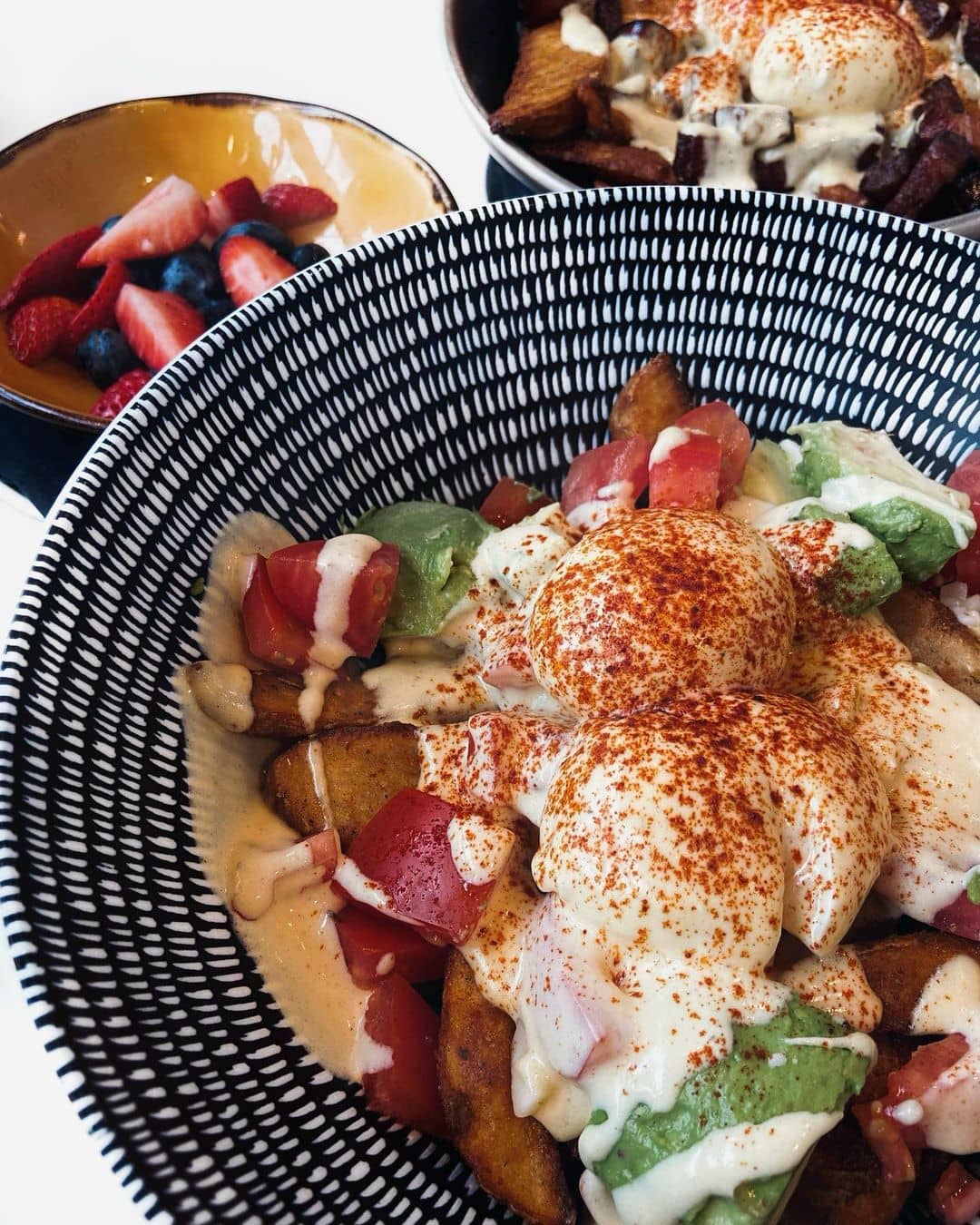 OEB Breakfast Co. is a widely popular farm-to-table breakfast spot in Calgary. Their menu features items that cannot be easily made at home, and they have a variety of vegan options as well. What pulls in customers from everywhere to OEB, day after day, is their creative breakfast offerings.
Breakfast poutines from OEB Breakfast Co. are hugely popular, especially the Gold Digga. The dish contains Berkshire roast pork, Herb potatoes fried in duck fat, cheese curds, black truffles, brown butter hollandaise, and poached eggs; every single item in the dish adds flavour to it. Order this once, and it will be hard for you not to order it every time you visit the restaurant.
For those craving something sweet for breakfast, OEB brings to you, Do Not Even Go There! This is a French crêpe dish that comes with fresh vanilla custard, whipped cream, berries for balancing the sweetness, bananas, almonds & pistachios for texture, and drizzled with Quebec maple syrup. Oh, your sweet craving will be satisfied, for sure!
What to order: Gold Digga, Do Not Even Go There
Address: 2207 4th Street SW, Calgary, AB T2S 1X1, Canada
Website | Instagram | Facebook
13. NUPO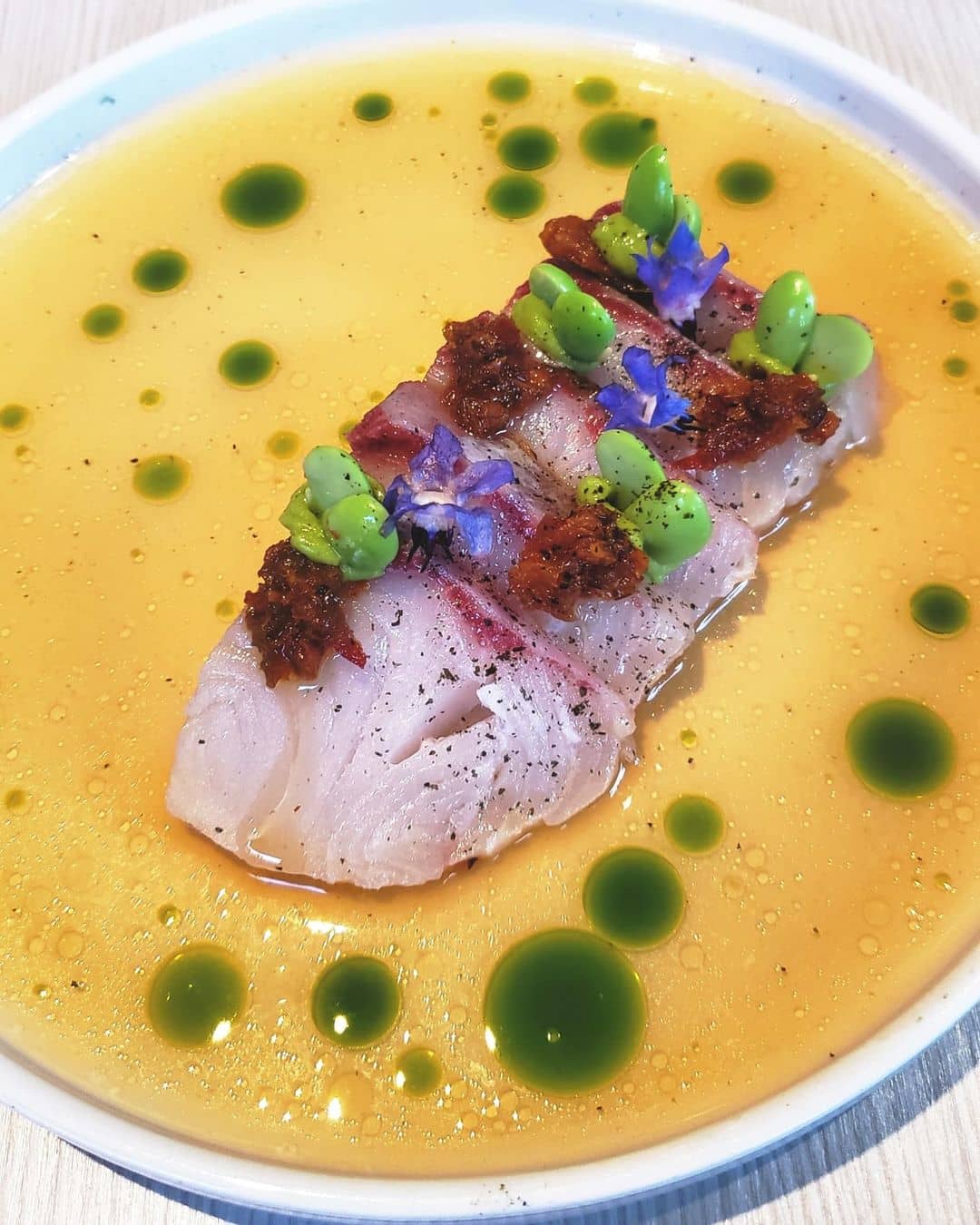 If you are looking for a Calgary restaurant that serves proper vegan cuisine, you will fall in love with NUPO. This is a Japanese-style restaurant that celebrates vegan, plant-forward food along with amazing sushi. Here, you get both fresh and aged sushi, aged in their unique dry-aging chamber.
NUPO is possibly the first Omakase restaurant in Calgary, which means you should try their Omakase Sashimi. The Omasake dining concept is where the chef offers his/her selection of the day's special. At NUPO, you get the chef's selection of the day's best sashimi.
You will be recommended to pair your dish with one of their specialty Japanese drinks. The Omakase Sashimi is to be paired with Kaiun Legacy, one of the most respected sakes of Japan.
The Tempura Parsnip Roll, a vegan offering, is loved by non-vegans alike. This wonderfully crunchy dish contains wild mushrooms, vegan truffle aioli, and freshly grated horseradish for a little natural spice.
What to order: Omakase Sashimi, Tempura Parsnip Roll, Vegan Matcha Affogato
Address: 631 Confluence Way, Calgary, AB T2G 1C3
Website | Instagram | Facebook
12. The Moose and Poncho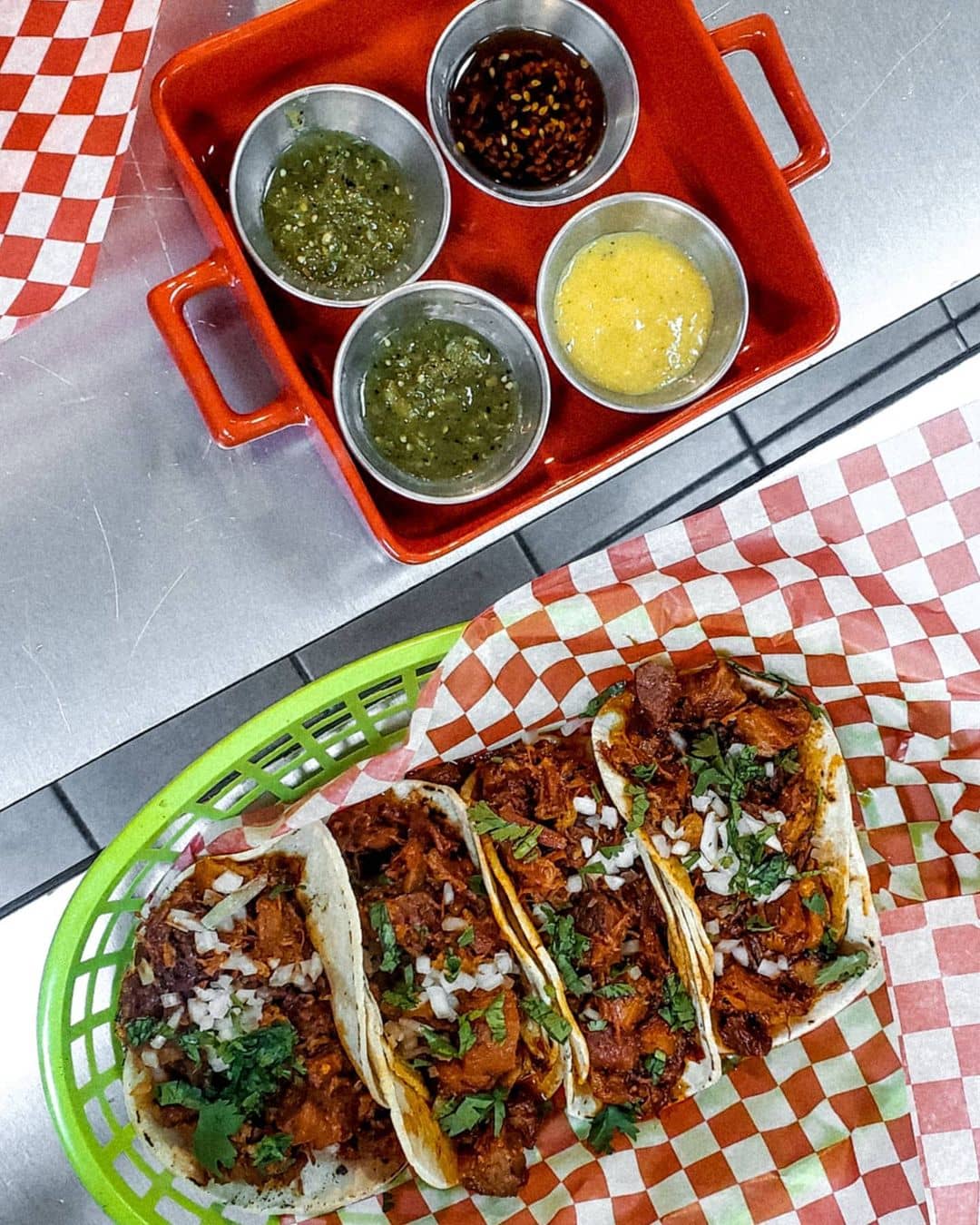 Though it is located in an easy-to-miss spot, The Moose and Poncho is considered to have arguably the best tacos in Calgary. The place is more like a food stall, with just a few tables for dining in, and serves authentic Mexican food, everything made from scratch, highlighting local, organic products.
Unlike the usual breaded filling tacos that Calgarians are used to, The Moose and Poncho has some spectacular offerings, like the Chicharron Prensando. This is a soft-shell taco with pressed pork filling, something that is rarely seen outside of Mexico.
You can also mix and match your taco fillings to satisfy your cravings for the day.
Their limited edition quesadilla – Mole Quesadilla can be best described with a drooling face emoji! The filling here is turkey, which takes two days in the making is juicy and extremely flavorful.
Make sure you order their churros. Cooked to order, the churros come nice and crunchy on the outside and perfectly cooked, soft, and cakey on the inside.
What to order: Chicharron Prensando, Mole Quesadilla, Churros
Address: 1327 1st Street SW, Calgary, AB T2R 0W3
Website | Instagram | Facebook
11. Ritage Restaurant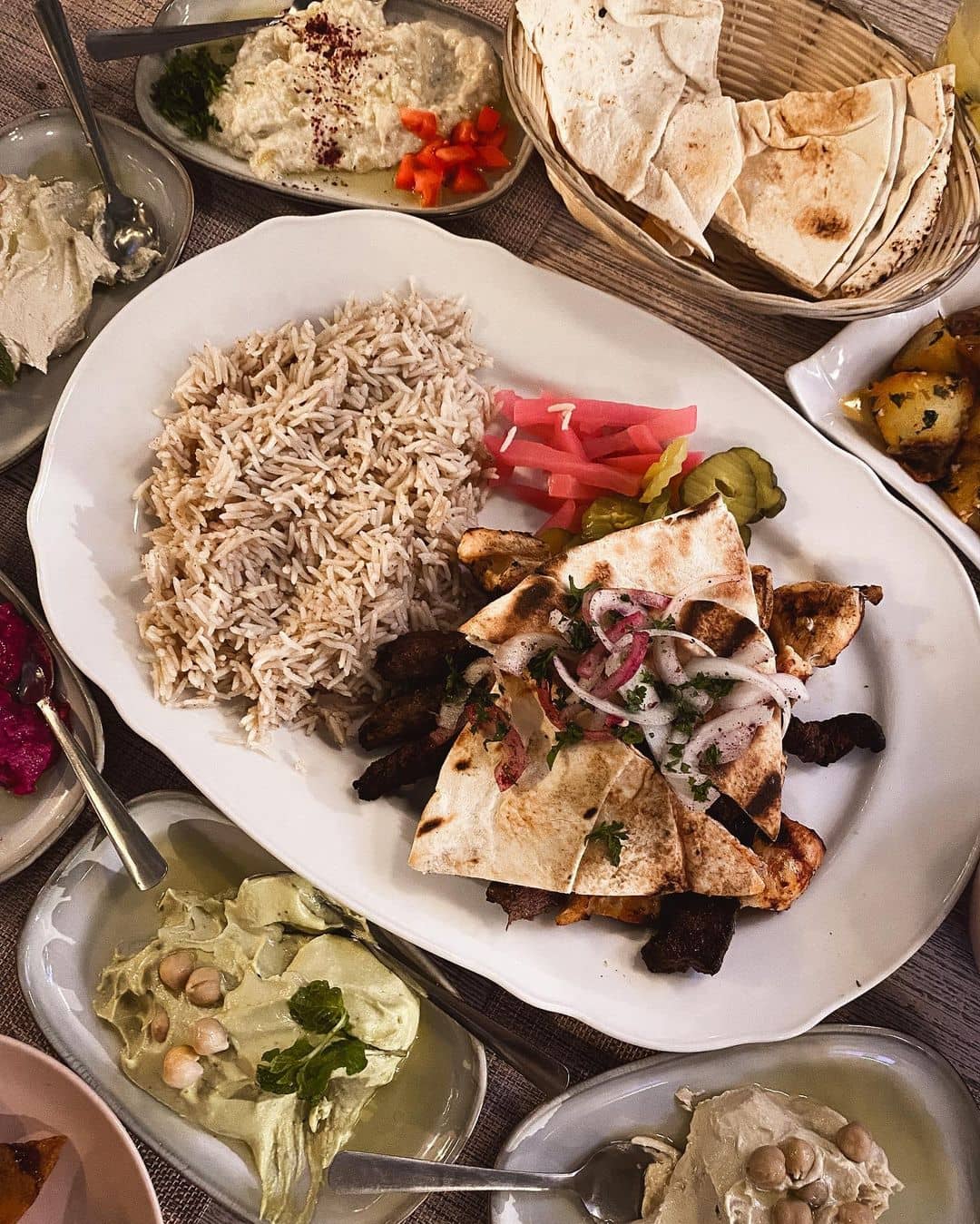 A new entrant in the Calgary food landscape is Ritage Restaurant, an authentic Mediterranean place serving high-quality food, distinctively made to suit the Canadian palate. The restaurant is also popular for its spectacular pizzas.
No matter how many times you have had hummus before, the Hummus & Pita appetizer you get here will leave you mouthwatering and wanting more. The hummus is made fresh every day, and has a hint of smoked chili flavour, which makes it a perfect accompaniment for any type of kebab or kofta you order.
The Shawarma Platter at Ritage would be a great value meal because you get to try everything that the restaurant is famous for – roasted steak or chicken, hummus, and tabbouleh. The steak comes in small slices, with an amazing crust, creamy hummus, fresh salad (tabbouleh), and you can choose to have fries or rice for a side.
What to order: Hummus & Pita, Shawarma Platter, Baklava & Ice Cream
Address: 202 17th Avenue SW, Calgary, AB, T2G 1H4
Website | Instagram | Facebook
10. Teatro Ristorante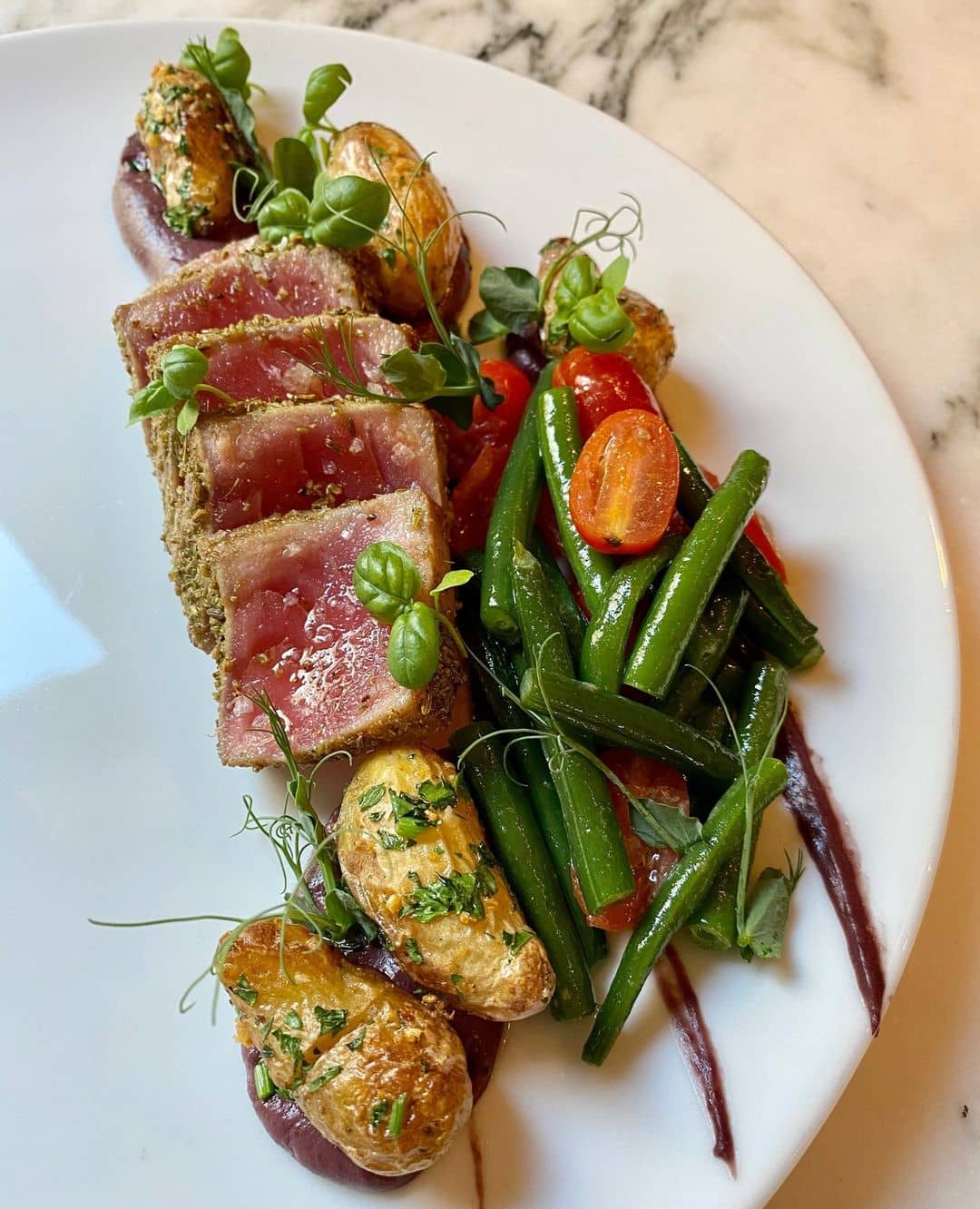 Teatro Ristorante has been offering an exhilarating dining experience for 25 years now, serving modern Mediterranean cuisine, with roots in Italian heritage. The interior is posh, spacious, and clean, with comfortable seating and impeccable service. Their seasonal menus can be paired with award-winning Italian and Bordeaux wine, and they also have an innovative cocktail menu.
If you always thought risotto is a hit or miss dish, you should try Teatro's Wild Mushroom Risotto. This creamy, thick, and flavorful risotto comes topped with thinly sliced truffle, which adds to its richness without being overwhelming. The risotto here is always a hit!
We recommend the Red Wine Braised Octopus for mains. You can easily see that the octopus had been slowly and gently braised in red wine, making it unbelievably tender. The octopus is served with tomato ragù, which adds depth to the dish, and confit fingerling potatoes.
What to order: Wild Mushroom Risotto, Red Wine Braised Octopus
Address: 200 – 8th Avenue SE, Calgary, AB
Website | Instagram | Facebook
Looking for a place to stay in Calgary?
9. Cardinale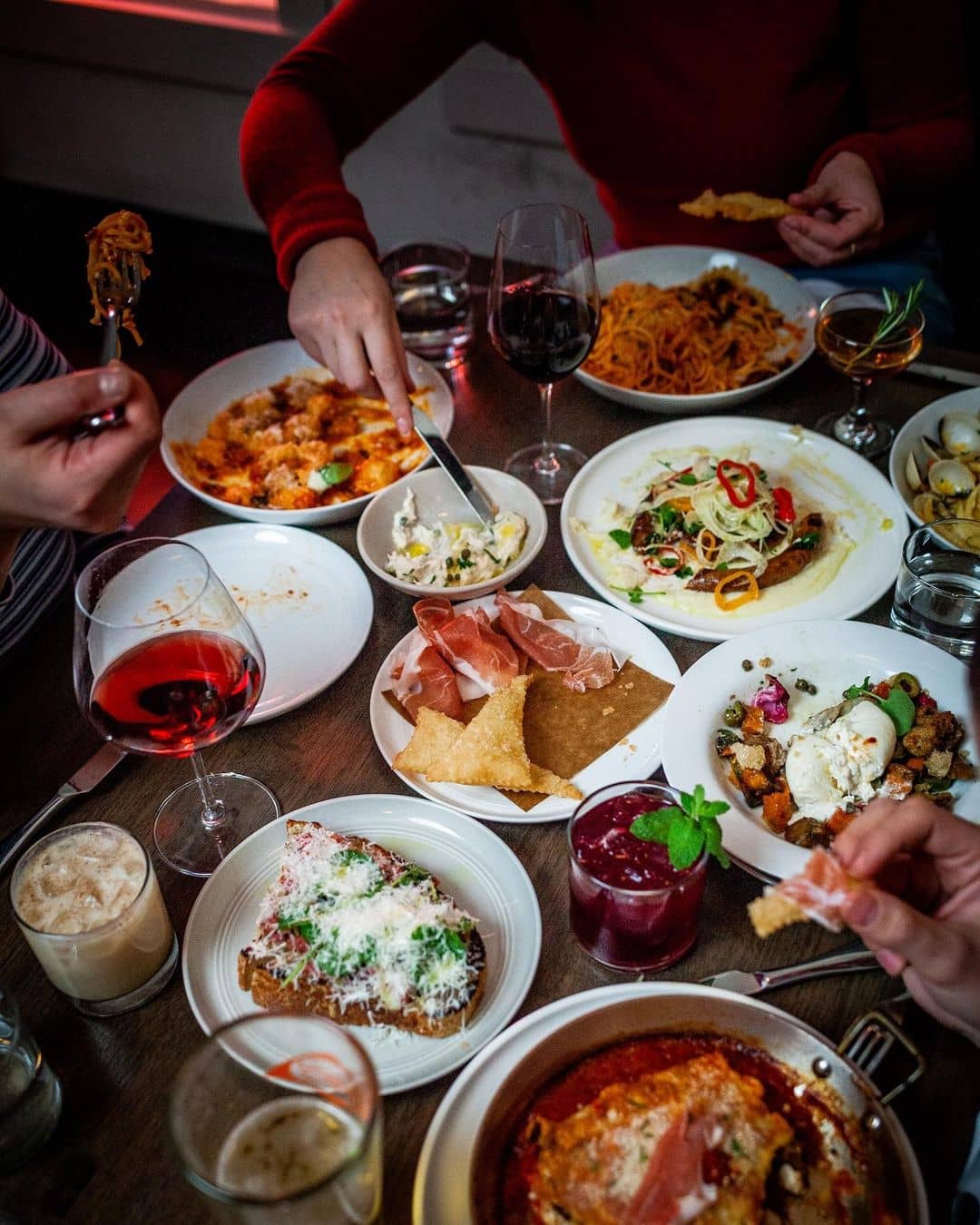 Cardinale is a hidden gem in Calgary; a quaint little Italian place, with mood lighting and an intimate atmosphere. The pasta they serve is made fresh, in-house every day, and the entire menu follows traditional Italian cooking methods, using a combination of fresh local produce and ingredients imported directly from Italy.
Start your meal with Cardinale's Focaccia; made in-house daily, you can feel and taste the freshness of the bread right from the first bite – warm, light, and airy. The bread will also pair very well with any pasta dish you choose.
How about something fancy? Their Bucatini has all things fancy – king crab, clams, saffron, egg yolk bottarga! This sophisticated pasta dish comes flecked with fresh king crab meat, which adds sweetness to the dish; the egg yolk bottarga adds saltiness, with an enhanced egg flavor; saffron adds richness; and the clams soak in all these flavors together.
What to order: Focaccia, Bucatini, Agnello, Tiramisu
Address: 401 12 Avenue Southeast, Calgary, AB, T2G 1A5, Canada
Website | Instagram | Facebook
8. Deane House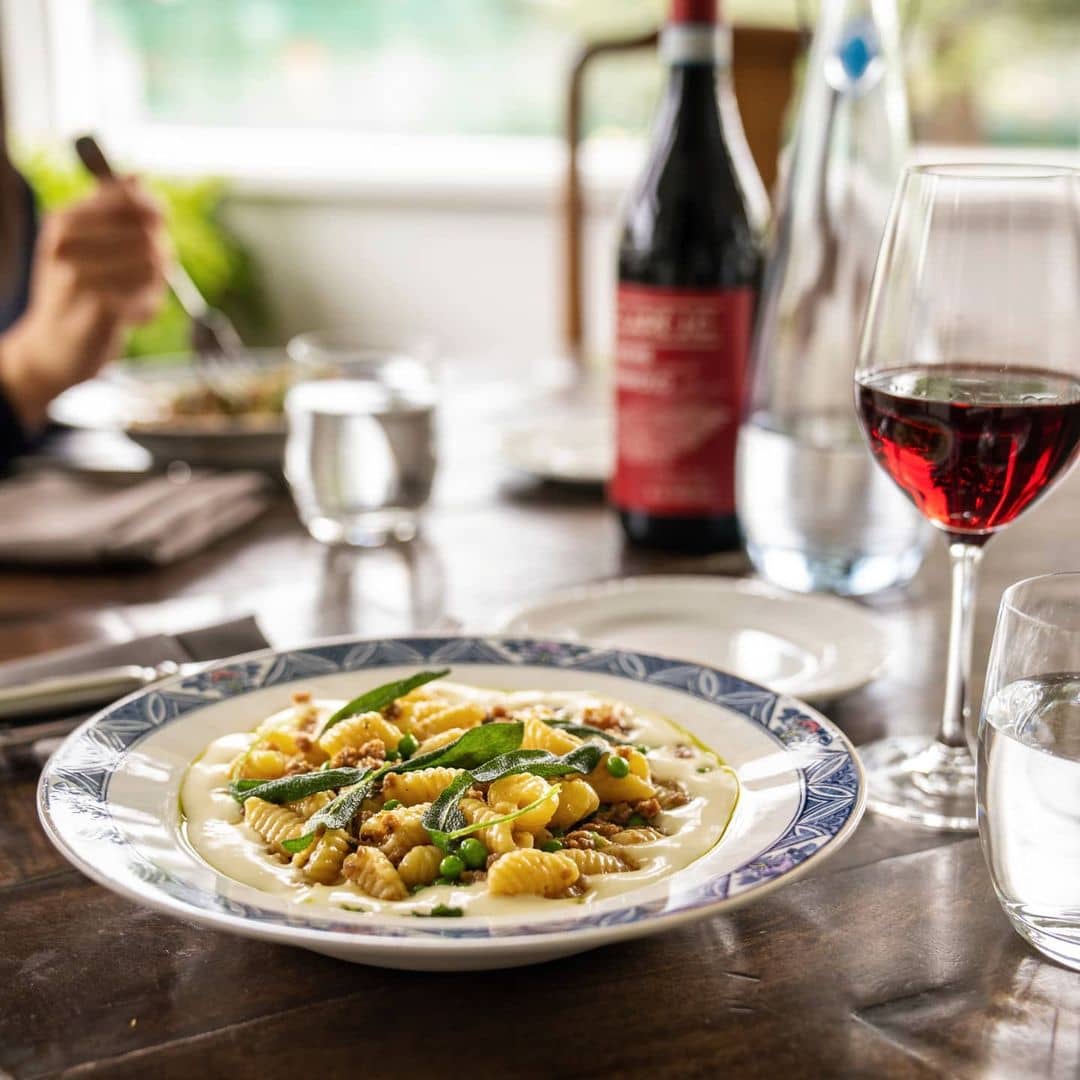 Originally built in 1906 on Fort Calgary and then moved to its current location in 1929, Deane House is perhaps the most historic restaurant you can find in Calgary. The whole place oozes charm and poise, ideal for dates and family gatherings. The menu has been carefully curated to serve Canadian regional cuisine, celebrating local, seasonal, and sustainable ingredients from local farmers and ranchers.
While their ingredients are seasonal, one dish that comes out spot-on every time is their Perogies. Depending on the seasonal produce, you may see rabbit, bison, duck, or a different protein on the menu; but, no matter what you order, what you taste will be a rich and delish portion of perogies, balanced nicely with different sides.
The Pan-Seared Rainbow Trout is another well-executed dish, containing fresh and flaky rainbow trout, earthiness from the celeriac puree, tanginess from the trot roe, and a bit of hearty texture from baby potatoes and endive.
If you are up for something sweet after your delicious meal, try their Treacle Pudding. The sweetness from the caramel and honey crème anglaise is cut through by the wine poached pears, making for a great retro dessert in a historic place.
What to order: Perogies, Pan-Seared Rainbow Trout, Treacle Pudding
Address: 806 9 Avenue SE, Calgary, Alberta
Website | Instagram | Facebook
7. Santorini Greek Taverna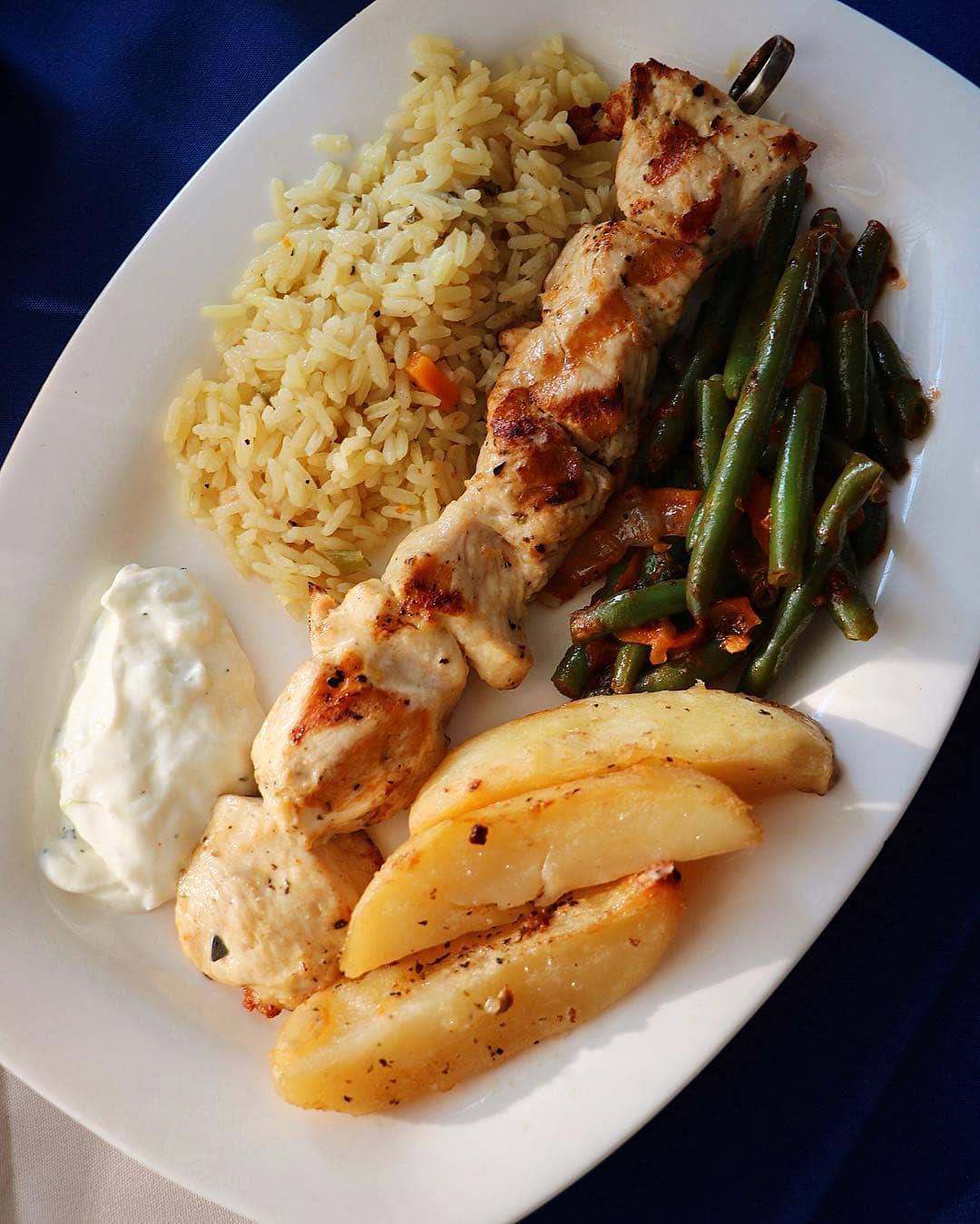 Having served 500,000 Calgarians for three decades, Santorini Greek Taverna continues to be the trusted choice for Greek food in the area. The bright and festive interior of the place will take you on a virtual tour to Greece. This family restaurant serves authentic, homemade Greek dishes, celebrating the island's culinary heritage, as well as unique wines that complement the food.
When you are at a Greek restaurant, it would be a crime to not start your meal with Saganaki. This fried Greek cheese appetizer at Santorini Greek Taverna comes out of the kitchen sizzling; squeeze the lemon on top and indulge in the crispy, smooth, cheesy goodness.
Nothing beats a hearty, homemade dish, no matter the cuisine. Santorini's Pastichio is one such dish that will take your heart. This Greek version of Lasagna has layers of pasta; rich, aromatic, and delicious ground beef ragu; and velvety thick bechamel sauce. Just reading about these layers makes us drool!
What to order: Saganaki, Pastichio
Address: 1502 Centre Street N, Calgary, AB
Website | Instagram | Facebook
6. Lulu Bar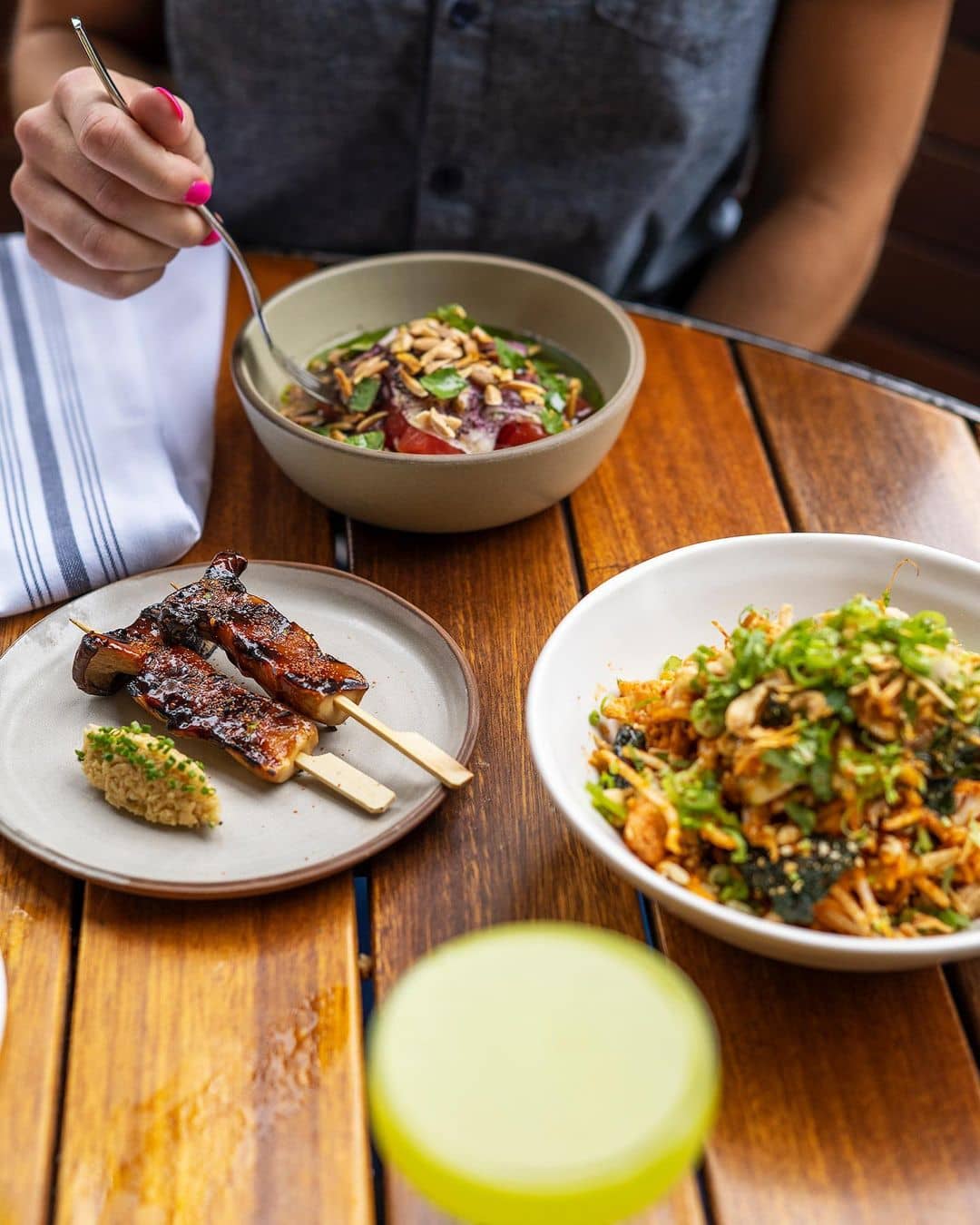 Located in the heart of 17th Avenue, Lulu Bar is a chef-driven bar and restaurant that features an Asian fusion menu and a lot of amazing drinks. The space has a rustic/industrial vibe to it, laid back yet classy, and is a perfect spot in town to meet up with friends. Their tapas-style dishes are curated specifically for sharing, which will make your dining experience here all the more exciting.
If trying new and unique food is your New Year's resolution, you should start with Lulu Bar's Beef Tongue Skewers. The beef tongue is soft and juicy, with just the right amount of chewiness to it, and well-seasoned. The coconut soy covering the beef tongue skewers add the Asian touch you would expect from such a dish, and the pairing is absolutely yummylicious!
The Fried Coconut Squid is a crowd favourite here; let's just say that you will forget about ordering anything else as soon as you see the golden fried goodness arriving on a plate.
Their Steamed Lobster Dumplings also make many diners want to come back for more. Soft and spongy dumplings filled with sweet lobster meat are eaten best with their chili soy, which doesn't overwhelm the dumplings but adds a nice citrusy kick.
What to order: Beef Tongue Skewers, Fried Coconut Squid, Steamed Lobster Dumplings, Coconut Cooler
Address: 510 17 Avenue SW, Calgary, Alberta T2S 0B1
Website | Instagram | Facebook
5. Koi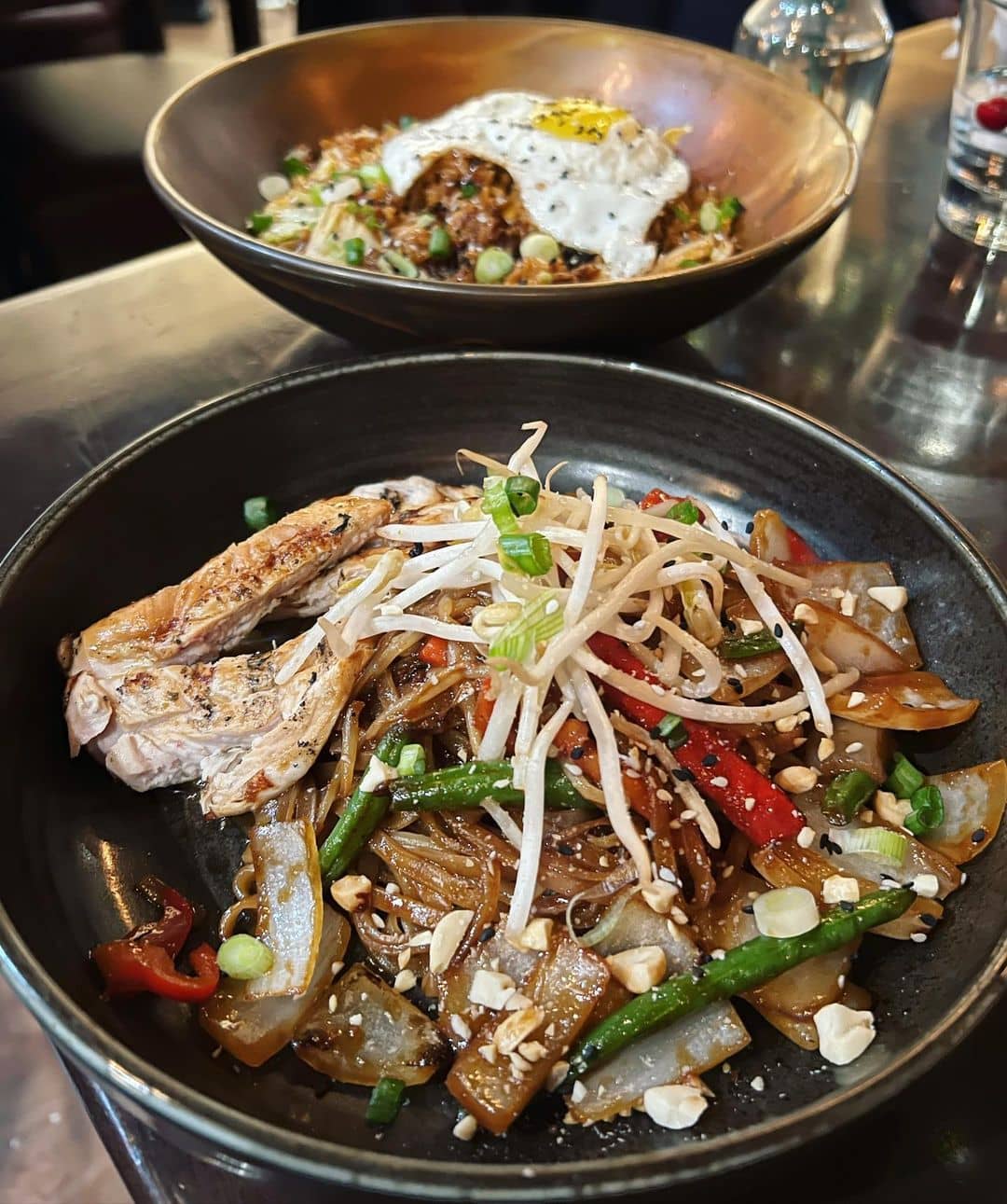 If a live music restaurant with a bar has always been your go-to place, Koi in Calgary will be that place for you. The place has a totally chill vibe, hosting different events on different days, from live music to stand-up comedy to open mic. Whether it is dinner and a show for you, or dessert and drinks with a late-night event, Koi will please more than just your food cravings.
The Classic Coconut Curry at Koi will satisfy your craving for Asian food. This is a coconut lemongrass curry, to which you can add chicken, prawns, steak, tofu, or vegan "prawns" for an extra cost. You get jasmine rice and sauteed vegetables as standard sides. Safe to say, it will be a coconut explosion in your mouth, thanks to the incredibly creamy broth full of flavor.
The restaurant offers a lot of vegan, vegetarian, and gluten-free options on its menu. One such popular vegan option is their Pad Kare – stir-fried rice noodles and vegetables tossed in a tamarind peanut sauce. Again, you can add chicken, prawns, tofu, or vegan "prawns" to your dish. You get a healthy portion of whatever protein you choose; and at Koi, it is always the sauce, curry, or broth that makes the dish.
What to order: Classic Coconut Curry, Pad Kare
Address: 1011 1 Street Southwest, Calgary, AB, T2R 1J2, Canada
Website | Instagram | Facebook
4. NOtaBLE – The Restaurant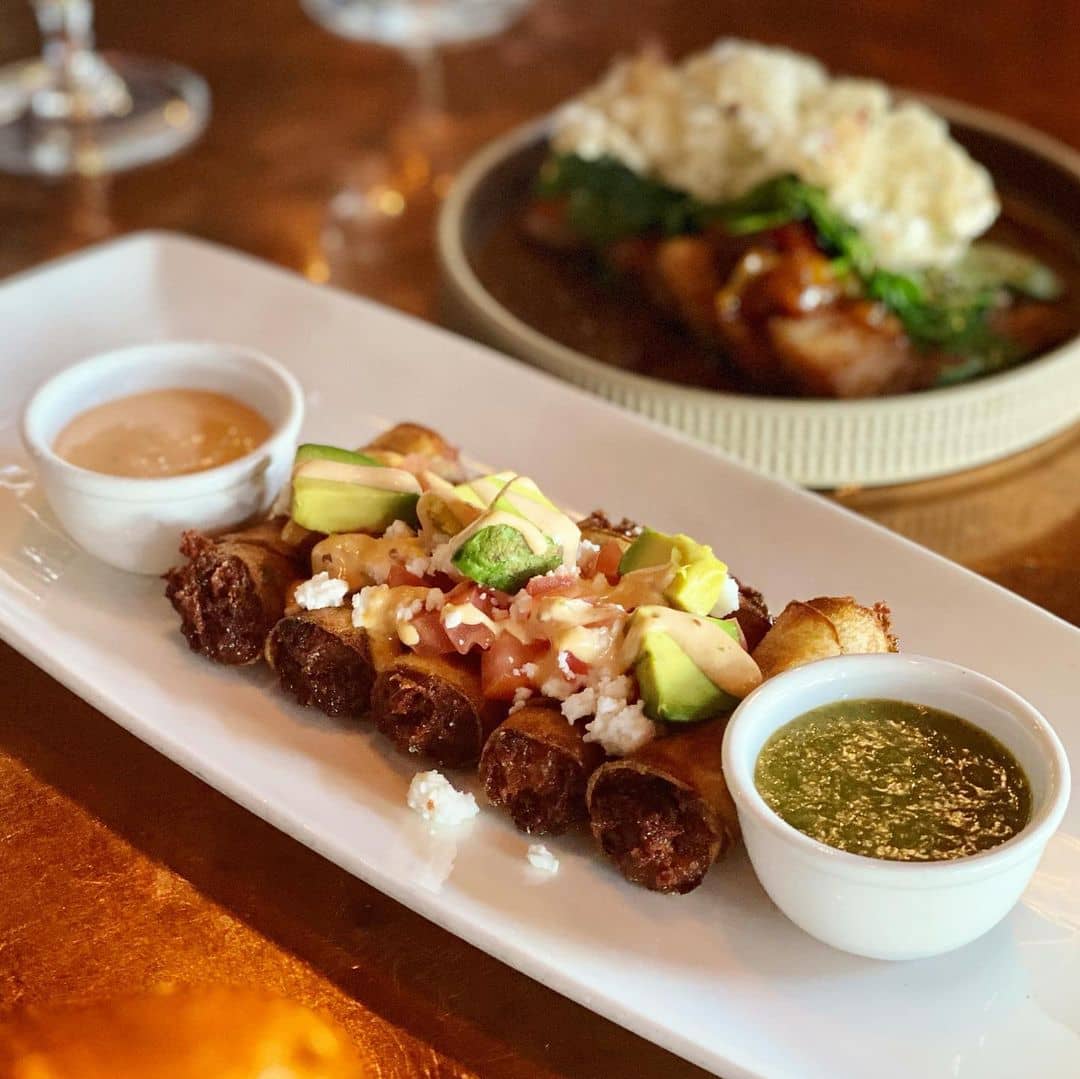 A charming and cozy place in Calgary, NOtaBLE – The Restaurant is a gourmet casual-style restaurant that serves new Canadian food, with influences from different cuisines. With the rotisserie turning, meat sizzling, juices dripping from the meat, and sauce bubbling at the sauce station, you cannot find a more appetizing atmosphere in a restaurant.
NOtaBLE is famous for their Rotisserie Chicken. The Notable Wood Rotisserie Half Chicken comes to the table as one big succulent piece of chicken, served with silky and nutty brown butter jus, and mashed potato and garlic green beans for sides. After basting in its own juices, you can notice the chicken being juicy and full of flavor, and adding a delicate nuttiness to the dish.
Another one of their classics is the Crispy Smoked Pork Potato Rolls. In fact, this is the "ultimate fav!" of many diners. These are potato skin rolls with a stuffing of smoked pork and jalapeno jack cheese, served with a spicy ranch and salsa verde. The crispy skin and the chunky filling of rotisserie pork make for a mouthwatering dish.
What to order: Rotisserie Chicken, Crispy Smoked Pork Potato Rolls
Address: 4611 Bowness Road NW. Calgary
Website | Instagram | Facebook
3. SALTLIK Calgary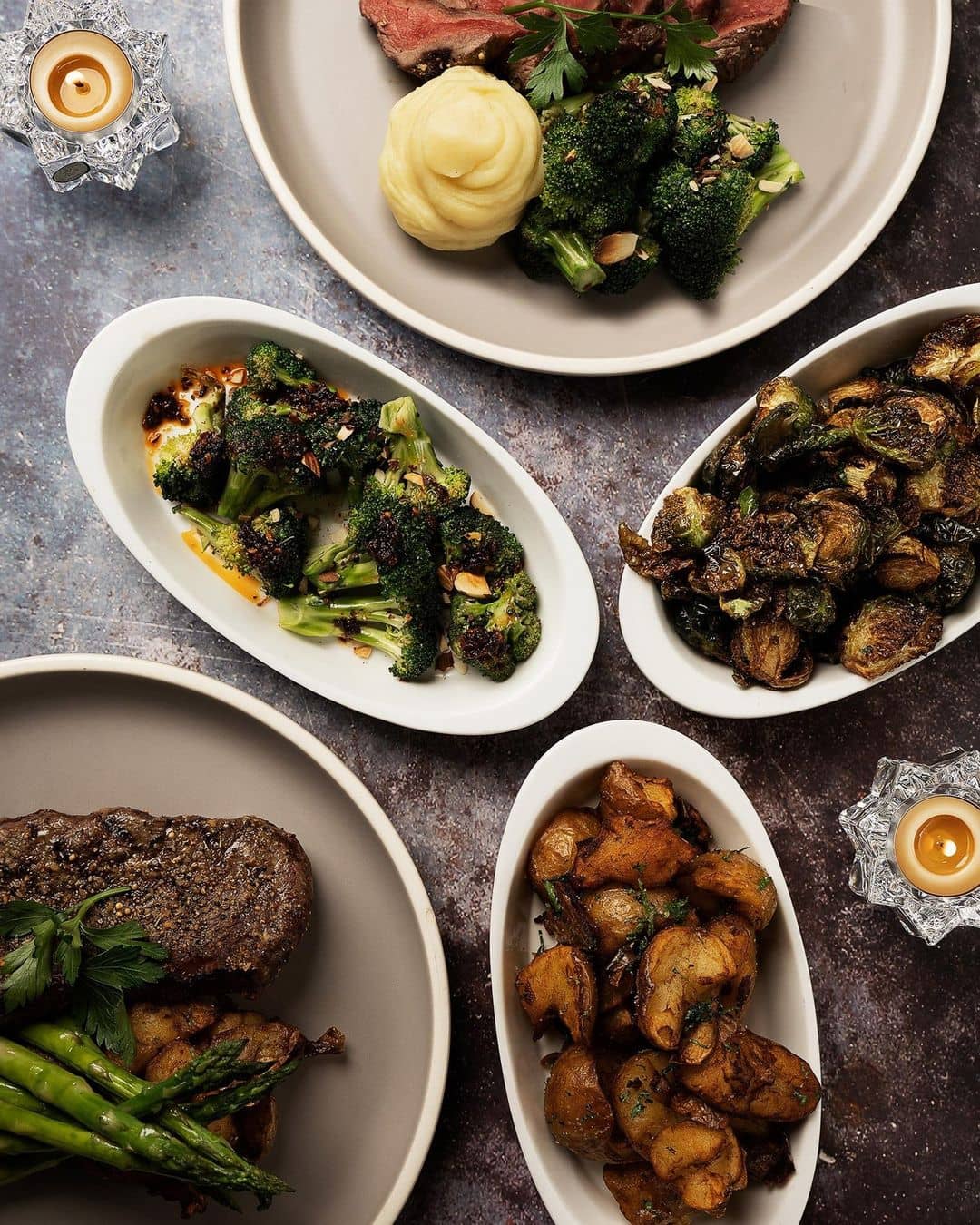 SALTLIK will be one of the top places that pop-up when you search for good steakhouses to dine in Calgary. This is an upscale steakhouse, very spacious, with a relaxed vibe. Yes, the restaurant is popular for its steaks, but they also serve traditional homemade pasta, fresh seafood, and season-inspired desserts. Their handcrafted cocktails and sommelier-curated wine list are there to make your dining experience at SALTLIK complete.
Lobster Mashed Potatoes – if you're thinking "how is this the most popular dish at a steakhouse?", you need to try it to know! The mashed potato comes with chunky pieces of tarragon butter-poached lobster – buttery, creamy, and loads of sweet lobster meat, you could eat it all day long!
Of course, you cannot leave a steakhouse without ordering steak! All the steak mains here at SALTLIK come with mashed potatoes and maple mustard brussel sprouts as standard sides. You can add more to your plate at an additional cost, with options like peppercorn sauce, red wine sauce, lobster mashed potatoes, and more.
What to order: Lobster Mashed Potatoes, Filet Mignon, Handmade Apple Pie
Address: 1018 Avenue SW, Calgary, AB T2P 1B4
Website | Instagram | Facebook
2. Vero Bistro Moderne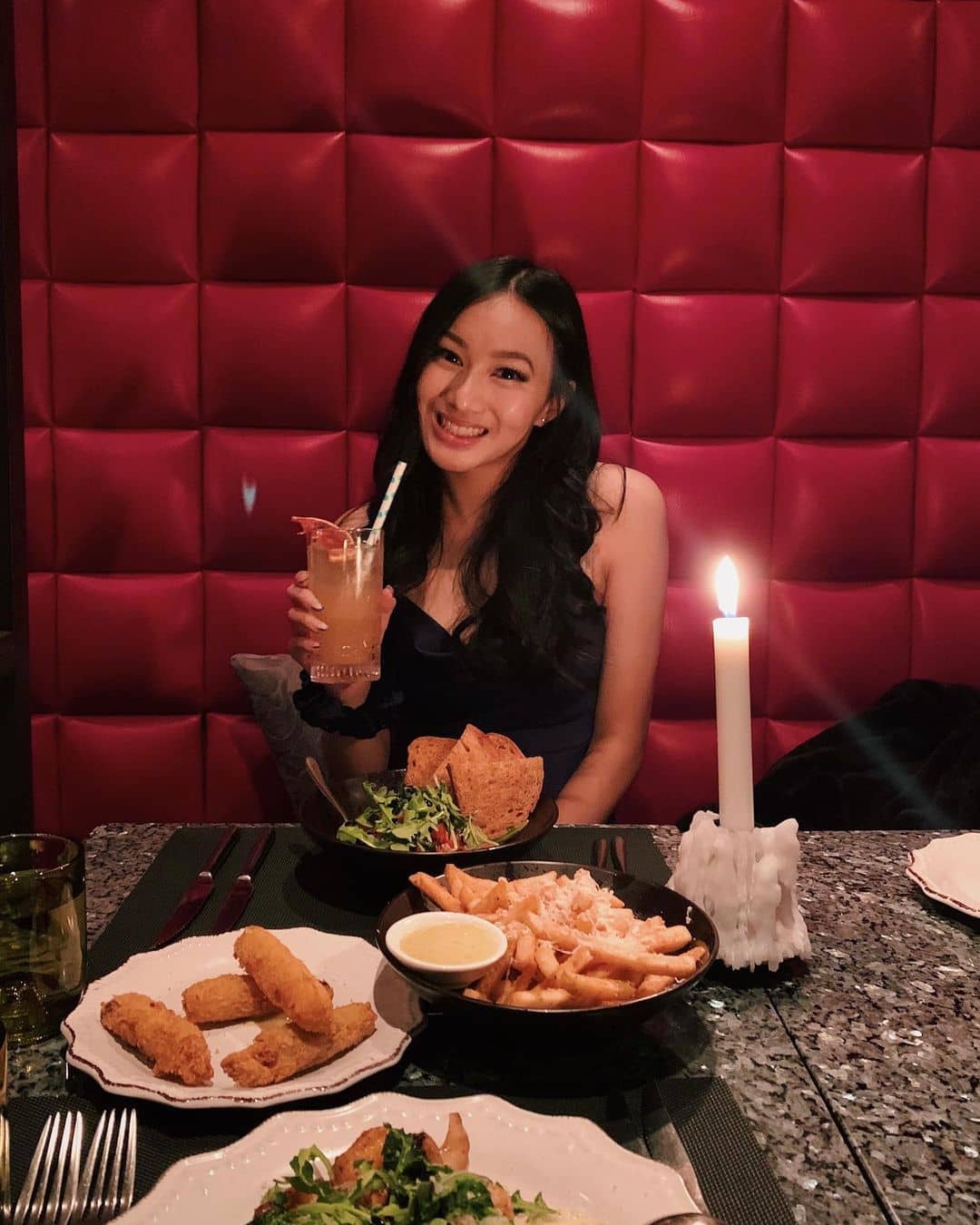 Rated #1 in Calgary on TripAdvisor and listed among the top 100 restaurants in Canada by OpenTable, Vero Bistro Moderne serves "true" traditional foods from the various culinary regions in Spain, Italy, and France. At Vero, they only use fresh organic vegetables, natural and organic meat, fresh seafood, and organic vita eggs; this means only one thing – you are served only the best!
When you dine at Vero Bistro Moderne, you cannot miss their signature Sweet Potato Gnocchi. Before you go into vegetarian mode, the dish comes with a side of wild boar bacon, which elevates the flavour of the whole plate, and the sage maple butter ties everything together, making the dish "to-die-for delicious".
After the rich pasta dish, if you would like to go with something simple yet memorably tasty, try the Steak Frites. The Black Angus New York steak on the plate comes grilled to perfection – melt-in-the-mouth perfection! The truffle parmesan fries complement the steak well, and the lemon aioli adds a nice citrus kick.
What to order: Sweet Potato Gnocchi, Steak Frites
Address: 209 10th Street NW, Calgary, Alberta T2N 1V5
Website | Instagram | Facebook
1. Alloy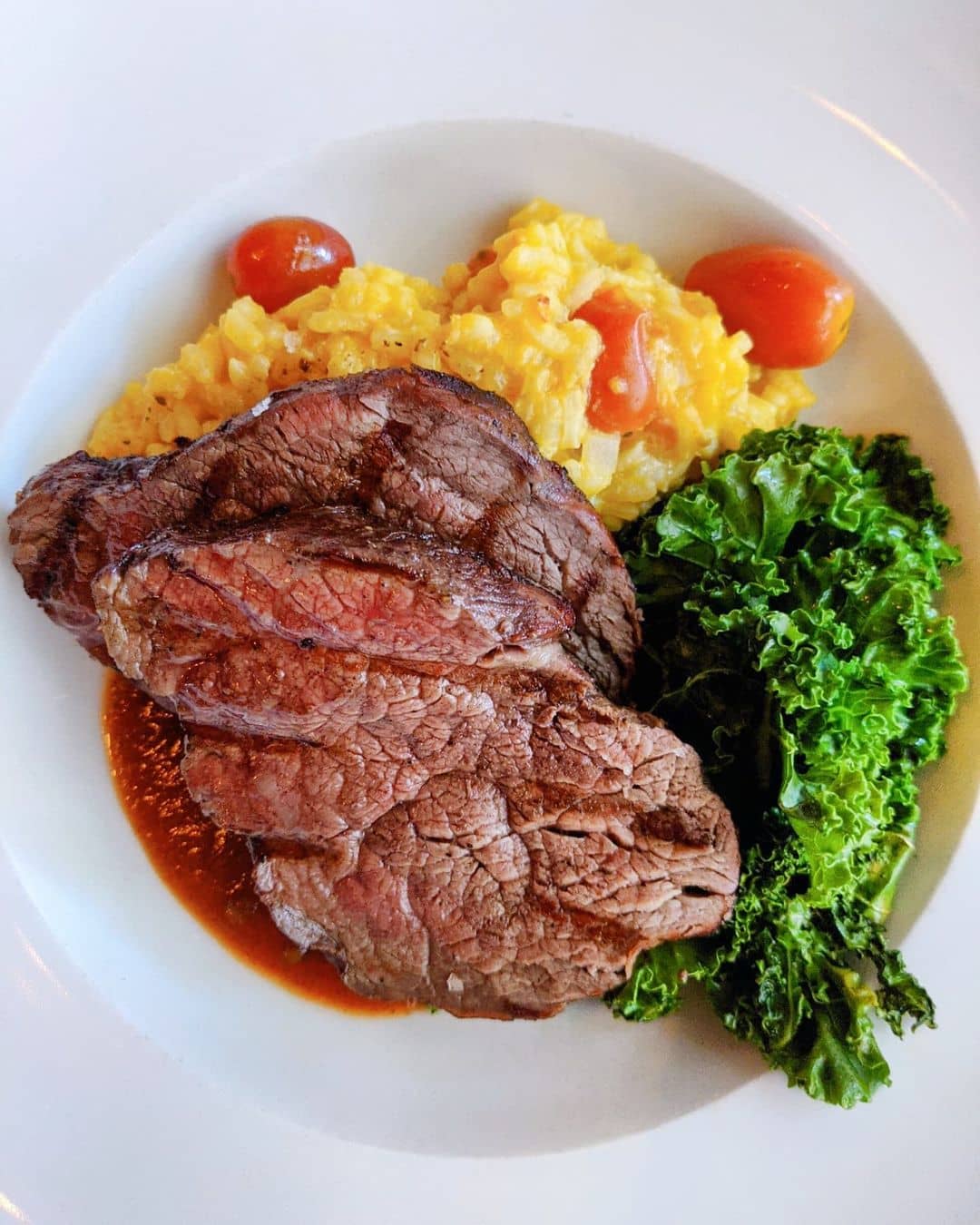 If you are up for indulging your imagination and offering an escape for your senses, with food, Alloy is the place to be in Calgary. The menu of this fine dining restaurant features the Latin and Mediterranean heritages of its owners, with influences from Asian cuisine, delivering a harmonious culinary adventure. Paired with a friendly atmosphere and amazing customer service, Alloy will give you a dreamy dining experience.
If you haven't had pasta for starters before, now is a good time to start. Their Truffle Gnocchi makes an amazing starter for the top-class dinner that will follow. What you get is perfectly cooked, tender gnocchi, with sauteed mushrooms, drenched in black truffle buttercream, and topped with parmesan cheese. You get a strong flavor of the truffle, but certainly not overpowering.
For mains, the Beef Tenderloin will be a perfect follow-up dish to the gnocchi. Containing moist and succulent beef on a bed of perfectly seasoned squash risotto, crispy prosciutto for a crunchy texture, and cherry tomato bbq sauce with a little spice kick, this is an all-around dish.
Do note that they have a comprehensive wine list, so you can find the ideal pairing for your meal, making it more indulging.
What to order: Truffle Gnocchi, Beef Tenderloin
Address: 220 – 42 Avenue SE, Calgary, Alberta T2G 1Y4
From restaurants that have been serving Calgarians for decades, to multiple new entries, Calgarians have a lot of delicious spots to try. While you're at it, take a look at our best restaurants in Banff list for suggestions to revel in the resort town.