Looking for the best Chicago speakeasies and hidden bars? We got you covered!
From hidden doors that lead to new dimensions of flavor, to mixologists who craft potions that tell tales, these enclaves are more than just bars; they are gateways to an era of intrigue and beguilement.
Here's a list of the 12 best speakeasy bars in Chicago that you won't want to miss.
1. The Drifter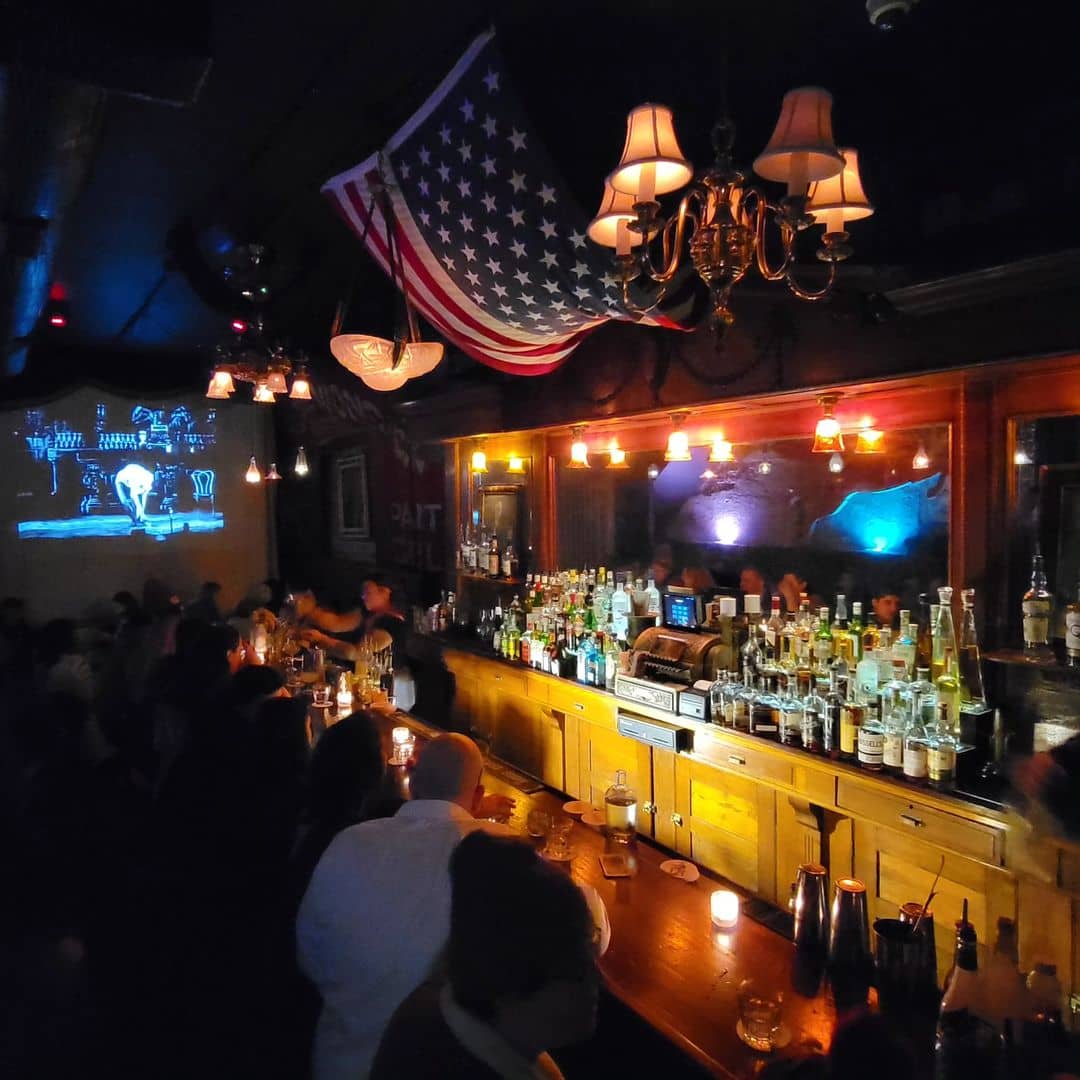 The Drifter is a real-deal historic speakeasy. Tucked away in the basement of the Green Door Tavern, this place is all about vintage vibes and classic cocktails.
The walls are adorned with old-timey artwork, and the menu is printed on tarot cards!
They serve up craft cocktails and even have live performances.
Craftsmanship is the heart and soul of The Drifter, where the art of mixology is practiced with a devotion to authenticity.
Classic cocktails, each a masterpiece in its own right is a testament to the dedication to the traditional alchemy of flavors.
The Old Fashioned is a classic that never disappoints. The one at The Drifter is perfectly balanced and a must-try.
Another unique offering is their Tarot Card Cocktails that change with a nightly rotation. Locals love the surprise element and say it's always a hit.
Want something without spirits? The RhuBarbie World with strawberry, rhubarb, mint, and soda is just what you need.
This drink will take you to a place where everything is pink and good vibes are radiating in every corner.
What to Order: Old Fashioned, Tarot Card Cocktails, RhuBarbie World
Address: 676-8 N Orleans St, Chicago, IL 60654
Website | Instagram | Facebook
🍕 Check out these top-rated Chicago food tours!
2. Bordel | Cabaret & Cocktail Bar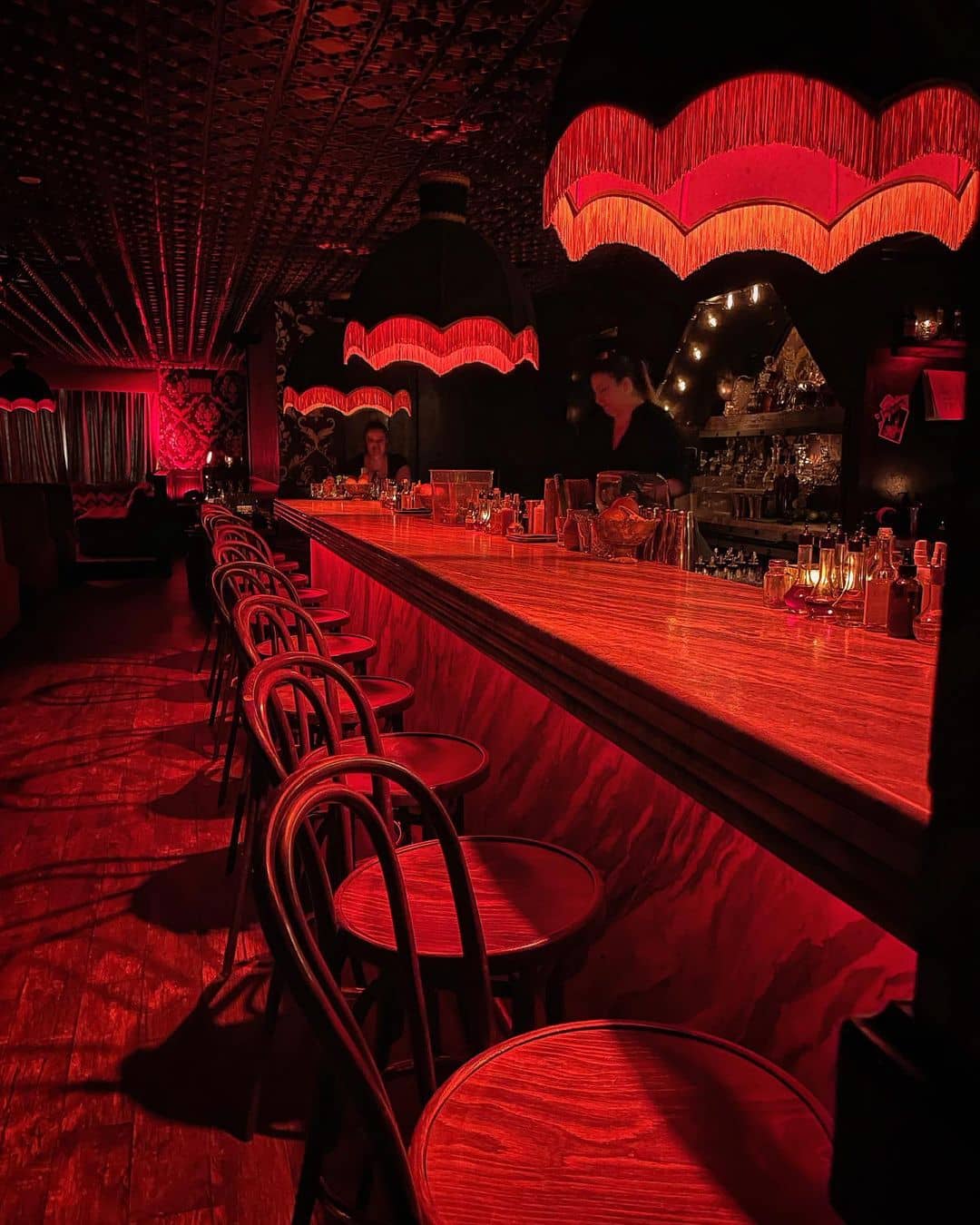 Bordel is a sultry spot that mixes cabaret and cocktails. Situated in West Town, the place has a hidden entrance and a lush, velvet interior.
It's a cross between a speakeasy and a bordello, complete with live shows and DJs.
A generous pour of rich coffee liqueur meets the warmth of rum and cognac, Bordel's World Famous Coffee boasts robust flavors you can't find anywhere else.
But it's the presentation that truly elevates this creation to an unforgettable spectacle. Watch in awe as the mixologist ignites the drink, engulfing it in flames that dance and flicker before your eyes.
The deep, smoky essence of coffee and the velvety touch of cream pair together perfectly.
For those who seek a timeless classic with a Bordel twist, the Appletini is a must-order.
This contemporary take on the beloved cocktail seamlessly blends the crisp allure of green apple with the spirited essence of vodka. But this is no ordinary Appletini!
With each sip, you're greeted by the juicy tang of fresh apple, a burst of refreshment that's balanced by the smooth undertones of premium vodka.
What to Order: Bordel's World Famous Spanish Coffee, Appletini, Lemon Drop
Address: 1721 W Division St, Chicago, IL 60622
Website | Instagram | Facebook
3. Brando's Speakeasy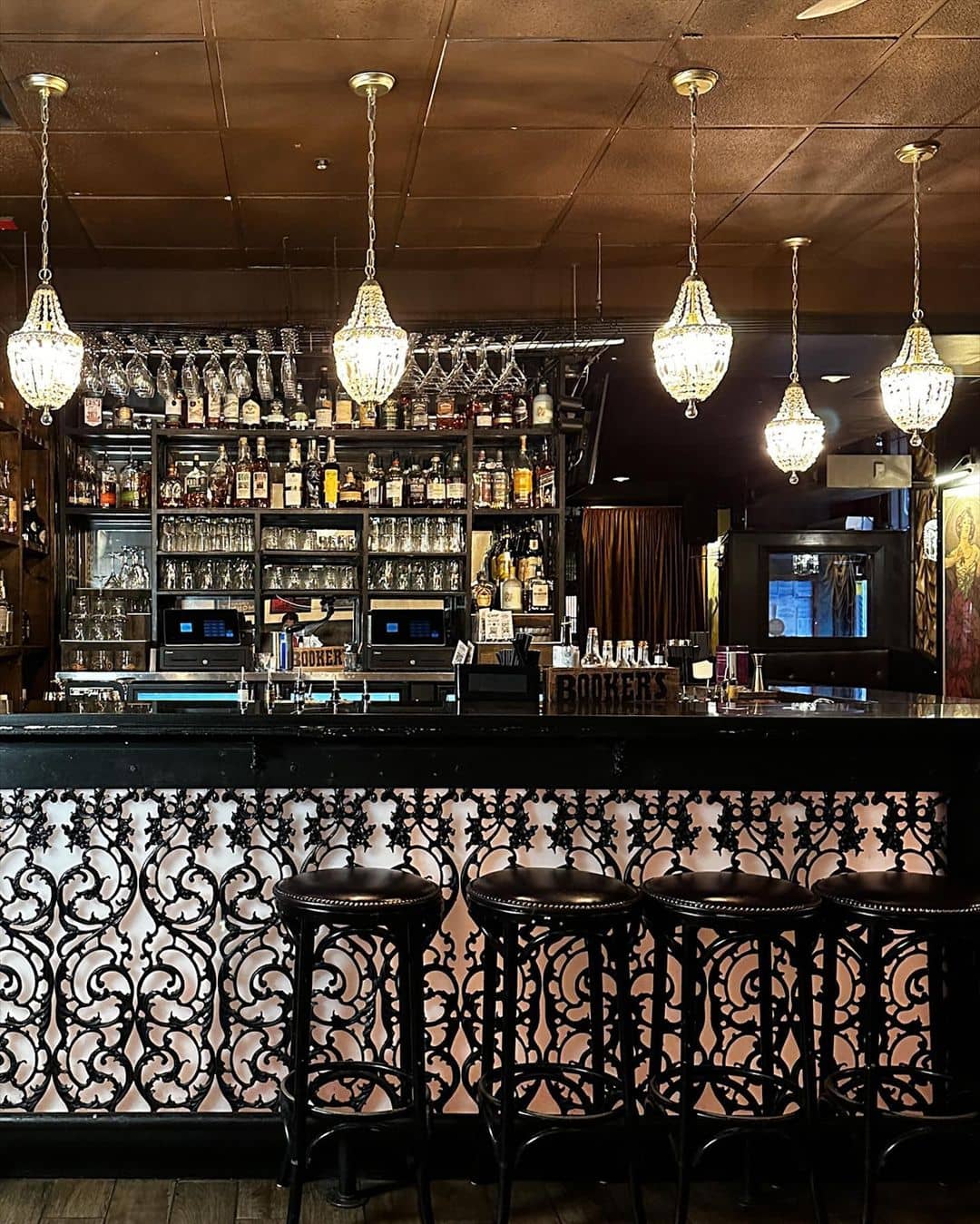 Brando's is the go-to spot for karaoke and cocktails. Located on S Dearborn St, this place has a vintage vibe but with modern flair.
Stepping into Brando's Speakeasy is like stepping into a time capsule, transporting you to a world where the clinking of glasses and the murmur of conversations are accompanied by the secrets of an underground society.
With its discreet entrance, Brando's calls on those who seek to immerse themselves in an atmosphere that resonates with nostalgia and mystery.
#2 on the menu brings together the boldness of blanco tequila, the succulent sweetness of mango, and the zing of lime, all enlivened by the heat of jalapeno spice.
The aroma of ripe mango mingles with the herbal essence of tequila, hinting at the adventure that awaits your palate.
As you take a sip, the initial burst of fruity mango gives way to the bright kick of lime, only to be followed by the crescendo of jalapeno spice that lingers on your tongue with a beguiling warmth.
For those who revel in the harmony of sweet and sophisticated, their #9 emerges as a true gem.
This cocktail showcases the versatility of blanco tequila, marrying it with the sweet embrace of vanilla, the luscious allure of strawberry, the tropical essence of banana, and the tangy notes of lime.
With each sip, you'll discover layers of taste— the gentle vanilla undertones interlaces with the sweetness of strawberry and banana, while the tequila's character ensures a well-balanced profile.
What to Order: #2, #9, Rye Old Fashioned
Address: 343 S Dearborn St, Chicago, IL 60604
Website | Instagram | Facebook
4. The Milk Room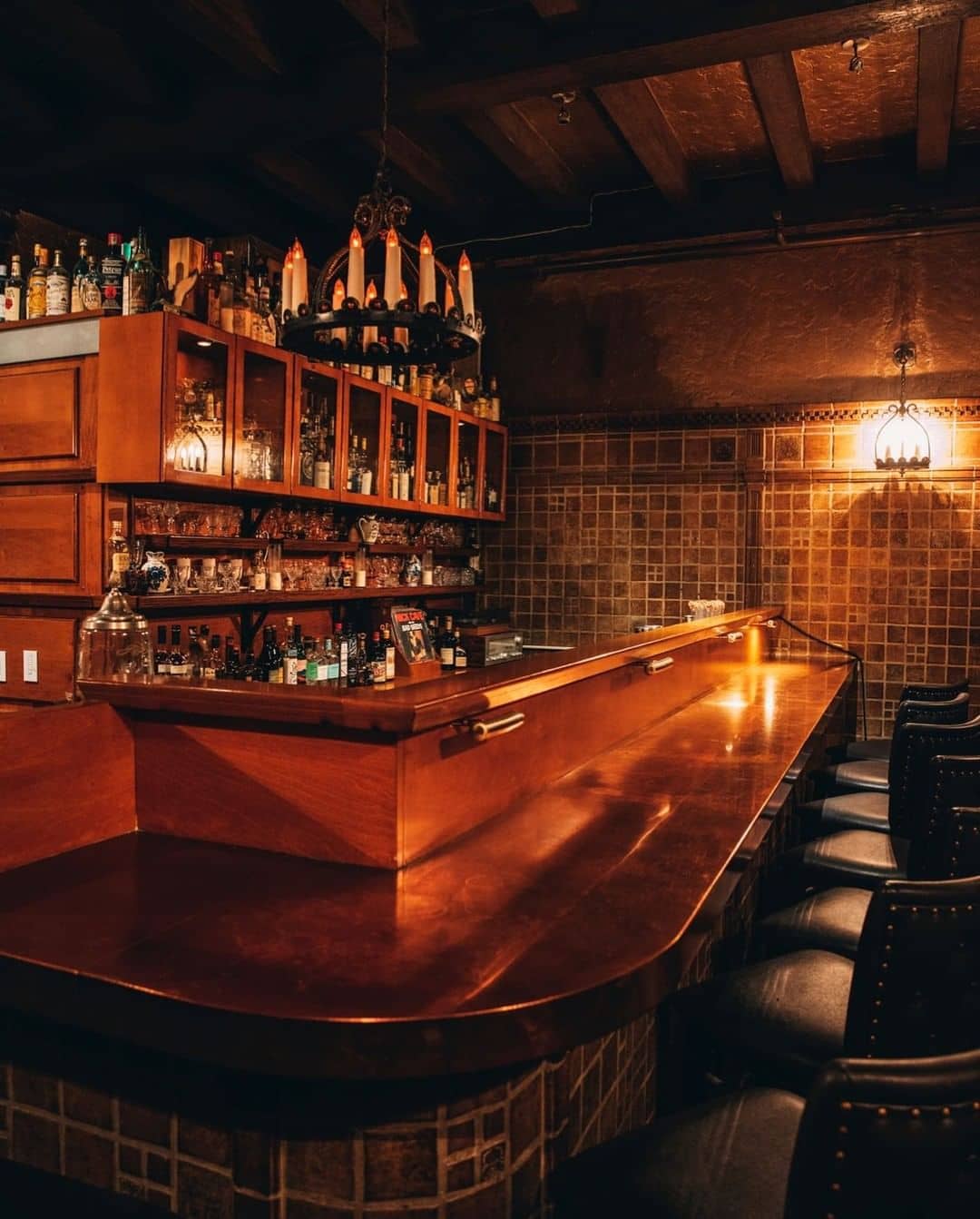 The Milk Room is a cozy spot tucked away in the Chicago Athletic Hotel. It's one of the city's top bars and a place where you can sip on rare and vintage spirits.
With a mere eight seats, the ambiance is intimate and personal that harks back to the golden age of cocktails.
Here, the focus is on the classics— those spirit-forward elixirs that have stood the test of time and continue to enthrall with their enduring charm.
While the menu offers a glimpse into the enchanting world of classic cocktails, Milk Room's allure extends to its deep and diverse spirits list.
Connoisseurs and novices alike will find solace in the meticulously curated selection, with pours that range from the well-known to the esoteric, from the readily accessible to the truly extraordinary.
For those seeking an expedition through Milk Room's exceptional offerings, indulging in their Tasting Flights is a must.
These promise a guided odyssey with a carefully curated selection of pours that unveils the nuances and complexities of different spirits.
Whether you're delving into the world of aged whiskies or exploring the rarefied realm of vintage rums, each flight is a sensory exploration where the past and present intertwine.
What to Order: Tasting Flights
Address: 12 S Michigan Ave, Chicago, IL 60603
Website | Instagram | Facebook
5. The Office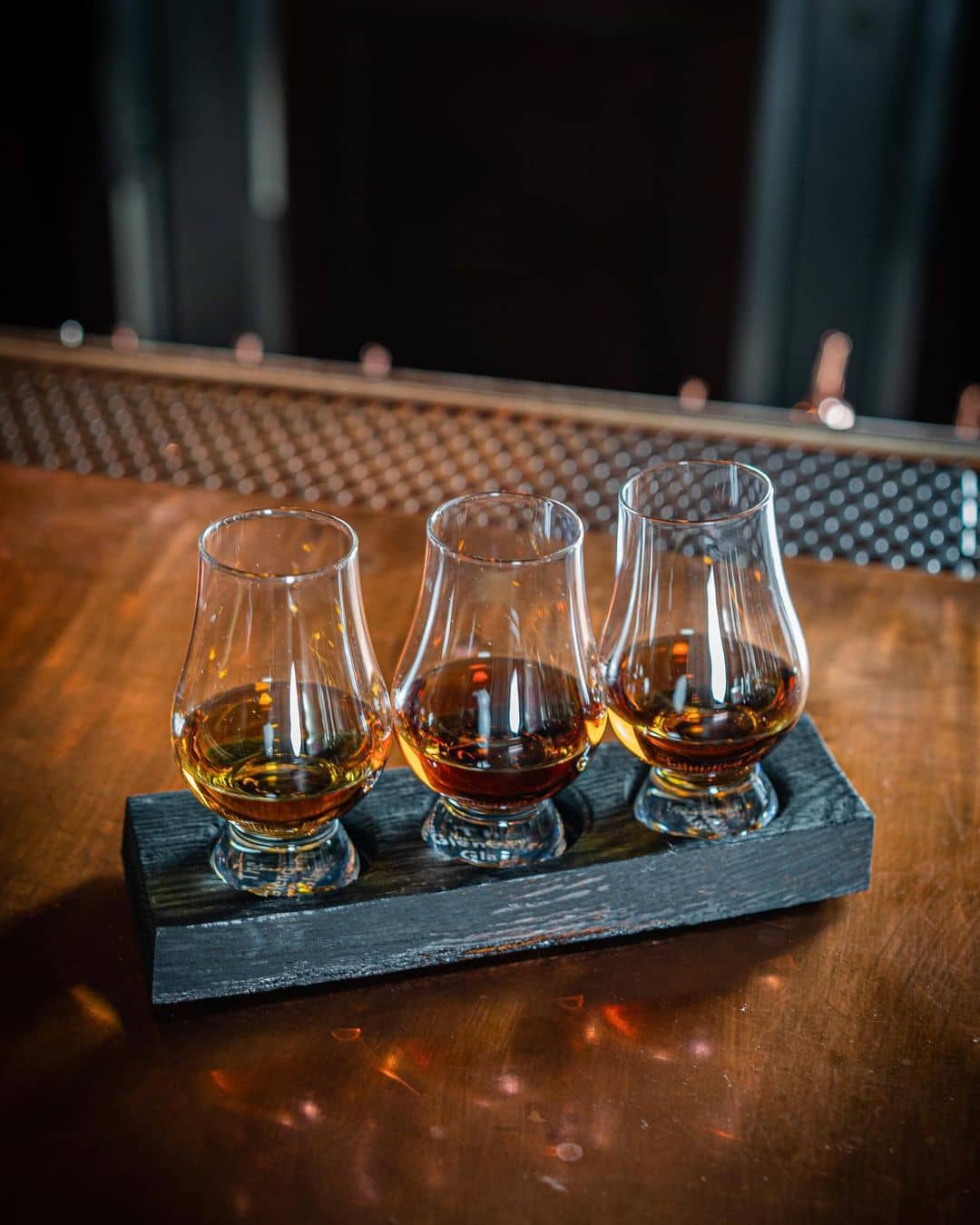 Located directly below The Aviary, The Office is a hidden gem in Chicago's Fulton Market. It's an intimate speakeasy that serves classic cocktails and vintage spirits.
The heart of The Office lies in its dedication to crafting classically inspired cocktails that pay homage to the timeless icons of mixology.
The place has a classy vibe, and you can also enjoy some decadent food selections exclusive to The Office.
The Office extends beyond its cocktail menu, as it boasts an impressive collection of rare, antique spirits that aficionados will undoubtedly relish.
For those seeking a journey into the depths of liquid history, this establishment offers the opportunity to savor spirits that have weathered the test of time, each sip echoing with tales of generations past.
But what truly sets The Office apart is its commitment to customization and innovation.
The Dealer's Choice option exemplifies this, allowing you to entrust your preferences to the skilled bartenders who will craft a bespoke cocktail tailored to your tastes.
It's a personal experience that showcases the bartenders' mastery of their craft and their ability to create a masterpiece tailored to your individual palate.
What to Order: Dealer's Choice, Affogato
Address: 955 W Fulton Market, Chicago, IL 60607
Website | Instagram | Facebook
6. Pigtail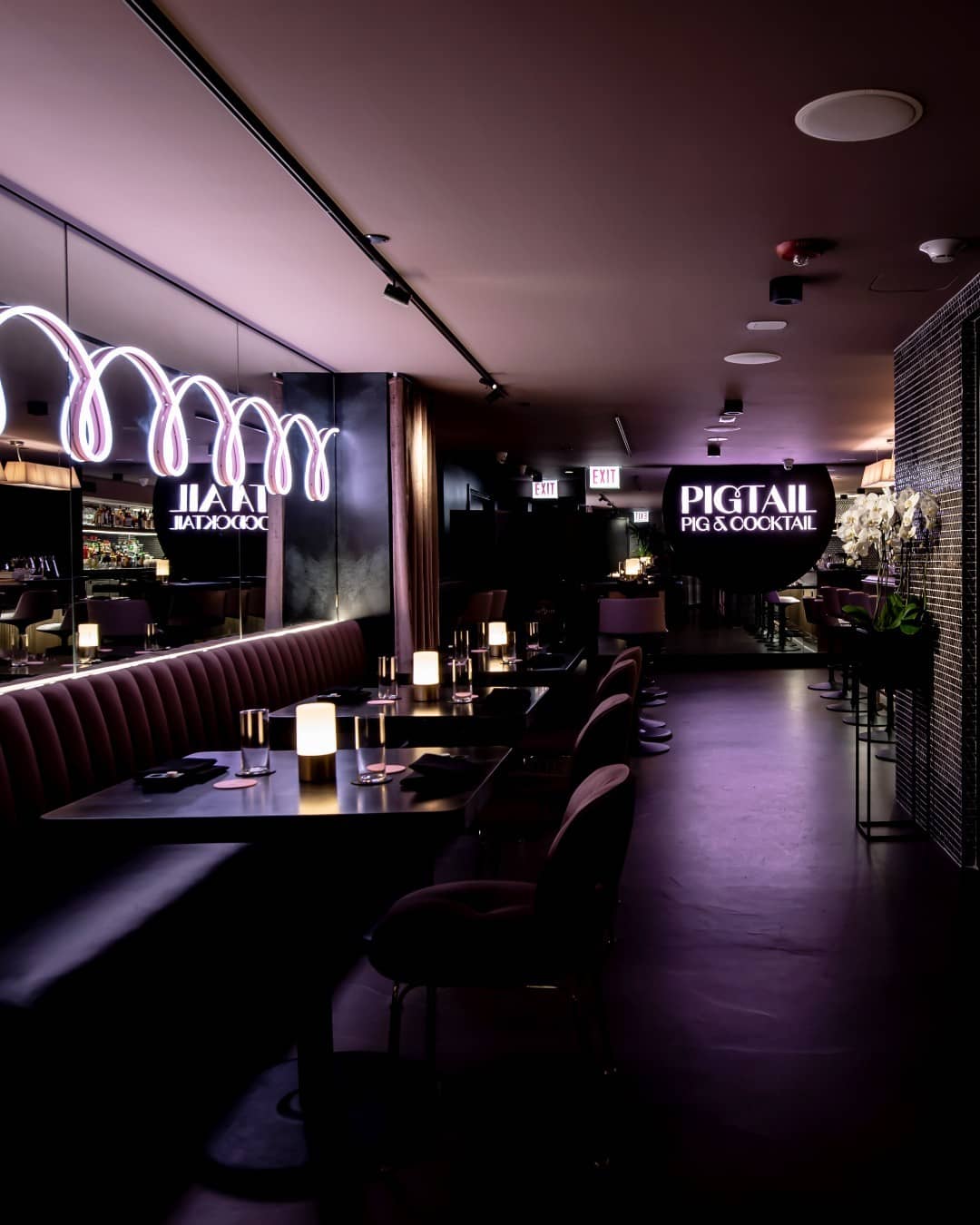 PIGTAIL: PIG & COCKTAIL, an innovative concept born from the culinary passions of Chef José Andrés, stands as a testament to the harmonious marriage of two indulgent worlds: the revered jamón ibérico and the art of finely crafted cocktails.
Situated in the lower level of Jaleo Chicago, this lively bar has a fun atmosphere and offers a menu that highlights Spanish ingredients.
They serve a variety of small bites and inventive cocktails, making it a great spot for a casual night out.
Their Sunomono is a kaleidoscope of sensations, an intricately made drink that dances gracefully on the palate. This unforgettable masterpiece is a blend of Basmoon vodka and blanco vermouth.
The addition of cucumber and cava vinegar introduces a refreshing crispness that's further elevated by a dash of Tabasco, infusing just the right amount of fiery intrigue.
Another must-try, the Black Hole Sun is a cocktail that's a masterclass in balance and complexity.
The rich notes of Old Forester bourbon are elegantly complemented by the Yzaguirre 1884 Gran Reserva, a pairing that marries tradition with innovation.
Ginger and lime lend a zesty brightness, while the Ballast Point IPA introduces a layer of depth unlike any other.
What to Order: Sunomono, Black Hole Sun, Melon Cloud
Address: 500 N Clark St #465, Chicago, IL 60654
Website | Instagram | Facebook
7. Osito's Tap
Nestled within the embrace of a storied greystone and hidden behind a liquor store, lies a Latin-accented sanctuary known as Osito's Tap.
This gem of a speakeasy weaves an enchanting narrative, where premium spirits and the heart of Latin inspiration converge, offering a relaxed setting that transcends time.
The dim lighting casts shadows that dance on rustic finery. Osito's cocktails are more than just libations; they're a sensory exploration that invites you to savor each moment.
Prepare to be transported to a realm where moonlit nights and exquisite libations intertwine.
La Luna Parada stands as a testament to the creative prowess of Osito's Tap, a cocktail that's as enchanting as its name suggests.
With a careful blend of ingredients, this creation comes alive with every sip and it's a shame to miss out on it.
In the world of mixology, simplicity often conceals brilliance, and Primo Blanco at Osito's Tap is a shining example of this notion.
This creation celebrates the essence of refined elegance, showcasing how a few carefully chosen elements can come together to create a harmonious and memorable experience.
What to Order: La Luna Parada, Primo Blanco
Address: 2553 S Ridgeway Ave, Chicago, IL 60623
🏙️ Check out these guided Chicago Architecture tours!
8. The Violet Hour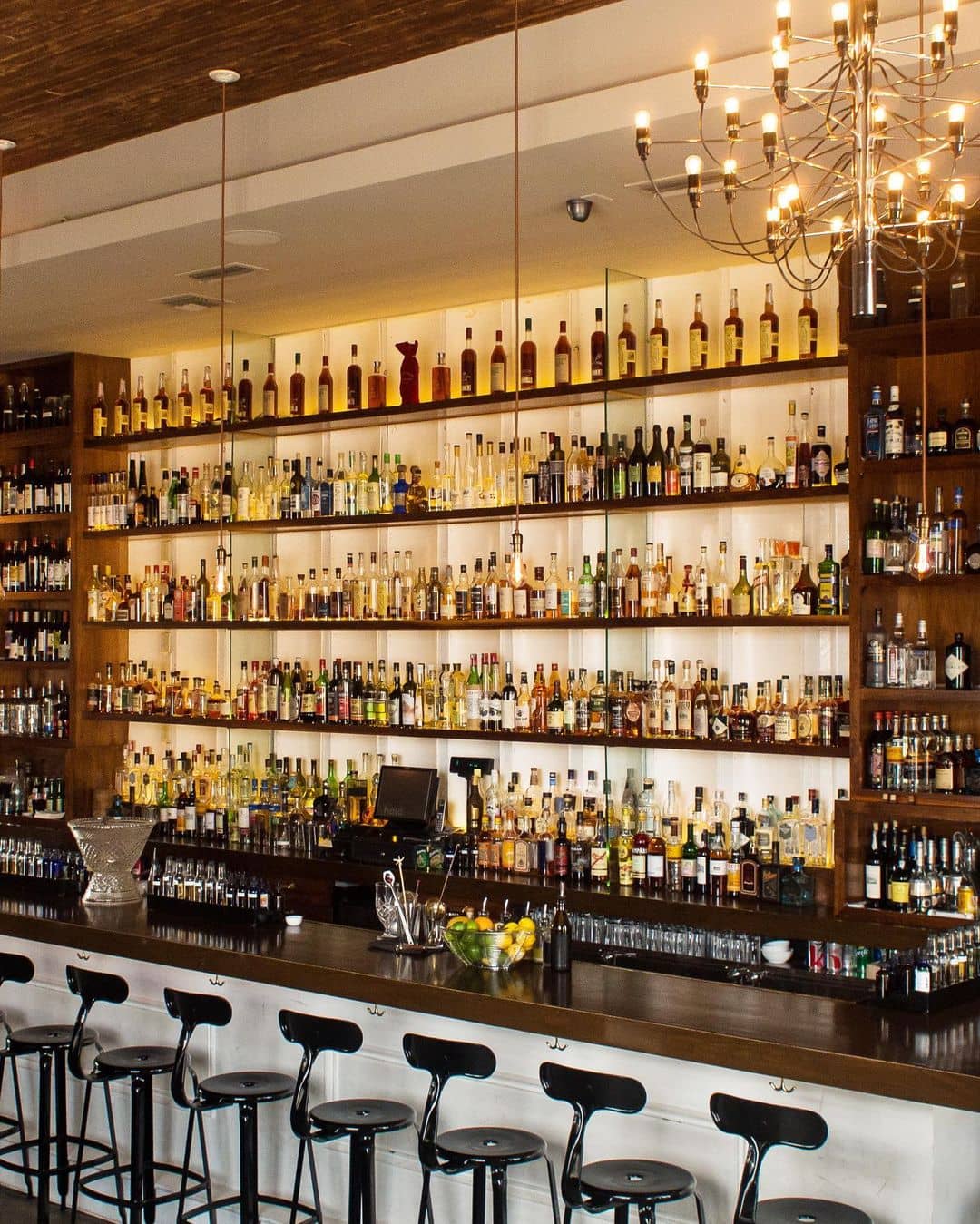 The Violet Hour is an iconic destination in the heart of Wicker Park. With its James Beard Award-winning bar program, the speakeasy offers a seasonally rotating cocktail list and an extensive selection of spirits.
The exterior features an ever-changing mural, while the interior is adorned with candlelit tables and a sprawling marble bar.
A sip of The Violet Touch is akin to stepping into a realm of intrigue and sophistication.
Old Overholt Bonded Rye forms the foundation, accompanied by the enchanting notes of Amaro Sfumato and the depth of PX Sherry. Tobacco Bitters add a whisper of smokiness, while the orange peel garnish imparts a citrusy flourish.
This is a concoction that engages the senses on multiple levels, inviting you to indulge in an experience that's both elegant and enigmatic.
The Fall of Icarus is another must-have on their menu. Cihuatan Jade Rum is enriched by the intriguing character of Batavia Arrack.
Campari and Amaro Sfumato introduce a layer of complexity, while Fragola Wild Strawberry adds a touch of sweet whimsy.
The Matchbook Ritual Sister smoked pineapple, demerara, and lemon complete the drink, creating a sense of adventure and indulgence.
Vibe Check is a journey through contrasts, a libation that combines rich and intriguing elements with finesse.
Libelula Tequila meets the alluring Accompani Coffee liqueur, resulting in a dance of flavors that's both bold and comforting.
Luxardo Amaro Abano and Licor 43 add depth, while CH Amargo de Chile introduces a touch of complexity.
The surprise of the whole egg and the flourish of nutmeg provide the finishing touch, an experience that's both familiar and refreshingly novel.
What to Order: The Violet Touch, Fall of Icarus, Vibe Check
Address: 1520 N Damen Ave, Chicago, IL 60622
Website | Instagram | Facebook
9. Three Dots and a Dash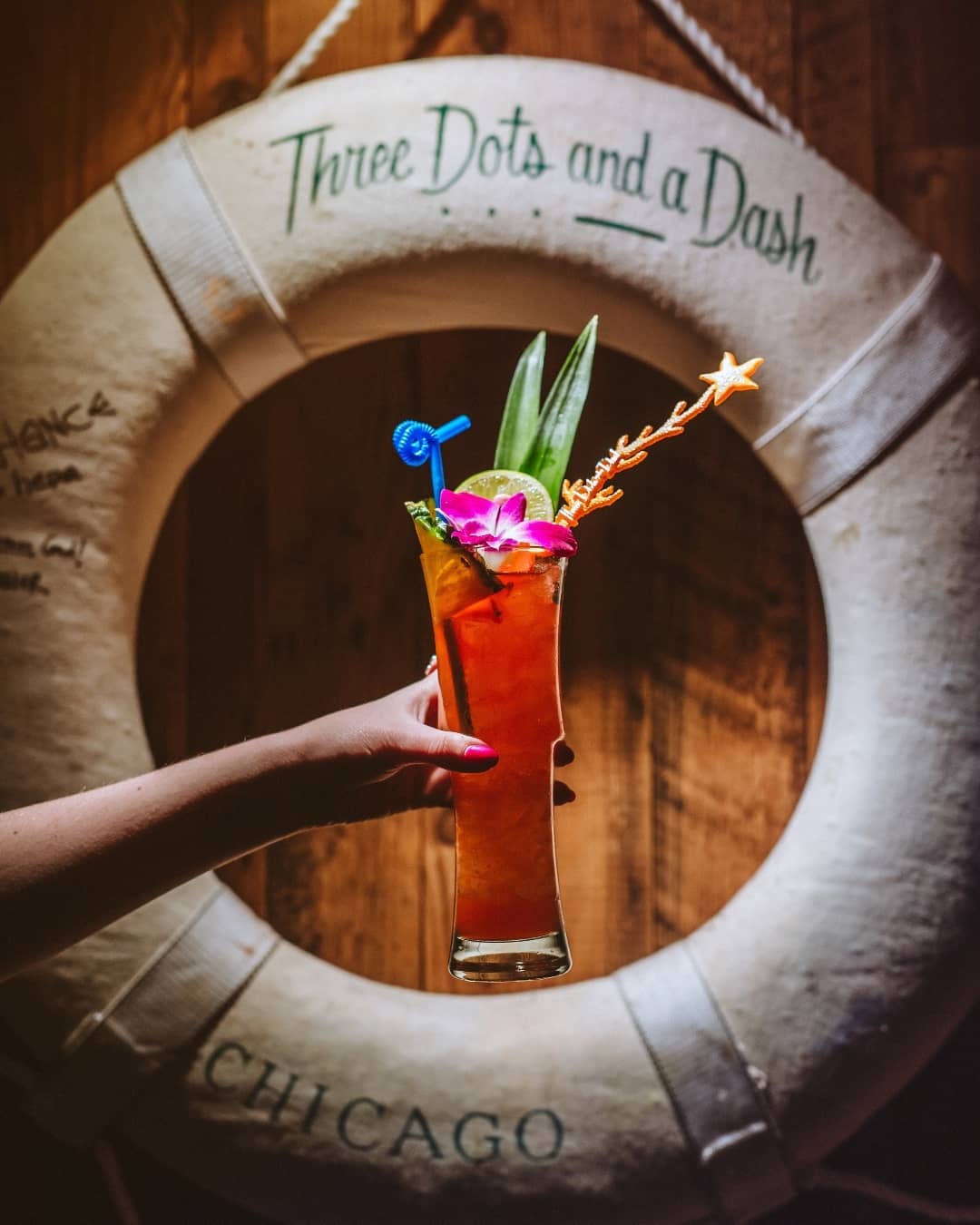 Three Dots and a Dash is a tropical-themed speakeasy. As the doors swing open, guests are transported to an oasis where tiki-inspired vibes intertwine with a sense of intrigue, a libation journey like no other.
From the moment you step in, the atmosphere whisks you away on a journey to exotic paradises with each drink you sip.
The Strawberry Junglebird is a testament to the cocktail artisans' creativity.
A blend of 12 Year Aged Jamaican Rum and Overproof Jamaican Rum forms the foundation, creating a canvas of richness and depth.
The addition of Strawberry Macerated Italian Red Bitter lends a touch of sweetness and intrigue, while LBV Port introduces a layer of complexity.
Lime and pineapple add the finishing touch, resulting in a creation that echoes the tropical inspiration that defines the venue.'
The Poblano Escobar is a daring exploration of contrasts and sensations. Blanco Tequila and Mezcal form an unexpected partnership, with the smoky allure of Mezcal enriching the agave notes of the tequila.
Poblano Pepper introduces a touch of heat, while lime and pineapple add a burst of tropical vibrancy.
This cocktail is a journey that surprises and delights, embodying the spirit of adventure that Three Dots and a Dash embodies.
What to Order: Strawberry Junglebird, Poblano Escobar, House Without A Key
Address: 435 N Clark St, Chicago, IL 60654
Website | Instagram | Facebook
10. The Bassment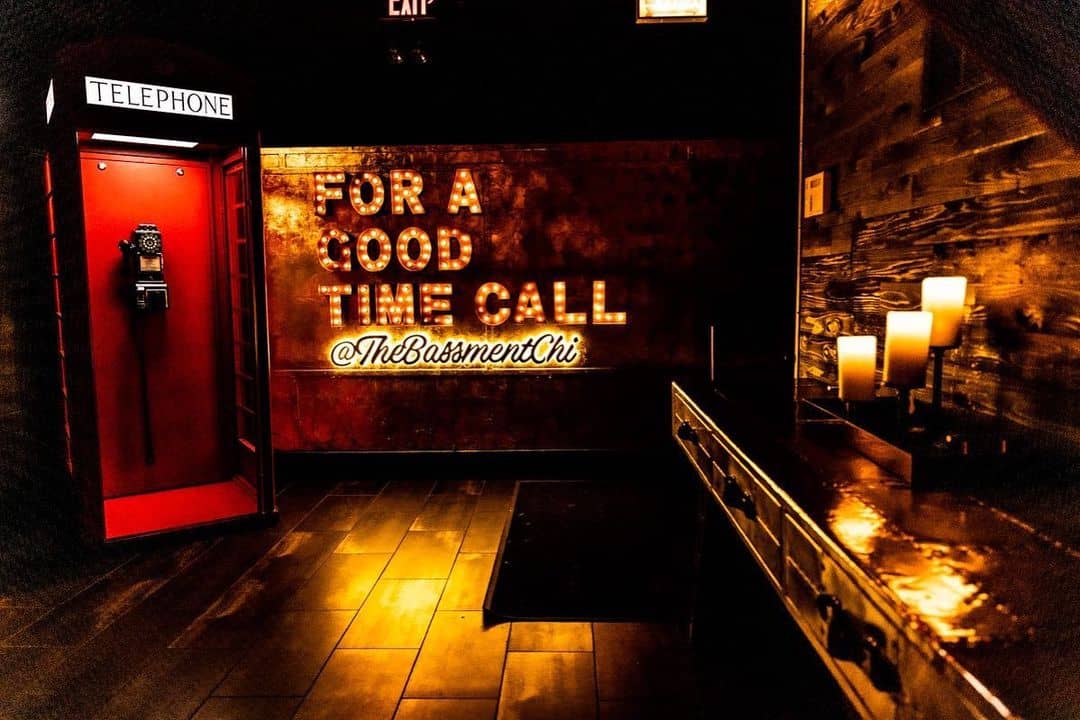 The Bassment is a chic speakeasy located in Chicago's River North neighborhood.
With a 1960s British Invasion theme, this underground bar offers a unique blend of live music, craft cocktails, and an intimate setting.
The interior is adorned with velvet couches, chandeliers, and a stage for live performances, creating an atmosphere that's both luxurious and relaxed.
So what drinks should you get?
The Bassment Old Fashioned is a masterful ode to a classic, reimagined with a touch of intrigue. Bulleit bourbon forms the heart of this concoction, infusing the drink with its rich character and depth.
Demerara syrup lends a touch of sweetness that balances the boldness of the bourbon, creating a dance of flavors on the palate.
Angostura bitters add a layer of complexity, while the essence of smoke adds a touch of drama that unfolds with each sip.
This cocktail is a tribute to tradition with a modern twist, inviting you to savor the artistry that defines The Bassment.
The Artist of the Month cocktail pays homage to creative expression. Gingersnap vodka introduces a unique warmth and spice, a nod to the art of crafting cocktails.
Mr. Black coffee liqueur adds depth and a rich coffee undertone, while the maple pear syrup infuses a touch of natural sweetness.
The egg white contributes a velvety texture that elevates the experience, creating a harmonious blend that dances on the taste buds. The orange bitters offer a citrusy flourish that balances the composition.
What to Order: The Bassment Old Fashioned, Artist of the Month
Address: 353 W Hubbard St, Chicago, IL 60654
11. The Alderman
The Alderman is a cozy, neighborhood speakeasy in Chicago's Albany Park.
With an aura of intimacy and a reputation for an expansive cocktail menu, this neighborhood gem beckons to those seeking an escape from the ordinary.
Within its vintage-infused walls, an ambiance of comfort and sophistication awaits, making The Alderman a favored haunt for both locals and curious visitors alike.
The Raised By Wolves cocktail is an intricate composition that captures the spirit of the wild.
Wolves whiskey forms the foundation, its character speaking of depth and complexity. Chinato introduces an aromatic layer, while black tea adds a hint of familiarity.
Rhubarb brings a touch of tartness that dances alongside the bitter notes, creating a symphony of flavors that engage the senses.
This drink is an ode to the untamed spirit, a drink that evolves with every sip, inviting you to uncover its hidden layers.
The Purple Pisco Sour is an exotic exploration that takes you on a journey to faraway lands. Peruvian pisco lends its distinctive charm, a spirit that's both vibrant and captivating.
The addition of chica morada adds an intriguing twist, infusing the cocktail with a touch of purple allure. Jasmine and lime introduce a fragrant dimension, while maracuya foam crowns the creation with a playful texture.
What to Order: Raised By Wolves, Purple Pisco Sour
Address: 1163 W 18th St, Chicago, IL 60608
12. Chicago Magic Lounge
In the heart of Andersonville, an unexpected realm of enchantment awaits. The Chicago Magic Lounge is not your average speakeasy; it's a full-on magic theater.
This out-of-this-world venue combines the allure of a speakeasy with live magic performances.
The interior is designed to resemble a 1940s magic lounge, complete with secret doors, hidden bars, and a library of magic history.
Their How Houdini Died cocktail is the perfect blend of aged rum, white rum, amaro, lime juice, pineapple juice, iced tea, and angostura bitters.
Picture a glass that holds more than just liquid; it holds an enigma, a story, and an homage to the legendary Houdini himself.
Another must-try, the Abracadabra is a spellbinding drink that is made of tequila, lime juice, maraschino liqueur, simple syrup, and creme de violette liqueur.
Step into a world where the impossible becomes reality, where spells are cast not with wands but with the artistry of mixology. This cocktail is both refreshing and vibrant, almost tasting like magic.
Gone Without A Tres is a composition of blanco tequila, curacao, lime juice, agave, and a mist of mezcal.
This cocktail embodies the essence of disappearance, where flavors evolve and vanish with each sip. It's an invitation to savor the moment, to embrace the fleeting nature of the magic that surrounds you before it's Gone Without A Tres.
What to Order: How Houdini Died, Abracadabra, Gone Without A Tres
Address: 5050 N Clark St, Chicago, IL 60640
Website | Instagram | Facebook
That wraps up the list of the 12 best speakeasy bars in Chicago. Each offers a unique experience, from magical performances to British rock themes. Cheers!
If you're looking for places with the best seafood near the area, we have the perfect list for you. Check out our article on the best seafood restaurants in Chicago for the freshest options!