Looking for the best Thai restaurants in NYC? Well, you're in the right place!
From the spicy kick of Tom Yum soup to the comforting embrace of Pad Thai noodles these spots will surely give you a glimpse of Thailand or even take you there.
So, buckle up your taste buds, because we're about to take you on a flavor-packed adventure through the best Thai restaurants in NYC!
🗽 Foodie? Check out these top-rated NYC food tours!
1. Somtum Der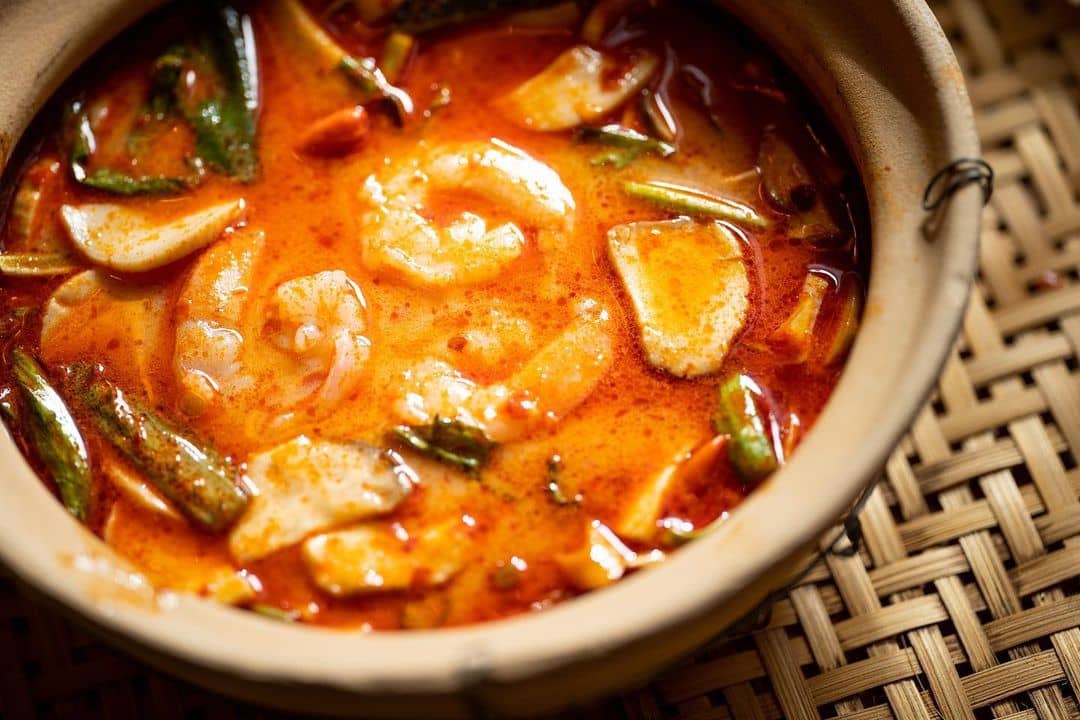 Nestled in the bustling atmosphere of New York's East Village, Somtum Der serves as your portal to the rich culinary tradition of Isan, a region in northeastern Thailand.
The space is vibrant, yet relaxed, with eclectic decor that immediately transports you to the heart of Thailand. The restaurant proudly specializes in Isan cuisine, offering bold and exhilarating flavors that are spicy, tangy, and downright delicious.
The Pad Thai here is more than just a noodle dish—it's a feast for the senses that blends sweet, sour, and spicy elements in a harmonious mix that's both comforting and exciting.
The Pad See Eiw is another must-try dish featuring a generous portion of noodles, bursting with robust flavors and adorned with crunchy Chinese broccoli.
Personalize your meal with proteins like pork, beef, or shrimp, or opt for a vegetable variant.
What to order: Pad Thai, Pad See Eiw Som Tum
Address: 85 Ave A, New York, NY 10009
Website | Instagram | Facebook
2. Thai Villa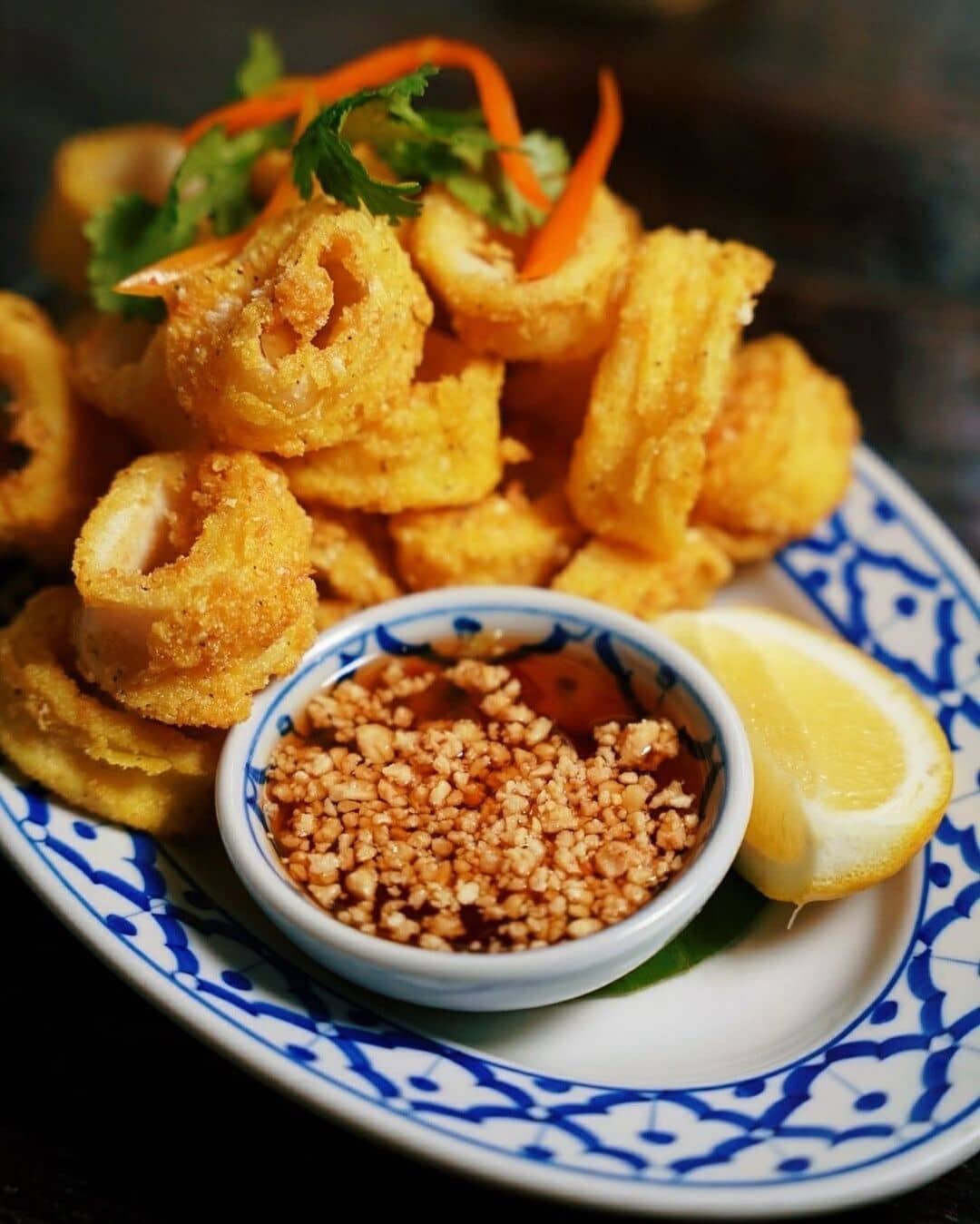 Step into Thai Villa, and you're instantly transported to a different world. Located in the heart of New York's Flatiron District, this establishment raises the bar for authentic Thai dining experiences.
As you walk in, the immediate impression is one of grandeur and old-world elegance. Intricate woodwork, golden hues, and Thai art pieces adorn the walls, conjuring the atmosphere of a traditional Thai palace.
The staff here are not just servers; they're ambassadors of Thai hospitality. Polite and attentive, they bring a level of service that complements the exquisite surroundings.
The menu is a culinary journey through Thailand's rich history. Starting off with the Spicy Chicken Wings is a must. They're not just ordinary wings; these are infused with Tom Yum flavors that create a perfect blend of spicy, sour, and umami tastes.
The Red and Green Curries are both masterpieces in their own right. Each curry offers a complex layering of flavors—whether it's the warming spices in the red or the zesty kick in the green.
Accompanying these main dishes is dense, aromatic jasmine rice that perfectly absorbs the curry sauces.
What to order: Spicy Chicken Wings, Red Curry, Green Curry, Pad Thai
Address: 5 E 19th St, New York, NY 10003
Website | Instagram | Facebook
3. Soothr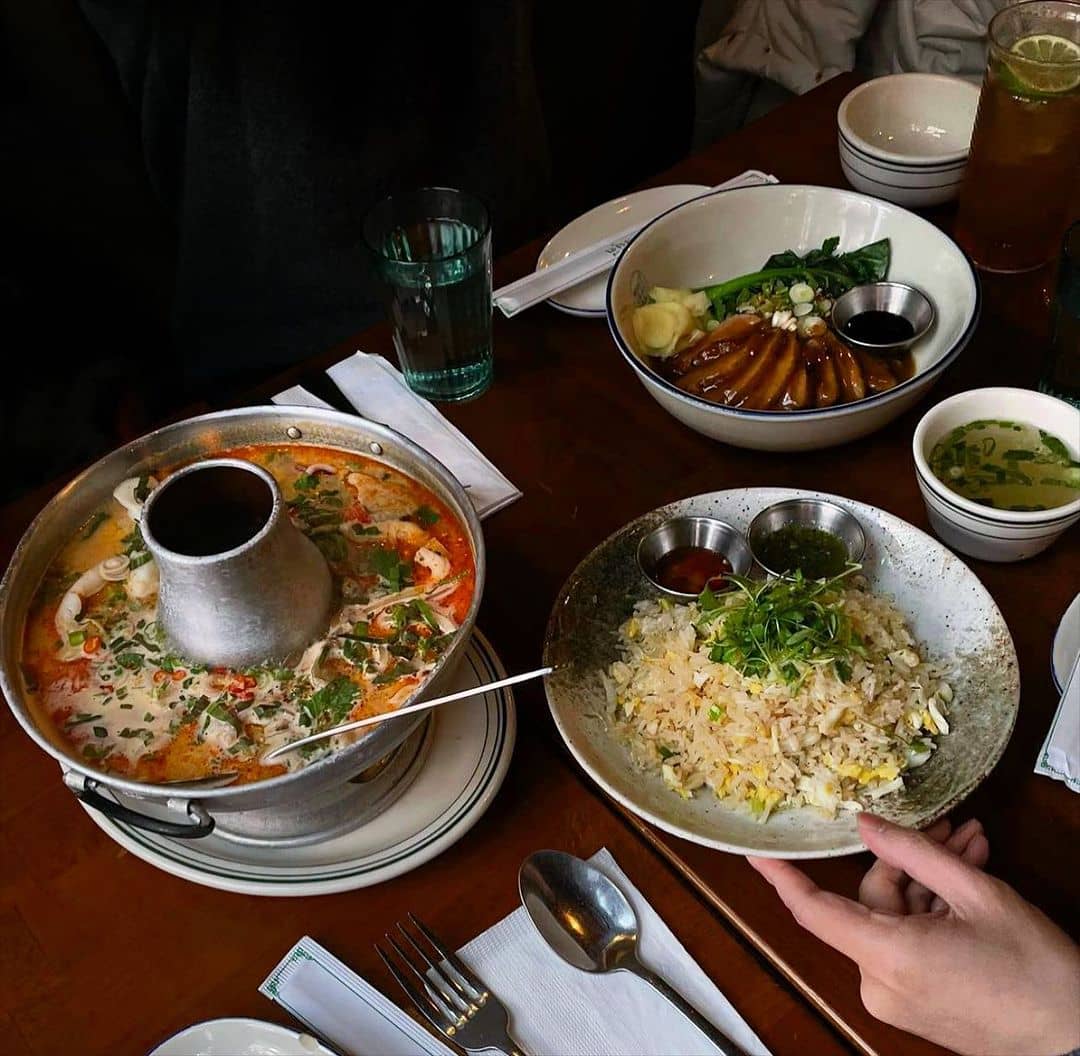 Situated in the lively East Village, Soothr offers more than just a meal; it offers an experience steeped in Thai culture.
The atmosphere mimics the bustling energy of Bangkok's vibrant street food markets, making it a spot where you can enjoy both a quick lunch or an intimate dinner.
The decor is a blend of modern minimalism and traditional Thai elements, creating an inviting setting. The dishes at Soothr are a loving tribute to traditional Thai family recipes.
If you're new to the menu, the Kang Karee is the place to start. This dish features succulent sautéed shrimp soaked in a luxuriously creamy, velvety curry sauce that bursts with flavor.
The Duck Noodles are another dish that steals the spotlight. The tender, caramelized duck breast sits atop a bed of perfectly cooked dry egg noodles.
What really brings it all together is the house-made gravy, a rich, flavorful sauce that makes each bite unforgettable.
For those who enjoy a dish with different textures, the Chicken Khao Soi is a delightful mix of tender chicken meat, crispy chicken skin, and crunchy noodles, all bathed in a creamy, aromatic sauce.
What to order: Kang Karee, Duck Noodles, Chicken Khao Soi
Address: 204 E 13th St, New York, NY 10003
Website | Instagram | Facebook
4. Zabb PuTawn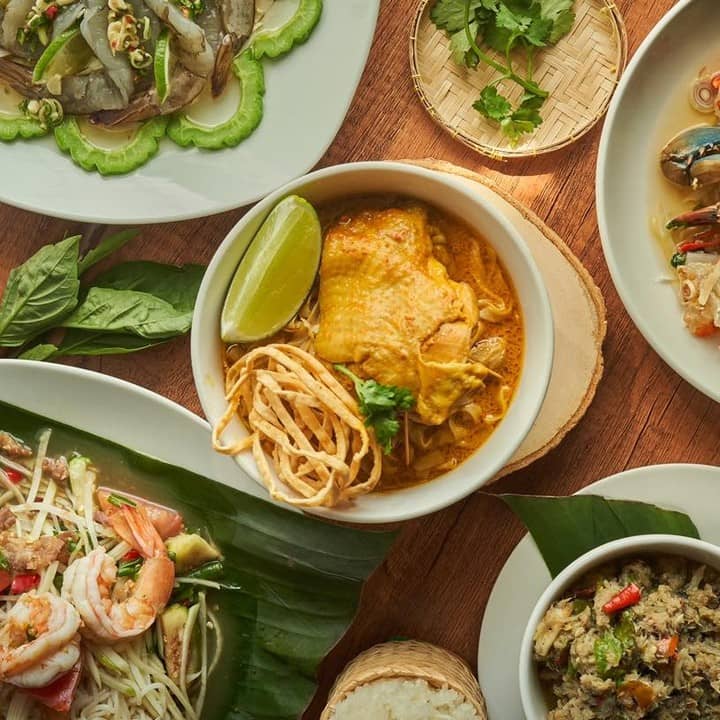 Zabb PuTawn isn't just a restaurant; it's a Michelin-starred dining. The setting is small but manages to pack in an atmosphere of intimacy and warmth, perfect for anything from a casual dinner with friends to a romantic night out.
The Kow Soi Gai is an embodiment of Northern Thai cooking—chicken so tender it falls off the bone, swimming in a curry so deep in flavor it feels like a journey through Thailand in each bite.
The Pad See Ew offers a different but equally tantalizing experience, striking the perfect balance between sweetness and the chewy texture of the noodles.
To wrap up your meal, the Mango Sticky Rice is a must-try, balancing the sweetness of ripe mango with the dense, sticky rice, all accented by a sprinkling of crunchy mung beans.
What to order: Kow Soi Gai, Pad See Ew, Mango Sticky Rice
Address: 1584 First Ave, New York, NY 10028
Website | Instagram | Facebook
5. Up Thai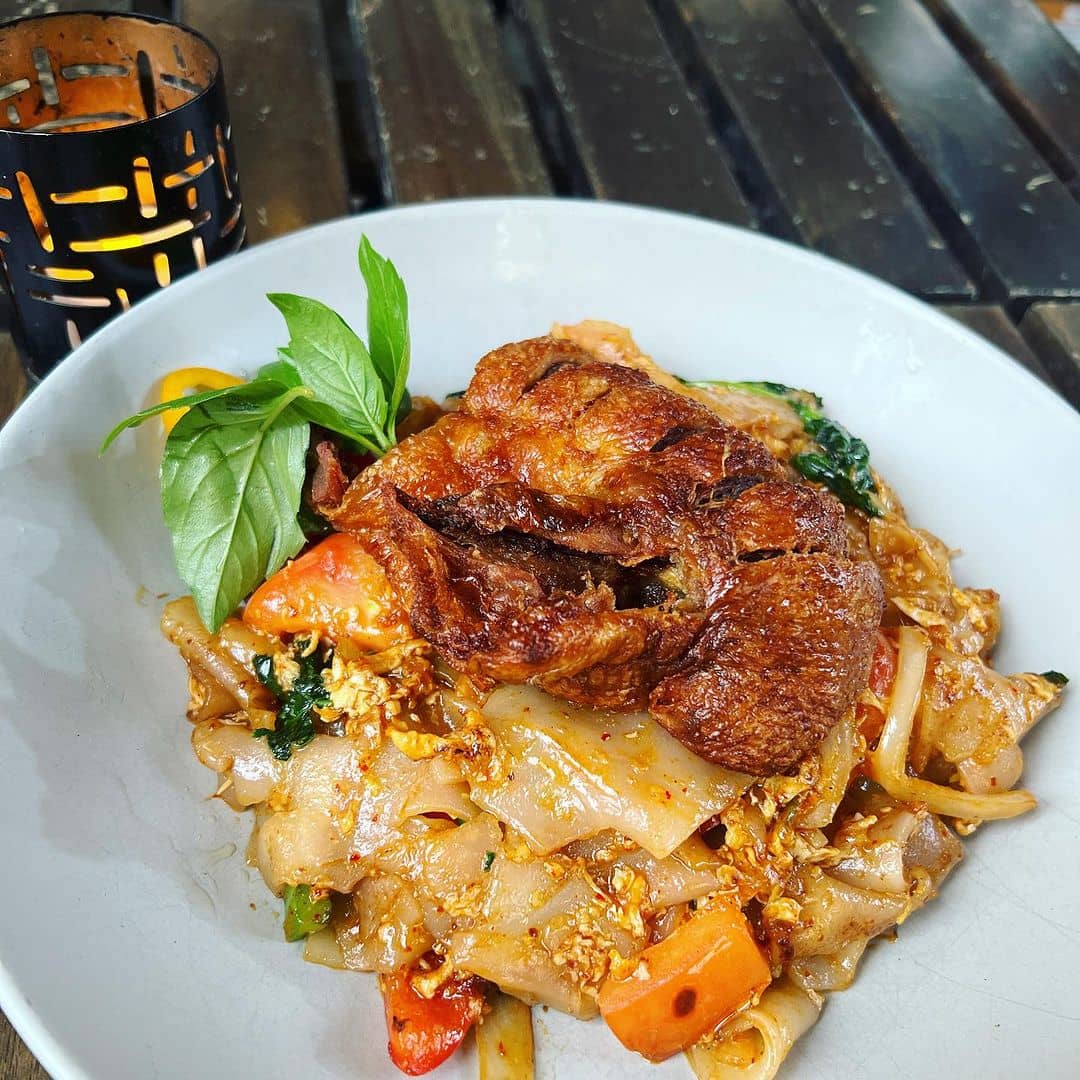 Up Thai is where modernity meets tradition. The restaurant itself is a sight to behold, boasting a warm wooden interior adorned with beautiful lanterns.
This inviting and intimate setting is perfect for date nights, complete with a bar area where you can sip handcrafted cocktails as you wait for your meal.
What sets Up Thai apart is its commitment to sourcing fresh and high-quality ingredients. The daily-changing menu is a showcase of Thai street food with an upscale twist.
The Massaman Curry is a creamy delight that converts even the most curry-averse into lifelong fans.
The blend of spices in the curry is subtle yet profound, offering a rich yet smooth flavor profile.
If you're looking for something with a kick, the Kea Mao, commonly known as drunken noodles, is your go-to. These noodles are a perfect blend of spicy and savory, tickling your taste buds with each bite.
What to order: Massaman Curry, Kea Mao, Pad Thai
Address: 1411 2nd Ave #1, Manhattan, NY 10021
Website | Instagram | Facebook
6. Ugly Baby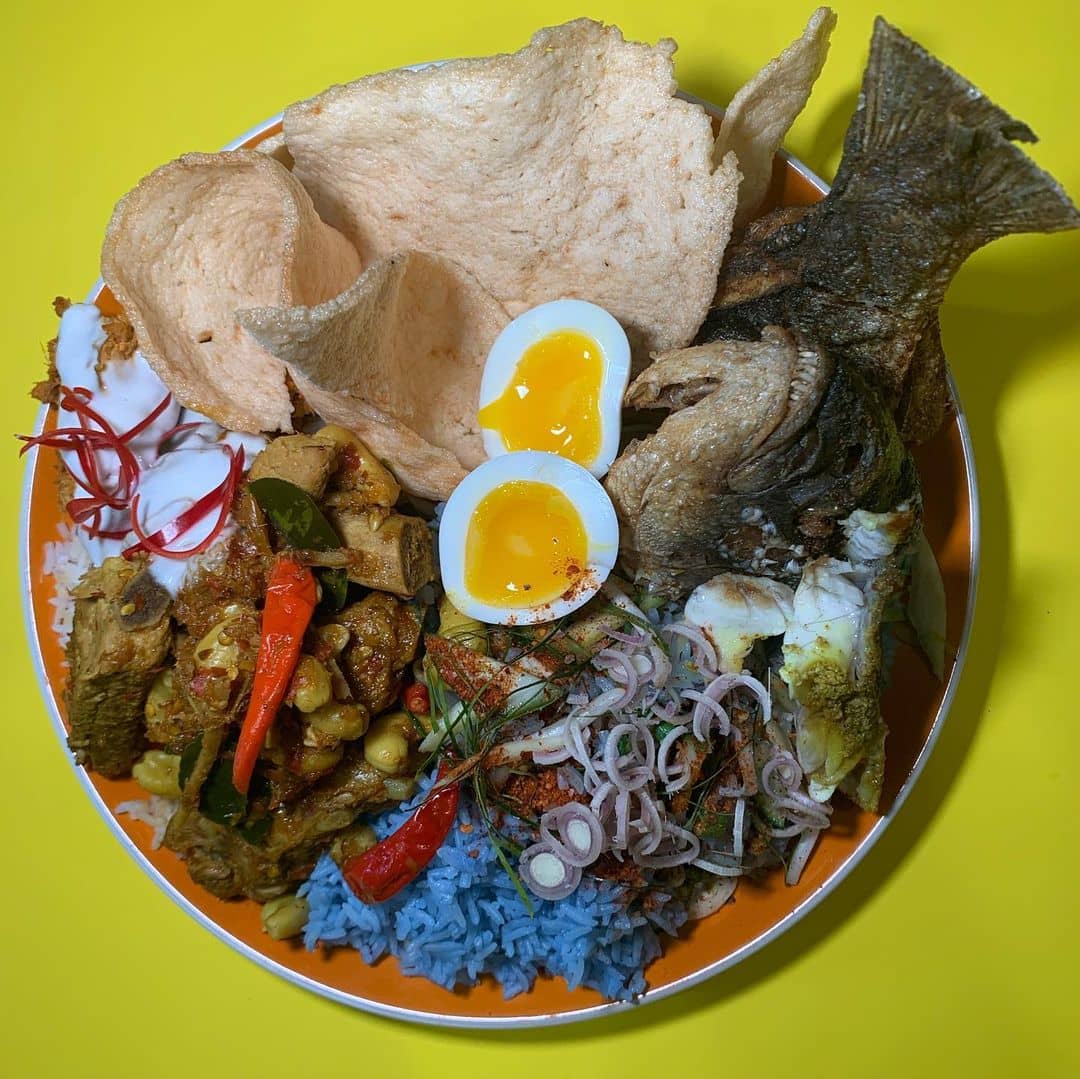 Ugly Baby offers a walk-in-only dining experience, infusing the space with a sense of excitement and spontaneity. Open only from Thursday to Sunday, the restaurant starts welcoming diners at 5 p.m., but get there early—the seats fill up fast!
Inside, you're greeted by a lively atmosphere, decked out with elements that make you feel like you're in the heart of a Thai street market.
When it comes to the heat, Ugly Baby doesn't hold back.
Their Tue Ka Ko, bite-sized coconut milk cakes, offer a sweet start to your meal before you delve into their spicier offerings. The Khao Soi Nuer noodles will ignite your taste buds with its rich and creamy texture paired with intense spiciness.
And don't miss the Kao Tod Nam Klook, a hearty dish packed with flavor and freshness.
What to order: Tue Ka Ko, Khao Soi Nuer, Kao Tod Nam Klook
Address: 407 Smith St, Brooklyn, NY 11231
7. THEP Thai Restaurant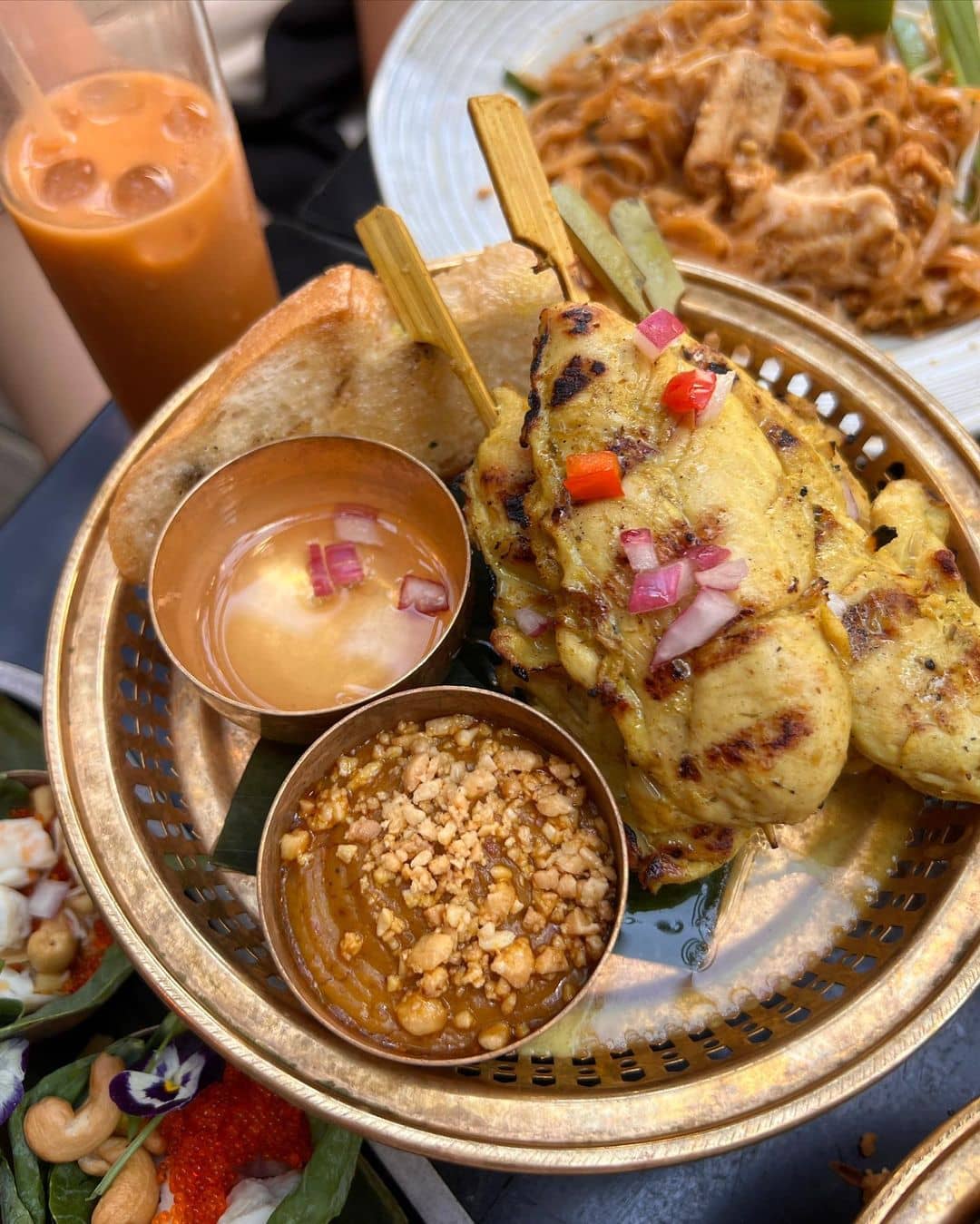 When you step into THEP Thai Restaurant, located at the corner of 75th Street and 2nd Avenue, you're welcomed into an atmosphere that feels like divine dining.
With its cozy and beautifully decorated interior and a rustic patio for those who prefer open-air dining, THEP offers an ideal setting for both casual meals and romantic evenings.
The food here brings Thai cuisine to a whole new level. Their Pineapple Fried Rice isn't just tasty; it's a spectacle, served in an actual pineapple and brimming with shrimp.
The Khao Soi is another standout, offering a balance of rich flavors that fill you up without overwhelming your palate.
And the Tom Yum Soup? It's not just soup; it's an experience, so packed with authentic flavors that you'll swear you've been transported straight to Bangkok.
What to order: Pineapple Fried Rice, Khao Soi, Tom Yum Soup
Address: 1439 2nd Avenue, corner of 75th Street, New York, NY
Website | Instagram | Facebook
8. Wondee Siam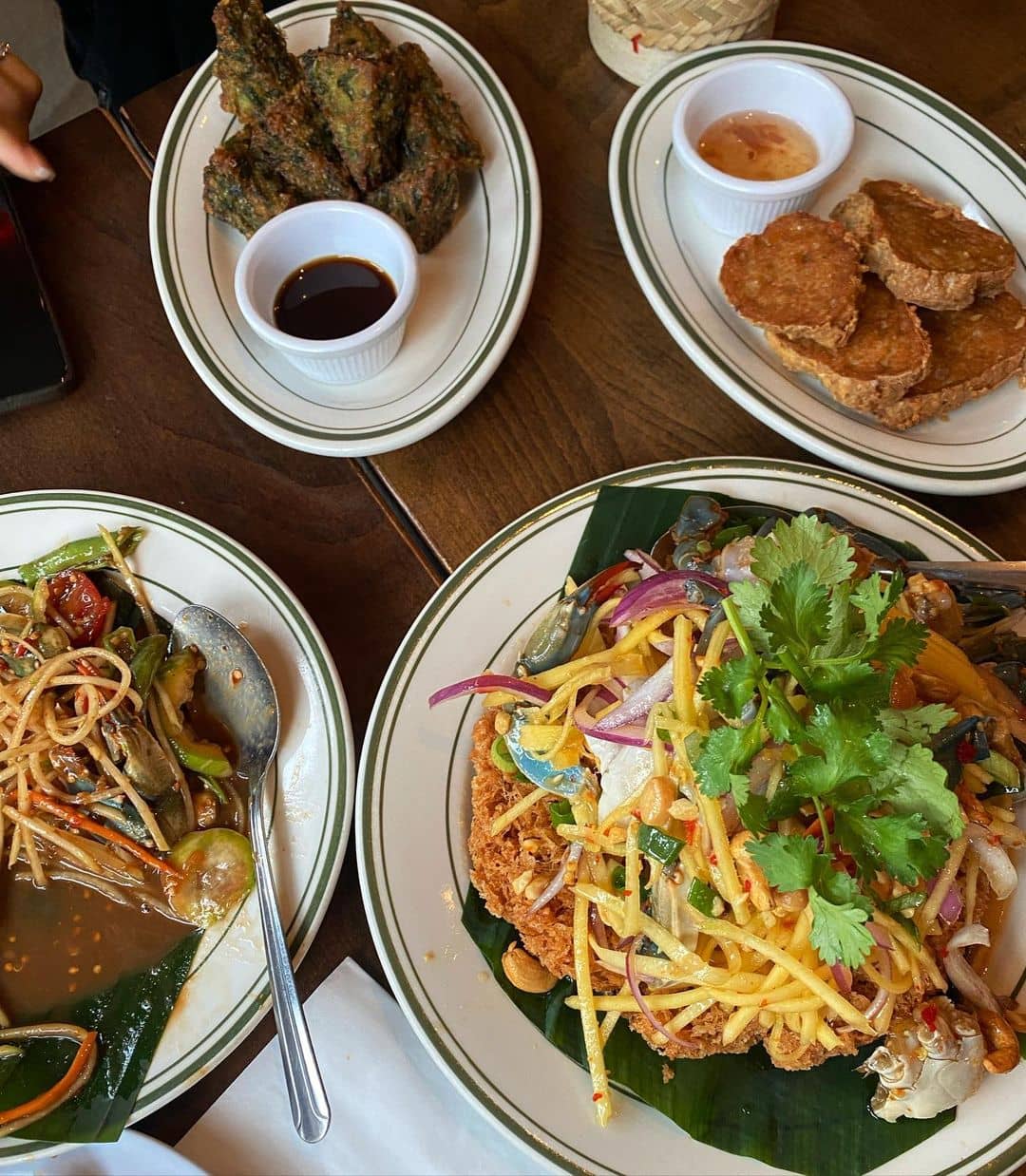 Wondee Siam may be small but it's a powerhouse when it comes to delivering authentic Thai flavors. The restaurant sports a modern, brightly lit interior that creates a cozy atmosphere, making it a perfect spot to unwind.
Even better, there's no corking fee, so you're welcome to bring your favorite bottle to pair with your meal. Don't miss out on their Yum Catfish Salad—crispy catfish complemented by fresh mango and aromatic herbs.
The Key Mao Noodle brings a blend of vegetables and noodles into a harmonious, flavorful dish.
And if you're craving something with a bit of spice, the Crispy Pork Basil hits all the right notes with its succulent pork belly pieces and a savory, sweet, and spicy sauce.
What to order: 792 92th Ave, New York, NY 10019
Address: Yum Catfish Salad, Key Mao Noodle, Crispy Pork Basil
9. Fish Cheeks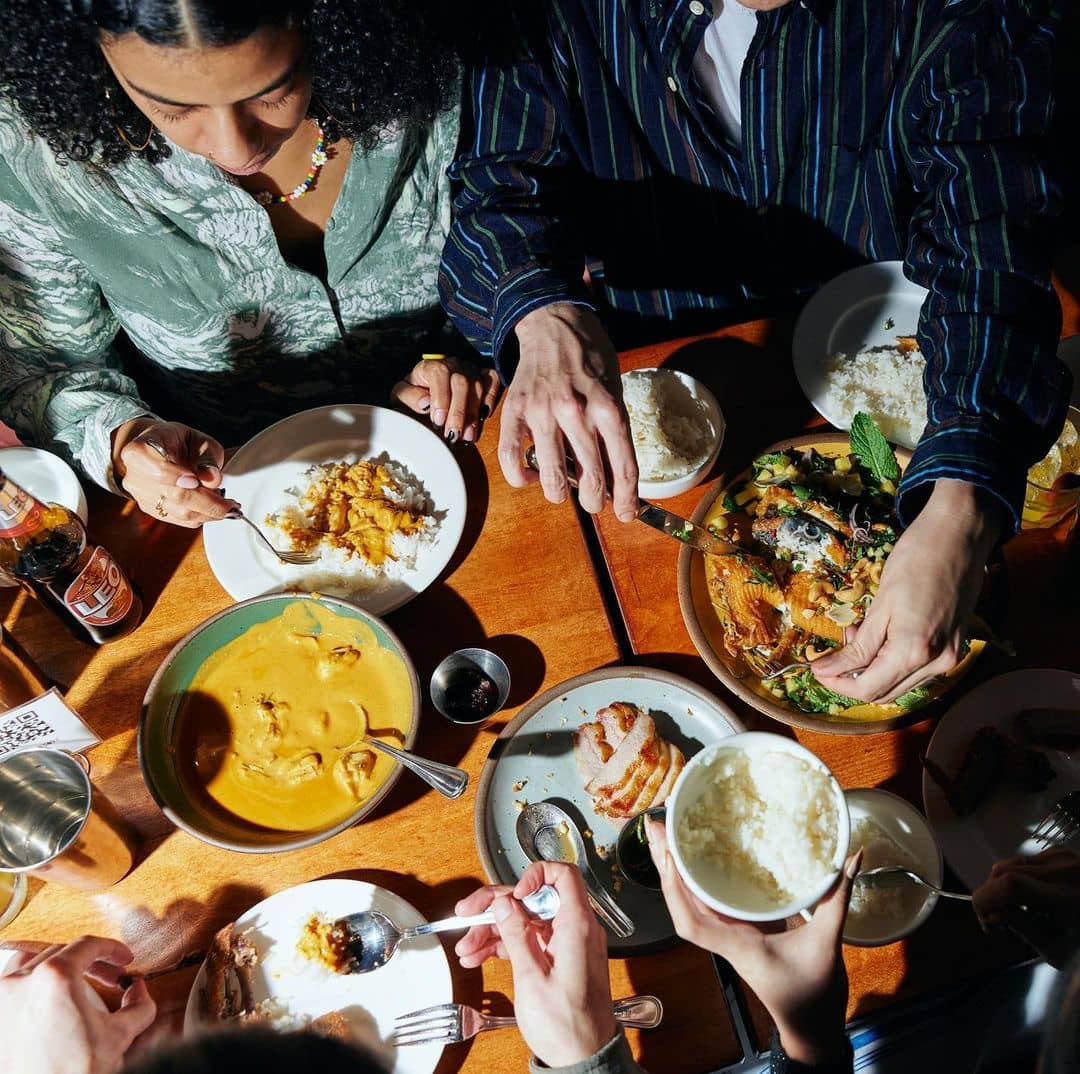 Fish Cheeks is the ultimate destination for seafood enthusiasts. The restaurant features a laid-back yet stylish atmosphere and a staff that really knows their stuff.
In the heart of Noho, Fish Cheeks serves up modern Thai dishes with a focus on seafood that are made for sharing. You can't go to the restaurant without trying the Coconut Crab Curry.
This southern Thai dish is creamy and packed with large, juicy chunks of crab meat, perfect for pairing with rice.
Another crab-centric delight is the Crab Fried Rice—a dish so hearty it could make a meal by itself. It pairs especially well with their steamed fish options.
Speaking of which, the Steamed Fish with Thai Herbs is a must-try, bathed in a sauce that's tangy, refreshing, and full of herbs. Even if you're not a fan of fish, this dish could convert you.
What to order: Coconut Crab Curry, Crab Fried Rice, Steamed Fish with Thai Herbs
Address: 55 Bond St, New York, NY 10012
Website | Instagram | Facebook
10. Lan Larb Chiang Mai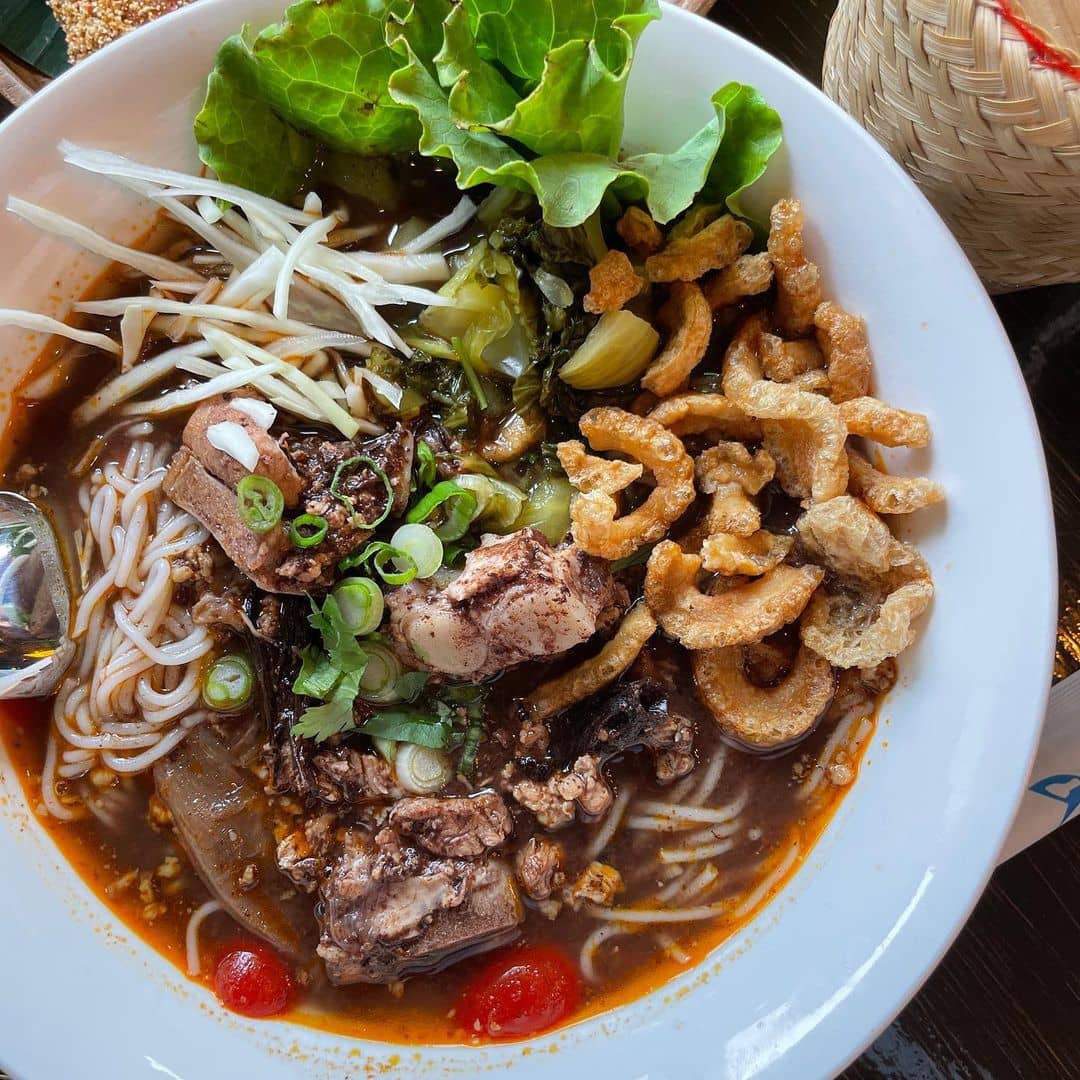 As you walk into Lan Larb Chiang Mai, you'll be immediately struck by its atmosphere, resonating with the cozy warmth that you'd expect from a family-owned establishment in Northern Thailand.
Rustic decor, including vintage wall hangings and ornate lanterns, create a cozy, inviting atmosphere.
The culinary experience starts with their Som Tum, a refreshing salad that masterfully blends tangy and savory notes, often customized with additions like shrimp or avocado.
The Panang Curry is a celebration of Thai spices, a warm, rich dish that leaves a lasting impression on your palate. If you are looking for a noodle dish, the Khao Soi Chiang Mai is a showstopper.
This dish boasts tender pieces of beef swimming in a broth so aromatic that each spoonful feels like a burst of flavor in your mouth.
What to order: Som Tum, Panang Curry
Address: 277 Centre St, New York, NY 10013
Website | Instagram | Facebook
11. Sala Thai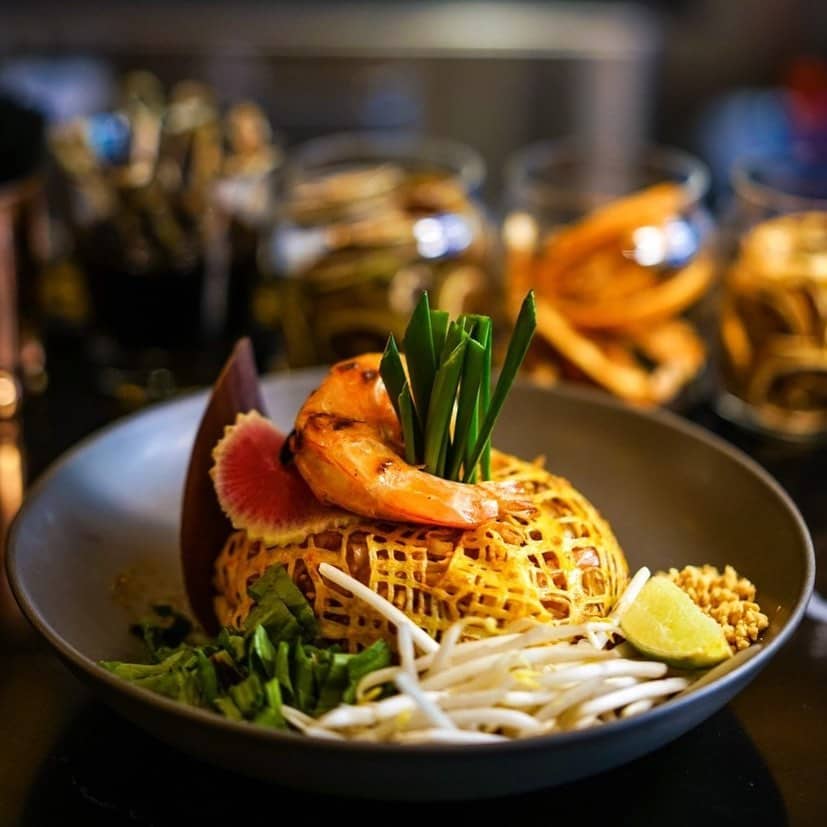 Sala Thai is where you're whisked away into a different world. The interior design encapsulates the grandeur of Thai culture, with furnishings and artifacts that could make you feel like Siam royalty.
Servers navigate the floor gracefully, offering service that strikes the perfect balance between attentiveness and giving you space to enjoy your meal.
The menu is equally regal. The Thai Crepe Dumplings are a unique and delicious start to your meal, beautifully colored and filled with a rich peanut flavor that sets the stage for what's to come.
For the main course, their Pad Thai Bolan is extraordinary, presented in a golden egg net, offering a textural contrast to the extra crispy noodles beneath.
The Green Curry, vibrant and aromatic, is a fiery dish that you'll be thinking about long after you've left the restaurant.
What to order: Thai Crepe Dumplings, Pad Thai Bolan, Green Curry
Address: 307 Amsterdam Ave, New York, NY 10023
12. Terra Thai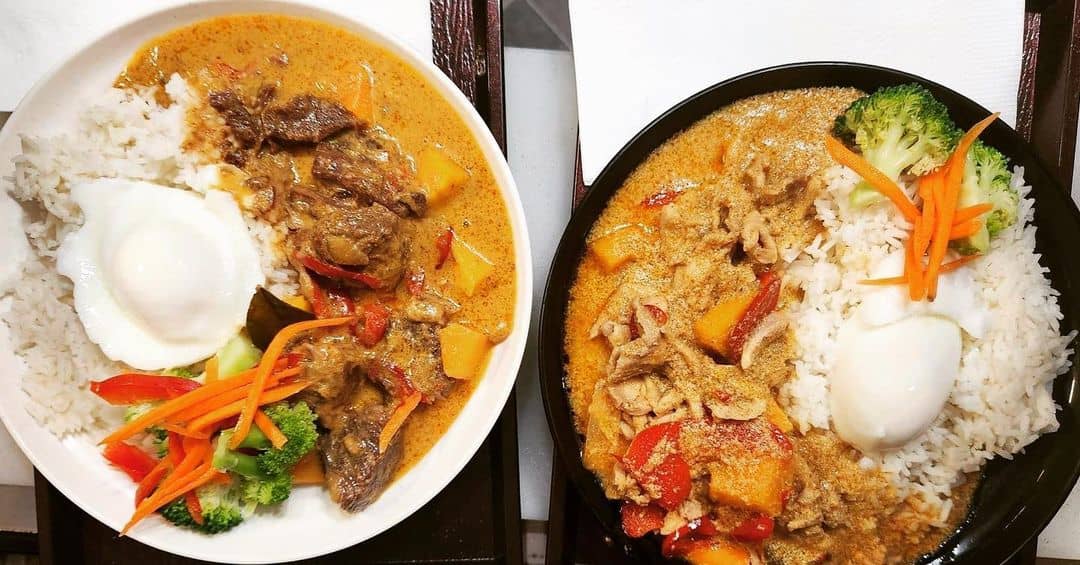 Tucked away in New York's East Village, Terra Thai offers an intimate, almost hidden escape where you can dive into authentic Thai cuisine.
Though primarily geared towards takeout, the restaurant offers limited seating, giving it a cozy, local feel.
The owner, a warm and knowledgeable figure, takes the time to guide you through the menu or even share interesting stories about the origins and nuances of different Asian cuisines.
Here, everything feels like a home-cooked feast, inviting and comforting. Their Pad Thai is not just a dish; it's an embrace in a bowl—warm, hearty, and fulfilling.
The Pad Si Ew, on the other hand, is a celebration of Thai flavors. It features stir-fried noodles that are so full of umami, they practically dance on your tongue.
What to order: Pad Thai, Pad Si Ew, Chicken Satay
Address: 518 E 6th St, New York, NY 10009
And there you have it! That is all for our best Thai NYC. It does not matter if you only like Pad Thai, a curry connoisseur, or someone who wants to take on the heat.
Looking for more food recommendations? Well, check out our picks of the best Brooklyn restaurants!
How We Create Our "Best" Lists
All Noms Magazine's "best" lists are created using multiple factors and signals to help readers find the best restaurants, things to do, and places to stay at. Some of these factors and signs include personal experiences, correspondence with locals, and compiling experiences from review sites.
Each list is also created to be balanced (in terms of price, cuisine type, ambiance, and more) as possible. This means that the lists are not specifically created in ranking order. You should be comfortable picking from any of the spots on the list and generally have a good time. But of course, YMMV (your mileage may vary) and everyone may have different experiences/palates.