Looking for the best Ninja Blenders on Amazon? Well here are our best picks from the best overall Ninja Blender to budget-friendly ones to cooking ones:
This article includes affiliate links where we may get a small commission if you use our link. No extra cost is added to you.
Pros:

Motor Power: 4.5/5

Design: 4/5

Ease of Use: 4.5/5

Features: 4/5

Pros:

Motor Power: 4/5

Design: 3.5/5

Ease of Use: 4.5/5

Features: 4/5

Pros:

Motor Power: 5/5

Design: 4/5

Ease of Use: 4/5

Features: 4/5
Best Overall
Pros:
Motor Power: 4.5/5

Design: 4/5

Ease of Use: 4.5/5

Features: 4/5
Best Budget-Friendly
Pros:
Motor Power: 4/5

Design: 3.5/5

Ease of Use: 4.5/5

Features: 4/5
Best for Cooking
Pros:
Motor Power: 5/5

Design: 4/5

Ease of Use: 4/5

Features: 4/5
Medium price, sturdy, and versatile – these are the top qualities when I think of a Ninja blender. The brand barely invests in any bells and whistles but the machine is very well-built and sturdy. They have developed a wide range of user-friendly products, especially the Foodi collection where you get exactly what you need.
The thing is: buying the right item at the right price is harder than you think.
It can end up being too big or too small, too loud or too feeble. In this comprehensive review, I'll round up the 5 best Ninja blenders at each price point and purpose. I'll go over the pros and cons, features, and what I love most about each product.
What Is A Ninja Blender?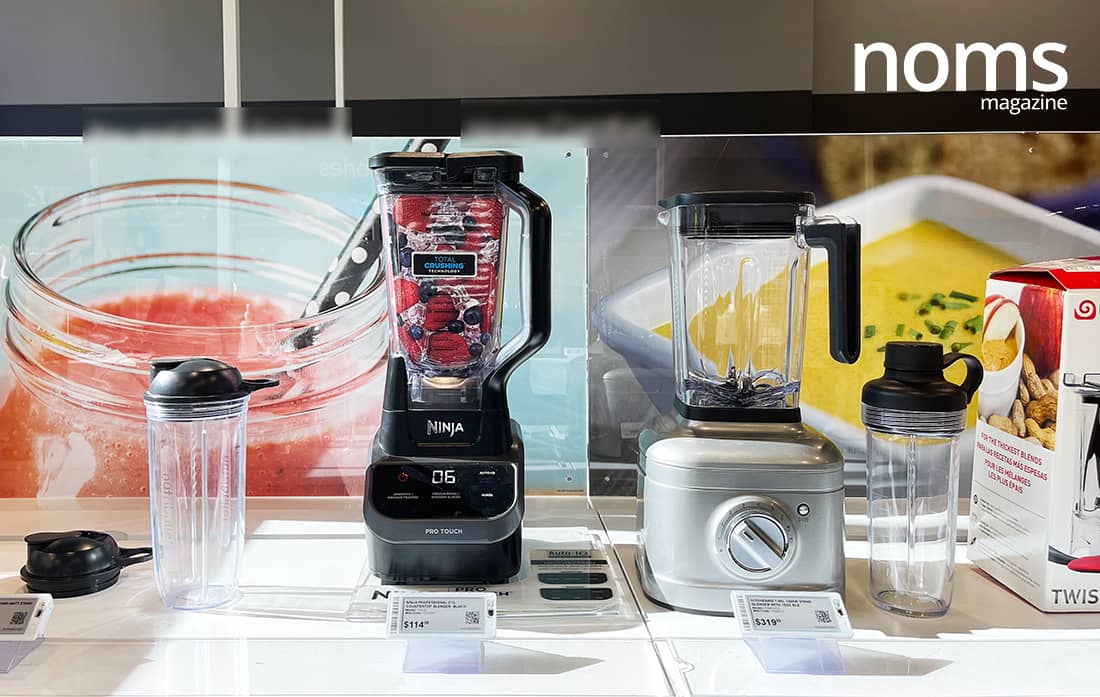 For years, Ninja has been competing against other heavyweights in the blenders, juicers, and kitchen appliances market such as Vitamix and NutriBullet. And I have to agree that Ninja is definitely on the top shelves of mid-priced blenders.
Powerful, sturdy, and affordable, Ninja is a brand of pre-set blenders that allows you to have a lot more fun in the kitchen rather than just blending berries. Making smoothies, crushing ice to chopping fruits and vegetables, all can be done with a button away.
On the higher end, Ninja is known for a smart range of blender/food processor combos that can tackle any kitchen work within a matter of a minute.
The Best Ninja Blenders Reviews
Best Overall Ninja Blender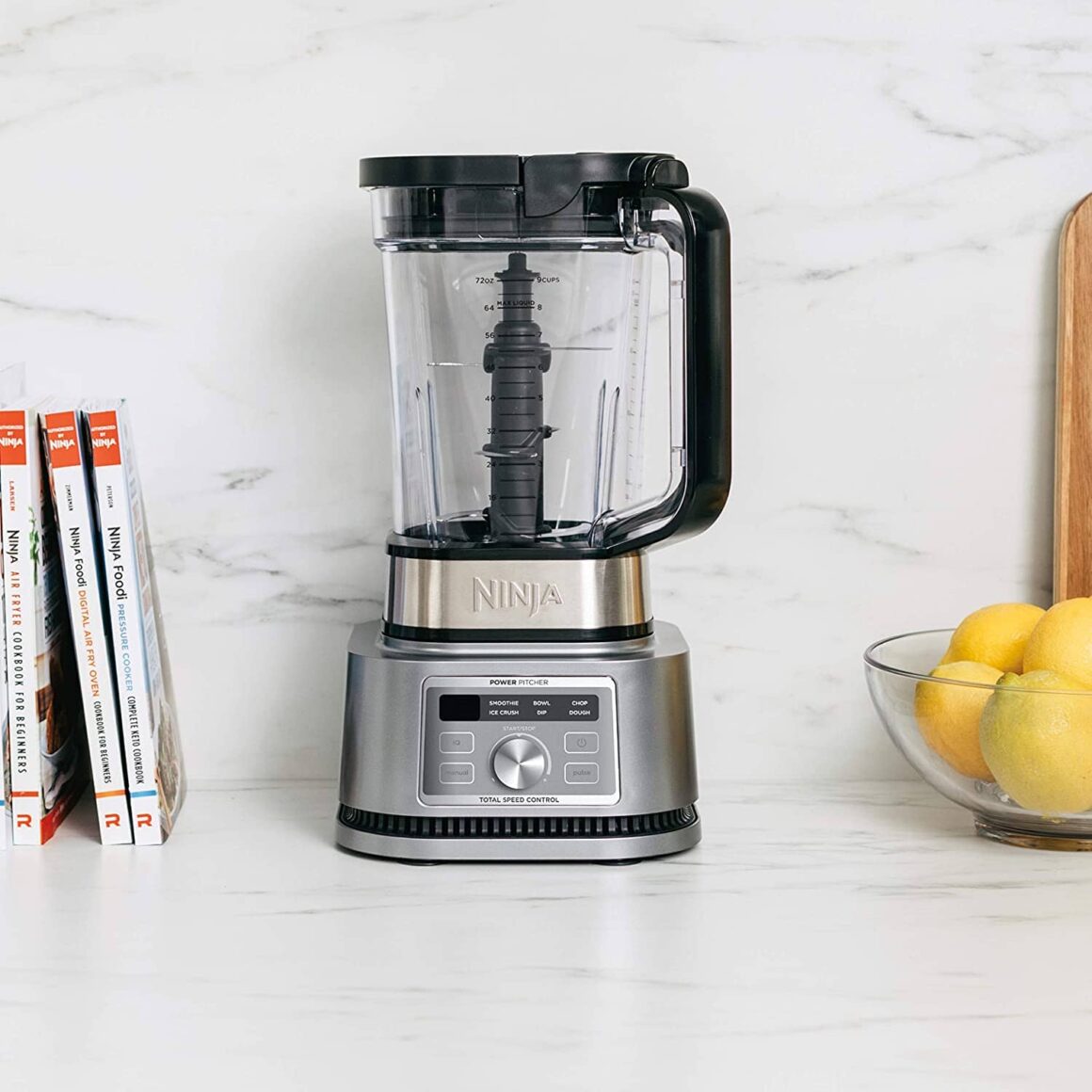 Bring home a powerhouse for multi-purpose use, this Ninja SS201 will make you happy. Costing less than $150 USD, it works fantastically from crushing ice, chopping leaves, and kneading some excellent cookie dough.
The hype of this piece comes from the fine silver finish and four-blade placements that allow you to tackle anything you have in the recipe book.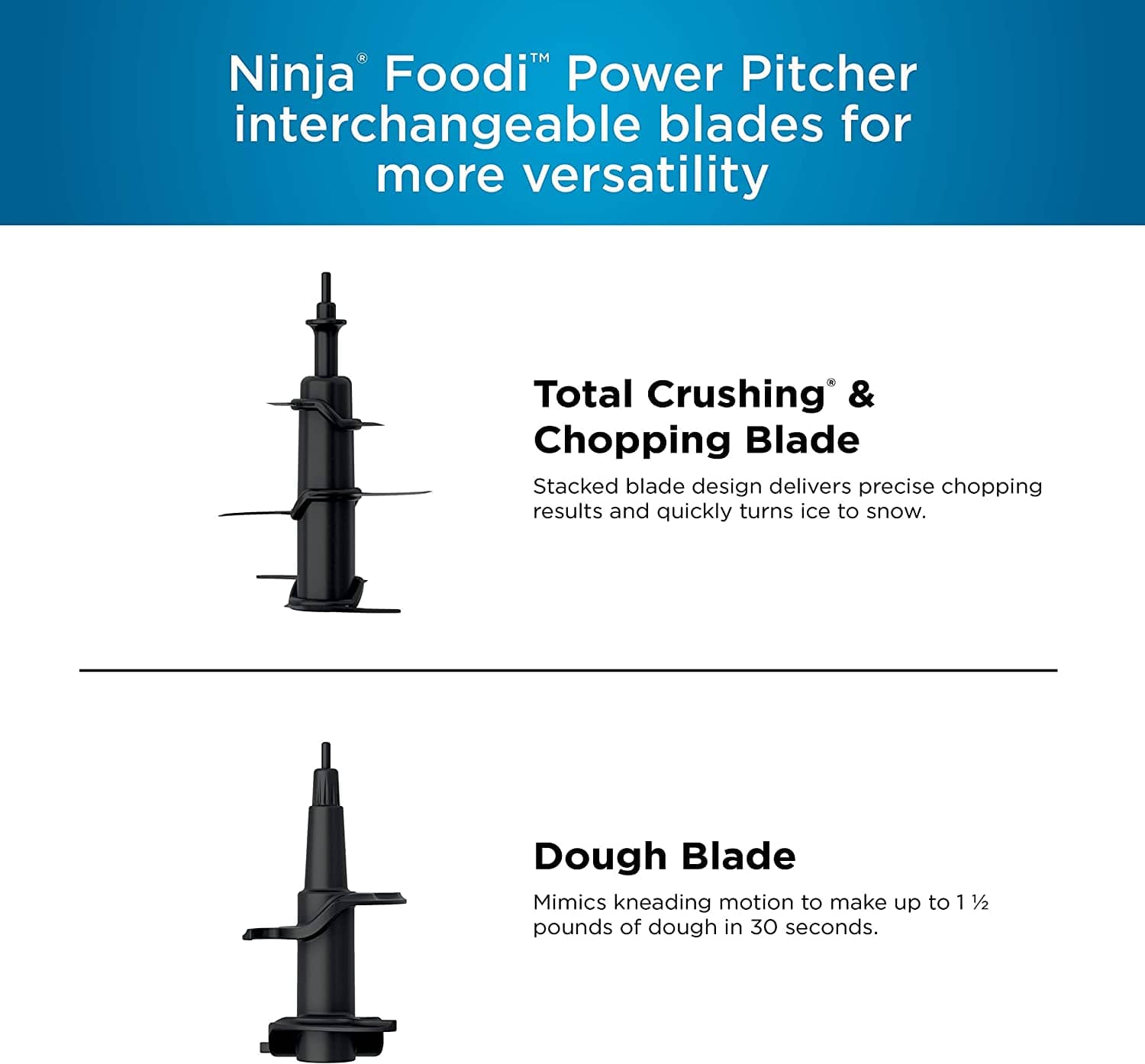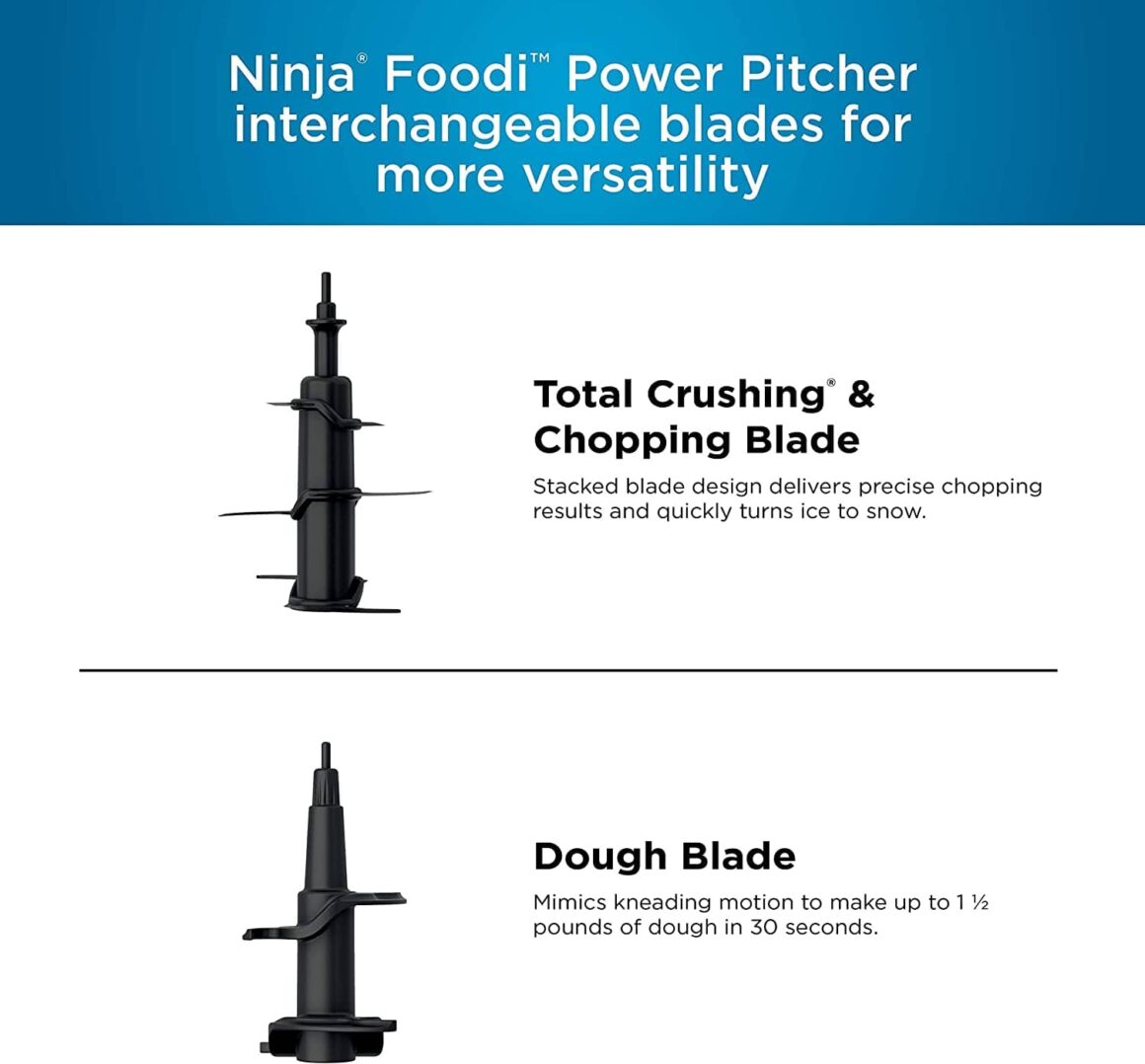 Speaking of the size, this model is a fairly bulky full-size blender with a big base that requires a decent counter space. It does get quite loud when in action but I have nothing to complain about given the 1400 watts the motor base provides.
The build quality is decent and durable. The base and most of its parts are made of plastic that doesn't feel premium but it guarantees a long shelf life as long as you give it a high maintenance.
Features:
The smartTORQUE system tackles heavy loads without stalling or stirring.
6 preset Auto-iQ programs for one-touch smoothies, frozen drinks, bowls, spreads, chopping, and dough.
1400-peak-watt power-dense motor
Multiple speed controls.
64 oz. processor pitcher and 72-oz power blender
Best Budget-Friendly Ninja Blender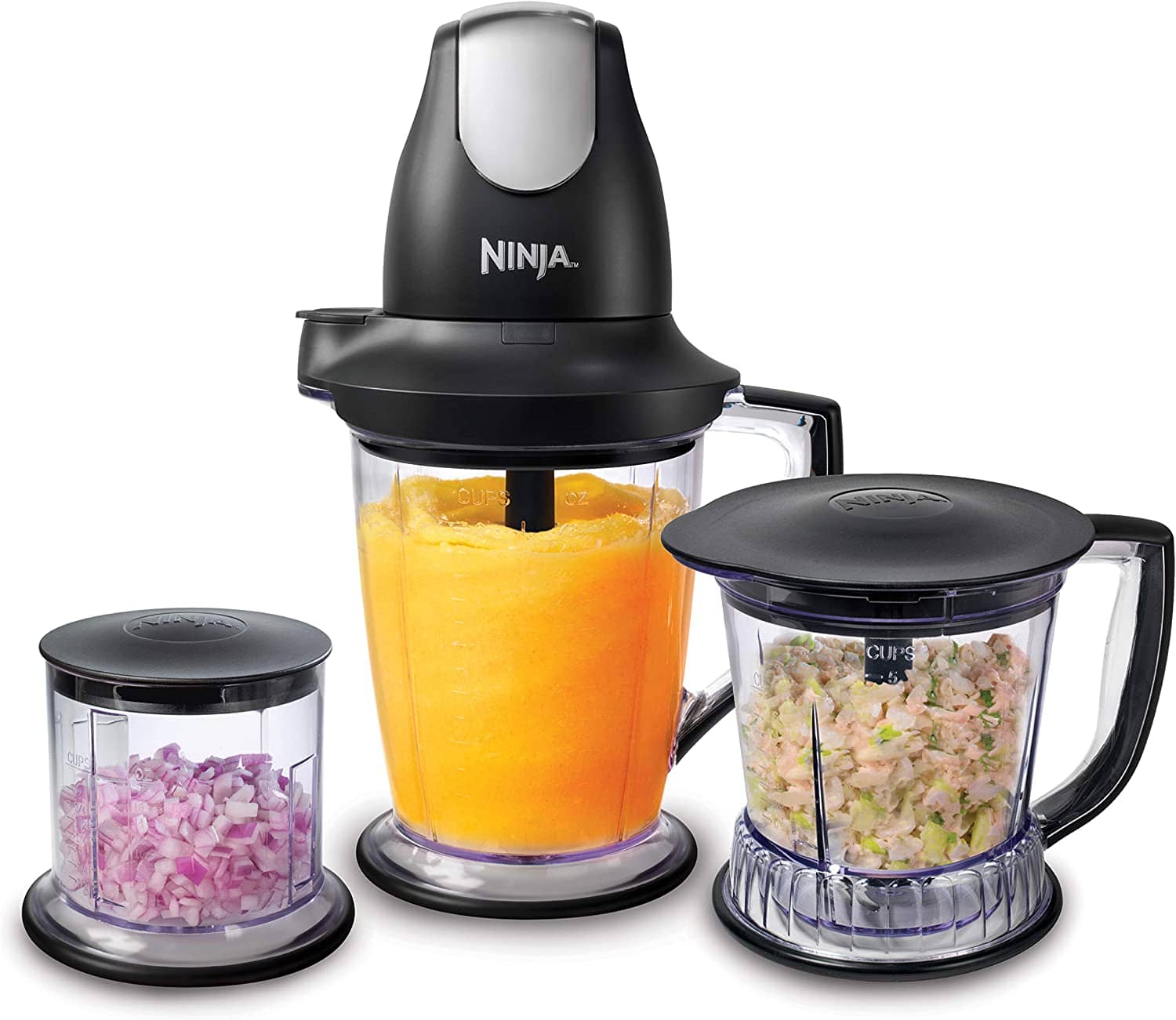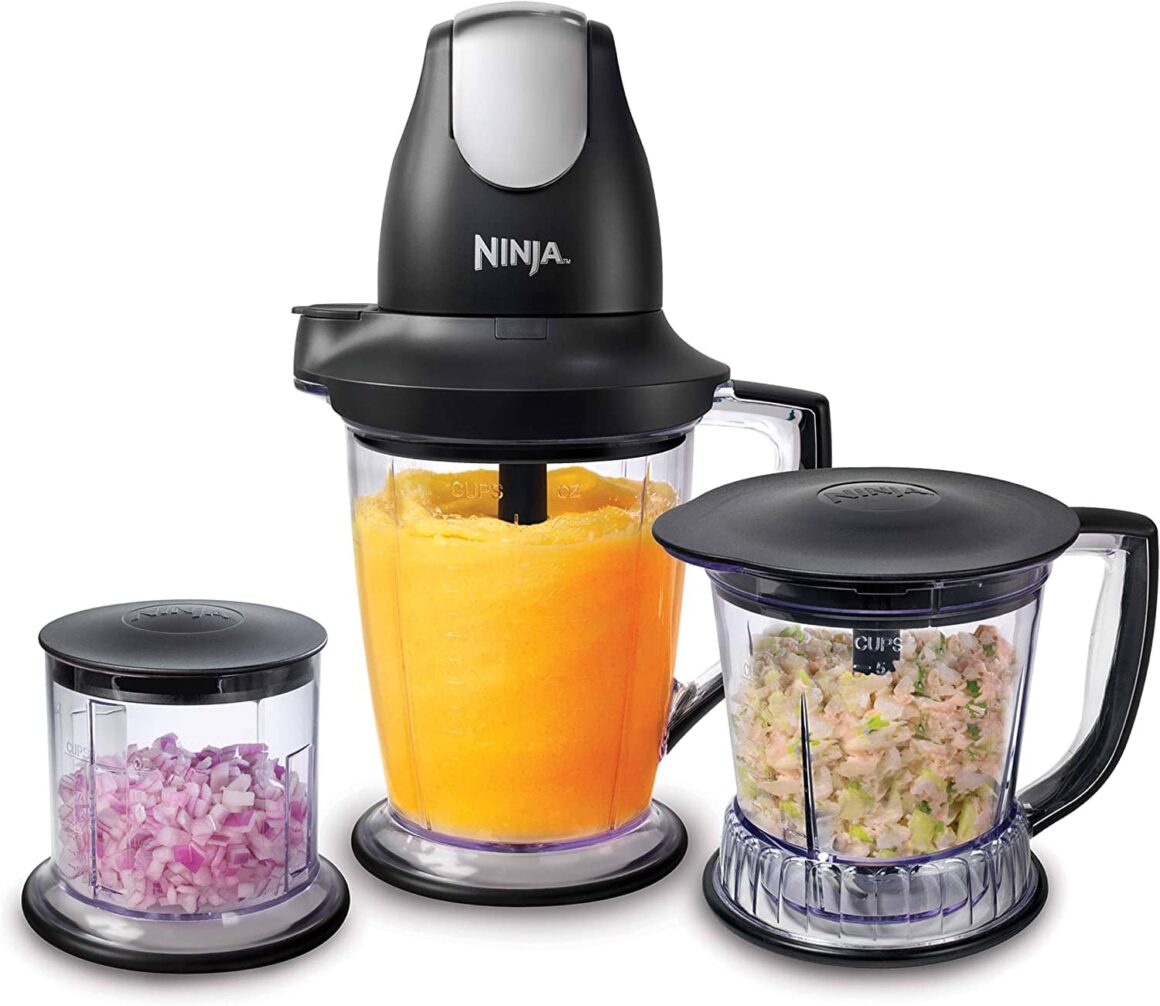 This machine is not only a life savior but also friendly for your wallet! With it being under $100 for such a compact and user-friendly item, I'm more than happy to have it at home. It sits nicely in the cupboard and breaks down food like a charm. From shaking, making puree, and processing food – everything is done in a flash.
The model comes with three jars of different sizes and they can do much more than just make smoothies and crush ice into fluffy snow. The entire piece when slacked together doesn't feel heavy at all.
Given the 450-watt motor base and the versatility for a single serving, this Ninja blender totally nails the job.
Apparently, I do not expect it to handle heavy loads at one go like a 1400-watt blender but it's still strong enough to liquidize fruits and vegetables. Surprisingly, the motor base is plugged on top of the blender and hidden under the cap. This unique design allows the blades to move efficiently.
There is a noticeable downside in the container size. You've gotta cut the fruits and vegetables smaller than you would with other blenders to fit them into the containers.
Features:
450-Watt motor
Crush ice cube into snow
BPA-free material
Stainless-steel blades
The item includes a 40-ounce bowl, lids, blades, and splash guards.
Best Ninja Blender for Cooking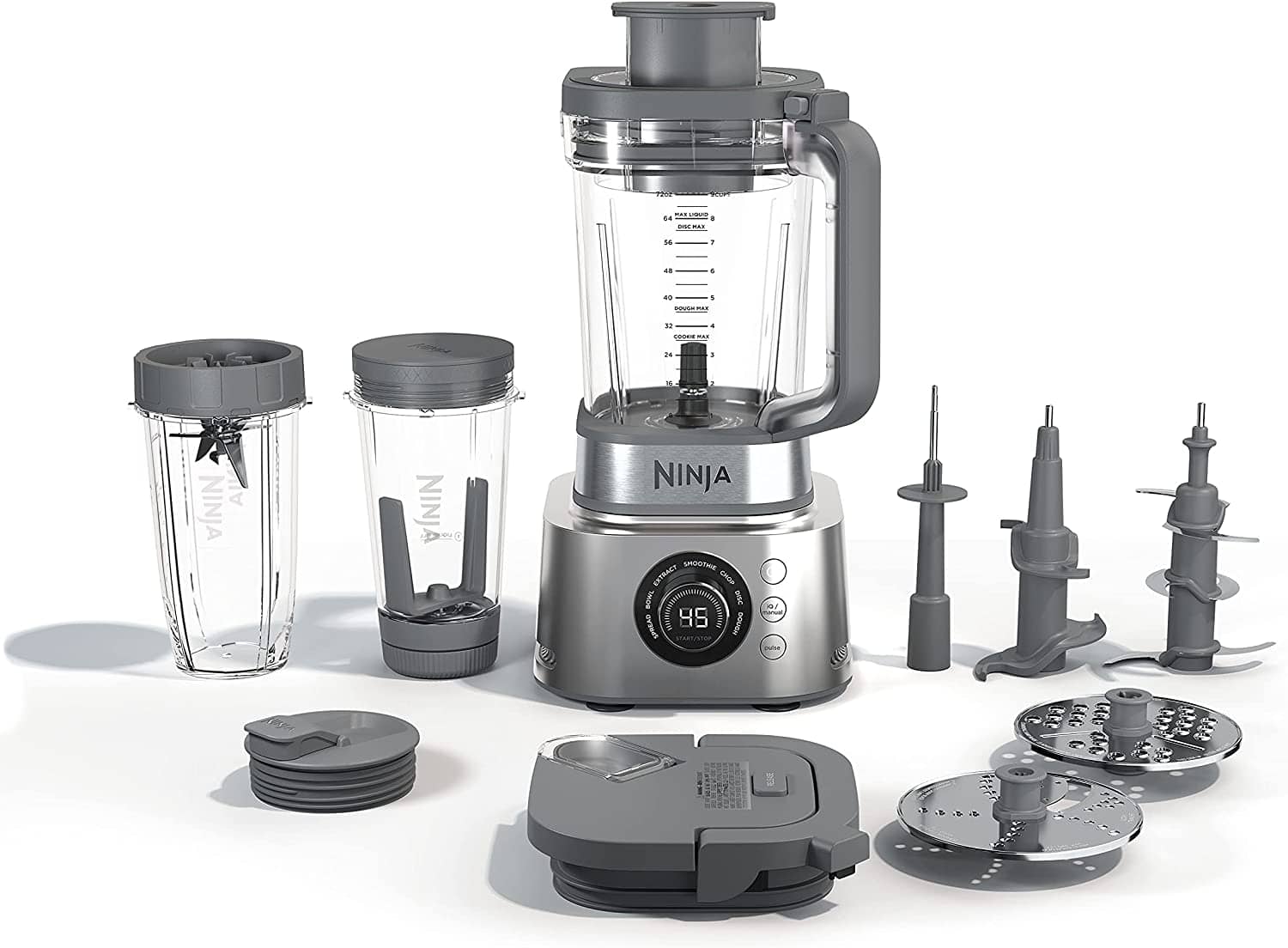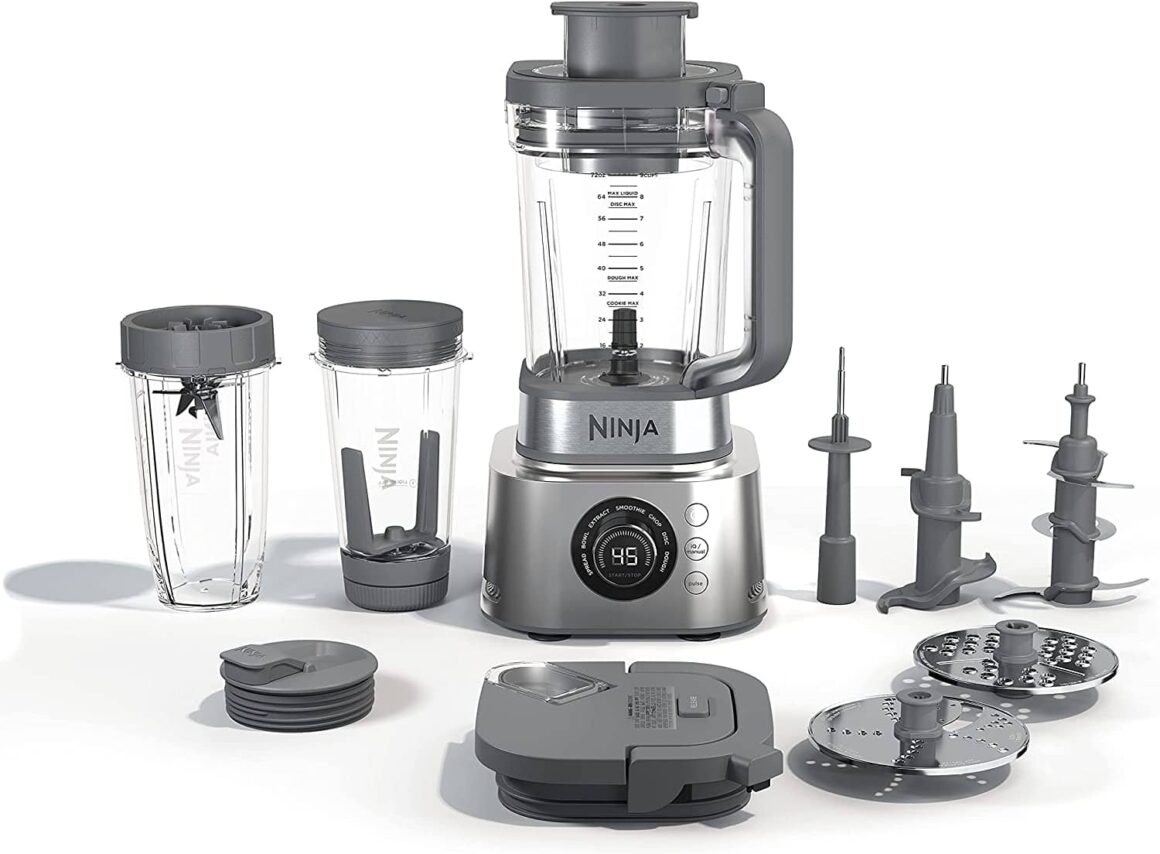 The best all-in-one blender should be able to handle more than just blending or pureeing. The benefits of this Ninja SS401 come in a roll call – but that being said, you shouldn't expect it to be a complete steal.
What you get for a kitchen blender kit that costs $200 USD is a huge collection of gadgets that tackle any kitchen work you come up with.
From crushing and chopping blade assembly, nutrient extraction cup, versatile discs, a huge smoothie bowl to dough blade, pitcher, and Hybrid Edge Blades Assembly – this high-performance Ninja blender can handle everything from making thick nut butter to smoothie and crushing ice.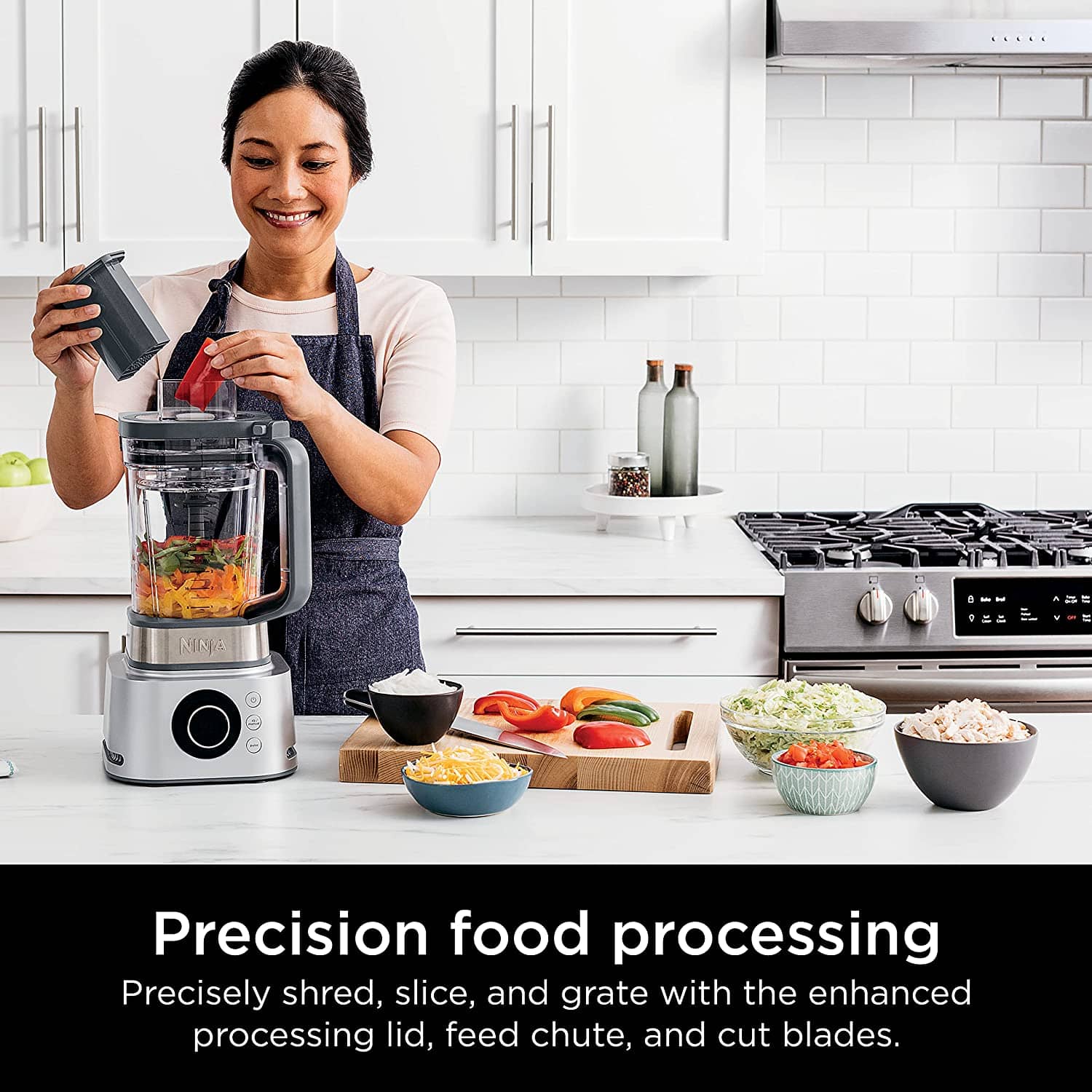 What I'm not so impressed about this piece is its ability to hot blend. That means you've gotta wait for the ingredients to cool down first before processing. Another drawback is how it deals with fibrous ingredients. The result will end up with a grainy texture rather than a silky smooth soup.
Speaking of the size, this SS401 model is a few inches shorter than its counterparts of the same brand such as the Ninja Mega Kitchen System BL770 (which I already reviewed in this Blender Buying Guide).
It does get loud but that's what I expect from a high-performance cooking blender. The preset functions are easy to use and provide you with a different set of blending programs for both small and large jars.
It will take a bit to get used to operation and pulse mode, but you will settle down in no time.
Features:
Enhanced processing lid with feed chute and select-cut processing discs
1600-Peak-Watt Power Dense Motor and smartTORQUE
XL smoothie bowl maker with built-in tamper for frozen ingredients
7 preset iQ programs
Hybrid edge blade assembly for a better breakdown
Best Ninja Blender for Cooking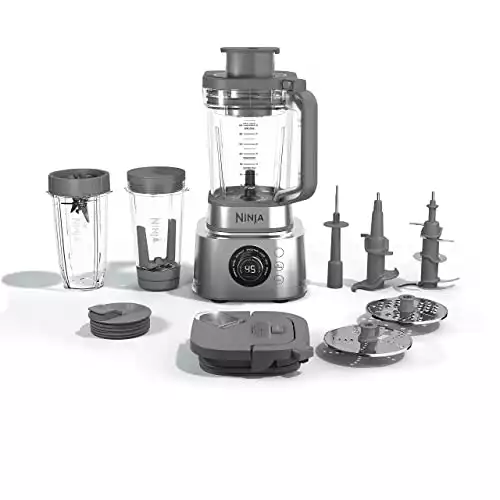 Best Ninja Blender-Only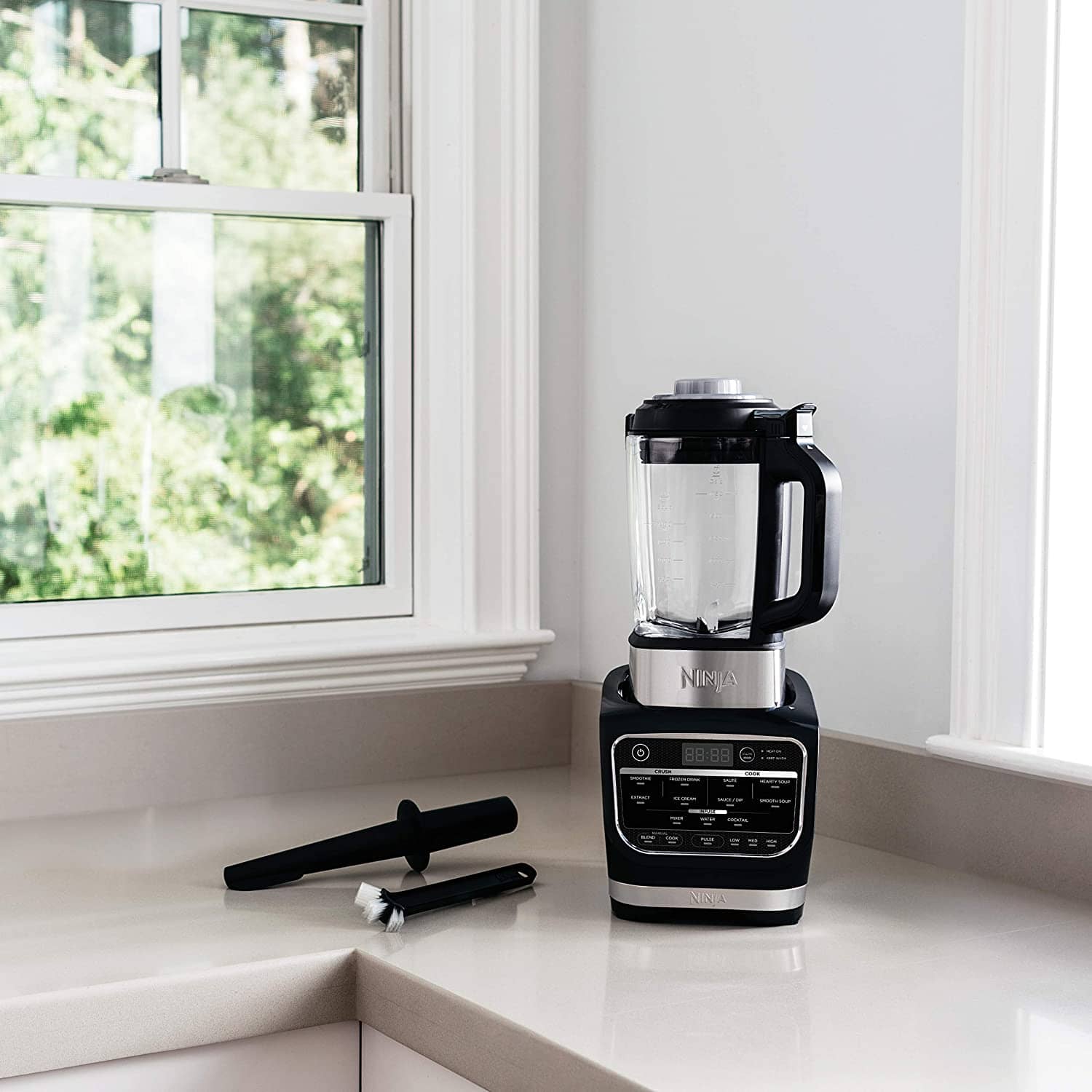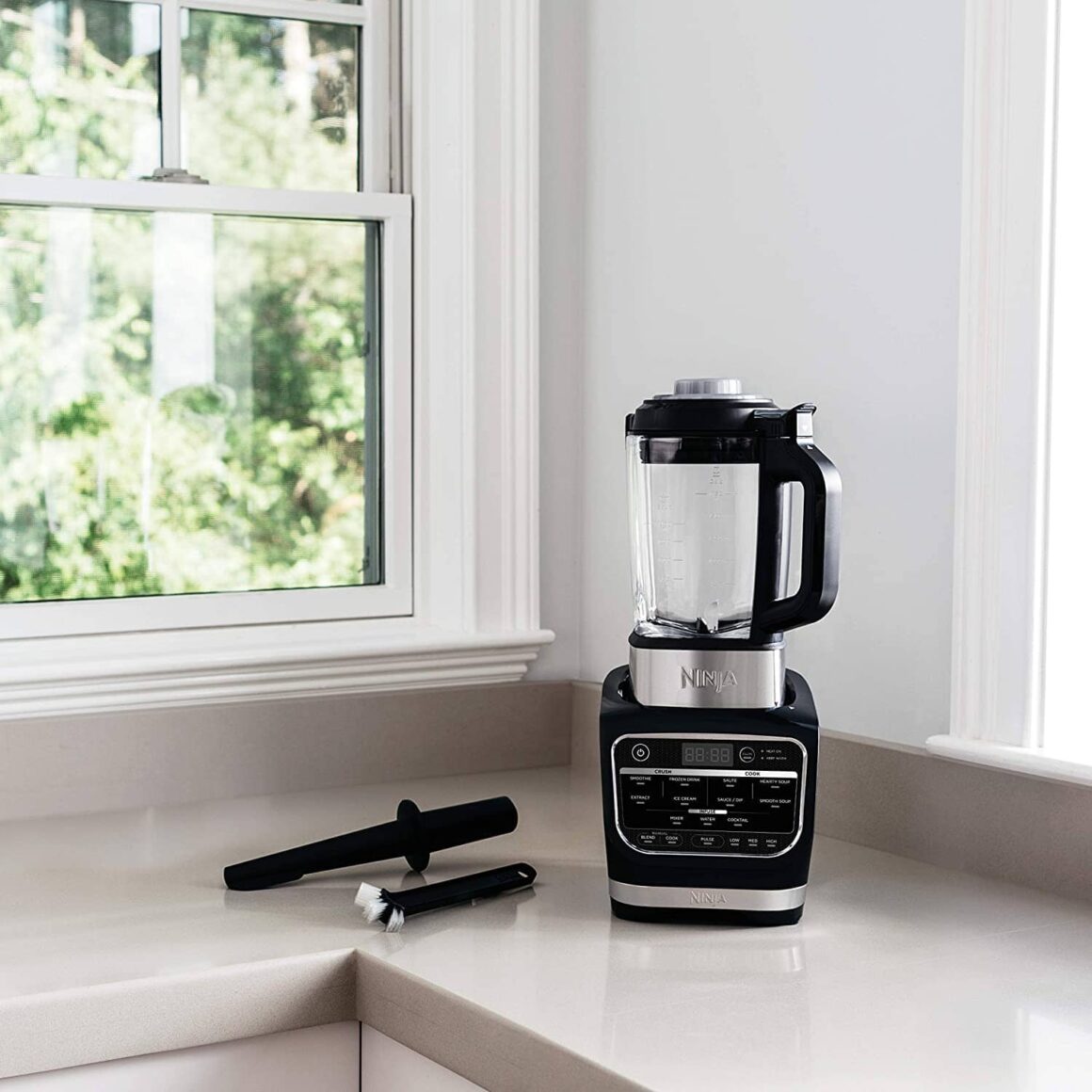 One of the most common complaints about Ninja blenders is the absence of an ability to deal with hot food. If you don't want to pay extra for a multi-use, mega pitcher, opt for this Ninja HB150C and you'll be happy.
The first thing you notice in this piece is the heating element that lies underneath the blade assembly. All you need to do is switch to the Hearty Soup program and it should blend and cook your food at the same time. That's a big win for me.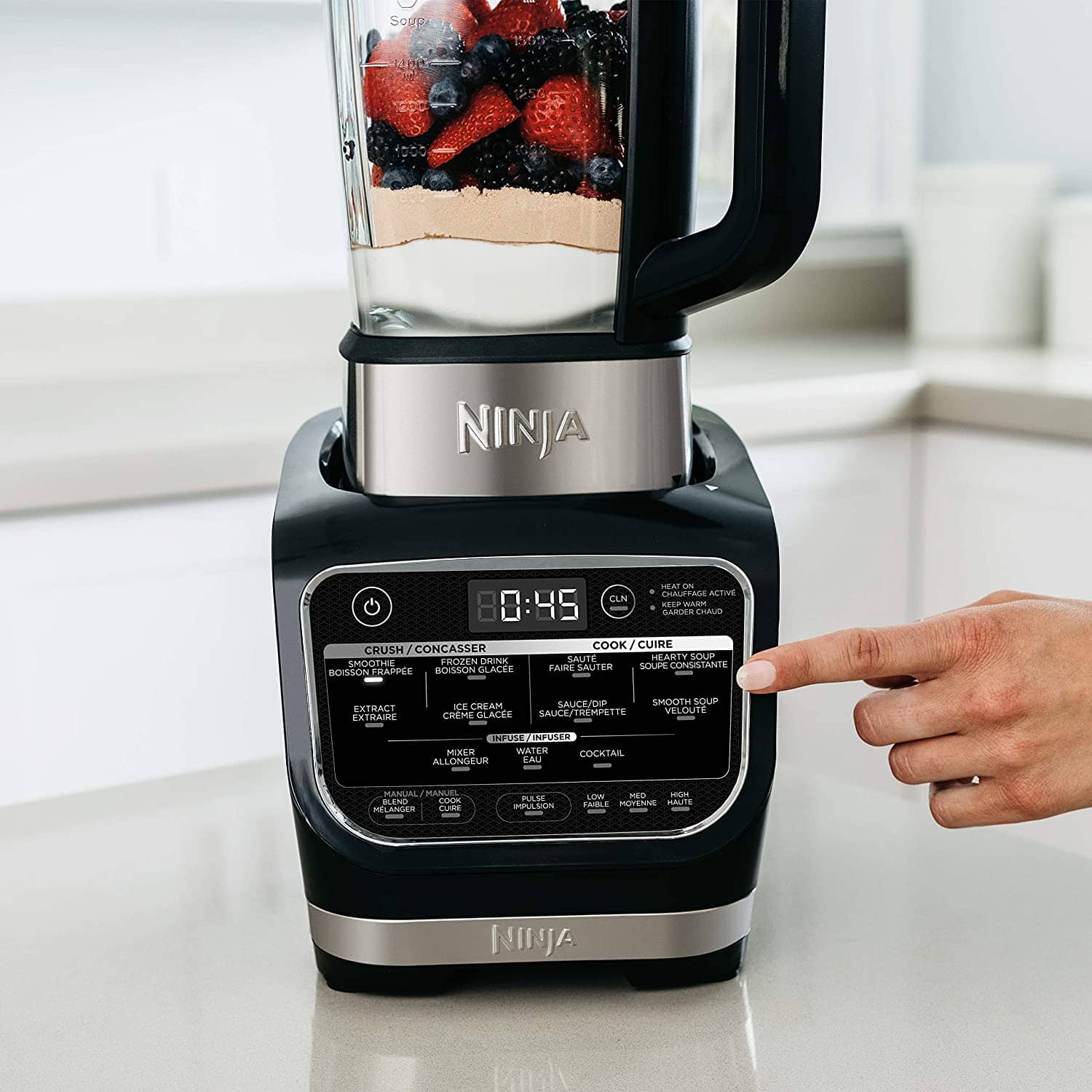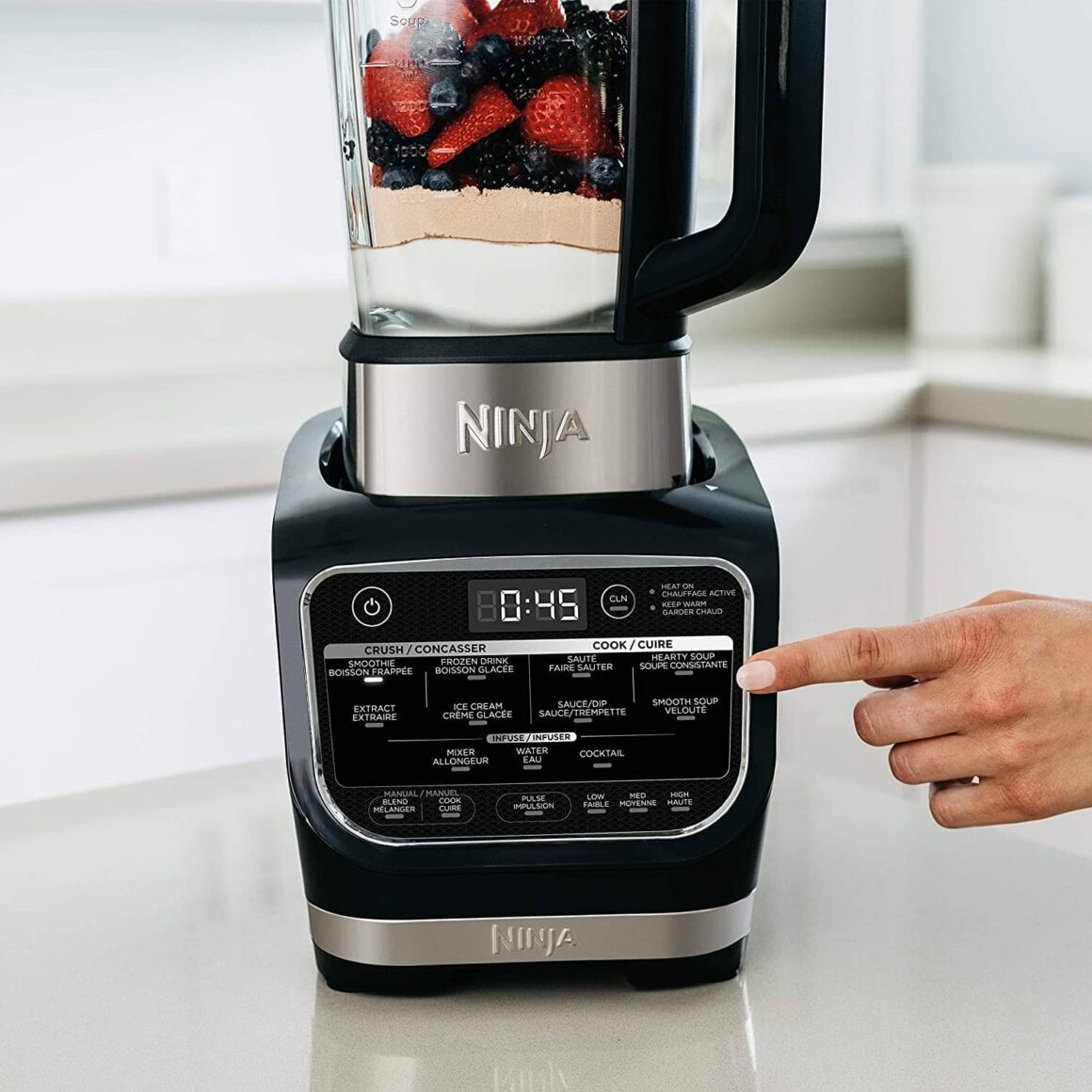 For that reason, washing the blender can be a hassle sometimes. That's why it gives you a Heated Clean program so you won't get stuck at your kitchen sink for half an hour. But I would recommend you wash it by hand once again after it's done as a double check.
Another thing that came to mind with the soup-making function has a lot of potential, even if you need a fully silky smooth puree for your baby. This is definitely a highlight as some other Ninja blenders end up with a grainy soup. I usually tried it with some squash and kale to end up with a thick and creamy texture – and I loved it.
Overall, I can't recommend this Ninja blender-only enough. 12 preset functions, hot blend perfectly, clean up with a breeze – this Ninja Foodie blender will be a conversation starter in your kitchen.
Features:
Heat-iQ function to hot blend with ease.
64 oz. glass pitcher (56 oz. max cold liquid capacity)
1400-peak-watt motor and high-speed blade for ice crushing
800-watt heating element for infused drinks and soups
12 Auto-iQ Programs
Included Components: 25-recipe inspiration guide
Premium non-stick glass pitcher
Best Ninja Blender & Food Processor Combo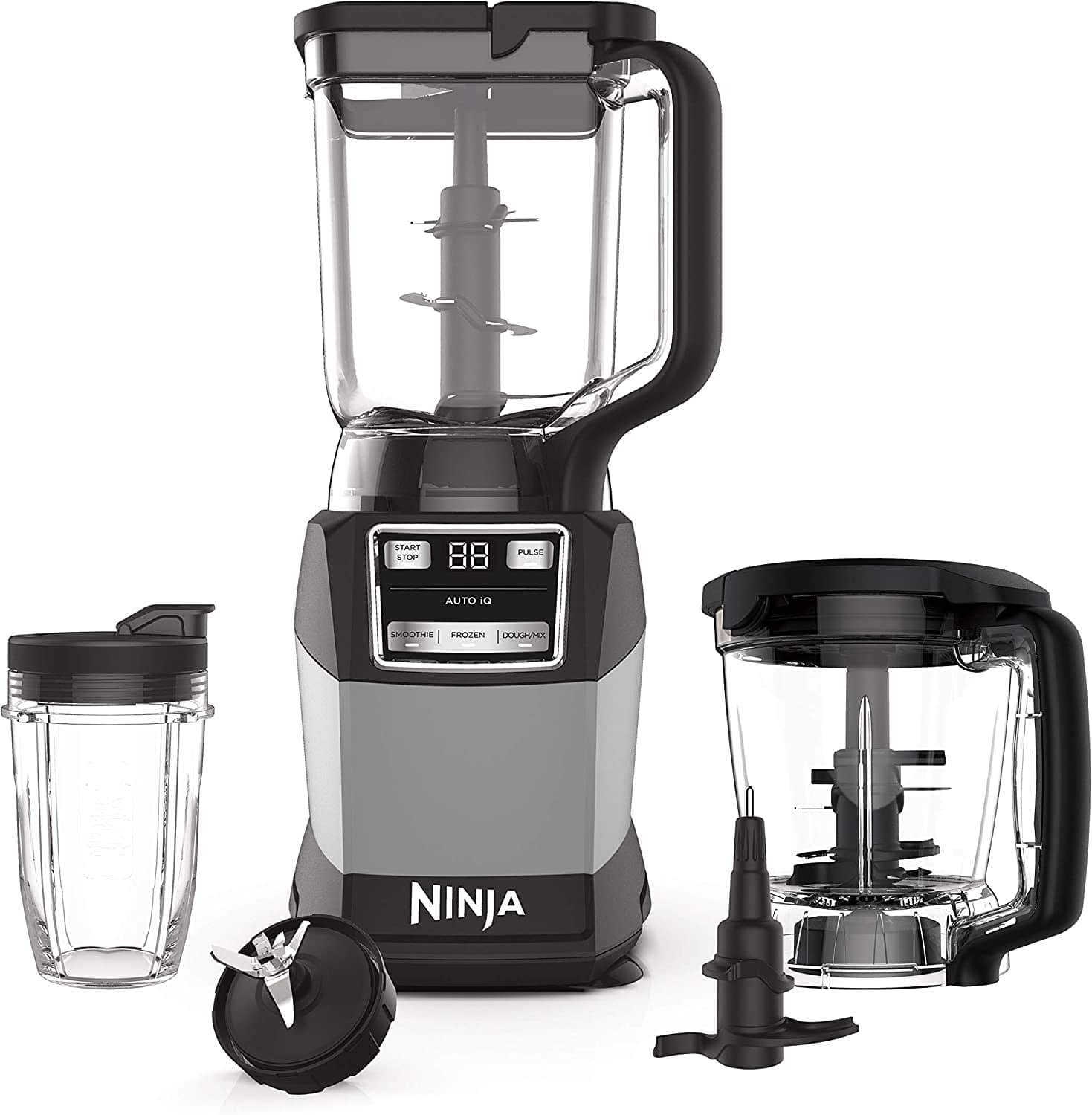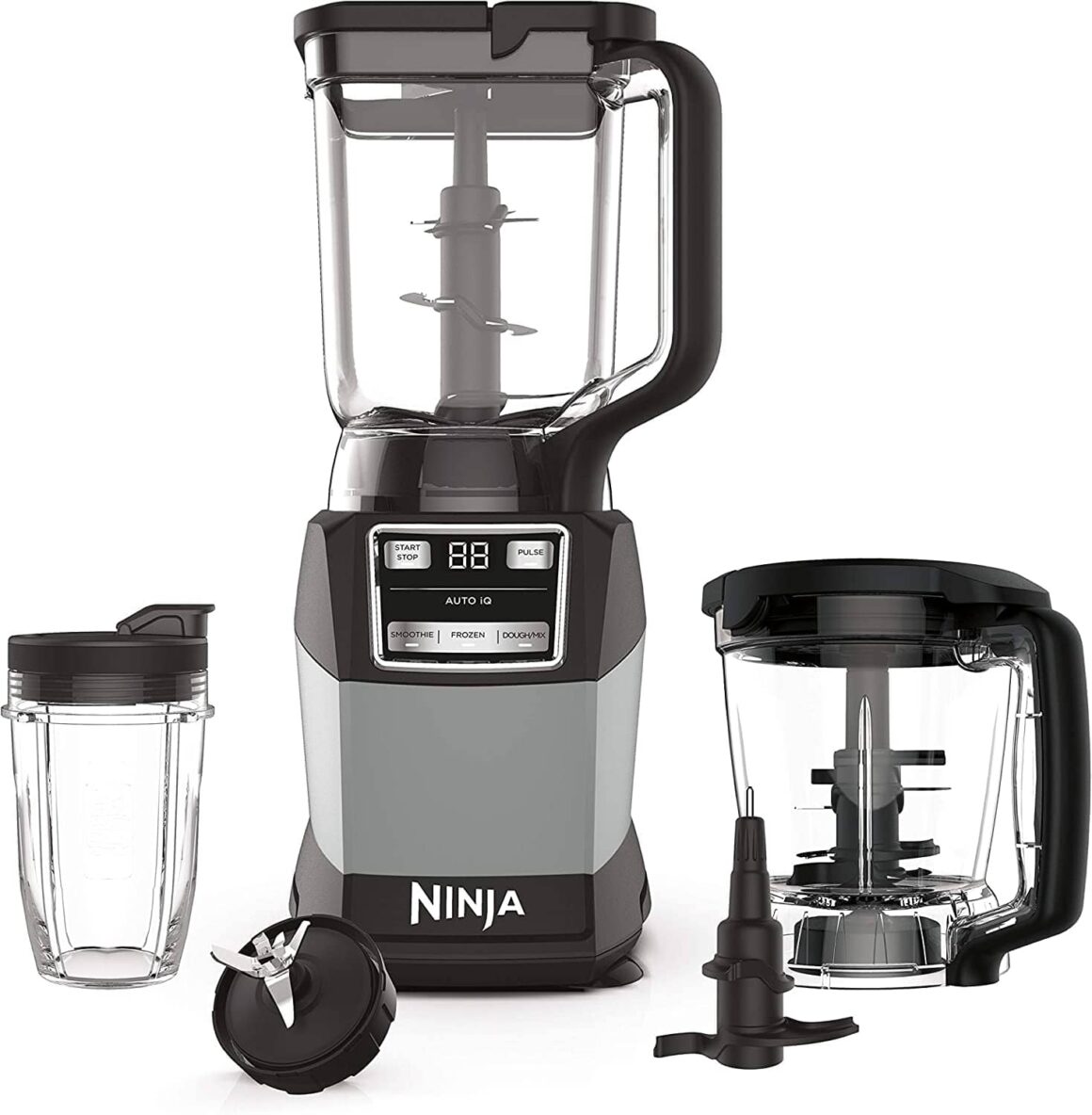 Sometimes a blender-only is not enough but a mega kitchen blender system is overwhelming – that is when this blender-and-food-processor combo comes into play.
Even though the motor base only runs at 1200 watts at best, it does break down things quickly and is not insanely noisy like other Ninja models. It ripped the ice in a snap of a finger after you pressed the smoothie button for a few seconds.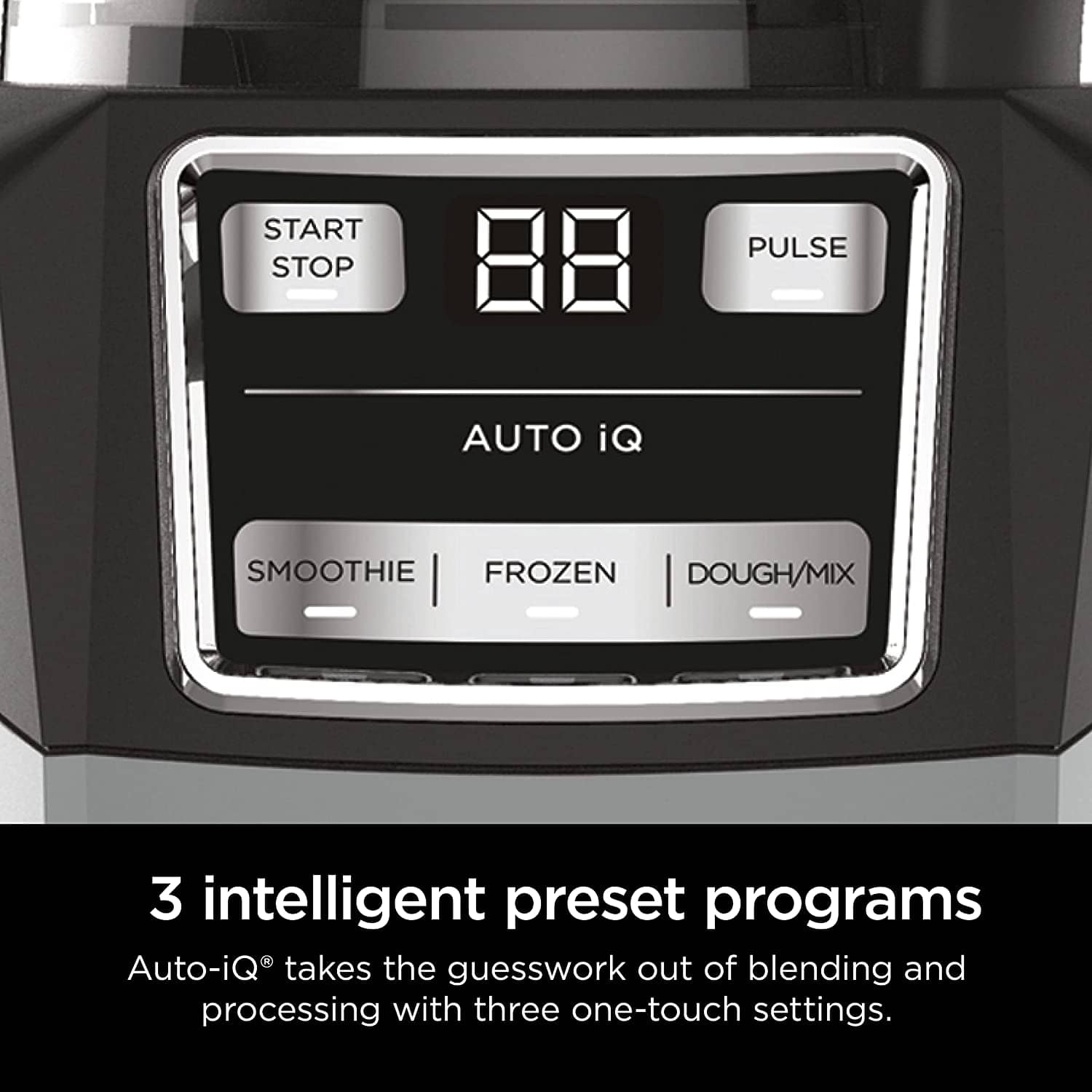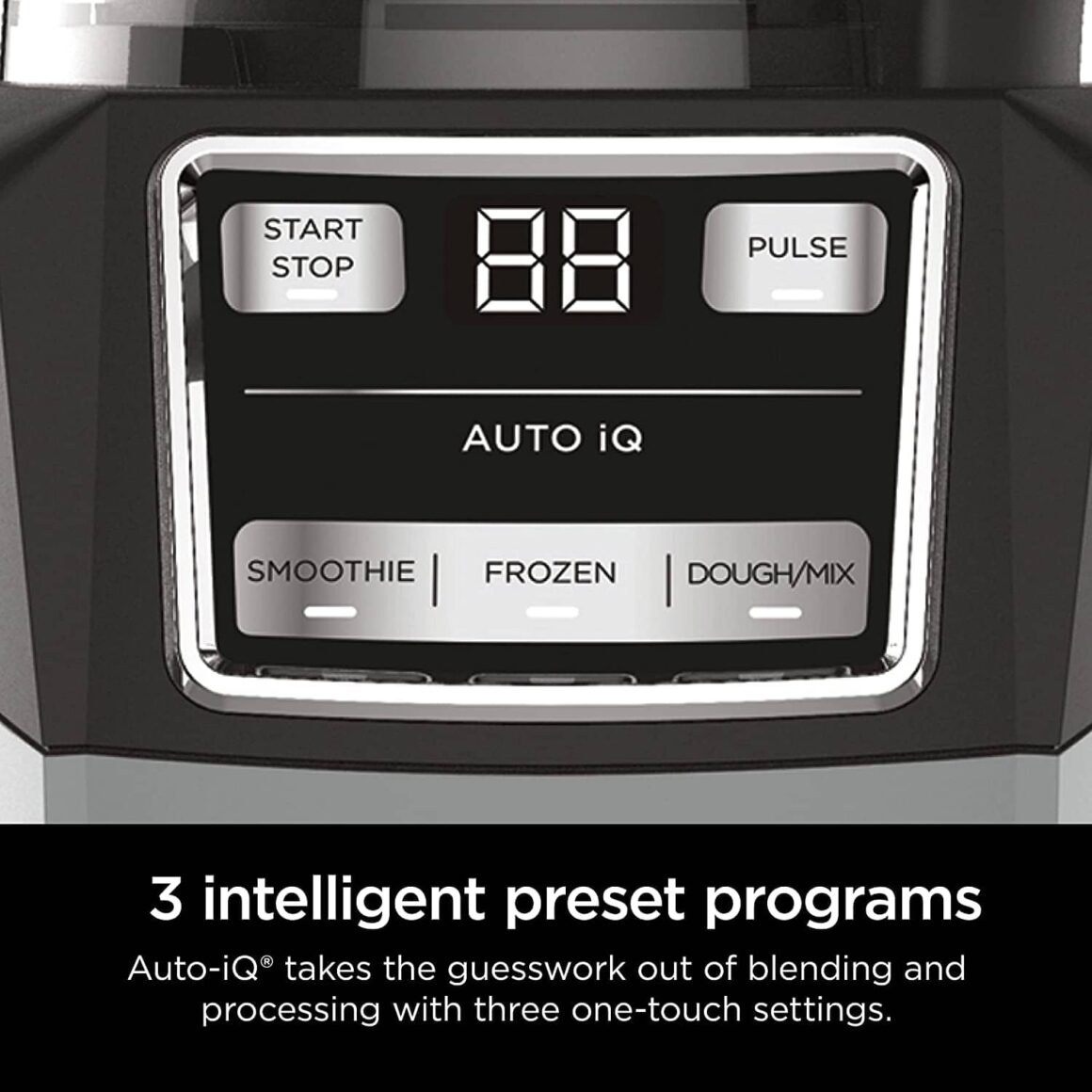 With food processing, you'll have a 5-cup bowl, chopping, and dough blade assembly beside the three versatile functions. Even if you're planning to take it to the campsite, it will give you an 18-oz single-serve cup with an attached spout lid so you don't have to sacrifice your appetite for a few days away.
However, there are still some downsides to address. Even though it comes with an iQ technology to take away the guesswork, there's still no self-cleaning function and multiple speeds or a heating motor base to cook food while blending like what I see from the Ninja HB150C model.
Features:
Includes a 5-cup Precision Processor Bowl Chopping and Dough Blade Assembly for added versatility and functionality.
3 versatile functions
Utilized 1200-watt performance
Auto iQ technology take the guesswork out of drink making with intelligent programs
Blend directly in the 18-oz. single-serve cup and attach spout lid to take your creations on the go.
Best Ninja Blender & Food Processor Combo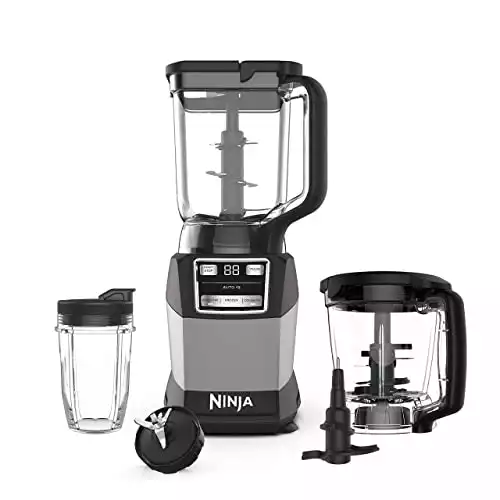 FAQ For Ninja Blenders
Are Ninja Blenders Dishwashers Safe?
Yes, Ninja is famous as a dishwasher-friendly brand. You can throw the plastic jar and the lid into the dishwasher but I recommend washing the blades by hand even though they are still dishwasher safe. My only concern behind this is the pressure of water and the setting temperature will end up hampering the motor base and rusting the blades.
The blade is the most sensitive part of the item and should be removed from the jar before putting it in the rack of the dishwasher. But if you don't have the time to deal with each part separately, dry the blades quickly using a hand towel cloth to cut back on the risk of rust. Eventually, dry the motor base by hand using a damp cloth.
Is It Worth Getting A Ninja Blender?
If you're looking for a powerful, versatile blender without paying for an arm and a leg, Ninja is definitely worth buying. Compared to some other major brands in the market today, I do think Ninja reinvents what you can do with a blender. It has some of the most versatile blades I've ever seen to deal with all types of ingredients from wet to dry and from thick to thin.
Some cheaper conventional blenders seem to work fine at the beginning but they end up overheating and getting blown out due to overloading.
Are Ninja Blender Parts Interchangeable? 
Yes and no – you can swab some of the Ninja cups and blades with different models as long as they are compatible. To check compatibility, the easiest way is to log onto Ninja's official website and select the items you want to replace.
On the description page, there should be a list of compatible models that work with the part you are checking.
What Is the Lifespan of a Ninja Blender?
Everyday use with high maintenance can end up with a 3-year shelf life. If you opt for a well-made, brand new Ninja blender, it can last as long as 5 years, especially if the container is made of high-quality glass and the motorbase used and washed with care.
Looking for the best household items to improve your standard of living? Before making a purchase, consult my comprehensive reviews of the best kitchen gadgets below so you don't pay extra for the wrong items: