Vancouver's North Shore is a location where you can expect to try foods from several regions around the world. From local seafood to bistros to award-winning restaurants, north Vancouver food is as diversified as your palate.
To know the best North Vancouver restaurants you can try, you don't have to search elsewhere; the following is a list put together specifically for all the food adventurers out there.
12. Raglan's Bistro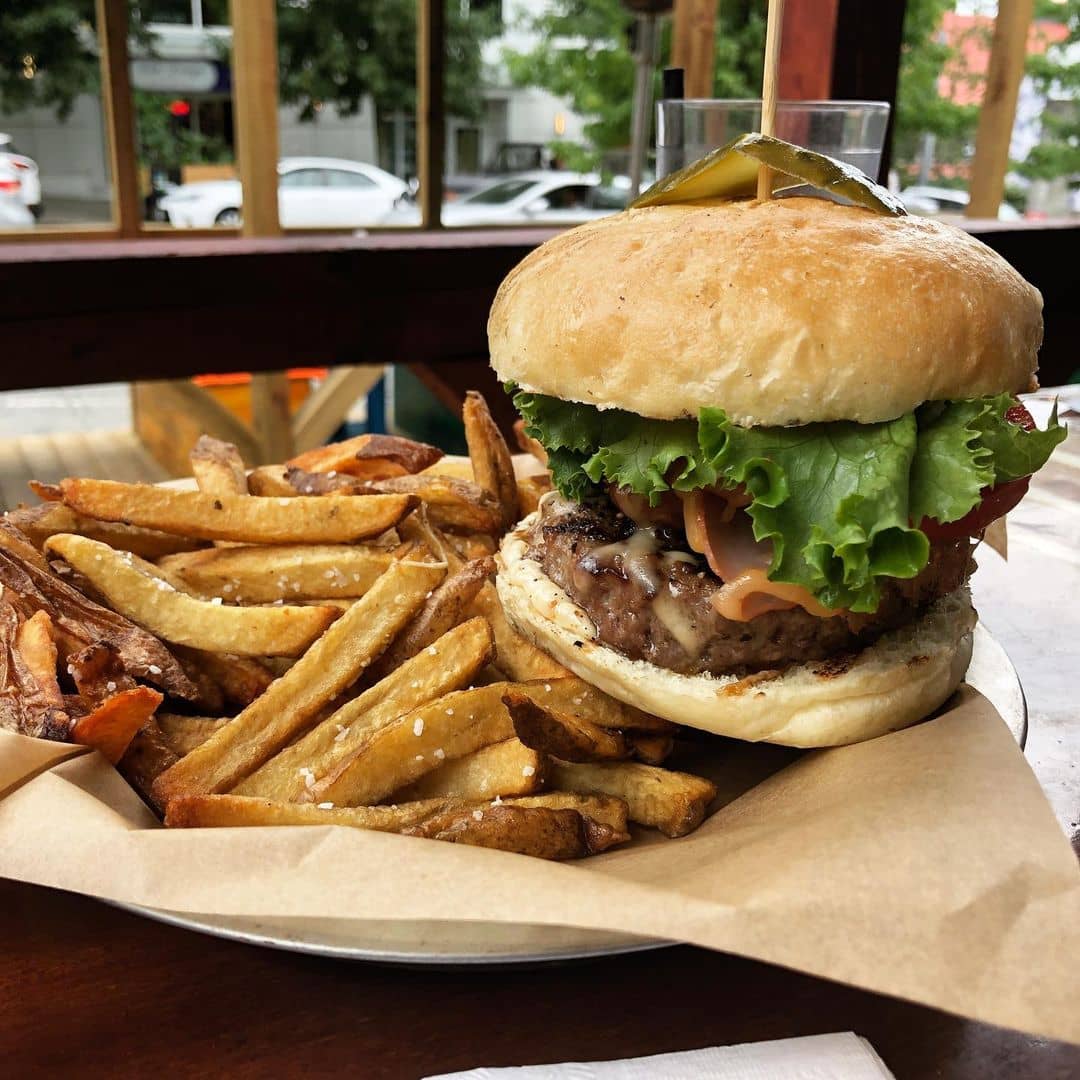 Raglan's Bistro is a quaint little informal hangout spot in North Vancouver, serving traditional American and Tex-Mex food, which includes comfort classics like burgers and nachos. The ambiance is friendly and welcoming, making it a great place to hang out with your friends or by yourself.
Burger fan or not, you will love the Republican Burger from this place. Praised by visitors as "one of the best burgers" they have ever had, what you get is actually a huge burger with a generous serving of fries on the side. The crispy onions inside the burger add a different texture and yummy crunch.
Since you have chosen a burger joint, why not try a deconstructed burger? The Cheeseburger Poutine from Raglan's Bistro is everything you expect from a traditional American cheeseburger, but in Canadian poutine form. Oh, it is made a lot more exquisite with the house-made gravy.
What to order: Republican Burger, Cheeseburger Poutine
Address: 15 Lonsdale Avenue, North Vancouver, BC V7M 2E4
Website | Instagram | Facebook
11. Sapporo Kitchen Deep Cove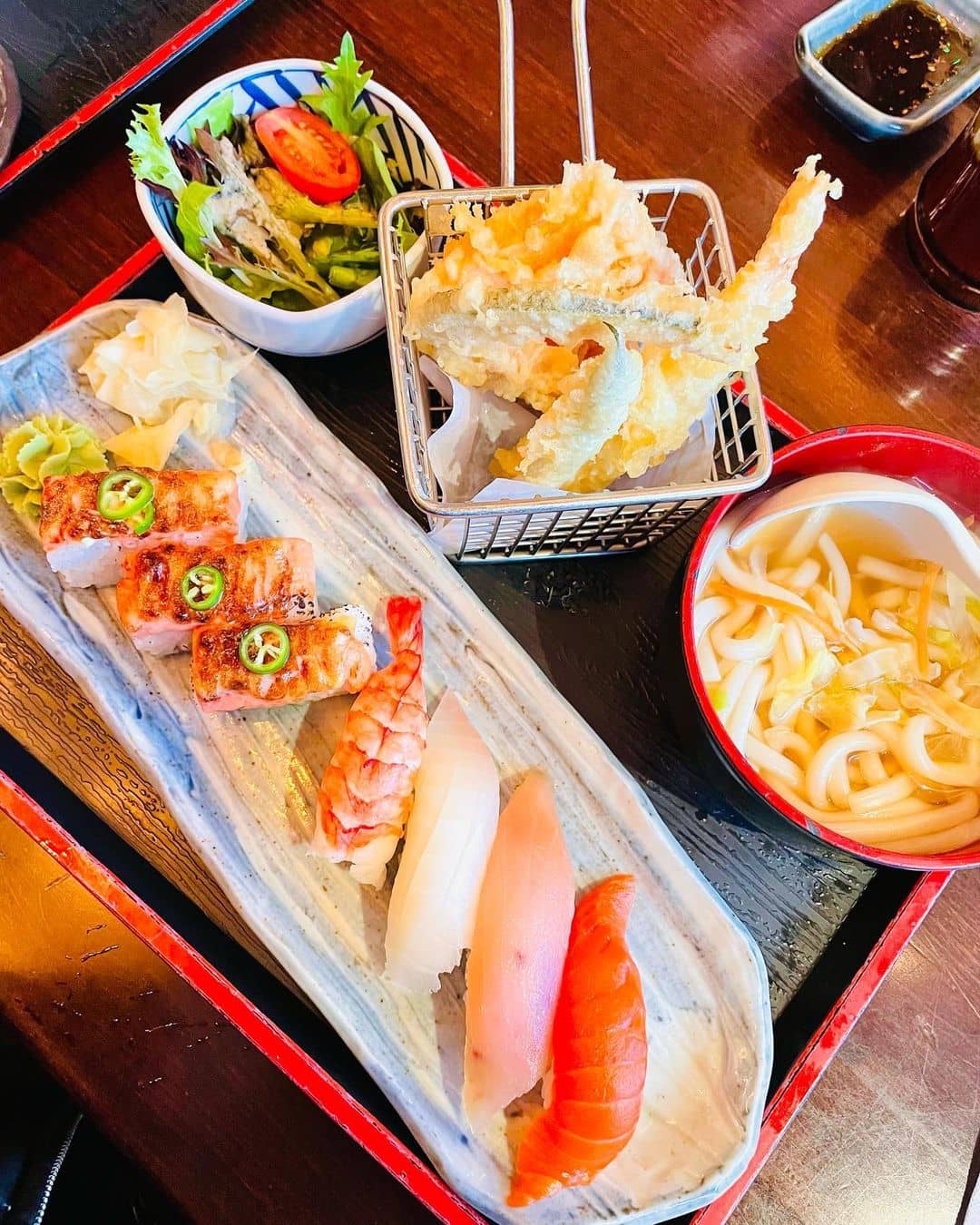 Sapporo Kitchen is a Japanese fusion bistro, relatively new to the North Vancouver food scene, but already has a huge fan following. Located in the Deep Cove area, the space is simple and classic, and will make a great sushi spot for lunch or dinner any day.
If you are not sure what to order when you visit Sapporo Kitchen, start with their Hamachi sashimi – thinly sliced fresh and raw hamachi fish, tastes best with soy sauce and wasabi, no more! A perfect Japanese delicacy!
Their Chicken Teriyaki would be ideal for those of you who are new to the sushi field and need some warm-up before hitting all the fresh and raw fish dishes. Juicy and tender chicken coated with a perfectly balanced teriyaki sauce – neither too sweet nor too sour. It is served with a bed of rice and miso soup.
What to order: Hamachi, Chicken Teriyaki
Address: 449 Dollarton Highway N, North Vancouver, BC V7G 1M9
Website | Instagram | Facebook
10. Fishworks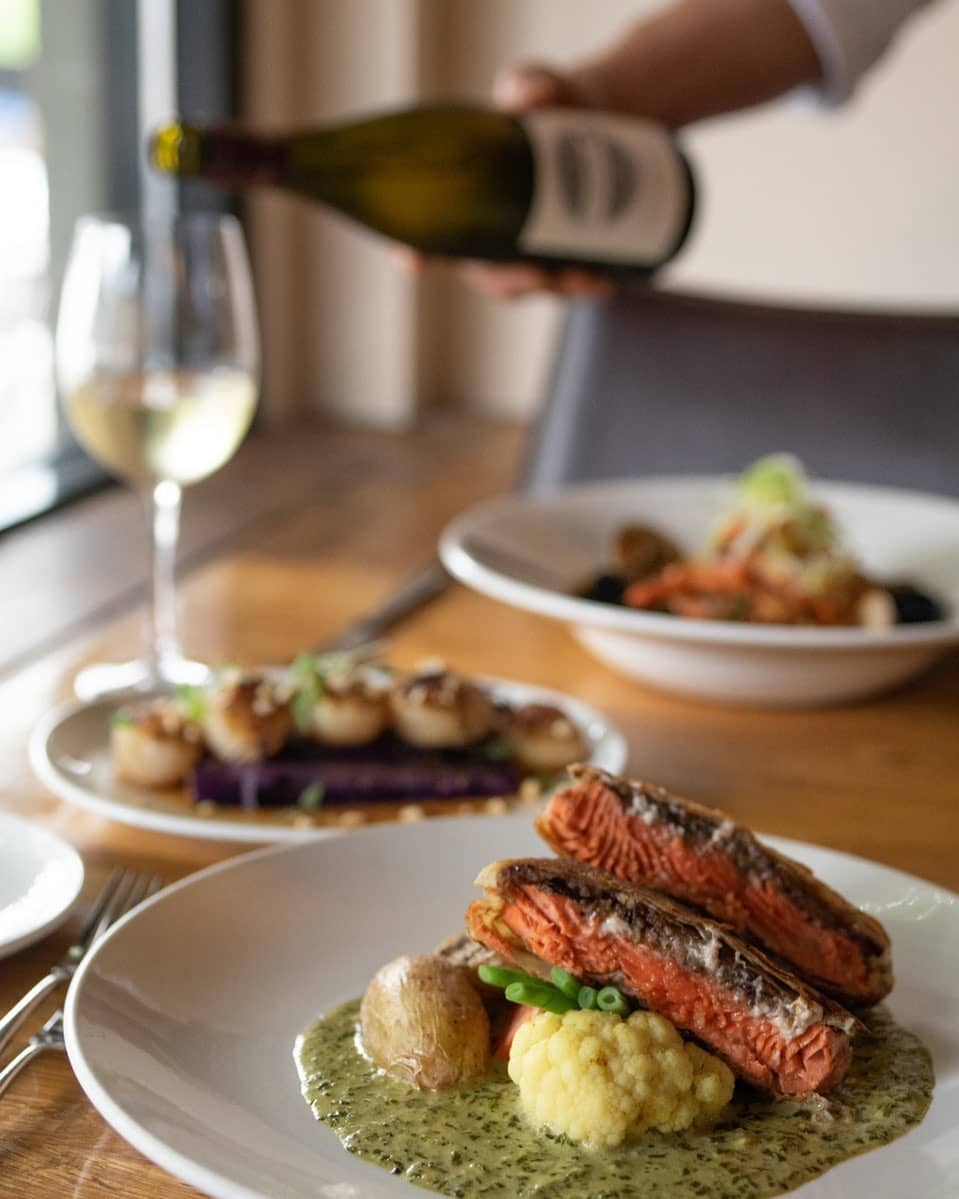 Using only environment-friendly and high-quality ingredients, the Fishworks restaurant in North Vancouver provides sustainable menus featuring "timeless classics as well as contemporary and modern cuisine".
The restaurant is designed with reclaimed wood and bricks, and it features various local landmarks, which together make the place look sleek and feel cozy and warm.
One of the most appealing aspects of this restaurant is perhaps their menu, which features dishes that you might not have seen in any other seafood restaurant.
One such unique dish is the Sockeye Salmon Wellington. Covered in crispy and flaky phyllo, the salmon has a cranberry-almond crust, is slightly charred, and comes with pistachio pesto, along with a side of locally sourced vegetables. As noted by guests, the flavors and textures here are perfectly balanced.
Their Crab Cakes, served with wasabi-lime and fresh cilantro mayonnaise are popular for being "super delicate and no filler". They promise crab cakes and they deliver crab cakes; no unnecessary addition to the delicate meat.
At Fishworks, you can have your food paired with some of BC's finest wine, so do not hesitate!
What to order: Sockeye Salmon Wellington, Crab Cakes
Address: 91 Lonsdale Avenue, North Vancouver, British Columbia, V7M 2E3
9. Chop & Chew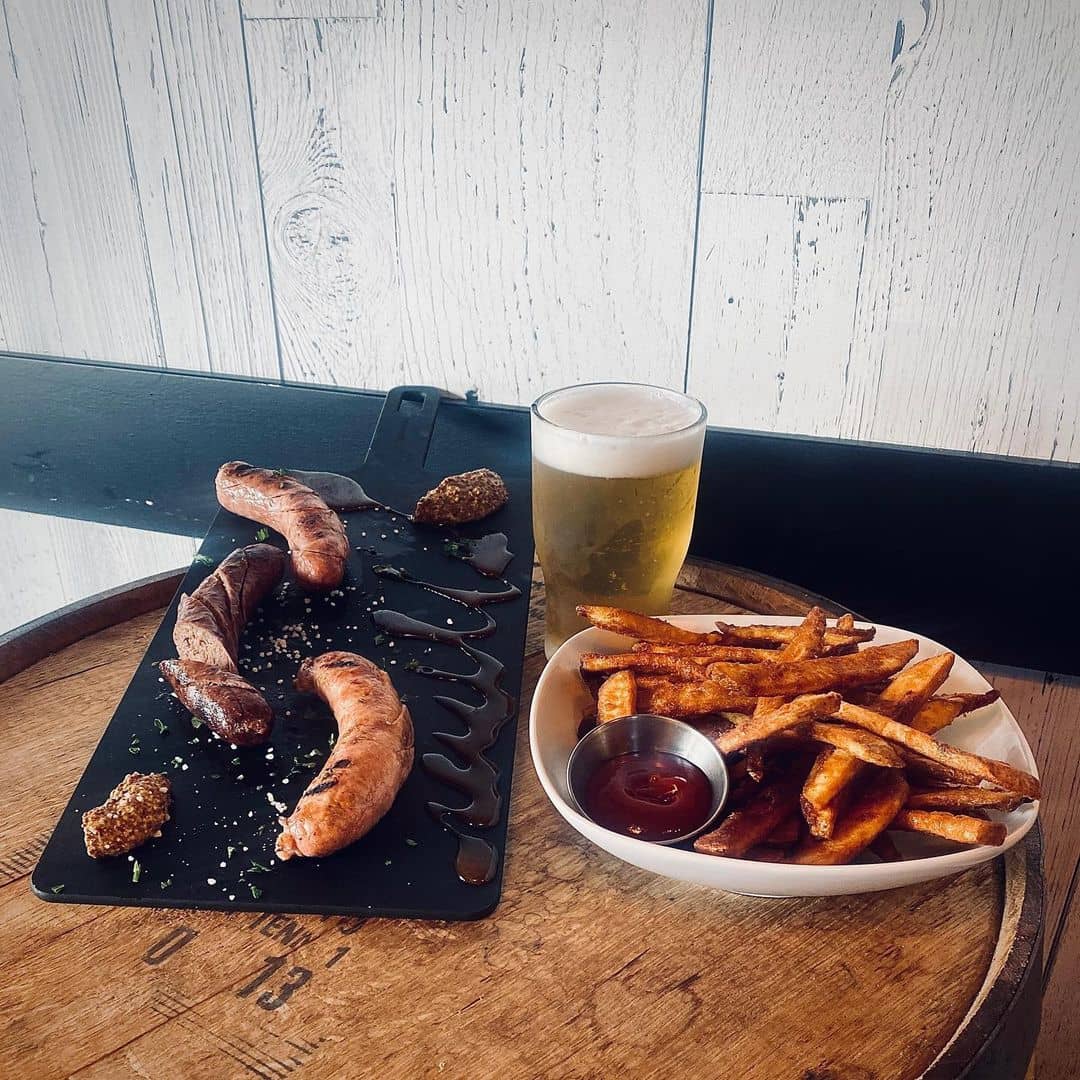 Do you love sausages, or any dish with sausage in it? Chop & Chew will have your love for sausages satisfied in every possible way. They create modern flavors combining locally sourced and fresh ingredients, with the centre point always being authentic sausages, both meat and vegan.
Undoubtedly, the main dish you should try here is their sausages, everything locally sourced, and you have different varieties to choose from, including a vegan option. If you are up for trying a new flavor in your sausage, go with their Japanese Inspired Chicken sausage.
To enjoy something crunchy with your beer, you can choose the Trash Can Nachos. Made from lemon pepper tortilla, the plate comes stacked with nacho cheese, sourcream, guacamole, olive pico di gallo, and more tasty condiments. You can also add a topping of your favorite sausage or pulled pork to the nachos.
What to order: Japanese Inspired Chicken sausage, Trash Can Nachos, Campfire Craving
Address: 1842 Lonsdale Ave, North Vancouver, BC, Canada V7M 2J9
Website | Instagram | Facebook
8. Jägerhof Restaurant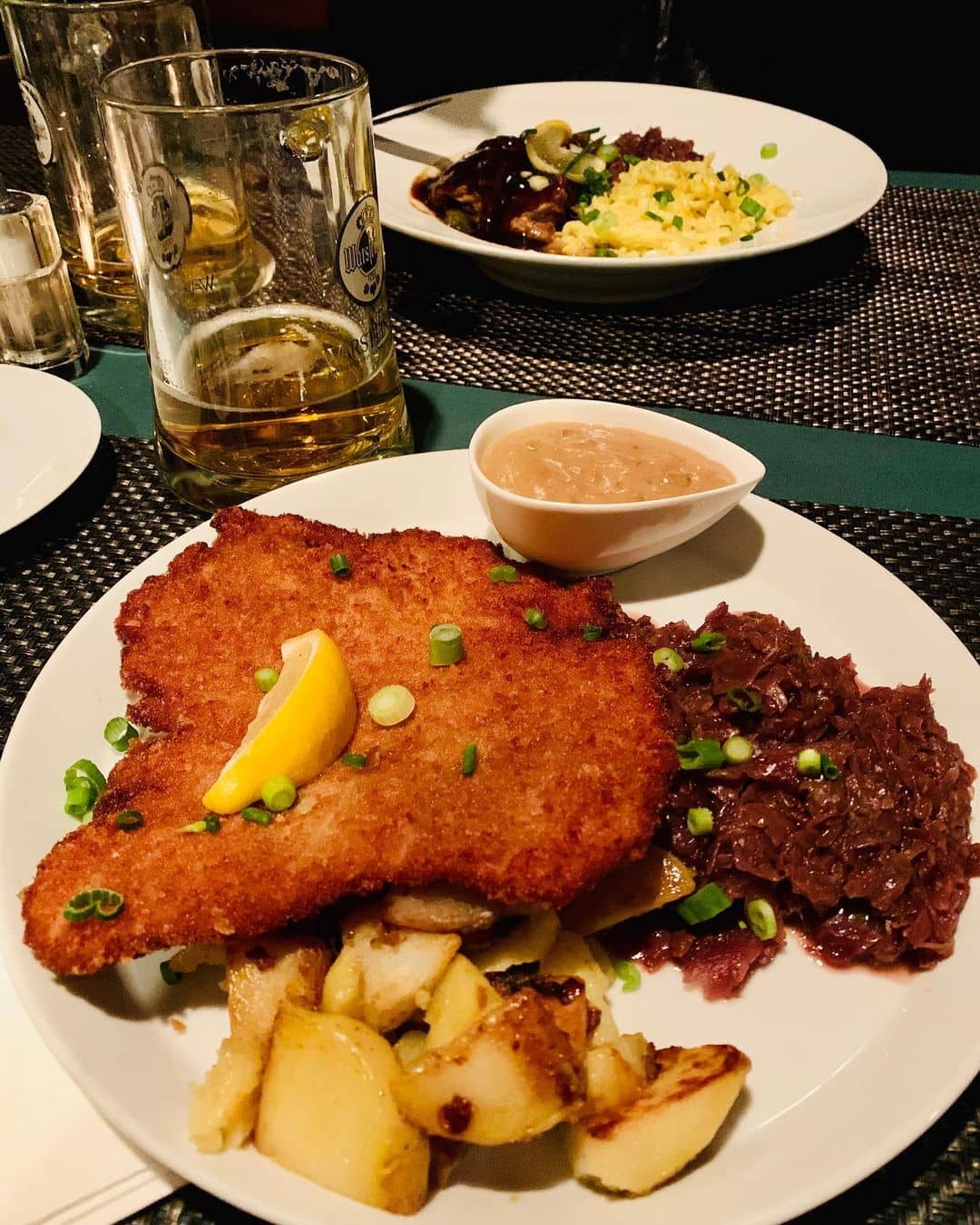 Reopened in 2014, Jägerhof is one of the most popular restaurants in North Shore, and the place serves regional specialties from Germany, Switzerland, Austria, and South Tyrol. The restaurant stays true to the original decor, boasting a 125-year old piano, and more such wonderfully vintage items, and gives you an Alpine Europe vibe while dining.
The Jäger Schnitzel is one of their signature items, and contains a perfectly cooked thin slice of pork served with pan fried potatoes, red cabbage, and triple mushroom sauce – a perfect creamy addition to the crispy schnitzel.
Your meal at this European culinary haven wouldn't mean anything if you don't end it with their Vienna Apple Strudel (Apfelstrudel). The flaky, buttery crust gives room to juicy and mildly spiced apple filling, just like how you would get in Austria.
What to order: Jäger Schnitzel, Vienna Apfelstrudel
Address: 71 Lonsdale Avenue, North Vancouver, BC V7M 2E5
Website | Instagram | Facebook
7. Seaside Provisions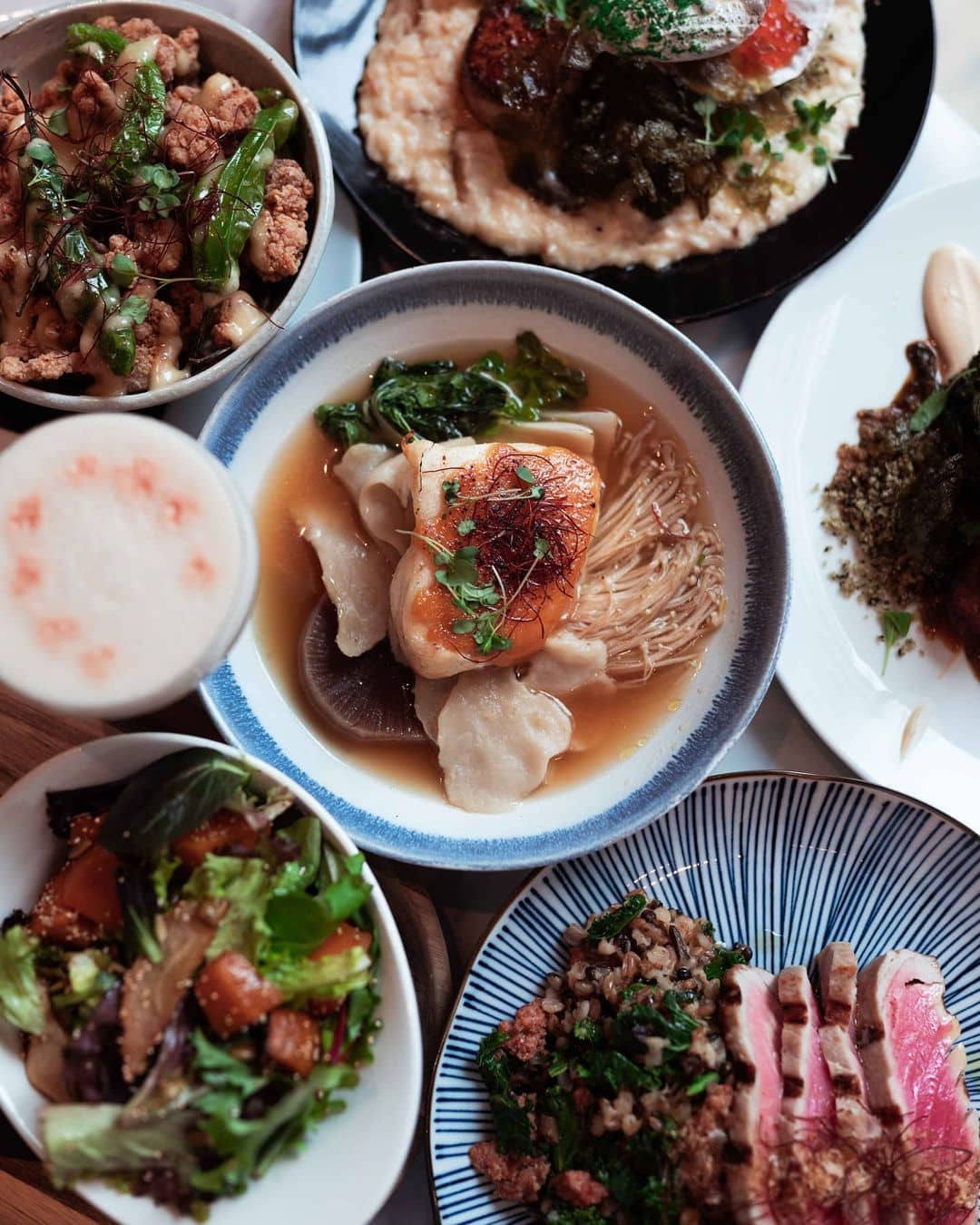 "A place for you to come and relax, unwind with friends, celebrate, and rejoice" – this is the description on Seaside Provisions' website, and the actual restaurant stays true to it!
Seaside Provisions is one place in North Vancouver where you can stop by any time of the day – early mornings to late evenings – and there will be something going on. A perfect place for both families and friends to spend time rejoicing, with amazing food.
Visit the restaurant during Happy Hour (3 to 6 PM wednesday – sunday) and enjoy their Premium Oyster at an amazing price. Served with a variety of condiments, including lemon and cocktail sauce, you cannot get anything fresher and richer than this.
Seasoned to perfection and cooked to your preference, their Wagyu Flank Steak will melt in your mouth and taste absolutely sumptuous with creamy motoyaki sauce and a side of shoestring fries.
What to order: Premium Oyster, Wagyu Flank Steak, Seafood Chowder
Address: 125 Victory Ship Way, North Vancouver, BC, V7L 0B2
Website | Instagram | Facebook
6. Maru Korean Bistro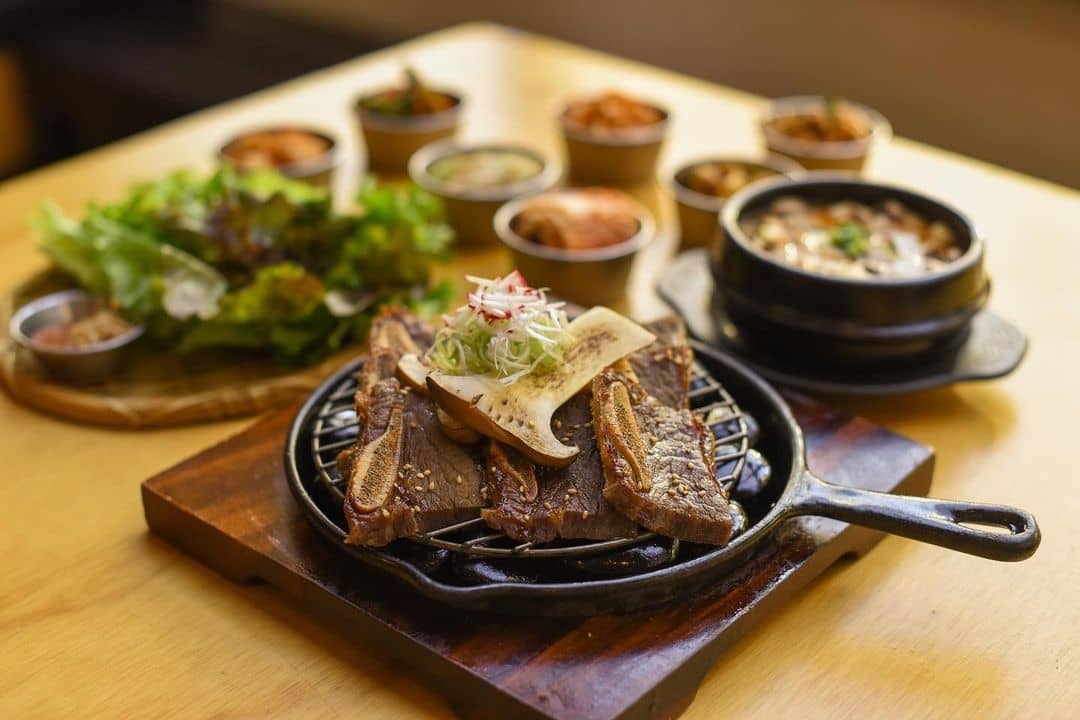 Modeled by the Korean concept of Baek Ban Jip, meaning "a folksy dining restaurant that offers home-style and casual food", Maru Korean Bistro has a certain charm to its dining space, with minimalist interior design, and giving diners a homely feel.
While the dishes they serve here are not uncommon in any other Korean restaurant that you know, the chef's culinary prowess does make guests want more.
Their Korean Fried Chicken, or K.F.C., will be a tantalizing start to your meal at Maru. The crispy and succulent chicken, covered with a generous (not overpowering) amount of sauce of your choice, and topped with sunflower and pumpkin seeds, will fill your mouth with different textures and flavors at the same time. The crispy fried rice cakes that come as a side are a delightful addition.
Korean Lettuce Wrap with Grilled Pork Side Ribs and Shoulders takes the lettuce wrap to a whole another level of deliciousness. This dish comes with rice, miso soup, and other Korean side dishes to make your stomach full.
Note: Many of their dishes come with Gluten-Free and Vegan options.
What to order: Korean Fried Chicken, Grilled Pork Side Ribs and Shoulders Lettuce Wrap
Address: 125 East 2nd Street, North Vancouver, BC, Canada V7L 1C2
Website | Instagram | Facebook
5. Barcelos Flame Grilled Chicken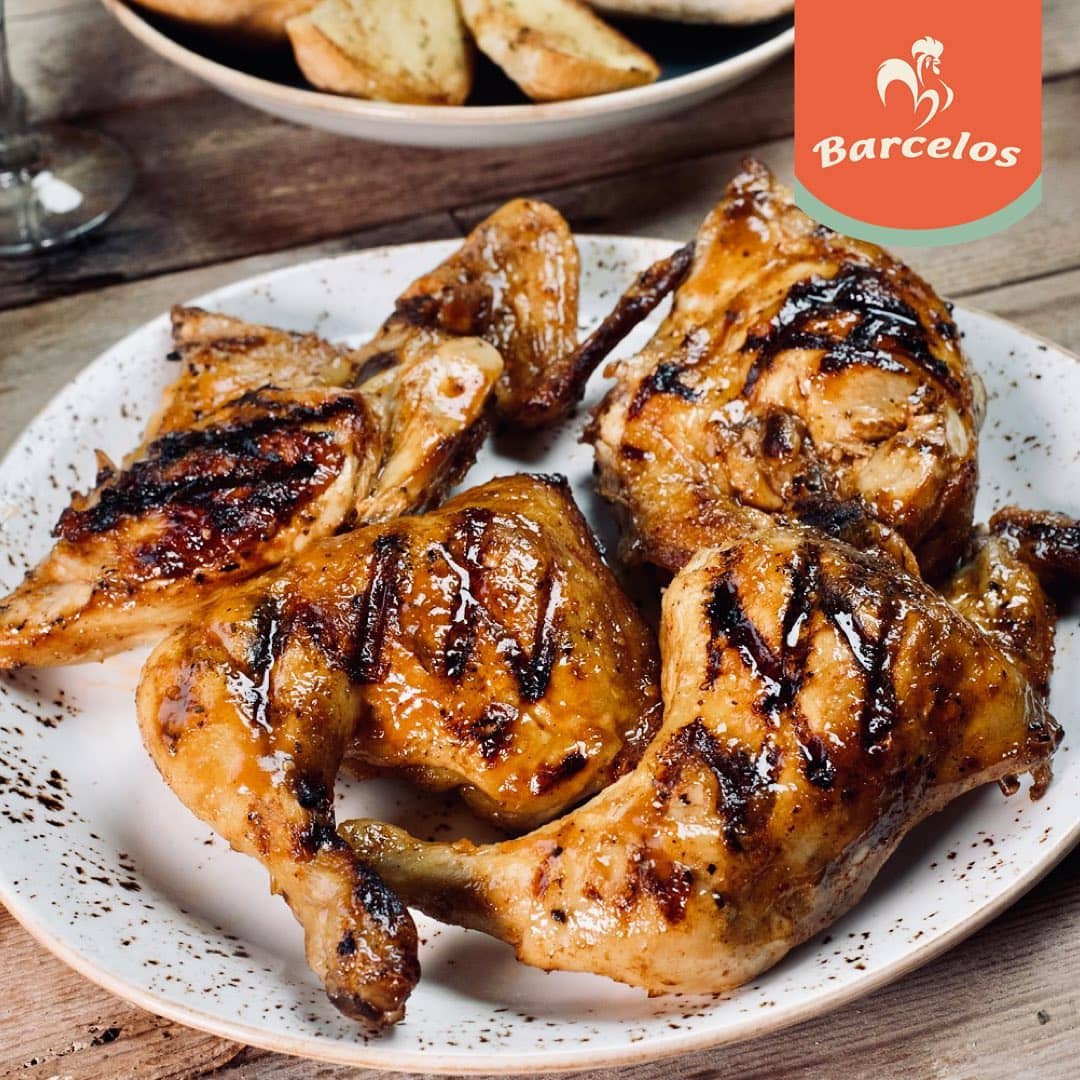 With more than 160 outlets in 17 countries around the world, Barcelos chicken is known for its high quality and generous portions, the two reasons why people head back to their outlets again and again. Their Portuguese style cuisine is served in a warm and relaxing African ambiance, which makes your dining here an experience by itself.
When you are at Barcelos, not trying their fast hot grilled chicken would be a crime! Barcelos grilled chicken is available in different kinds – ½ chicken, double kebab, wings, breast, and more, giving you ample options to choose from based on your taste and appetite.
The best part is that you can have the chicken in your preferred spice level by choosing from their different flavor options. The Veri Peri flavor happens to be the crowd favorite, carrying a slightly high spiciness level.
They also offer a variety of delicious sides; the Peri Fries, particularly, are known to be "addictive", and for a tasty and filling on-the-go meal, try their Peri Chicken Wrap in Tangy Lemon flavor.
What to order: Veri Peri Chicken, Peri Fries, Tangy Lemon Peri Chicken Wrap
Address: 119 – 2120 Dollarton Hwy, North Vancouver, BC V7H 0B5
Website | Instagram | Facebook
4. BLVD Bistro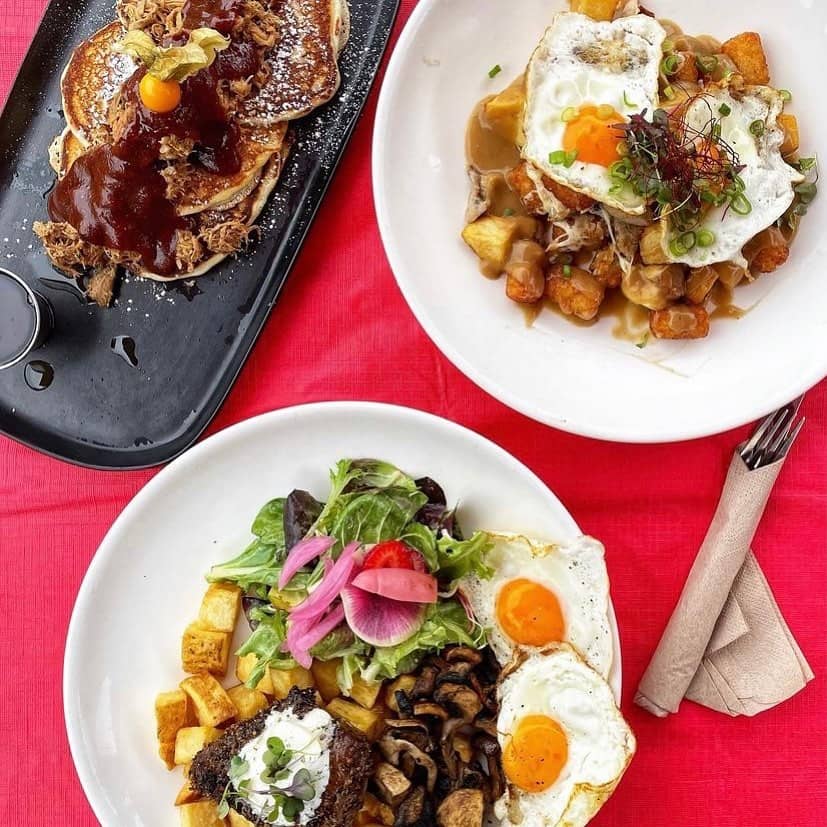 Operating since 2015, BLVD Bistro is one of the most recommended breakfast/brunch places in North Vancouver. Using locally sourced and top-quality products for their ingredients, this north Van restaurant will make you want to go on a hike or simply visit the neighborhood just to eat here.
You will be dining in a unique and funky industrial setting with a friendly atmosphere, and expect a flawless service any time you dine here.
You are likely to have had waffles and chicken for breakfast or brunch; how about Pulled Pork Pancakes? Try this popular dish at BLVD Bistro and it will become your staple brunch in an instant.
Three stacks of fluffy buttermilk pancakes come covered with a generous amount of hickory-smoked pulled pork with BBQ sauce, made in-house. Drizzle some maple bourbon syrup that comes with the plate and enjoy the out-of-the-world experience!
BLVD Bistro has earned quite a reputation for their Benedicts. Served on their signature bread pudding – savory and crispy, instead of traditional muffins, covered with house-made hollandaise sauce, you can get their Benedict in three different versions, all delectable.
What to order: Pulled Pork Pancakes, Benedicts, Huevos Rancheros
Address: 636 Queensbury Avenue, North Vancouver, BC V7L 3V6
Website | Instagram | Facebook
3. Orto Artisan Pasta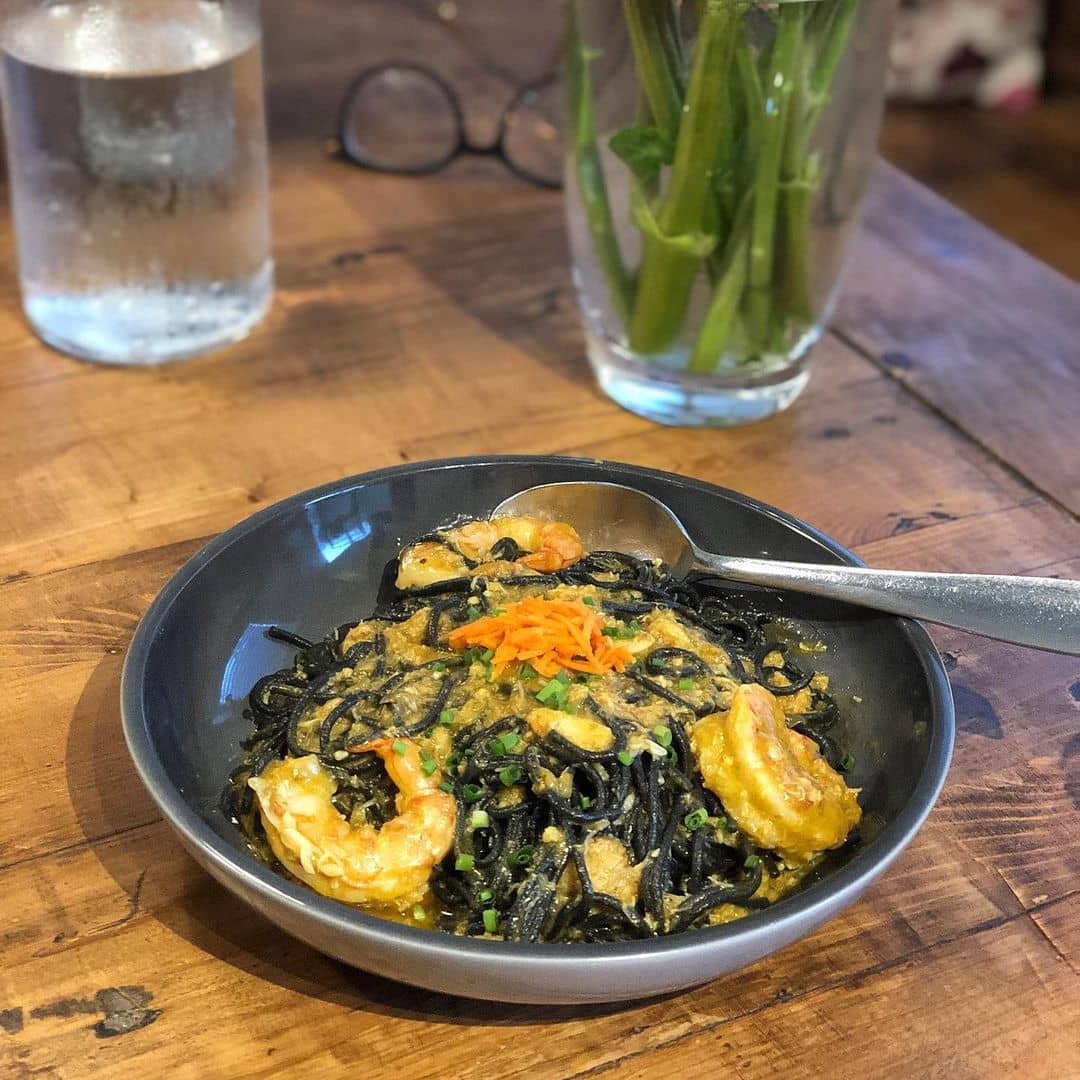 Brigitte Raye has been a part of the Lower Mainland's culinary scene for several decades and is known as a master restaurateur and service industry veteran. Orto Artisan Pasta is the latest feather in her cap, which serves fresh pasta made with only local and organic ingredients.
Orto actually meaning "garden" in Italian, the restaurant boasts a beautiful garden and patio, growing fragrant herbs, tomatoes, grapevine, and more, giving you an authentic "dining in Italy" experience.
The Squid Ink Spaghetti from Orto is a must-try; served with prawns, scallop, garlic, and parsley, the pasta is made fresh and cooked to perfection, the portion size is generous enough to make you feel full.
Oh, the Mad Dog Bread you get here is "to die for", according to the people who dined here. Served with caramelized onion butter and tapenade, you might want to come back here just for the bread.
Their Ricotta Gnocchi also comes highly recommended; made with fresh pasta, fresh herbs, and fresh produce, the dish tastes divine, and once again, the portion will be so big that you are likely to need a takeaway box.
What to order: Squid Ink Spaghetti, Mad Dog Bread, Ricotta Gnocchi, Tiramisu
Address: 1600 Mackay Road, North Vancouver, British Columbia V7P 2M4, Canada
Website | Instagram | Facebook
2. Scratch Kitchen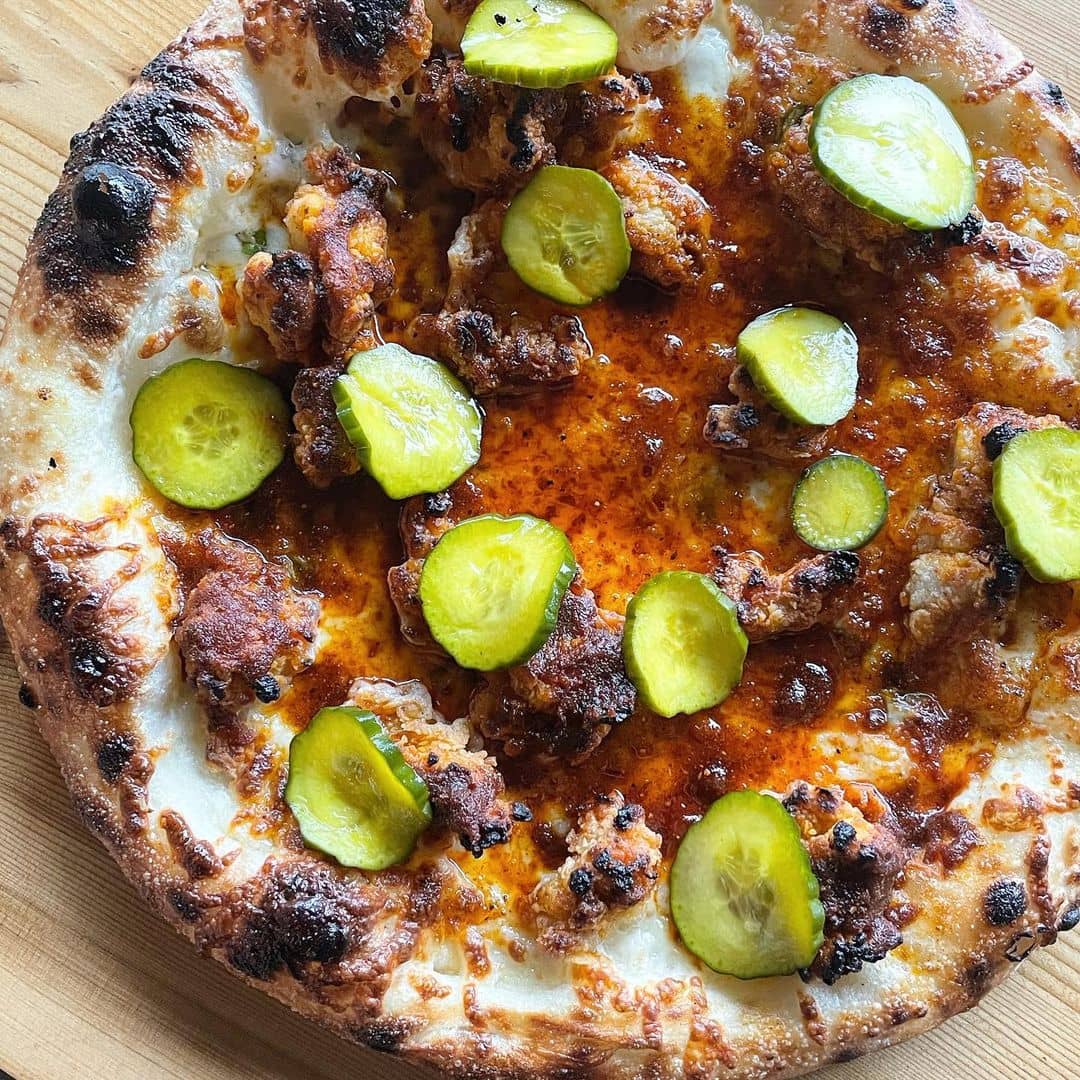 When you plan for a weekend full of fun, walking, hiking, and paddle boarding at Deep Cove, you should plan for your lunch at the Scratch Kitchen. Revolving around the concept of giving guests a "made from scratch" dining experience, this quaint little pizza joint not only serves good food and drinks, but also offers a picturesque view to enjoy it in peace.
The Buttermilk Fried Chicken from Scratch Kitchen already has people saying that they would come back to order just that.
Their Brussel Sprout Pizza, with caramelized sprouts, onion jam, and toasted walnuts will be loved even by the pickiest eater in your family. Another perfectly thin crusted pizza that people love from the Scratch Kitchen is their Mushroom Pizza; the use of white sauce on this pizza makes all the difference.
What to order: Buttermilk Fried Chicken, Brussel Sprout Pizza, Mushroom Pizza
Address: 437 North Dollarton Highway, North Vancouver, BC
Website | Instagram | Facebook
1. Casa Corsi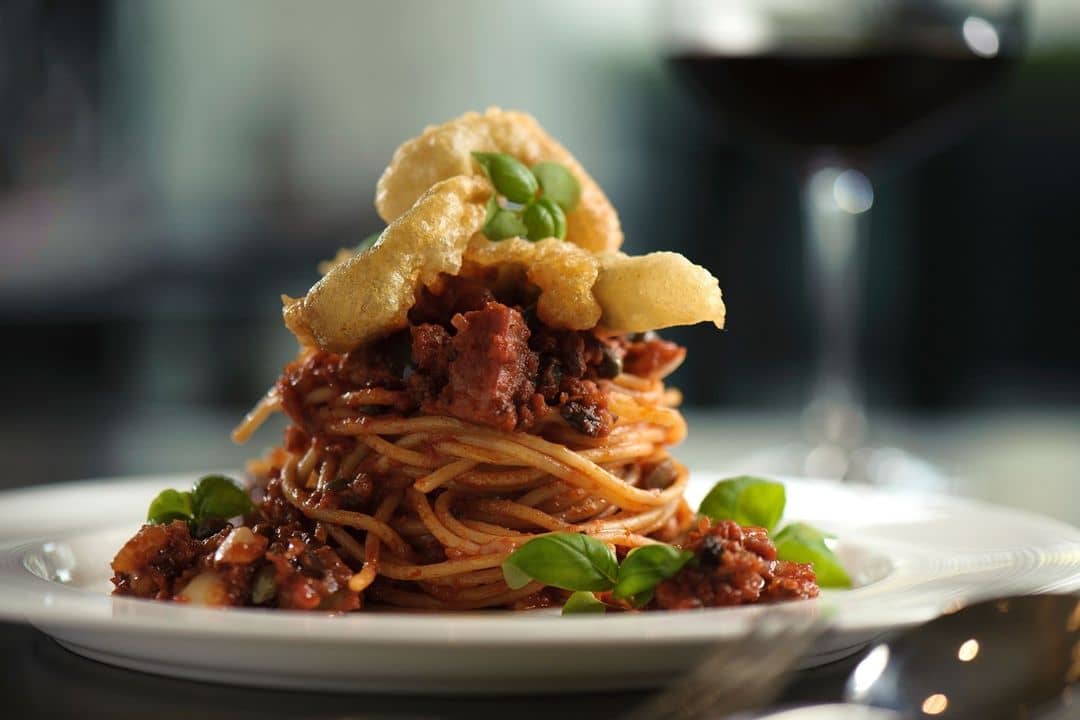 When you learn that a restaurant has a background of 4 decades, winning awards and accolades over the years, and earning a splendid reputation for itself, you know that you have chosen the right place. Casa Corsi in North Vancouver is exactly what we are bragging about!
Serving authentic Italian cuisine, this restaurant offers two different dining spaces – the cozy and quaint interior, and a beautiful vine-covered outdoor patio. No matter where you choose to dine, you are guaranteed a delicious meal and unparalleled service.
Start your meal with the classic Caprese salad; fresh buffalo mozzarella, tomato, and basil, seasoned perfectly and drizzled with extra virgin olive oil – simple and refreshing.
Their Galleto Al Mattone, which contains cornish game hen flattened and cooked with riviera herb mix, is mentioned to be "the best" by several guests.
If you wish to taste something originally Italian, Casa Corsi has its very own Spaghetti Corsi – the absolute original from an authentic Italian family.
What to order: Caprese salad, Galleto Al Mattone, Casa Corsi
Address: 1509 Marine Drive, North Vancouver, BC V7P 1T7
Website | Instagram | Facebook
If you are looking to escape the busy city life for a couple of hours and enjoy great food in an up and coming dining destination, North Vancouver is the place to be. Whether you are on a casual day out with friends, a regular date night ritual with your loved one, or looking for a kid-friendly brunch spot in the area, our list above offers a good collection of the best dining spots in North Vancouver.
The following two tabs change content below.
Latest posts by Noms Magazine (see all)