North Vancouver is home to myriads of natural attractions, tourist spots, and all sorts of places perfect for your cameras.
More importantly, it has an abundance of hearty brunch spots for you to fill up for your adventures! From casual diners and aesthetic cafes to eccentric bistros and upscale restaurants — you have everything here and more!
Below we've compiled the 10 best brunch restaurants in North Vancouver for a hearty meal and what you should order at each!
Limited Time Offer
1. OEB Breakfast Co.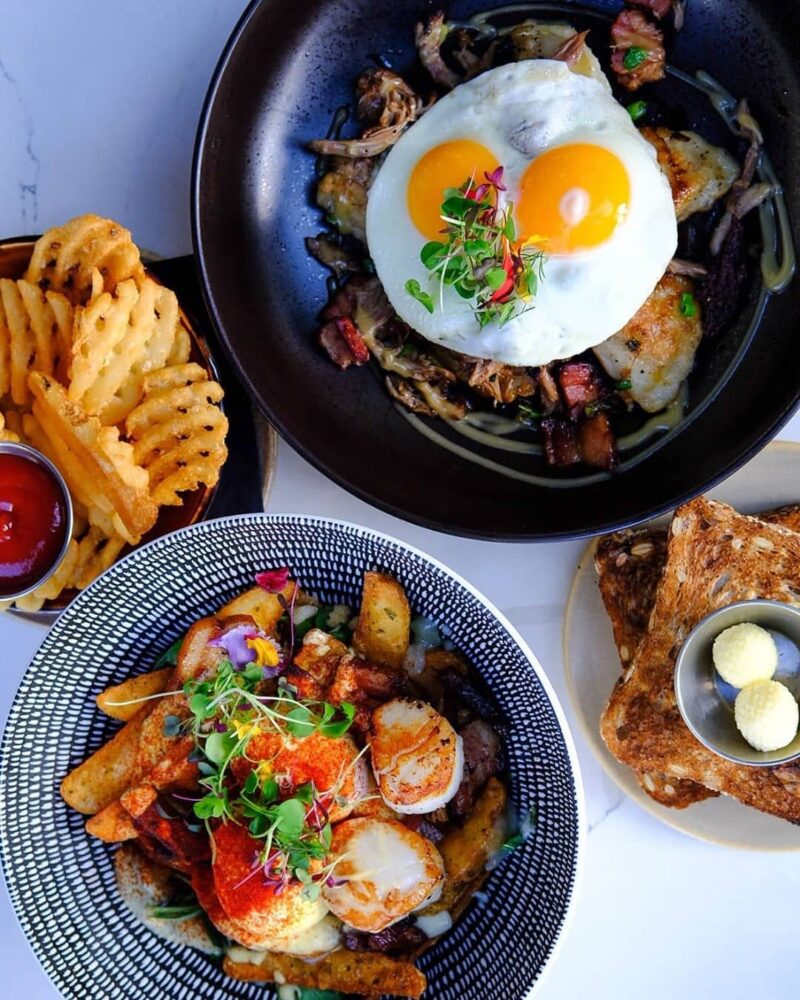 Locally known as the king among breakfast & brunch havens in Vancouver, OEB graces North Vancouver with their whimsically creative menu, exceptional service, and contemporary layout that makes every corner worthy of a spot on an Instagram feed!
OEB has proven time and time again that they have a solid local presence, and a perpetual waitlist is proof of this feat nonetheless! Don't be surprised to wait for minutes to an hour for a seat.
Their menu offers a variety of breakfast options from different cuisines, but nothing beats an amazing brunch with a divine lineup like this. The Soul in a Bowl breakfast poutine features the goodness of Saint Cyrille curds and herbed potatoes.
Best believe you'll have a blast with their out-of-this-world Canadian lobster & shrimp crepe (limited, so be sure to TRY!), and a French Toast with Sri Lankan cinnamon to dispel all the morning blues away.
Heavenly, we know! OEB even made it to our list of best Vancouver restaurants. Oh, and make sure to reserve in advance or join Yelp's waitlist!
What to order: The Soul In A Bowl Poutine, Canadian Lobster & Shrimp Crepe, Not So Boring Brioche French Toast
Address: 143 E 15th St. North Vancouver
Website | Instagram | Facebook
Bonus: Get 10% cashback (up to $12) from your first purchase at OEB Breakfast Co. with a Neo Cardᵀᴹ. Sign up now
2. BLVD Bistro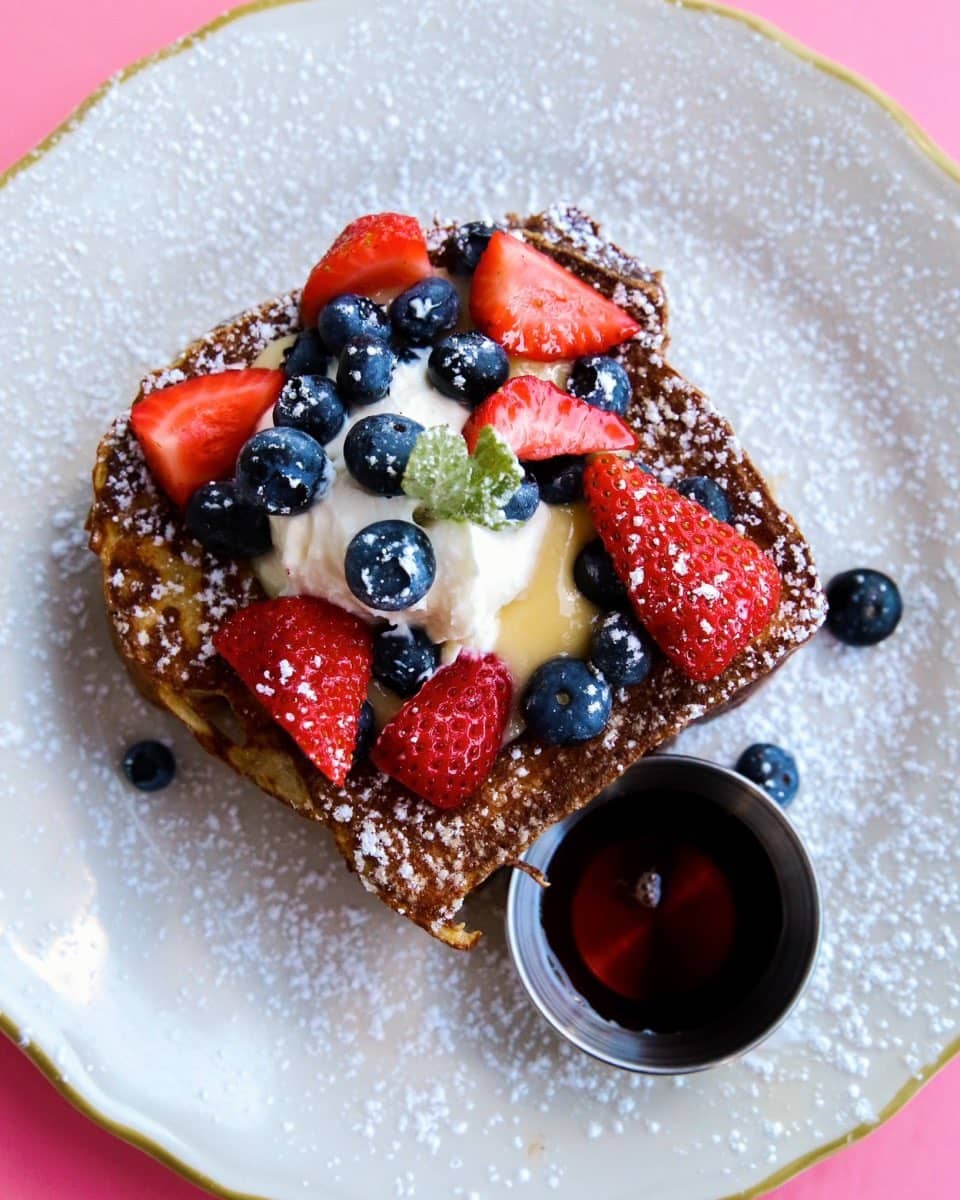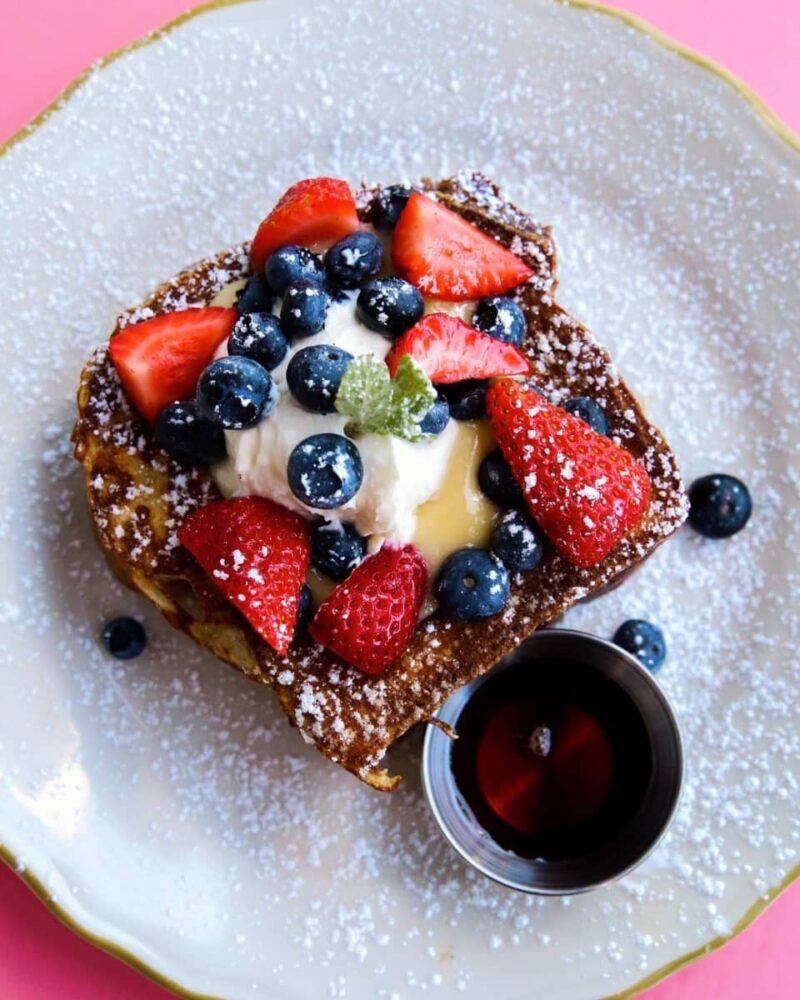 Local businesses have the potential to become praise-worthy hidden gems, and BLVD Bistro is a prime example of this. Born out of love and passion for food, the restaurant is owner Erik's answer to the demands asking for game-changing meals.
He amassed experience and knowledge from traveling and studying and applied it to S'wich Cafe in 2011. Four years later, the need to expand paved the way for BLVD Bistro to open their doors, along with an improved layout featuring a garden out back.
BLVD Bistro features a simple yet satisfying menu of hearty breakfast delights, where the emphasis is placed on quality, taste, and presentation. Their bennies are crowd favorites, including Standard Issue with thinly sliced honey cured ham and Upstream with cold smoked steelhead lox.
By all means, do order their bennies, but don't forget to say hi to their huevos rancheros, which has an equally tasty plant-based variant by the way; and their pulled pork pancakes which crown stacks of cakes with smoked pulled pork smothered in BBQ sauce!
What to order: Huevos Rancheros, Standard Issue Benedict, Upstream Benedict, Pulled Pork Pancakes
Address: 636 Queensbury Ave, North Vancouver, BC V7L 3V6, Canada
Website | Instagram | Facebook
3. Winston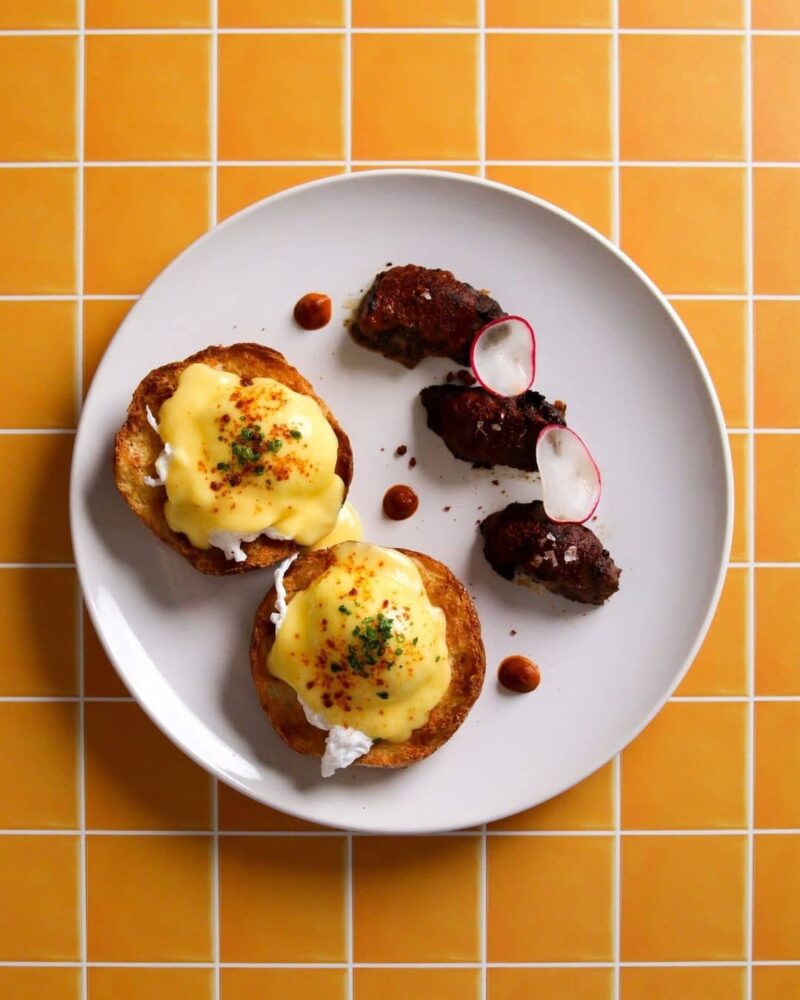 Winston welcomed their first customers in February 2020. Two years and a global pandemic that shut down most parts of the world, the restaurant has gained skyrocketing fame, thanks to a trifecta of fantastic food, impeccable service, and warm vibes.
With a farm-to-table sustainable approach, Winston uses freshly procured ingredients that enhance the food's deliciousness to the next level. They make sure to cater to all kinds of palates, and this is evident in their creative menu highlighting vegan and vegetarian options that appeal even to meat lovers.
With that said, don't miss the chance to order a Winston Benny, an upgraded version of the breakfast classic with pork cheeks al pastor and crispy chorizo crumb. You'll never look at eggs benedict the same!
Other items include their breakfast sandwich, spiced avocado, potatoes, Rocana bacon or BBQ seitan hugged by bad dog sourdough; and the avocado toast is made more delectable by a savory mushroom duxelle!
Flush it all down with coffee or tea for the best finish. Oh, and you may bring your fur babies along, too!
What to order: Eggs Benedict, Breakfast Sandwich, Avocado Toast
Address: 228 Lonsdale Ave, North Vancouver, BC V7M 2G1, Canada
Website | Instagram | Facebook
4. Douce Diner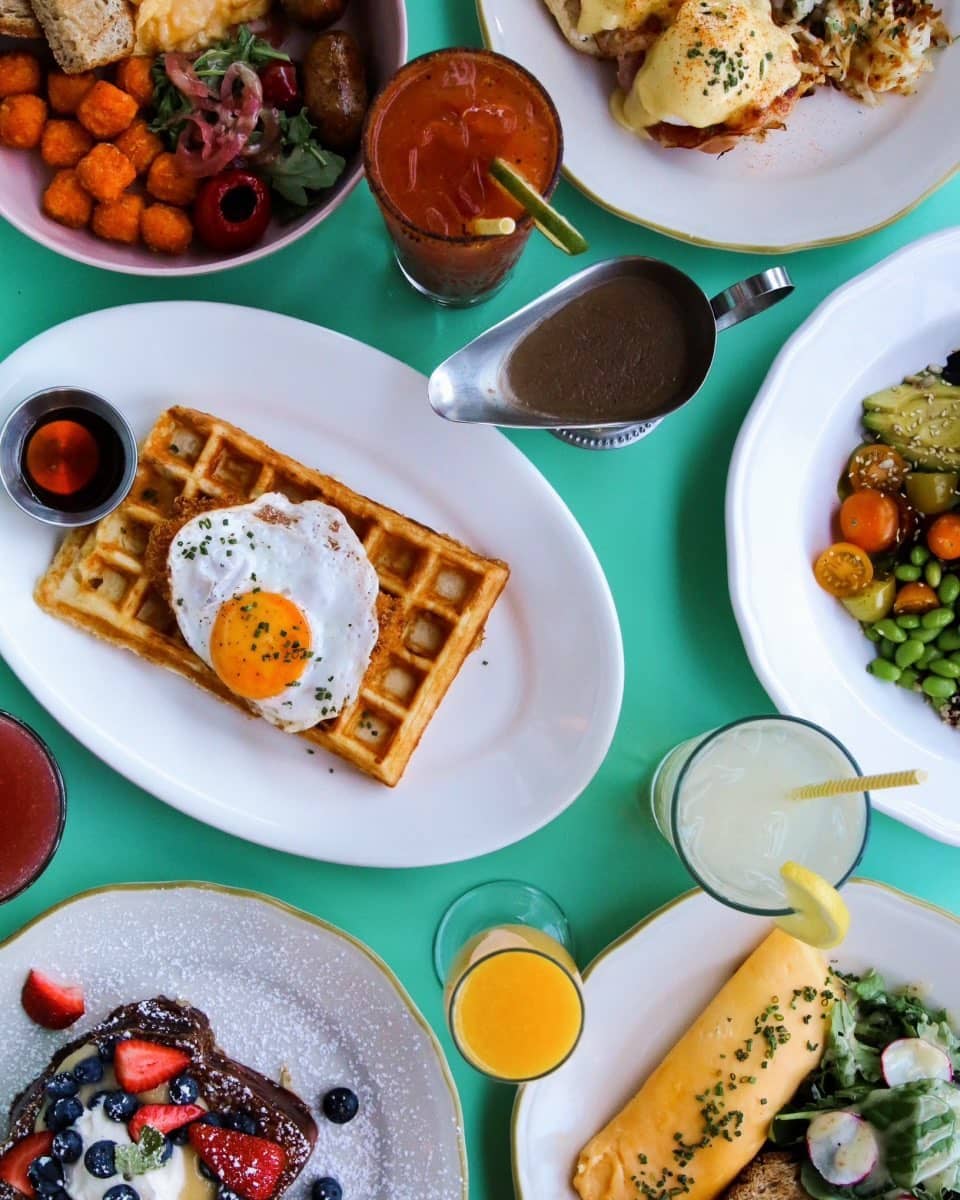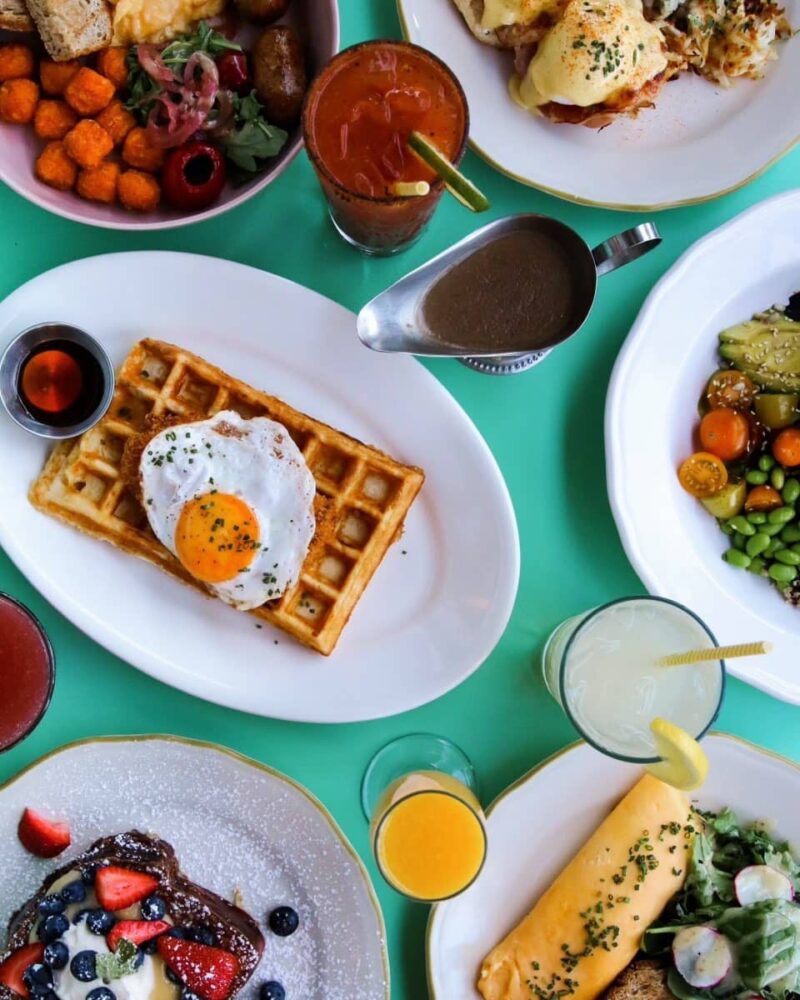 Established in 2018, Douce Diner is a little jewel in Pemberton Avenue that serves amazing brunch selections, including delectable toasts, bowls, waffles, and more. Not many know of their brunch prowess, but those who do are sure to boast about their experience at Douce's.
You'll find yourself feeling a little reminiscent of their retro funk vibes, but their wallpapers and decors—such as a mannequin leg for a vase, or a group of dolls atop the espresso machine—will surely pique your interests!
Everything from Douce's menu is worth mentioning, but we are extremely impressed with the deliciousness and flavor of their smoked salmon eggs benny, french onion grilled cheese, and a match-made-in-heaven chicken and waffles!
What to order: Smoked Salmon Eggs Benny, French Onion Grilled Cheese, Chicken & Waffles
Address: 1490 Pemberton Ave, North Vancouver, BC, Canada
Website | Instagram | Facebook
5. Harmony House Café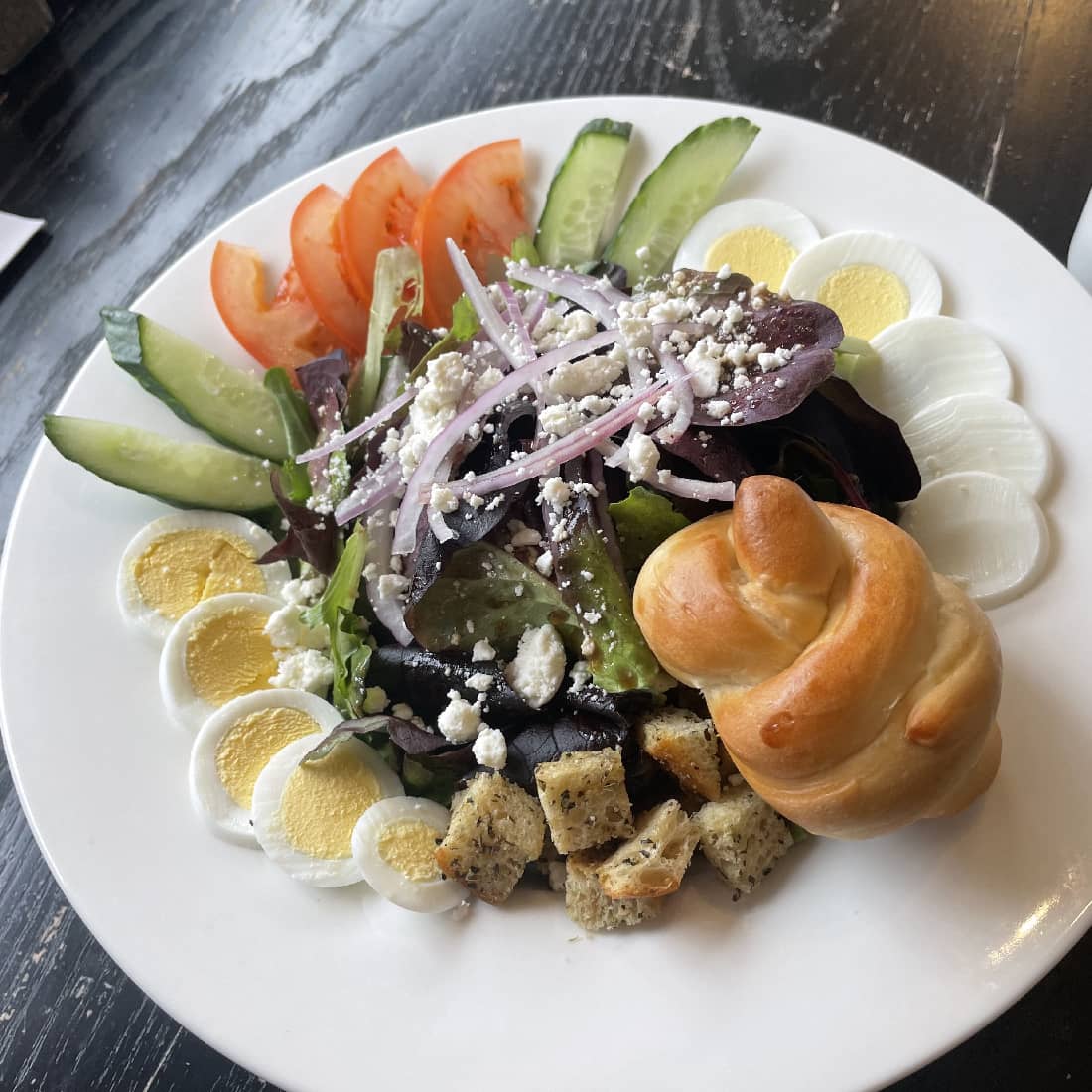 Harmony House is a little neighborhood cafe boasting delicious breakfast options and charming staff to make your day extra special. Many randomly find them while looking for a place to eat, but a whole lot were instantly converted into loyal patrons who would vouch for Harmony's undeniable appeal!
But perhaps Harmony's strength lies in a perfect combination of stellar dining experience and warm service despite the small space. All elements in this humble yet proud food haven work together to give you an experience truly befitting of their name.
What's more, Harmony isn't shy about entertainment! If you're in for some singing, you can channel your inner Beyonce and perform at their open mic.
We highly suggest you order their avocado toast and candied bacon panini, two of the highlights of their menu. Pair them up with a London fog latte and you're good to go!
What to order: Avocado Toast, Smoked Turkey & Sweet and Spicy Candied Bacon, London Fog Latte
Address: 1089 Roosevelt Crescent, North Vancouver, BC, Canada
Website | Instagram | Facebook
6. The Workshop Vegetarian Café
For an interesting take on ramen and noodles, The Workshop Vegetarian Cafe took the road not taken by most and started creating plant-based dishes made from scratch. With wellness and paying homage to the culture in mind, half-Japanese owner Mayumi found a way to bring out the best of both worlds.
Few would dare to remove the "meat" factor in ramen, but The Workshop Vegetarian Cafe not only found the method to achieve this without losing the essence of the Japanese classic but also made it their brand in 2016.
There may be few items on their menu, but the taste and quality are enough to compensate for the limited number. Besides, every dish is outrageously good, you'll end up wanting more!
Deep dive into their organic spicy tan ramen featuring signature creamy organic butternut squash broth hosting a savory lineup of ingredients. Other items not to miss are the rice noodles with organic cashew sauce and buddha bowl — a taste of paradise in every bite.
What to order: Organic Spicy Tan Tan Ramen, Rice Noodles With Organic Cashew Sauce, Organic Buddha Bowl
Address: 296 Pemberton Ave, North Vancouver, BC, Canada
Website | Instagram | Facebook
7. Kitchen Craft Eatery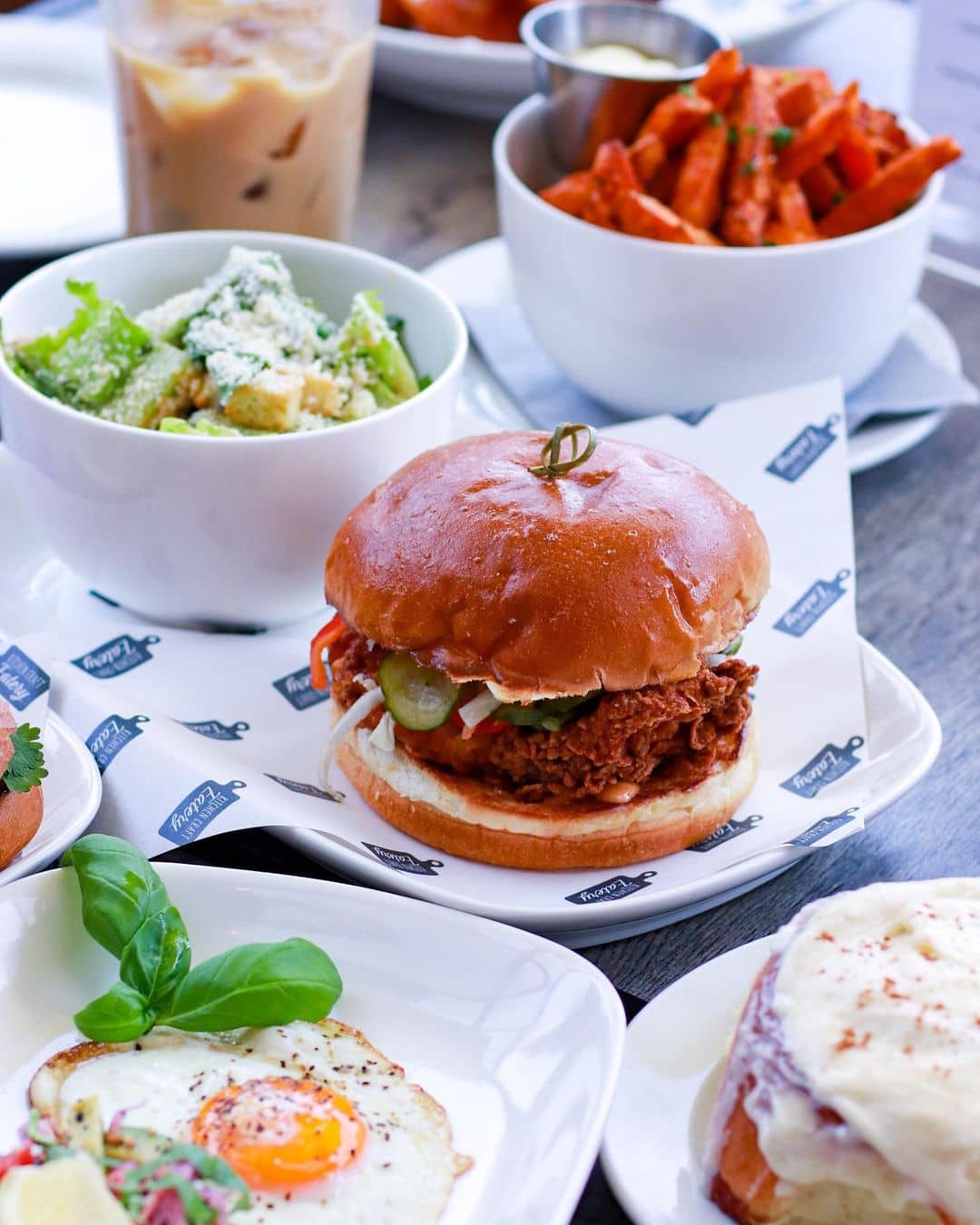 If you're looking for a brunch spot in lower Lonsdale featuring a beautiful outdoor patio that allows you to get a glimpse of magnificent city views, Kitchen Craft Eatery should be your next destination.
They may be a relatively new restaurant, but the team behind Kitchen Craft knows how to make a lasting impression very well. For instance, the staff is not overwhelmingly attentive but ensures you are very well seated and comfortable.
The beautiful presentation showcases the passion and care put into every little detail from homestyle cooking and perfectly cooked dishes! Despite its small size, Kitchen Craft's extensive menu includes a vast array of choices, from the typical breakfast delights to specialty options and around-the-world delicacies!
There are so many fantastic items, but among the can't-miss are their savory breakfast sandwiches, crusly seasoned fries, and the key lime pie from their rotating desserts menu. They also have a kids' menu for your little ones!
Pro-tip: Opt for a house-made Angel biscuit instead of the typical English muffin for your sandwich; thank us later!
What to order: Egg & Cheese Breakfast Sandwich, Seasoned Fries, Key Lime Pie
Address: 150 Esplanade W Suite 210, North Vancouver, BC, Canada
Website | Instagram | Facebook
8. Tour De Feast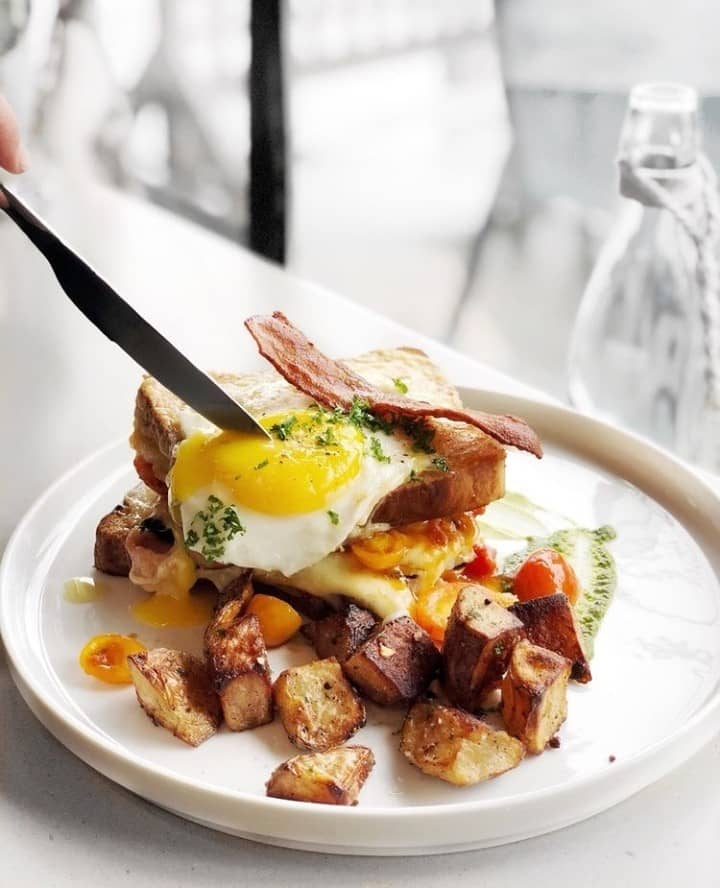 Tour De Feast is a family-run restaurant serving authentic French cuisine. They enjoy a reputation for being consistent on all fronts, from providing an unforgettable dining experience and offering delicious contemporary classics made with extra care.
Considered among the best-hidden gems on the North Shore, the place has achieved the nods of locals and tourists alike.
Bring your brunch experience up several notches with Tour De Feast's drool-worthy cassoulet, 2 poached eggs, weisswurst sausage, lardon bacon, pork rillette, and cheese; wild mushroom fricasse featuring tomatoes, avocado, and more; and the much-coveted duck confit leg.
Address: 319 Mountain Hwy, North Vancouver, BC V7J 2K7, Canada
Website | Instagram | Facebook
9. Nemesis Coffee Polygon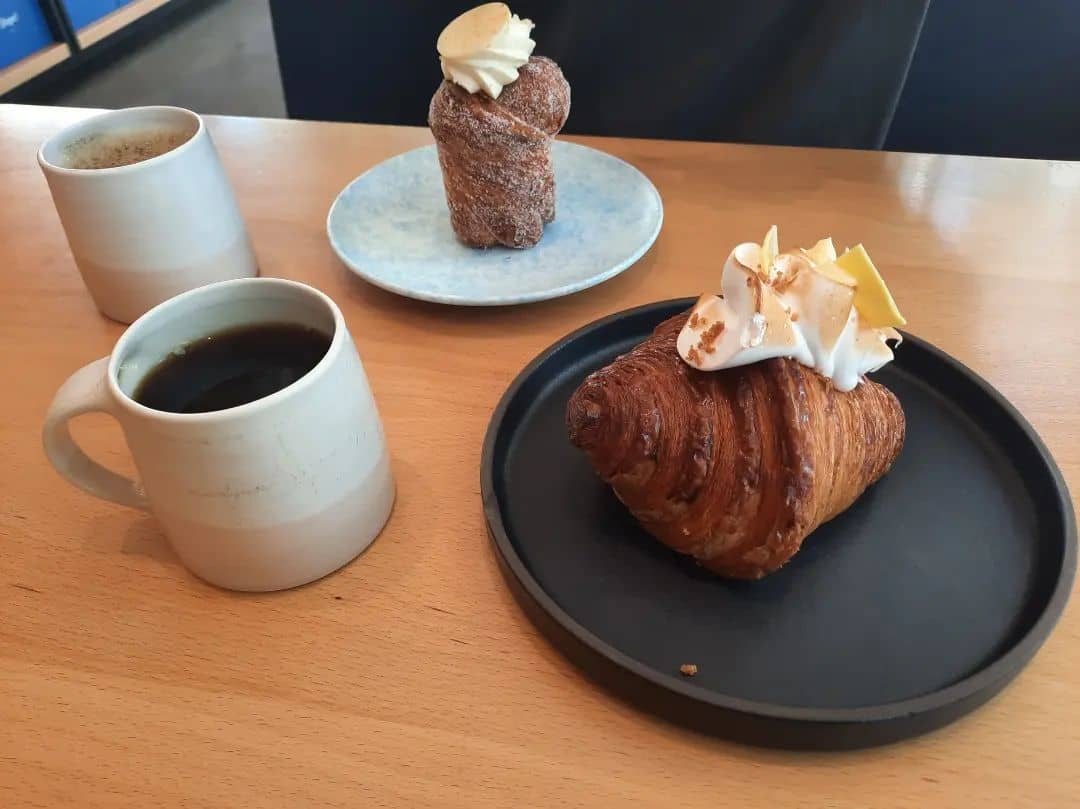 Not many are fans of open kitchens, but when done right, it never goes out of style! Nemesis Coffee embodies this concept perfectly and based on how popular they are, it's safe to say they succeeded in the endeavor.
Nemesis is serious about their pastries, to the point of establishing four commandments while eating. "Do not leave a single crumb. Do not use utensils. Never eat alone. Share always."
Nemesis prides themselves on their great coffee, but in all honesty, the croissants and other baked goods are just as incredible! You know what we're talking about once you taste their lemon meringue croissant, chamomile orange honey cruffin (croissant + muffin), and chocolate cashew cookie.
The texture, taste, and feel are more than enough to make these treats stay in your mind for quite some time. They capture the hearts of even those who vowed against sweets, and soon, yours, too!
What to order: Lemon Meringue Croissant, Cruffin, Chocolate Cashew Cookie
Address: 101 Carrie Cates Ct #110, North Vancouver, BC, Canada
Website | Instagram | Facebook
10. The Gull Bar and Kitchen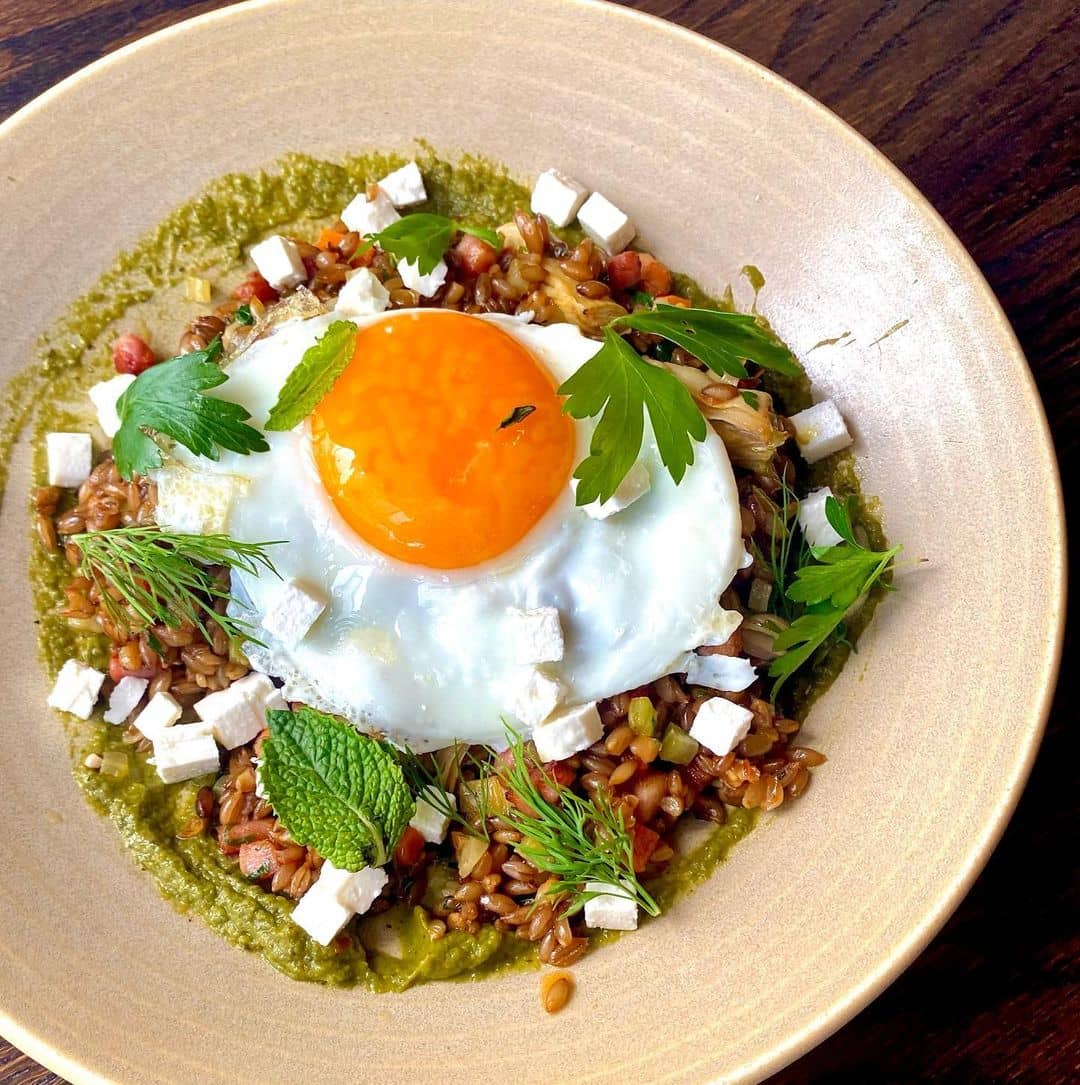 A cross between a diner and a gastropub, The Gull Bar and Kitchen serves a seasonal menu that infuses classic fare with local flair. A satisfying brunch with a cocktail in hand? Quite dreamy, but that's what this restaurant is all about: comfortable, cozy, and extremely good!
If you're a fan of made-to-orders, then The Gull Bar is your best bet for modern food and drinks created from scratch. The food menu may not be as extensive as others on the list, but such a sense of limited choices gives more prestige and uniqueness to what The Gull offers.
You shouldn't miss the opportunity to try the crowd favorites organic animal style and gull style burgers. The goodness of meat, condiments, and ingredients is tucked in a warm embrace by a special bun.
If you're a pasta lover, then their fresh pasta is waving! However, it changes from time to time, depending on ingredients' availability and season. Small surprises, we guess!
The drinks menu features various beverages and cocktails, ranging from beer and cocktails to white and red wines. But a glass of Bartier Bros Ros goes a long way!
What to order: Animal Style Burger, Gull Style Burger, Fresh Pasta, Gull Cocktails
Address: 175 1st St E, North Vancouver, BC, Canada
Website | Instagram | Facebook
There you have it! That ends our list of best brunch in North Vancouver. We hope to bump into you and the squad soon. But that's just the tip of the iceberg North Vancouver's culinary scene offers!
Head on to our list of the best North Vancouver restaurants to know what we're talking about.
The following two tabs change content below.
Noms Magazine
Noms Magazine is a food lifestyle publication based in Vancouver. Our goal is to help you easily find the best food and things to do in the city!
Latest posts by Noms Magazine (see all)