Looking for the best NYC restaurants with a view? You're in the right place!
New York is no short of amazing restaurants with cuisines that come from any corner of the world. However, talking about New York restaurants with stunning views is a whole different thing!
Searching no further as we have gathered some of the best NYC restaurants with a view, ranging from sky-high, by the water, or even beachside. Don't forget to snap a pic, because you'll regret not doing so!
1. Gaonnuri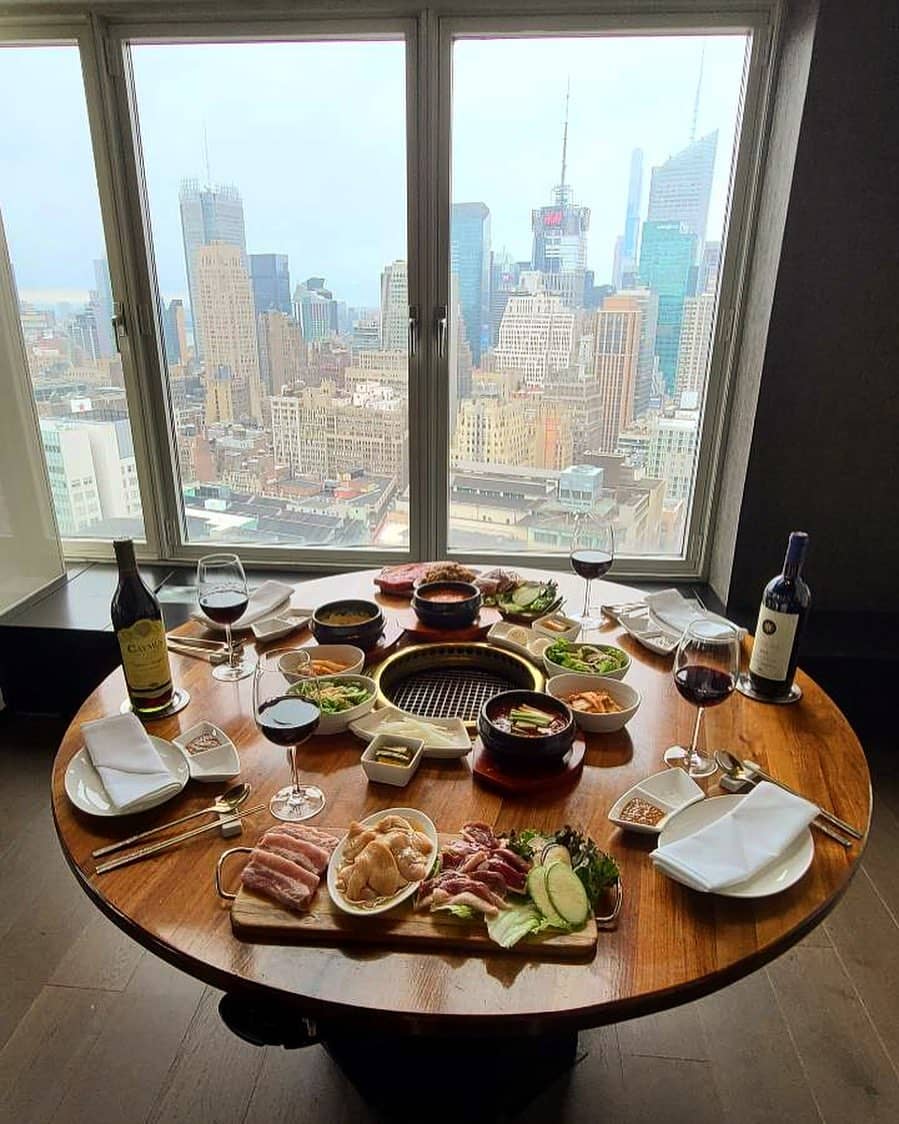 Gaonnuri is a Korean penthouse restaurant on the 39th floor in Koreatown. Once coming, you'll be dazzled by a prime panoramic view of the Midtown skyline. While admiring the stunning view, Gaonnuri will serve you its fancy Korean BBQ sections in a refine ambiance!
Try your hand at the traditional grill that ranges from Iberico pork neck to A5 grade Wagyu. Or you can settle down with their Braised Pork Belly, which has a complex taste of sweet, salty, umami, and aromatic served with kimchi, raw oysters, and hot pepper.
Stuck on choices? Head for the 5-course Tasting menu with options between dry-aged ribeye and Wagyu steaks. Wash it down with some Soju and you're all set!
What to order: Lobster Fried Rice, Braised Pork Belly, Salmon Gui, 5-course Tasting Menu
Address: 39th Floor, 1250 Broadway, 32nd Street, NY 10001
Website | Instagram | Facebook
2. The View Restaurant & Lounge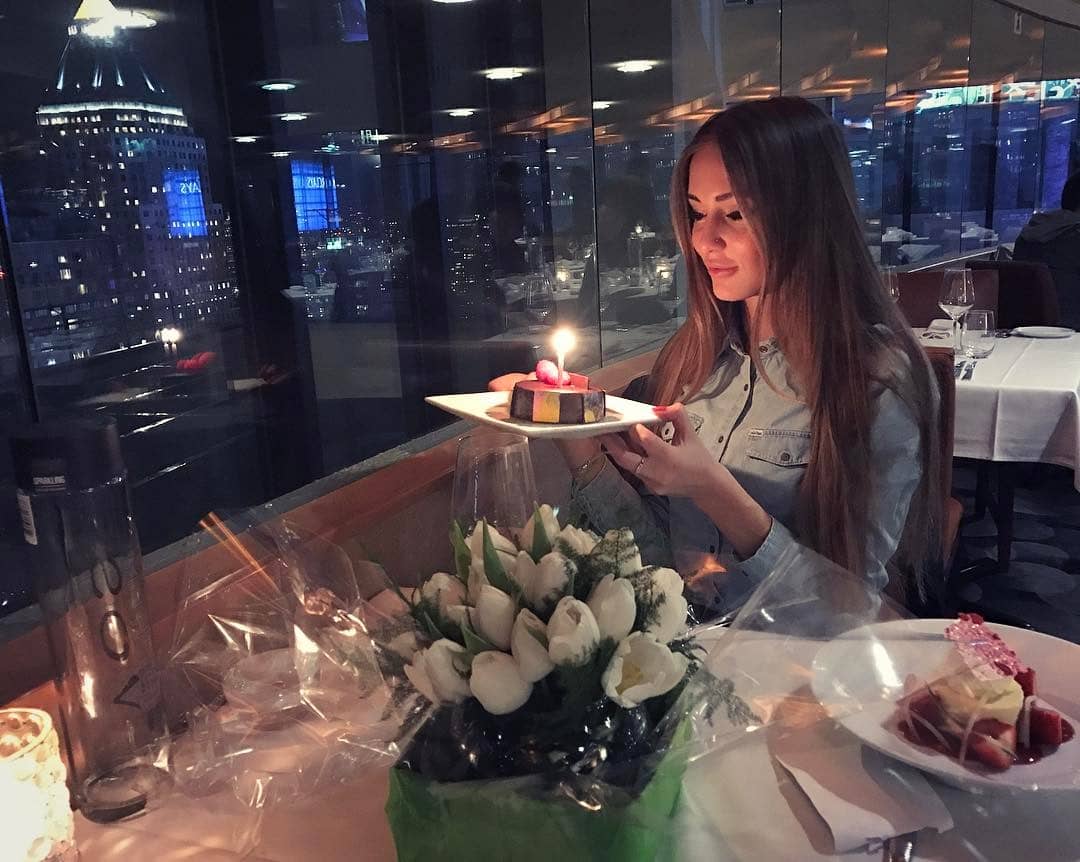 Situated in Midtown atop the Marriott Marquis in Times Square, The View Restaurant & Lounge is the only rotating restaurant in New York that turns a full revolution every hour so the entire dining room gets the full panorama! Feast on your palate while watching New York's bright lights!
Try out their latest dining experience called Le Petit Chef which uses tech to present an animated 4-course meal prep. This immersive dining experience usually starts with seasonal vegetables, then offers up Italian staples, and wine pairing comes included!
Or you can settle down with some classics like Lobster Risotto and Beef Short Ribs that are top-notch and packed with flavors. End it right with their famous Matcha Coconut Espresso Fusion. You'll love it!
What to order: Lobster Risotto, Beef Short Ribs, Matcha Coconut Espresso Fusion
Address: 1535 Broadway, New York, NY 10036
3. Westlight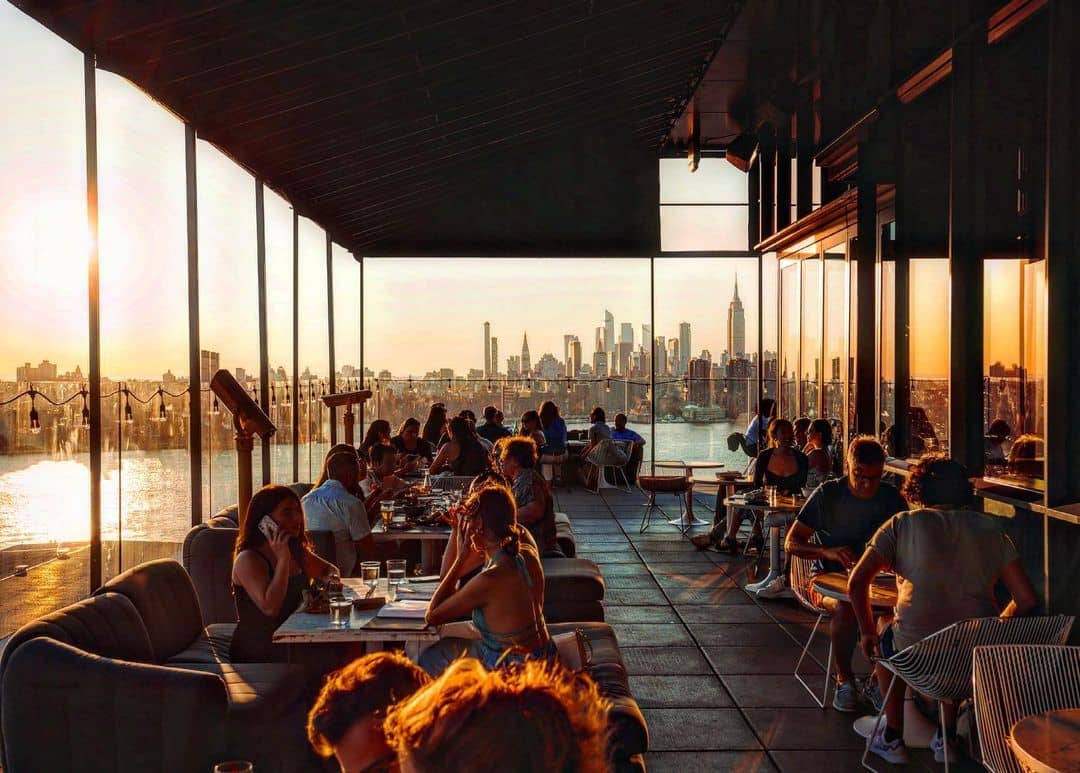 Westlight is a classy meet-up spot with friends, where you'll be amazed by not only the stunning food, and favorite classic cocktails, but also the mesmerizing view of the city! Trust us, you'll never regret visiting this wonderful rooftop!
For food, don't hesitate to get crowd-pleaser Charred Octopus Skewer and Dry-aged Beef Burger! While the octopus has a mild, sweet flavor, topped with a bright, fresh pomegranate salsa that features sweet, ruby-red pomegranates, and crunchy cucumbers, the burger is super flavorful with smoked cheddar and housemade secret sauce!
For cocktails, try the signature Purple & Fancy, which is packed with tropical fruits aroma and taste, such as guava and dragon fruit. Or you can try a stronger one like Tiki Garden with a hint of toasted coconut!
What to order: Charred Octopus Skewer, Dry-aged Beef Burger, Purple & Fancy, Tiki Garden
Address: 111 N 12th St, Brooklyn, NY 11249
Website | Instagram | Facebook
4. Manhatta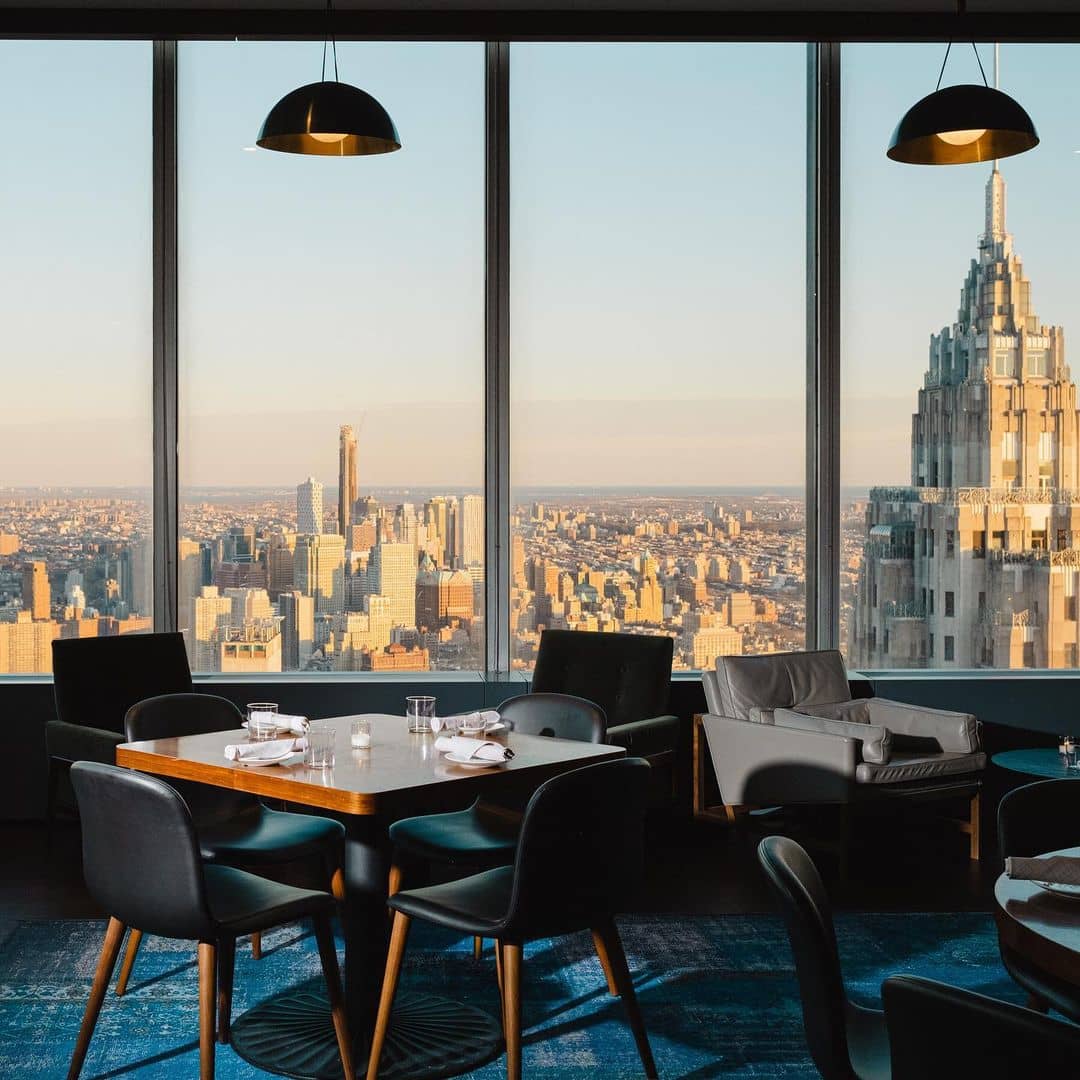 Manhatta is another stunning restaurant in New York with a view that you should never miss! Sit on the 60th floor in the Financial District, Manhatta is where you can fully admire the beauty of both the urban skyline and river views. Come by and enjoy their New American cuisine in a luxurious setting.
Some highly recommended dishes include Oysters Manhatta with uni and champagne sabayon that creates such unique flavors. Beef Tartare with fermented black sunchoke and Asian pear is also something to consider trying too!
Barbecued Freshwater Eel is also a thing, providing a rich, slightly sweet taste profile that you can never forget. End your meal right with the Chocolate Sabayon with hazelnut miso ice cream and passion fruit, or the Matcha Soufflé with lime frozen yogurt and crispy rice, and your palate will scream of happiness!
What to order: Beef Tartare, Dry Aged Duck, Grilled Lobster, BBQ Eel, Chocolate Sabayon, Matcha Soufflé
Address: 28 Liberty St 60th floor, New York, NY 10005
Website | Instagram | Facebook
5. RH Rooftop Restaurant New York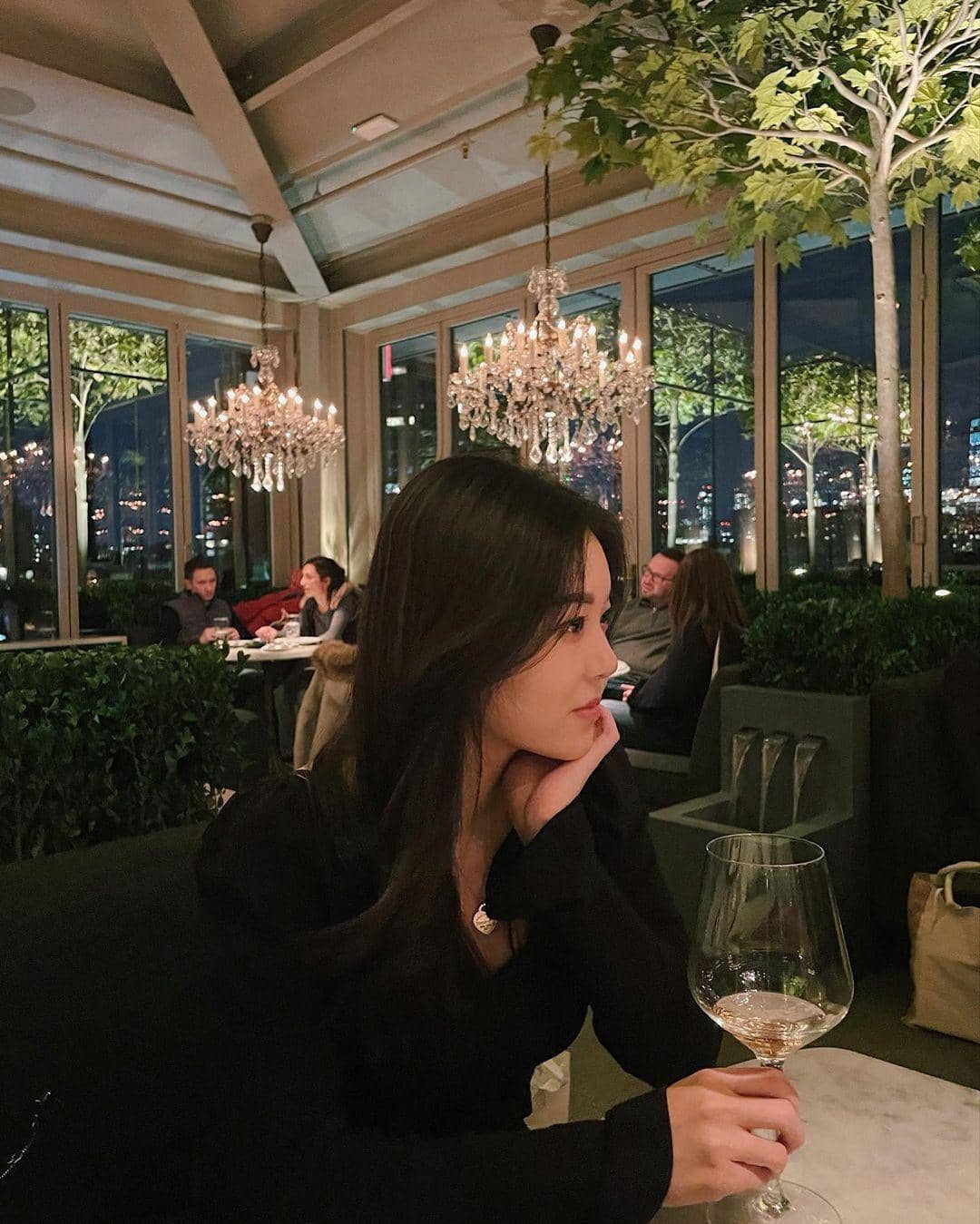 RH Rooftop Restaurant New York belongs to a fancy furniture company, that's why you'll be much surprised by how amazing and impressive the settings are! Filled with marble surfaces, a chandelier over every table, fountains, and big windows looking out over the terrace and downtown Manhattan, RH Rooftop is sure to have your heart at the first sight!
Grab the RH Burger, which is the best entree here! With juicy, thick-cut pork belly bacon, crunchy pickles, and dijonnaise, we are sure this goodness is quite addictive!
Or you can take the Lobster Roll with sandwiches stuffed with chunks of tender and sweet lobster meat dressed in a thin coat of mayo over a split.
And their Burrata comes in a perfect state between liquid and solid and tastes like pizza when eaten on crunchy bread with grilled tomatoes. Oh, and don't forget the Shrimp Cocktail, it is no less mouth-watering!
What to order: RH Burger, Lobster Roll, Broiled Salmon, Shrimp Cocktail, Burrata
Address: 9 9th Ave, New York, NY 10014
6. ROBERT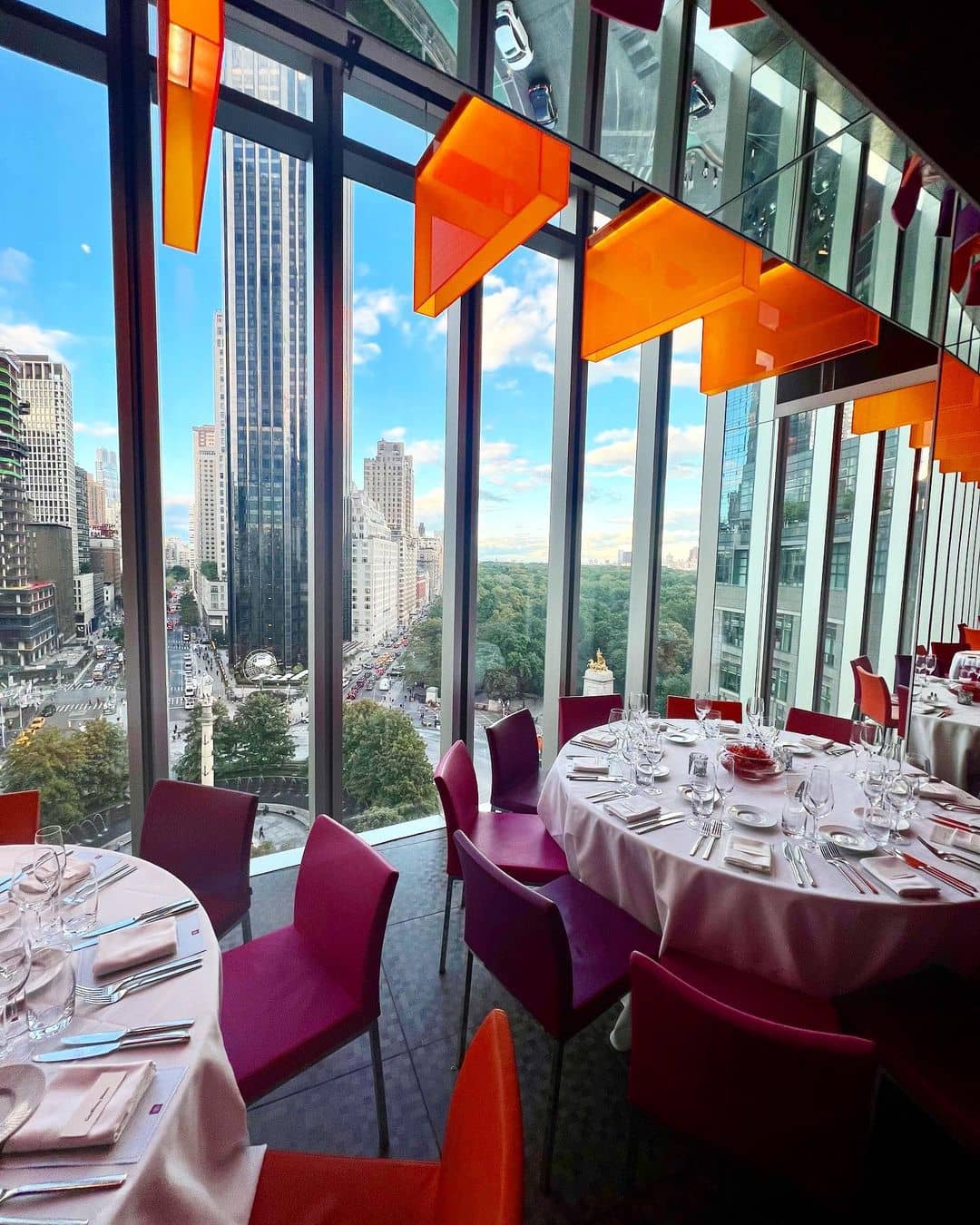 Located on the top floor of the Museum of Arts & Design, Robert is a classic modern American restaurant that overlooks Columbus Circle and Central Park in a romantic and refined ambiance.
To start with, grab the Octopus & Lobster Roll flavored with pesto and dijonaise which feels like heaven in every bite. The octopus has a soft chewy texture, while the lobster is perfectly shredded and seasoned, all stuffed in a hot, soft bun!
If you'd love to try something new, then go for the Squid Ink Pasta with Lobster coated in butter and sauce, surprisingly delicious and rich in flavor, color, and character. It's hard not to love!
What to order: Wagyu Burger, Scottish Salmon, Squid Ink Pasta with Lobster, Mushroom Soup
Address: 2 Columbus Cir, New York, NY 10019
Website | Instagram | Facebook
7. The Press Lounge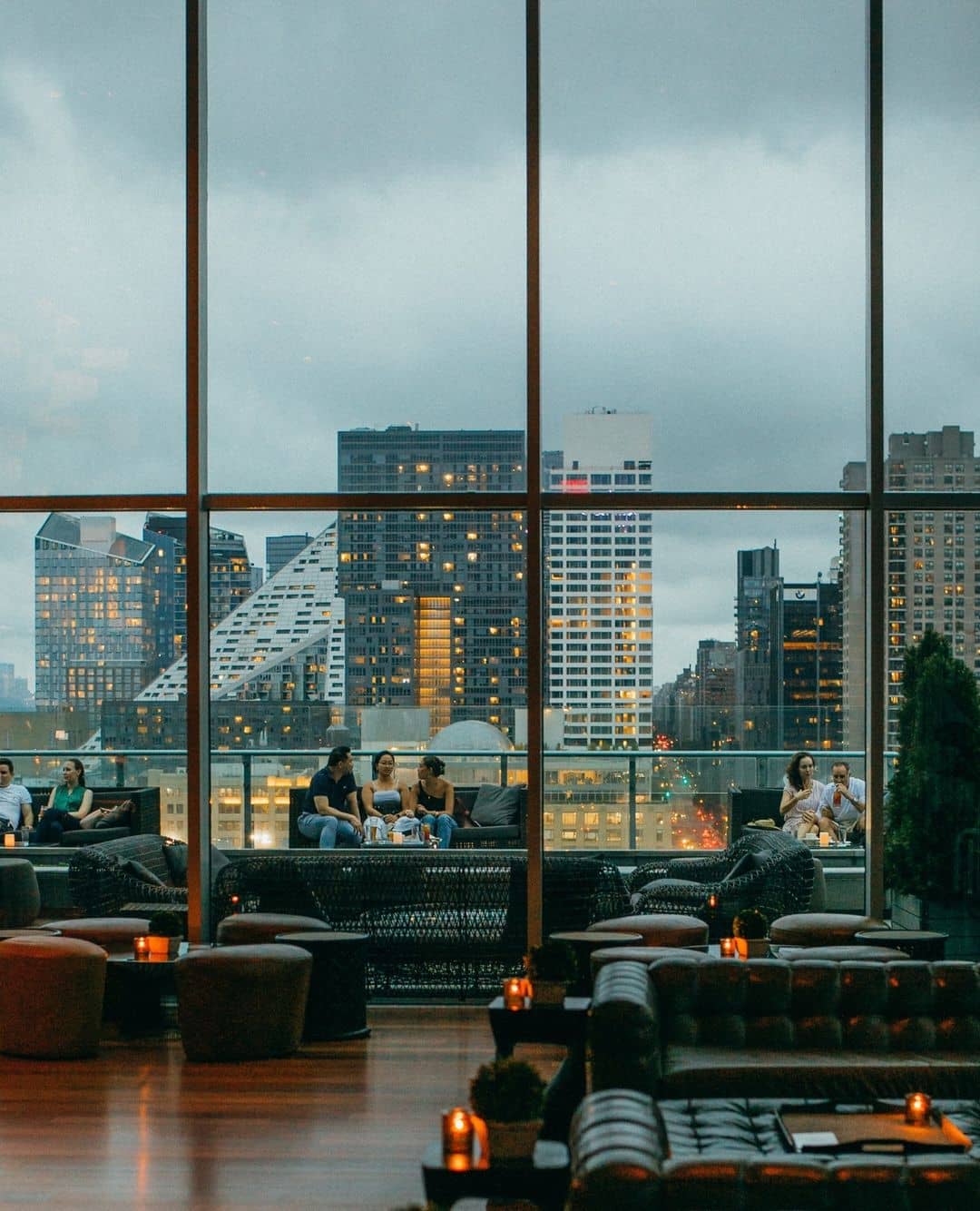 The Press Lounge is your next go-to place for a dramatic 360-degree panorama view of Press take in Manhattan's glowing skyline, the cool breezes off the Hudson River, and the stunning sunsets year-round!
Highlights are their signature cocktails, including Cuffin' Season and Taco Tuesday. While Cuffin' Season has a zest, bitter yet pleasant taste, Taco Tuesday is made with cilantro infused siete leguas tequila, uruapan charanda rum, yellow chartreuse, pineapple gum syrup, and fresh lime. Or you can order a customized one that matches your liking as well!
Don't forget to grab something to accompany your drinks, we highly recommend you try their House Hummus and Warm Soft Pretzel. Just as wonderful as the cocktails!
What to order: House Hummus, Warm Soft Pretzel, Cuffin' Season, Taco Tuesday
Address: 653 11th Ave 16th Floor, New York, NY 10036
Website | Instagram | Facebook
8. Peak Restaurant & Bar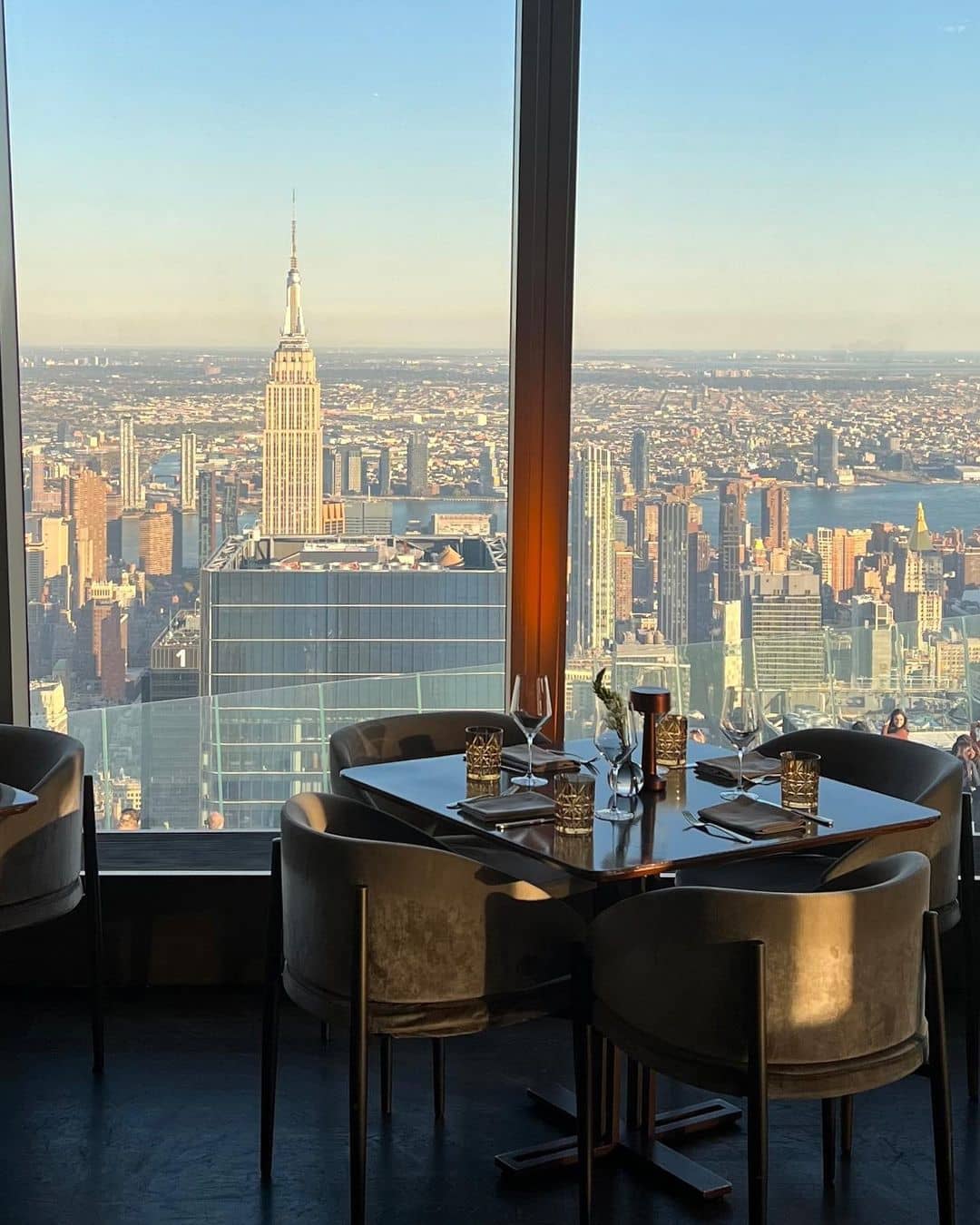 Peak Restaurant & Bar is a modern American restaurant and cocktail lounge in Midtown where you can admire the sky-high eastern and southern views of the city extending to the Statue of Liberty and beyond.
Start with a classic selection of appetizers such as Squid Ink Chitarra with a delicate taste, Maine Lobster that is sweet, tender yet fresh bouncing, or the flavor bomb of juicy richness Peak Plateau with oysters, tuna, octopus, and scallop. Trust us, they can never let you down!
End it beautifully with their famous Raspberry Tart grounded with white chocolate, and chocolate mousse with malt ice cream, filled with a red raspberry puree, and topped with fresh berries. Yummy!
What to order: Peak Plateau, Maine Lobster, Bouillabaisse Halibut, Raspberry Tart
Address: 30 Hudson Yards 101st floor, New York, NY 10001
Website | Instagram | Facebook
9. ONE Dine at One World Observatory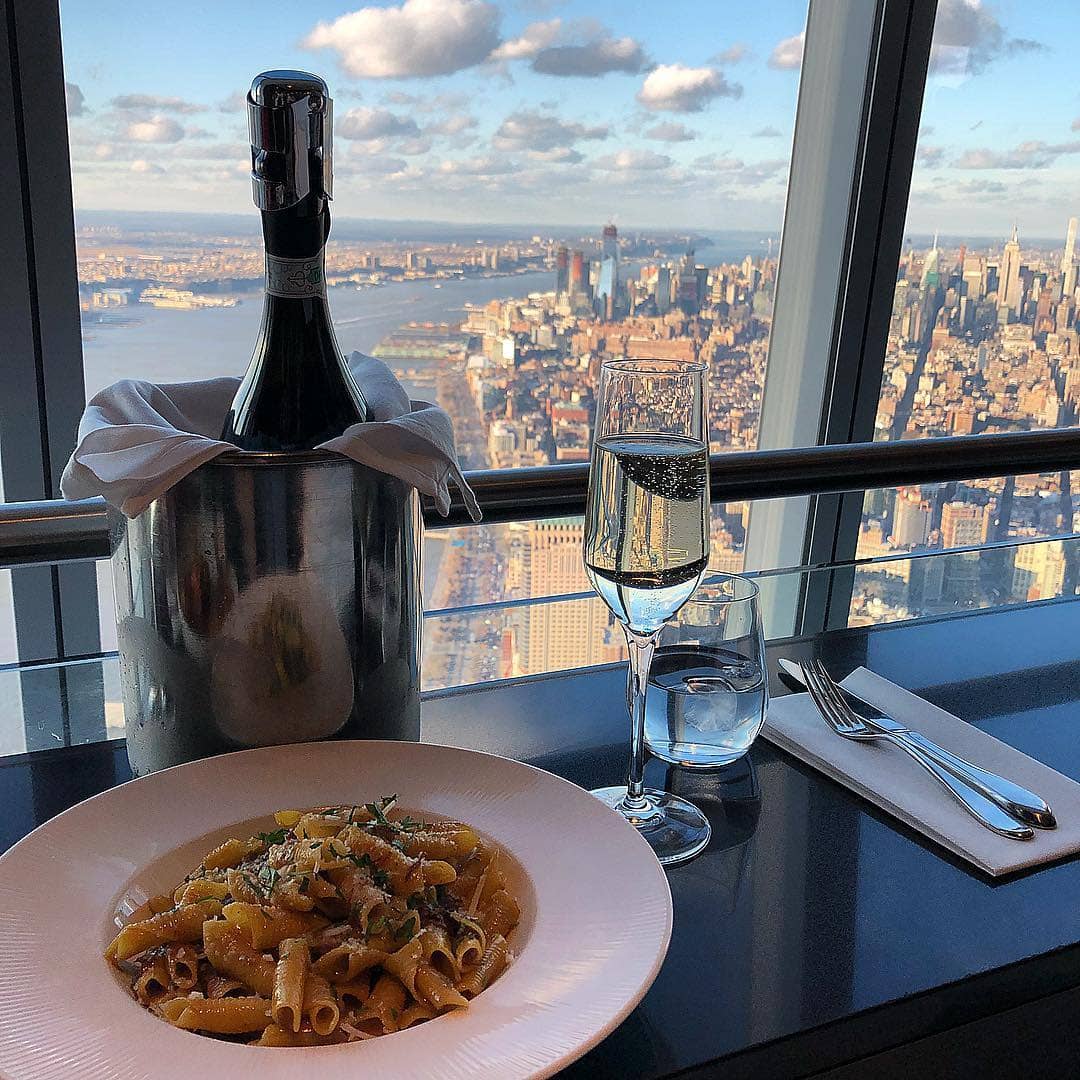 ONE Dine is set on the 101st floor with breathtaking views of the Hudson and East Rivers and Midtown Manhattan, serving classic American cuisine, complemented by a fine selection of local draft beers, and handcrafted cocktails. If all of this sounds nice to you, then hesitate no more to visit ONE Dine!
You can never go wrong with their Mussels cooked in coconut saffron broth and served with grilled sourdough. It's impossible to deny this tender, flavorful, and comforting goodness!
Don't stop there, keep it going with the Rotisserie Chicken paired with Burrata Salad. While the chicken is juicy and succulent with perfect, crispy skin, the salad is packed with flavors and texture. Having the Pineapple Custard for dessert is a must! Each bite is filled with Jamaican spiced rum and served with ginger cookies. So mouth-watering!
What to order: Mussels, Rotisserie Chicken, Burrata Salad, Pineapple Custard
Address: 117 West St, New York, NY 10007
Website | Instagram | Facebook
10. The Fulton by Jean-Georges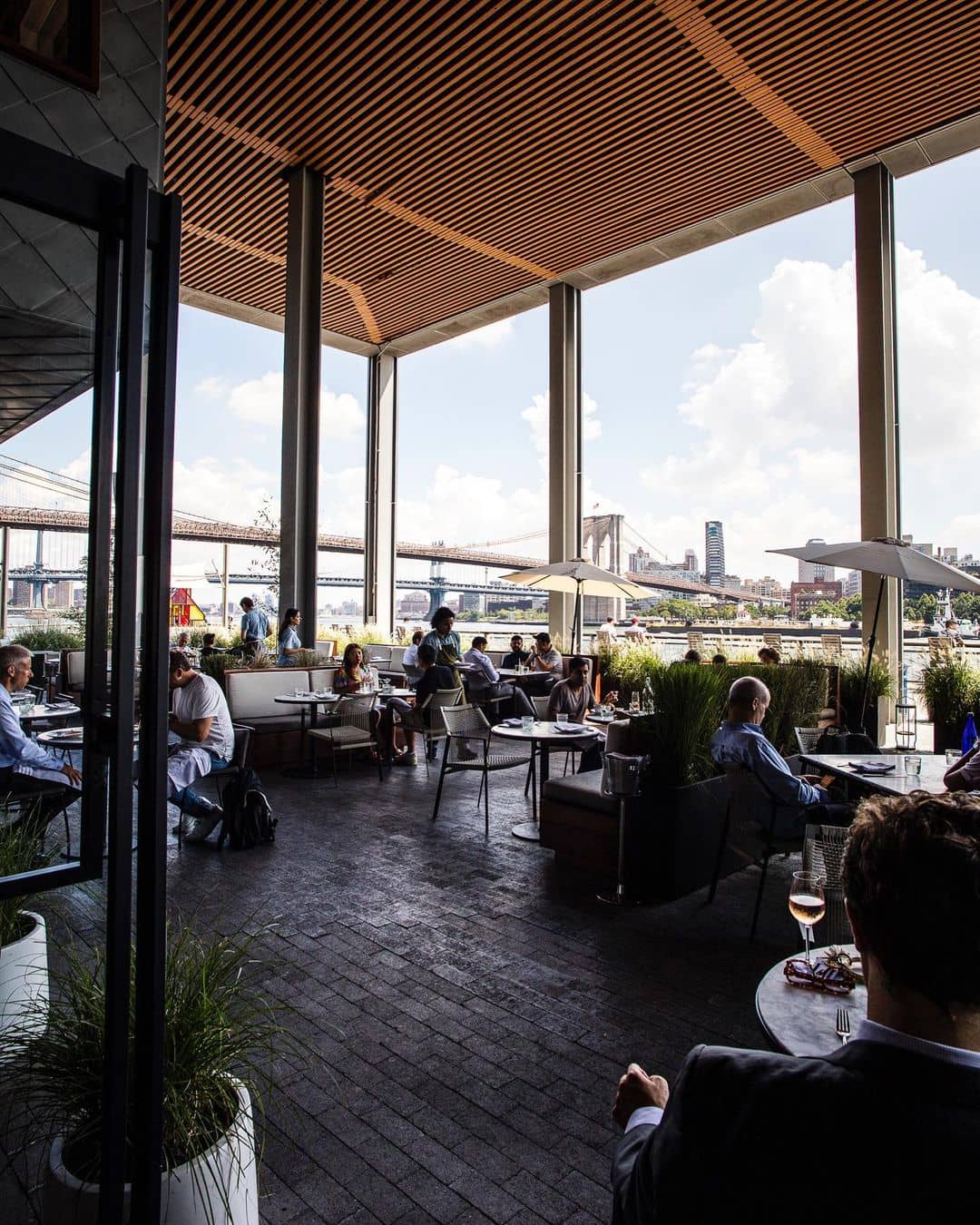 If you're dying to escape the bustle of the city, and love to immerse in the beauty of nature, head to The Fulton by Jean-Georges. Located at Pier 17 in the Seaport, The Fulton yields some of the city's best East River views. Come by and enjoy their seafood while resting your bones on their comfy booth seats!
If you come at brunch, make sure you'll get their Tartare, Crispy Calamari Herb Salad, and Caviar. For dinner, go for their Sashimi slices, Oysters on ice, and wild-caught mains like za'atar-crusted salmon. Or you can get the Sashimi Royale with Chef's Selection of Additions in case you're going in a group, because the portion is no joke!
In case you're searching for something that is more remarkable, try the Whole Black Sea Bass! The shell is made out of flattened brioche pastry crust, when removed, it'll reveal the tender, perfectly cooked fish inside. Enjoy your fish with rich bearnaise and tomato sauce to see the flavors explode!
What to order: Whole Black Sea Bass, Petite Seafood Plateau, East Coast Oysters, Yellowfin Tuna Tartare, Seafood Hot Pot
Address: 89 South St, New York, NY 10038
Website | Instagram | Facebook
11. City Vineyard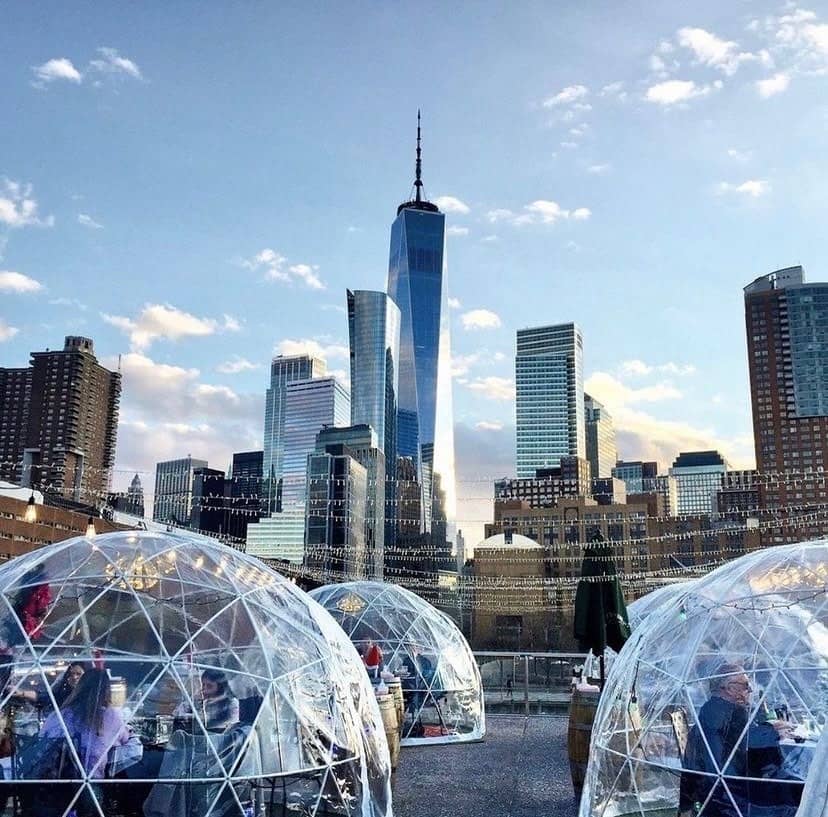 Located on the side of the Hudson River in Tribeca, City Vineyard is a two-floor restaurant and wine bar that will be your next favorite place to watch sunsets over the water while sipping their impressive local wines!
The views at City Vineyard are great but their food is so much better! To start, get the Charcuterie Plate with selection of air-cured and smoked meats or a round of fresh East Coast Oysters can do you good!
For a heartier one, try having their Duck Tacos with spicy cranberry salsa and purple cabbage slaw creating an incredible sweet-and-sour balance of exotic flavors. And don't forget to grab a bottle of sparkling rose with you!
What to order: Baked Clams Charcuterie Plate, East Coast Oysters, Duck Tacos, Chocolate Mousse
Address: 233 West St, New York, NY 10013
Website | Instagram | Facebook
12. Giando On The Water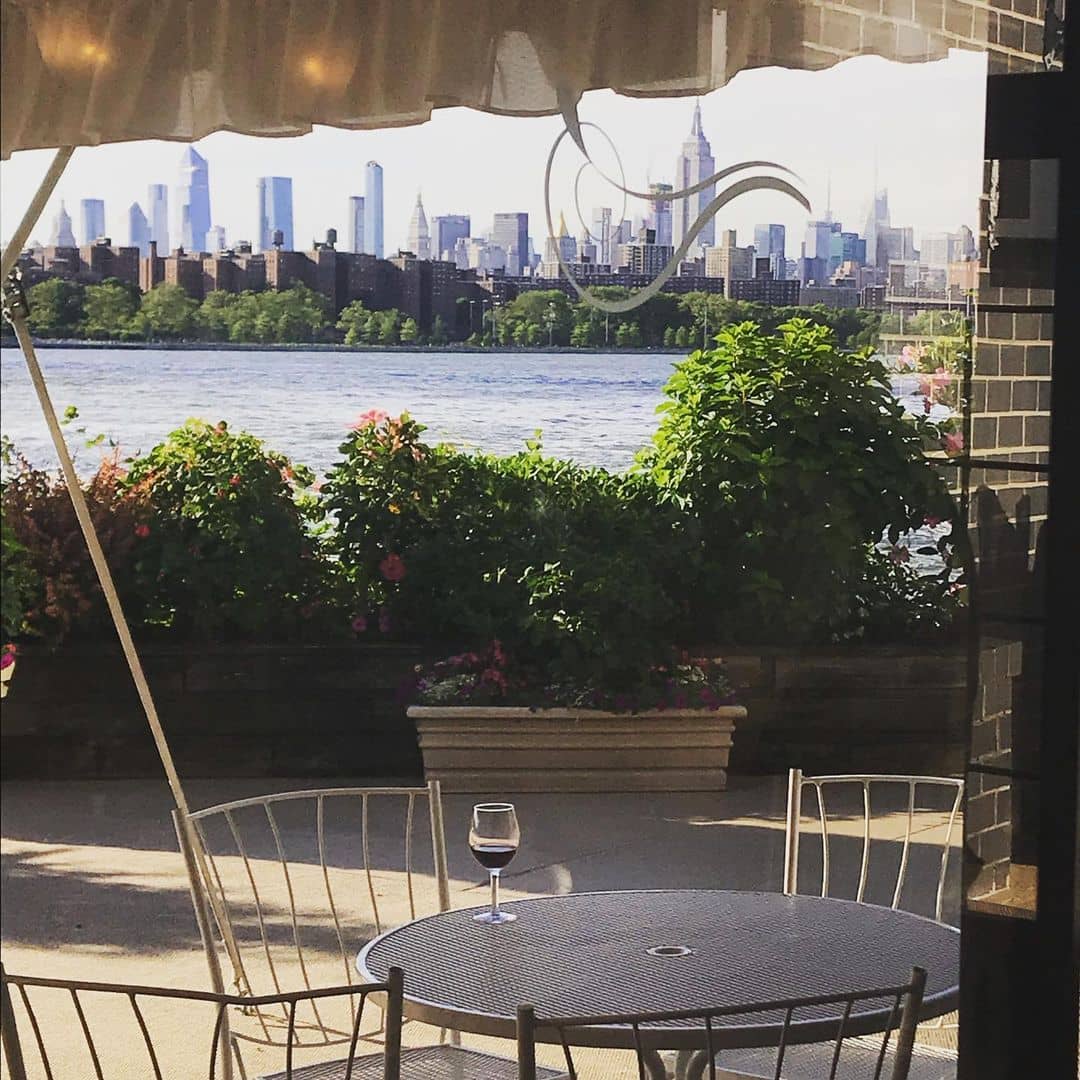 Located on the waterfront in South Brooklyn, Giando On The Water is definitely the spot to enjoy the finest cuisine and breathtaking views of the Manhattan skyline. Offering a succulent menu of Italian – American cuisine and fine wine, there's nothing we'd change about Giando On The Water!
Don't hesitate to order some Linguini White Clam Sauce, Chicken Scarpariello, and Roasted Salmon Sampi Sauce. While the linguine has a strong flavor of clam and garlicky taste, the chicken comes with juicy chicken thighs, sweet Italian sausage, and a vinegary, sweet-sour pan sauce. Tasty as ever!
Finish your meal right with their Italian Cheesecake for dessert. We're sure you'll instantly love this creamy, sweet yet pleasant crowd-pleaser!
What to order: Linguini White Clam Sauce, Chicken Scarpariello, Roasted Salmon Sampi Sauce, Italian Cheesecake
Address: 400 Kent Ave, Brooklyn, NY 11249
13. SERRA by Birreria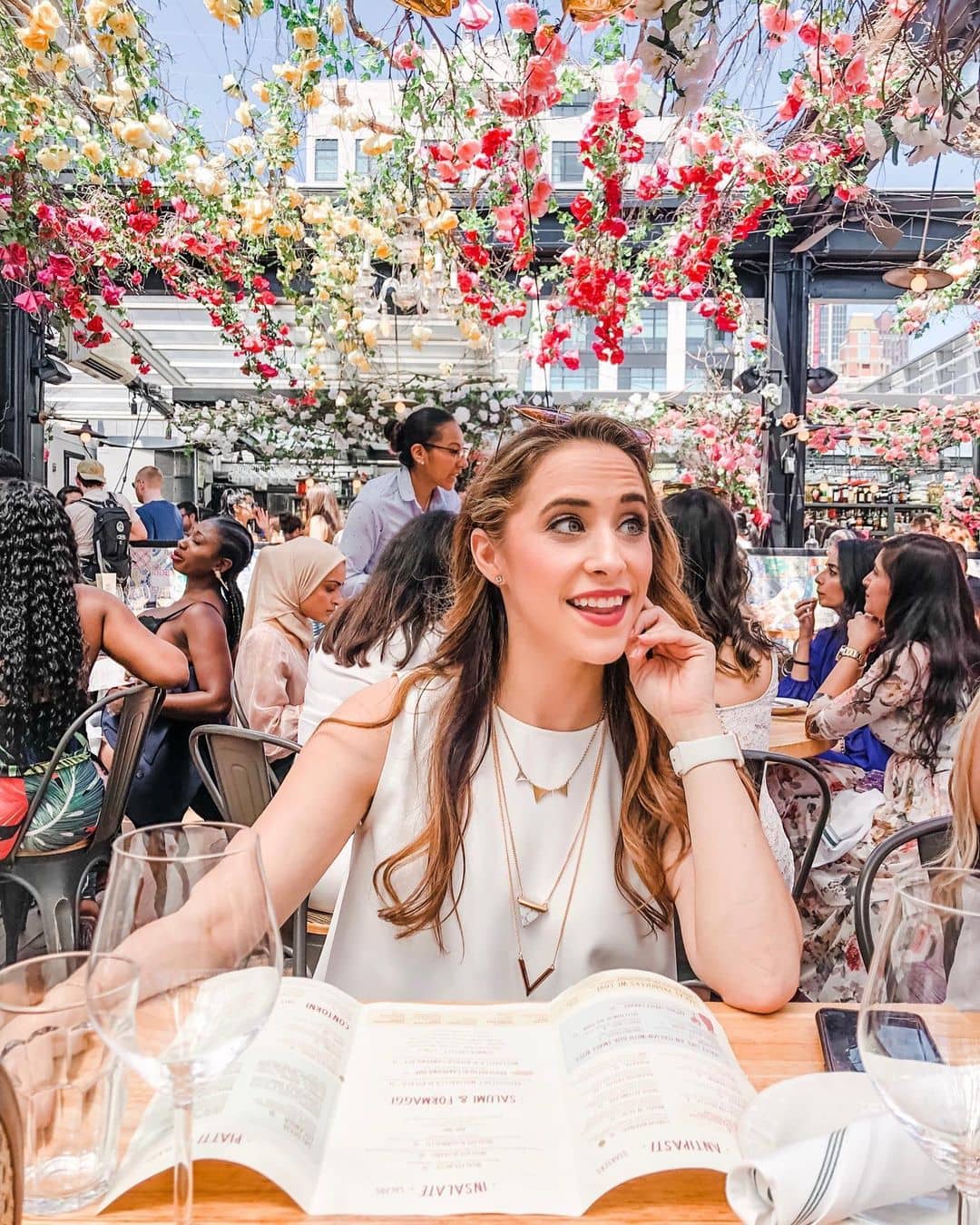 Located on the roof above a vast Italian market, SERRA by Birreria has everything Italian. From the most luscious pasta to rich Italian coffees, you'll be transported to Italy instantly. Their seasonal decor is the prettiest in the whole of NYC; you may want to consider bringing a good camera to capture it.
Crispy on the outside but with the softest interior, SERRA's Arancini is composed of fragrant Carnaroli rice balls, tomato, basil, and the most delicious housemade mozzarella. Perfectly seasoned and freshly made, you'll be thinking of this all the time.
Famous for its stuffed pork shoulder, the Spiedini di Manzo e Bombette is the true star of the show. With every bite, you can feel the pork melting in your mouth. Rich flavors and great texture, what more could you ask for?
What to order: Arancini, Spiedini di Manzo e Bombette
Address: 200 5th Ave, New York, NY 10010
14. Republica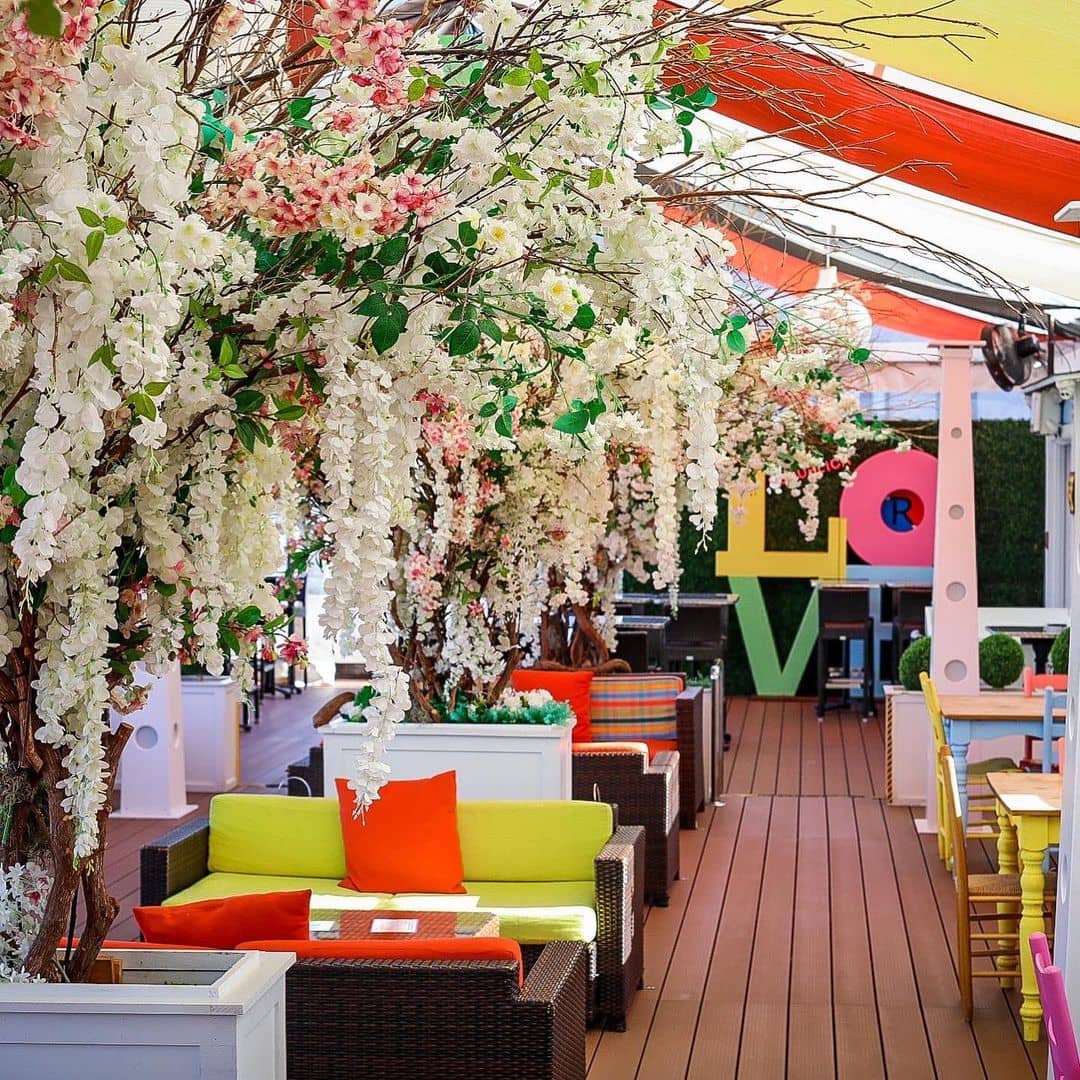 A contemporary rooftop bar lounge in Dyckman St, Republica, serves Dominican food and one of the best cocktails in town. The rooftop is so beautifully decorated that you may think you're not in NYC for a second. Playing a good mixture of Reggaeton and hip-hop, this place offers the ultimate vibes.
Tender and juicy, Republica's Churrasco al Pico is a must-try! Grilled skirt steak marinated with godly herbs and a sun-dried tomato steak sauce that came from the heavens; get this one and thank us later.
Saffron yellow rice with a whole lobster tail, shrimp, calamari, clams, and mussels, the Paella is a seafood lover's nirvana. Mouthwatering and coming in hearty portion sizes, you'll be more than glad to take leftovers home.
What to order: Churrasco al Pico, Paella y Pa' El
Address: 160 Dyckman St, New York, NY 10040
Website | Instagram | Facebook
15. Gallow Green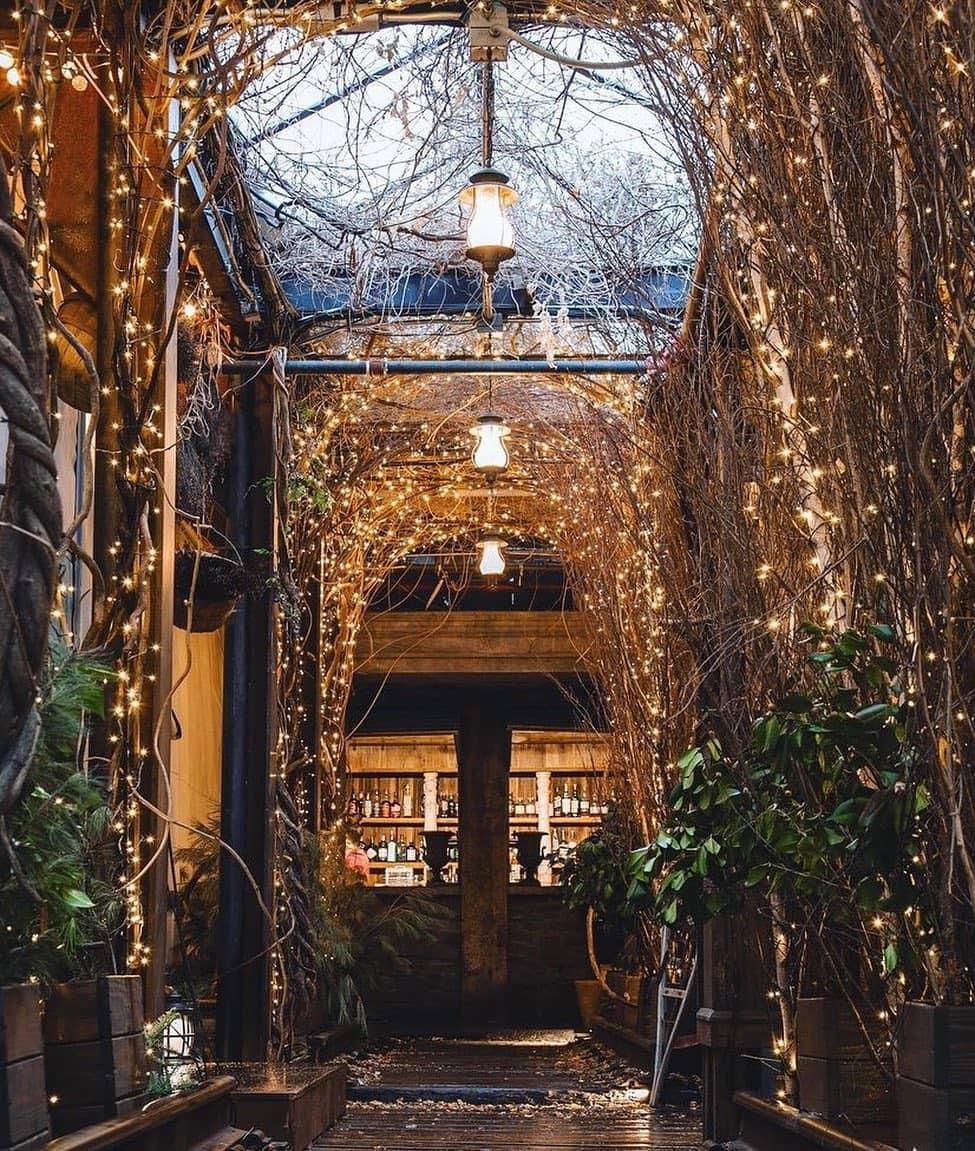 A whimsical woodland rooftop restaurant in NYC, Gallow Green is one of the best in NYC. From the moment you walk in the door to the elevator ride up to the roof, you'll have the time of your life here. With beautiful garden-like interiors with a touch of spookiness and 1920s music playing in the background, Gallow Green doesn't even feel like New York.
Crispy, golden, and seasoned to perfection, Gallow Green's Fried Calamari is one for the books. Perfectly bite-sized to pop into your mouth, you'll finish all of it instantly. It comes with two sauces: tartar and cocktail.
Pair it with the exclusive Sleep No More drink, and you're in for a treat. Or the fesh yet powerful Northern Lights with taste of tequila, pomegranate, lime, and soda can also do you good!
What to order: Fried Calamari, Sleep No More, Northern Lights
Address: 542 W 27th St, New York, NY 10001
Website | Instagram | Facebook
A restaurant with a view can either be a place to satisfy your Instagram passion or be your special date night, so don't hesitate to try them out! Read more on our best restaurants in New York to keep your food journey going.
Looking for a place to stay in NYC?
This article includes affiliate links where we may get a small commission if you use our link. No extra cost is added to you.