Pizza is arguably one of the most "perfect" meals. Why? It can be eaten at any time of the day, on any occasion! And it tends to be kind to your wallet. After all, who doesn't want that smell of delicious cheese and sauce that makes you weak to your knees?
If you're in Calgary and you're craving a big slice of hot, greasy, and juicy pizza topped with only the best ingredients, look no further!
In this list, we compiled 13 of the best pizza spots in Calgary to satisfy your pizza cravings!
1. Pizzeria GAGA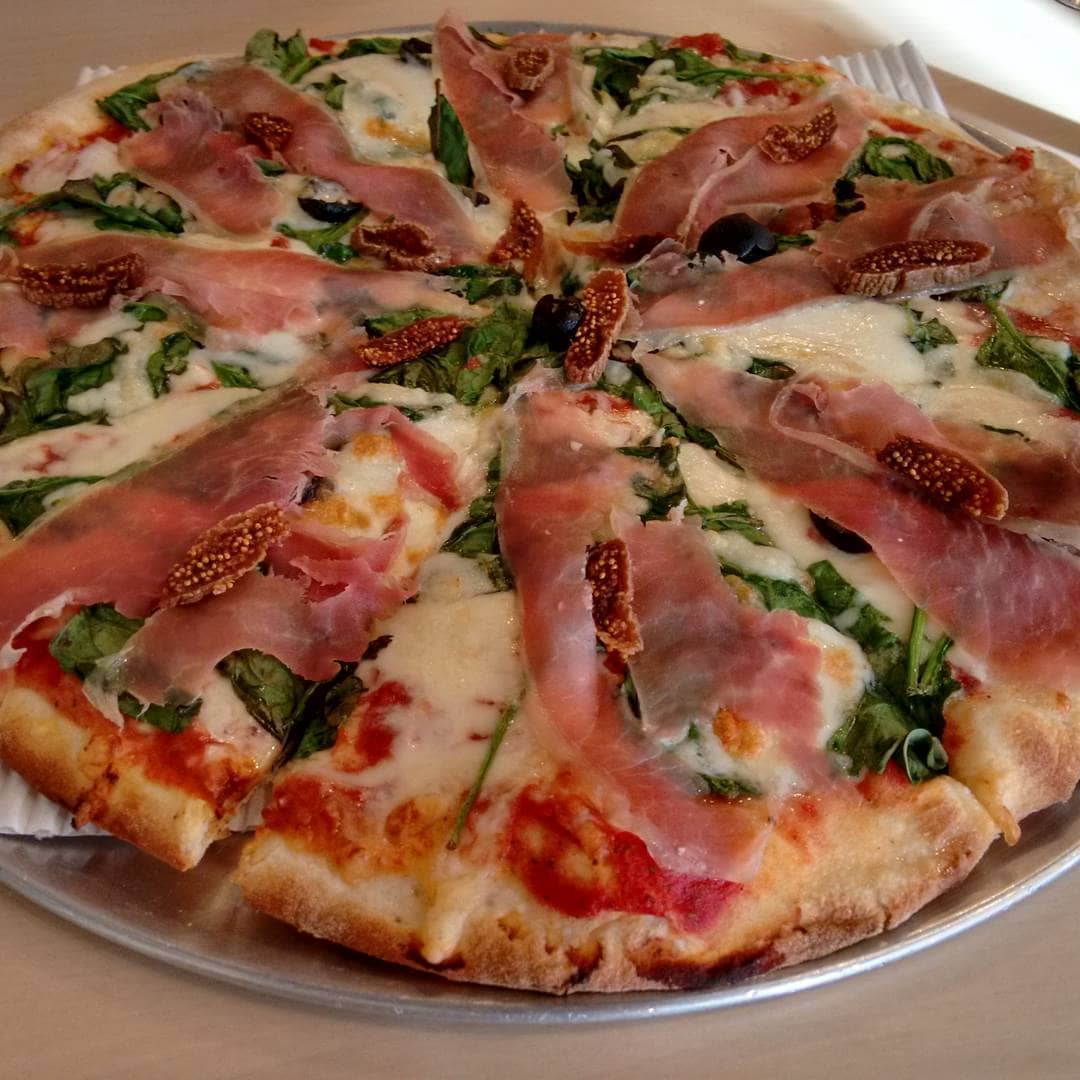 In Pizzeria GAGA, there is no such thing as bad pizza. It doesn't exist in their vocabulary! With fresh produce, the loveliest of people, and excellent value for money, this place will leave you more than satisfied with each visit. If you're looking for good pizza in a place that feels like home, Pizzeria GAGA is where you need to go.
A true neighborhood gem, their signature and classic Signora GAGA has thick mozzarella, spinach, prosciutto, bocconcini, and figs. FIGS! Who knew one sweet ingredient could fit so perfectly with all salty and savory flavours?
Their Stella Rosa Belgrado is also something you should consider. The meat quality is fantastic, and you can taste it in every bite. With mozzarella, ham, bacon, prunes, and feta, this one has everything you need in a pizza.
What to order: Signora GAGA, Stella Rosa Belgrado
Address: 1236 12 Ave SW, Calgary, AB T3C 1A7
Website | Instagram | Facebook
2. Michael's Pizza Restaurant & Delivery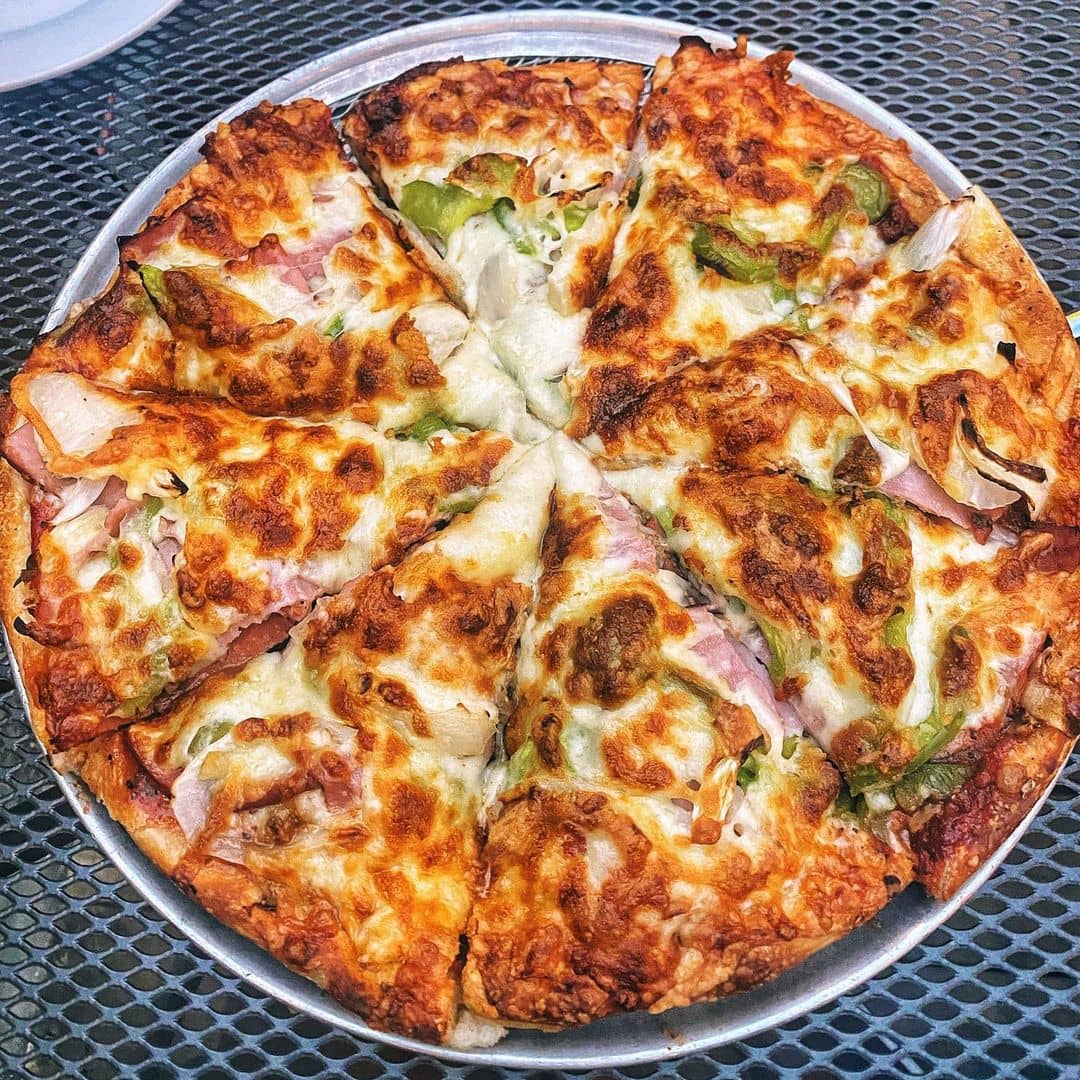 Michael's Pizza sets itself different from other pizzerias by topping another layer of cheese on top of your chosen toppings. Imagine all that cheesy goodness! With lots of options, the friendliest service, and fabulous tasting pizza, Michael's Pizza will get you hooked and return for more. They have a nice outdoor rooftop seat area where you can enjoy a few beers with your pizza.
Well-known for their gluten-free options, Michael's Pizza has the best gluten-free pizza in town! Their crust is superb and amazingly so good that you can't tell the difference between the regular ones. The House Special comes stacked with pepperoni and shrimp. Wait, shrimp? Yes, shrimp! A house special, indeed.
Their Hawaiian Pizza is a whole new level of pineapple galore! Other pizzerias should take note of how Michael's does their pizzas because this is how it should be done. It has to be in their homemade sauce and exceptional crust.
What to order: House Special, Hawaiian
Address: 139 10 Ave SW, Calgary, AB T2R 0L9
Website | Instagram | Facebook
3. Azzurri Pizzeria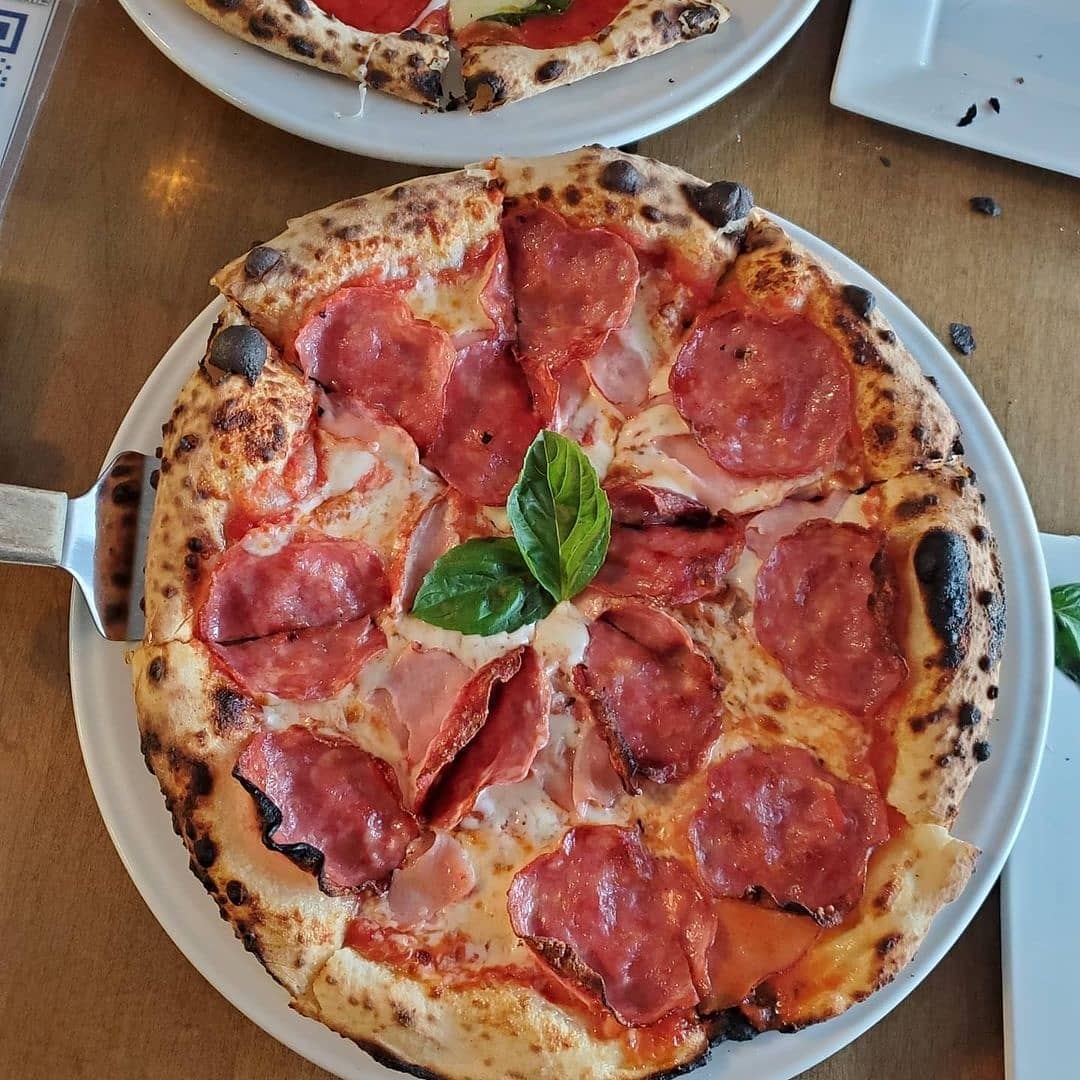 About to be your next favourite pizza spot, Azzurri Pizzeria can convert non-pizza lovers to change their tastes. Yup, it's that good! With just the right thickness and a pleasant crunch to satisfy your taste buds, their crust is stellar! Azzurri Pizzeria is so authentic that you'll feel like you've teleported to an Italian back alley as soon as you walk in. To top it all off, the service is excellent in every way!
Potentially the best pizza in Calgary, everything on their menu is impeccable! Made with love, their Margherita has the freshest, brightest tomatoes complimented by crisp garden-fresh basil.
A crowd-favourite, The Ten is the real deal. Perhaps the name is derived from the dish being a solid 10 out of 10. The prosciutto is so good paired with their San Marzano tomato sauce. You could taste the quality of each ingredient!
What to order: Margherita, The Ten
Address: 2404 Edmonton Trail, Calgary, AB T2E 5N8
Website | Instagram | Facebook
4. Spiros Pizza on 17th Calgary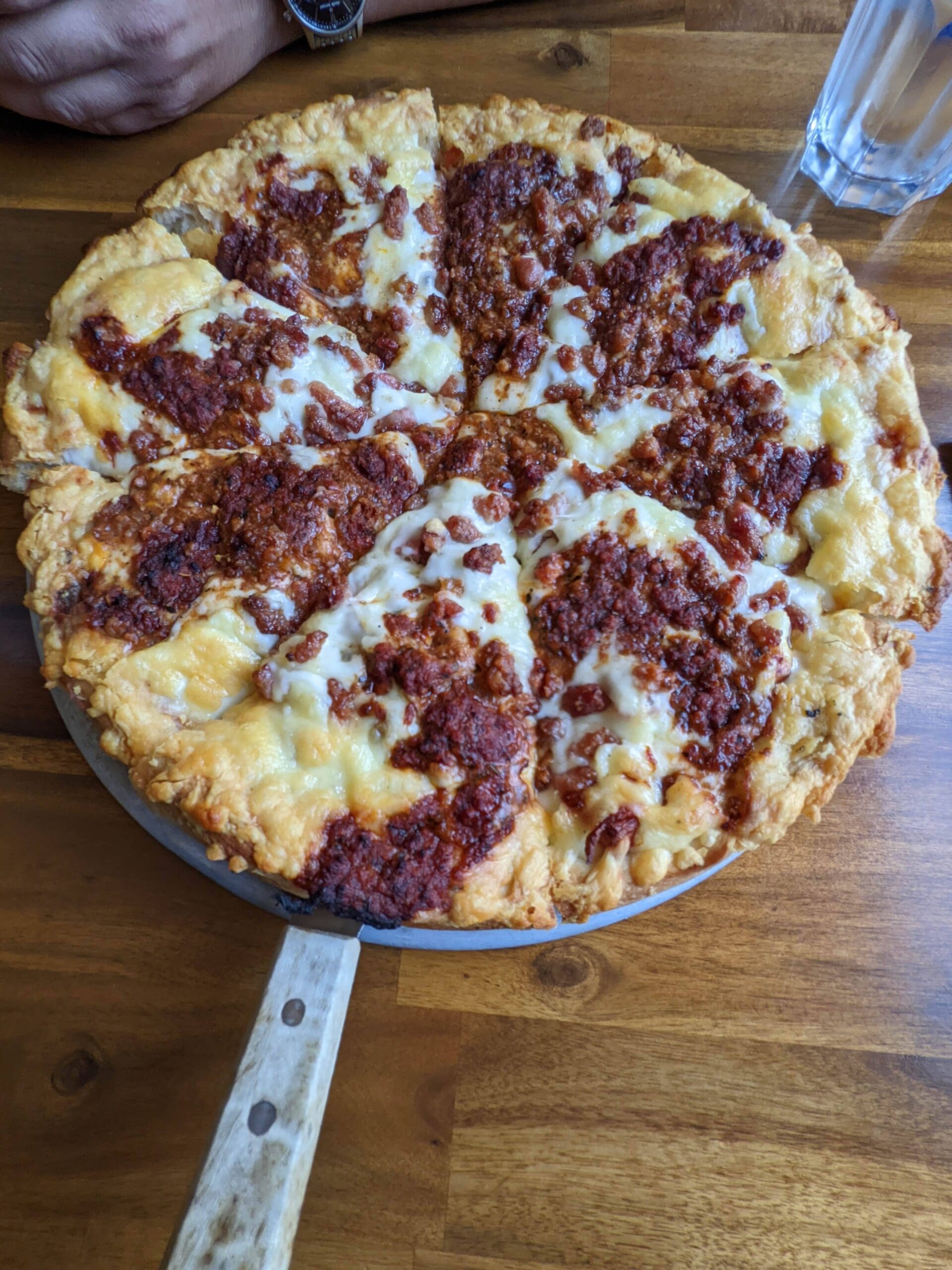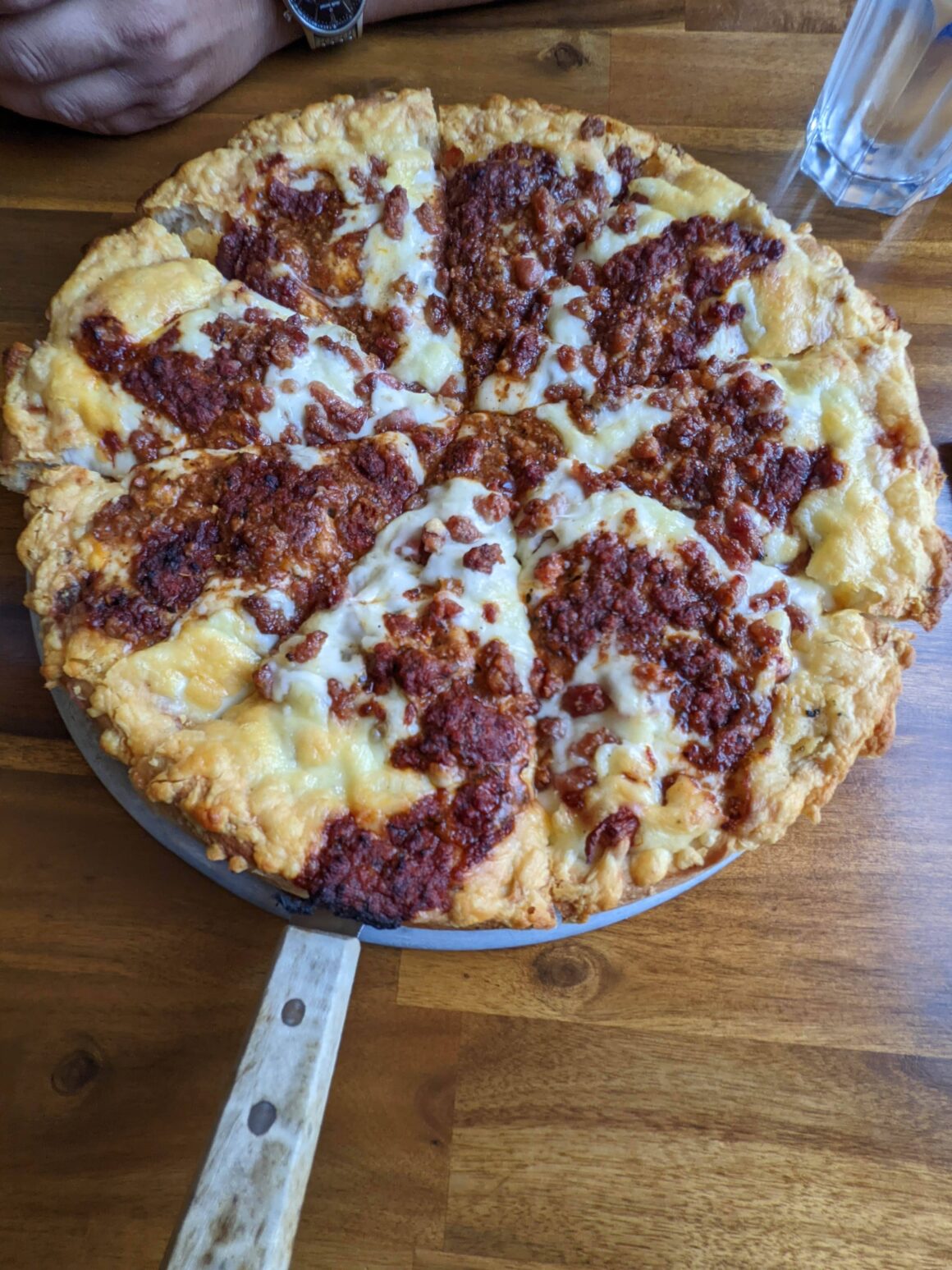 It's always a good experience with Spiros. The Italians may have invented pizza, but the Greeks surely made a way to make it in their own style. Spiros Pizza will remind you of something that would come straight out of Greece. If you want to visit Greece but don't have the budget yet, Spiros Pizza has your back!
An authentic Greek family restaurant with homemade recipes, their Spiros Special is a must-have! The meaty pepperoni paired with savory green peppers will make your day a hundred times better.
One bite of their Holy Smoked Meat pizza will take you back to when you stepped into your grandmother's home for a delectable feast. It tastes familiar yet new— one of the best pizzas in Calgary!
What to order: Spiros Special, Holy Smoked Meat
Address: 1902 33 St SW, Calgary, AB T3E 2S5,
5. Bow Tie Pizza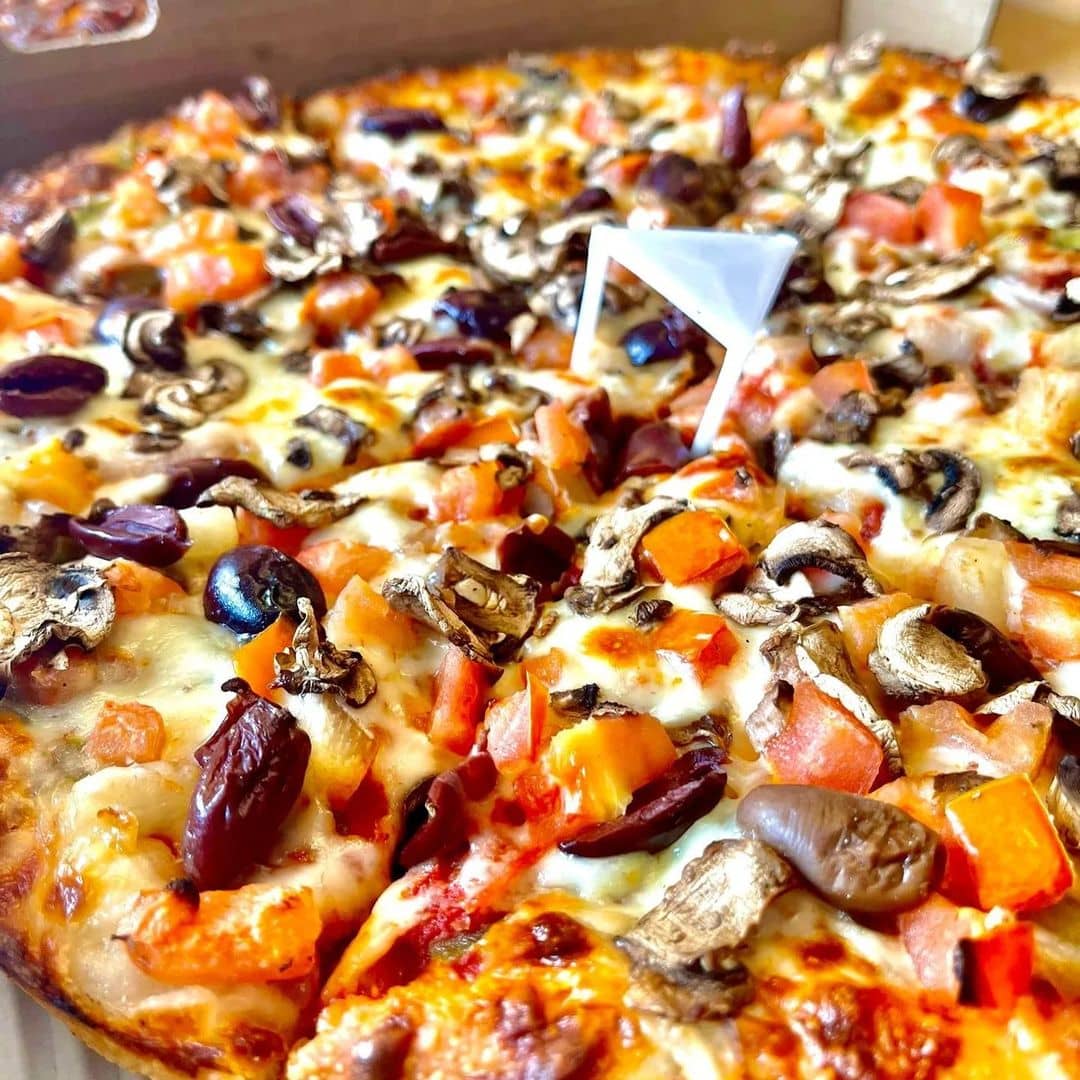 Bow Tie Pizza will have you craving their pizzas even when you're just passing by their storefront. One thing you should know about their pizza— it isn't for the faint of heart! Thick and loaded with toppings, everything is thoughtfully made for hungry customers. Say hello to your new favourite pizza!
If you want a pizza with the best possible combination of flavours, their Donair doesn't disappoint! The Donair sauce paired with a juicy beef Donair meat is the best you'll ever have in the city.
The Mother of Dragons pizza is just as fiery as its name. It's everything spicy! From the sauce to the toppings, this one will have you feeling like you're Daenerys of House Targaryen with all the spice.
What to order: Donair, Mother of Dragons
Address: 1922 37 Street SW, Calgary, AB T3E 3A3
Website | Instagram | Facebook
6. A Pizza Plus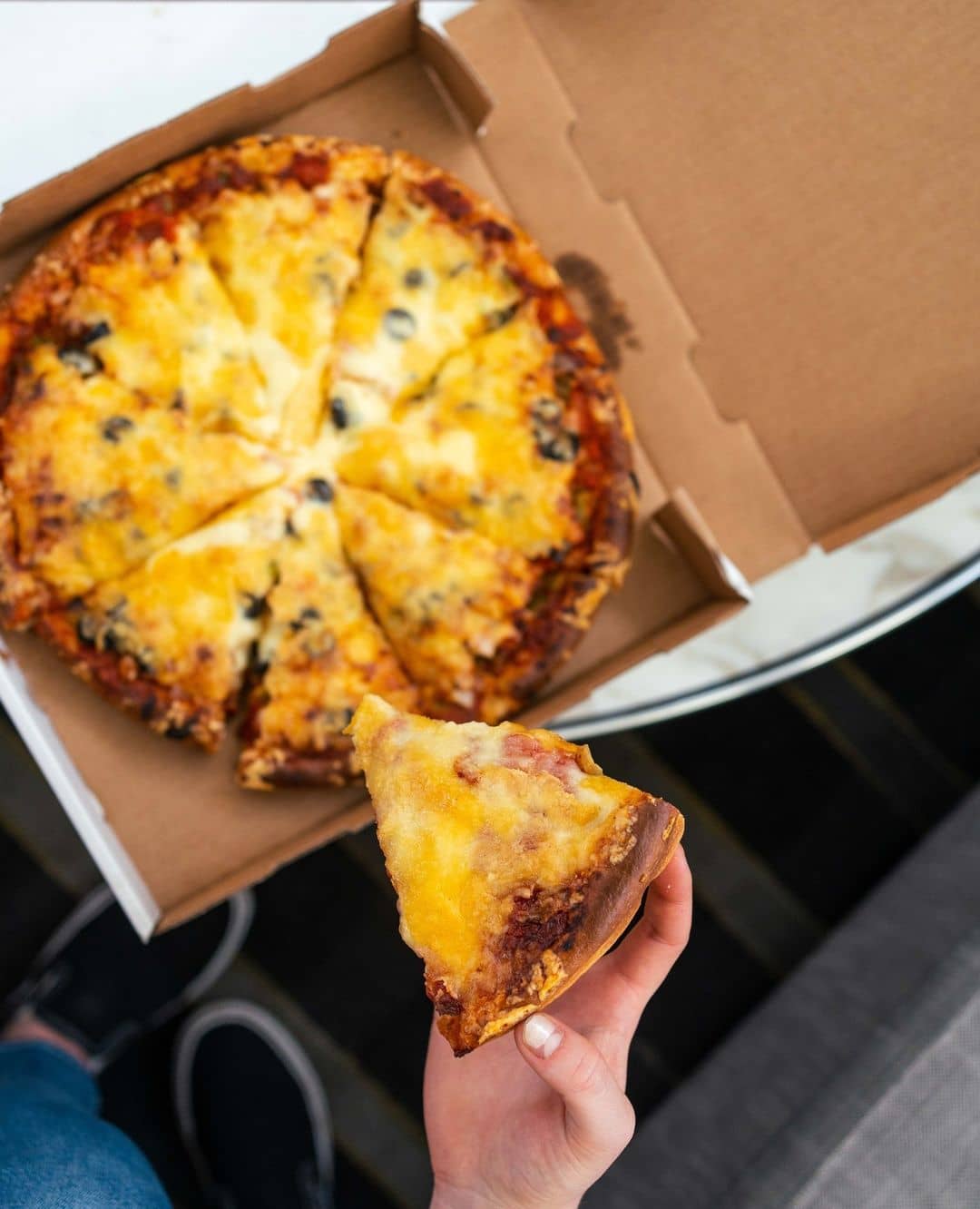 A neighborhood staple, it's no surprise that locals will excitedly tell you their favourite pizza spot is A Pizza Plus. Who wouldn't say no to buy one take one pizza? Perhaps, that's why it's called A Pizza Plus because you get to have plus one pizza for free! When it comes to quality AND quantity, no one is as good as A Pizza Plus.
If we could describe A Pizza Plus's pizzas in one word, it's THICK. Their House Special is the best pizza you'll ever have if you like pineapple and bacon. Combine that with salami, mushrooms, and the freshest tomatoes. BOOM. Best pizza ever.
Of course, you can never go wrong with their Greek pizza. They just do it right every time. Is it because the owners are Greek? Or is the magic in their deliciously hot homemade sauce? Who knows? All we know is that it's amazingly good!
What to order: House Special, Greek
Address: 4623 Bow Trail SW, Calgary, AB T3C 2G6
Website | Instagram | Facebook
7. Posto Pizzeria & Bar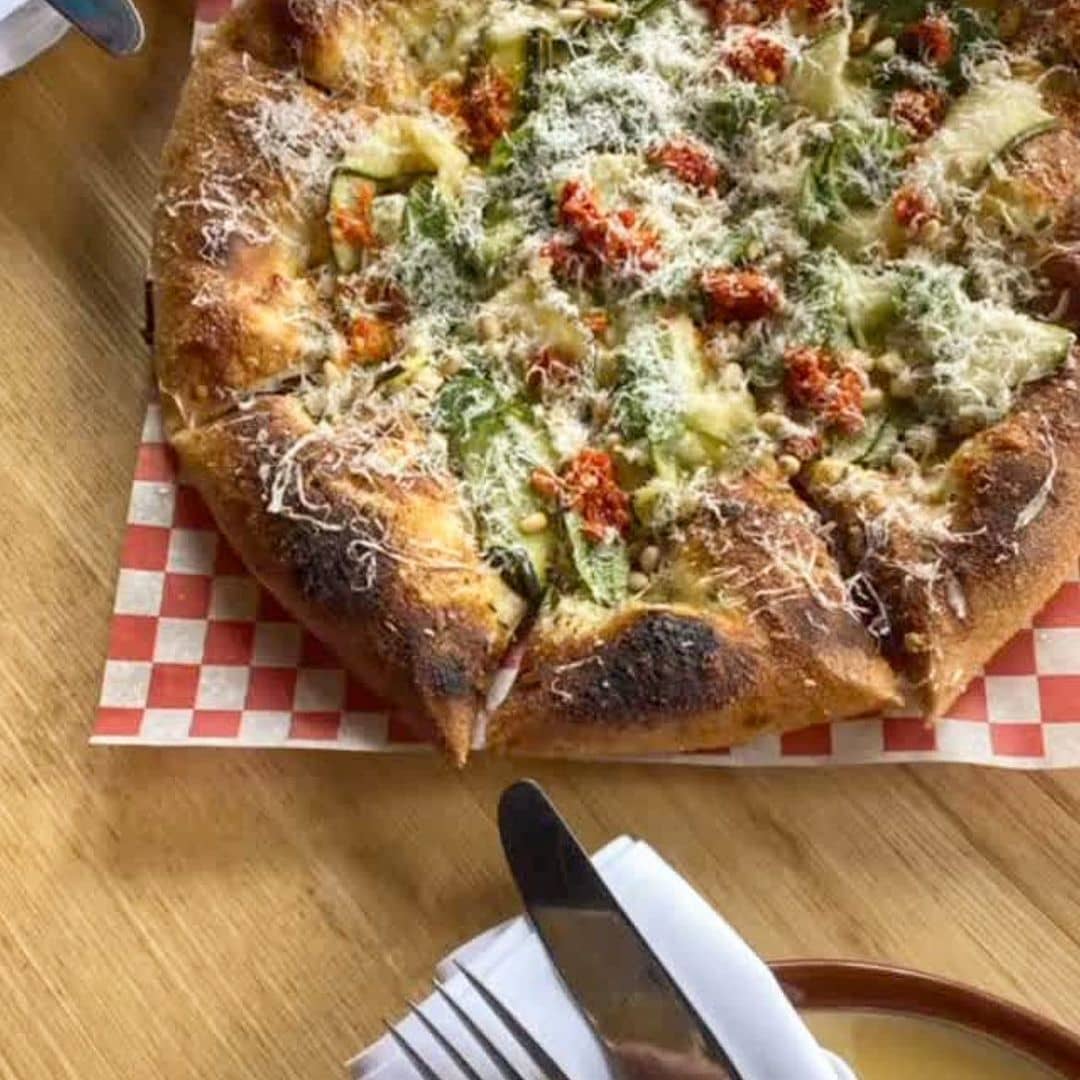 Compared to other gourmet Pizzas in town, nothing beats Posto Pizzeria. Not to mention that during happy hours, all the food on the menu is half the price. That is a happy hour, indeed! We highly recommend getting a reservation if you plan to dine in since the place can get packed.
Posto Pizzeria has the coolest menu ever! When you order a pizza, all you need to do is tell them what number. That's better than guessing how to pronounce a word and potentially embarrassing yourself, right? The number 2 pizza with spinach and mushroom is absolutely delicious.
If you want a sweet and spicy flavour, number 8 with pineapple and chili is divine. This one will make you taste the heavens! Dip it in their flavoured oils for an extra flavour, and you'd ascend to another dimension.
What to order: #2 (Spinach/Mushroom), #8 (Pineapple)
Address: 1014 8 St SW, Calgary, AB T2R 1K2
Website | Instagram | Facebook
8. Nikos Pizza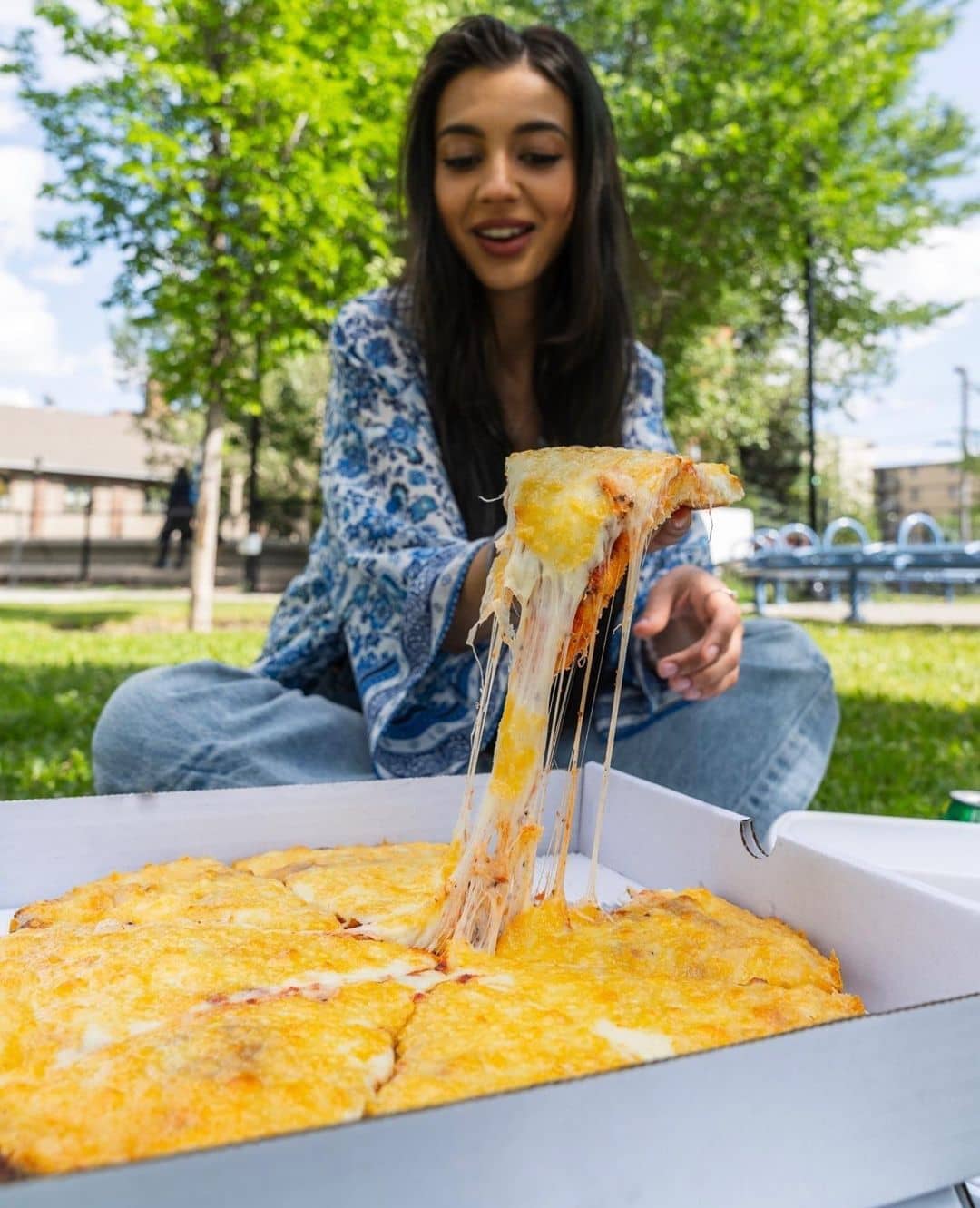 What's one ingredient you can never take away from pizza? Cheese. Well, Nikos Pizza takes pride in that. The crispy layer of cheese they add on top is simply astounding! This pizza spot will have you desperately craving theirs whenever you eat pizza. Yup, it's Nikos Pizza or no pizza at all!
100% guaranteed to cure hangovers, sadness, and hunger, Niko's Special is your next comfort food. It's everyone's favourite! Understandably the most popular item on their menu, this pizza is flawless.
If classic flavours are your cup of tea, their Hawaiian pizza will make you regret not tasting it sooner! Where has this pizza been all your life? Only at Nikos Pizza! Seriously, it's that good. Hands down the best Hawaiian you'll ever try.
What to order: Niko's Special, Hawaiian
Address: 1405 11 St SW, Calgary, AB T2R 0J8
Website | Instagram | Facebook
9. Noble Pie
Gracefully curated, Noble Pie boasts high-quality pizza with the finest ingredients. In Calgary, this is the best New-York style pizza you can have! The crust is unreal, and the toppings are so well-executed that you'd think they're making some witchcraft. How can pizza be THIS good?!
The Roni is their twist on the classic pepperoni, and it's utterly magnificent! Words alone cannot do it justice. It's the perfect amount of pepperoni to cheese ratio! What more could you ask for?
Sweet Cheesus is another spectacular contender on their menu. This one is served with hot and oozing honey! Honey on pizza? Talk about innovation. If you like a union of sweet and salty flavours, this is the choice to be.
What to order: The Roni, Sweet Cheesus
Address: Back Alley Entrance, 720 11 Ave SW, Calgary, AB T2R 0E4
Website | Instagram | Facebook
10. Roma's Pizzeria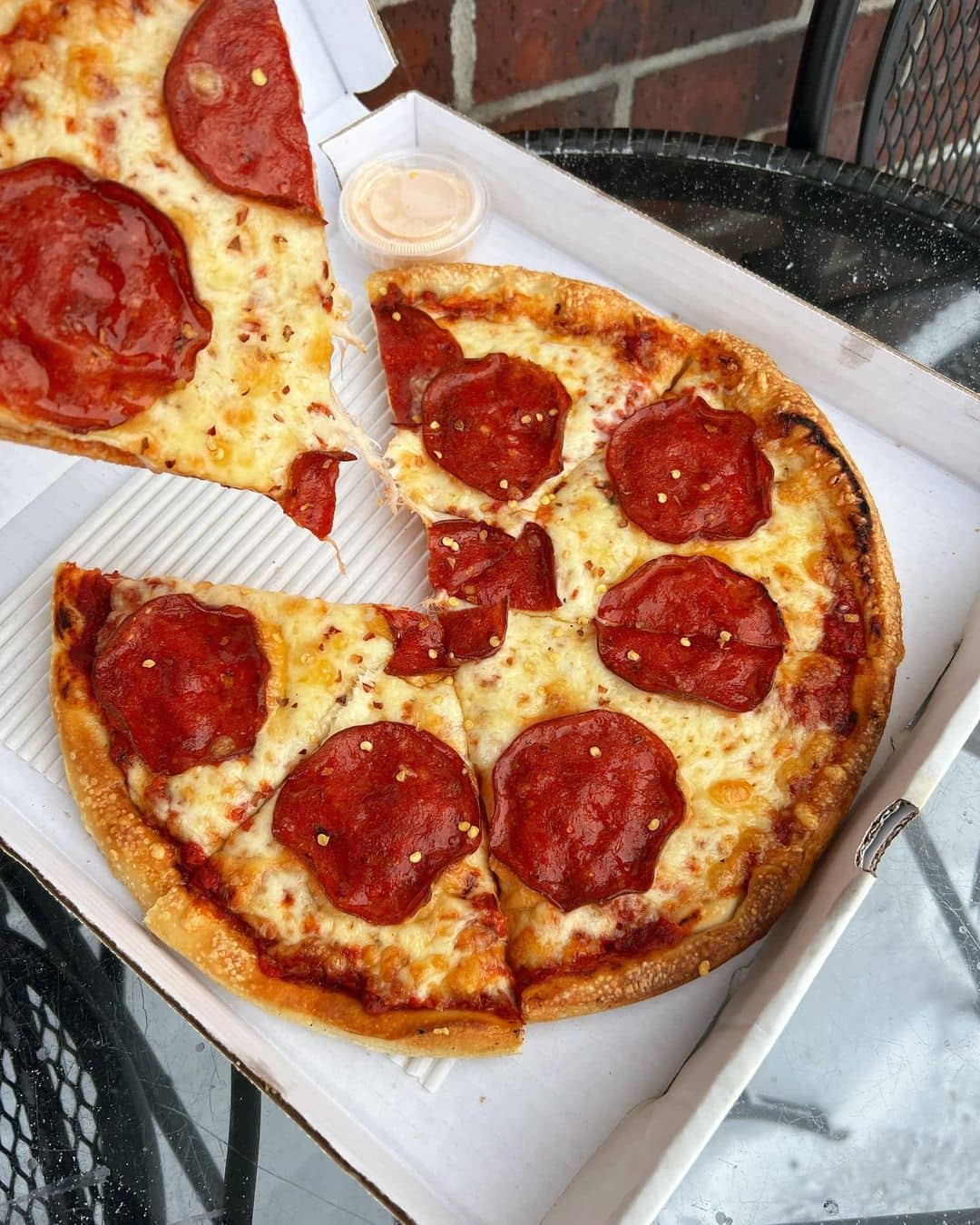 Roma's Pizzeria is a small tucked-away pizza spot that serves really good pizza with a unique sweet sauce! It's the kind of place you'll walk by many times until you finally decide to try it out, and you'll end up wishing you tried it sooner. If you're around the area, the owner is kind enough to give you samples. But those won't be enough; you'll need to order a slice or more to satisfy your cravings!
Called home of the Donair Pizza, Roma's Pizzeria serves the best Donair Pizza in Calgary! There are different kinds of them on their menu, and each one doesn't disappoint. Depending on your choice, you can have the best beef, chicken, or veggie Donair Pizza!
Their Greek Vegetarian is really good, and the feta cheese is to die for! The veggies are fresh and crunchy. Pair that with their dipping sauce, and every bite will be divine!
What to order: Donair Pizza, Greek Vegetarian
Address: 931 General Ave NE, Calgary, AB T2E 0P4
11. The Village Flatbread Co.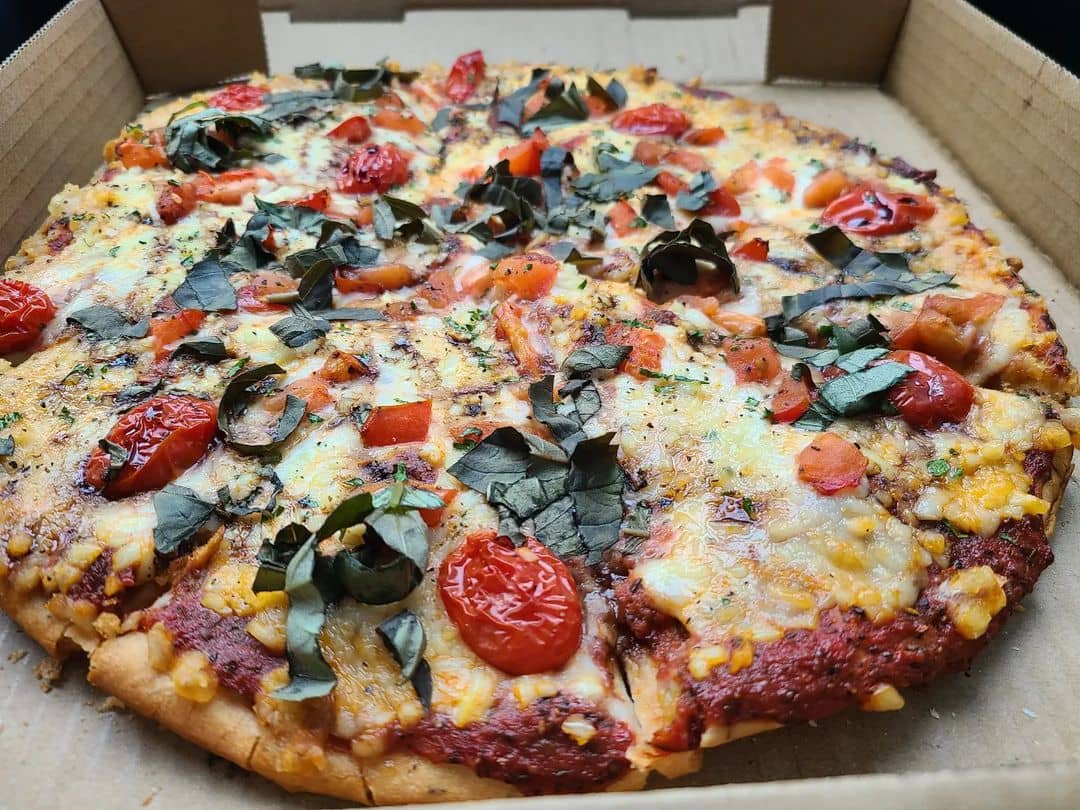 Did you know pizza can be healthy? The Village Flatbread Co. serves the healthiest pizza in the city! Here, you can customize each and every pizza to your liking. Vegan? Vegetarian? Gluten-free? Halal? Name it, and you'll have it! Want to eat pizza without getting bloated? This is the place for you.
There is something for everyone at The Village Flatbread. But Aspen is meatily good and luscious! Even kids would enjoy it. If you'd like a safer option while eating with a large crowd, Aspen is highly recommended.
Maple Ridge is a must for pesto fans! Coming from the name itself, this one is drizzled in Maple Syrup, and it tastes crazily good. Sweet and cheesy? Maple Ridge it is.
What to order: Aspen, Maple Ridge
Address: 2511 17 Ave SW, Calgary, AB T3E 7V3
Website | Instagram | Facebook
12. Varsity Pizza & Subs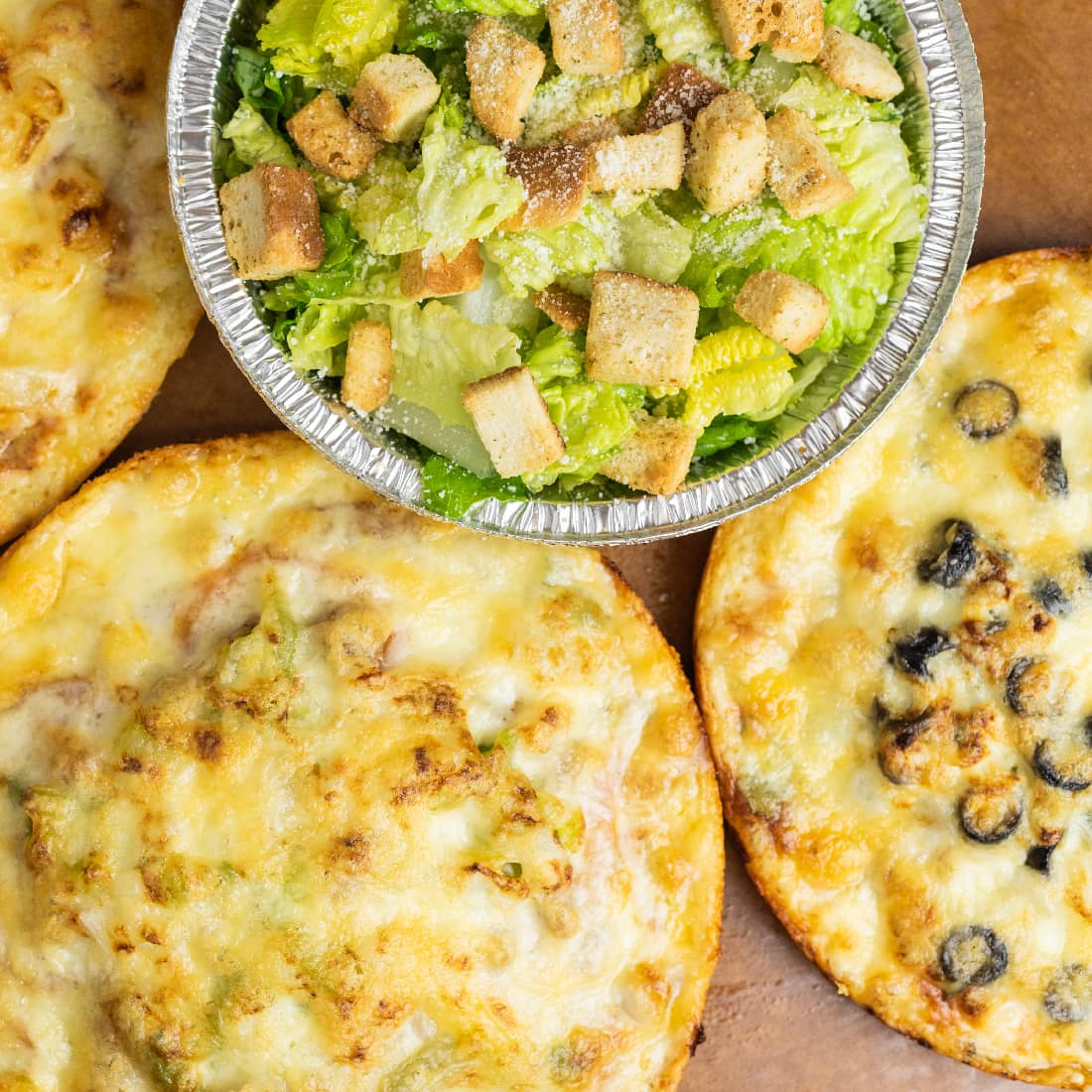 Varsity Pizza & Subs is an all-time favourite. Take that from their regular customers, who have been visiting this pizza spot for decades! Twenty years and still the best pizza? Consistently tremendous and loaded, this place has withstood the test of time.
No need to look further on their menu, the Varsity Special is right up there, and it's called a special for a reason. With a generous amount of toppings and cheesiness, this one is everyone's go-to order.
If you'd like to try something on the veggie side, their Greek Pizza is healthily delicious. Made with fresh and crisp ingredients, this pizza is top-notch! With feta cheese, spinach, onions, olives, and tomatoes, you can have all veggie goodness in every bite.
What to order: Varsity Special, Greek Pizza
Address: 4624 Varsity Dr NW, Calgary, AB T3A 2L9
13. Volos Pizza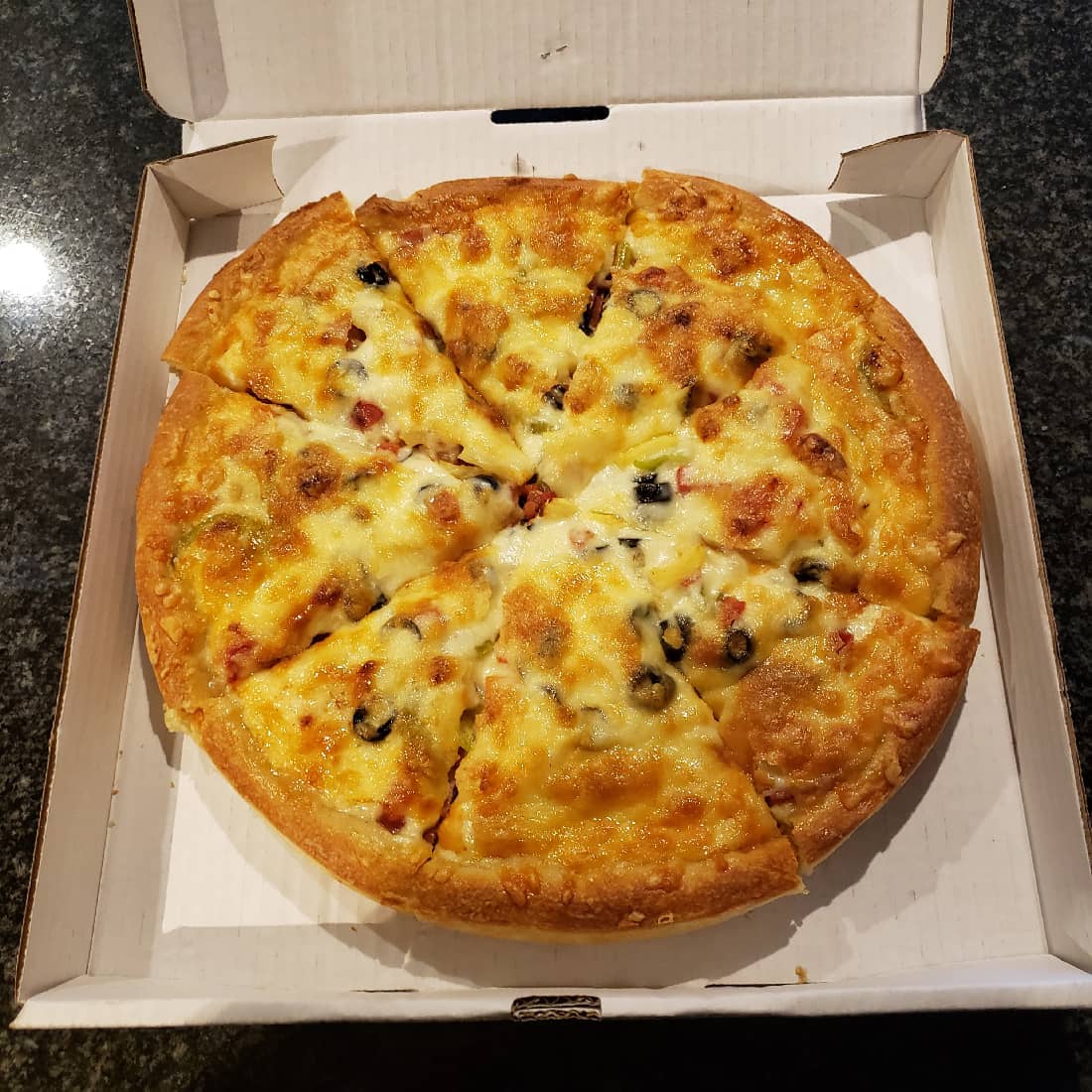 This small independent pizza joint will have you staying away from well-known pizza chains! A hidden treasure, Volos Pizza makes the best North American, Canadian-Style pizza. Thick buttery crust, smothered in cheese and lots of toppings. This pizza spot is a lucky find! It will only take one visit for this to turn into your all-time favourite pizza.
Their Knob Hill Special pizza hits the spot every time! A good thick layer of mozzarella on top baked to golden brown perfection and only the best toppings will have you drooling.
Their Mexican Pizza looks and tastes like it came straight out of Mexico.! Cheesy, hot, saucy, and just the right amount of spiciness, this pizza is incredibly delicious!
What to order: Knob Hill Special, Mexican Pizza
Address: 2103 26 Ave SW, Calgary, AB T2T 1E7
Website | Instagram | Facebook
Calgary has a lot to offer when it comes to food. You can tell that from their pizzas alone. If you want more food recommendations in Calgary, check out our list of the best restaurants in Calgary.