Looking for the best ramen restaurants in Chicago? You're in the right place!
Nothing is better than filling your stomach with a warm and hearty bowl of ramen on a cold day.
From the most authentically traditional ramen with umami flavor to the ultimately delicious customized ramen and signature side dishes from different restaurants, we promise you'll be treated well in this ramen heaven!
Without letting you wait any longer, check out our list of the Best Ramen Chicago has to offer below:
1. High Five Ramen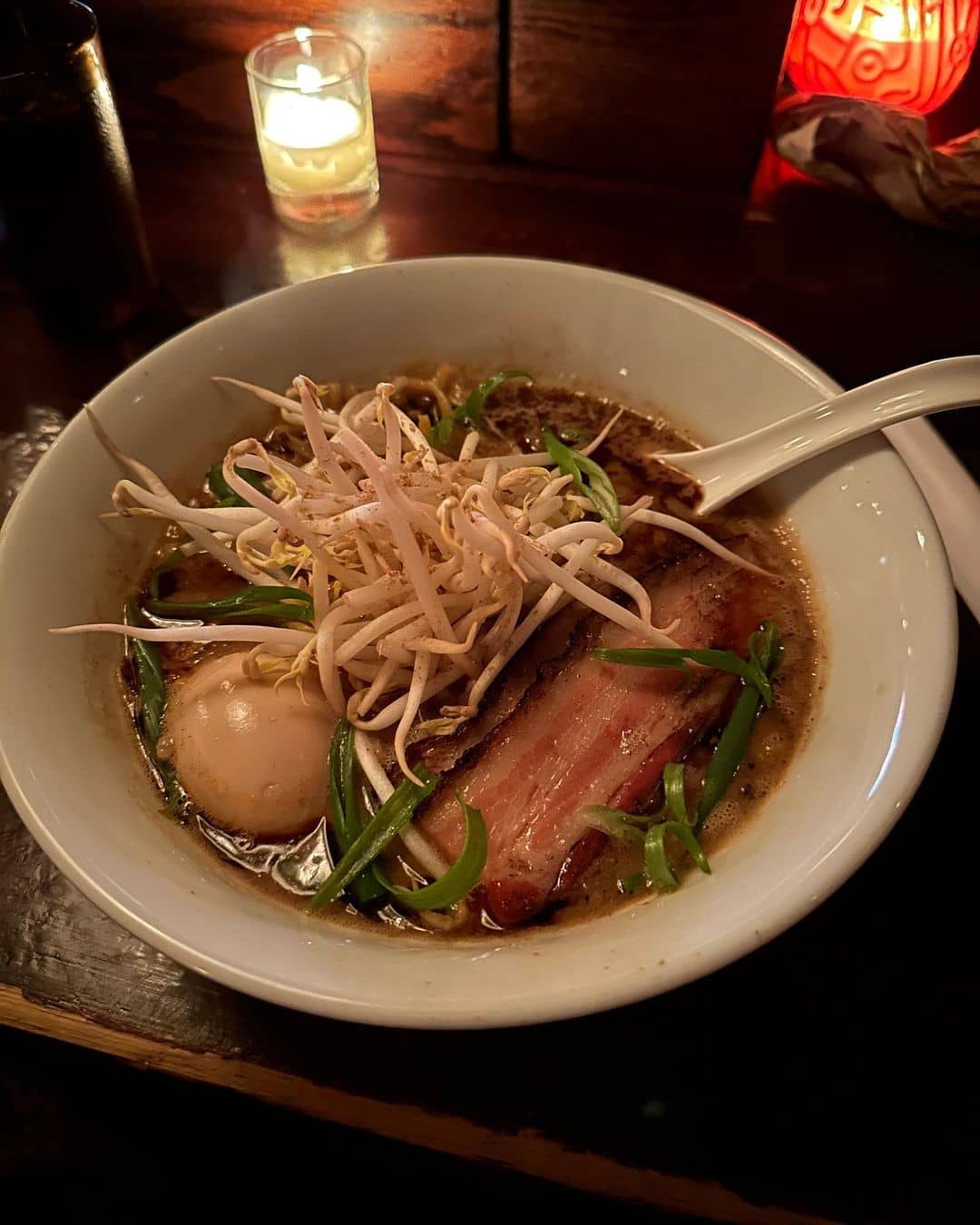 A small, lowkey ramen spot in West Loop with amazing vibes, High Five Ramen is the place to visit if you want to taste the best ramen in the city.
The underground basement interiors bring the place's ambiance to the next level.
If you're around the area, make sure to visit High Five Ramen, or else you'll miss out on the greatest ramen in Chicago.
High Five's famous Tonkotsu ramen is hands down the best in Chicago. With Chewy noodles, perfectly gooey egg, and fatty pork, the 2-3 hour wait in line will be instantly forgotten just because of how good this ramen is.
You won't even mind lining up again next time!
Every bite packed with spices and the perfect umami taste, the Shoyu ramen will make you forget you're in Chicago because of how authentic it tastes.
Incredibly flavorful broth with a slightly bitter aftertaste, this one is more earthy and light.
What to order: Tonkotsu, Shoyu, Shio (half spice)
Address: 112 N Green St, Chicago, IL 60607
Website | Instagram | Facebook
2. Ramen Takeya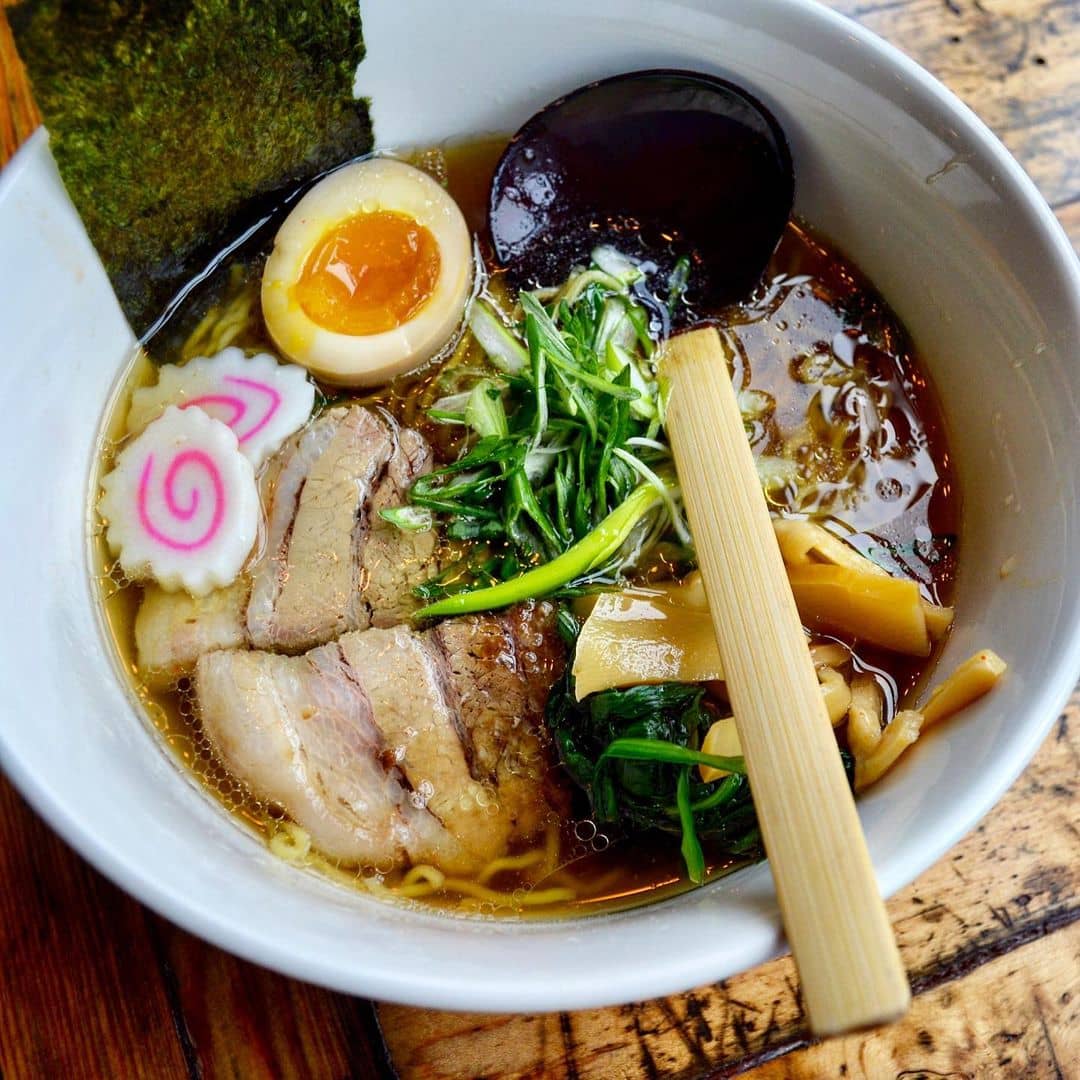 If you've been a fan of Ramen Wasabi in Logan Square, we're sure that Ramen Takeya won't let you down!
Located in the Fulton Market District, this sister restaurant of Ramen Wasabi offers customers the feel of Tokyo Yokocho (or alleys) with the aesthetic interior and their signature light chicken broth that promises will win everyone's heart.
The Spicy Chicken Paitan is one of the most "must-try" dishes at Ramen Takeya as you can experience a good kick of spice without being overwhelmed.
The char siew is sliced beautifully and melts in your mouth instantly, combining crunchy bamboo shoots and their slurp-worthy ramen creating perfect harmony in your mouth.
Another star of the show is the Miso Bold & Spicy with unforgettable flavor. Lives up to its name, this ramen has a stronger kick of spice but still maintains the tasty flavor.
The thick fatty flavor and tenderness from the pork belly are solid with a soft-boiled egg on top making every bite worth every penny!
What to order: Spicy Chicken Paitan, Miso Bold & Spicy, Tokyo Classic Shoyu
Address: 819 W Fulton Market, Chicago, IL 60607
Website | Instagram | Facebook
3. DaiFuku Ramen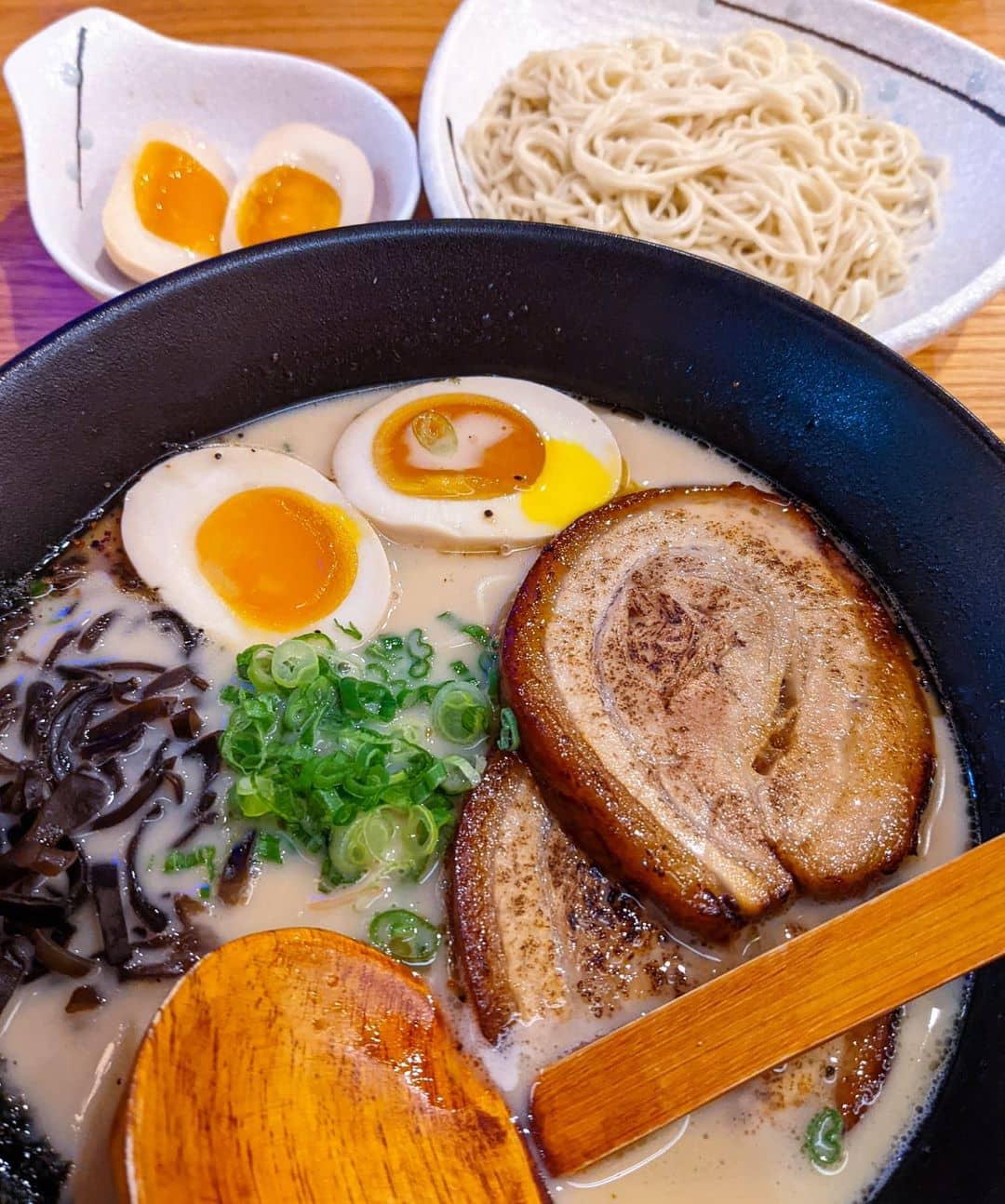 Wandering around in Chinatown without any options in mind?
DaiFuku Ramen promises to give you an instant crush with the authentic signature soup base in every bowl of hearty ramen and attentive service that helps complete your journey here.
Their feature is the DaiFuku Spicy Garlic Tonkatsu (1st bowl listed), so make sure to check it out!
Everything is on point with hearty toppings from tender, juicy pork belly to silky noodles covered in a rich and flavorful broth. There are three levels of heat, we highly recommend level 2 for a balanced experience thru the end.
Looking for something else? The Chashu Rice Bowl would be perfect for you!
With hot steaming rice topped with slices of savory chashu, every bite is filled with sweetness and savoriness from the signature soy flavor. Simple but not boring at all!
What to order: DaiFuku Spicy Garlic Tonkatsu, Chashu Rice Bowl, Hakata Tonkotsu Ramen
Address: 2155 S China Pl # A, Chicago, IL 60616
4. Ramen Wasabi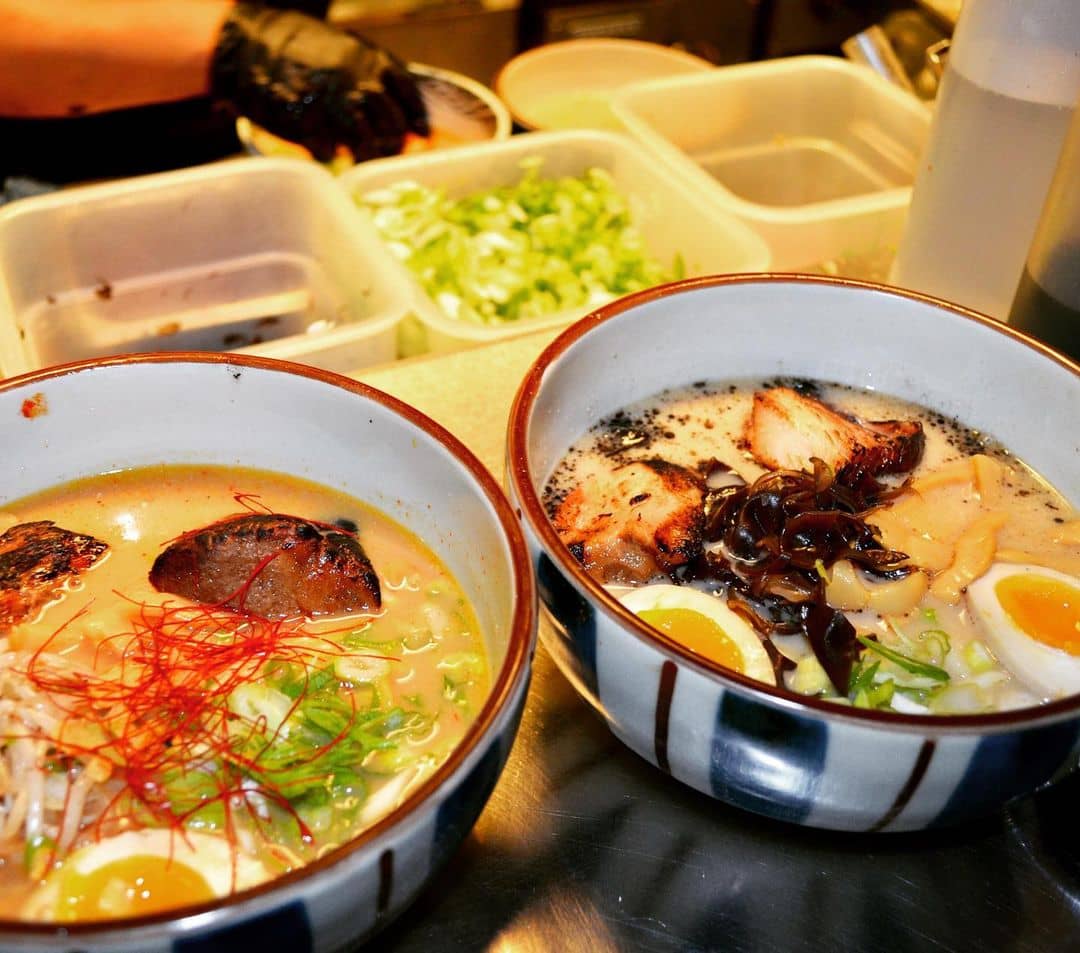 Firstly appeared in 2010, Wasabi has always been the secret gem among locals and visitors in Chicago.
Wasabi offers everything you'd expect and nothing you'd imagine at a ramen restaurant: Delicious small plates (Izakaya-style) and authentic Japanese ramen made from boiling pork bones for days.
The menu is filled with various tasty options, so if you don't know what to choose, we highly recommend Tonkotsu Ramen.
The noodles are cooked to perfection with marinated egg and melt-in-your-mouth pork belly covered in rich broth making this dish a "must-try" at Wasabi for new visitors!
The Spicy Garlic Miso Ramen is also an "oishi" (delicious) option! Packed with the signature umami scent, smooth noodles, and good-quality meat, this dish promises to put you in ramen heaven.
The combination of flavors is balanced out nicely which keeps you eating 'til the last bite!
What to order: Tonkotsu Ramen, Spicy Garlic Miso Ramen, Pork Bun
Address: 2101 N Milwaukee Ave, Chicago, IL 60647
Website | Instagram | Facebook
5. Strings Ramen Shop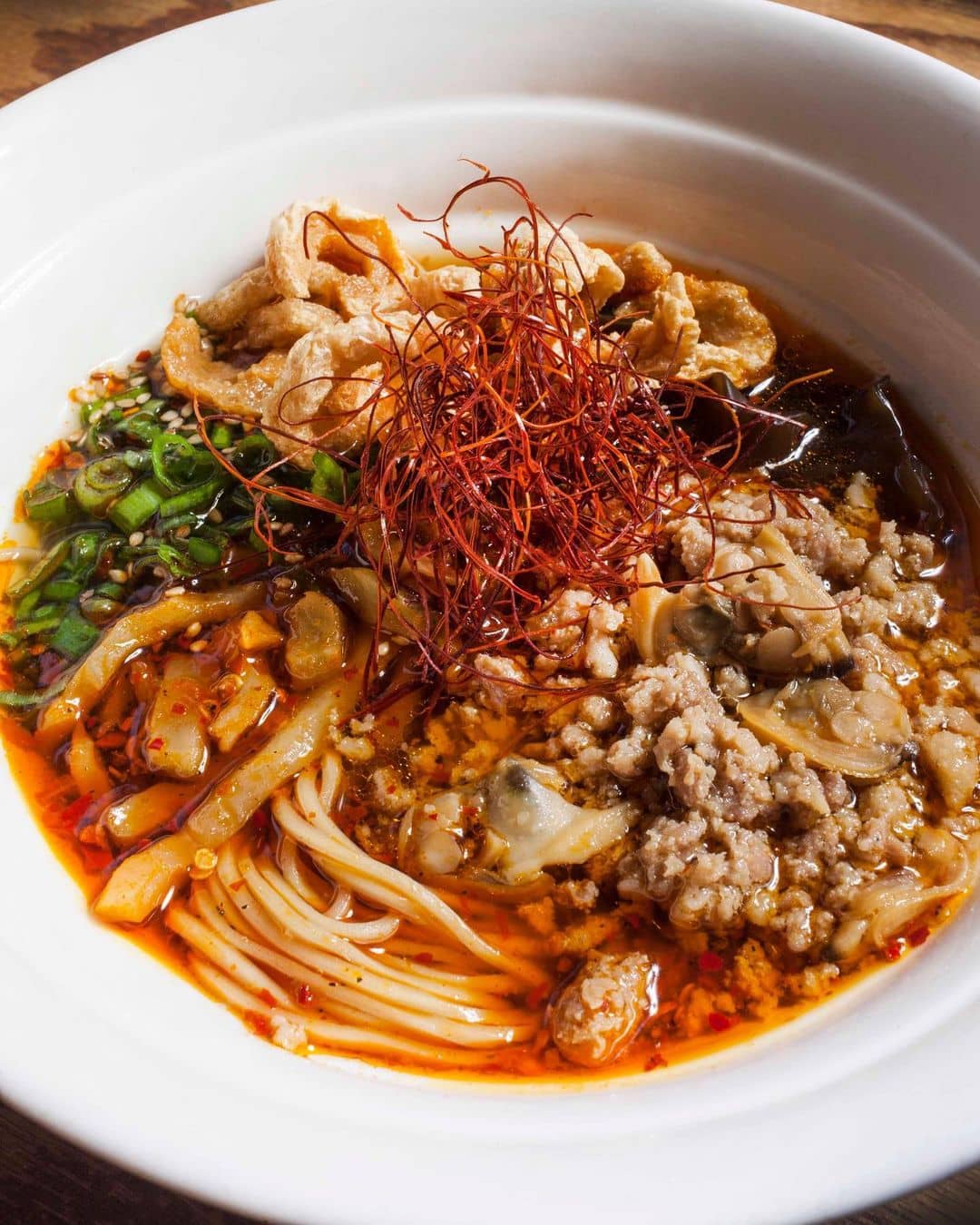 Step into Strings Ramen Shop and experience a ramen-lover's paradise.
Delight in the perfect combination of silky smooth noodles made from their unique dough recipe and the freshest ingredients served in the most popular and authentic Japanese broths – Shio, Shoyu, Tonkotsu, and Miso.
Hell Ramen is definitely worth a try if you're a heat lover. Containing hot pepper and chili made from hell, the spicy and savory broth is no doubt a kicker to your mouth.
If you like heat but not that unbearable heat, level 1 or 2 should be perfect to finish the whole thing comfortably.
What to order: Hell Ramen, Oden Ramen
Address: 2141 S Archer Ave, Chicago, IL 60616
Website | Instagram | Facebook
6. RAKKAN Ramen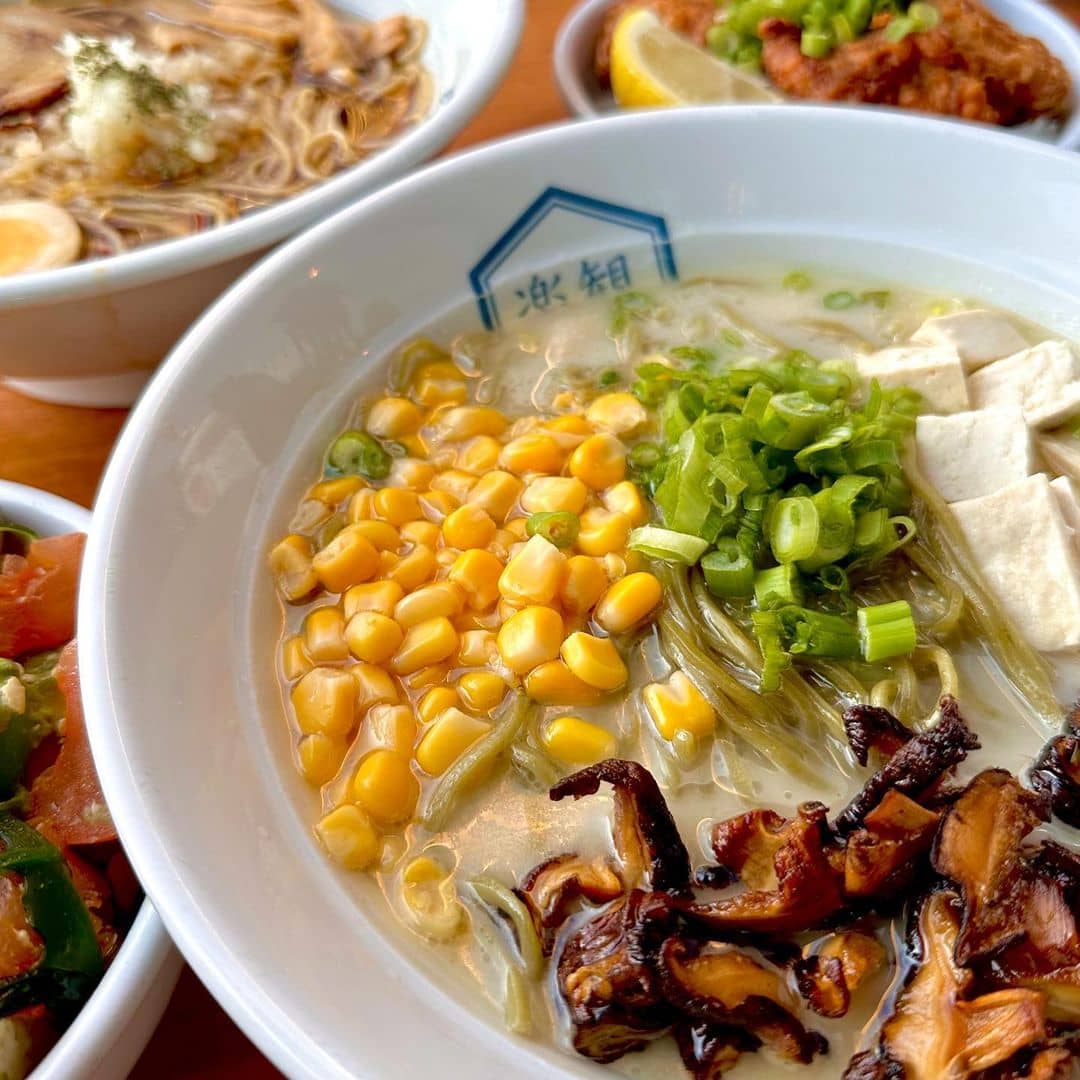 A perfect addition to Uptown! RAKKAN Ramen brings ramen to a saturated pho neighborhood making it the spot to satisfy your ramen cravings.
Almost half the menu has a veg/vegan option, in addition to substitutes for the traditional noodles, too.
RAKKAN is definitely the place that offers you that feeling of being embraced in a cozy ambiance and having a nice bowl of hearty ramen on a cold day.
Before jumping into ramen, you can't miss out on their irresistible Takoyaki.
Every bite is filled with creaminess and perfect savoriness making this dish worth being chosen to start your journey here.
For ramen, go for the vegetarian Quartz Ramen. It has an extremely rich, creamy broth with smooth noodles giving more texture to the dish. Chef's kiss!
Amber Ramen is another worth highlighting dish made with soy sauce & umami sauce, so the broth is definitely lighter and more delicate.
The chashu is sliced perfectly filled with incredible tenderness and juiciness. Everything tastes great together so if you're looking for something light, this dish is for you!
What to order: Takoyaki, Quartz Ramen, Amber Ramen
Address: 4926 N Broadway, Chicago, IL 60640
Website | Instagram | Facebook
7. E Ramen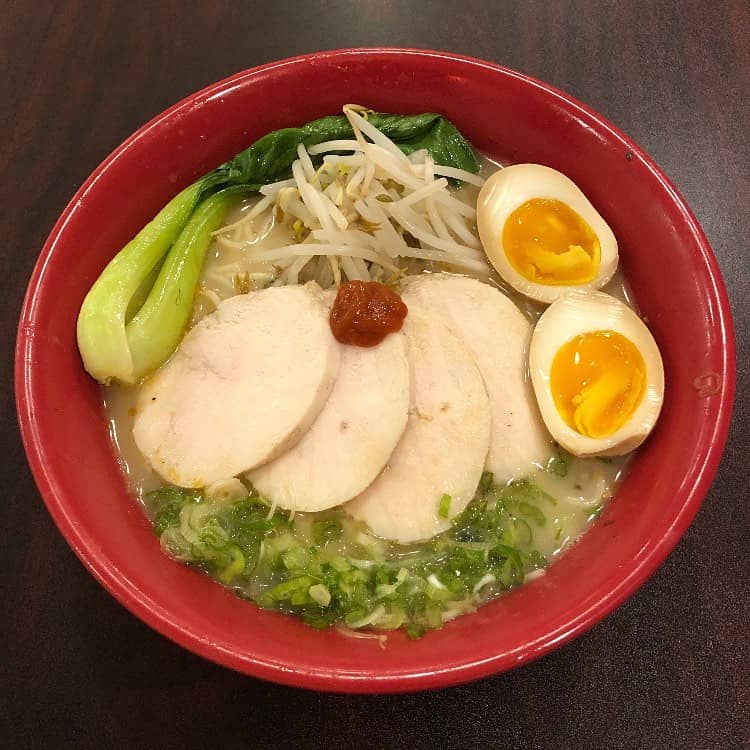 Located in Bridgeport Chicago near Armour Square, E Ramen is a neighborhood family restaurant providing a taste of Japan by serving authentic Ramen, Sushi, & Tapas.
E Ramen will impress you with its incredibly flavorful ramen despite its kinda low-key look.
Chicken Ramen is a standard option but you'll be amazed by the tenderness of the chicken, especially chicken breast. Every bite is so juicy that you can't help giving it another try.
And the broth is undoubtedly rich and flavorful with the help of chicken fat and the creamy yolk from the egg on top.
A big bowl of Spicy Tonkotsu Ramen should be on your list, too. The pork belly is savory with a hint of sweetness, and the noodles are delicious.
This is a bowl that will surely nap-inducing!
What to order: Chicken Ramen, Spicy Tonkotsu Ramen, Spicy Salmon Roll
Address: 451 W 31st St, Chicago, IL 60616
Website | Instagram | Facebook
8. Menya Goku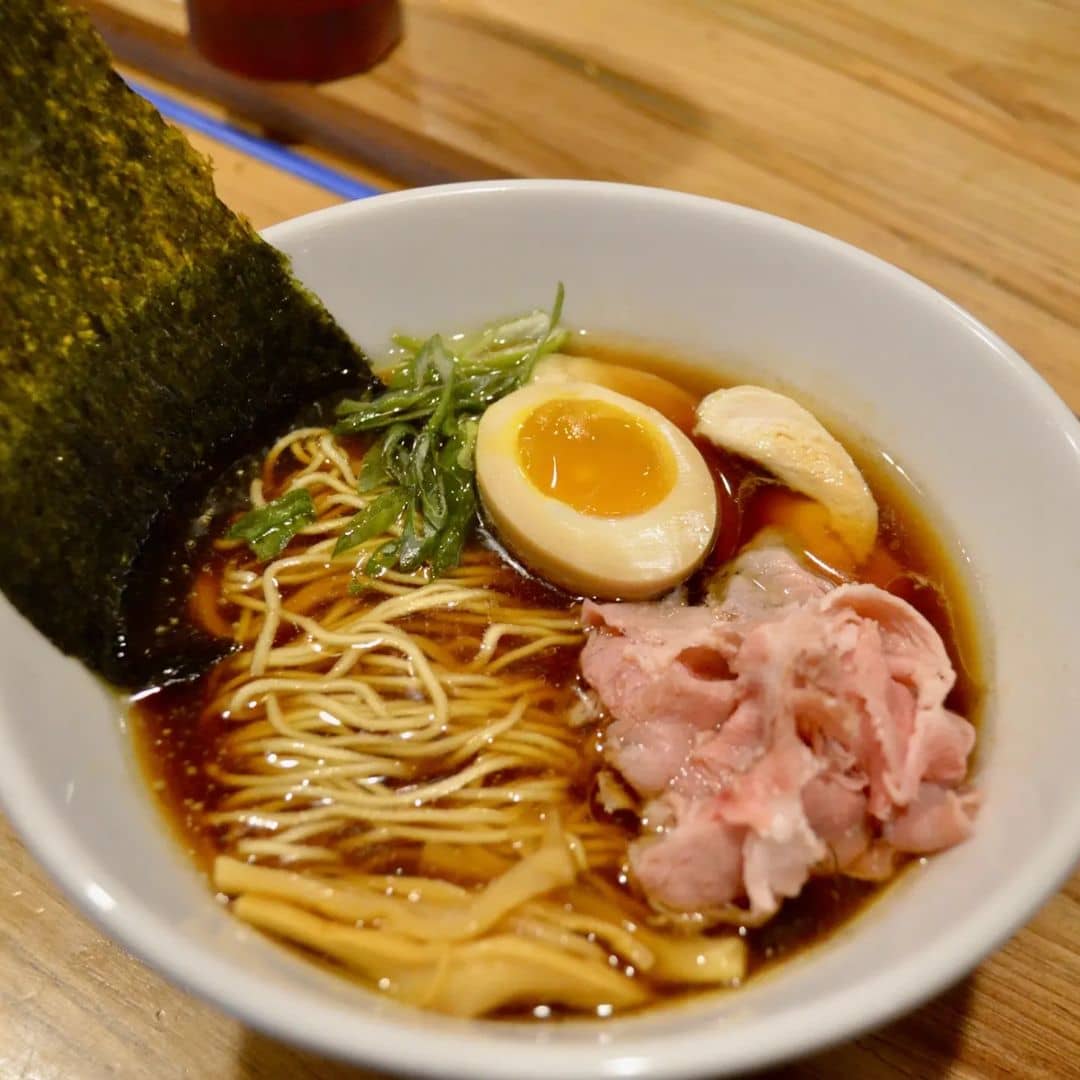 Entering Menya Goku and you'll immediately be charmed by how cute and intimate this place is!
The menu is small just like the restaurant, but every dish is taken care of with love and care, so the quality is undoubtedly top-notch!
This lovely little restaurant in Lincoln Square will win your heart with both the interior and the food!
Their vegan ramen is always phenomenal and loved by vegetarian friends, and the Tan Tan Men is definitely something that leaves you wanting more.
The umami broth is so flavorful with incredibly juicy slices of char siu that begin to fall apart into bits further flavoring the broth and adding delicious tiny morsels of meat to every slurp.
The egg is cooked perfectly and has a perfectly jellied yolk, but the pity part is that it only came as half.
The Modern Shoyu Ramen is truly a warm hug in a bowl. The broth comes as a lighter, cleaner, and more balanced version compared to other traditional ramen.
Noodles promise to be one of the best you've had so far. The doneness is just perfect. Toppings – is adequate. Not skimping on anything, not overpowering also.
What to order: Tan Tan Men, Modern Shoyu Ramen
Address: 2207 W Montrose Ave, Chicago, IL 60618
Website | Instagram | Facebook
9. Friends Ramen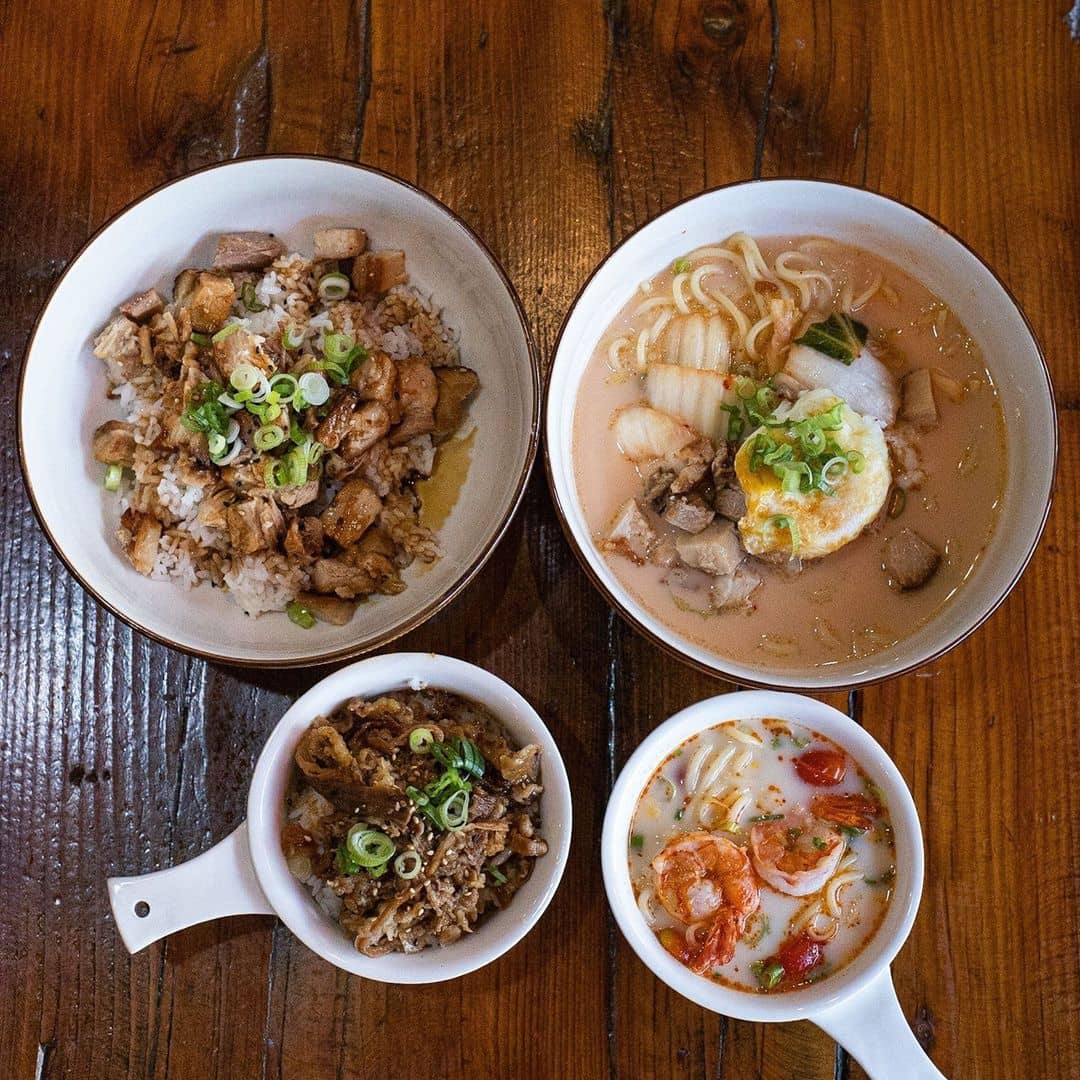 Welcome to Friends Ramen – A Japanese Izakaya-style dining dedicated to bringing you a darn good ramen experience.
Living up to the name, this restaurant is a perfect spot for your loving gathering with friends while enjoying the scrumptious authentic Japanese dishes, especially ramen.
They also have a cool wall where you can write your wishes for good luck.
Enjoy the crowd-favorite dish at On The Go Ramen – egg noodles prepared to perfection and accompanied by a satisfying marinated soft-boiled egg with a rich, fatty yolk.
Topped off with a light yet flavorful broth and seasoned bamboo shoots with fresh pickled ginger, this delectable ramen is sure to delight and make your heart sing!
What to order: Ebi Katsu, On The Go Ramen, Tan Tan Men Ramen, Takoyaki
Address: 808 N State St, Chicago, IL 60610
Website | Instagram | Facebook
10. Musashiya Ramen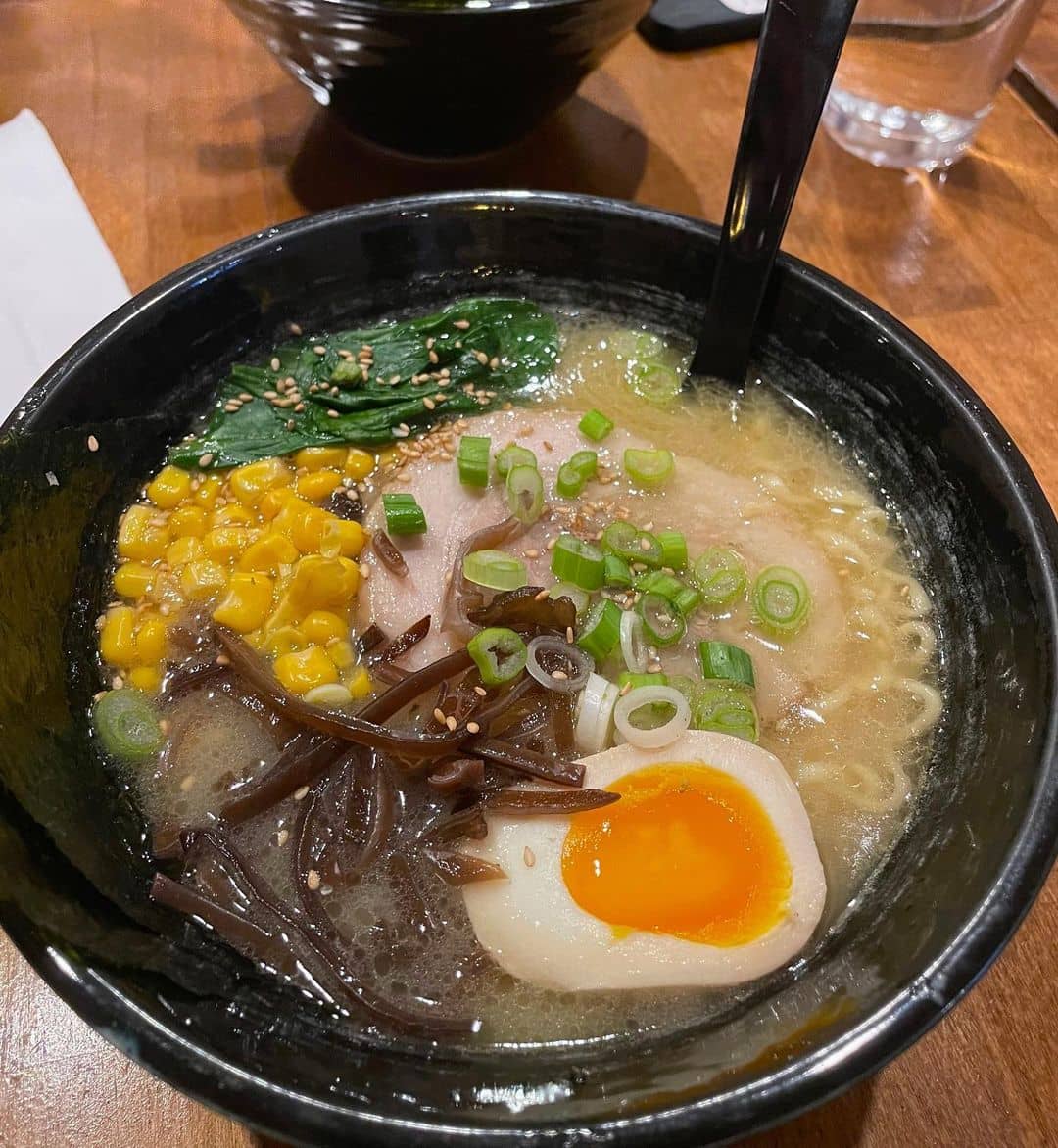 Another hidden gem in Chicago is Lake View's Musashiya Ramen. Inside you'll find a cozy, minimalist Japanese restaurant with an open kitchen.
Going deeper you'll be taking a trip to the world of authentic Japanese cuisine, from traditional ramen to popular street snacks.
Miso Ramen – is one of the best sellers here!
The flavorful broth helps balance out the other toppings so well making it a decent bowl of ramen. Delicious broth, a large, thick slice of pork, some of the crispest corn.
Wanting something else besides ramen? Pork Cutlet Curry Rice is scrumptious enough to make you leave with fulfillment.
The pork cutlets are super crispy on the outside and juicy, and moist on the inside with rich, flavorful curry, and hot rice promises to be something you would love to try once!
What to order: Miso Ramen, Pork Cutlet Curry Rice, Tonkotsu Ramen
Address: 2938 N Broadway, Chicago, IL 60657
Website | Instagram | Facebook
Our recommendations above are just a few of a whole lot of hidden gems in Chicago.
So, to our foodies, if you're looking for more besides ramen, check out our Best Chicago Riverwalk Restaurants for better options to fulfill your journey!
How We Create Our "Best" Lists
All Noms Magazine's "best" lists are created using multiple factors and signals to help readers find the best restaurants, things to do, and places to stay at. Some of these factors and signs include personal experiences, correspondence with locals, and compiling experiences from review sites.
Each list is also created to be balanced (in terms of price, cuisine type, ambiance, and more) as possible. This means that the lists are not specifically created in ranking order. You should be comfortable picking from any of the spots on the list and generally have a good time. But of course, YMMV (your mileage may vary) and everyone may have different experiences/palates.